20 Charming Cherry Blossom Nail Art
Technology allows us to behold the natural beauty of very distant places. But, beauty is felt the best when you watch it with your own eyes. Only a native knows the significance of a flower that is so much integrated with a certain culture.
In Japan, Sakura aka Cherry Blossom plays this role as this flower is related to almost every aspect of their lives.  The cherry blossom is vastly popular and dominant in Japan's history and culture that the word Sakura became synonymous with the word flower in English.
The charm of Japanese cherry blossom flower mesmerizes everybody. In Japan, Cherry blossoms start in early January in subtropical islands of Okinawa, while on the northern island of Hokkaido, they bloom in May. The cherry blossom season typically takes place in early April in most major cities including Tokyo, Kyoto and Osaka.
Though these flowers are originally from Japan, now they are found in other countries like Taiwan, Korea, China, West Siberia, Iran, Pakistan, India, Canada, and the United States.
It announces the arrival of Spring in Japan as it is one of the first kind of flowers to bloom. Cherry blossom is considered as a national flower of Japan but,  people all around the world admire the beauty of these flowers. 
Cherry Blossom Nail Art to Have Floral Grace
Cherry Blossom flower has a spiritual significance. It reminds us that life, as well as our youth, is very beautiful and short just like that of Sakura flowers. These flowers fall from the trees right after a few days after they bloom. It has religious significance also.
Sakura is used as the symbol of morality in every form of art in Buddhist culture of Japan. Cherry blossom is represented by pink colors mostly.
A light shade of pink is used for the petals and a deep pink is used in the center of the flowers, your cherry blossom nail art will add a flowery charm to your nails.
The process is not so complicated but you surely need guidelines to apply the designs. Read this article thoroughly to have some ideas about cherry blossom nail art. 
#1.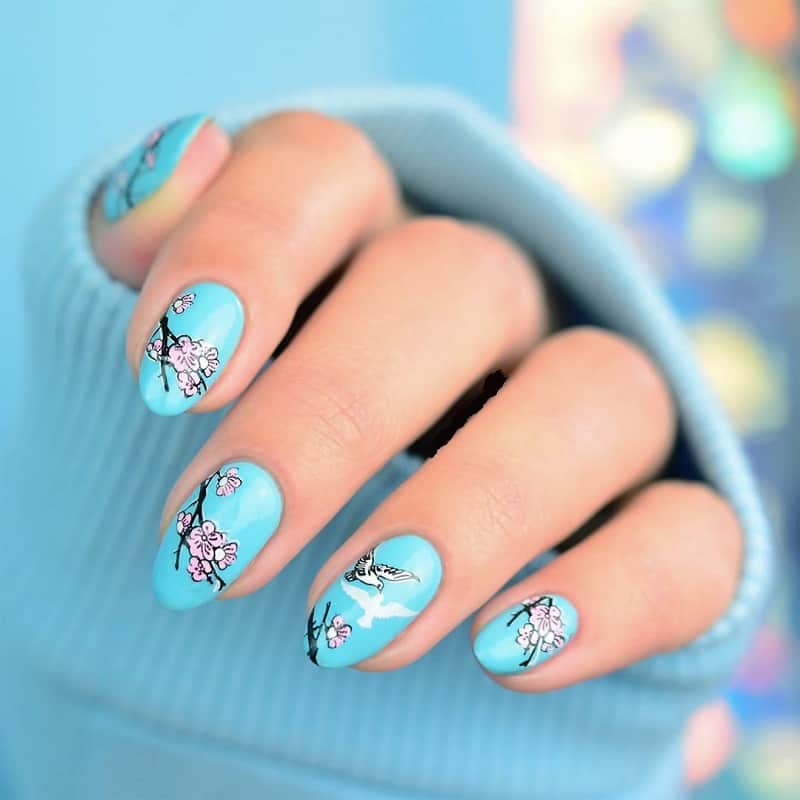 cherry blossom blue nail art
#2.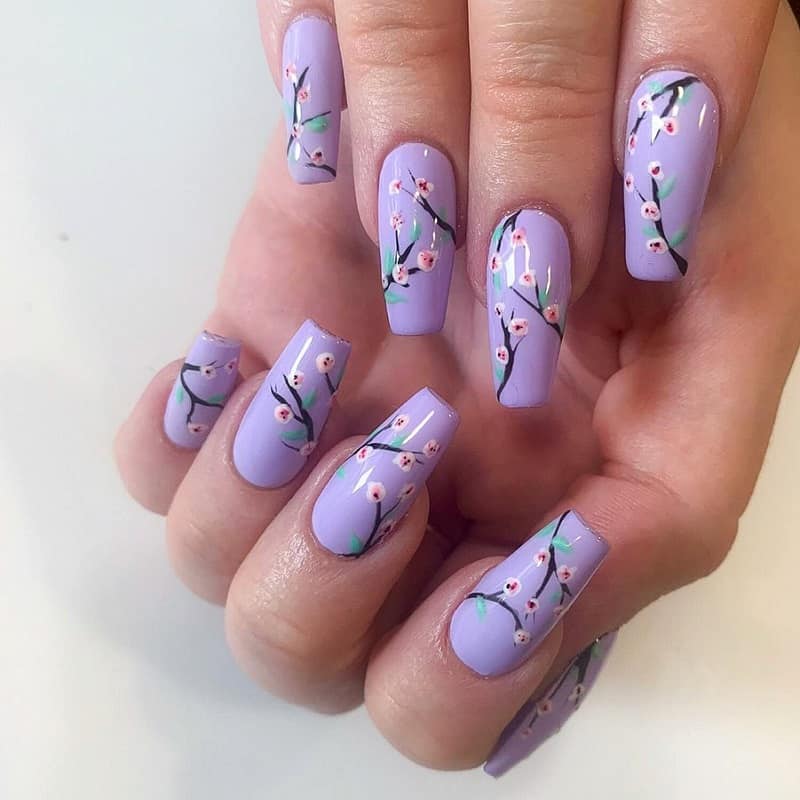 cherry blossom purple nail art
#3.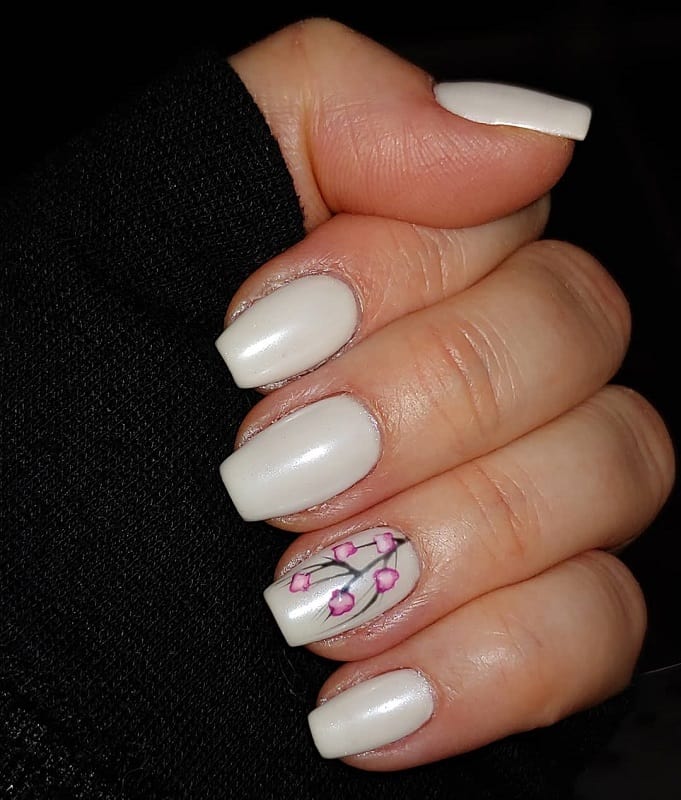 simple cherry blossom nail art
#4.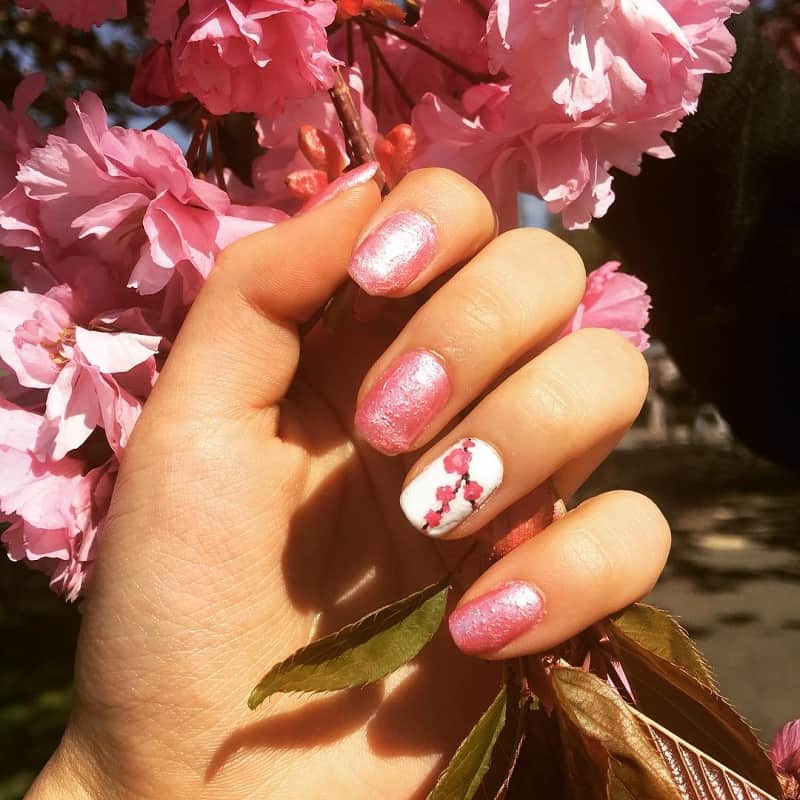 cherry blossom easy nail art
#5.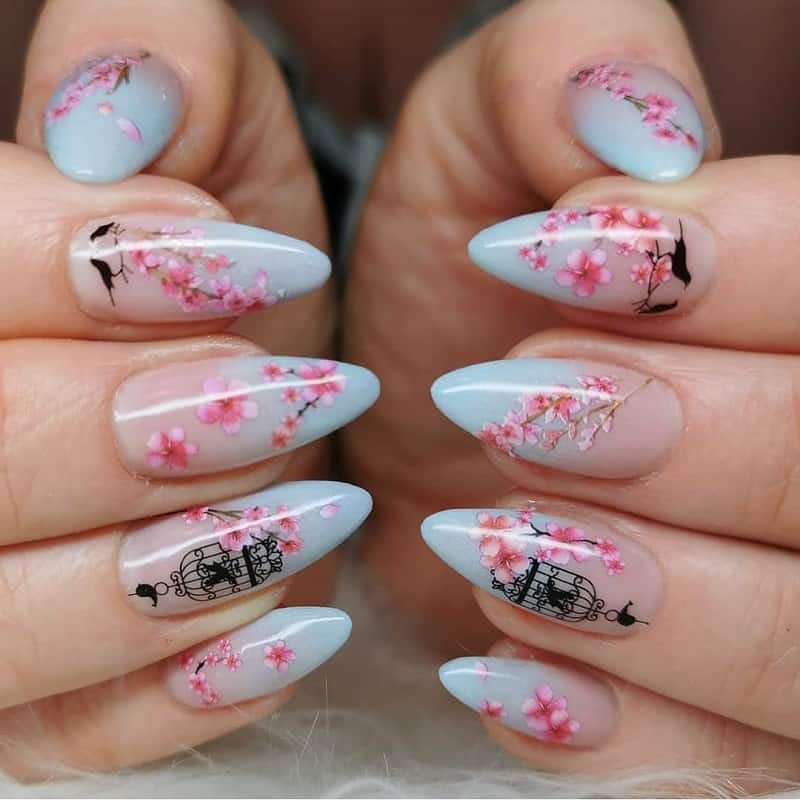 cherry blossom nail art stickers
#6.
cherry blossom nail decal art
#7.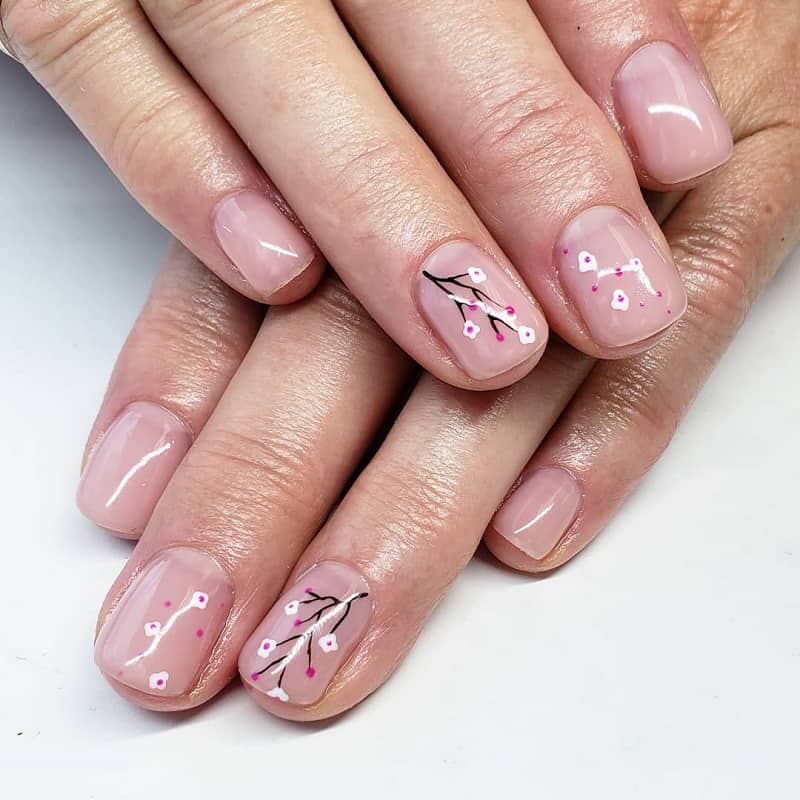 cherry blossom clear nail art
#8.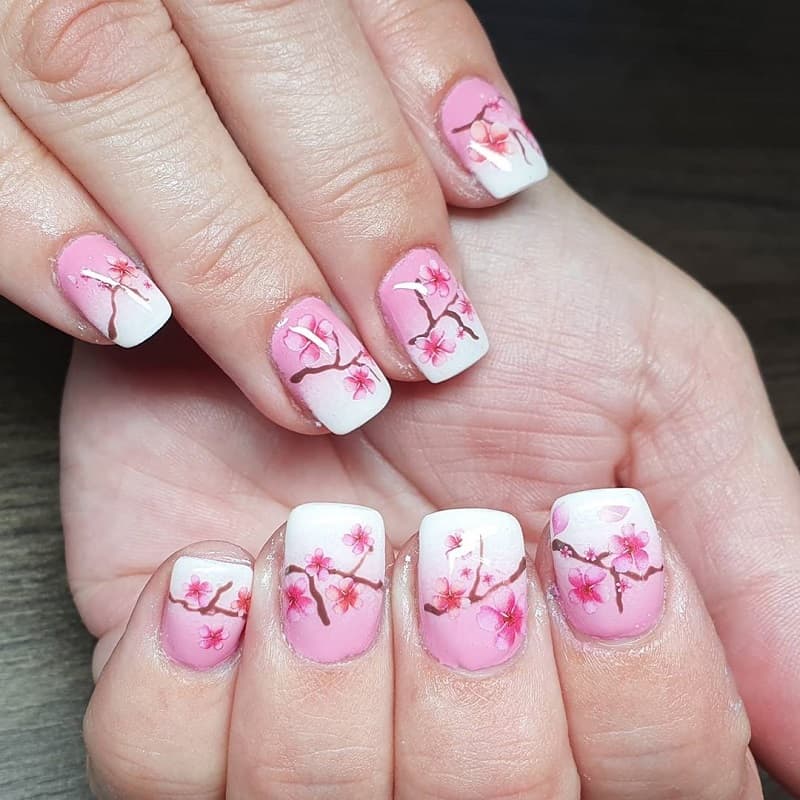 chinese cherry blossom nail art
#9.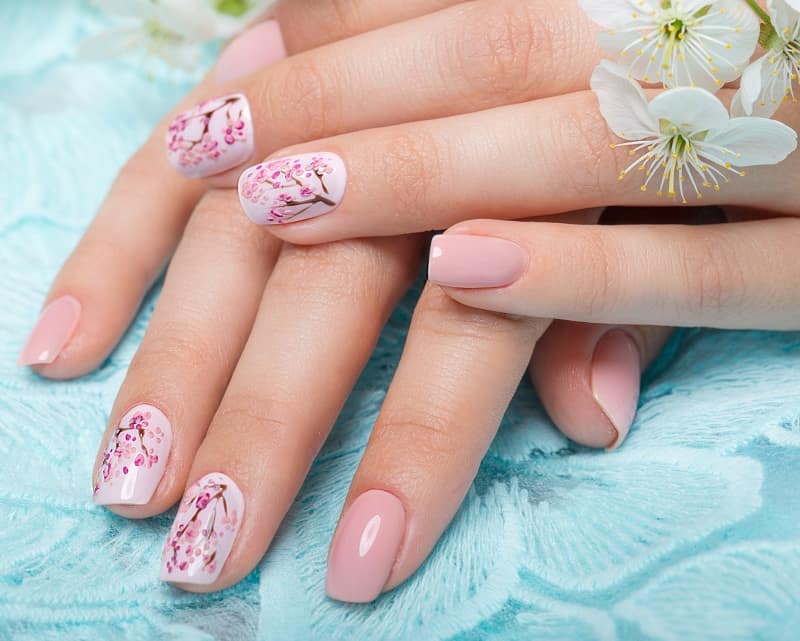 #10.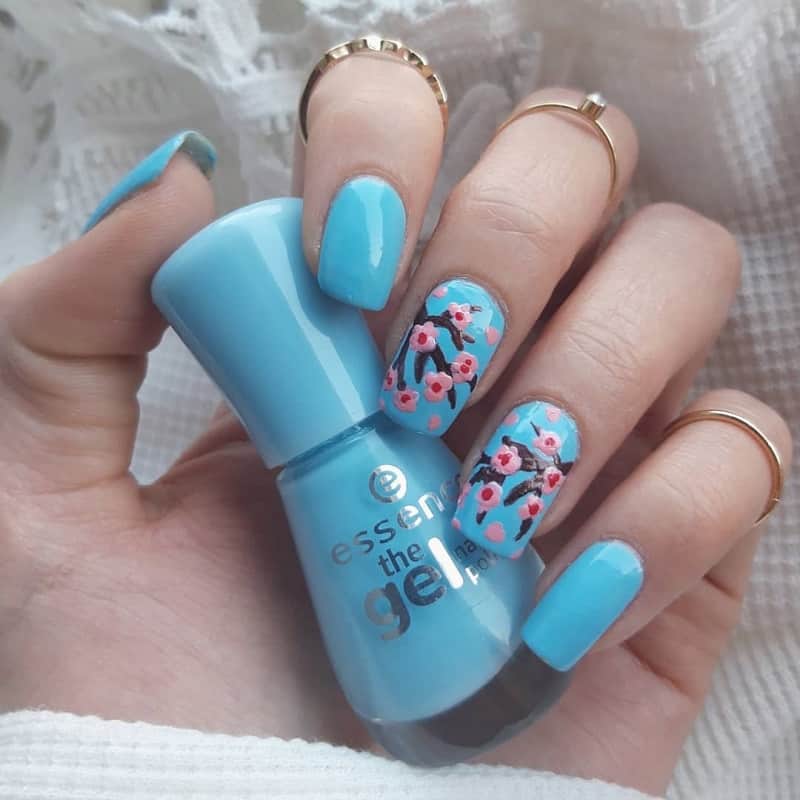 #11. Charming Cherry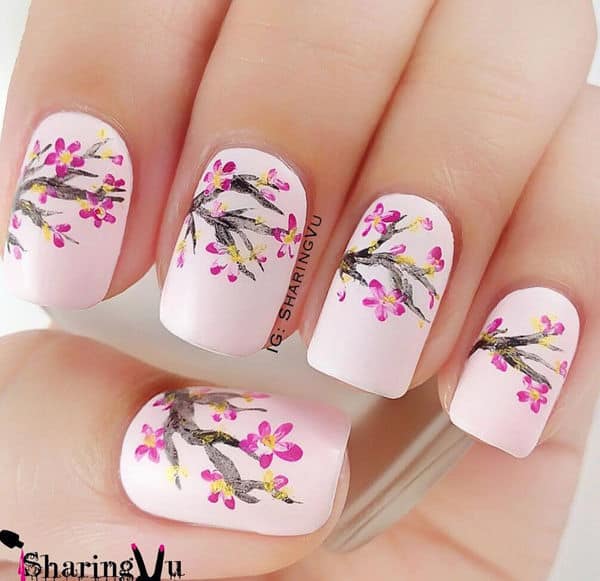 You can have this charm of cherry blossom nails if you design them accordingly. Use light pink as the base color and draw cherry blossoms and black branches to have cherry blossom nail art done on your nails.
Show off Your Love for Flower with Nail Art
#12. Leaning Against the Sky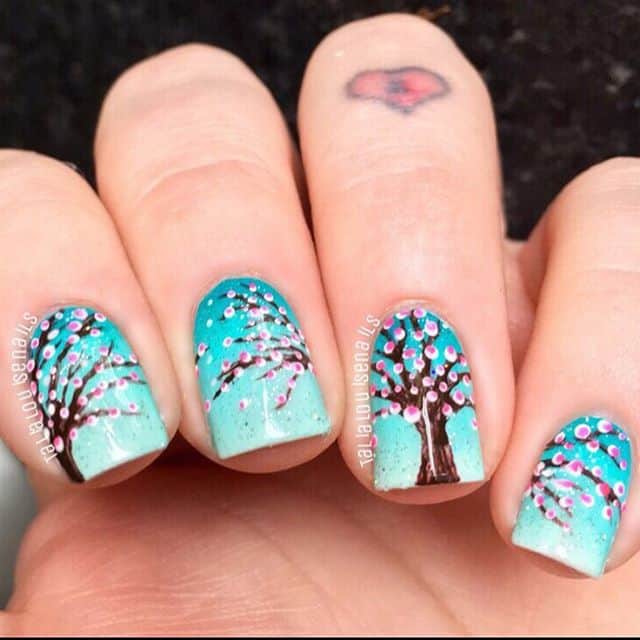 The background of this design is a clear blue sky. Paint the cherry blossom tree as if they were leaning against the sky. This design more or less can be considered as a landscape painting when you keep the nails close to each other. You will stand out from the crowd if you have this cherry blossom nail art.
#13. Golden Cherry Blossoms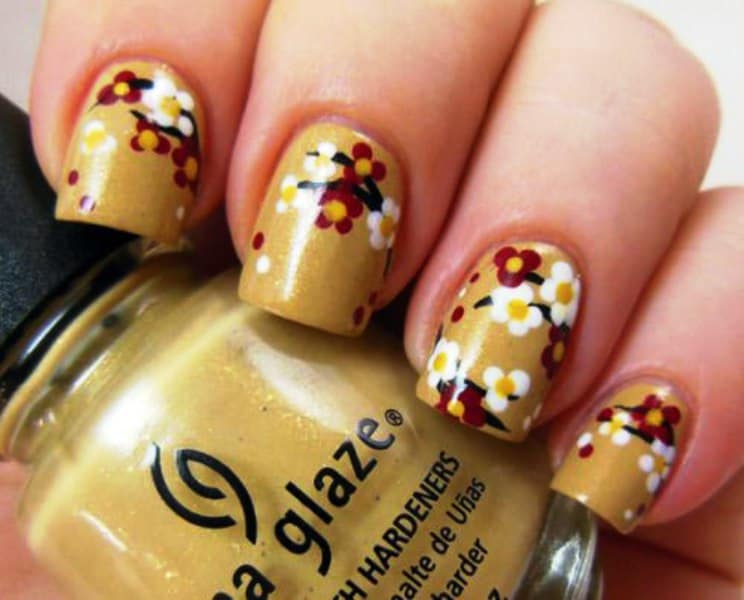 The salient color used in cherry blossom nail art is pink but you can use other colors if you want. Just be careful while designing. Don't ruin your design to have something out of the box. You can use golden color as the base and white, red, yellow colors for the flowers.
#14. Paint the Canvas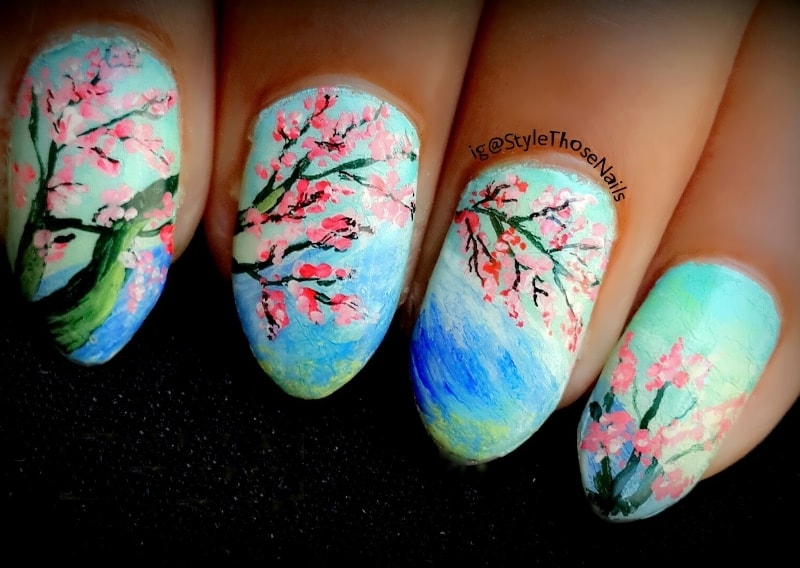 This design is a graceful representation of painting. But, it needs expert hands to accomplish this task. If you have the knack for painting then this is for you. Paint your nail canvas with this mindblowing cherry blossom nail art.
#15. Simply Gorgeous
The simplicity of this design is the secret to its beauty. Use a sky blue base to draw cherry blossom flowers on them. A purple center surrounded by white petals will do the trick. You can use black uneven lines as the image of the branches.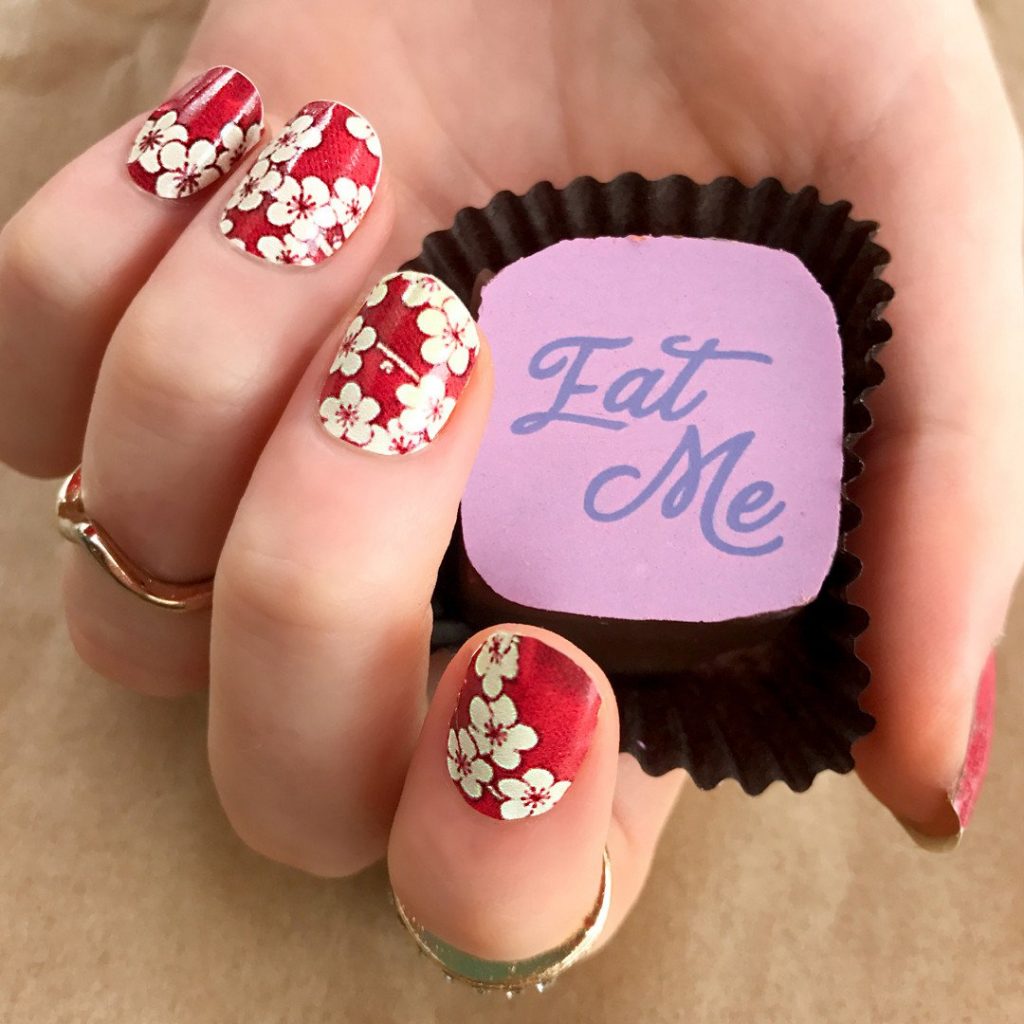 The use of red can enhance the beauty of cherry blossom nail art. You can draw white cherry blossoms on your red nails. Paint the center of the flowers with red color.
Fun & Fabulous New Year Nail Design
#17. Japanese Cherry Blossom

You can depict the original birthplace of cherry blossom on your nail art. Draw an image of a Japanese girl and paint other nails with cherry blossom flowers. The design will represent Japan as the holy place of cherry blossom flowers.
#18. Gold Glitters
If you want to make your nails shine, then this is the right design for you. Draw the cherry blossom flowers in light red or orange color and use black for the branches. Use golden glitters on some of the nails for a glitzy look.
#19. Cherry Blossom on French Nails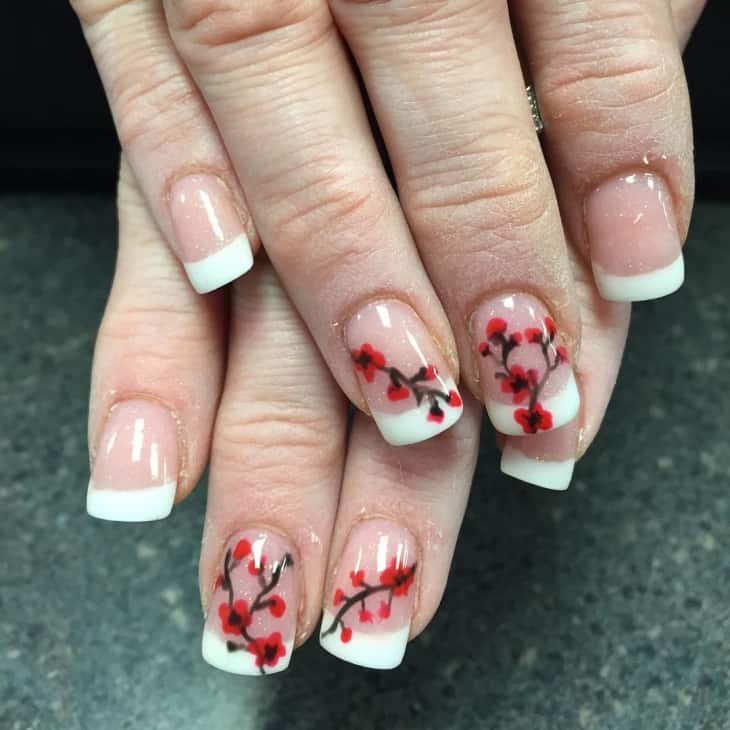 Don't worry if you have french nails. You can have cherry nail art on them with great efficacy if you want. First, draw a jagged line on the nude nail as the branches. Then paint a cherry blossom on the top of every branch. That's it. Cherry blossom nail art on french nails is ready.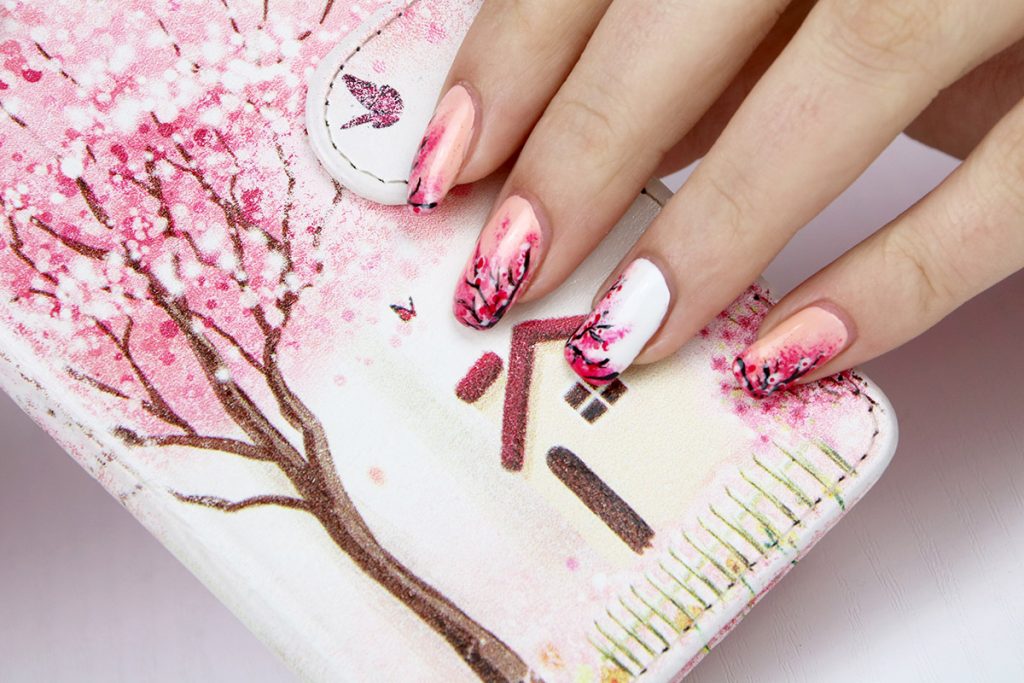 Cherry blossom automatically gives us the idea of a cluster of pink flowers. So, it's natural to use this color in cherry blossom nail art. In this color, the pink pigments are used efficiently to give the design a luxe look.
Coolest Nail Design to Rock Winter Festivity
Cherry blossoms are so beautiful that you will feel peaceful looking at them. Sakura flowers have become the identity of Japan to other countries. The name of this flower is always uttered with the name of Japan. You must love the pinkish charm of these flowers not only for the sheer beauty but also for the spiritual sense it provides. The sweetness of pink and the patterns of the petals jointly create a celestial ambiance. If you try out the designs I have mentioned here, you can have this celestial beauty right on the top of your fingertips. Let's color your nails with the charm of Sakura flowers. Hope you will find the right design which will suit your precious nails.