Many women are resorting to cherry blossoms for artful designs when it comes to clothing, tattoos, and now even nail art. The delicate, elegant nature of cherry blossoms is a beautiful choice for nail art.
In Japan, cherry blossoms are considered the national flower. It represents a time of renewal and optimism, perfect for ladies whose disposition is generally cheery. The flower's pink coloring marks the ending of winter and also represent the beginning of spring.
Gorgeous Cherry Blossom Nails
If you consider yourself feminine and love flowering nature, you'll love the photos we've pulled together of beautiful cherry blossom nail art.
Featuring shades of pink with white, the color combinations work together to create beautiful scenes right at your fingertips.
#1. Blue Background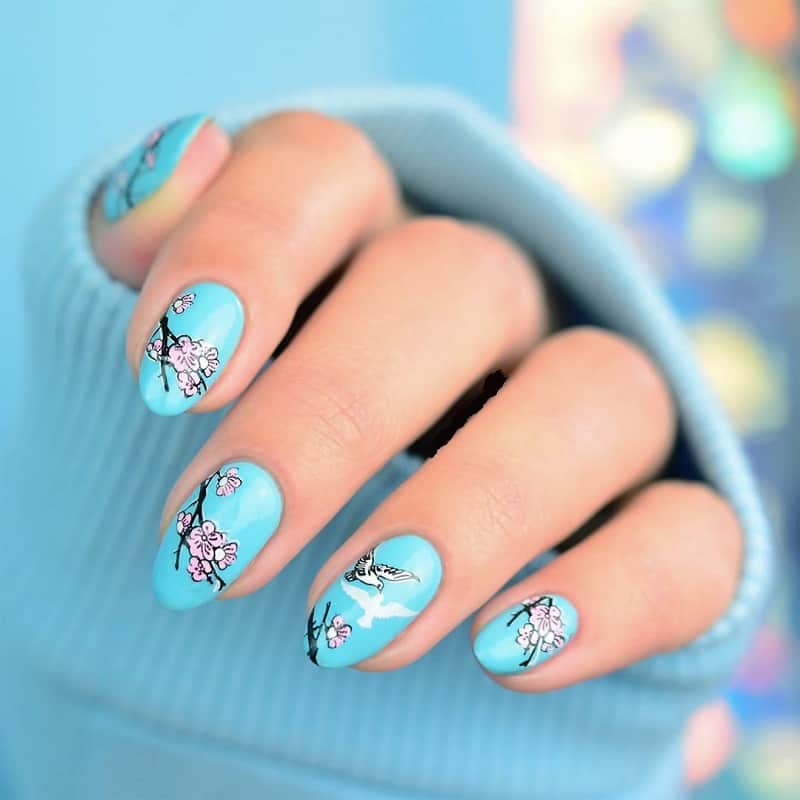 Create sunny skies for your cherry blossom nail art with a robin's egg blue nail polish. Instead of just the flowers, you can add brown or black for branches and even a few birds.
#2. Lavender Cherry Blossom Art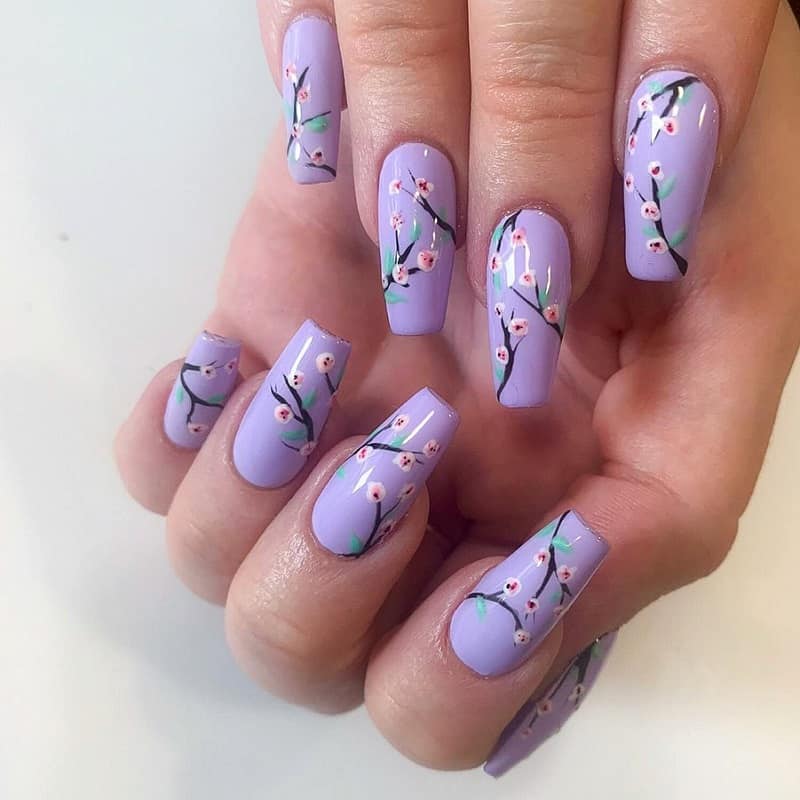 This soft lavender purple is stunning on any skin tone. Add very small cherry blossoms on branches and use a dash of green for leaves.
#3. White Nails with Accent Finger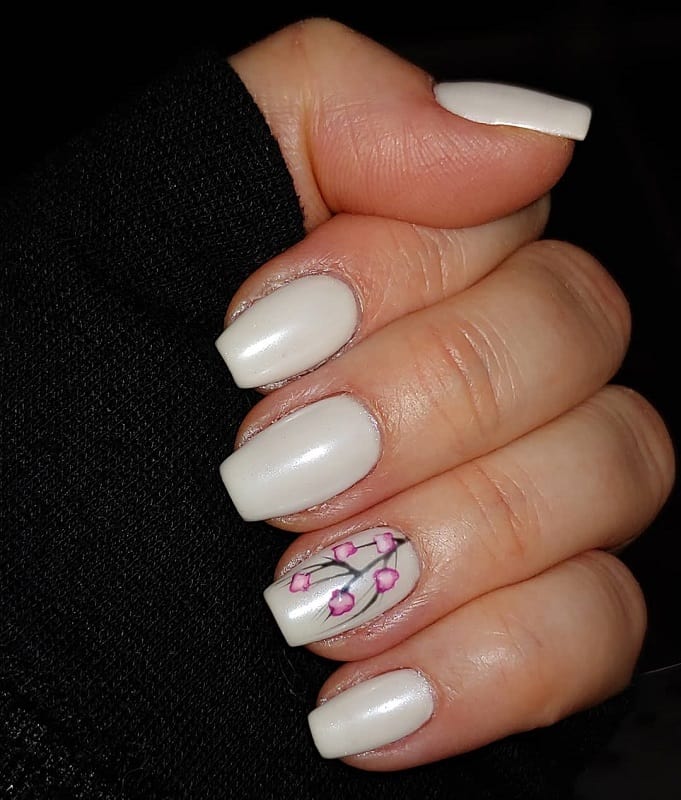 Consider yourself a true minimalist? Paint your nails white, adding cherry blossom art to just your ring finger for accent.
#4. Pink Nails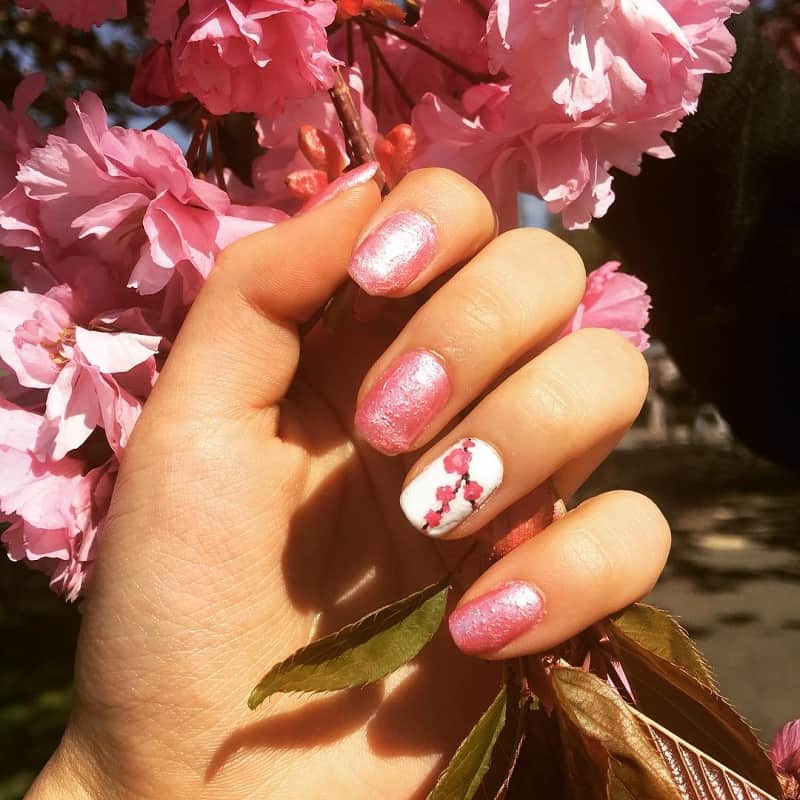 A glittery pink or textured nail polish is key for these cherry blossom nails. You can create this art at home by making sure to paint one nail white and free-handing your own flowers.
#5. Cherry Blossom Stickers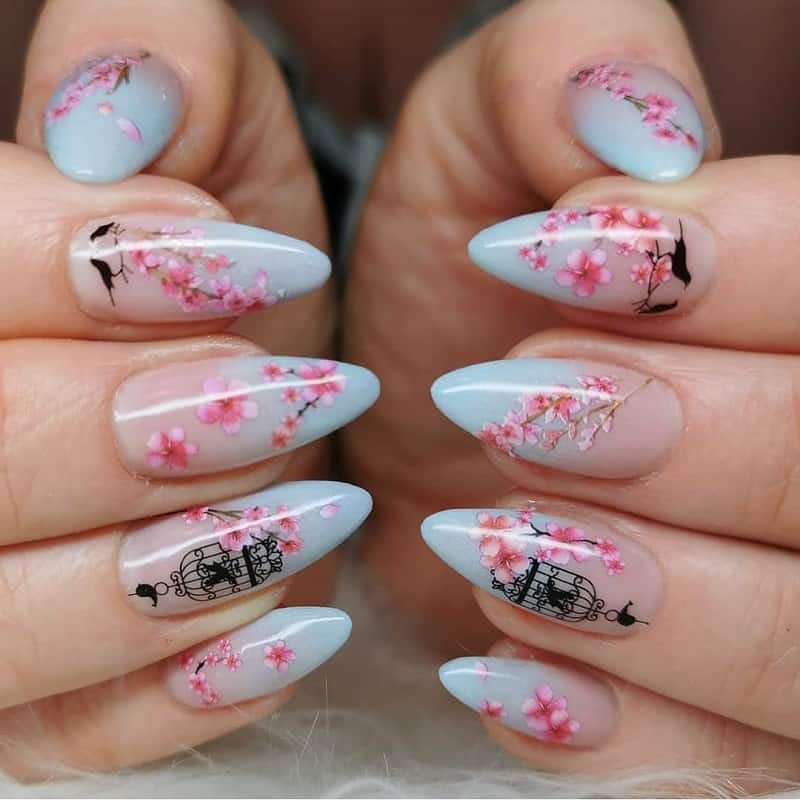 If you consider yourself far from an artist but wanna save a few bucks, get some cherry blossom nail stickers that are super easy to apply.
#6. Rounded Nails with Blossoms
Short white polished nails with rounded edges feature cherry blossoms on every finger here. Create them by your own hand, with stickers or decals.
#7. Clear Polish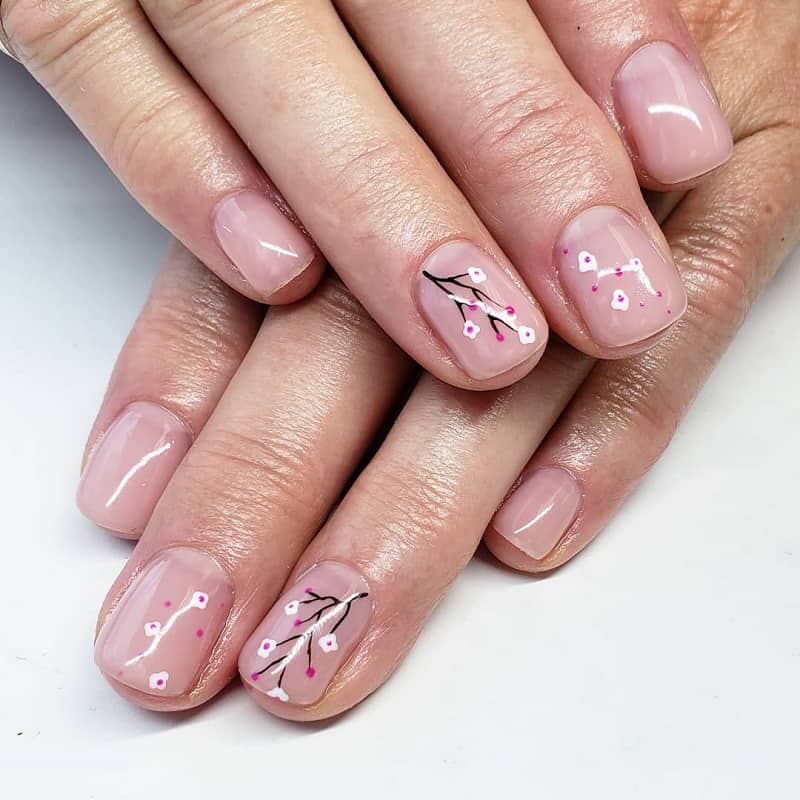 A more subtle nail art can be created using clear nail polish as the base. Then add cherry blossoms both with and without the branches to just two fingers on each hand.
#8. Gradient Pink Nails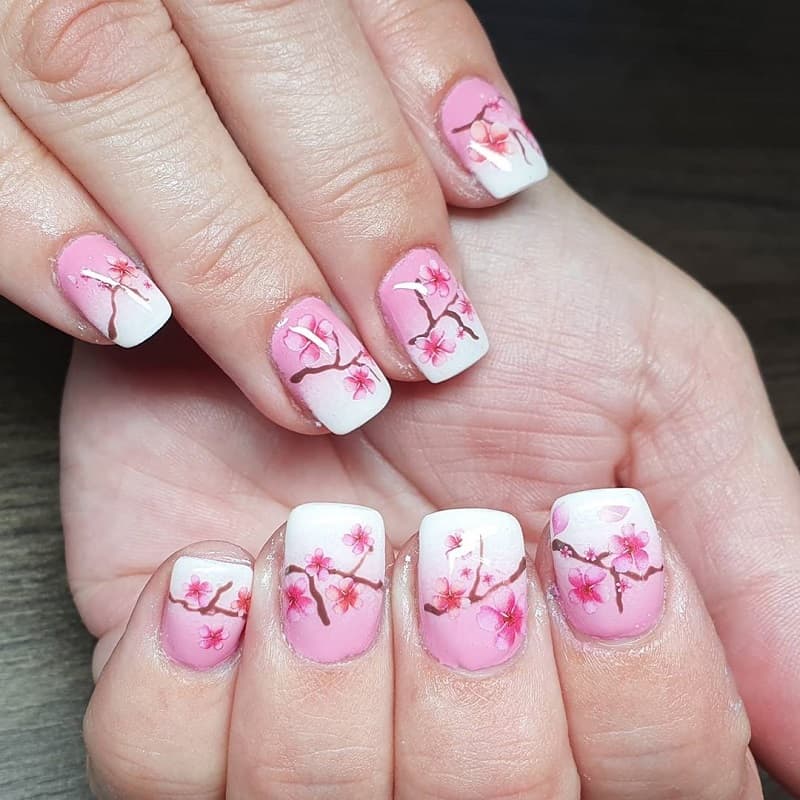 Soft pink melts into white on these short realistic cherry blossom nails. For a more feminine design, use brown for the branches.
#9. Dotted Blossoms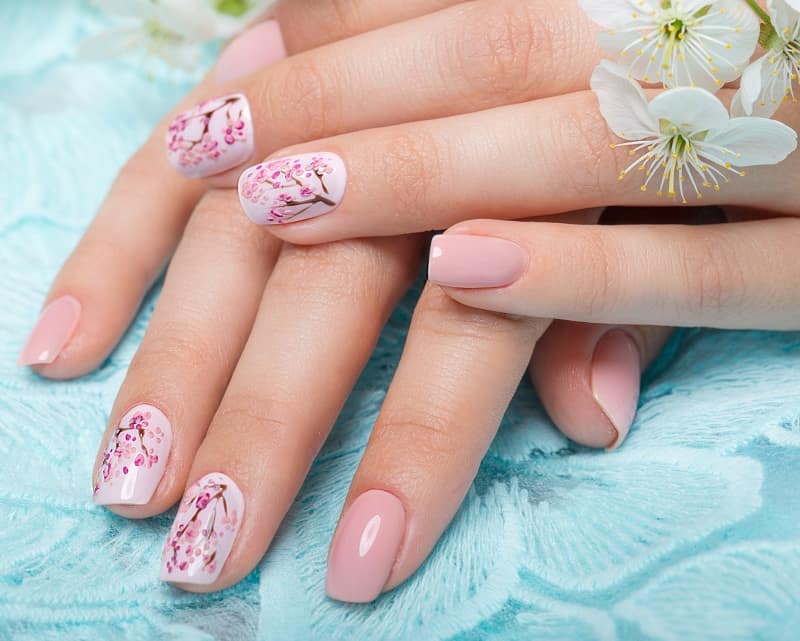 For a more intricate looking design, instead of making circular blobs the blossoms on your nails, just dot on the flowers in rich and pale pink.
#10. Gel Nails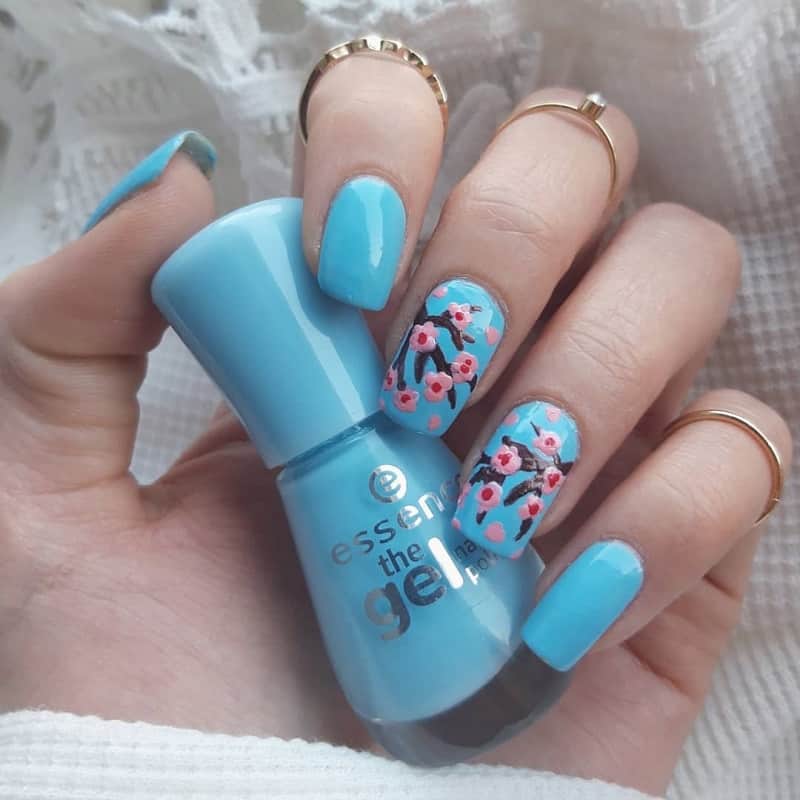 A rich gel nail polish will help you get these stunning aqua blue nails with thick cherry blossoms.
#11. Charming Cherry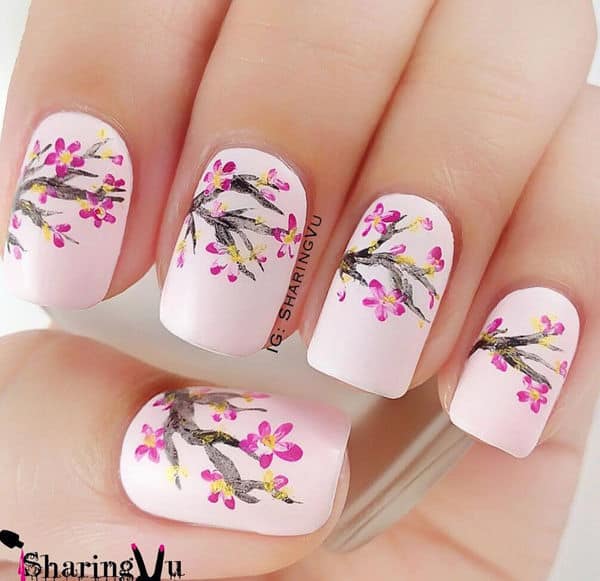 You can have this charm of cherry blossom nails if you design them accordingly. Use light pink as the base color and draw cherry blossoms and black branches to have cherry blossom nail art done on your nails.
Show off Your Love for Flower with Nail Art
#12. Leaning Against the Sky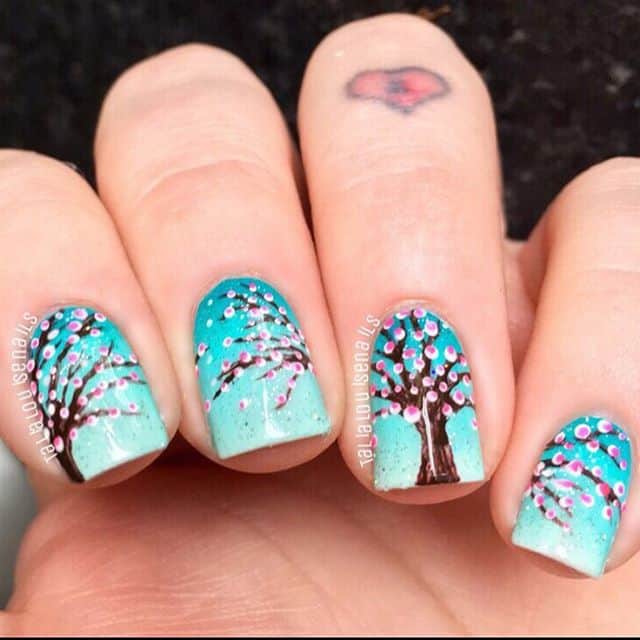 The background of this design is a clear blue sky. Paint the cherry blossom tree as if they were leaning against the sky.
This design more or less can be considered a landscape painting when you keep the nails close to each other. You will stand out from the crowd if you have this cherry blossom nail art.
#13. Golden Cherry Blossoms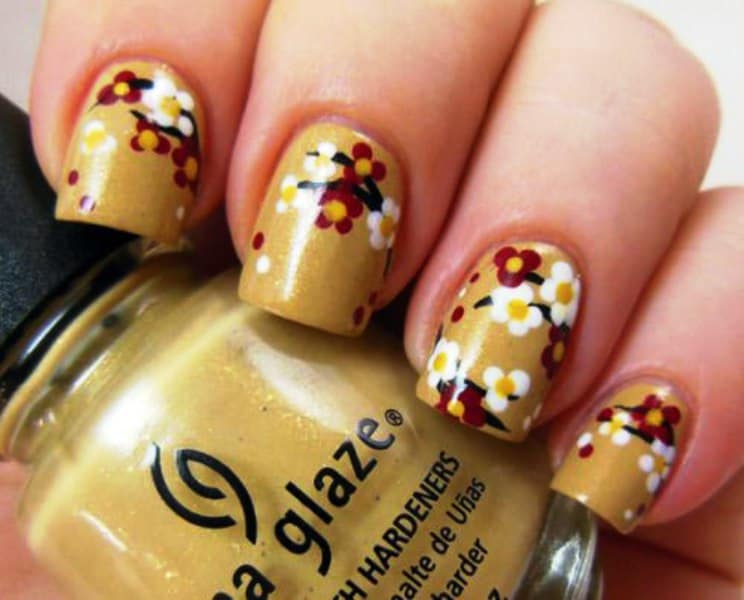 The salient color used in cherry blossom nail art is pink but you can use other colors if you want. Just be careful while designing.
Don't ruin your design to have something out of the box. You can use golden color as the base and white, red, and yellow colors for the flowers.
#14. Paint the Canvas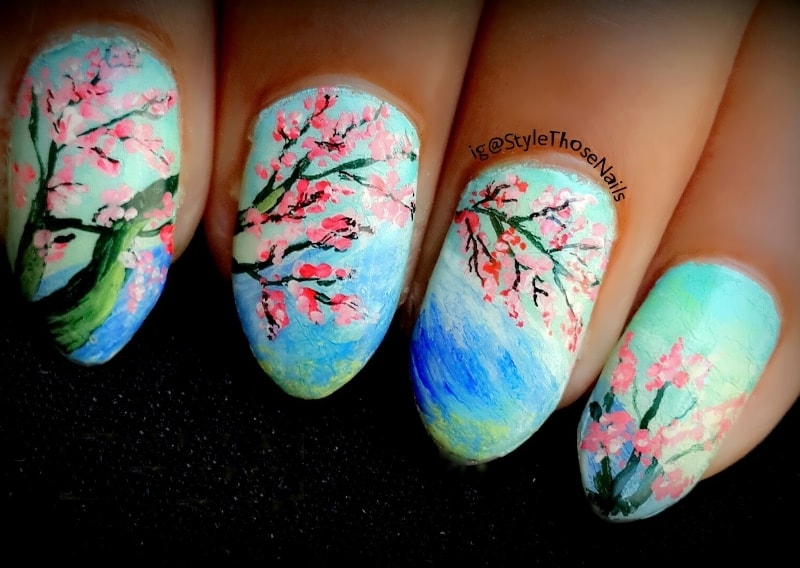 This design is a graceful representation of the painting. But, it needs expert hands to accomplish this task.
If you have a knack for painting then this is for you. Paint your nail canvas with this mind-blowing cherry blossom nail art.
#15. Simply Gorgeous
The simplicity of this design is the secret to its beauty. Use a sky blue base to draw cherry blossom flowers on them.
A purple center surrounded by white petals will do the trick. You can use black uneven lines as the image of the branches.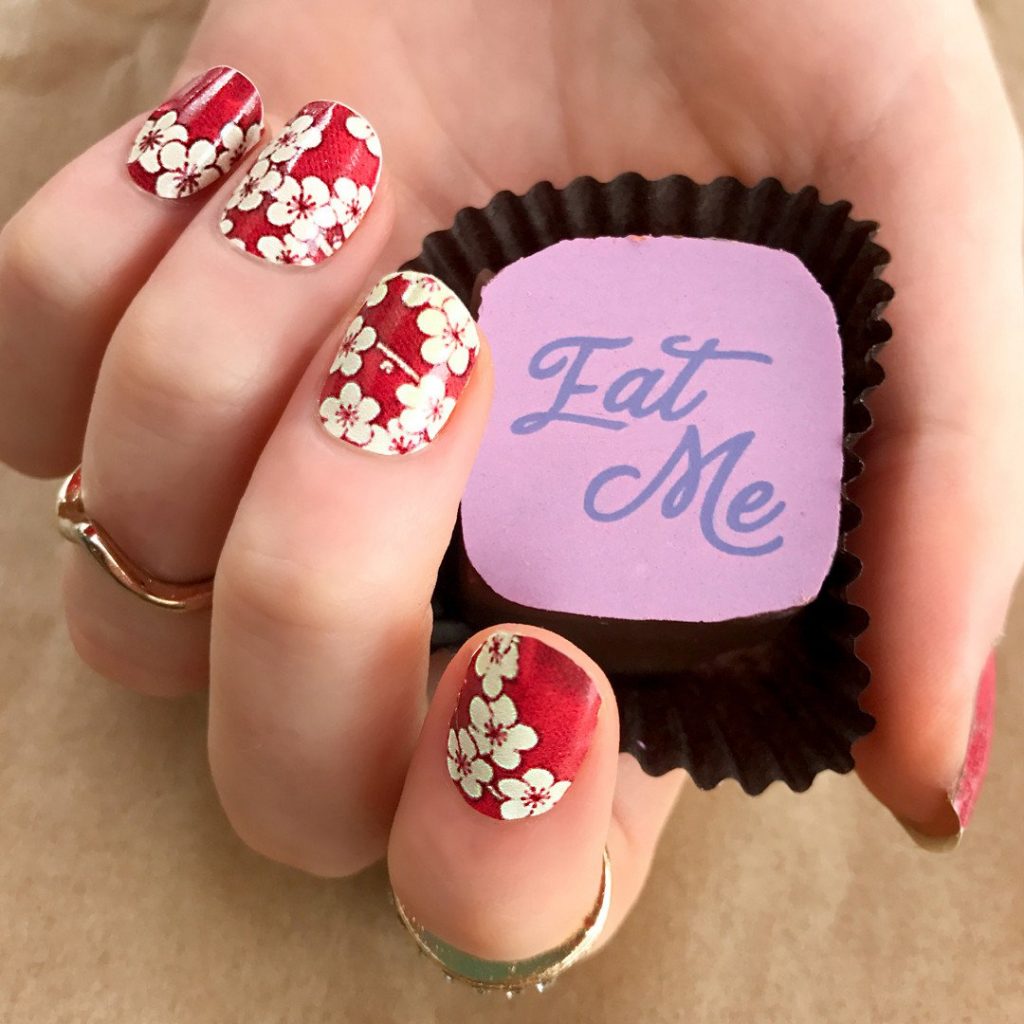 The use of red can enhance the beauty of cherry blossom nail art. You can draw white cherry blossoms on your red nails. Paint the center of the flowers with red color.
Fun & Fabulous New Year Nail Design
#17. Japanese Cherry Blossom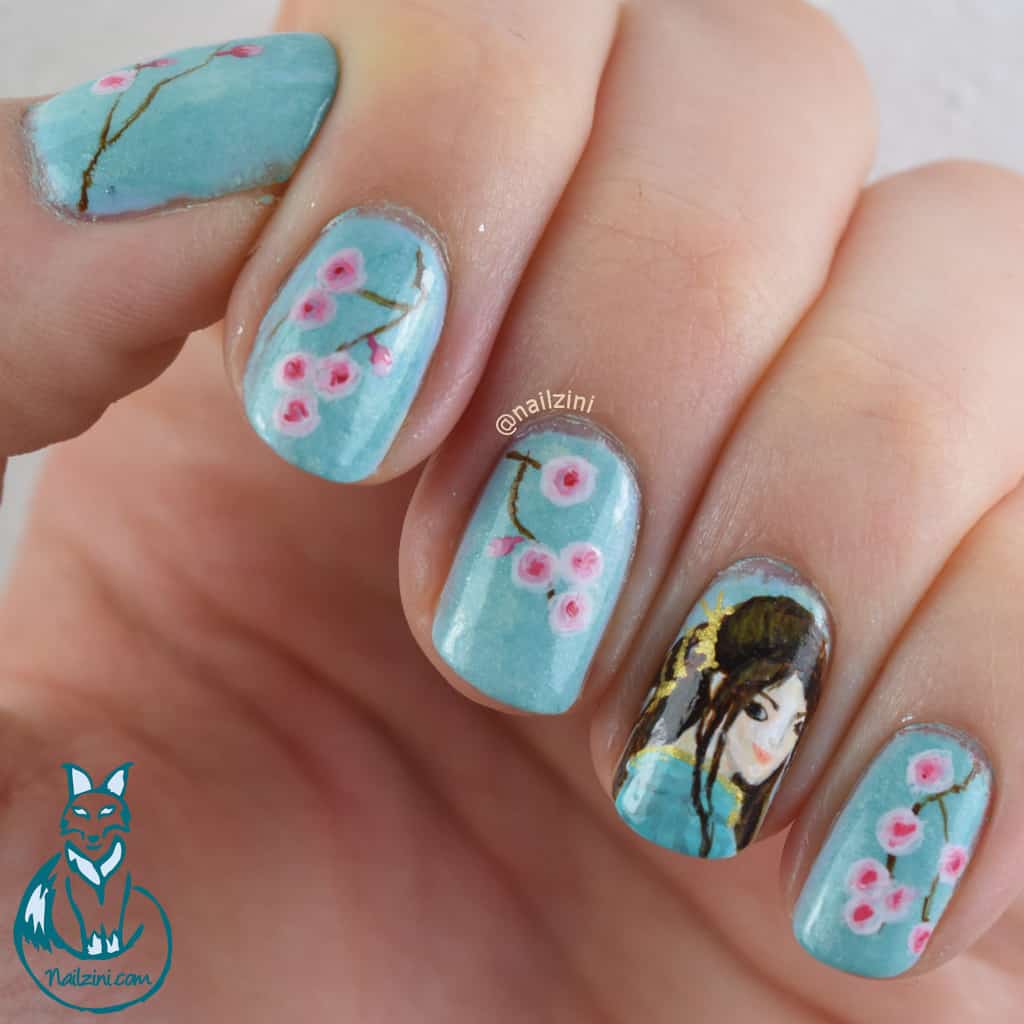 You can depict the original birthplace of cherry blossom on your nail art. Draw an image of a Japanese girl and paint other nails with cherry blossom flowers. The design will represent Japan as the holy place of cherry blossom flowers.
#18. Gold Glitters
If you want to make your nails shine, then this is the right design for you. Draw the cherry blossom flowers in light red or orange color and use black for the branches. Use golden glitters on some of the nails for a glitzy look.
#19. Cherry Blossom on French Nails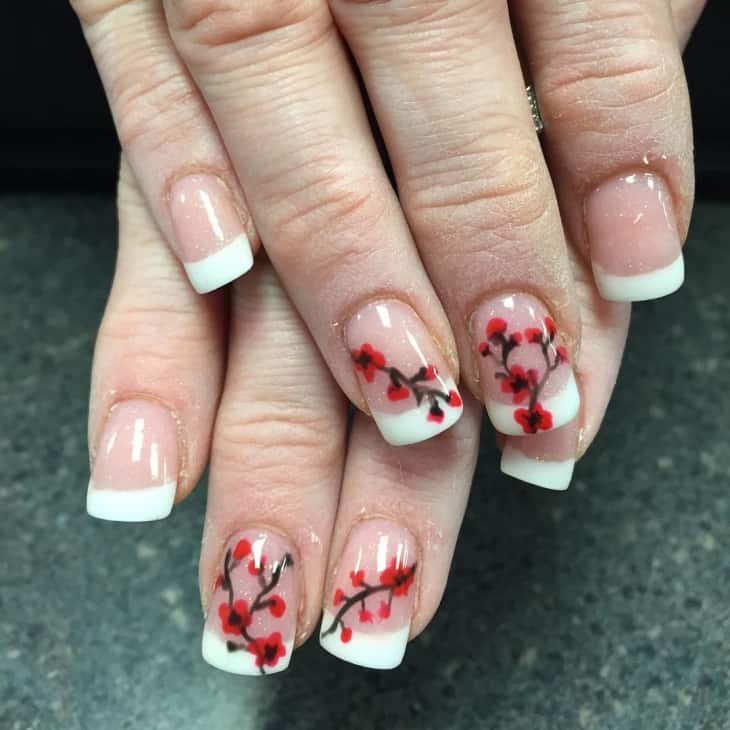 Don't worry if you have french nails. You can have cherry nail art on them with great efficacy if you want.
First, draw a jagged line on the nude nail as the branches. Then paint a cherry blossom on the top of every branch. That's it. Cherry blossom nail art on french nails is ready.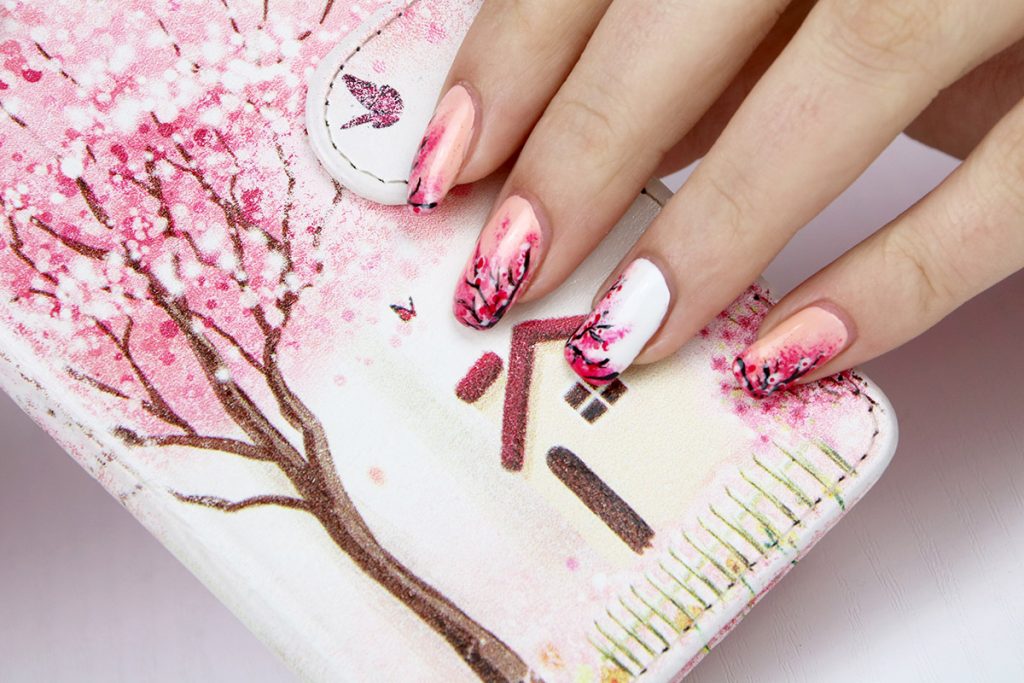 Cherry blossom automatically gives us the idea of a cluster of pink flowers. So, it's natural to use this color in cherry blossom nail art. In this color, the pink pigments are used efficiently to give the design a luxe look.
Coolest Nail Design to Rock Winter Festivity
Cherry blossoms are so beautiful that you will feel peaceful looking at them. Sakura flowers have become the identity of Japan to other countries. The name of this flower is always uttered with the name of Japan.
You must love the pinkish charm of these flowers not only for the sheer beauty but also for the spiritual sense it provides. The sweetness of pink and the patterns of the petals jointly create a celestial ambiance.
If you try out the designs I have mentioned here, you can have this celestial beauty right on the top of your fingertips. Let's color your nails with the charm of Sakura flowers. Hope you will find the right design which will suit your precious nails.