It's been a minute since we talked about beautiful tan nail designs. Tan nails are actually the ones that women tend to get the most when at the salon or doing themselves.
The reason is nude tones look the most appealing and ladylike. Besides tan or nude, the second most asked for nail design is the French manicure. These softer designs are perfect for ladies who like to have formal, professional, and classic nails.
Smart Tan Nail Designs
As we said, tan is the perfect color when you want to look smart and ready to wrap up that meeting in a blink of an eye.
If you're more of a chill, laid back person and you want to style your nails for your everyday activities, you'll be able to do that too with the below ideas for tan nails.
#1: Black and Tan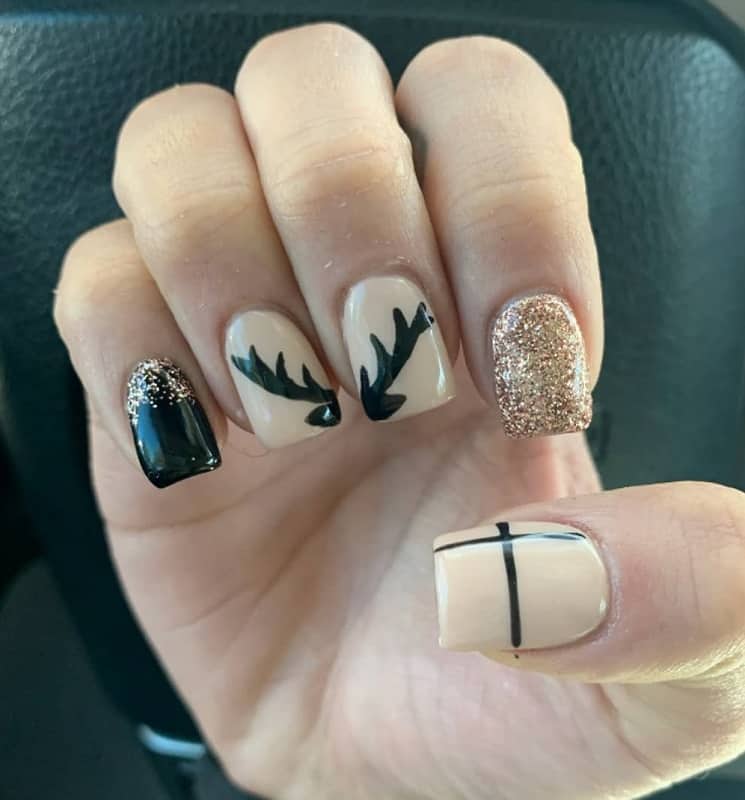 After painting your two center nails tan, frame them with a black pinky nail and a gold glittered pointer. You can add a black horizontal line to a nude thumb nail.
#2: Tan Coffin Nails
Extra long tan nails are a way to be glam yet still professional-feeling. This tan almost seems to have a pink undertone which you can easily get by starting with a light pink base and painting over with tan.
#3: Matte Tan
No need to be ashamed of only having short tan nails when you rock a matte pattern like this. Tan with grey, pale yellow, and light blue are an unexpectedly beautiful combination.
#4: Tan Acrylics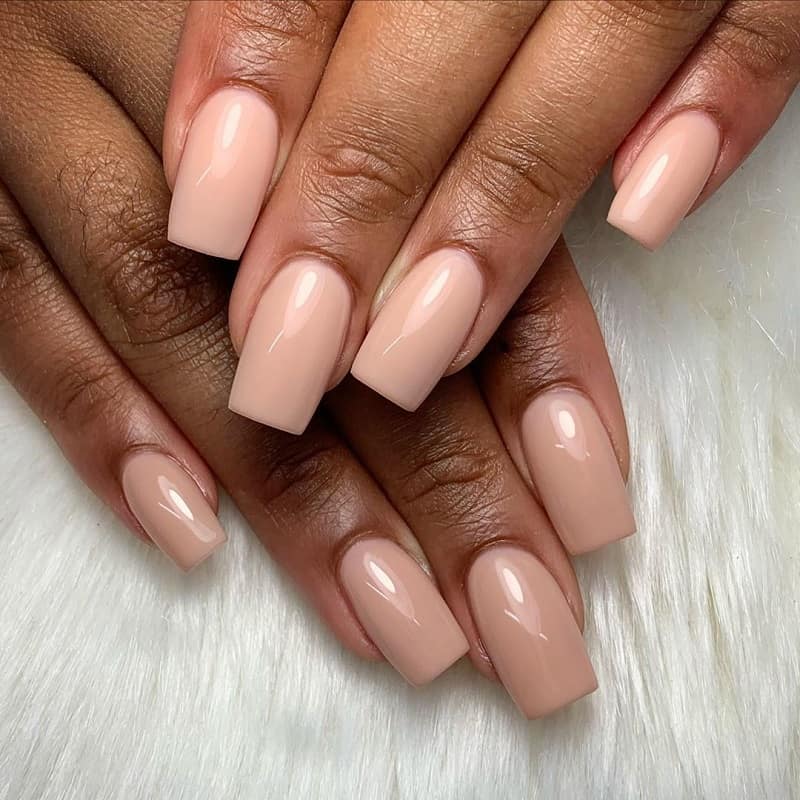 With medium length square acrylics painted in tan polish, you'll feel confident and gorgeous whether you're in a meeting or on a date.
#5: Green and Tan Floral Nails
Watch how sage green and tan make a minimalistic floral design come to life on long coffin nails. The nails here are matte but you can use gel too!
#6: OPI Loves All Natural
OPI is a worldwide famous nail lacquer, founded in the U.S. and has been around for more than 30 years. The quality and the color range they provide is more than enough, and there is a little bit of everything for everyone.
We recommend their "Bubble Bath" nail polish since it is the prettiest neutral tan base you could go for. "My Very First Knockwurst" and "Over The Taupe" are also some pretty tan shades.
#7: Wedding Feel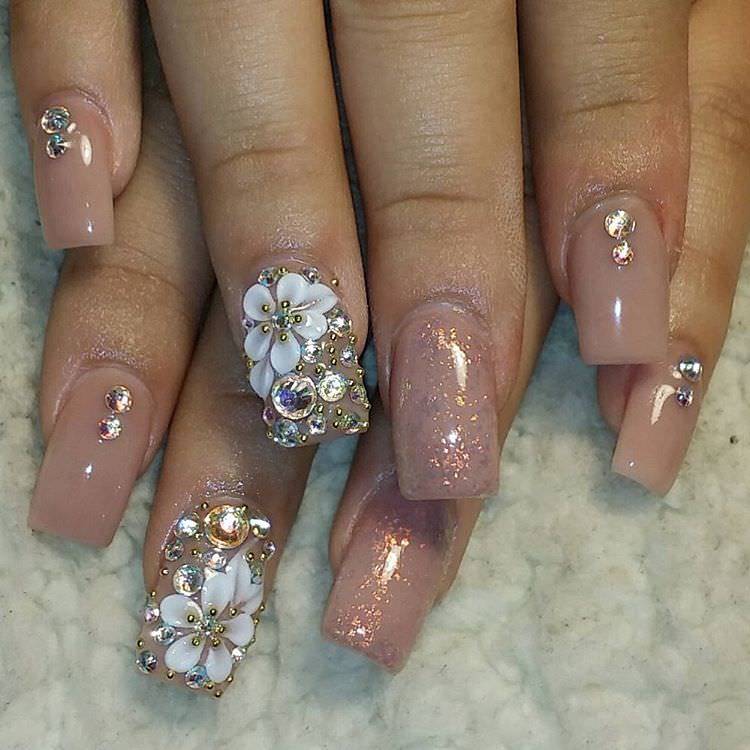 Do you feel the wedding tingling up in your stomach just by taking a look at these? Tan nail design with a lot of flowery and golden details looks extravagant.
These nails could be worn by a future bride to be, and one thing is for sure; you will have a real marvelous manicure.
#8: Darker A Bit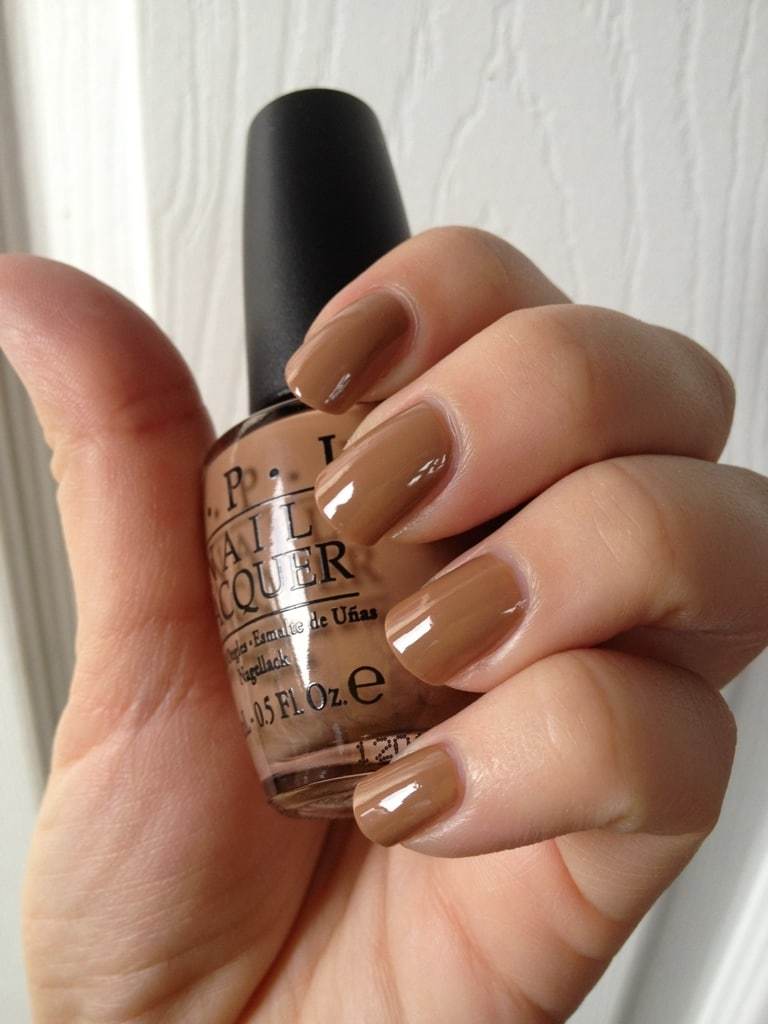 And you can see it again, OPI has stolen all the glory. This darker shade called "Chocolate Mousse" looks really simple but somehow interesting and different than the other tan-colored nails you see every day. It's gotta be the quality that brings the life back into it.
#9: Inspiration In Everything
If you are a coffee lover, and especially if you are a Starbucks lover, this is a great example that you can find inspiration pretty much anywhere.
This tan nail design that's been inspired by the big latte looks perfect for festivals and any type of outdoor gathering. Buy yourself a coffee to go and have everything matching from head to toes!
#10: Lace Tan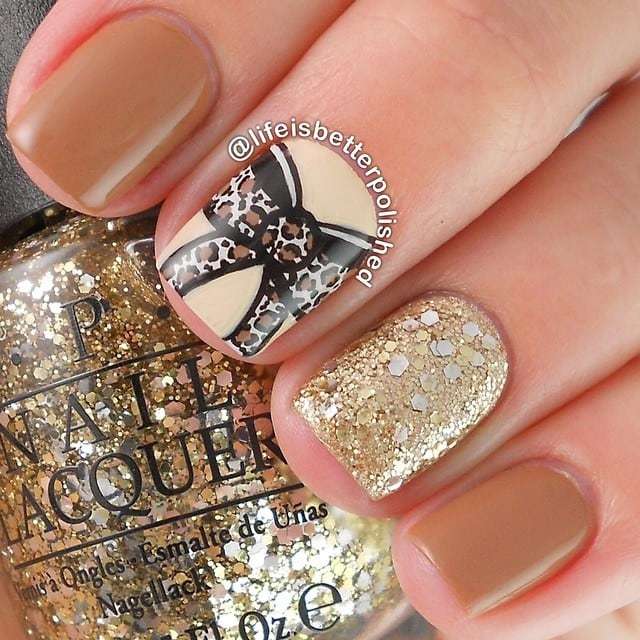 Some nail drawing art can look super pretty when done properly and at the right place. Make sure to trust your nail technician if you go for anything bolder than the classic tan nail design.
#11: Stunning Glam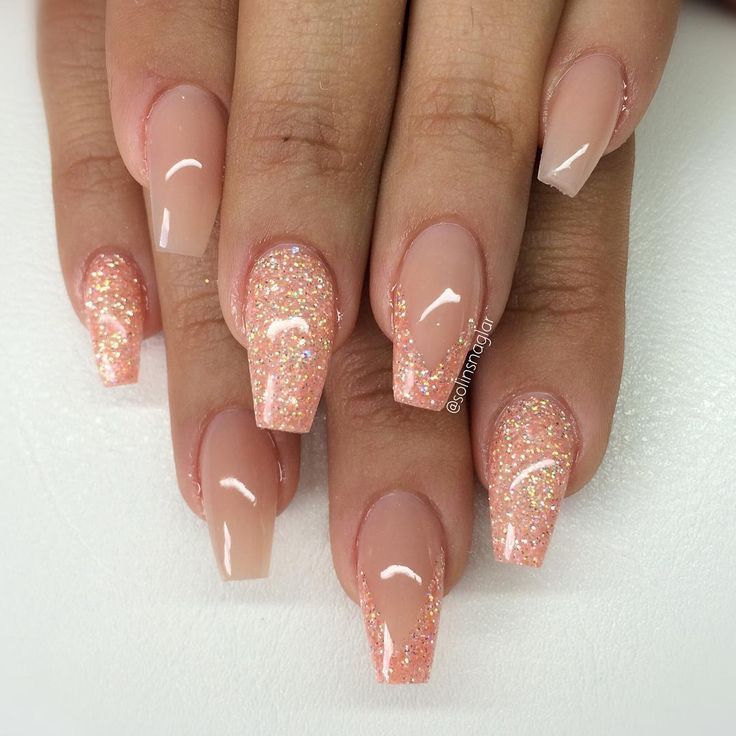 Long acrylic nail designs that have been made with tan, nude and peachy tones give out that prom vibe that we love. If you are off to any type of an event where elegance is required pull out the big guns and have a real fiesta with these.
#12: Nails For Prom
Square nails with a lot of character is what we are seeing. This cute and perfect for prom manicure has been made with the nail tips and looks super pretty, especially with the added glitter.
Always remember to maintain your nails properly in order to avoid breakage. There is no point in going back to the salon over and over again. Make that one-time count and last!
Have A Splash of Glitter On Your Nails
#13: Square And Tan
These super short and super square nails have these beautiful criss-cross pattern lines that look so stunning. They look like they've been done by a geometrician since the lines are so precise and well-drawn.
Nail art is something that not many people can pull off, so we believe that these are unique and artsy.
Matte tan nail design is something that never gets old. We've added some mysterious burgundy color to it just for the extra glamorous effect. This way they look a bit more spicy and frisky.
#15: Victoria's Secret Cuteness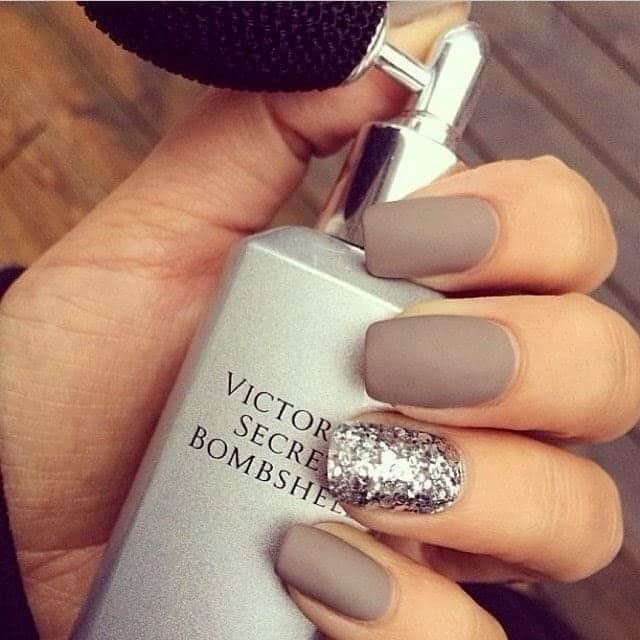 Victoria's Secret is the ultimate bombshell company, that transforms women from little naive birdies to divine angels.
These tan-colored nails with silver gemstones look perfect and are ready for you to slay them down the runaway.
#16: Black French
Some black french tips with the tan nail base look different but cute. These nails are perfect for women who don't like the classic treatments but rather love to look original.
#17: Cheetah Lovers
Cheetah print is a must with the tan nail design. Cheetah is a very fast, dangerous and a smart animal, and so are you. Know that if you get this manicure man will fear you a little bit, and will you definitely show them who's the boss.
#18: Details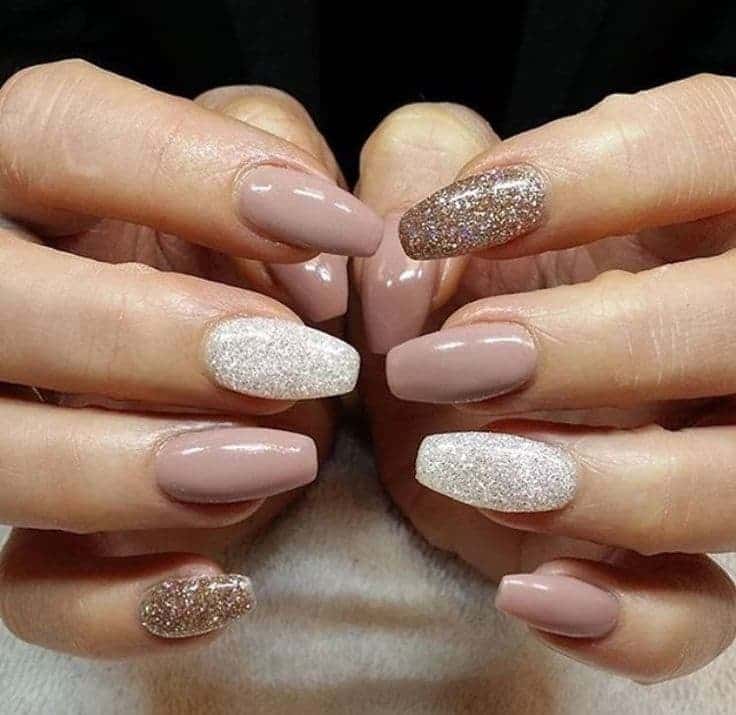 It's all in the subtle but glamorous details. Sometimes the length of the nails doesn't have to be drastic in order to be noticeable.
A gorgeous silver shining detail will get the job done as well. And if you go for both details you will have real showtime with your nails.
#19: Full Of Magic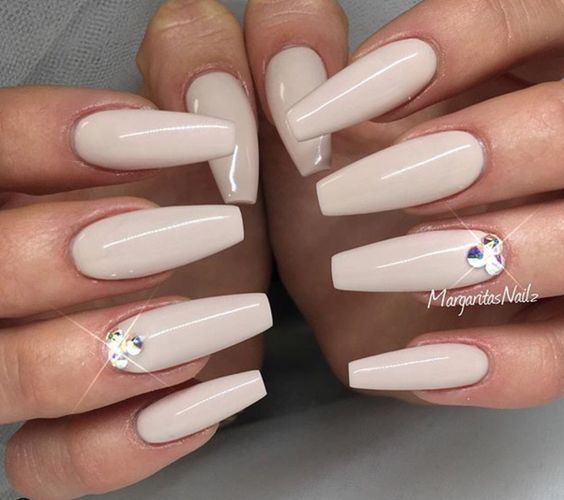 Don't these look magical? This long acrylic nail design with the light tan color looks perfect for the Friday night out.
#20: Dance With Me
Are you ready to hit the dance floor? These long square nails with some bling to them will look irresistible at a party. The disco ball will shine as bright as you do, and if you add some big shining jewelry to it then you are unstoppable!
#21: Queen Is Here
Make some space because the queen is here! This tan nail design will for sure make a lot of heads turn because these look elegant and too glam.
If you are all about the big bling and you like to make a bold statement with your appearance this manicure screams your name.
#22: Glue Time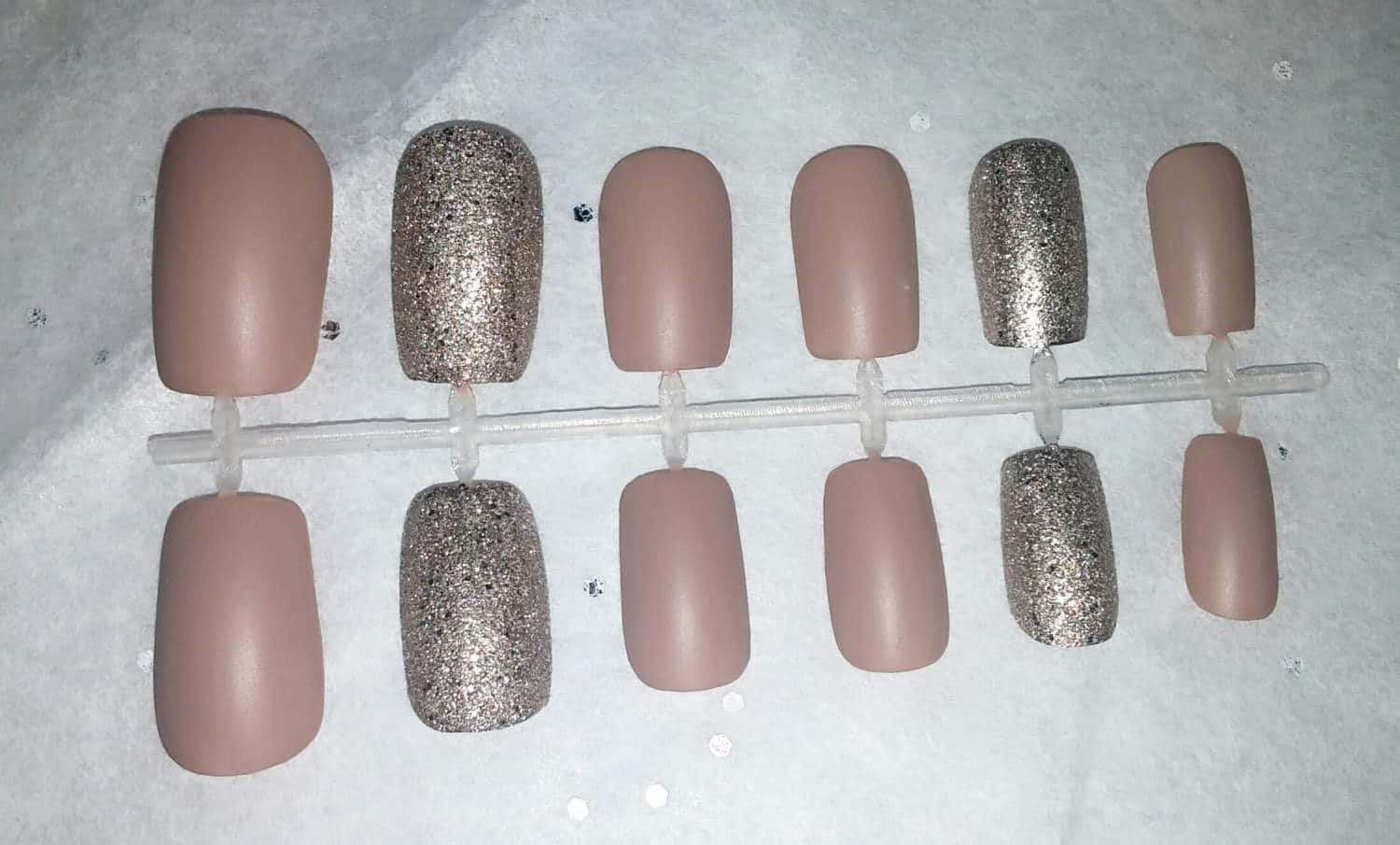 Not all of us are that lucky to have naturally long and thick nails, so sometimes we get the glue down ones. This method is good if you are on the go and constantly rushing to get things done in time.
While sparing your time it also spares your money, so keep that in mind when getting your nails redone.
#23: Pop-Up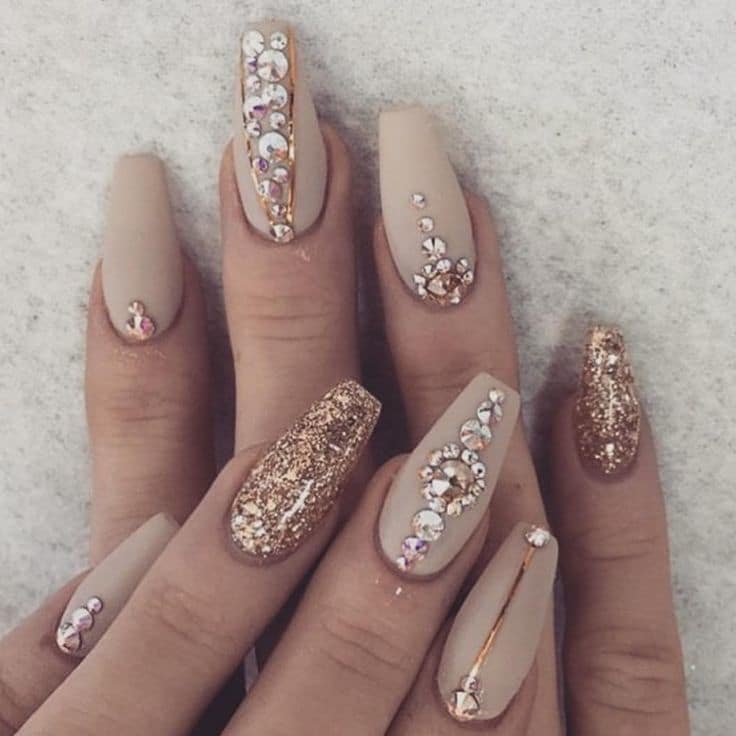 Freshness, beauty, and style are the three words that describe this tan nail design. This summer, be the main attraction wherever you go with this nail idea.
These big shimmery gems will definitely be a reason for people to approach you a lot more than you are used to.
#24: Single Color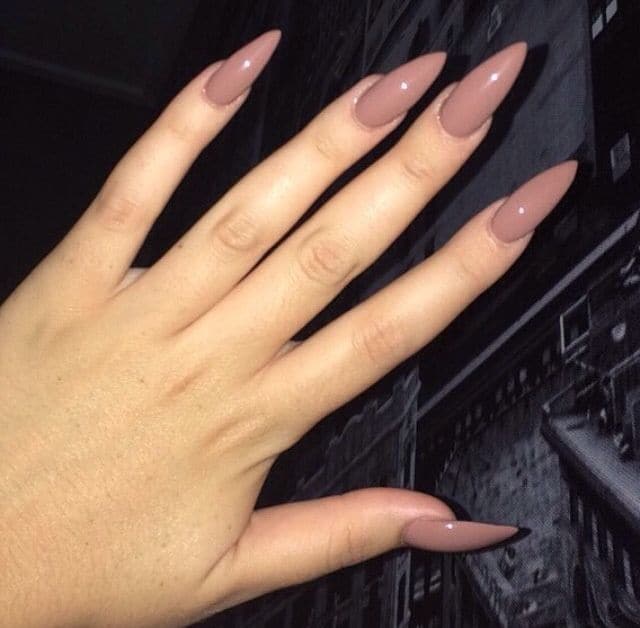 Who says that one single nail color can't look beautiful? Mono-colored nails with no accessories are the best choice if you are clumsy with the little details which tend to fall off of your nails easily.
You can make them glamorous just by doing them in the stiletto shape, or by getting them this long.
#25: Slow Dance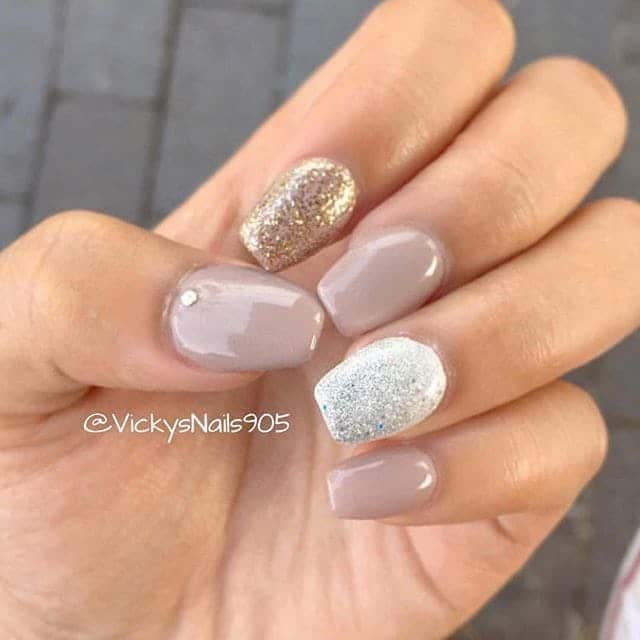 I'm ready for the last dance! This tan nail design looks super appropriate for your graduation. Make sure to match your nails with the right makeup too in order to look fabulous.
Perfect Tan Nail Design Ideas for Classy Women
Appropriate for graduation, proms, business meetings, or just your everyday life activities, these nails are going to transform you from a simple girl to a true trendsetter goddess.