When you're looking for a new nail shape, there's a reason you should consider rounded acrylic nails. A round nail is classy, subtly beautiful, and great for soft, casual style. They're also easy to wear while doing daily tasks, like typing, cleaning, or running around with kiddos if you have them.
While there are many gorgeous nail designs out there, only a select few look amazing on rounded acrylic nails. We're sure you'll agree that a gothic design loaded with rhinestones and silver polish detail is better suited for stiletto or coffin nails! A round nail better shows off soft designs and is just a little more practical.
Stylish Rounded Acrylics
We're pretty confident that after you see the below 20 trendy designs for rounded acrylic nails, you'll make the switch immediately!
#1. Matte Black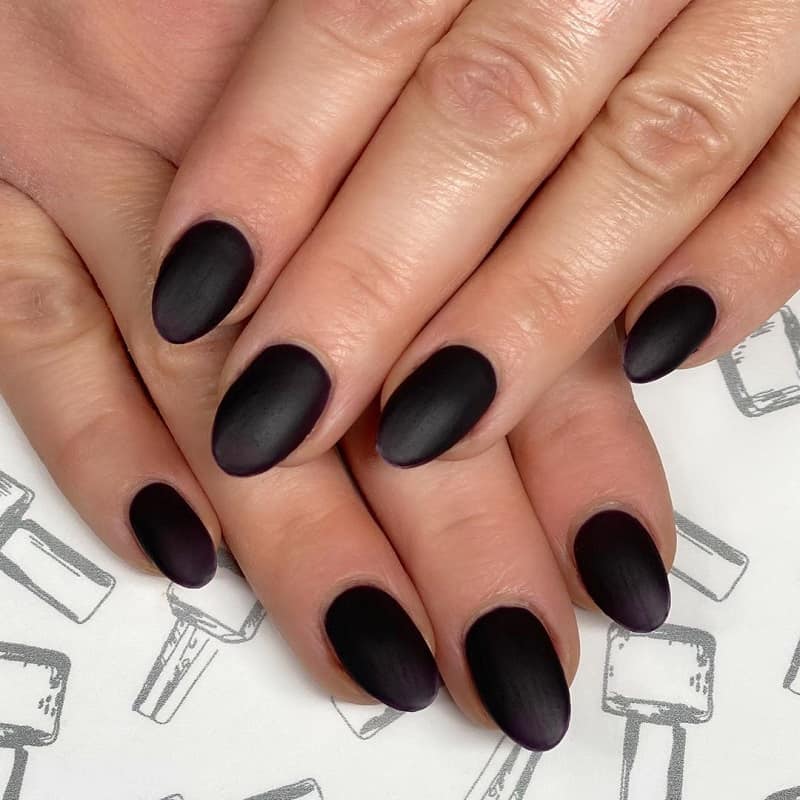 Whether it's Halloween or you just have an edgy personality, a matte black polish is sleek on rounded acrylic nails.
#2. Periwinkle with Glitter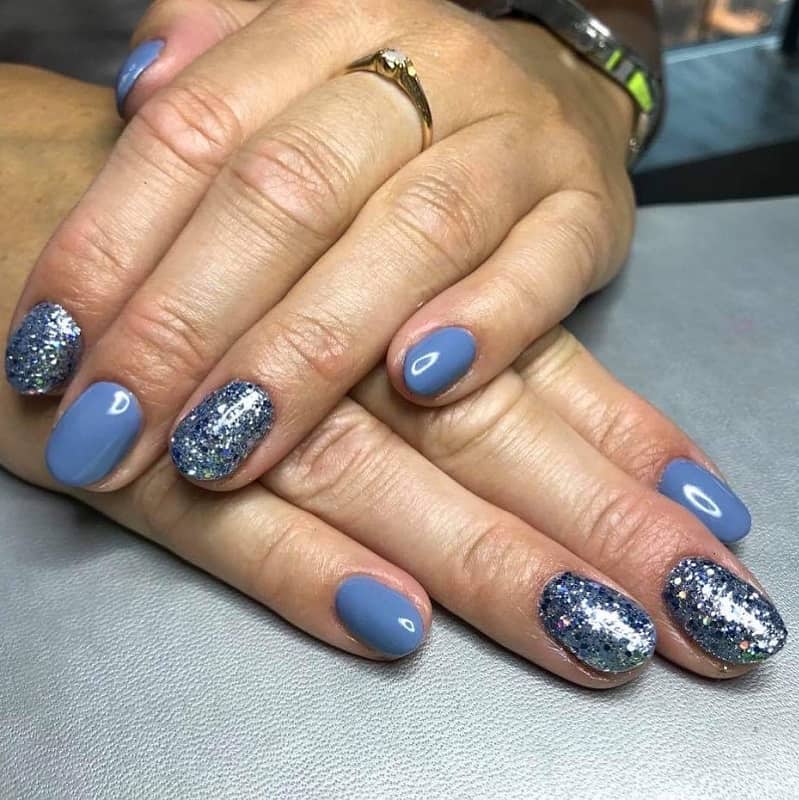 If you ask us, periwinkle is one color that isn't used enough on nails! Add them to your round acrylics and throw in a couple nails painted with a blue-glitter polish for shiny accent.
#3. Hot Pink
Consider yourself a perky personality like Elle Woods? A hot pink rounded acrylic nail is your answer. We bet you'll feel a burst of energy each time you look down at them.
#4. Pastel Yellow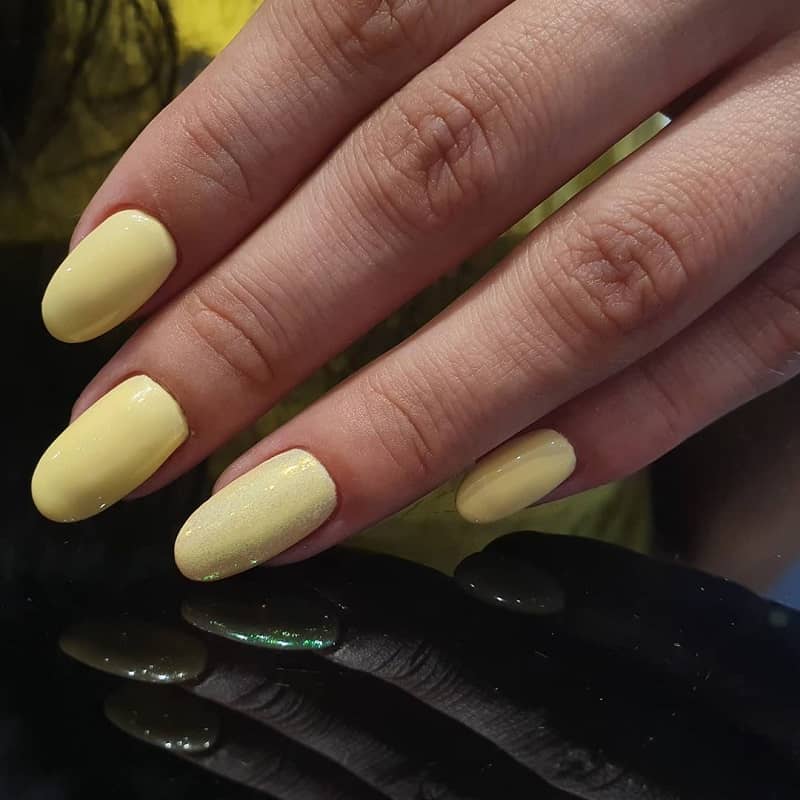 Yellow just may become one of your new favorite colors when you see this soft shade grace rounded acrylic nails. This shade definitely isn't as harsh as other yellows.
#5. Baby Pink
Are you used to sporting a plain light pink on nails? Try out this design featuring baby pink polished acrylics with an accent nail of white marbled design.
#6. Navy Glitter
Shine and sparkle is where it's at with gorgeous navy blue rounded nails. Their glitter is the perfect amount of bling.
#7. Rich Red
For many women, choosing red for their nails is an automatic. With a rich red on your rounded acrylic nails, everyone will understand your classy choice.
#8. Airbrushed on White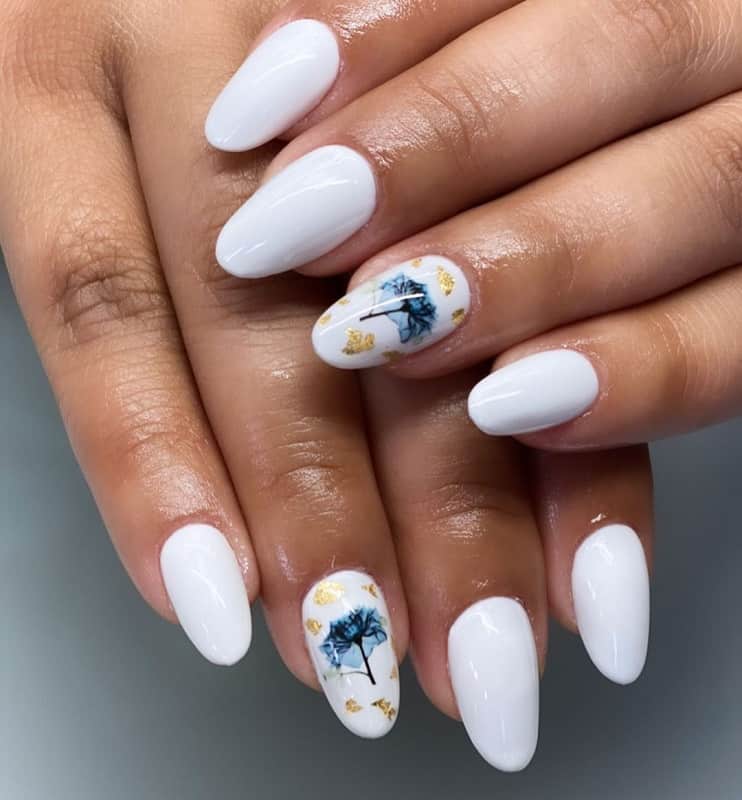 These white rounded acrylics feature a beautiful airbrushed design on the ring fingers. Pieces of gold foil fill up the space around it.
#9. Long, Round & Teal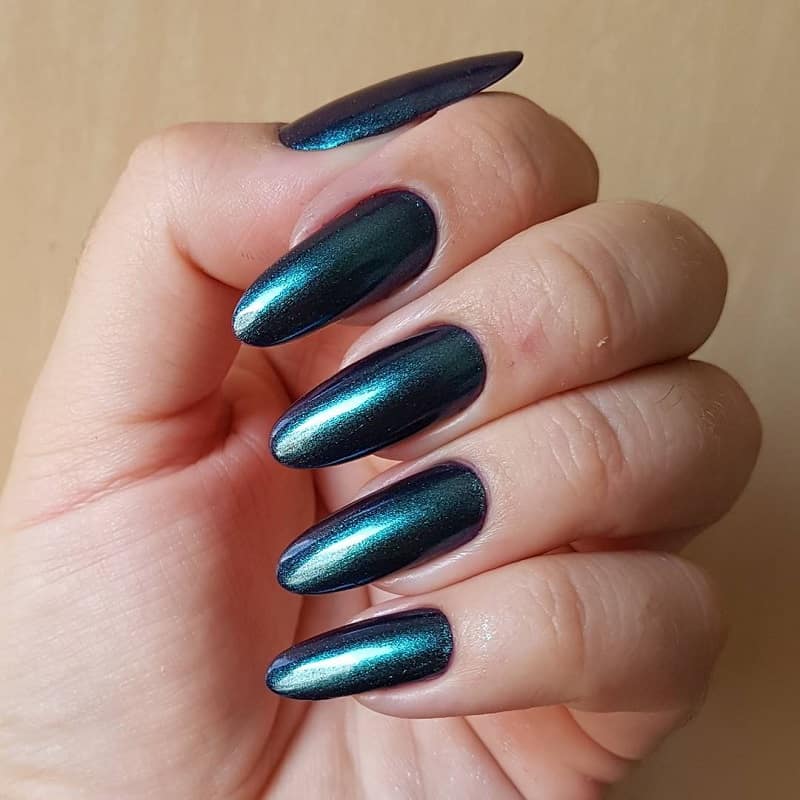 No need to sacrifice length just because you're changing your nail shape to round. These long nails are just as gorgeous with their shiny teal color.
#10. Pink and White
Another very girly style to wear on nails is the pink and white rounded acrylics seen here. Mix stripes, solid nails, ombre, and even a fun picture of a cupcake or milkshake for statement nails.
#11. Bright Red with Nude Accent Nail
As we've said before, you can't go wrong with red nails. But to spice them up a bit, consider giving your rounded acrylic nails an accent by only painting half the nail and adding gold foil.
#12. Pastel Rainbow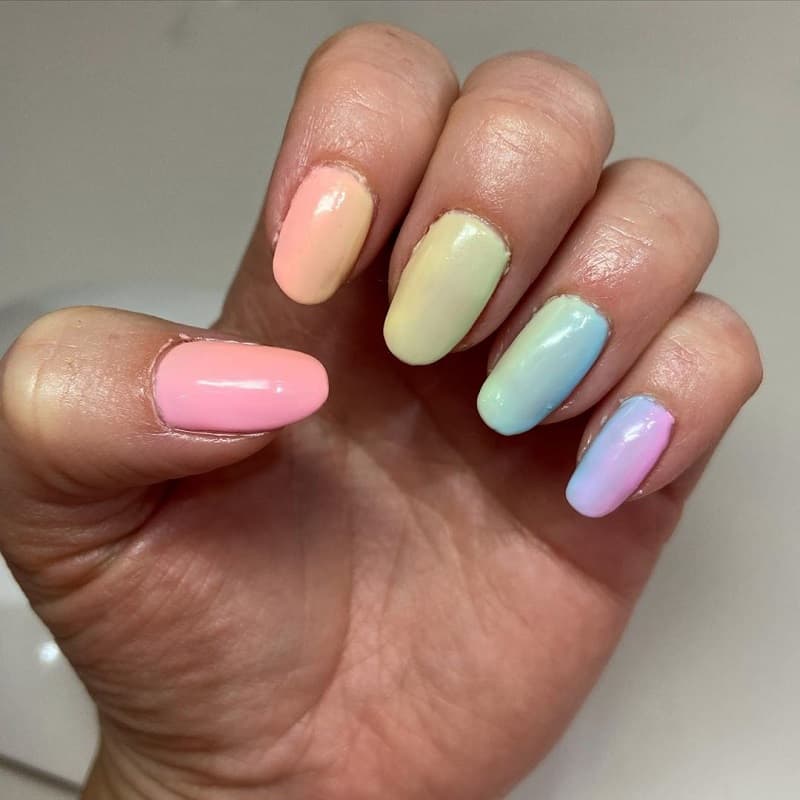 A medium length rounded acrylic nail is the best of both short and long worlds. We love the rainbow ombre design here featuring soft pastel colors.
#13. Clear Abstract Nails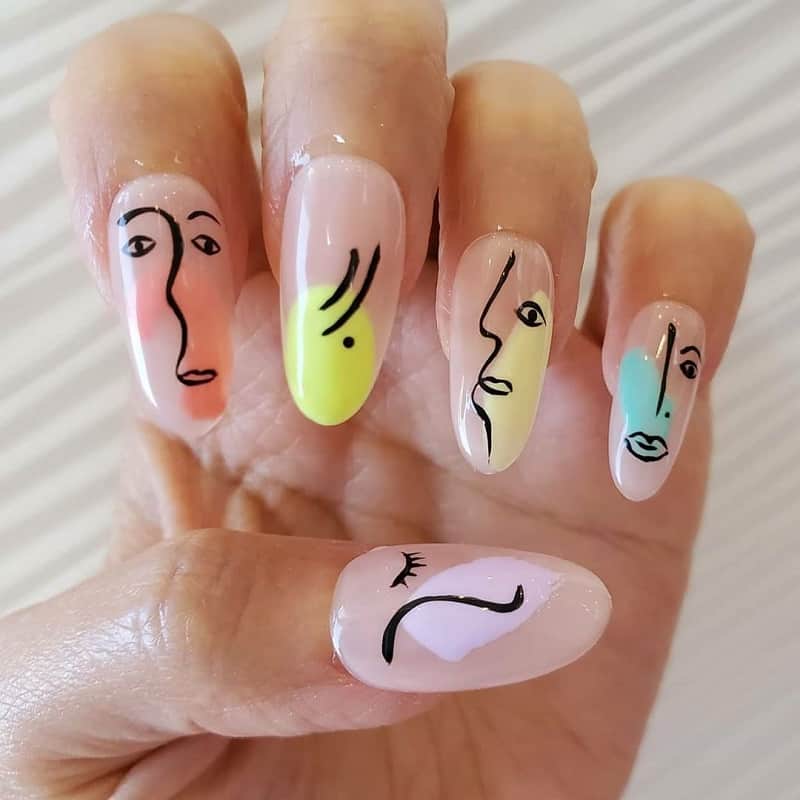 For a truly new design, consider a nude base with a black abstract face on long rounded acrylics.
#14. Stones And Acrylic
For your round acrylic nails, use magenta, purple, maroon, or any shade of red as the main color and a top coat to give it shine. The rhinestones seen here look like a mini tiara for the cuticle on the ring finger.
Acrylic Nails: Everything You Need to Know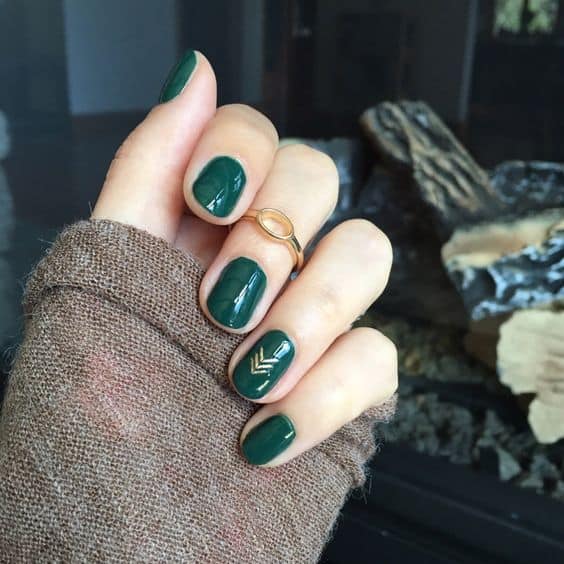 For fall, apply a rich green as the base coat, then use a thin brush to draw gold upside down arrows or another small pattern on the ring finger.
#16. Nude Acrylic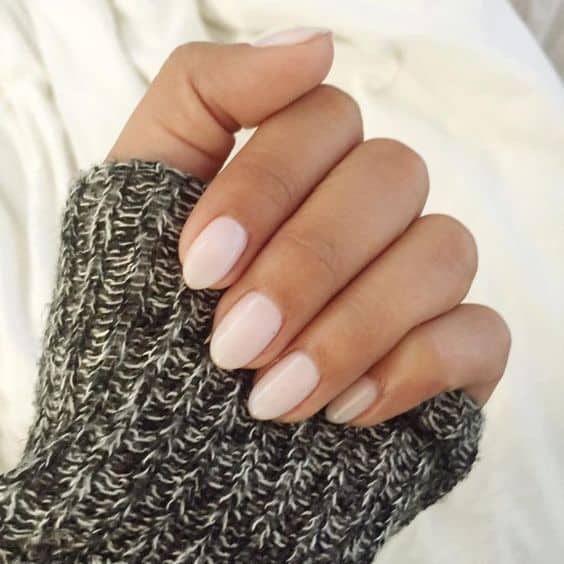 One color you can't go wrong with on rounded acrylic nails is a very light pink or white. Paint the nail completely and you're good to go!
#17. Zodiac Signs
If you believe in astrology and reading the stars, flaunt your sign on your rounded acrylic nails. Use black for the background, then white to trace your sign or some random constellations on each nail.
#18. Acrylic Ombre
Ombre is always in and that applies to your nails too! We love this girly pink ombre on rounded acrylic nails. A tasteful peach would also be pretty, along with a flower design for accent.
Create Mirror Nails: 5 Easy Steps to Follow
#19. Shiny Acrylic
If you want to play with different shades of colors, this is the right design for you. Blue, purple, green to have mix with very thin glitters for a shiny and elegant look on rounded acrylic nails.
A breezy sky blue works with teal and green for these stylish rounded acrylics. You can also switch up the colors and use shades of pink or purple instead.
Play It Cool With Square Acrylic Nails
Round nails are always beautiful. One of the above designs for rounded acrylic nails is guaranteed to make your hands feel model-worthy. All you have to do now is decide which style to try first!