If you are an avid nail polish user, you will need ways to organize your nail polish collection. With so many colors and styles to choose from, what's stopping you from having a well-organized nail polish storage?
Simple But Aesthetic Nail Storage Ideas
While there are several ways that you can store them in a DIY store, you can also store them easily with affordable storage racks. Below, we review some creative ways to store your nail polish collection.
1. Neat Drawers Assortment
Nothing can go wrong with the simplest storage method. Add a few cardboard or wooden dividers that fit into your drawers and sort your nail polish according to their colors or types. For starters, you can sort your nail polish by base coats, plain colors, glittery types, top coats and matte nail top coats. You can also store your manicure accessories at one other side if you want to. A small bonus point to this storage idea is that nobody would notice if you did not organize your nail polish bottles properly if you store them inside your drawers.
Surprising Nail Polish Hacks You Should Know!
2. Multi-Purpose Thread Organizer
It's all about the creative usage of things that you can find at home. If you are wondering about how you can organize your nail polish collections in a cost-effective and neat manner, look no further! You can buy several thread organizers that look similar to this type of container and sort your collection however you want to. This storage idea is also perfect if you can find a completely transparent thread storage box so that you can see the assorted colors easily.
3. DIY Nail Polish Rack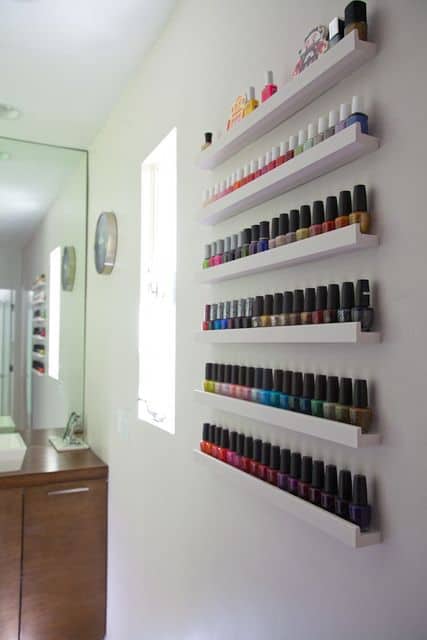 Well, it's not entirely Do-it-Yourself since you can also buy these photo ledges from IKEA or any other places. Nevertheless, something like what is shown in this photo can be an excellent way to showcase all of your beloved nail polish selections! This rack will work even better if your nail polish bottles are just about equally shaped with similar heights and designs. You will definitely awe your visitors with these collections when they see all the colors neatly displayed on your walls! Just be sure that the ledges are tall enough or protected with a glass or plastic piece around the edges so that they won't fall off if you accidentally knock into them.
4. Recycling Used Pots for Nail Polish Storage
Who said that flower pots can only be used for planting? If you are among the people that prefer an organized mess, you can consider having your nail polish collection poking through the fake plants, ready to be 'planted' back into the pot anywhere you'd like. This is suitable for you if you have a small collection. Flower pots are also a good way to organize your nail polish bottles while also being discreet and keeping them well-protected amidst a nice green scene.
4. Shoe Organizer Hack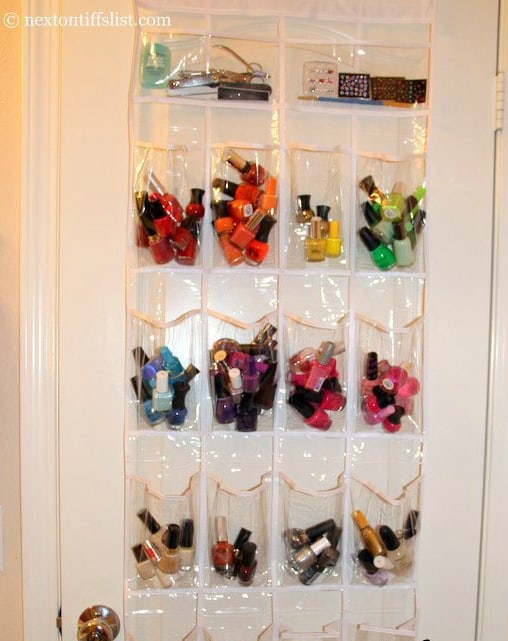 If you are running out of space to store your nail polish collection, there's always the shoe organizer which you can hang at the back of your door. Sort it by color to give it a neat, contrasting appearance, or sort them by the bottle types to cluster the same brands together! You will not need to arrange your nail polish bottles neatly with this method – just put it in each compartment wherever it fits!
5. Professional Nail Organizing Rack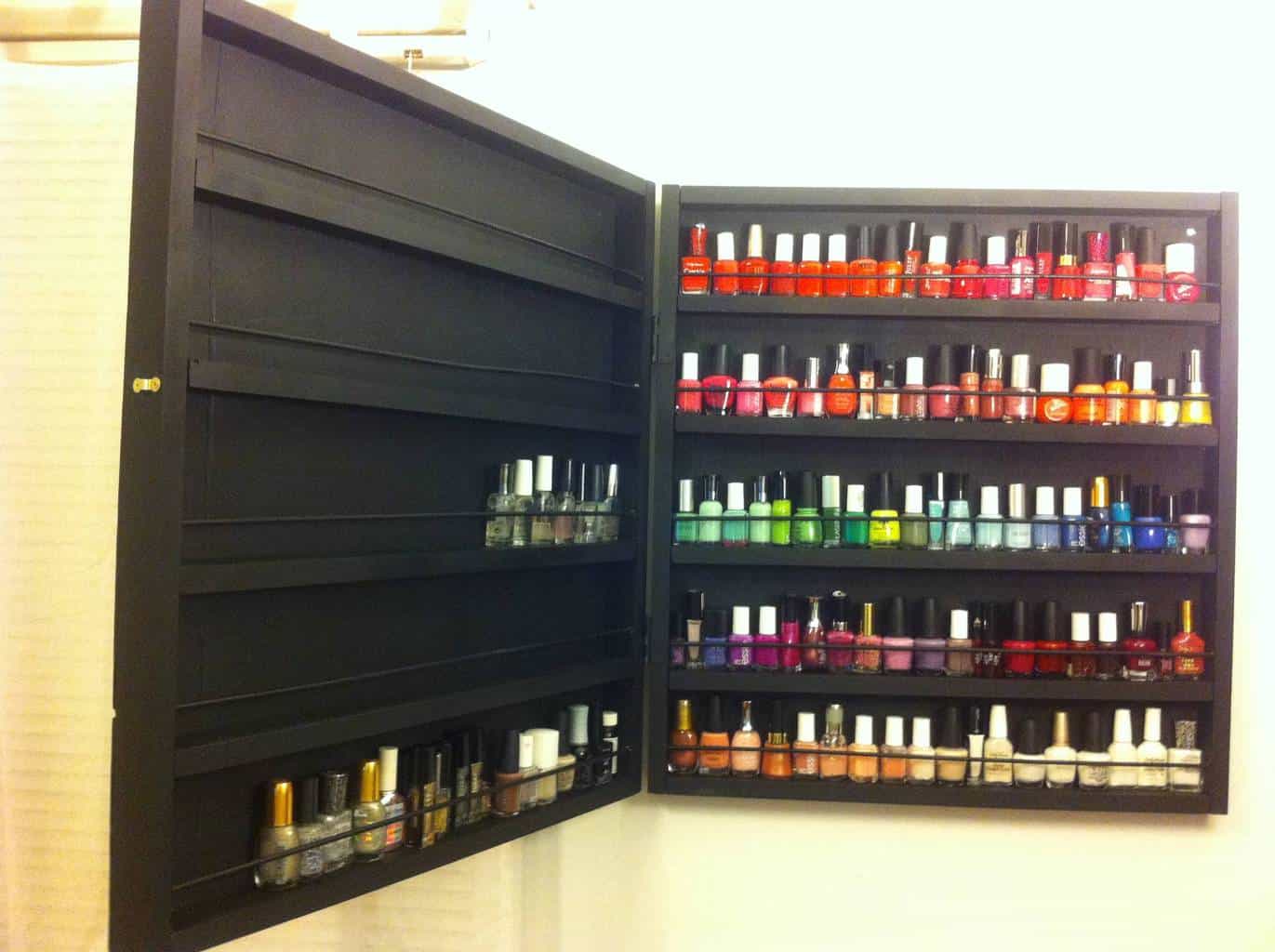 A nail polish rack does not need to be just one simple organizing rack. You can also add a hinge on two identical racks to give it a cupboard-like appearance! This design gives you twice the storage space for one hanging space on your wall. It will be hard for you to run out of storage space with this one. If you paint your storage rack black as shown in this photo, you will notice the contrast between your nail polish bottles and your storage space immediately!
Top Nail Artist You'll Become a Die Hard Fan of!
6. Framed Beauties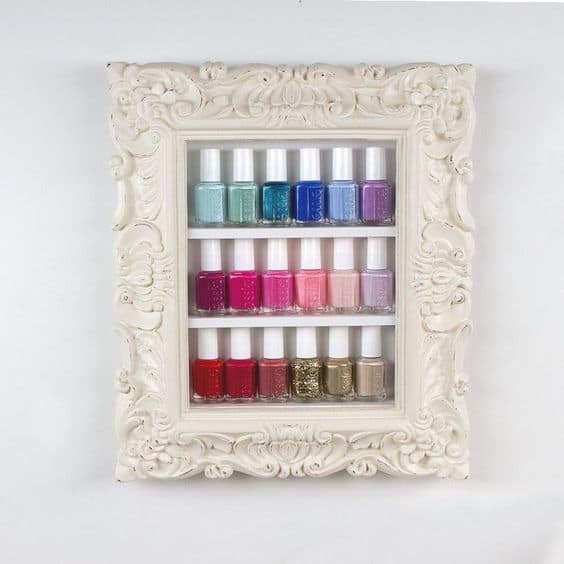 Your nail polish collection is so beautiful that it deserves to be treated like art – so treat it like one! You can build your own nail polish rack with a photo frame, a wooden divider or two, and a transparent glass box to be attached to the back. Frame your collection up for your visitors to see and admire with this easy DIY nail polish storage project! This nail polish storage idea works best if you keep nail polish bottles that have similar colors to the picture frame.
7. An Organized Mess
If you are looking for an affordable but cute way to store your nail polish, this could be the answer to your prayers. You can buy a few of these candy bowls and group all similarly-colored nail polish bottles together in one bowl. Just imagine an entire collection of these glass bottles on your table! You might imagine it to be similar to choosing from an array of candies from the candy store.
8. Like A Treat
Speaking of candies, there are other ways to store your nail polish if you want the storage style to seem more elegant with this theme. Place your nail polish bottles on a dessert plate suited for a hi-tea session, or on a perfume spice rack which has a similar look! This storage idea works best if your bottles come from the same brand or have identical heights & style. Place this on your vanity table for best effects!
9. Shoebox Nail Polish Rack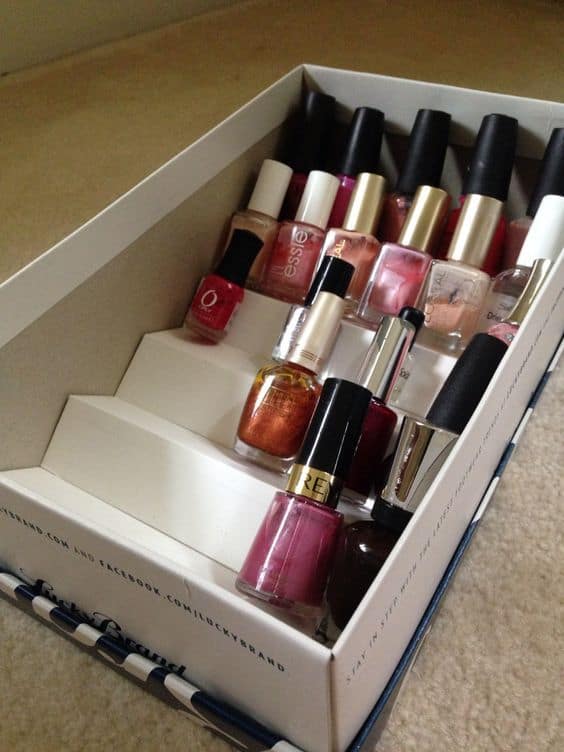 All you need for this DIY nail polish storage rack is a shoebox and a sheet of folded hard cardboard. As long as you ensure that each cardboard fold is wide enough to hold a bottle's base and body, you can use your shoebox or any other similar boxes to store your nail polish bottles in a cost-efficient manner. This storage technique will allow you to browse through your collection easily unlike when you store the bottles standing up. For best effects, store the shorter bottles at the front!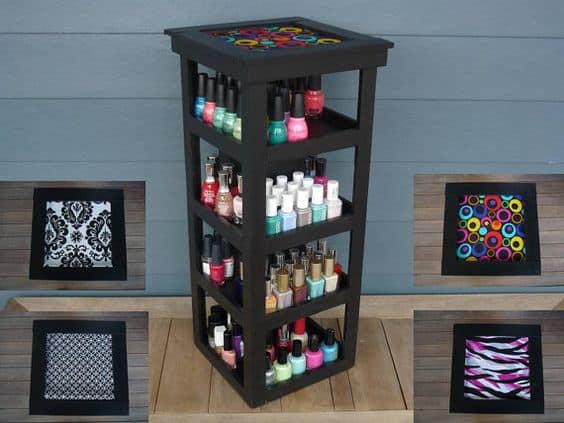 Here's another back-to-basics storage technique. You can use a standing rack to keep your assortment of nail polish bottles for easy access. Having a standing rack can save you a lot of space in your room. You can always use the extra space to store any extra manicure decorations that you want to add on too! You can sort your nail polish by different colors or styles on each level to make it appear more organized.
Learn Handful Shocking Facts About Nail Polish
We hope that this article has given you some nail polish storage inspiration that you can utilize! Remember to comment below if you have other ideas that you want to share with us as well.