Blue is the new black, and that's why it will last forever. Tiffany blue nail design looks and feels like a whole new trend in our modern world. People mostly go for it because it has got that calming effect on them and looks royal.
As time passes, the blue is being more and more recognized and most importantly it isn't considered as a boy color anymore. Every woman can wear blue and look like a true lady.
Tiffany Blue Nail Designs
This cute pale washed-out blue color has got the peacefulness written in its name, and especially in its looks.
It looks like we are stuck in a support group since Tiffany is greeting us like this, but we don't mind it since the group is fulfilled with positive thoughts, vibrant colors, and original nail designs.
Therefore, we present you 31 simply stunning tiffany blue nail polish designs for you to try out during this year.
#1. Long Tiffany Blue Nails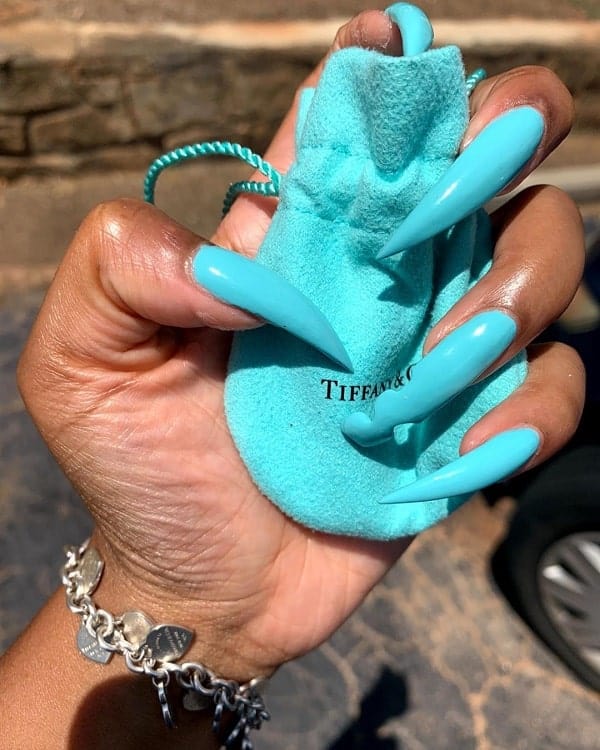 #2. Tiffany Blue Coffin Shaped Nails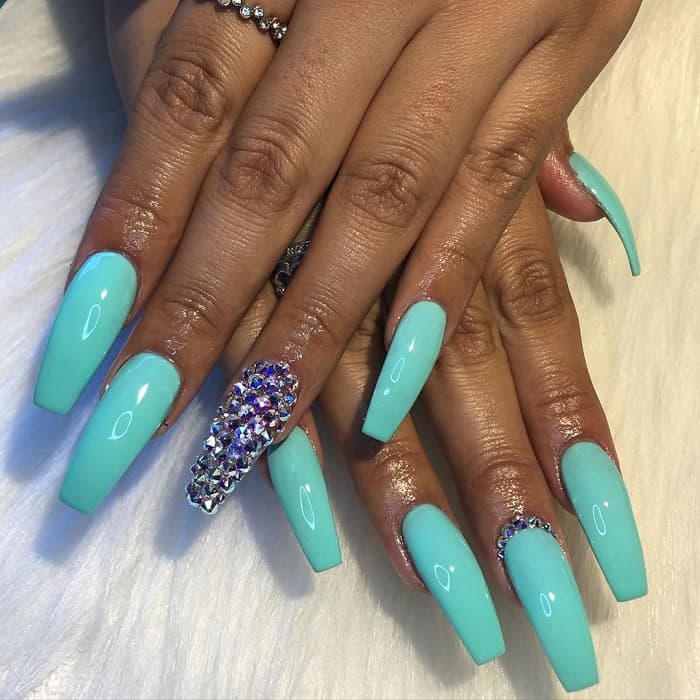 #3. Tiffany Blue Stiletto Nails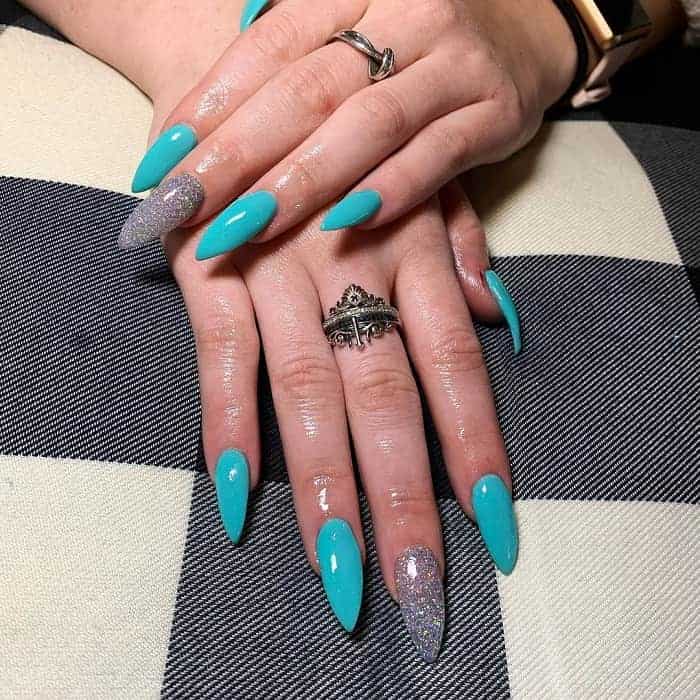 #4. Tiffany Blue Toenails
#5. Tiffany Blue Acrylic Nails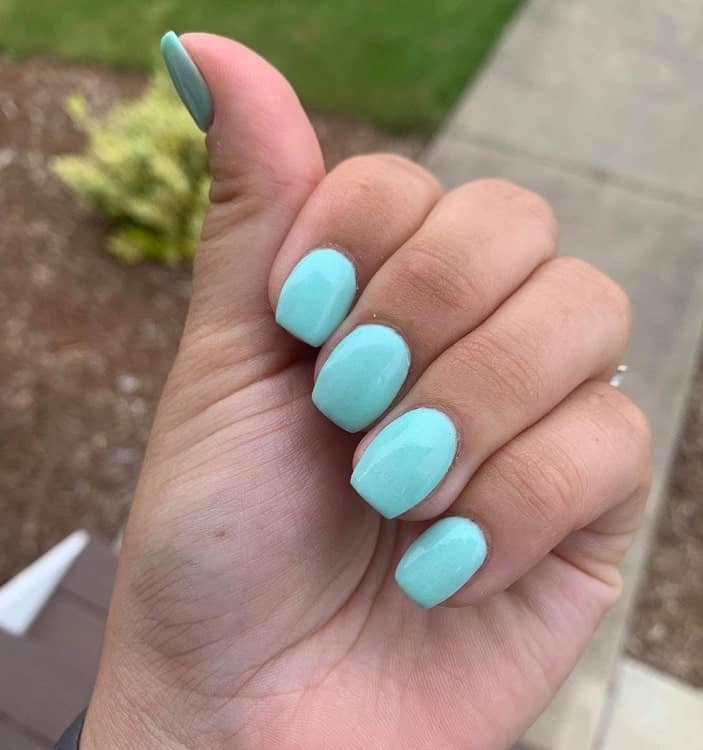 #6. Tiffany Blue And Silver Nails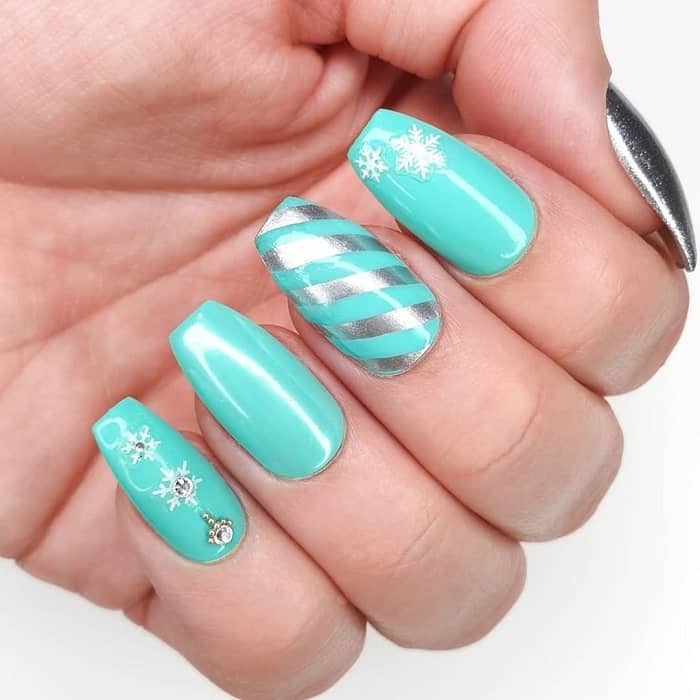 #7. Tiffany Blue Matte Nail Art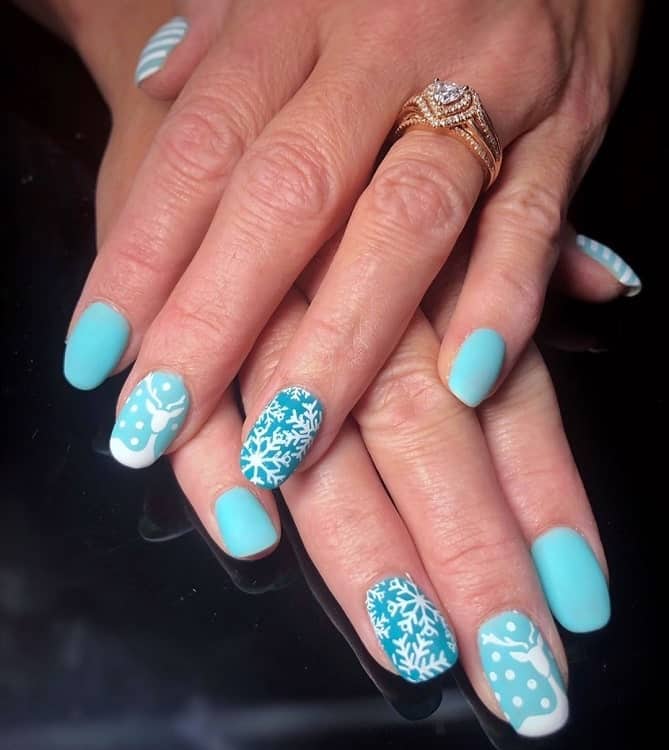 #8. Tiffany Blue Chrome Nails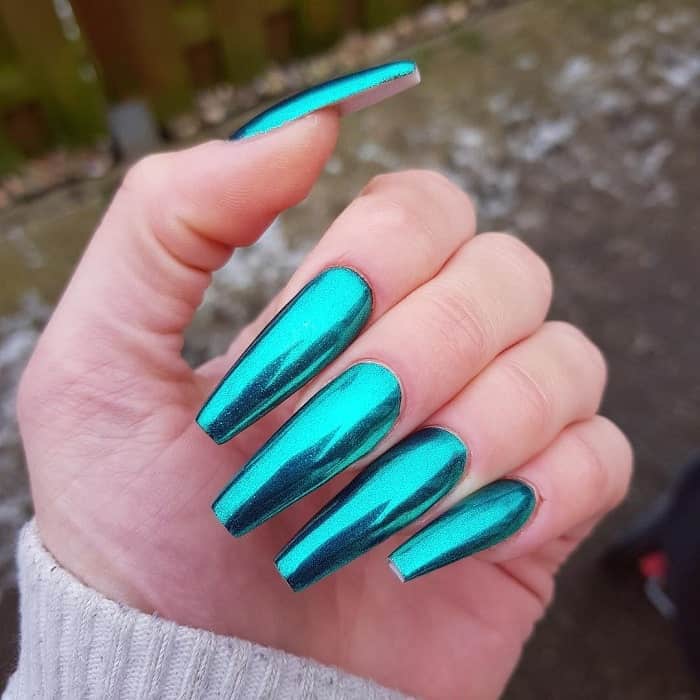 # 9. Tiffany Blue Nails with Glitter
#10. Tiffany Blue Ombre Nails
#11. Tiffany Blue Wedding Nails
#12. Mini Cuteness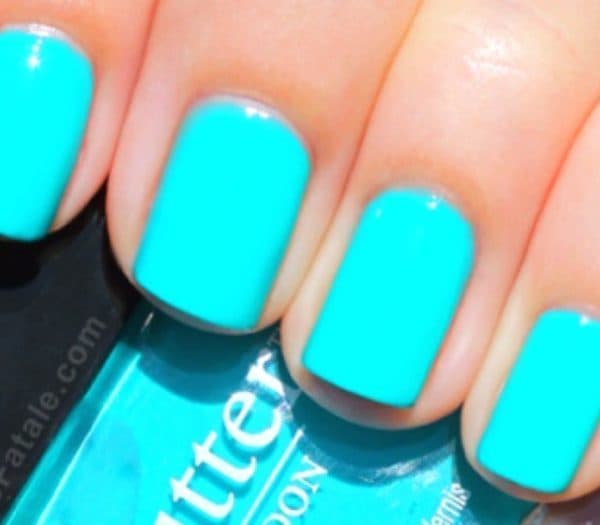 Short nails that are natural are your best option if you are a woman who is always on the run. Get your pretty manicure and look naturally beautiful, relaxed and simple.
#13. Midi Cuteness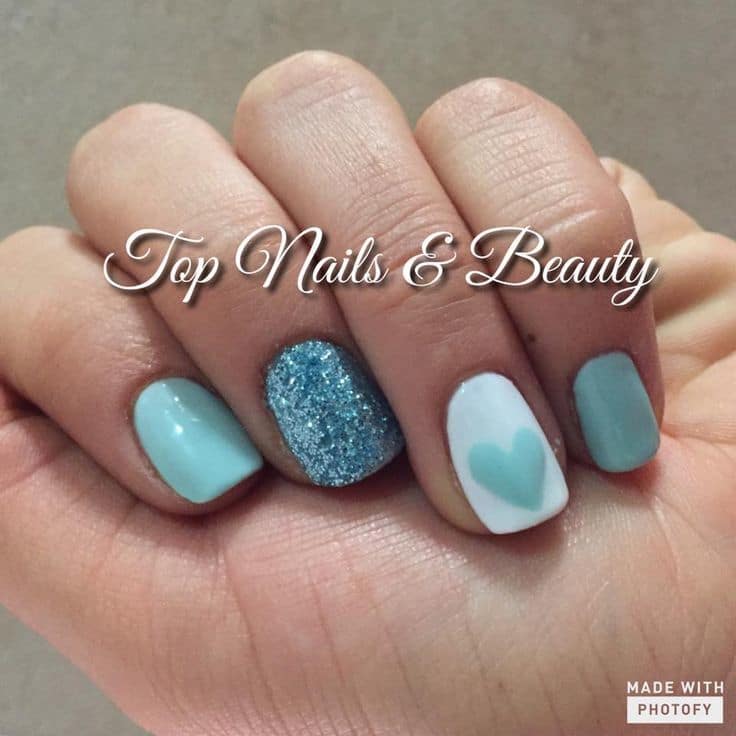 If you like to be in the middle and not stick out too much you are in good luck because these nails were made just for you!
This Tiffany blue nail design makes us just want to throw an office party and ask for a raise! These nails are positive, chic and really up to beat in our modern world.
#14. Lots of Love
This Tiffany blue nail polish has a lot of character and love. Short and natural nails with a love print and a few shimmer details could be your choice if you are still at school since the nails are so innocent looking.
#15. A Real Cinderella
Long, blue and beautiful! This Tiffany blue nail design looks like it stayed up way past its curfew.
Cinderella can fit into that heel but she can also fit into our minds and hearts with this perfect prom nail idea! Oh wait, is it Cinderella, or was that Tiffany?
#16. It's A Boy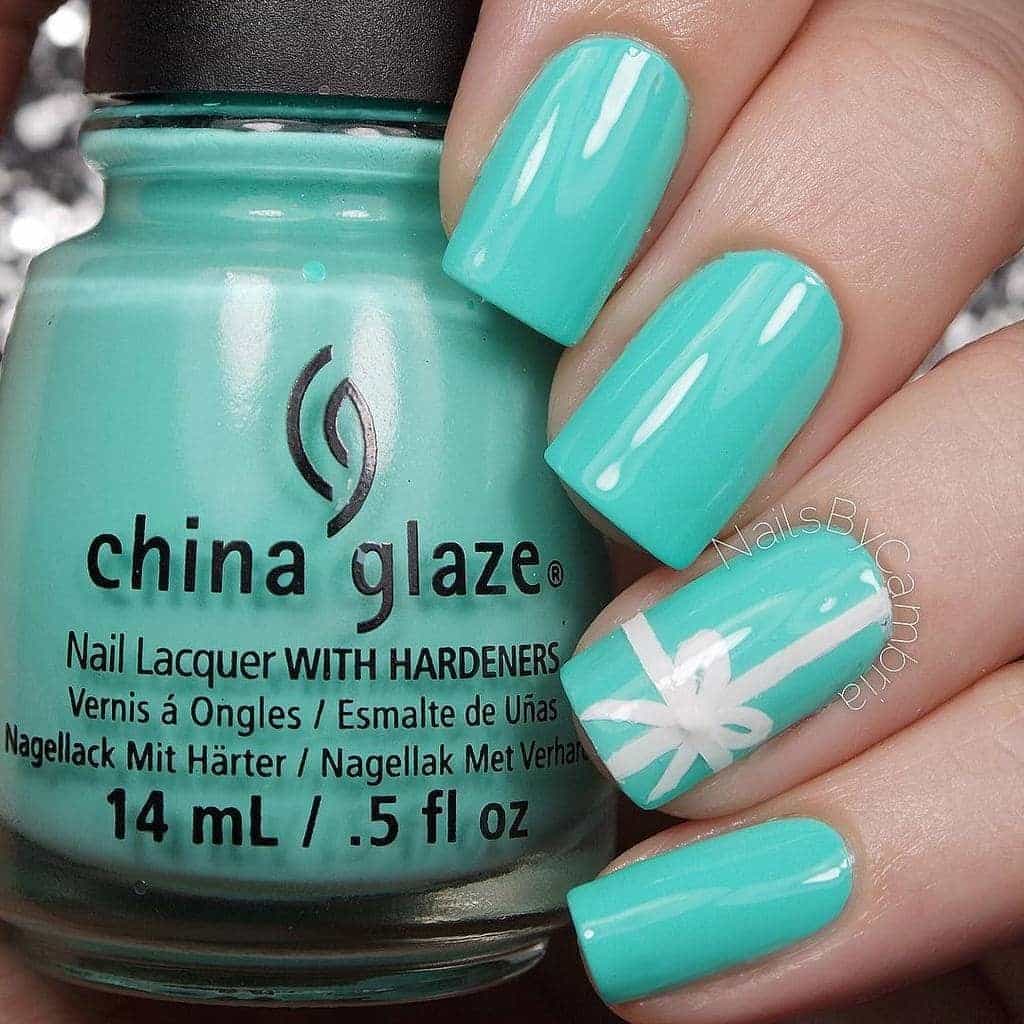 Square nails are perfect for our mommies to be! And especially if they are short and yours. A cute ribbon drawing gives us a calming and relaxing feeling, therefore these nails are perfect for the baby showers.
#17. Tiffany Blue Gel Polish
When you have no clue what you're doing, you just go with it! Sometimes nails need to have more than one imagined idea and a print, so make them as good as they get!
This Tiffany blue nail design looks like it's having fun, and this is also a great example that sometimes many mixed elements can look cute.
#18. Miss Dior
Dior is a leading fashion brand in France, but also well known and admired worldwide. These nails are just right for the true high-end type of women who like to keep their heads up high.
#19. I Am Sporty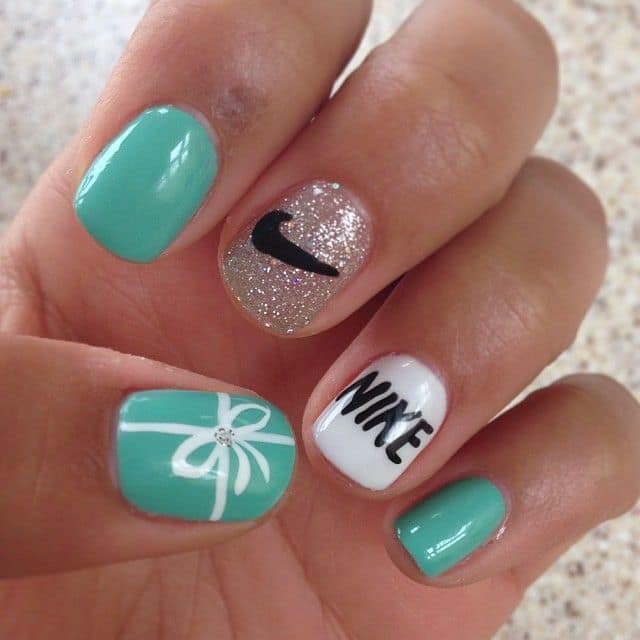 Since not all of us like extremely shimmery jewelry, long dresses, and makeup, that doesn't mean that we can't have personalized and cute nails. If you are a sports-type you will enjoy these Tiffany blue nail designs.
Did you know that Nike approximately sells 900 million of merchandise each year? No wonder considering the style and the quality they provide. So get out there, run some tracks, do some marathons, and style your sporty nails!
#20. It's All In The Details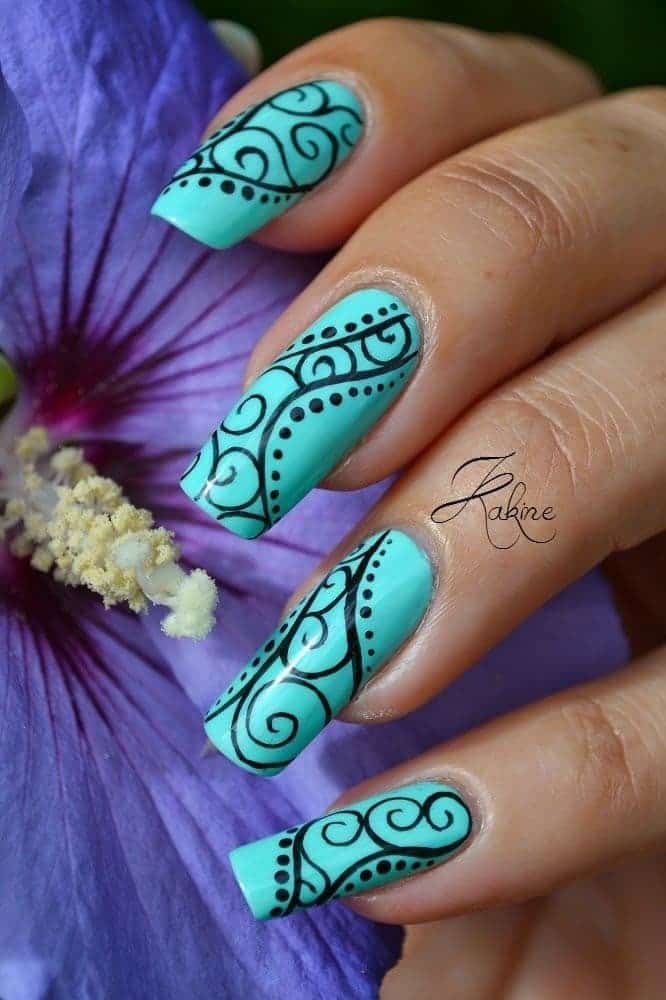 An interesting fact is that the blue color was used on the cover of Tiffany's Blue Book, first published in 1845, and that's where the idea came from.
Many years later, the nail industry saw its opportunity and here we are. This manicure looks so precisely made and beautiful and these nails are just screaming "fame."
#21. Deep
Some deep-sea moments here and there. Stunning Tiffany blue nail design that is perfect for weddings and parties. Extra-long, acrylic and sharp, these nails should be your choice at least once a year.
The colors are unbelievable, and the meaning behind the soft blue color is too. So don't be ordinary, and shine the most with our nail ideas.
#22. Miss Fame
Fame, fortune, and ambition are the three words that describe this nail design! You will look like you are famous if you go for this length and style.
They are considered to bring you a fortune due to their color, and you will look ambitious since there is a giant stone on your nails. These Tiffany blue nail style should be worn by our fierce and open-minded women.
#23. Don't Let Me Get Started
Talk about some entrance. These nails look like they came from a true gala. This extremeness is allowed only when shooting some pictures for magazines, or if you just felt like playing and having a bit of fun.
But be careful, since these nails look like a true weapon machine, and not a toy.
#24. True Tifanny
A symbol for Tiffany's blue box is best described and seen in this picture, and that is a simple light blue with a white ribbon.
Make these nails your favorites by embracing the natural length of your nails and by visiting the best nail technician in order to get the ribbons made perfectly.
#25. A Lot Of Glue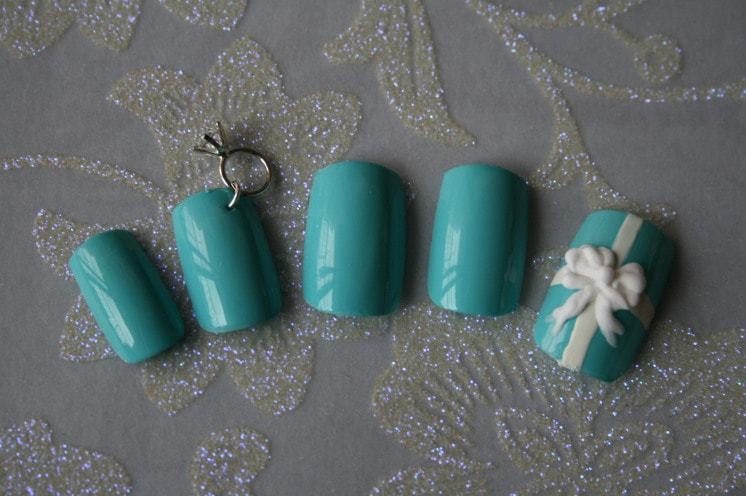 If you are that woman who is always late to the event due to some unknown reasons (but hey let's be honest it just took you way too much time to get ready, but you don't want to admit it), then try out this Tiffany blue nail design.
Press-on nails can be a true lifesaver from time to time. Tho they don't look that beautiful they are the quickest option out there and perfect if you are always on the go.
#26. Mumbai
Indian traditions and Indian ceremonies were the first thoughts that came to my mind when I saw these. Long tip nails with a lot of golden and pink tones are looking like they came from Bali and were worn by some belly dancers.
#27. Nothing Like Love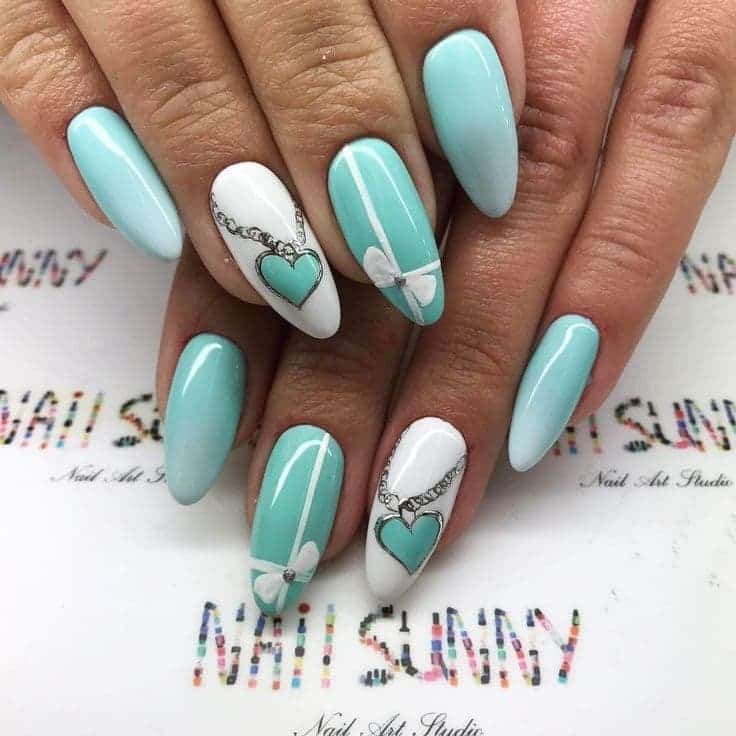 There is no better feeling in the world than love, right? So instead of just loving people around you, start loving yourself and your nails more!
Treat yourself like never before and pamper yourself from time to time. You can start by creating this Tiffany blue nail polish design. People will adore you and think of you as a really positive, loving and caring person.
#28. All Of It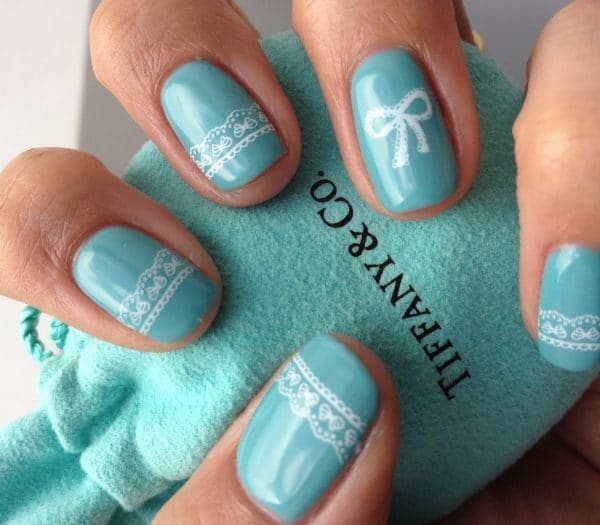 Tiffany blue nail design with a lot of perfectly matched blue tones! This summer match everything from head to toe and looks like you are having fun with our nail ideas.
Light blue is perfect for the summer season, so you definitely won't be wrong when rocking these on the beach.
#29. Spicy
Cheetah is a very dangerous animal, so the cheetah print is sending out some strong and hunting vibrations, while the Tiffany blue color is there to take care of them and put them to sleep. These colors balance each other and work as a true team!
#30. Tiffany X
Short nails with small but steady lines look formal yet fun. You can't go wrong with these because they have a double effect on people, and it just depends on the outfit you'll be wearing to show them off.
#31. You Know You Can't Live Without Me
I mean, who could? French manicure doesn't always have to be the plain boring white one, instead, it can be like this Tiffany blue one! Women who like their comfort zone but want to try to get out of it should try doing these nails.
They are not too far off from your well-known classic white french design, but they are just enough for you to start feeling some type of change and diversity.
Beautiful Tiffany Blue Nail Polish Designs to Follow
And voila, these 31 tiffany nail designs showed off in their best light. Have fun, style, and originality with these and always come back to our site for some more uniqueness.