20 Stylish Peach Nail Designs for Christmas Eve
Be a true peach with our peach nail designs! This color stands for immortality in Chinese civilization and looks stunning on men and women equally. If you are a fan of it you should totally get this design. However, if not, we will probably change your mind and make you fall in love with the designs and the colors.
Best Peach Nail Design Ideas
Since peaches are not used in the nail industry, how about we mention them and give them a whole column in our 20 amazing peach nail creations list. This shade is a must during summer days and looks even more appealing on women with darker skin. So put some tan on and start having fun with our peach nail ideas!
#1: Better Than You'd Expect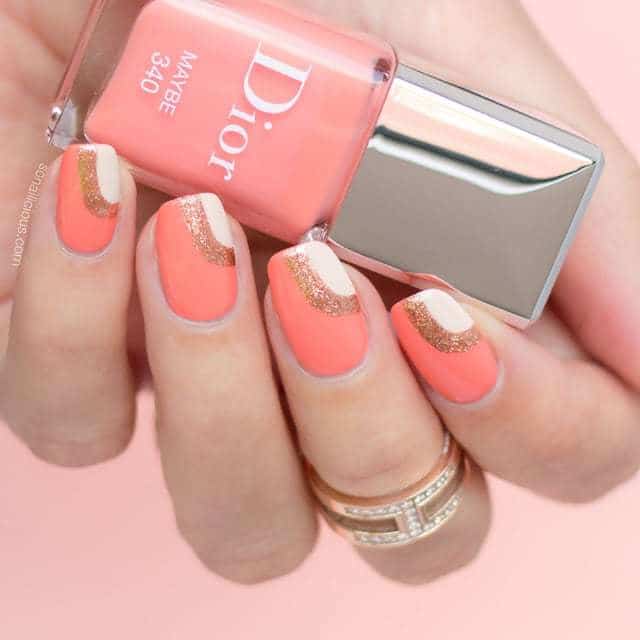 These peach and golden nail designs came out better than expected. This Super soft and matte nail polish with just a hint of golden tone look classy and perfect for our business women out there.
#2: Be Classy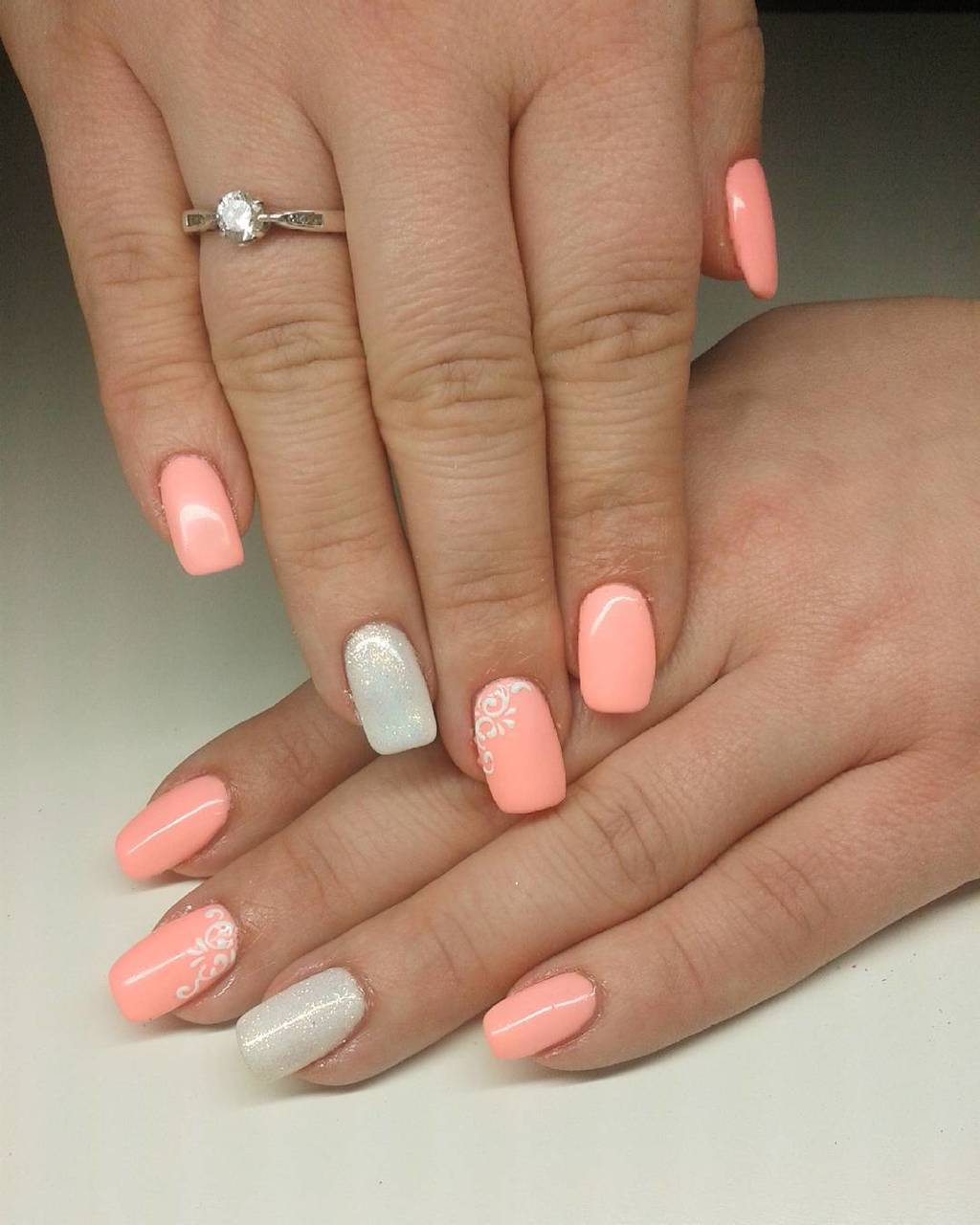 Classy nails will always be trending. Second on our list are these short and cute peach nail art. With just a pop of white on a nail or two, these nails may bring you some positive feedback on your job interviews, when meeting new people, or just with your everyday life activities. A tip: put some nice jewelry to make them even spicier looking.
#3: Line On Line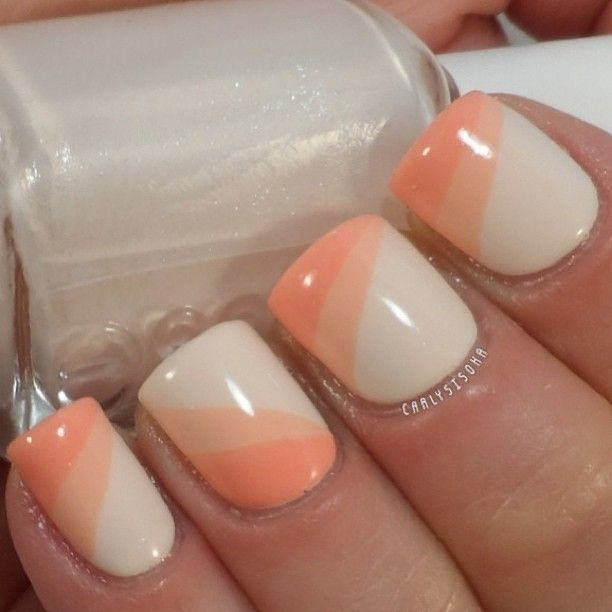 "It goes one by one even two by two. Everybody on the floor let me show you how we do. Let's go dip it low then you bring it up slow," sang Rihanna almost ten years ago, and it is honestly the best way to explain these nails. They are a bit of everything, and if you dip them in your nail polish slow they will be good to go!
#4: Sprung And Sparkle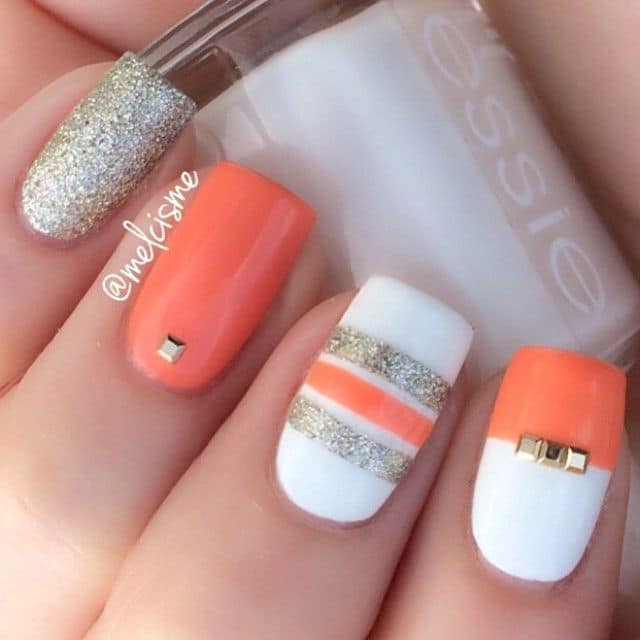 So peachy! This peach nail design looks so innocent and delicate, and the golden bar detail in the middle reminds us of a true empowering woman.
#5: Flower Power
These flower petals with peach and white tones look like a classic spring nail design. Did you know that Peaches are most made in China? And that the peach color is more worn by women, not men, although it is considered as an equal color when it comes to sexes.
#6: Too Cute
This peach nail design is too cute to resist especially because of the blue base with the polka dots. The younger audience will like these nails more because of the vibrant colors and the young vibe it is sending out.
#7: Light Ombre
These extra long and acrylic nails with the peach ombre effect are charming and original. Ombre means "shaded" in French. Ombre has been a hit in the past few years, although it hasn't been even a thing before 2005. So it is a fresh, new, and totally hip way to style your nails.
"Shine bright like a diamond," as Rihanna would say (again). This peach nail with rhinestones transforms a girl into a woman because of its complexity and the range of colors, details and that blinding jewelry.
#9: Pointy Ombre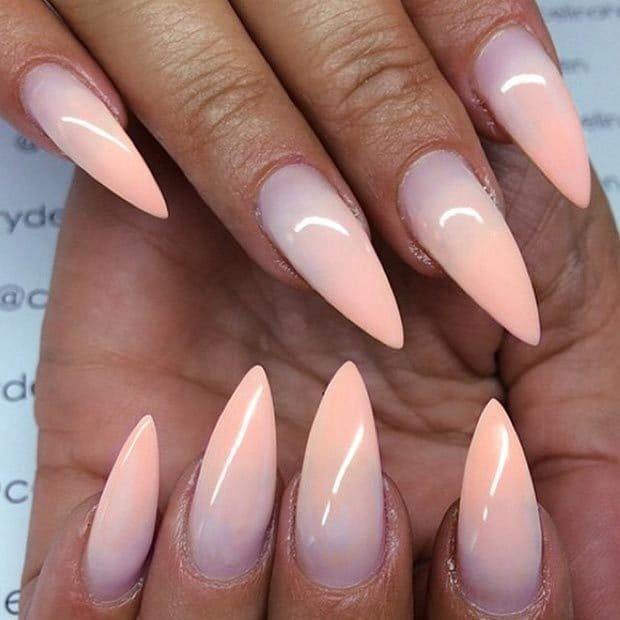 Sharp pointy ombre peach color nail design that requires a license! Although this peach color is fading, these nails are definitely not! They are unbelievably sexy, long and irresistible. Only brave ladies will dare to try these out.
#10: Cuteness Overload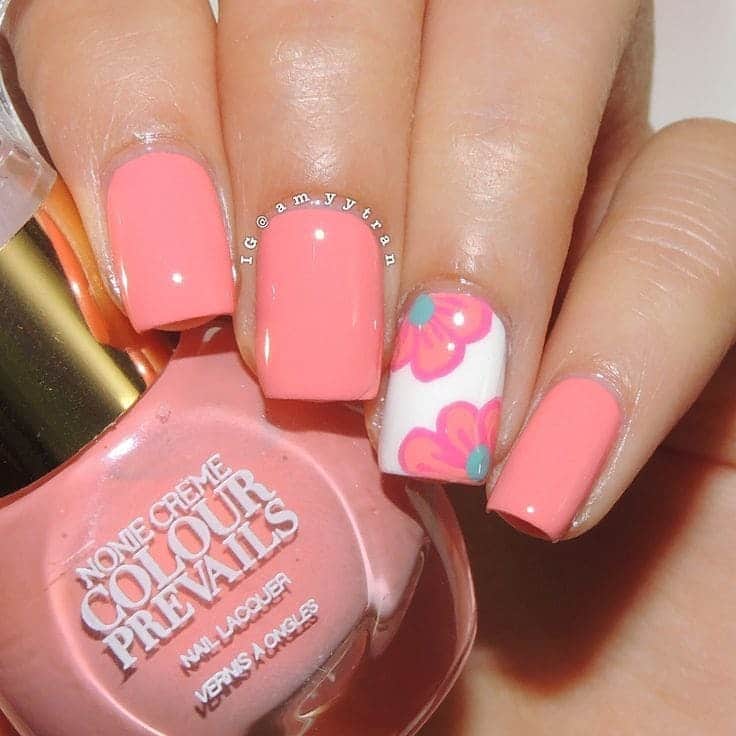 Daisy's and Marigold flowers are colored so light and could be your inspiration for getting the flower design on your nails. Peach color sends out a chill and calm tone to other people, so if you add flowers to it you will look like a truly delicate and peaceful flower.
#11: Take Me Away
Are we ready yet? This summer be the main girl on the beach with your hot wavy beach hair, the cutest bikini, and the hottest peach nail design. Men are attracted to women who wear longer nails and lighter colors, so trust me, these are your winning combo for the summer of 2017.
#12: Dior Has My Soul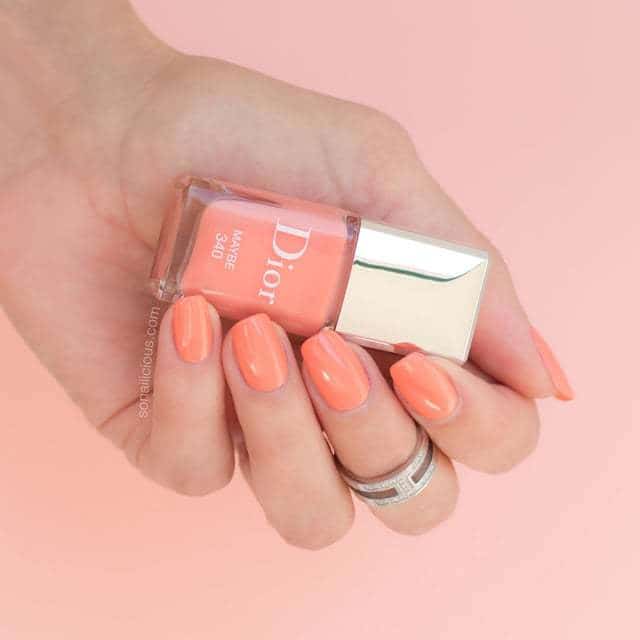 Dior has got a strong game when it comes to everything. Makeup, clothes, perfumes and also nail polish. Try out this peach nail design if you love to look classy and smart.
#13: Intense Ombre
This design reminds us of watermelons and lemons. In fact, it looks like watermelons and lemons had babies, and got this sick looking nail color. The colors are so juicy and screaming summer that I just can't wait to feel the breeze and jump in the water while the sun is shining so bright above me.
#14: Mani
Sweet and peachy nail design list wouldn't make sense if there wasn't a french manicure. Simple short and square nails are cute if you are more down to earth type of a person who likes to show these off at their barbecue party or at a privacy of your house since you don't like to look too big or too heavy.
#15: Pedi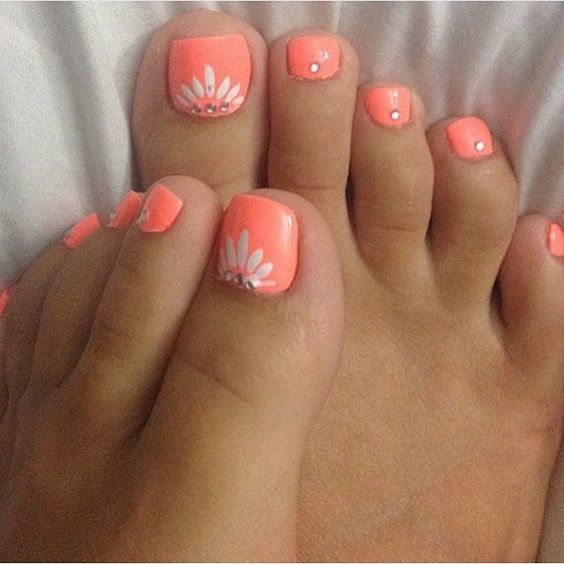 Pedicures are also a most when summer starts. Imagine pairing up your perfect peach nail polish designs on your toes and fingers. You will look totally prepared and stylish for the hot days.
#16: Sharp Peach
This peach is the sharpest out of all of them. This acrylic peach nail design needed an iPhone in order to make a full bigger picture. A nail combo for our little stylish princesses who like the big bling life.
#17: Prom Season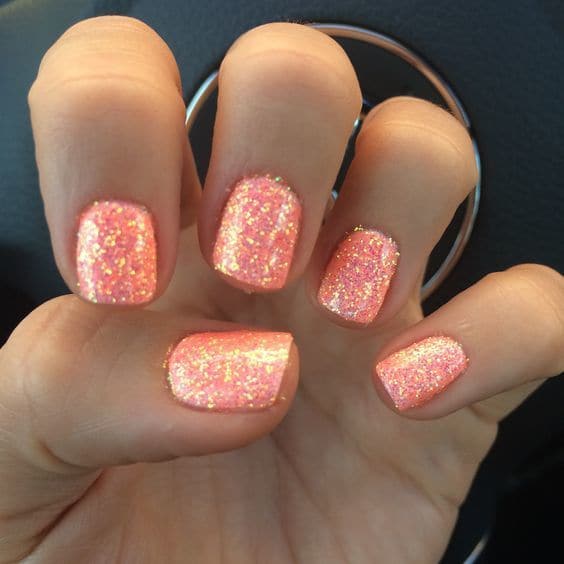 Sequin is always trending, and so are sparkly nails. These short square tips should be your go-to nail combination for anything formal. Know that only the disco ball will shine as bright as you on the day you choose to slay these.
#18: Peach French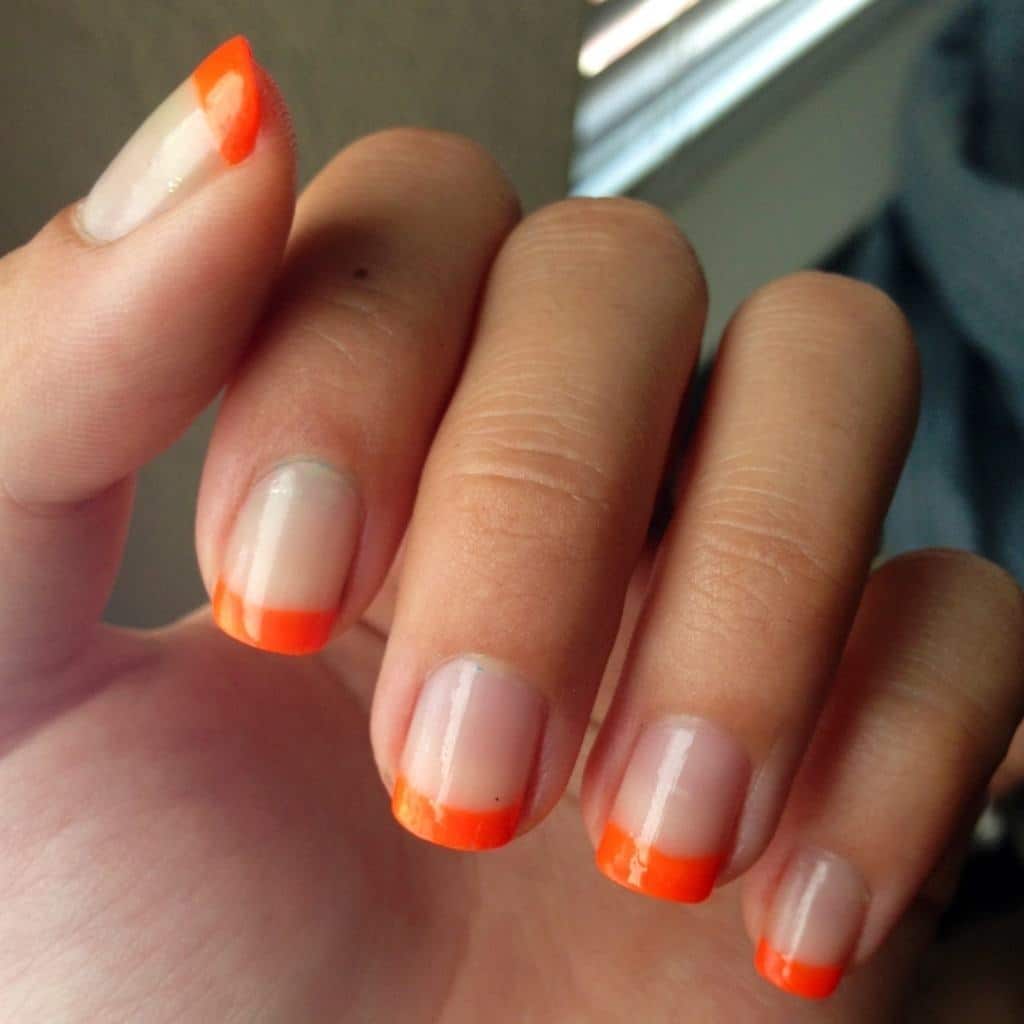 This french manicure is more ladylike than the previous french one. Square nails are the shape women mostly go for, and especially the ones who like to dress up smart. Somehow these nails are a statement of a workaholic woman, while this burned out orange color is giving us a calming and yet sexy effect.
#19: Stone Cold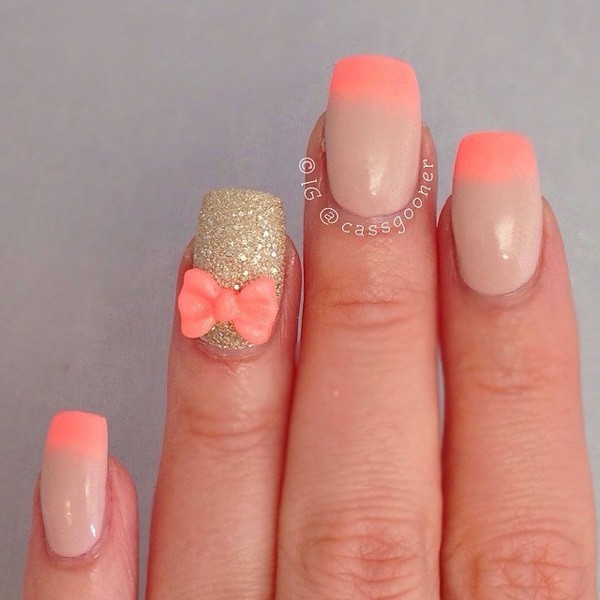 Cold as ice, but vivid as fire, let these peach nail manicure awake the queen that's inside you. Some romantic and sexy moments will be achieved when adding the ribbon onto the nails, and you will be showered with compliments if you go for this manicure. And since there is a ribbon on them you could easily wear these for a baby shower if you're going to one.
#20: Fruit Time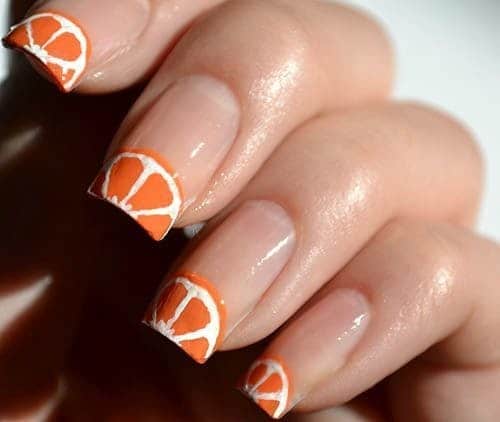 Pineapples, oranges, and peaches- give me all of those! If you are a healthy eater and you like fruit, then why not get these nails? Take a picture for your Instagram when eating fruits with your peachy nails and watch the number of likes increases because of your originality and quirkiness.
Some Alluring Peach Nail Designs that Can't be Ignored
Well, now you know everything about the peach color meaning. You know about the best places and times for wearing these nails, and also you've seen 20 beautiful ideas to choose from. Which one appealed to you the most? Hurry with your decision since the summer is around the corner.