Solar nails may sound unfamiliar to you, and we are about to change that. Some women tend to get their nails manicured acrylics, some love gels, and some have just fallen in love with the solar manicure.
These manicures are all based on you and your preferences. Are you are someone who prefers low maintenance? Maybe you like to look extra and sharp? Or you are just somewhere in between? Know that if you always have well-groomed and pretty nails you are giving a lot about yourself. People will think that you look a lot more bold, confident, and sharp
Gel manicure tells that you are on a low maintenance side, like to keep it to yourself, and are constantly busy. Acrylics say that you love to be up in people's faces and that you like to have fun. Get to know the differences between gel nails and solar nails.
You also don't mind getting them redone every now and then and switching up the styles. But solar nails tell something else.
What Are Solar Nails?
Solar nails are a lot like acrylics, well they have some similarities. They are composed of the same materials for starters. Actually, solar nails were the term that was initially used as a trademark for a brand of acrylic nails when they came out to the market for the first time.
Any type of acrylics is made out of liquid and powder format. When mixed together, these two solidifies to create a perfect nail.
When the acrylic plastic completely dries up, the nail technician performs the task of filling in the gap between the entire nail. The building up of the nail happens until the entire nail is covered in the mixture.
Now, an important fact about these solar nails is that they are usually a bit pricier, about 10-15 dollars than the regular acrylic set.
The application of the powders, as well, has some slight differences between these two. Solar nails use two separate powders; one for the tip of the nail and one for the nail bed, while the regular acrylic is usually just one powder that you put on top of the entire nail.
Why You Should Go For The Solar Nails
#1: You Can Refill Them
This is a handy and perfect solution for every woman out there. It is a good solution because it doesn't demand that many salon visitations because solar nails can last longer.
Acrylics, however, may require you to visit your salon every two weeks, which means additional expenses, time and effort. Realistically speaking, four weeks should be a good guarantee that your fake nails don't fade, chip, break or even look dull.
Check Our List of Creative Solar Nail Design
#2: Do You Like To Tan?
Because if you do, solar nails will not discolor during a tanning session. Plenty of women like to tan nowadays, especially as preparation when going on a summer holiday.
We all like to look more glowy and not so pale at the beach. A big number of those women are skeptical when it comes to having their regular nail treatments at the salon. They are scared that the heat will meltdown the nail color, as well as weaken their nails. Lucky for you, this is not true.
Solar nails are perfect for summer and ready to take that extra heat, so don't be scared and have fun while tanning.
#3: They Will Last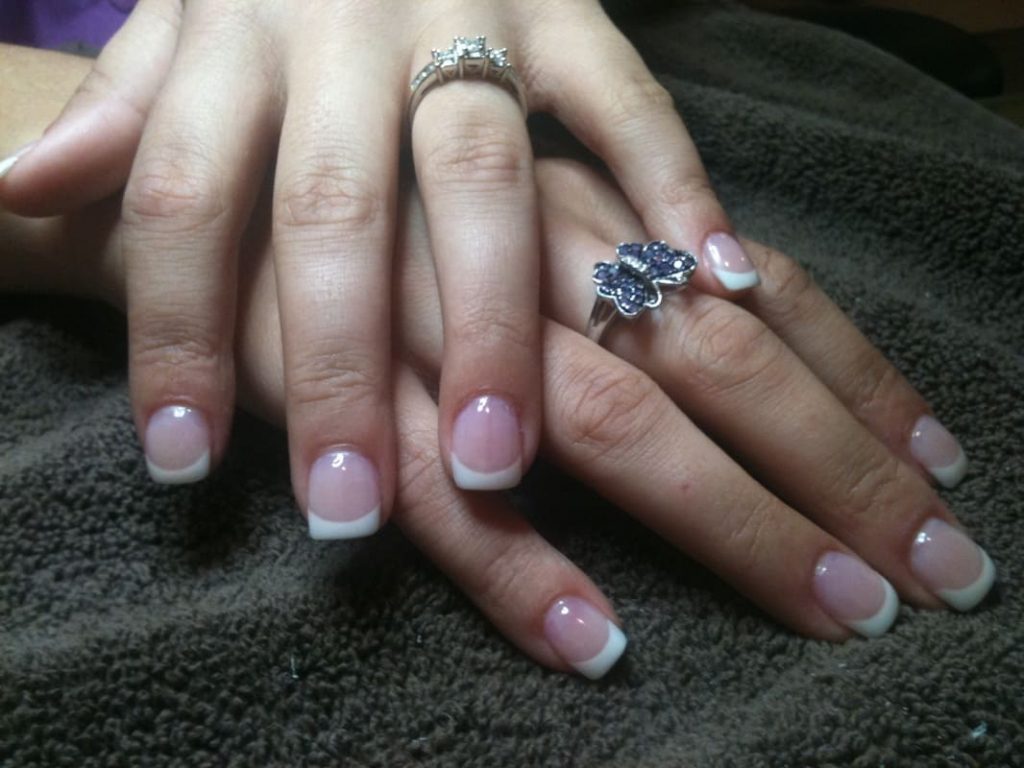 If your nail technician uses high-quality materials, be assured that you won't have any problem with your manicures. No chipping off or breaking for you!
With solar nails, you can easily apply several layers to strengthen up the base coat. That way you are protecting your artificial nails.
#4: A Lot Of Shine And Gloss

Do you know that when you try to make acrylics super shiny you need to put a lot of top cats to add up the sparkles? Or at least a shiny topcoat?
These, unfortunately, easily fade away in time and leave your nails looking plane. With solar nails, the buff never fades and the shine stays on a lot longer. Because of that, it continues looking super fresh and clean.
How To Apply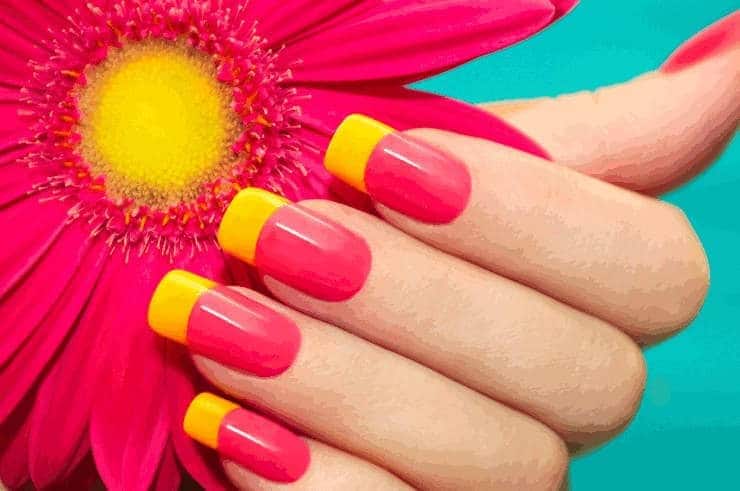 Solar nails are not considered as an extension, while the acrylics are. They are more functional and sturdy.
Unlike acrylics that are placed on top of the nails, solar nails can be applied to the real nail directly. You won't cause any drama or damage to it if you are precise and careful enough, that is if your nail technician is.
Watch the Video and Get Perfect Pink and White Solar Nails
The top four reasons are telling you to go for solar nails. They are so convenient, easy to apply, and refillable, they won't crack or break and the color payoff is amazing. A lot of women will envy you on your nails.
Besides all of the above, solar nails offer more options when at the salon. Only two steps more will have to happen for you to have amazing solar nails.
They are consistently out of the white portion at the tip followed up by a pink acrylic application on the base. This is an easy way of covering and protecting your nails. But just so you know, this procedure is a bit pricier than the usual manicure.
You should be willing to put in some extra work as well as dollars because that will save you a lot of time, and you won't have to come back to the salon anytime soon.
Different Types of Artificial Nails
You've probably never gotten these nails before, so you should give them a chance now. Besides being totally practical and worth the money, you could also make yourself a fashion trend that your girlfriends might want to follow up.
Always make sure to go to the licensed nail technician to ensure happiness and long-lasting. This manicure will look so posh on you, and totally high end. Whenever you pamper yourself a bit more you will feel better about yourself, so that's one more reason why you should get this solar manicure.