Nails can intensify the beauty of an individual if they are painted with the right colors and patterns. This is where tie dye nails come into play. One can easily get access to a large variety of nail designs by using some basic rules of nail designs.
When the nails are designed with diverse designs with the help of different colors and patterns, they are called tie dyeing. There is no limit to this nail designing. You can paint the nails in hundred of ways and all that may be labeled as tie dye art.
How to Tie Dye Your Nails – The Easy Way
Of course, one must possess the least expertise to do any sort of nail designs. It's true in this regard too. If you are a novice, my advice is at first do some trials. When you are ready, follow the instructions of the following videos to get a final look that will surely stun everyone.
Water Marbling
Water marbling is one of the most famous forms of tie dye nail designing. The process is simple. Arrange the colors you want to get the designs. Put the color drops on water as per your choice. You can create any pattern you like.
Then dip the nails on the floating colors. Don't dip too deep. Gently touch the color with the nails and the color will get attached to the nails smoothly. You can take the help of toothpicks to place the color nicely.
When all the nails are done, get rid of the unexpected nail polish by using a cotton bud and nail polish remover. Finally, use a top coat to secure the design.
Do The Unbelievable Marble Nails In 6 Easy Steps
Striping Nail Art
You will have fun doing this nail design because this design doesn't include any fancy steps or tools. The process is very easy and simple. First, apply a thin layer of base coat. Then apply a white nail polish that will work on the ground of every other color.
Then apply any three color nail polishes you want. Make sure to keep them very thick and heavy because the polishes must be kept wet to be striped correctly. You can use any thin tool like nail art brush or toothpick to do the nail art.
Choose the colors which are bold and contrast each other. Stripe it down at a slight angle to make them look stunning. Apply a top coat as soon as you're satisfied with the striping.
Mesmeric Striping Tape Nail Designs
Swirling Tie Dyeing
This nail art by tie dyeing is for the advanced people. You have to be an expert to do this nail art because it totally depends on the skill of hands. Choose the colors by which you want to adorn the nails. Put a big and thick drop of that color on a surface which doesn't absorb the colors.
Take a nail art brush and paint the parent swirl on the nails by applying gentle strokes of the nail art brush. Then dip the tip of the brush into other colors and do some gentle strokes around the parent swirl.
Thus, take three or four colors all revolving around the first swirl. Apply a top coat to seal the design. Thus, you will have a great looking swirling tie-dye nails.
Tips to Take Care Your Nails at Home
Amazing Tie Dye Nails to Look Chicer
Tie dye nail arts are usually done with bright colors and easy patterns. Check the following list to get a clear concept of how you can get these amazing nail designs.
#1. Sparkling Colors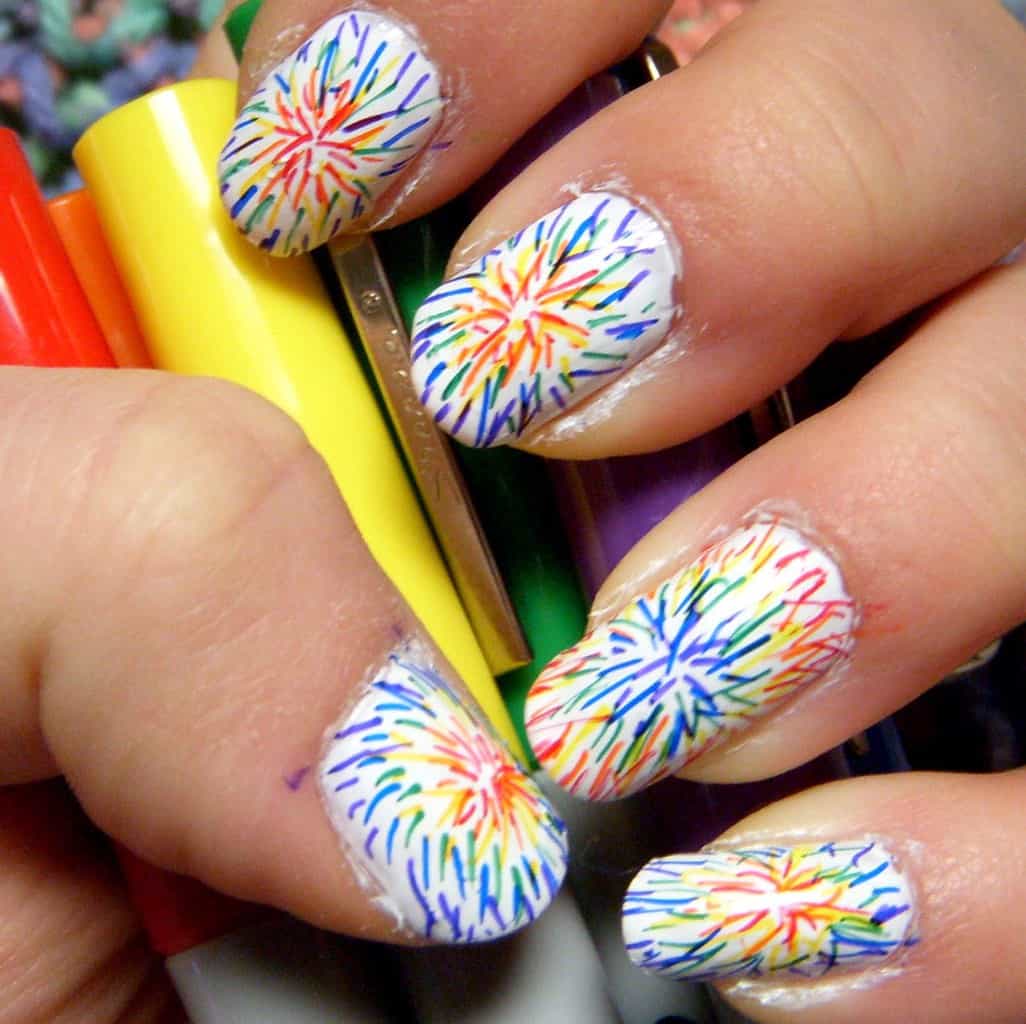 Apply a white base coat and paint some colors resembling fireworks or sparkling. You have to use thin tipped tools to get this tie dye nail design.
10 Matte Coffin Nails Ideas to Steal the Show
#2. Dotted Beauty
Apply some colors in round shapes. Then put some dots, make sure that the dots look well-organized.
#3. Swirl with Floral Pattern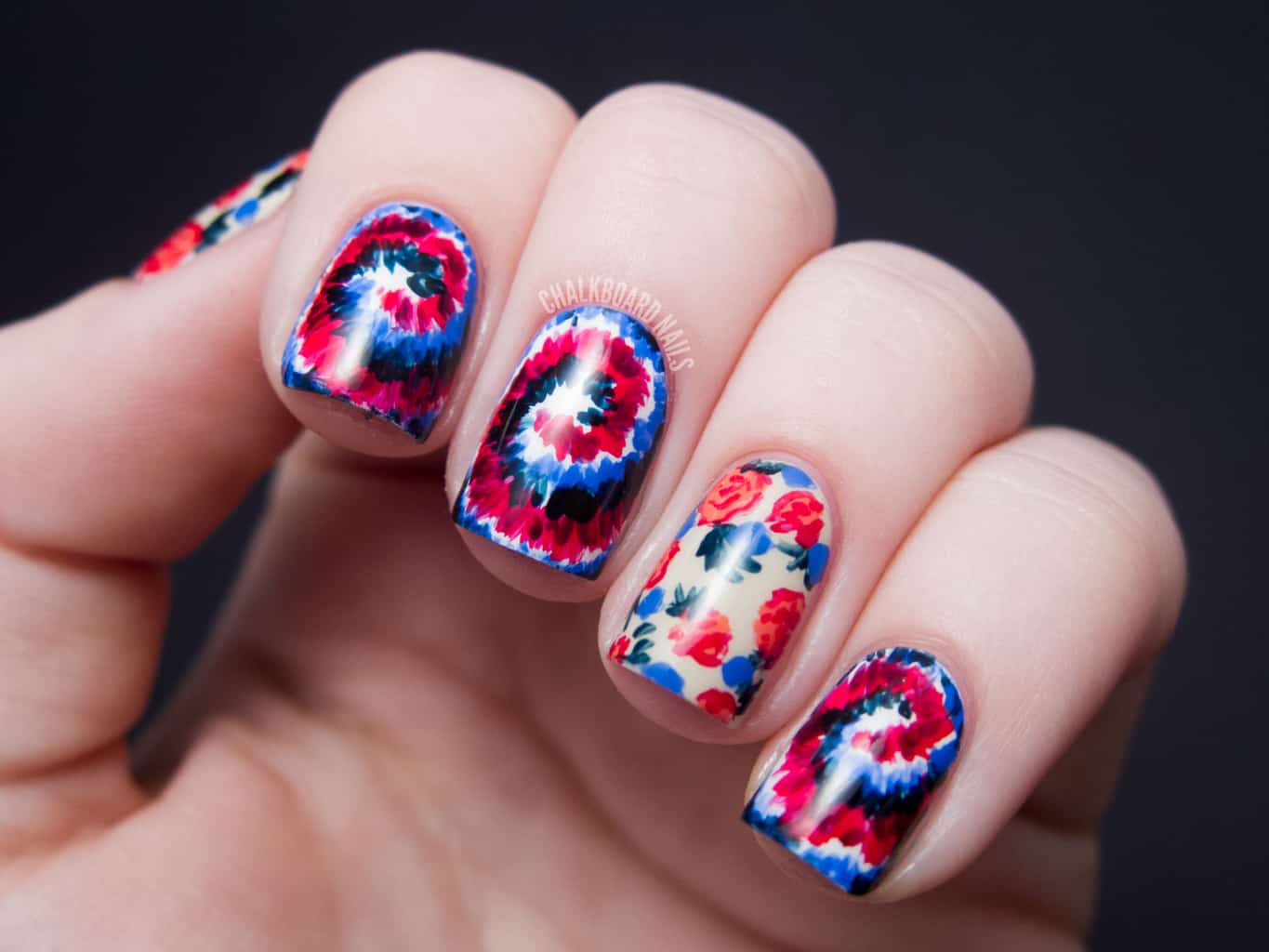 This is an interesting abstract nail design. You can blend two different designs, floral and swirl, together to get amazing tie dye nails.
#4. Logos and Smileys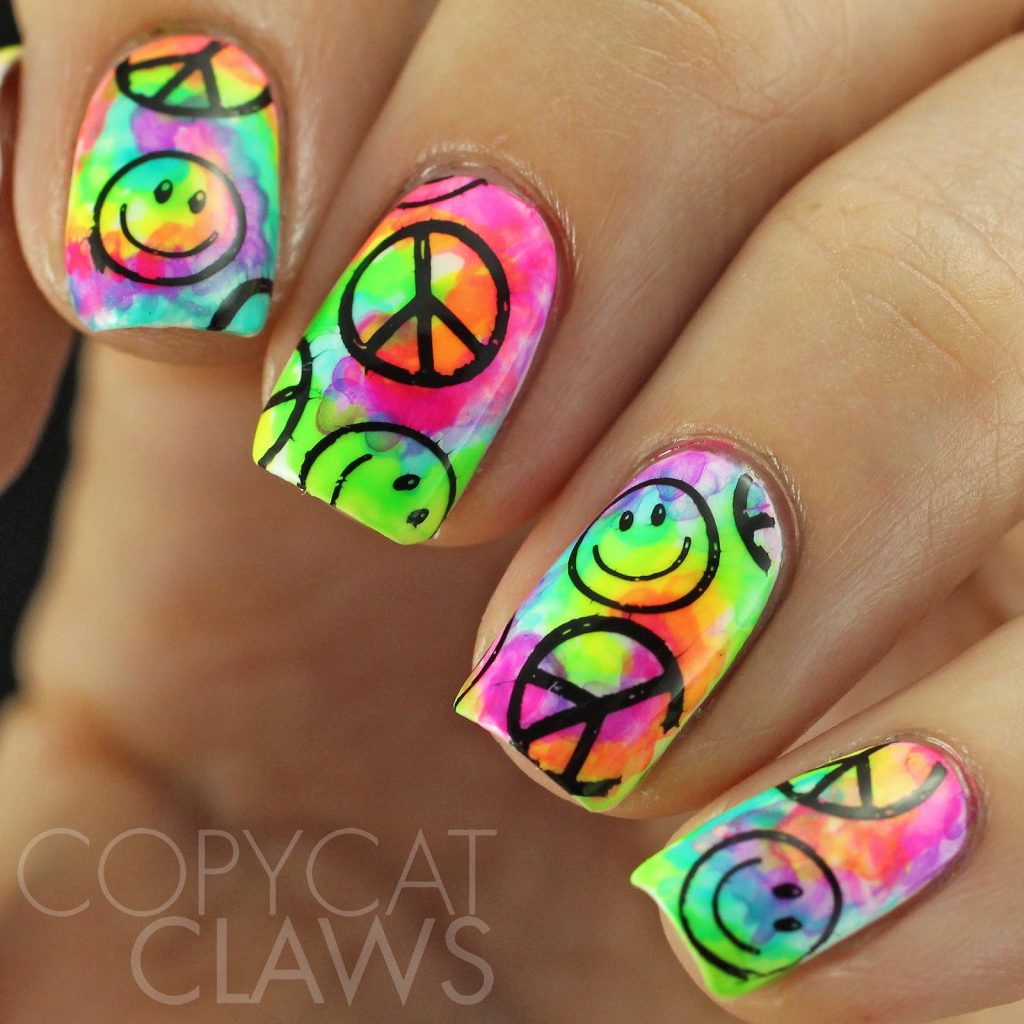 This is a new addition to the tie-dyeing on nails. After doing your desired design, draw the logos and smileys you prefer.
It's not mandatory to use a few bright colors for tie dye. You can adorn your nails with only one dominating color too.
Designing nail is an art. Like every other form of art, it also needs a great deal of time and patience to get the perfect outcome. Hope you'll get inspired by our tutorials and designs to get the best of tie dye nails.