Cute animal print nail designs are a fun way to bring out your colorful, childish, and creative side. What better way to feel young at heart than with vibrant colors and cute critters with smiling faces?
Sure, you've probably seen cheetah spots and tiger stripes on nails, but the animal prints don't stop there! We've got dinosaurs, monkeys, dolphins, and more awaiting in our whimsical list below. So rock them on long or short nails because there are no rules to follow when it comes to animal print nails.
Fabulous Animal Print Nail Designs
The key to finding your perfect animal print nail design is thinking about your favorite animal, then translating its colors or prints to your nails. Still stuck? Take a look at our list of 30 cute ideas for animal print nails!
#1: Beautiful Birds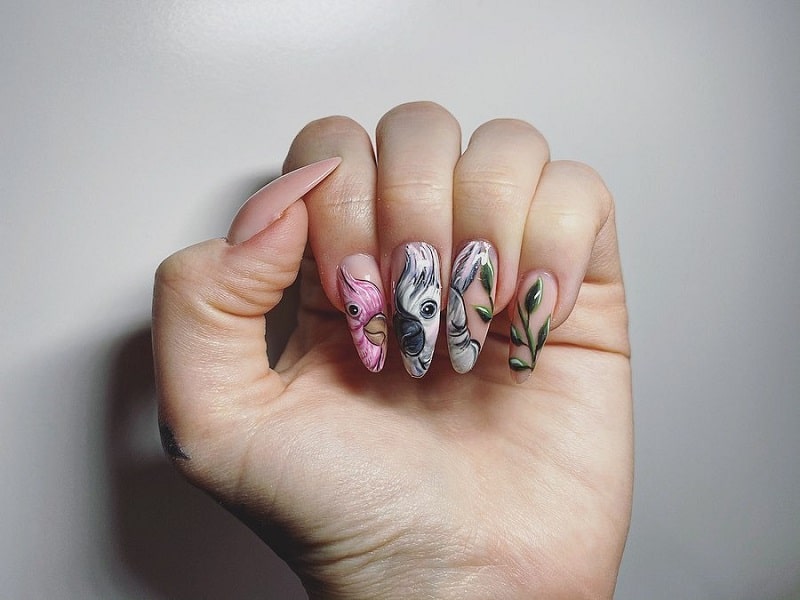 On long beige nails, detailed drawings of parrots shine. To add to the scenery of your animal print nails, considering adding green leaves or vine prints.
#2: Snake Skin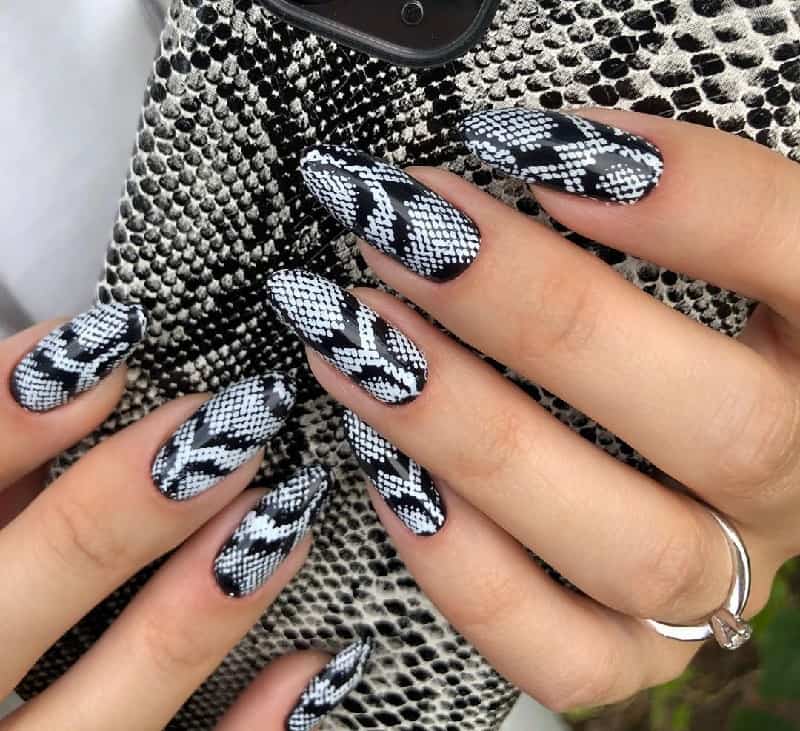 Snake skin isn't just for boots and bags. Now you rock your favorite animal print on long almond nails. Get it with airbrushing or by placing fish net over the nail and dabbing with white. Let dry before adding black lines.
#3: Under the Sea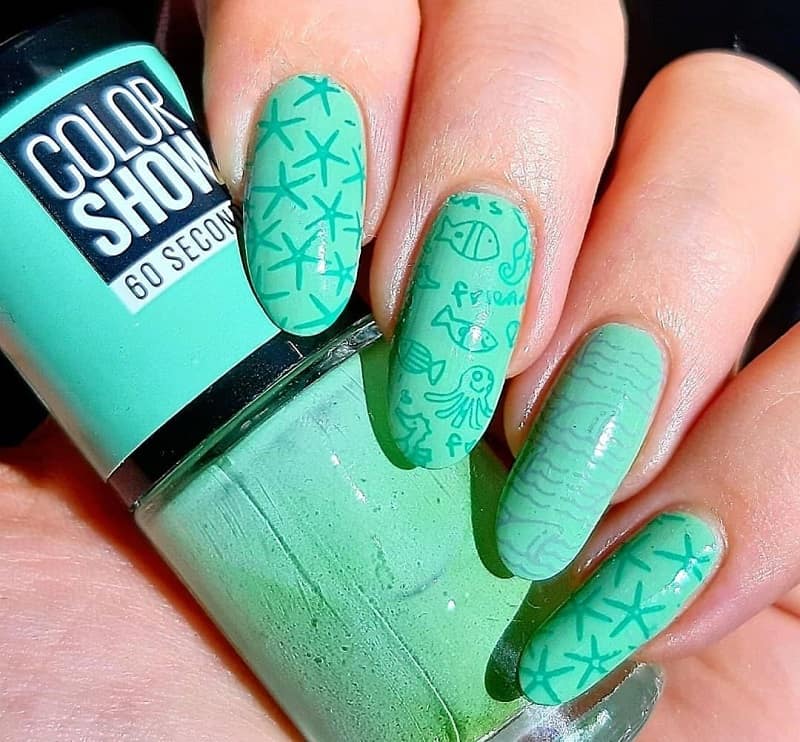 If you're a mermaid at heart, a sea-themed nail design is for you. Coat nails in sea foam green, then use a darker shade of green to draw the sea stars, shark fins, waves, and other sea critters.
#4: Coral Birds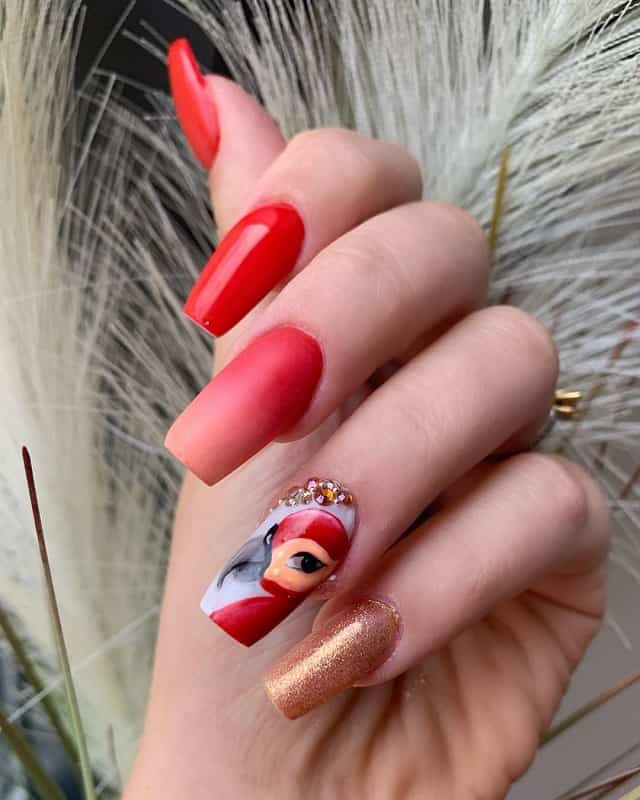 A bright coral breathes life into an animal print design featuring a pretty red bird. Add some colorful crystals near the cuticle above her head and give your pinky finger a swipe of gold glitter.
#5: Ladybug Love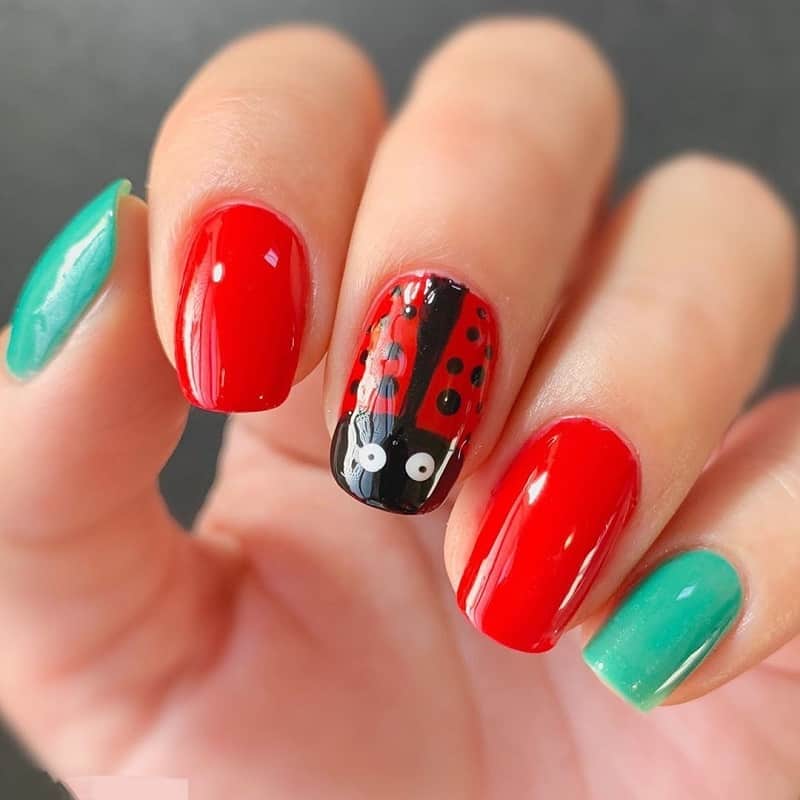 Is your spirit animal the tiny red ladybug? Make it the star of your animal print nails by placing its cute face on the center nail. Use red and a pop of light green for the other nails.
#6: Slithering Snake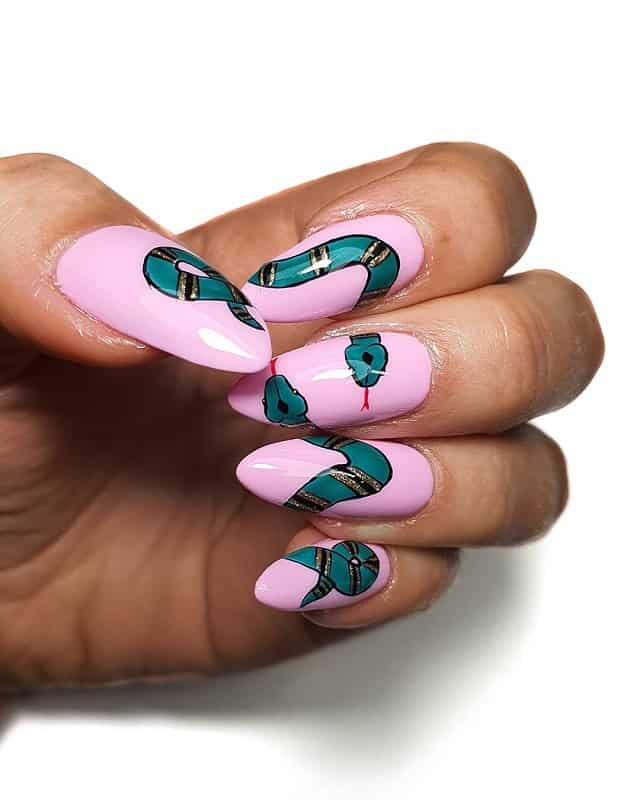 Bring edge to bubblegum pink nails by adding a long dark green snake. Use black and gold stripes for his skin and don't forget the red forked tongue!
#7: Lovely Leopard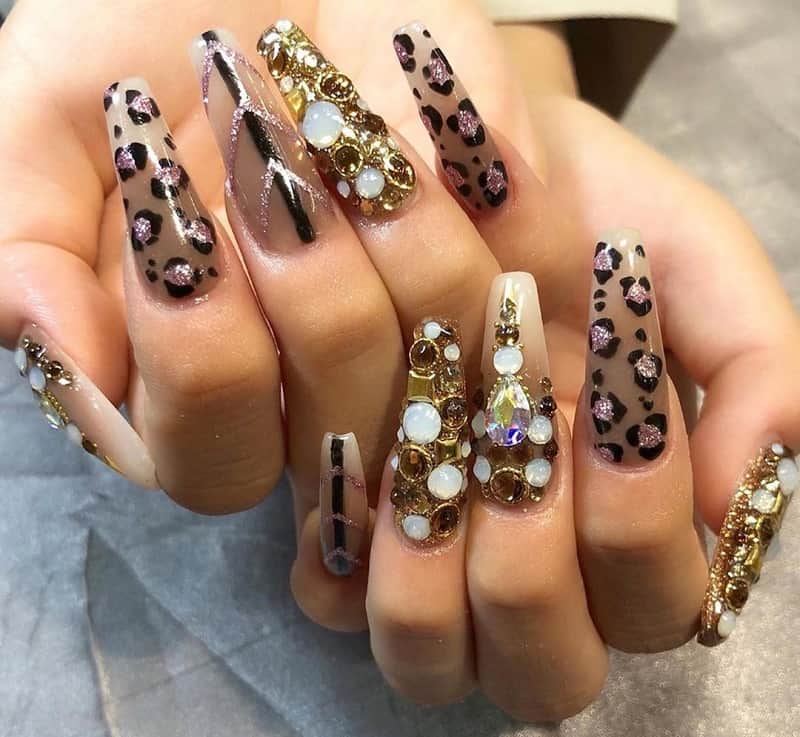 Use nude or light brown as the base to these leopard print nails. Use a thin black brush to create the spots and place a colorful crystal in the middle. For the two middle nails, stack with gold and brown jewels.
#8: Cheetah Print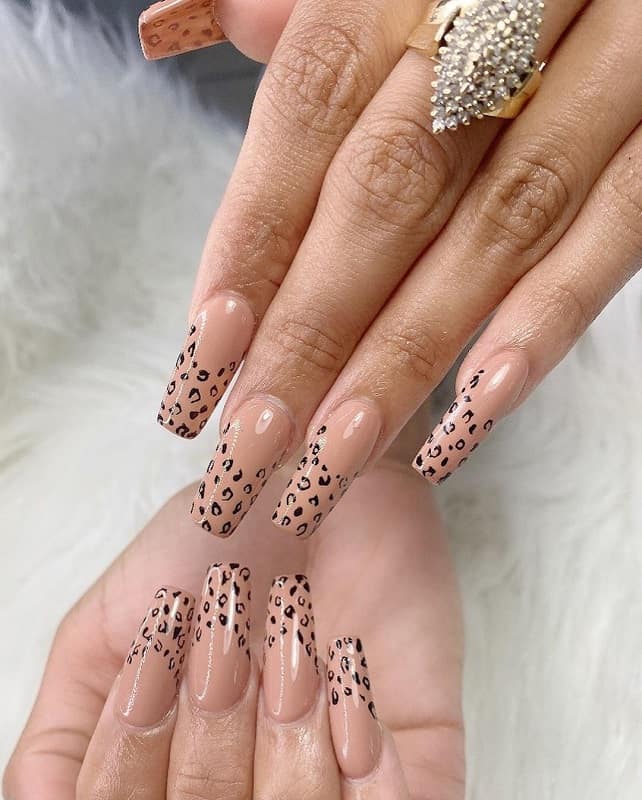 Is anyone else hearing the Cheetah Girls theme song as they look at these animal print nails? With only two colors needed, this art is easy to do no matter your skill level.
#9: Dalmatian Coffin Nails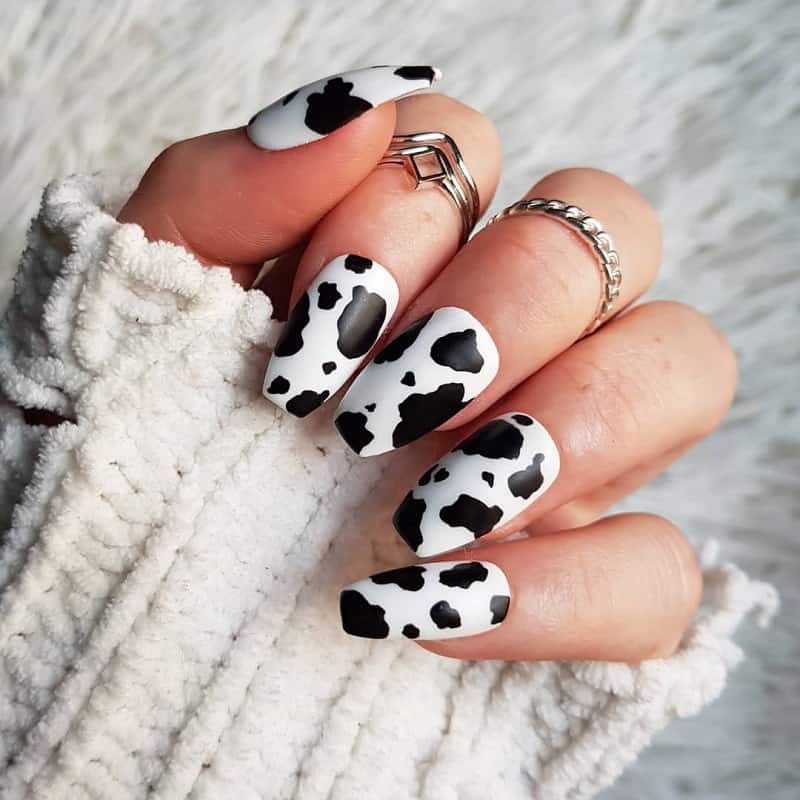 Dalmatians and cows both fit the black and white spotted print seen here. Try it on long coffin nails and wear with a black outfit so the white stands out.
#10: Animal Print Toes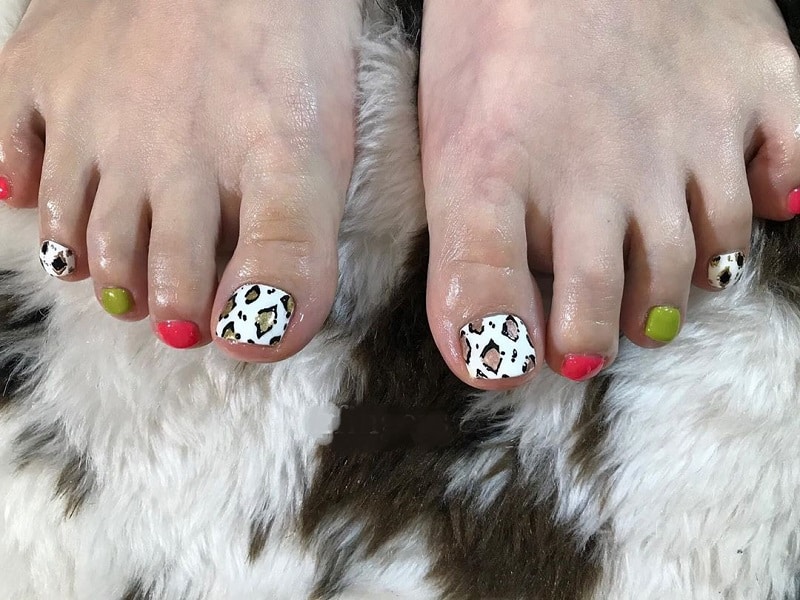 Bring the animal print down to the toes to continue the fun! On just the big toe, add your favorite animal print or face, then use your favorite colors for the smaller toe nails.
#11: Many To Choose From
If you are really indecisive because you like all sorts of animals, you should go for a mixture of everything. We have this cute elephant animal print nail design that is looking at us with joy and has the cutest smile. Followed by him we even have a monkey, a giraffe, panda, and a lion. The whole animal kingdom is here, and it is a very cheerful one.
#12: Meow Meow
A little kitten with a heart symbol is something that our cat ladies will love. Light blue nail polish base with a smiling kitty looks adorable and perfect if you don't like too much of a drama happening on your nails.
#13: Too Cute To Handle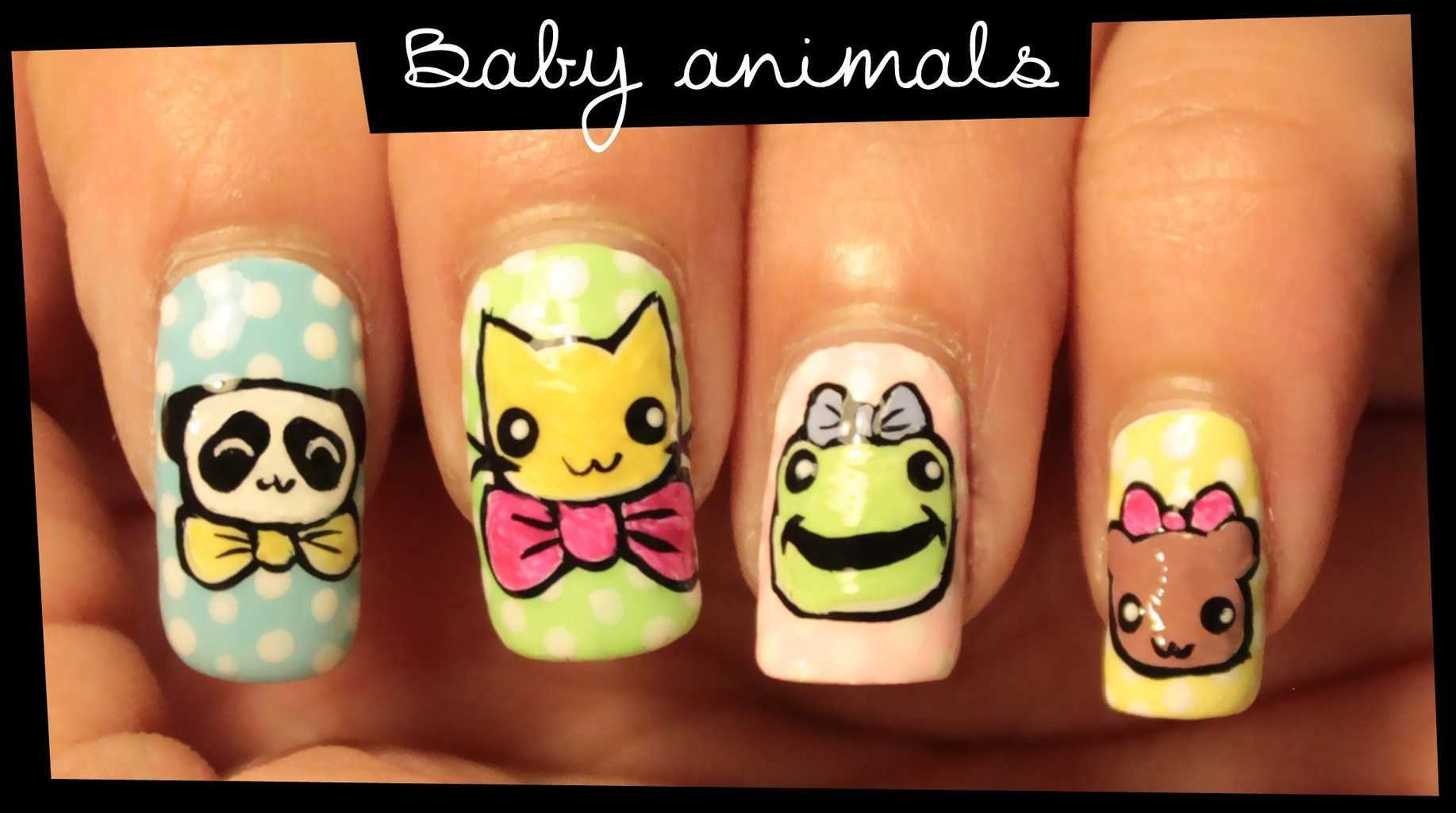 The title says it all, these animal print nail designs are just too cute to handle. Panda, kitty, froggy and a bear look like they are a part of a kid's show. The colors that have been used are so soft and gentle, and the animals were drawn so delicately that this design could be appropriate for the younger audience.
#14: Little Piggy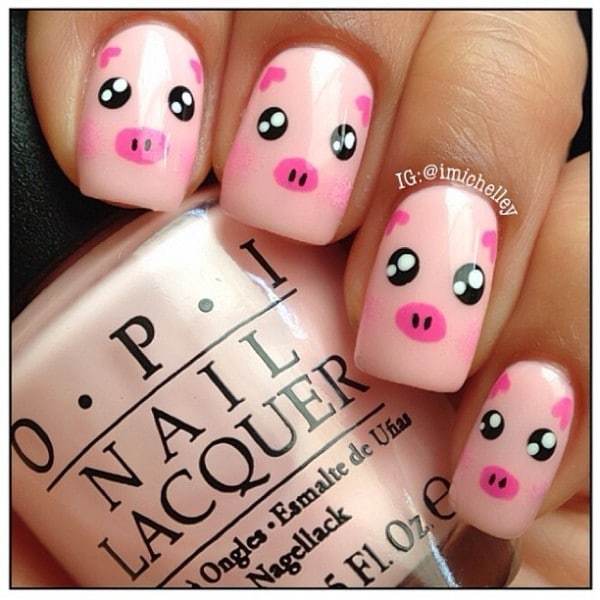 Our little cute, furry, and pink piggy nail design looks stylish and beautiful. The OPI nail polish "I Think In Pink" has been used in order to achieve this cute manicure and we got to admit that it looks so stylish.
#15: Cheese Anyone?
Yellow color can open up a person so much, and especially people with darker skin complexions. This little fella ate all the cheese but we forgive him because he is so bomb looking. The mouse is actually a symbol of paying attention to details. So, if you are a very organized, neat, and like to make the simplest things matter, the mouse is your spirit animal, and you should go with it as you animal print nail design.
#16: Teenage Mutant Ninja Turtles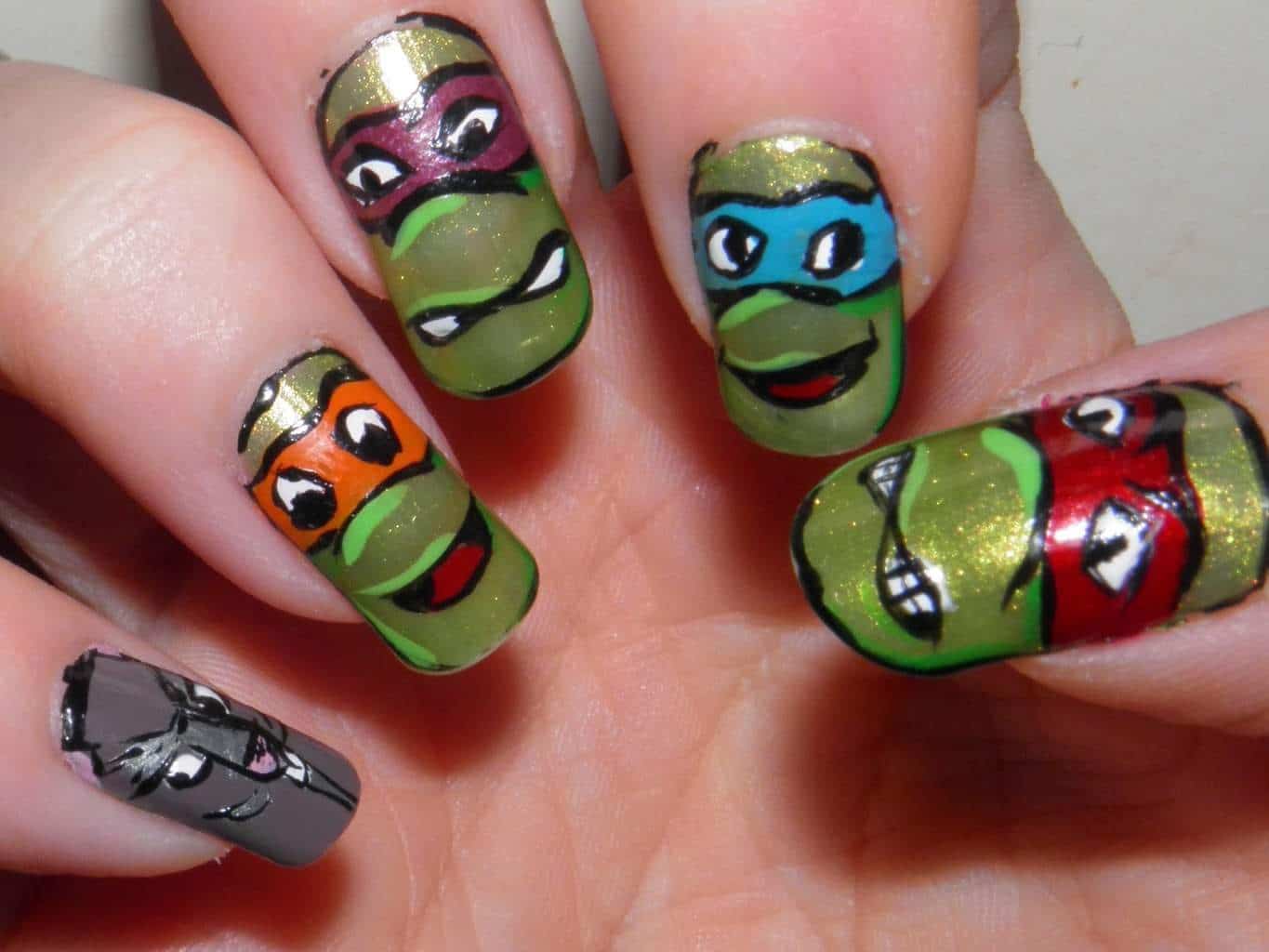 This cartoon is well known worldwide, and girls and boys love it equally. The first Teenage Mutant Ninja Turtles comic debuted in 1984, and it was only meant to be a single issue. That didn't happen (luckily) and TMNT has been with us for a way longer period. This nail manicure should be worn by women who have some fierce moments here and there, and who like to be independent.
#17: Sleepy Snoopy
Snoopy is so sleepy in this nail manicure, so if you are a sleepyhead, he is your spirit animal. Light blue color with the cutest and most famous dog print looks so laid back and relaxed. If you are that type who likes to chill at home a lot more than partying, go for this animal print nail design.
#18: Big Bad Wolf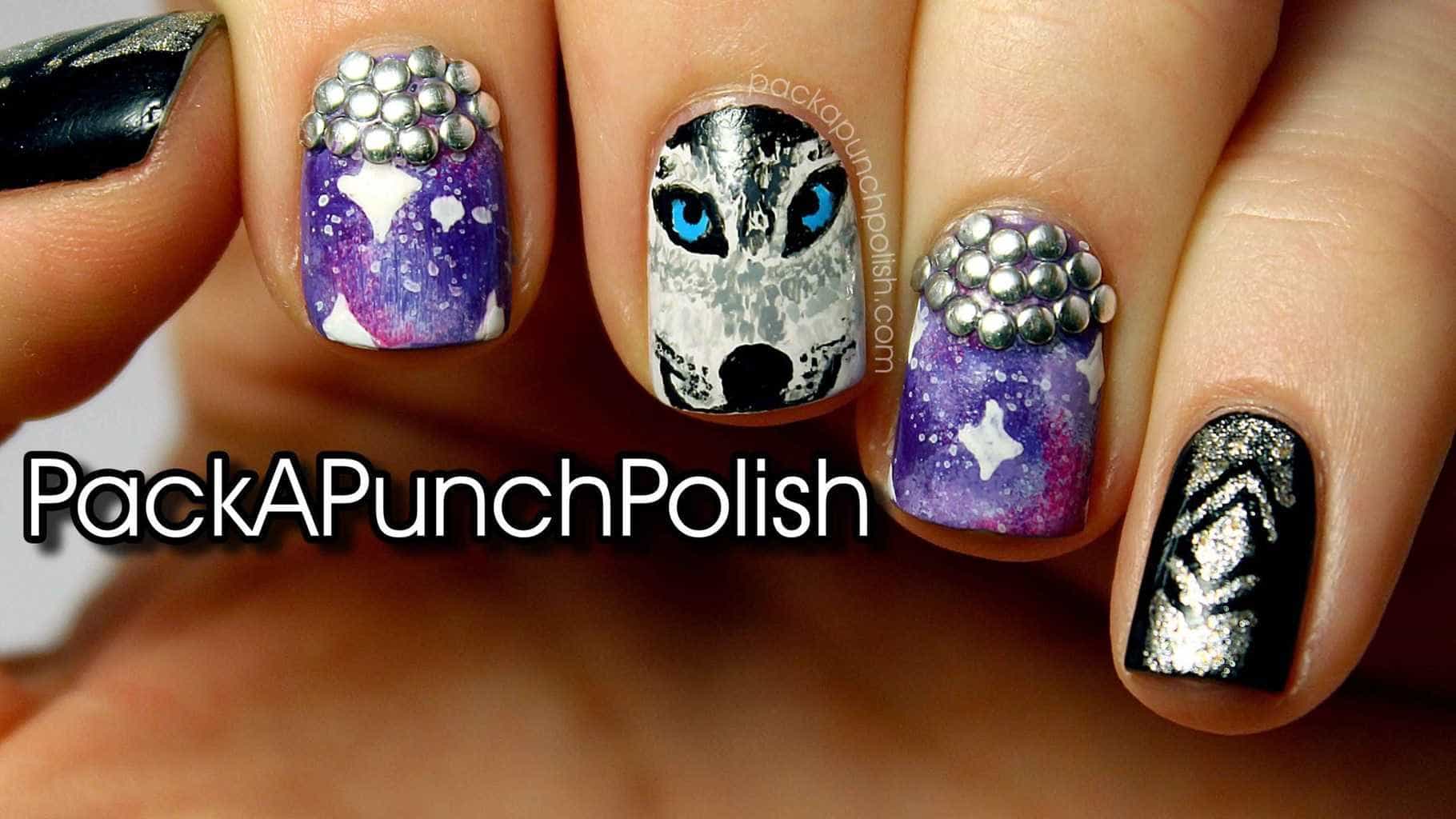 Wolf is a symbol of knowledge and never-ending journey. They can travel in packs or rather be left alone. The same goes for you. If you like to be surrounded by many people you should get just one wolf print on your nails. But, if you are a loner, get yourself a few wolf prints onto your nails and look like a part of the pack.
#19: Oh Deer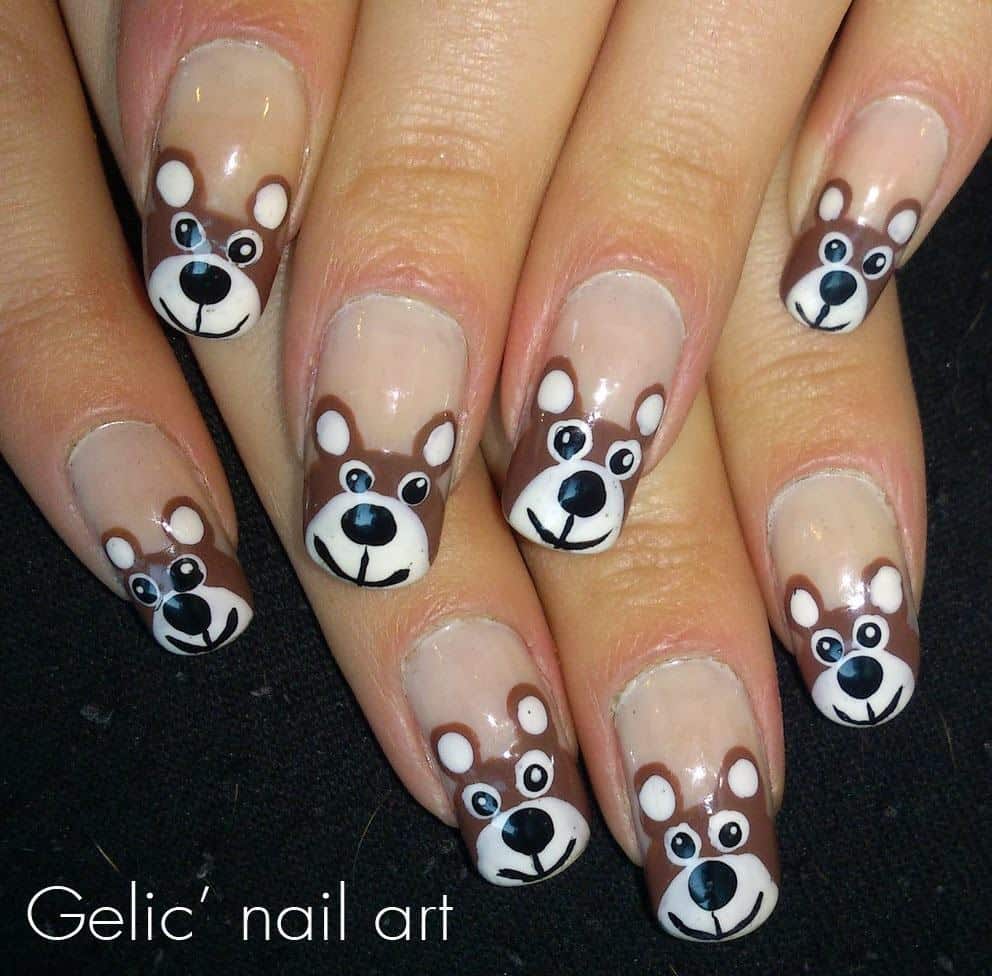 Don't these look peachy and lovely? This deer nail design is so positive looking and makes us smile instantly. Deer is a symbol of gentleness and care. If you think of yourself as a very caring and sweet person, get this manicure in order to match your inside.
#20: Christmas Bear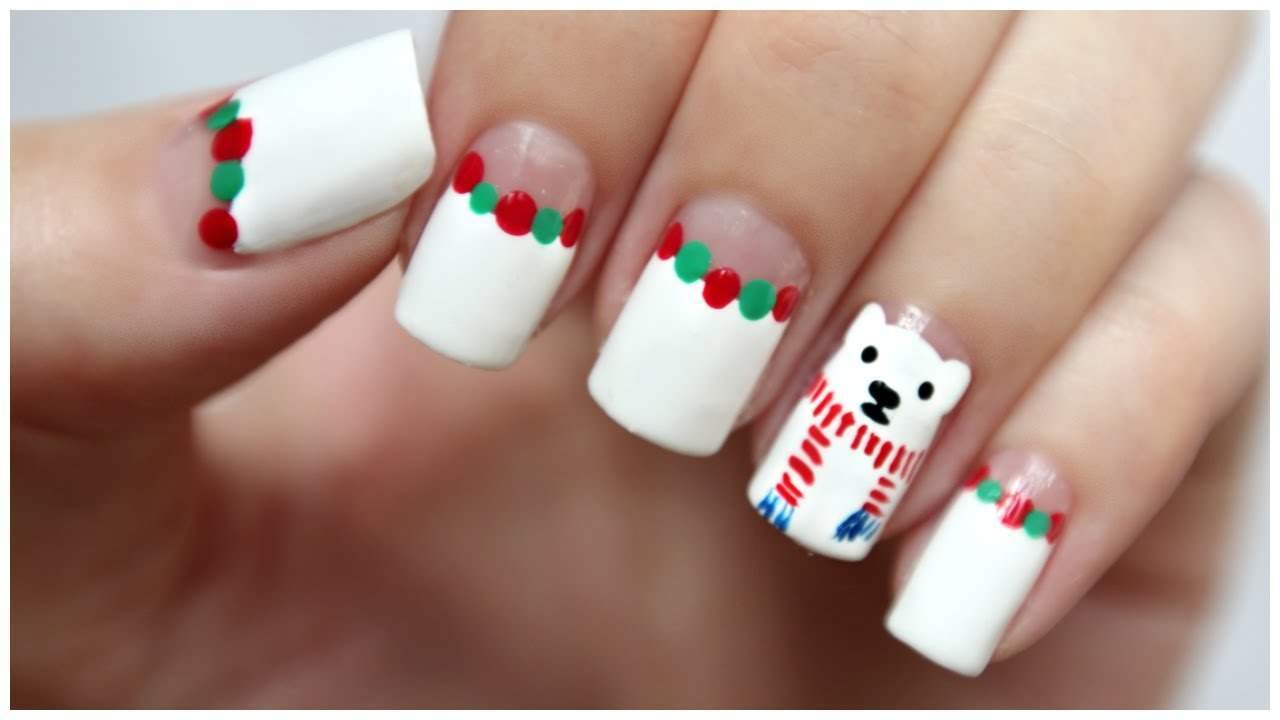 Christmas isn't just around the corner, but don't make that an excuse for you not to get these nails. You can wear anything at any time, and you are the only person who determines on what's beautiful or not. This little furry white bear looks like a cute idea, especially for someone who feels strong and who is on some type of a journey, since bears symbolize that.
#21: Red Cutey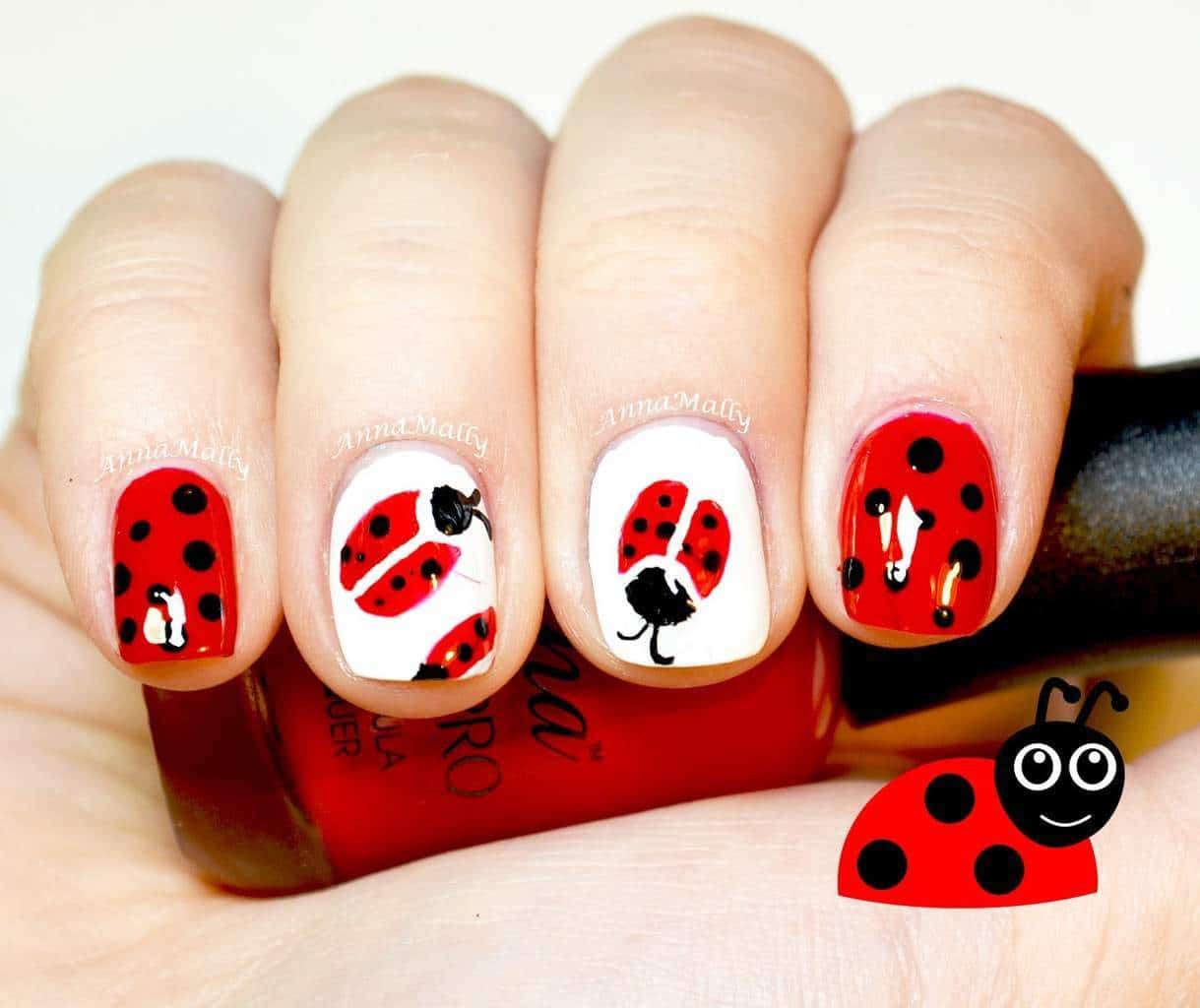 Ladybugs are definitely the most elegant animal print nail designs you could go for. The hot red makes them look appropriate for pretty much anything and everything. You could rock these at a meeting and also go partying since they are so universal.
#22: Frogs Are Cute
Frogs are known to be the bringers of rain. So be aware of the unsteady weather conditions that you may awake with these nails. While having that unusual symbolic meaning, we can't deny the goofiness and style that also comes along with them. Get them super long and extra green for the more dramatic effect.
#23: Giraffes Are Cool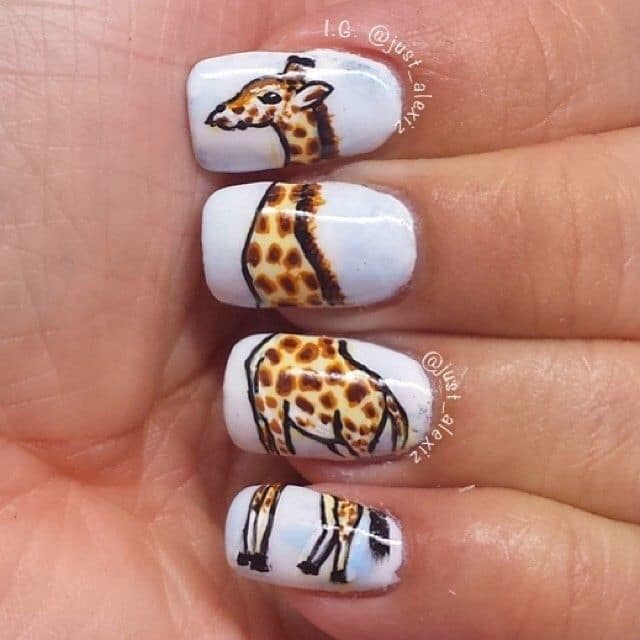 Giraffes are very cool animals, and also quite ladylike. If you find them to be the most appealing and your spirit animals then you should get them done on your nails. This piece by piece looks fun and super creative. This is also a good way of styling your short nails because it gives out the illusion of the long nails.
#24: Lion King
The Lion King is the highest-grossing hand-drawn animated feature of all time with a total box office of over $987 million. It is also the 19th highest-grossing film of all time and the best-selling videotape of all time. Pretty much, it has stolen the show. This cute animal print nail design looks lovely because of the hugging and bonding moment between these two.
#25: Nemo Is Here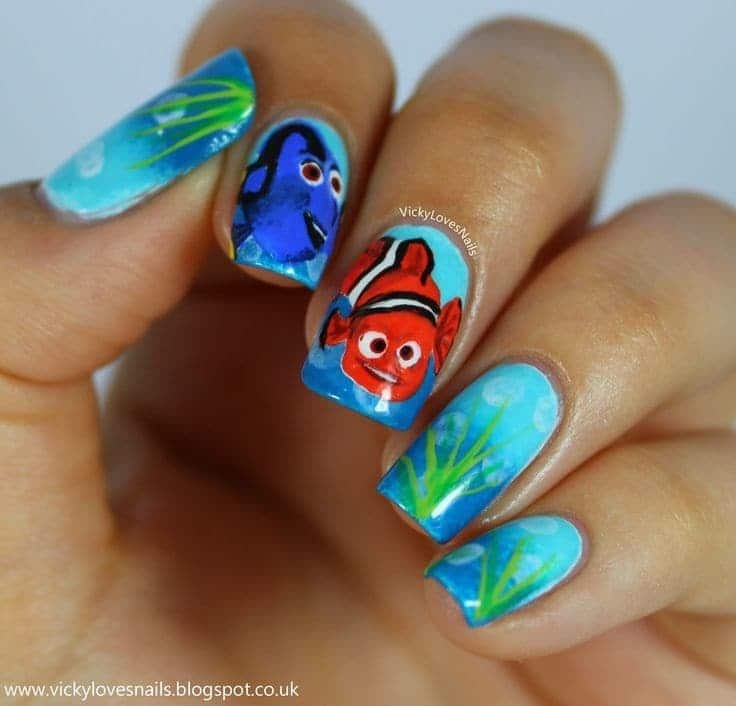 Looks like Nemo didn't get lost this time. In fact, he found a path to our amazing blue nails. Fish, in general, is a symbol of a person who can hide their emotions. So if you are a bit on the shy side, this unbelievable blue manicure is just your cup of tea.
#26: Dino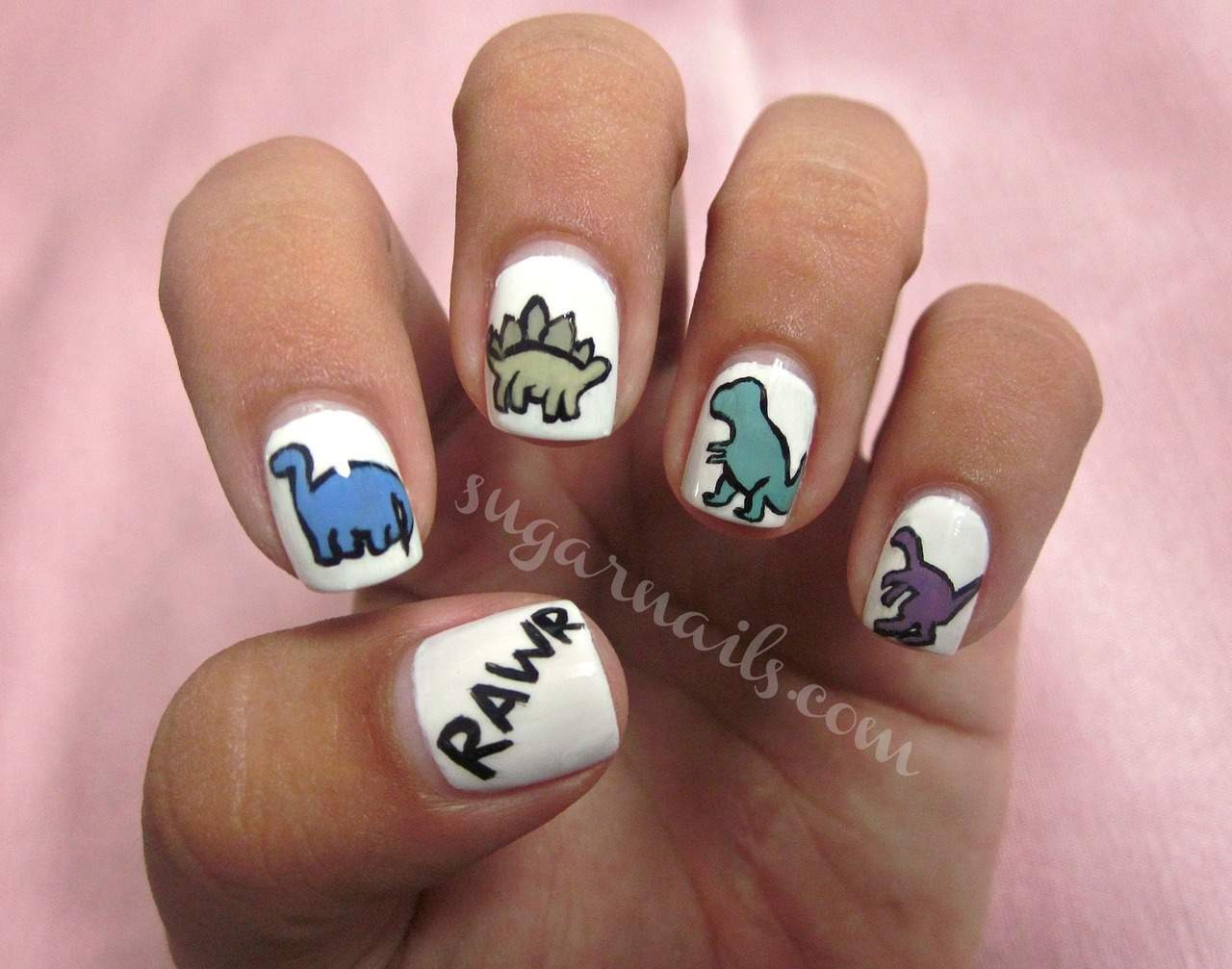 Dinosaurs did vanish million years ago, but they still find a way to be a trending nail art. A fun, colorful print like this easily brings out your inner child.
#27: Swim With Us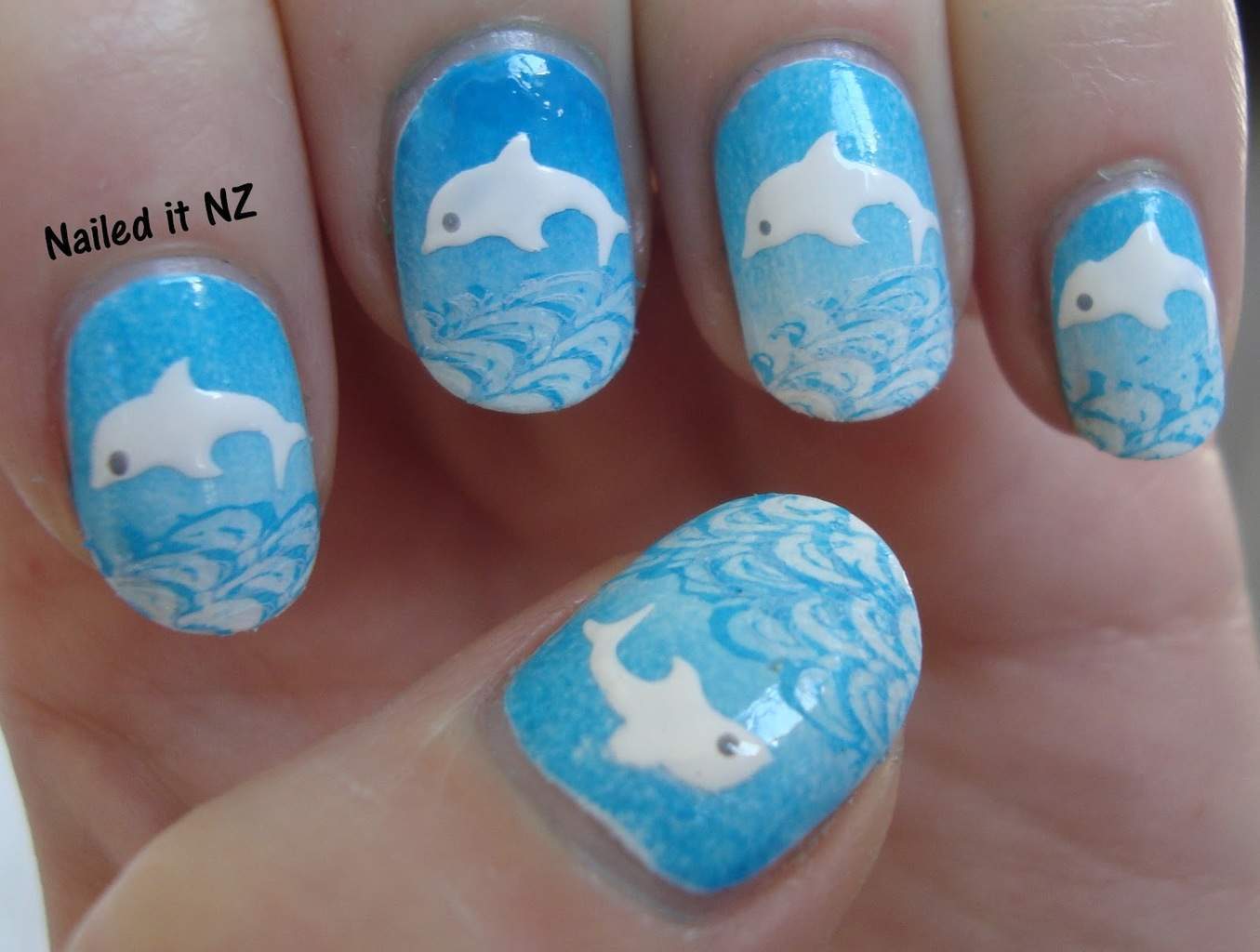 If summer is your favorite time of the year, these jumping white dolphins on a light blue background await you. Dolphins are a symbol of trust, loyalty, and a spirit of friendship.
#28: The Jaw
This animal print nail design looks little scary and different than the others. But originality is what is trending right now, so don't be afraid to rock shark-inspired nails.
#29: Monkey Madness
Monkeys, being as cute and funny as they are, are actually very sweet and friendly critters. Did you know that there are currently 264 known monkey species? Use light and dark brown on short nails to get these funny monkey face!
#30: Monkey Cuteness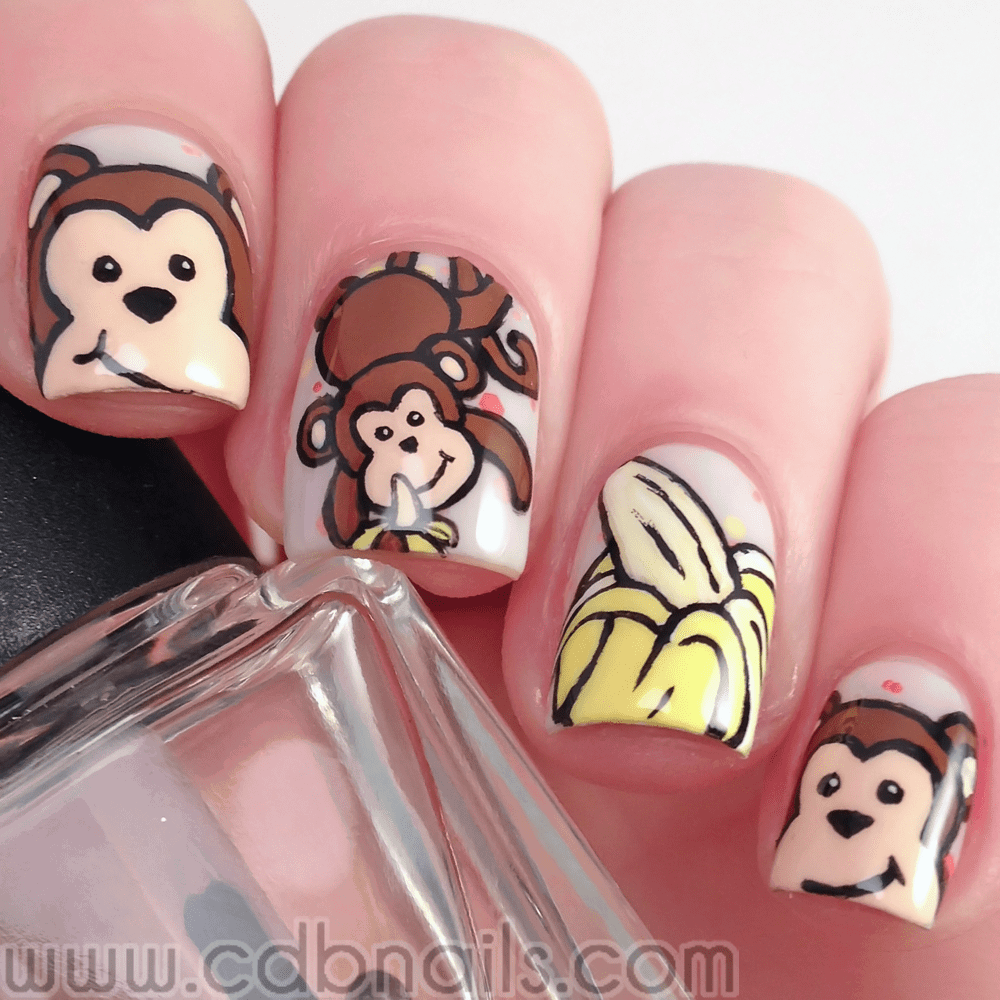 This childlike animal print nail design can't get any sweeter. A friendly smiling monkey with bananas all around him in yellow tones. Monkeys may live in trees but this monkey has a mind of its own living on the nails!
Try Out These Cheetah and Leopard Nails
Have a Look at These Cute Animal Print Nail Designs
Multiple choices and an overload of cuteness are shown in the above animal print nail designs. If you find yourself loving more than one of the designs, no need to pick just one! Try one design for a couple weeks, then switch to the next favorite!