Unleash your inner diva with nails that scream power and strength. Long nail designs that add this fierce touch to your style will give you that edgy glamorous look that'll suit your style perfectly.
Whether square, round, almond, or stiletto. Long nail art designs will add that strong feminine touch that we all dwell for, a design that suits day and night occasions, normal and special events.
Creative Long Nail Designs
Achieving the nail length you desire is never easy, grooming, pedicuring, and moisturizing to get those soft well pedicured long nails.
Going above and beyond to maintain their length and strength… Whether you wanna celebrate this accomplishment, or you've failed and been directed to artificial nail extensions, you would wanna show off your long nails with colorful polish and artistic designs. Here below we've showcased 85 long nail designs to inspire you.
#1. Long Coffin Nails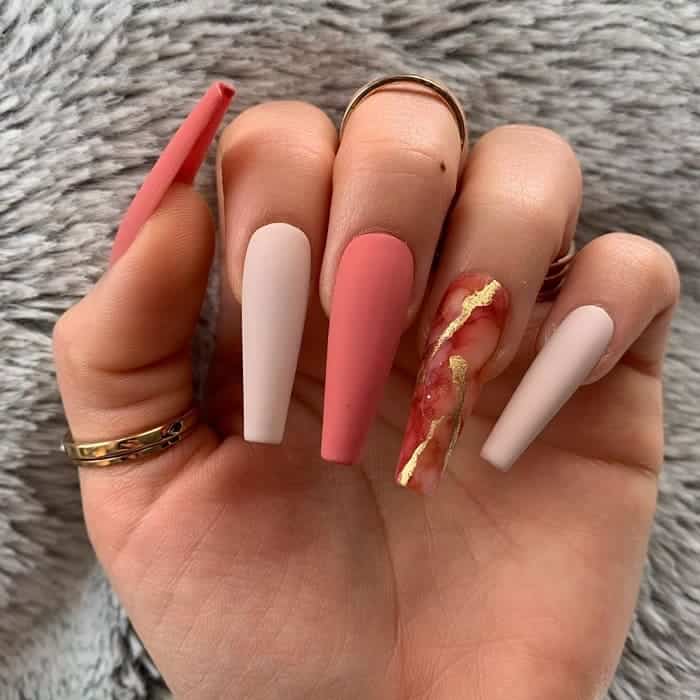 #2. Long Pointy Nails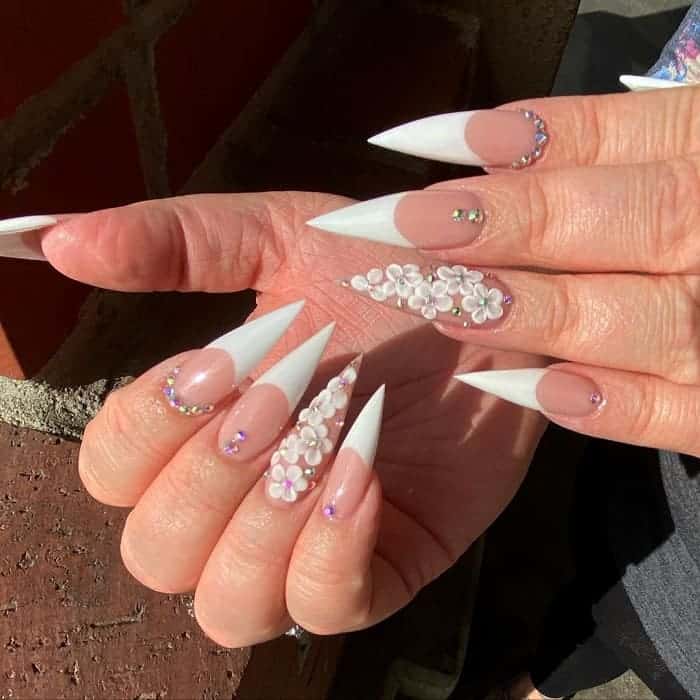 #3. Long Toe Nail Design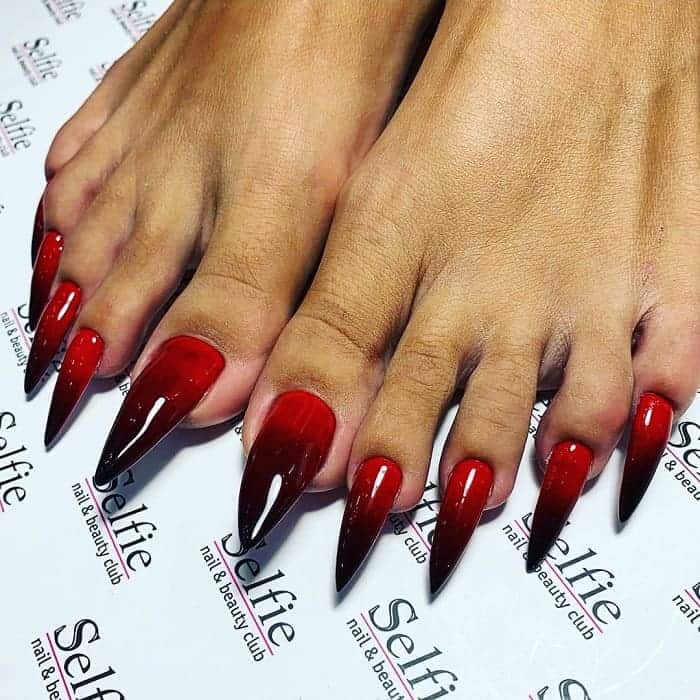 #4. Long Acrylic Nails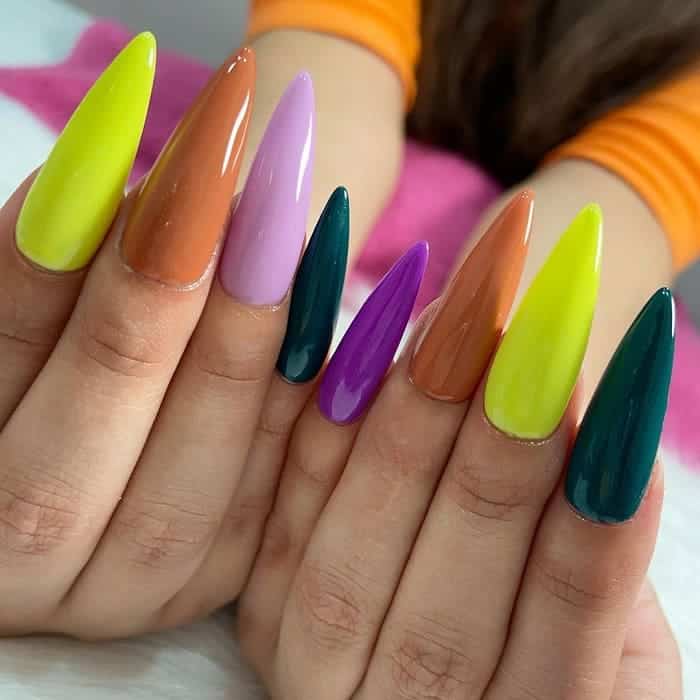 #5. Long Nail Design with Diamonds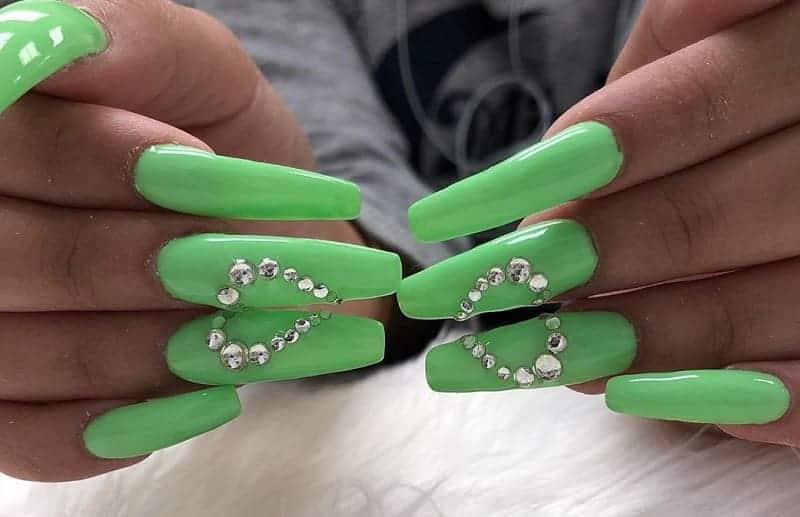 #6. Clear Long Nail Design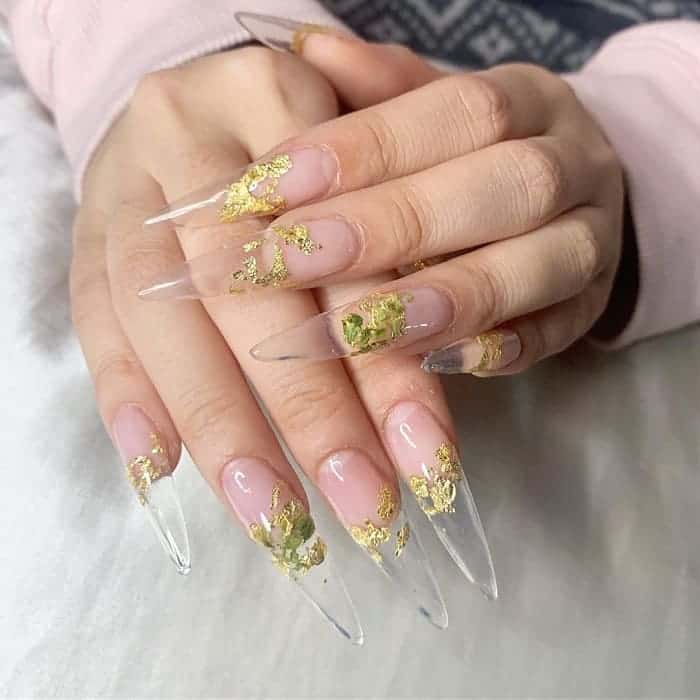 #7. Shimmering Nude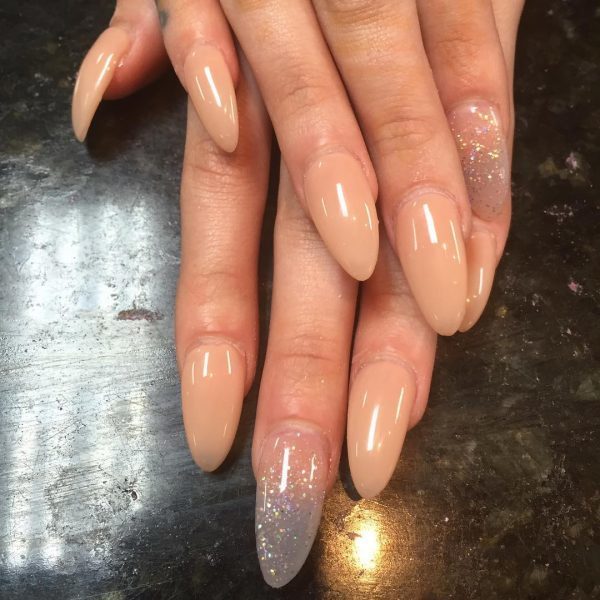 If you want an effortlessly elegant acrylic long nail design, glossy nude nail polish is your go-to color.
Help this style pop out even more by splashing a finger or two with colorless-glitter polish, allowing you to stand out from the crowd.
#8. Daring In Blue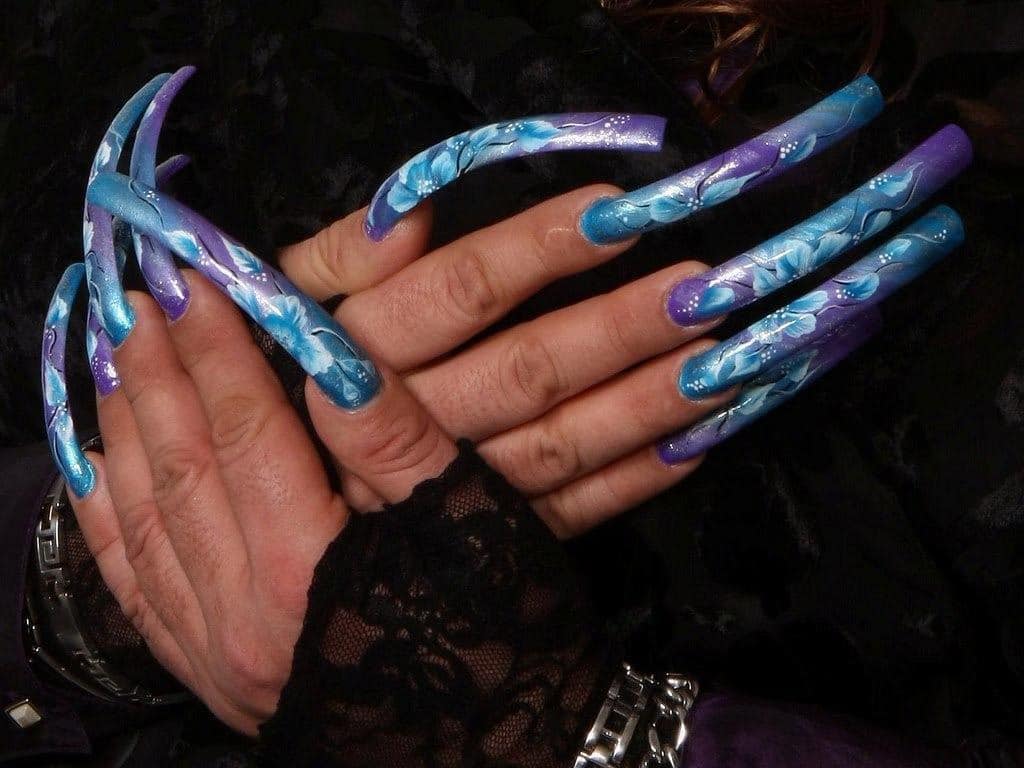 How long can you go! An interesting choice of length emphasized by these fierce shades of blue. Finally, contrast this long nail design with a feminine touch of a floral pattern.
#9. White Marble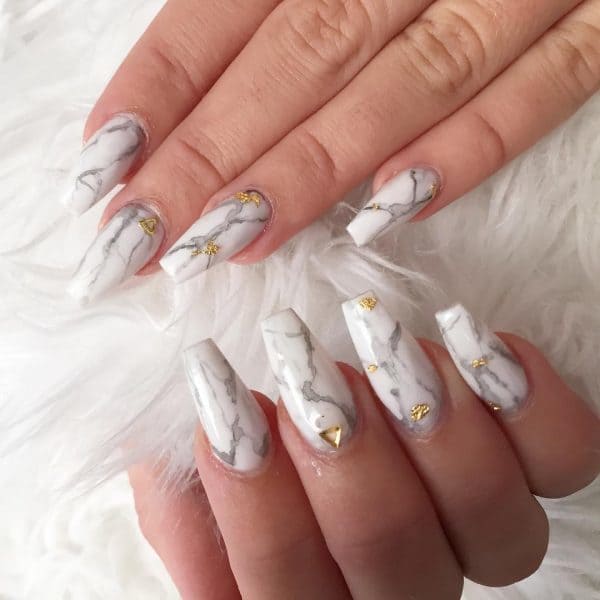 So, confused? White nail polish or a grey one? Don't get frustrated, don't even think of an answer, just try this marble white nail design to get an attractive easy-to-do long nail style. Accentuate it with sprinkles of gold flakes to give the final result a hypnotic effect.
#10. Ombre in pink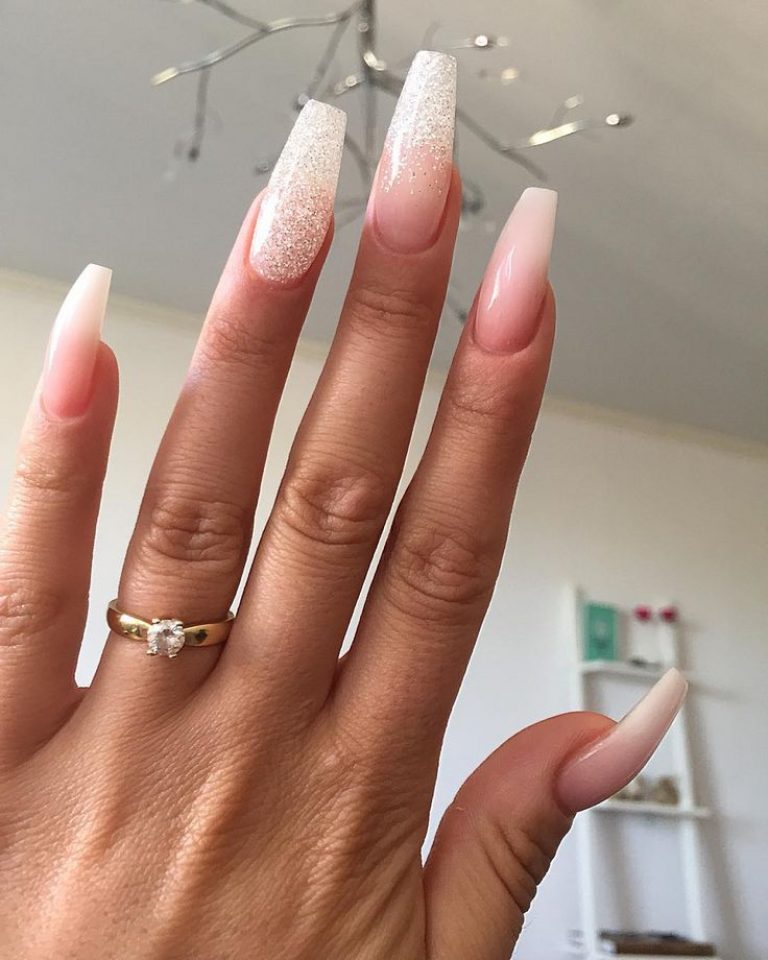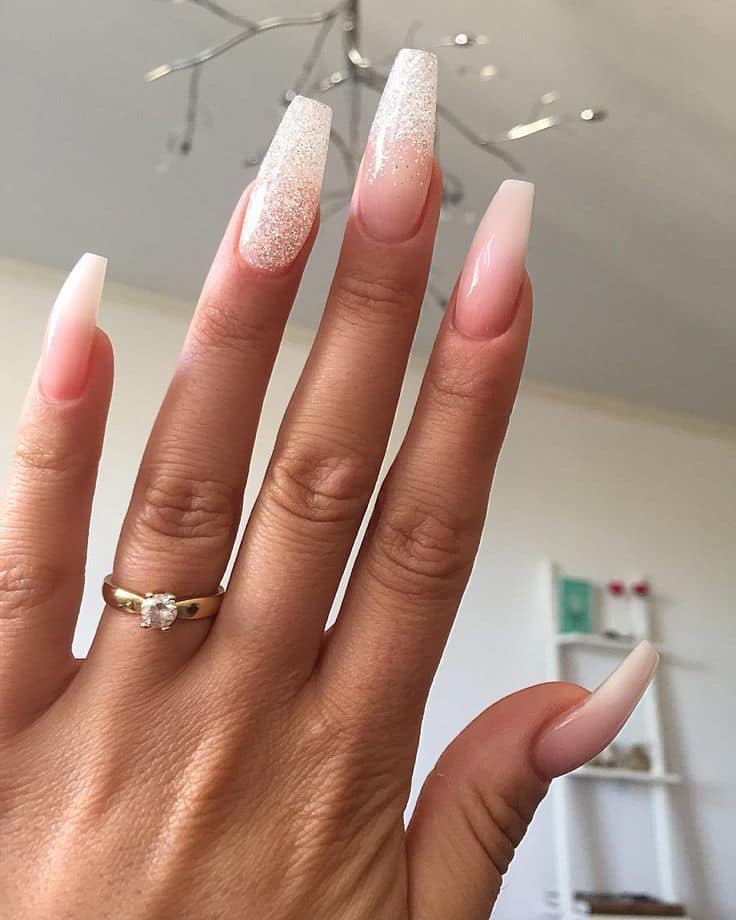 Get a flattering sexy twist to your long nails with this degradation of baby pink and splashes of silver glitter to match that diamond ring!
#11. Class With Strass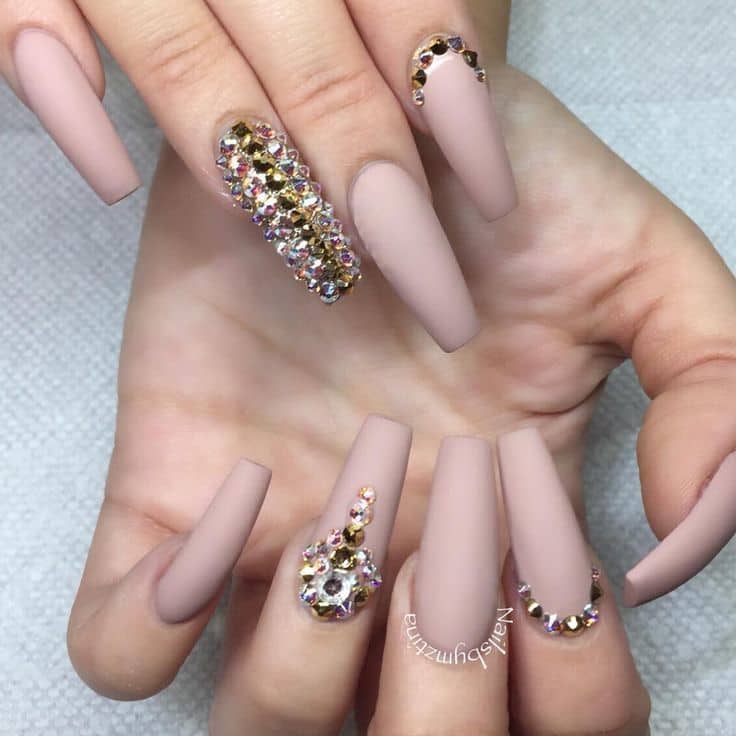 Rock your long nail design with these gold and diamond gemstones, to add that glamorous touch to your long matte beige square nails.
#12. The Zebra Effect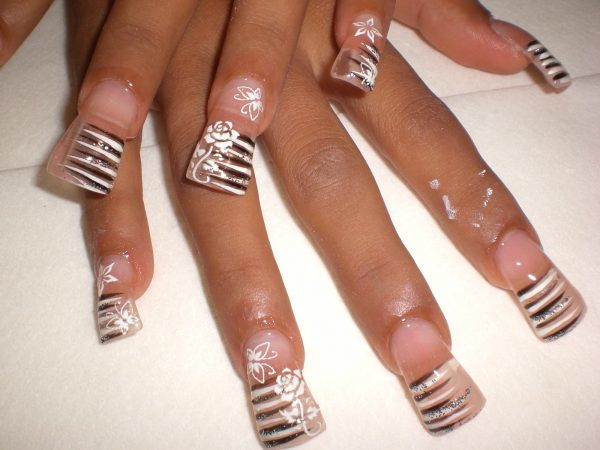 Get creative with a thin brush on this french long nail design, and unchain your inner beast with this zebra inspired stripes.
#13. Geometric Long Nail Design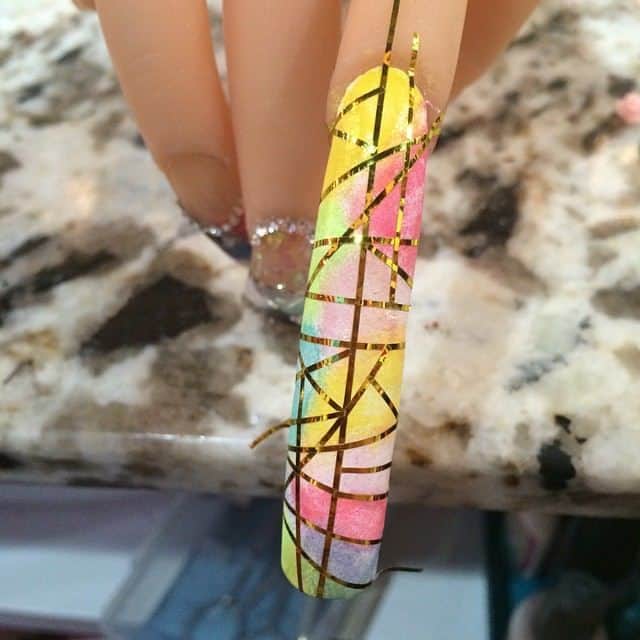 Stripe it all the way with these golden tape stripes to create a geometrical effect to your vivid nail polish choices.
#14. Nude Stiletto With Gems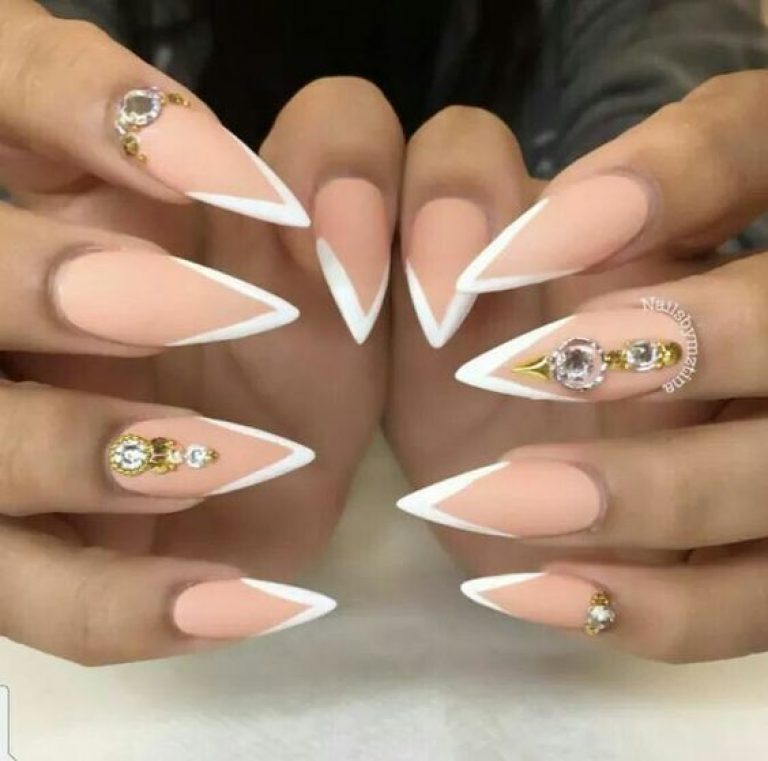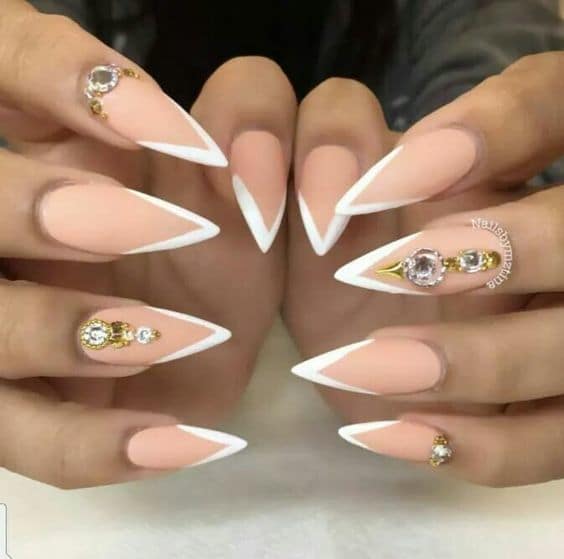 If you're striving for a gracious style that reflects your strong but fragile personality, obtain it by these embroidered gems on french white and salmon beige matte stiletto long nail design.
#15. Black Sky Nails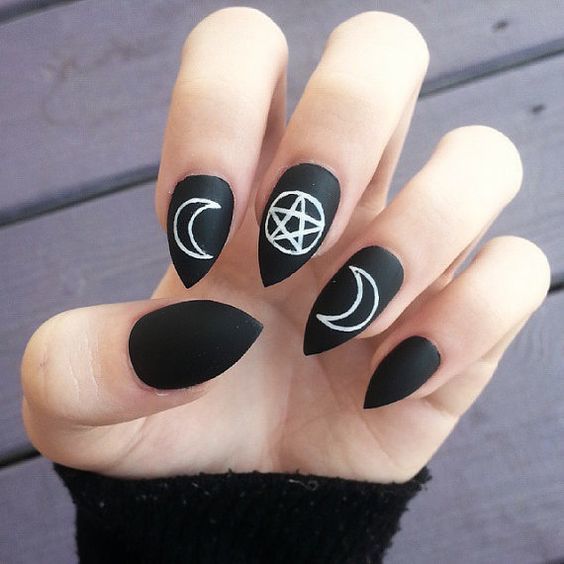 You wanna know what the stars are hiding for you? While waiting for an answer invest your time and manicure your long claw nails.
#16. Greek goddess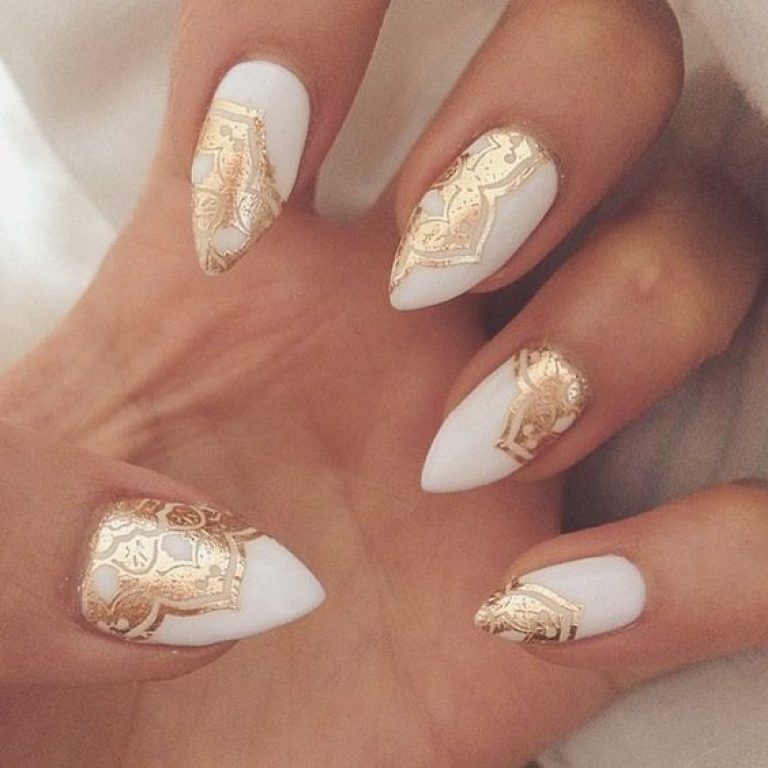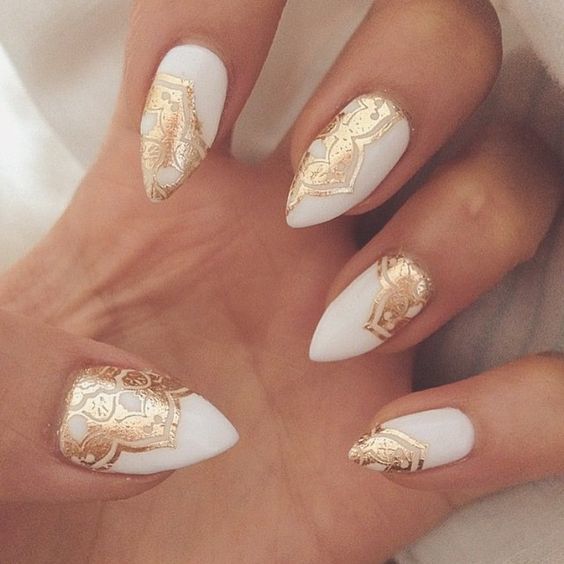 If you're sick of plain one colored base coats, get bold and try this long nail design. Add an ancient Greek influence with this golden pattern to make your nails speak elegance!
The Royal but aggressive design reminds us of Disney's evil queens with their dark elegance.
Here, not only represented with this matte deep purple on sharply pedicured nails but also with a majestic pattern on the index fingers to claim everyone's attention!
#18. Pink Vision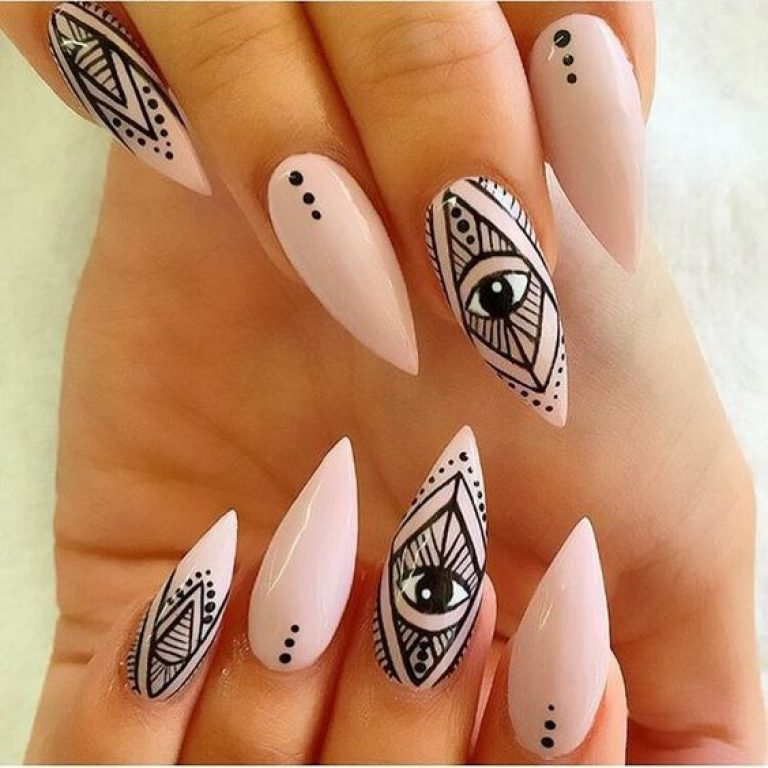 "The eye is the key to the soul." And in this case, the eye is the key to a dazzling long nail design.
#19. Bloody Perfect Long Nail Design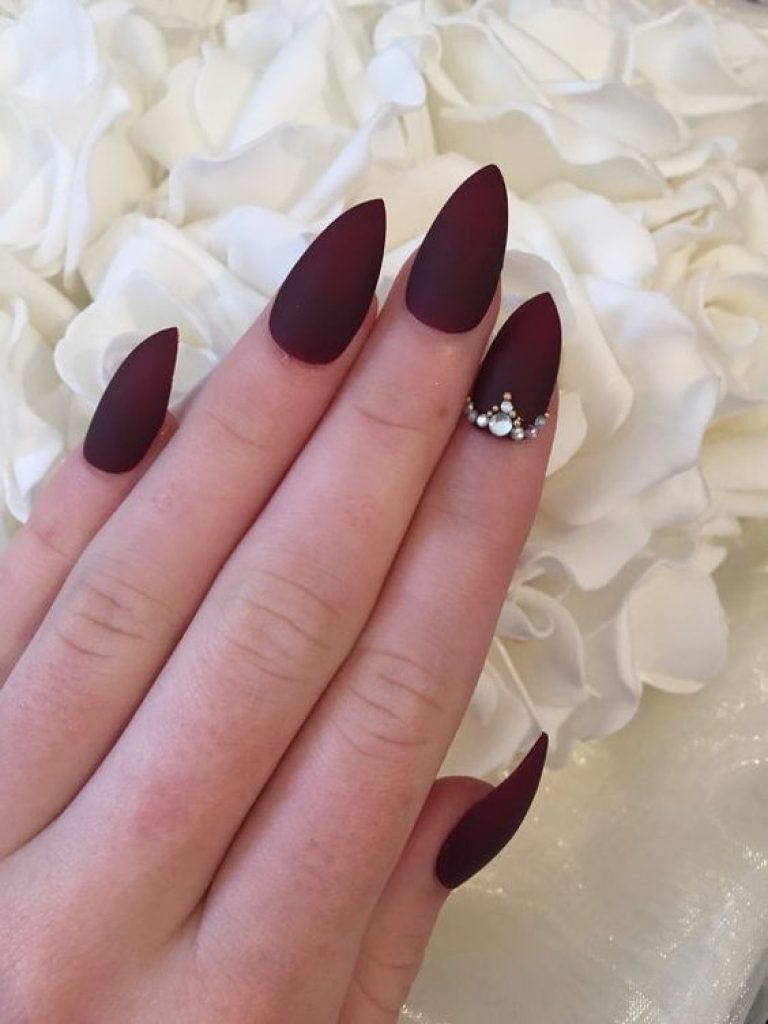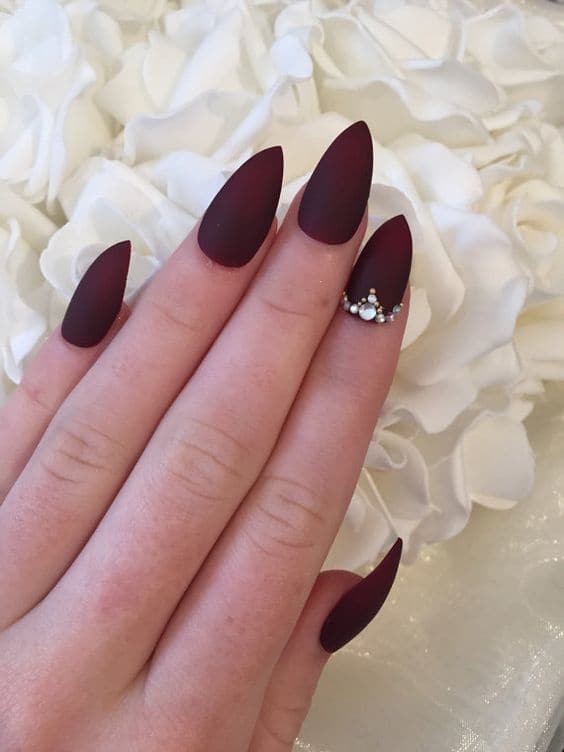 When your evil soul is bored with black, replace it with the darkest wine polish you can get your claws on!
#20. Rose Fusion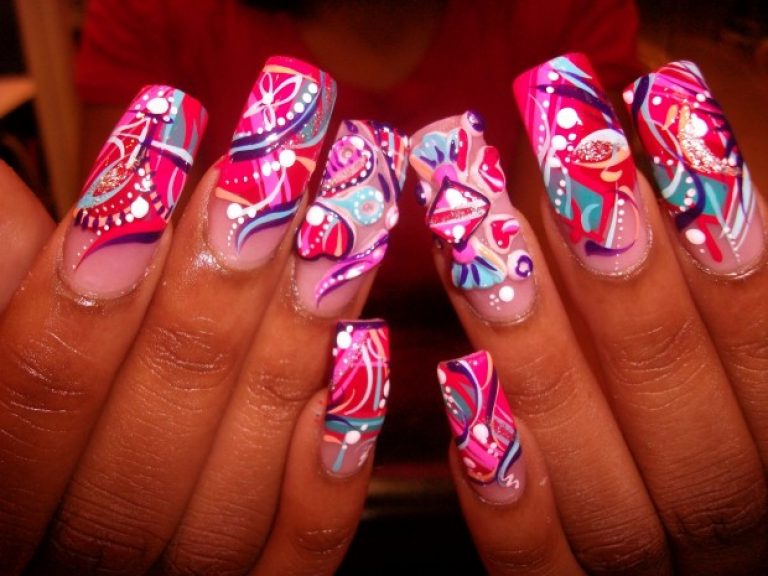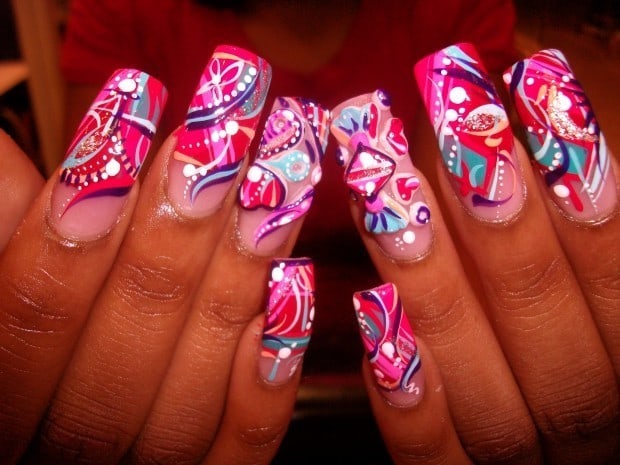 What girl doesn't adore pink! Or all 50 shades of it! Mix them all up with your artistic brush and add a 3D touch to your pattern and make it come to life to get this exciting cool long nail design.
#21. White Rock Star
Yes, I'm a girl. Yes, one minute I'm calm and peaceful and the next minute I wanna shout and scream. This long nail design says it all. Who are you to judge?!
#22. Blue Sky Nails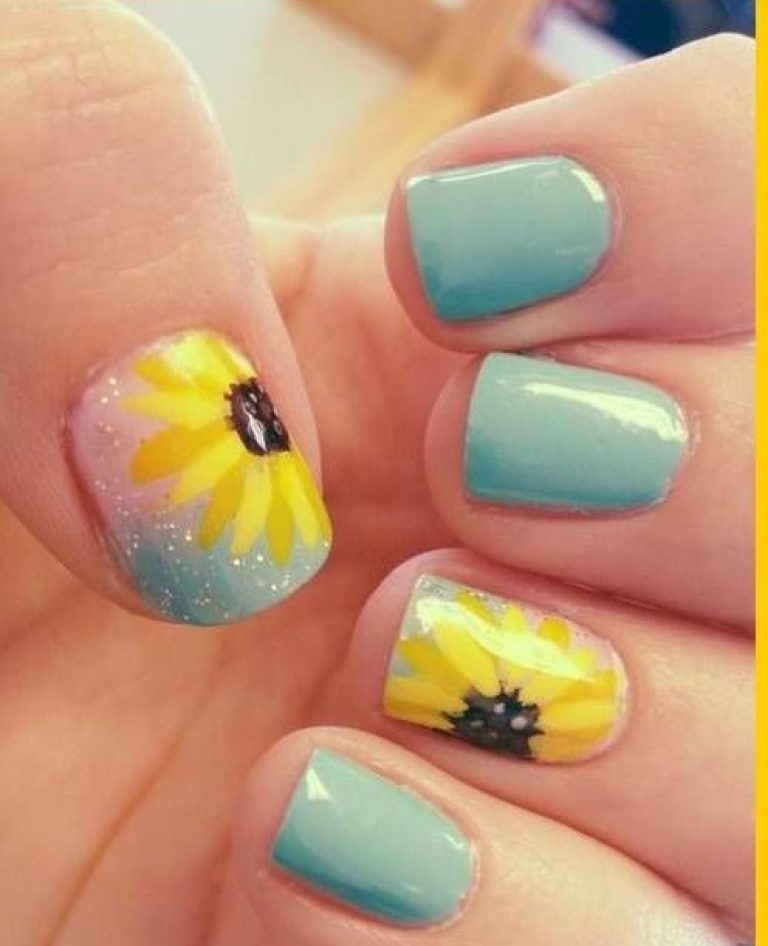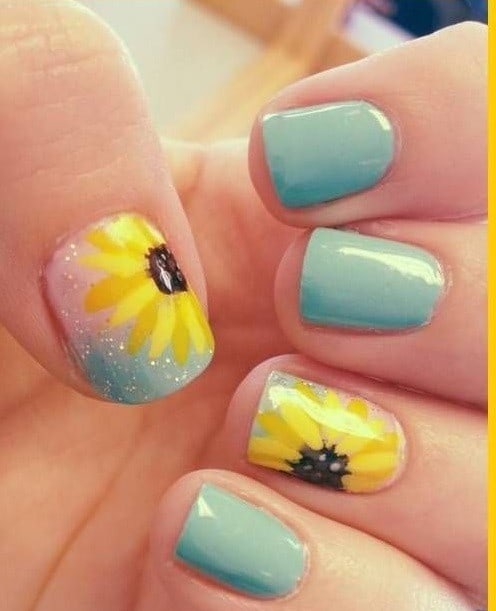 "Good morning sunshine". What a better way to start up your day than with these soothing blue nails with a simple vivid yellow sunflower design.
#23. Nails' Beast Mode On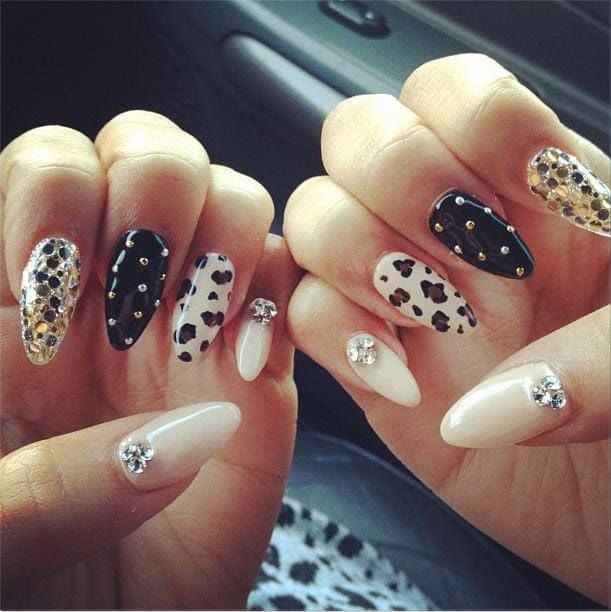 Address your inner beast with this tiger pattern matching your contrasting black studded nail polish, your nude one, and your shining gold one. Creating a fun contrast that'll suit your modern style perfectly.
#24. Simply Gold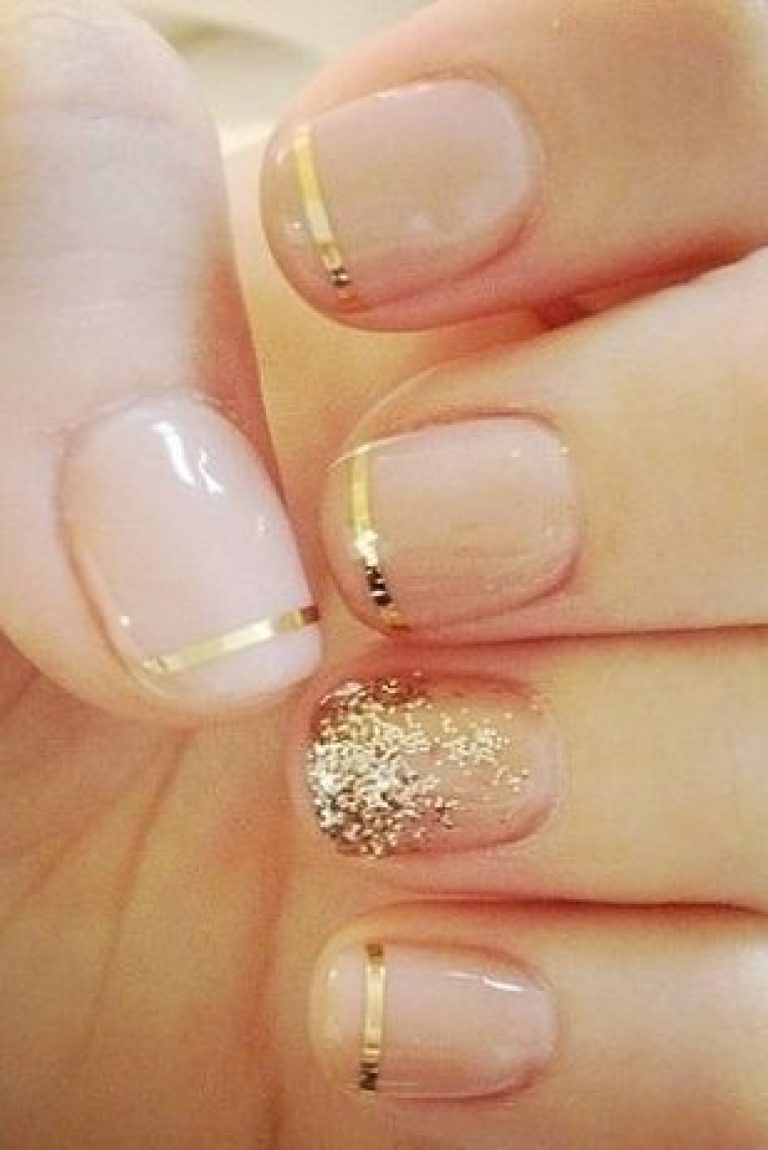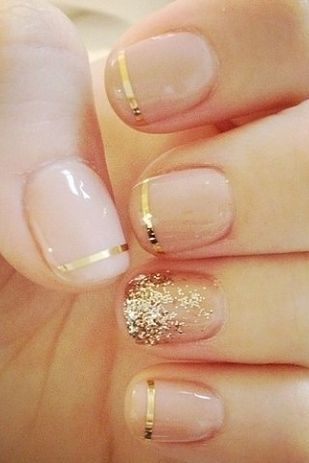 You will love this trendy twist to everyday's basic nude long nail design, adding that girly impression you wish for.
#25. Devious Black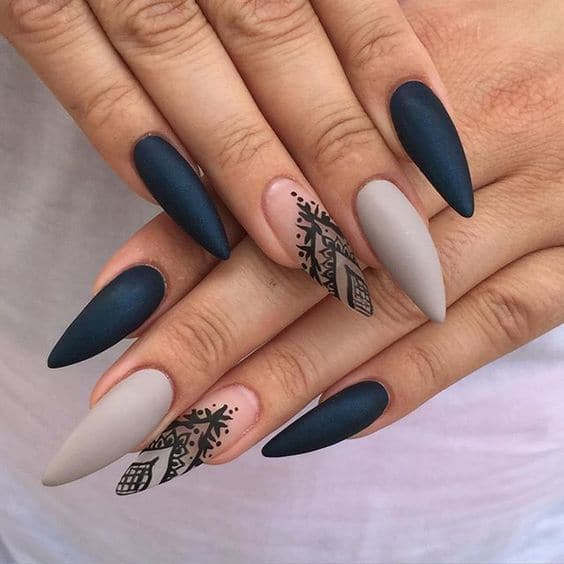 There's a way to wrap the crowd around your finger, or should I say around your nail! With this edgy long almond black and grey nail design, you will always be the center of every crowd.
#26. Gold And Coal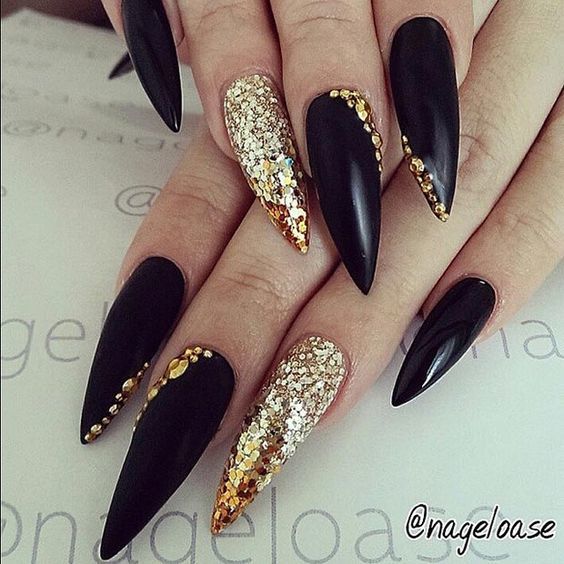 If you're looking for a classy lady-like appearance, you can always go to black long nail design, whether glossy or matte. Or, you can go with a glitter-gold manicure. Or, you can simply mix it up and apply them all!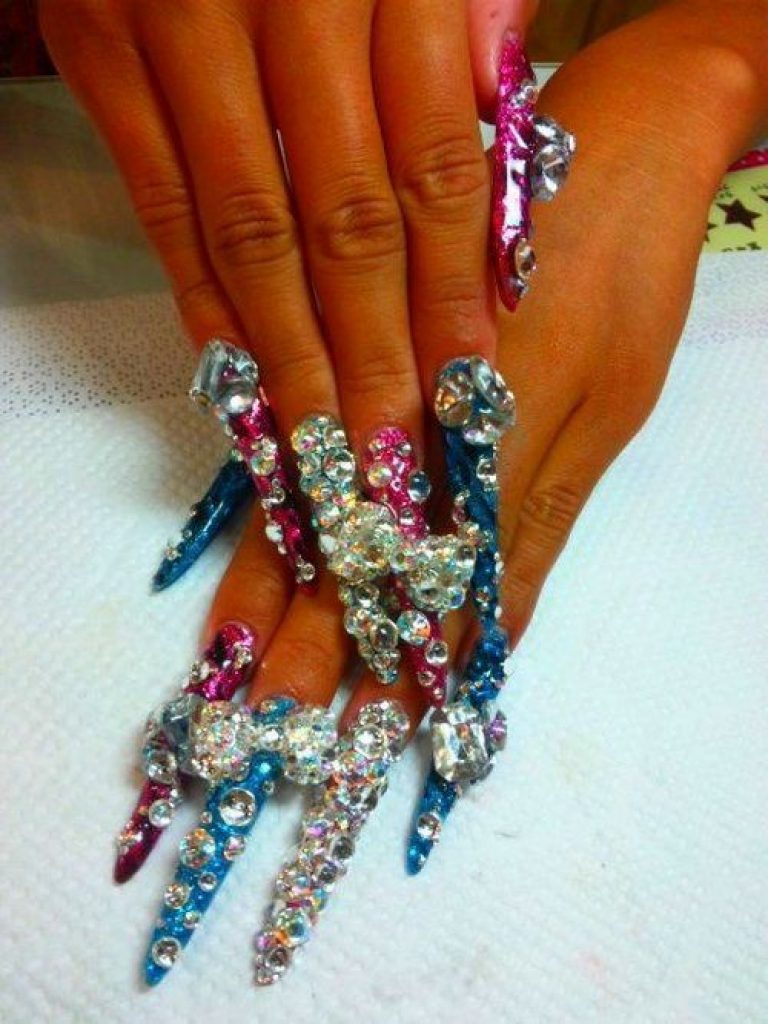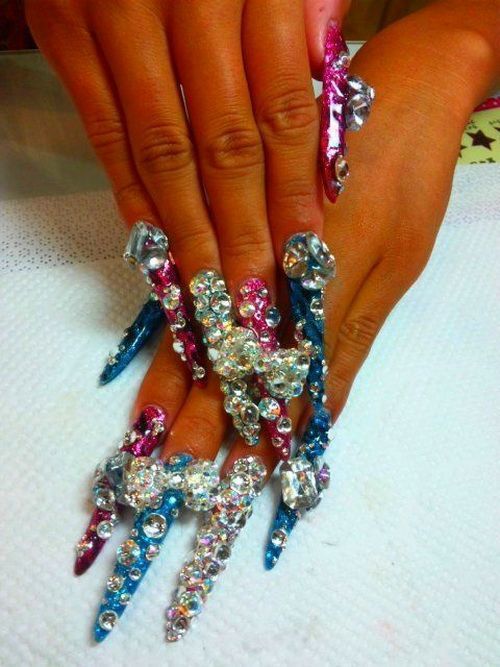 What could enrich your long nail design more than diamonds themselves? Declare your nails as your wealth with this dazzling design.
#28. Black French Long Nail Design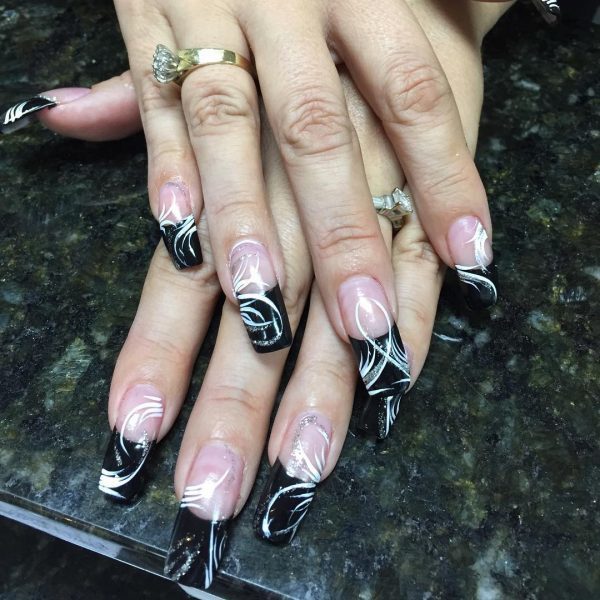 Display your long squared nails with this modern French style with black polish on your nail tips. Showcase your daring personality by giving this design an additional depth with these bold white brushes.
#29. Cookies And Cream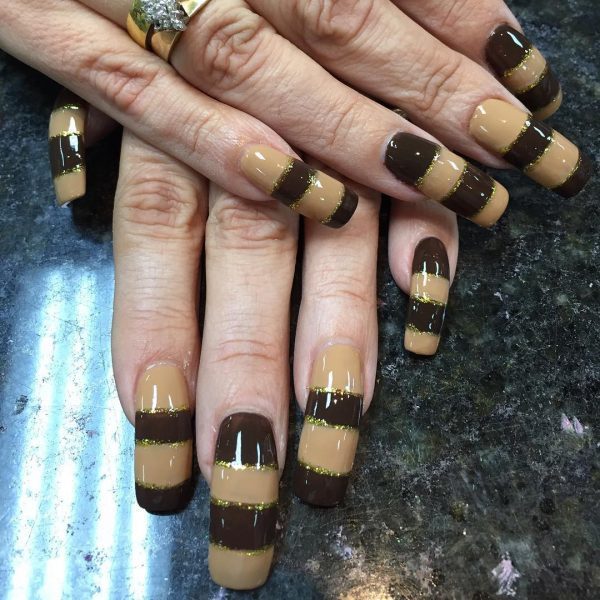 Nothing says autumn such as these two colors brown and beige. Match the falling leaves and your warm sweaters with this long nail style.
#30. Princess Pink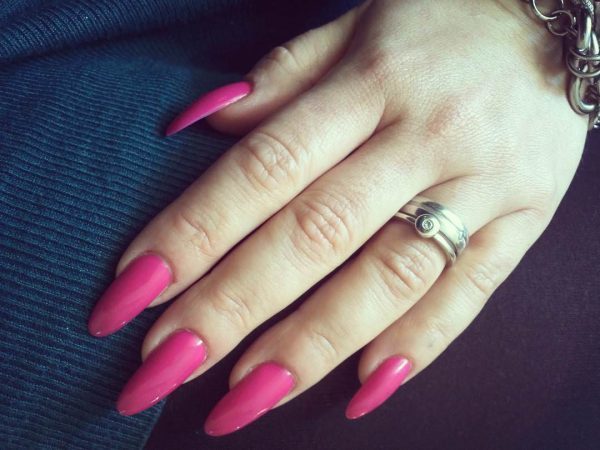 In certain situations simplicity speaks louder than any complicated design, such a screaming color needs nothing but its glimmer to shine.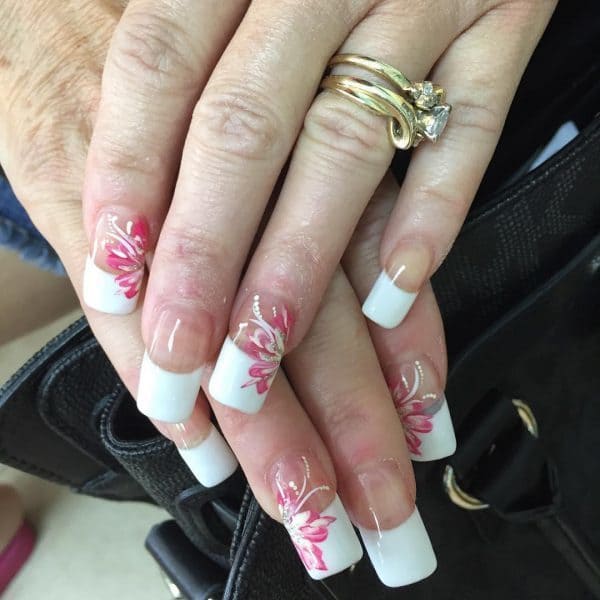 There are no dos and don'ts when it comes to french long nail style, you can always get creative and add a little artistic something to personalize your nails.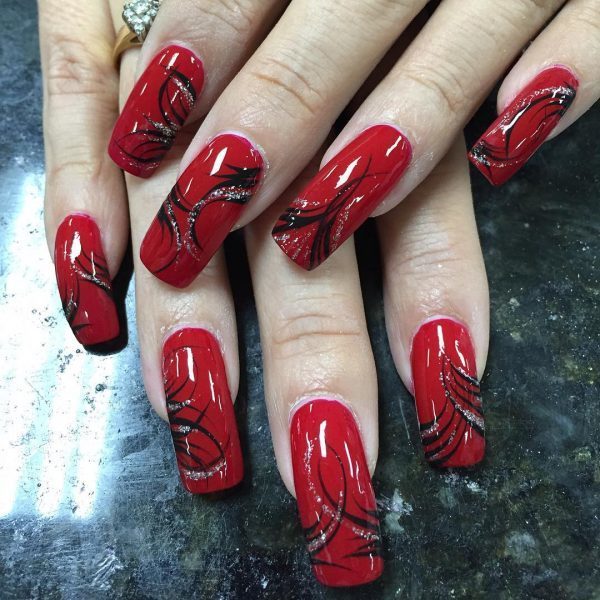 If you think cherry-long nail design is hot enough, think again. Try and add these smooth black and silver lines randomly and you'll find your nails steaming hot!
Get this everyday design by this soothing soft pink base coat on your oval long nails. Contrast this calm appeal, with sharp architectural lines on your thumb and ring fingers to express your feminine fierce personality.
#34. French Chevron
Chevron nails are the trend everyone is dying to master, girls have been going crazy trying this nail art with each and every polish color all since 2015. However, rare of them found out that French design suits chevron styled nails perfectly.
#35. Patterned Elegance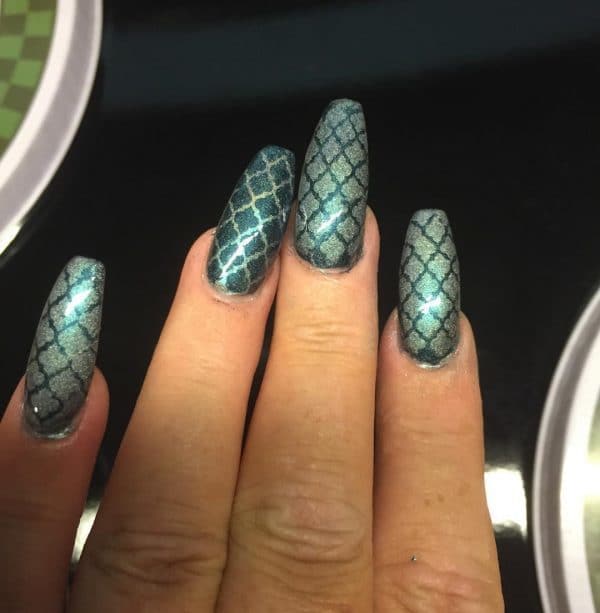 Aspire elegance and class by this metallic shine polish varnishing your long nail design.Get it by applying a glossy patterned design in black and ashy silver.
#36. Magical Black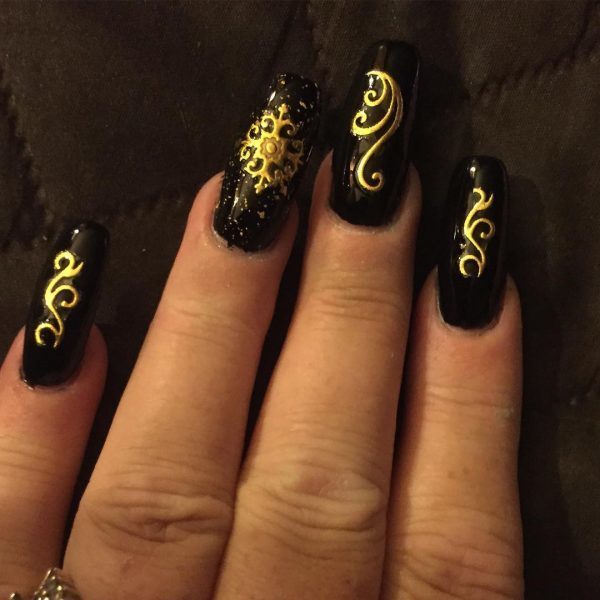 "And above all, watch with glittering eyes the whole world around you because the greatest secrets are always hidden in the most unlikely places.
Those who don't believe in magic will never find it." Get this magical long nail design by drawing popping gold mystical signs on your glossy dark long nails.
#37. Girly-Girl Long Nail Art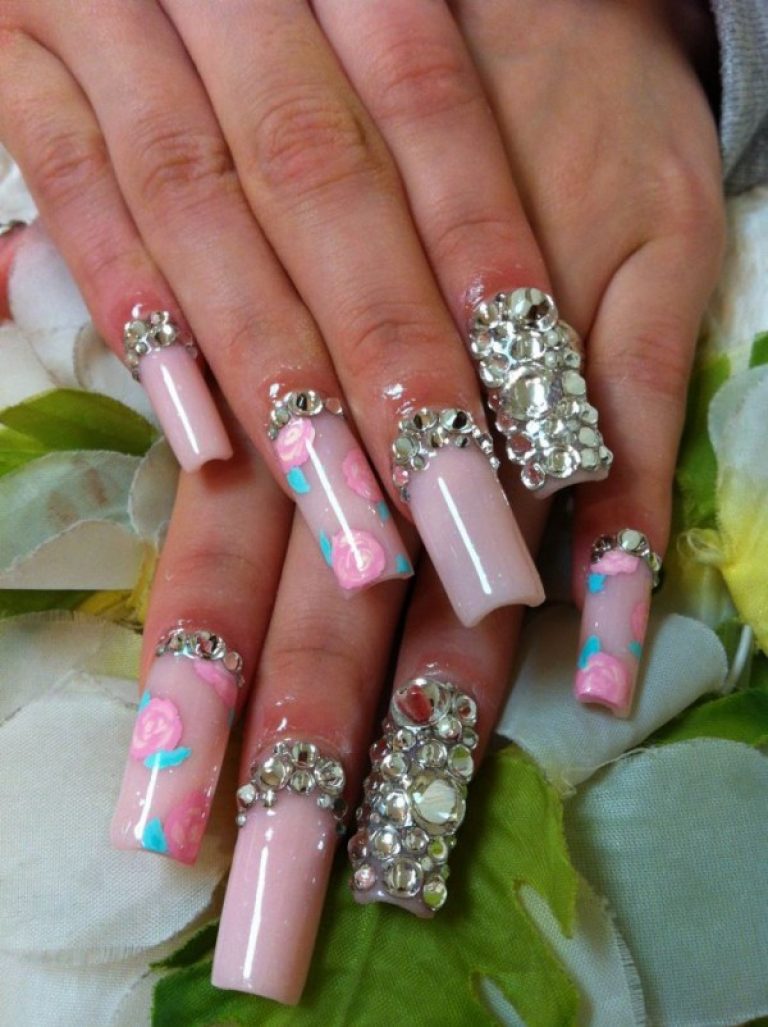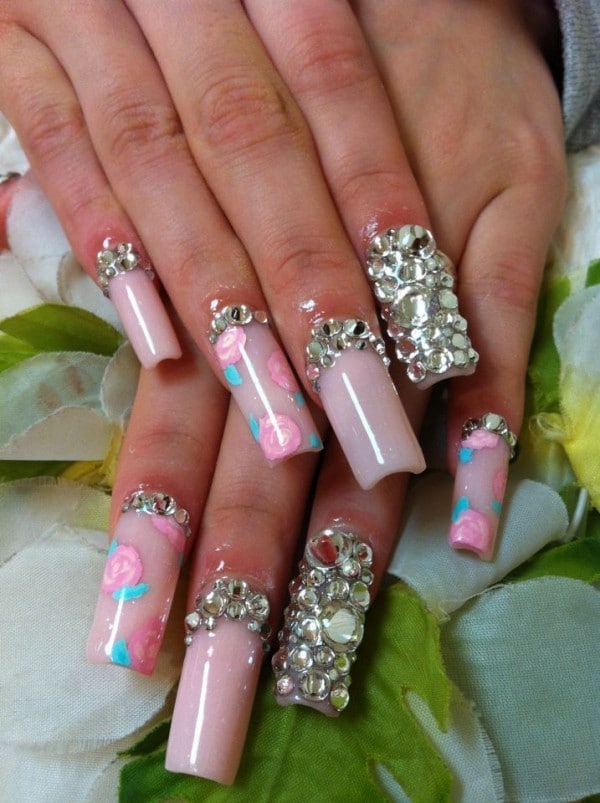 When you're a "girly girl" and wanna show that crystal clear, go fetch all your favorite nail accessories and throw them on your beautiful long nail art.
Splash them with pink, add some floral paintings, and stack them with all the sticker gems you've got in your drawer.
#38. Navy And Cream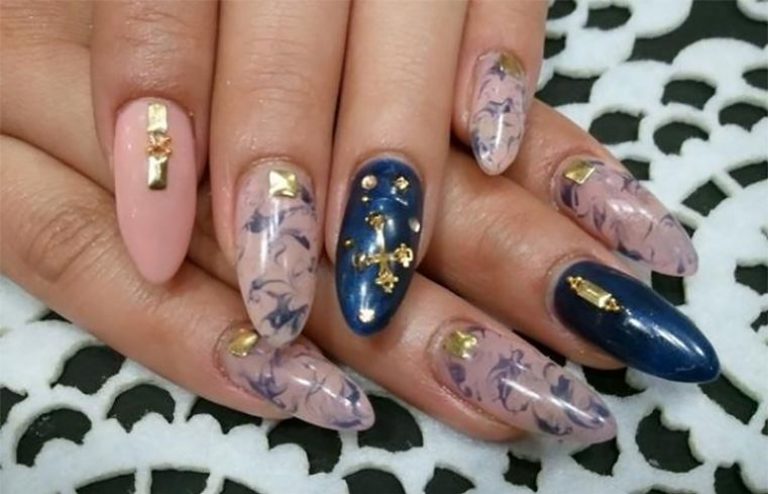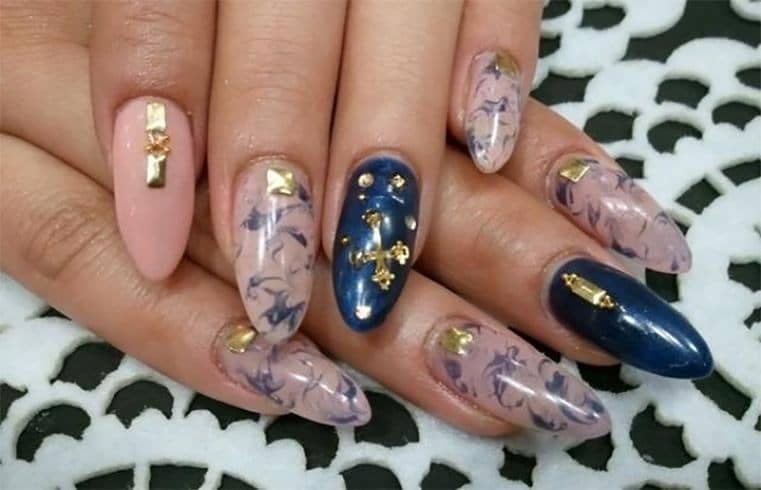 Glam your almond nails up with this navy and beige textured nail art design.
#39. Tribal Long Nail Design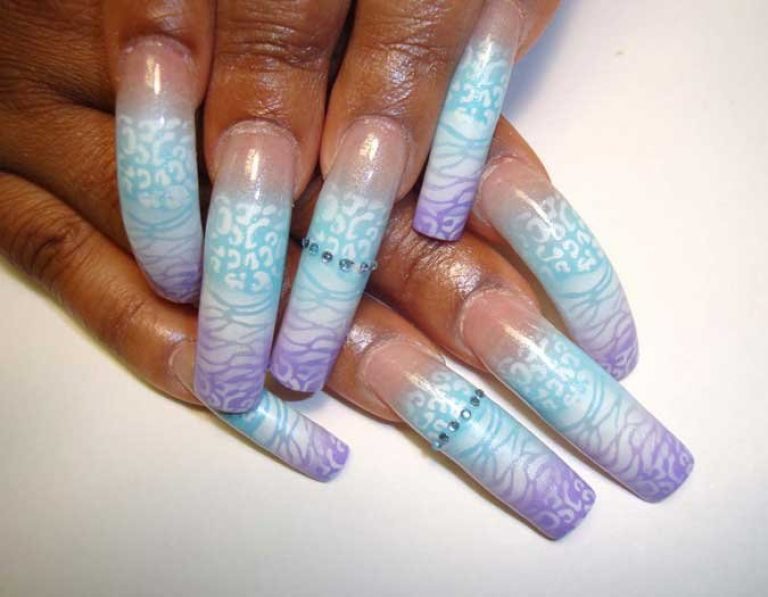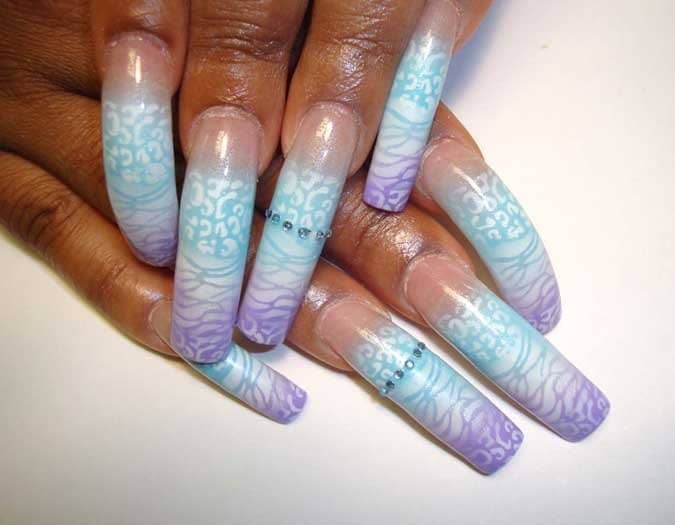 Showcase your long nails with this tribal pattern on a transparent base coat, followed by a sapphire blue, and a final dip of light purple on the tip of your nails.
#40. Bedazzled tigress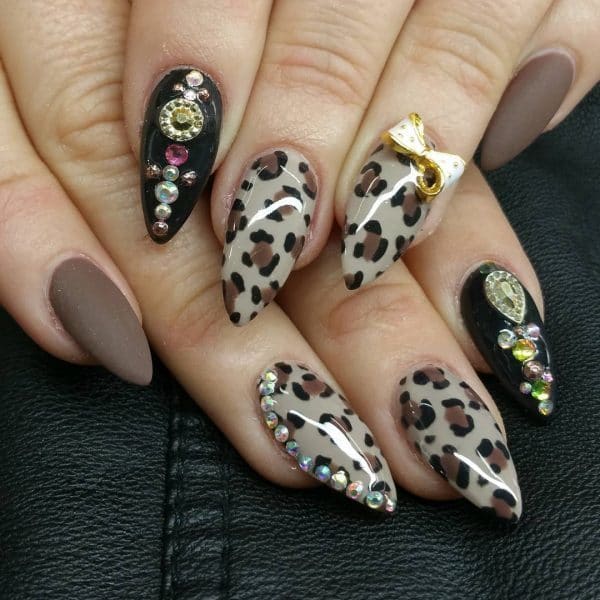 Add the ever stylish leopard pattern to your everyday long nail design using your brush, and bedazzle them with shimmering rhinestones and bows using your tweezers.
#41. Modern Red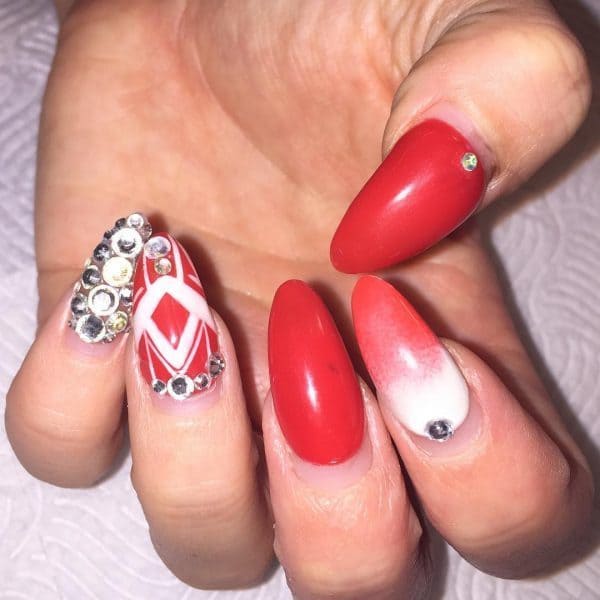 A modern futuristic design with these diverse red and white nail arts in only one design. Create a variety of creativity in this unity of colors on your pedicured round long nail design.
#42. Cream And Sky Blue Nails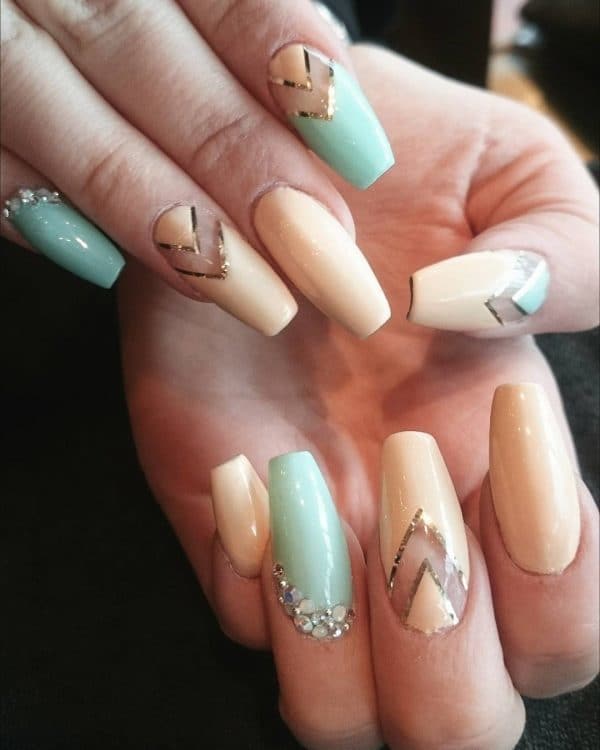 Cream beige and sky blue shades on long squared nails, to create a chevron design using gold striping tapes. Finally, dazzle them with tiny gems at the end of the nail of your choice.
#43. Blushed Nude Matte Nails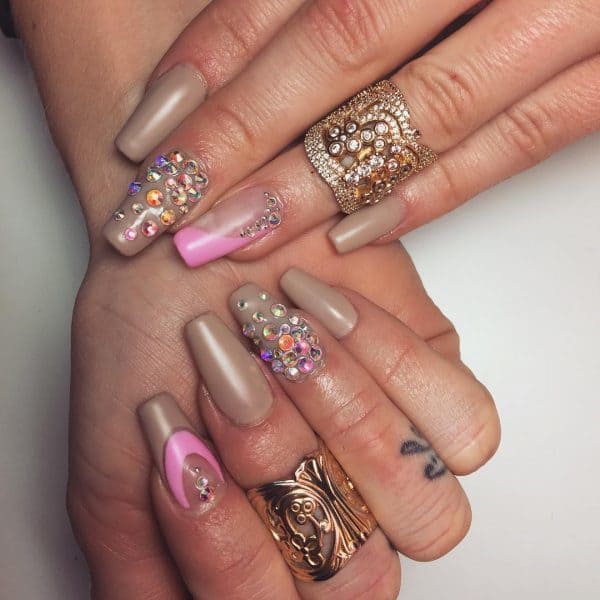 A fashionable blushed tip of a color with rhinestones on matte nude nails, best suitable for a romantic date or a sophisticated gathering out in the town.
#44. Simply Unique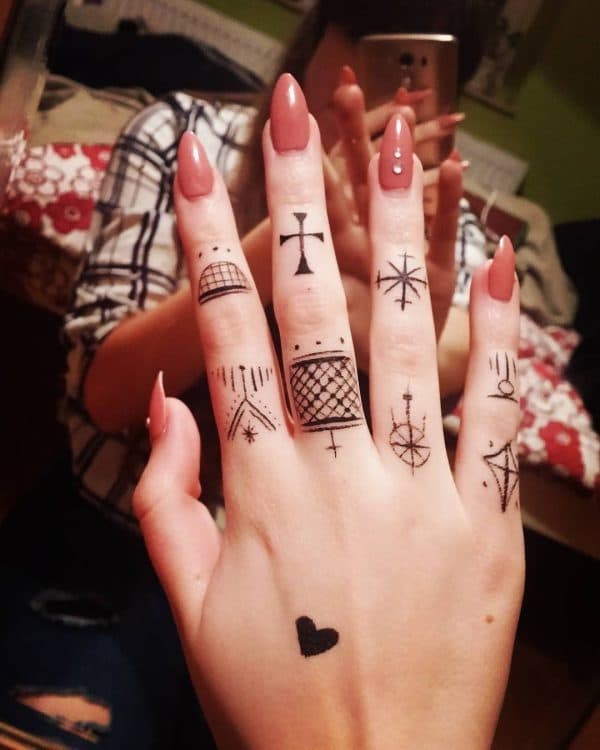 A uniquely tattooed hand needs nothing but a simple dark salmon pop of color with a silver embellishment to showcase it.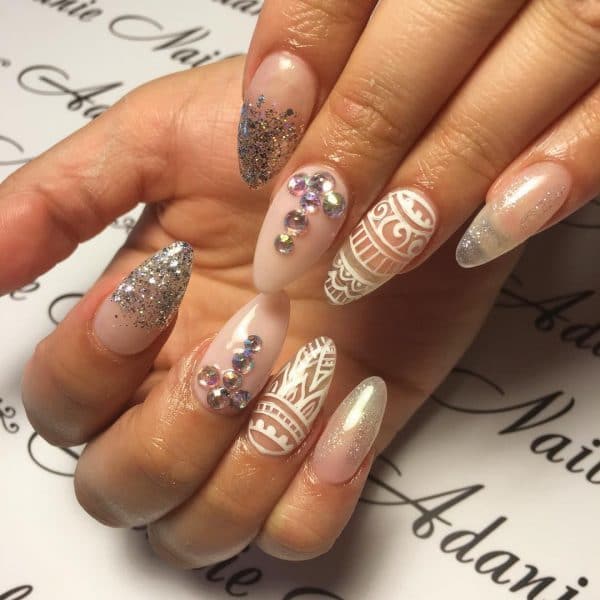 "Diamonds are nail's Best friend", so get generous with those rhinestones and the silver glitter polish that mimics the tiniest diamonds. A true red carpet worthy long nail design!
#46. Creative Mix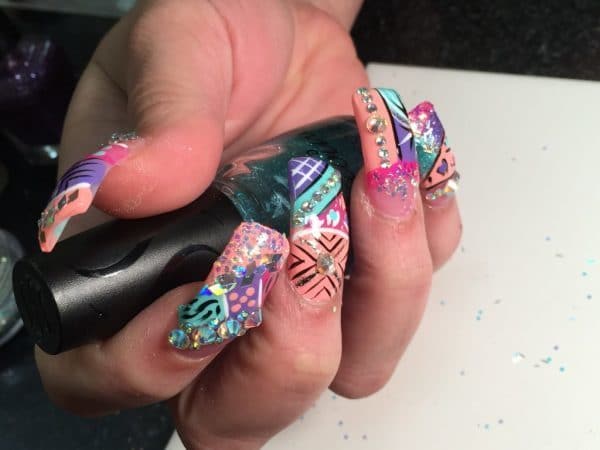 Get your stencils, all your nail polishes, your rhinestones, and release your creativity!
#47. Elegant In Black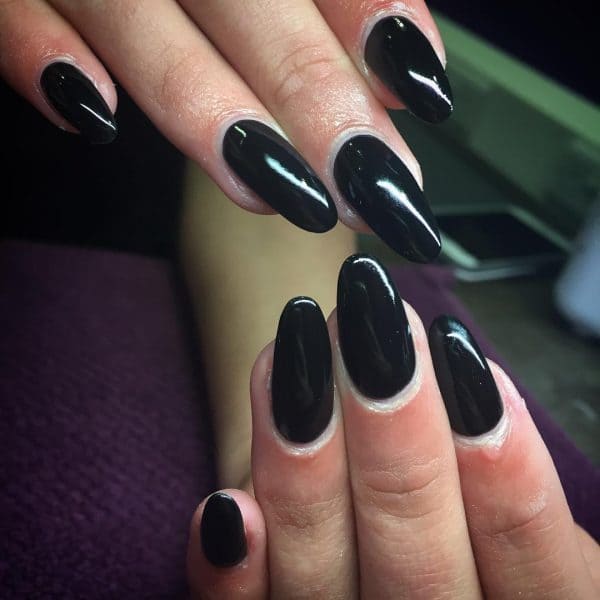 Never forget that black is the color of elegance, so yes a simple coat of this dazzling glossy black polish is enough to put your long nails in the spotlight.
#48. My Little Pony Nails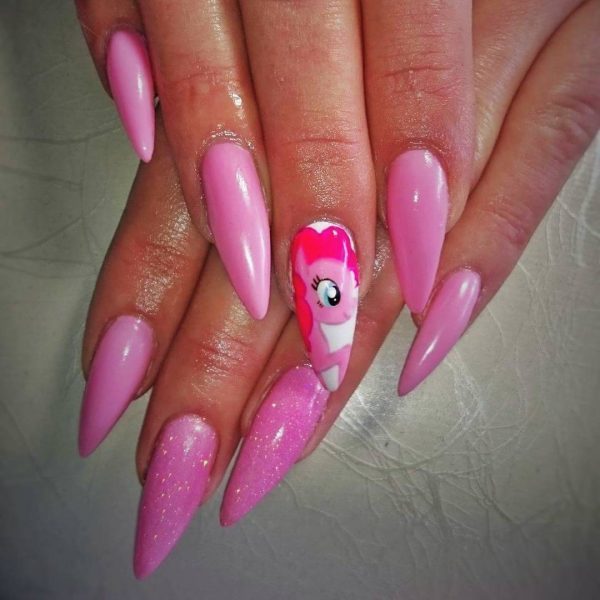 Bring back those sweet childhood memories out of your diary, with this "My little Pony" nail art design on taffy-pink stiletto long nail design.
#49. Glittered Claws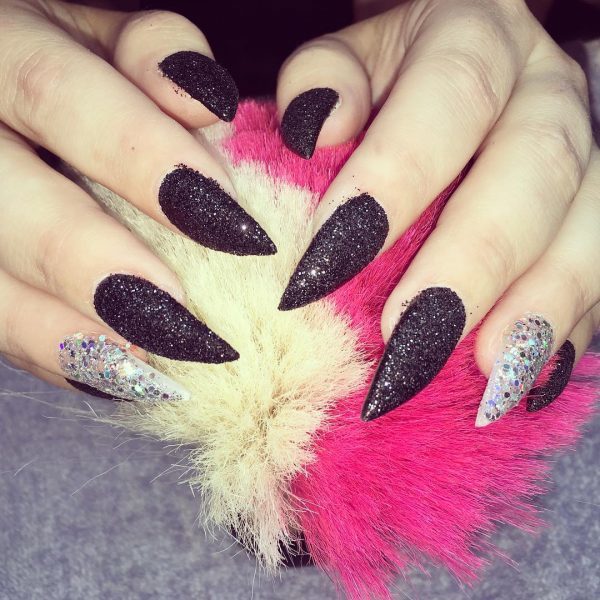 Glitter glitter glitter you'll never have enough. With this design, your long stiletto nails will swirl the crowds in black and silver-glitter nail polish choice!
#50. Black Coffee, OR With Cream?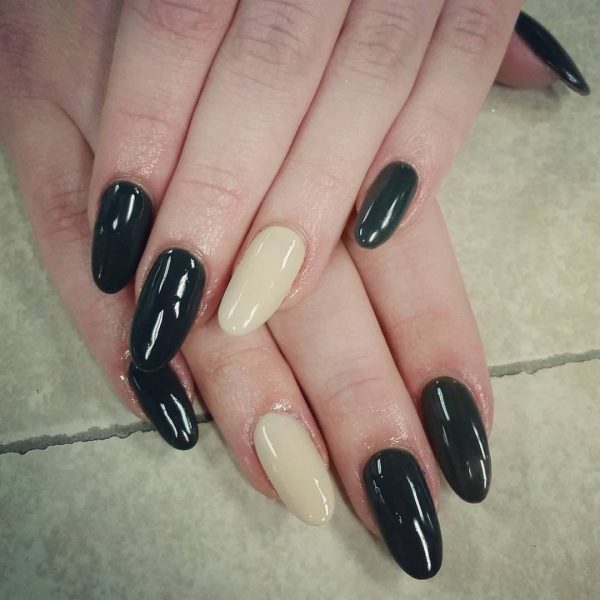 Express your passion for fashion with this stylish yet very basic black long nail design, with a singular accent cream varnished nail.
#51. Personalized Pattern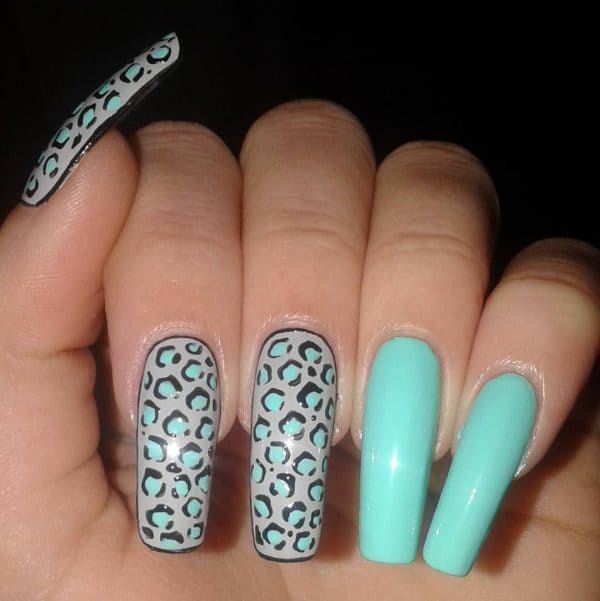 Personalize the tiger pattern with the colors of your choice, and empower your nails with the color of creativity and wisdom; turquoise.
#52. Artistic Mania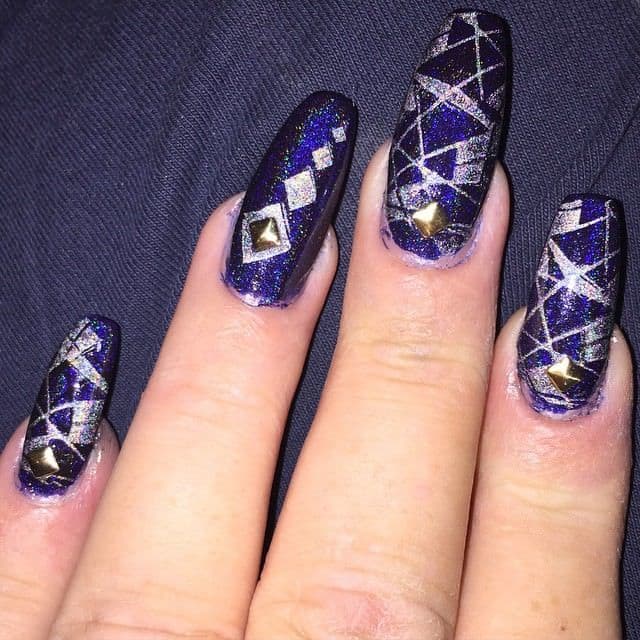 All these gorgeous long nail designs needed to be a splash of shimmery colors, an artistic brush, and 3D embellishments to make them perfect.
#53. Deep Burgundy
Have fun with your gold brush above this dark burgundy sparkly polish, and let's see what your artistic skills are made of.
#54.Holiday Long Nail Design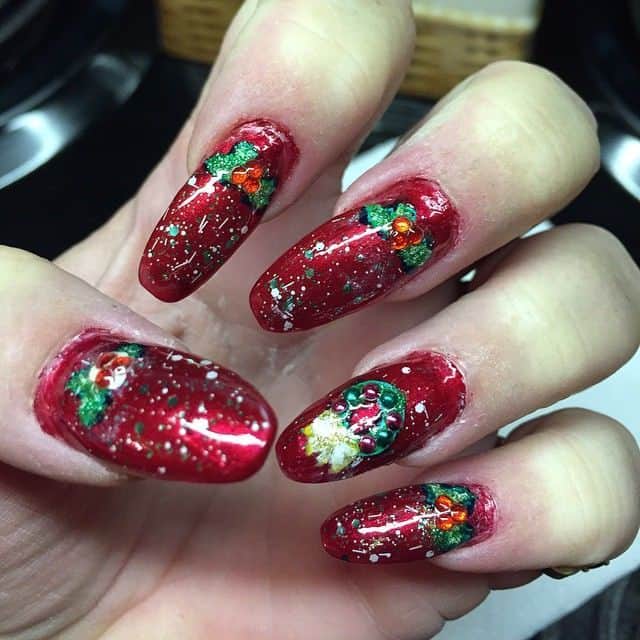 All I want for Christmas is long nails… You've already got that? Then show them off and celebrate this holiday season with these shimmering glittery red nails.
#55. Naturally Chic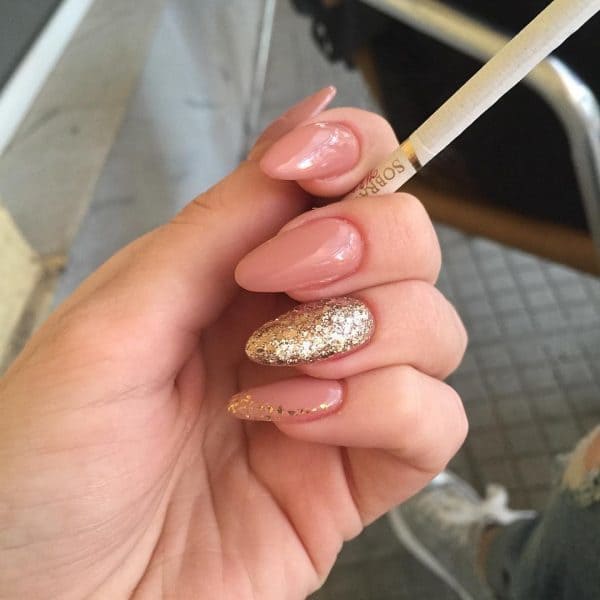 Let your oval long nail design speak chic by alternating gold flakes with this natural colored base coat.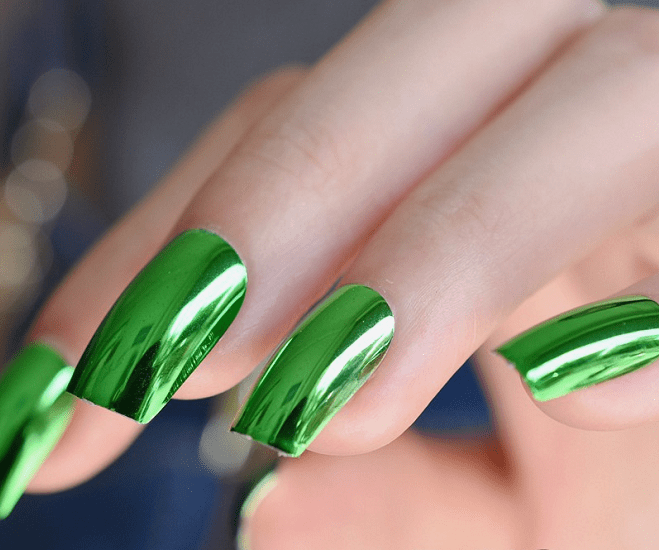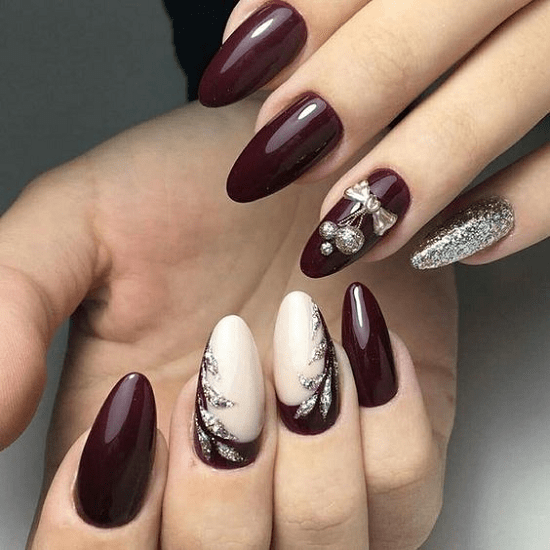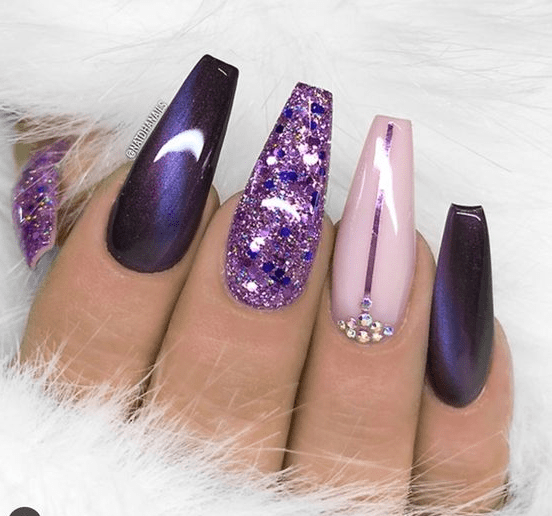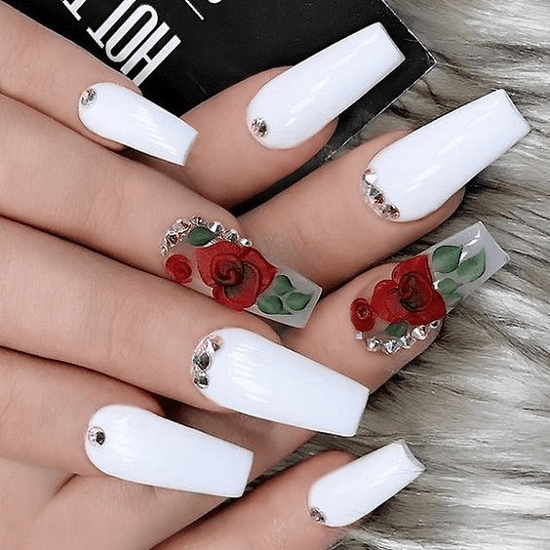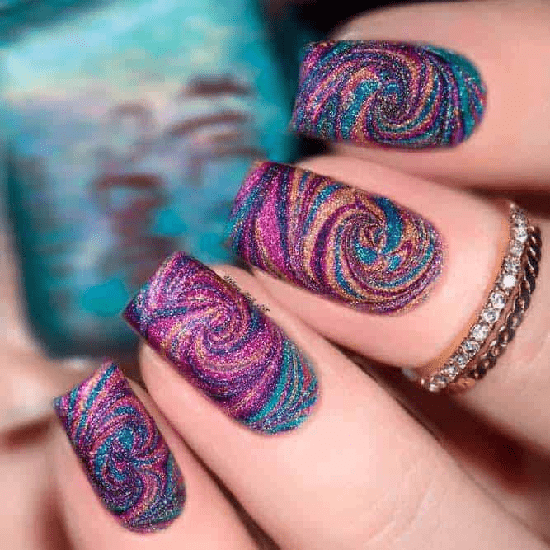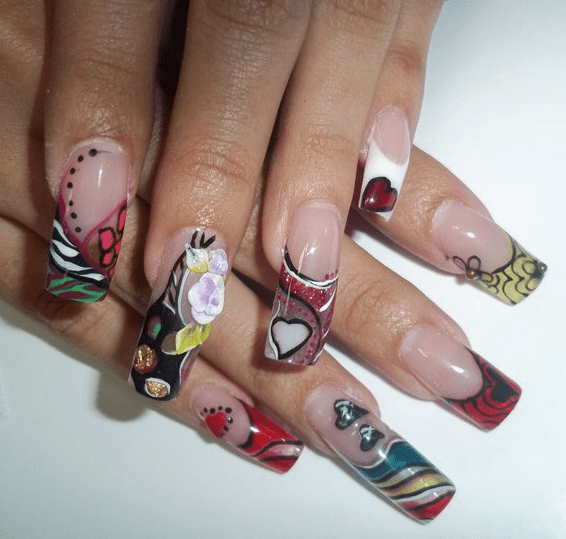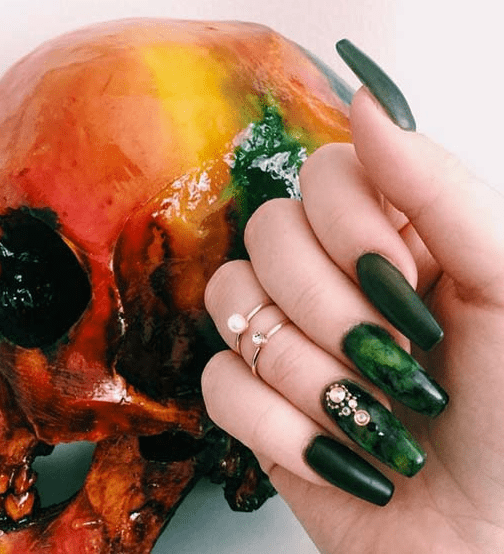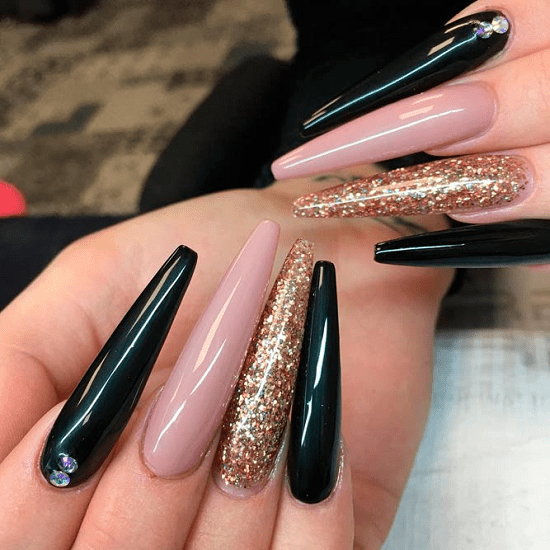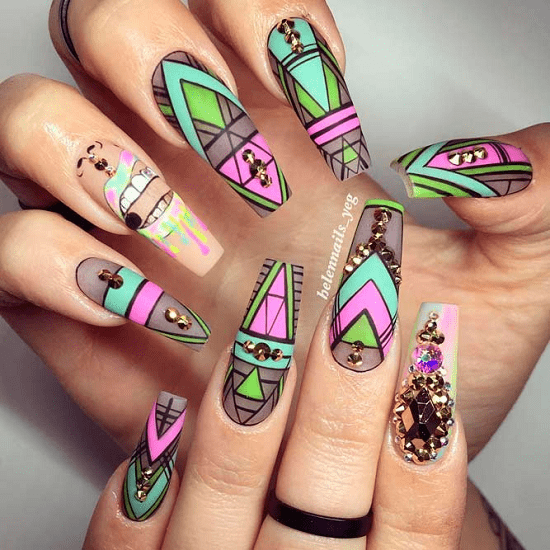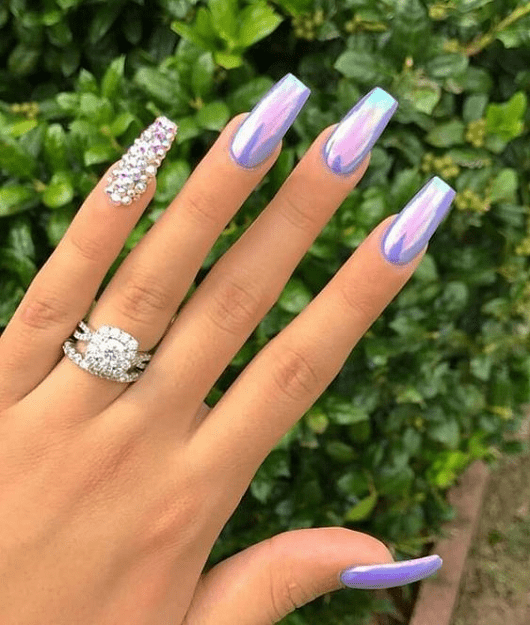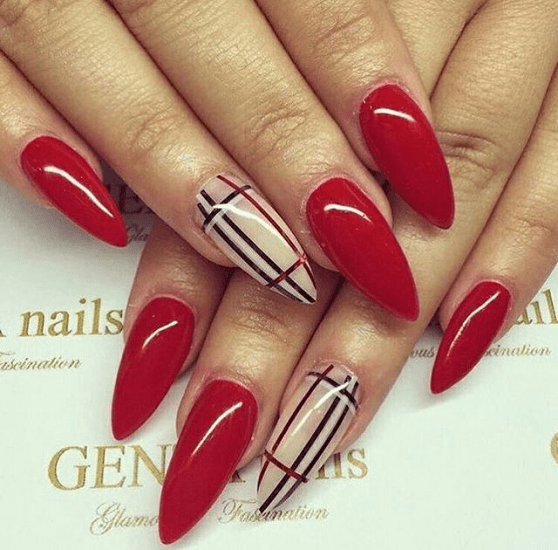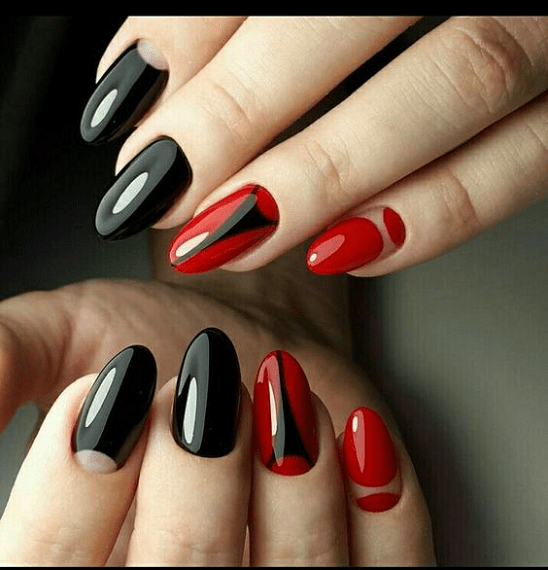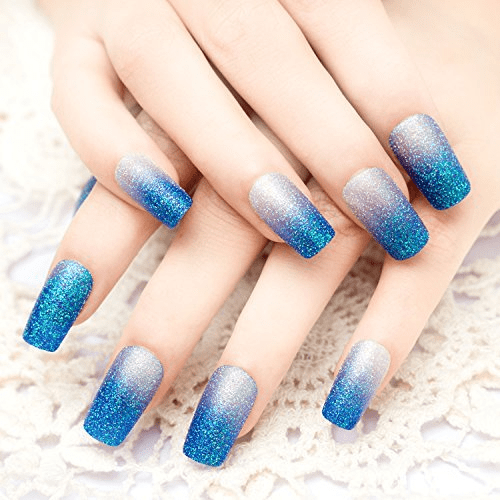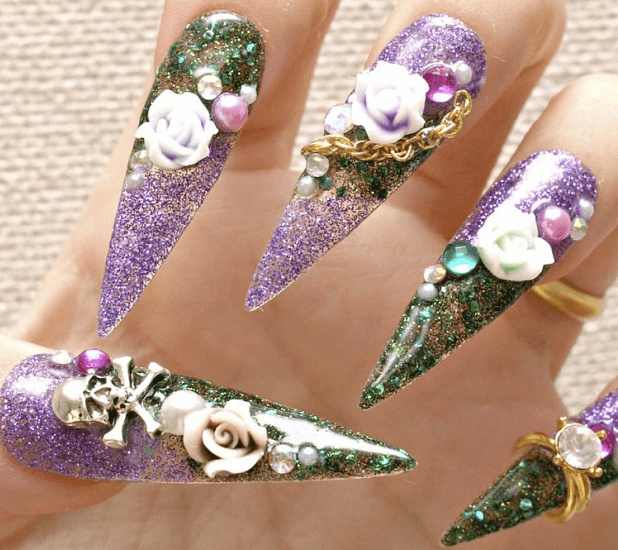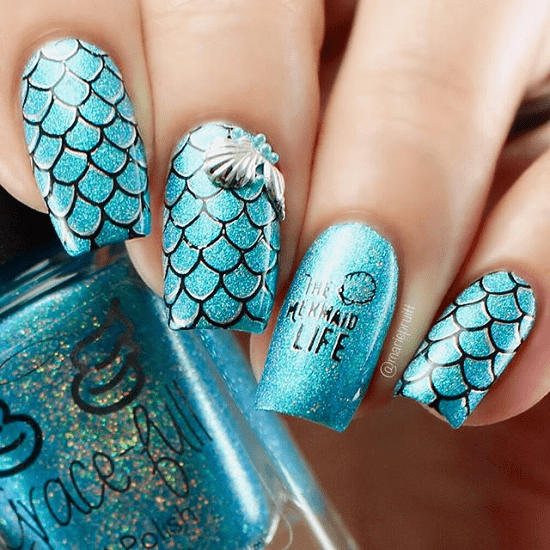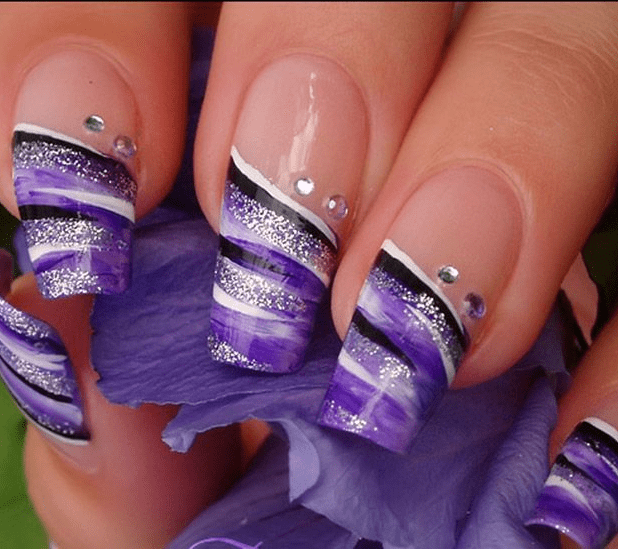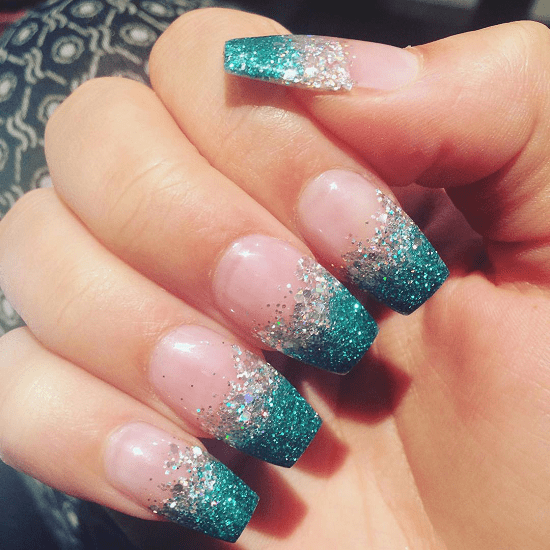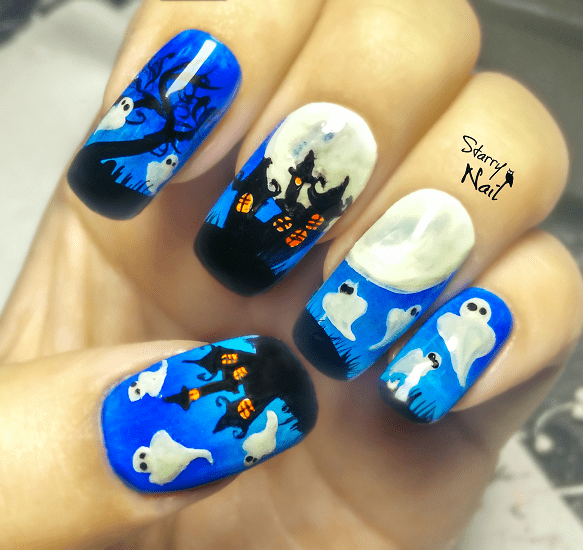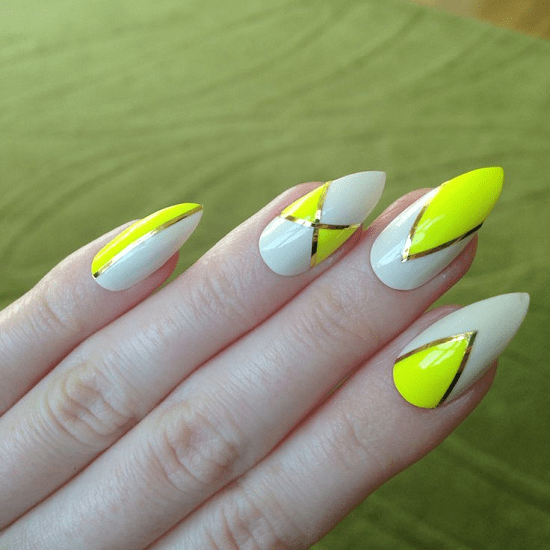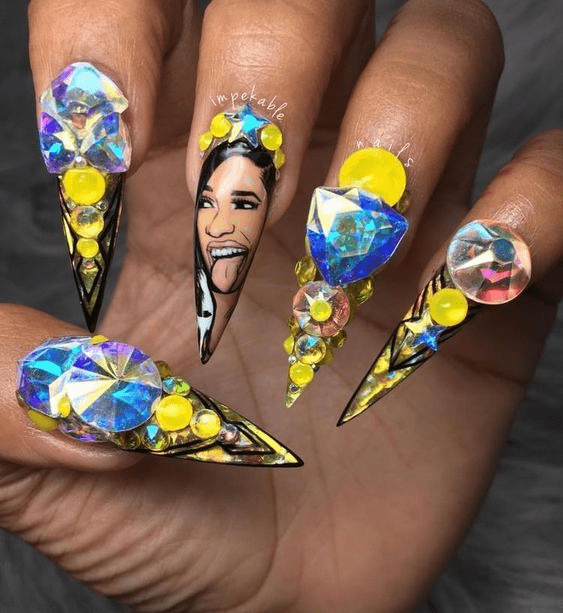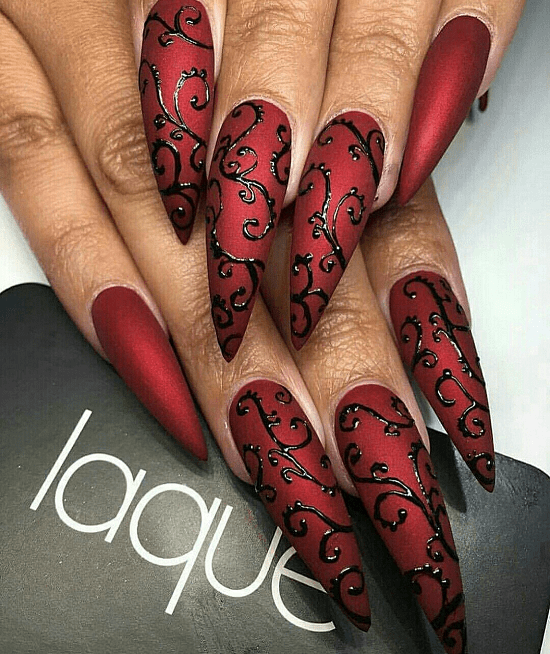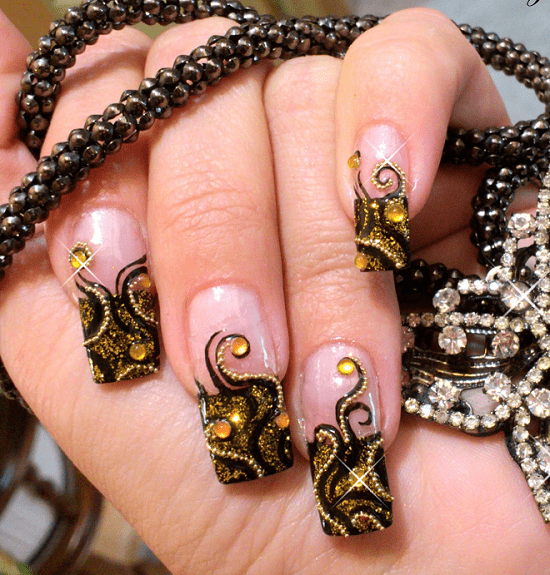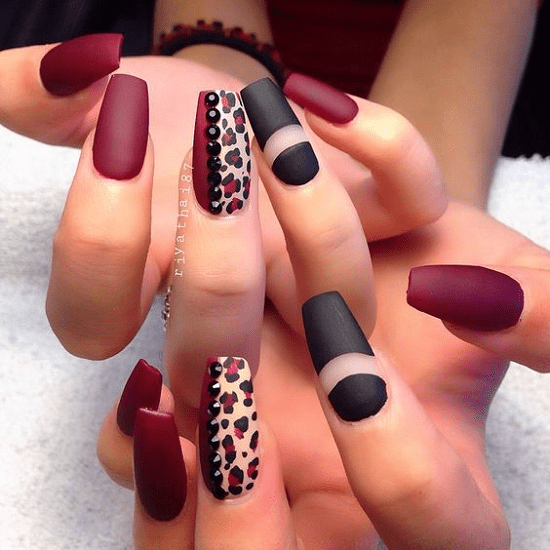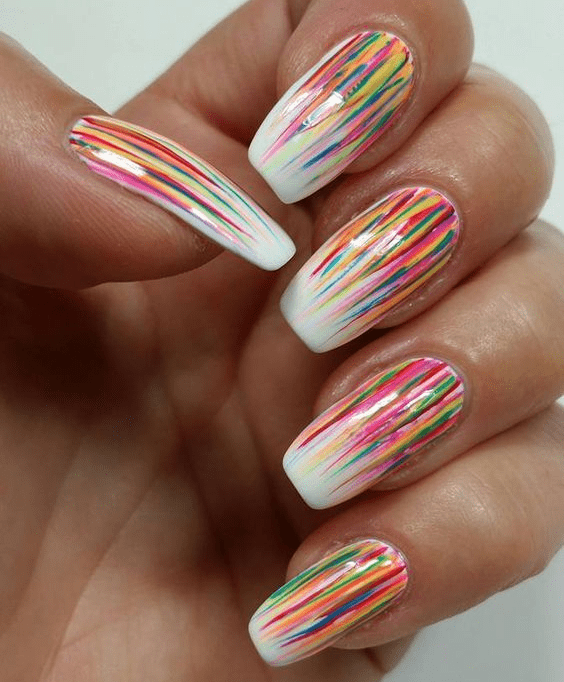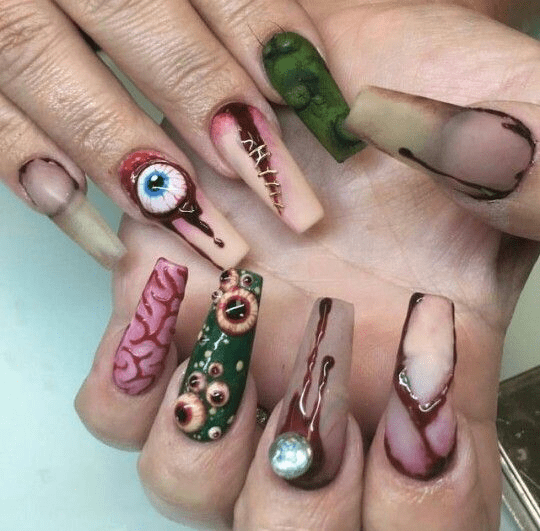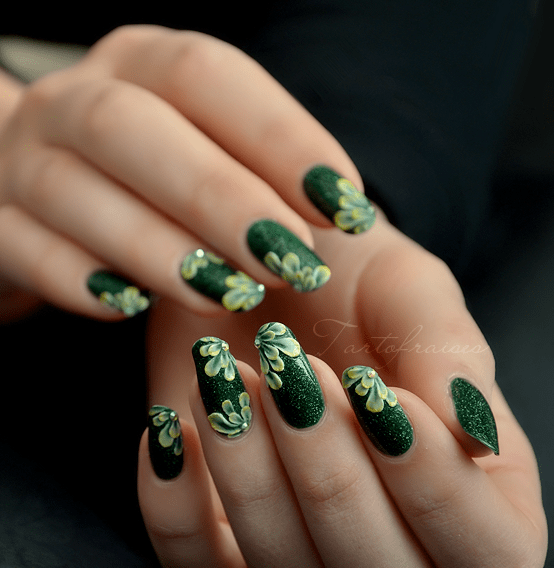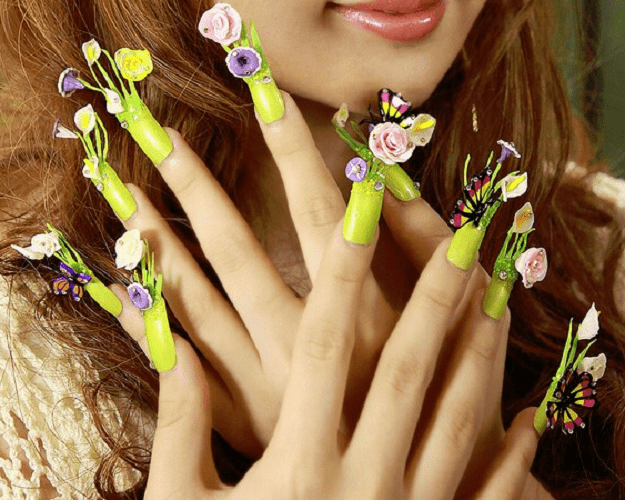 No matter, if your struggle to maintain your long nails' length pays off or not. If you choose to have real natural nails or get artificial ones. You can't dismiss the fact that nail design art is an accessory essential to your style, to complete your outfit.
So, don't limit your options to plain basic coats, but open up to the world of nail art that comes with loads of potential to unleash your style and creativity.