Are you one of those moms who wants her baby to look like the most adorable princess in the world? If so, the easiest way to achieve that look is by painting her nails. The possibilities are endless. What's your baby's favorite cartoon? Fruit? Animal? All of those things can be ideas for your baby's nail polish design. So just choose whichever nail polish design that highlights your baby's sparkling personality.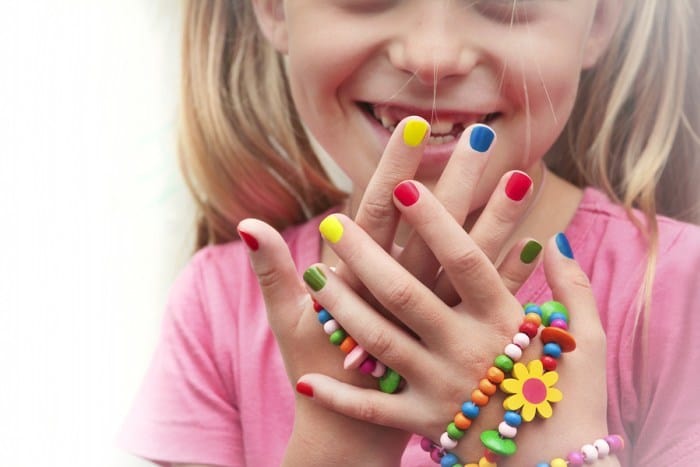 Is Nail Polish Safe for Babies?
Some moms might be concerned about the potential harm nail polish may cause to their babies. The most important thing to know is which chemicals to avoid. As long as you avoid chemicals such as Formaldehyde, Toluene, and Camphor your baby will be safe. You can use regular nail polish or different alternatives. These days there are many natural, non-toxic and odorless nail polishes made just for babies. So, don't worry, and go get loads of colorful nail polishes and let's have fun.
Popular Trends In Baby Nail Designs
Check out the below nail design ideas for babies in pictures to get inspired.
#1: Sparkly Baby Pink Nails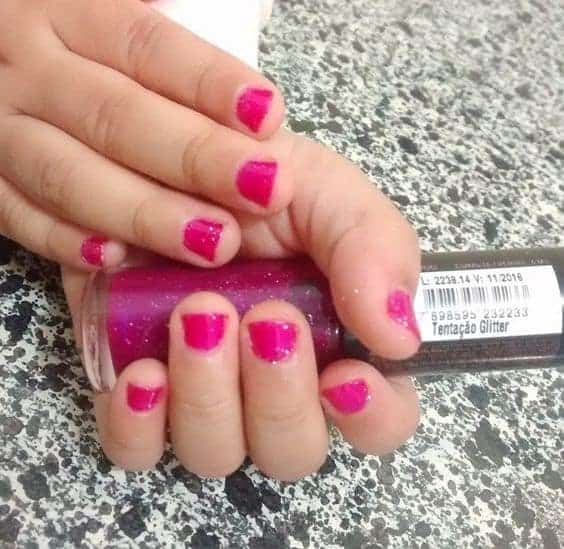 Nothing says "I'm a princess" more than a sparkly pink nail polish. If she's the one to always choose pink clothes, pink toys, basically pink everything, she'll love this. With this nail polish design, she'll be the cutest girl on the playground for sure.
The Best Nail Designs for Kids in 2023
#2: Catch The Rainbow
It's so colorful, and it's loads of fun. You can match this nail polish design with any outfit you choose for your baby. She will stand out from the rest for sure. That silver glitter gives this nail design a stylish twist. Not only your baby will look like she's having fun, but she'll also look like a little fashionista.
If your baby can't get enough of Hello Kitty, this design is for her. But, who says that you must go with the classic pink nail design every time? That's right, Hello Kitty can be blue too. Just choosing a different color from the original design can make this nail style completely different and super stylish.
#4: Be My Valentine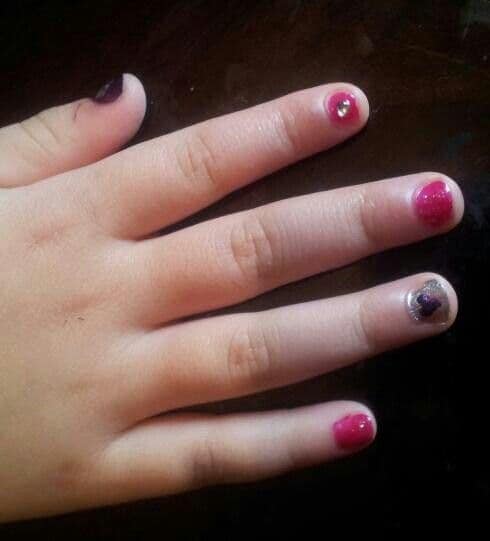 There's a unique nail polish design for every occasion. What if your baby girl has a crush? We're just kidding. But it's always fun to draw little hearts on Valentine's Day. Why not draw them on your baby's nails this year? Cuteness level will be high for sure.
#5: Can't Stop Giggling
She's always laughing. How can everything be so funny to her? If your baby is a little angel who's always happy, this design is perfect for her. It'll show off her bubbly personality. Whoever sees her will be reminded to smile and to be cheerful, just like she always is.
#6: Flowery Pink Nails for Babies
Cute flowers and pink nail polish, it doesn't get cuter than that. Choose this nail polish design for your baby if she loves wearing pink dresses. This lovely nail polish design will show off her lovely personality for sure. Those white flowers are really easy to draw, but it looks like you put a lot of effort into drawing it.
#7: Babies Candy Nails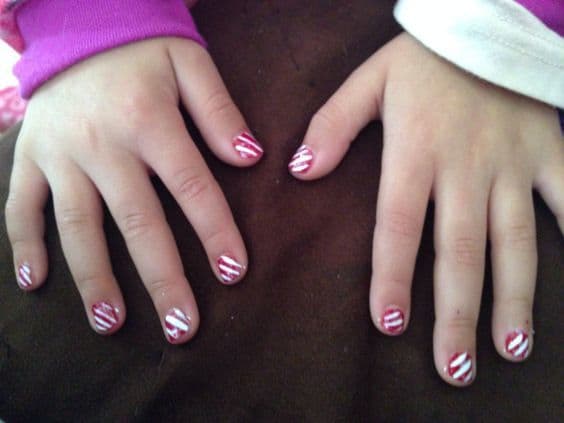 Candy canes bring back so many childhood memories for all of us. Your baby probably loves them too. Why not have them on her nails? This nail polish design looks very elegant because of the red and white combination. The best part is that it's so easy to make your nails look flawless, and they look so yummy at the same time.
Polka dots look lovely on all babies, as well as on the adult women. It's such a classic look. Your baby will look so stylish if you pair a nice polka dot dress with this red polka dot nail polish design. Both you and your baby will have so much fun drawing lots of little dots on her nails.
#9: Twinkle Twinkle Little Star Nail Design for Babies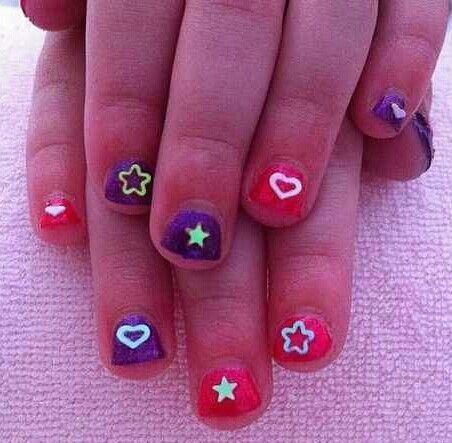 She's such a lovely little star. Always at the center of attention, always so adorable. This nail polish design is for those babies who are meant to be special and unique. This look requires a little bit more precision. However, instead of drawing these shapes directly on the nails you can simply put nail stickers. Voila, perfectly stylish little star design.
Stunning Flower Nail Designs to Try
#10: Mom Look, A Ladybug
Your baby's first reaction to a ladybug must have been adorable. If now she loves ladybugs, this one is for her. With few simple lines and dots, you can draw a perfect little ladybug on your baby's nails. This nail polish design is perfect for spring.
#11: Mmm, Cupcakes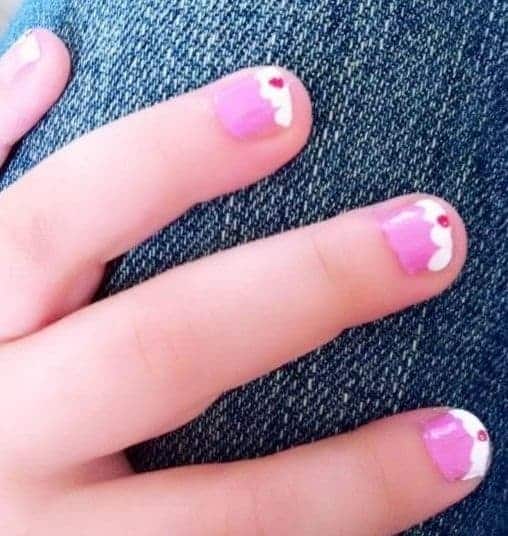 I don't care how old you are, we're all crazy about cupcakes. Your baby is probably no exception. So, choose whichever cupcake she loves the most and make a nail design out of it. This pink one is really sweet and it's so simple to draw. We recommend you use three different complementary colors for this nail polish design.
#12: Special Little Snowflake
Every snowflake is special, just like your baby is. She must love playing in the snow for hours. Make this time of the year even more magical with this nail polish look. Draw a unique snowflake on one nail while drawing little dots on other nails. Your baby will be ready for the winter wonderland in a blink of an eye.
#13: Colorful Little Zebra
Zebra is her favorite animal. Everything with zebra print must be hers. But it doesn't have to be all black and white. If you add a third color it'll look completely different. If that's not enough, paint one nail with sparkly nail polish and be sure that your baby's nails will look unique.
#14: She's Such A Lady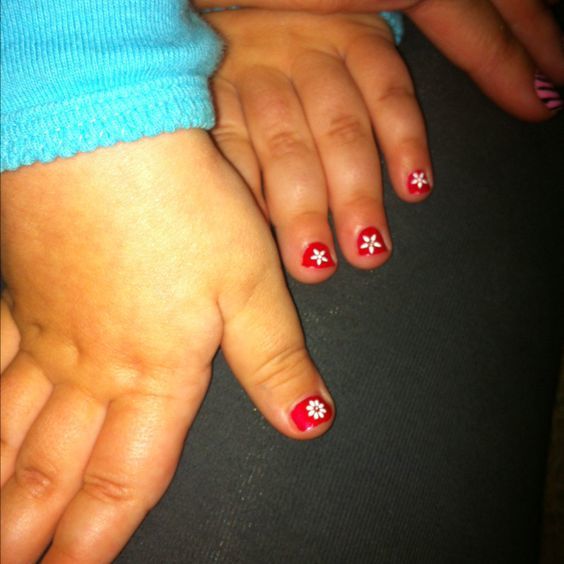 From the moment she was born everyone knew she'll be a little lady. She talks like a lady, she walks like a lady, it's so lovely because she is a lady. Red is a perfect color for cute little ladies. Add tiny white flowers to complete this adorable nail polish design.
#15: It's Spring Time
Sun is shining, birds are singing, it must be spring time. Get as many different colors as you can and start drawing little dots. The goal is to create a cheerful and colorful nail polish design. After that, your baby is ready to play outside as much as she wants to.
#16: Little Easter Bunny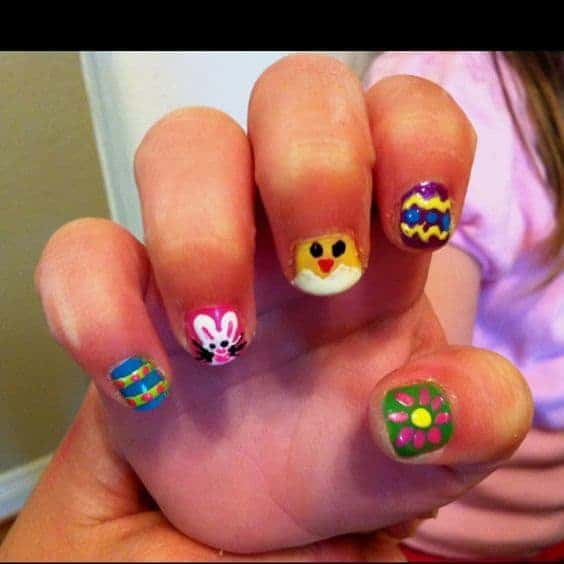 Is your baby ready for the Easter egg hunt? The only thing that might be missing is this adorable nail design. Since there are so many ways to paint Easter eggs, the possibilities for this nail design are endless. Drawing little bunnies and chicks is a great idea for this look.
#17: Minnie Mouse
Minnie Mouse is such a classic cartoon character that every baby loves. It's a great role model for little girls. If your baby loves Minnie, just take black, white and pink nail polish and recreate this look. It's actually quite simple and it looks gorgeous.
#18: Pandas Are The Best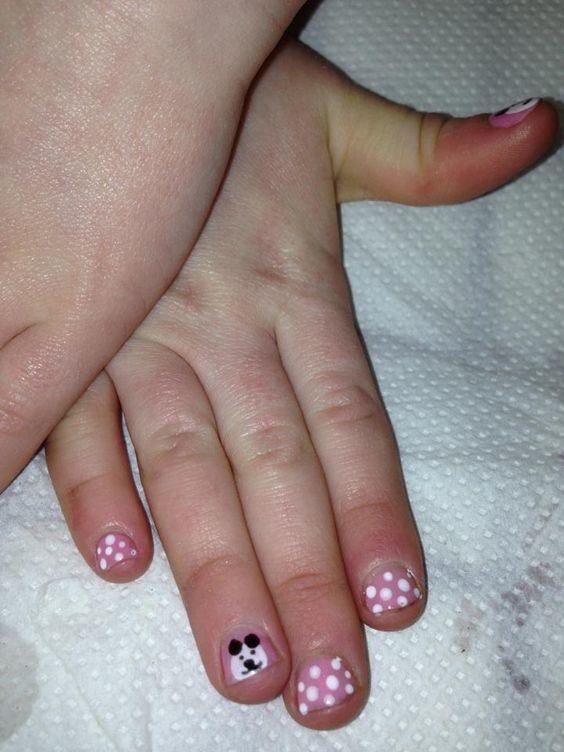 This one is really subtle. Draw a panda on one nail, while the other nails should be painted with polka dots. Every girl who loves pandas can pull this off. It's so sweet, really easy to recreate and we're sure that your baby will love it.
#19: Pink And Blue Fun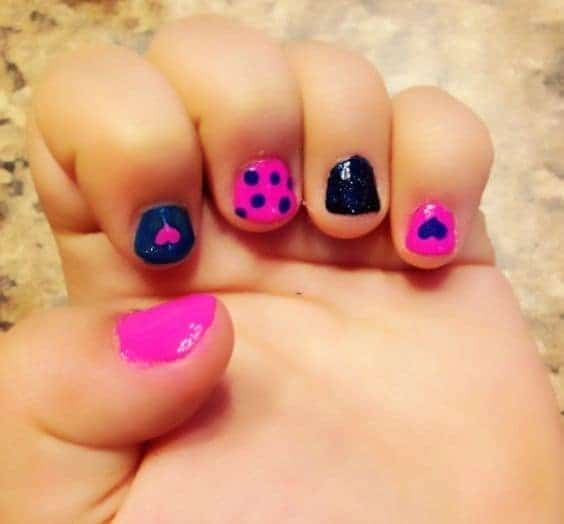 Why choose between pink and blue nail polish when they go so well together? This nail polish look is perfect for those parents who want to have fun with painting their baby's nails. Choose whichever shapes you like and go for it.
#20: Watermelons Are My Favorite
So juicy, sweet and refreshing. All babies love watermelons. To make your baby's nails look like a watermelon juicy goodies; Firstly, paint her nails with a red nail polish. Then put a few black dots and paint the tip of the nails green. We're sure it'll look adorable.
Look at These Adorable Baby Nail Design Ideas
The choices for your baby's nail polish designs are endless. Just don't take it too seriously, the goal is to have fun while doing this. It's such a nice bonding opportunity for you and the baby. So, don't stress about it, it doesn't have to be perfect. In the end, you will be left with a wonderful manicure that you might recreate on yourself as well.