10 Chinese Nail Art to Uphold the Chinese Tradition
China is well known worldwide. There will be no countryman who hasn't heard of China. They have earned a significant place in this world by means of hard work and inventions. If you have love and respect for China, you can have Chinese nail art. And if you are a Chinese citizen, reading this article is a must for you. I am going to discuss some designs inspired by the traditional and cultural history of China. They are Chinese calligraphy, ink painting, images of dragons, paper cutting, old architectures etc.
One more thing you cannot avoid while talking about China is the red color. Red is persistently related to all Chinese tradition, myths, mythological elements. You can simply own Chinese nail art by using these elements on your nails.
Majestic Chinese Nail Art 
The citizens of China are very traditional. They respect their beliefs and traditions more than anything. Even most of the Chinese don't know other languages because they don't feel like studying other culture or tradition. So, traditional designs are a must in this regard.
Another important thing in Chinese culture is the first day of Chinese new year. You can design your nails with the diversity of Chinese calligraphy, or the images of dragons. Paper cutting is also a famous Chinese artwork which is made of red paper. . Let's find out how these elements can be used in Chinese nail art.
#1.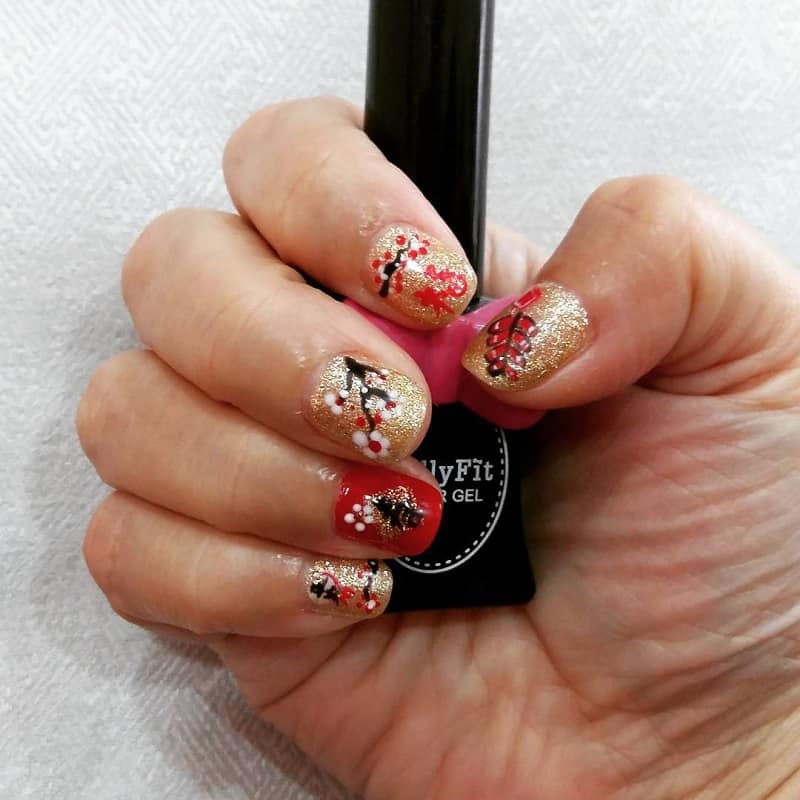 chinese blossom nail art
#2.
chinese new year mouse nail art
#3.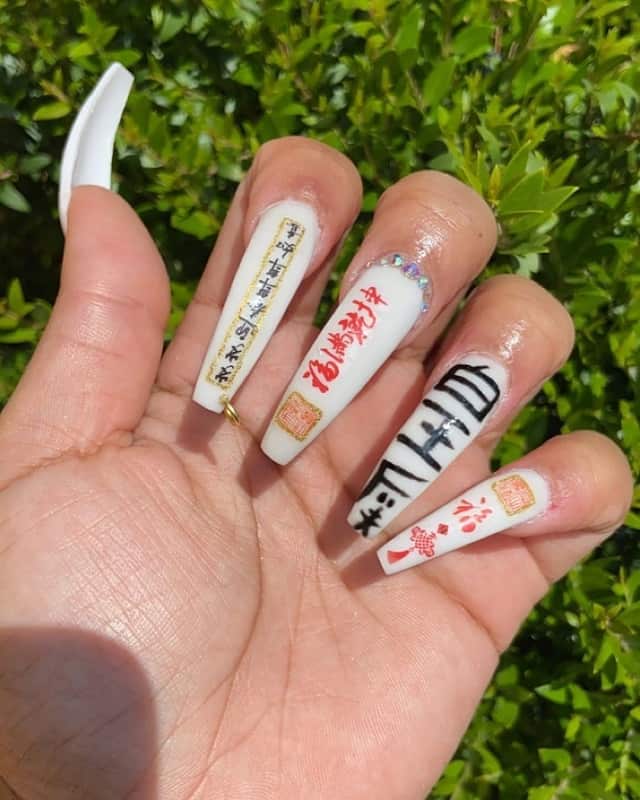 chinese symbol nail art
#4. Chinese Flowers
China is enriched with a large variety of different kind of flowers. You can have this floral design drawn on the red and black ombre nails. A calligraphic sign along with the flowers will make this design a distinct Chinese nail art.
Cherry Blossom Nail Art to Celebrate Festive Season
#5. Chinese New Year
Quite a few Chinese symbols have been used in this design. The Taijitu symbol. the fortune cat and Chinese calligraphy all these things resemble the true Chinese culture. You can have this amazing Chinese nail art on your precious nails.
#6. Maneki Neko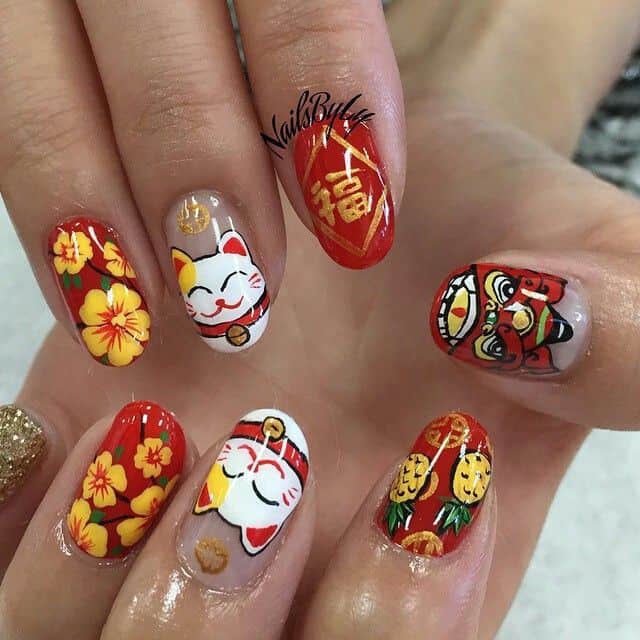 Maneki Neko aka Fortune cat is a very popular figure in China and Japan. This cat figure is considered as a lucky charm. Chinese people believe that this cat will bring prosperity and progress for its owners. It is mainly used for business purposes. You can use this cat figure in your Chinese nail art.
#7. Dare Dragon
The legends of dragons are long-cherished aspects of Chinese culture. Many heroic and tragic stories have been described in the Chinese old literature. Images of the dragon on navy blue nail  represent  real Chinese nail art.
#8. Calligraphic Beauty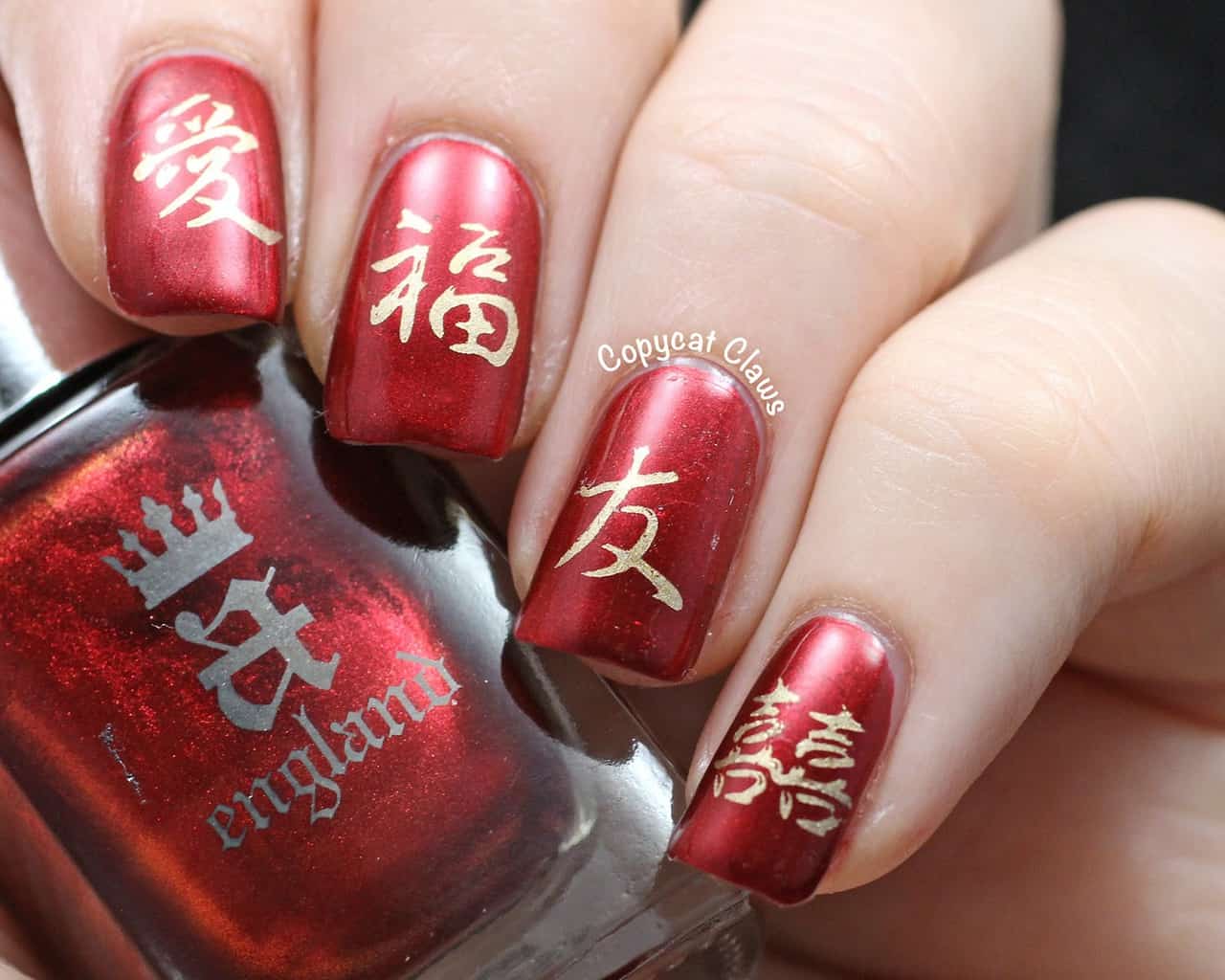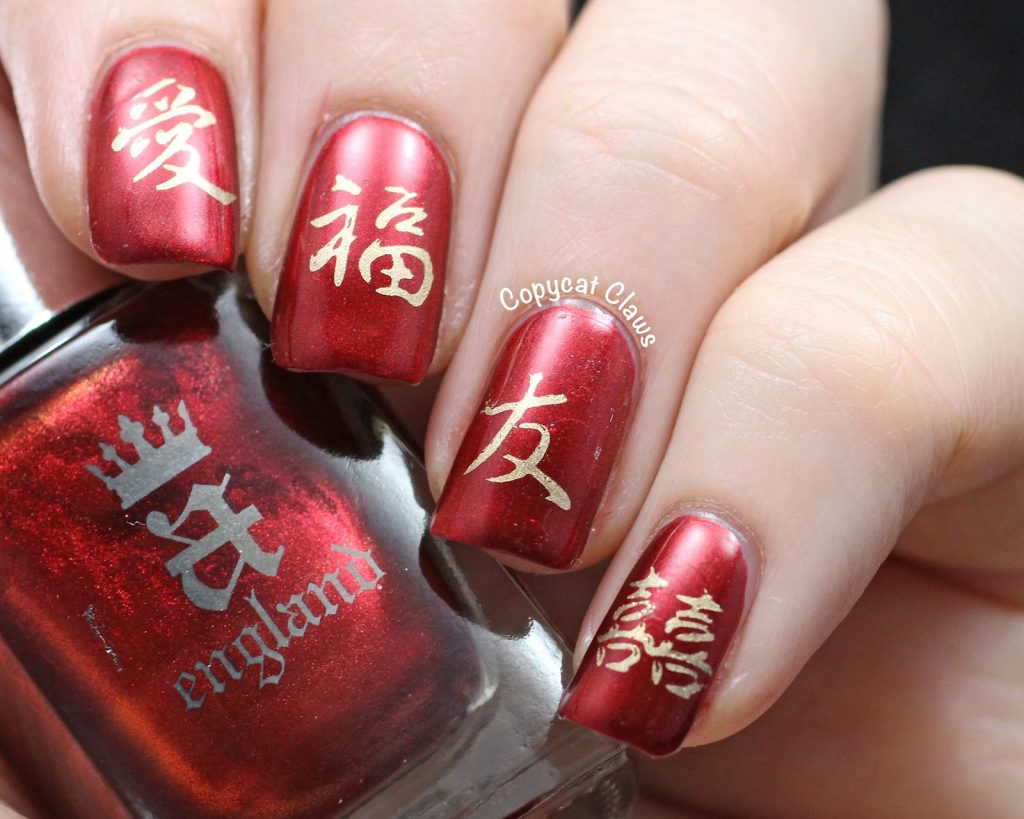 Chinese calligraphy gets the recognition as artistic patterns to the people of other countries. But, they might mean something very important to the Chinese people. So if you want to have calligraphic art on your nails, make sure that the writing makes sense. These calligraphic patterns look stunning on maroon gold combination nails.
#9. True Chinese
A special kind of traditional attire and silky hair is identical to the Chinese girls. You can use the images of Chinese females in your Chinese nail art. This sort of decals is available in the marketplaces. You can have them readymade.
#10. Mythical Dragons

Dragon is a well-read mythical character in China. It takes the shape of many animals but the snake-like animal is the most used shape.  These dragons were believed to have control over different natural forces. This can be the definition of real Chinese nail art as it has the dragon painted in vibrant red nail.
Dreamy Daisy Nail Art to Celebrate
Chinese are very much fond of their own tradition and culture. They try to depict their culture wherever they get the chance to do so. As a person belonging to other nationalities, we must respect their sense of ownness in Chinese designs. So, it is an important fact to keep in mind while having Chinese nail art.