Sometimes you may wish to have funky nails that will stand out in the crowd. But what does it actually mean to look funky? If you are going for that funky look that means you need to look totally different than anyone else, but still look cool.
A funky look is for someone who is willing to set the trend, not follow them. Are you that person? People will definitely stare at you because you will be one of a kind in public, but one thing is for sure, you are anything but boring when rocking funkiness!
Funky Nail Design Ideas
Now, if you are willing to look as stylish and as amazing as possible, hop on this train and let us show you some cool nail art that you can start wearing immediately.
#1: Funky Colors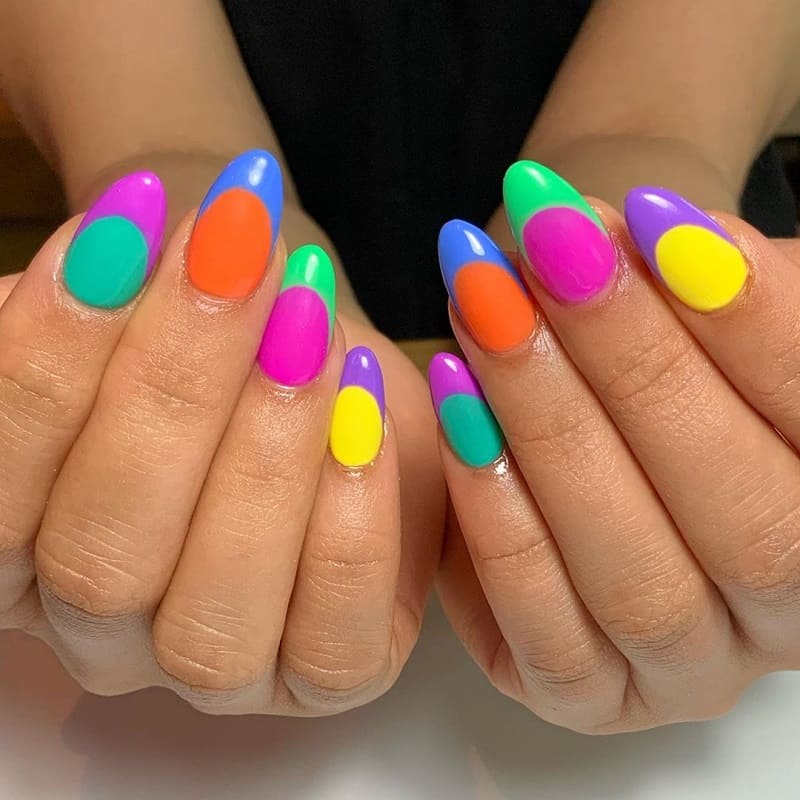 Combine all the bright colors of the rainbow for these funky round almond shaped nails. The key to this design is pairing a darker color with a lighter one – for example, the purple and yellow.
#2: Carnival Nails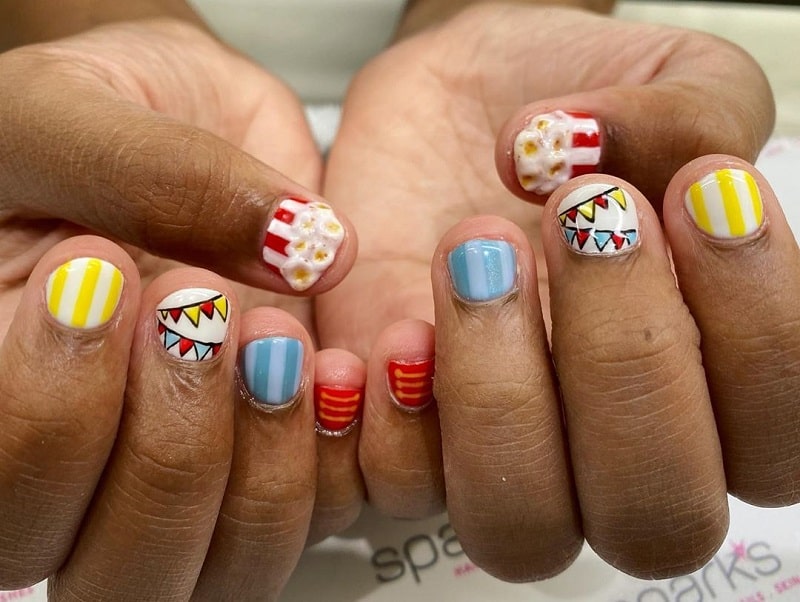 If you love having fun at the carnival and fair, let that fun be displayed on funky nails. Use thick gel polish to create the colorful stripes featuring a bag of popcorn on the thumbnail.
#3: Watermelon Summer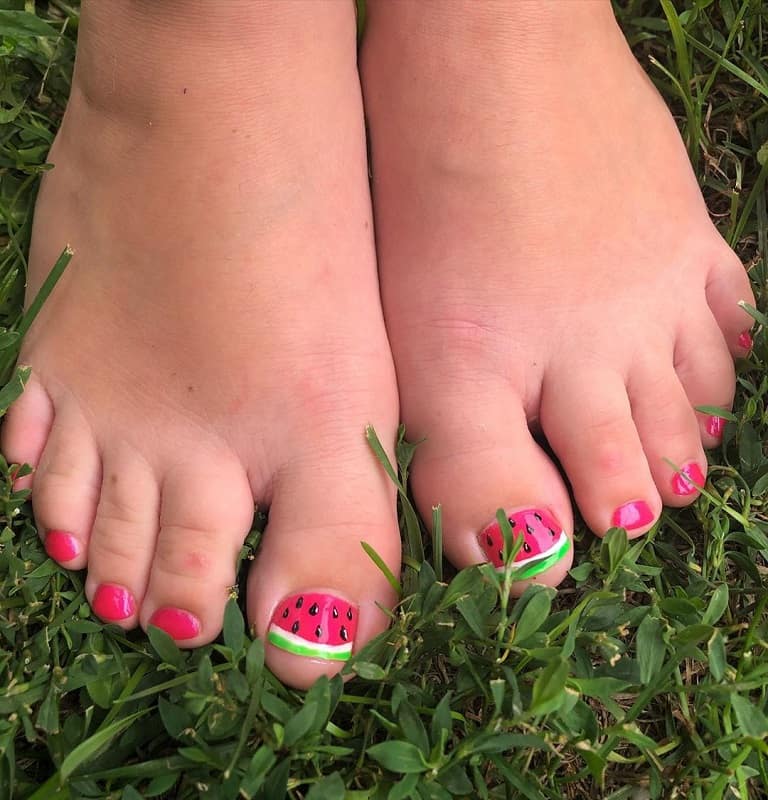 For a funky summer vibe, paint toenails bright pink! On the big toe, create a juicy watermelon with a lime green tip complete with black watermelon seeds.
#4: Spots and Eyes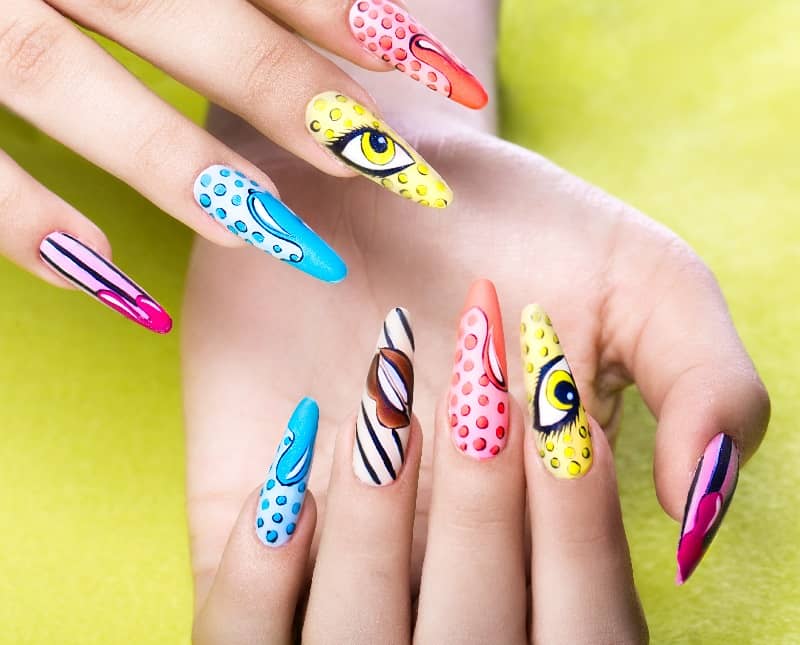 Using bright colors with darker spots will help you create a funky nail design where large eyes with thick eyelashes are the statement art.
#5: Lightning Bolts and Funky Lines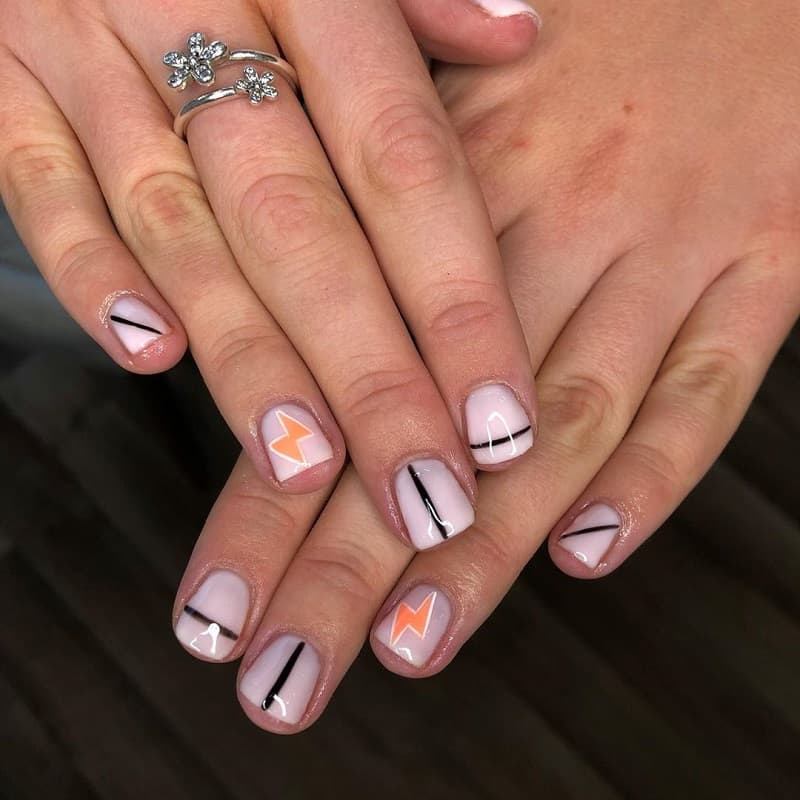 A milky white polish is the elegant background for contrasting funky designs like lightning bolts and thick black lines that are horizontal, vertical, and diagonal. We love this design on short round nails.
Nautical Nails: 25 Designs for Sea Lovers
#6: Gel Disco Nails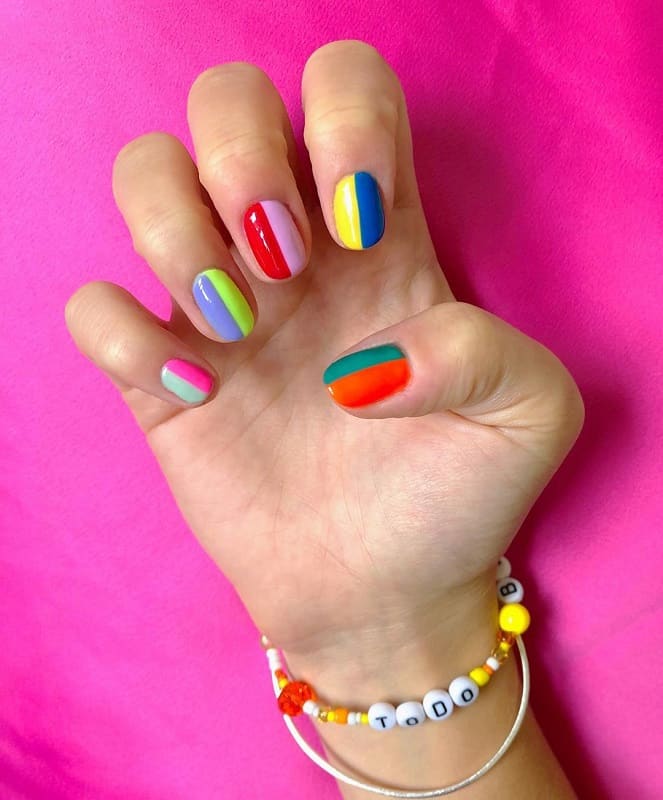 A disco-themed nail is surely all the funk you could want in your life. Just paint each nail half of a bright color, making sure to pair the light ones with dark ones.
#7: Candy Striper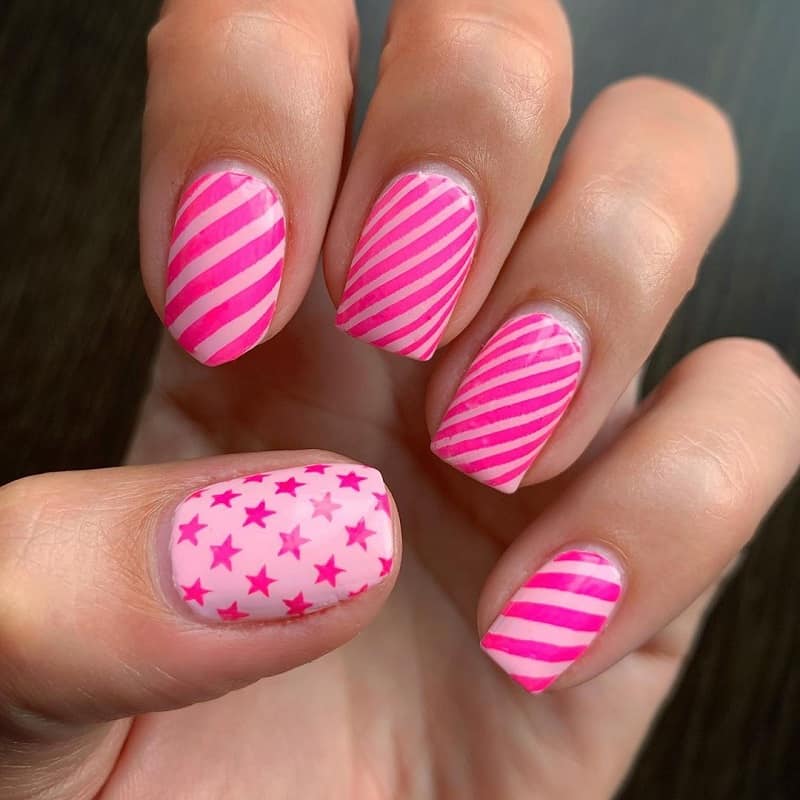 Be a beautiful candy striper for Halloween with funky nails that feature light and dark pink diagonal stripes. On the thumbnail, switch it up with a bunch of cute stars.
#8: Winter Nails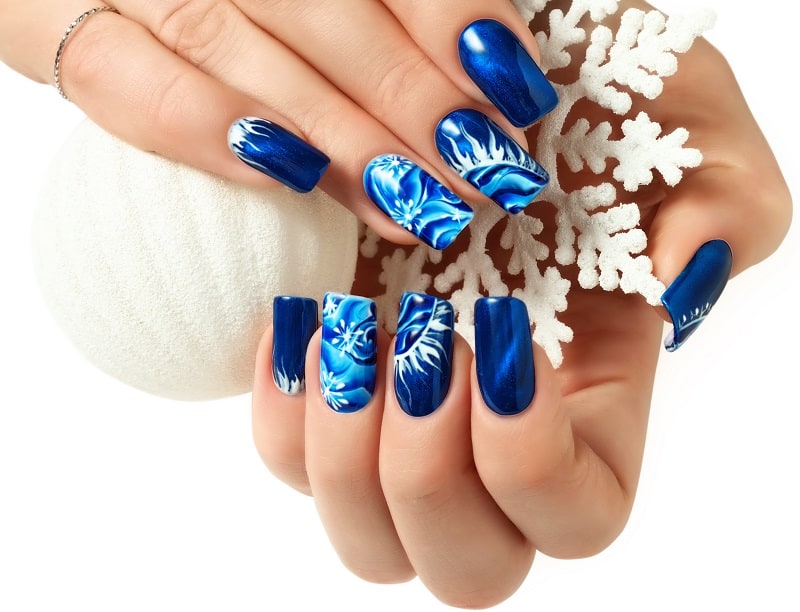 When it's cold and icy out, let the season be your inspiration for funky winter nails. Use a gorgeous dark blue as your base and add icy designs with snowflakes for flash.
#9: Funky Pastels
A mix of pastels is a beautiful funky nail design on long almond shaped nails. Use a beige base, tipping the ends with light pink and bright yellow.
#10: No Rhyme or Reason
One of the best way to get your funky nail design is by saying whatever goes! Mix stripes, spots, solids, and lines with all your favorite colors to get nails no one else will have!
#11: Rainbow Lovers
Super colorful and rainbow-looking, these funky nail designs are the first ones on our list. Did you know that no two people see the same rainbow?
That is because our mind is playing tricks on us. But no matter how well played those games are, you can't deny the beauty of these colorful nails.
#12: Ultimate Prints
Now, this is funky! These long acrylic nails with the purple, pink and black tones are so brave and fierce-looking that you will make more than a couple of heads turn. If that is the goal you are striking for, then just do it!
Let Your Nails Glow In The Dark
#13: Love The Love
We need to appreciate love a lot more in order to receive much more. That's why on this list we have these ultimate lovely and sweetheart funky nail designs.
Long stiletto nails with a black mysterious base, a lot of pink shimmery details and a lip drawing make me feel like I'm in an Avril Lavigne music video from 2009.
Skater boy, anyone? Anyways, these nails are perfect for the first date, so keep that in mind when getting ready the next time.
#14: Funky Skulls
Although skulls are considered to be scary looking, I would disagree in this case. Our little oasis of funkiness has got a bit of everything.
There is this skull drawing art with some zebra print, cheetah also, and a chessboard print to make the atmosphere a lot tighter.
These nails have been made with tips to ensure a long-lasting effect, so you need to be extra careful in order not to break any single nail. It would be a shame if anything happened to these since they all got a story to tell.
#15: All The Colors
These round nails with a lot of colors look so professional and have been done at a salon with adequate tools just to ensure the best quality.
If you are not in the mood for D.I.Y. moments just go to the salon for better and quicker results. Sometimes spending a few extra dollars is better if the nails will look this well made.
#16: Party In The U.S.A. Nails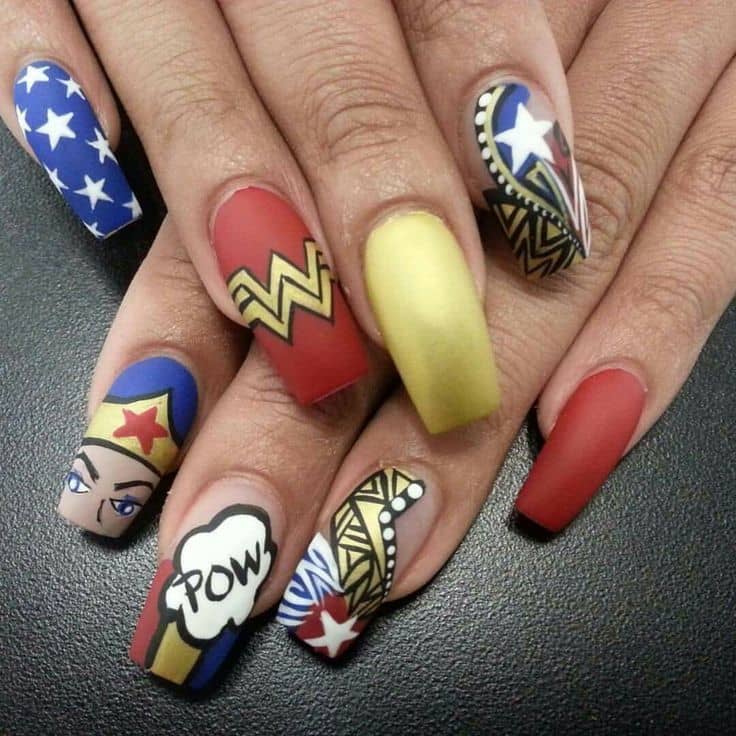 Don't think we forgot about the square nails. This funky nail design list needs some square-looking shapes in order to have it all together.
Square shapes are mostly chosen at the salon, and that is probably because women don't feel like shaping their nails a lot in order to achieve this effect, and also because they are scared of breakage.
You will get the exact same nails with the best nail technician in your city, so choose wisely. These Captain America and Wonder Woman nails are perfect for the Si-Fi fanatics out there.
Just a pinch more of Marvel comics. These multicolored funky nails will look super cute on women with darker skin tones since there are a lot of green and yellow colors. Be prepared to attract some geeks since these nails are for the ultimate comic lovers.
#18: Soft And Elegant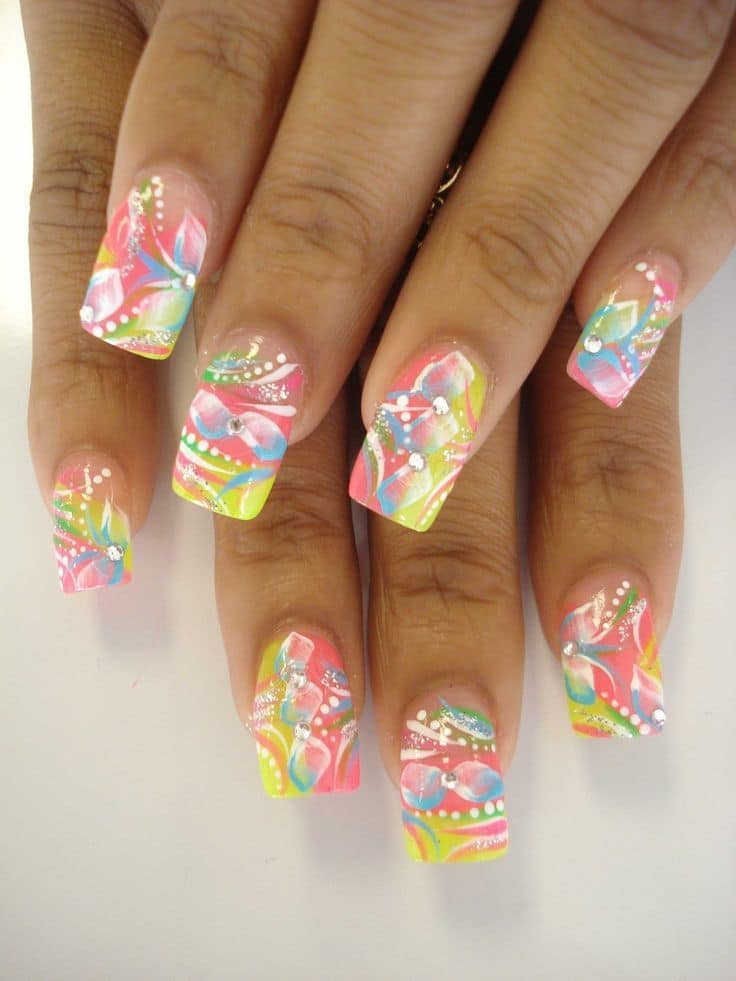 This soft funky nail design could be appropriate for anything formal, such as weddings, proms, and other evening occasions. But these are just for the softer ladylike women that like to feel extravagant and fancy.
There is nothing too major or distracting about these, so this is the funk at its lowest and the most elegant shape/form.
#19: Funky Flip
These look magical and so interesting, and personally, I've never seen anything like this.
Matte black base with a lot of colorful attitudes will attract a lot of looks, and you are in good luck since guys like these fun shapes. Be prepared to receive a lot of compliments for these!
#20: Pac-Man Time
Pac-Man has been with us, believe it or not, since the 1980's. It is our most loved computer game and it brings back all the childhood memories.
In case you decide to get this funky nail design you will be a star of the show, and everyone will admire you for your brave-looking style.
#21: I Mustache You A Question
Funky mustache manicure gives out the most innocent and fun vibe on this 30 nail design list. Make sure to get them with the white base coat in order to make the mustache stick out way more on the surface.
#22: Tetris Time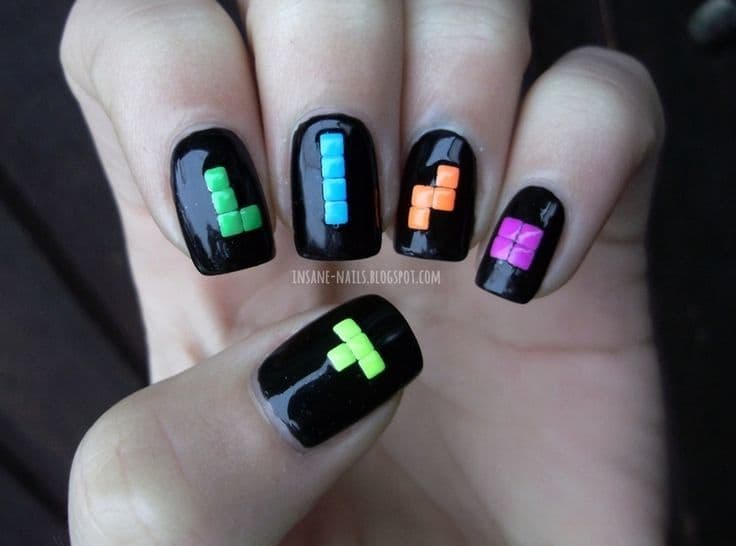 You know that if we have already mentioned Pac-Man on this list, we couldn't just forget about Tetris since these two are the most played games in the history of our existence.
One of the most time-consuming and mind trick games is Tetris. It brings back the memories and all the sleepless nights because of those pesky little bricks.
#23: Blue Is The Limit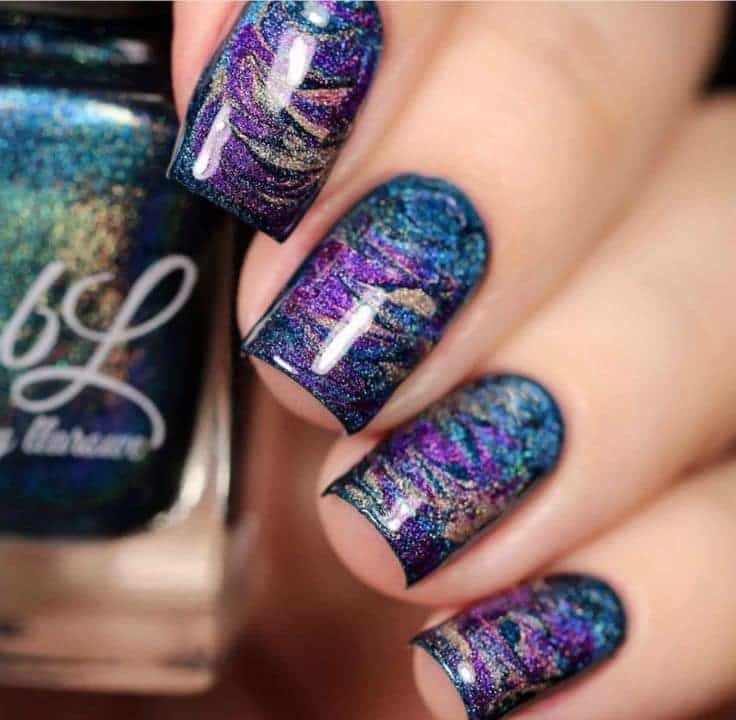 Perfect blue color with a lot of statement purple, black and a hint or two of the green color could be your go-to prom nail combination.
That is if you are off to prom in your longer, darker and more mysterious dress. The funk is not in its final form, but it will still make a couple of heads turn, trust me.
#24: Funky Disco Moments
Where are all my funky disco lovers? This summer you should be the most noticed and vibrant dancer on the dance floor if you tend to get this manicure.
The purple color with a lot of blue and round shapes looks super fun, so count me in on this one.
#25: Nars Street Funk
Nars Cosmetics has been with us since 1994, and one thing is for sure- they are flawless. High quality with just the right prices puts them in lead in the makeup industry.
This funky nail design is a great example of their quality and capabilities since the originality is seen right off the bat.
#26: Mermaid Inside Of You
Maybe you are not an ancient creature aka the mermaid, but give your nails a true mermaid treatment and give them this cute-looking form.
This funky manicure is perfect for women who like square nails and catchy colors, so these are mainly for women with a powerful personality.
#27: It's Minion Time
Since our small furry yellow friends are having a blast, you should have too! Blue and yellow are the ultimate summer colors and they should be your choice if you want to look super happy, joyful, cute, and let's not forget- funky.
#28: Cool And Funky Nails for Brown Women
Out of all of these funky nail designs, we've found these to be the coolest looking and most appropriate for formal events. Super long, acrylic, and green, these funky nails are a statement piece for any type of event and for any woman.
You could dress them up, or down, depending on the jewelry you have on. The classic golden gem detail makes them perfect for the night out too.
#29: Monsters
Now, this is a kitsch! A great example of when you take your funkiness to the next level.
This adorable Monsters inspired nail manicure brings us back ten years into the past and gives us those childish feelings. If you are soft and young at heart just get this recognizable manicure!
#30: Funky Rose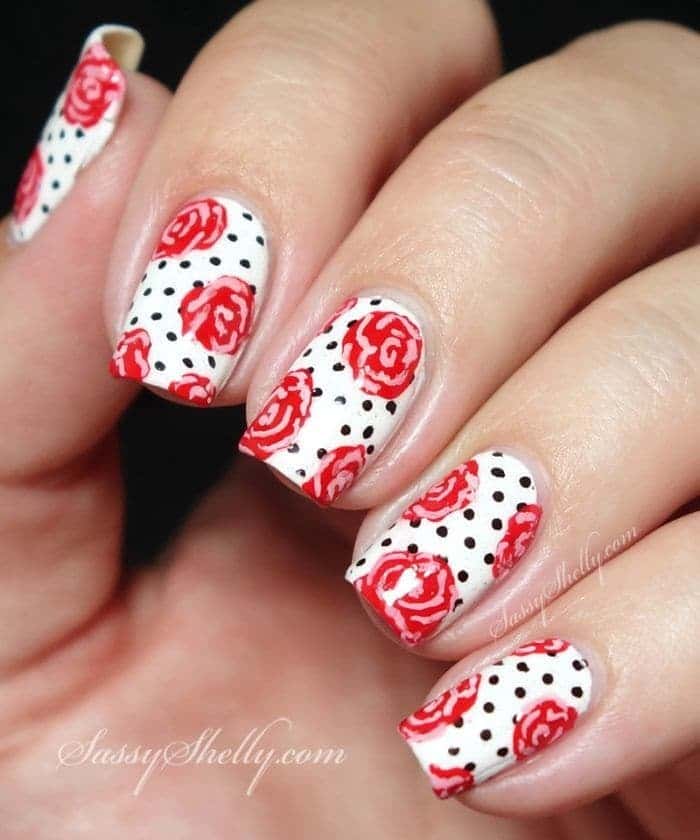 Polka dots, white colors, and deep red flower prints are such a funky nail design ideas. If you like to look and behave like a ladylike woman, get this little funkiness onto your nails right now!
Try Out These Funky Nail Designs
We hope we've opened your eyes and made you a little bit more comfortable about getting out of your comfort zone with our funky nail ideas.
You should try to wear these and see all the positive moments that will start happening around you because that is the effect that these funky nails will have on others. Just give it a go, you won't regret it.