Matte coffin nails are highly popular, and there are so many reasons why. One of the main reasons is because they combine two already existing trends, the shape, and the matte finish. And when you join the two, what can you expect? A popular choice that women adore and always personalize to their own tastes.
How to make coffin matte nails
Firstly, you need to do is to decide upon the length. Secondly, if you want long nails, you will need acrylic constructs. Opt for a color that represents you. Depending on the occasion or personal preferences, create designs and apply decorations. Lastly, apply that matte finish.
Below we present some gorgeous ideas that you can use as inspiration, so scroll down to discover them.
1. Autumn Coffin Matte Nails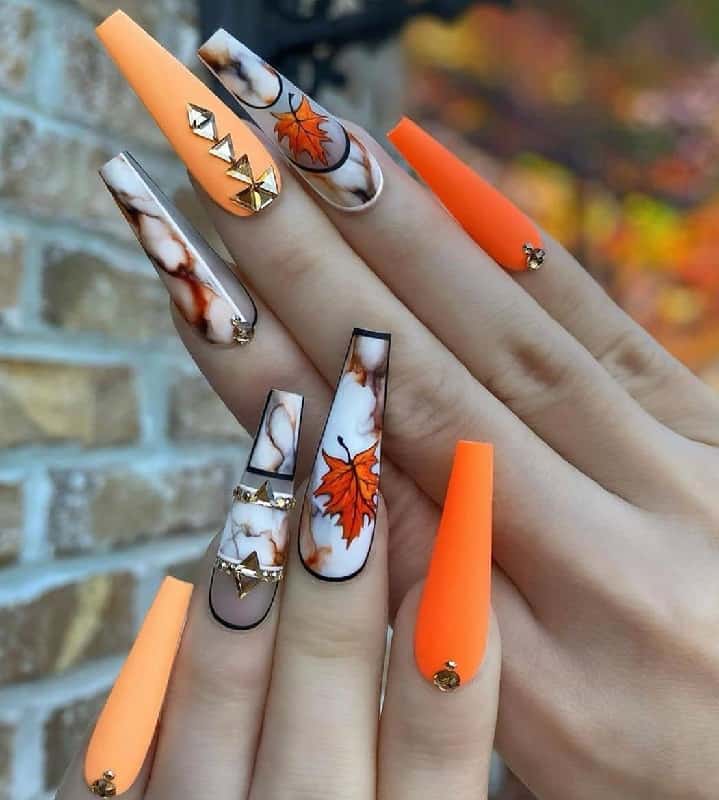 Matte coffin fall nails can feature all things you adore about autumn. Choose the right colors, sport marble designs, outline the edges, apply golden studs to math the nuances, and paint falling leaves.
2. Yellow Orange Matte Nails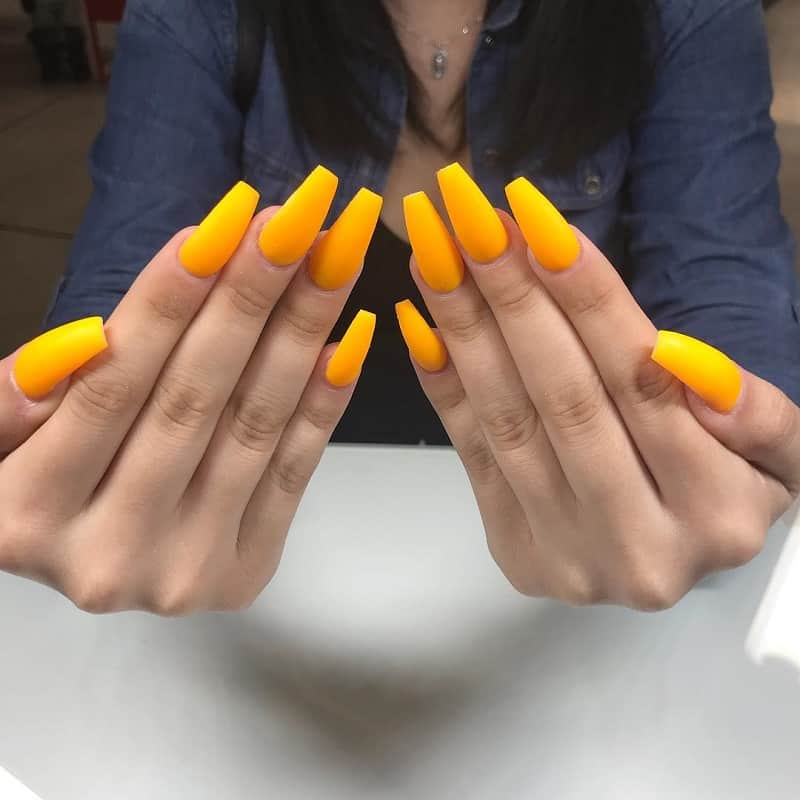 If you love autumn and all that color palette, matte coffin yellow nails will suit this fall season like a glove. Opt for brilliant, vivid color and apply a matte finish on your acrylic constructs.
3. Pink Nails with Watermellon Stickers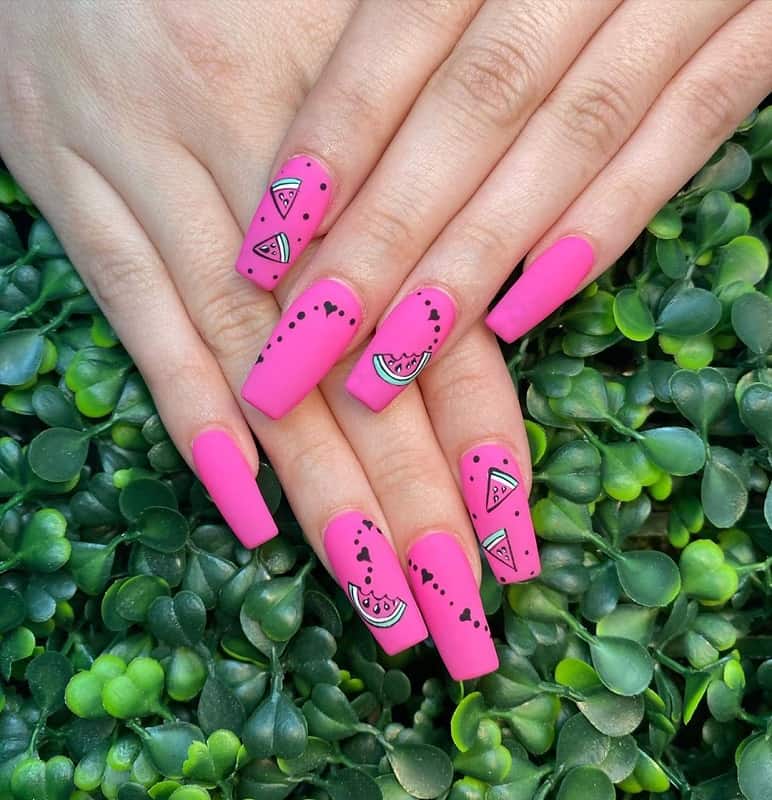 When you adore standing out, pull off hot pink matte coffin nails. Keep them long and choose two types of stickers: cartooned watermelon and some mini hearts. If you think you can draw them by yourself, use a small painting brush.
4. Neon Matte Nails
Matte coffin neon nails yell confidence and are one of the best ways to draw all the attention to your hands. If you have a tan or darker skin, the nail color will create stunning contrast.
5. Orange Matte Nails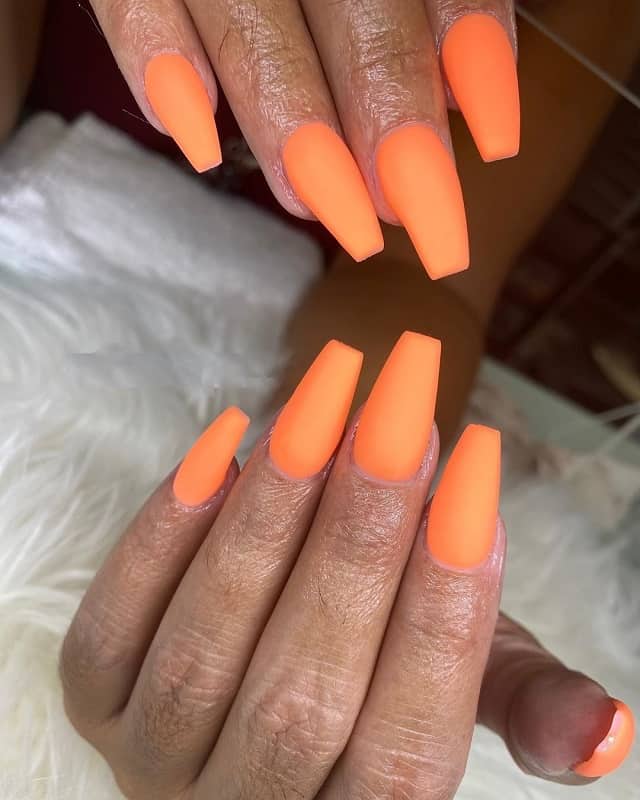 You can recreate matte coffin peach nails like this at home. But if you need to extend your nail with acrylic, visit your favorite manicurist. You can keep them simple or add several stickers and studs.
6. Matte Red Coffin Nails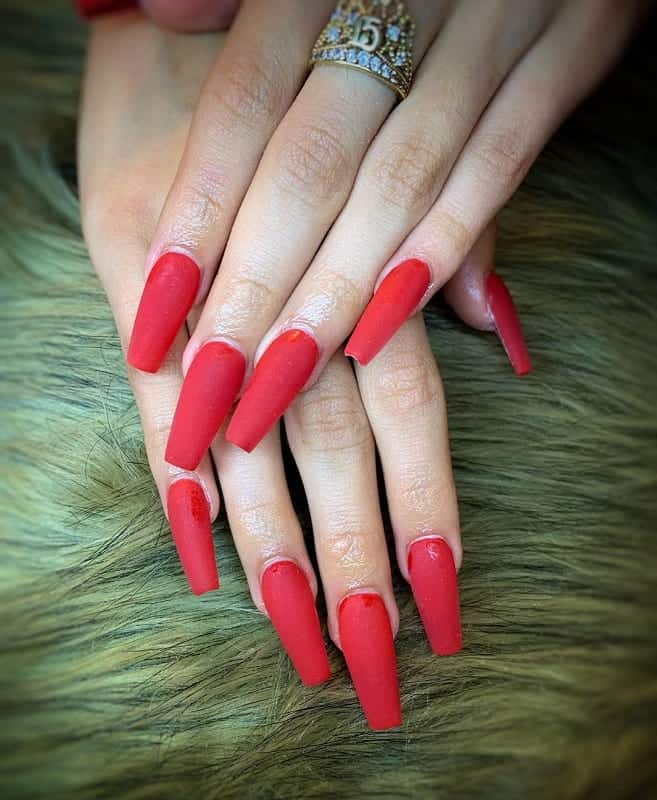 Red long matte coffin nails are ideal for fierce women and want to make a statement with their mani. The color is perfect for all seasons and those moments when you want to add a pop of color to your look.
7. White Matte Coffin Nails
Fake nails can look as good as natural or acrylic nails. So, if you need a short-term mani, apply these beauties. They are perfect for weddings and other events when you need to pull off a mani that impresses.
8. Matte Coffin Acrylic Nails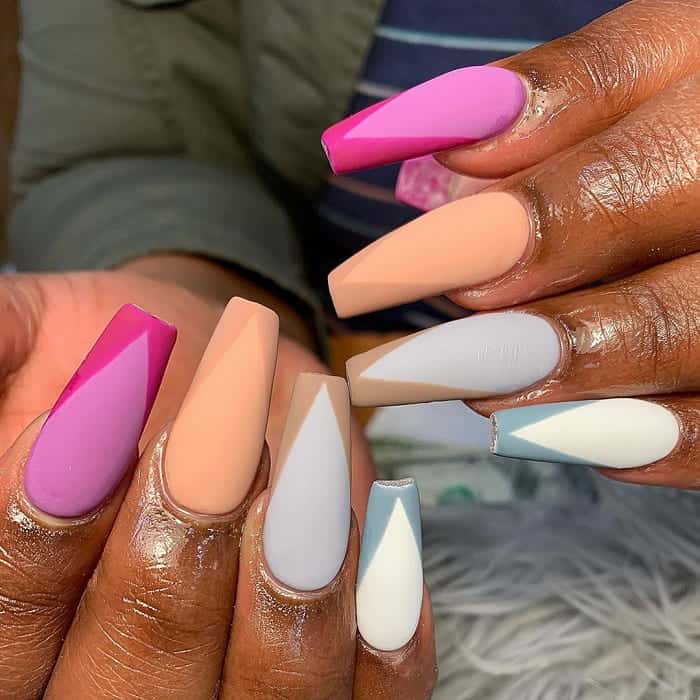 Such a stunning color combination! Choose a color for each nail. Draw your inspiration from the famous French manicure and create a pointy shape for the design. Use different related nuances to pull off a gorgeous combo.
9. Matte Pink Coffin Nails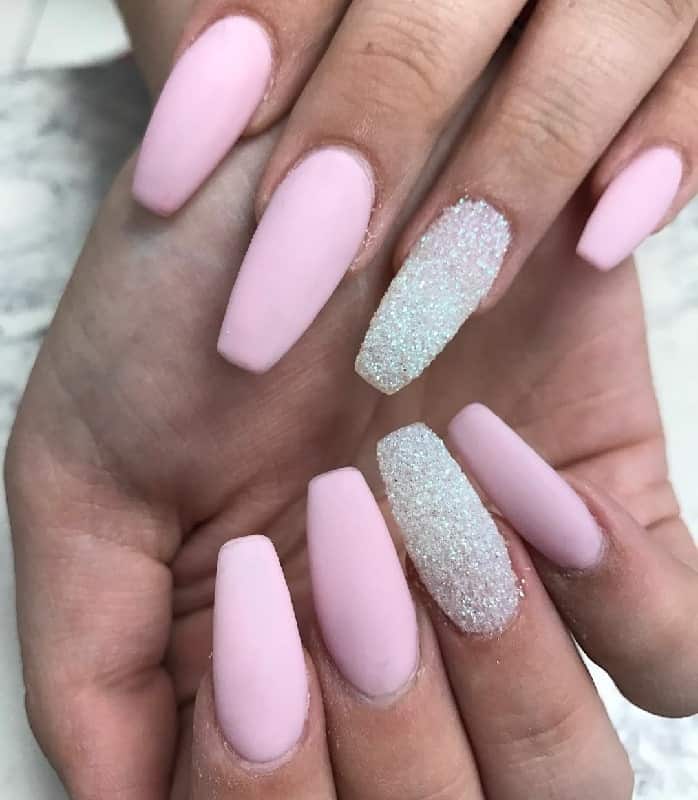 Combining matte pale pink nails with glitter nail polish that makes your fingertips look like they've been dipped into diamond dust is certainly going to make you stand out.
10. Matte Maroon Coffin Nails
Matte maroon nails are edgy and look gorgeous on any skin color. At first, you might not seem impressed by the color, but once you use it for your nails, you will certainly change your opinion.
11. Long Matte Coffin Nails
These stunning long coffin matte nails need no introduction. They are sassy and feature various color blends that create an incredible ombre. Choose a nude nuance for the base and pink and orange for the tips.
12. Matte Short Coffin Nails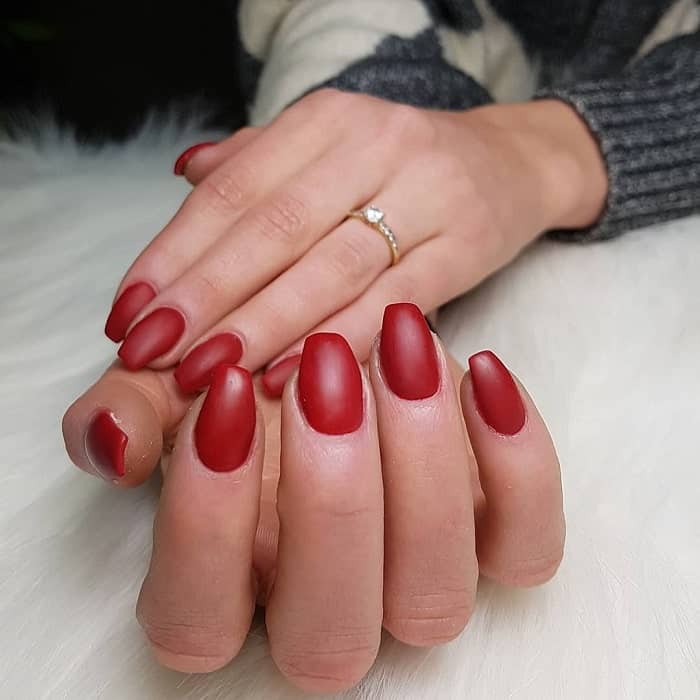 You can opt for a coffin shape even if your nails are short. Indeed, the shape looks best on longer constructs, but, as you can see, it can work great on medium short nails. This mani is ideal for older women and those who spend all day working in front of their laptops.
13. Matte Grey Coffin Nails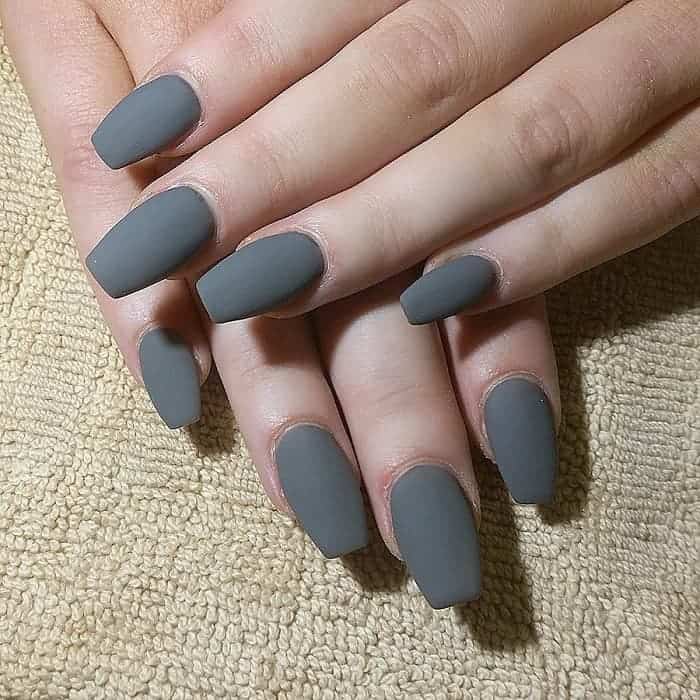 Matte gray coffin nails can step up your mani game to a whole new level. They look so smooth and simple, yet the effect is mind-blowing.
14. Matte Burgundy Coffin Nails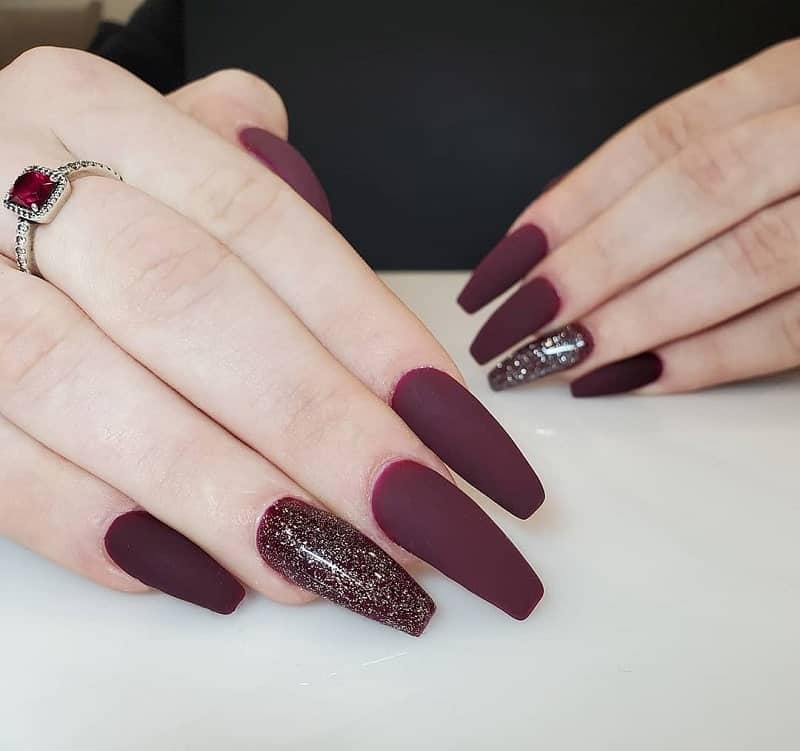 Burgundy nails with a touch of dark purple instantly transform you into a queen. The color is so imposing and powerful, and that glittery topcoat applied on the ring finger is just the pinch of glam you needed.
15. Coffin Shaped Matte Purple Nails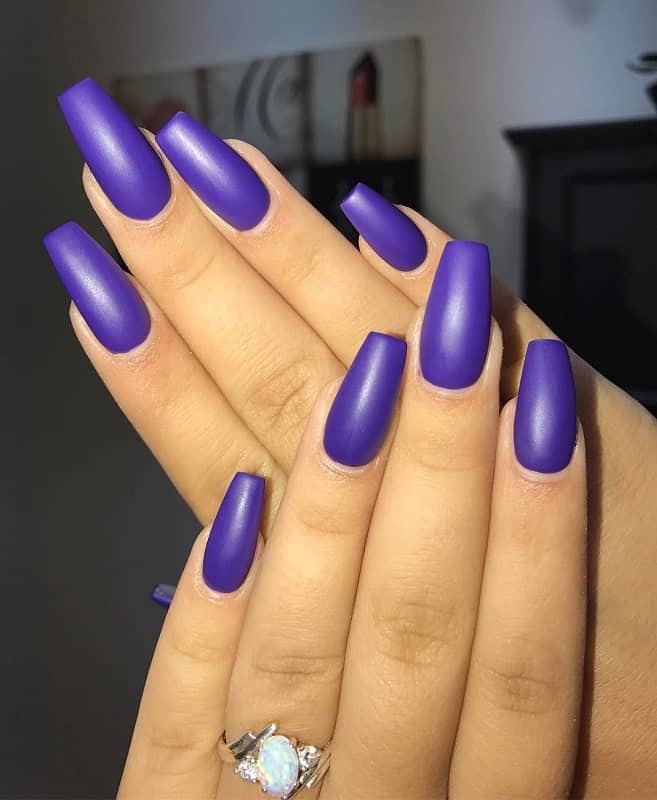 Searching for a mani that stands out? Then use a vibrant color like this purple nuance. Apply a matte finish and you will certainly fall in love with these stunning nails. More then this, they reflect light in such a beautiful way.
16. Matte Green Coffin Nails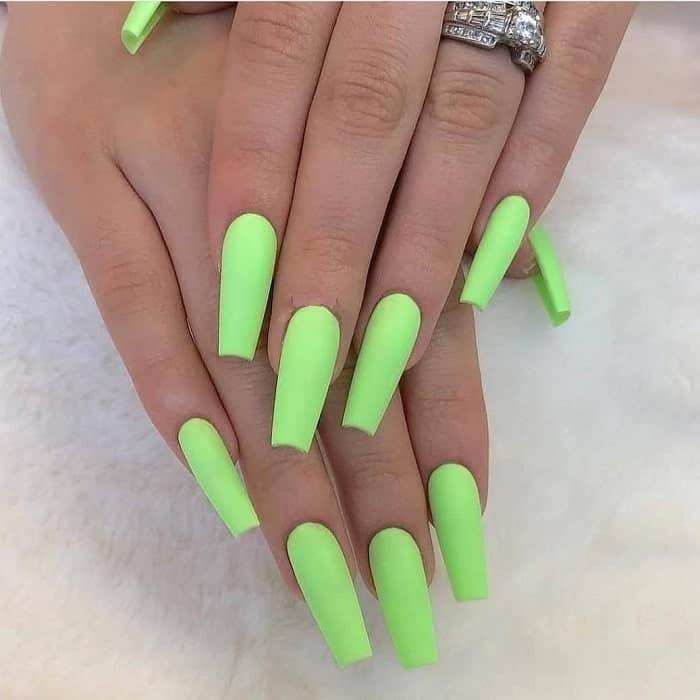 Neon lime green coffin nails are a great option for women who are not afraid to stand out in any crowd. Long, with stunning color, this mani is perfect each time you are going partying in a fancy club.
17. Blue Matte Coffin Nails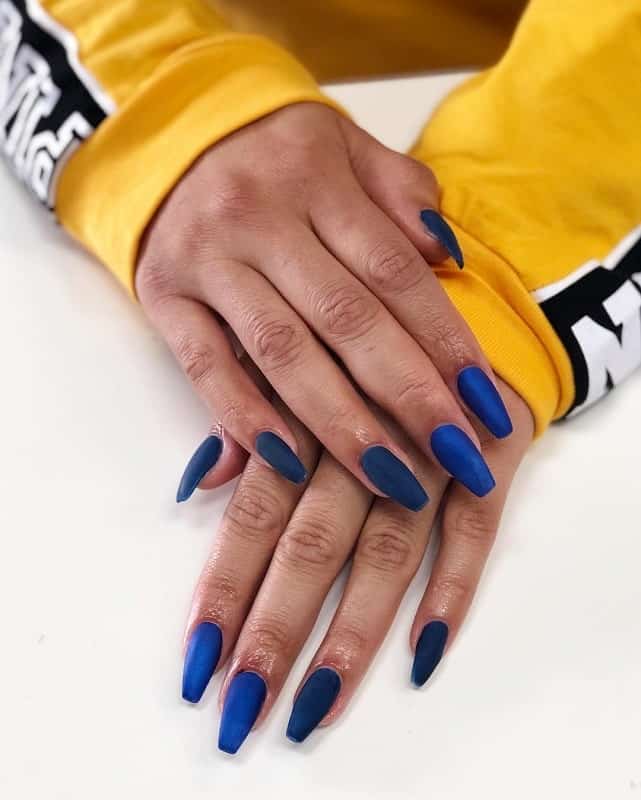 A navy blue color has depth and is ideal each time you wear yellow clothes. They are also suitable for all those moments when you need a pop of color in your life.
18. Clear Matte Coffin Nails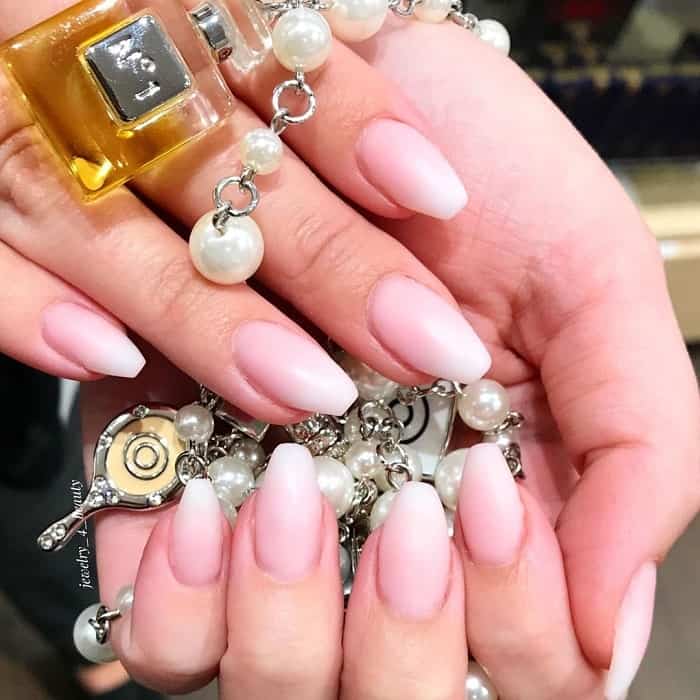 Style a subtle ombre for your medium coffin-shaped nails. These will look so fancy for special occasions and will make you feel both glamorous and gracious.
19. Orange Matte Coffin Nails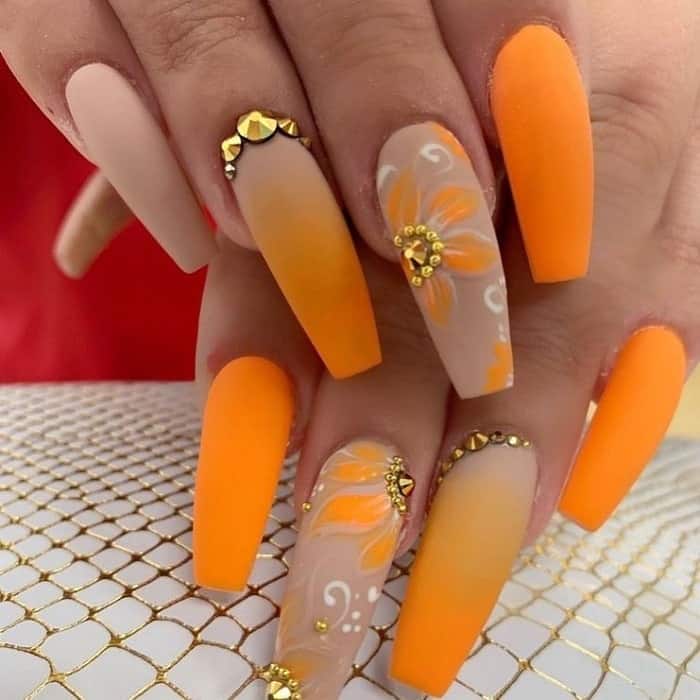 When you want to make a statement with your nails, consider these long coffin-shaped nails with a floral design. Opt for an electric color, create ombres and decorate the base and tips with studs and rhinestones.
20. Matte Lavender Coffin Nails
Lavender color is still very trendy at the moment. Even if we are talking about nail polish or hair color, this nuance is highly popular. And if you adore being trendy, you should certainly consider pulling off these matte pale mauve nails.
21. The Nude Nails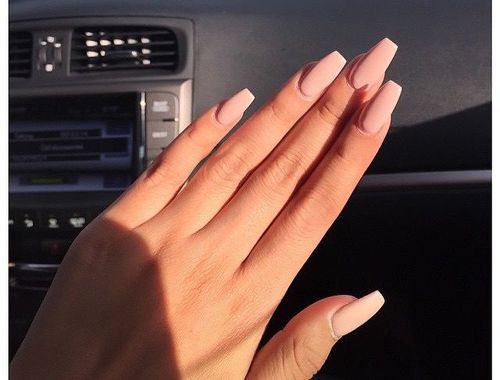 What are ballerina nails for if you can't flaunt them in nude shades? Anything from a matte pink blush to matte ivory – whatever suits your skin tone – is a perfect way to highlight coffin nails. These nails are very understated and classy, although if you are headed out for a party, you might want some other style. For a romantic date or an evening at the opera, matte nude nails are the way to go.
Paint Nude Stiletto Nails to Get All the Attention
22. The Adam's Family Nails
In the pre-nail art era, long nails were viewed with a suspicious eye. If you have coffin nails and are sporting enough, paint them matte black. This gives a distinctly voo-doo look to the nails and is sure conversation-starter. Coffin matte nails in black are in fact, quite the rage on the runway too.
23. 3D Nail Art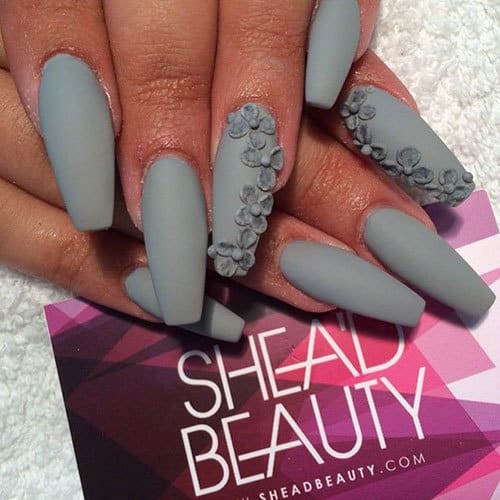 Matte coffin nails by themselves can be quite boring. But if you are not very keen to glam them up too much either, you can choose to incorporate a 3D nail art form on them. This adds texture to the nails and breaks the monotony. You still look classy, but with a hint of playfulness.
24. The 5-Nail Ombre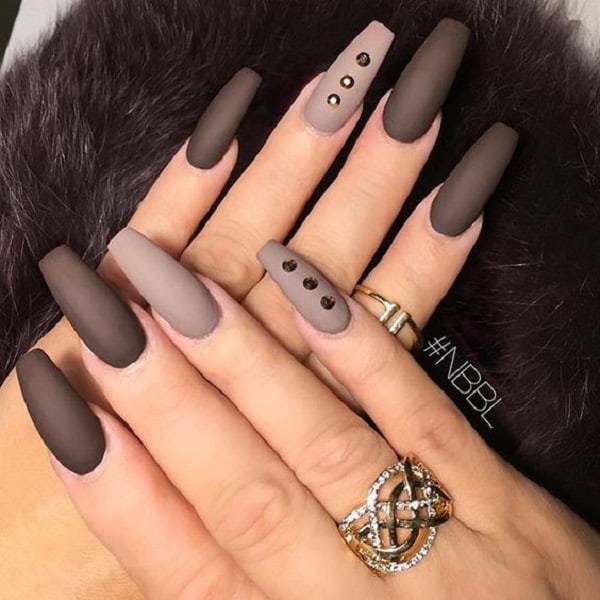 Another way to rock matte coffin nails is to paint all the five nails in advancing ombre nails, as seen above. Ideally, this pattern looks best of you to choose some striking shade – burnt sienna, red or purple – so that the contrasts are starker.
25. Matte-and-Glitter Combo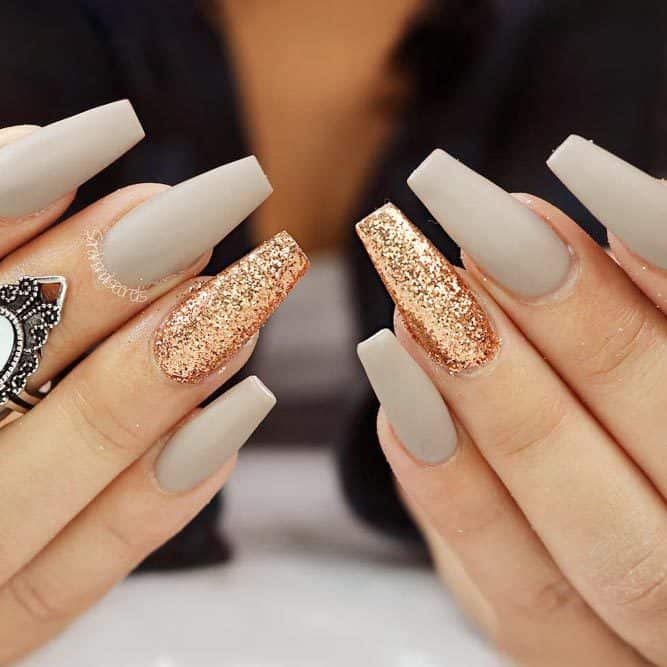 If you already have matte coffin nails and are on your way to a party, you can save time, by simply wiping off one nail in each hand, and painting on a glitter nail polish. This has the same effect as wearing jewelry! Alternatively, you may also choose to add the glitter nail polish on a portion of a matte painted nail, preferably by using a color blocking technique.
Glitz It Up with Holographic Nail Designs
26. The Geometrical Matte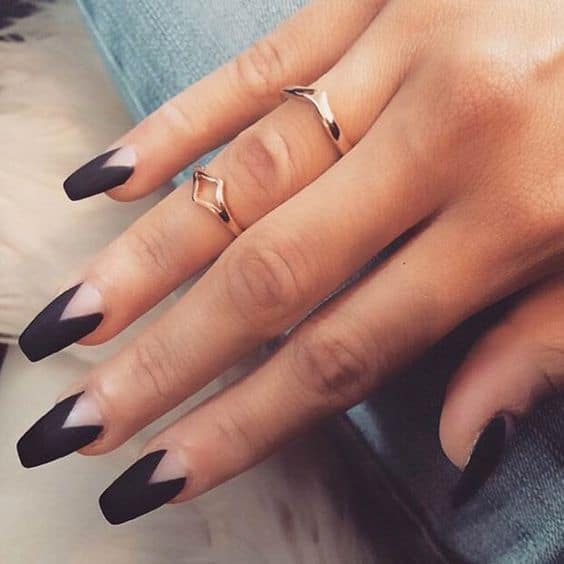 Instead of painting the coffin nails in traditional swipes, you can use your matte nail polish to create a geometrical pattern on the coffin nails. Geometrical patterns come out nicely on coffin nails, considering that you have a greater surface area to work with.
27. The Matte-and-Rhinestone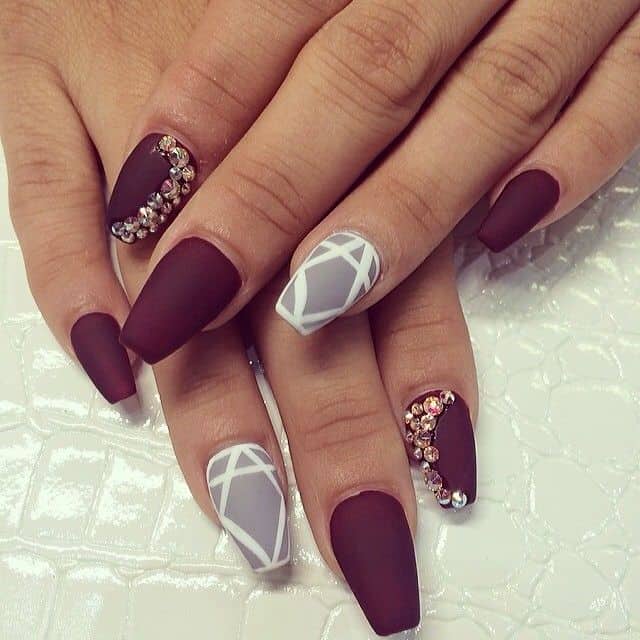 This is another quick fix to muted matte coffin nails. Glam them up by attaching rhinestones. The glitter of rhinestones complements the light-absorbing effect of the matte nails, making the nail art stand out remarkably. Using a dark matte base is a brilliant way to incorporate rhinestones.
28. The Deep Blue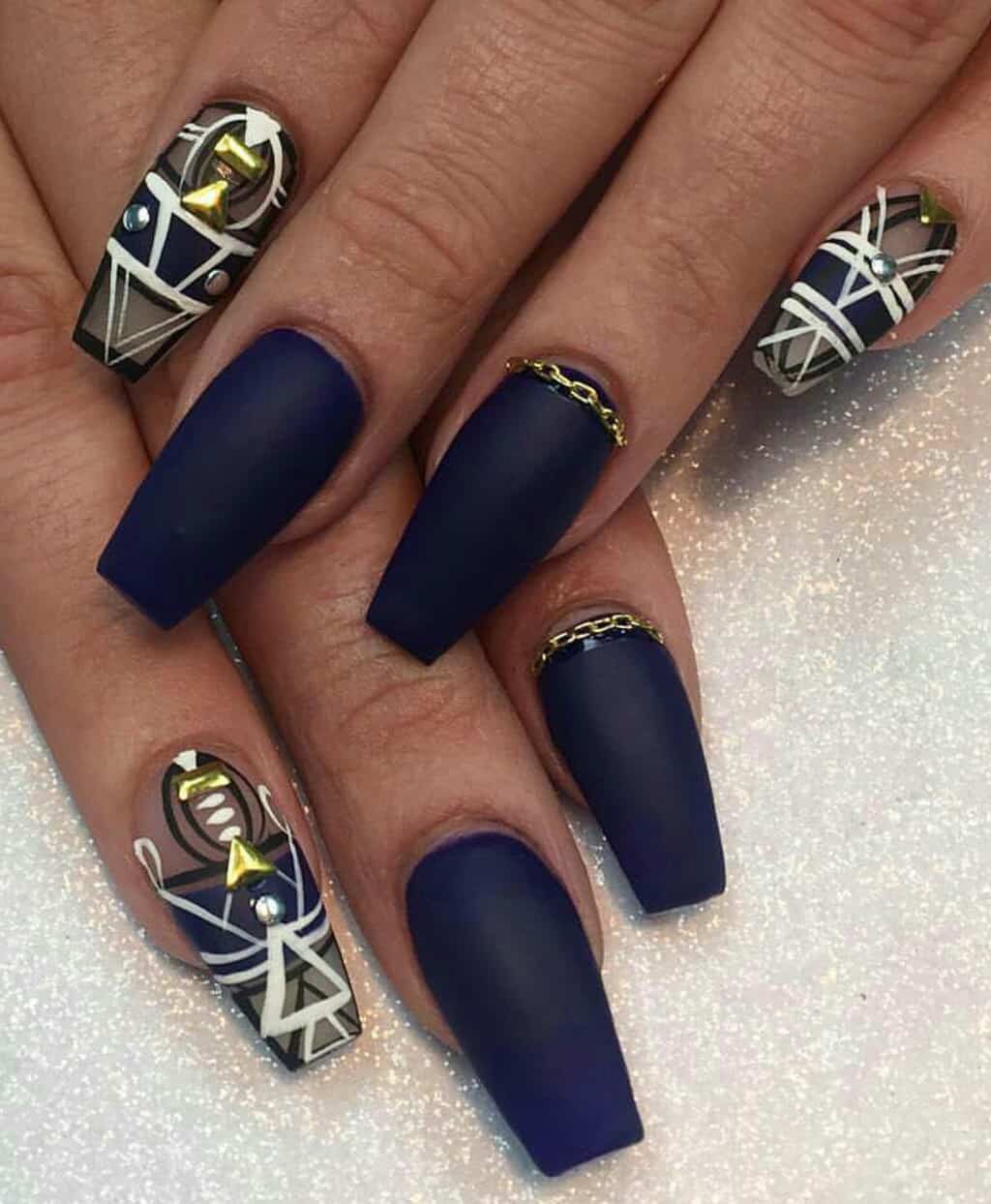 Although regular deep blue nails also eye-catching there is something other-worldly about blue matte coffin nails. A rich navy blue adds a level of depth and texture to the nail, while the matte finish prevents distractions in the form of excessive gloss.
29. Simple Ombre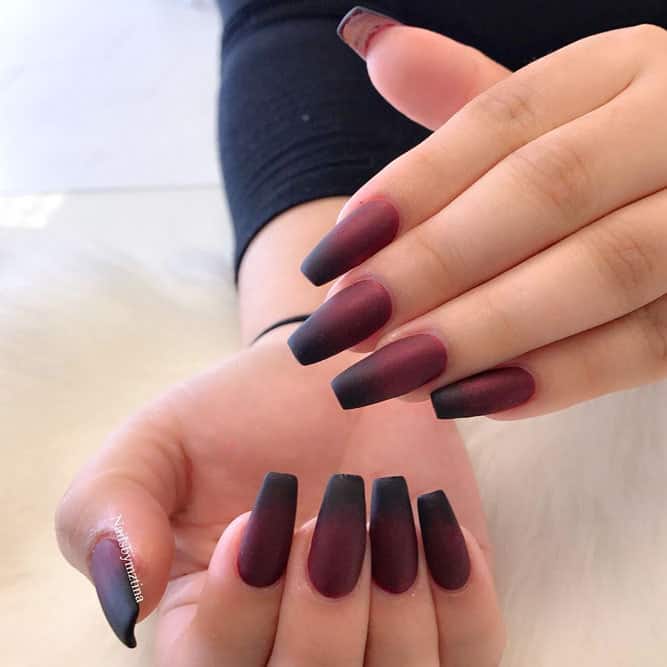 Having long, coffin nails is the best way to showcase your ombre-creating talents. With a canvas as long as the coffin nails, you can bring about the transition in shades beautifully. Matte coffin nails have this distinct advantage over shorter nails. Incidentally, if you are planning on getting sunset nails, go for this style.
30. The Sparkle Effect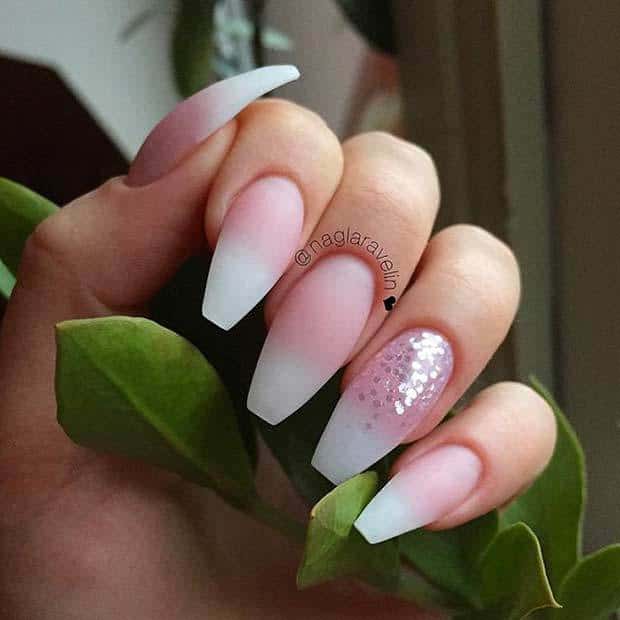 Instead of adding rhinestones, you can also dust a little glitter on the nail tips or at the cuticles. An ideal combination would be a dark plum base and gold sparkles. Alternatively, you can also choose to pair the glitters with a light shade, although that would be a good idea if you were out on a daytime occasion. When the sun sets, go bold with the contrast.
Alluring 40 Marron Matte Nail Designs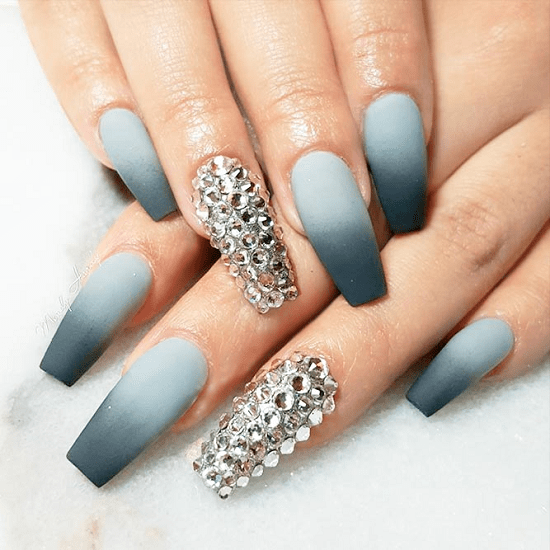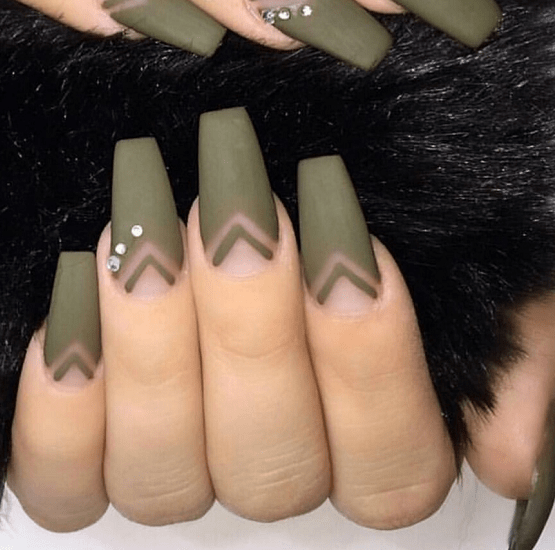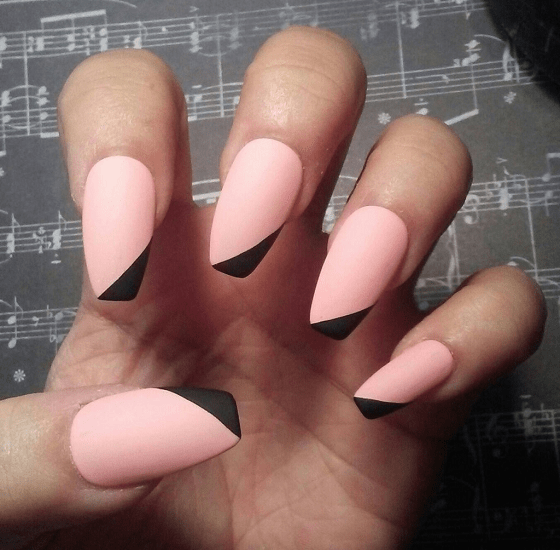 Matte coffin nails are a style statement. They may not be hard to pull off, but often women get carried away with the available canvas of the nail and end up with a garish nail art. If you are not sure whether your nail art is pretty enough, go for a matte finish. It is safe and can be easily tweaked.