30 Matte Coffin Nails Ideas: Get Ready to Steal the Show
Coffin nails are elegant. Sported by ballerinas for decades, only recently has this shape of nail been receiving its due share of attention. This kind of nail offers an excellent canvas to showcase any kind of nail art, given its broad width and the elongated curve.
"Matte Coffin Nails" The Understated Elegance
There are several ways of dressing up a coffin nail, and almost every way looks just as pretty. You can use glitter or metallic nail paints, you can embellish using rhinestones; the choice is yours.
But a true ballerina – the ones to whom this kind of nails can be attributed – would hardly ever choose something too flamboyant. If you are in the mood for some muted show, try matte coffin nails.
1.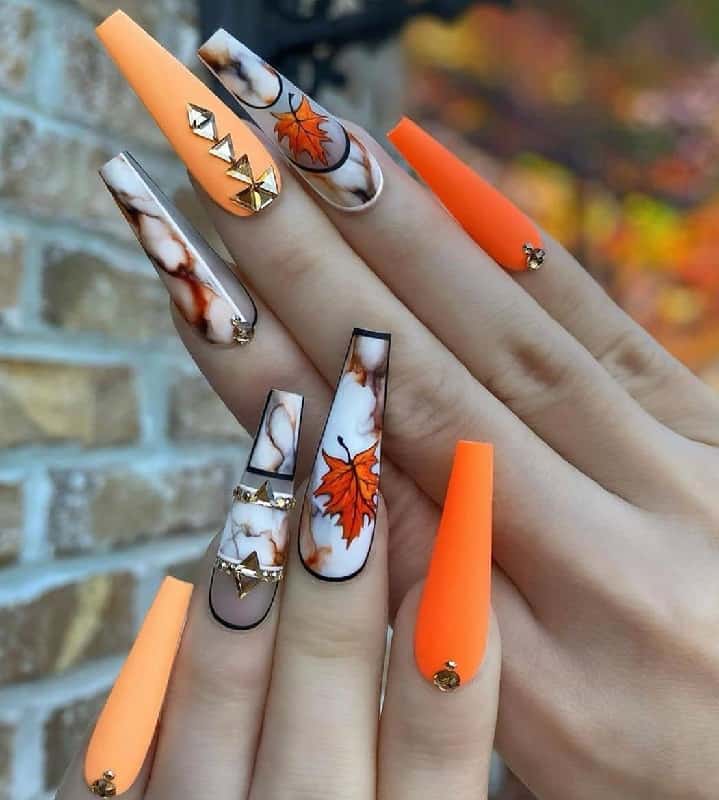 matte coffin fall nails
2.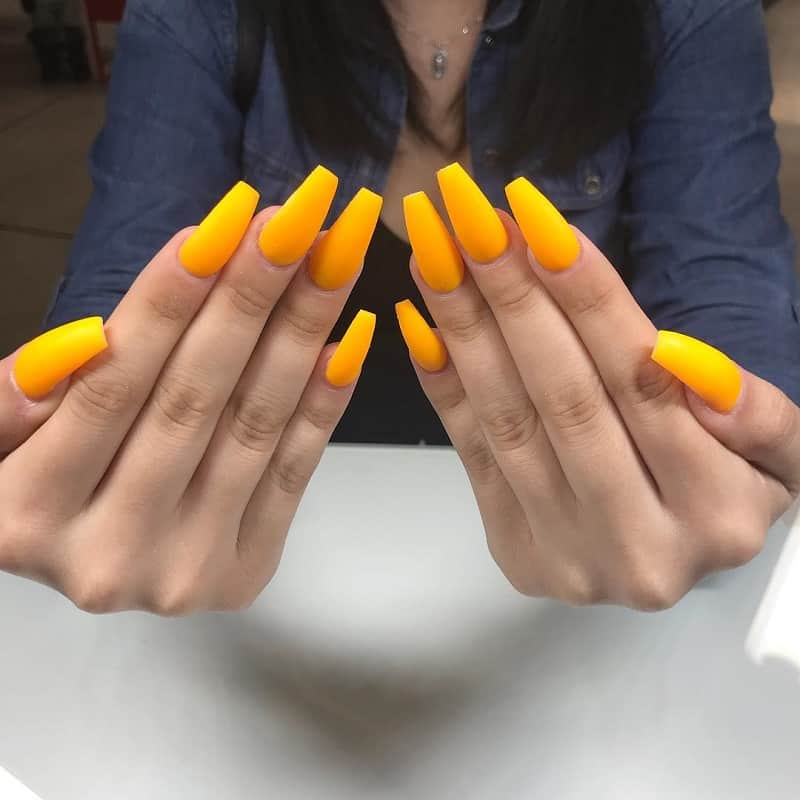 matte coffin yellow nails
3.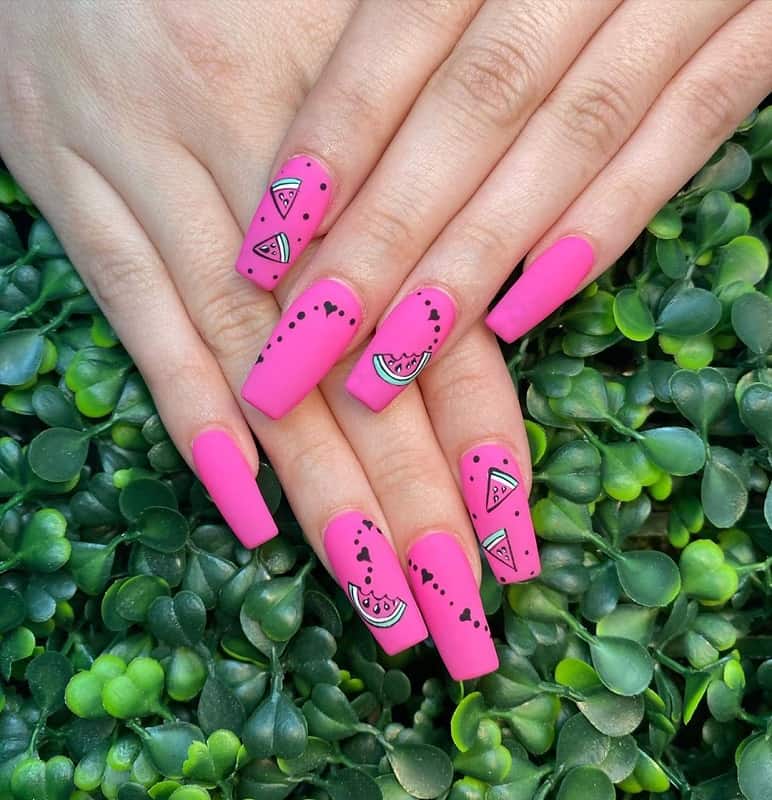 hot pink matte coffin nails
4.
matte coffin neon nails
5.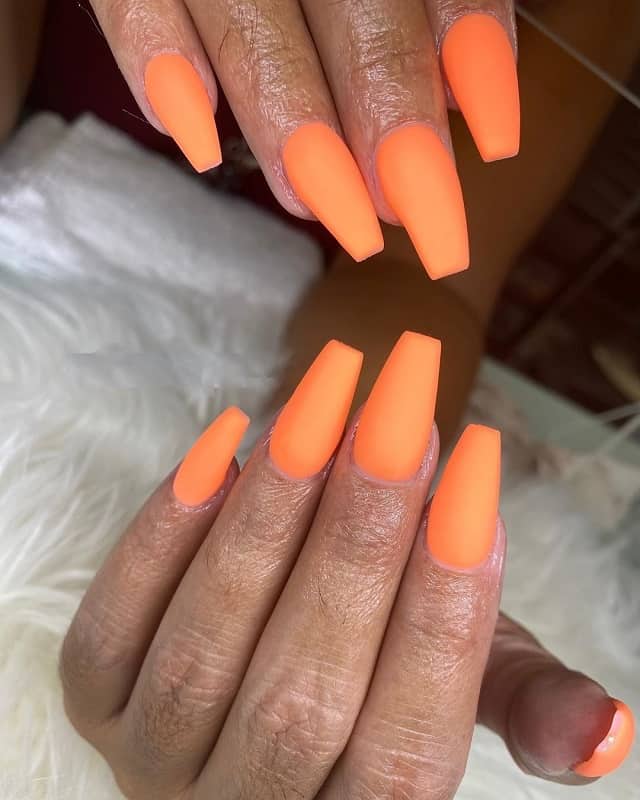 matte coffin peach nails
6. Matte Red Coffin Nails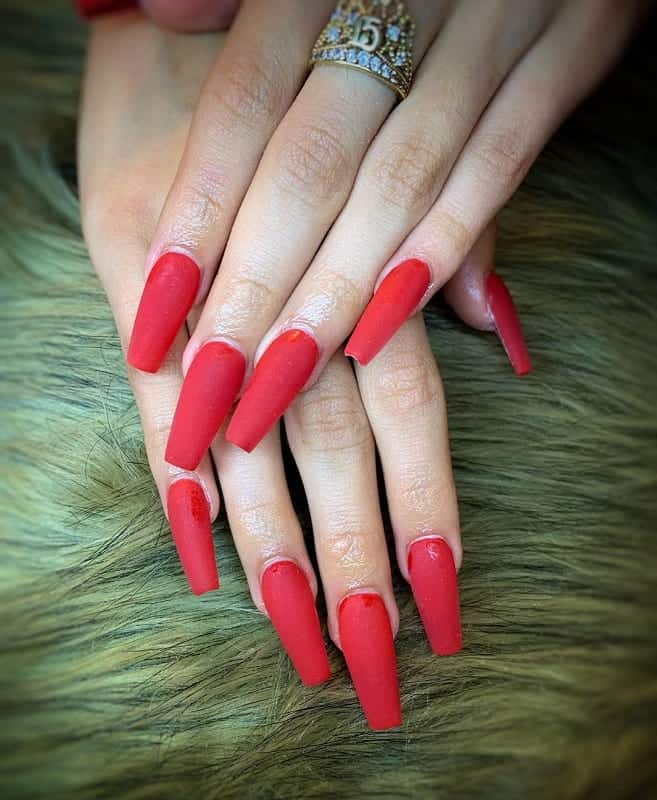 7. White Matte Coffin Nails
8. Matte Coffin Acrylic Nails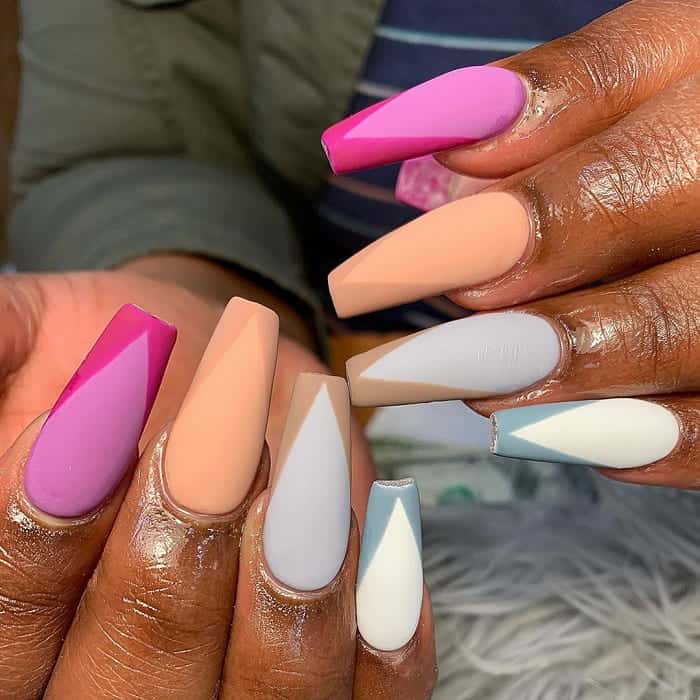 9. Matte Pink Coffin Nails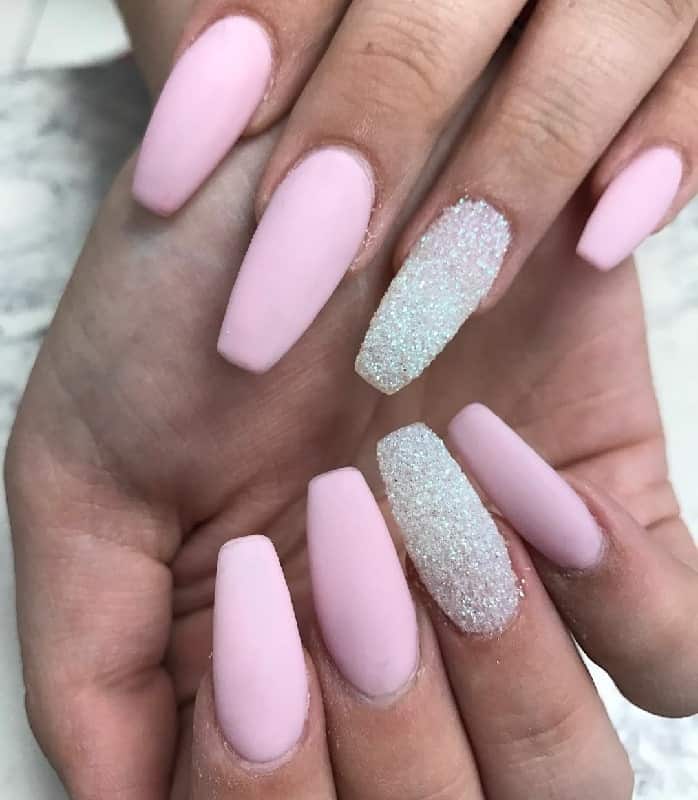 10. Matte Maroon Coffin Nails
11. Long Matte Coffin Nails
12. Matte Short Coffin Nails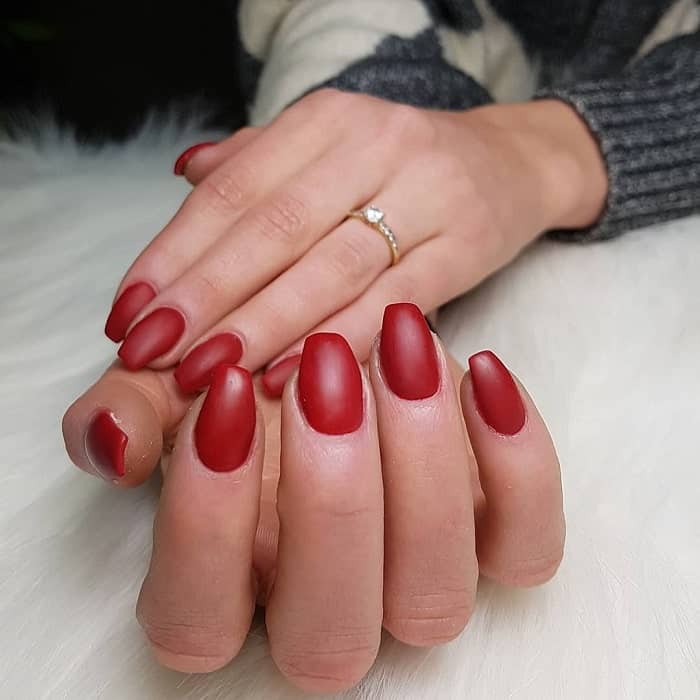 13. Matte Grey Coffin Nails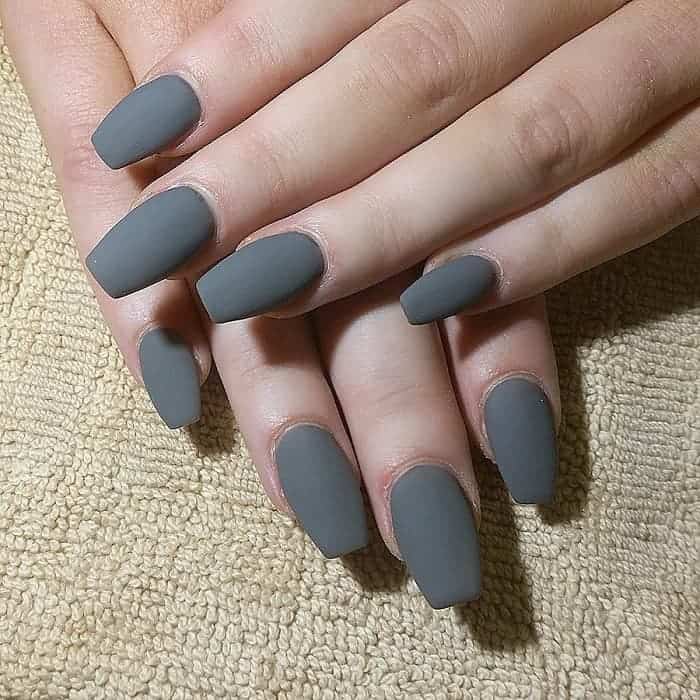 14. Matte Burgundy Coffin Nails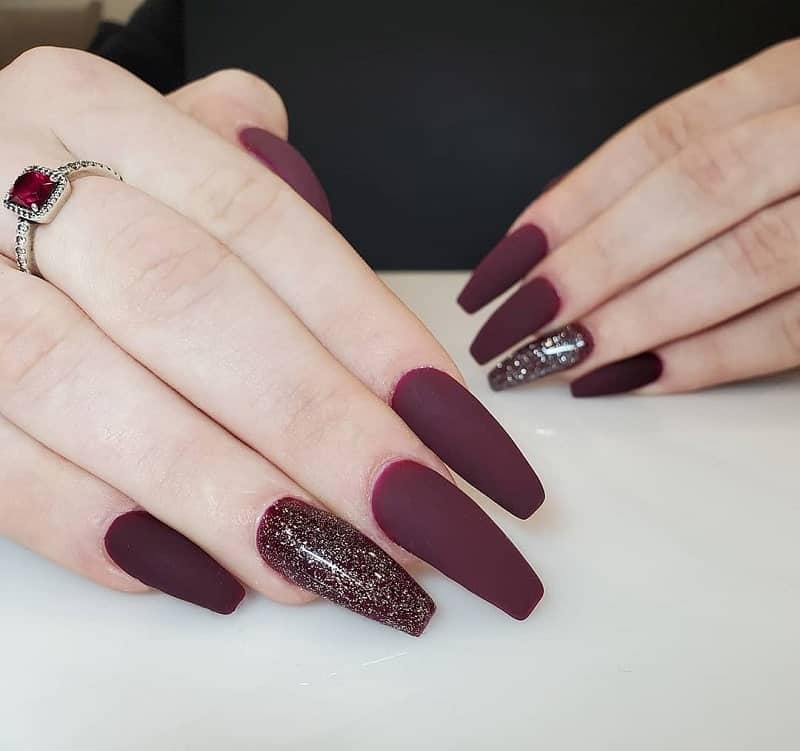 15. Coffin Shaped Matte Purple Nails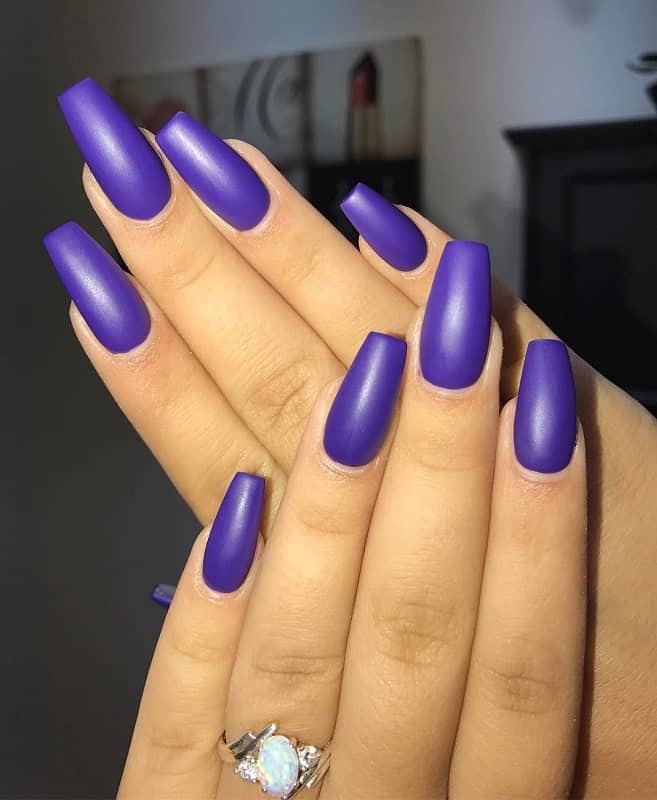 16. Matte Green Coffin Nails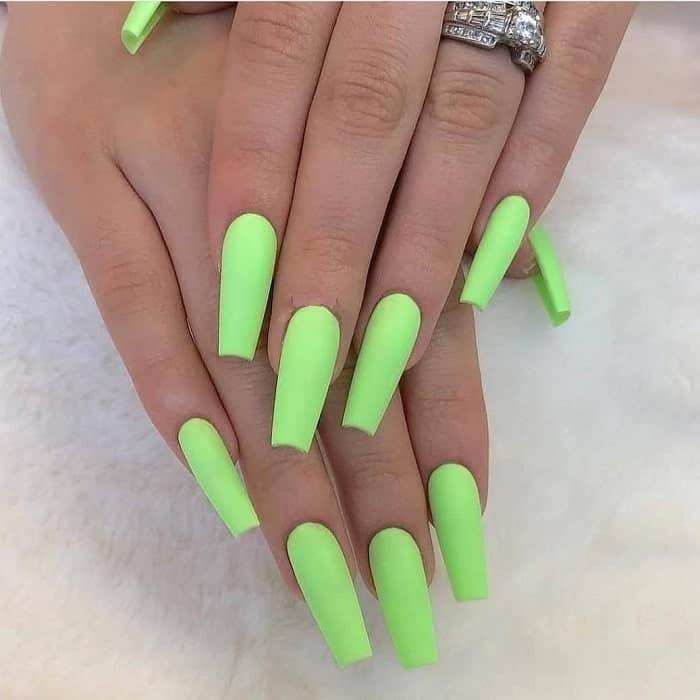 17. Blue Matte Coffin Nails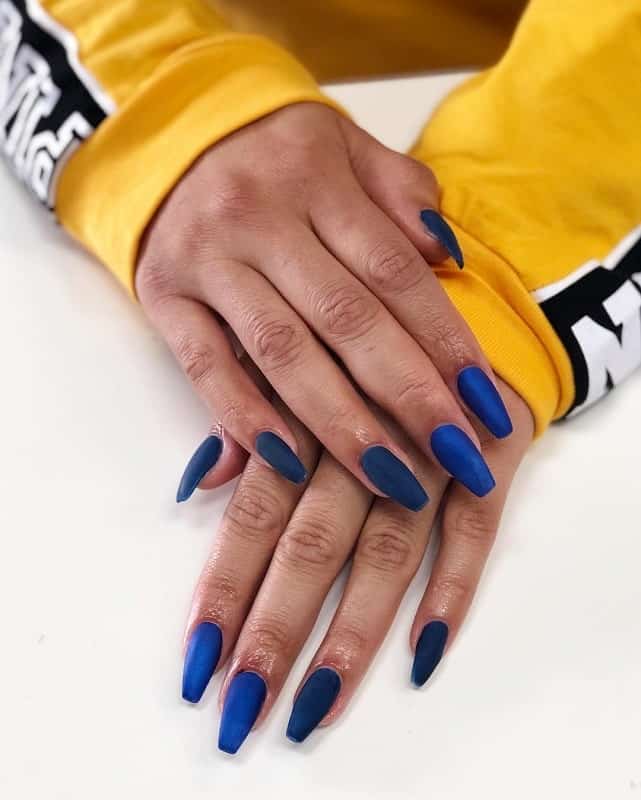 18. Clear Matte Coffin Nails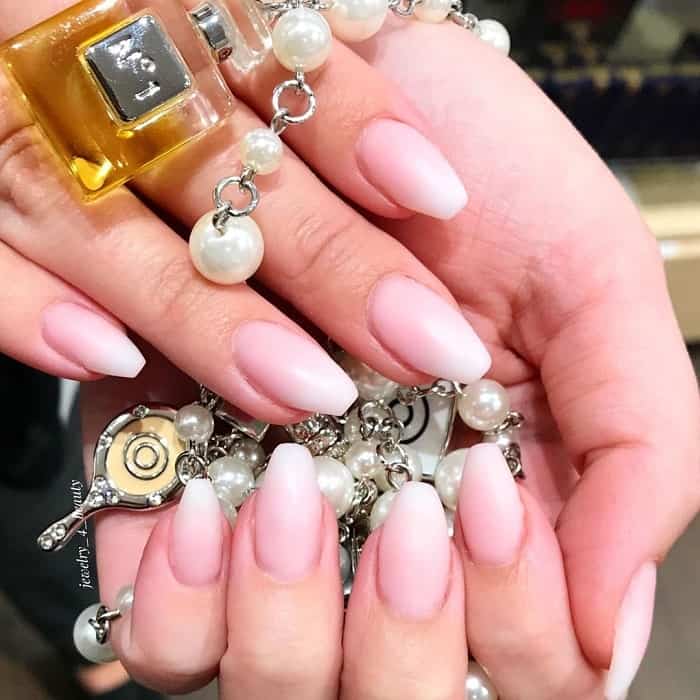 19. Orange Matte Coffin Nails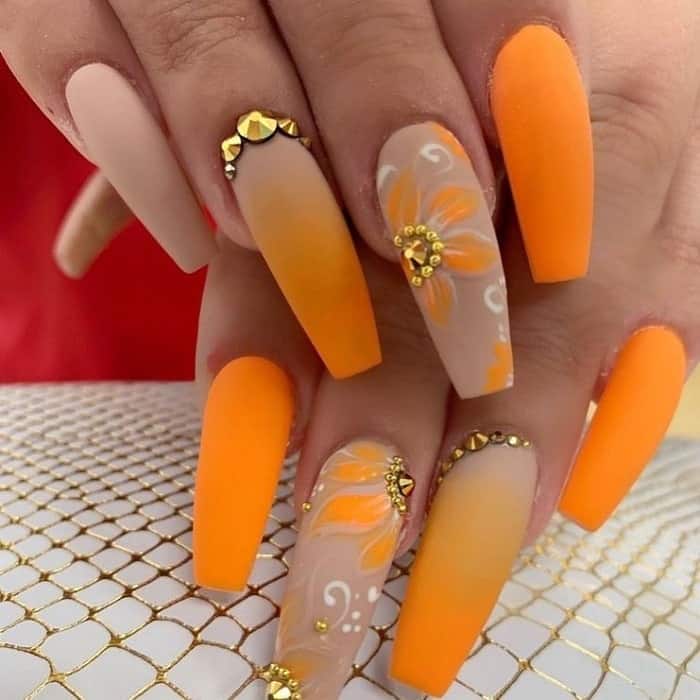 20. Matte Lavender Coffin Nails
21. The Nude Nails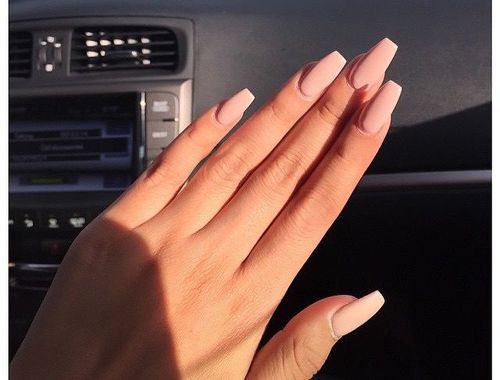 What are ballerina nails for if you can't flaunt them in nude shades? Anything from a matte pink blush to matte ivory –  whatever suits your skin tone – is a perfect way to highlight coffin nails. These nails are very understated and classy, although if you are headed out for a party, you might want some other style. For a romantic date or an evening at the opera, matte nude nails are the way to go.
Paint Nude Stiletto Nails to Get All the Attention
22. The Adam's Family Nails
In the pre-nail art era, long nails were viewed with a suspicious eye. If you have coffin nails and are sporting enough, paint them matte black. This gives a distinctly voo-doo look to the nails and is sure conversation-starter. Coffin matte nails in black are in fact, quite the rage on the runway too.
23. 3D Nail Art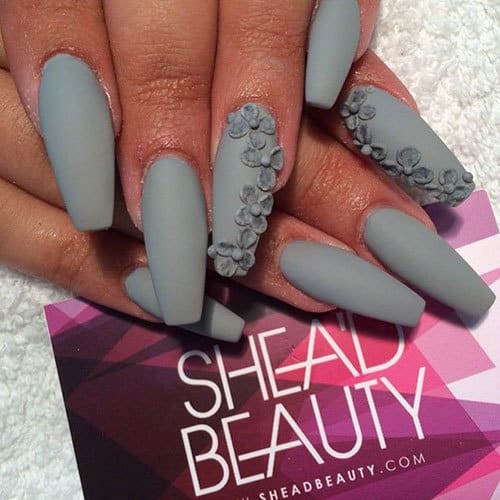 Matte coffin nails by themselves can be quite boring. But if you are not very keen to glam them up too much either, you can choose to incorporate a 3D nail art form on them. This adds texture to the nails and breaks the monotony. You still look classy, but with a hint of playfulness.
24. The 5-Nail Ombre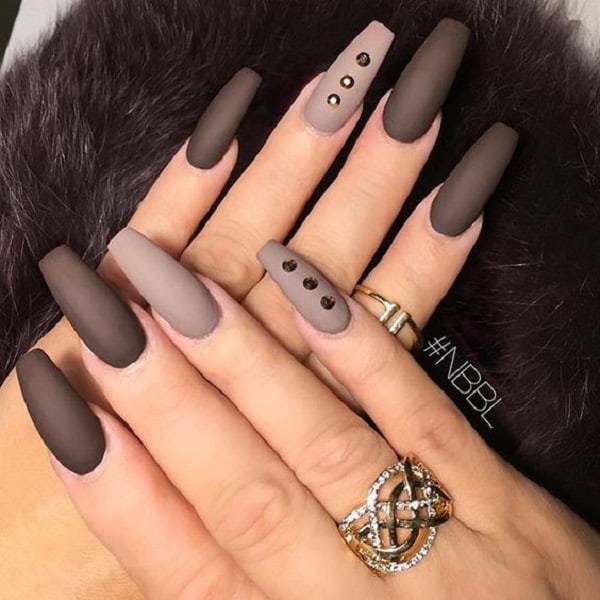 Another way to rock matte coffin nails is to paint all the five nails in advancing ombre nails, as seen above. Ideally, this pattern looks best of you to choose some striking shade – burnt sienna, red or purple – so that the contrasts are starker.
25. Matte-and-Glitter Combo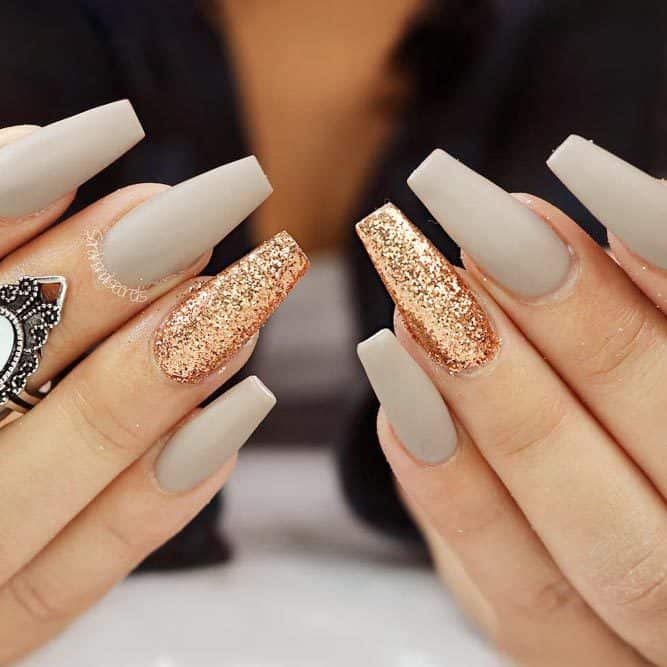 If you already have matte coffin nails and are on your way to a party, you can save time, by simply wiping off one nail in each hand, and painting on a glitter nail polish. This has the same effect as wearing jewelry! Alternatively, you may also choose to add the glitter nail polish on a portion of a matte painted nail, preferably by using a color blocking technique.
Glitz It Up with Holographic Nail Designs
26. The Geometrical Matte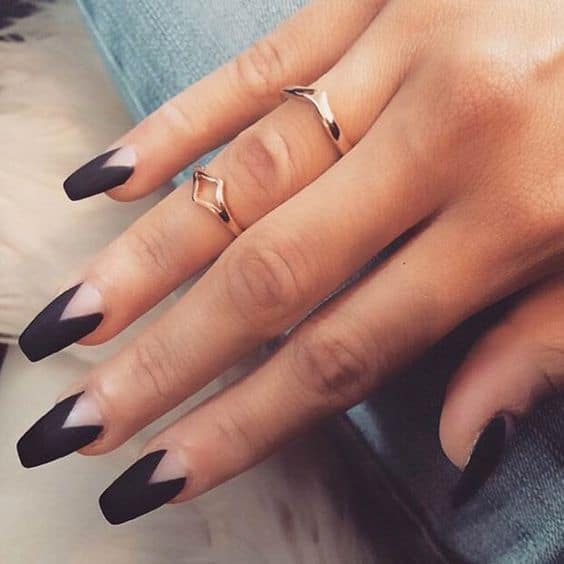 Instead of painting the coffin nails in traditional swipes, you can use your matte nail polish to create a geometrical pattern on the coffin nails. Geometrical patterns come out nicely on coffin nails, considering that you have a greater surface area to work with.
27. The Matte-and-Rhinestone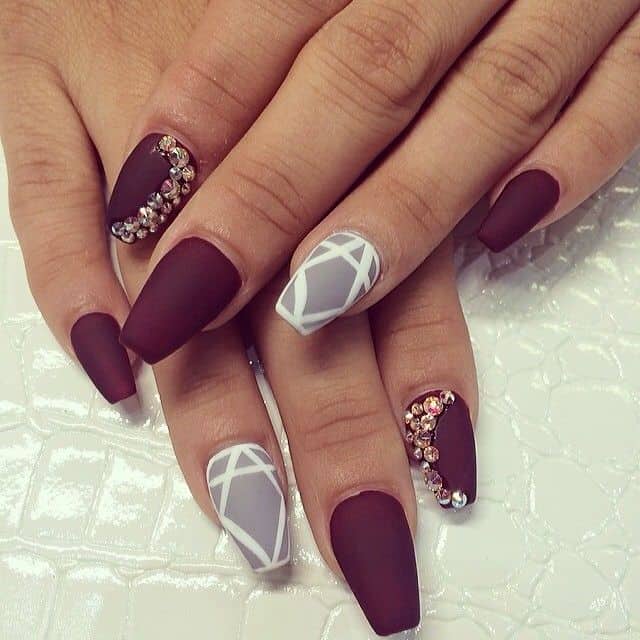 This is another quick fix to muted matte coffin nails. Glam them up by attaching rhinestones. The glitter of rhinestones complements the light-absorbing effect of the matte nails, making the nail art stand out remarkably. Using a dark matte base is a brilliant way to incorporate rhinestones.
28. The Deep Blue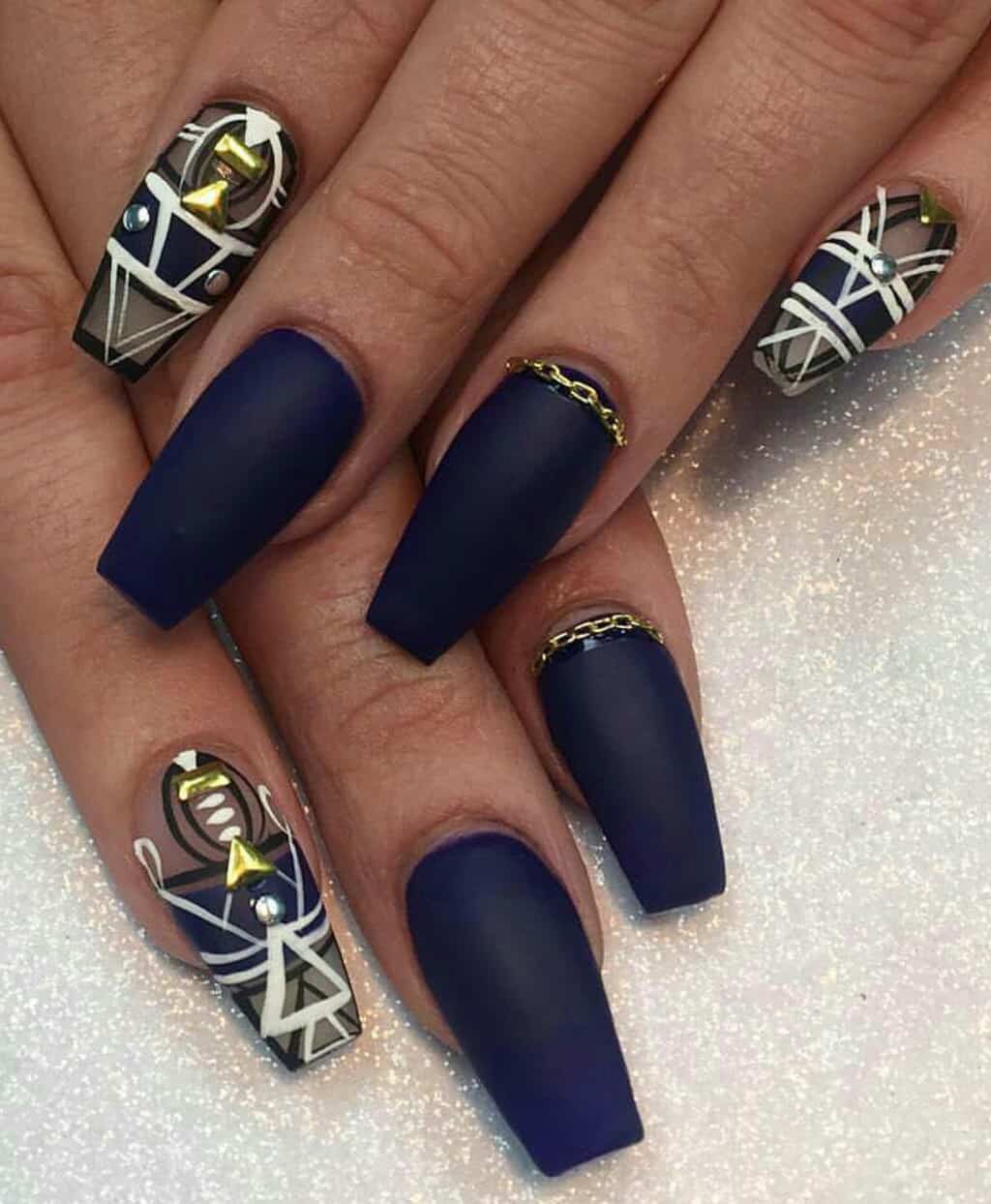 Although regular deep blue nails also eye-catching there is something other-worldly about blue matte coffin nails. A rich navy blue adds a level of depth and texture to the nail, while the matte finish prevents distractions in the form of excessive gloss.
29. Simple Ombre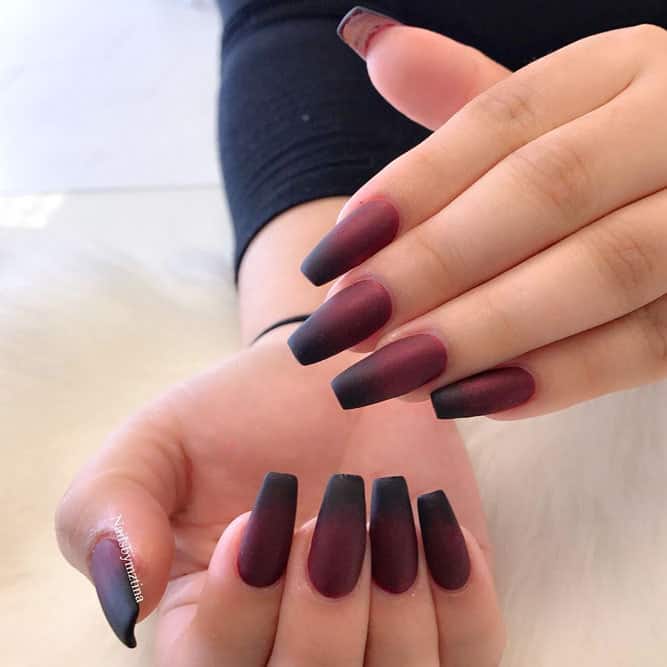 Having long, coffin nails is the best way to showcase your ombre-creating talents. With a canvas as long as the coffin nails, you can bring about the transition in shades beautifully. Matte coffin nails have this distinct advantage over shorter nails. Incidentally, if you are planning on getting sunset nails, go for this style.
30. The Sparkle Effect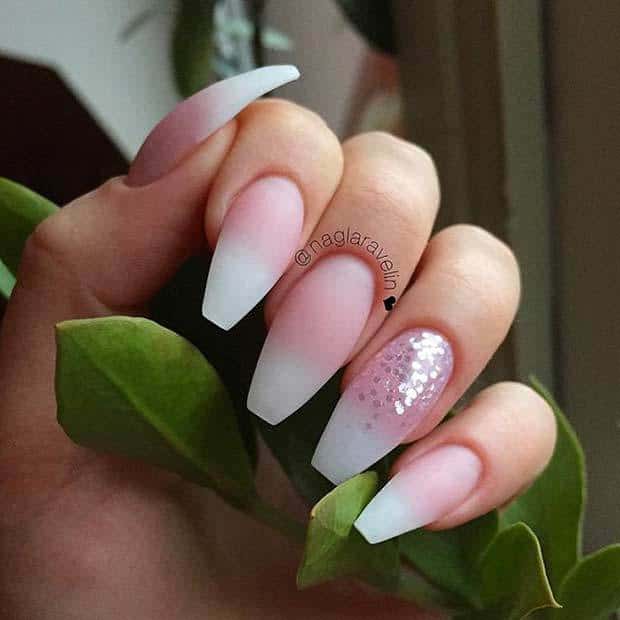 Instead of adding rhinestones, you can also dust a little glitter on the nail tips or at the cuticles. An ideal combination would be a dark plum base and gold sparkles. Alternatively, you can also choose to pair the glitters with a light shade, although that would be a good idea if you were out on a daytime occasion. When the sun sets, go bold with the contrast.
Alluring 40 Marron Matte Nail Designs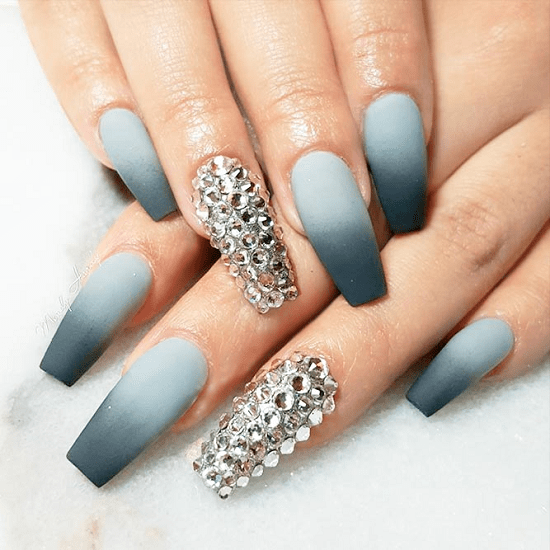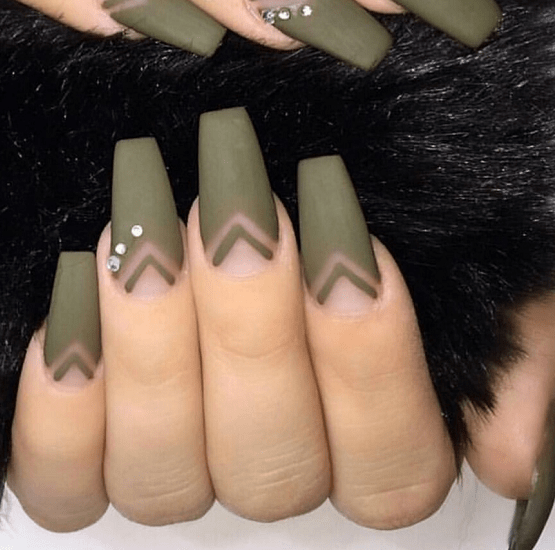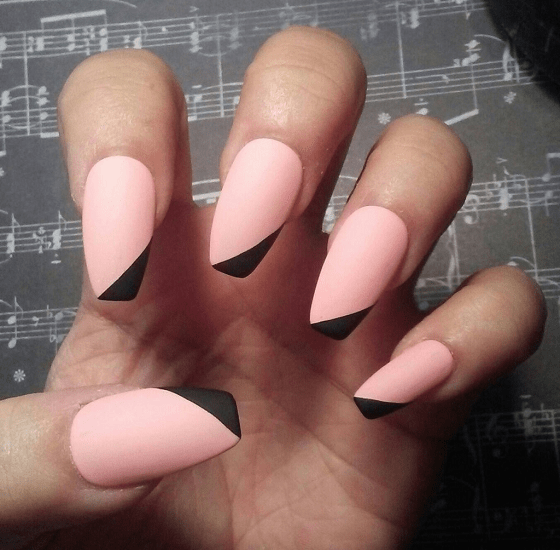 Matte coffin nails are a style statement. They may not be hard to pull off, but often women get carried away with the available canvas of the nail and end up with a garish nail art. If you are not sure whether your nail art is pretty enough, go for a matte finish. It is safe and can be easily tweaked.