If you're a true expert when it comes to nails, you know it's all about the details and paying attention to the trends. Line nail designs are actually a spin-off of abstract nails. If you've ever seen an abstract painting, you know an artist will sometimes add bold black lines to enhance a painting's story.
The same technique can be applied to nails. Using thin lines puts a different spin on a plain pink nail, for example, and a thick black line will enhance the mood of an orange nail for Halloween.
Curious how you can get started with line nail designs? We'll show you!
Nail Design Ideas Based on Lines & Patterns
Below are 35 interesting ways to do line nail art. While some designs may look better on longer nails, the nice thing about line designs is they are versatile, so you can wear them on any nail shape. Check out these alluring styles!
#1. Gold V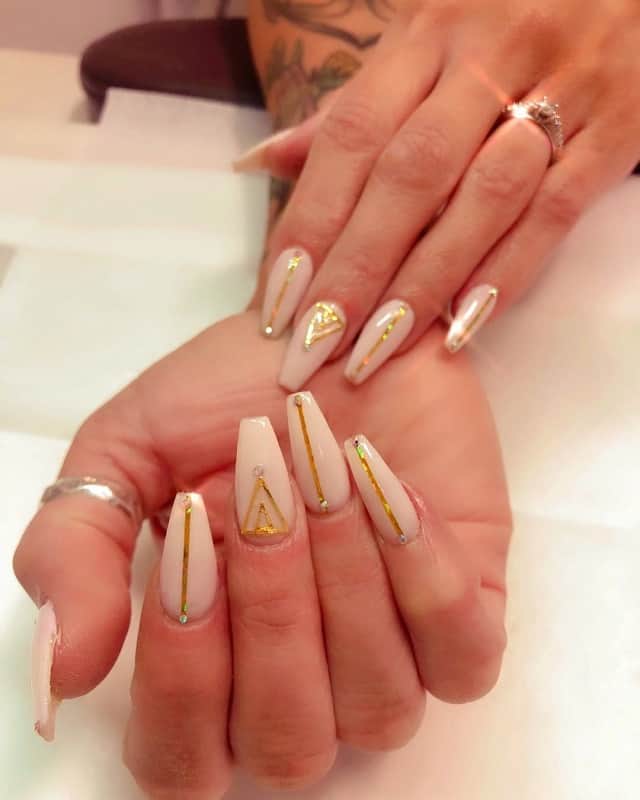 After painting your nails nude or a very light pink, use gold polish to paint super thin vertical lines from tops to tips and perfect triangles at the tops.
#2. Light Pink with Neon Lines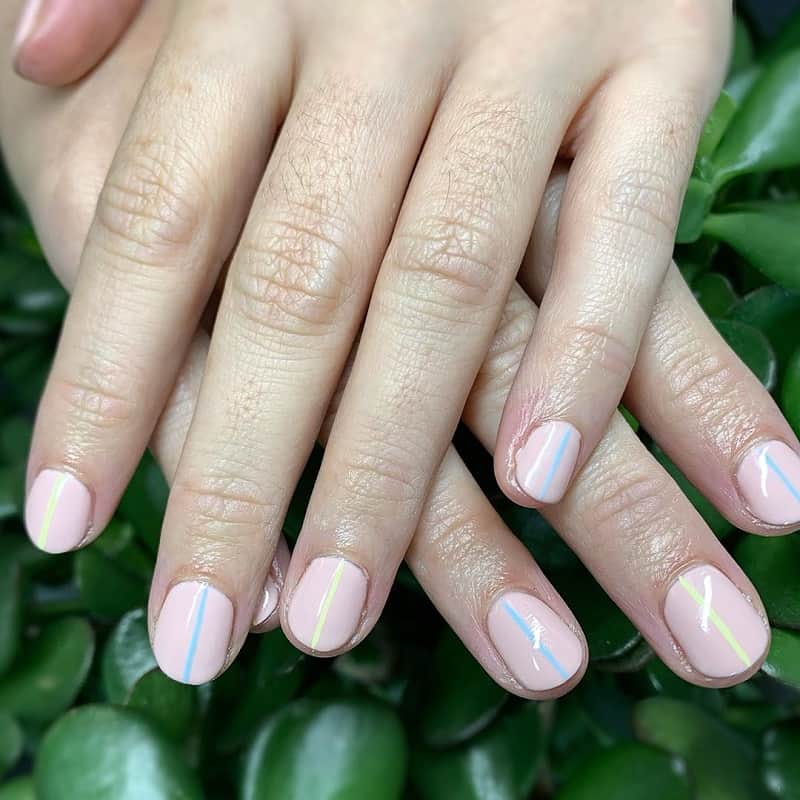 Although the line designs here are in neon colors, they're not too noticeable on a light pink short round nail. If you like subtlety, this line nail design is for you.
#3. Tic Tac Toe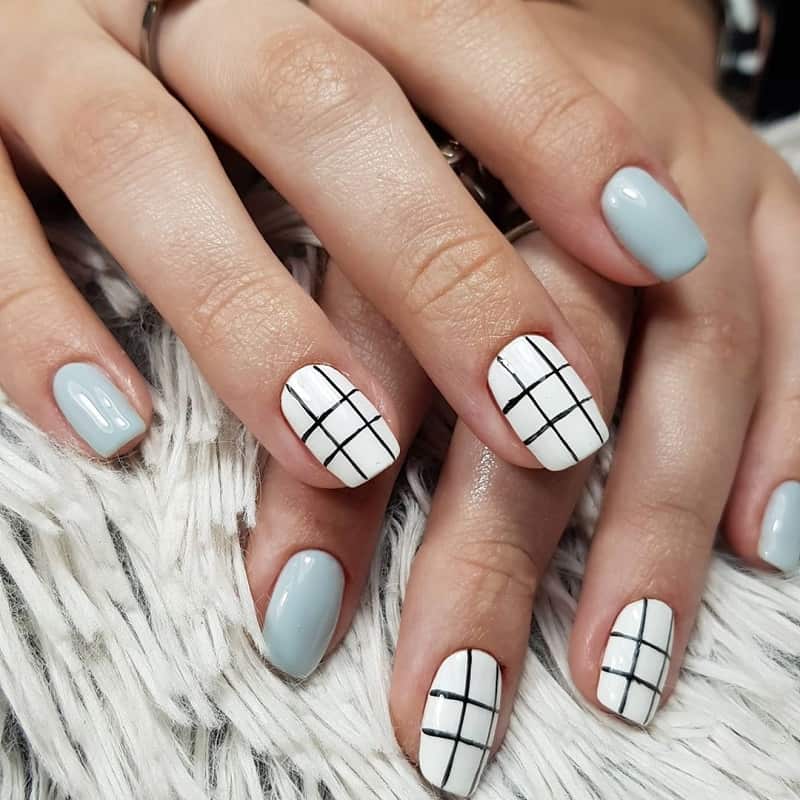 The beautiful way black lines intersect on white nails will almost have you tempted to fill in the boxes with a game of tic tac toe! Pair the lines with one or two light blue polish nails.
#4. Dots and Lines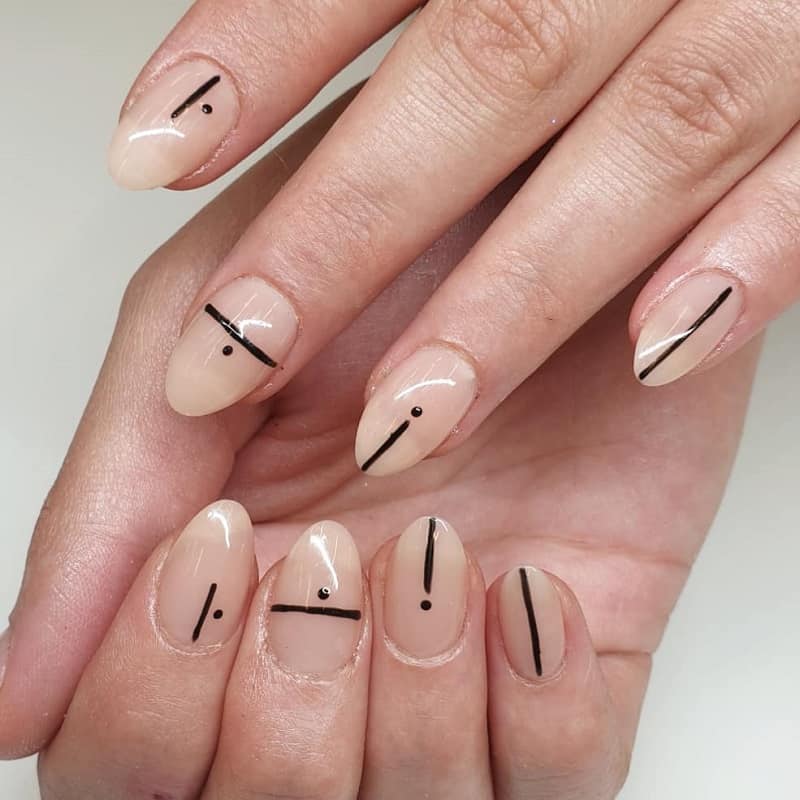 A simple DIY line nail design you can do right from the couch! On nude or beige nails, use a thin black brush to paint on vertical and horizontal lines with a small dot on the side or above.
#5. Nail Design with Silver Lines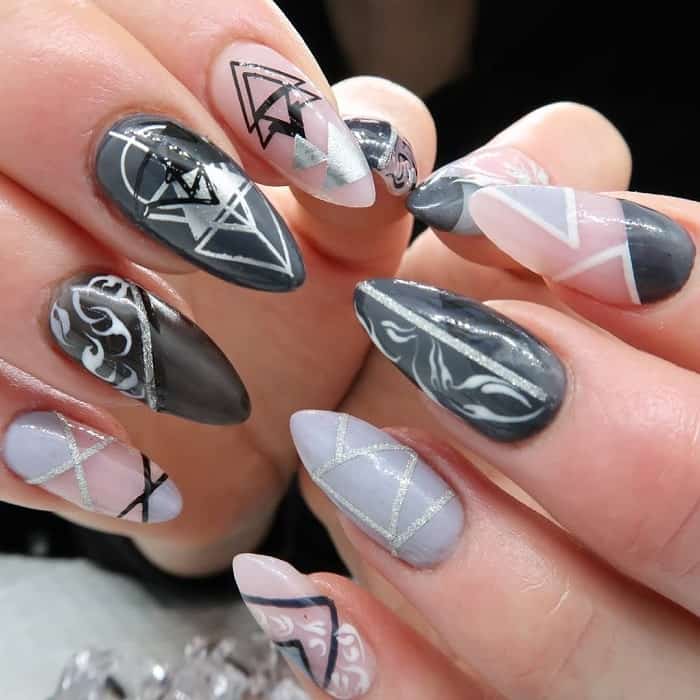 Remember how we said it's all in the details? Short stiletto nails boast both dark and light feminine colors with silver glittered lines in no particular pattern.
#6. Toe Nails with Line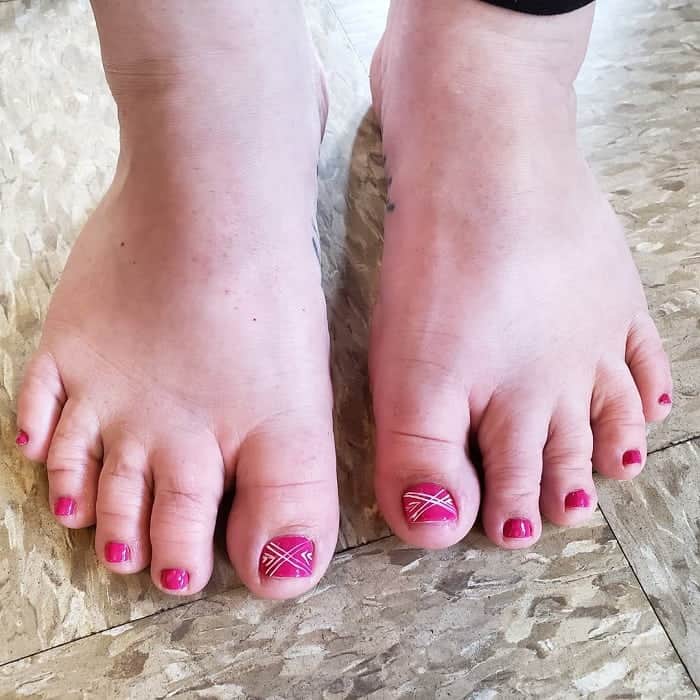 Make sure you show some love to your toenails too! Just give them a coat of bright pink polish, adding criss-crossing silver lines and arrows on the big toenail.
#7. Acrylic Nail Design with Lines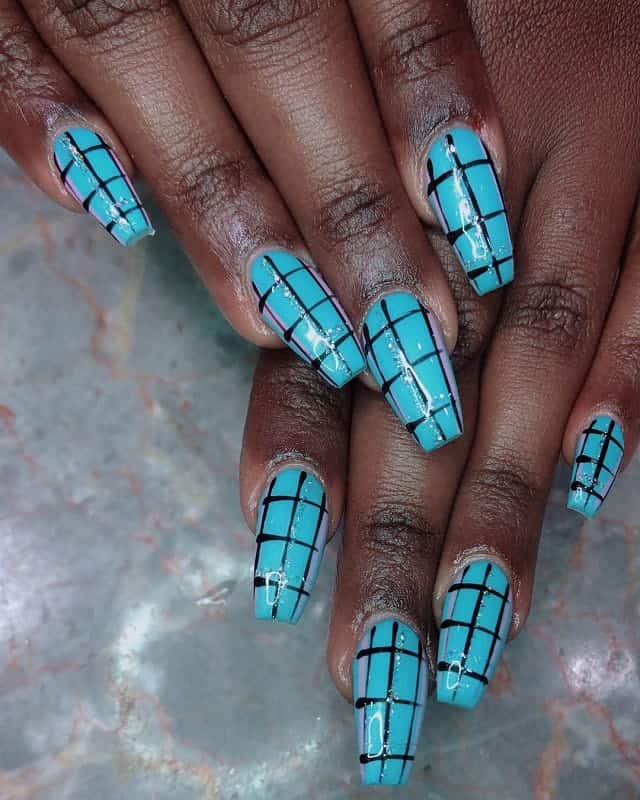 Love bright colors? An aqua blue is calling your name, especially with the thin black and barely there pink and purple lines on the sides.
#8. Nail Design with Lines and Dots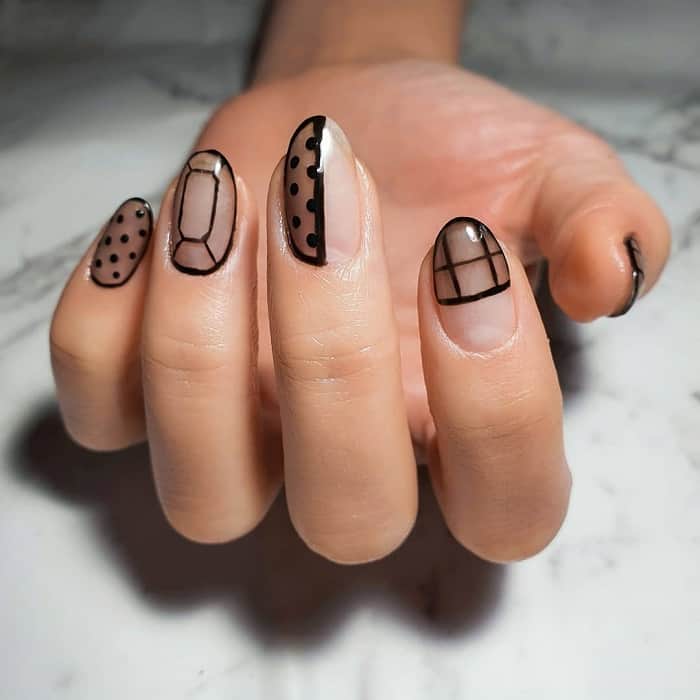 Another way to use lines and dots together includes these long oval nails. They use several popular nail techniques, including the use of negative space, to show off black outlined nails with lines on different shapes.
Nautical Nails: 25 Designs for Sea Lovers
#9. Gold Line Nail Design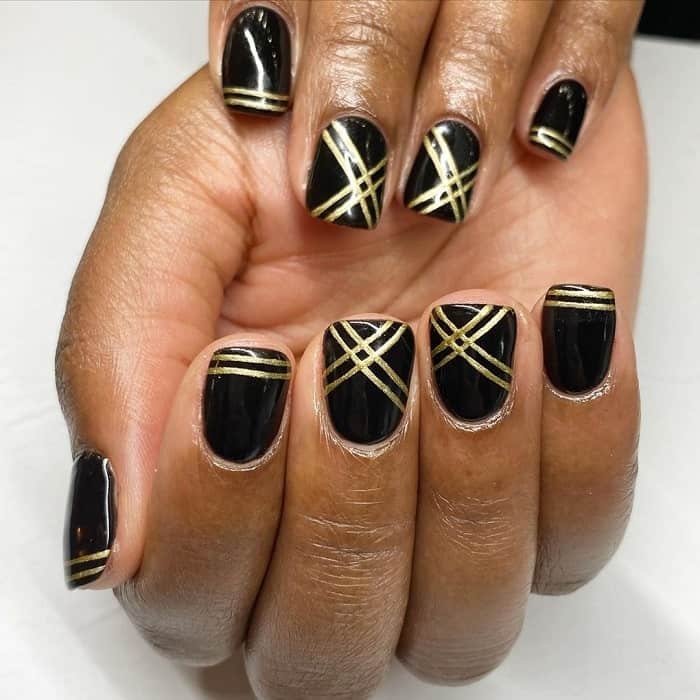 Two colors we will never judge you for using together: black and gold. For pure edge, you must try double line designs in gold at the edges of nails.
#10. Nail Design with Blue Line
The classic French tip takes on a new look when its edge is lined with a thin black strip and dusty blue.
#11. Clear Nails with Line
If the true minimalist in you is screaming for nude nails, at least give it a clear coat for shine before using purple to make a chain link fence line design!
#12. Gel Nail Line Design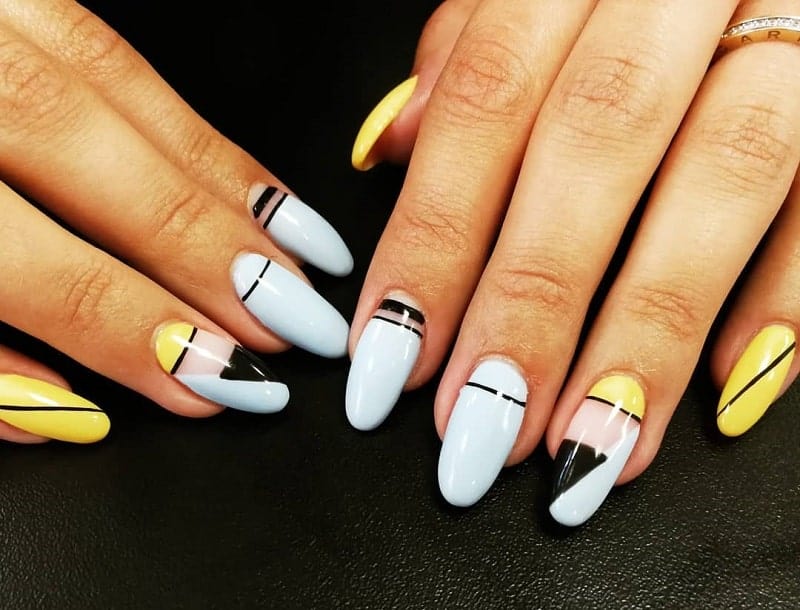 On long almond nails, pure white and bright yellow work together to show off thin black lines. Unless you have a really steady hand, you may need to see the professionals for this precise of a design.
#13. Nail Design with V line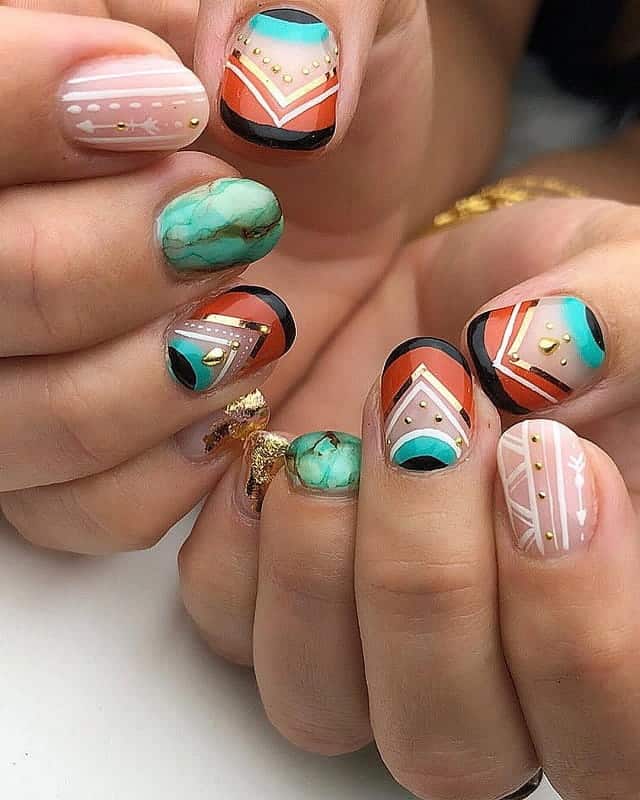 Where do we start with a line nail design this packed with detail? From the bold orange, gold, and turquoise on chevron nails, foiled pinky nails, marbled green and blue accents, and dainty white lines with gold dots. We love it all!
#14. Geometric Line Nail Art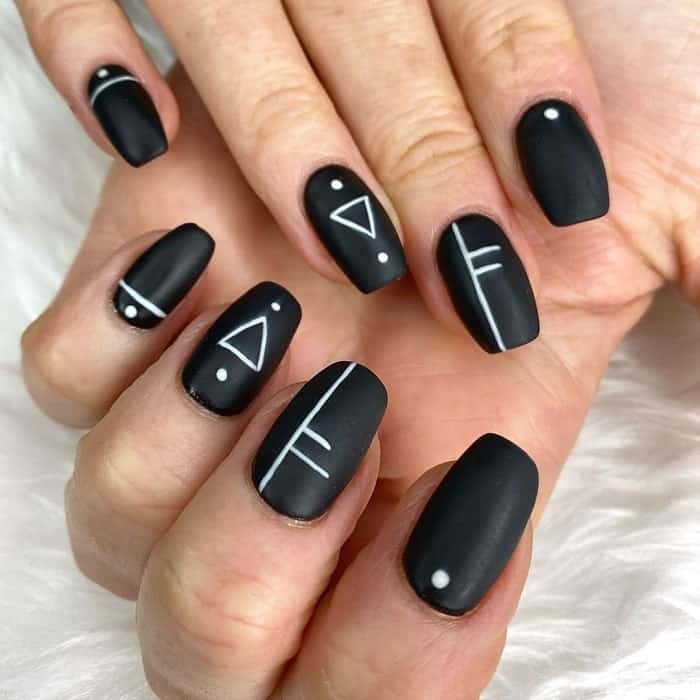 Now we know you've seen our favorite geometric nail designs, but did you know you can borrow them for line nail designs as well? Here is a sexy black matte nail with thin white lines and dots to try.
#15. Nail Design with White Lines
What do you get when you mix pink ombre nails with large holographic crystals and white lines? A truly Insta-worthy nail design!
#16. Little Spider
These classic black and white tones suit any lady with short round nails. A few criss crossing black lines on light pink polish is all you need for an edgy lined nail design.
#17. Baby Pink
A nude nail polish is perfect for office work, as well as date nights in that LBD. To liven it up a bit, use thin black lines to create the art above.
#18. Lighter Tones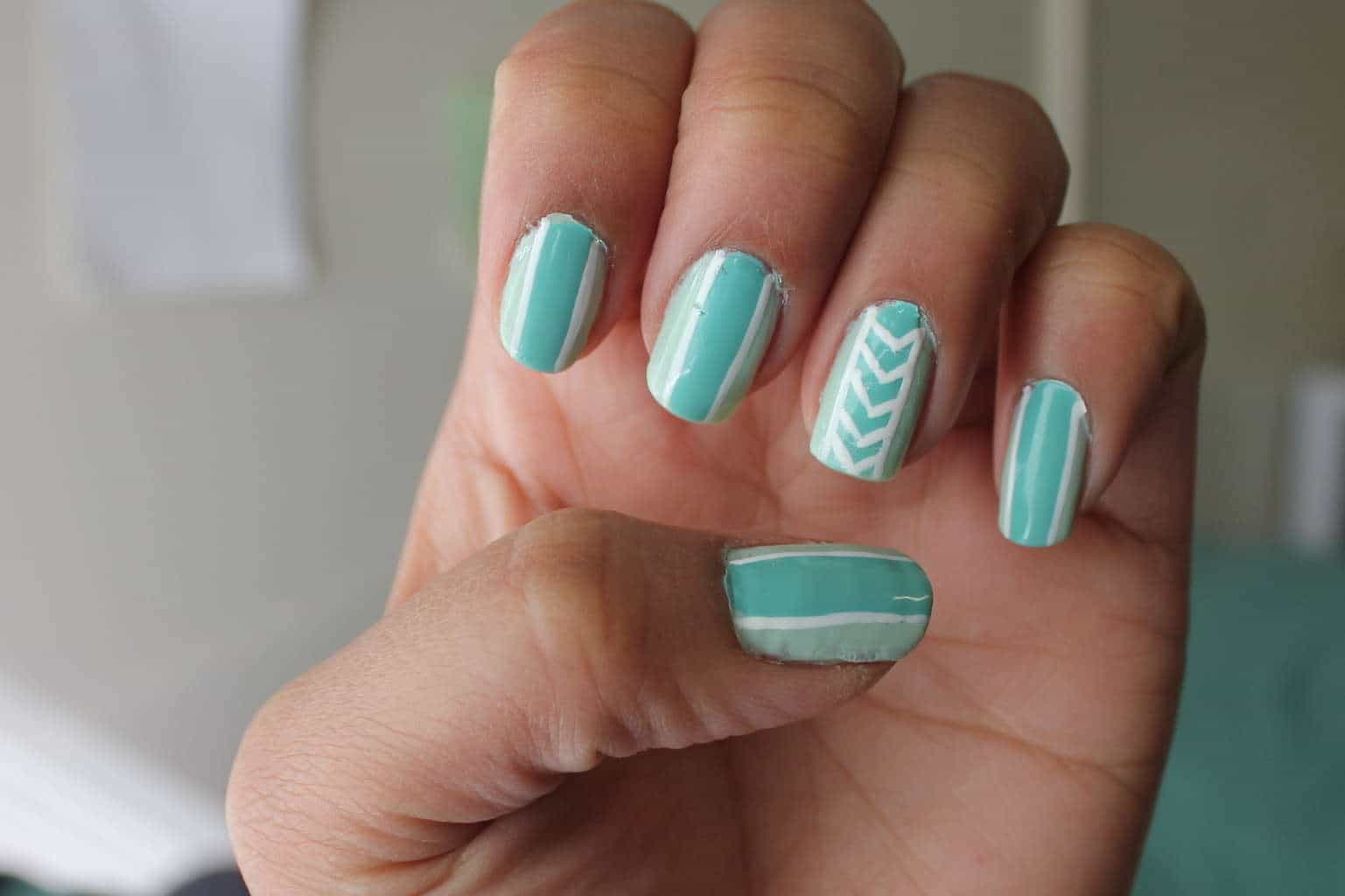 This blue line nail design screams spring. Use white polish to create a cute chevron on the accent nail and fill it in with mint green.
Radiant Red & Black Nail Designs
#19. Flora And Fauna
Green nails are a hit during the spring period. They represent nature and all the bloomed flowers, while these white lines make it look like a flower nail art, and they are giving such positive and chill vibes.
#20. Umm, Yes Please?!
Ultra long, sexy green nails with a multicolor line design are hard to resist. We bow down to the amount of attention that went into creating the black and pink boxes and complementing corners, not to mention the gold crystal tops!
#21. Tie Dye Lines
Make way for tie dye lines on pure black nails! After painting the nail black, pat multiple nail colors on a small sponge. When the black base is dry, use a stencil to pat the sponge colors on top.
Feeling brave? Add these glowing nails to the list!
#22. Miss Burberry
Nothing says high-end like this line nail design inspired by Burberry. The decadent design just asks for a tan base and thick white, black, and red lines on top.
#23. Show Some Love
Show some love to a sports team or university with a line nail design. These sparkly green squoval nails beautifully show off bright yellow and mint green lines.
#24. Ombre with White Lines
Light blue to light purple to dark pink is stunning as ombre. Top it off with medium-width white lines that criss cross.
#25. Sunset Scenery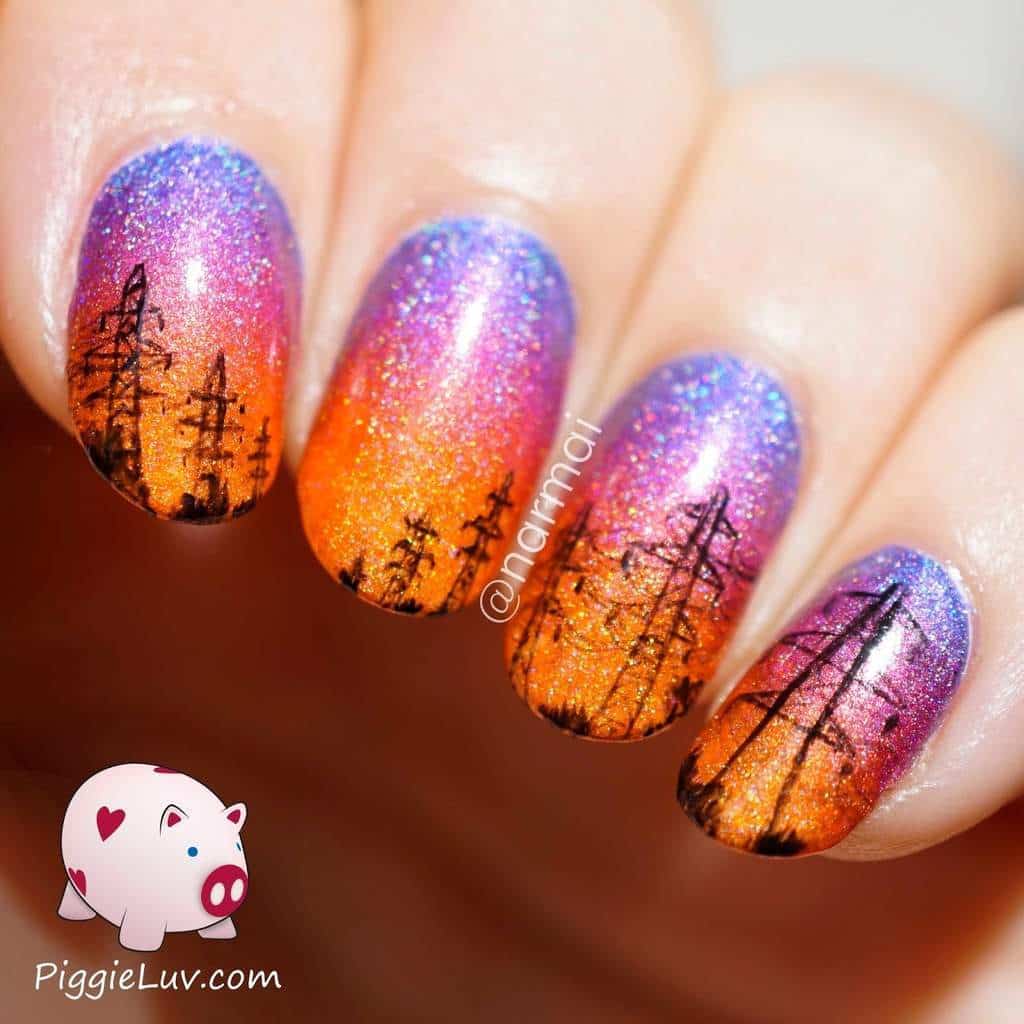 Imagine you're somewhere else easily with sparkly ombre nails in sunset colors. Using thin black lines, you can create mountains or city cell towers.
#26. The Halloween Spirit
This pumpkins and polka dots with an orange and black lined pinky nail are perfect for Halloween. A design like this allows plenty of room for creativity to take over.
#27. Criss Crossed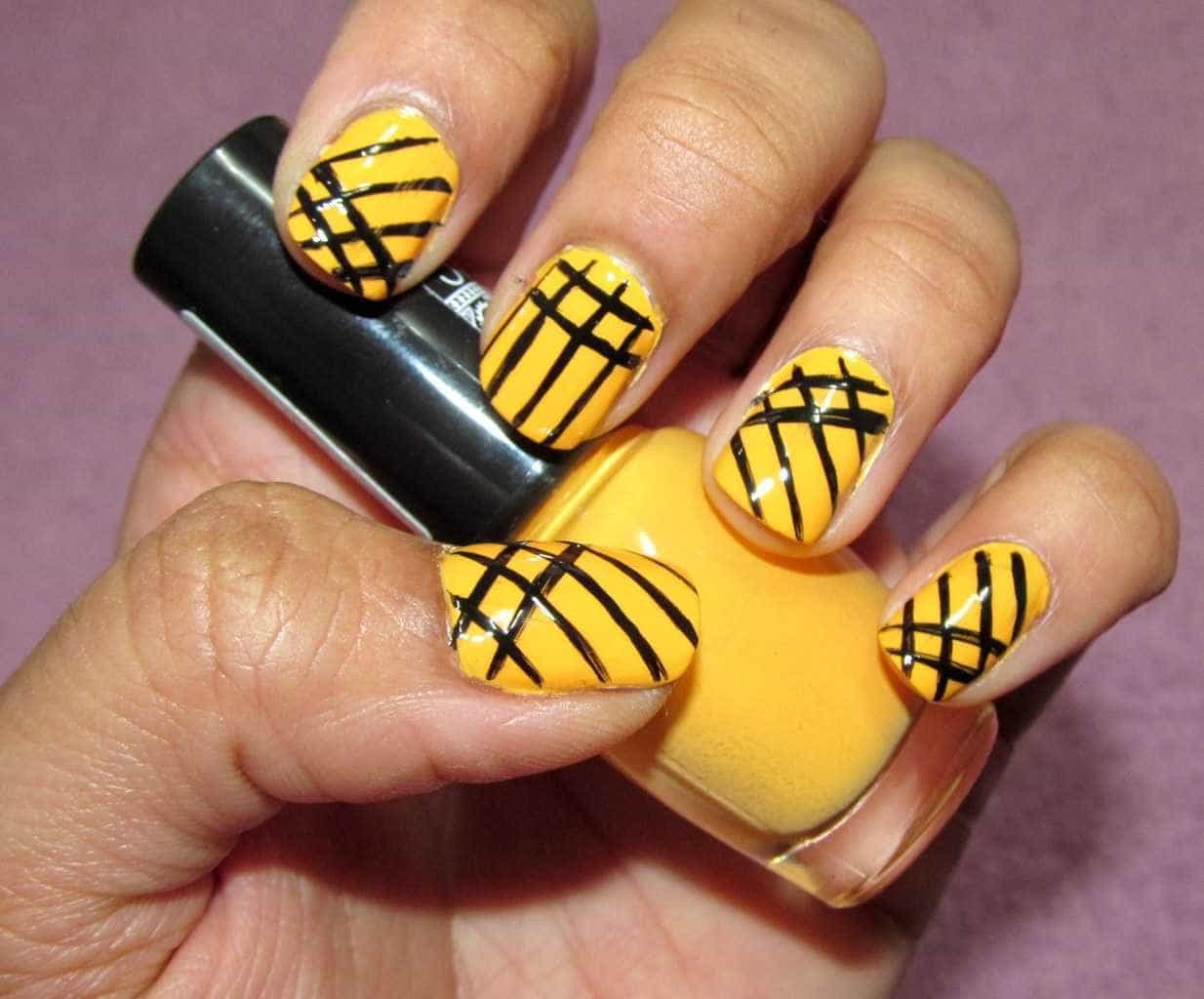 Proudly rock these bright yellow nails with bold black lines. This is one style you can certainly do from home, just draw criss-crossing lines on each nail.
#28. Stars and Stripes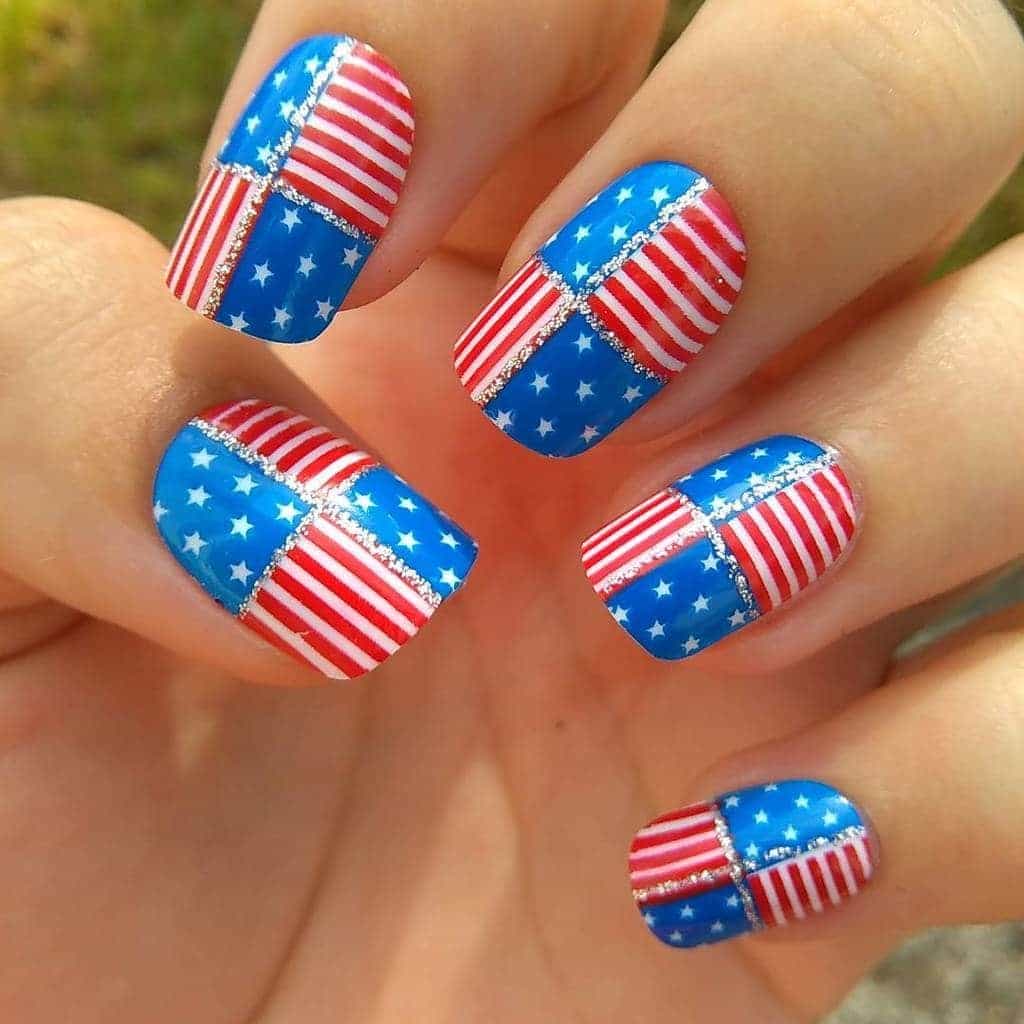 These squoval nails are perfect for ladies off to a 4th of July party, Coachella, or anywhere they want to represent some American pride with a glittered line design.
#29. Matte Nude And Cute
Light beige with black matte nail polish and a minimalistic line nail design is perfect for everyday life. The short rounded style of nails are practical, but their design definitely isn't!
#30. Bury Me With These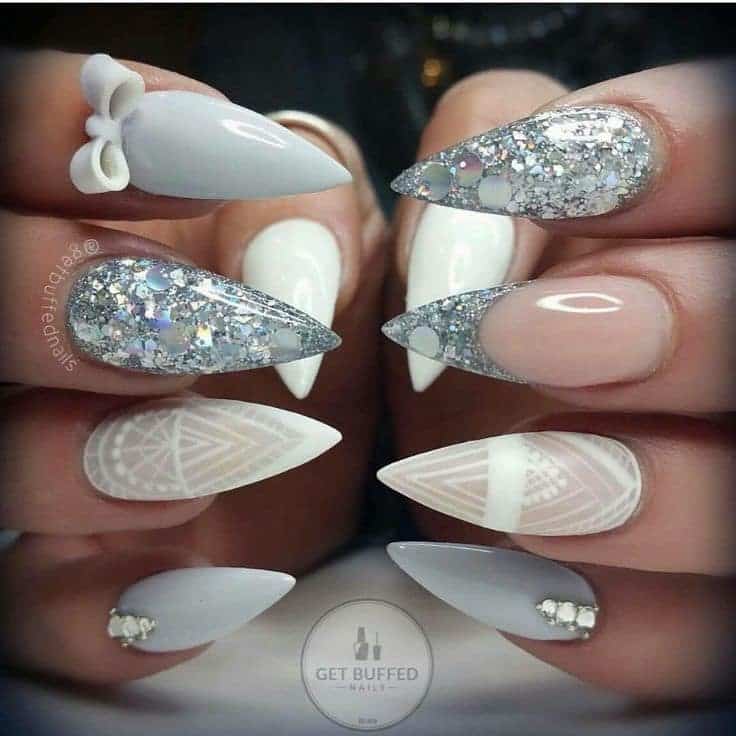 Long stiletto nails boast light grey and sparkling blue on the outsides of a matte white line designed accent nail. Feel free to play with an arrangement of crystals.
#31. Glimpse of Christmas
Square short nails with this golden line nail design are looking holiday ready! Don't forget to add the tiny white crystals at the tips of this French mani.
#32. Artsy
A perfect example of how mixing lines of all kinds can bring short stiletto nails to life. We love the combination of vertical straight lines, swirling paisley, and sparkling diamonds featured together.
#33. Some Zebra Vibe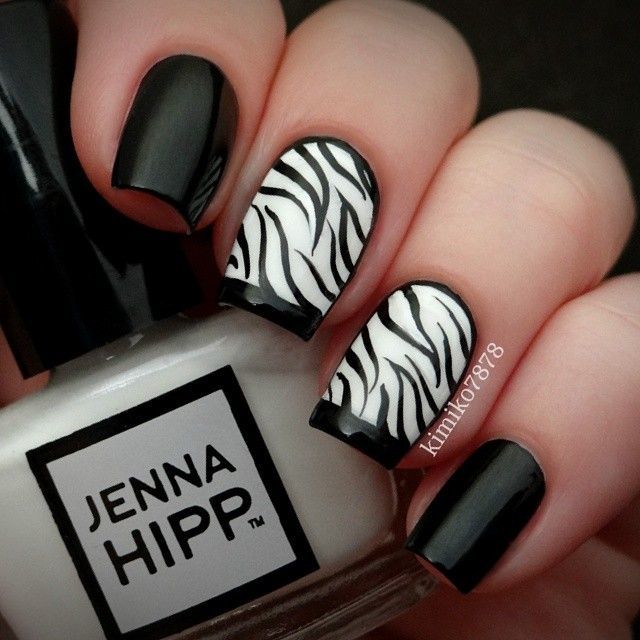 This animal-inspired line nail design has more meaning to it than you'd think. Because no two zebras are alike, the zebra symbolizes identity or individualism.
#34. Gray Nails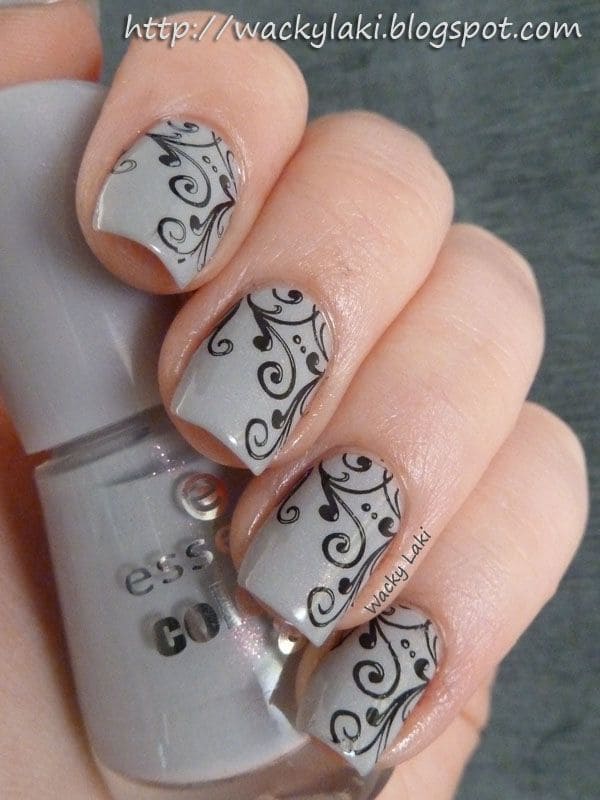 Essence is well known for having amazing nail care items worldwide. Try their light grey polish on long square nails with black swirling lines.
A classic juicy red is incomparable. These nails with a hint of dark green are perfect for Christmas action, so keep these in mind for long square nails.
Get These Nails On Your Birthday!
Try Out These Epic Line Nail Designs
Line nails will probably be around for awhile, but don't wait too long to try them! Hurry to the salon and be sure to bring our list of amazing line nail designs!