20 Alluring Line Nail Designs To Try
Are you ready for some amazing line nail designs that you will adore? They are actually a true nail art that women have fallen for. Nail art is actually the most creative way can come up with when painting your nails. It is done on either your natural or fake nails as well as toenails. The only problem when we are talking about nail art is finding the one (nail tech.) If you are not able to do these on your own because you are not that handy, you must find the right nail lady.
When Did Line Nails Start?
Women started loving it and adoring it during the 2000's. A lot of line nail designs, or nail art in general, has been published in many magazines as well as done for some commercials. But, nowadays, you can find all of this online. Everyone is publishing their nail art content online, in order to get the recognition for their work. Slowly cute, straight and zic zac lines started appealing to women, and here we have it now.
Stylish Line Nail Designs
#1: Little Spider
Itsy-bitsy spider climbed up the water spout, down came the rain and washed the spider out.
Out came the sun, and dried up all the rain, and the itsy-bitsy spider climbed up the spout again.
We all know about this nursery rhyme, but have you known about this line nail design? It looks like someone had found inspiration off of a spider web. These classic black and white tones could suit any lady out there. They are short and super cute. Oh and also, in case you're wondering, the spiders are an ancient symbol of mystery, power, and growth. As the spiders weave a web so should people weave their own lives. Spiders are a reminder that our choices construct our lives. Let your choice be this amazing nail design!
#2: Baby Pink
This baby pink nail color has a little bit of edginess due to the black lines on the nails while looking pure at the same time. They could be a perfect option if going to a baby shower or if you are on a date. Remember, guys like it natural and simple, so this combination is a killer one when it comes to them.
#3: Lighter Tones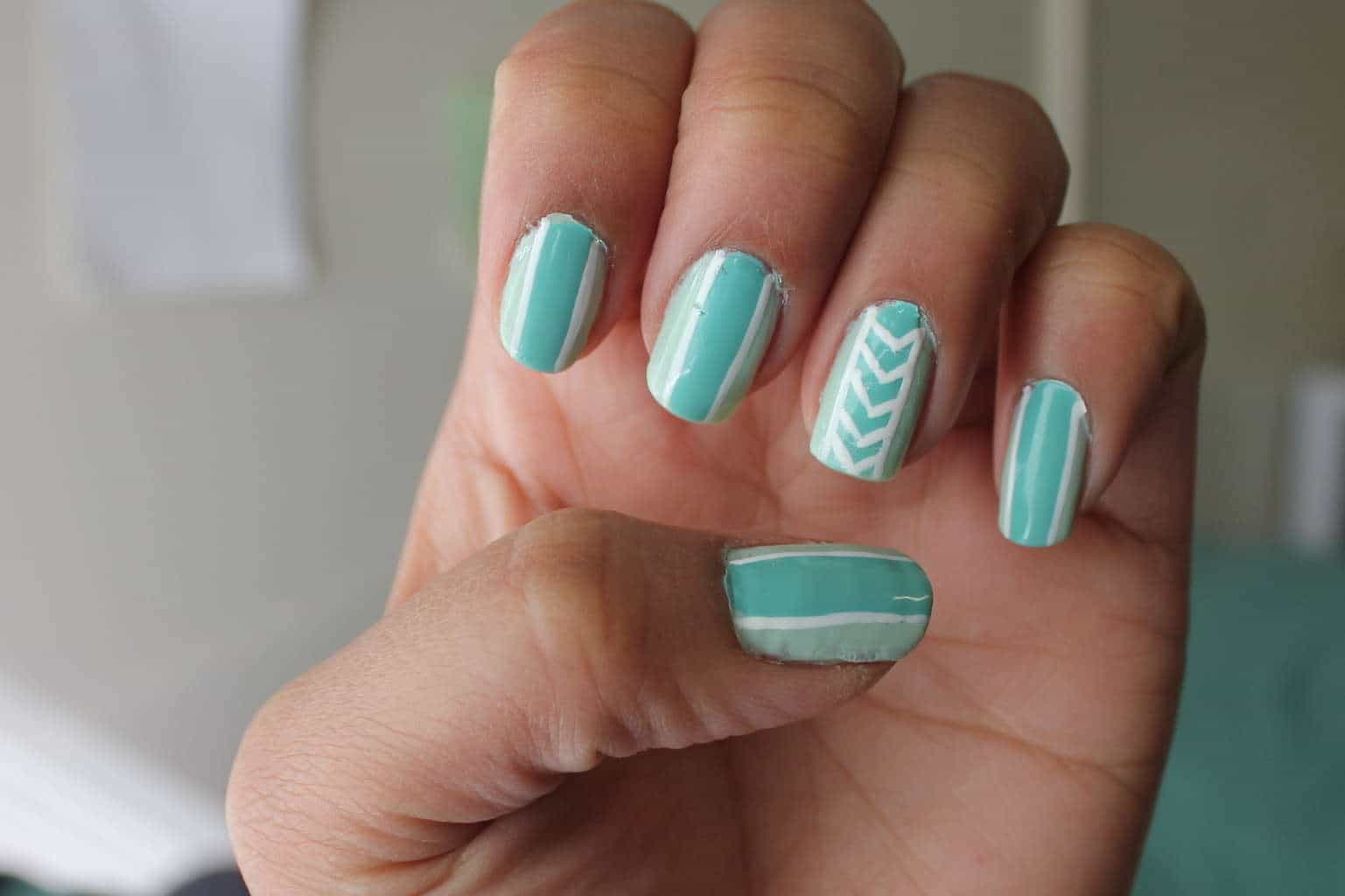 This blue line nail design screams spring and summer at the same time. Gentle colors with white lines remind us of the ocean or hydrangeas which bloom in spring. Dress them down or up, whatever you feel like based on your mood of the day, since they can look simple and every day like, or extra chic when going out for a cocktail.
Radiant Red & Black Nail Designs
#4: Flora And Fauna
Green nails are a hit during the spring period. They represent nature and all the bloomed flowers, while these white lines make it look like a flower nail art, and they are giving such positive and chill vibes.
#5: Umm, Yes Please?!
Ultra long, mysteriously sexy green nails with a multicolor line design are hard to resist. Every woman should have these at least once a year for some special occasion that they will be attending. You can tell that someone tried really hard to get them this filed, straight and precise, and we bow down to them.
#6: Cute Rainbow
These may look harder to achieve than they actually are. So don't be scared, this is how you do them: Use multiple nail colors (preferably lighter colors) and pat them all on a smaller sponge. While the sponge is still wet, work a bit faster to paint your nails with that sponge. Or, the second option, just paint your nails bit by bit with all the nail polishes you want directly onto your nails, ignoring the sponge. This might be a little bit harder since a precise hand is required, so just do it however you feel like. After everything dries down, paint a black coat all over your nails. Wait for that to dry down, and then use a detailed brush or a toothpick, and carve out the shape you want to have. That way the colors underneath will stand out so vivid and bright. Try these glowing nails, you may find it interesting!
#7: Miss Burberry
Nothing says more high-end than these line nail designs. This British luxury fashion house headquartered in London is known worldwide, and that's why we do believe you will look chic and expensive if you get them like this.
#8: Sweden Is That You?
Do these remind you of a Sweden flag? Because we can see it clearly, just imagine the green color being blue. Stockholm, here we come!
#9: OMG
Light ombre transition underneath as a base coat, topped up with the white lines looks too good to be true. This is such a win combination when it comes to these colors, and is a perfect example of how lighter shades should be matched. Have a sleepover party, get your girlfriends, and have a cute mini spa pamper day and get these matching nails that everyone will go crazy about.
#10: Are We There Yet?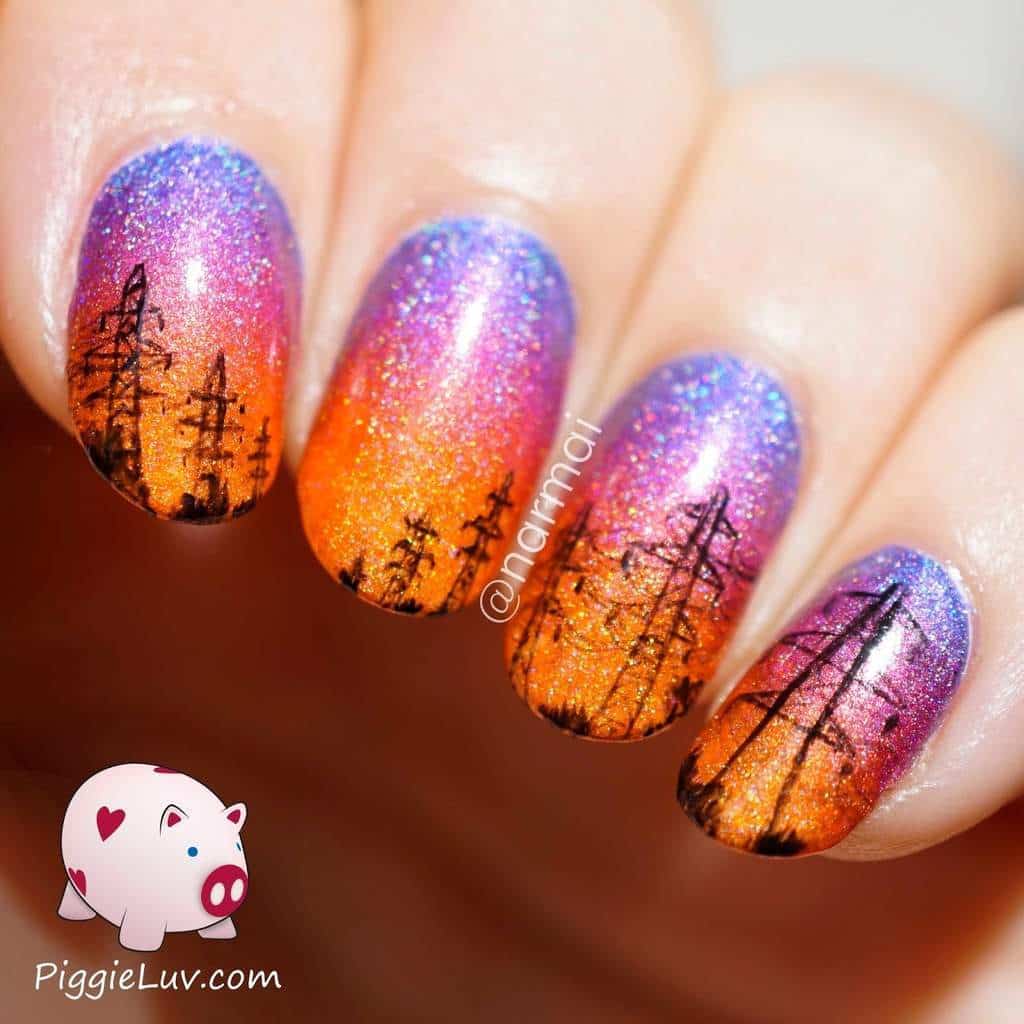 Do you remember that infamous Shrek scene where the Donkey constantly asks Shrek are they there yet? Well, this beautiful galaxy sky reminds me of some place where I should be, like right now. So have no hesitations in life, travel as much as you can, and have fun while rocking these amazingly beautiful line nail designs.
#11: The Halloween Spirit
This pumpkins, oranges and yellow shades are true Halloween holiday colors. This trick or treating wear these line nail designs with your bumble bee outfit, a cute honey bear costume, Winnie-the-Pooh costume, or just be Laa-Laaa from the Teletubbies. You will look very happy, positive and cheerful since yellow is a bright and happy color.
#12: The Queen B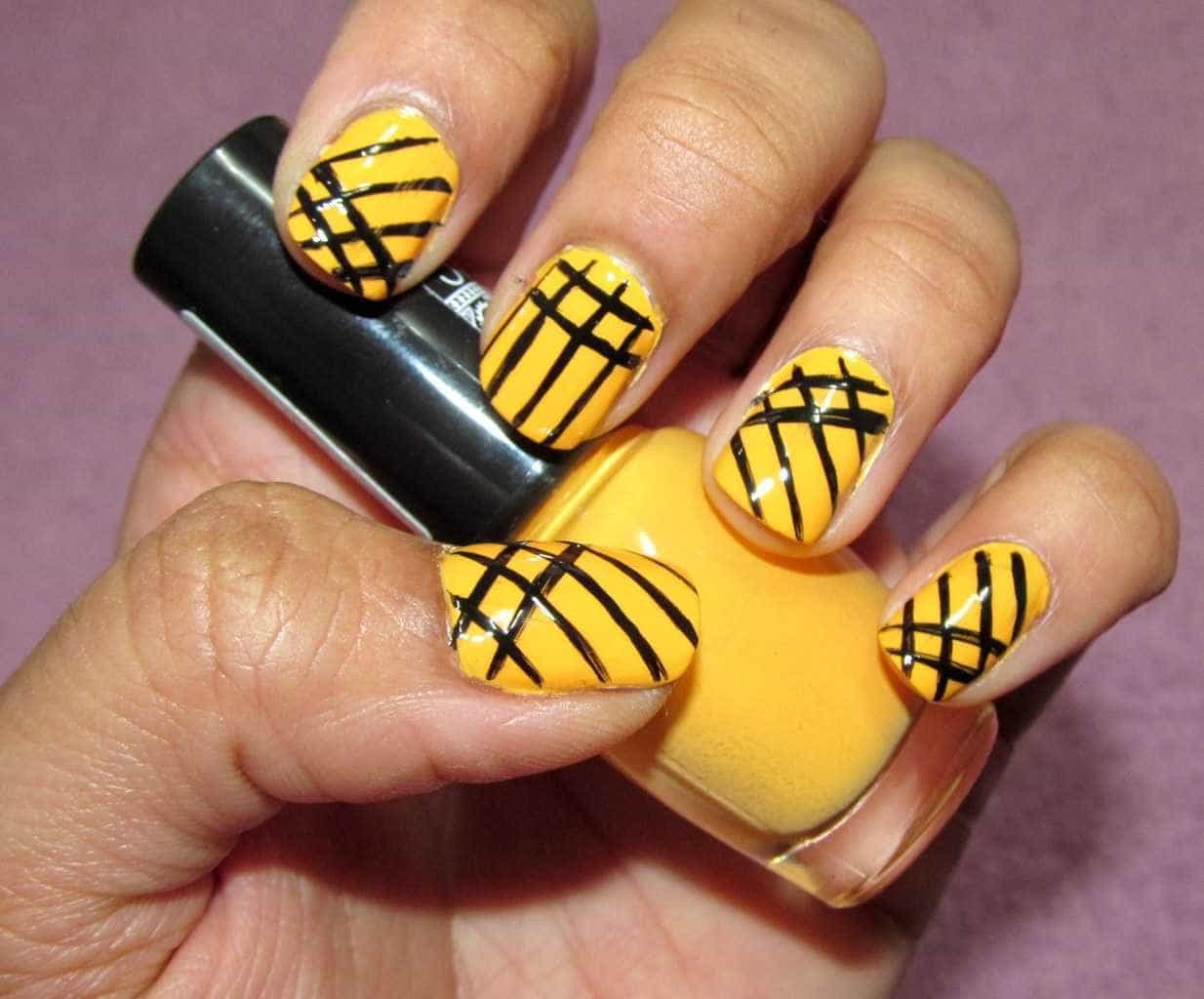 Be the leader of a group, be as fierce and strong as Beyonce, be the biggest feminist out there while proudly rocking these yellow and black line nail designs.
#13: Oh America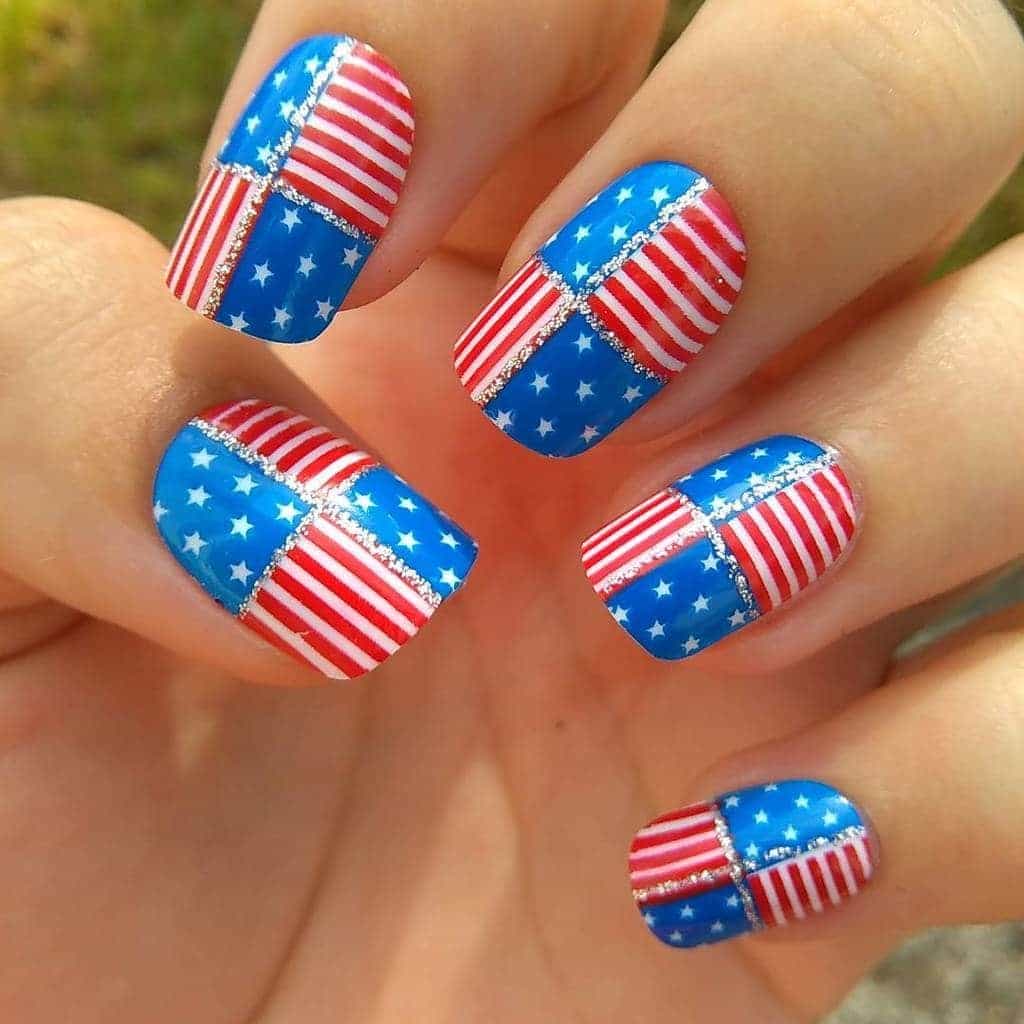 "It's the party in the U.S.A", as Miley would sing it. These squoval nails are perfect for our Native Americans, who are off to a party, Coachella, Ultra, or pretty much anywhere else in the world where they would like to be representing their country just with their nails. You go, you proud Native citizens!
#14: Matte Nude And Cute
Light beige color with black matte nail polish and a simple line nail design looks perfect for your everyday life. The nails are not too long, pointy, drastic or neon, so they can be worn pretty much everywhere and with everything. And we got to admit that this "A" line looks very cute. PS: Who's A? (Pretty Little Liars, anyone?)
#15: Bury Me With These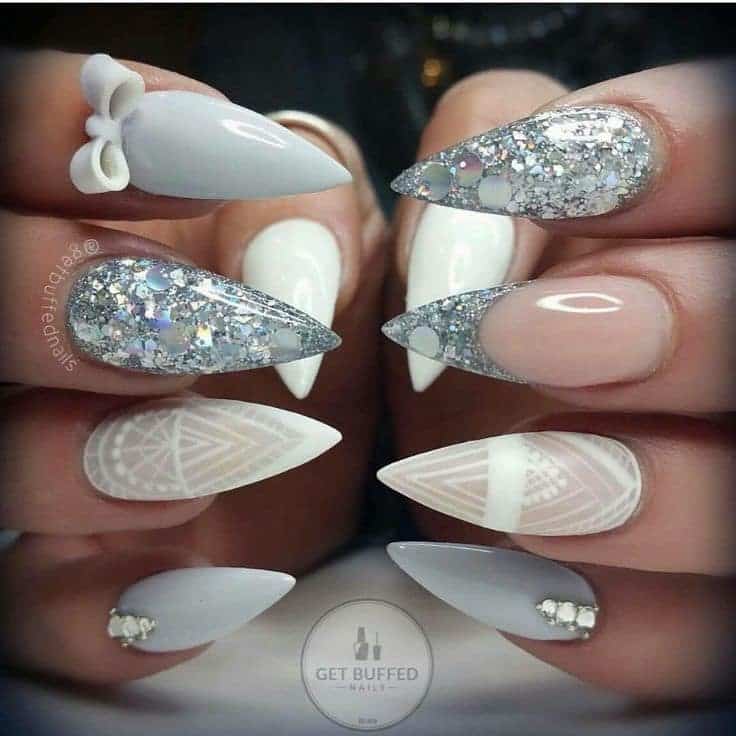 What are those?! The prettiest, most detailed and planned out nails I've seen throughout this whole year. I could literally be buried in these since the lighter colors matched so perfectly together. Aghh, count me in on these for my Friday night out or for the prom!
#16: Glimpse of Christmas
Square short nails with this golden line nail design are looking so Christmas'y and New Years Eve. I hope you get everything you've hoped for this year and that you've been a good girl! Don't forget to add some jewels in order to make these nails pop some more.
#17: Artsy
Maleficent, amazing and pure art, enough said!
#18: Some Zebra Vibe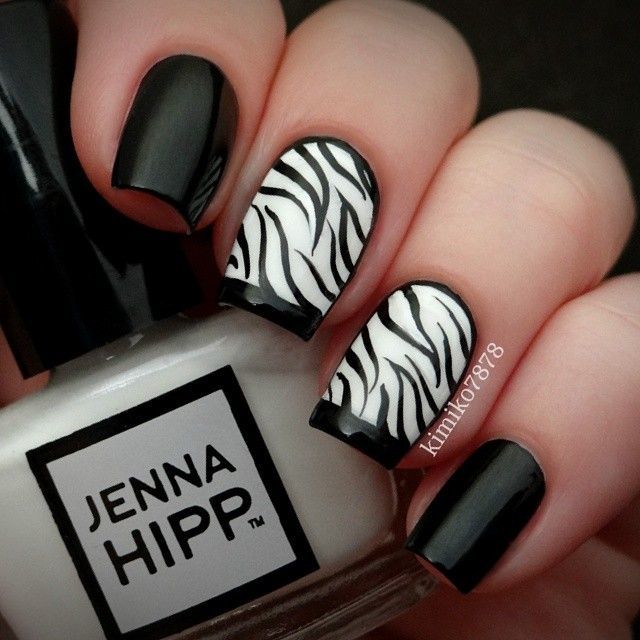 This animal inspired line nail design has more meaning to it than you'd think. Because no two zebras are alike, the zebra symbolizes identity or individualism. Their stripes symbolize something that is powerful. They represent the black and white nature of the world, or at least, the way that some people think the world is. So if you go for this black and white pattern know that you are sending some powerful thoughts into the wild.
#19: Gray Nails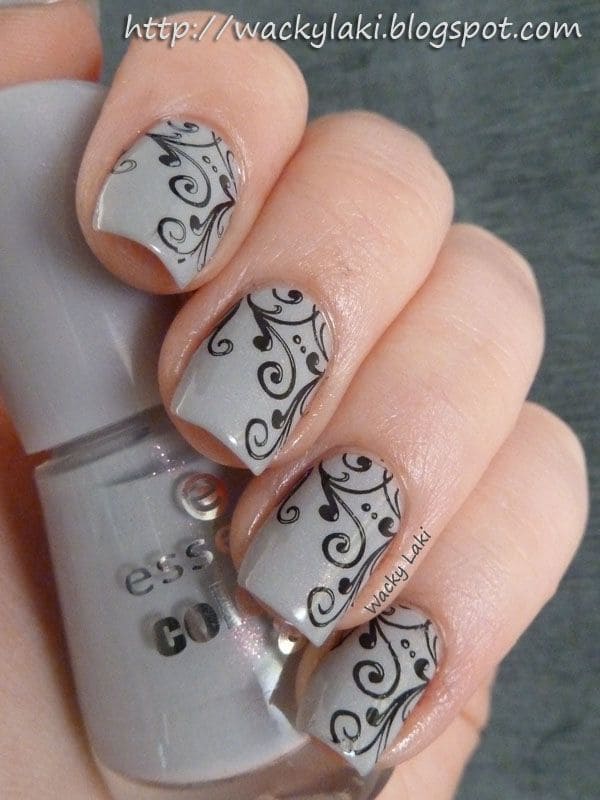 An example that even the nail polishes that are on the more affordable side can look like they are getting the job done amazingly! Essence is well known for having amazing makeup and nail care items worldwide, and they are so affordable that it's shocking. In this picture, we can see this perfect line nail art that has been created with their nail polish, and we believe that these nails are perfect for nail care items worldwide, and they are so affordable that it's shocking. These nails are perfect for some theater action; just looking like they are a star of the show, waiting for the curtains to open.
The classic juicy red can't get unrecognized. These nails with a hint of green are also perfect for some wintery action, so keep these in mind or somewhere in the back of your head when the winter.
Get These Nails On Your Birthday!
Try Out These Epic Line Nail Designs
Line nails will probably be around for a longer period of time, but don't wait too long before they go out of fashion. Hurry to the salon and start looking the cutest and tightest with our line nail designs.