Searching for a color that looks good on your dark skin tone, can be worn all year round, and goes with all of your outfits? Light blue is the answer.
Blue is associated with peace, calmness, and freedom. It is super versatile and pairs perfectly well with all other nuances. While deeper tones of blue look alluring, lighter shades give you a sense of freedom.
The designs you can opt for when trying light blue nails on dark skin are endless. Coming towards the shades, all of them will pop on your melanin-rich complexion. Try sky blue, aqua blue, powder blue, pastel blue, or periwinkle instead!
Light Blue Nail Ideas for Dark Skin
Whether opting for classy French nails or a mismatched manicure, incorporate some light blue hues to spice up your fingertips.
1. Modern French Manicure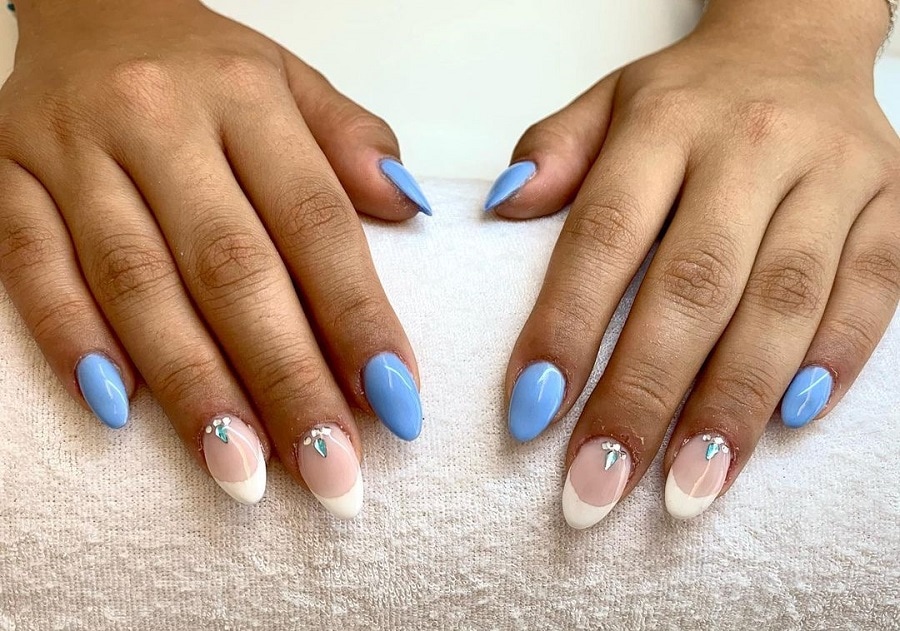 Add a modern touch to an otherwise classic French manicure by opting for some solid baby blue nails in between your Frenchies. Paint the tips white or blue with a nude pink base and place some gems near the cuticles. An almond nail shape won't disappoint!
2. Marbled Iceberg Coffin Nails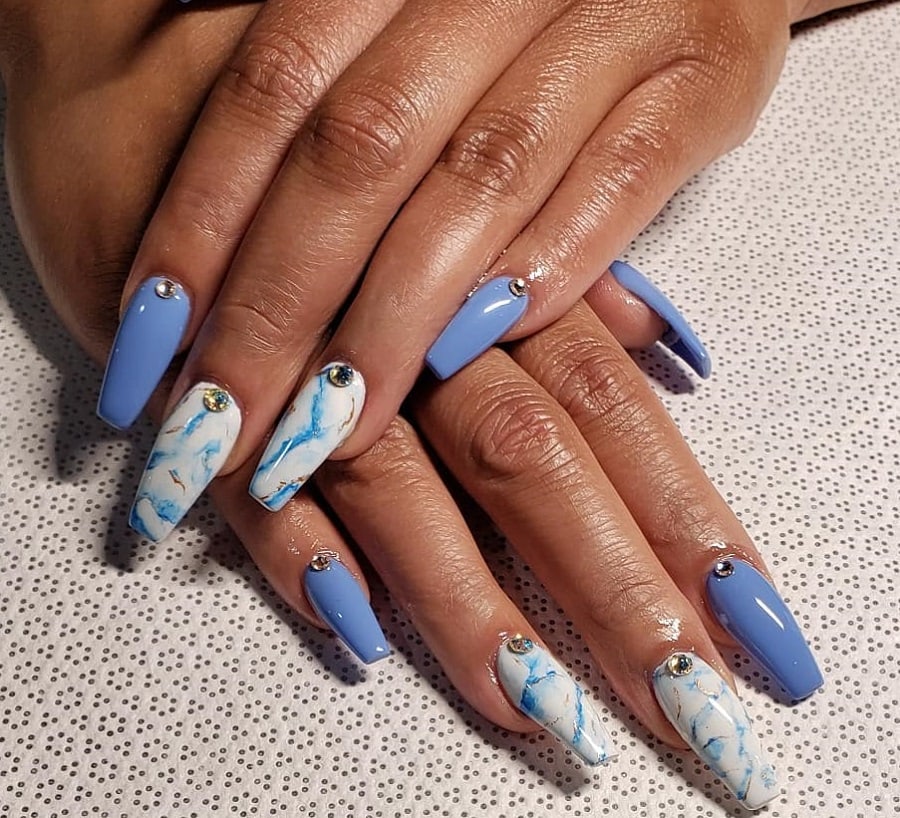 Make a statement with these super chic light blue coffin nails on dark skin. Mix iceberg blue polish with thinner and draw irregular lines on a white base with some silver squiggles in between for a marbled effect. Finish off with a sparkling rhinestone on every nail.  
3. Minimalist Outlined Square Nails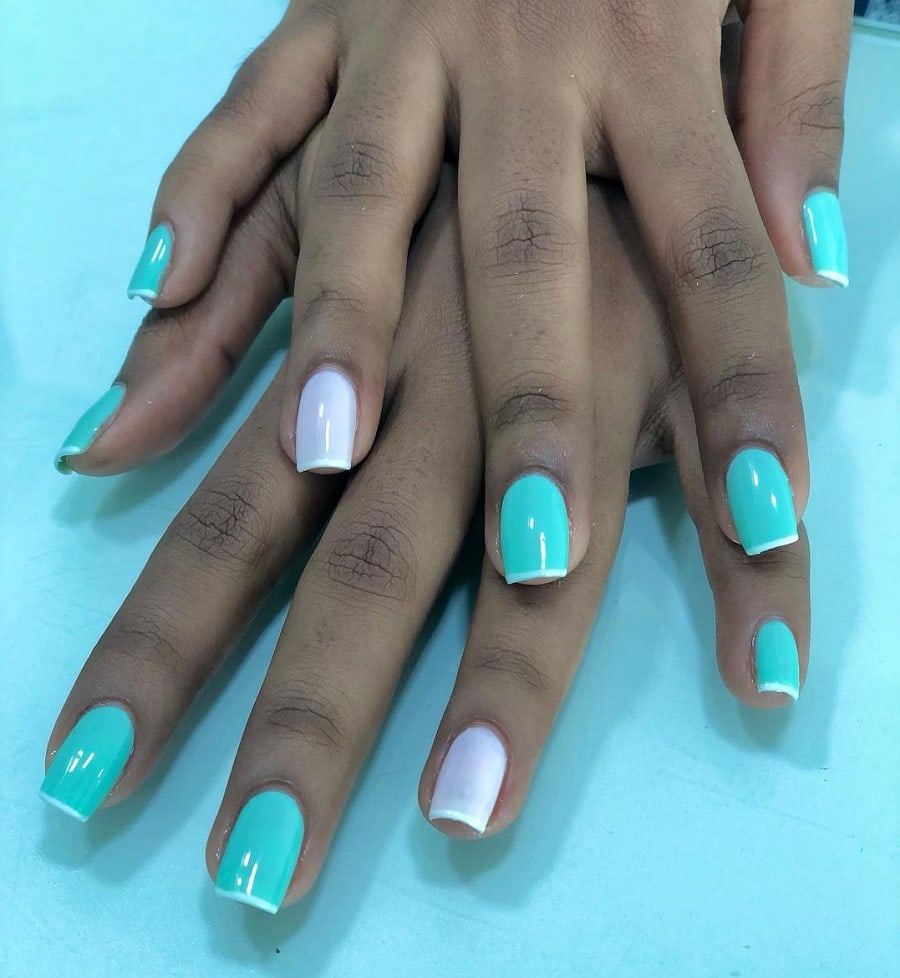 Simple is sexy, and here is a blue nail design to prove it. Paint your nail beds with a coat or two of aqua blue. Make them pop by opting for a milky white ring fingernail. Use a thin brush to outline the straight tips of your square nails, and that's it!
4. Powder Blue Short Stilettos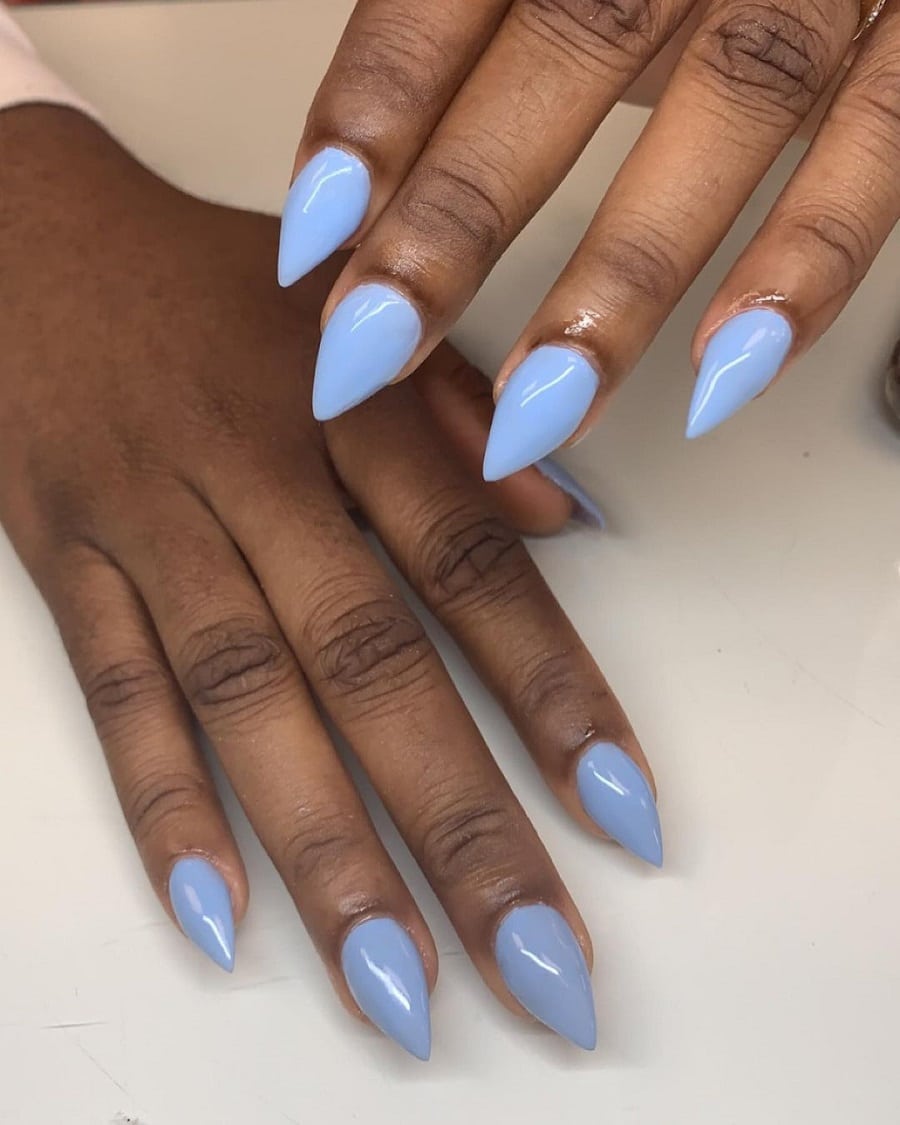 Stiletto nails, whether short or long, look fierce and edgy. They are ideal for elongating the fingers with pointy tips that won't be overlooked. Let your chocolaty skin tone stand out with plain powder blue gel or acrylic nails. Adorn them with tiny metallic studs for a fancy finish.
5. Blue Winter Vibes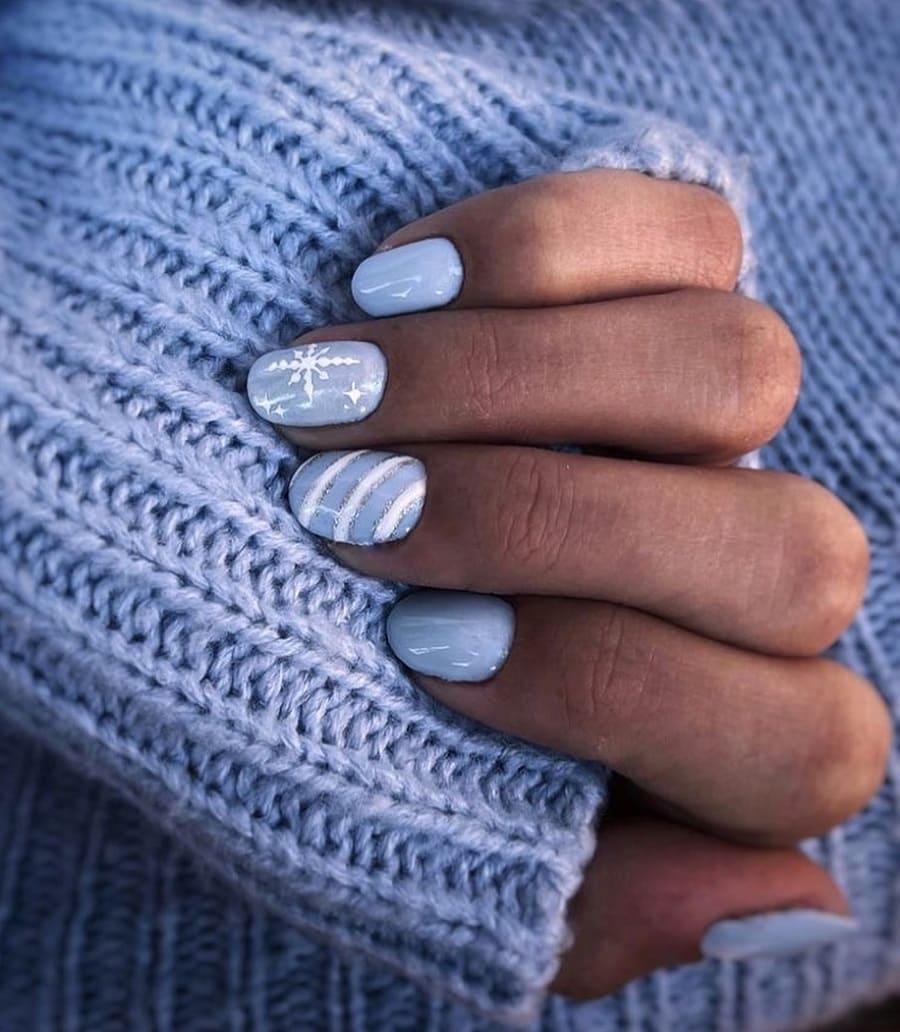 A blue manicure is a must-try during the winter season. Spice up your short round light blue nails by adding white curved diagonal stripes with silver linings for a candy cane pattern. Also, try placing symmetrical dots and connecting them to end up with cute snowflakes.   
6. Pastel Blue and Nude Ombre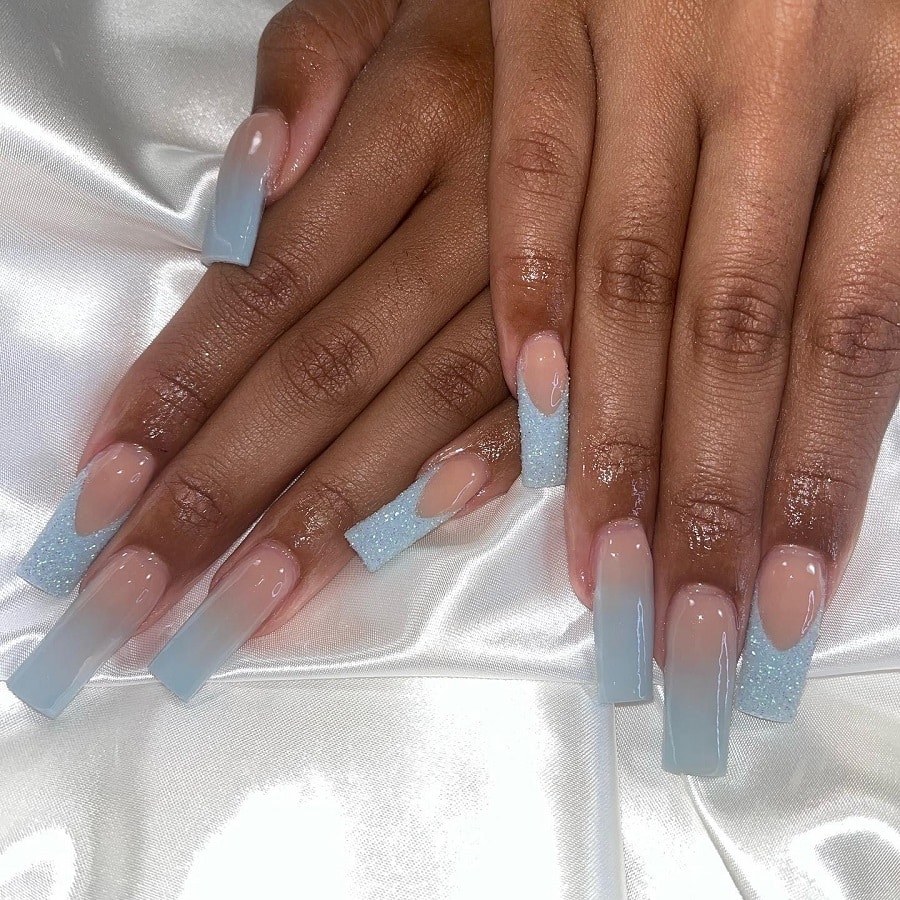 Gradient nails never go out of trend and are easy to create. Place the nude and pastel blue polish side by side on a sponge and dab it onto the nails. You can also merge the two colors with a fine brush when wet. Alternate your ombre nails with some glittery French tips.  
7. Mismatched Periwinkle Oval Nails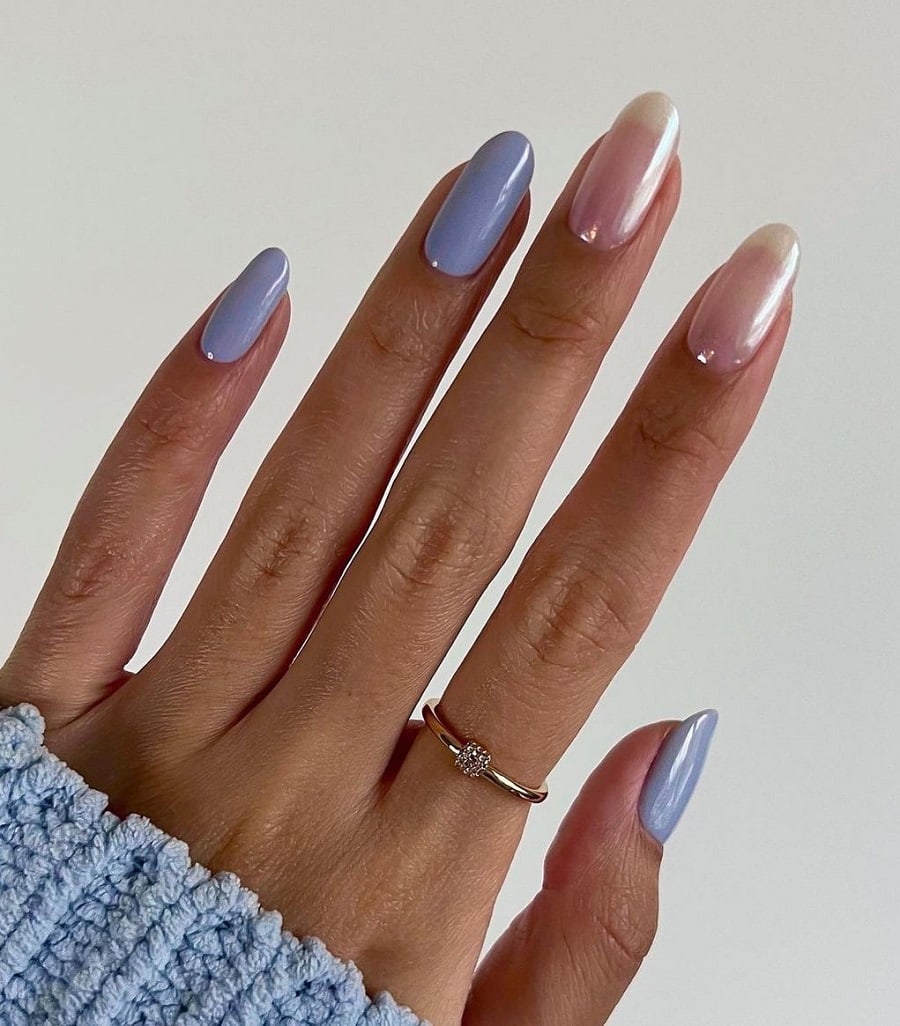 Mix and match your blue nails with other colors for an eye-popping outcome. Go for bright nuances for a more playful appeal or keep it low-key with softer tones like these iridescent pearl white oval nails coupled with dreamy periwinkle blue ones.
8. Glitter Accents with Sky Blue Nails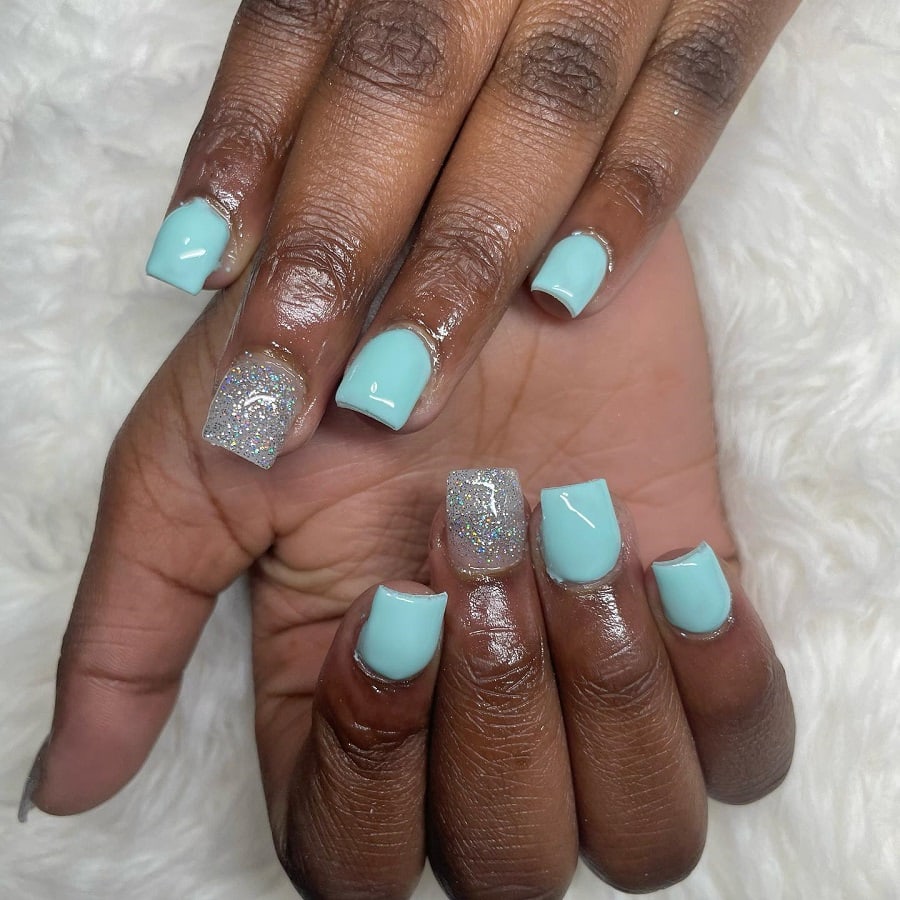 Painting one or two nails in a different tone can make a huge difference to make your light blue nails pop on dark skin. Consider getting pastel blue short square acrylics with silver glitter accents. Play around with different shades of glitter to achieve the look of your liking.
9. Cute Sweater Design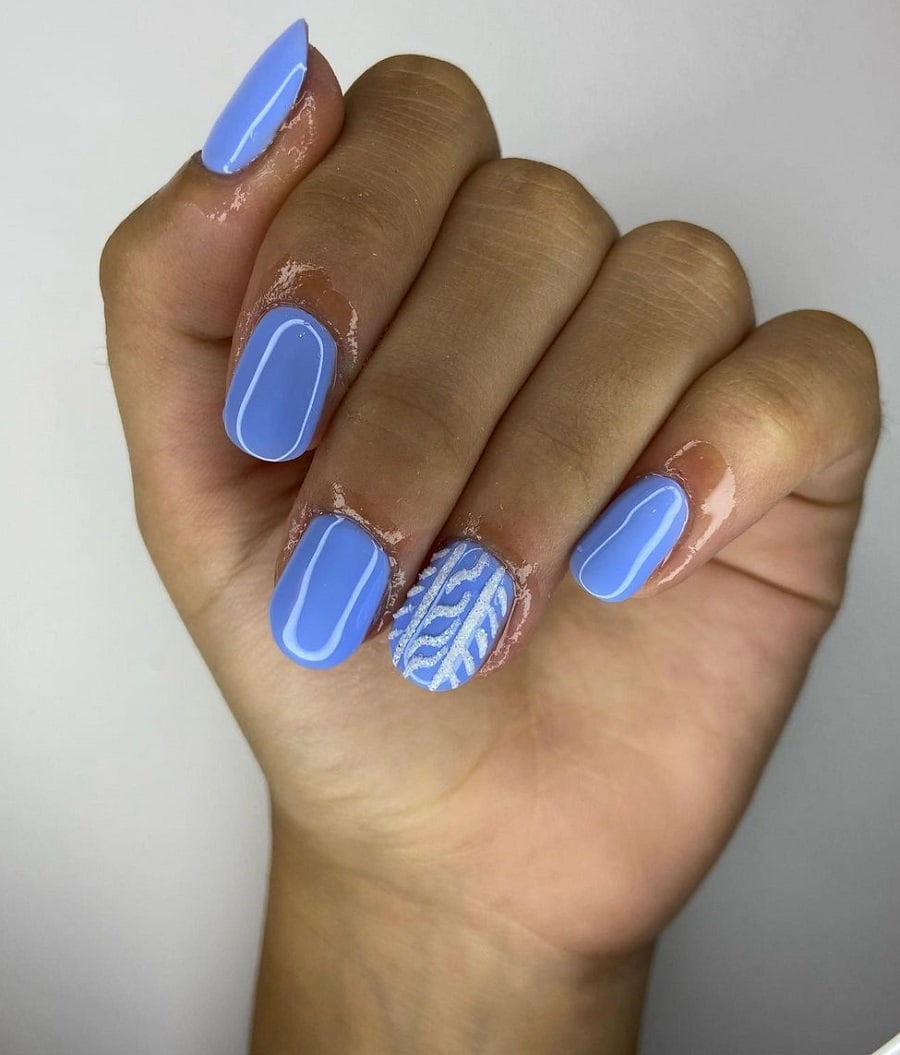 If you haven't tried the famous sweater nail trend during the winter, then you are truly missing out. Copy the pattern of your favorite sweater onto one of your nails using gel polish. Mix glitter with acrylic powder and sprinkle it onto the design when wet. Brush off the excess, and voila!  
10. Textured Tapered Square Nails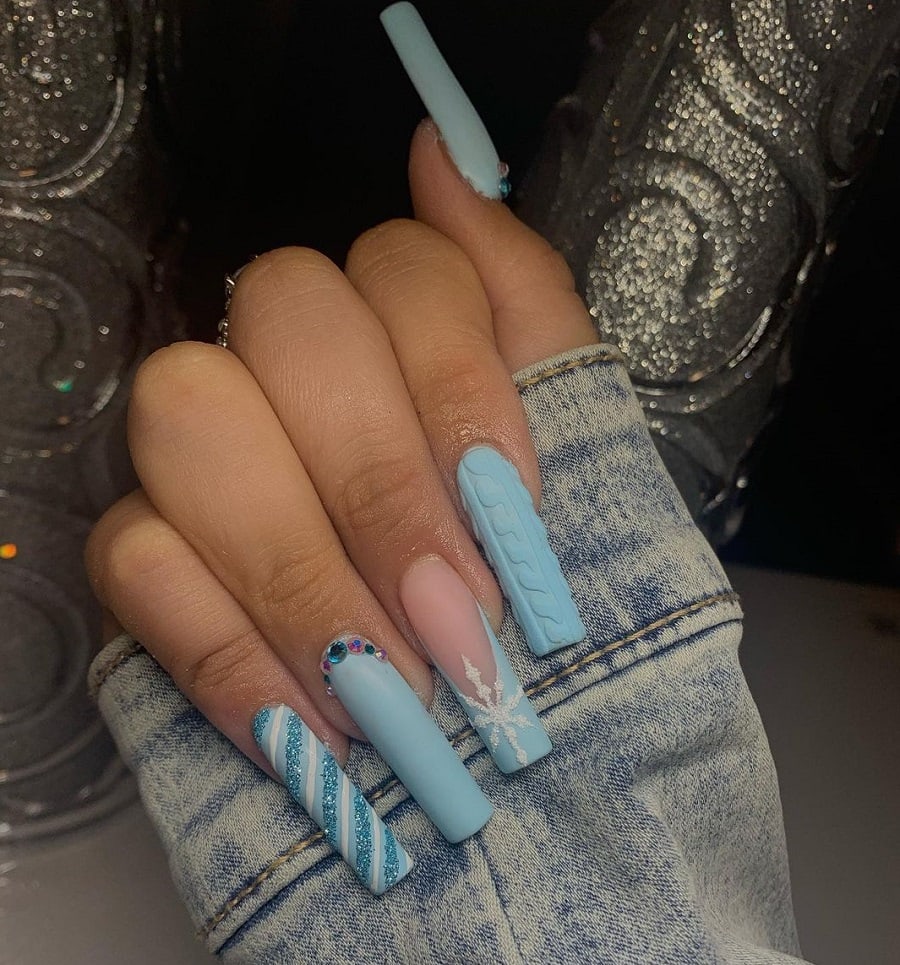 These textured matte light blue nails are the chicest of all. Create a sweater pattern on one nail with glittery snowflakes on another. A candy cane pattern and some rhinestones will look good, too, on your darker skin. Long tapered square nails provide plenty of space for the designs.
Light blue nails on dark skin can look vibrant and crazy or neutral and soft depending on the shade you choose. Recreate any of the above nail ideas or express your style with a design of your own. These frosted blue nails are sure to make your beautiful hands noticeable from a distance.