20 Prominent Pumpkin Nail Art for Halloween
Pumpkin nail art is inevitable on Halloween. You get to design your nails or costumes using the theme of pumpkin. Besides, fall leaf color is a natural phenomenon that changes the normal green color of leaves of many shrubs and trees. The leaves of the trees become orange, yellow, purple, pink magenta, red etc during a few weeks in the fall season. The color of pumpkin is also associated with fall nail art. So, you can have pumpkin nail art as both Halloween and fall nail art.
Pumpkin Nail Art for This Fall
The main idea of pumpkin nail art is painting some pumpkin faces on the nails. There are some other techniques as well like painting plain pumpkins along with glitters, polka dots, and stripes. I am going to discuss some effective design here for you. You can try them on both for Halloween celebration and as fall nail art.
#1.
black pumpkun nails
#2.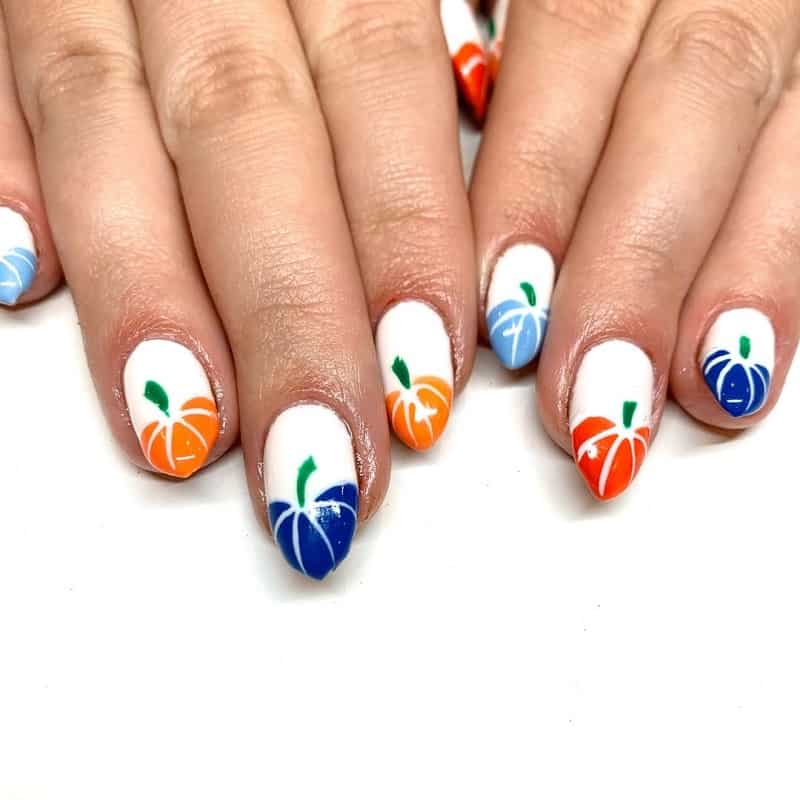 pumpkin autumn nail design
#3.
green nails with pumpkin
#4.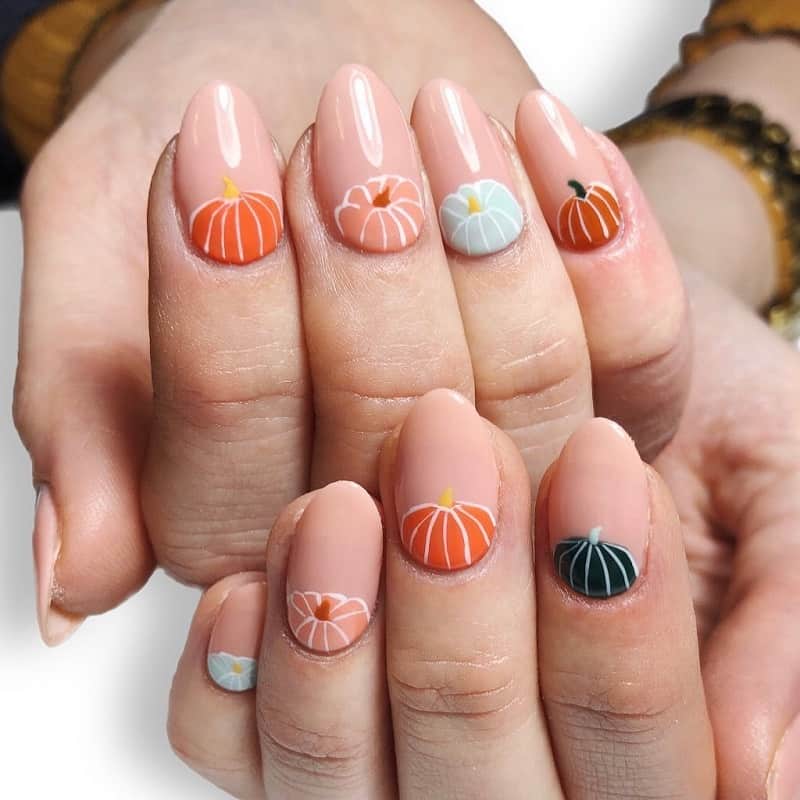 pumpkin gel nails
#5.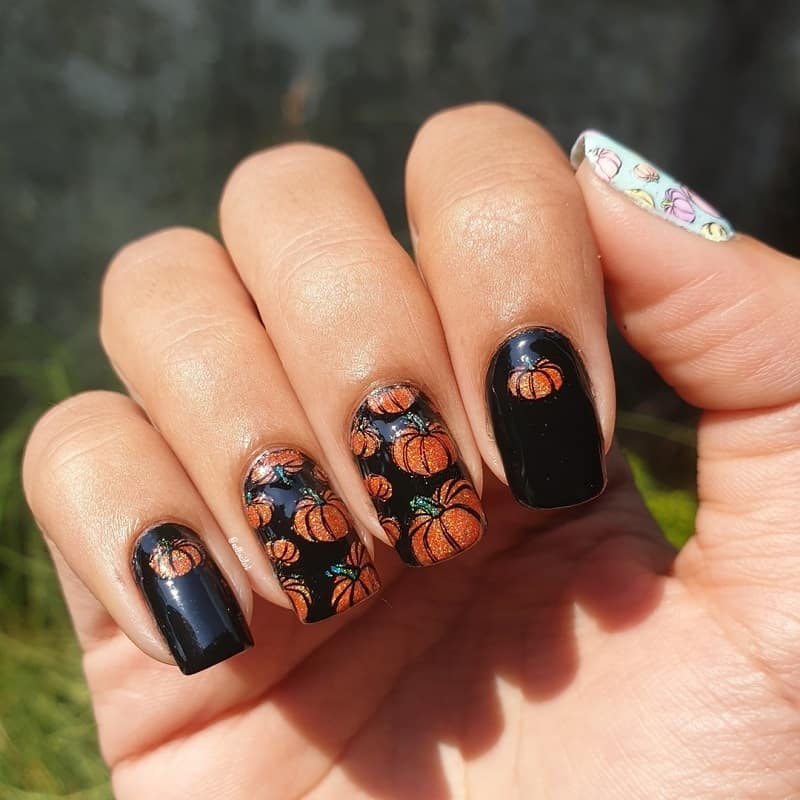 pumpkin nail stickers
#6. Pumpkin Accent Nails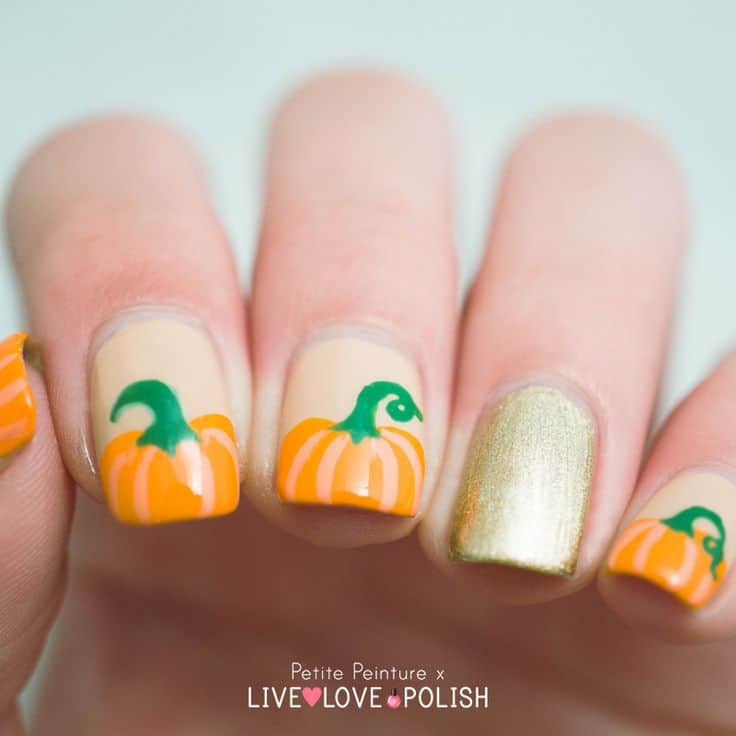 You can enhance the beauty of your pumpkin nails by accentuating them with a gold glitter nail. The process is simple. Paint all your nails with pumpkin images keeping one nail blank. Put gold glitters on the blank nail to have a beautiful pumpkin nail art.
#7. The Lone Pumpkin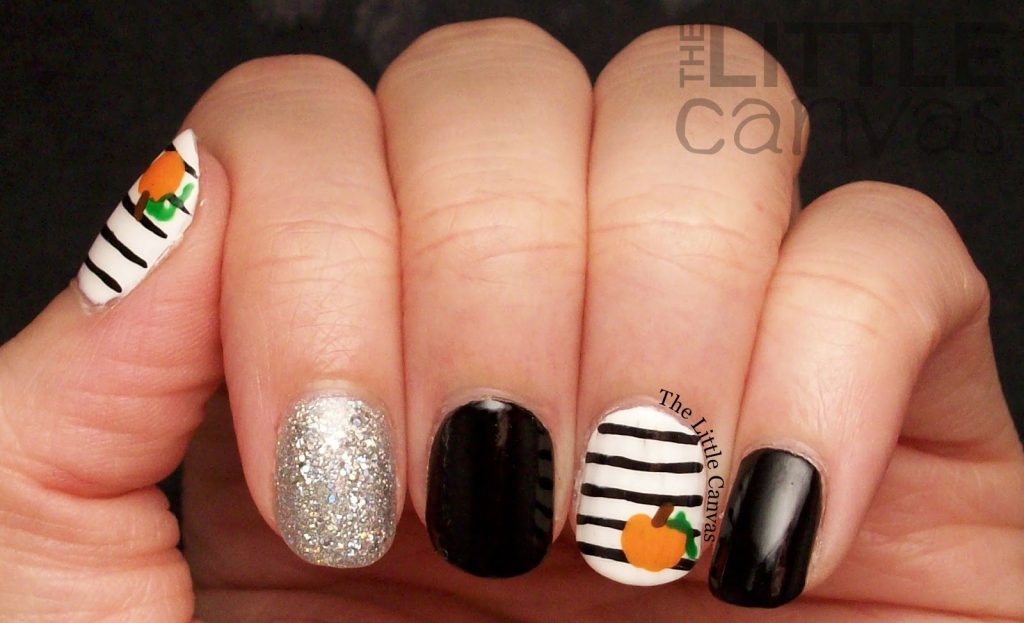 It's not mandatory to have a pumpkin nail art where pumpkin images are dominant. You can paint your nails with black and white and silver glitters like this picture. Then draw a small pumpkin on your nails to have pumpkin nail art.
#8. The Weird 3D Faces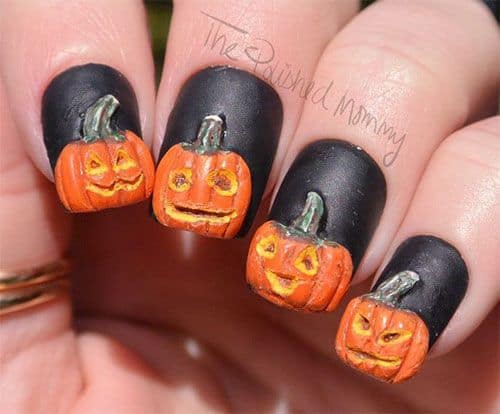 You can draw some 3d  pumpkin faces on the black base to have Halloween nail art. You can create this 3D nail designs on your own.
#9. Natural Pumpkin
This silver nail design looks so real that you may feel natural pumpkin on your nails. Pumpkins are drawn along with their green stems to give this nail art a natural look. This is a different pumpkin nail art.
#10. Glitters And Studs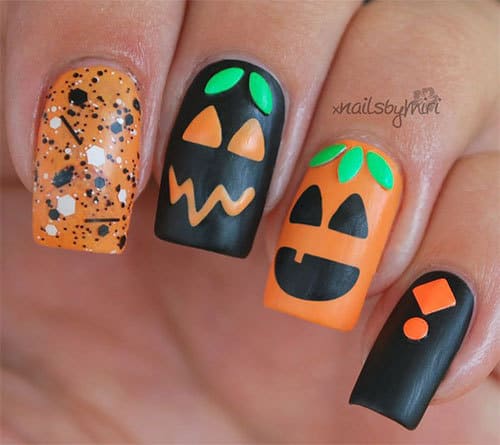 You can use glitters and studs to have a different pumpkin nail art. Put green studs to resemble hair on the pumpkin faces. The glitters will add shine to this nail art.
#11. Striking Stripes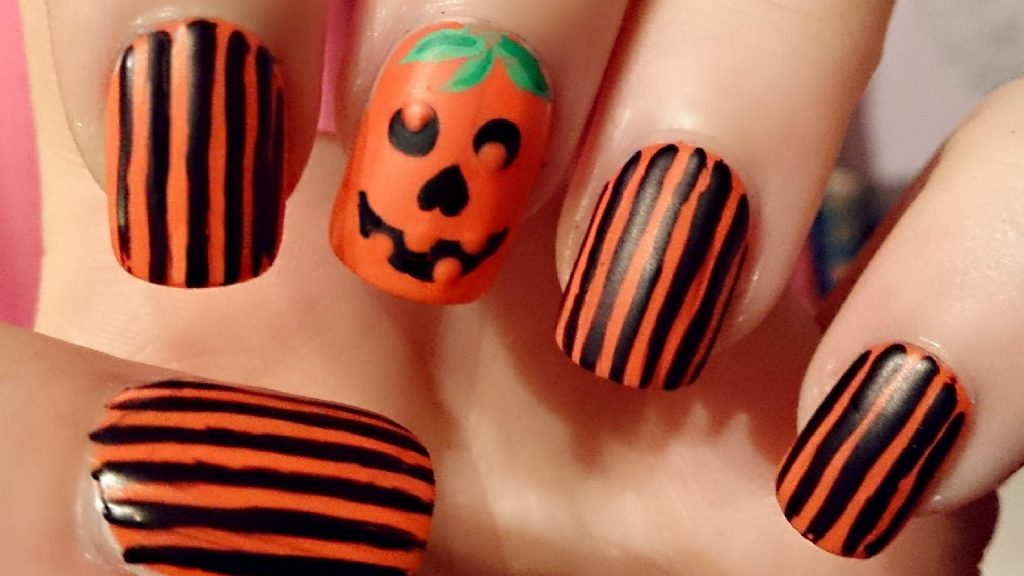 Stripes are a handy element of designing nails. You can paint black stripes on pumpkin color nails to have a striking stripe nail art. Drawing a pumpkin face on the bright orange nail will do good to make it a pumpkin nail art too.
#12. Pretty Pumpkins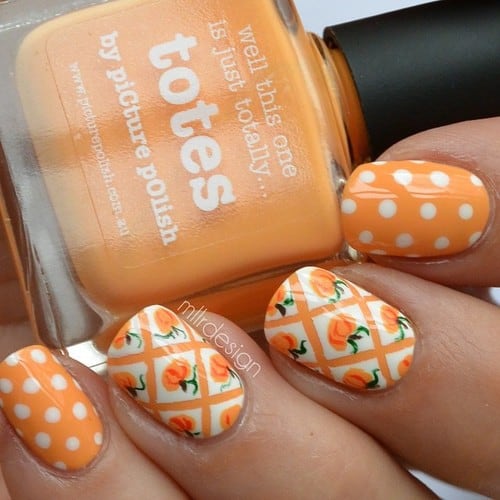 If you want to have a pretty and cute pumpkin nail art, this is the best one for you. The squares and polka dots are complementing the cute pumpkins.
#13. Ghost Nail Art
You can consider pumpkin nails as ghost nail art. Just paint the pumpkin faces in a different way so that they look scary. These ghost nails are perfect for Halloween nail art.
#14. Autumn Nail Designs

Autumn nail designs are a great concern for the fashion geeks. You can celebrate the autumn season with this beautiful autumn nail art. The orange and shades of red are identical to fall nail art.
The charm of purple can be used efficiently in pumpkin nail art. Draw some pumpkin at the top and bottom edges of your blue nails. You can use white to make the nail designs look more beautiful.
#16. Spider Web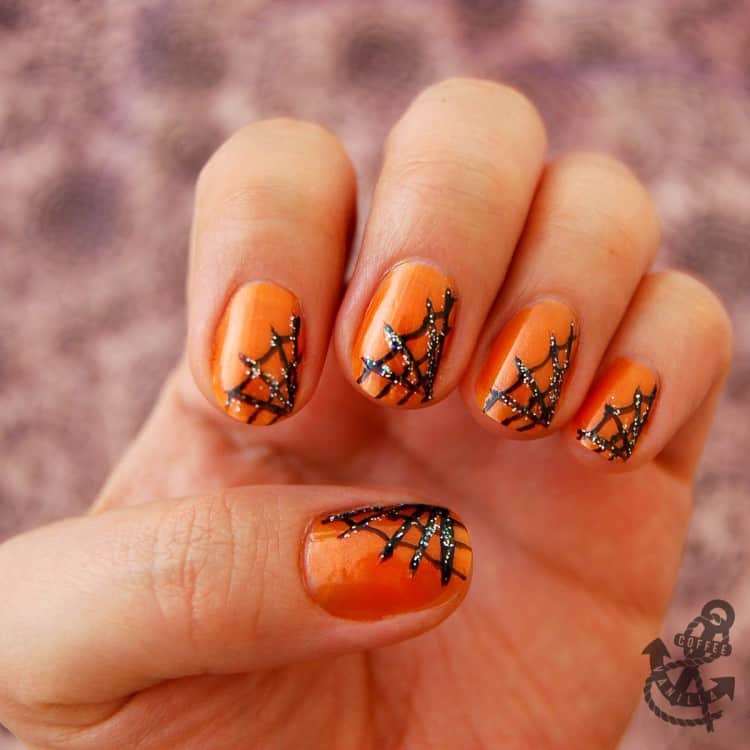 Spider is related to Halloween in many ways. As per medieval superstition, if you see a spider on Halloween that means the banished soul of your beloved person is watching you. You can draw spider webs on pumpkin color nails to cover both Halloween nails and pumpkin nail art.
Reindeer Nail Art for This Christmas
#17. Jack O Lantern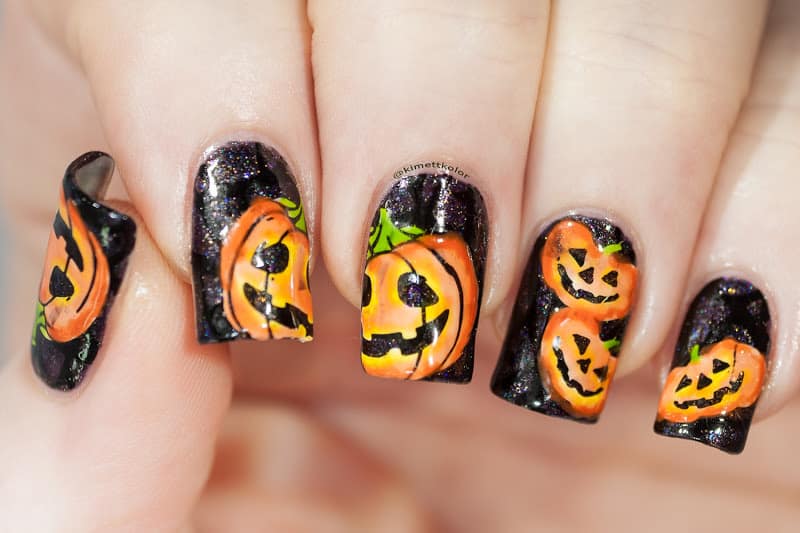 A pumpkin is cut in such a way so that a hollow space is created inside the pumpkin to place a lantern there. Thus, a jack-o'-lantern is created for the Halloween. You can have your nails drawn with jack-o'-lantern patterns.
#18. How to Do It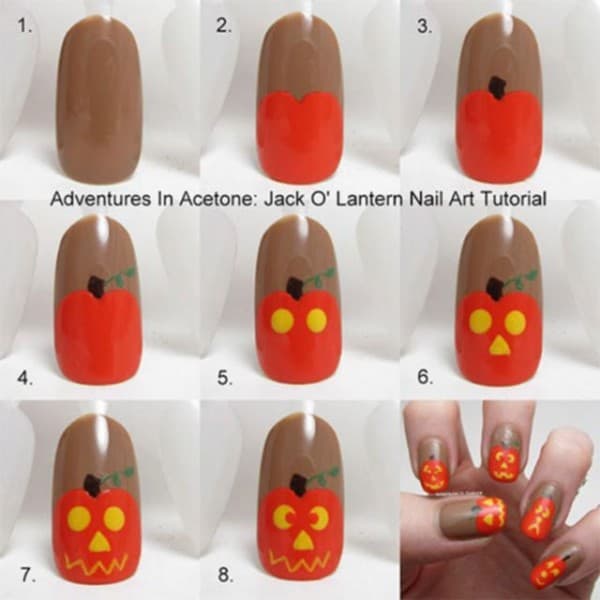 Wondering how hard it is to have pumpkin nail art? Here is a simple pumpkin nail art tutorial for you. Follow the process step by step. Be careful to choose the colors. Use a color that is identical to pumpkin such as a reddish-orange shade.
#19. Jack & The Ghost
If you are brave enough to bear a haunted place at your fingertips, you can choose this design. A graveyard, a ghostly hand, a dark night all together will create a realistic setting of a horror film. You can add pumpkin faces or jack o lantern as icing on the cake. 
# 20. Pumpkin Color Nail
If you want to avoid the complexities of a sophisticated nail design, you can simply use a sole color tone on your nails. As you are going to have pumpkin nail art, a sheer orange color shade will do the trick in this regard.
Ladybug Nail Design to Carry Luck
Pumpkin nail art is equally applicable as Halloween and fall nail art. No matter what occasion you are going to celebrate, we have the solution to your every problem. Be inspired by our designs and ideas and rock on.