Stiletto nails are meant to be daring, bold and expressive. The women who choose long stiletto nails are looking for glam, drama, and in-your-face statement style. But short stiletto nails are in a league of their own. Their short length may not be as noticeable, but they can still take even very feminine nail designs to instant edge.
The nice thing about having short stiletto nails is they aren't as cumbersome as long stiletto nails can be. They're great for women who need to type, do the dishes, chase the kids around, or any other task that requires fine motor skills.
With short stiletto nails, you can rock a stylish design that won't get in the way of daily life.
Amazing Short Stiletto Nails
Just in case you need a little inspiration or persuading before you go to short stiletto nails, check out the 25 trendy designs below.
#1. Blue and White with Sunflower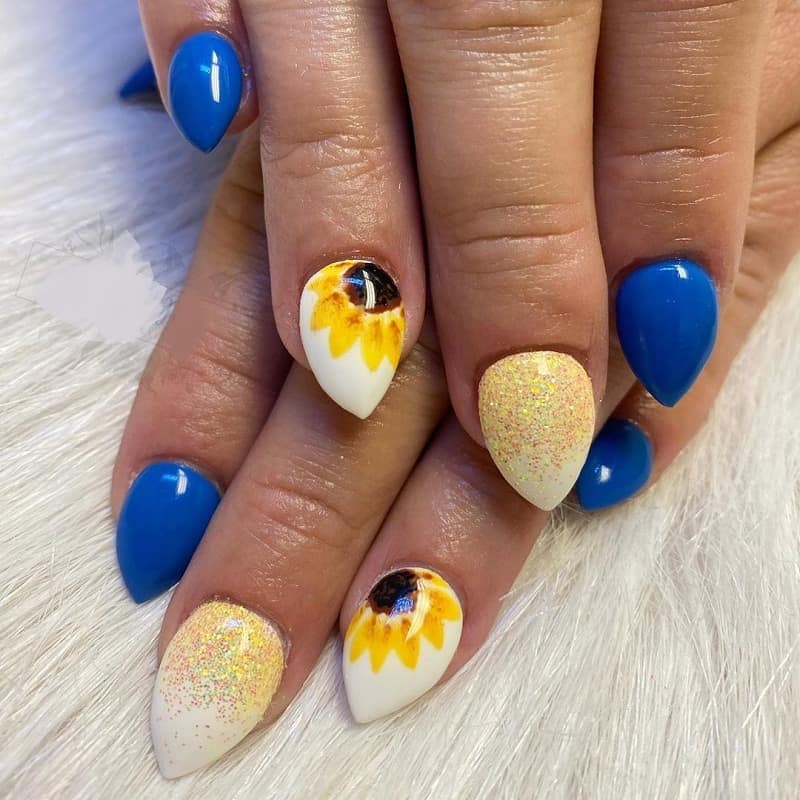 We love the way a cute little yellow sunflower pops over a white base on this white and blue design for short stiletto nails. A rainbow polish gives a plain white nail a flare of color.
#2. Hot Pink Ombre
If you're a girly girl, pink ombre is the design for you. Watch as hot pink fades to a dark pink with glittered ends on short stiletto nails.
#3. Light Purple with Butterflies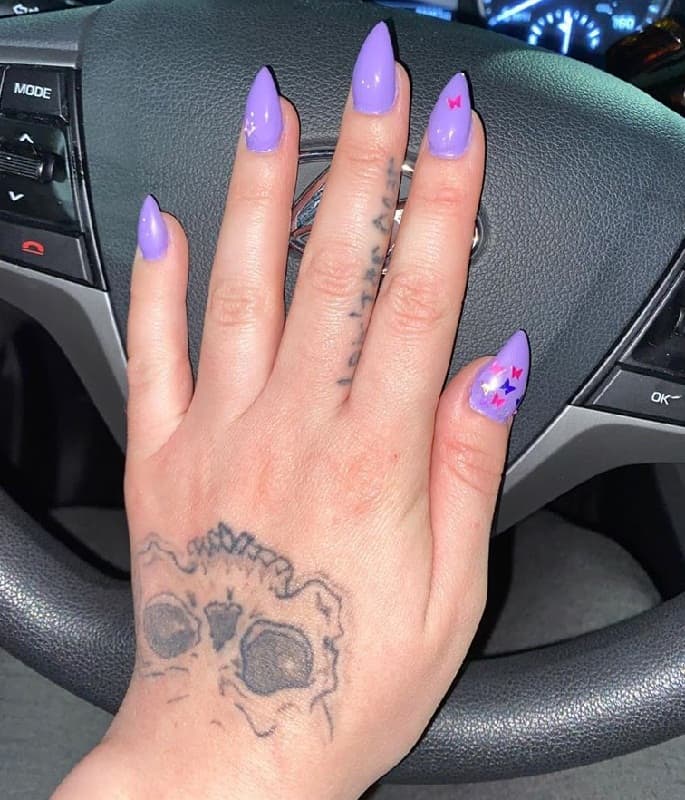 Just in case light purple isn't enough femininity on your short stiletto nails, add a few tiny butterflies in bright pink and dark blue.
#4. Magenta with Silver Stickers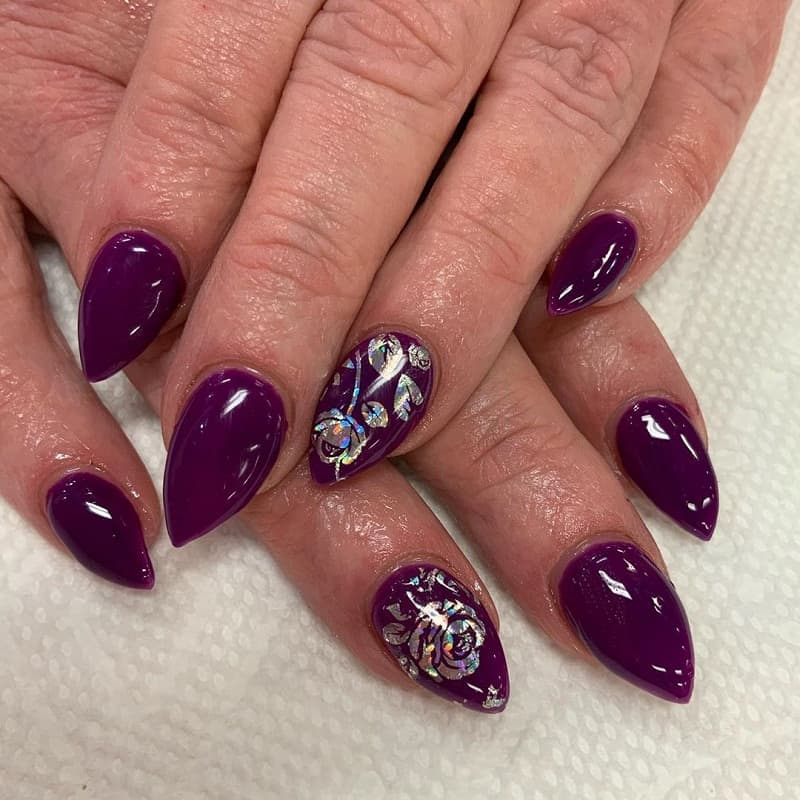 A rich magenta is elegant on short stiletto nails. Use silver nail stickers or decals to add a sparkly detail. A gorgeous rose is pictured here but other flowers will look beautiful as well.
#5. Gothic Stiletto Nails
Whether gothic is your default or you want a killer Halloween design, use blood red and pure black for spooky short stiletto nails. Make thin black trees on red nails and add a deep red bloody heart on a white base.
#6. Neon Green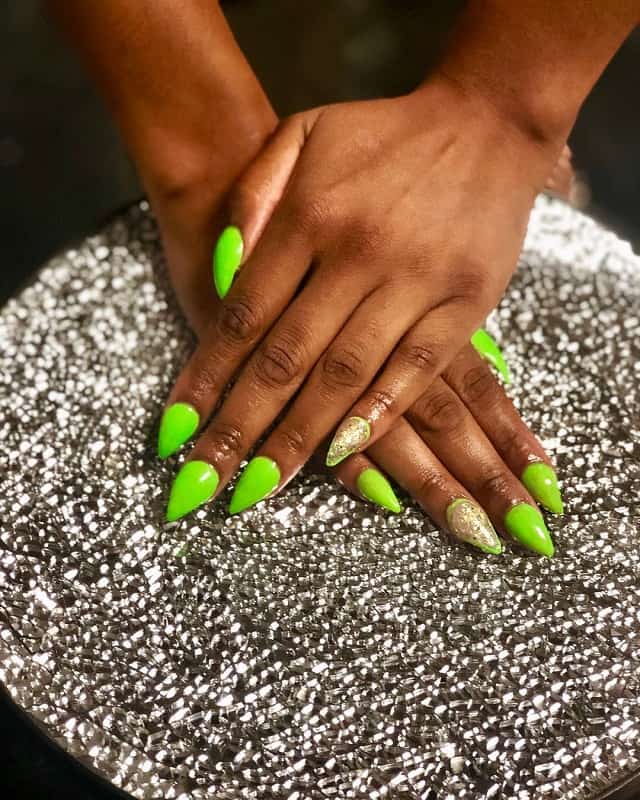 Especially on dark skin tones, a neon green short stiletto nail really pops. Filling in the majority of your middle nail with sparkly gold is the shine it needs. It's perfect for ladies whose personality is energetic and electric.
#7. Robin's Egg Blue with Crystals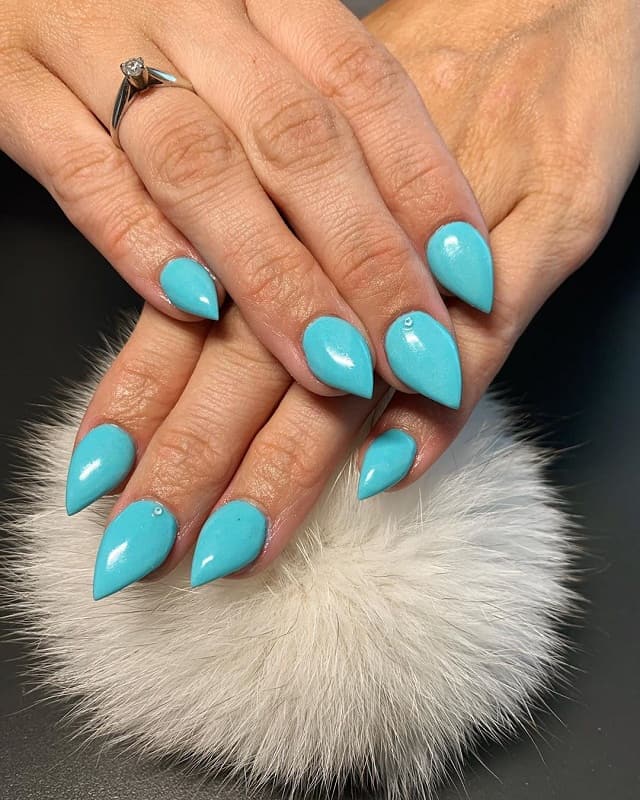 For both winter and spring, a bright shade of blue is just the thing. Add some bling to short stiletto nails with a tiny crystal at the cuticle.
#8. Bright Yellow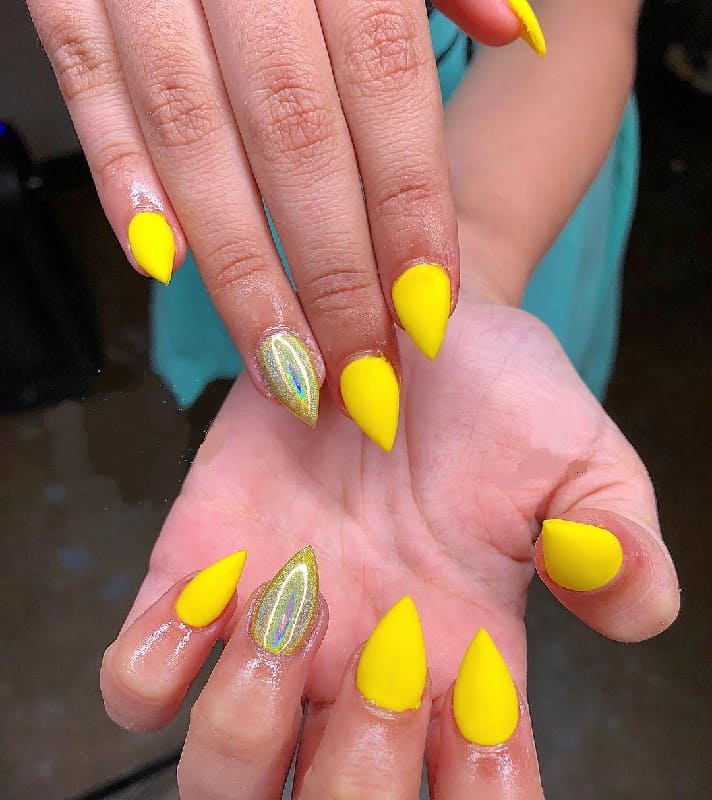 Are you a fan of yellow? Show the world your favorite color with bright yellow short stiletto nails and a glittered ring finger.
#9. Clear Purple and Green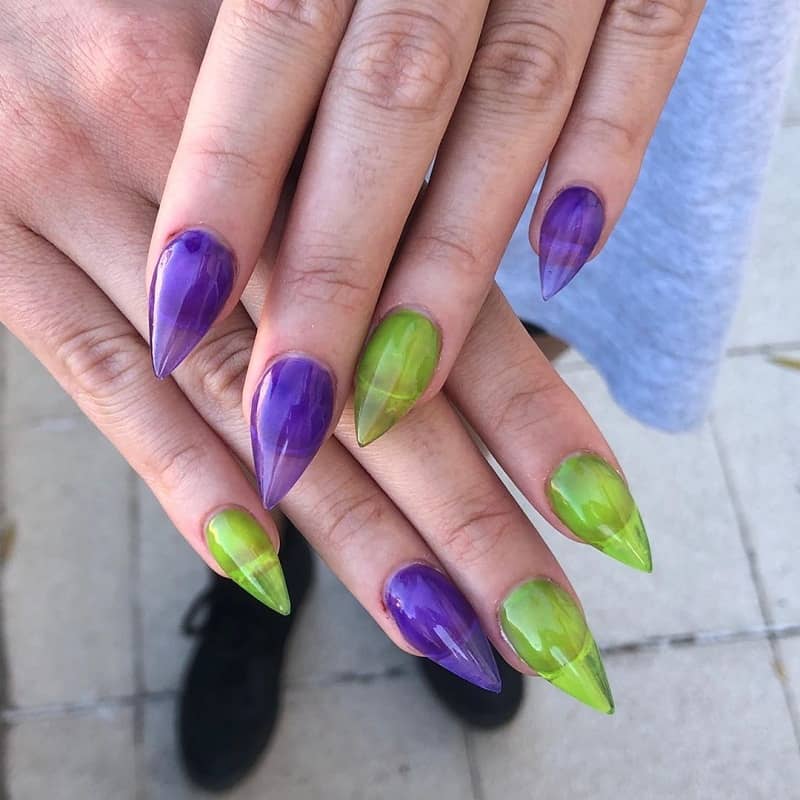 These press-on short stiletto nails are see-through purple and green. Very new age and definitely modern for the stylish girl.
#10. Light Blue with Orange
Light blue nails can either be fully painted or half painted before adding a soft orange for curved details. On the accent finger, make sure to add a thick vertical line of crystals.
#11. Short Stiletto Gel Nails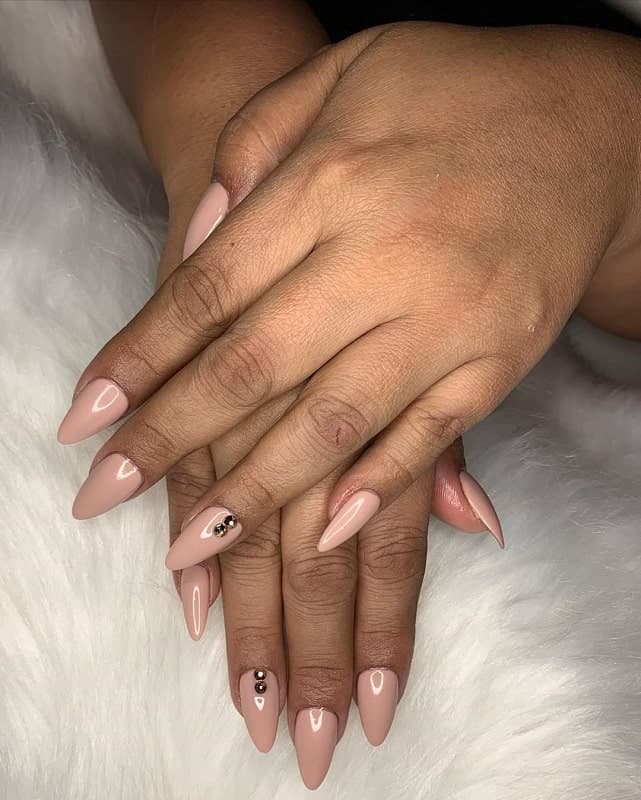 Beige is one color that can't be overstated for short stiletto nails. It's great for professional environments, classy, and a few dark-colored crystals bling it up without being too showy.
#12. Short Stiletto Nails with French Tips
If you're a fan of French nails, try an updated V-shape on short stiletto nails. At the point between clear and white, place a sparkly tiny crystal.
#13. Short Natural Stiletto Nails
If you're one of the few women out there who can grow long nails, shape them into a short stiletto before glossing over them with bright plain and glittery red.
#14. Short Stiletto Nails for Halloween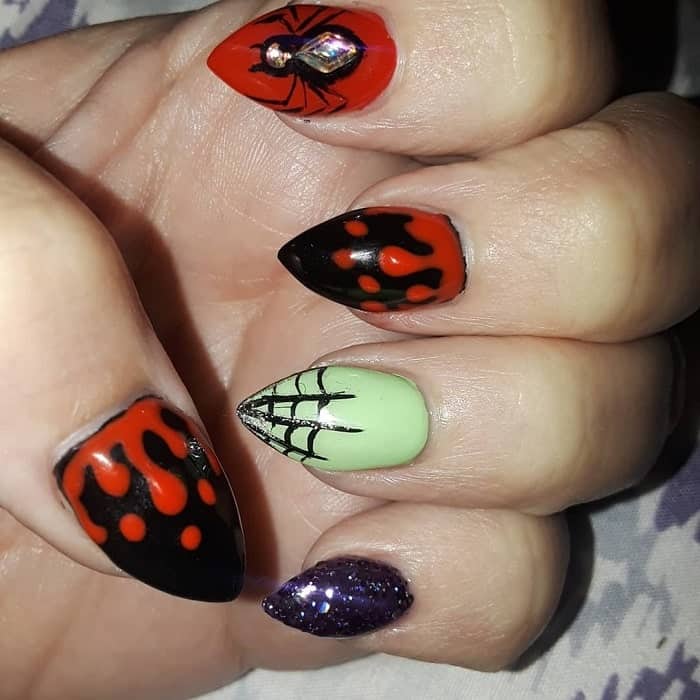 Halloween calls for a statement nail. Try a combination of purple, black, and red with a muted green accent nail. Use a thin black polish brush for a spider or web.
#15. Short Clear Stiletto Nails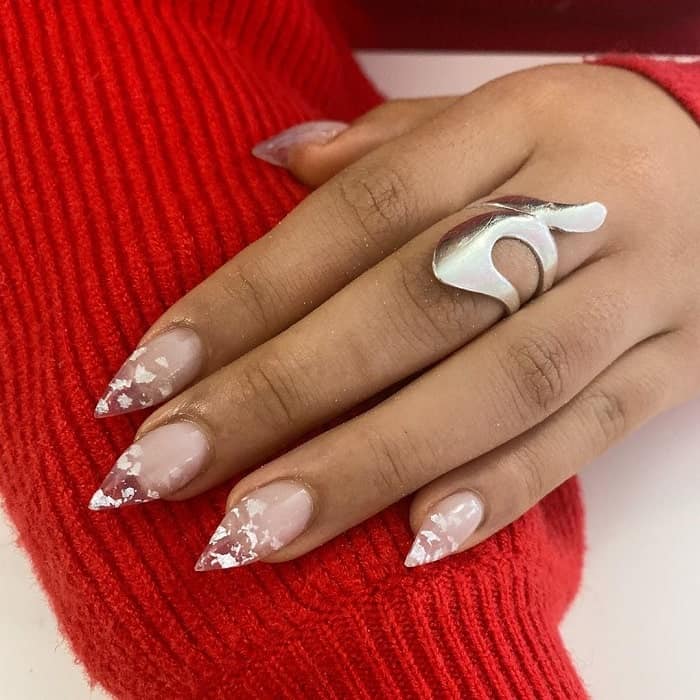 When you're in the mood to be bold, try clear short stiletto nails. They're subtle but won't go unnoticed when you add silver foils.
#16. Golden Glare
Stiletto nails can give you a glaring look if they are adorned with the perfect combination of designs and patterns. A light color base is applied on the surface at first.
Rhinestones, bows, and glitters are used to give different shapes and patterns. Golden color remains the focus and other colors and patterns revolve around this shiny color.
The spark of gold color and the pointy tips of the nails combinedly give the best output for your short stiletto nails.
Must-Try Stiletto Nail Design ideas
#17. Mandala Designs
Mandala is the symbol of a dreamer's quest for completeness. You can use this circular and kind of geometric design for your nails. If mandala is accompanied by rhinestones and other conventional designs this can give a different, yet, meaningful look to your fingers.
Here we have shown a mandala design on a single nail that is associated with other designs. This is an interesting idea that can enhance the beauty of your short stiletto nails.
#18. Acrylic Shiny Ombre
This is a sparkling design for your short stiletto nails. Use different acrylic ombre colors in an ombre style to give a lovely shine to your fingertips.
You can use two or more shining colors with glitters and apply acrylic nail polish to color them. it will do the trick to have these desired shiny acrylic ombre short stiletto nails.
#19. Versatile Colors
Using five different colors diversifies your short stiletto nails. The red, orange, pink, purple and salmon seen here are soothing to the eyes. Patterns like fish scales or dots add a fun detail.
Manicures to Celebrate Each Season
#20. White with Blank Space
This beautiful minimalistic design for short stiletto nails features matte white. For the gorgeous striped design, simply use tape to block off the lines, then peel off when finished.
#21. Rosy Posy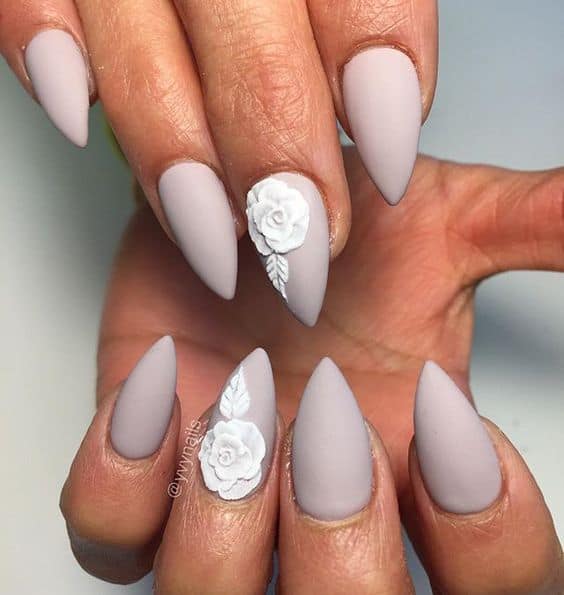 This design offers a touch of elegance for short stiletto nails. On grey matte nails, draw a rose or floral design on the accent finger or add one in 3D.
#22. Astounding Stones
Make short stiletto nails have an astonishing by using stones and glitter. Wear with a light pink base and white designs, using crystals near the cuticle for framing.
#23. Marginal Design
This is a simple way to look beautiful. Use a transparent nude color as the base color, then use pure white to outline ends.
#24. Black Heart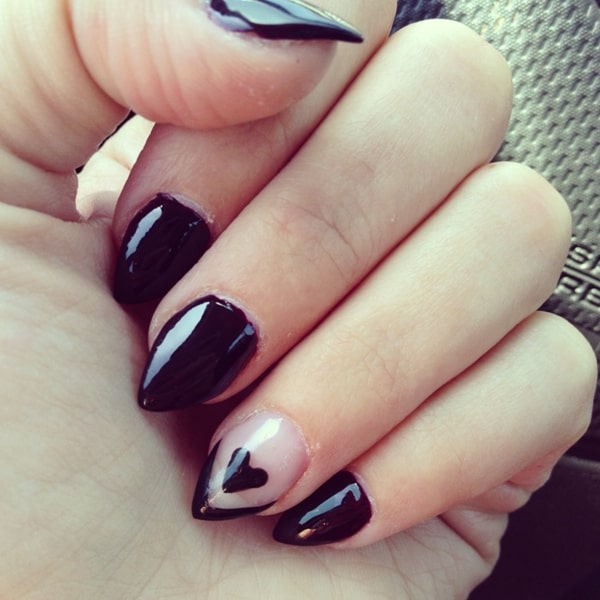 A black heart on short stiletto nails is perfect for expressing the pain in your heart. Moreover, black is the ultimate expression of elegance. Use acrylic black colors on your nails and keep one or two blank to draw the heart shape.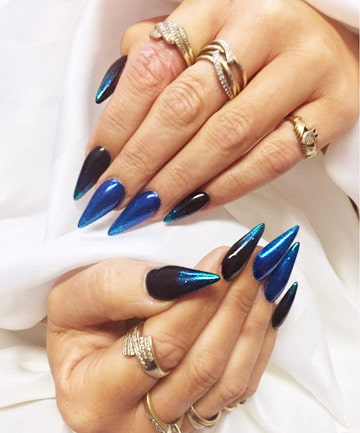 An out-of-this-world blue metallic design is very hot for short stiletto nails. We guarantee that all-male earthlings will want to orbit you when you wear this stellar design.
Best Ideas for Almond Shaped Nails
With the right nail art, the unique shape of your short stiletto nails will take center stage. You can still experiment with fun accessories like rhinestones, just don't overdo them unless the design calls for it. Happy designing!