25 On-Trend Short Stiletto Nails for 2021
Stiletto nails are meant to be daring, bold and expressive. If you want to have stiletto nails, make sure you don't hurt yourself in the way.
Long stiletto nails can be a nuisance if you are not cautious enough. But, short stiletto nails can make a difference between you and others if you choose the right path while designing them.
Here are some designs for your short stiletto nails which will stun you.
Amazing Short Stiletto Nails 
Short stiletto nails are something to preserve nowadays. The best thing about the stiletto nails trends is that it instantly adds an edge to even the girliest of designs. You can try the following designs for your short stiletto nails.
#1.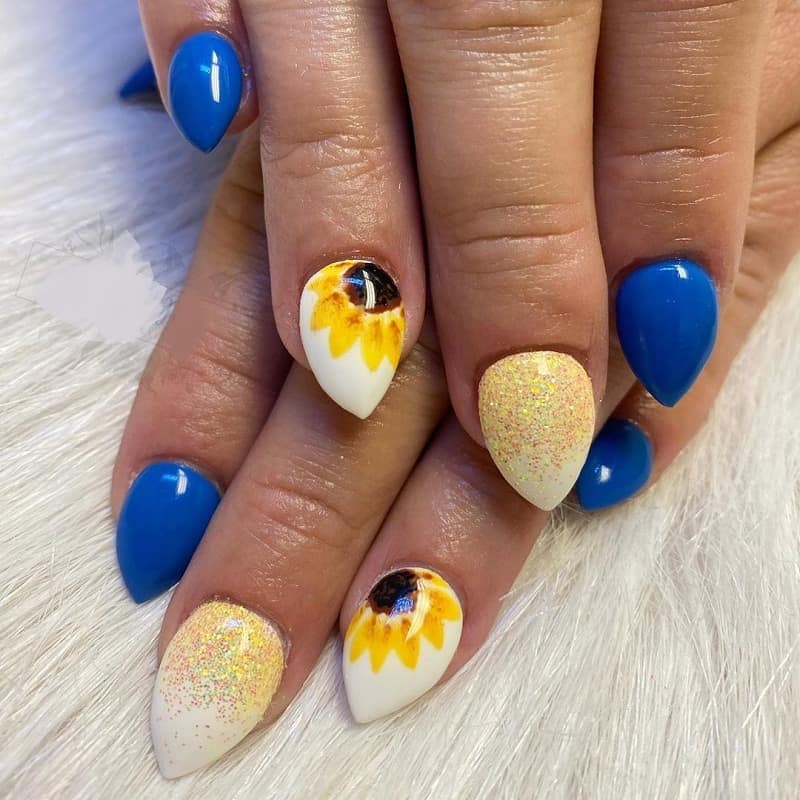 cute short stiletto nails
#2.
short stiletto ombre nails
#3.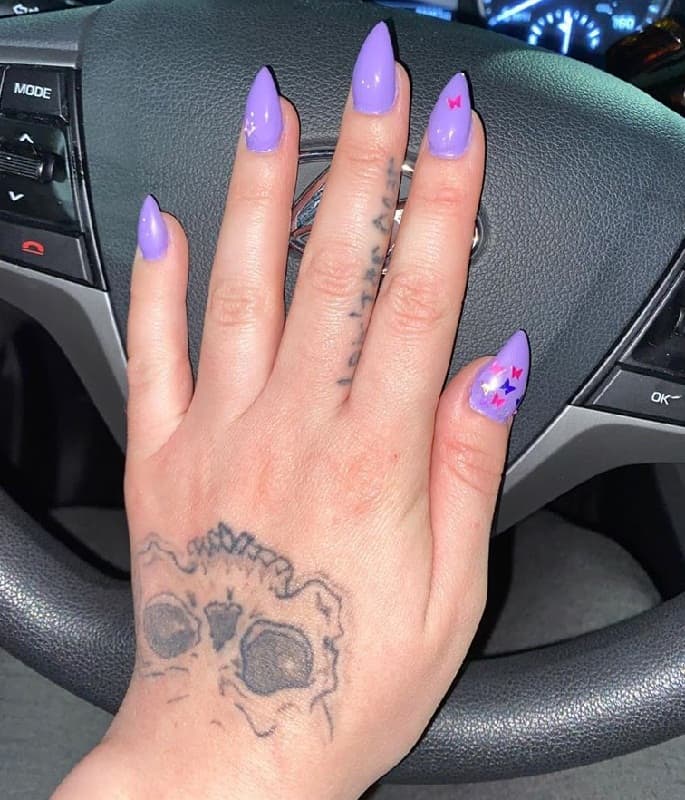 short stiletto purple nails
#4.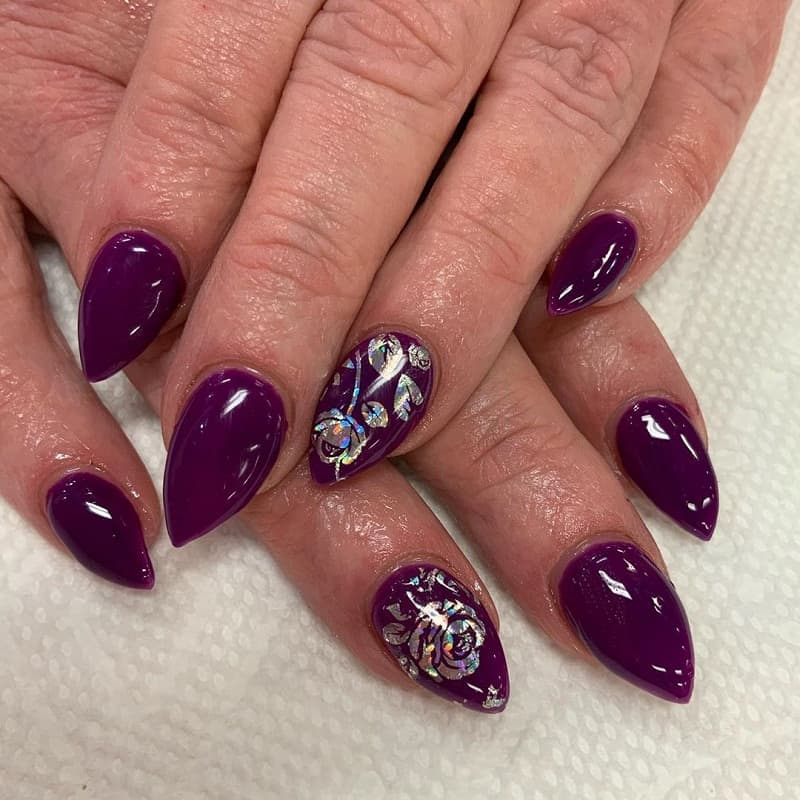 short stiletto burgundy nails
#5.
short stiletto gothic nails
#6.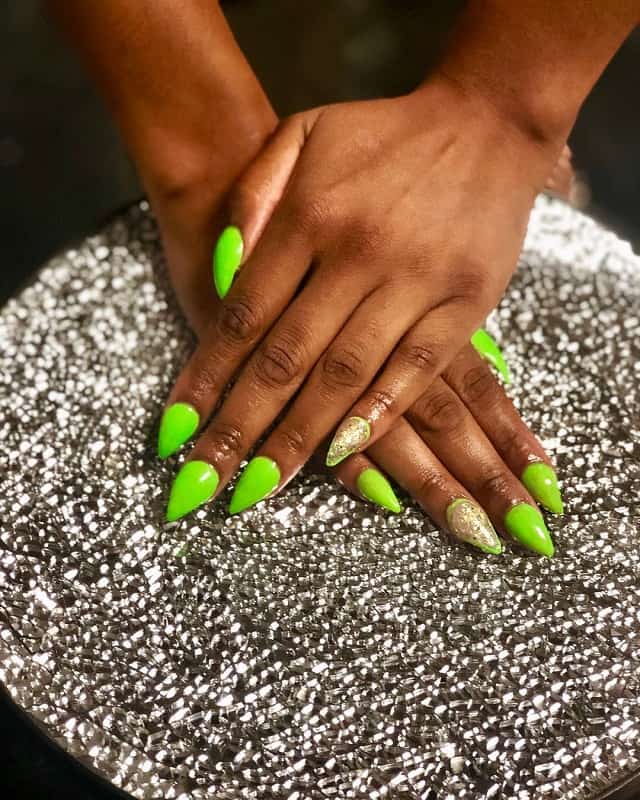 short stiletto green nails
#7.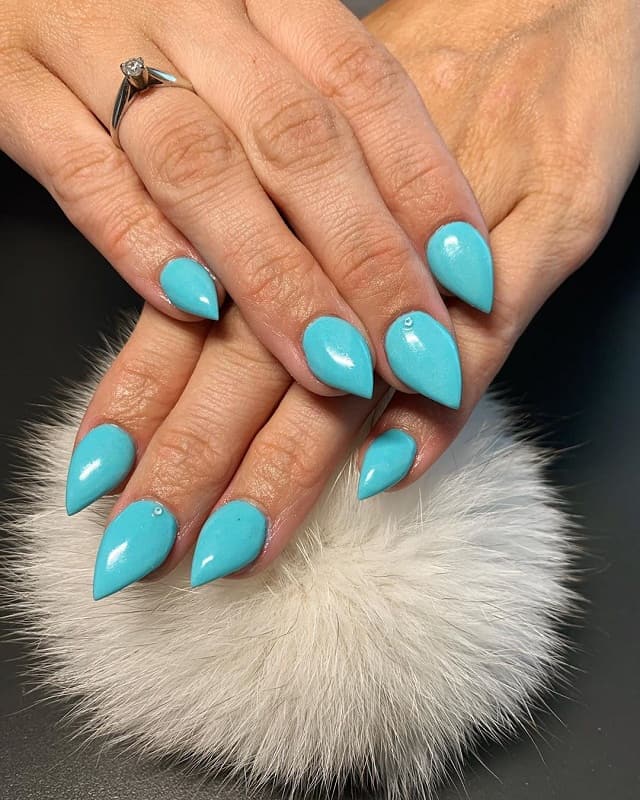 short stiletto winter nail design
#8.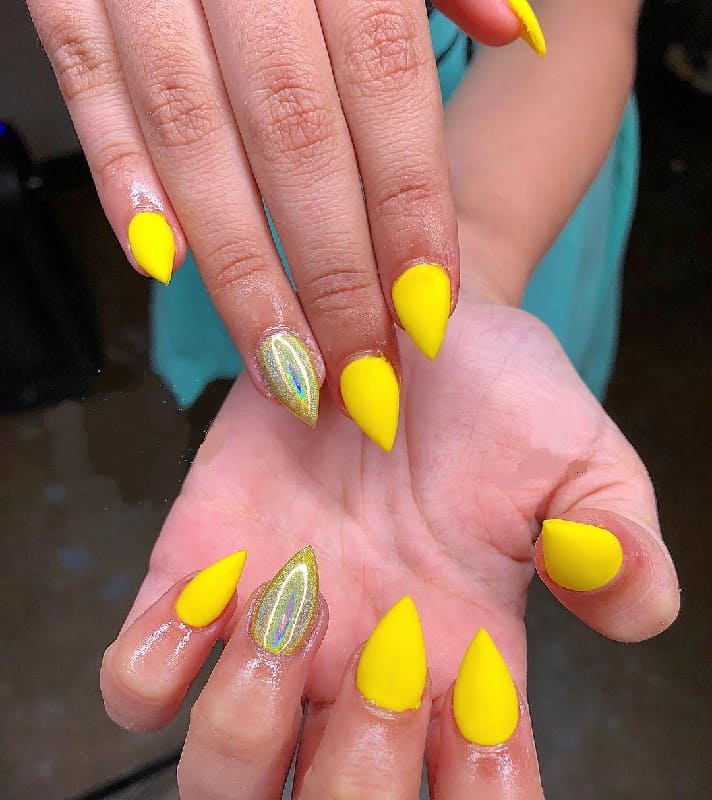 short stiletto yellow nails
#9.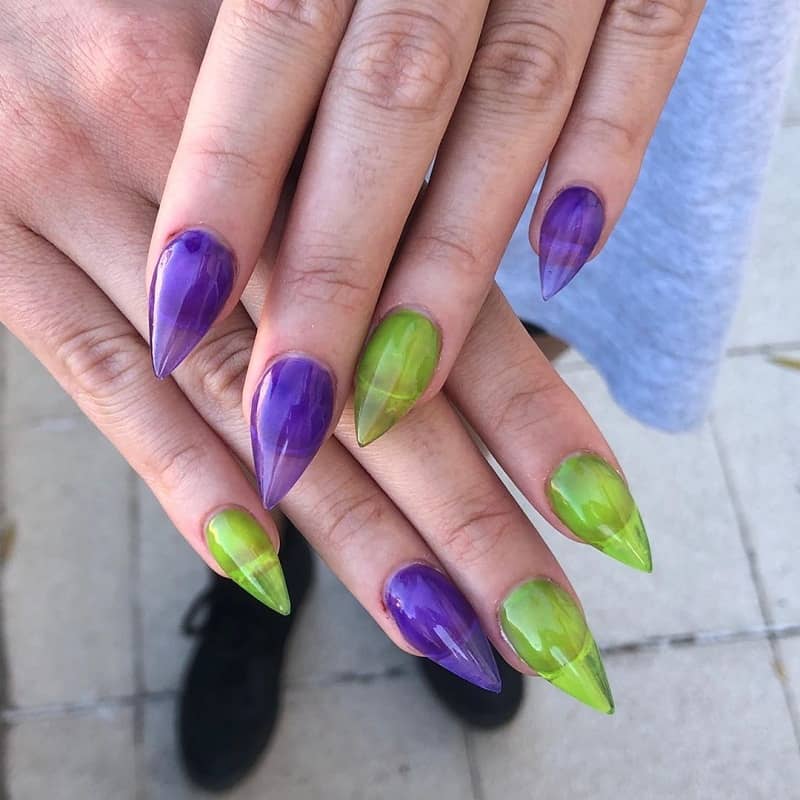 elegant touch short stiletto nails
#10.
short stiletto light blue nails
#11. Short Stiletto Gel Nails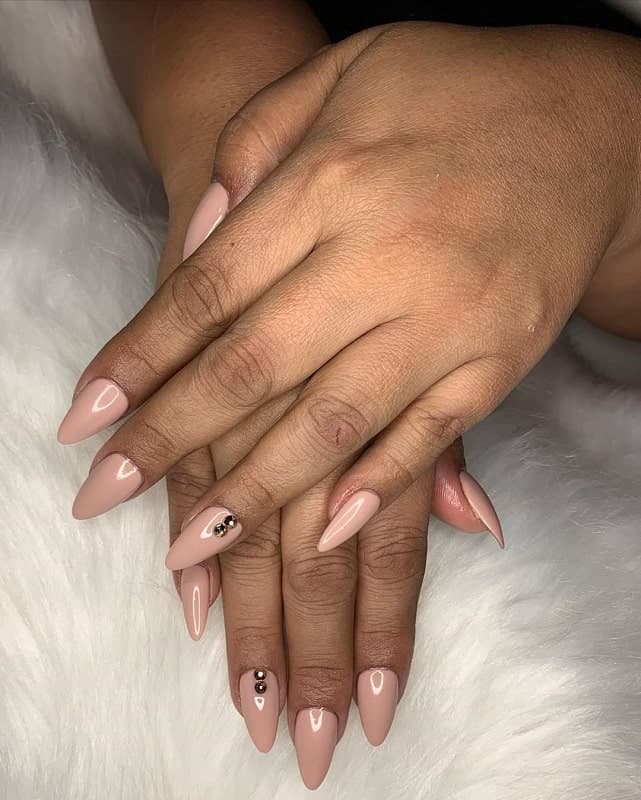 #12. Short Stiletto Nails with French Tips
#13. Short Natural Stiletto Nails
#14. Short Stiletto Nails for Halloween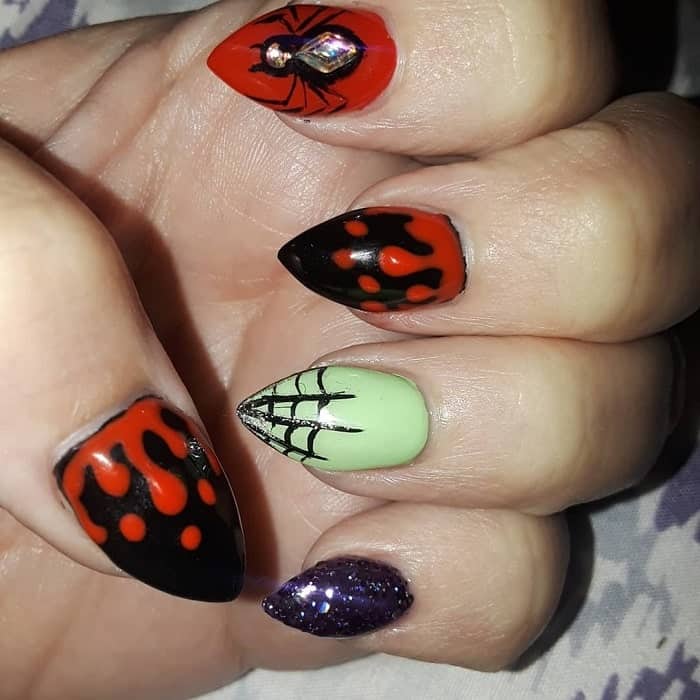 #15. Short Clear Stiletto Nails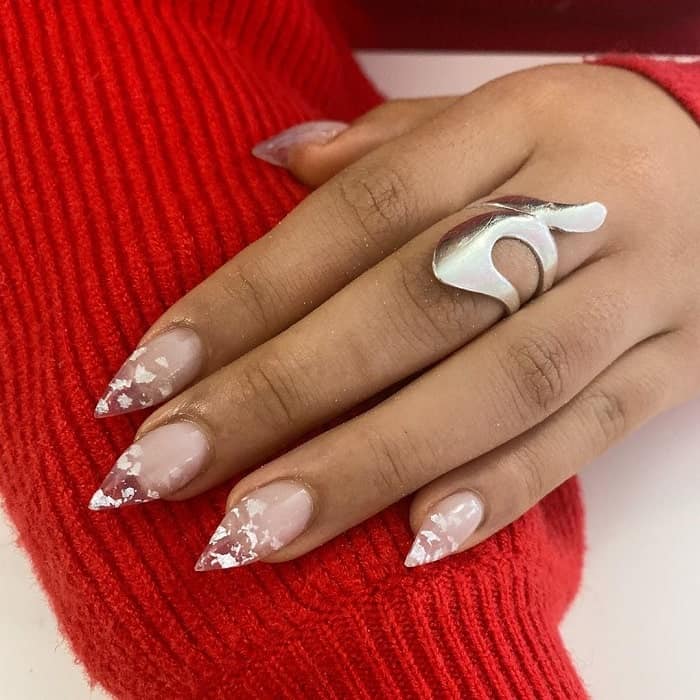 #16. Golden Glare
Stiletto nails can give you a glaring look if they are adorned with the perfect combination of designs and patterns. A light color base is applied on the surface at first.
Rhinestones, bows, glitters are used to give different shapes and patterns. Golden color remains on the focus and other colors and patterns revolve around this shiny color. The spark of gold color and the pointy tips of the nails combinedly give the best output for your short stiletto nails.
Must-Try Stiletto Nail Design ideas
#17. Mandala Designs
Mandala is the symbol of a dreamer's quest for completeness. You can use this circular and kind of geometric design for your nails. If mandala is accompanied by rhinestones and other conventional design this can give a different, yet, meaningful look to your fingers.
Here we have shown mandala design on a single nail that is associated with other designs.  This is an interesting idea that can enhance the beauty of your short stiletto nails.
#18. Acrylic Shiny Ombre
This is a sparkling design for your short stiletto nails. Use different acrylic ombre colors in an ombre style to give a lovely shine on your fingertips. You can use two or more shining colors with glitters and apply acrylic nail polish to color them. it will do the trick to have these desired shiny acrylic ombre short stiletto nails.
#19. Versatile Colors
Using different colors is the only way to have a diversified design on your fingertips. You can choose five different colors for five fingers.
Red, orange, pink, purple etc are the perfect choices to have a colorful but eye-soothing design. You can draw patterns like fish scale or anything you like to add the versatility to your short stiletto nails. This design seems to be one of the healing designs.
Manicures to Celebrate Each Season
#20. White with Blank Space
This is a simple but try-worthy design for your short stiletto nails. Firstly, coat the surface of the nails with a single matte color, especially, white. Then use the natural color of the nail as the blank spaces in between the white color base. You can have this gorgeous striped design simply by keeping the negative spaces as per the design suggests.
#21. Rosy Posy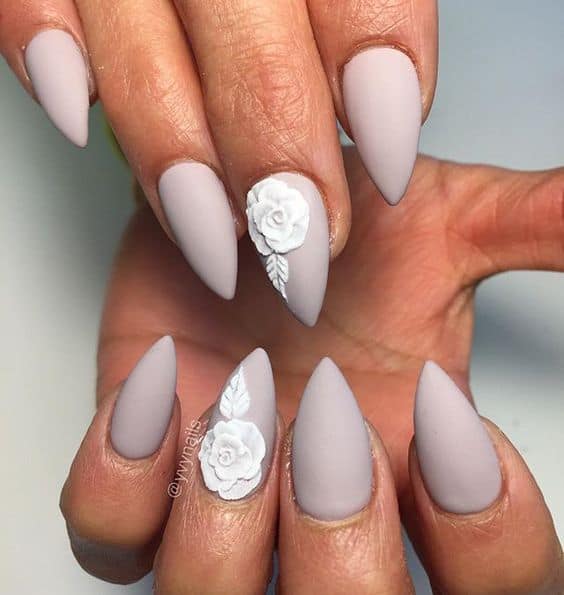 This design will be a touch of elegance on the tips of your finger. Draw a rose on the base of a matte nail polish. Then decorate your fingers with a floral design of rose and you can add a leaf to the rose for extra beauty.
Here two light colors have been used, you can choose a pink or red color to have a mind-blowing rosy posy design for your short stiletto nails.
#22. Astounding Stones
Your short stiletto nails can have an astonishing look at the use of stones and glitters. Use shiny stones and glitters on your nails to have this design done on your fingertips. You can choose light pink colors drawn with different designs in order to have the design as shown here.
Shimmery Glitter Nail Design Ideas
#23. Marginal Design
This is a simple way to look beautiful. Use a transparent nude color as the base color. Then apply pure dense white color to draw the margin sharply. A white edge will give the intense look you are expecting for your short stiletto nails.
#24. Black Heart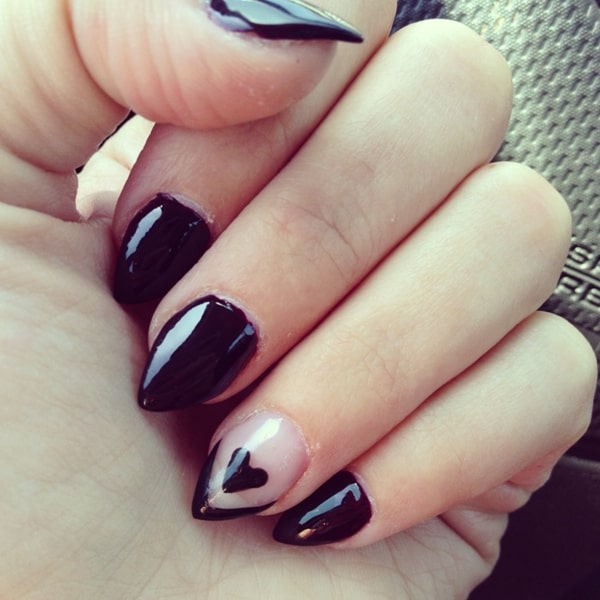 If you are a one-sided lover this can be the best design for you. A black heart can express the immense pain you have deep in your heart.
Moreover, black is the ultimate expression of elegance. This design is something out of the box. Use acrylic black colors on your nails and keep one or two blank to draw the heart shape. A black heart will enhance the beauty to a large extent and your short stiletto nails will look stunning.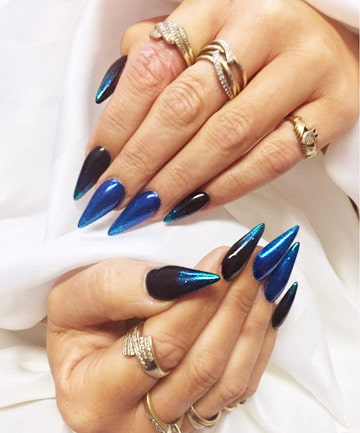 You can have an out-of-this-world blue metallic coated design on your short stiletto nails. We guarantee all-male earthlings will want to orbit you when you wear this stellar design. Use two blue acrylic color to have this outstanding blue heaven right on the top of your fingers.
A deep blue mixed with a comparatively light blue will give the metallic look. The contrast between two blue colors and a bit glitter is enough to have this design applied on your nails.
To conclude, I can say that the unique shape of your stiletto nails may take center stage if you choose the right color and right designs to adorn your fingers. You can still experiment with fun accessories like rhinestones, just make sure to keep them on the right track. I hope, you'll find our designs helpful for your endeavor.