The classy and elegant French manicure is the source of inspiration for colored nail tips.
Even if the white line applied on the tips is still a trendy look, women took it to the next level and adapted this style to their looks, personalities, and color preferences.
Ideas for colored nail tips
Colored nail tips can look even more spectacular than a French mani if you switch from a simple, classic squared shape nail to something more modern.
Opt for pointy or coffin nails and paint the tips in a color that matches your outfit. Or, you can make a double line and decorate the bench with studs, rhinestones, and 3D applications.
The options are infinite, and you don't need to stick to outdated choices. Check the article below and discover what you can do for your tips with just a pinch of color.
#1. Multicolored Electric French Mani
French manicures are so classic when using white and nude. With a little bit of imagination, you can spice things up and pull off an almond-shaped colored nail tip for your acrylic constructs.
#2. Double Colored French Nails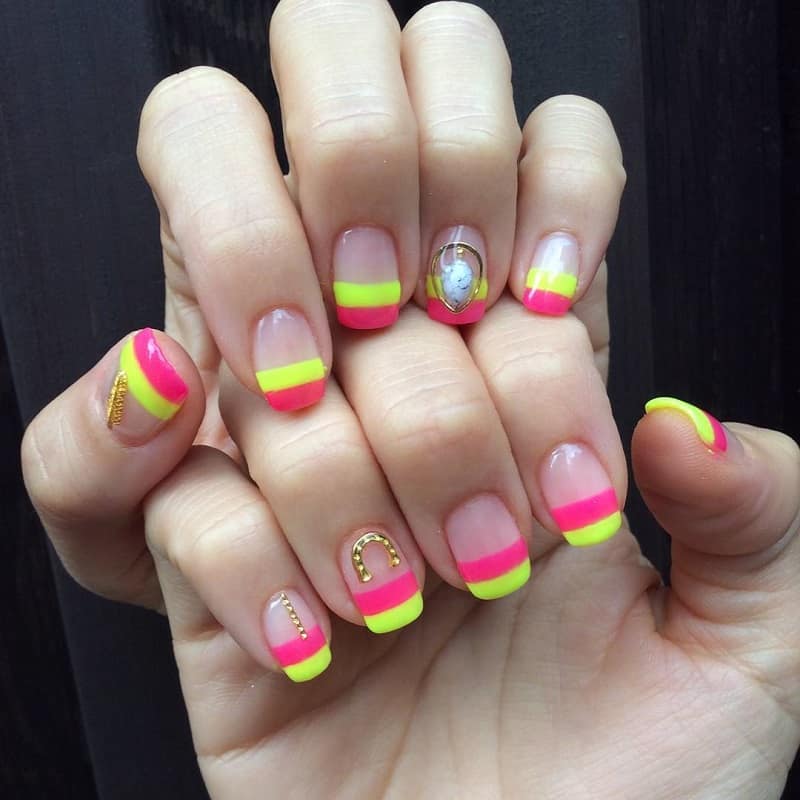 Suppose you love French manicures that much, why not make your lines double? Opt for electric pink and neon yellow polishes and paint them to create two colored nail tips. Spice things up with some subtle golden applications.
#3. Dripping Color French Nails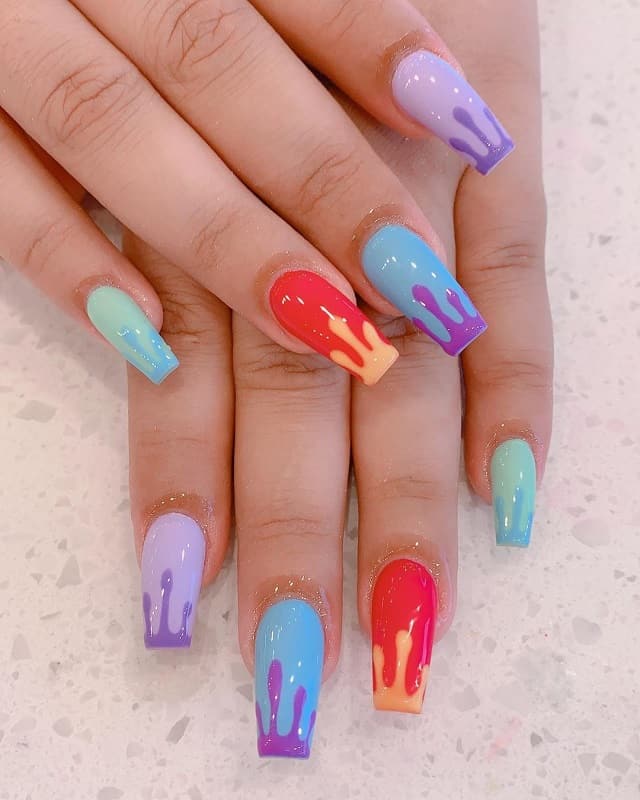 Spring-colored nail tips look so yummy. Inspired by dripping glaze, paint each nail in a sublime vivid nuance. Once the base is dry, recreate those color splashes for the tips of each nail.
#4. Squared French Mani Pattern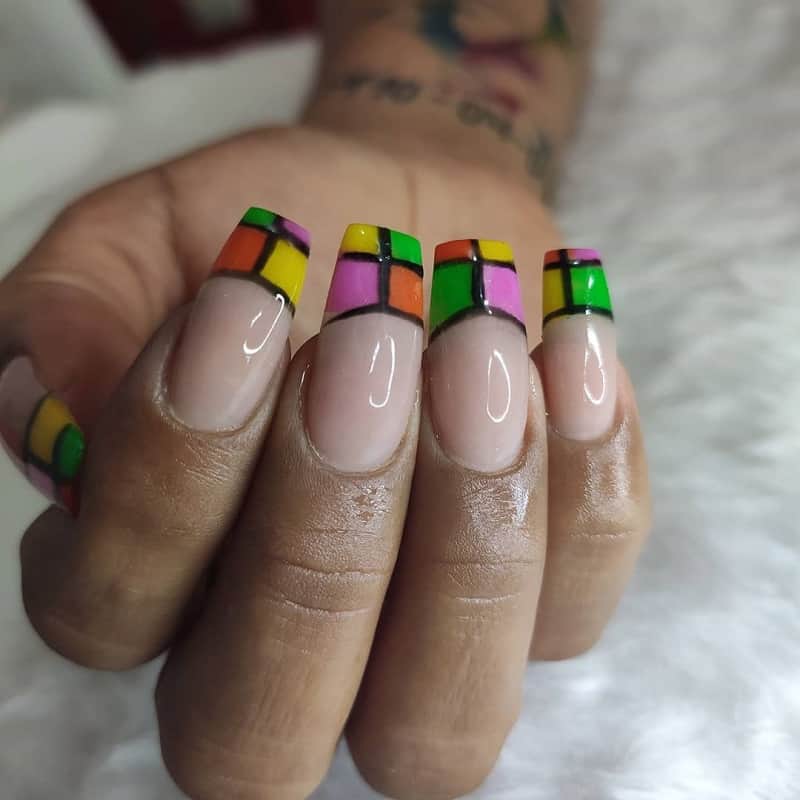 These fall-colored nail tips feature a nude pink, pale base color with multicolored tips. Apply all the nuances you want and let the nail polish dry. Finally, with a small brush, define each section.
#5. White Contour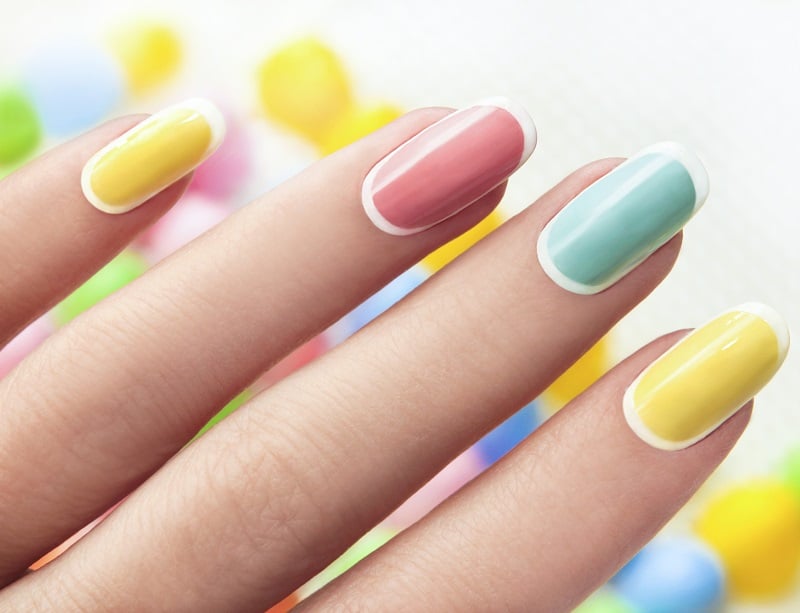 Pastel colors are a great way to welcome spring and summer. Opt for multiple nuances and use white nail polish for the edges. You will get a stunning colored nail with white tips that resemble a modern French mani.
#6. Colored Tips on Acrylic Nails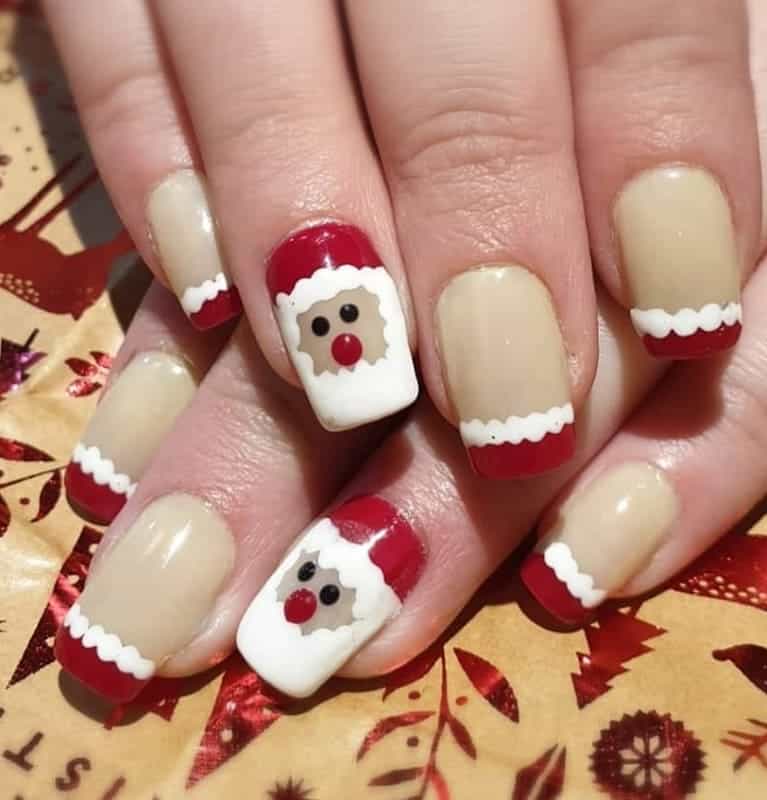 If Christmas is just around the corner, here's a gorgeous mani that you can pull off around this holiday. Create that French line for the tips with a red nail polish and once it is dry, style small white dots.
#7. Clear Nails with Colored Tips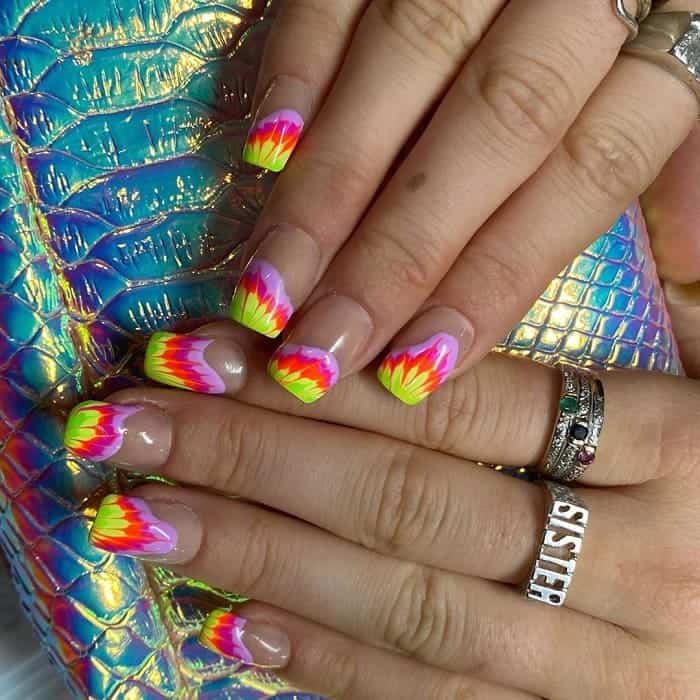 This color blend certainly stands out because the color combination is so vivid and powerful. Use purple as your base and let the nail polish dry.
Apply the second layer of color and use a toothpick to spread the polish. Let the second layer dry and repeat the procedure for all colors.
#8. Rainbow Colored Nail Tips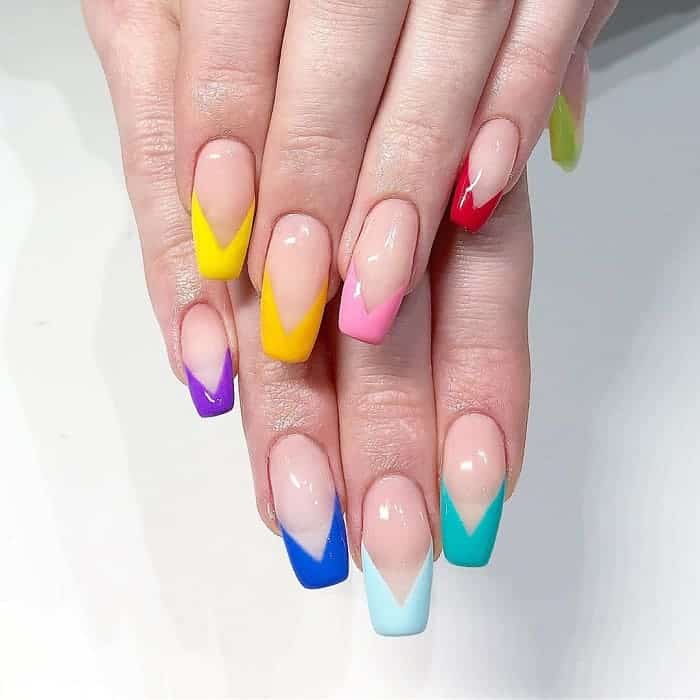 Rainbow French manicure is sensational and a very popular choice for women who adore a breath-taking look for their hands. Instead of fully applying the color on the tips, create a pointy shape.
#9. Colored Gel Nail Tips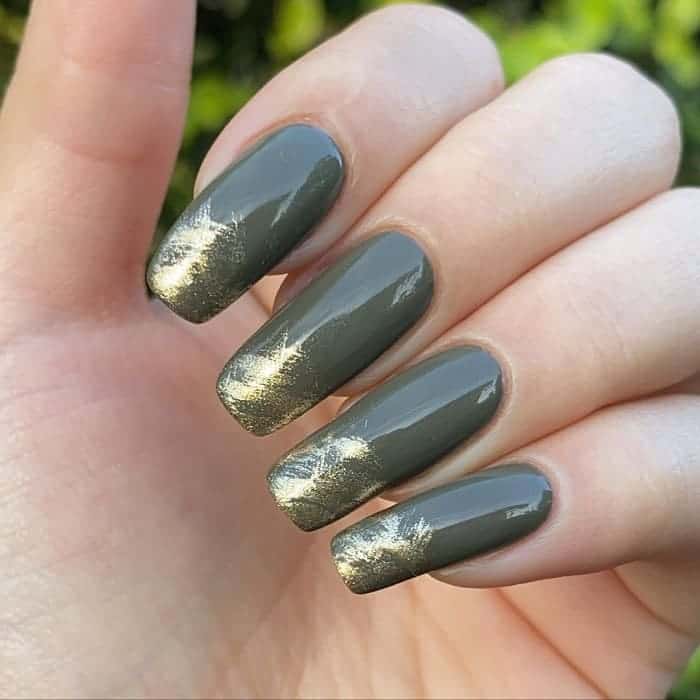 Opt for long squared nails with rounded corners and choose a shining gray nail polish. On the tips, use a sponge that you dip into a golden glittery nail polish and dab it on the nails.
#10. Ombre Colored Nail Tips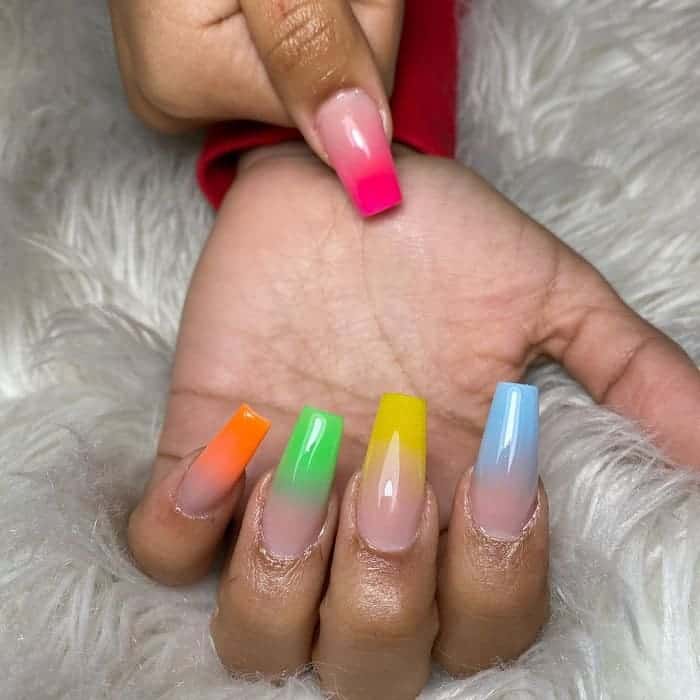 Ombre nails resembling a French manicure are beautiful, especially if you opt for a multi-colored look.
So, to recreate this style, use colors like blue, pink, yellow, green, and orange and make the color more eye-popping towards the tips.
#11. Color Tips on Coffin Nails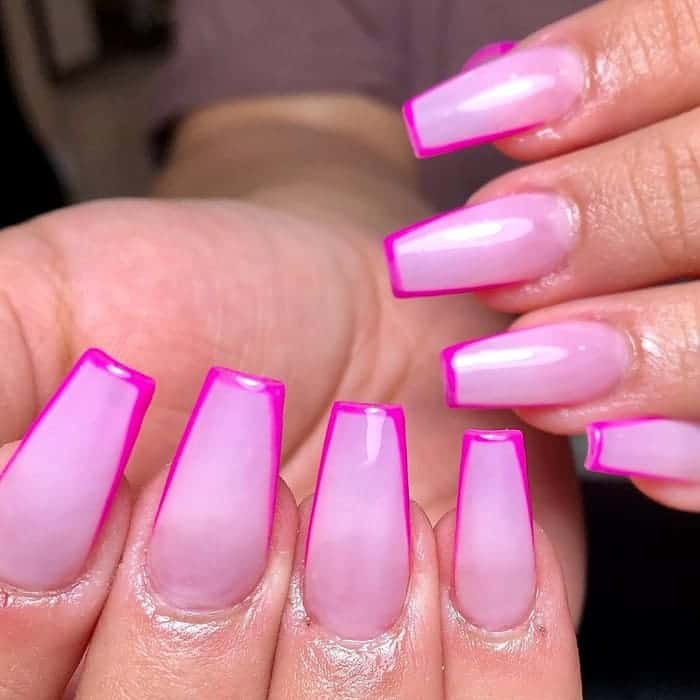 A French mani with a twist can be adapted to your tastes, personality, and nail shape. Therefore, opt for long nails and outline the edges with a thin electric fuchsia line. For the rest of the canvas, choose a pale pink nuance.
#12. Neon Colored Nail Tips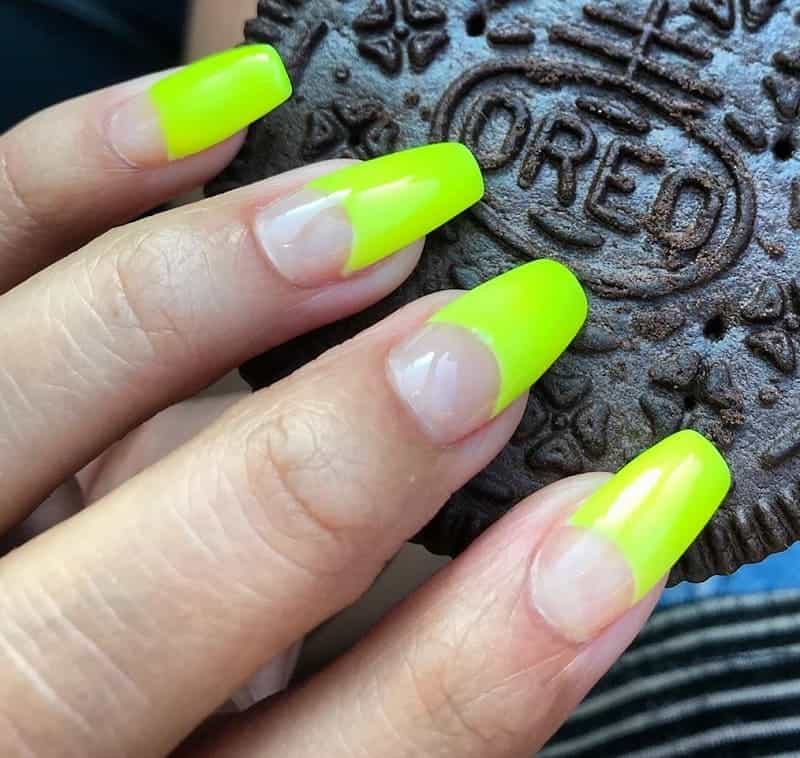 Instead of a classic French mani with white tips, you can try a more breathtaking color like neon yellow. Don't place it only on the top of the nail, but style it lower, closer to the base and cuticles.
#13. Solar Nail Color Tips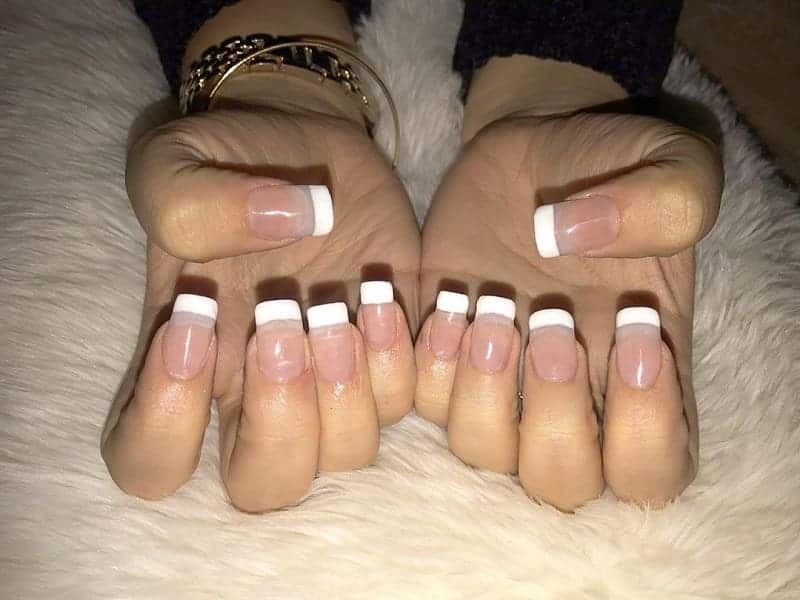 French mani is one of the women's all-time favorites because they are classy and elegant. You can sport the look on any nail shape but it certainly looks best on long square nails.
#14. Flowery Coloured Nail Tips
You can increase the feminity of the French Manicure by painting little floral patterns at the tips of the nails. It can be a whole flower that overlaps slightly into the body of the nail.
Alternatively, you can paint little petals on each finger, each petal marginally different from the other one.
5 Most Expensive Manicures On Celebrities
#15. Polka Dots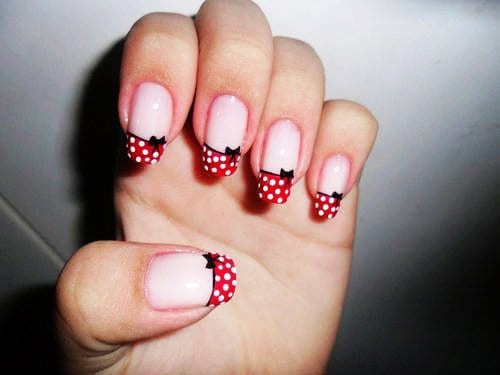 You can make French-colored nail tips look cute by painting the tips in polka dots. You can either choose to paint all the tips uniformly in a single color and then paint the dots.
Alternatively, you can pick different colors for different fingernail tips and add polka dots.
#16. Animal Prints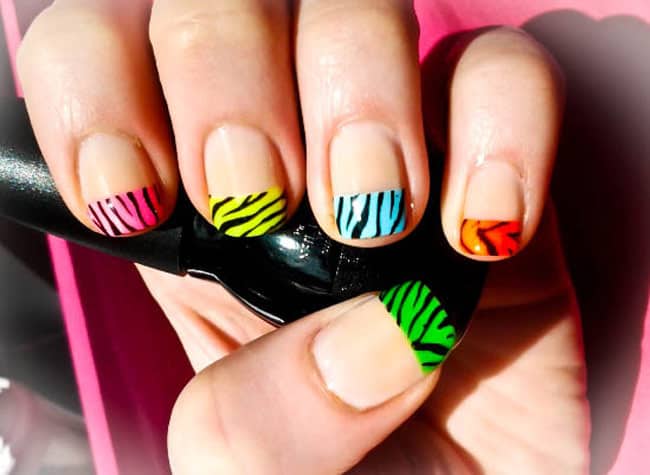 If you are in the mood for some, you can paint the nail tips is leopard spots, zebra stripes or even snakeskin.
This kind of French Manicure is as far away from the spirit of the same, so nobody can really accuse you of being boring.
#17. Glittery Colored Nail Tips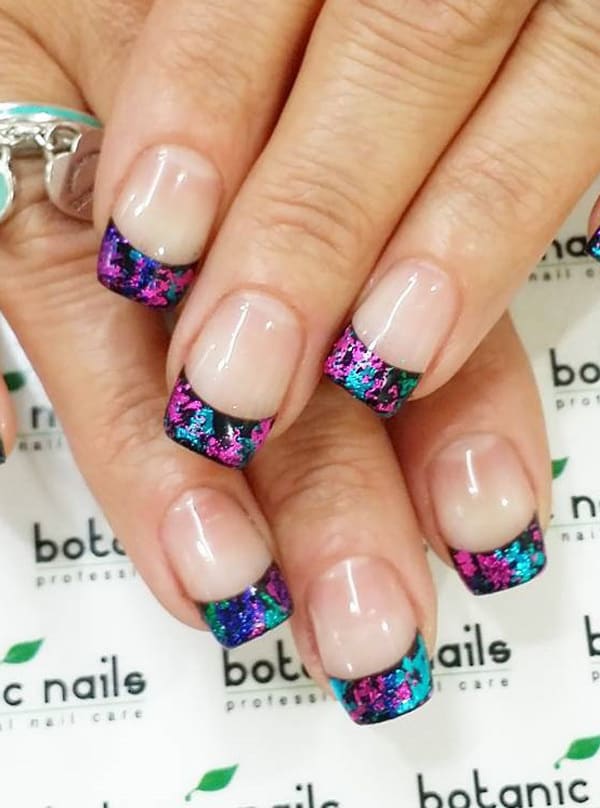 You can glam up a French Manicure by painting the nail tips with glitter. There are several shades of glitter that you can choose from, although gold and pink certainly steal the show.
The nearly nude shade of the nail creates a good contrast for the glitter to sparkle. With gold, the effect is a little more demure.
With some stronger shades like pink or green, the effect is more dazzling but not as flamboyant as a fully painted glitter nail.
#18. The Black Nail Tips
If you want to, you can choose to look gothic, but not go all the way. Purely gothic nails can be severe, with shades of grey and black. Instead, you can opt to paint only the tips of the nails a shade of deep black.
This creates quite a sharp contrast to the rest of the nude-colored nail. Also, black is unanimously elegant on any skin tone, so there is no way it will fail on you.
#19. Asymmetric Nail Tips
It is not always necessary to follow the biologically correct area of the nail tips. In fact, a French Manicure can actually be used to create an illusion of a nail tip too.
You can tweak this concept by simply painting an asymmetric pattern from the tip down, but take care not to go too low on the nail. An asymmetrical pattern is a fun style, that looks like melting ice cream.
#20. Multicolored Nail Tips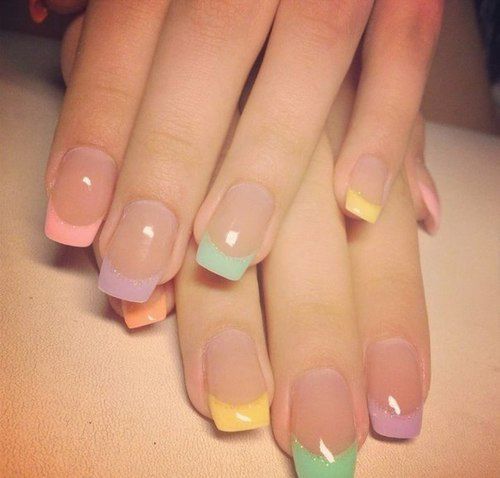 Keep it simple. Just choose five different acid pop colors, clean your nails and apply these five different shades of the five different nails. This style is perfect for young girls at a sleepover or a lazy day in the surf or simply a night out with the girls.
For more formal or even semi-formal occasions, you should better stick to either the original French Manicure or one of the other options described here.
4 Manicures That Represent Four Seasons
#21. French Tips with Glitter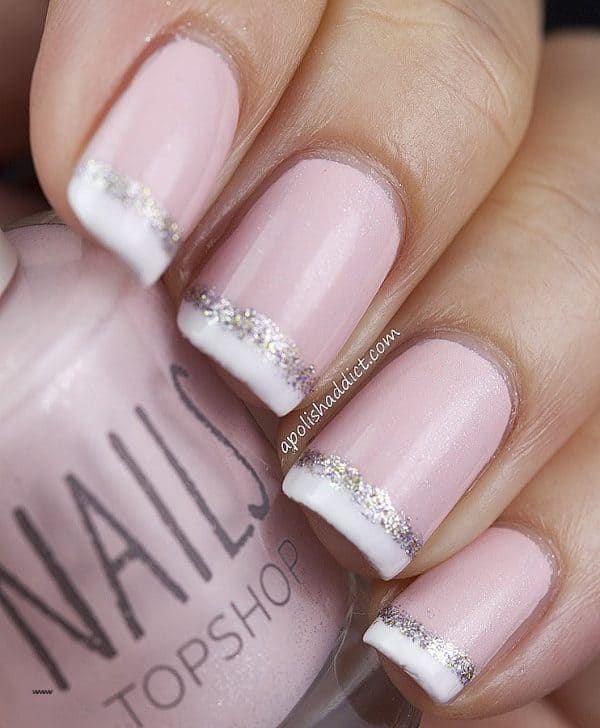 You can top up a French manicure by adding a dash of glitter. One of the ways to incorporate the glitter is to have it line the bottom edge of the ivory-painted nail tip, so as to demarcate it from the rest of the nude shade.
Many women choose a silver glitter strip, although you can choose your own color to match with the rest of the attire.
#22. Black and White Nail Tips
You can go retro and add a bit of the art deco touch by painting the nail tips in geometric patterns of black and white. This is a very classy option and if executed well (preferably use color blocking techniques), it creates quite a style statement.
You can create snug triangles or a chessboard pattern. In either case, try not to overload the design as that can ruin the graceful effect.
#23. Starry Coloured Nail Tips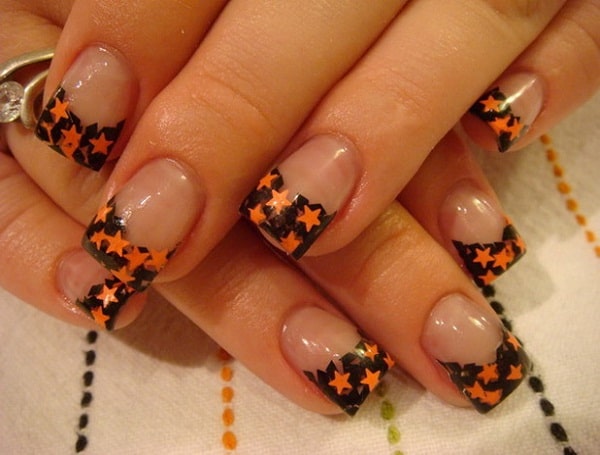 Instead of polka dots, you can choose to paint little stars on the nail tips. You can either paint the stars additionally on the nail tips or you can use color blocking techniques to do the same (simply put, just attach star-shaped paper cutouts of the nail tips and paint over them; then remove the cutouts).
Some manicurists create an ombre nail tip to include the stars; this style makes the stars stand out even more elegantly.
#24. The Chrome Nail Tips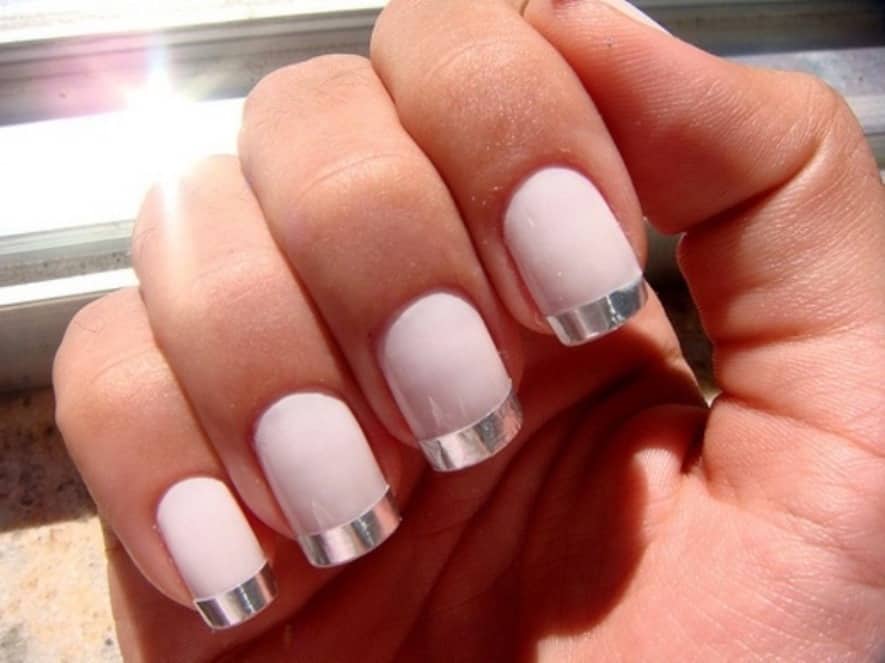 You can create quite a splash with a chrome-tipped nail. This design is as simple as the French Manicure and goes well with any kind of attire. You may or may not add a lot of bling to your get-up and still, your chrome-tipped nails can do their own talking.
Some red carpet fashion statements show a simple black dress and minimal embellishments, with chrome nail tips compensating for the lack of sheen.
#25. Hearts Nail Tips
Irrespective of whether it is Valentine's Day or not, you can wear your heart on your nails! Little, pink or red hearts on the tips of the nails are a cute way to dress up the nails.
Do not overdo the number of hearts you paint, and stick to a regular comic-book version, which goes well with the concept.
Valentine's Day Nail Designs To Celebrate Love
Colored nail tips are a funky way to transform a French Manicure. A word of advice, though. Most of these patterns work well with long nails, preferably stiletto and almond nails, where the nail tips are considerably long and thus provide a broader base to paint on.
Shorter nails can sport only a few of the patterns discussed above, because jamming anything elaborate would only clutter the nail, and would certainly overlap into the nail body.