25 Glamorous Ombre & Grey Nail Designs for 2018
Speaking about nail art in today's world is just as addressing any other form of art. As this art's trends vary, and people's opinions conflict, ombre nail designs and grey one's remain loved and favored by most. One of the few things all nail designers and nail art lovers agree on is that Grey is that beloved color that suits every outfit in any season. And that one of the easiest nail arts is ombre nail design, a design that requires neither the wide expertise nor great artistic skills, all it requires is a steady hand to paint your nails and a sponge. Nail design has become this inclusive art everyone wanna master no matter their skills, hence there are styles matching everyone's abilities. Different designs are trending every day, and the key to nailing each and every one of them is patience and creativity.
Unique Grey and Ombre Nail Design Ideas
Asking for individuality and style is what we all ask for. Nowadays where women are becoming reflecting mirrors of each other, we all dwell for uniqueness; an outfit where we look like ourselves, where we dress as we like, not as celebrities and others do. Even when it comes to our nails, we just wanna manicure our perfectly pedicured nails in the way that suits our mood and to reflect our own selves. We hope our list of varied grey and ombre nail designs will help you find the nail art style that suits you perfectly.
#1. Matte Grey & Black Tip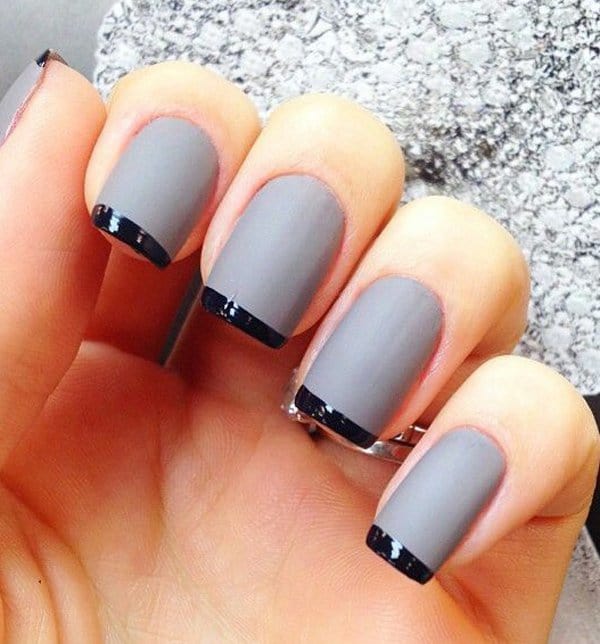 Anyone can master this elegant design with a clean matte grey base coat, and sleek brush of glossy black tip.
#2. A Scream Of Neon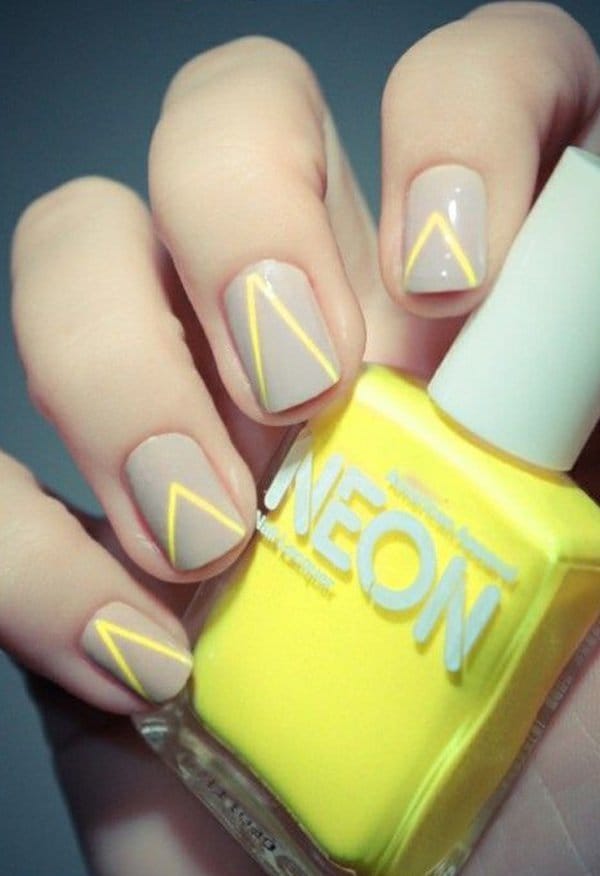 Scream style and individuality with this edgy grey nail design. With these bold shining yellow V lines on top of a simple mate coat of dusty grey, get this bold design.
#3. Grey love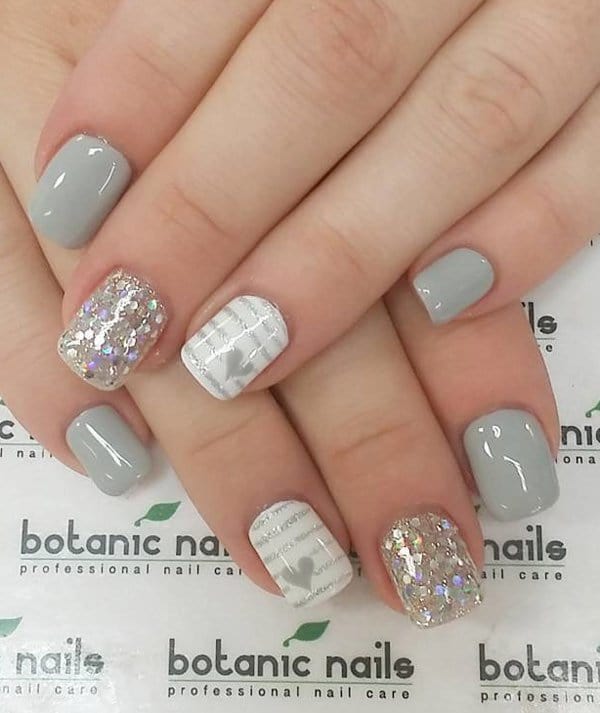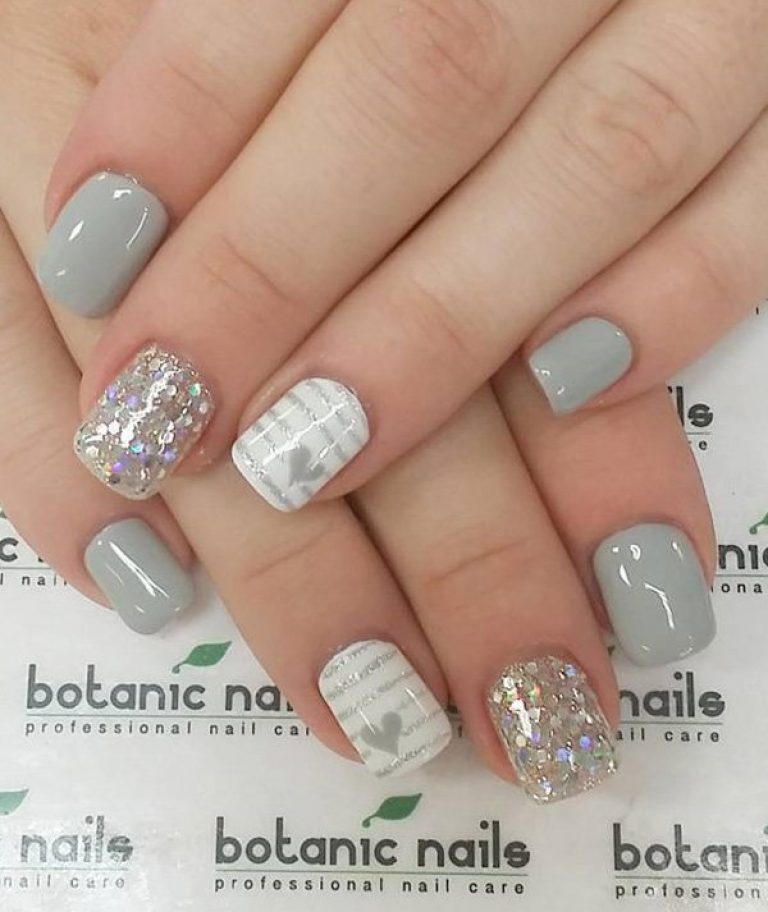 When in love, Pride it and show it with the tiniest drawing of a grey heart on a silver striped white background. Make your love glow even more with an accent glitter-based nail. Finally, subtle the design with plain light grey polished nails.
#4. Fading Purple For Your Grey Nail Design!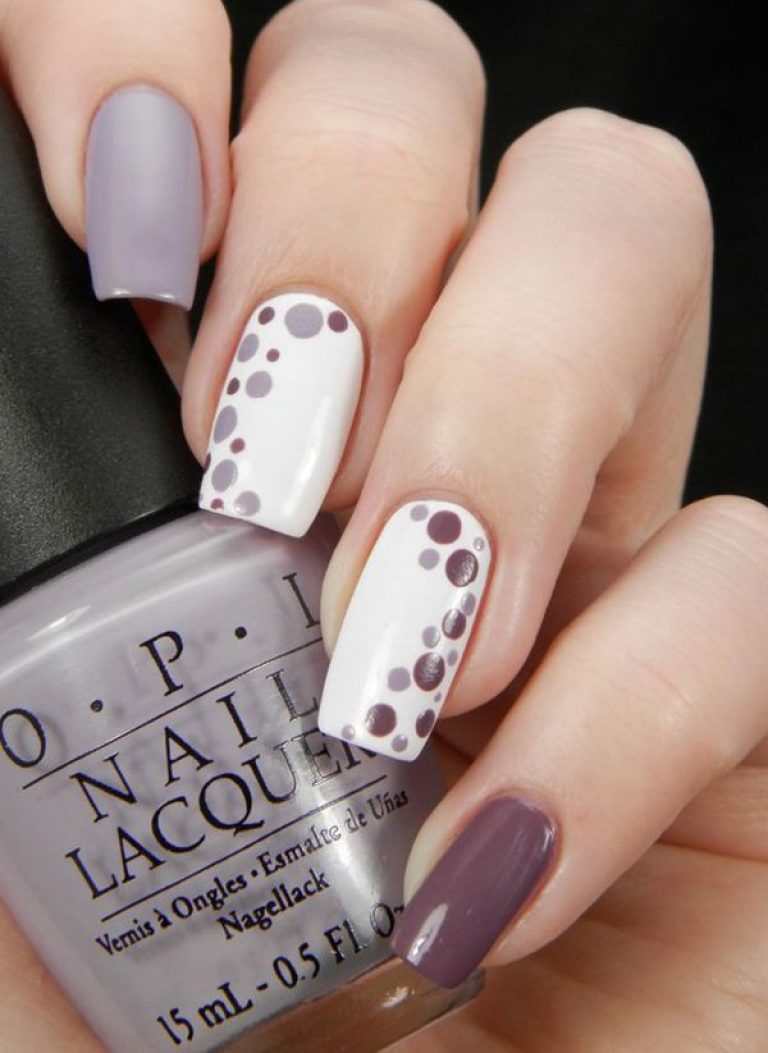 First, choose 2 colors to match your mood. Next, apply a coat of each color on 2 nails of your choice. I'm not a math freak, but doesn't that leaves 3 nails with no manicure? Finally, furnish your white coated remaining nails with grey and plum polka dots to get this cute grey nail design.
#5. Marble Grey Nail Design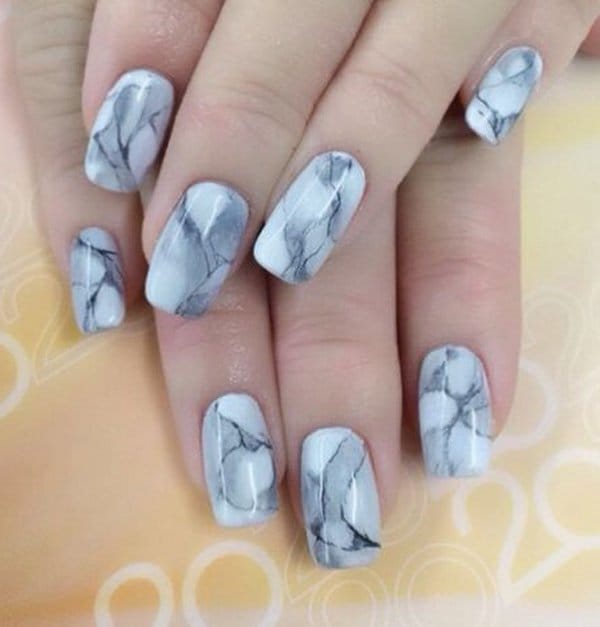 Neither white nor black, choose this white and grey marble design to get a statement appearance.
#6. Alternation Of Glitter

Transform art into fun with this grey nail design. Have fun with your nail design stripes, and create these geometric-inspired V lines with alternating glittery cream, silver, and black.
#7. Sassy But Classy

Degradation of glitter nail polish from dark grey to champagne gold for sassy but classy nails. Top it off with an intricate gold brush twirl with the tiniest bead over a clean white polished base on the ring finger.
#8. Flower Power

Get girly creative grey nail design, by drawing the cutest floral pattern using colorful shimmering dusty blue colors on top of your light grey based squared nails.
#9. Pink & Grey Glitter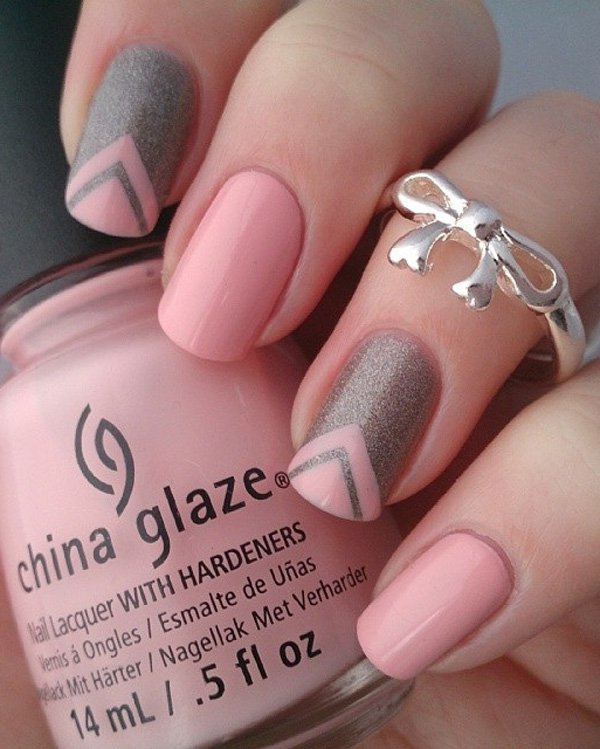 Pink has always been the color girls adore, no one can claim the opposite.And yes, even though we should've had outgrown this pink passion by now, but we can't resist this pink and grey nail design. Create chevron pink designs on a grey-glitter coated nails, alternated with other simple pink coated nails to preserve the design's soothing appeal.
#10. Silver French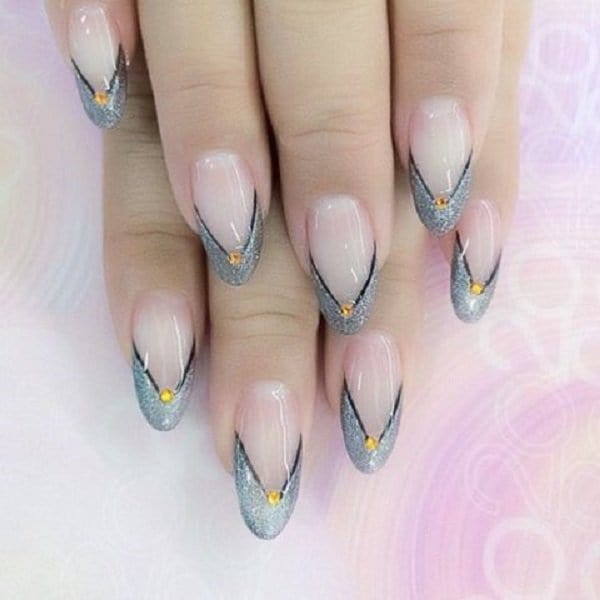 Update your french nail design to match the modern woman you are with this grey nail art.Get this modern french, by applying silver tips on transparent glossy background with a golden bead right in the spot.
#11. Purple-Grey Nail Design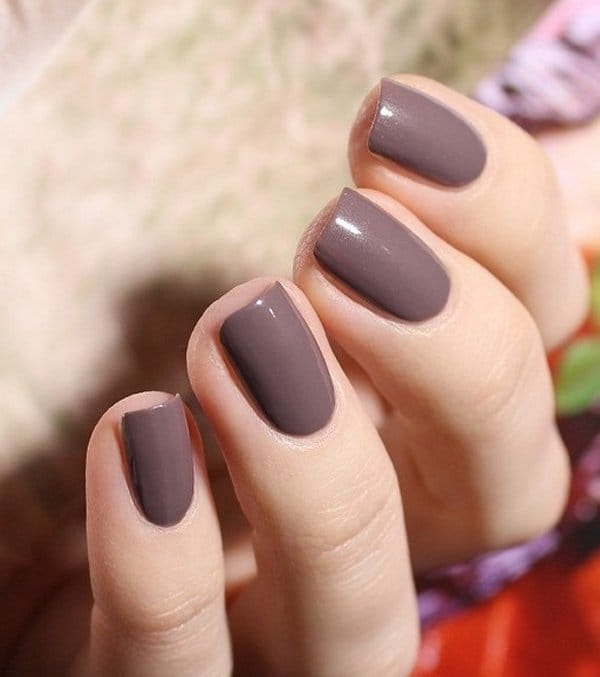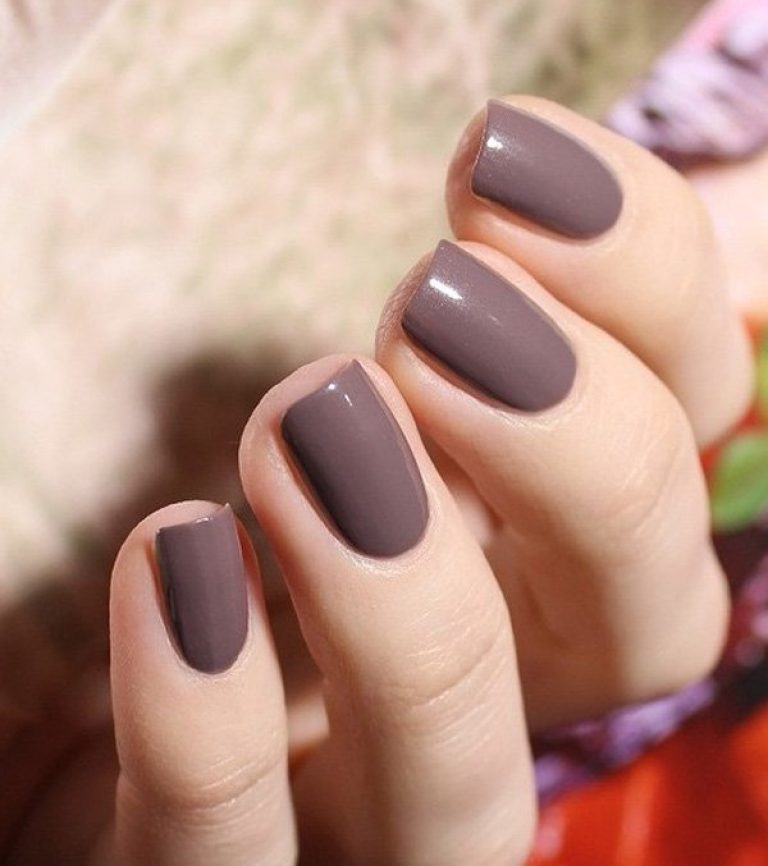 To match this season's cozy winter colors, choose this dark purple-grey polish color for a warm elegant appeal. Get an even more dramatic appeal by applying a finishing matte nail polish coat. Browse nail design ideas with glitter here.
#12. Plum, Silver & Love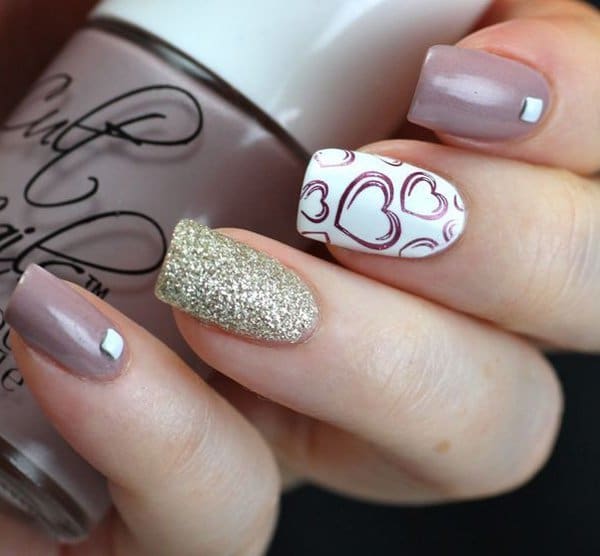 Alternation of simplicity, gradient, and art for a breathtaking grey nail design. With this plum-grey nail polish, silver glitter gradient, and purple heart design on white based ring finger nail.
#13. Blue-ray Grey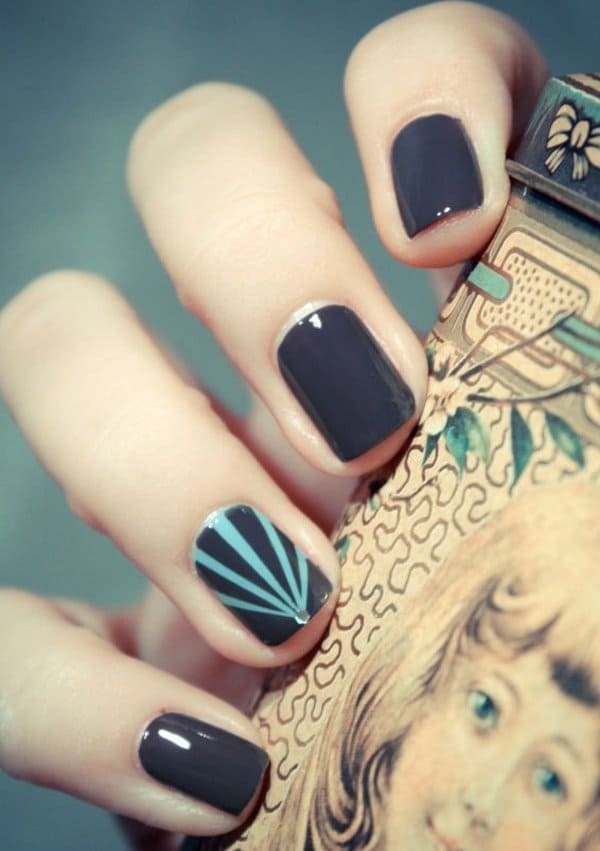 An interesting improvement from the traditional grey nail design; Petroleum-grey with rays of sky blue topped with a strass at the tip of your nail.
#14. Retro Vibes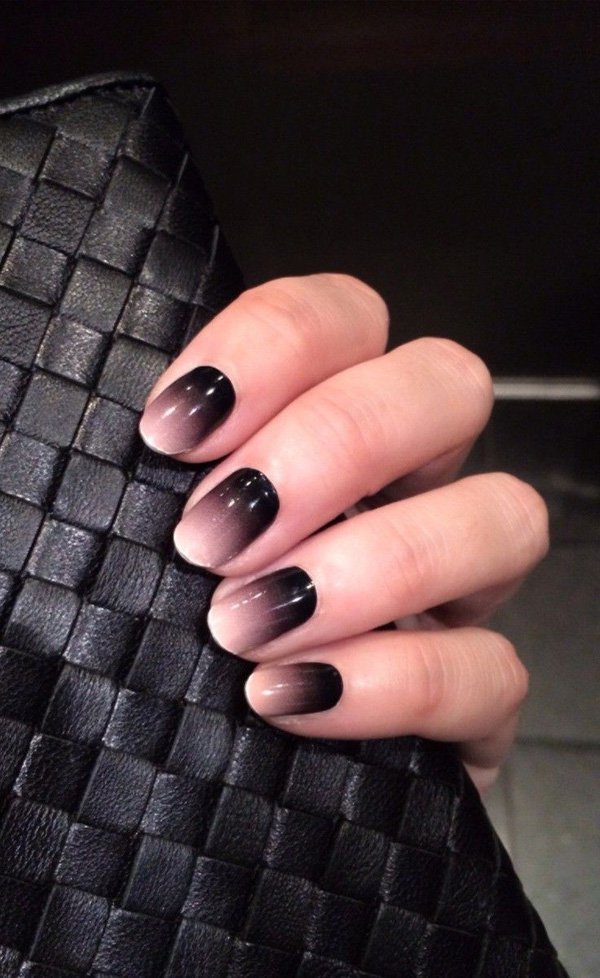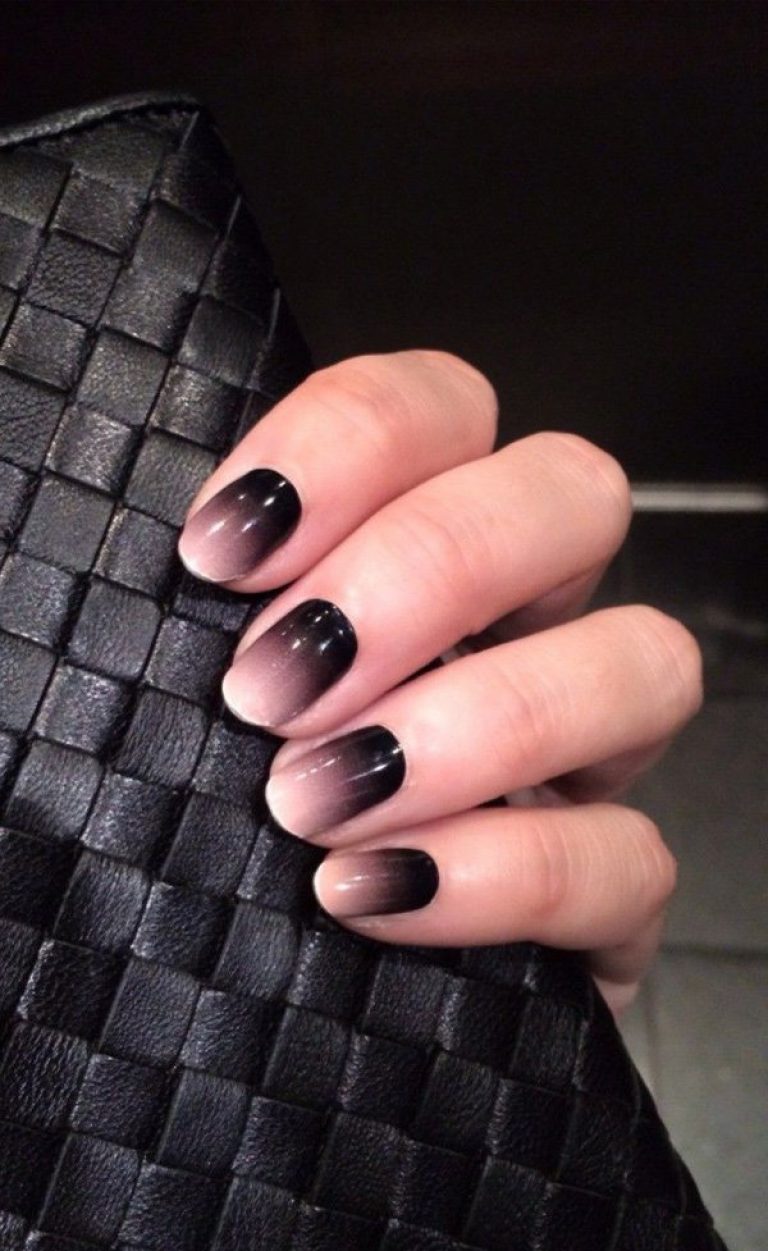 Get a black and white retro vibe with this ombre nail art, by applying black and cream degradation of nail polish for a sophisticated first impression.
#15. Fall Grey Nails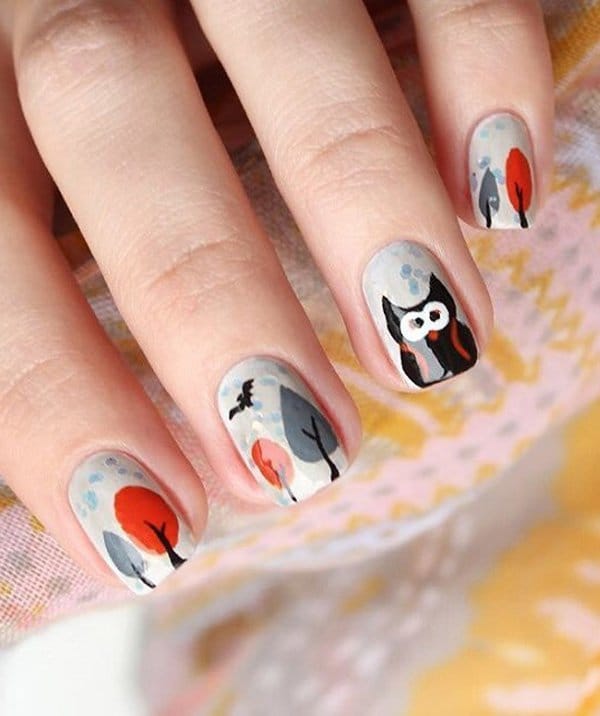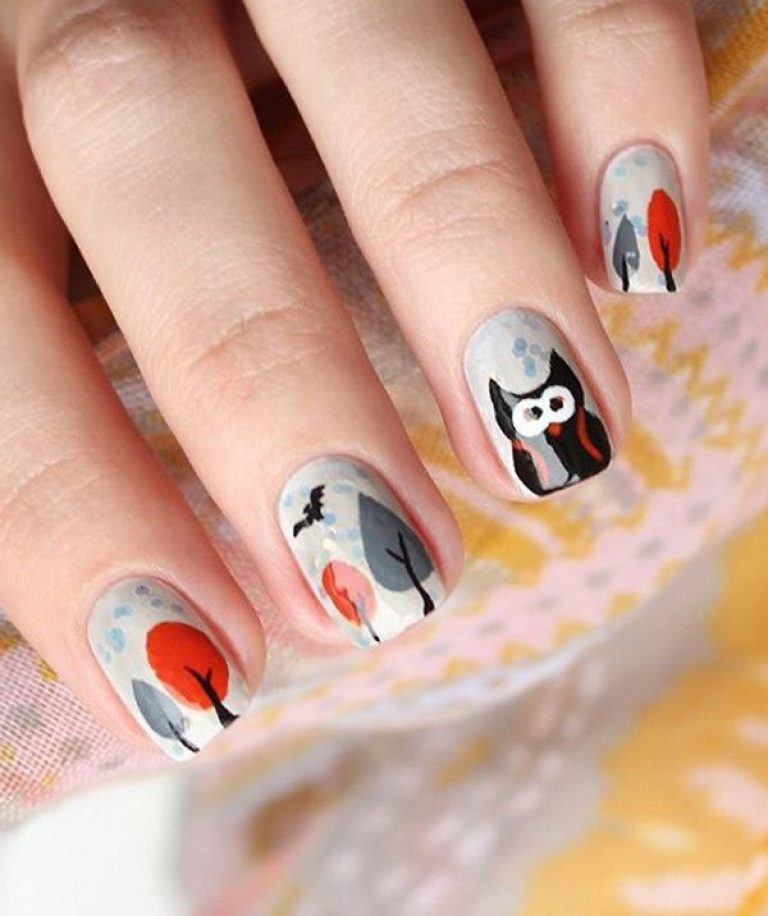 Might be one of the cutest fall nail arts ever. Get childish with your polish brush and unleash your artistic abilities over this light grey canvas.
#16. 2 Shades Of Grey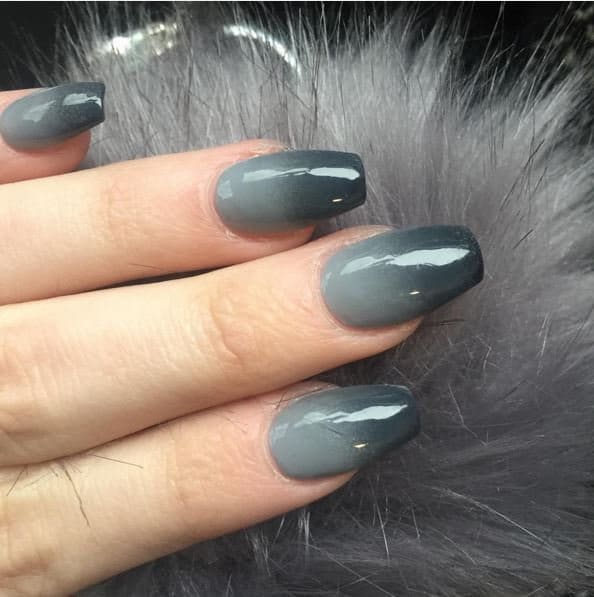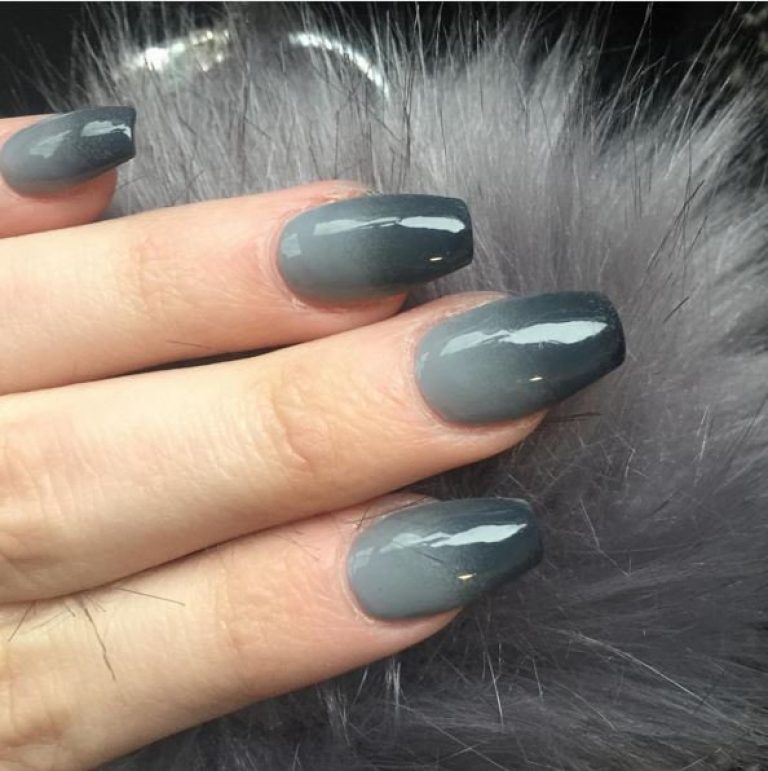 Enchanting fog and light grey ombre. Try out this design by contouring the tips of your nail with fading deep fog grey using your sponge on top of a clean varnish of the light grey base, and that's all it takes, simple, right?
#17. Dark-Beige Silhouette
Just like the darkest of stories have bright endings, this design starts with a black-as-night nail polish and degrades into this light beige, resulting with this classy soft ombre silhouette.
#18. Vivid Ombre Nail Design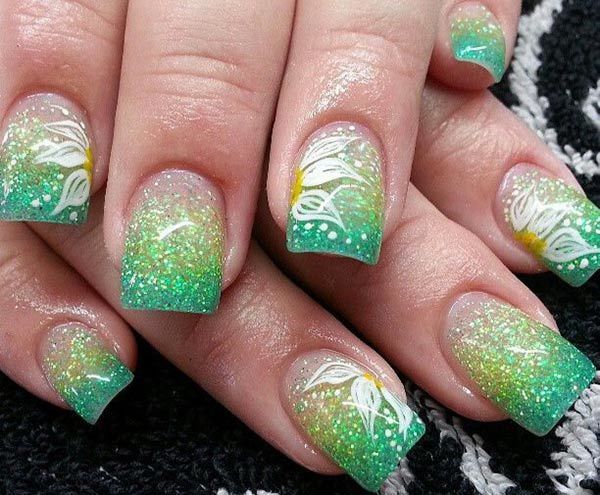 What's more fun than ombre nail design, but glitter ombre with colorful vibrant colors?! Combine 2 colors to match your outfit and add simple floral details helping the design come to life.
#19. Soft & Sweet
Get your favorite pastel colors combined into this matte ombre nails, and don't forget to add white polka dots for a 3-dimensional vibe.
#20. Metallic Silver Ombre
If you're looking for simple but dramatic nails, grey and white ombre nail design is your answer. Get your nail sponge and damp it with metallic grey and white nail polish and get your silver nails done.
#21. Glitter Ombre Nail Design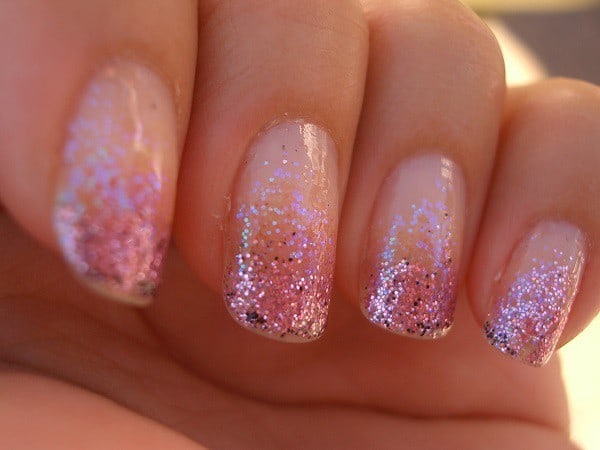 A simple ombre nail design for a fresh popping nail art. The key for this appealing design is adding attractive glitter based nail polish to your long nails tips', with a lighter addition at the middle of the nail, and almost glitter free ends.
#22. Wild Ombre

Leopard ombre nail design. Paint on tiger patterns using your needle on top of your degraded coat of white and brown, with a singular statement matte black nail to match your wild fierce leopard patterned nails.
#23. Waves Of Wine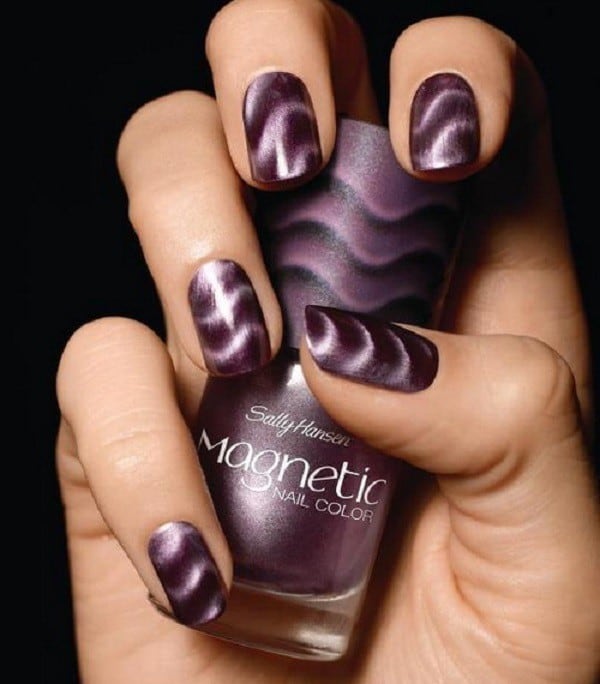 Enhance your ombre game, and dazzle the crowds with this wavy silver and wine ombre nail art.
#24. Violet x Lavender Ombre
Beautiful yet basic ombre nail design. With violet-kissed lavender long pedicured matte nails, with tiny 3D beads for a fashionable finishing touch.
#25. Fading Glitter
An easy design for anyone's abilities; glitter gradient ombre nail design. Start with choosing your preferable colored background, follow that with applying glitter gradients at the base of your nail, continue with a denser addition of glitter at the center of your nail allowing the silver gradients to fade into the color.
More Epic Ombre & Grey Nail Designs to Follow
At the end, making your own style, or creating your own nail design, adapting other's style, or inspiring from it. Be careful to maintain your own personal touch, might be with a splash of color or a twist of a brush.