Looking for a fresh new manicure? We're about to convince you why blue coffin nails should be your next!
Since blue is a primary color, meaning it combines with red and green to make other colors, it's estimated that there are more than 200 different shades of blue in the world! That alone should make you intrigued about the different kinds of blue coffin nail designs out there!
A light baby blue nail is perfect for soft, happy vibes; a royal deep blue makes its wearer feel luxurious; and a medium blue is perfect for those indecisive ladies wanting the best of both light and dark. As if it wasn't enough that blue is just a gorgeous color in general, adding rhinestones, crystals, beads, and other nail art guarantee a next-level blue coffin nail design.
Blue Coffin Nail Designs You Can't Resist
Light blues and dark blues and all the shades in between are featured in these 11 beautiful blue coffin nail designs. See which one calls to you, then try it today!
1. Baby Blue Coffin Nails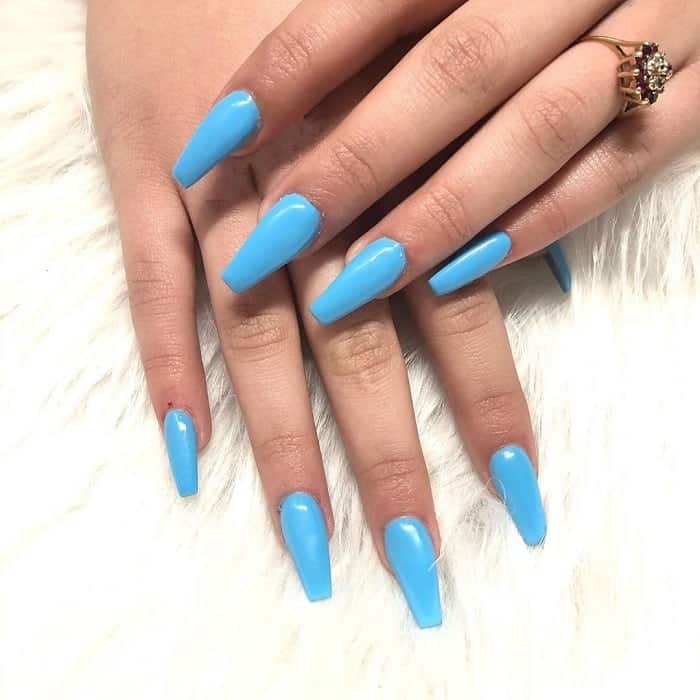 Are you a lover of lighter colors? You'll love this bright baby blue! Give your long coffin nails a few coats of this shade to feel instantly happier.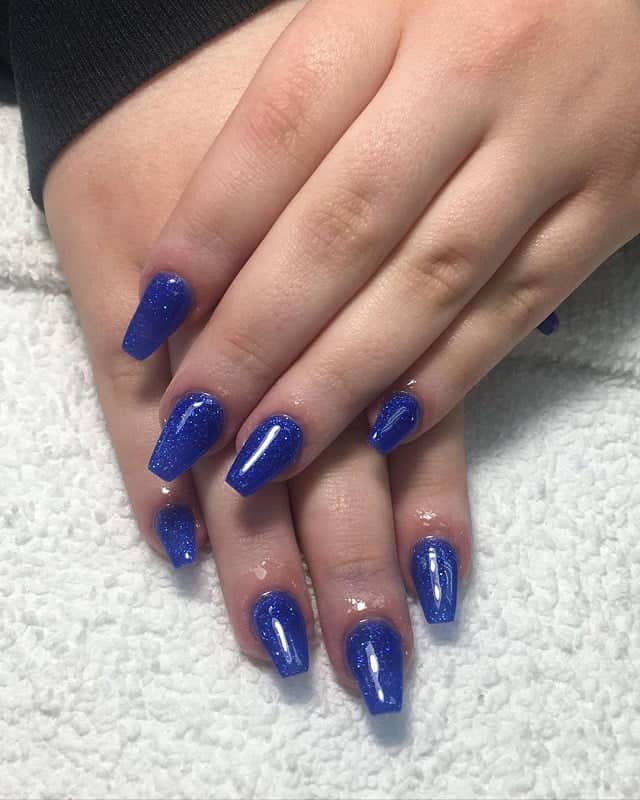 Maybe you prefer darker shades and in that case, you should opt for a navy or royal blue nail design. These short coffin nails are shown off with the help of a sparkly blue glittered polish.
3. Extra Long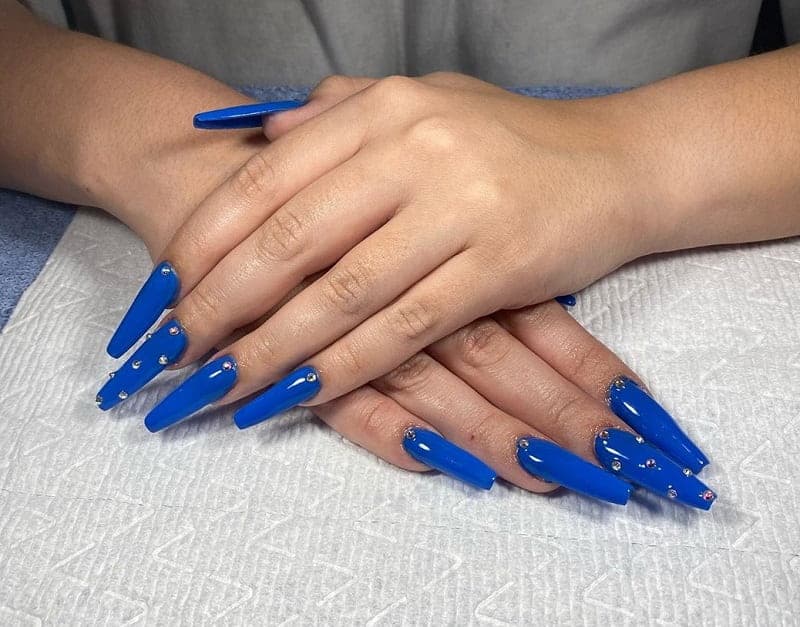 To add some pizzazz to your blue coffin nails, play with little details like tiny rhinestones. Place them sporadically on the accent nail and at the tops of every other nail.
4. Royal Blue Coffin Nails
A royal blue is rich and luxurious. To feel like a queen, choose this deep shade of blue for long coffin nails. The color is deep enough that they can shine on their own with no help from stones or stickers.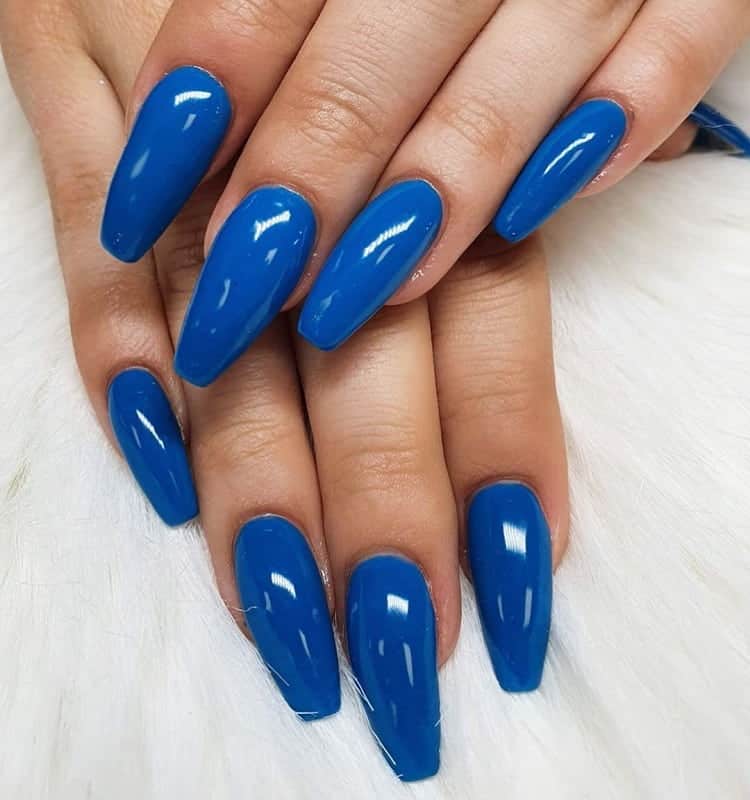 Acrylic nails may be an option for you if you want long blue coffin nails, but you don't have the nail length. The shine of acrylics is loved by ladies everywhere who prefer those shiny nail designs.
6. Light Blue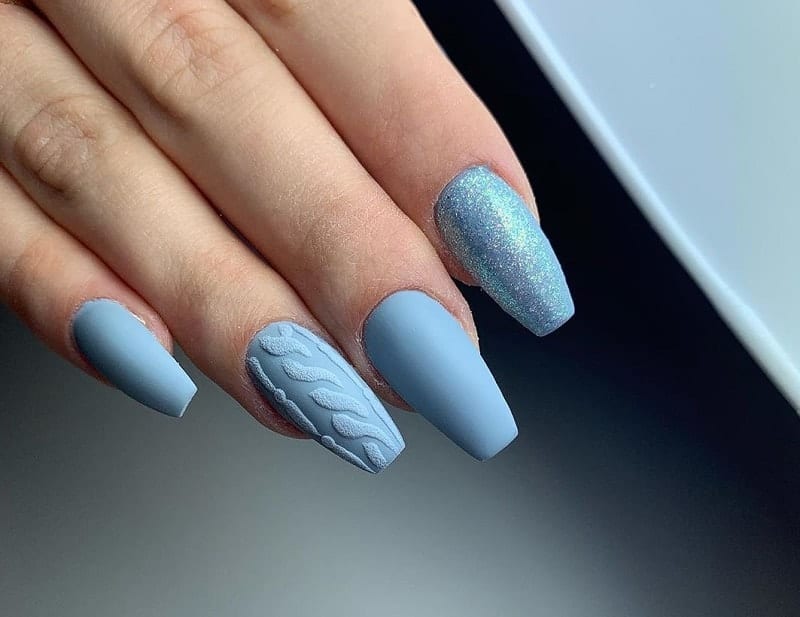 A dusty light blue is flattering nail color for light and pale skin tones. We love how this light blue nail design combines different textures and polishes. The glittered pointer nail brings the shine while the accent nail's pattern brings the detail.
7. Dark Blue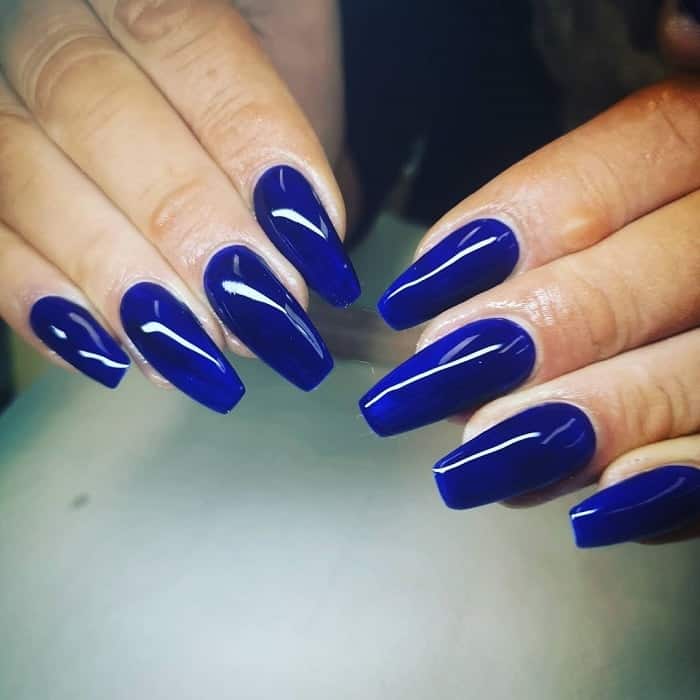 If you feel everything deeply and want to convey a bold mood through your nail design, choose dark blue coffin nails. As dark as these are, there's a little bit of transparency for a unique style.
8. Matte Navy Blue Nails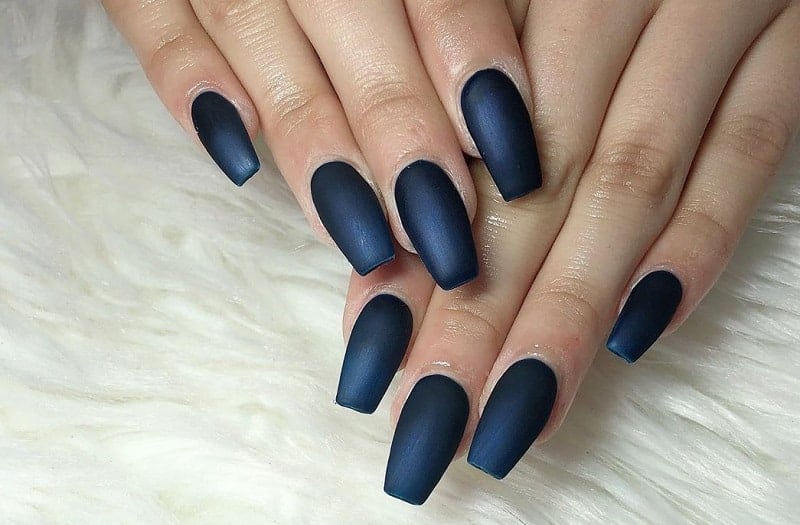 A smokey navy blue coffin nail is stunning here. To get this effect on your nails, choose a matte nail polish or just purchase a matte top coat.
The effect of a bright blue coffin nail is never overstated. In fact, playing it up with a sparkly gold accent nail makes the overall design even more gorgeous.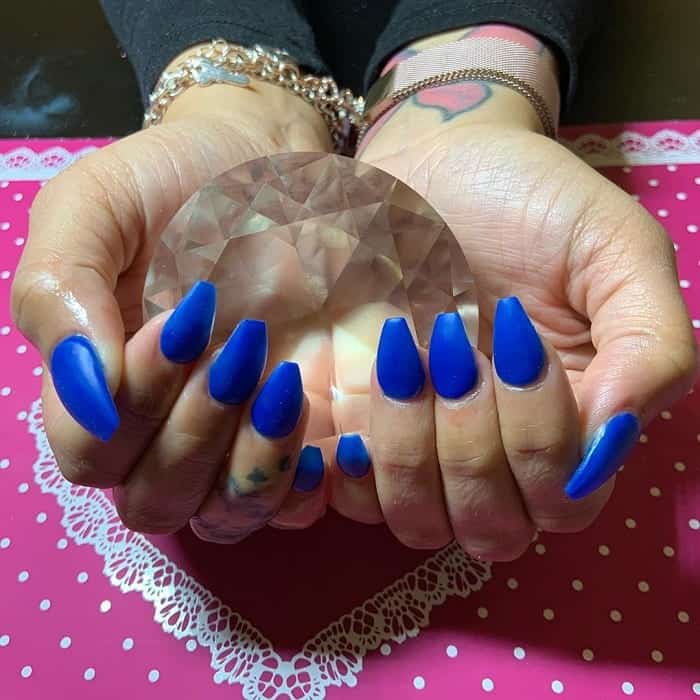 Here's another gorgeous coffin nail design featuring a matte blue. The color is just right, not too dark and not too light; gorgeous against any skin tone!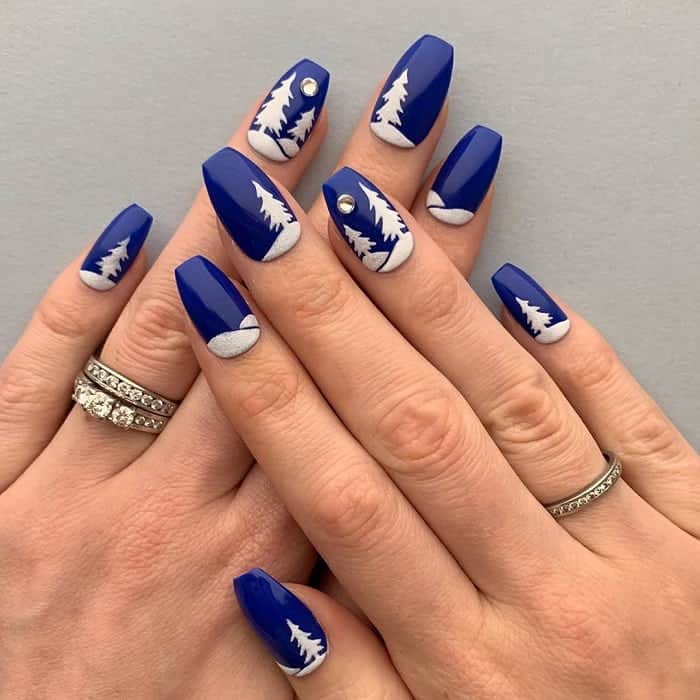 For a winter nail design when it gets cold out, choose this dark blue shade for coffin nails. Adding detail like snowy Christmas trees and hills is the perfect touch to a holiday nail design.
With so many beautiful shades of blue, you might be wondering how you will ever decide on a favorite for your coffin nails! The good thing is, you don't have to! Try them all if you can't decide. We just hope you'll share the finished result with us!