Every nail shape has a different appealing look. If you are confused between the stiletto and square shape, you can choose the coffin/ballerina shape to settle the dispute.
Coffin nails are the combination of these two shapes having long but less pointy tips than stiletto nails. This shape resembles the shape of a coffin.
You may have hundreds of different coffin nails but white coffin nails can add the magic to your nails within a minute. White is such a color that suits every shape, every design, every individual.
White Coffin Nails to Get Noticed
You must choose the right designs to make your nails look impressive. White coffin nails are simply beautiful, you don't have to try anything fancy to make them look them funkier.
Keep the basics right and add some gold glitters, rhinestones etc. That will do the trick to have beautiful white coffin nails. I am going to discuss a few amazing designs for you in this article. Hope you will find them inspirational.
#1. White Coffin Acrylic Nails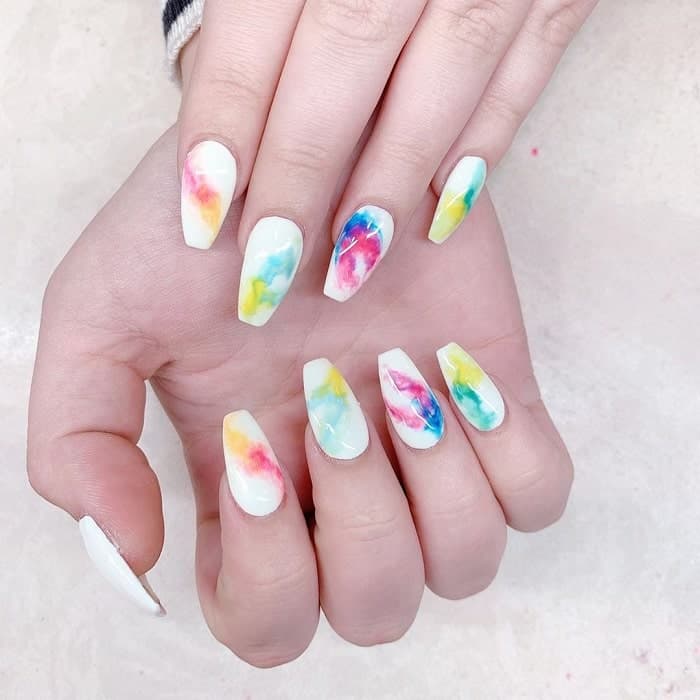 #2. Long White Coffin Nails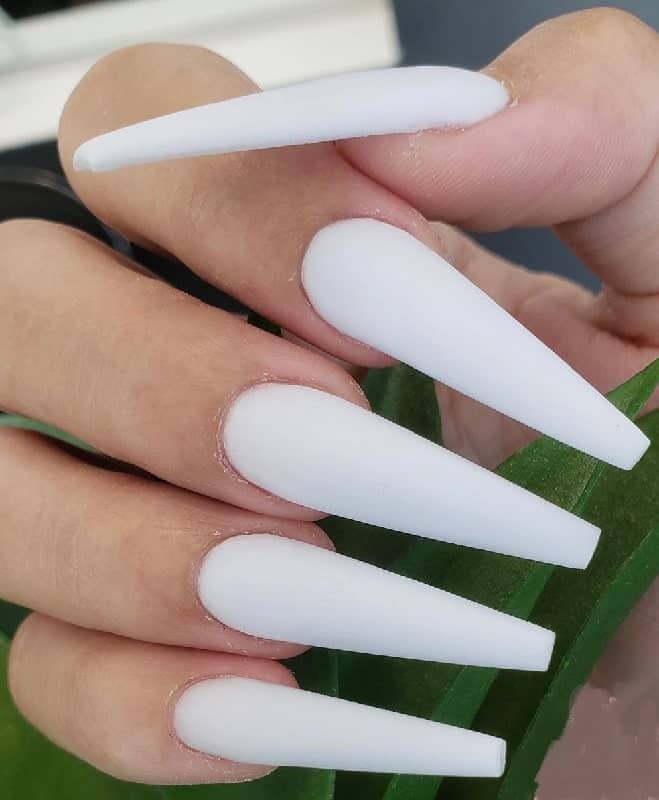 #3. Medium White Coffin Nail Design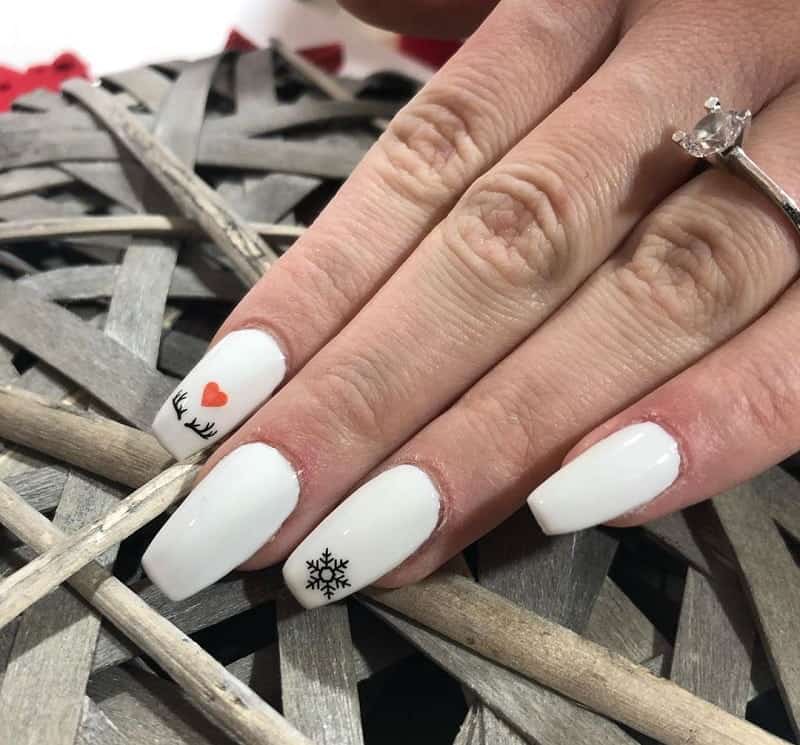 #4. Short White Coffin Nails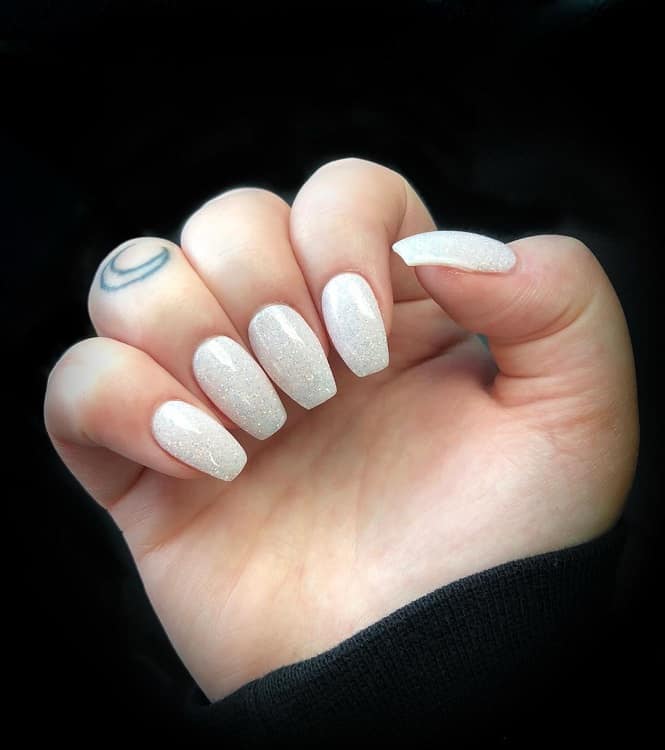 #5. White Tip Coffin Nails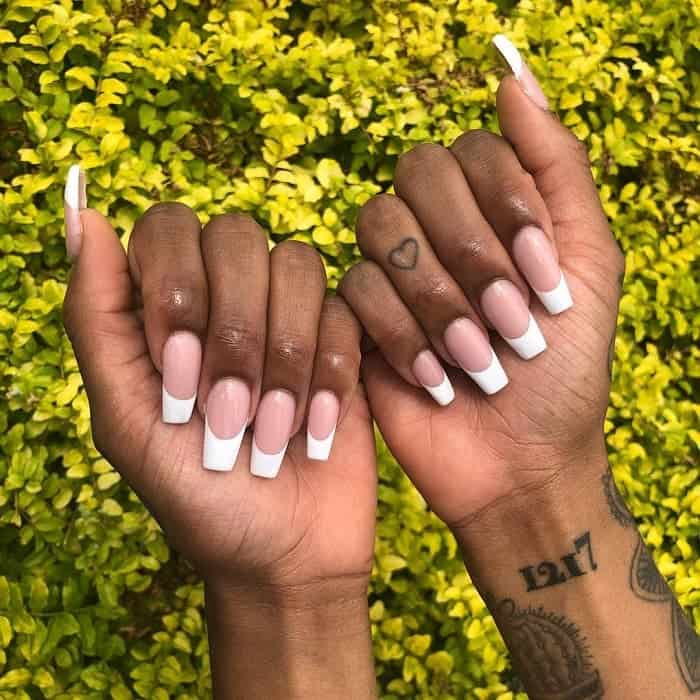 #6. Matte White Coffin Nails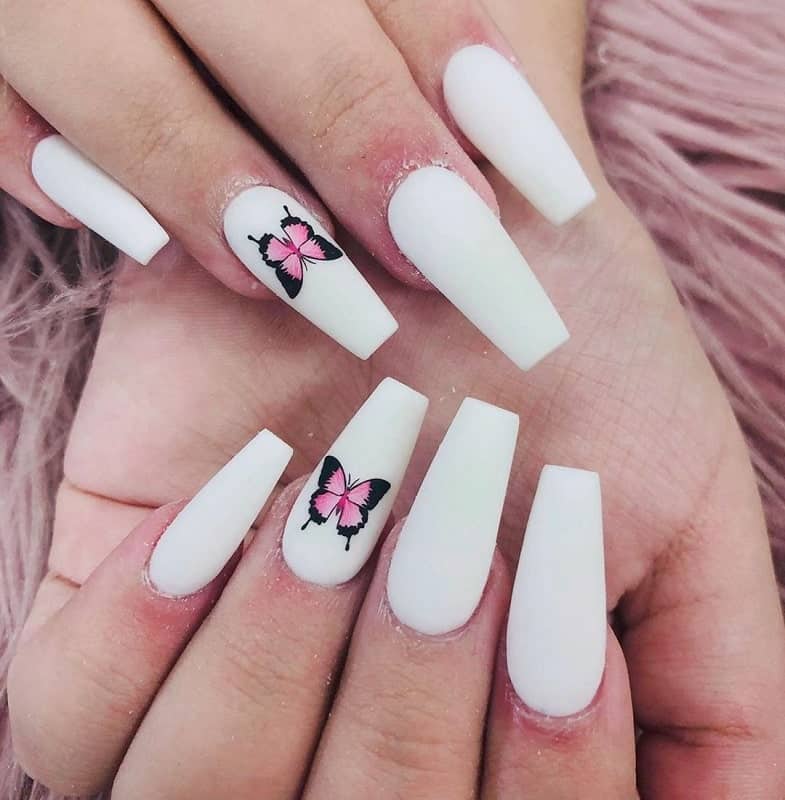 #7. White and Gold Coffin Nails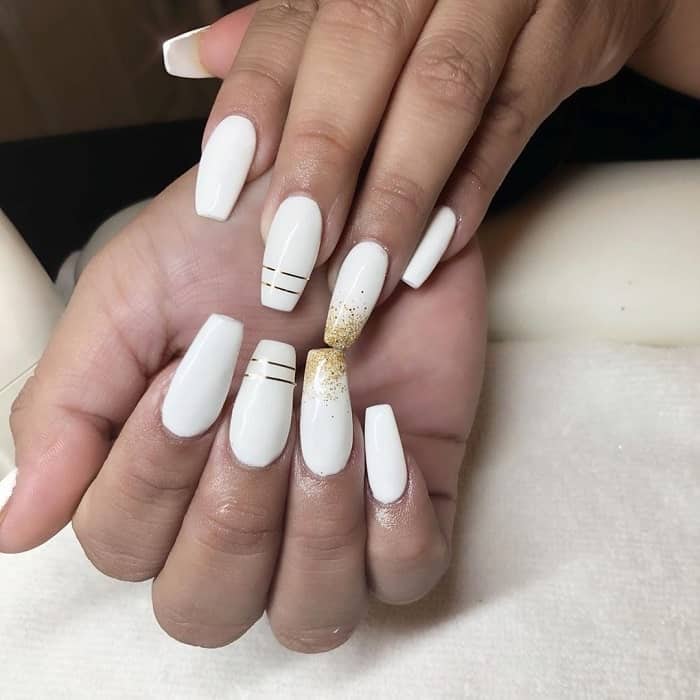 #8. White Ombre Coffin Nails
#9. Pink and White Coffin Nails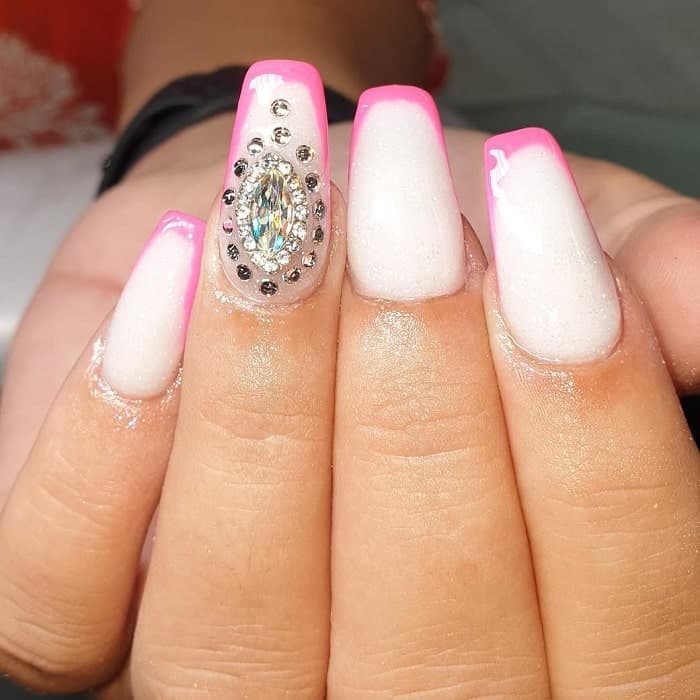 #10. Red and White Coffin Nails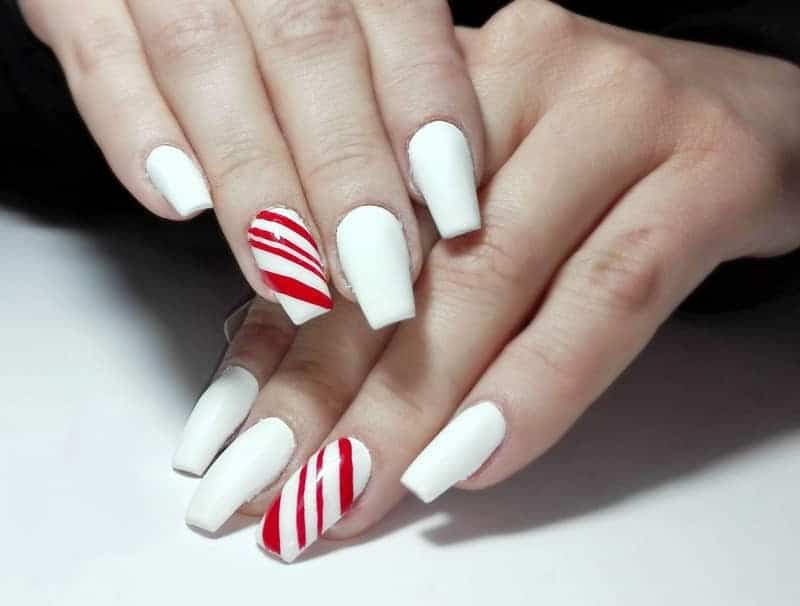 #11. White and Silver Coffin Nails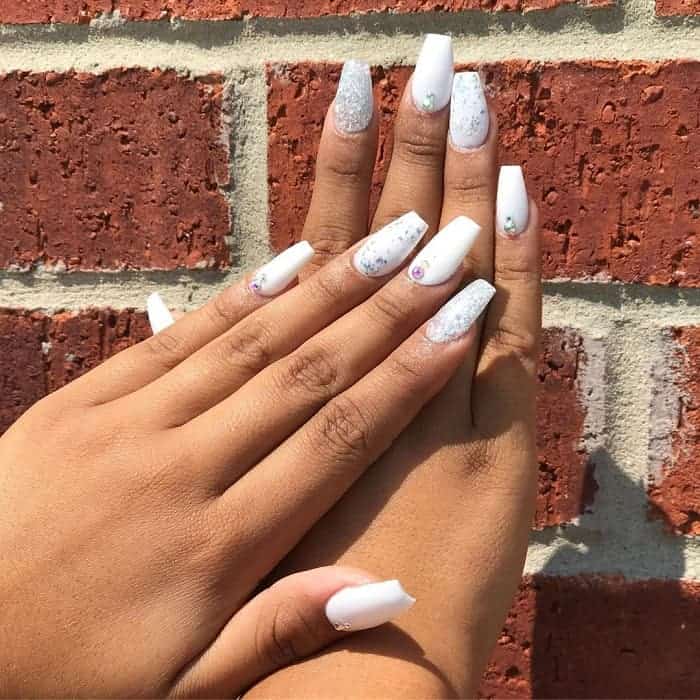 #12. Blue and White Coffin Nails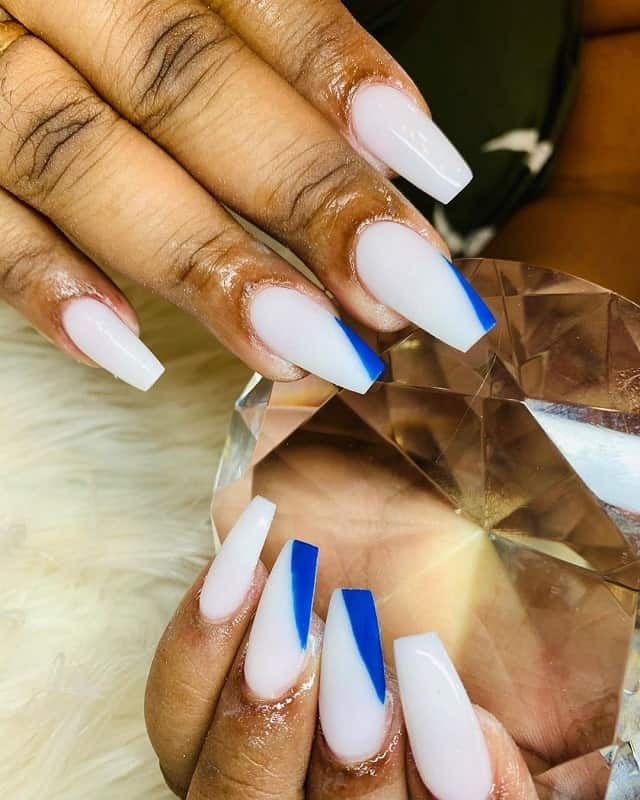 #13. White Coffin Nails on Dark Skin
#14. White Marble Coffin Nails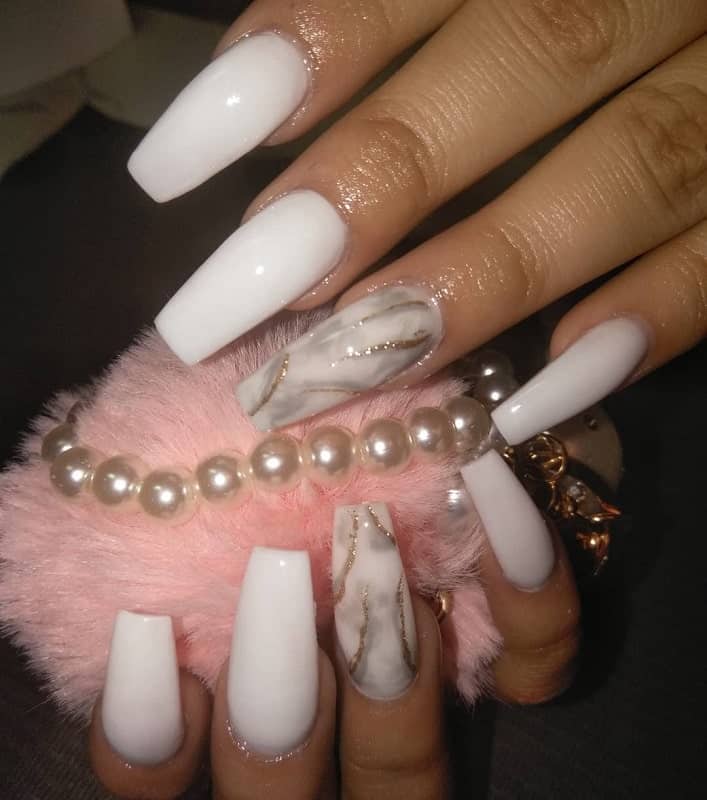 #15. Clear White Coffin Nails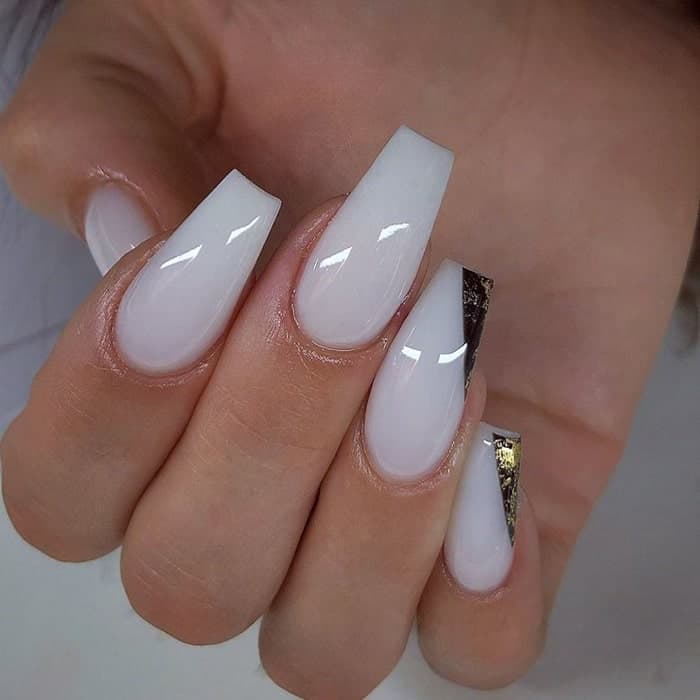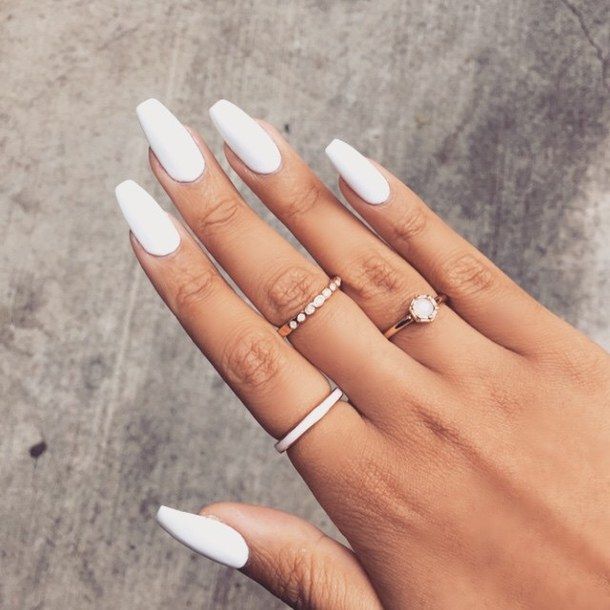 Keep the nails simple and beautiful. Paint your coffin nails with bright and white matte color. You can wear rings to enrich this design. These white matte coffin nails look simply gorgeous.
Trendy Ways to Adorn Ballerina Nails
#17. White Coffin Nails with Glitter
Glitters are a very useful factor to make the nails look shiny and glamorous. Silver and gold glitters are mostly used to glam up the nails. You can use silver glitters on your white coffin nails to have white coffin nails with glitter.
#18. Flower Decals
This nail design is a must try if you love roses. Transfer the rose into your nails from a flower decal. The white coffin nails on ring finger will look different with the presence of the roses.
#19. Black And White Coffin Nails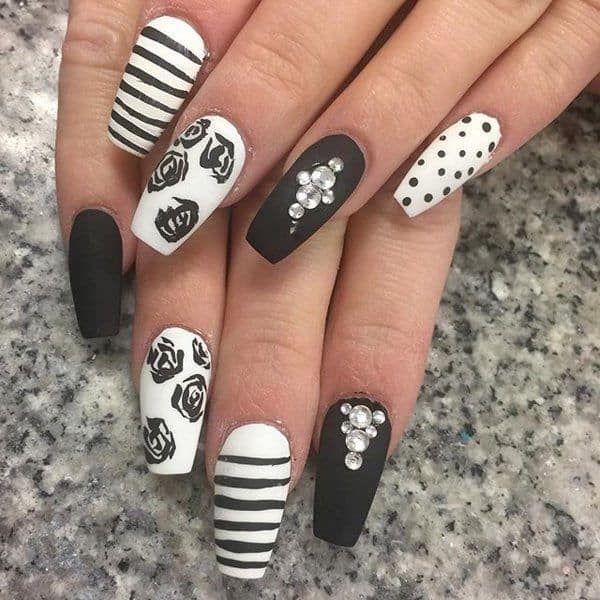 You can't just separate black from the everlasting combination of black and white. White is incomplete without black and vice versa. So, here are black and white coffin nails for you.
#20. Shiny Bows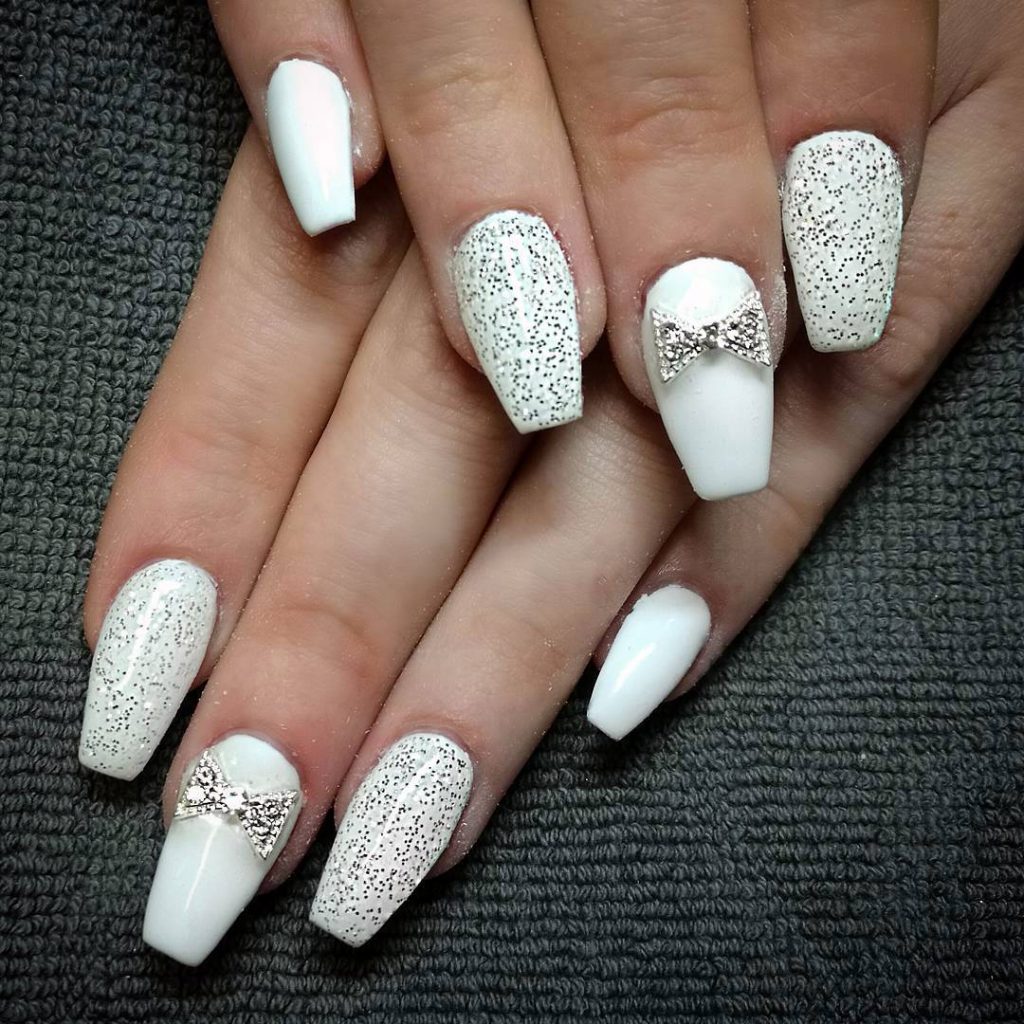 Bows have become an interracial element of nail art industry. You can use shiny bows to enhance the glam of your nails. Bows are often associated with the presence of shiny glitters.
Must Have Nail Design on This Valentine
#21. White Coffin Nails with Rhinestones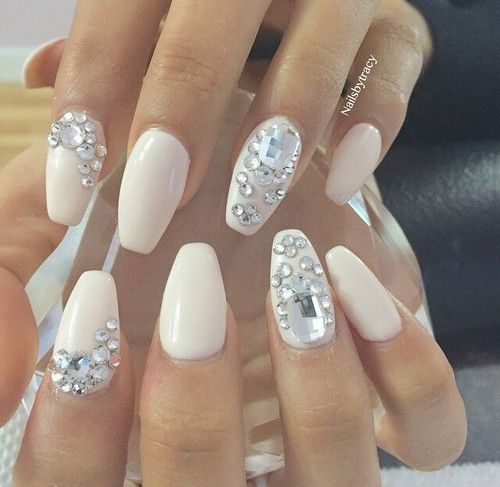 You can use rhinestones on any kind of nails to make them look more attractive. White coffin nails are no different. Add some rhinestones on the surface of the nails to make them chicer.
#22. Blood Splatter
If you don't keep it pure white, you can try this design. Paint your white coffin nails with red in such a way so that the nails resemble a splatter of blood.
#23. White Coffin Nails in Negative Space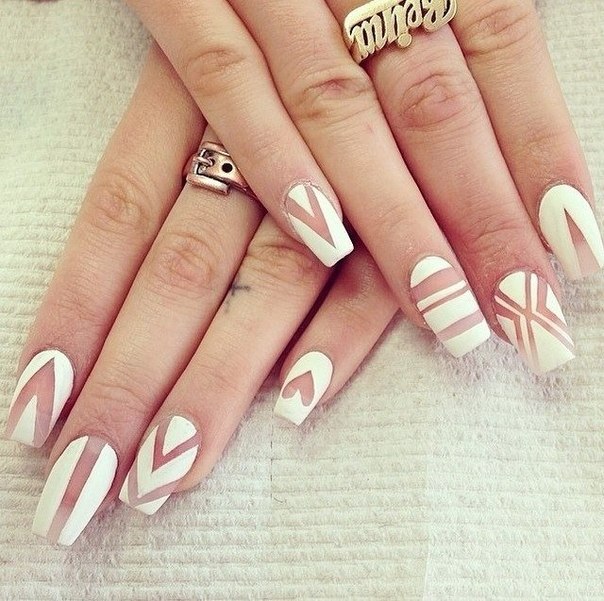 Using negative space is a trendy way of designing your nails. You can keep the space in a well-organized way to make the nails look stunning. Even you can draw a heart shape by using negative space.
#24. White Coffin Nails with Gold
Gold is the representative of classes. If you are going to a party where being classy is important, you can have this nail design without a second thought. Add some thick gold glitters to add golden glam to your white coffin nails.
#25. Small Stones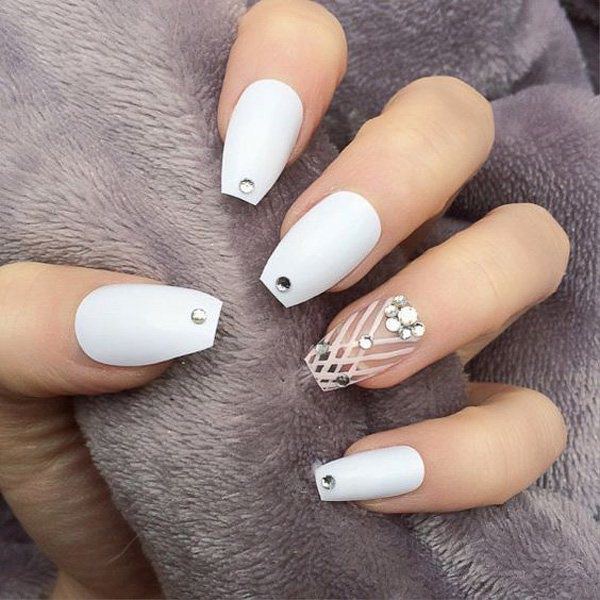 You can use small crystals and striped negative space to have white coffin nails like these ones. The overall look of the nails looks amazing.
Long Nail Design for Ultimate Dapper Look
#26. Chicer Than Anything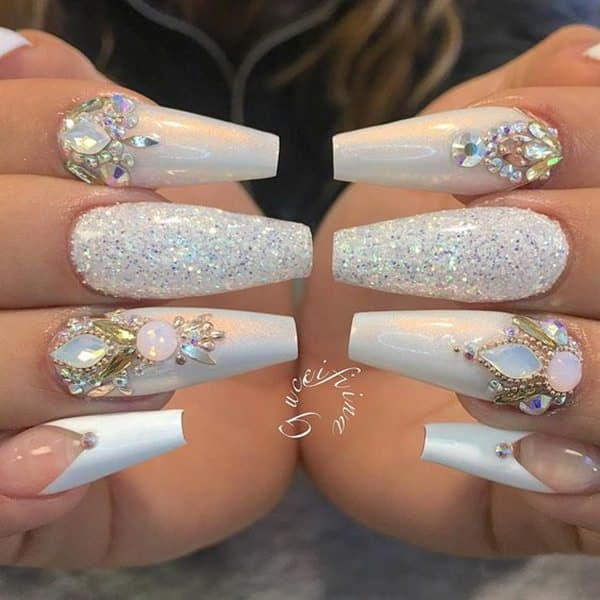 I couldn't resist giving the title Chicer Than Anything. These funky nails look so astonishingly beautiful that you'll catch the eyes of every fashion geek out there for sure. Have these white coffin nails, you'll surely blow up the party.
#27. Gold Glitters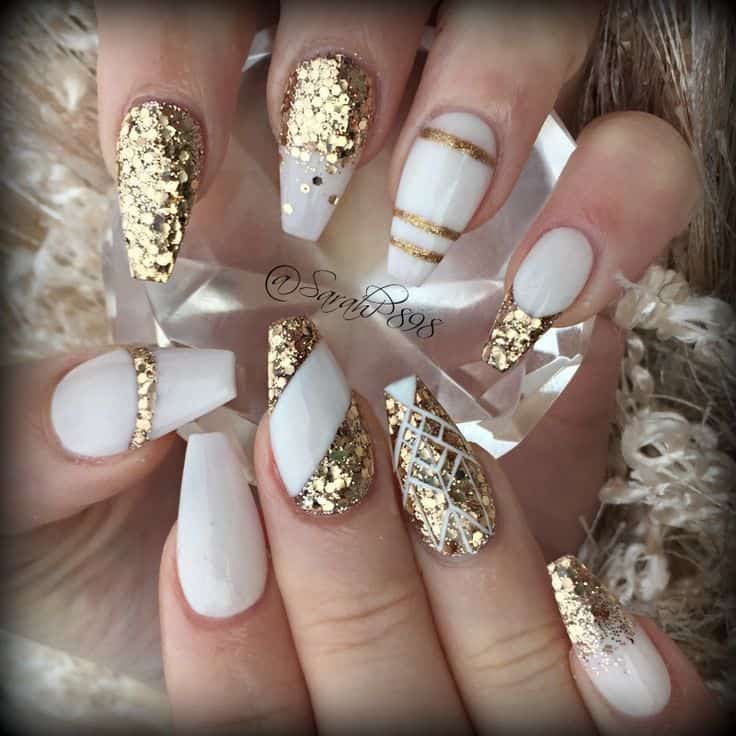 The uses of gold glitters know no bound in nail designs. You can use gold glitters to increase the beauty of your white coffin nails,
#28. Bisecting Rhinestones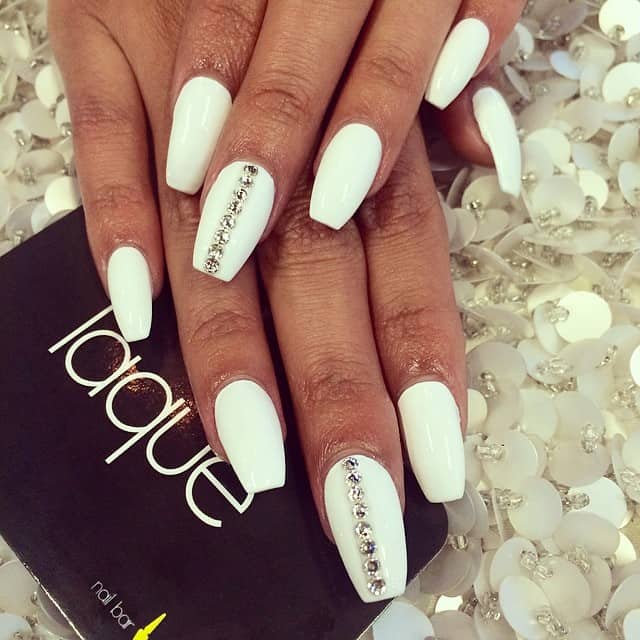 Rhinestones have been used in this design as a bisecting straight line. You can place rhinestones in the middle of your nails to have white coffin nails like this design.
#29. Long Coffin Nails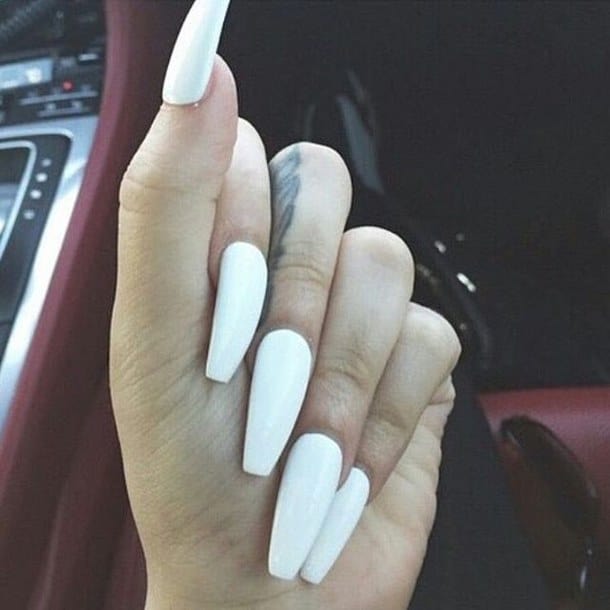 Some girls are the fan of long nails. White coffin nails could be the best choice for them. Paint your long coffin nails with white color to have long coffin nails.
#30. French Style White Coffin Nails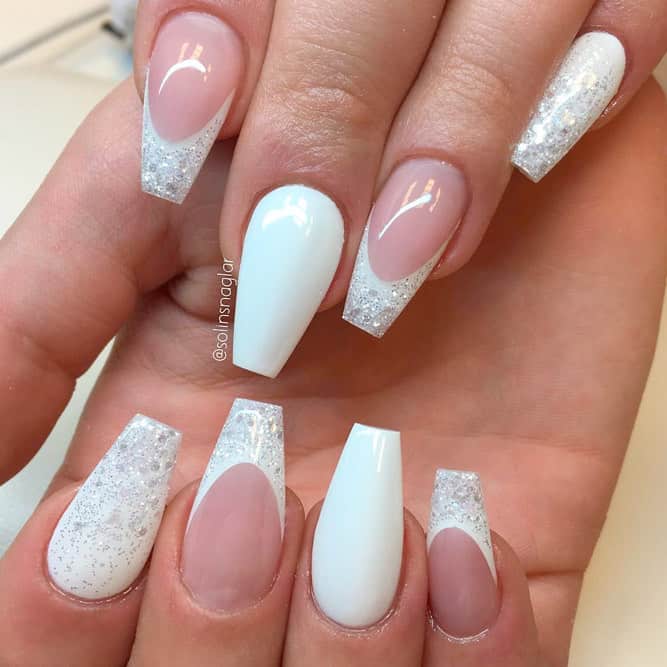 French manicure is popular worldwide for its elegance. You can also have white tipped french nails while having white coffin nails. Silver glitters will add the extra shine that your nails deserve.
White coffin nails will look stunning if you can design them correctly. You can be inspired by our designs and try them on your nails using your own creativity. Fashion isn't about being inspired, it's also about being innovative.