Galaxy nails can make you gaze at them for hours to discover all those gorgeous blending and small planets. These galaxy nails can be real works of art if done by a professional, so don't be surprised if they are more expensive than a regular acrylic mani.
Galaxy Nails Ideas
Galaxy nails can be pulled off on any nail shape or length, and the outcome is so intergalactic. Create gradients, draw planets; you can even draw small constellations! Use simple dots, lines, and a sponge to apply the nail polish to build your own galaxy. The opportunities depend on your creativity and imagination, so if you search for galaxy nails that will knock people off their feet, you're in the right place.
Look at the examples below and discover the most outstanding galaxy nails! Tell us in the comments area which are your favorites.
#1: Sally Hansen Galaxy Nails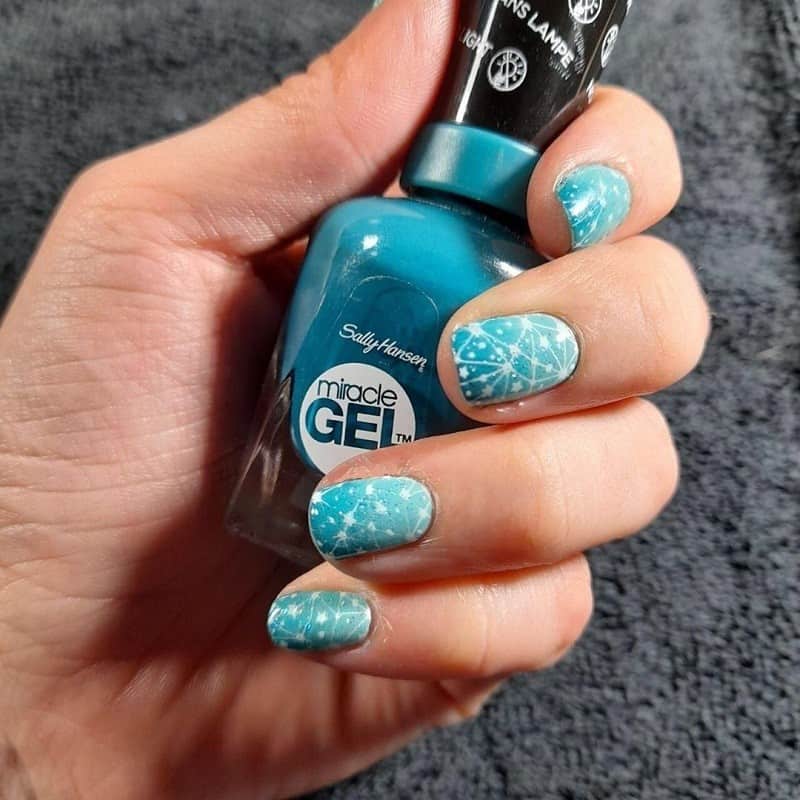 Use a Sally Hansen blue nail polish for your galaxy pastel nails design with white connected small stars. Maintain the nails short, especially if you are one of those girls who needs practical nails and writes all day on her laptop.
#2: Black Glittery Galaxy Nails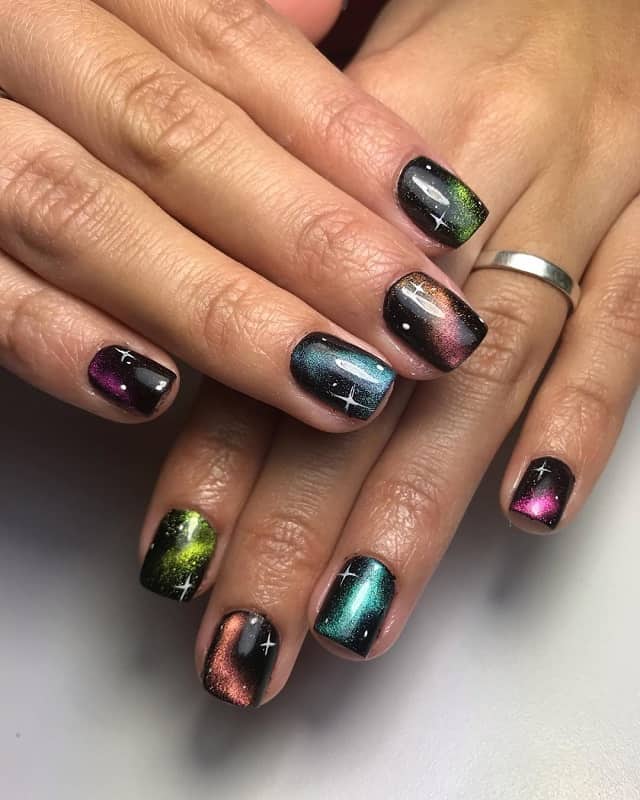 These galaxy glitter nails art design is completely irresistible. The nails are short, perfect for those busy girls who work and type a lot. But the design, well, that's the thing that blows your mind. Use electric colors like purple, pink, teal, and pale red and sprinkle these shades on the nail. Draw small stars on each and any one of them.
#3: Aurora Borealis Galaxy Nails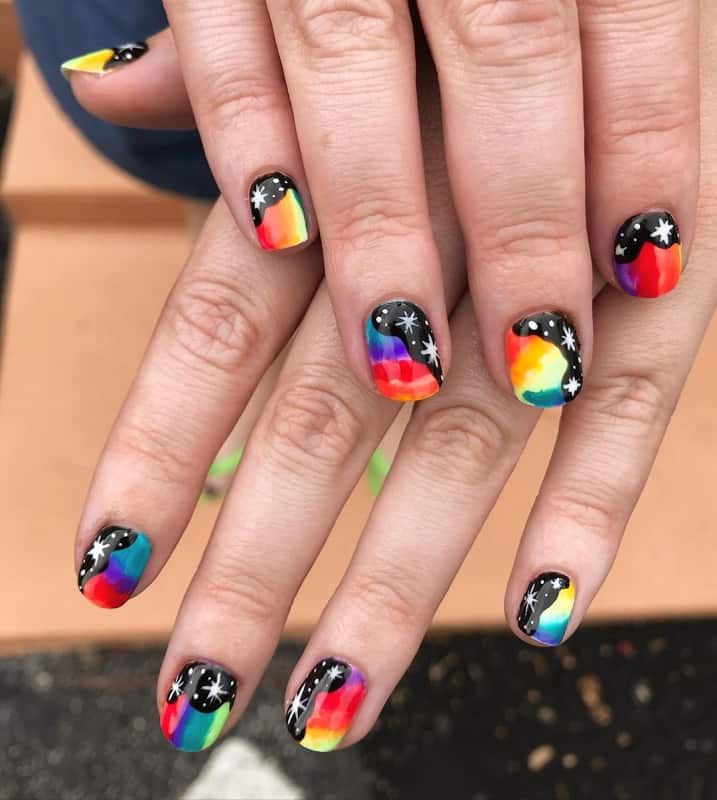 Galaxy short nails can be so fabulous—blend vibrant colors like red, blue, pink, and yellow. Make the nuances interfere, creating that aquarelle effect and pull off a black design with white stars and little dots.
#4: Purple Galaxy Design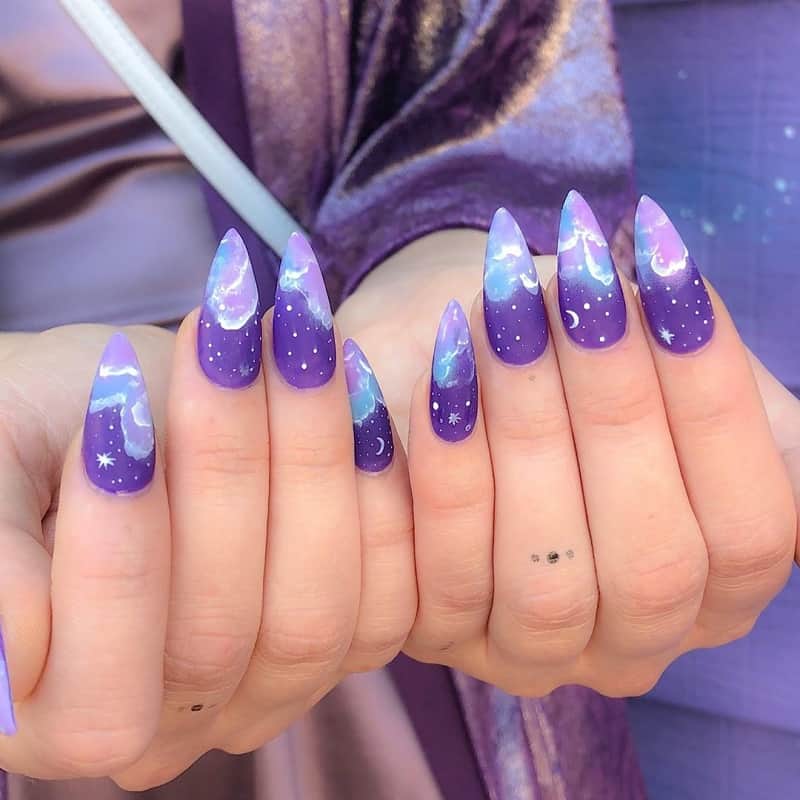 Galaxy ombre nails that blend multiple shades of mauve and purple can look so intergalactic. Just like you are bearing the world at your fingertips! Draw small stars and semilunes. If you're feeling bold, create a long pointy acrylic shape.
#5: Planet Nails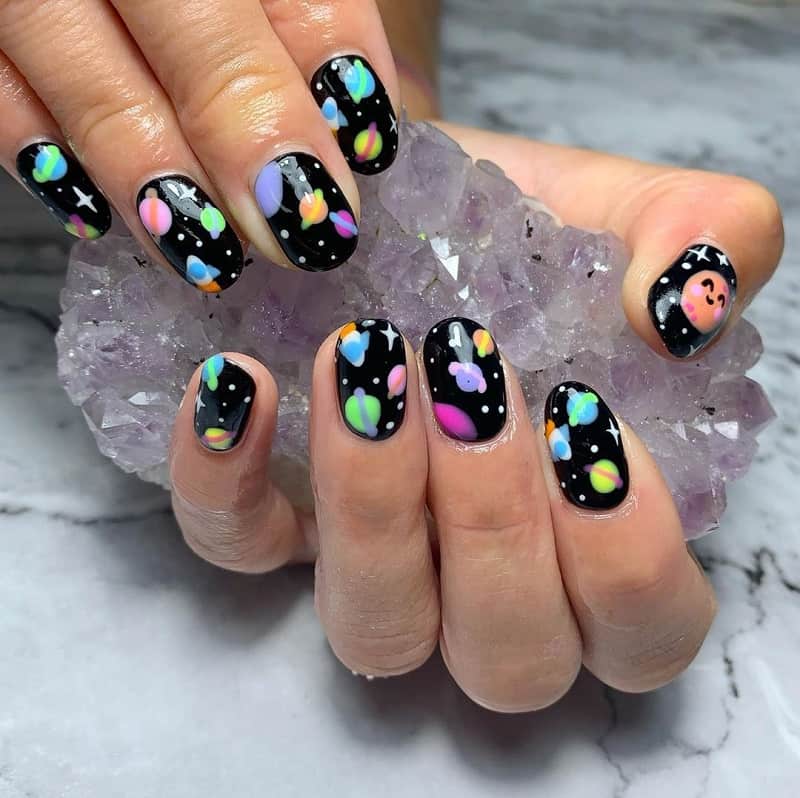 Such black galaxy nails with small spaceships and stars on a black base color are so joyful. Draw tiny Saturn planets, and don't forget to include that meteorite ring. On the thumb, paint a big orange Jupiter planet.
#6: Mini Gala
This little mini manicure is so sweet and simple. Natural nails are the best for the heavier prints. Just be careful when getting all of these extra layers on top. A good natural base coat is a must-have for these.
Give a Shoot to Natural Solar Nails
#7: Maxi Gala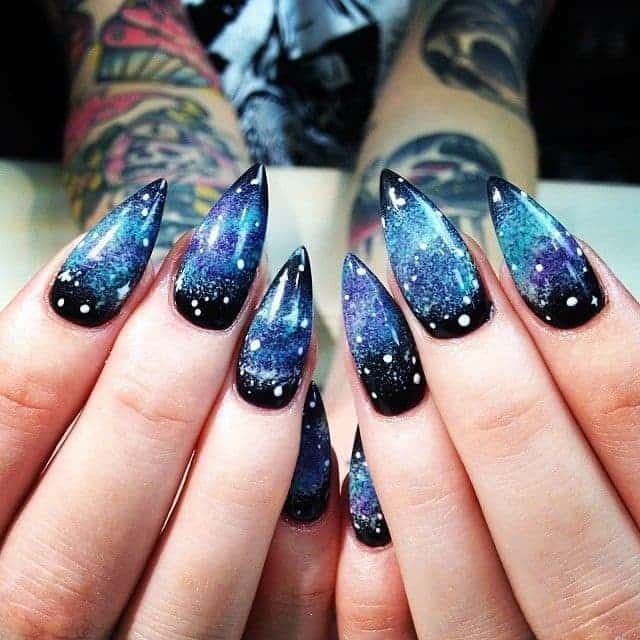 If you like to take it up a notch, then why not? These extremely long acrylic nails look like pure fun. Darker nail polish base with blue and white splashes of color look like a beautiful milky way. Just be very careful with these because they might break a lot easier during your everyday life activities. And especially if you type a lot.
#8: Shimmer Is A Hit
These galaxy nail designs don't look like the typical galaxy, but more like a beautiful illusion. Imagine if the sky was this pink during the night. I believe that would be such a sight for sore eyes. Although it would be a lot harder to sleep at night because it would feel like it's the daytime, hey, you can't have it all.
#9: Purple Sky
Purple stylish nails for my purple color lovers. Do you know that in China, the Milky Way is known as 'the silver river'? It's said in Chinese Mythology that the river was placed there by the gods to keep their weaver and a herdsman who loved her apart. These purple nails have some elegance and style and could be perfect for workaholic women because they are quite soft and ladylike.
#10: Sky Is The Limit
Only sky is the limit, and make that your life motto. These nails look like they've been made with love and by someone who is really talented. Always pay a bit extra if your nails will look this magnificent.
#11: Black Cuteness
Black nail polish base is the one you should go with when getting the galaxy print. It opens up your manicure and looks the best when added the yellow and white tones.
#12: I Am Your Father
One of the most known lines from a movie is this one. And of course, we had to include it into our list. This galaxy nail design looks perfect for the Star Wars die-hard fans. Also, did you know that it took four men to portray one Vader? One was a professional bodybuilder, one is a fencer, the voice of Vader is the great James Earl Jones, and a last but certainly not least Vader is the one from the infamous helmeted scene, Sebastian Shaw. Perfect example that the details make the whole picture.
#13: Royal Galaxy Sky
Royal blue nail color for the royal women. Blue color brings happiness and calms people down. So you will have a pretty positive influence on others while looking stunning. Win-win for all.
#14: Pretty Pink
If you look pretty in pink, and if you are more on a softer side, this pink galaxy nail design should be your next to get. Lighter colors are actually something that men prefer more on women instead of darker colors. You will have their attention for sure with these babies.
#15: Neon Class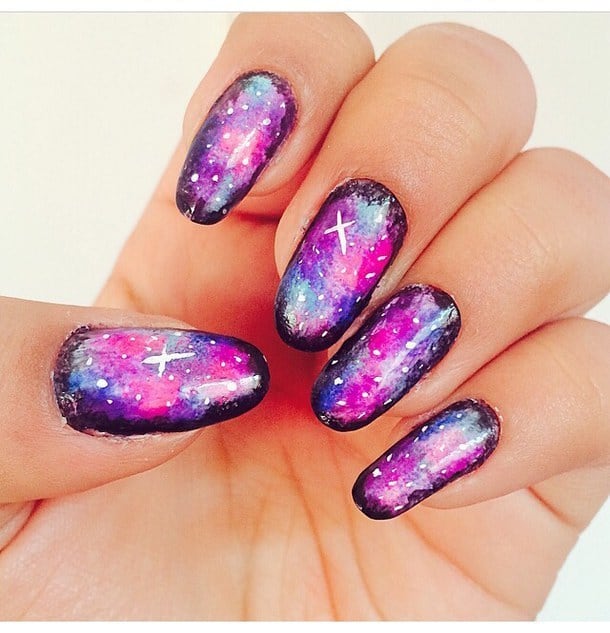 Drama is what you get with these. Super long and super neon looking, this manicure has some fierce moments. Make sure to add some purple or black jewelry to spice them up even more.
Captivating Neon Nail Design Ideas
#16: Saturn
The little Saturn drawing paired up with the Earth and stars is so creative. These nails are telling us a whole story and we love it. In the human history, only four spacecraft's have visited Saturn. So, you will probably be the only one who will rock this nail design and you'll be the only one who will know a fun fact about Saturn.
#17: Red Sky
This red nail color is sexy and chic looking. With these nails, you will look like a true bold queen. They look like they've spent an eternity at the galaxy and have stuck around at the Milky Way a lot more than the others. By the way, in 1940 a cartoon called "The Milky Way" became the first non-Disney animated movie to win an Oscar. So in honor of that movie, you should slay the milky way nails.
#18: Unbelievable Colors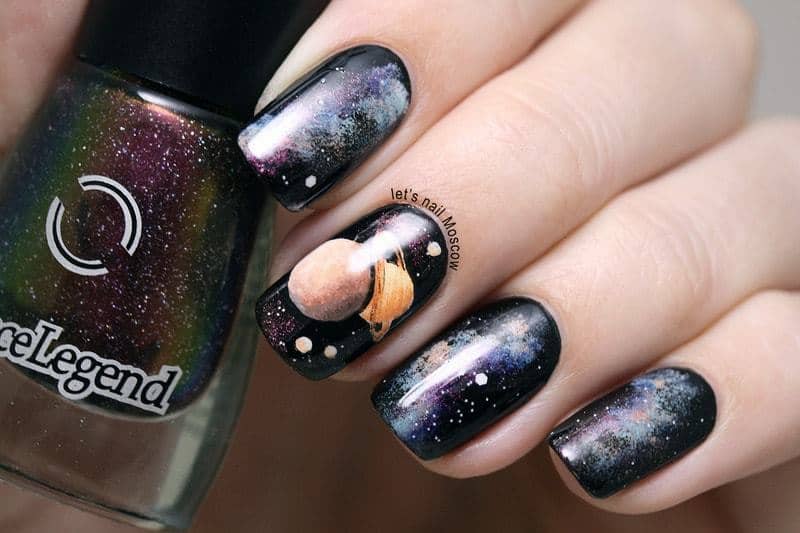 Unbelievably bright and vivid colors are making this galaxy nail design so irresistible. In order to have everything this pretty and detailed out, you should go to the salon for the ultimate results. Chances of you recreating them are quite low, but someone who has a precise hand and has been doing it for years could totally outdo themselves.
#19: Brown Moments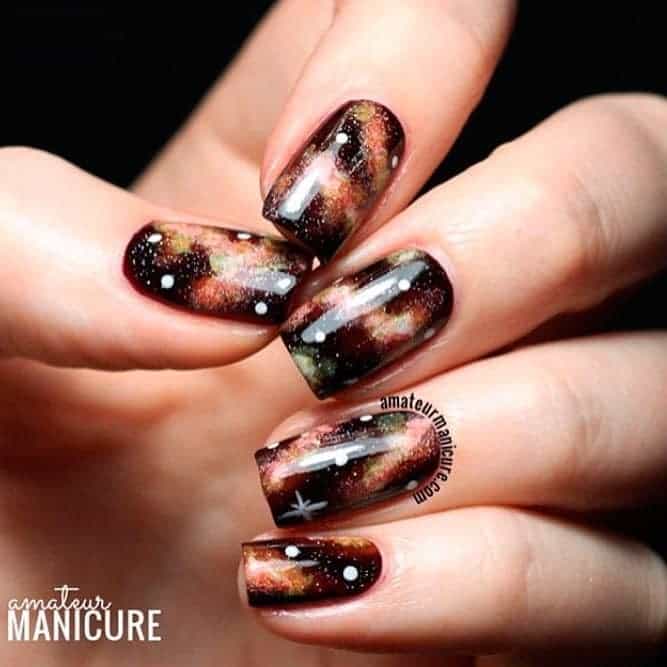 Some darker moments are so mysterious and sexy, and maybe perfect for Valentine's day. Although being "galaxy nails", these nails could easily pass as your everyday wear and something chic. Since they are so low-key, they could even be worn for the month of February, aka the month of love.
#20: Baby Galaxy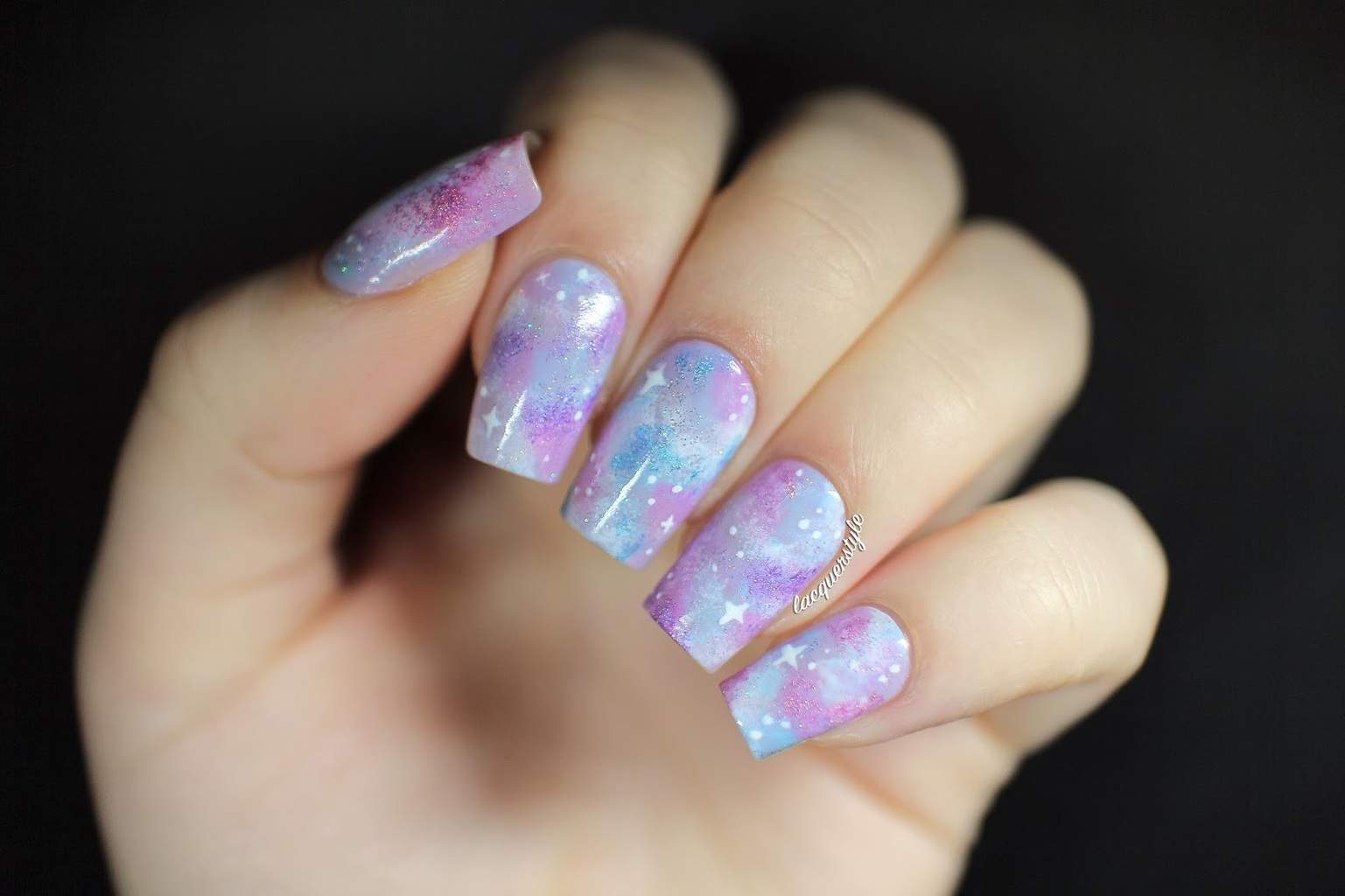 Lighter colors are giving us such baby moments. This manicure is sweet looking and could be yours for the office, or even for a wedding, baby shower, or pretty much anything lovely.
Your Little munchkin Will Love These
#21: Pink Is Lit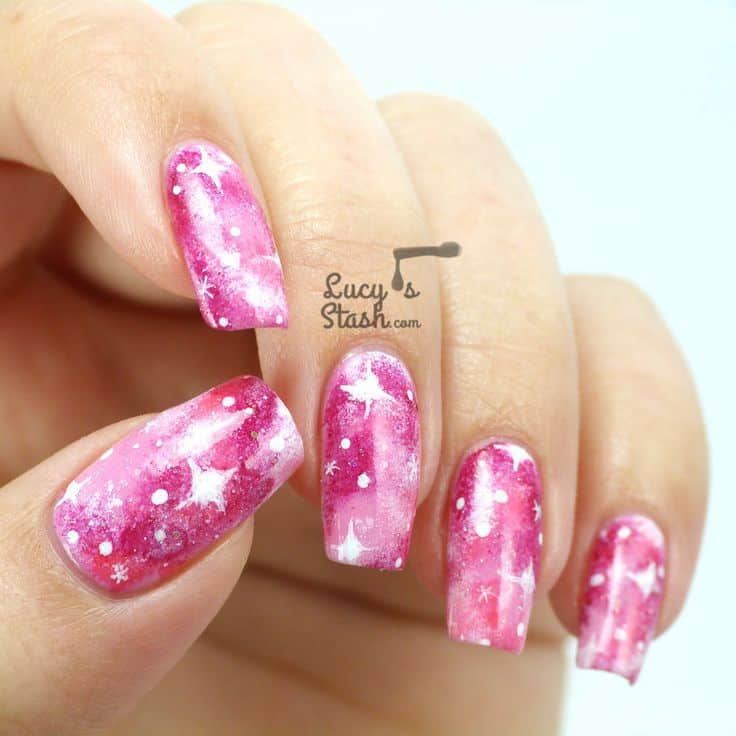 Super long, super pink, and super pretty, these galaxy nail designs are so lit. You will be the star of the show with these, and you will definitely be recognized. They are the ultimate party nails, and you should get them, especially, if the pink color is your favorite.
#22: Classic Is Class
Sometimes classic galaxy nails can look classy. Speaking of classics, do you know that not even one single classical Milky Way picture isn't real? Any photo you've ever seen of the Milky Way from space is either of another galaxy or an artist's rendition. We're sat inside the galaxy so obviously cannot take an aerial view. Sad, but true.
#23: What's Your Zodiac?
If you are a horoscope lover like me, make sure to get this design. People believe that everything is written in the stars, so if you are one of those too, why not be a bit extra? Get some of your favorite zodiacs drawn onto your nails, and have a colorful galaxy inspired background to spice them up.
#24: Ice Ice Baby
Ice ice baby, as Ice Cube would say. Some light blue with shimmery white stars with glitter base looks sophisticated and lovely. If you like to keep everything more to yourself and you are not all about that dark vibrant drama, this manicure speaks to you.
#25: I Like Them Round
Besides liking them long and purple, you may also like your nails in the rounded shape. These galaxy nail designs will look pretty on everyone. The OPI nail polish is there to ensure the long-lasting effect. Always use pricier nail polishes and those who have better quality in order to save your nails from the damage.
Give Your Nails Galaxy Manicure Watch The Video Tutorial
Add Some Diamond To Your Nails
Some Stylish Galaxy Nail Designs to Try
You know you are a Si-Fi lover if you've been attracted to these just by the title. And if you are a normal everyday girl, minding her own business, we are sure that we've made you stop and rethink your options. The galaxy is wide and endless, and so is our list. These nails will look pretty on anyone, so give them a chance and look your best with shimmering details and irresistible colors.