Stamping nail art is a marvelous way to create gorgeous designs on your nails without manually painting. You will use a plate with carved designs and a stamper to transfer the drawing. The options are infinite, you can opt for all sorts of nail polishes for both the designs and base color. Create floral designs, hearts, cartoons, writings. You can find a plate for anything you want!
How to create stamping nails
Stamping nails are not hard to pull off, but you need to know some basic rules about the procedure before going further. First of all, each plate comes with a protective film. Use tweezers to remove it gently. Apply the nail polish on the design you want and place the stamper. Make sure you move quickly because you don't want the polish to get dry. Otherwise, you won't be able to transfer the design to your nail. It is ideal to get a transparent stamper. This will allow you to see how you are placing the design on your nail.
Now that you know how to create stamping nails let's take a look at these stunning stamping nails art. So, scroll down and discover the best ideas based on your nail length and shape.
#1. Black and White Stamping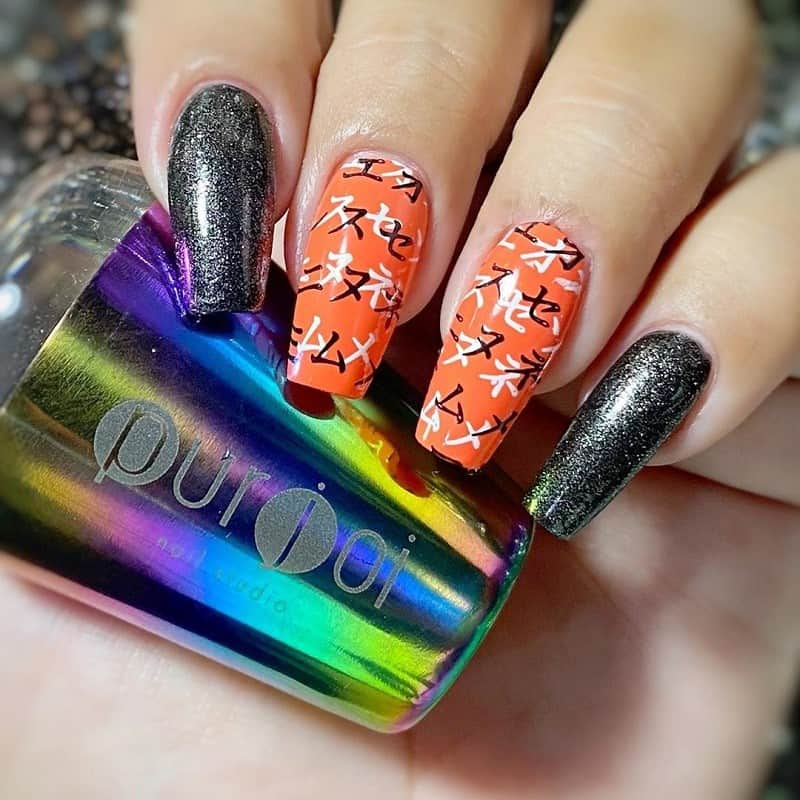 Paint your nails in orange and black polish with glitter. Use the double stamping nail art technique to get those writings on the nail plate.
#2. Christmas Stamps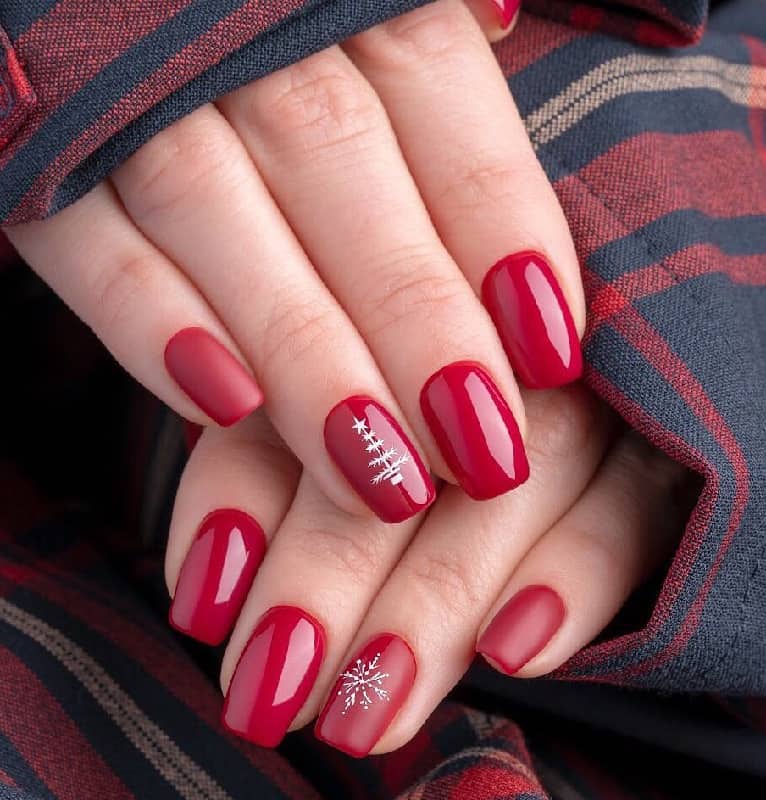 Christmas nail art stamping will look great around this holiday. It will show your love for winter, and Santa and your nails will be simple and cute, decorated with snowflakes and Christmas trees.
#3. Mickey and Minnie Mouse Love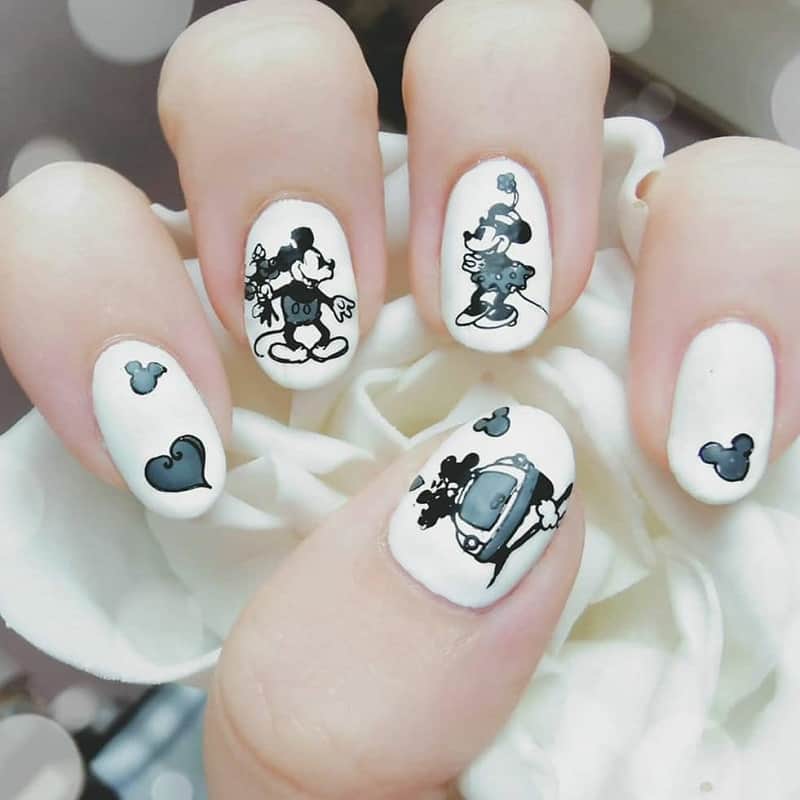 Most of us love Minnie and Micky, and why not wear these cartoons on our hands. Try the Disney stamps nail art and we're sure you'll find your new mani very cheerful. Once you apply the design, fill some of the white spots with gray polish.
#4. Big Brands Stamping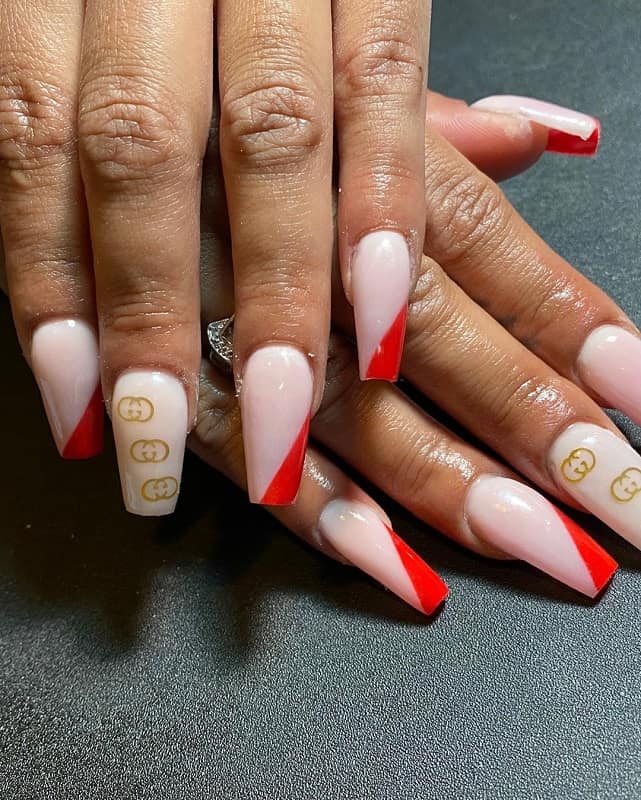 Gucci stamping nails will make you look classy, extravagant, and expensive. If you are a fan of this big brand, use the stamper to create themed nails. Paint the corners of the nail with a fierceful red color and apply at least three logos on the ring finger nail.
#5. Luis Vuitton and Hello Kitty
Hello Kitty has never been so glossy. Use Luis Vuitton and Hello Kitty stamping nails to complete your look. Before applying the stamps, make sure you have a great base color. Use pale pink polish and apply a layer of glitter.
#6. The Hunter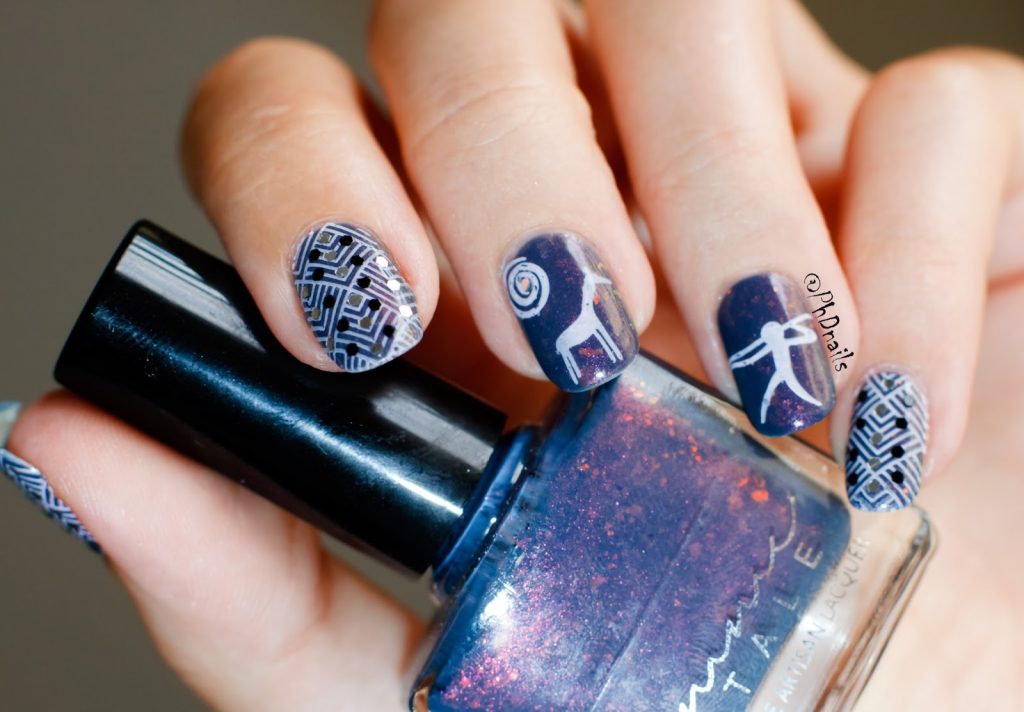 Enjoy the freedom of designing your nails as per different themes. If you want to depict the act of deer hunting on your nails along with other nail art, you can try this stamping nail art.
Learn How to do marble nail Art
#7. Various Butterflies
Some of the girls are crazy fans of butterflies. You can have your nails painted with a various type of butterflies using nail stamping.
#8. The Circuit Board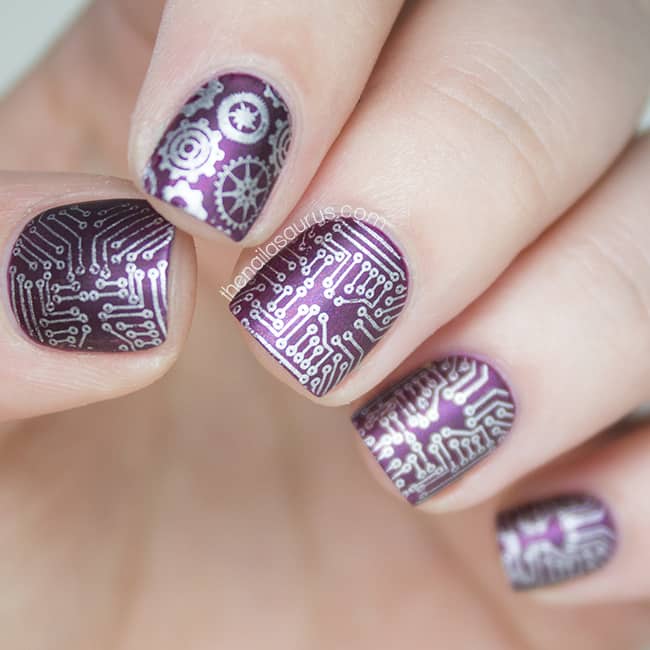 If you are an engineer, you will get to love this design. You'll find readymade circuit board nail stamping which can give you a stunning manicure as portrayed here. This is the credit of stamping nail design as it allows you to have very complex designs so easily.
#9. Shimmer Green Colour
This design is for you if you are a green fanatic. Apply a shimmering green color onto the stamping plate to have these beautiful nails.
You can paint your nails with a full set of circular lace. As there's not enough place on the nail plate to give space to the whole design on a single nail, divide the designs among the nails and enjoy the grace of stamping nail art.
Chrome Nail Design Inspiration
#11. Spider Webs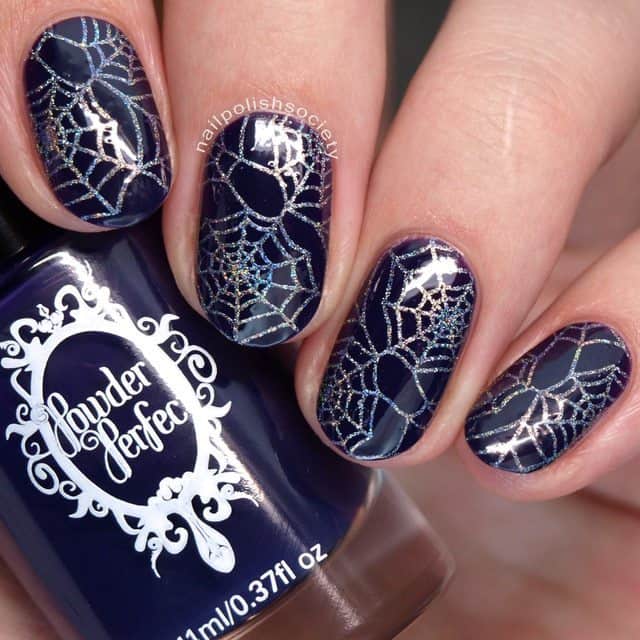 Spider webs are largely used in Halloween nail art. You can get your nails painted with spider webs using nail stamping art.
#12. Stamp Your Heart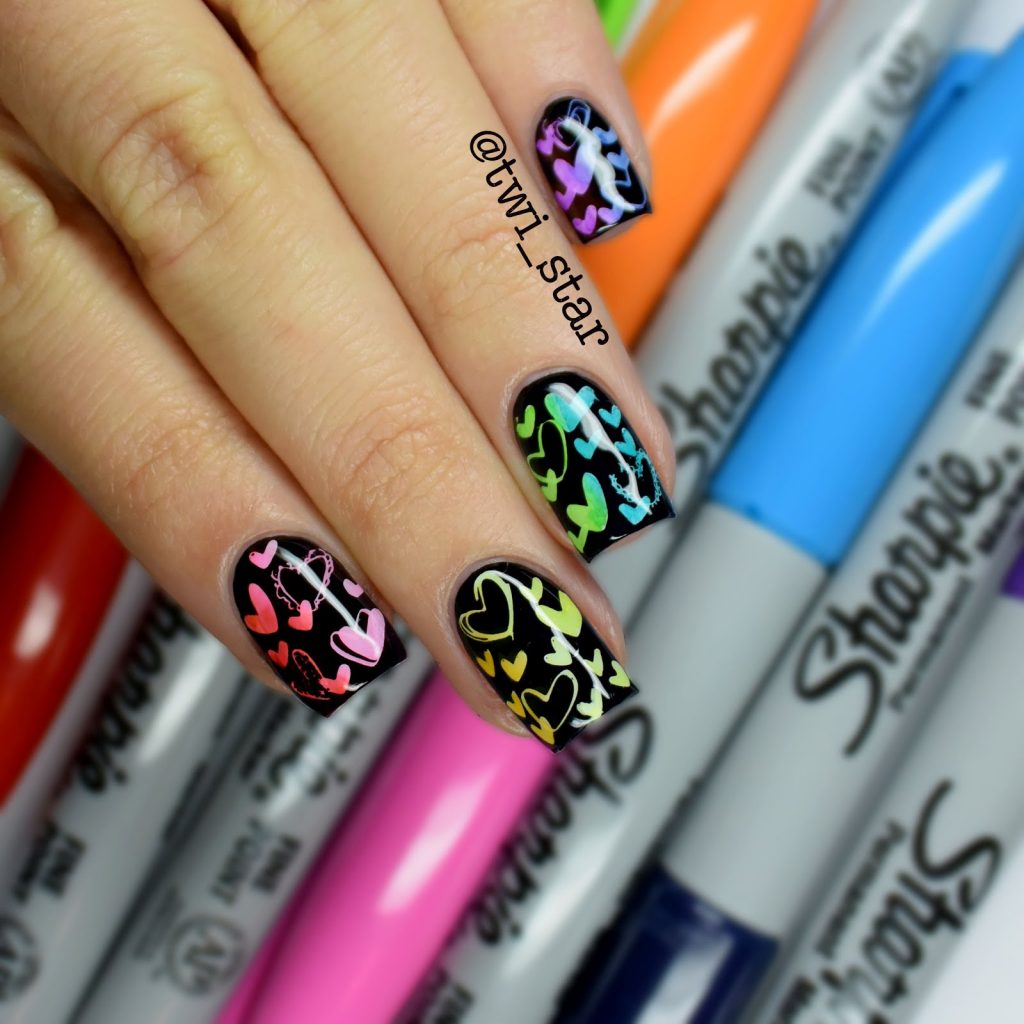 You can stamp anything you want. Just make sure to have the designs printed on the stamping plate. This is a good example of heart stamping. You can wear these nails as valentine nail designs.
#13. Rose Queen Theme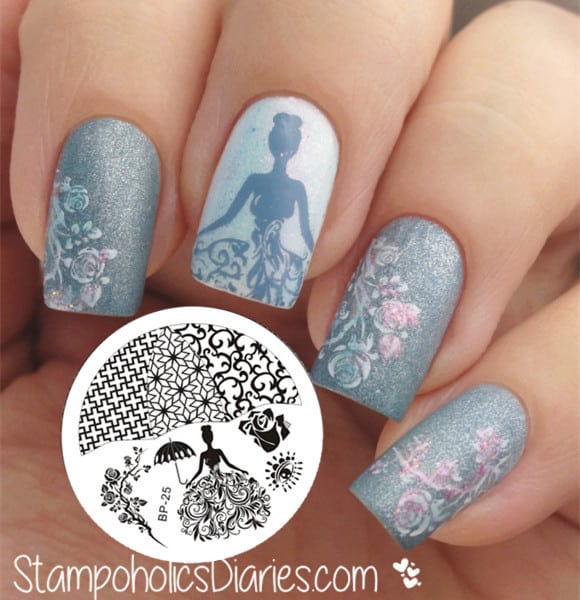 Try this rose queen theme if you can arrange this stamping plate to have such unique & mind-blowing stamping nail art.
#14. Floral Designs

Different floral designs can easily be transferred to your nails with the help of a stamping plate and a stamper. All you have to do is to find the right stamping plate.
#15. Peacock Feather
Peacock feather looks so amazing but it's really difficult to draw them on the nails manually. Stamping nail art has brought an end to this problem. You can have peacock feathers drawn on your nails easily.
Apply Decals Like The Professionals Do
The most important part of stamping nail art is the stamping plate and the best nail stamping polish. If the plate has aesthetic images and the polish is thick, you will have a great nail art for sure. So, choose the equipment carefully.