Pastel nails are perfect for summer especially because they add a lot of value to your gorgeous tan and make your hand look more feminine and soft.
Unique Ideas of Pastel Nails
Pastel nails are still in trends and we believe they will remain here for a long time. You can create various designs from floral motifs to rainbow inspired looks.
#1. Pastel Blue Nails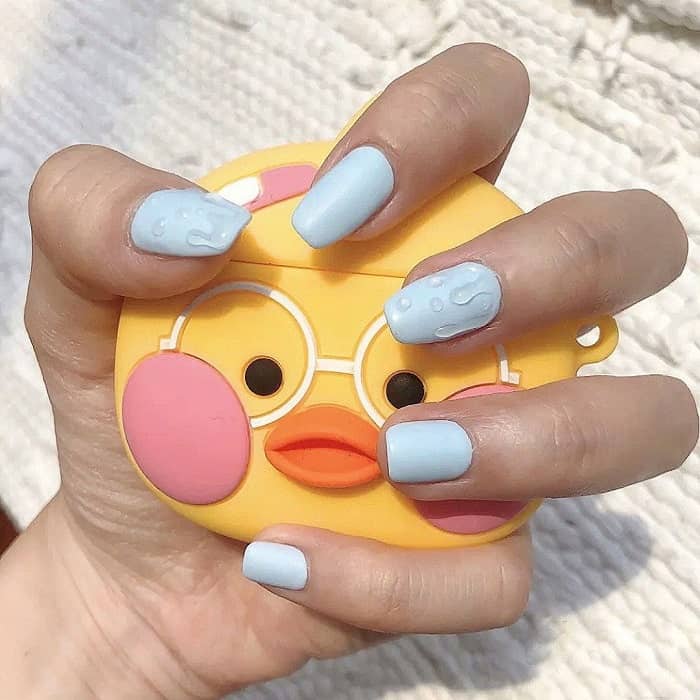 These saturate blue pastel color goes incredibly well with those water drop effects. You can recreate them using the acrylic gel. You'll be taking your designs to a whole new level.
#2. Pastel Purple Nails
This pink glossy pastel can give you a sugar rush! Your nails will look like pink fondant chocolate on top of delicious candy.
#3. Pastel Green Nails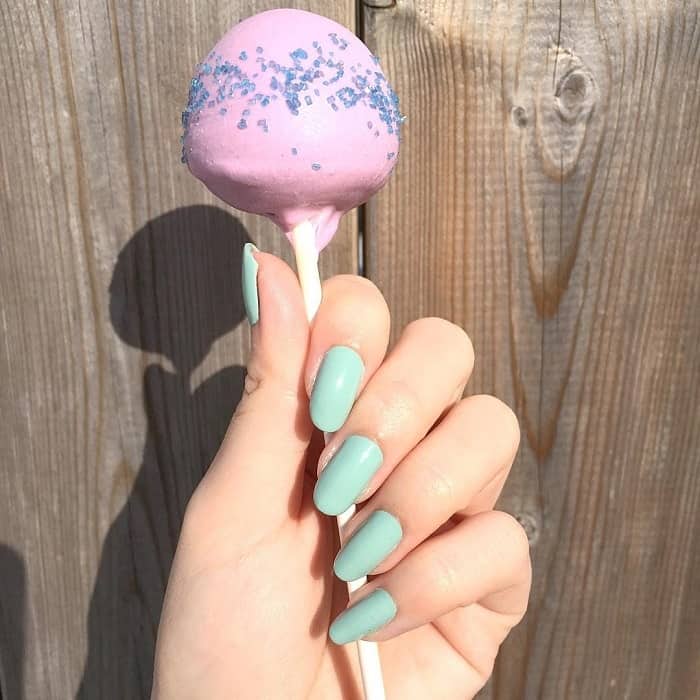 If you are a nature lover, let the environment inspire you! Choose a pastel teal color for your nails and you will get a chic romantic look.
#4. Pastel Orange Nails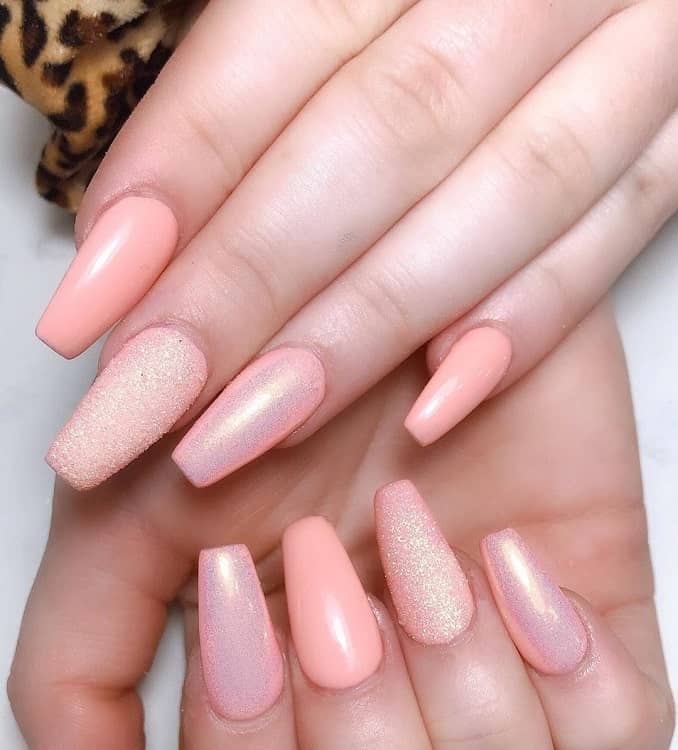 #5. Pastel Ombre Nail Design
#6. Pastel Fall Nails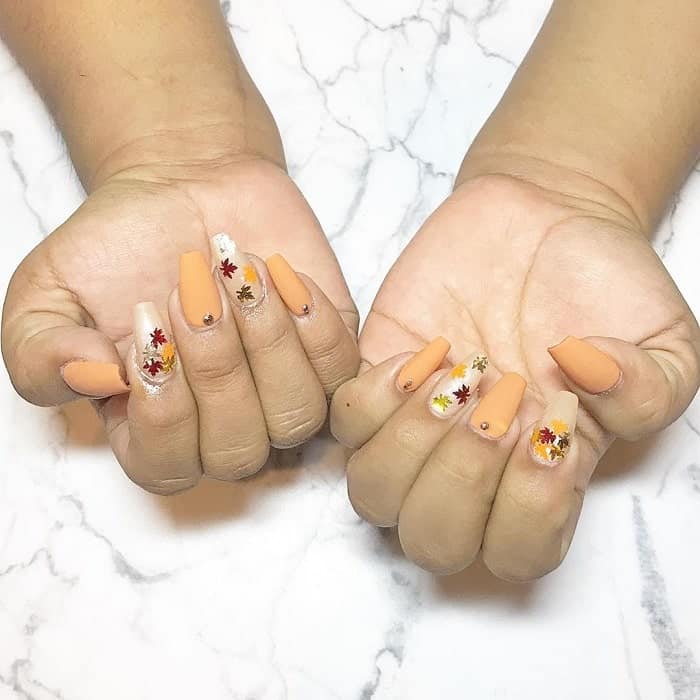 #7. Pastel Gel Nails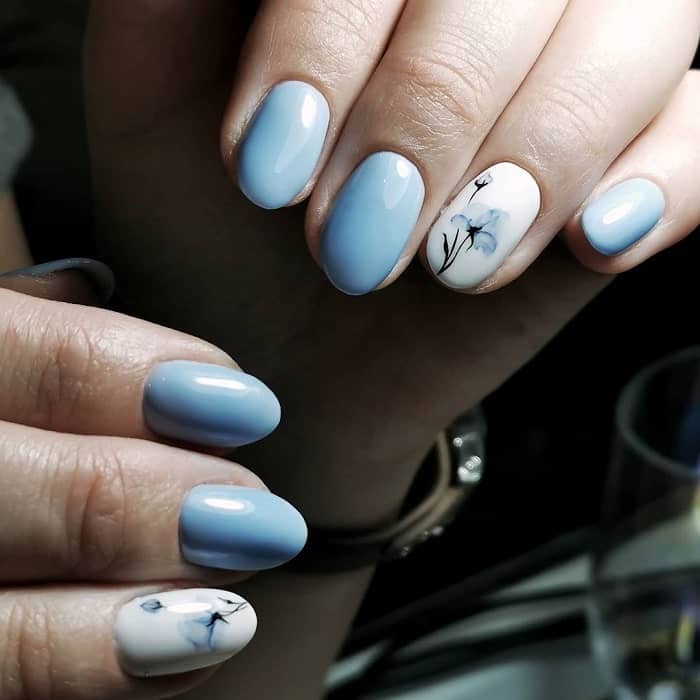 #8. Pastel Goth Nails
#9. Pastel Nails for Summer
#10. Matte Pastel Nails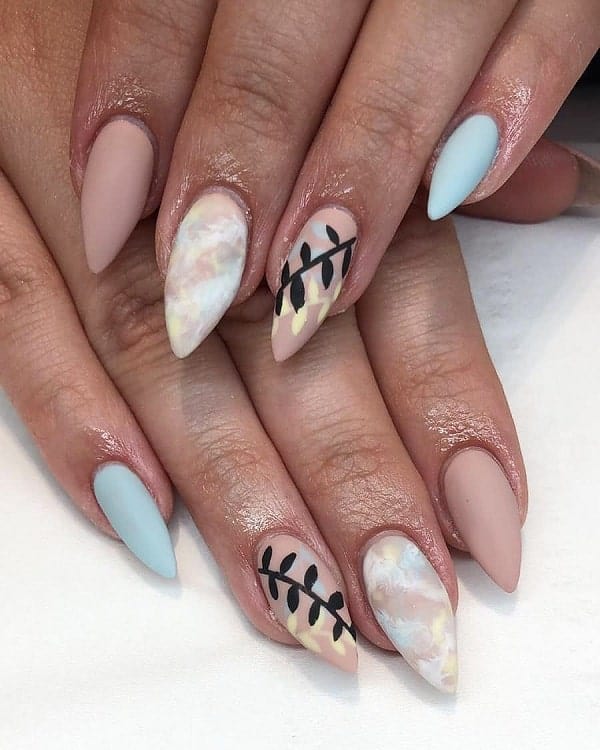 #11. Multicolor Pastel Nails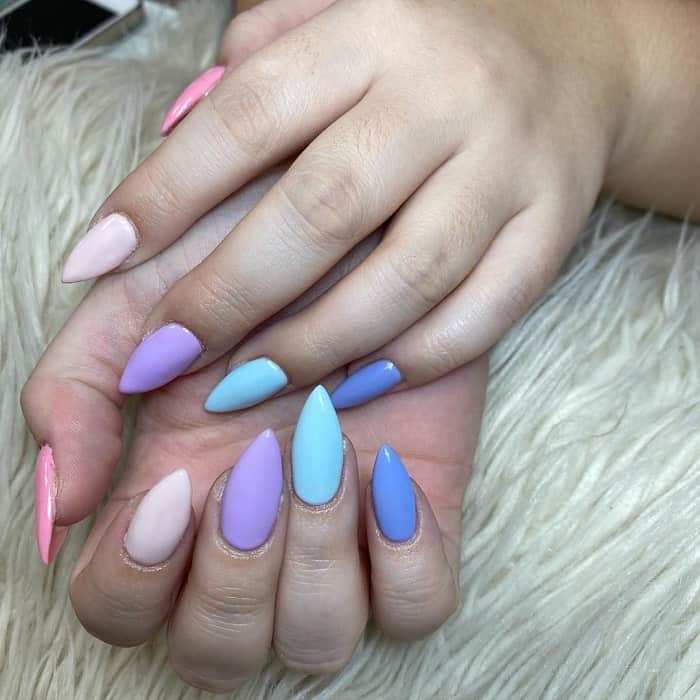 #12. Short Pastel Nails
#13. Pastel Coffin Nails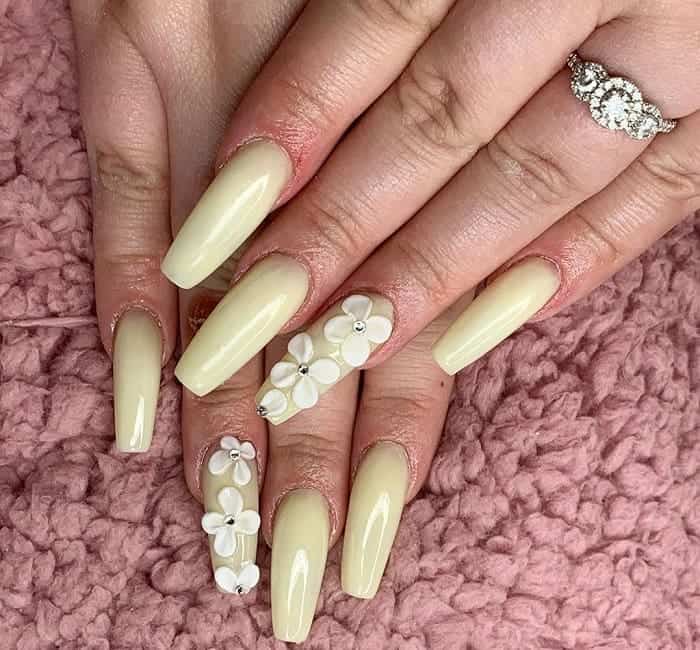 #14. Pastel Pointy Nails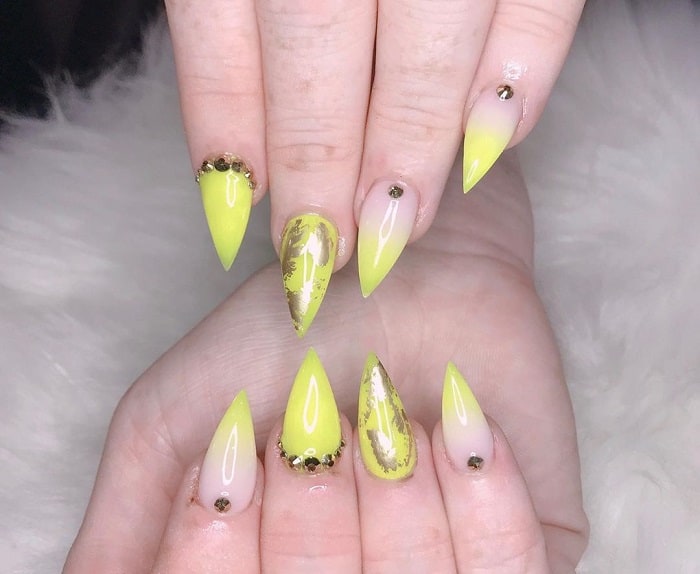 #15. Pastel Holographic Nail Art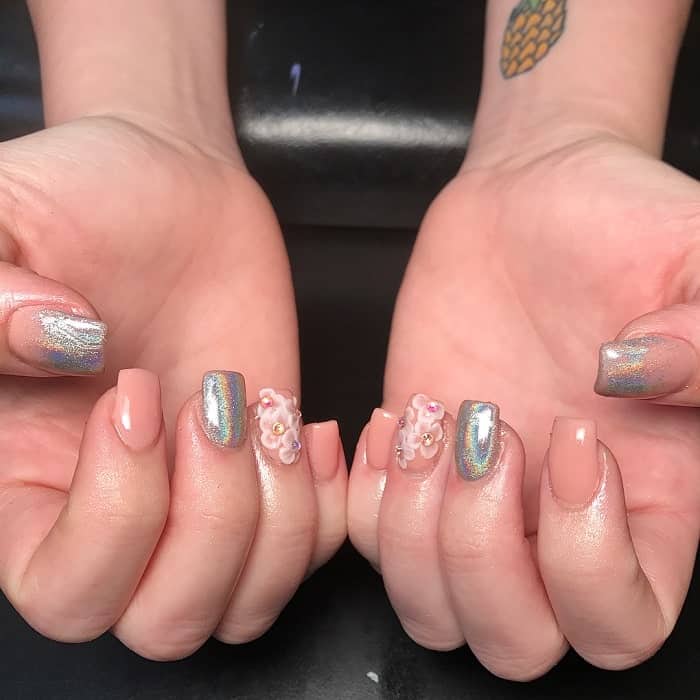 #16. The Lonely Bow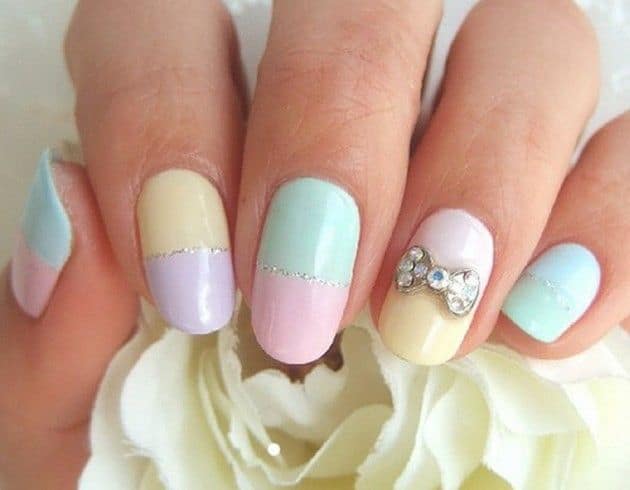 Paint your nails with more than one pastel colors. Place a bow on one of the nails. You can put rhinestones on the bow to make these pastel nails shine brighter.
White Nail Designs for Purest Hearts
#17. Color Blocks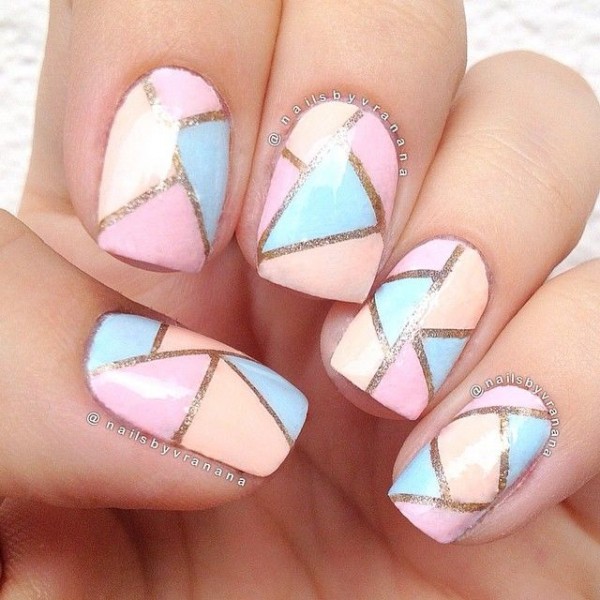 Paint your nails with random color blocks. Use a different pastel color to block each nail. And, you can use gold glitters as borderlines to distinguish the different colors.
#18. Plain Pastels
If you want freedom from the complexity of nail art, you can choose a playful pastel color to paint your nails. You don't have to do anything fancy. Just paint your nails with a plain lilac or any mild colors.
#19. The A-team
This is one of the best color combinations of pastel colors. You can simply paint each of your nails with different pastel colors to have these amazing pastel nails.
#20. Cute Pastel Nails for Easter
Celebrate this Easter with the glam of these cute pastel nails. You can add glitters or tinsels on the nails to create a festive look.
#21. Pastel Almond Nails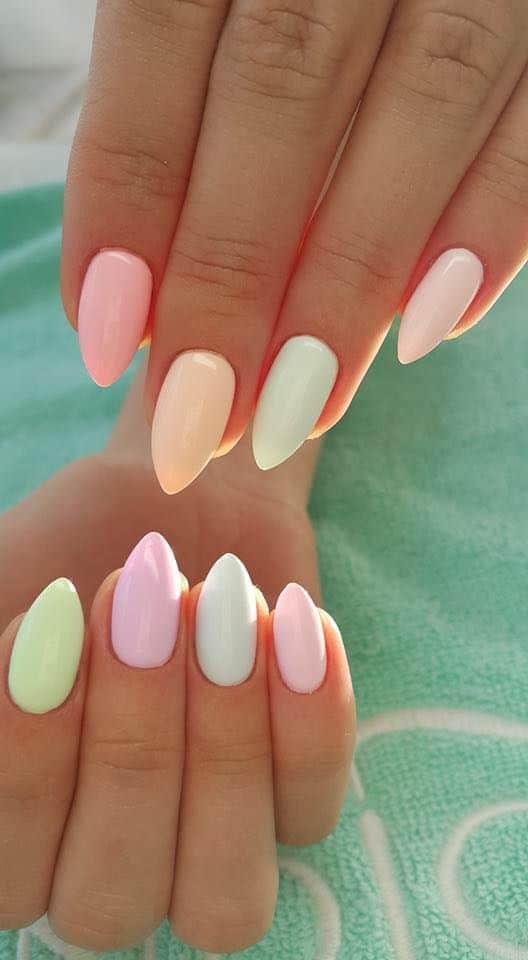 Searching for the best colors for your almond nails? Well! You can try these pastel colors. Your almond nails will look beautiful for sure.
Football Nail Art to Support Your Team
#22. Pastel Nails with Silver Stripes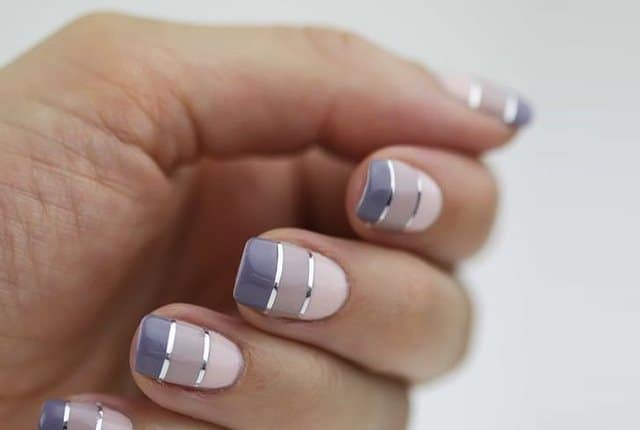 This design looks gorgeous but very simple in terms of the application process. Paint your nails with two tones of pastel colors then place two silver stripes to enhance the beauty of the nails.
#23. Pastel Acrylic Nails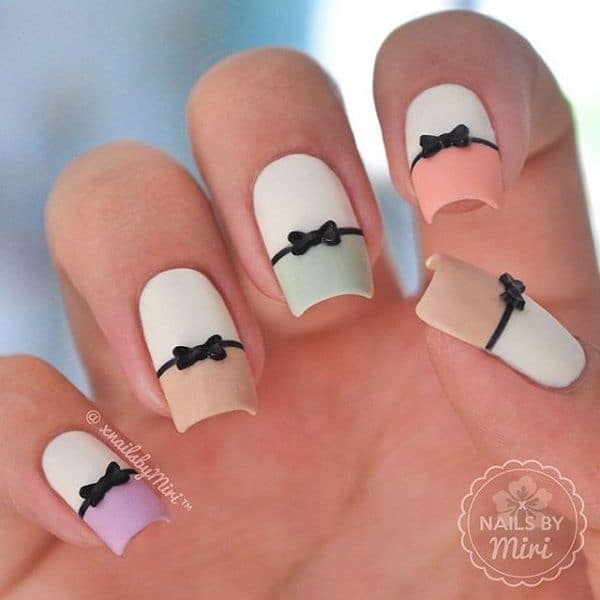 This is an example of sheer innovative pastel color acrylic nails. You can increase the beauty of these acrylic nails by placing a black bowtie on each nail.
#24. Pastel Marble Nails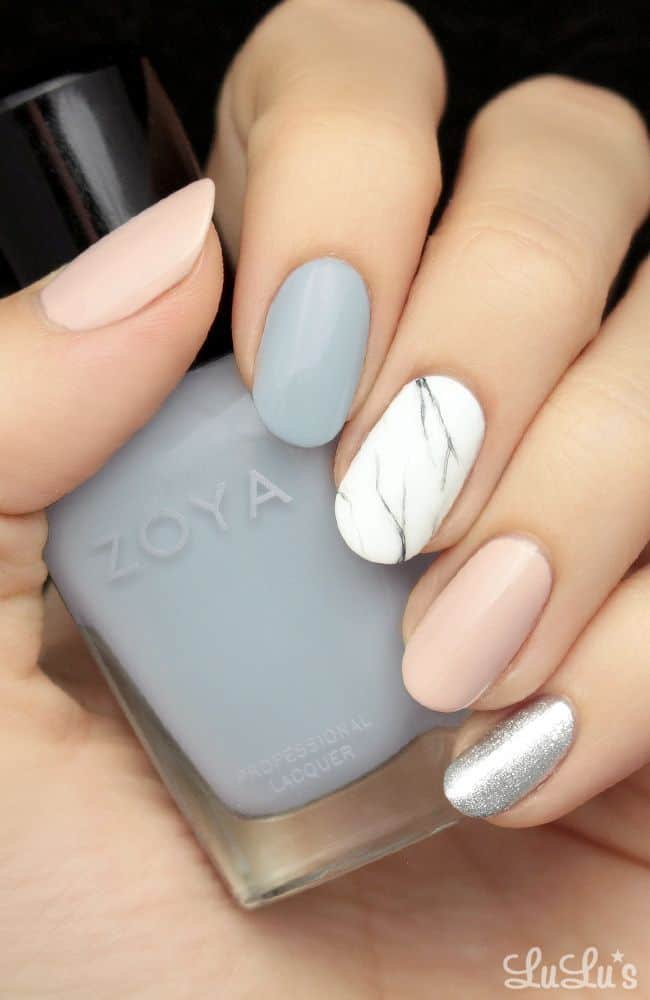 This nail design is one of the best pastel nails you will ever get to see. A marble pattern nail is the main attraction of this design. You can also fill any of your nails entirely with silver glitters.
#25. Gradient Pastel Nails
You don't have to confine yourself to only one color. Try these gradient nails having a few pastel colors blended in a single nail design.
#26. Pastel French Nails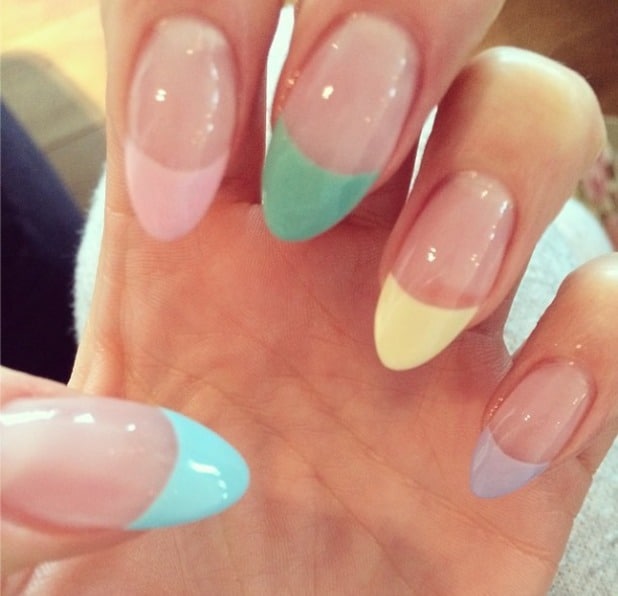 You are already familiar with a french manicure if you follow the nail art trends. You can design your pastel nails being inspired by the french manicure. Paint the tips of your nails with a pastel color to have these fabulous nails.
#27. Floral Pastel Nails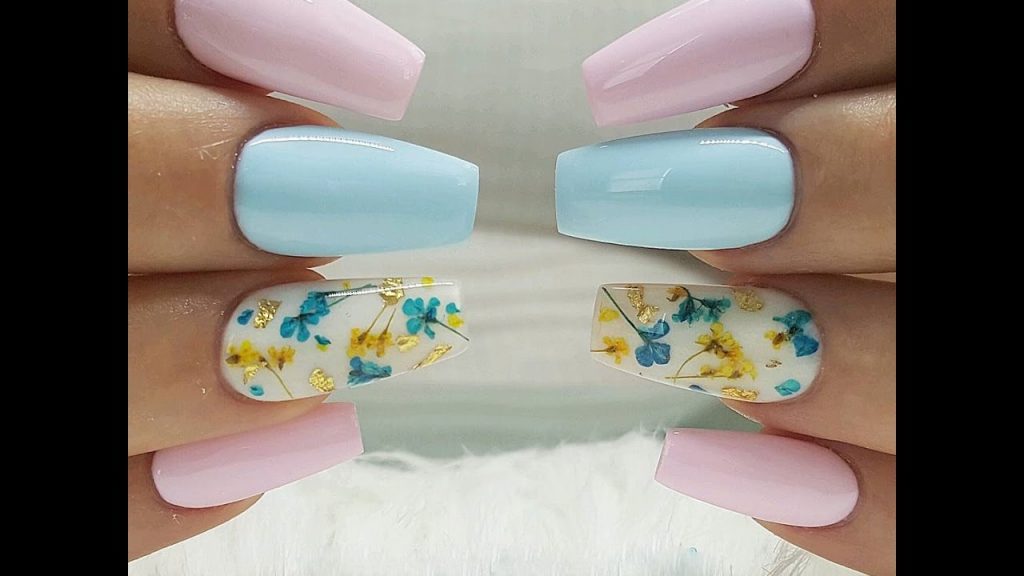 Add some floral designs on your pastel nails to have the beauty of floral grace.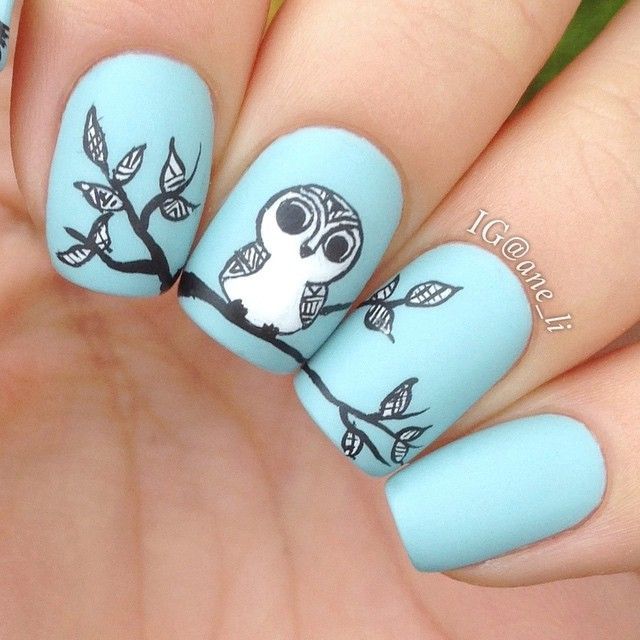 This is a different pastel nail art. At first, paint all your nails with a single pastel color. This will work as the canvas on which the owl will be drawn. Be assured that everybody will love this cute owl staring at them.
#29. Two-Tone Pastel Nails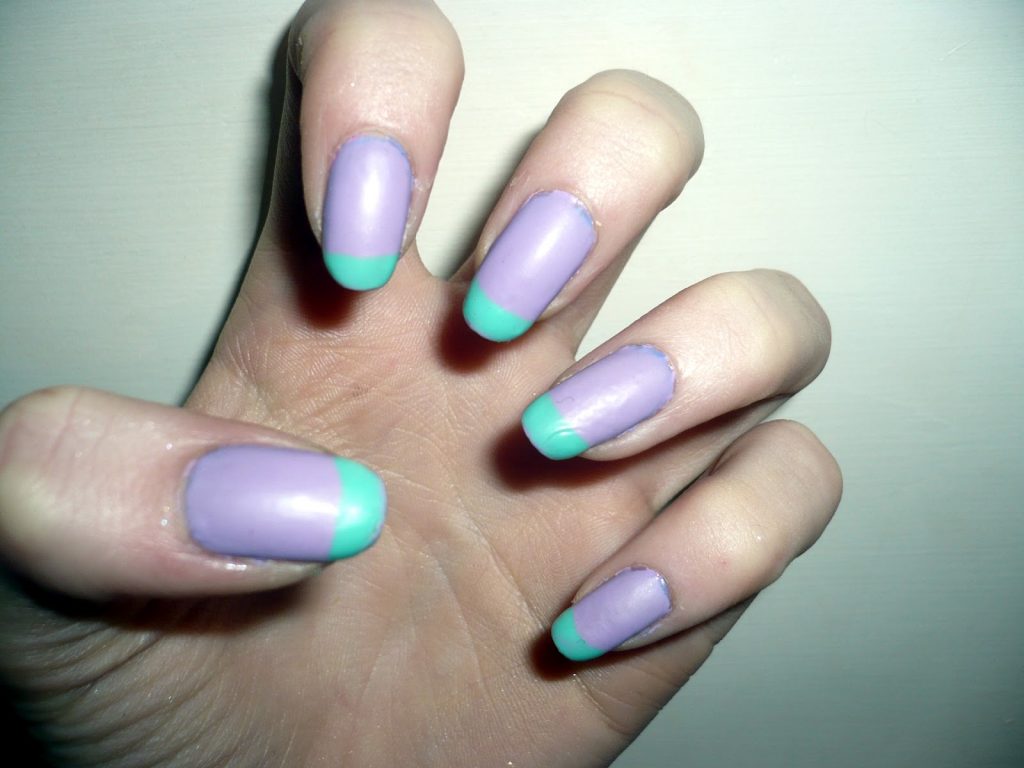 You can simply make your nail design a special one. Use two colors instead of one. This will create a two-tone nail design.
#30. Studded Pastel Nails with Glitter
Studs and glitters are very effective to make a mani look luxe and attractive. You can increase the beauty of your nails to a great extent if you can place some studs in the right place for your nails.
#31. Pastel Nail Art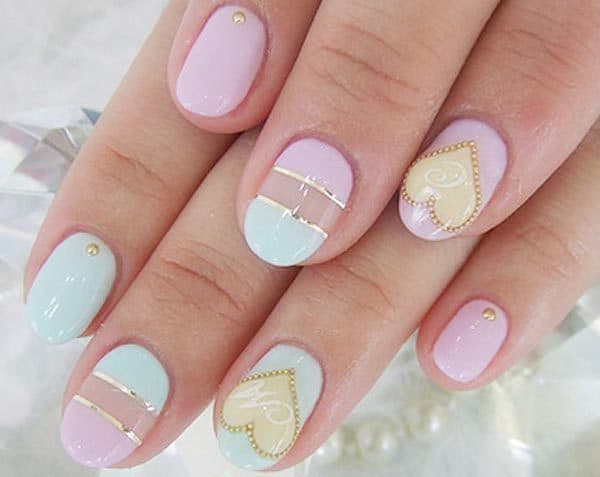 This nail art is absolutely mindboggling. These heart shapes are complementing the whole nail art. The stripes, studs and negative spaces, everything is so well organized that anyone will be a fan of these amazing nails.
#32. Rainbow Acrylic Nails
This is an interesting nail art. Paint your nails with a white color that resembles the clouds and a few shades of pastel colors that resemble the rainbow. This overall rain art seems to be a perfect depiction of floating clouds and rainbow.
#33. Dotted Pastel Nails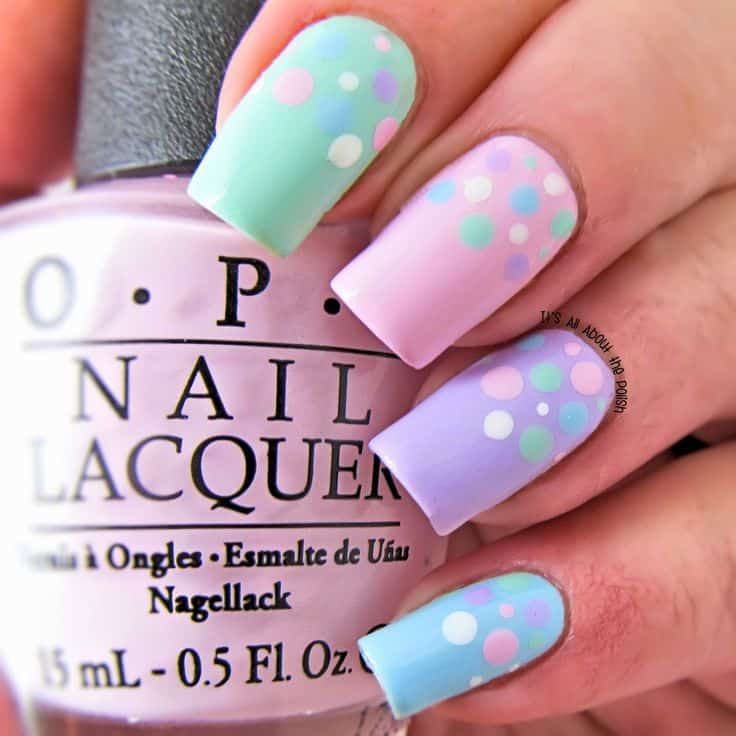 Paint your nails with pastel colors and dab some pastel color drops on them. You can use more than one pastel color drop to make the design look more colorful. The colorful dots look so cute on pastel nails.
#34. Pastel Pink Nails with Pearls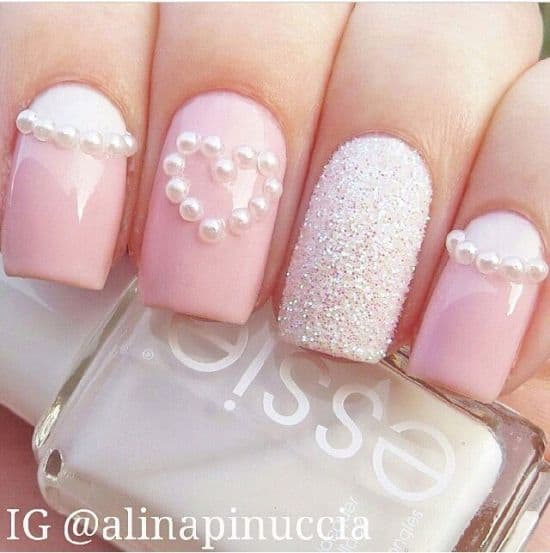 You can add an extension to your pastel nails to make them look chicer. Here, some tiny pearls and fine glitters have been used to beautify these pastel nails.
#35. A Divided Halfmoon
Creating a half-moon shape on the lower part of the nails is an old custom. You can modify this trend by dividing the half-moon into a few parts. Use pastel colors to do so as you're having pastel nails.
#36. Pastel Nails Tumblr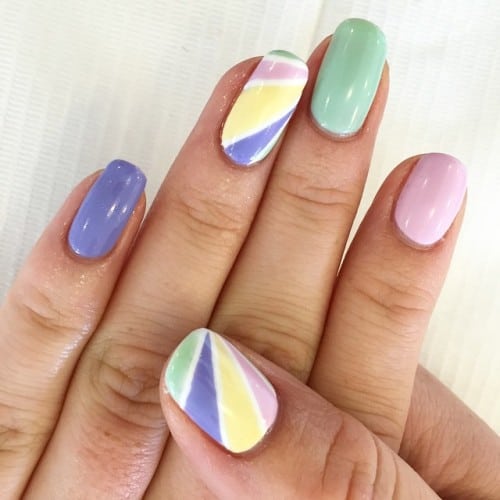 These nails are popular as an identical pastel nail art. Try something like this on your next manicure appointment.
#37. Be Alive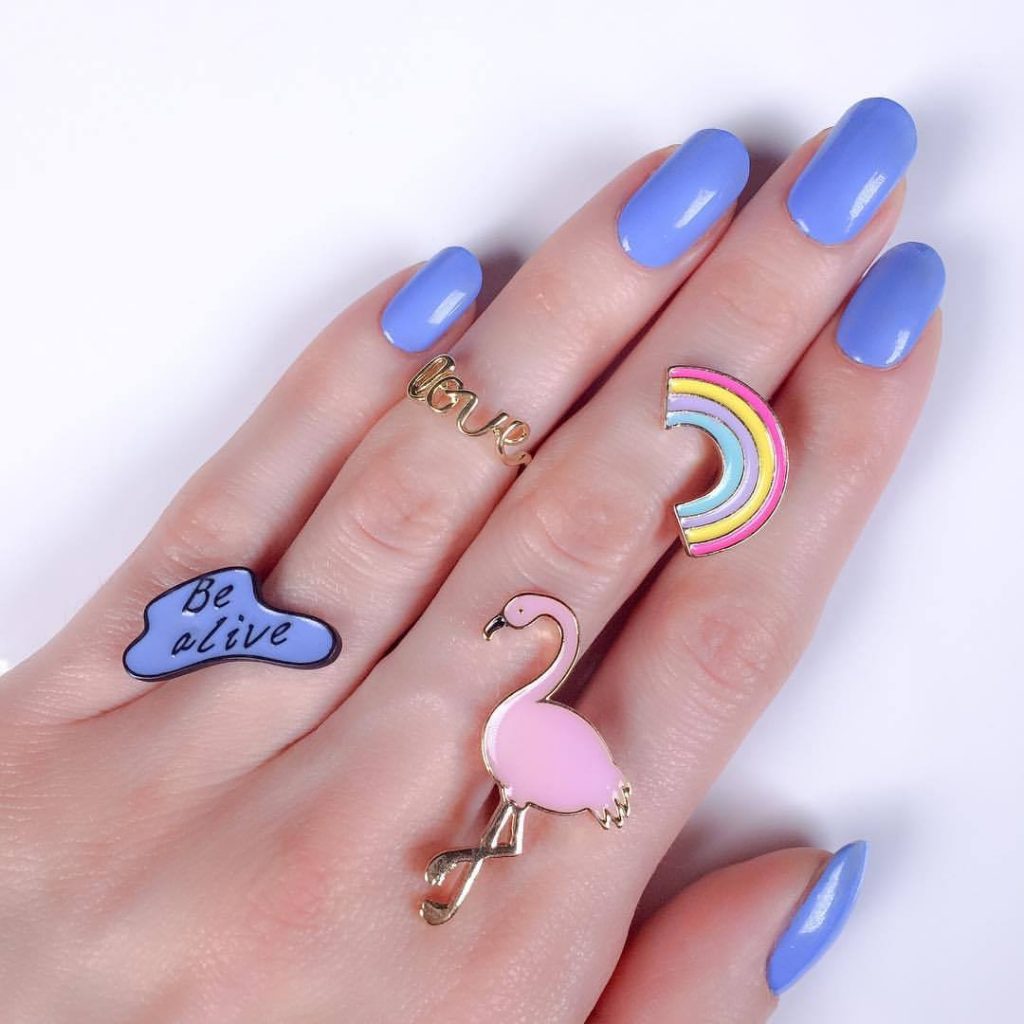 Originally, this design is very simple, a plain pastel color has been used here. But, the ornaments of the nails is helping these pastel nails look trendy and funky.
#38. Yellow Pastel Nails with Roses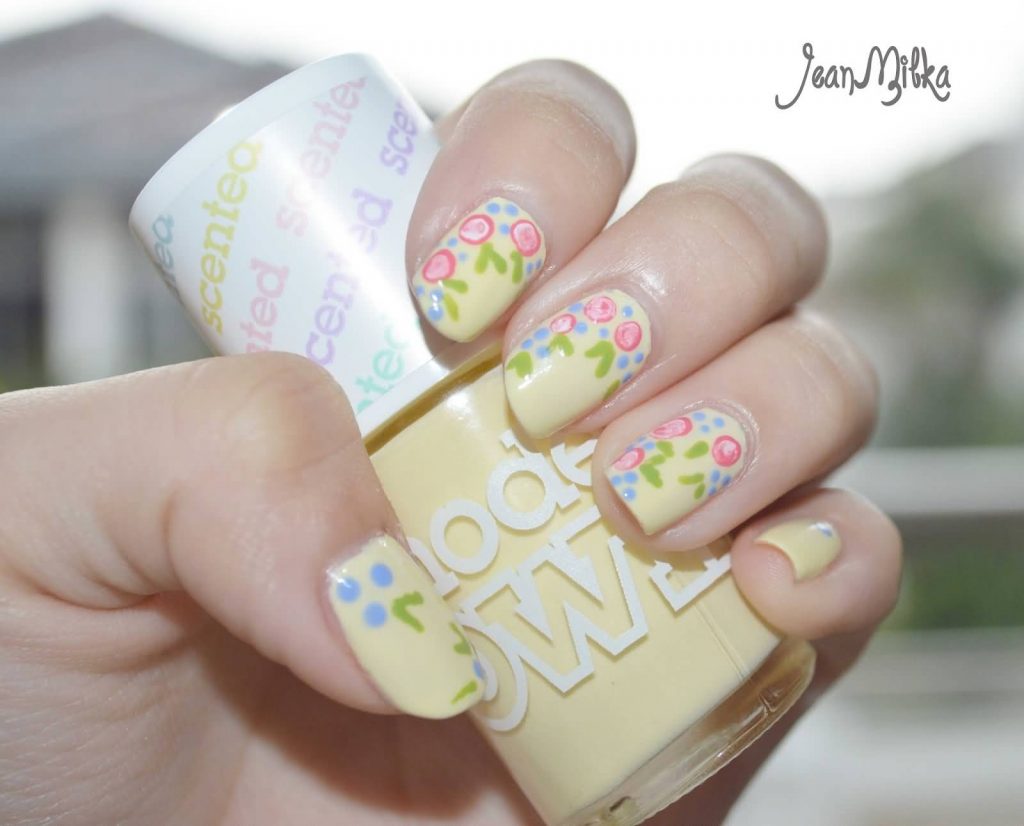 Paint some roses on your yellow pastel nails to get a manicure like this one.
#39. Pastel Stripes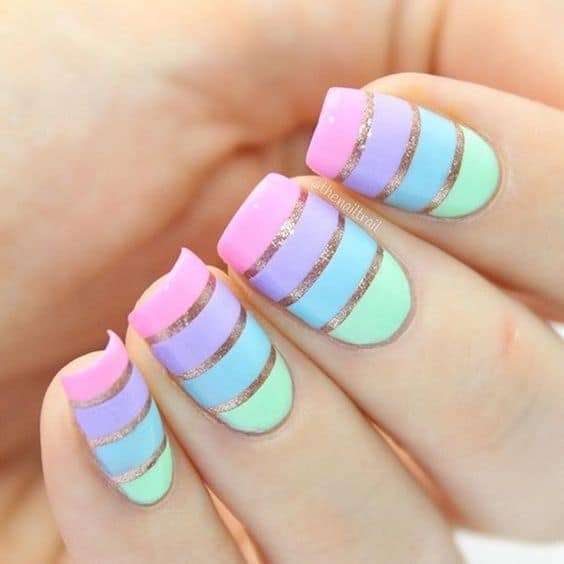 This is a simple way to get your nails designed with pastel colors. Don't try anything fancy if you aren't sure about that. Try these simple striped nails to get the maximum effect of pastel colors.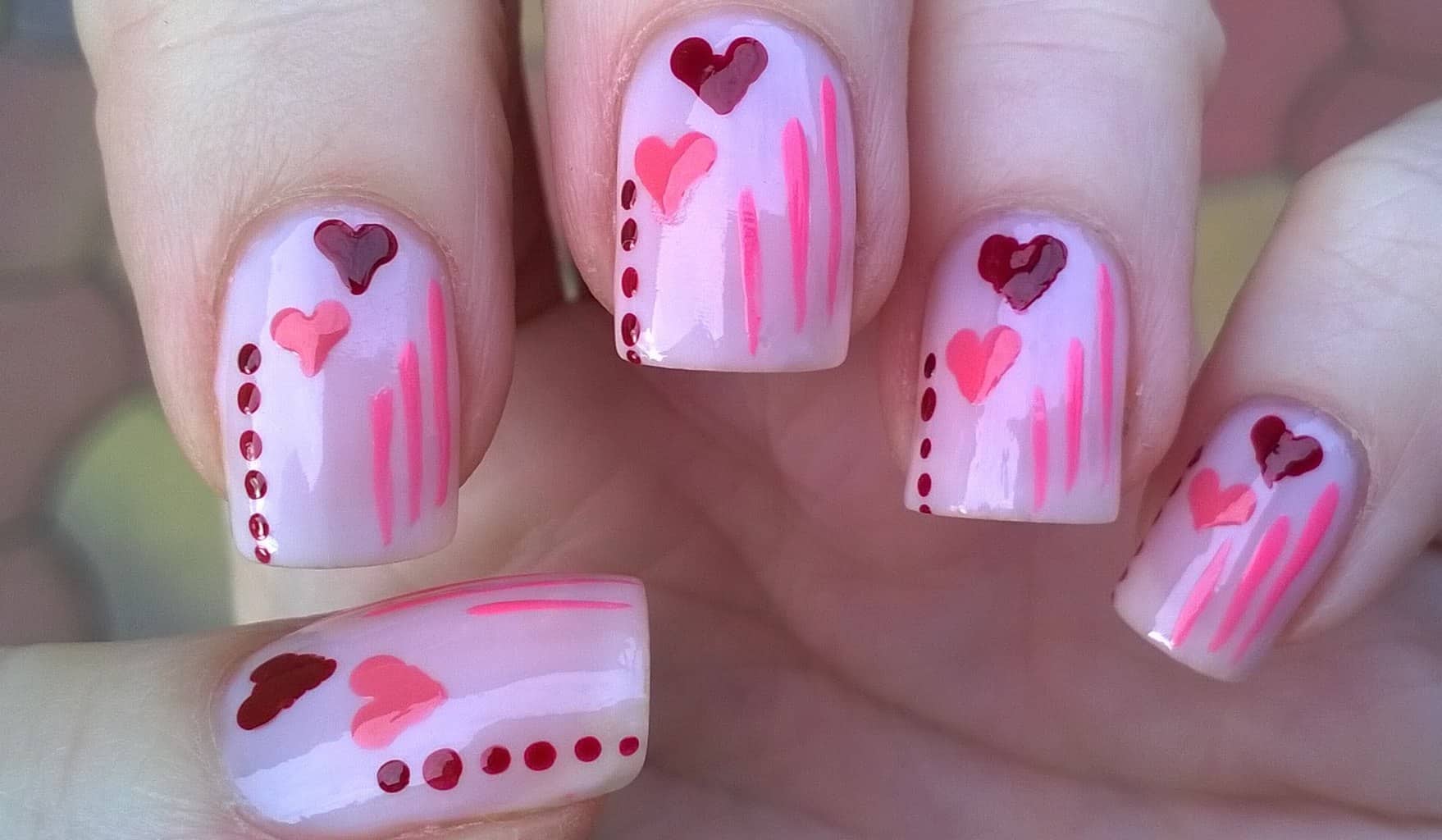 If you want to be the center of attention on Valentine's day or any day of love, try this simple yet elegant art on pastel nails.
Stunning Red & Gold Nail Designs
Try Out These Pastel Nail Designs to Double Up Your Style
The strength of pastel nails is the coolness of the colors. That's why you don't have to think much about art and designs.
The colors will do your job, all you have to do is make sure you are using the right pastel color combination.