33 Clear Nail Designs to Get A Simple Yet Gorgeous Look
If you are not comfortable with the complexity of different nail designs, here we have brought something simpler for you. You can have clear nail designs on your nails that are not complicated yet look chic.
These nails are similar to nude nails. Unlike nude nails, some of them are crystal clear as if they were transparent glass.
So, if you want to have clear nails you must have special techniques or consult a beauty technician for the purpose. But, you don't need to go anywhere for design ideas in order to have clear nail designs, just keep your eyes on this article.
Clear Nail Designs To Look Trendy
There will be less use of colors in these nail art. Nude nails and transparent nails are mostly considered as clear nails. Simple patterns, floral designs, and mild colors are used for clear nail designs.
A great thing about these nails is they complement every shape and size of nails. You will have a luxe look no matter what your nails are square, oval, round, almond or stiletto.
Clear nails are, basically, nail extensions made of acrylic. Most of the clear nails are considered as acrylic nails though few are different. Let's see how clear nail designs look like.
#1.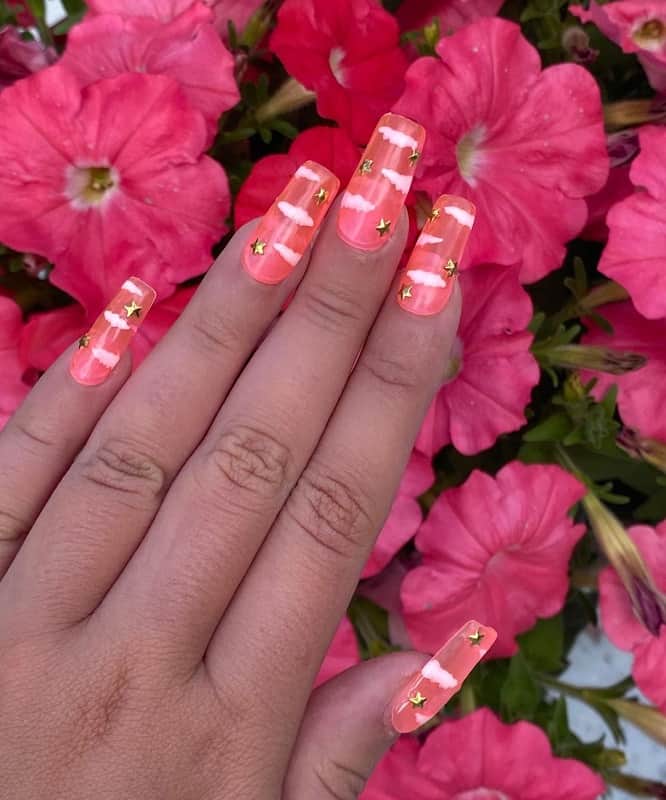 clear nails with stars
#2.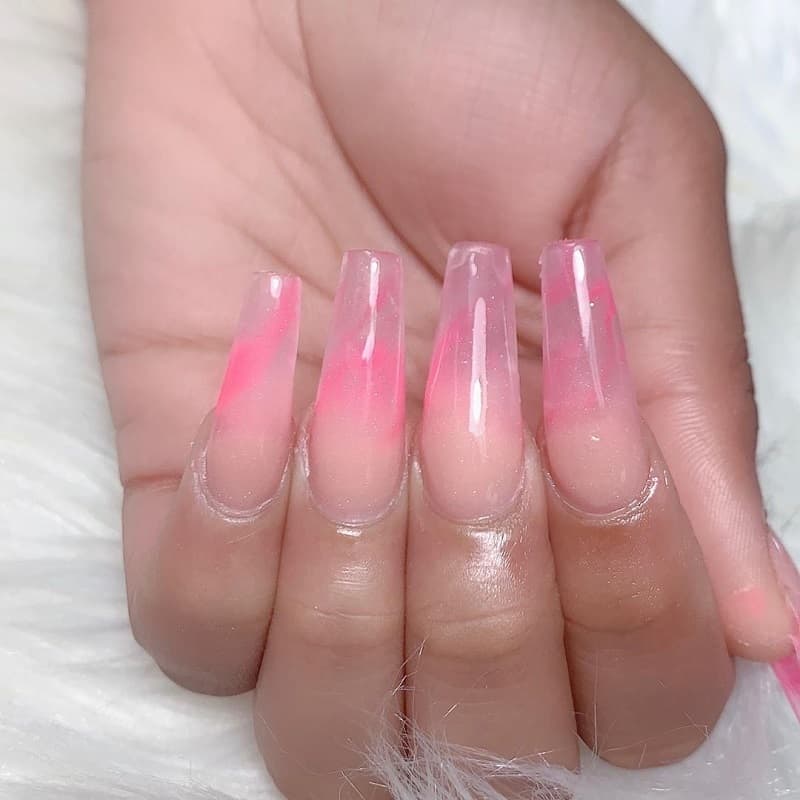 nude clear nails
#3.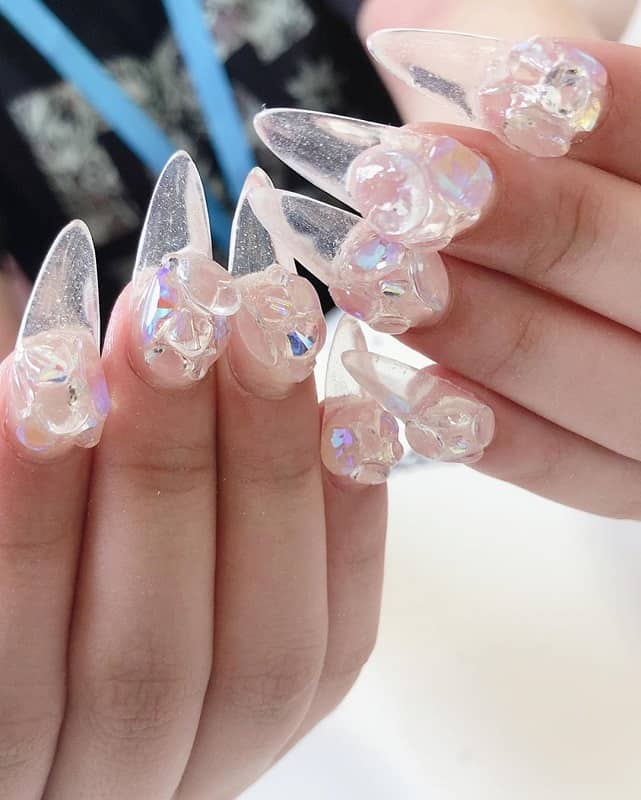 clear glass nail design
#4.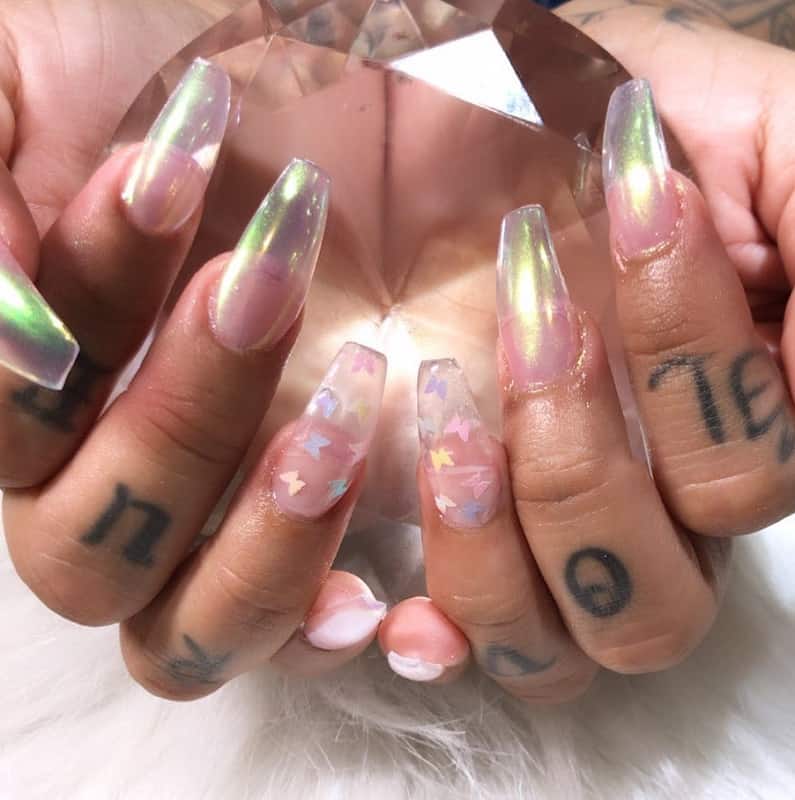 clear pink chrome nails
#5.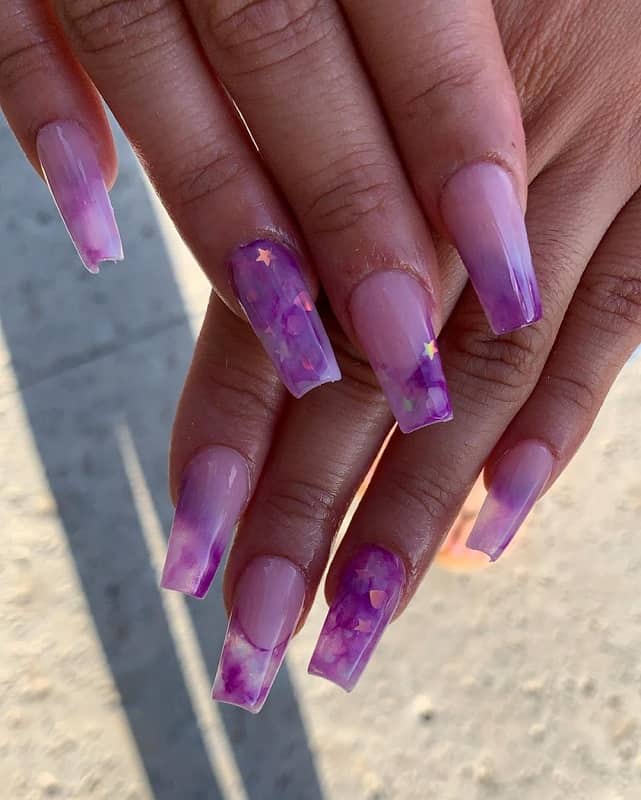 clear purple nails
#6.
clear nails with butterflies
#7.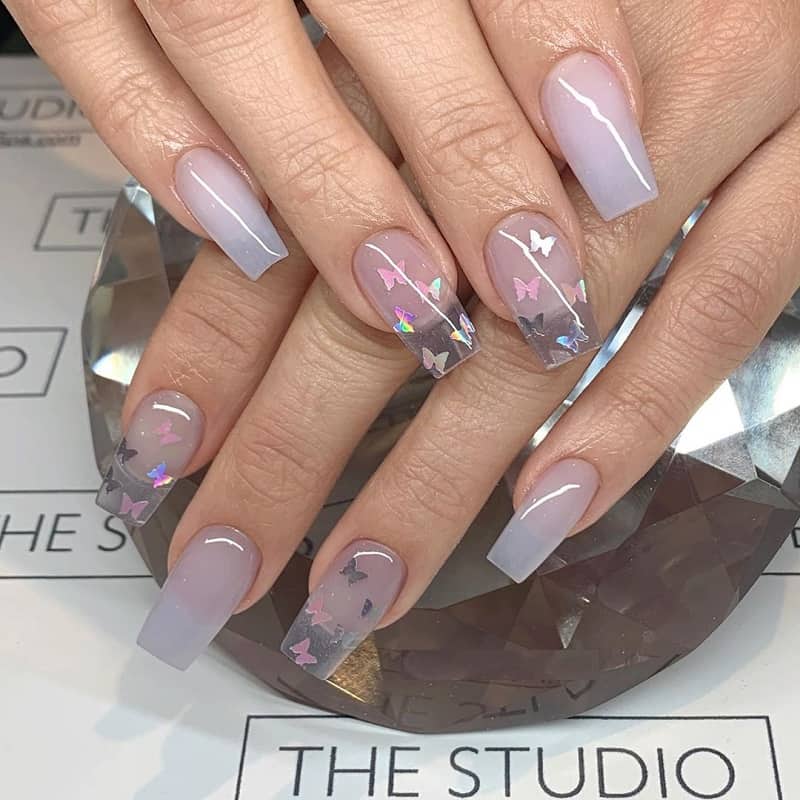 clear white color nails
#8.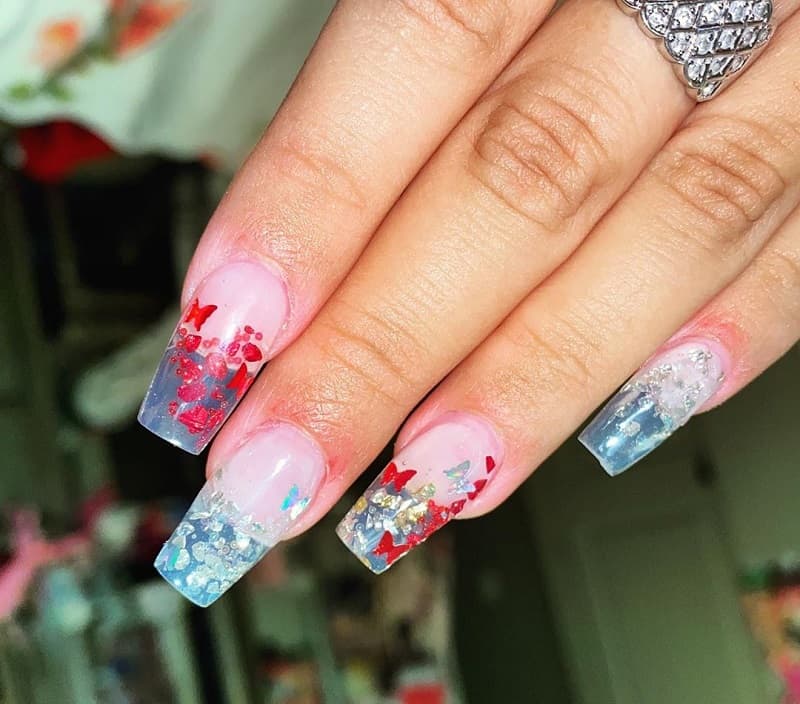 red and clear nails
#9.
ombre clear nails
#10.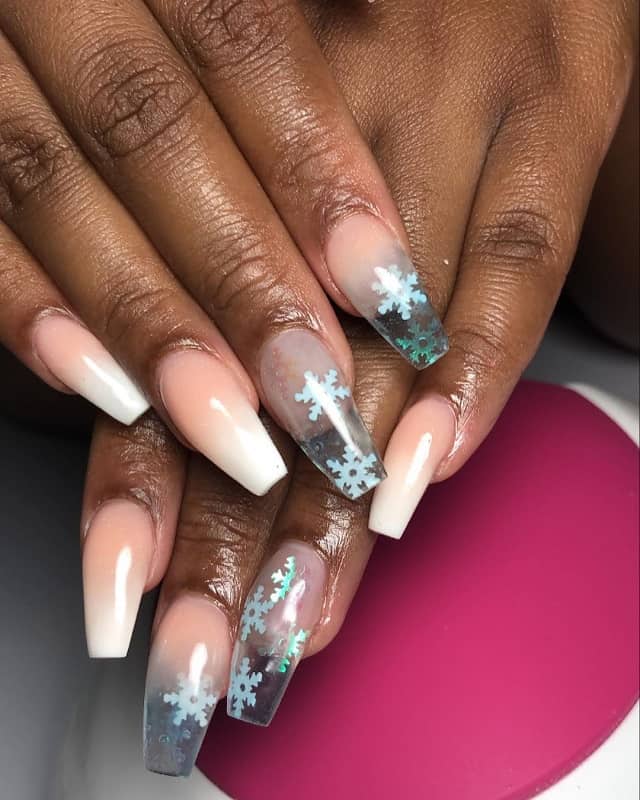 clear snowflakes nail design
#11. Clear Acrylic Nail Design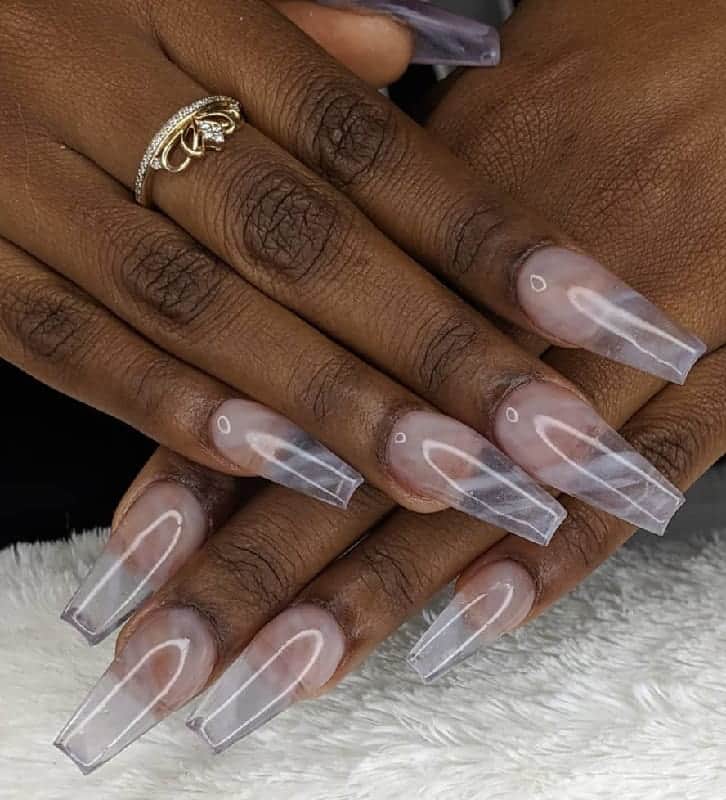 #12. Clear Coffin Nails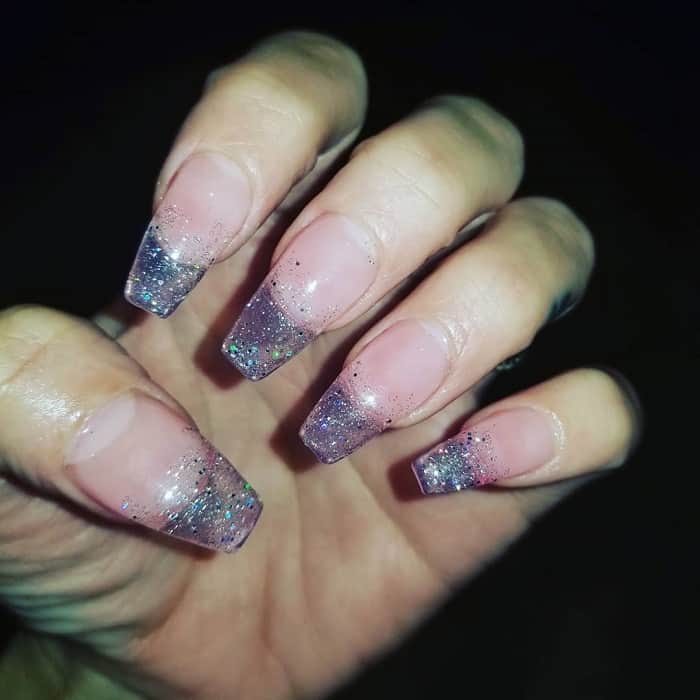 #13. Clear Pink Nail Design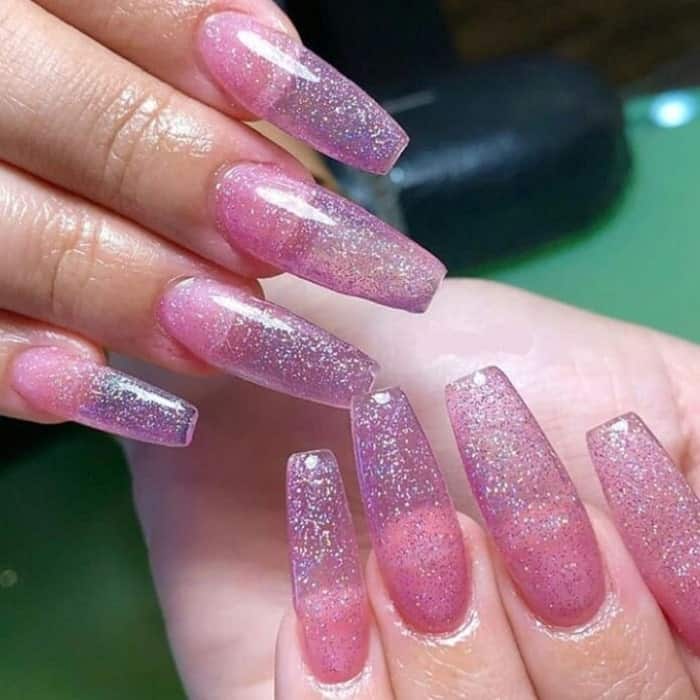 #14. Clear Short Nail Art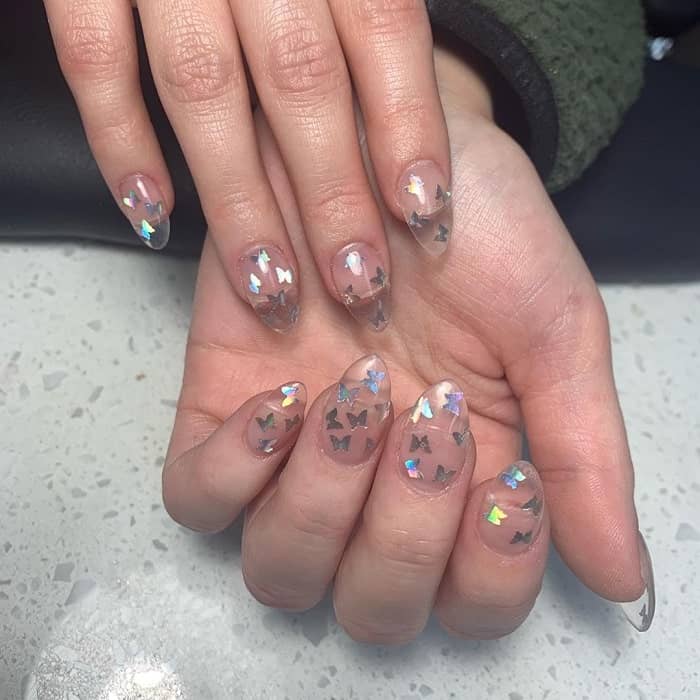 #15. Clear Glass Nails
#16. Clear Stamp Nail Art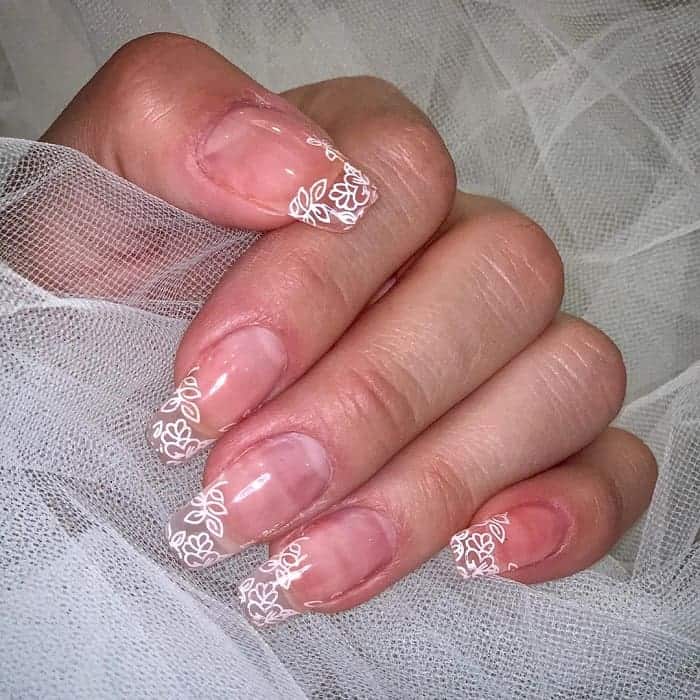 #17. Clear Stiletto Nails Design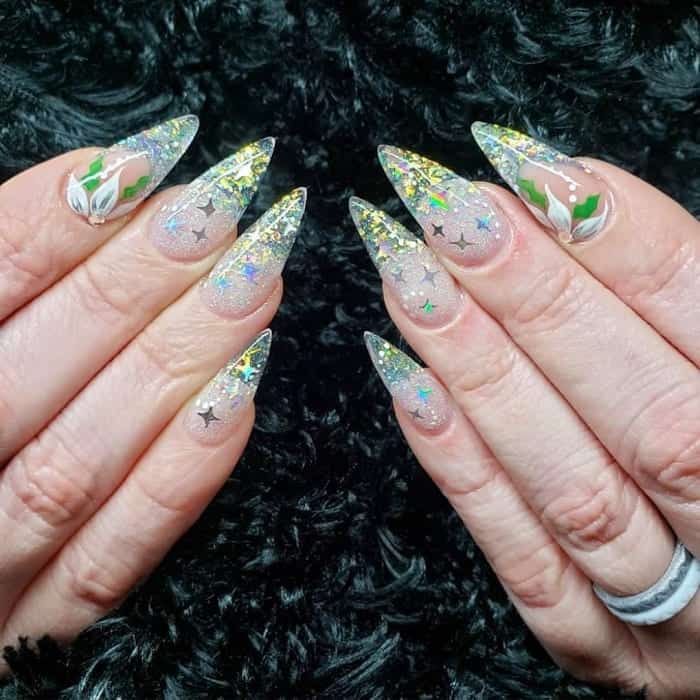 #18. Clear Nails with White Design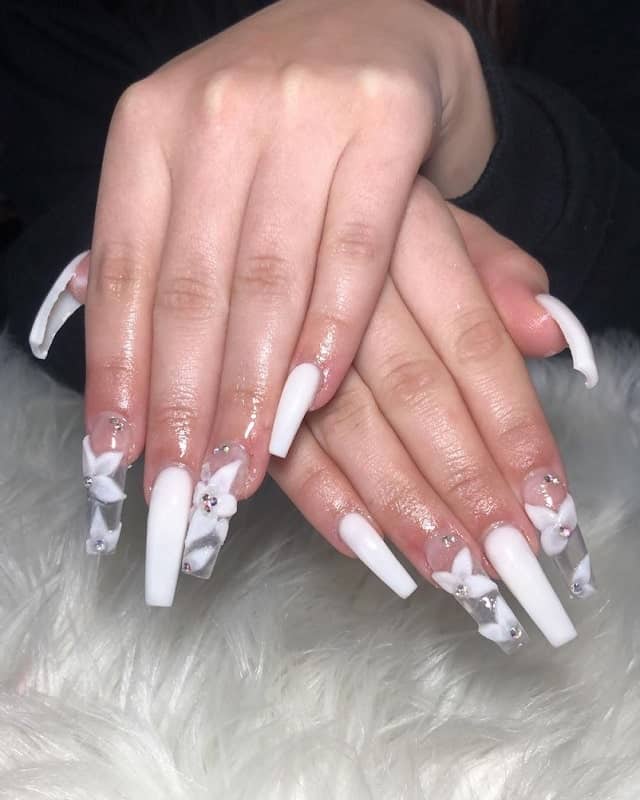 #19. The Sunrise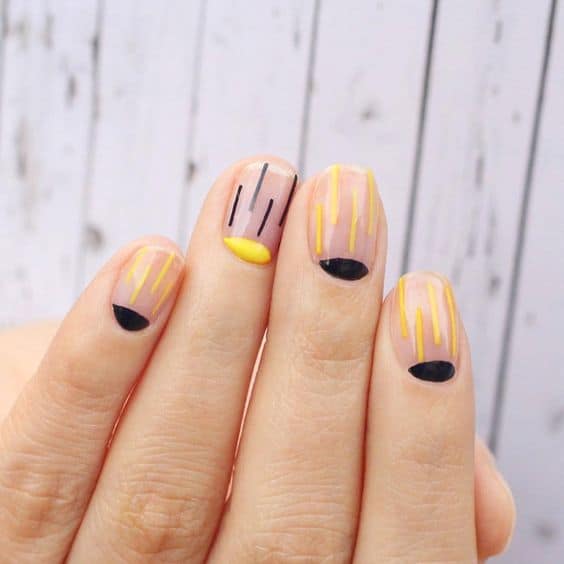 This design is innovative. The yellow and black color is used on clear nails. The lines are drawn very nicely which resembles a sunrise deriving from the cuticle of every nail.
French Tip Nail Design for The Ultimate Look
#20. Black Nail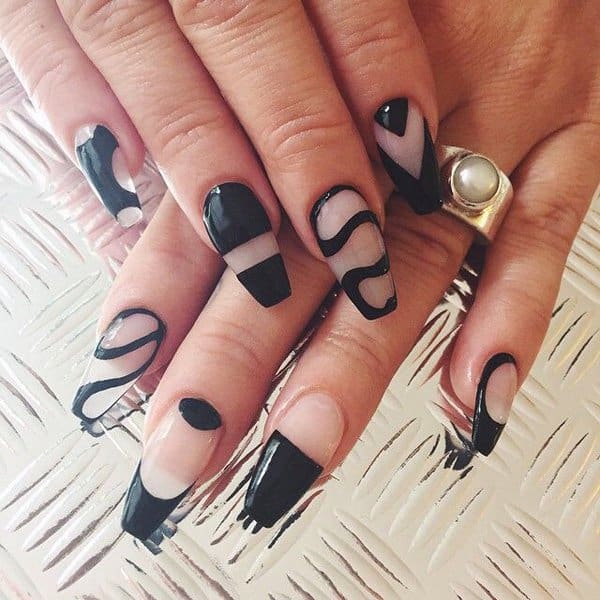 Black is the perfect fit for any nail design. You can use the elegance of black on your transparent nails. A ring on the ring finger will complement the clear nail designs.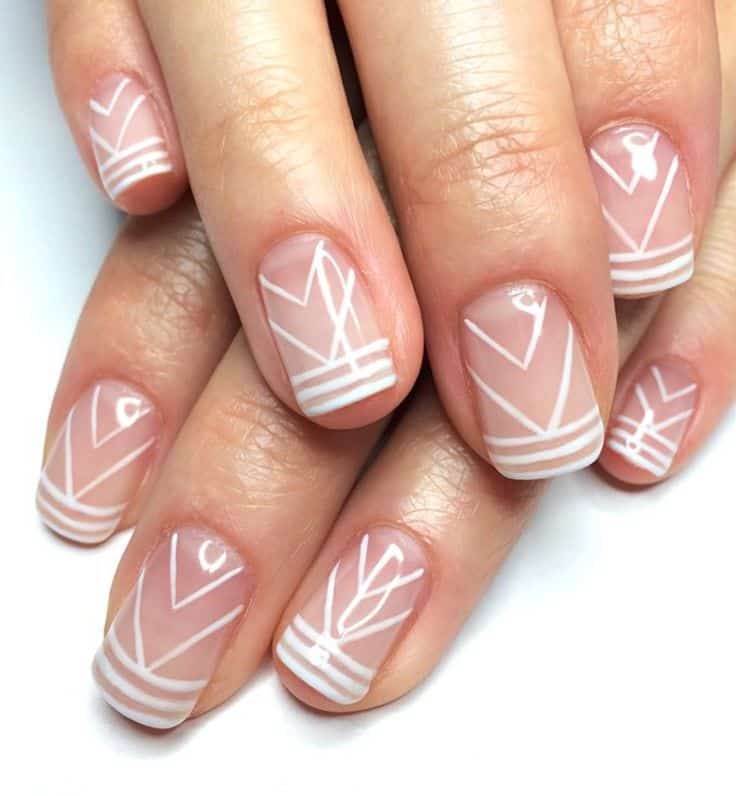 A lot of nail techs are being inspired by tribal cultures. Tribal patterns are very common in fashion designs. You can draw tribal patterns on your clear nails to have this design.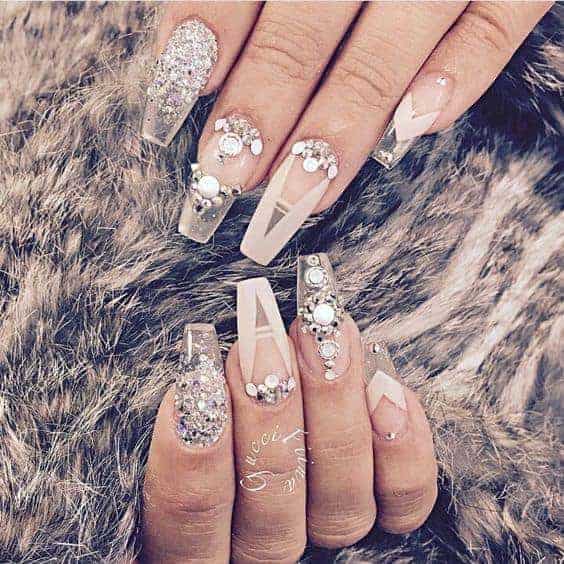 If you are one of the party people, this design is rightly for you. Your friends will be stunned right away within the first impression. Use rhinestones, glitter, and negative spaces to have luxe-looking clear nails. This is one of the best clear nail designs out there.
#23. White Patterns
The stiletto shape itself is something out of the box. These nails stand out from the crowd of other nails. You have to give attention to wonder about their pointy look. Clear stiletto nails will look gorgeous in these white patterns.
#24. Colorful Dots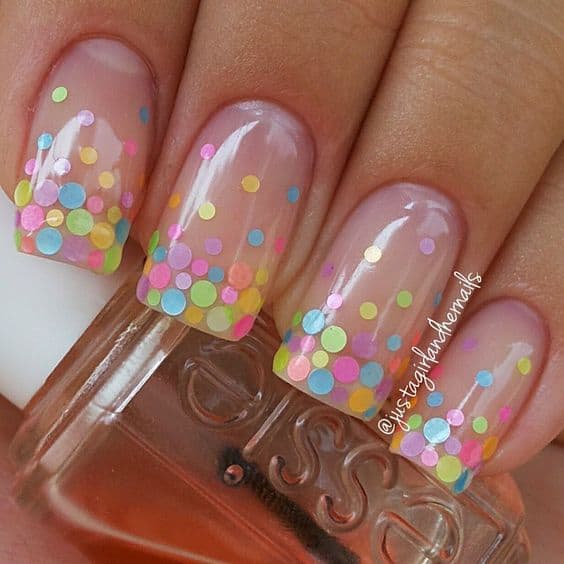 Very simple design to have. Use colorful dots on your nails to have clear nail designs like this picture.
#25. Clear Pointy Tips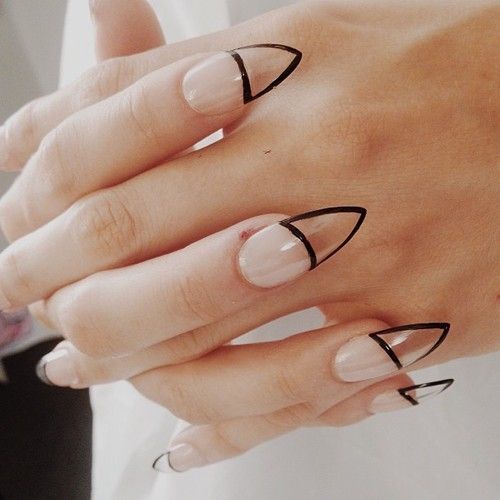 Transparent tips are the main attraction of this design. Paint the pointy tips of your nail with black which is past the length of the natural nail. Use the black color to determine the edge of the clear nail extensions.
#26. White Clear Nail Art
These clear nails look so eye-soothing. Paint your nude nails with white matte color. Keep spaces in between the white color so that the blank spaces turn into well-organized shapes and patterns. You can draw a heart shape too using the negative space. All these things altogether produce very good clear nail designs.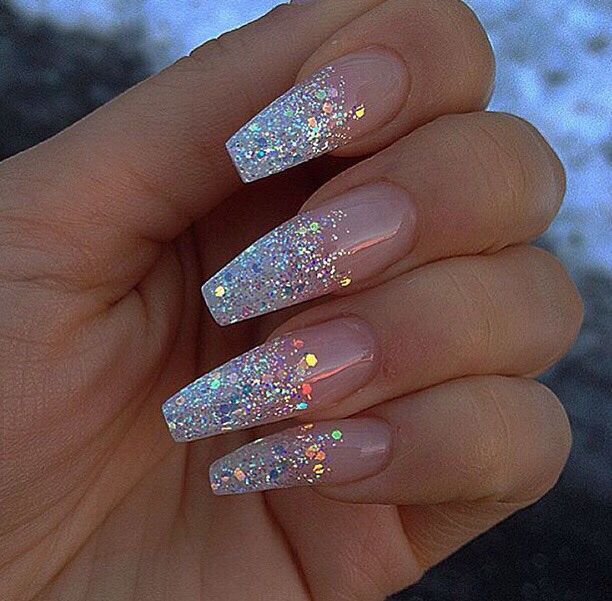 If you are a shine lover you can try this simple design. Use silver glitters on top of your clear nails. Your ballerina nails will look amazing in this simple clear nail design.
Amazing Ballerina Nail Design to Adorn
#28. Floral Nail Art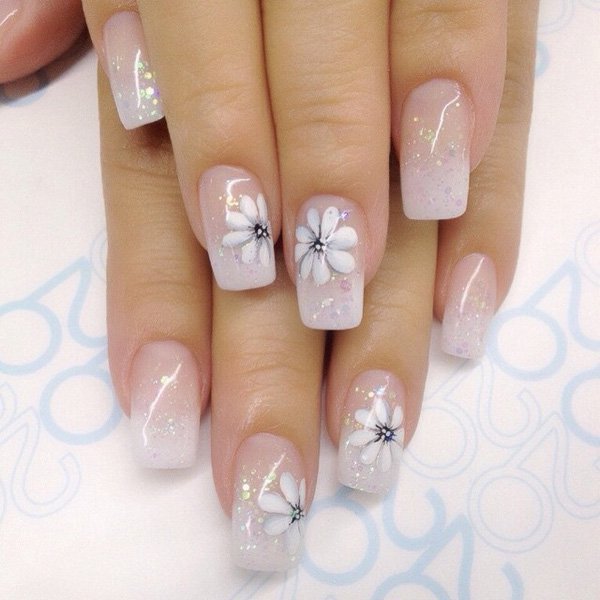 Floral designs enhance the grace of any design to a great extent. You can use a floral image on clear nail designs. Draw some white flowers on clear nails to have this beautiful design.
#29. Clear Nails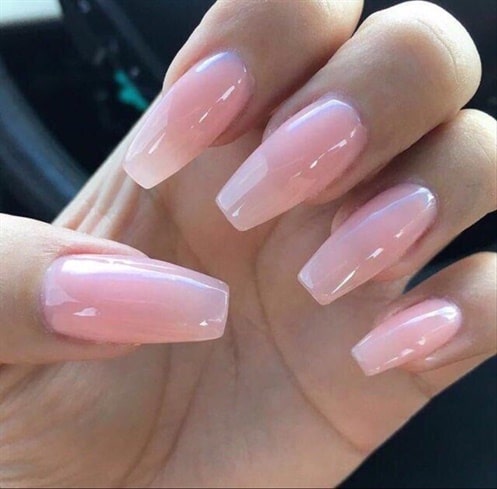 The heading says it all. Here, clear nails refer to the light pink nails without any other color or patterns. Keep your nails clean to have clear nail designs like this one.
Simple Yet Elegant Black Tip Nail
#30. Clear Edged Black Nails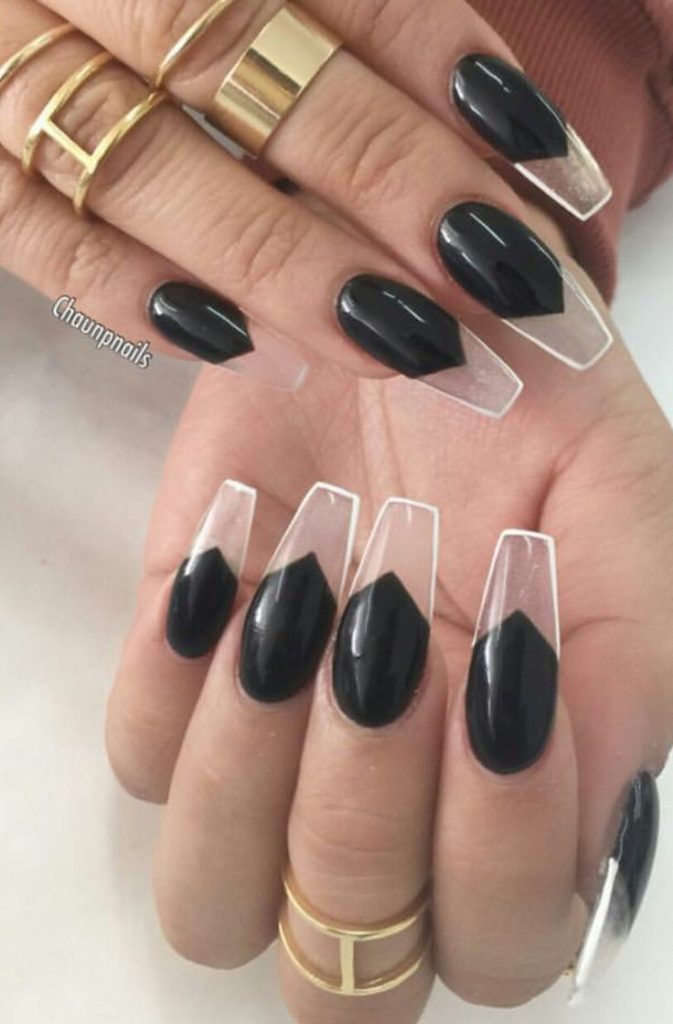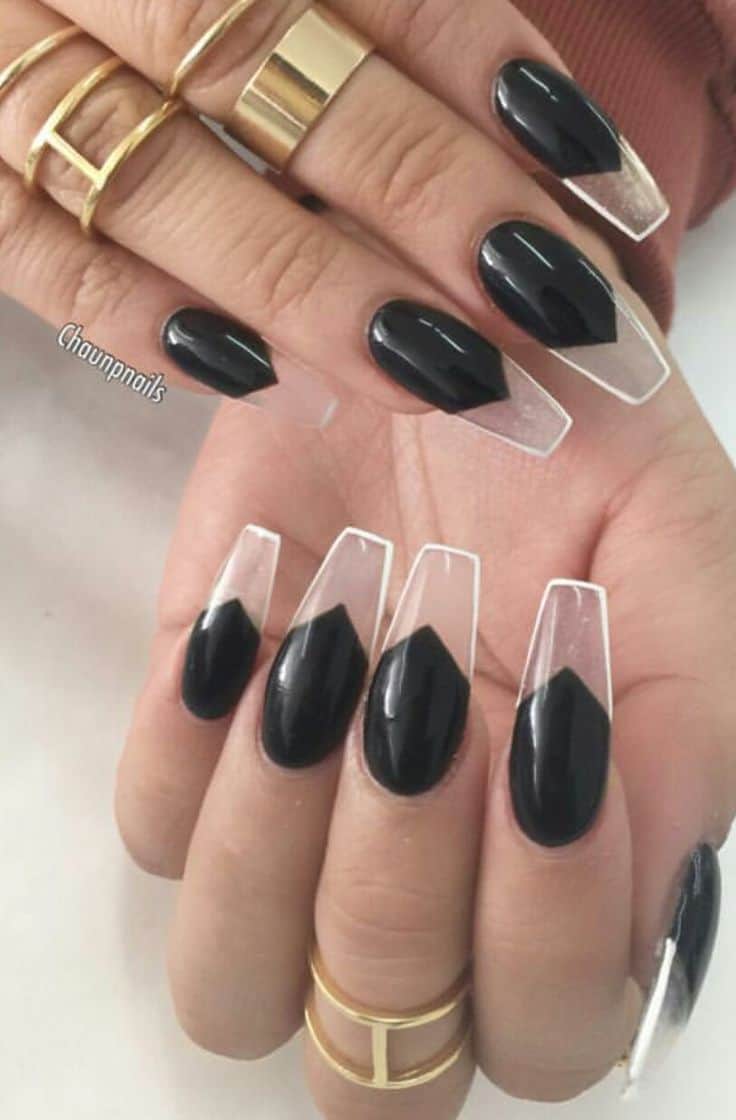 Clear extensions are used for this design. At first paint the length of your natural nails with pure black color. Then keep the extensions past the edge of natural nails transparent. That will do the trick for clear nail designs.
#31. Transparency of Love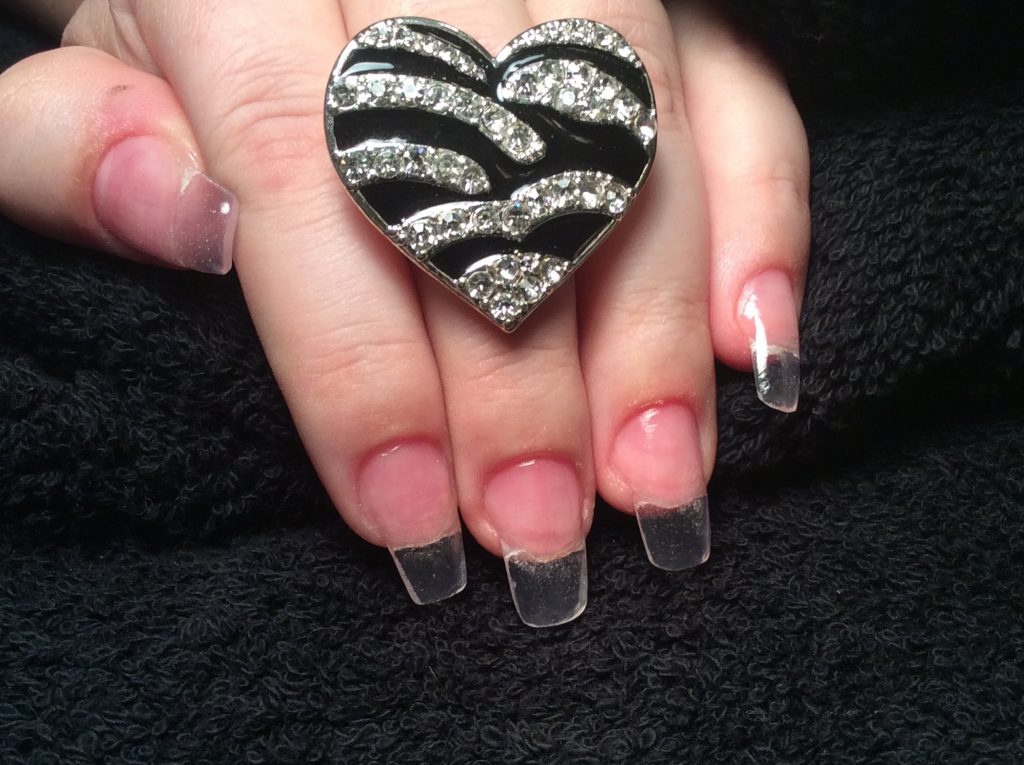 This design will remain incomplete without wearing this kind of ring as depicted in the picture. Wear a love-shaped huge ring and keep the nails transparent. The transparency of love will be illustrated by clear nail designs.
#32. Sweet Colors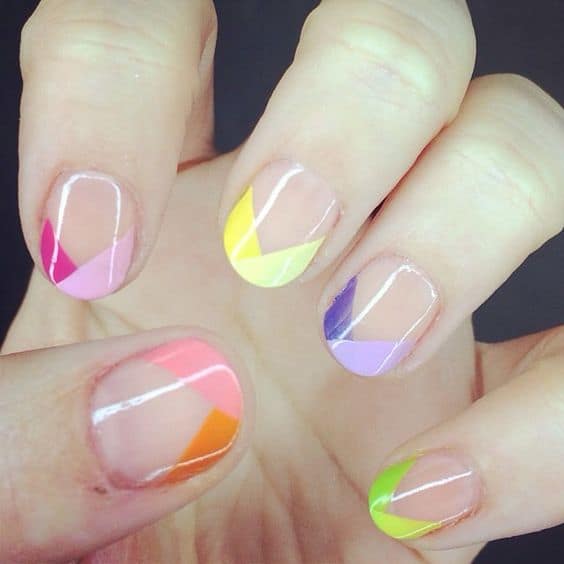 Some colors are peaceful to watch. You can use mild colors like yellow, pink, light blue, peach, etc for this design. The sweetness of these colors will complement clear nail designs.
#33. Clear Nails to Show Off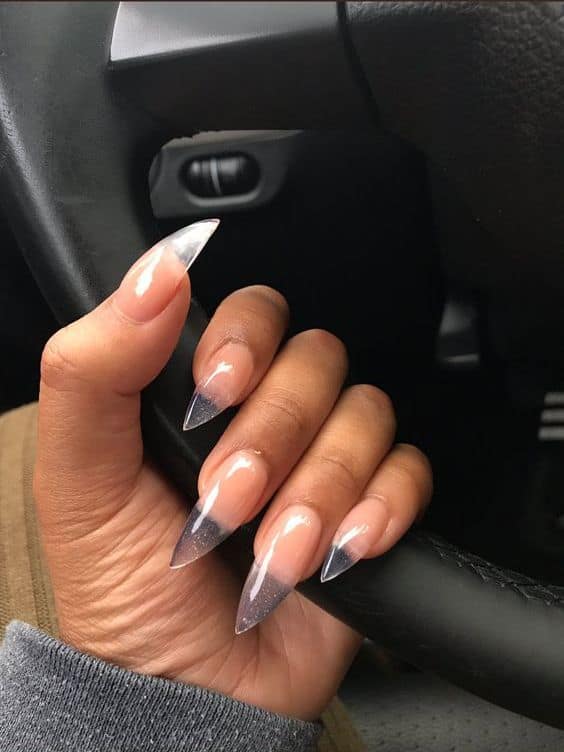 If you are planning to rock the floor of Instagram, this is the right clear nail design for you. Use grey color in the clear part of the extensions. You can post a picture holding the steering wheel of your car. A little bit showoff is mandatory on social media.
Blissful Fake Nail Design to Rock
Clear nails blend the natural look and artificial look of the nails together. These nails look so clear that anybody will understand that they are fake nails, at the same time the color is so real that they look so natural. So, if you want to make the audience of your nails wonder, go for clear nail designs.