Mirror nails are incredibly simple to create, and they only need a few ingredients for such a great outcome. Because Hollywood stars have raised the bar and not only, we all want to step up our mani game and pull off all kinds of stunning ideas and designs.
Best mirror nails
And mirror nails are certainly one of the more eye-popping! Besides the great long-lasting base, these chrome nails feature a metallic powder that you apply over the polish with a sponge. This nail art is highly popular, and the powder used can offer distinct reflexes.
Your nails can have a metallic, chromed finish, a nacre aspect, or multicolored nuances that capture or reflect light. To discover the most amazing powders and ideas of mirror nails, check out the article below.
1. Prepping The Nails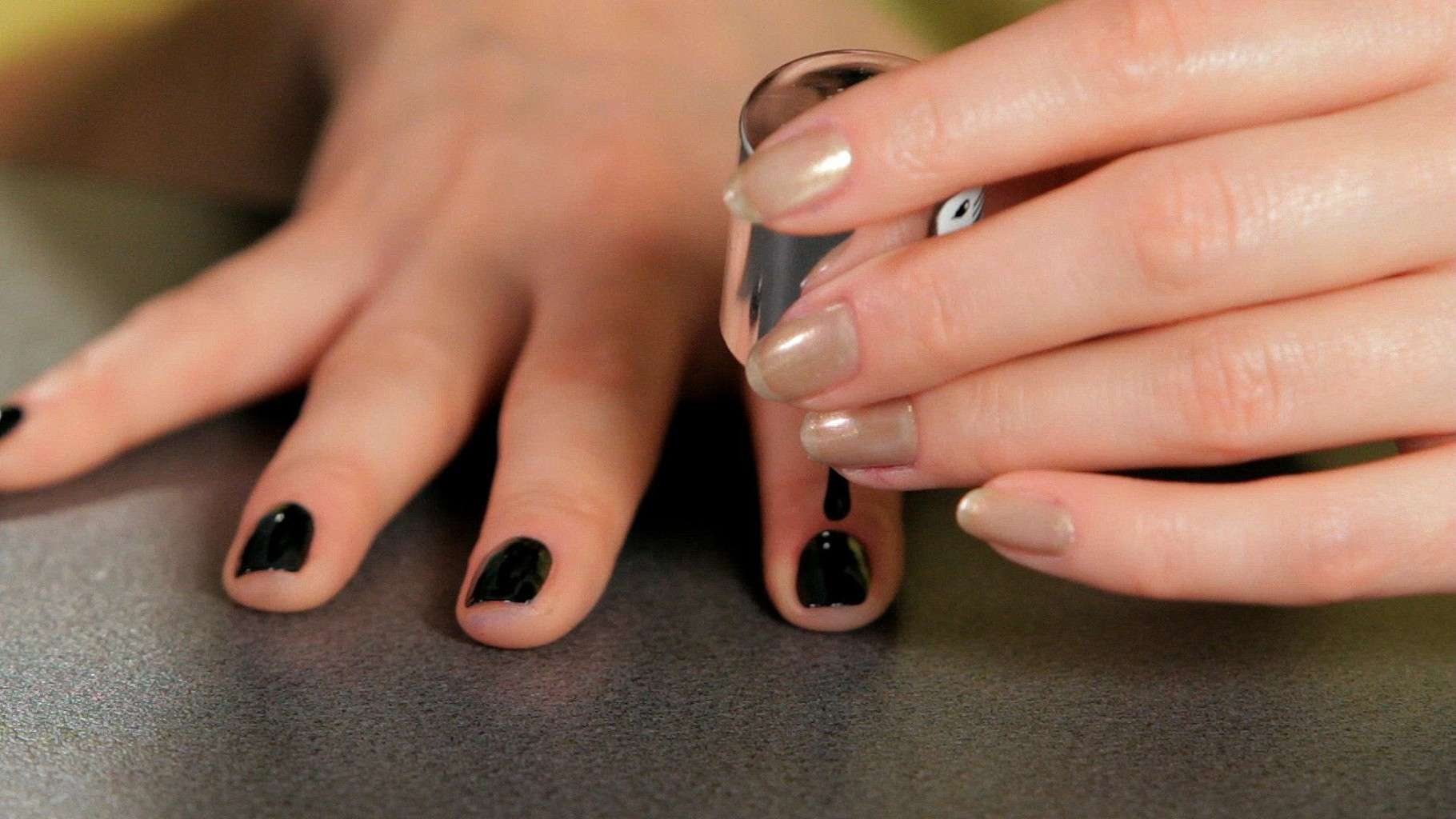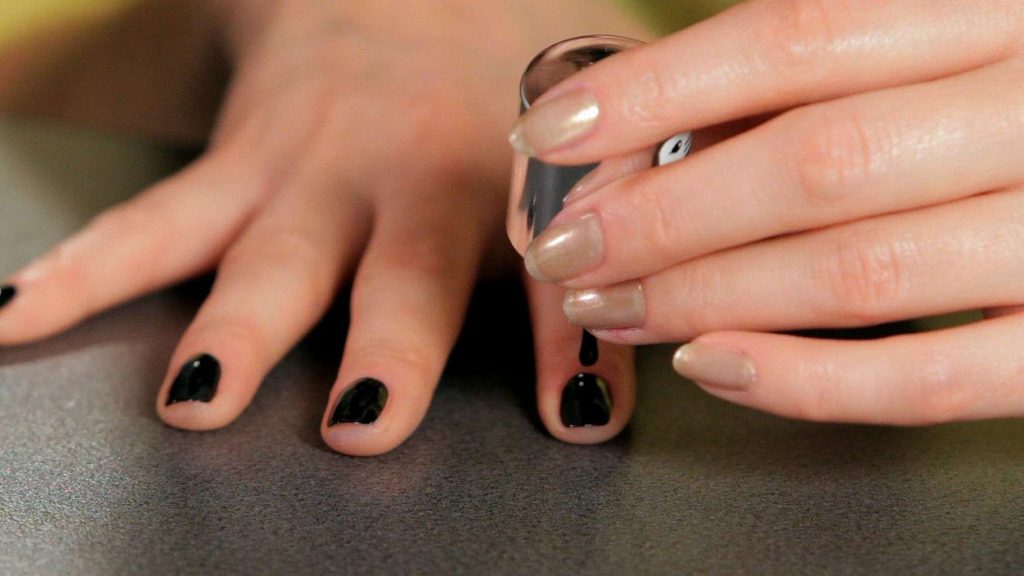 Start off by applying a double coat of gel nail polish. Then, keep your nails under the UV light for about 10-20 seconds to dry the nail polish. Most women choose black nail polish for this step just to make sure that they've applied their mirror nail polish precisely over it.
In Love With Matte Nails? Try This
2. Time For Mirror Nail Polish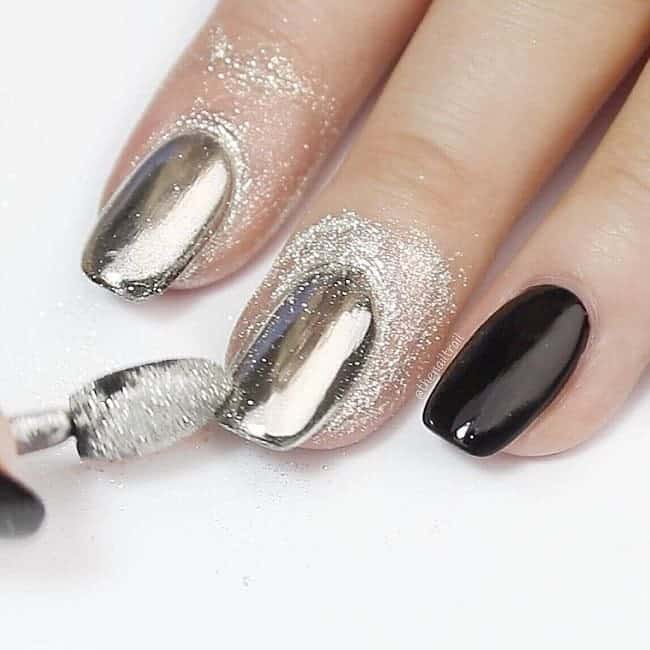 After your nails are dry take the Chrome powder and start tapping it onto your nails. For this, it's best to use those sponge brushes we normally use for eyeshadows. Start with applying it to the cuticle area and work your way to the tip of the nail. For now, don't worry if the surface doesn't look smooth. Also, you can put latex around your nail area to minimize the mess.
3. Buffing The Powder
Use the same sponge brush to buff the Chrome powder into the nail. Do it gently so that you don't make dents. By buffing the nail polish you will create a smooth surface.
4. Clean It Up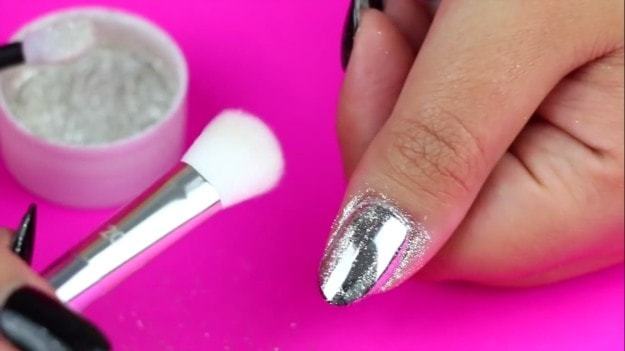 There's probably Chrome powder everywhere right now. So, take rubbing alcohol or a softer fluffy brush and sweep your nails to get rid of the excess powder. If you used latex around your nails now is the time to peel it off.
5. Top Coat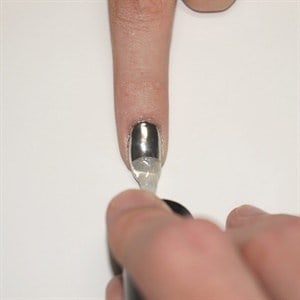 To make your nails appear even shinier apply a top coat of clear nail polish. It's best to apply clear gel nail polish, but you can also choose the regular nail polish.
6. Multi Chrome Nails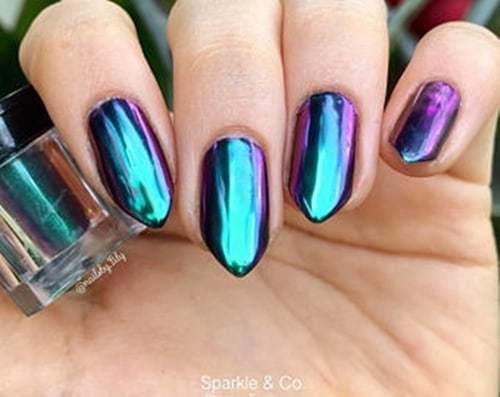 This one is for those free spirits. The color shifts from purple to blue to green depending on the angle you're looking from. Whichever clothing items you'll be wearing, this will definitely create a statement look.
Stay Pretty – Try Teal Nail Designs
7. Short & Blue Chrome Mirror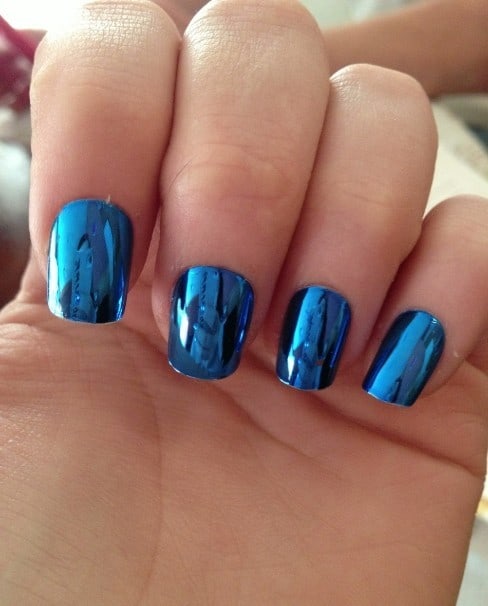 Who says mirror nail polish is just for women with long nails? You might not be able to grow out your nails or you just don't want to, and that's perfectly fine. You can still pull off mirror nails. To add a little twist to this look choose a nail polish in a different color than usual. Blue and purple are great color ideas.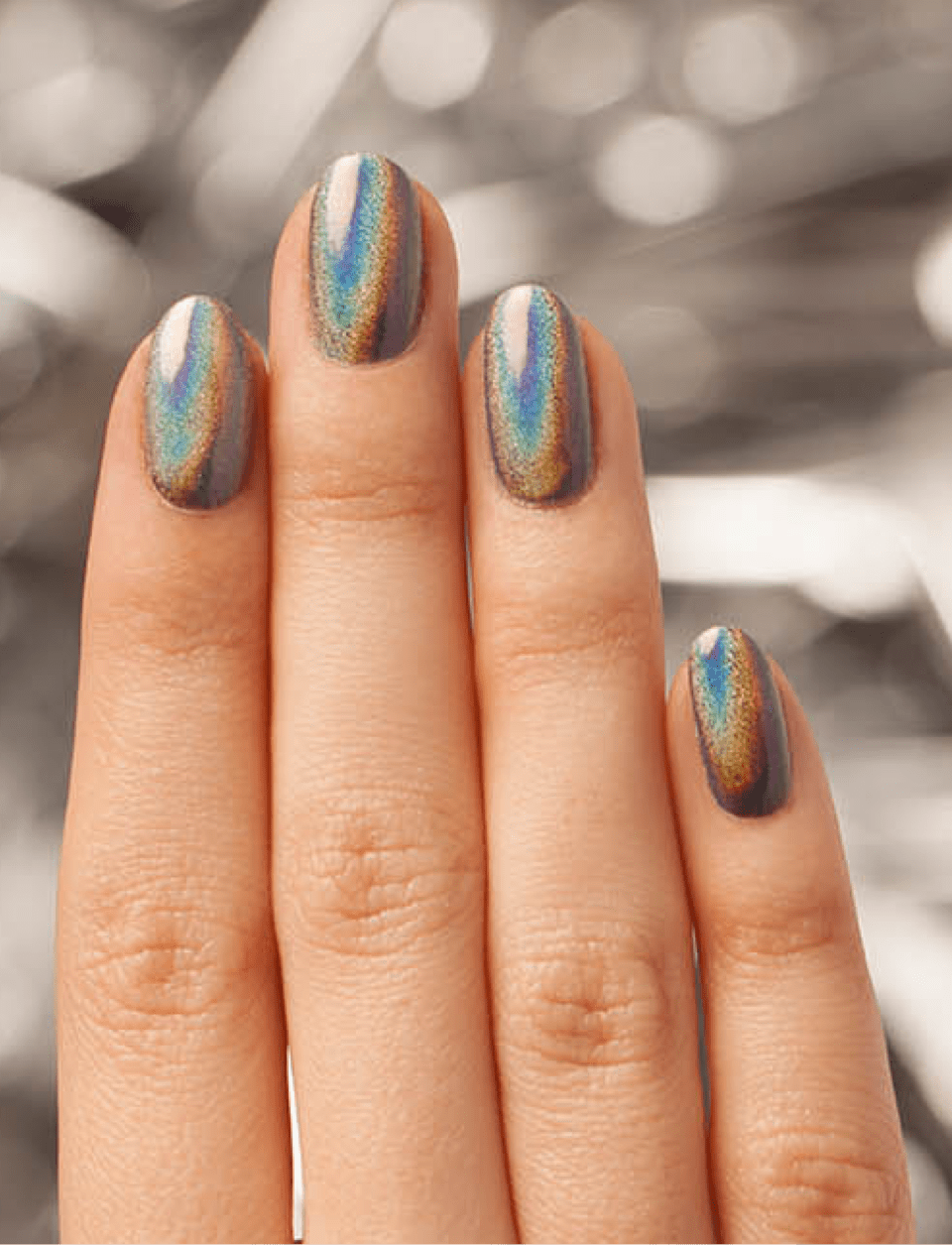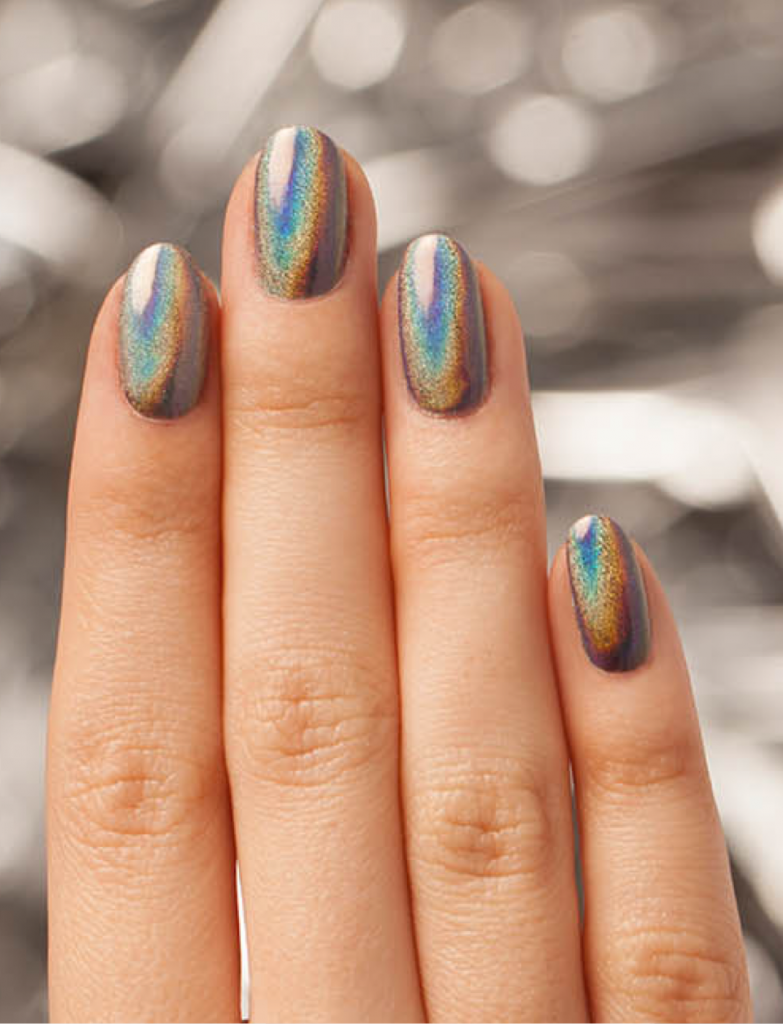 If you want to adorn your nails with both the color of a rainbow and the shine of the chrome nails, you can use these shine powder created by OPI. The process is very simple. Dab the chrome powder onto your base coat and see the magic.
9. Chrome Tips
If you don't want to have a chrome effect on the whole nail, you can paint only the tips of your nails with chrome nail polish. Make sure the color of the tips is compatible with the color of the other part of the nail polish. Two colors of a similar shade will create the best outlook.
10. Vivid Colors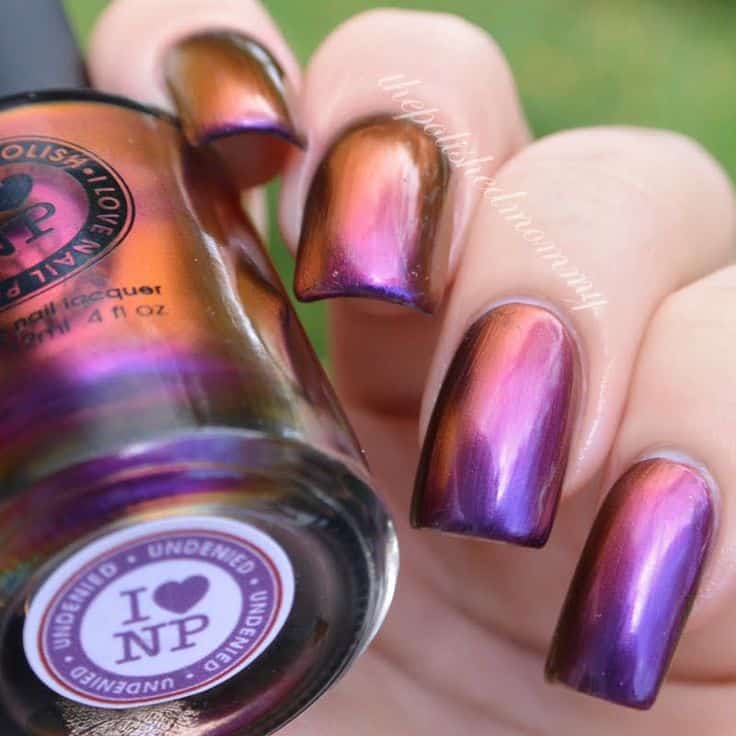 Some girls like to have bright colored nail polish in every nail design. This is the best choice for them. You'll have a shiny and reflective surface enriched with the glam of vivid colors.
11. Chrome Nails Rose Gold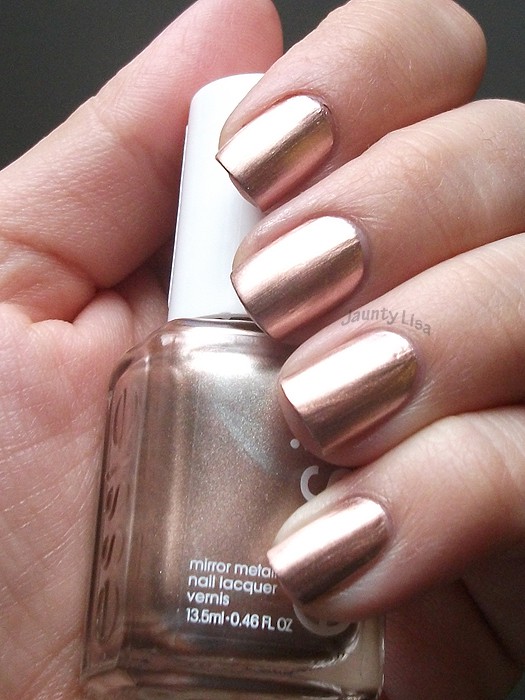 This is a very famous variant of chrome nails. If you love golden colors and want to have chrome nails you can use Essie mirror metallics to adorn your nails with chrome nails rose gold. Your nails will surely look good with the golden glow of this chrome nail polish.
12. Chrome Nails Silver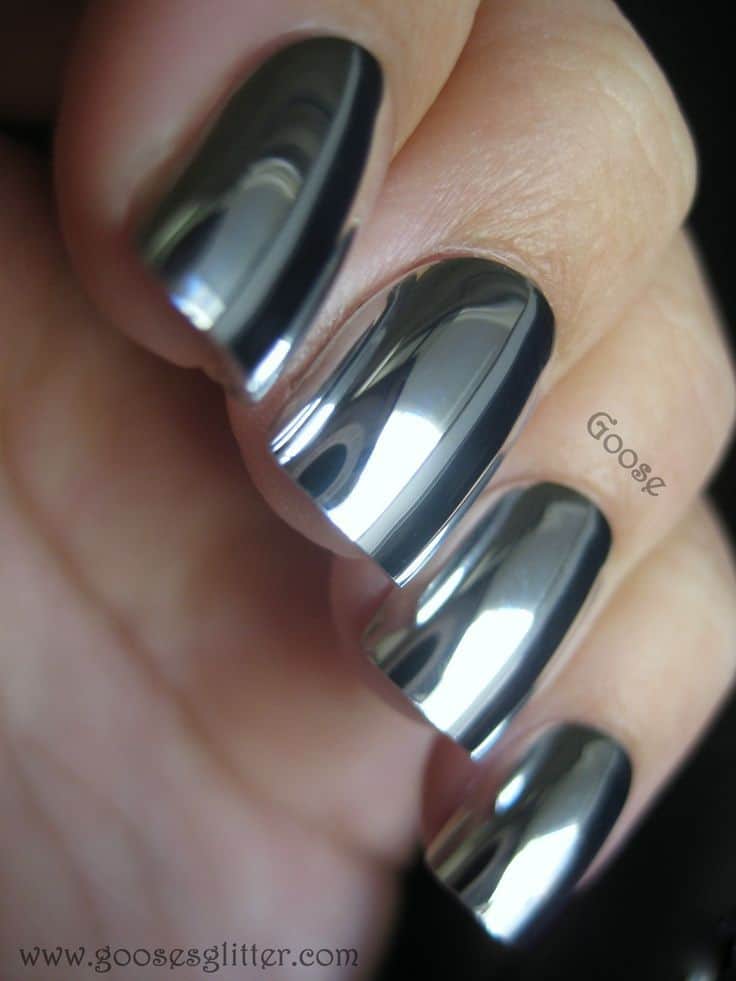 If you want to use your nails to replace the mirror, silver is the best option for you. Silver chrome nails reflect the light and other things so perfectly that you will not need a mirror anymore. Let's have these extra shiny nail polish by using extra fine thin chrome nail polish.
13. Titanium Flush
Sally Hansen is the most prominent brand with respect to chrome nail polish. They are producing stunning nail polish since 2014 when chrome nails weren't as popular as now. You can use their titanium flush nail polish while designing your nails with a chrome effect.
Glitter Nail to Stand Out From The Crowd
14. Press on Chromes
It's not about the nail polish always. You can have a chrome effect on your nails by wearing readymade press on nails. These nails are available in the marketplaces. Just buy them and press them onto your nails. Let the glue dry and enjoy the super shine of chrome nails.
15. Glamour Chrome Nails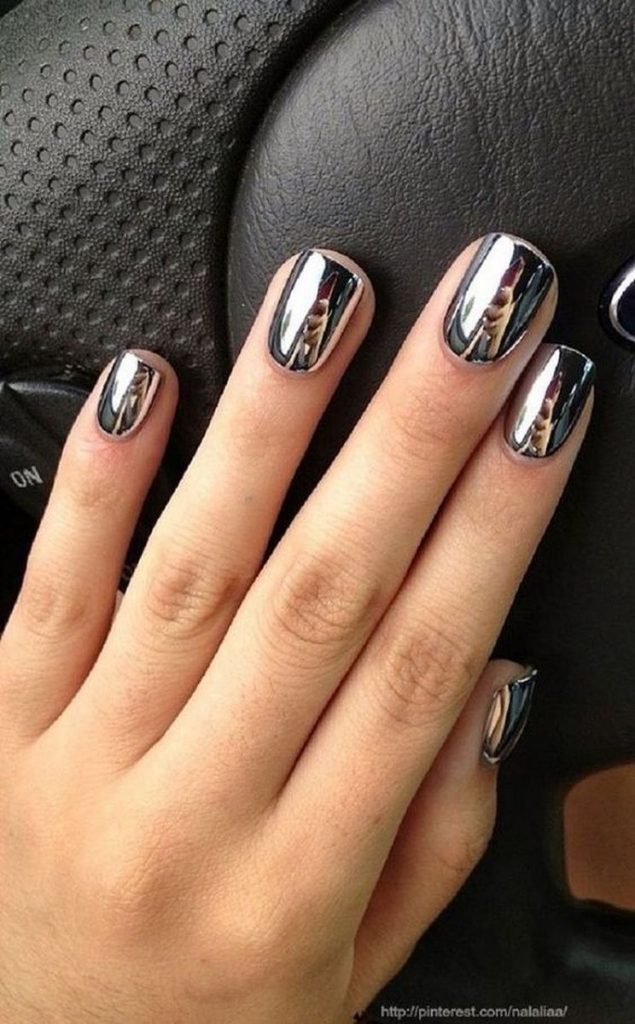 You can add glamour to your nails if you can design them as depicted in the picture. Make sure you are not going overboard with the shine as the excess of anything is very bad. Have fun with glamorous chrome nails at your fingertips.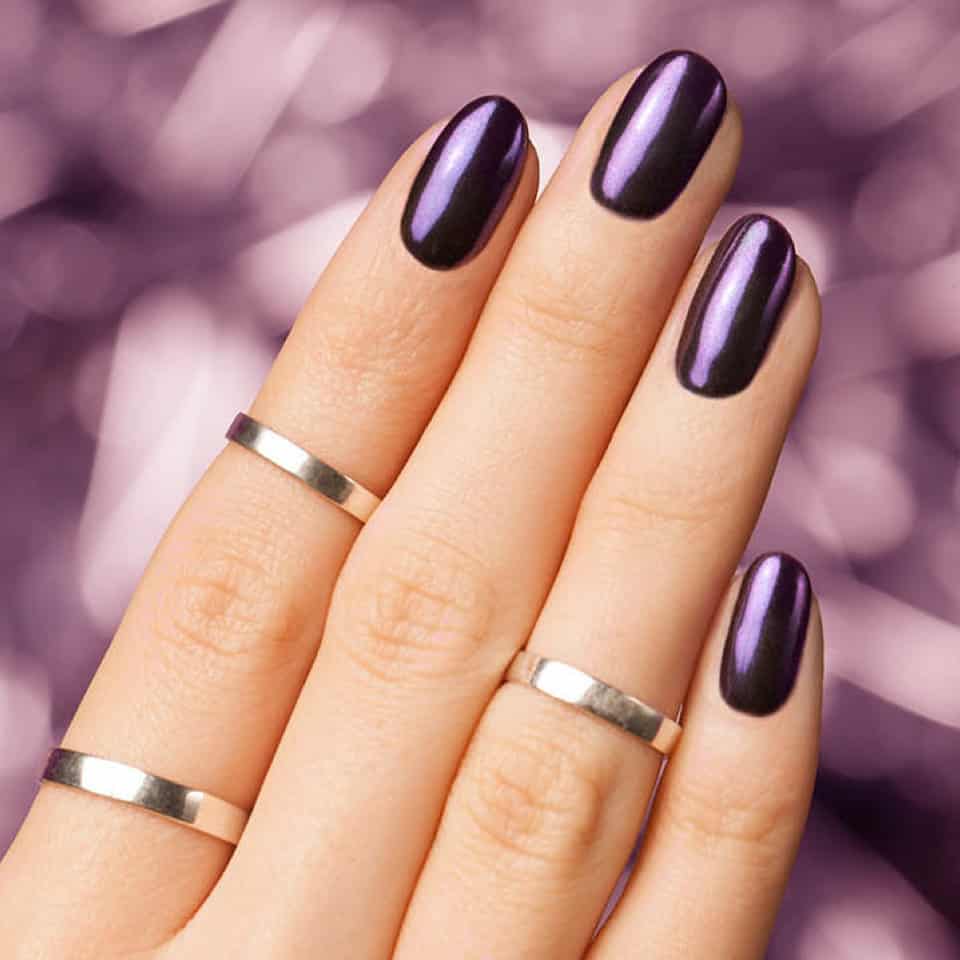 The appeal of blue color in the fashion industry will never be decreased. You will see the usage of plenty of blue colors in outfits, jewelry, and other cosmetics. Chrome nail polish is no exception. Adorn your nails with the charm of a blue color. The extra shine of blue chrome nails will provide you with a gorgeous manicure.
17. Vintage Rose Swatch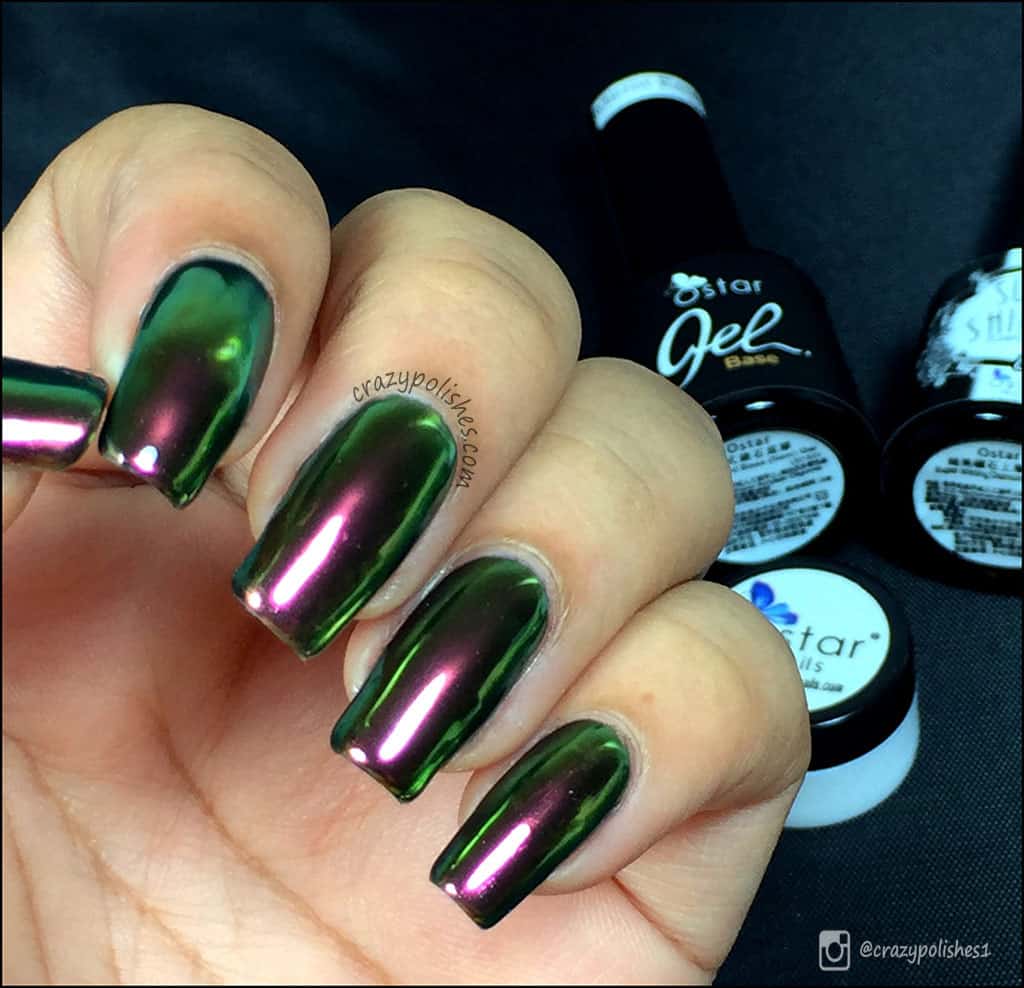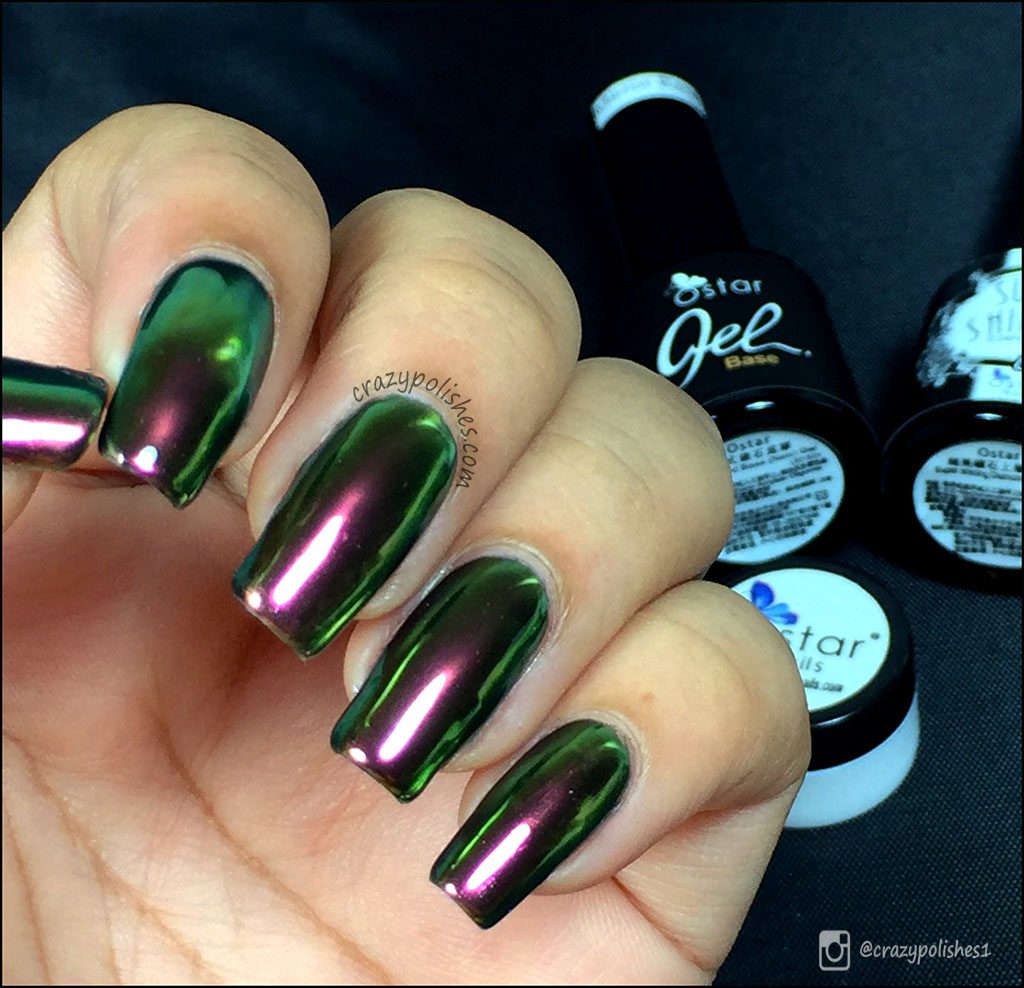 If you want a classic look to complement your overall getup, you can paint your nails with this vintage rose swatch. Apply the Oster Chameleon mirror powder to have the best look on your nail plates. The best thing about these powder is they will give you a look of two-tone chrome nail polish.
Pamper Yourself with Fun Green Nails
18. Nacre Nails
Pink mirror nails with an almond shape will transform your nails into the most beautiful pearls. They will shine in such a fantastic way and will be perfect for all sorts of events like weddings or fancy parties.
19. Multi-Colored Nails
Shattered mirror nails look like there are small pieces of mirrors trapped into your design. Apply a dark indigo blue nuance as a base and use all sorts of sequins and other applications to resemble that shattered aspect.
20. White Pearl Nails
White mirror nails have that amazing pearl aspect. You will get that elegant and sublime nacre topping if you give your nails a pointy shape and add the metallic powder with reflexes.
21. Grass Green Nails
If you love earthy, nature-inspired looks and mani, why not opt for green mirror nails. Almond-shaped nails will get that glowing touch if you use metallic powder. Apply it on all nails, or just for the ring finger. To finish, use a top coat.
22. Dark Blue Mirror Nails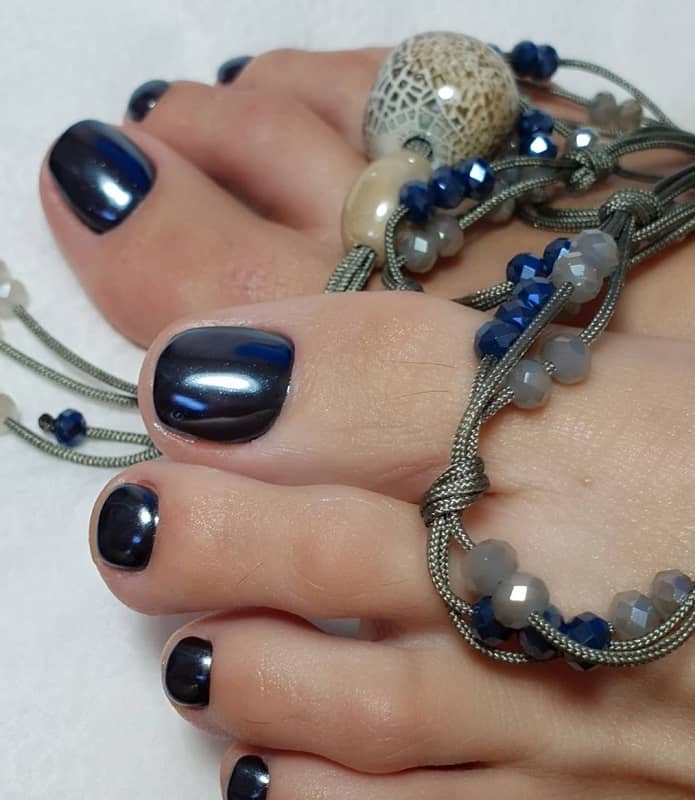 Mirror toe nails look so fabulous if they have a clean nice cut. Opt for a dark blue color and use chrome powder to enhance the color and make the nails capture light.
Check out the video to Create perfect Mirror Nail Polish Look.
Infographic on How to Get Mirror Chrome Gel Nails
This infographic shows exactly how to get stunning mirror gel chrome nails in 5 steps.

Unicorn Pee Nail Polish: 3 Obscure But True Facts
Whenever you are having chrome nail polish, make sure that you're wearing gorgeous outfits. Sometimes, your manicure needs an appropriate companion to create the maximum use of the effort you put on your nails. So, don't let your nail designs get ruined so easily.