Are you a person that likes freedom? But at the same time you love both the green and the blue colors?
Well if you do, don't regret wearing a turquoise and butterfly nail design. This will fill your feminine nails with beauty and attraction!
Popular Turquoise and Butterfly Nail designs
You always get confused about what color to wear, is it blue or green? Well, now you do not have to worry at all because we found a color that is sexy enough and is a great combination of your two favorite colors, blue, and green and it is called turquoise.
On the other hand, there is another kind of nail design that is going to blow your mind: butterfly nail designs. Butterfly is a free, cute, and colorful insect. Wearing such design colors your life and gives you your freedom.
So if you are searching for a suitable nail design that makes you a charming one, you can always make the right choice by wearing a dazzling turquoise and/or butterfly nail design!
#1. Butterfly Acrylic Nails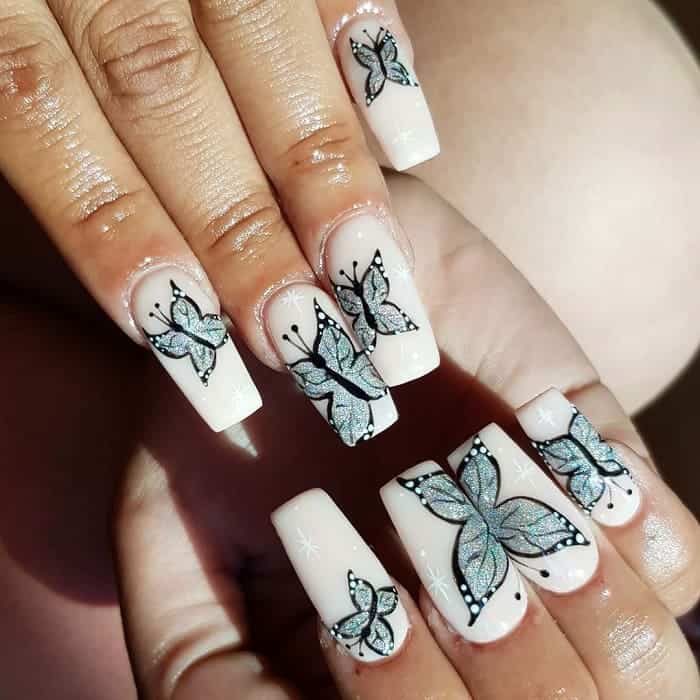 #2. Clear Butterfly Nails
#3. Turquoise Acrylic Nails
#4. Turquoise Coffin Nails
#5. Butterfly Nail Stickers
#6. Turquoise Ombre Nails
#7. Butterfly Coffin Nails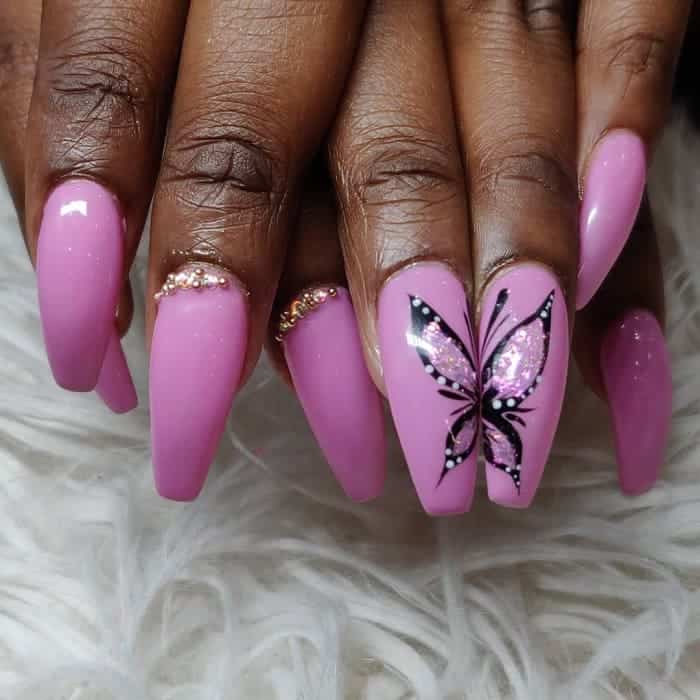 #8. Glitter Nails with Butterfly Design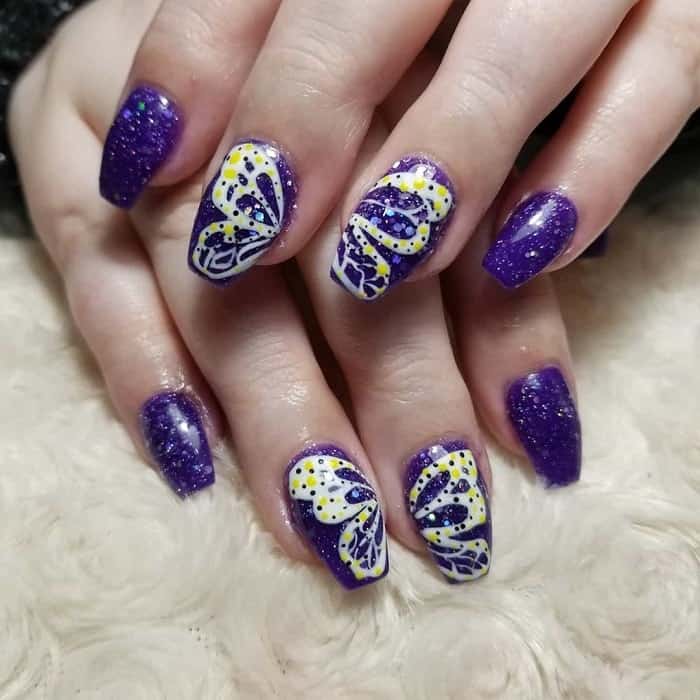 #9. Dark Turquoise Nails
#10. Butterfly Toe Nail Art
#11. Pink and Turquoise Nails
#12. Purple and Turquoise Nails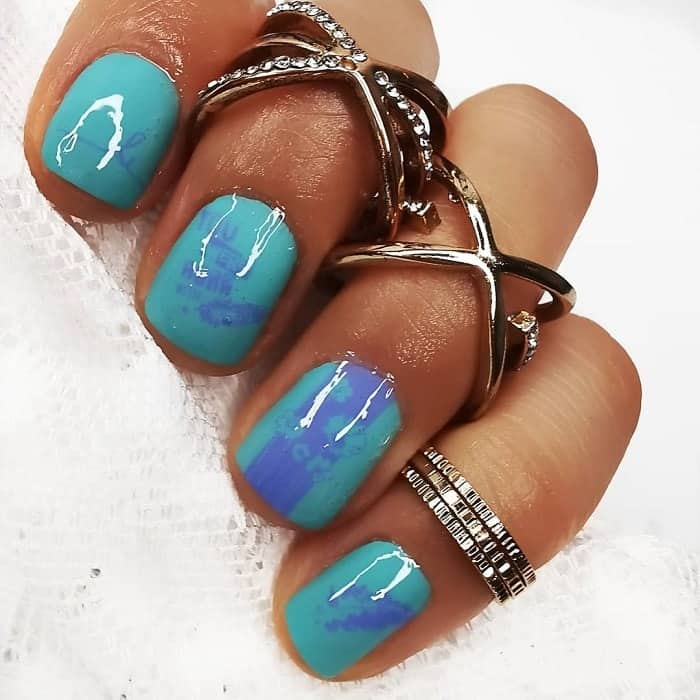 #13. Butterfly Gel Nails
#14. Turquoise and White Nails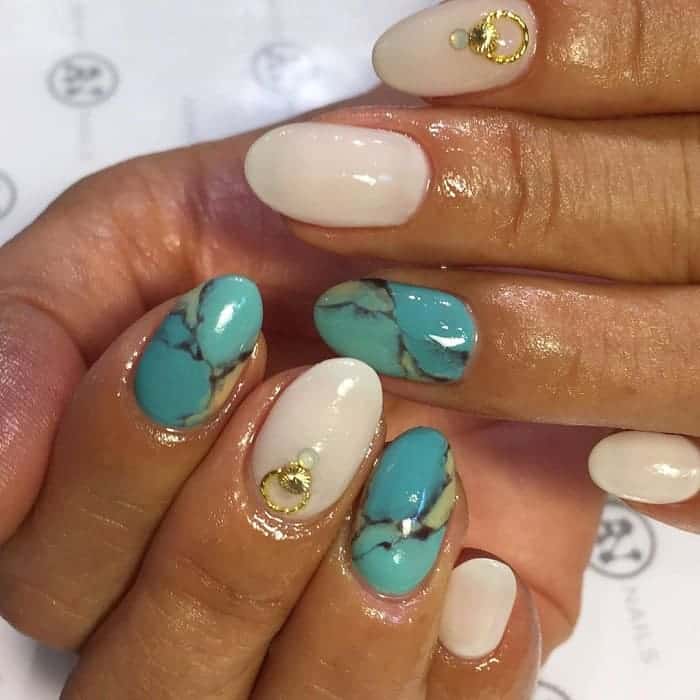 #15. Butterfly Stiletto Nails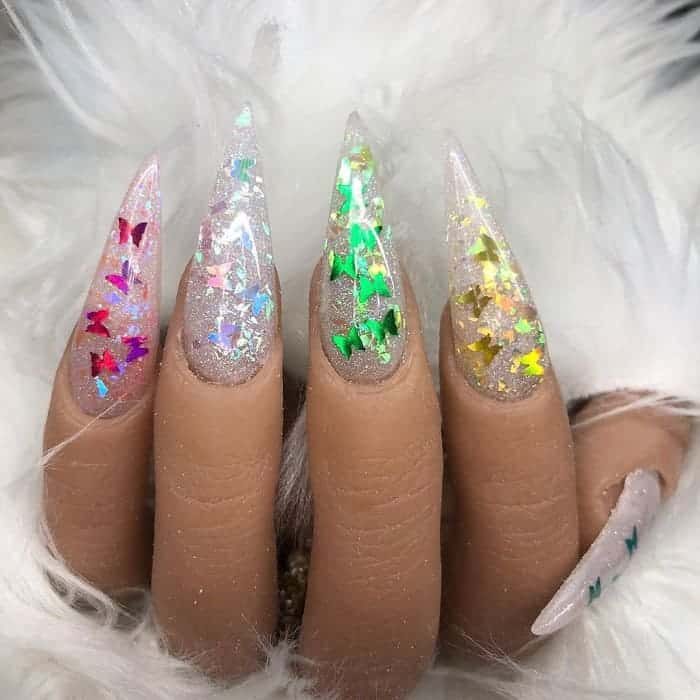 #16. Turquoise Gel Nails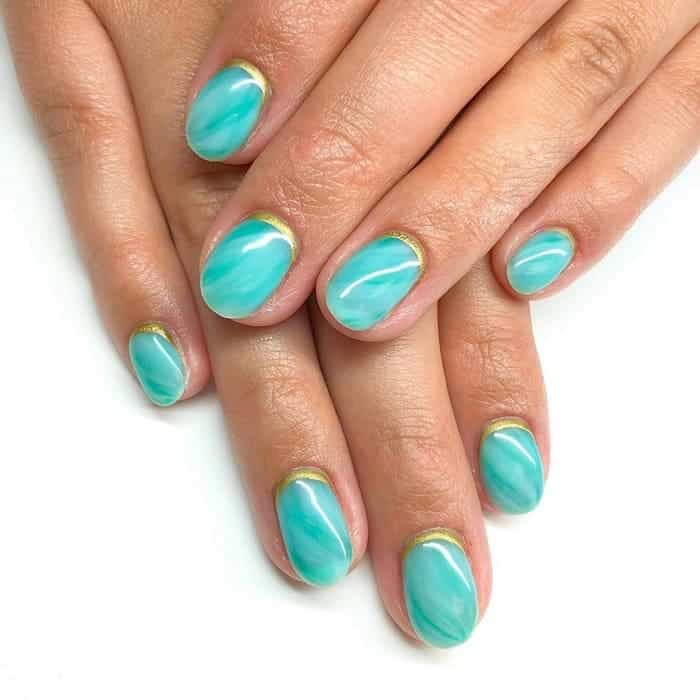 #17. Turquoise Toe Nails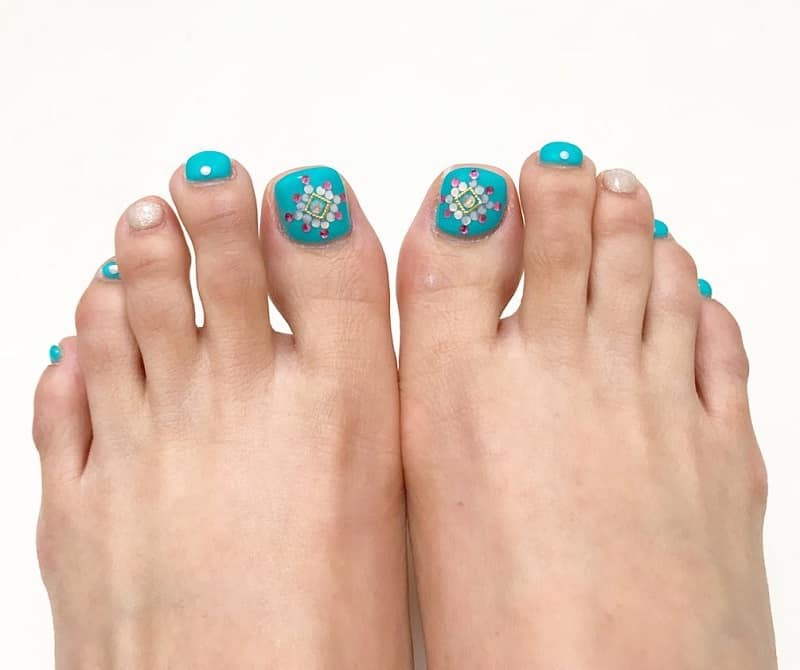 #18. Coral and Turquoise Nails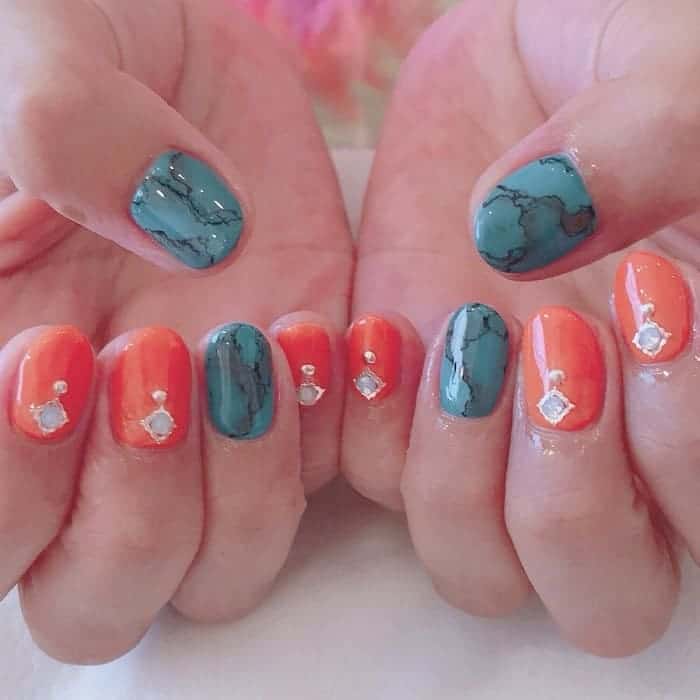 #19. Light Turquoise Nails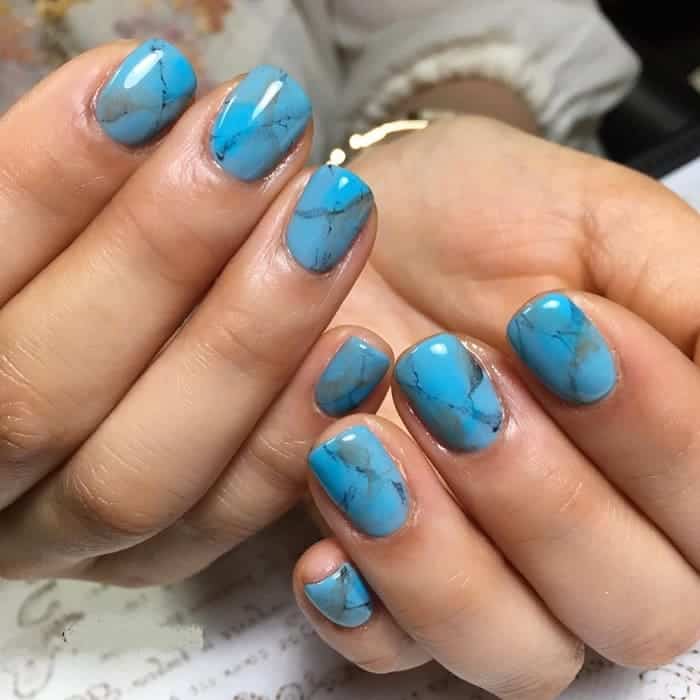 #20. Butterfly Nails for Summer
#21. Turquoise Nails with Glitter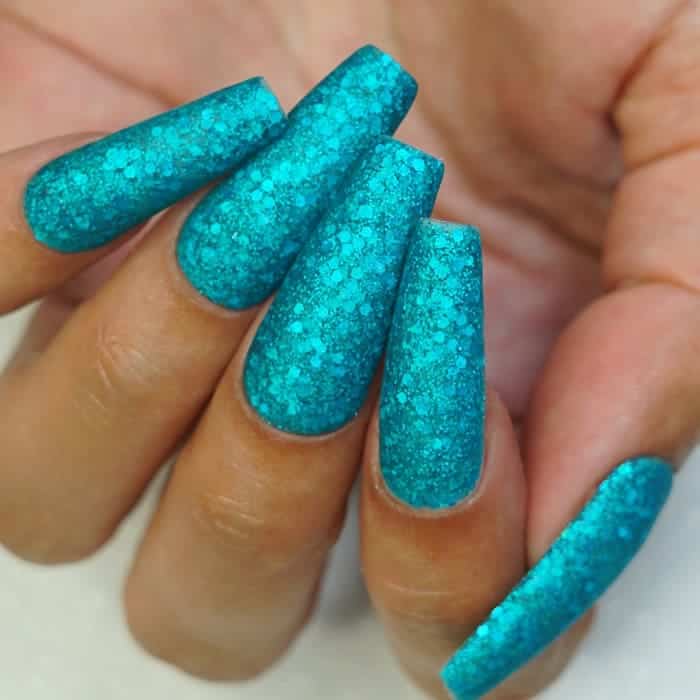 #22. Turquoise Matte Nails
#23. Silver and Turquoise Nails
#24. Red and Turquoise Nails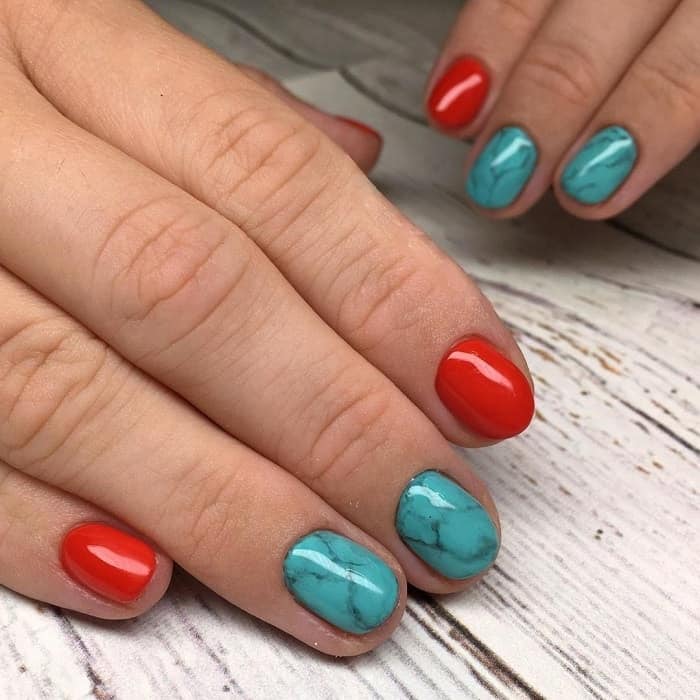 #25. Turquoise Stiletto Nail Design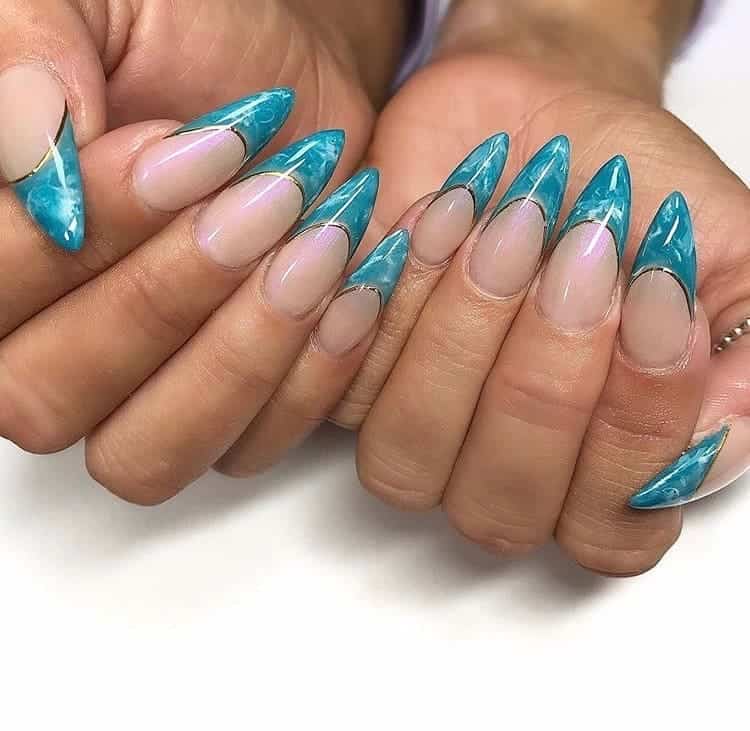 #26. Turquoise Nails with Diamonds
#27. Chrome Turquoise Nails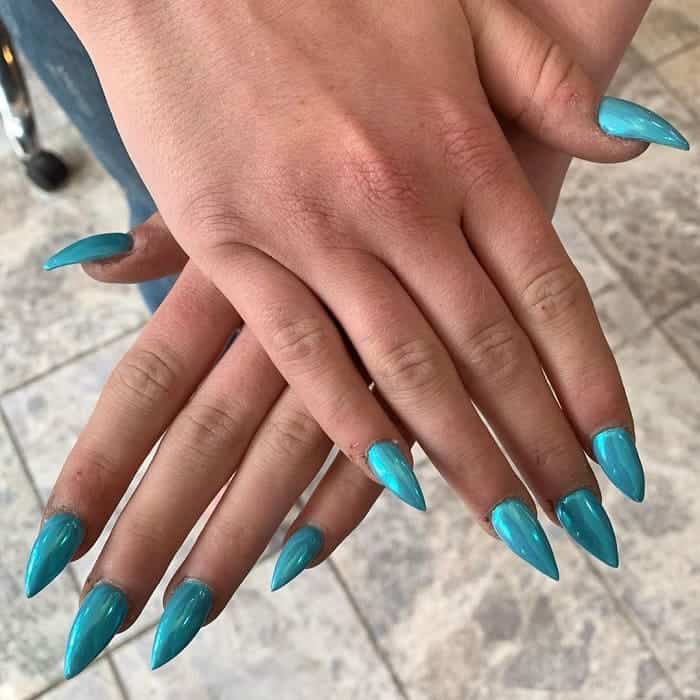 #28. Short Turquoise Nails
#29. Black and Turquoise Nails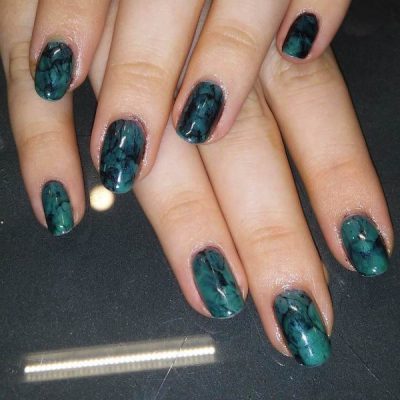 You are witnessing a merge between the turquoise color and the black one in this nail design.
However, this combination is pretty good and somehow weird and random and can be worn on many casual or ordinary days such as work and daily friend hangouts.
#30. Flower Power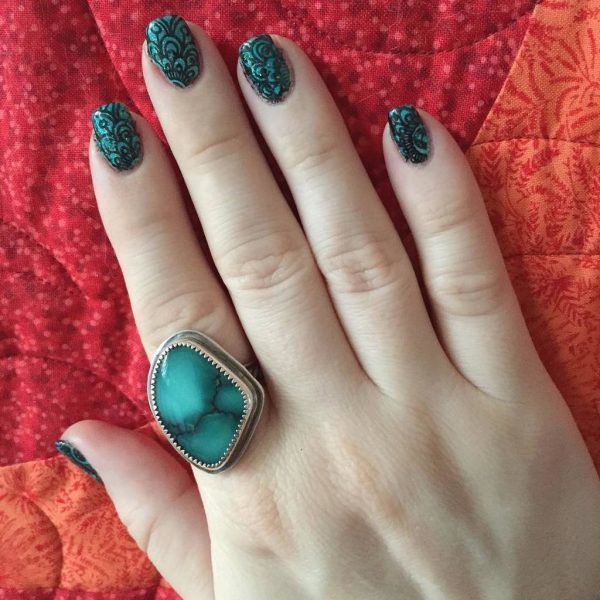 It is not necessary to have a simple turquoise nail polish or turquoise nail polish mixed with another color to make up a certain turquoise nail design.
You can also use the shape of the flower you like and draw its petals with black and fill it with the turquoise nail polish you love to make up a beautiful, girly and cute nail design.
#31. Butterfly Fly Away Nail Design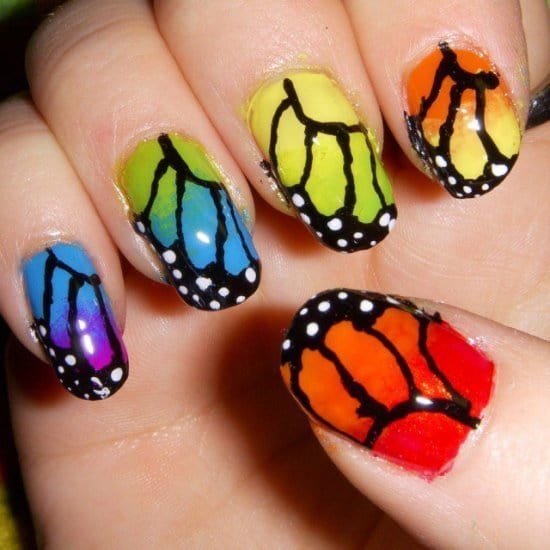 If you are a person that adores freedom and always tries to give the freedom of many innocent people and help them to reach the freedom they have never owned, why not to try wearing this colorful butterfly nail design because the butterfly is the symbol of freedom and having a bright and colorful life.
#32. Pink and White Butterfly Nails
Some of you always wanted to be girly, free, and chic at the same time. Well, this pink and girly butterfly nail design is all you want!
The pink color is so girly in addition to the black and white colors added to the design that makes a perfect match with the pink color especially when drawing some butterflies in the black color all over the nail design.
#33. The Source full Stone
Combining the orange and pink colors together is not a bad idea.
Actually, this combination becomes better and better when adding the precious stones in the ring finger with the smaller ones carrying the turquoise color which makes the ring finger nail the center of attraction making up a cut turquoise nail design.
#34. Blue Wings Butterfly Nail Design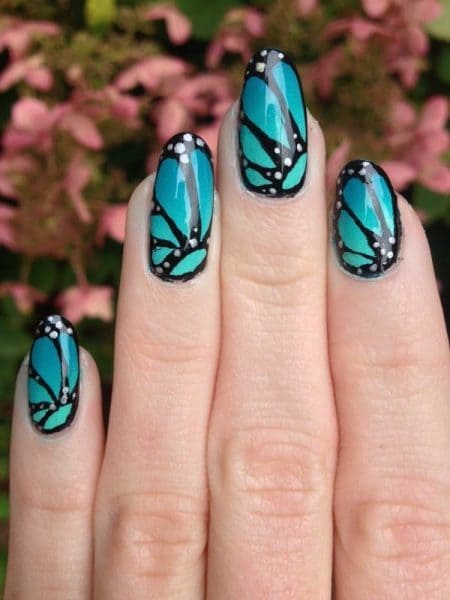 Are you a fan of the blue color? But you adore butterflies at the same time? No worries, because this butterfly and blue nail design got all mixed together in a special, unique, and dazzling way!
#35. Floral Touch
In an ordinary french tip nail design, we have the white tips with a transparent base similar to the ones in this nail design.
But the difference is that in this butterfly nail design, we are adding butterflies in the thumb, pinky, and middle fingernail, and flowers in the index and ring finger without forgetting the white dots in each of the five nails.
#36. Zoom in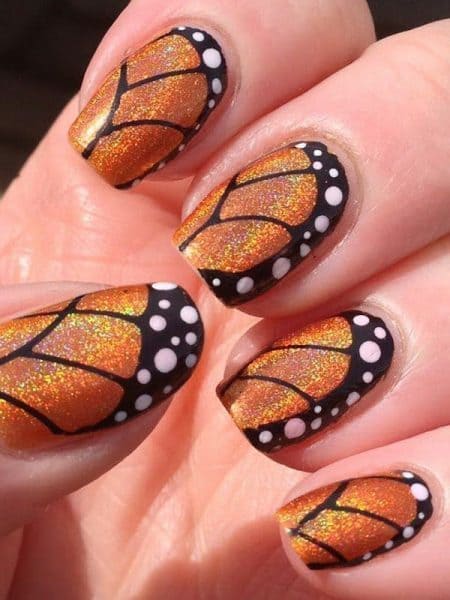 If you do like butterflies but you are bored from the usual butterfly you draw every time on your nails. you can make a deep zoom in into the wings of the butterfly and draw them using the orange, black, and white color.
Trendiest Glitter Nail Designs for 2023
#37. Butterfly In The Sky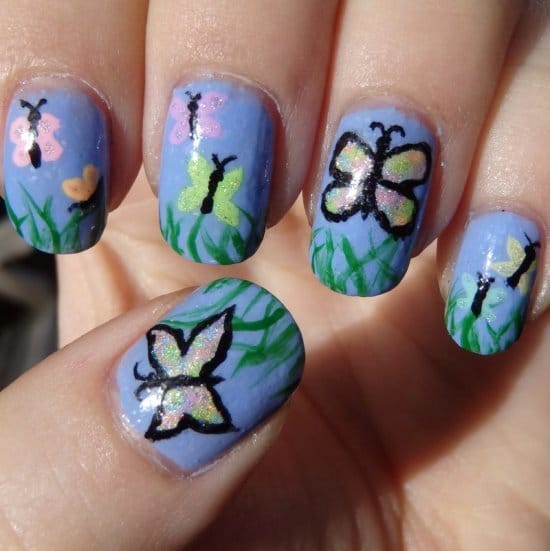 You do not always have to draw your lovely butterfly having a white base, you can also draw it with a white base and some green color at the tips of your nails, in order to show that the butterfly is flying and going higher and deeper into the sky leaving the green glass which totally shows freedom!
#38. Turquoise Nail Design Vibes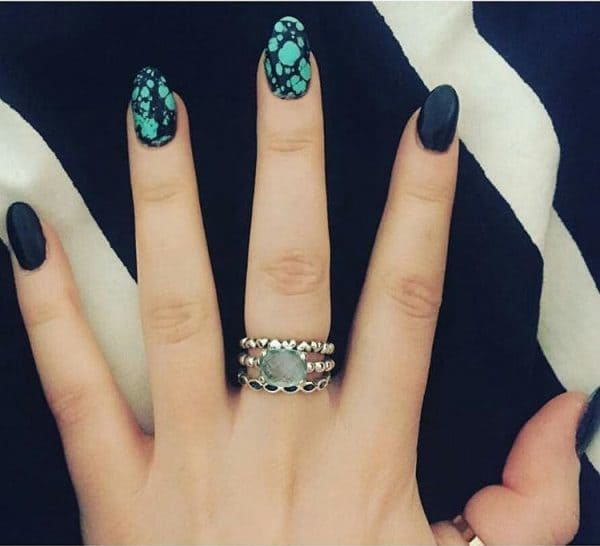 The chicest color is the black color, and the most beautiful one is the one made up of the combination of green and blue color well known as the turquoise color.
However, the turquoise vibes in this black nail design in the ring and middle finger nail make a perfect touch of beauty!
#39. Pink Butterfly Nails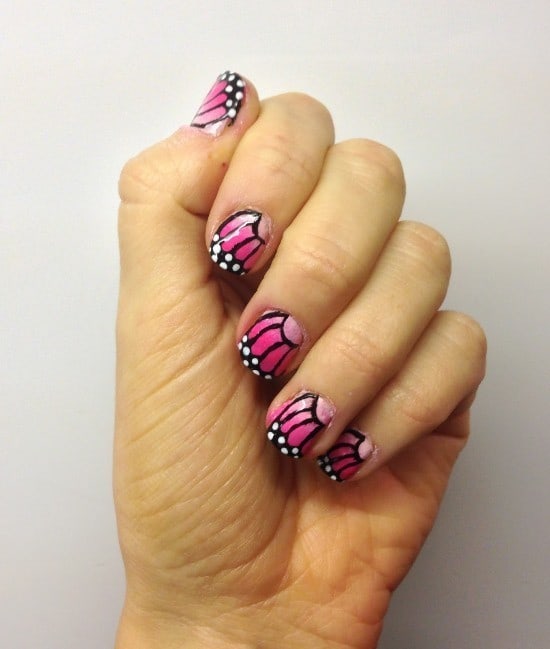 When you see this girly butterfly nail design, you feel like it gives you a wink and a satisfying look. You feel like it says that it is all you want, it is girly, cute, and has the wings of the butterfly you adore.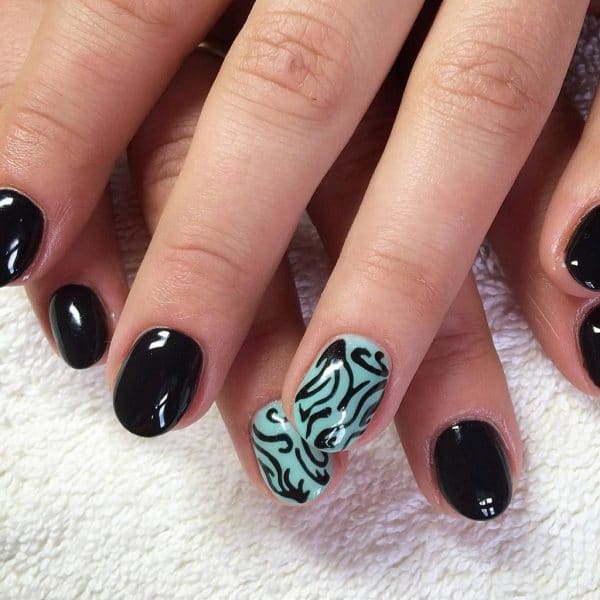 B is for black and also for blue. So combining the two colors together can be a great idea because the mix of elegance and calmness make up the perfect combination and gives a woman the delicate look she always wants to have in any occasion.
#41. Blue Butterfly Nails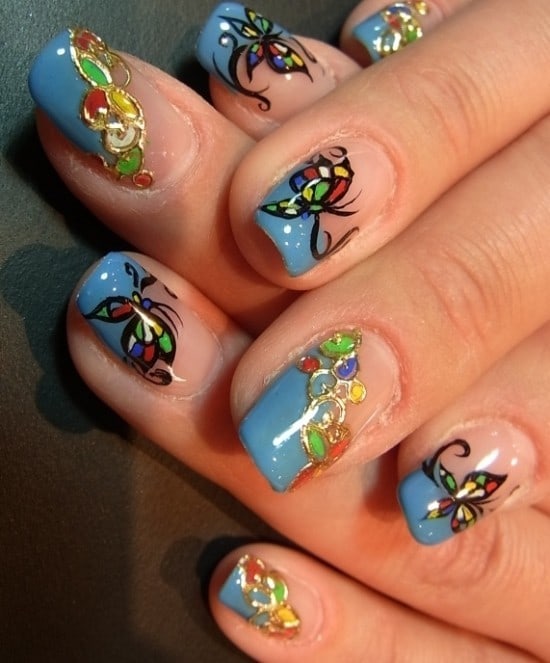 Unlike many cliche french tip nail designs, this french nail design is made up of blue tips and a black butterfly in some nails, but a colorful and golden one in another nail. These touches all together make up a unique butterfly nail design you would love.
#42. Blue and Turquoise Nails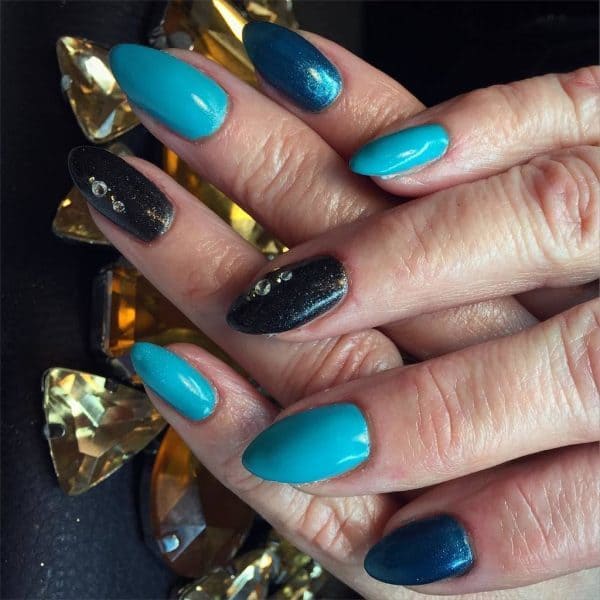 If you like to make a good turquoise nail design but you do not know how to achieve that, all you can do is to make up a nail design made up of different blue shades and one of them is the turquoise blue.
#43. 3 Dimension Butterflies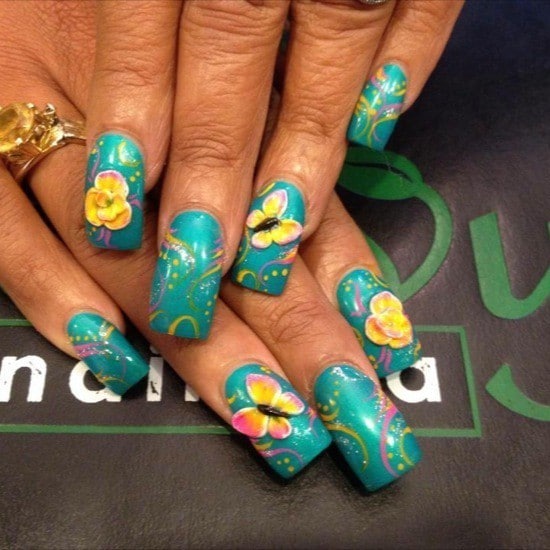 The turquoise base with the yellow and pink touches make up a cute and girly background for the three-dimension butterflies on the ring finger and the flowers on the index finger.
And if your nails are not tall enough you can wear some acrylic nails that help you to make up a turquoise and butterfly nail design.
#44. Marble Nails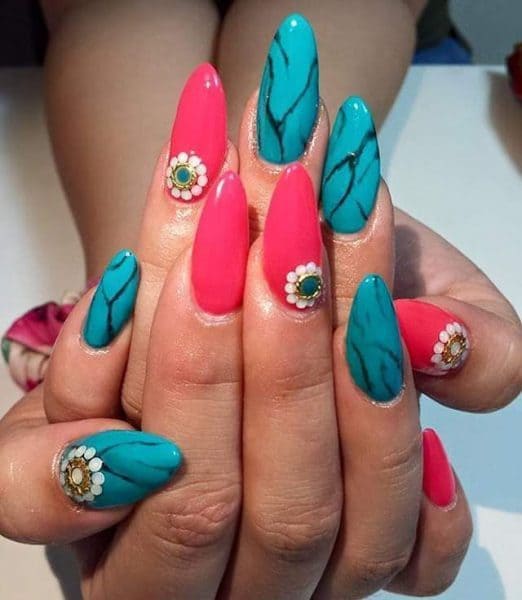 These blue nails look like marble floor making a pretty view beside the hot pink nail polished nails. However, the flower like sticker glued to the bottom of the thumbnail and the middle fingernail gives a bright look to your nails.
#45. Floral Theme
The above nail design is made up of a simple french nail design with a transparent base and a white clear tip.
But what is different here is the floral style and pattern used in many colors added to all french tip nails with some shiny decals in the ring finger and the index finger.
#46. The Turquoise Stone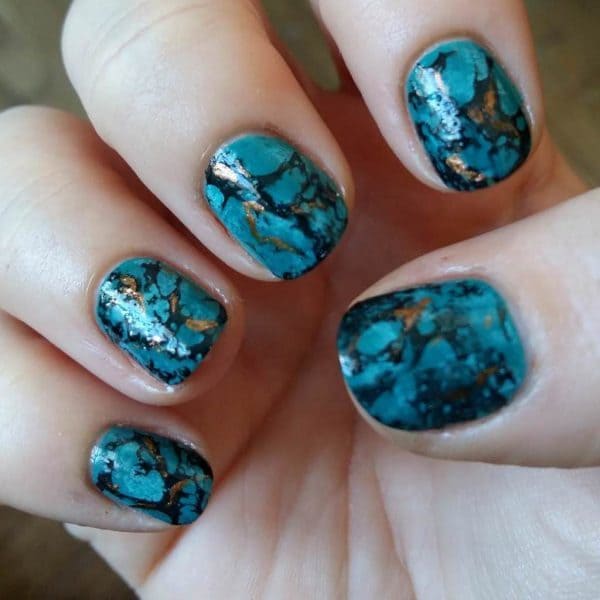 This turquoise nail design is made in the form of blue stones. The cracked pattern in the above nail style gives your feminine nails an elegant and alluring look.
#47. Turquoise and Gold French Tips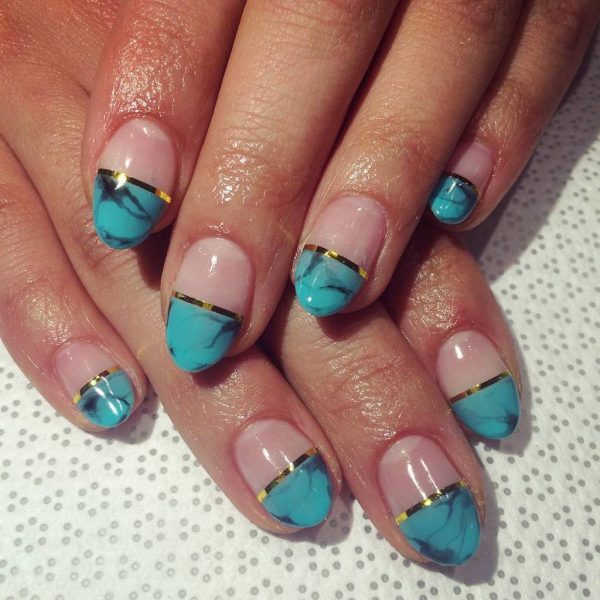 Turquoise nail polish does not have to be all over your finger, it can also appear in the shape of tips having the marble pattern and having a golden shiny line below it with a transparent base similar to the one in any normal french tip nail design we all know.
#48. Purple Butterfly Nails
The purple color is the color that controls this nail design. The butterflies in the index fingernail and ring finger nail are colored blue having a white background.
Also, the cheetah pattern in the rest three nails has a purple color and with the same base that the butterflies have.
#49. Butterfly Antenna
When you take a first look at the above purple and golden nail design, you don't see any relation between it and a butterfly.
But actually, these golden curves on each purple nail polished nail are taken from the shape of the antennas of the butterfly to make up a cute and classy golden and purple butterfly-themed nail design.
#50. Clear White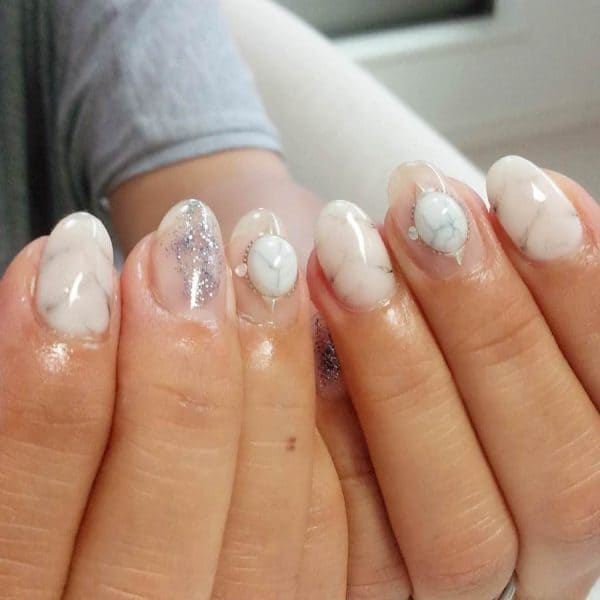 White is the idol of simplicity! However, the white color here shapes the marble pattern in the index fingernail and in the stone glued to the transparent base in the middle finger nail.
#51. The Other Side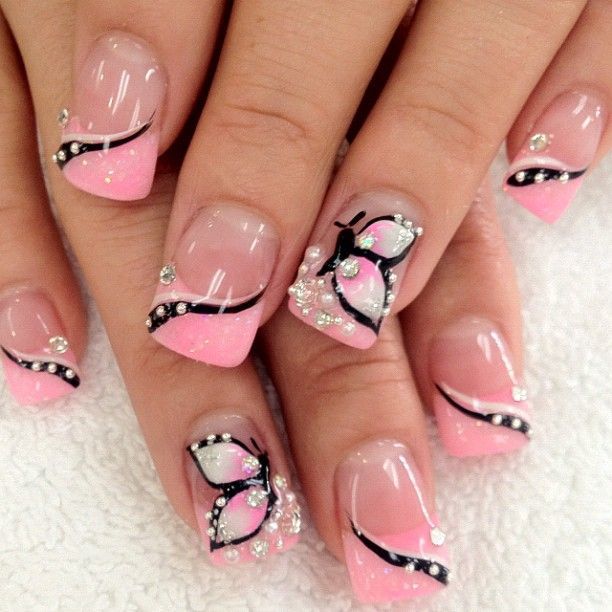 As Miley Cyrus says: " The other side of me!" And here the butterfly is showing us the other side of it.
Now you are not seeing it from the front phase but from another side and phase, having a girly pink color marked with black nail polish and lit up with many shiny white decals of many sizes.
Short Nail Designs You'll Be Absolutely Crazy to Try
#52. Digital Butterfly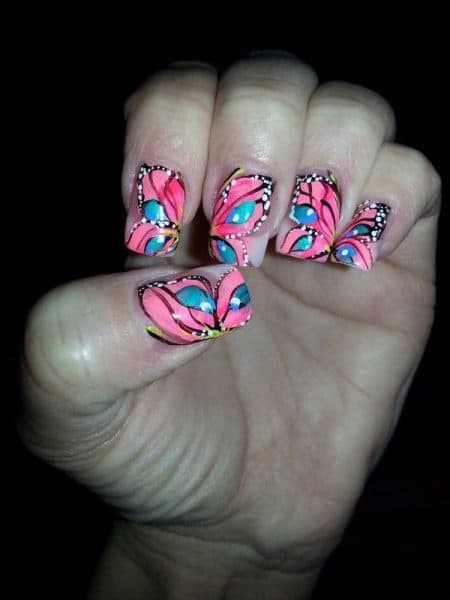 This butterfly is a digital one. However, the colors that any girl likes which are pink and blue are both used for coloring the butterfly wings.
#53. Home Sweet Home
The most favorite plant for any butterfly is the flower, the large and well-developed flower.
And we cannot regret that every time we go to a green space we see butterflies going and flying from one flower to another because for a butterfly its home is the flower that has the sweet sugar. Here are some amazing flower nail designs you will love to try.
Some More Amazing Designs That You Can't Ignore
Scanning all the above, you can see that worrying about what nail design to wear when you are going somewhere out of your home is not a problem anymore. Butterfly nail designs represent freedom and might be the choice of many people who are cheered up by freedom.
While turquoise nail designs might be the choice of blue lovers, and at the same time the choice of women. And by women I mean those who want to look chic, fancy and unique having the combination of blue and green colors in one single color.
So if you are interested do not miss the above list of turquoise and butterfly nail designs. Hope you do not miss it!