When you're thinking about your next hot nail design, maroon probably isn't the first color that comes to mind, is it? Well, you'd be missing out!
While it's traditionally seen as a dark color best for moody, dramatic nail designs, other effects can be created with its various shades. Use it for a romantic wedding day manicure, a sweet Christmas design, or just for every day wear with your other favorite shades.
See why it's our new favorite nail design color by checking out all the chic, sensual, and vibrant ways you can use it.
Artistic Maroon Color Nail Polish Designs
Put some class and sass into your daily style with a maroon nail design! You can't go wrong with these 40 ways to wear maroon nail polish.
#1. Long and Square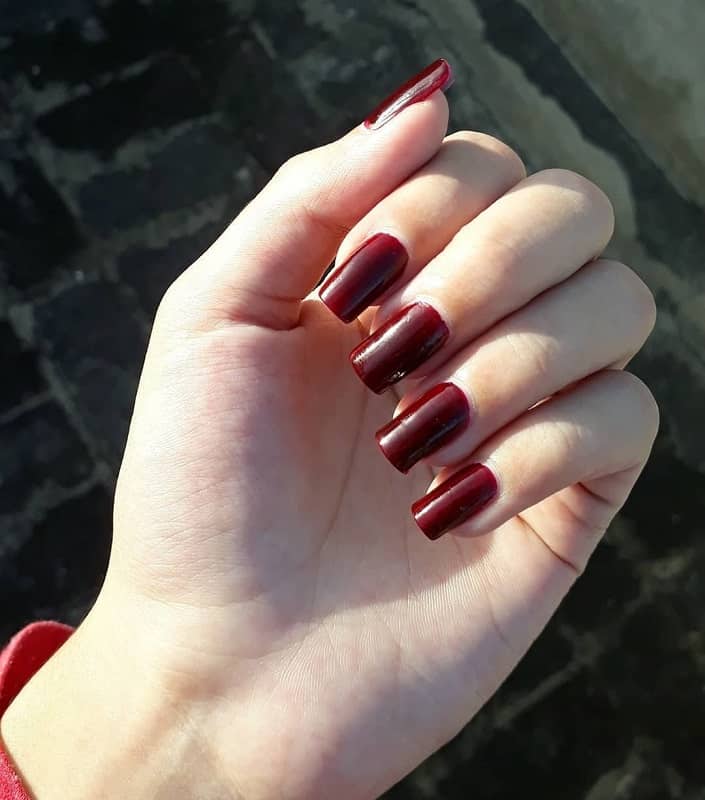 For a nail design you can do at home on your long square-shaped nails, just paint a few coats of maroon. A pretty design like this doesn't require special details if you're short on time!
#2. Nude Nail with Maroon Tip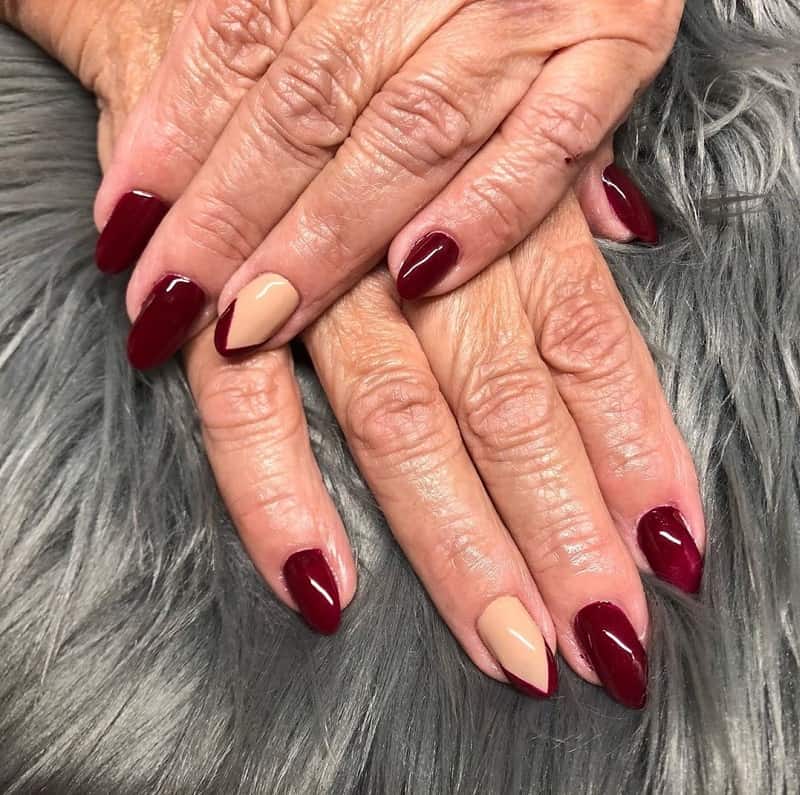 After painting four of the five nails on each finger with maroon, make the accent nail stand out by starting with a beige or nude base. Then make two thin lines in maroon to shape the edges.
#3. Dark Maroon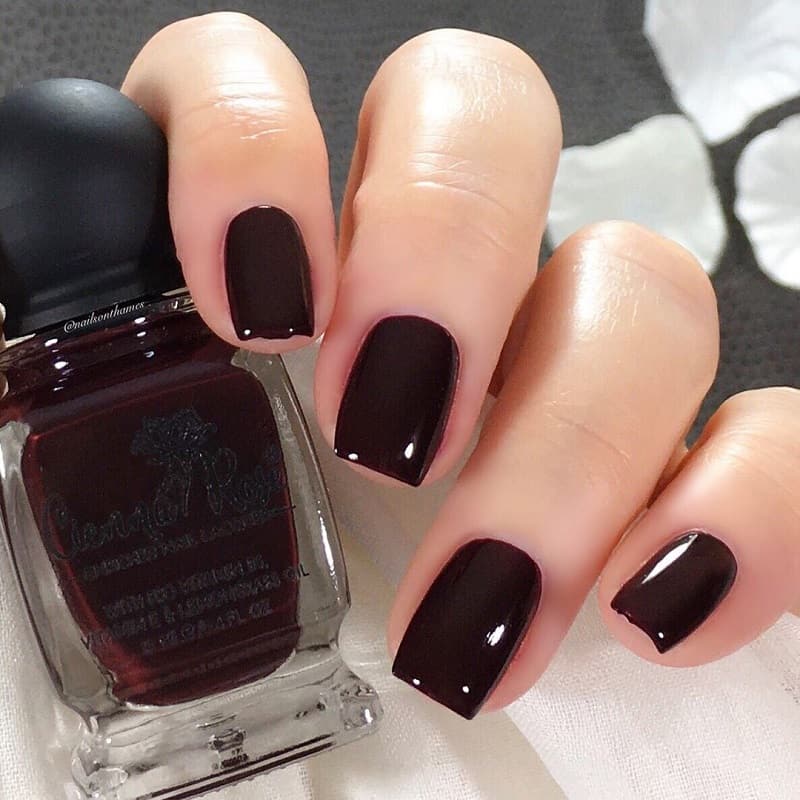 A dark shade of maroon is beautiful next to light or pale skin tones. Make it super shiny with a nice brush of top coat that will also protect your new nails.
#4. Two Tone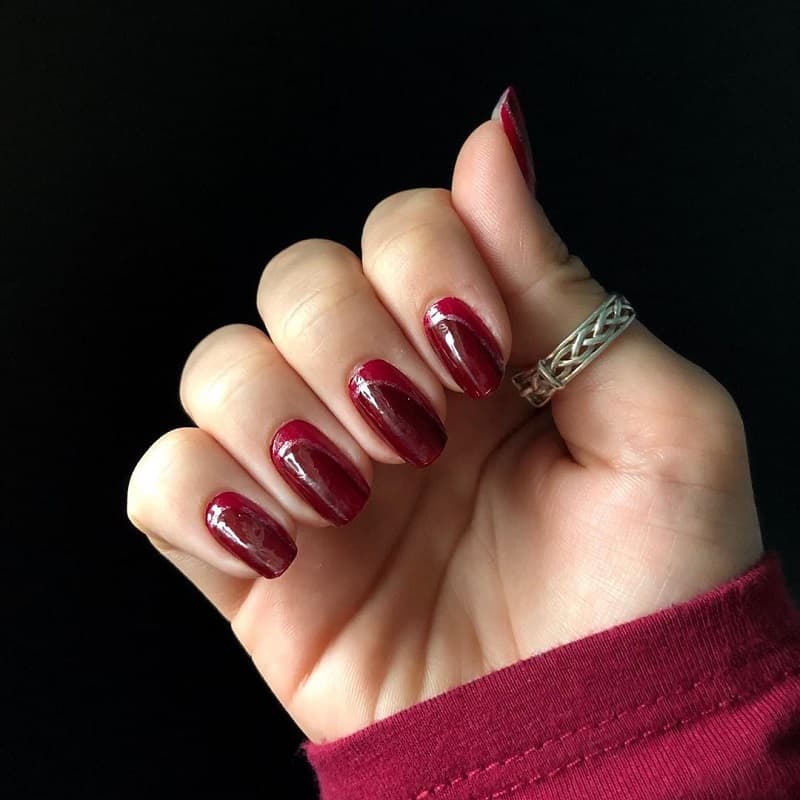 Pick a lighter shade of maroon to contrast against a dark shade for a subtle change of color. These long squoval nails boast a half border that is subtle but noticeable.
#5. Short Natural Nails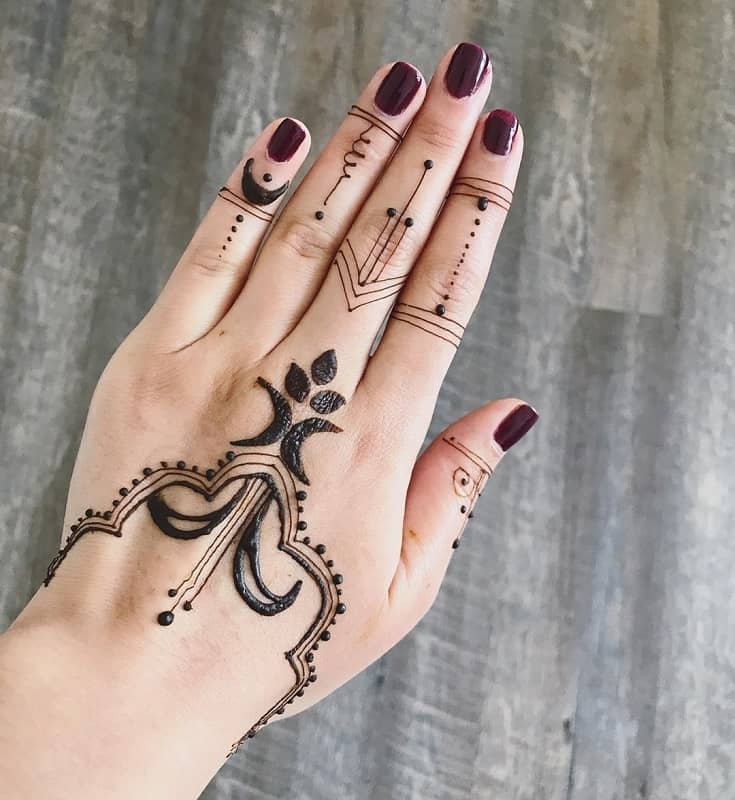 If you typically maintain a shorter nail or can't grow long ones, no worries! A deep shade of maroon can still make those nail beds gorgeous.
#6. Matte with Arrows
Nail stickers are best for getting into really intricate details like this maroon manicure shows off. We love the triangles and arrows in complementing colors.
#7. Gold Line Design
One great way to emphasize a longer nail shape is by adding a thin gold line to maroon nails. This style shows a perfect example: the middle nail features a vertical line while the other nails have a much shorter horizontal line.
#8. Valentine's Day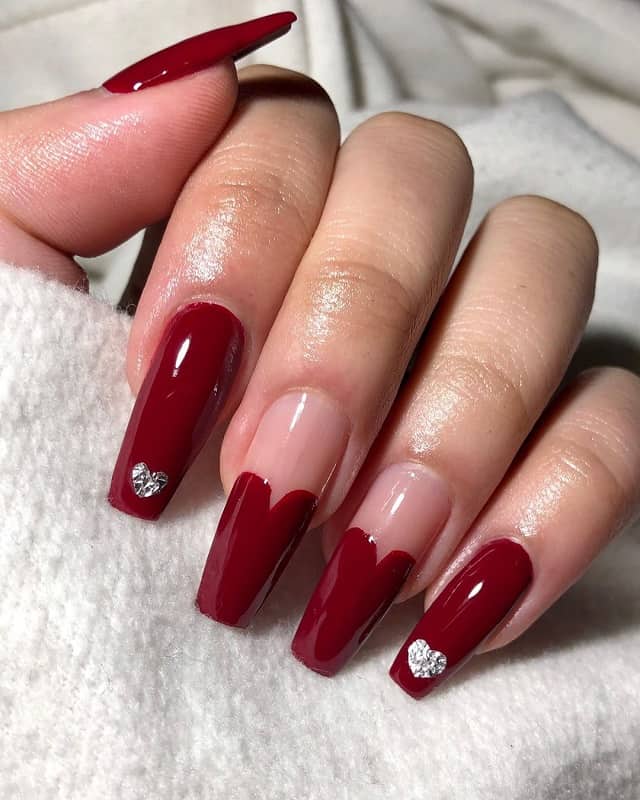 Not all Valentine's Day nail designs have to be red or pink! This year, go with maroon, making the two center nails tipped with the top of a maroon heart. Bring the love to the pointer and pinky nails with heart-shaped rhinestones.
#9. Matte Maroon Nails
Maroon nails are bold, elegant and make you feel like a royal family member whenever you wear them. For a classical but fabulous look, use matte nail polish!
#10. Light Maroon Nails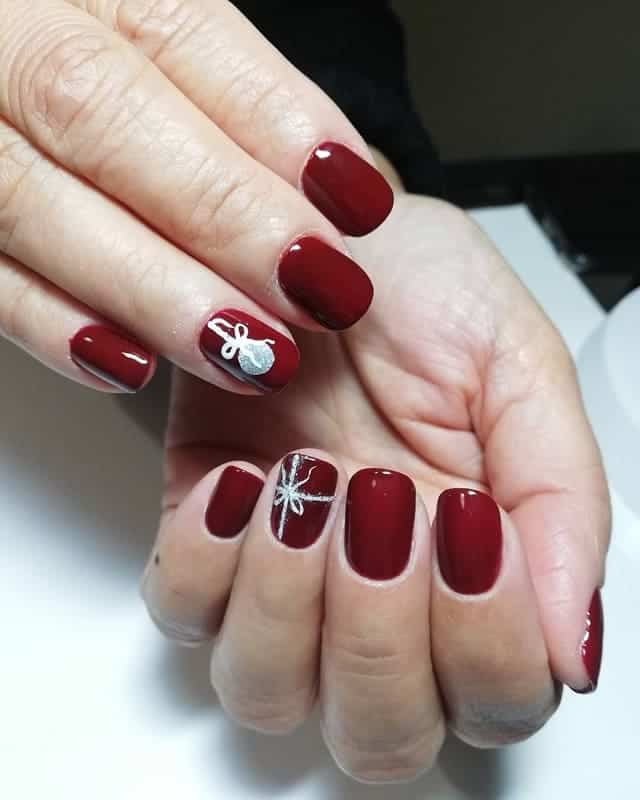 Give your nails a huge present: a maroon nail design with a pinch of glitter! Your hands will look stunning, and you'll be able to wear this on any occasion!
#11. Maroon and White Nails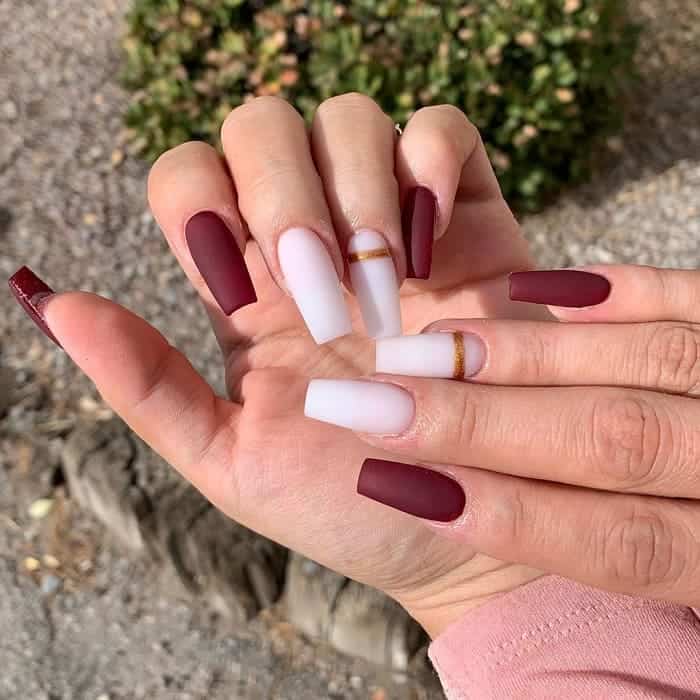 When you go for full matte nail design, expect loads of compliments! Combine maroon and white nail polish for an elegant look. Twist your mani with a tiny gold glittery line.
#12. Maroon Prom Nails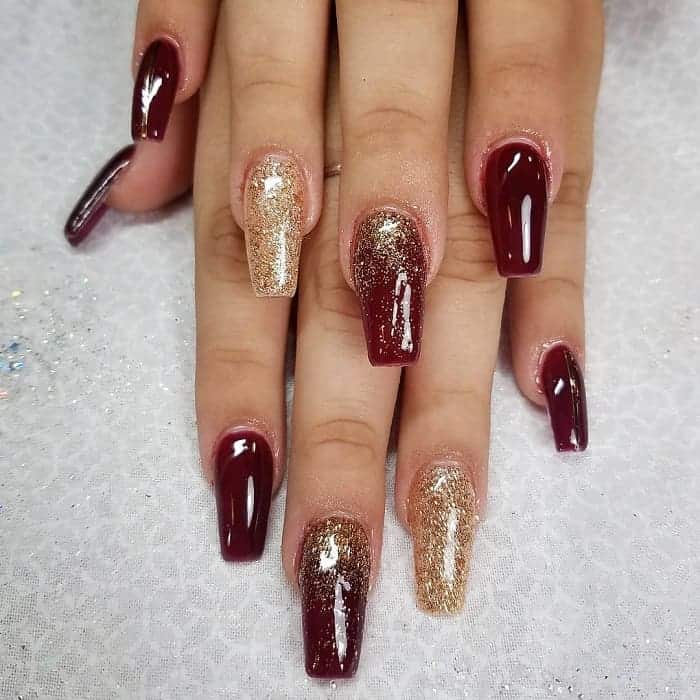 This mani yells perfection from all pores! These glittery gold nails with shiny maroon nail polish make your hands look magical!
#13. Maroon Acrylic Nails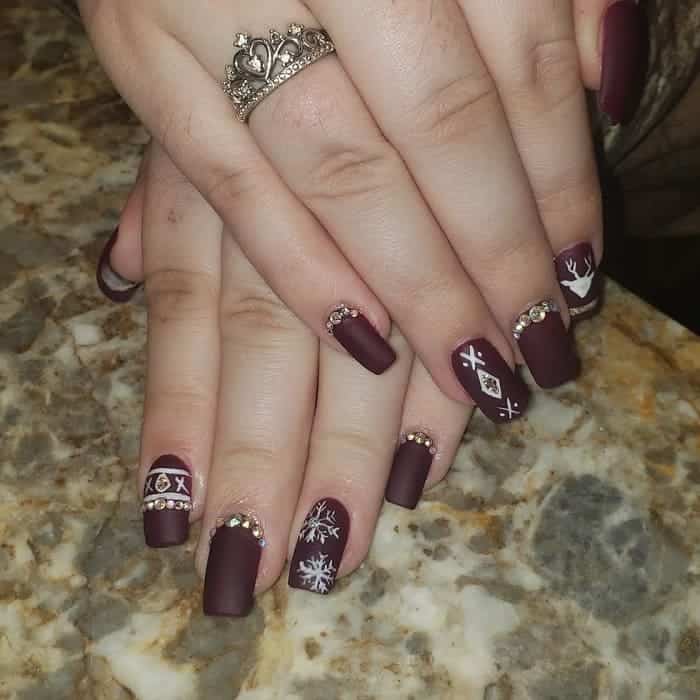 Embrace the winter with a themed Christmas manicure! Create snowflakes with white polish and add a few rhinestones for a fabulous effect.
#14. Maroon and Gold Nail Design
Show the fun side of your personality by adding gold and silver dots to your maroon manicure. Use a mixture of both large and small dots on just the left and top sides for a cool switch-up in bordering.
#15. Maroon and Black Nails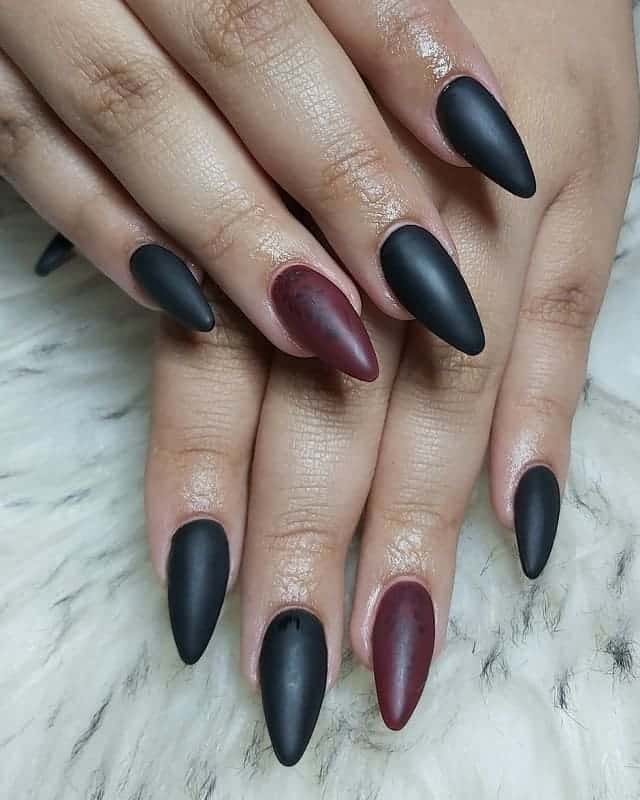 When it's Halloween time or you're just feeling moody and bold, wear matte maroon with matte black nails.
While you can certainly wear the colors together on short nails, we love the way they look here on long almond or stiletto nails.
#16. Silver and Maroon Nails
Special occasions deserve a special manicure! Sparkly silver polish pairs beautifully with maroon, especially on long square nails. Leave them like this or add your favorite rhinestones to a few nails for extra bling.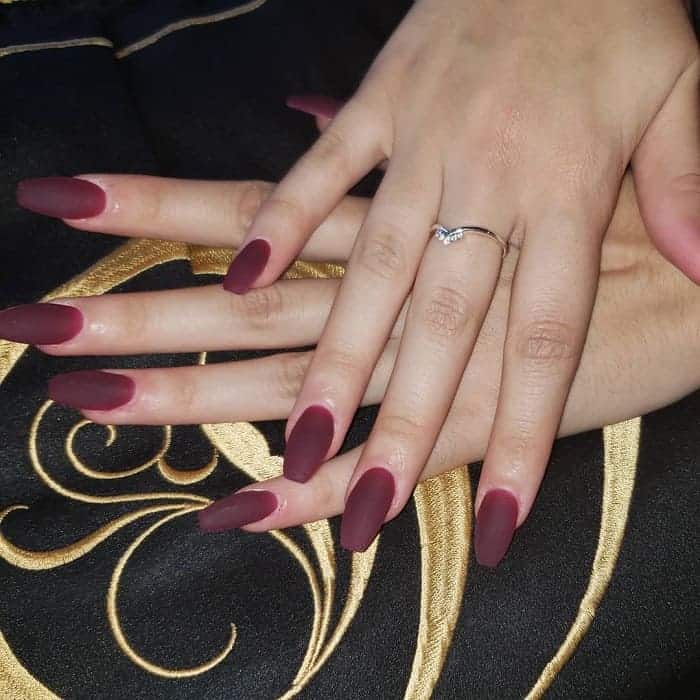 We don't see coffin nails going out of style any time soon so there's no better time to try them than now! Pick a shade of maroon to show off lengthy nails.
#18. Maroon Gel Nails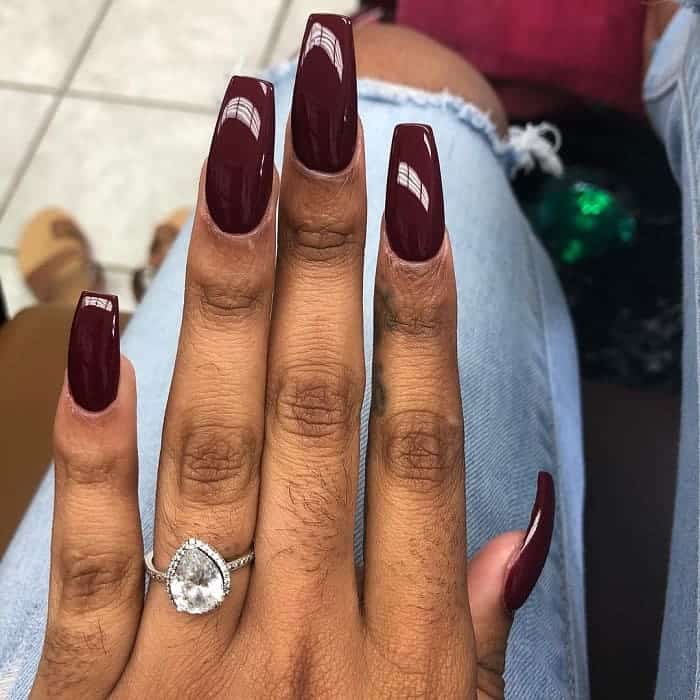 Using a gel polish for your maroon manicure is a sure-fire way to get that glistening result. You'll also use fewer coats, which comes in handy when you have extra long nails to paint!
#19. Maroon Nails with Glitter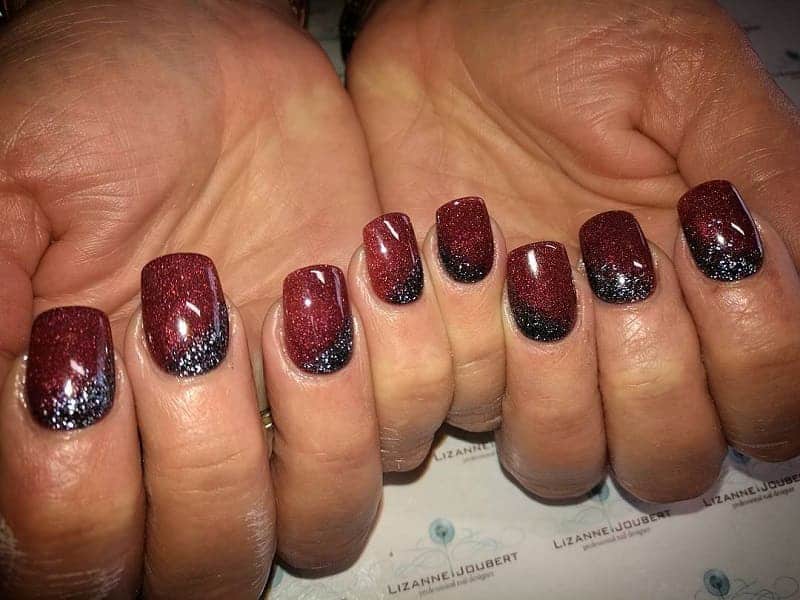 Are you all about the sparkly nail designs? Then you'll love these short squoval nails and their glittery maroon selves. A half border of sparkly black draws the eye upward.
#20. Maroon Red Nails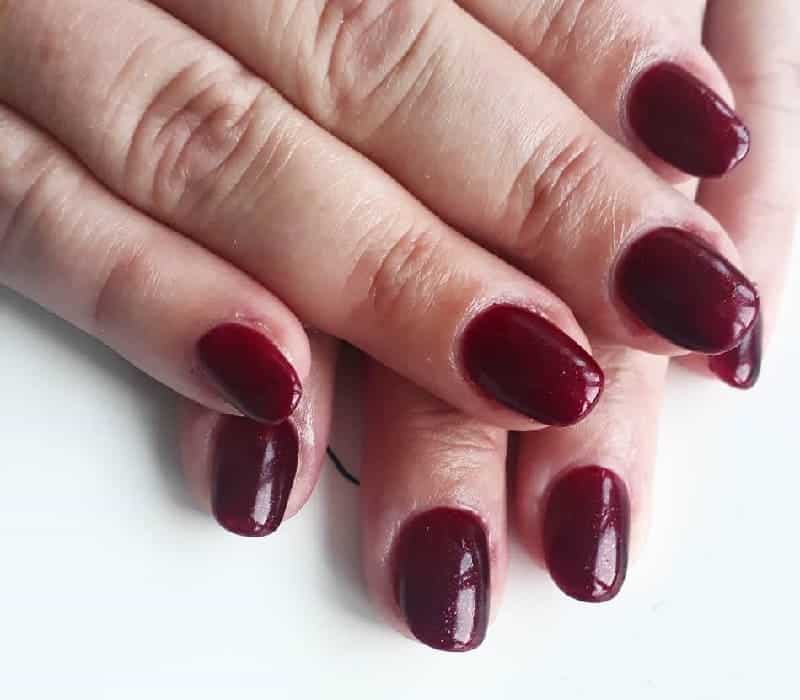 Maroon red is one shade that complements all skin tones. Wear them in a simple style like this, or detail it up with tiny rhinestones!
#21. Maroon Stiletto Nails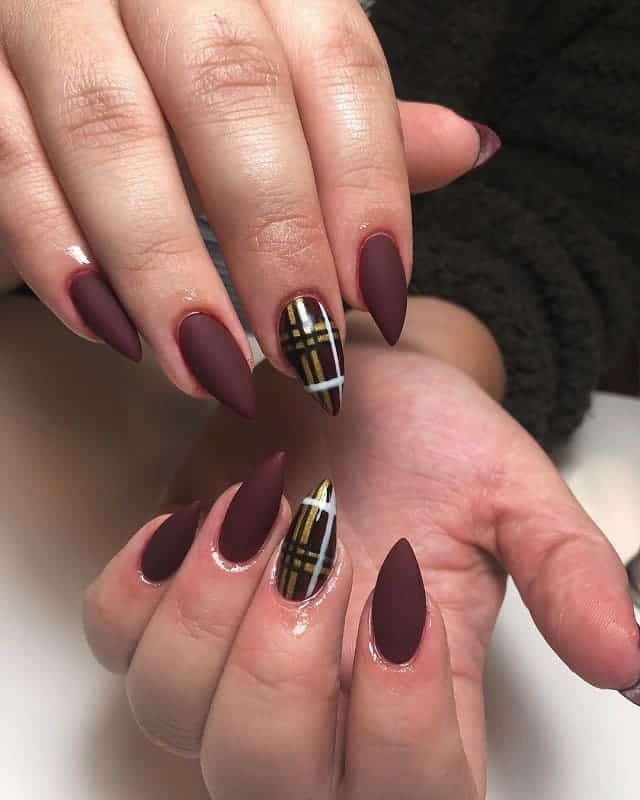 Sometimes clashing can be cool! These short maroon stiletto nails show how a black and gold striped pattern may actually look kind of awesome!
#22. Maroon Almond Nails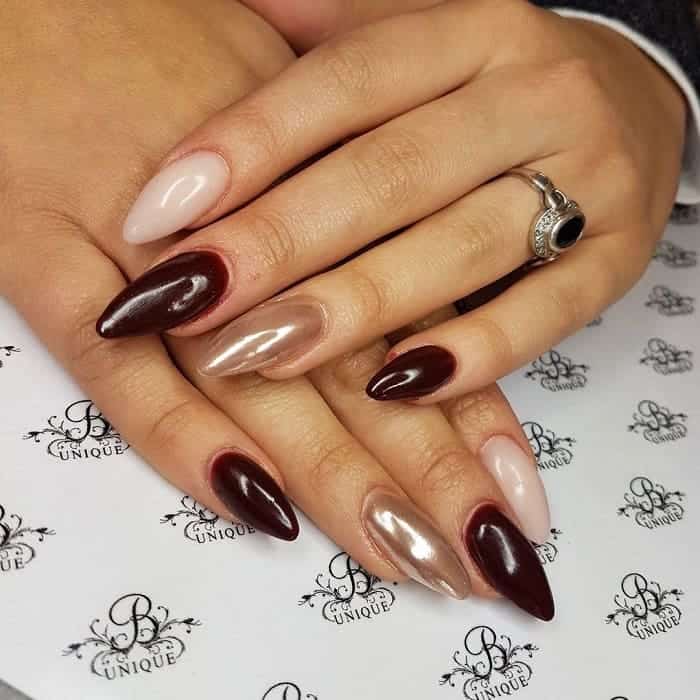 Another way to wear maroon on your nails is by mixing light with dark. Try just adding maroon to the center and pinky nail, choosing a lighter shade, like pink or milky white, for the other nails.
#23. Maroon Square Nails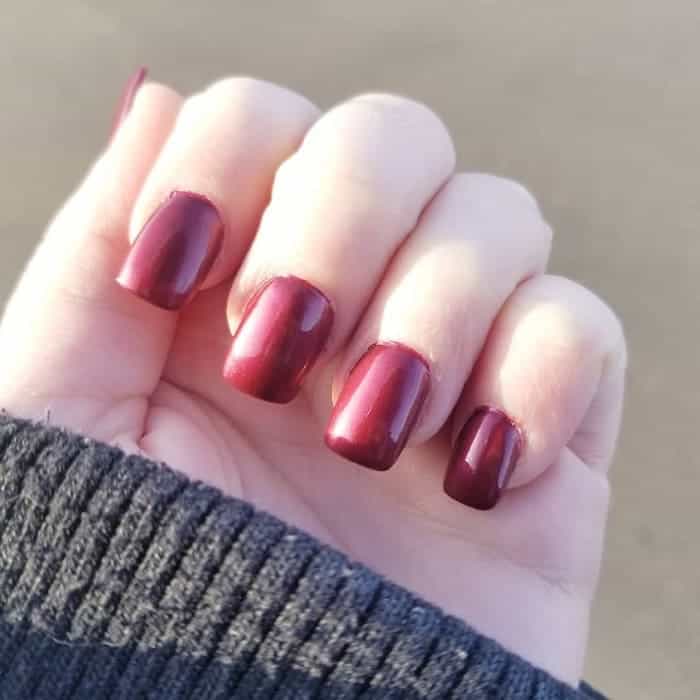 This Christmas-y shade of maroon is perfect for the holidays. It beautifully emphasizes the smooth corners of these medium length nails, too!
#24. Maroon Nails for Wedding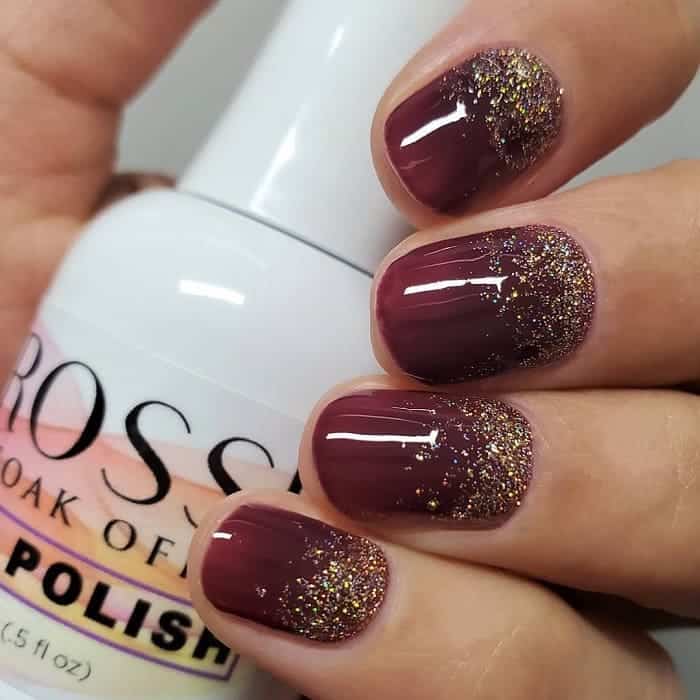 No one says you can only wear white on your wedding day! Throw in a pop of color by using maroon for your manicure.
A glittery gold top ensures it's still a special nail design worthy of being worn with your wedding dress.
#25. Maroon Tip Nails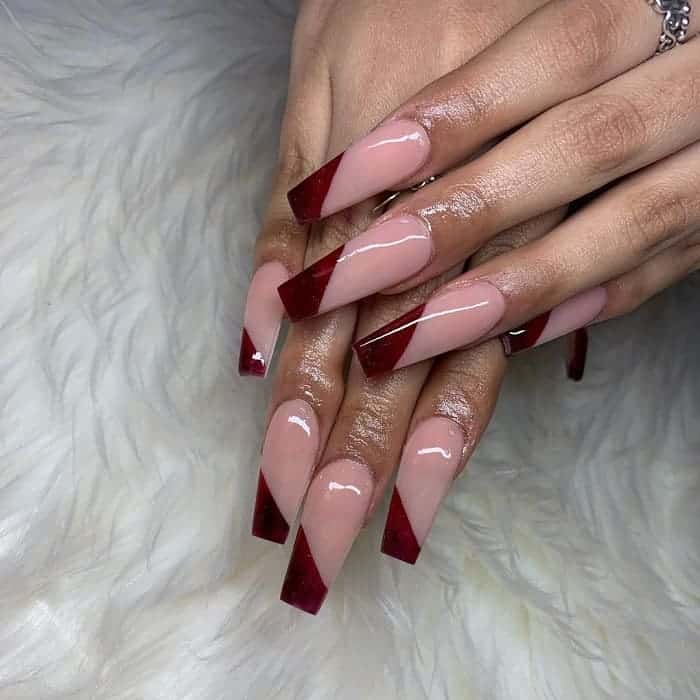 For extra long square nails, make the base a light pink, then add a diagonal half tip in maroon. These two colors beautifully complement each other.
#26. Maroon and Navy Blue Nails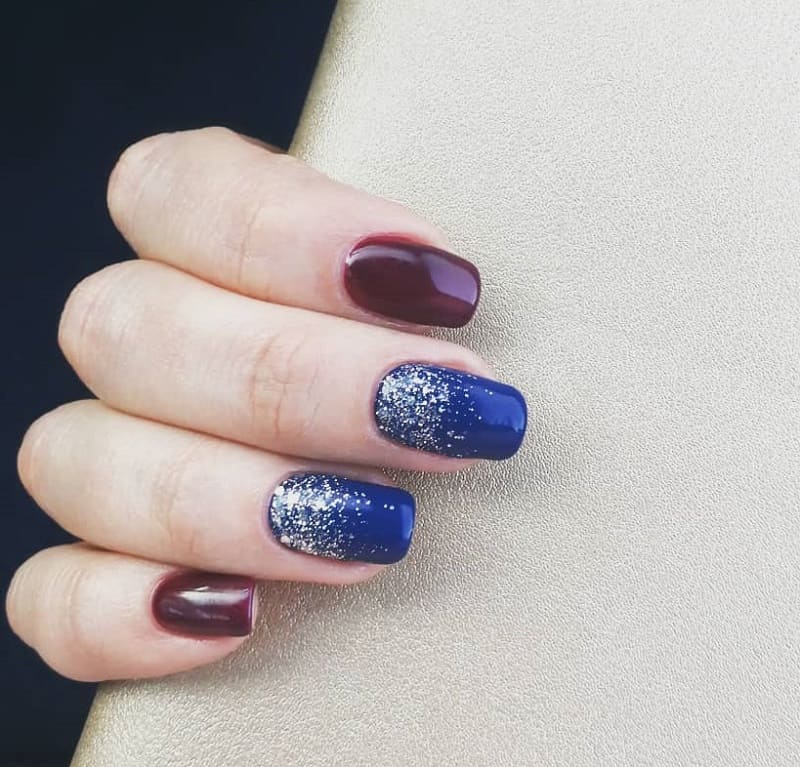 Two dark shades that look stunning together: maroon and dark blue! We're in love with the way the sparkly glitter top on the blue gives the nail design that perfect amount of bling.
#27. Maroon Chrome Nails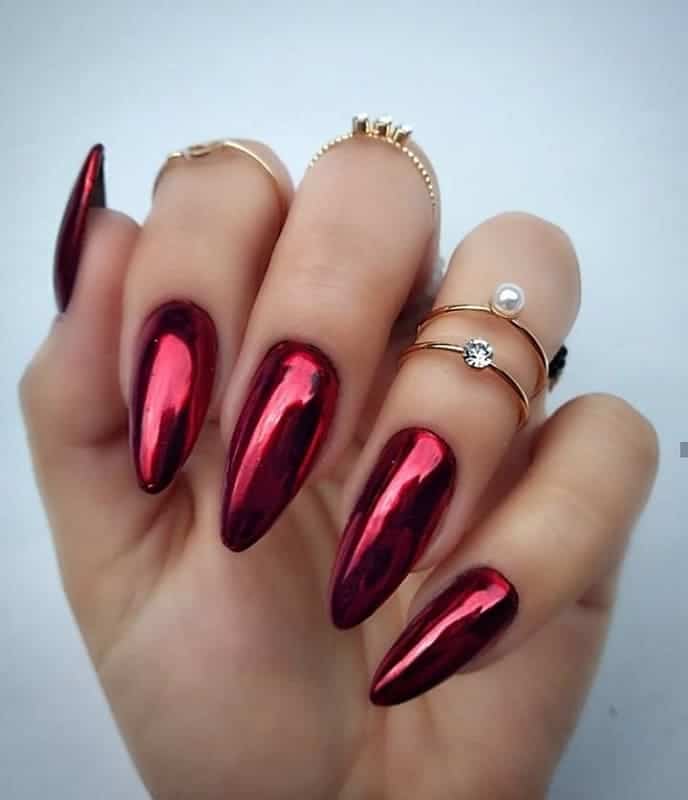 You can practically see your reflection in chrome maroon nails! If you can't wear these at Christmas time for an Insta-worthy photo, when can you?
#28. Maroon Shellac Nails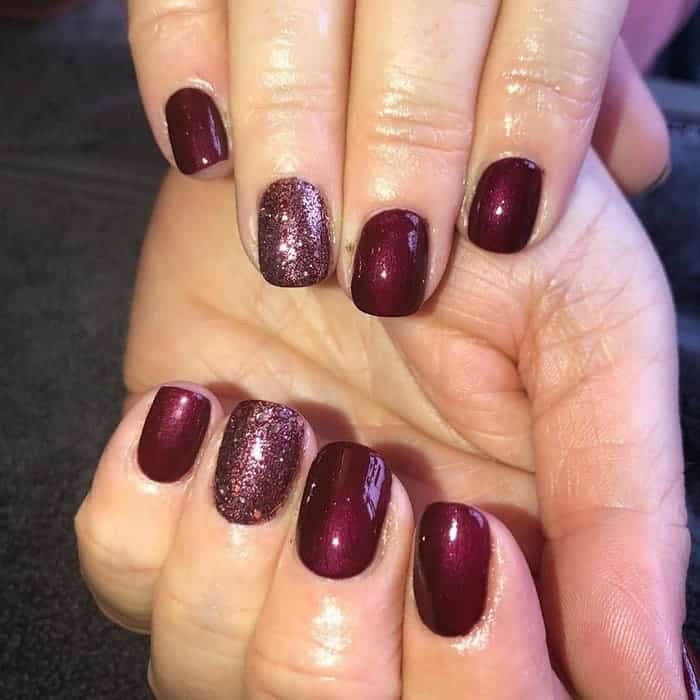 For a luxe feel on your nail polish, choose shellac in maroon. Here they grace short squoval nails, featuring a sparkly maroon nail on the ring finger.
#29. Maroon and Rose Gold Nails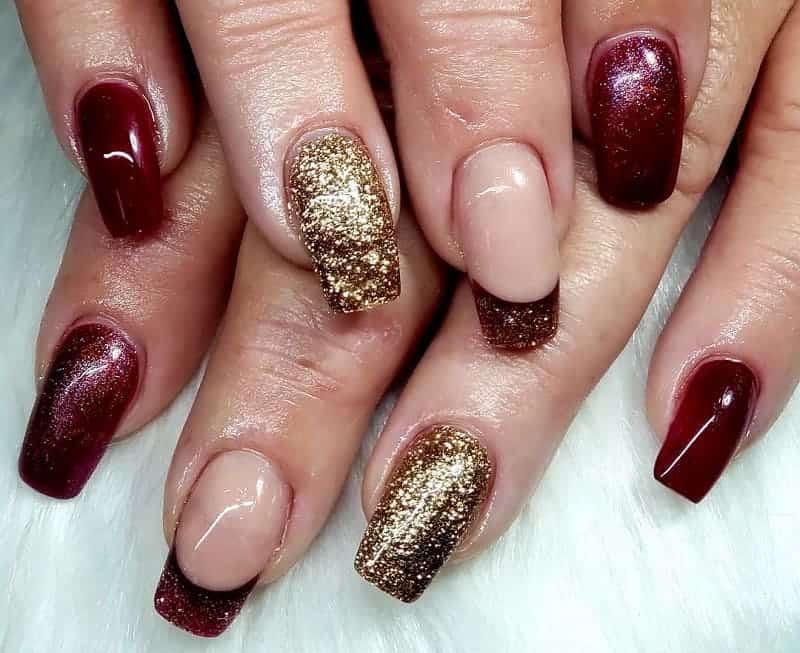 These days, what girl doesn't love a gorgeous rose gold on her nails? Pair it with maroon and nude nails with a gold accent nail for a combo of colors sure to stun.
#30. Maroon Ombre Nails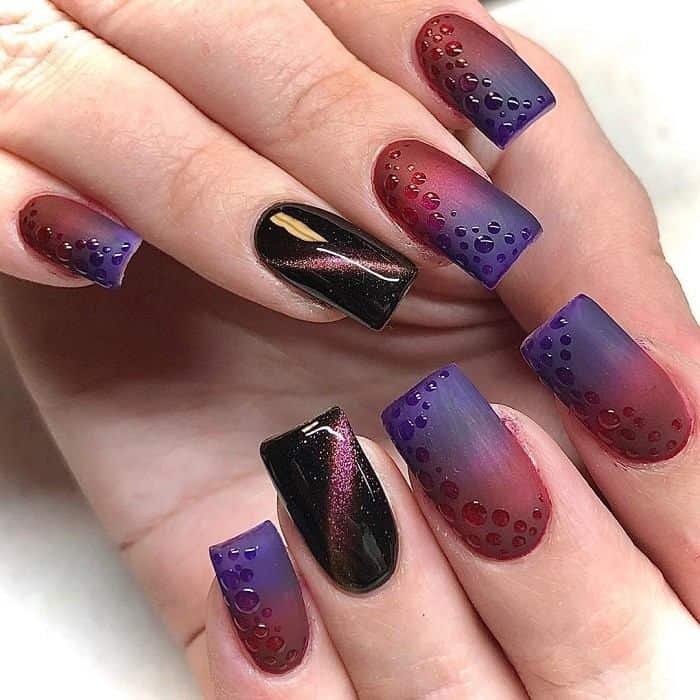 For this special blend of purple and maroon, you may have to visit the professionals. But with a crazy beautiful result like this, it'll be worth it!
#31. Short Maroon Nails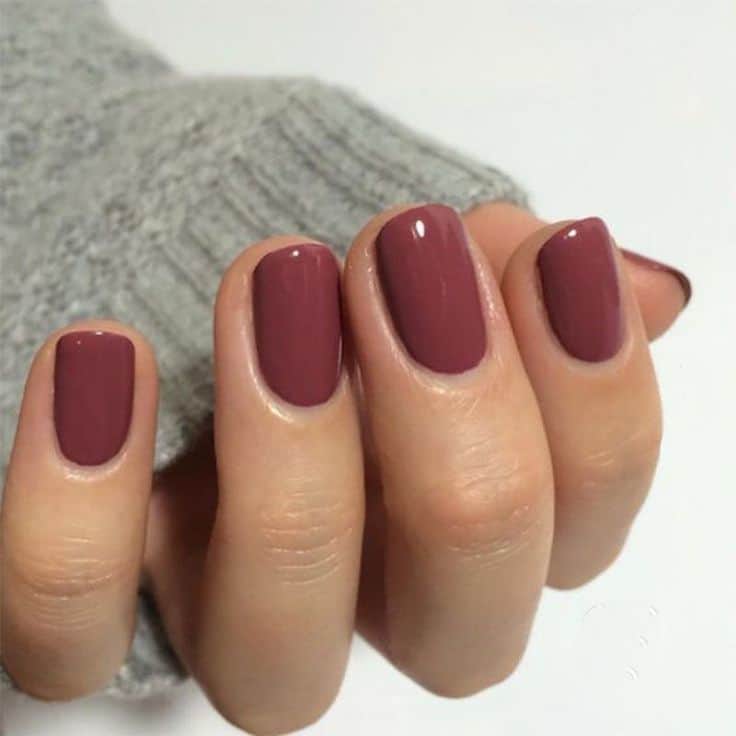 If you like to tone everything down, here is your nail design. Super short and natural maroon nails will look stunning on you.
Why not switch up your fake nails with something that is yours and natural? Get yourself shellac or regular gel and have a blast.
#32. Maroon Coffin Nails
If the coffin nail shape is your favorite, treat yourself and your nails with this beautiful, irresistible maroon color and enjoy your fierce-looking manicure.
#33. Maroon and Nude Nails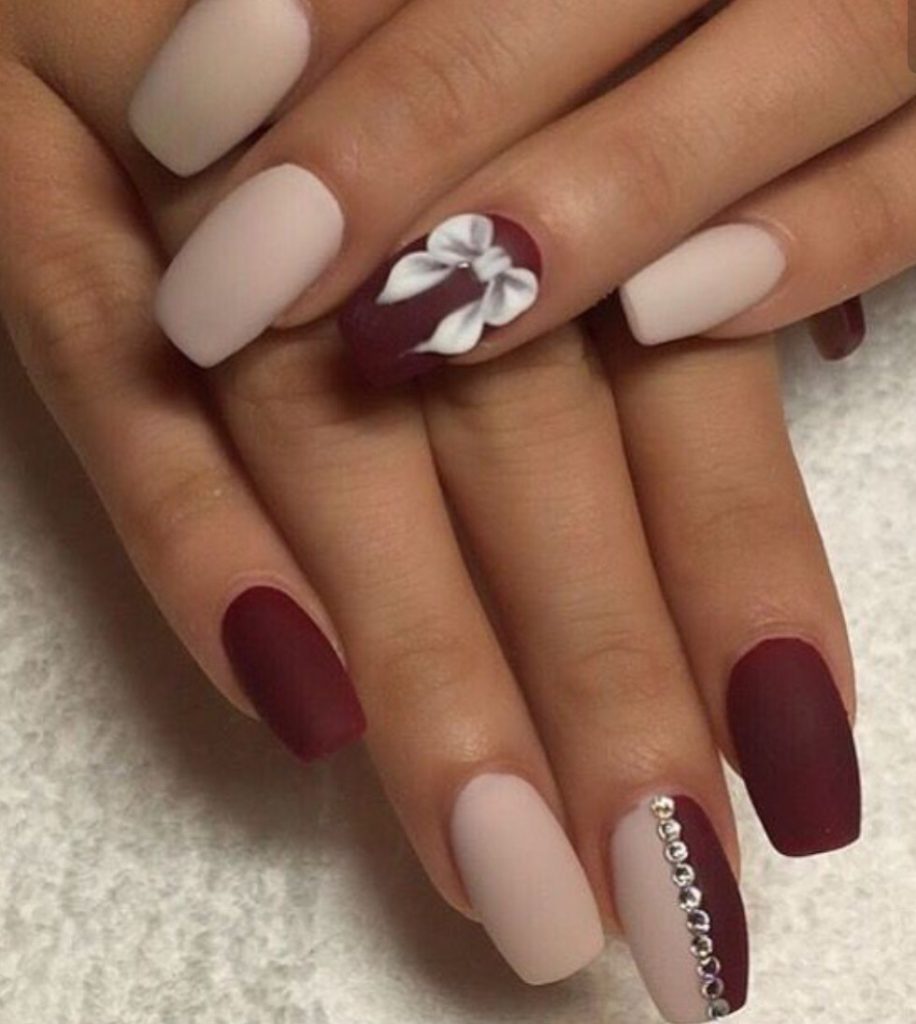 When creating a maroon nail design, it often comes down to the details. A rich maroon with a beige nude complement will make your nails pop. You can even add this little white 3D bow and a straight line of stones to define a part.
#34. Maroon Nails with Silver Glitter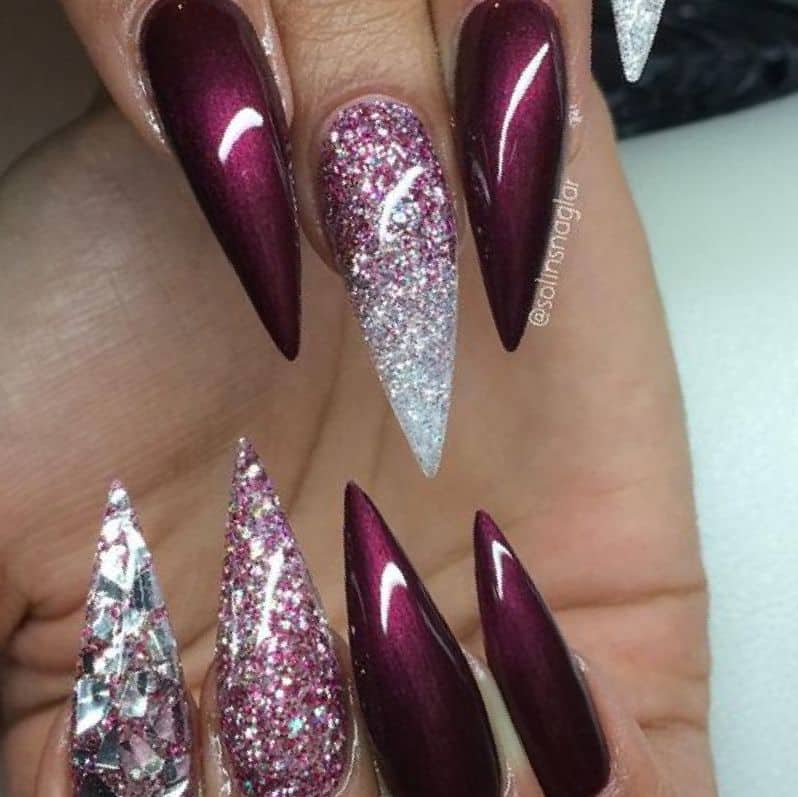 Women love glittery nails more than you can imagine. If you are an attention seeker, then seek some certified nail techs and get this manicure on long stiletto nails.
#35. Metallic Maroon Nail Polish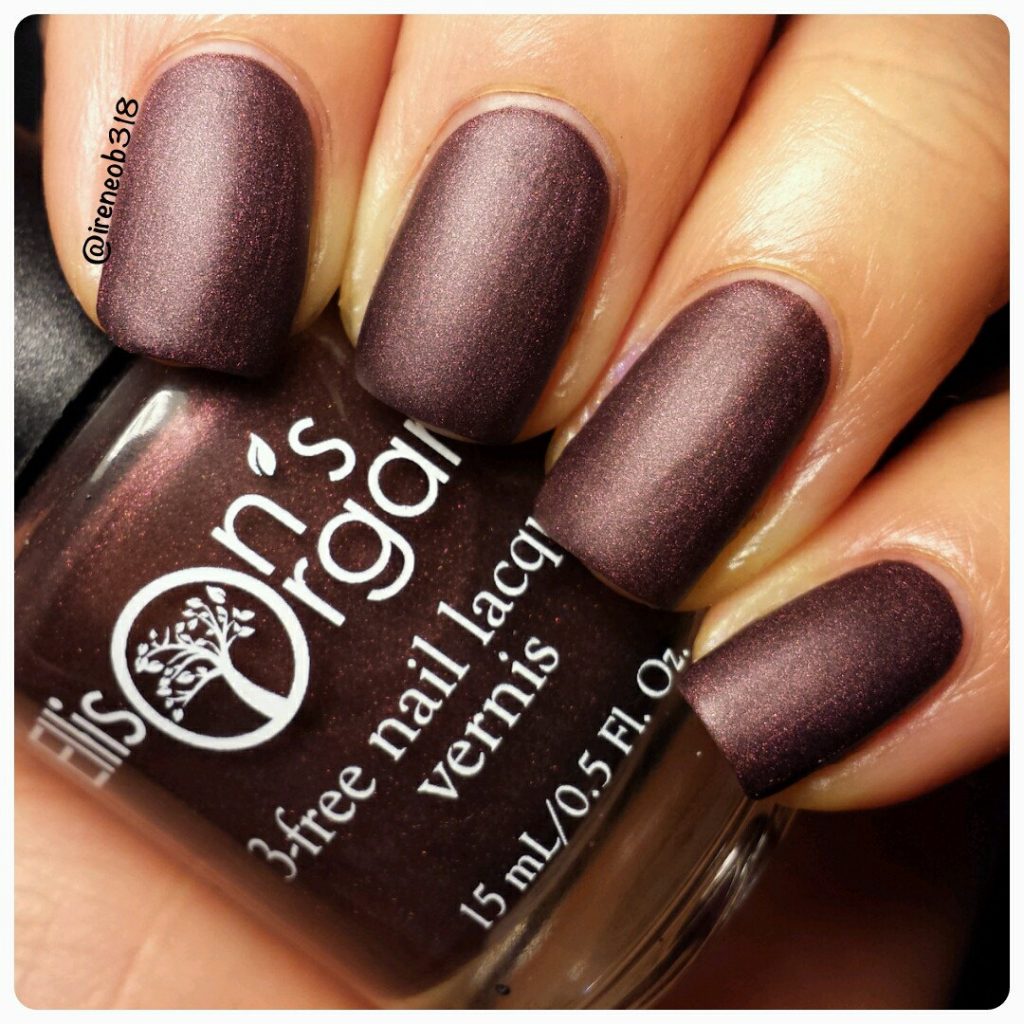 Metallic-finished polishes give a smokey effect to their color. We love these smooth maroon on long square nails.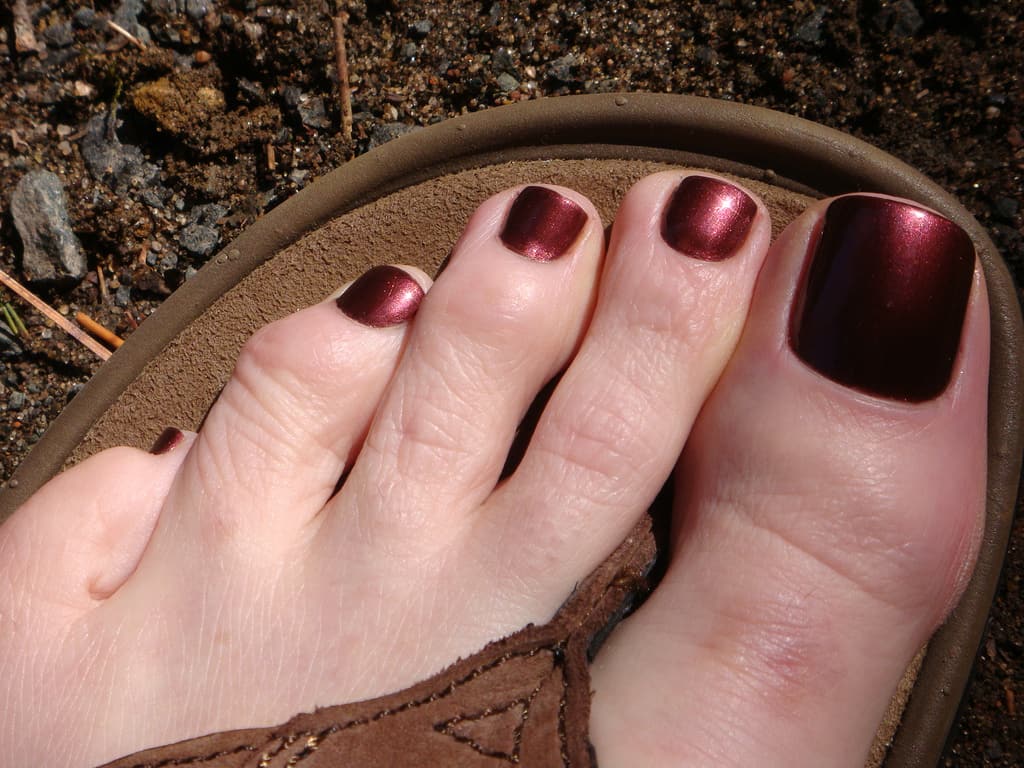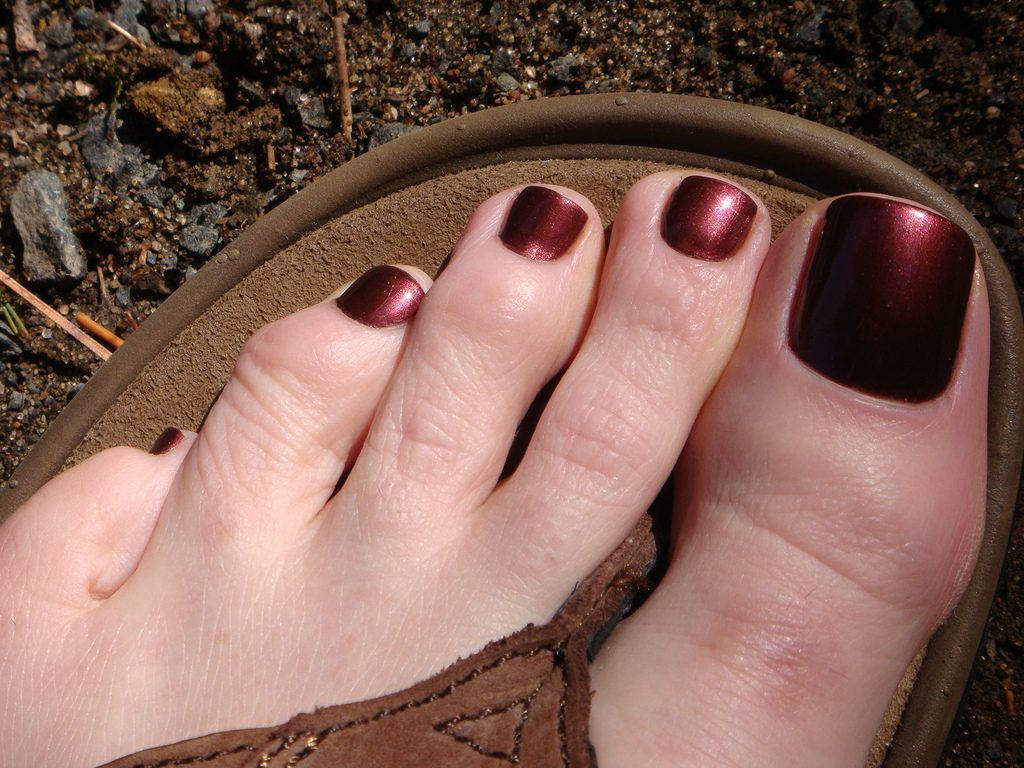 Don't skip your toenails! Get the perfect nail design on your feet by choosing maroon, perfect for summer days when you can proudly show off your cute pedicure.
#37. Long Maroon Nails
If you prefer a glossy finish rather than a matte one, go for long glossy nails which are perfect for the autumn. This color will be worn a lot, so you know you'll be on trend!
Our Favorite: Maroon + Gold Nails
#38. Glossy Dark Maroon Nails
Dark cherry nails are also very fall-like. Match this nail color to your maroon scarf and a hot burgundy lipstick.
#39. Maroon Matte Coffin Nail Polish
Perfect for a party, these maroon nails will just make you want to groove on a dance floor. Their coffin shape is so edgy looking. Make sure you go to the right nail tech in order to fully enjoy this manicure.
#40. Pretty Shine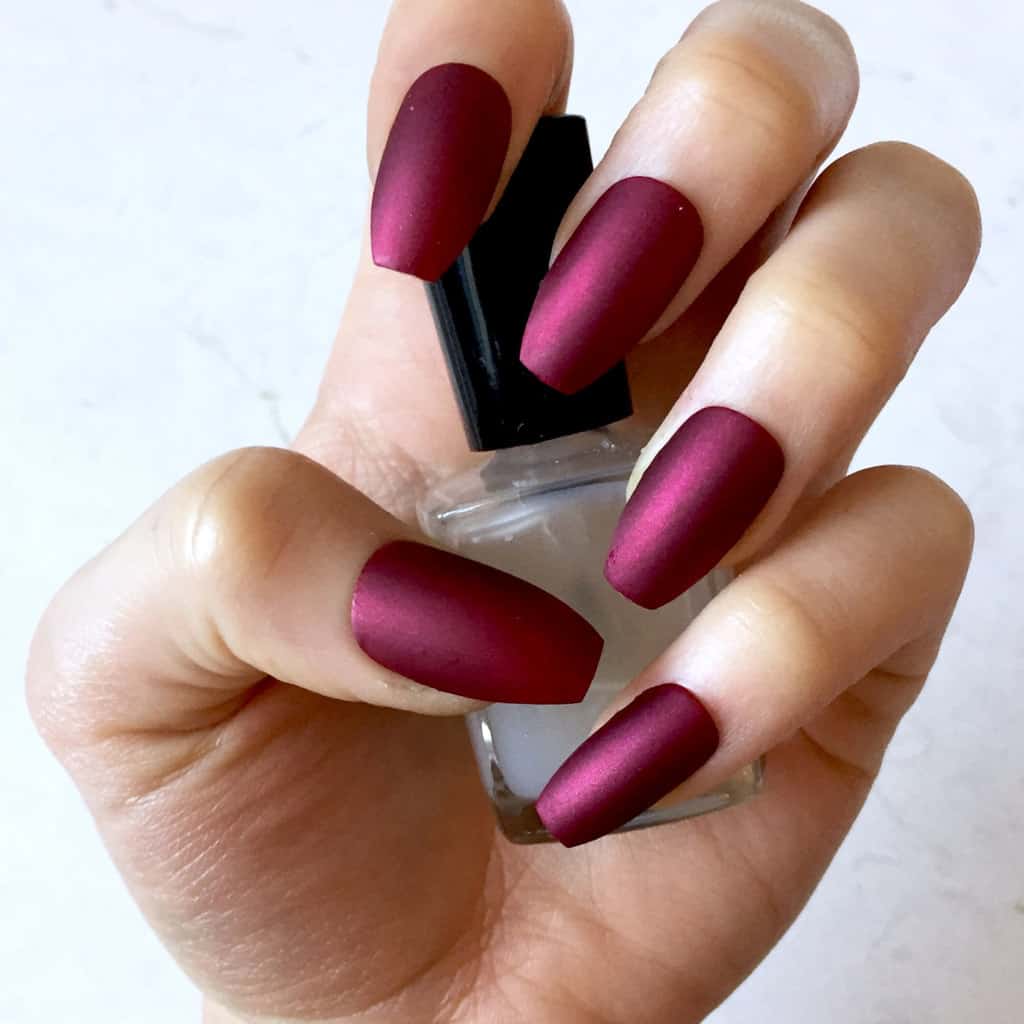 In case you're all about a pinky undertone, we got you. This manicure isn't completely dark and maroon since it has a light pink undertone to it.
Are you hyped now? What design is your favorite one out of these 40? Whichever one it is, if you choose to have a nail tech do it, it may help to bring a picture to be sure that you get what you want.