Curious about transparent nail designs but not sure how to go about trying them? Start with clear pink nails!
The biggest misconception about clear nails is that they are void of color. However, the nail design would be better described as 'transparent,' meaning you can see through the color, not that they are actually clear. Picture tinted sunglasses and you'll be on the right track!
To rock clear pink nails, there's no specific nail shape or length required, although some nail shapes do better display the designs. We'll show you our favorite ways to rock the trendy nail style so you can see how you might apply it to your own nails!
Stylish Designs for Clear Pink Nails
It may be clear, but the color will still pop! Take a look at these classy designs for clear pink nails!
1. Clear Pink Acrylic Coffin Nails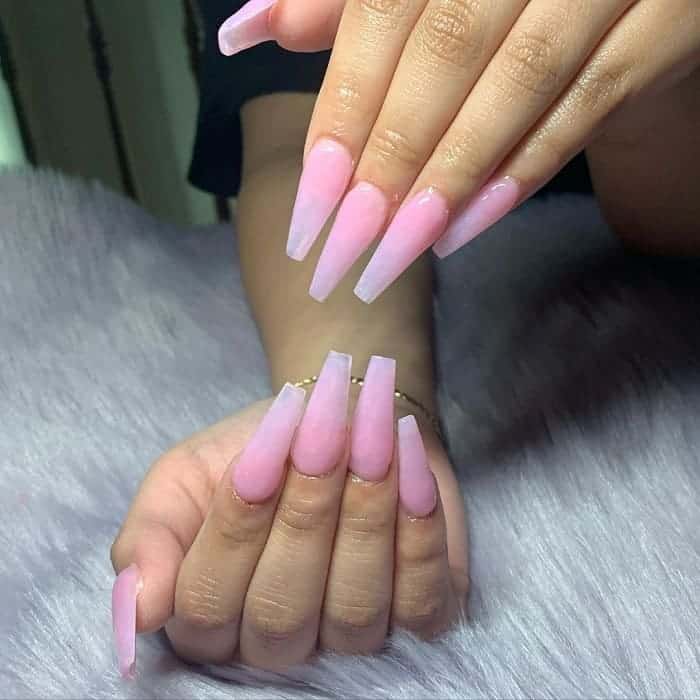 This color of pink is so light, it reminds us of sweet cotton candy! Choose it in clear polish and paint those acrylic long coffin nails of yours with the pretty shade.
2. Clear Pink Gel Nails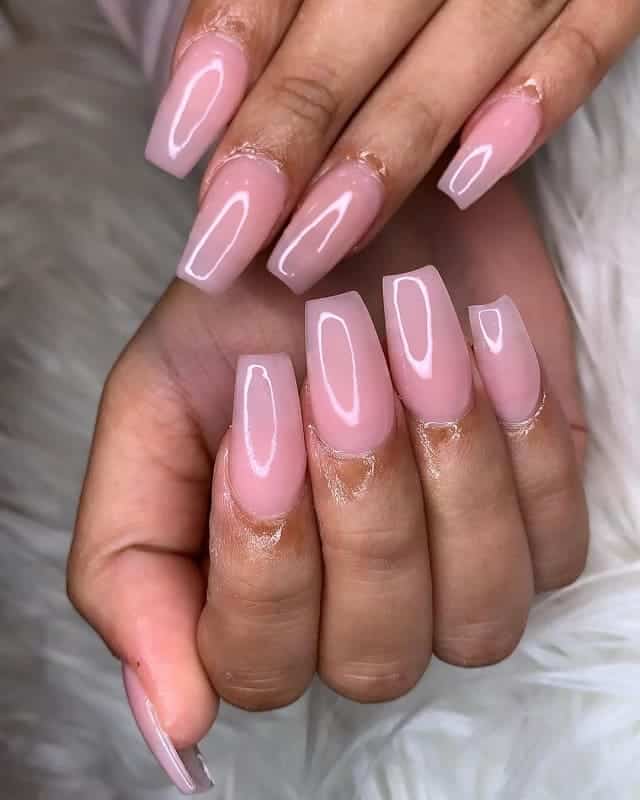 A lovely light clear pink is beautiful for coffin nails. If you have light or pale skin tone, the color will really flatter your complexion.
Best Nail Colors for Pale And Light Skin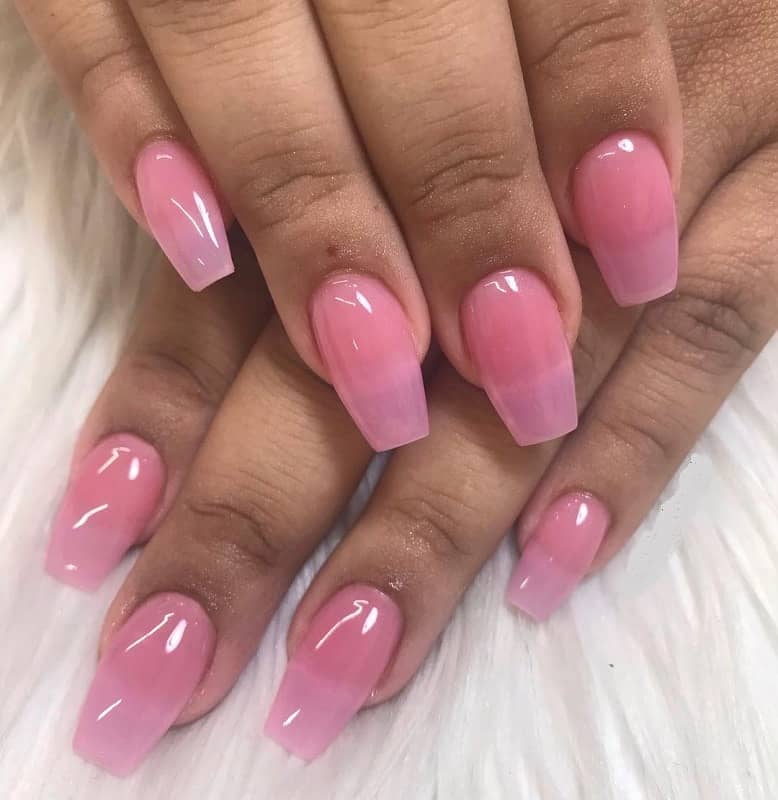 The beds of these nails are slightly darker pink than the tips, but the clear pink is still noticeable and really emphasizes the nail's length and shape.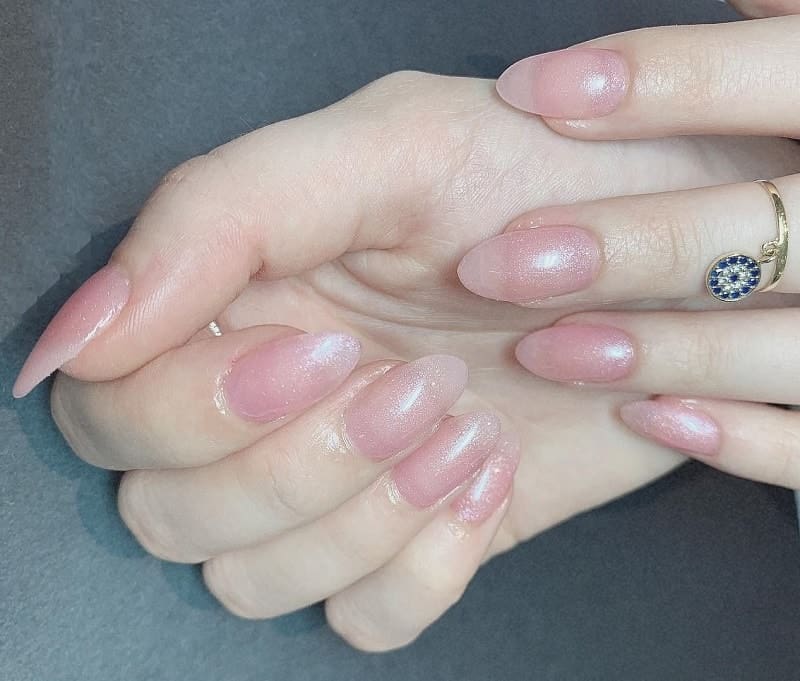 Make those oval nails soft and shiny with a clear pink and a top coat of glitter. The glitter is only a slight sparkle, but makes all the difference since these clear pink nails are worn against a very light skin tone.
5. Long Clear Pink Square Nails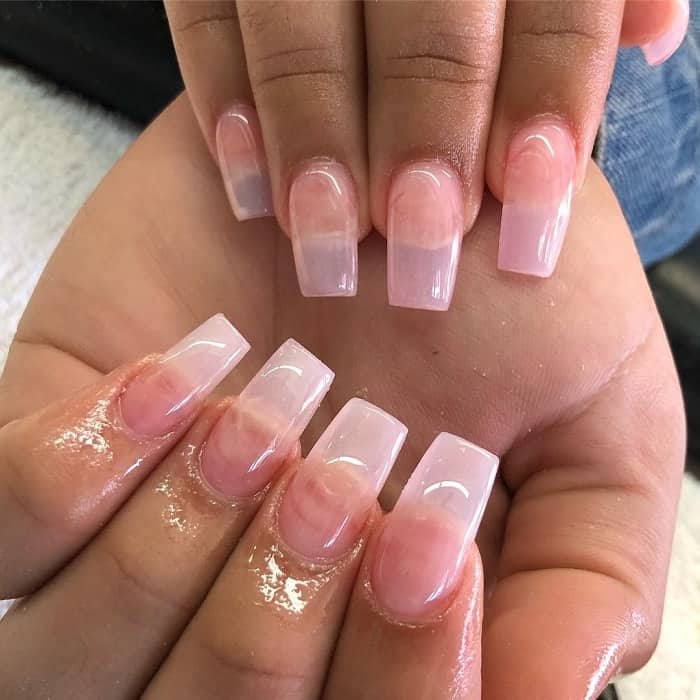 There's no way people will not notice your clear pink nails when they're long and square-shaped! To keep them shiny in between salon visits, touch them up with a clear top coat.
6. Rainbow Heart Stickers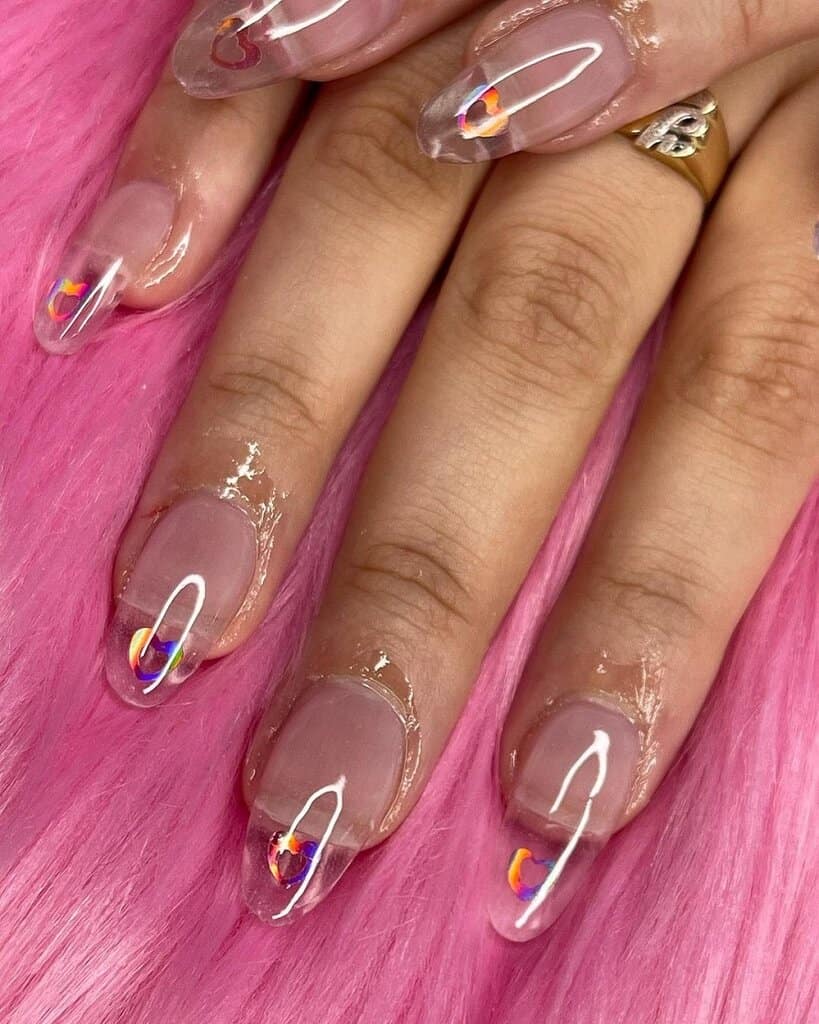 These classy long stiletto nails are painted clear pink and feature a cute little rainbow-colored heart sticker at their ends to emphasize length.
7. Dark Pink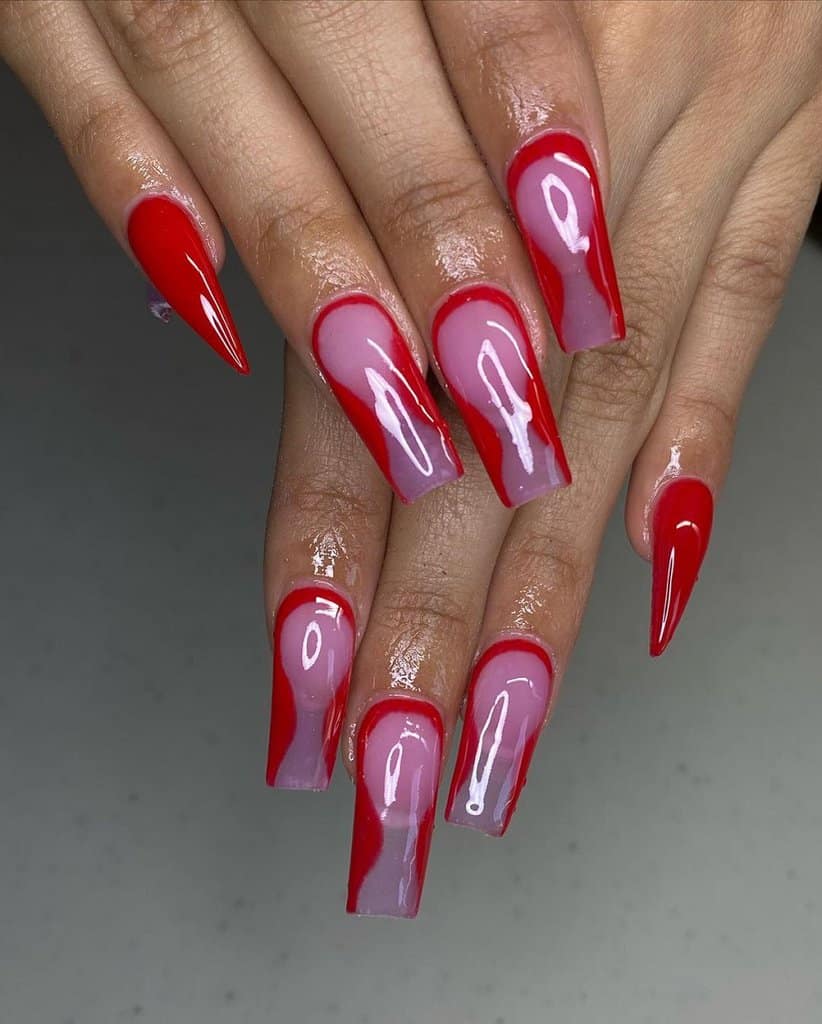 If you prefer extra long nails, mix up the shape with both square and stiletto. Go for drama and boldness with a clear and dark pink. Create thick wavy patterns, outline the nail shape, or fill a couple in completely with the color.
8. Blue Butterflies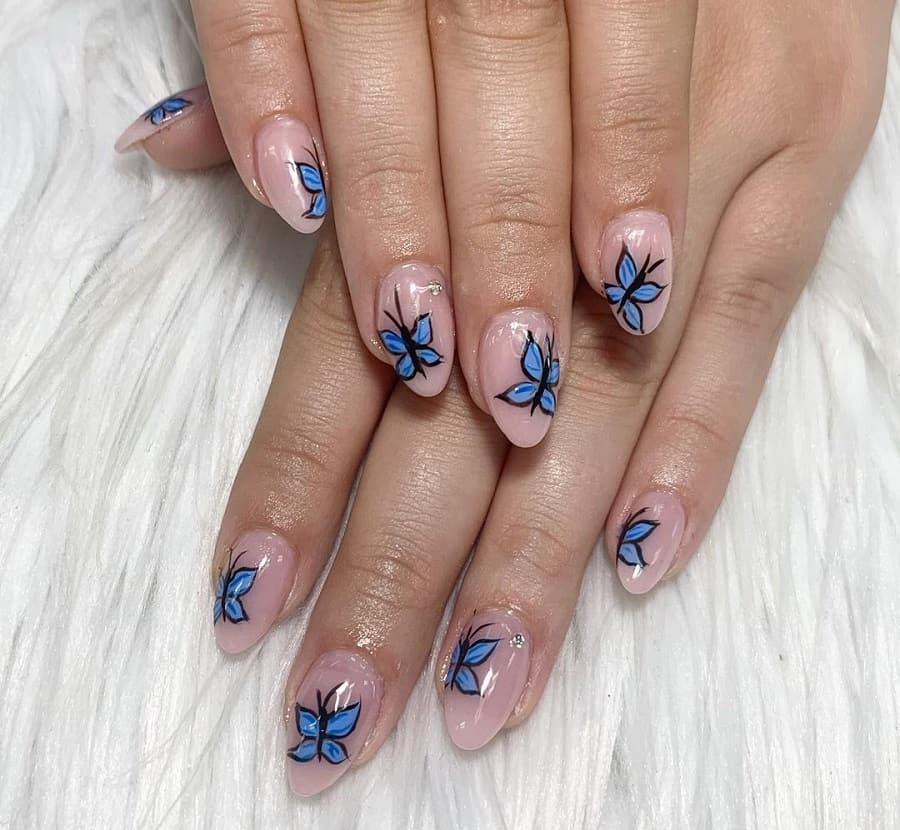 For a more feminine and flirty clear nail design, top off light pink nails with a cute detail, like butterflies or flowers. These blue butterflies are in a different spot on each oval nail and sparkle with a tiny diamond jewel.
9. Deep French Nails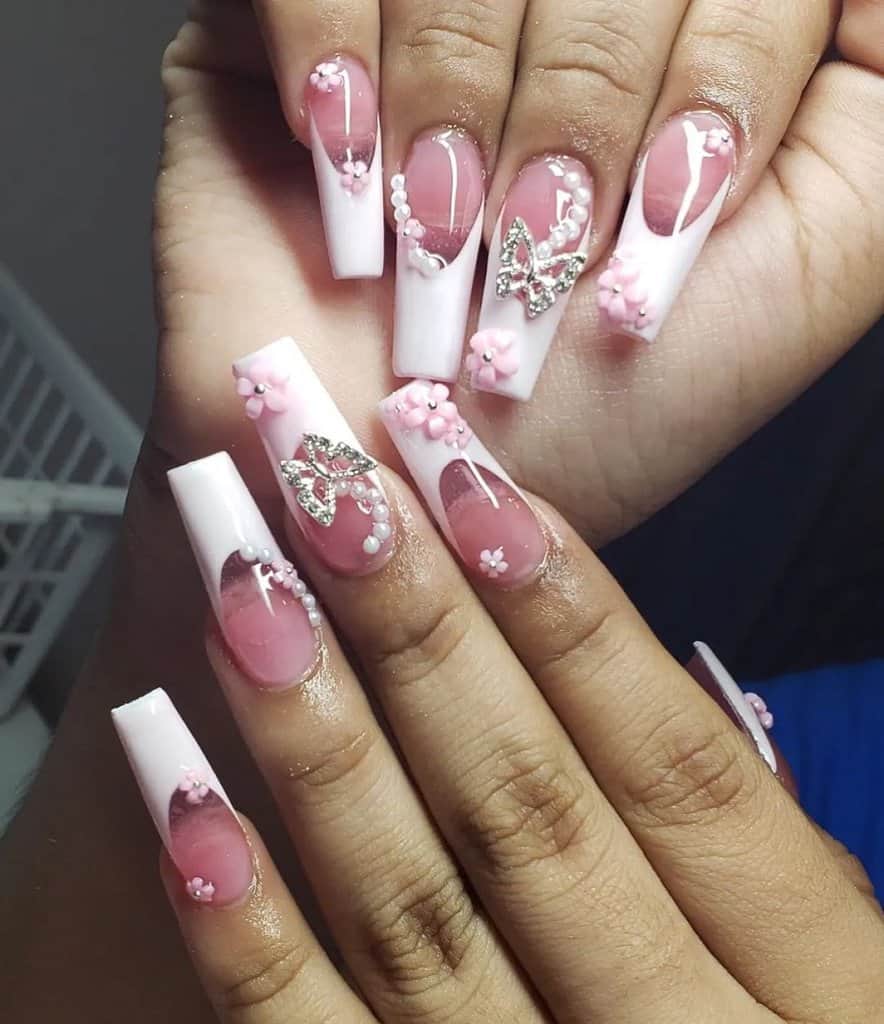 For women who love classy French tip nails, you'll appreciate these deep French nails. Their thick white ends lead the way to clear pink nail beds and flowered jewels. For even more detail, consider adding larger details like sparkly silver butterflies.
10. Marbled Light Pink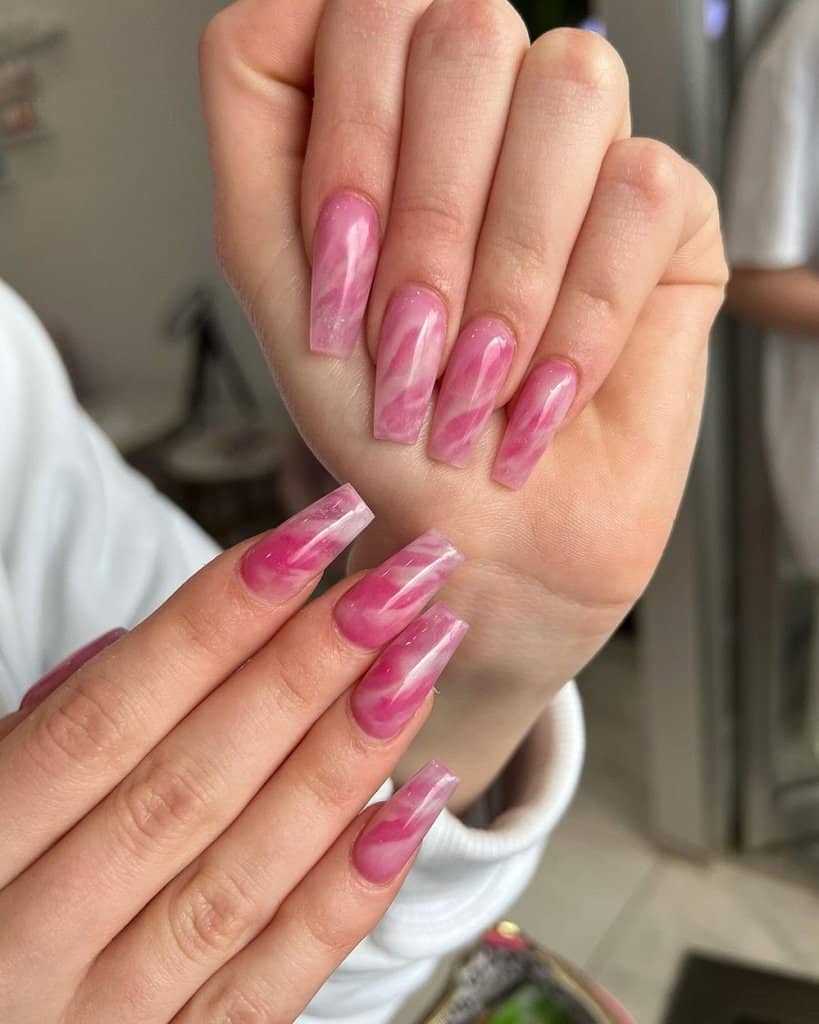 Not every nail design has to feature jewels and sparkles to be beautiful. These clear coffin nails feature a classy marbled swirl with a hint of sparkle.
11. Light Pink with Silver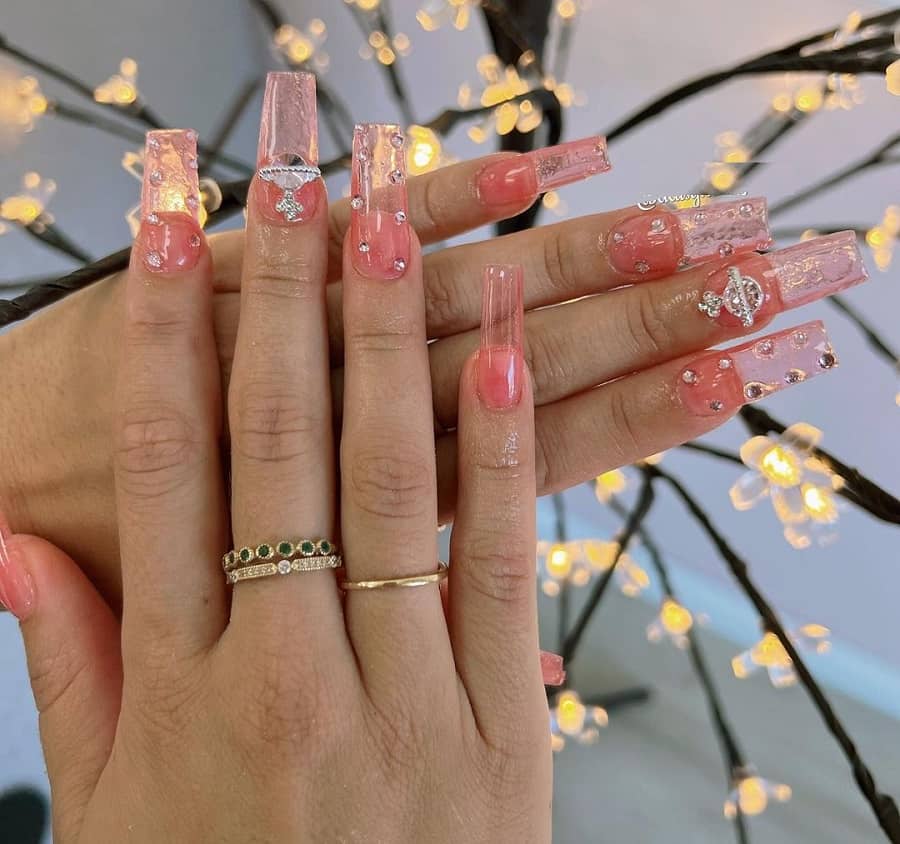 These clear pink coffin nails sparkle with plenty of silver detail. Emphasize the length by lining edges with tiny jewels. The middle fingers can flaunt the larger accents while the little fingers can be left plain.
12. Blue and Gold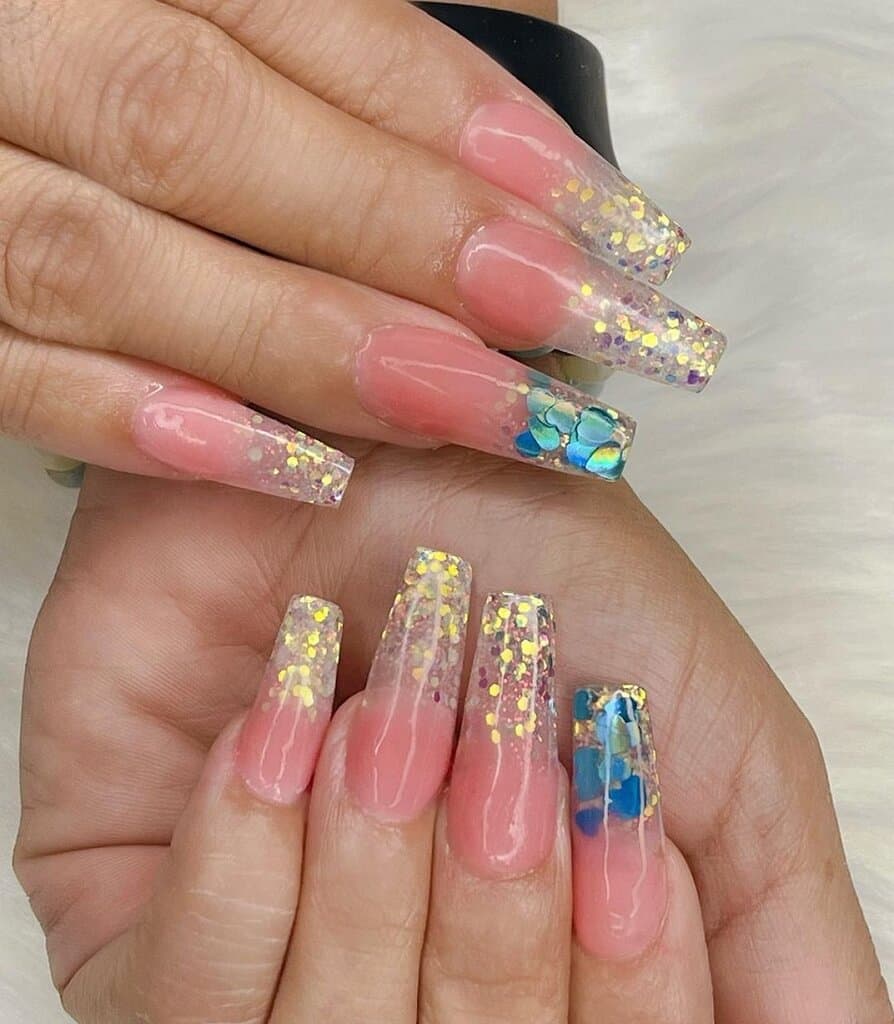 A combination of large and small gold and blue flecks decorate the ends of these long coffin nails. Leave the nail beds clear pink so as not to overwhelm the design.
13. All About the Details
Thin and thick nails alternate above. They rock every kind of nail detail, from the clear pink gel polish to stickers, jewels, and charms. This design is perfect for the lady who can't get enough detail in her manicure.
14. White Wavy Lines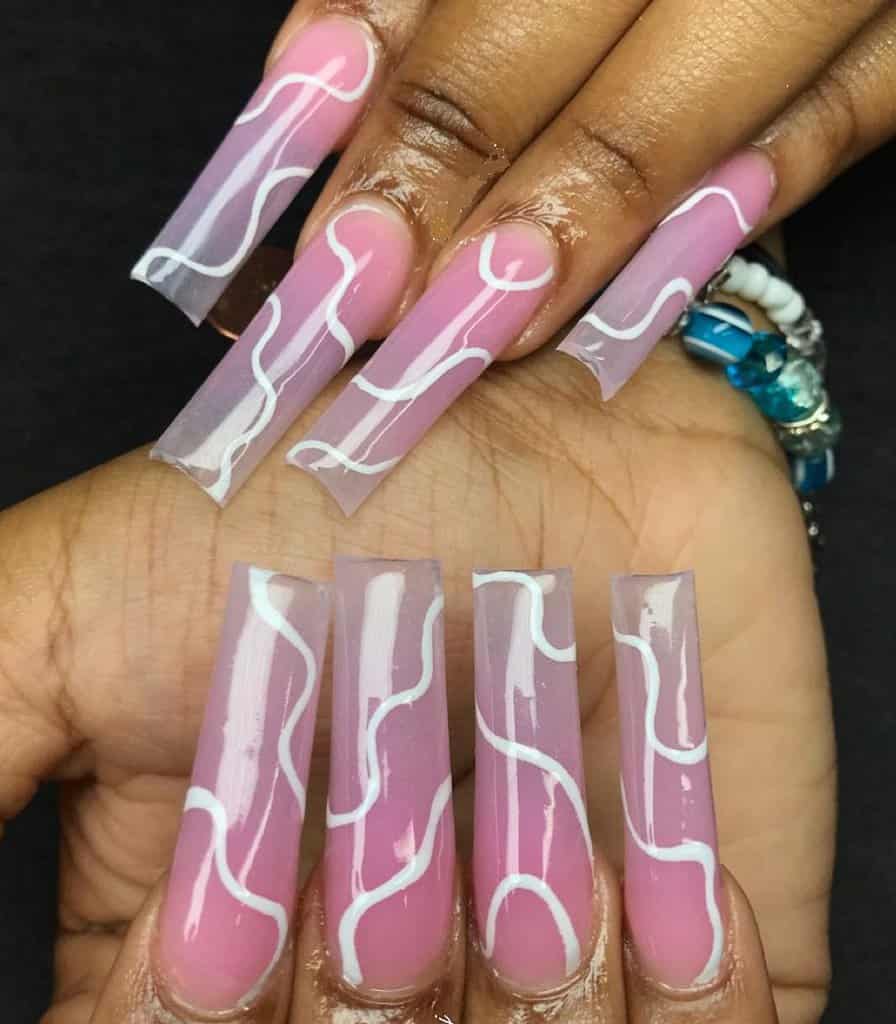 These thin white wavy lines can decorate any lady's clear pink nails, whether they're long or short. Be sure to gloss over them with a clear coat for a seal of shine.
15. Flowers and Flecks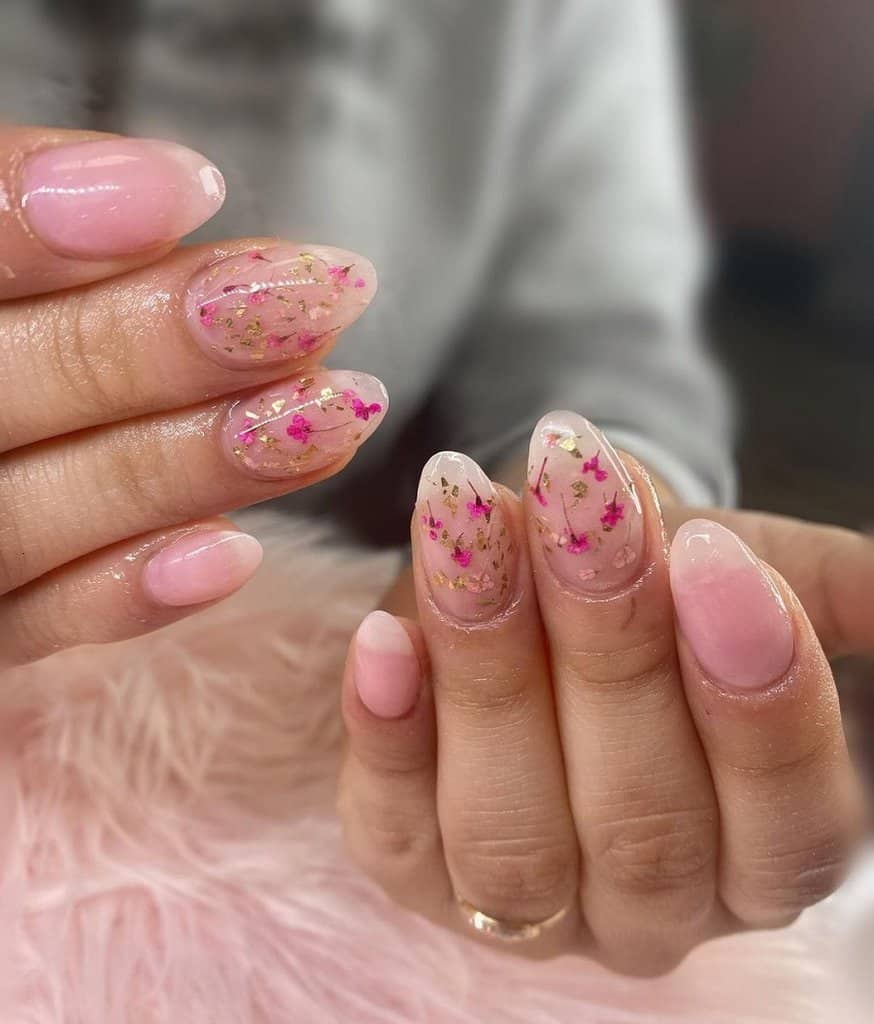 For just a little design touch on your nails, decorate only the two middle fingernails. We love how elegant and chic the floral stickers seen here are with gold flecks surrounding.
16. Neon Clear Pink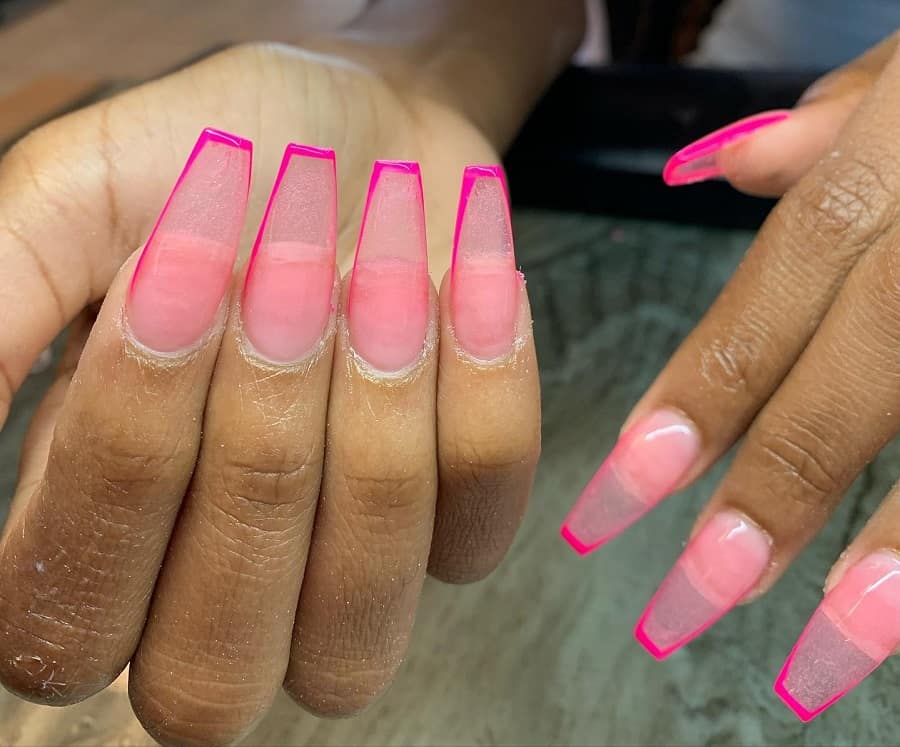 Are you over those pale, muted tones for your manicure? Choose hot or neon pink for your clear nails. Make a bold outline at their ends, with or without lining the edges.
17. French Tip with Cherries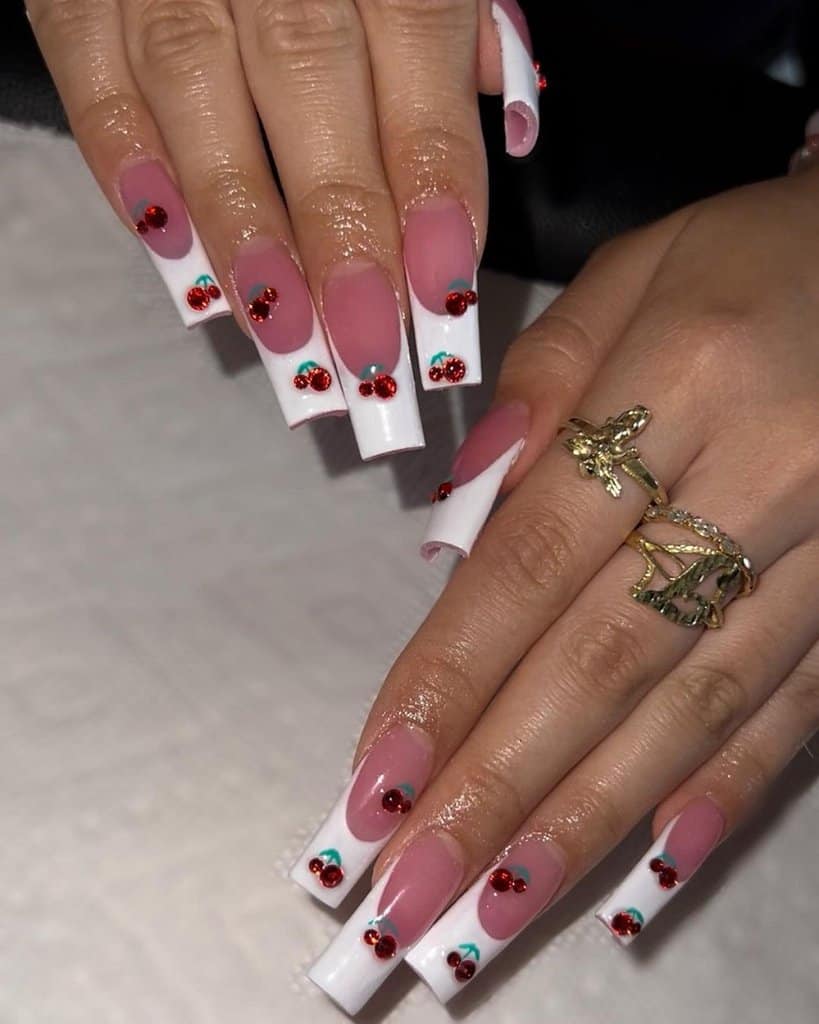 These cherry nail stickers will literally be the 'cherry on top' of your manicure! Coupled with deep French tips and pink nail beds, the design is refreshingly youthful.
18. Clear Pink Ombre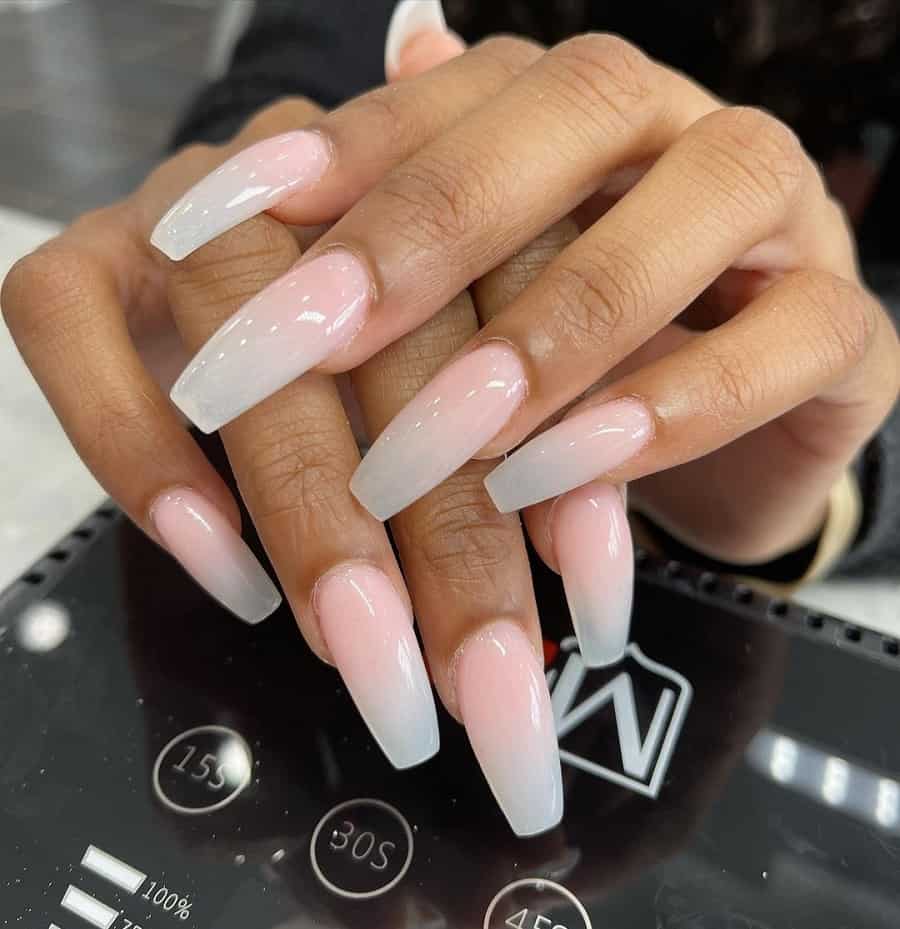 Chic and sophisticated are what everyone will be thinking when they see your clear pink ombre nails. These beauties are gorgeous on any nail shape.
19. Pointy Clear Pink Stiletto Nails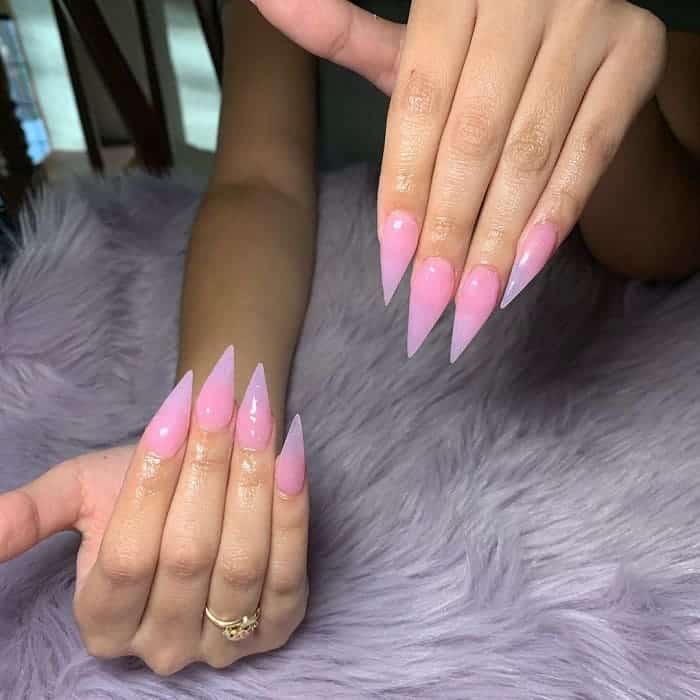 Long stiletto nails with a pronounced pointed tip make a bold statement not just because of their sharp shape, but because of the clear pink polish they flaunt!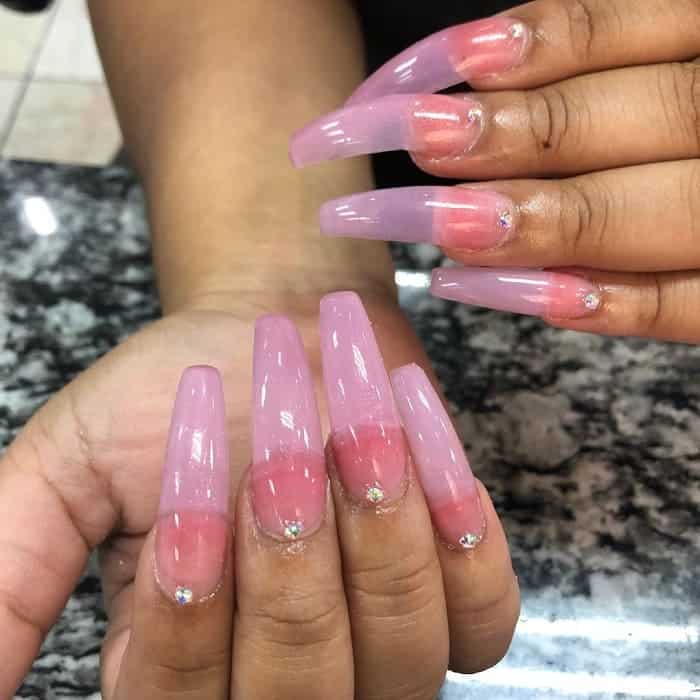 Do you love being extra in all things fashion? Go big within clear pink! To emphasize their length, you can add a small or medium-sized rhinestone at the center of the top of the nail.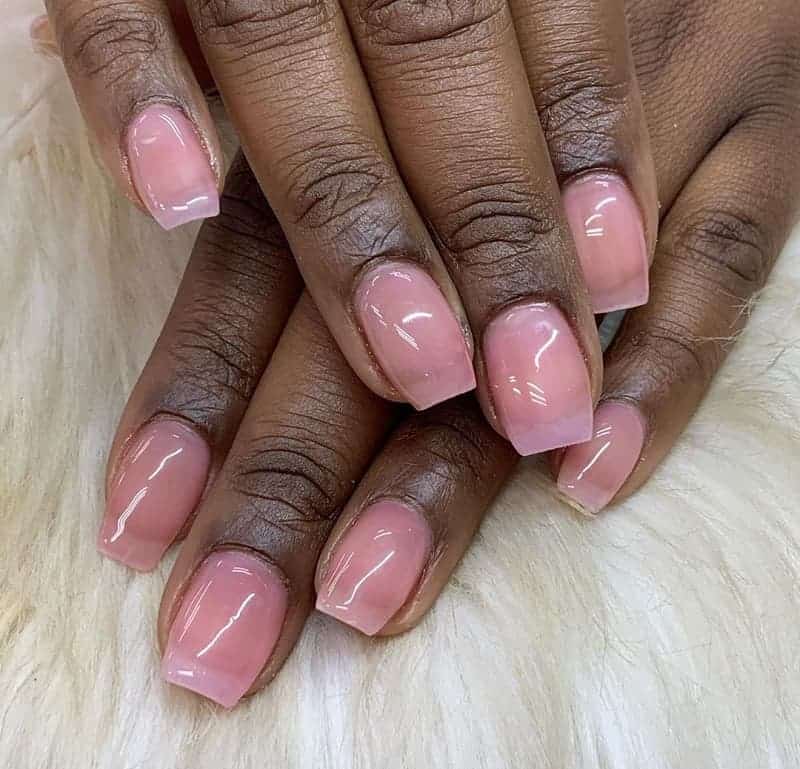 For a manageable length that is practical for daily tasks, go with clear pink short square nails. Get all your work done with a stylish manicure! Ladies with a dark skin tone will love how clear pink flatters.
22. Glittery Clear Pink with White Detail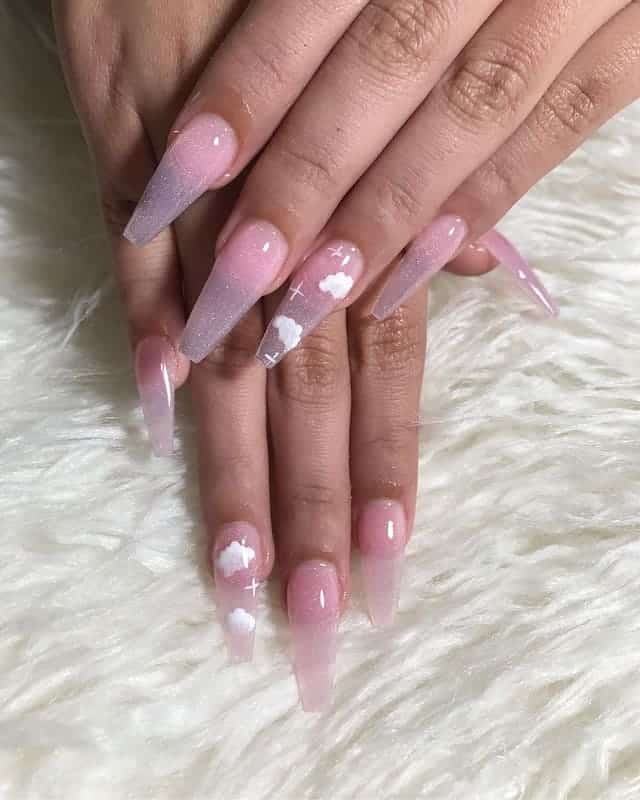 Another stylish way to wear clear pink nails is by choosing a nail style in an extra-long length.
The above clear pink coffin nails were painted over with a clear coat of glitter and feature a cute cloud and star design in white polish on the accent nails.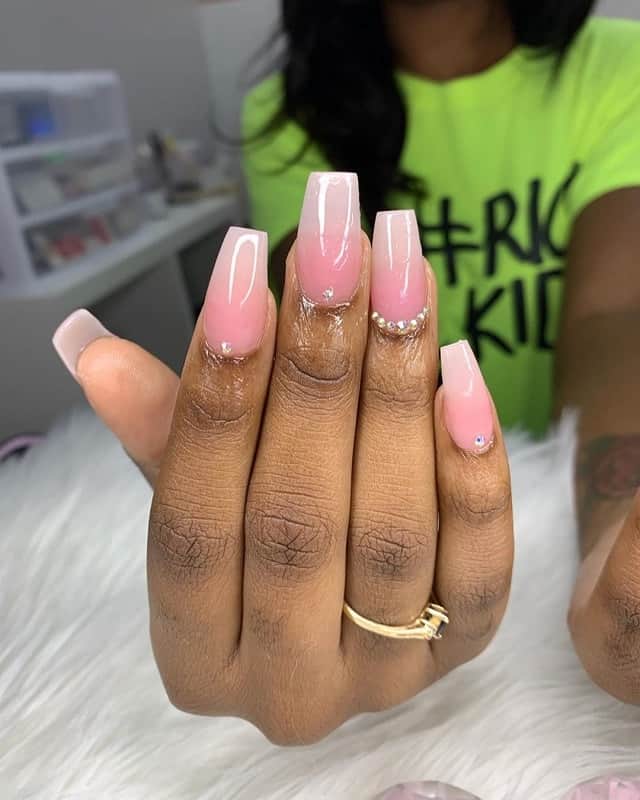 Use clear pink at the tips of long nails with a darker pink nail bed. For easy detail, place a tiny rhinestone at the top center of each nail. To set apart the ring fingernail, line its top with more than one rhinestone.
24. Light Pink Clear Nails with Large Stones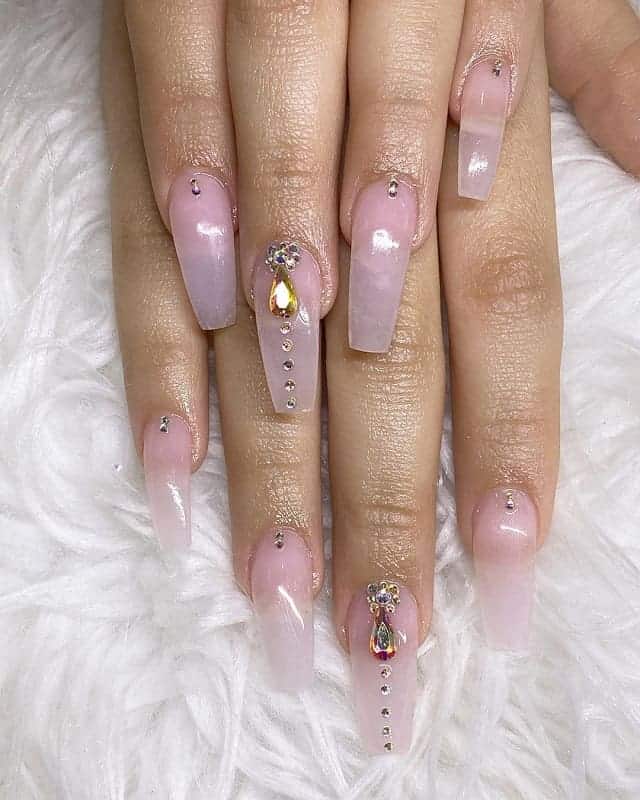 Balance out a bunch of little rhinestones on clear pink coffin nails by adding in larger rhinestones. The center nail of this set features large yellow stones, allowing you to get more creative with your own personal design.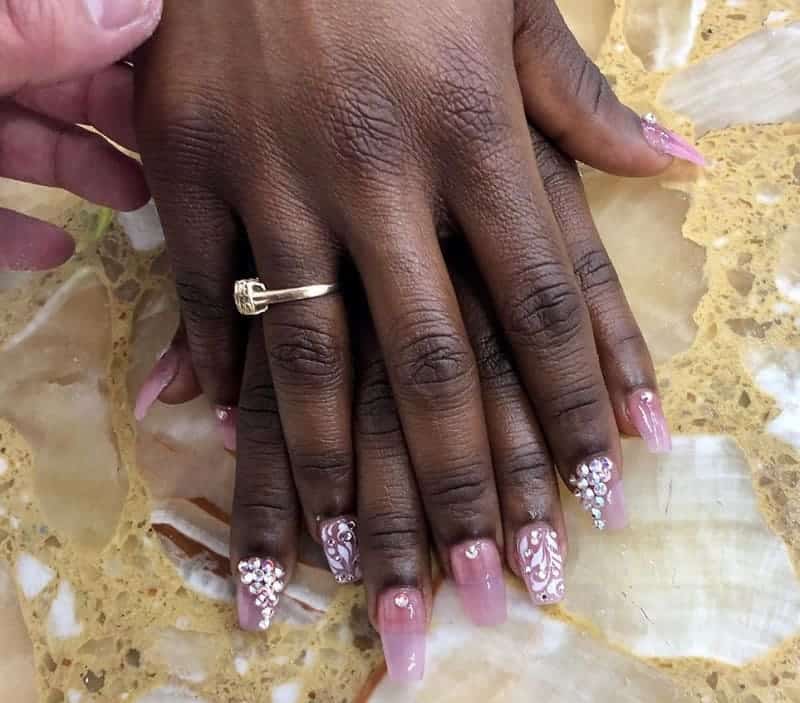 Just in case you consider your skin tone when choosing a nail polish, take a look at how beautiful clear pink nails will look!
These beauties also boast a beautiful arrangement of small pointed rhinestones and pure white swirled art.
As you can see from our top 25 favorite clear pink nail designs, just because the color is transparent, that doesn't mean it comes without style! If you're not familiar with adding detail to your nails, start small.
A couple of tiny rhinestones are easy to handle and can make your clear pink nails look even better! As long as you're happy with your nails, that's all that matters!