Sure you may have tried pink, blue, and green ombre nails, but you haven't been around the nail block if you haven't tried red ombre nails!
Ombre, the practice of smoothly blending two colors together, has been used on nails for awhile now and it's safe to say the technique isn't going anywhere. When you throw red into the mix, you can create nail designs that are everything from romantic and fierce to bold and moody. Aiming for something in between? Create that too with red ombre!
It doesn't matter if you have long nails or short nails – red ombre looks great on all nail shapes and lengths. Get ready to be inspired with our list of luscious designs for red ombre nails.
Radiant Red Ombre Nail Designs
Whether your nail goals are soft and romantic or edgy and bold, we've got something for you in these 10 ombre red nail design ideas for 2023!
To create bold, fierce nails, a red to black nail design is a must. They're perfect for creating a spooky nail look for Halloween, but also work for just fierce vibes for daily wear!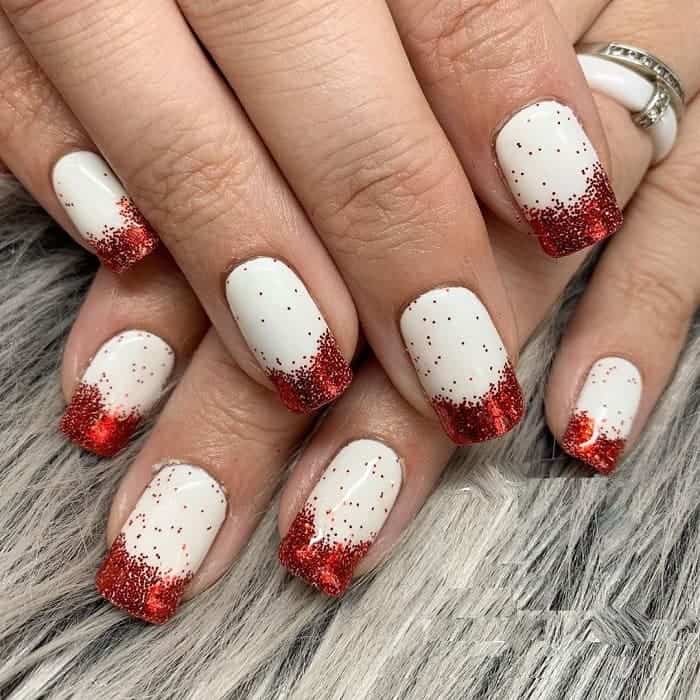 We love a glittery nail design and these glitter-red tipped white nails are super cute! Wear these nails for any party or add your own little red heart decals to spruce them up more.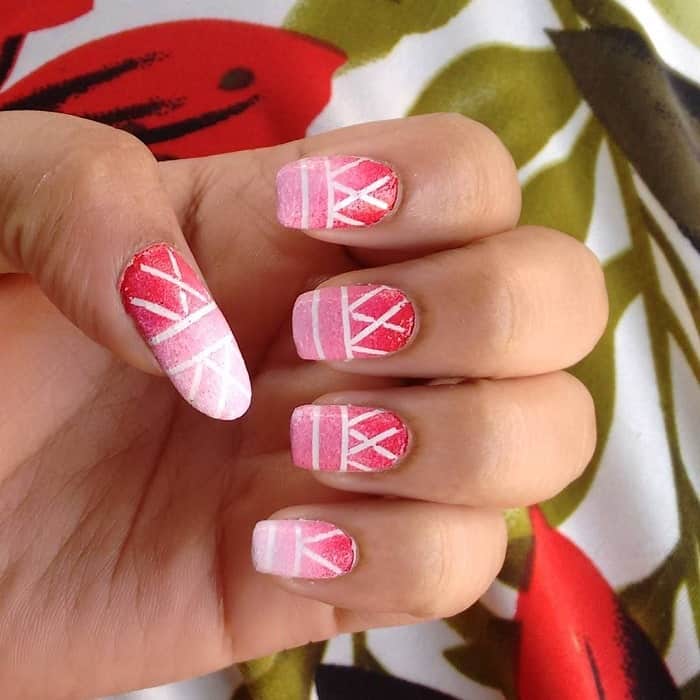 Using nail tape in thin lines, you can add cool patterns to red ombre nails. These ones show off diagonal and horizontal lines, but you can get creative and make other patterns as well!
4. Red And Gold Ombre
Get in the holiday mood easily with red ombre nails that show a little gold sparkle on their tips. These shiny round nails are easily decorated for Christmas not just with gold glitter, but with other accessories like rhinestones.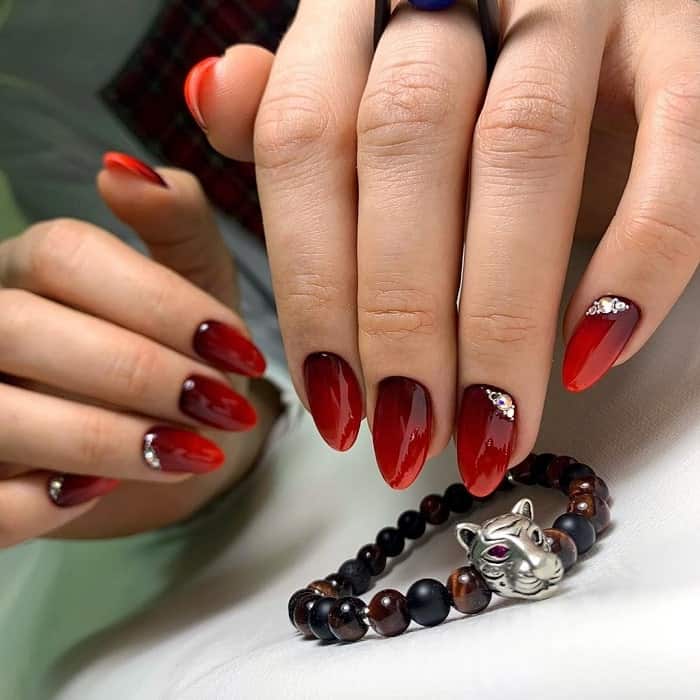 A rich red ombre graces long round nails. We love the faint blur of black near the tops, emphasized even more with tiny crystals in one corner of the two end nails.
6. Red Ombre Coffin Nails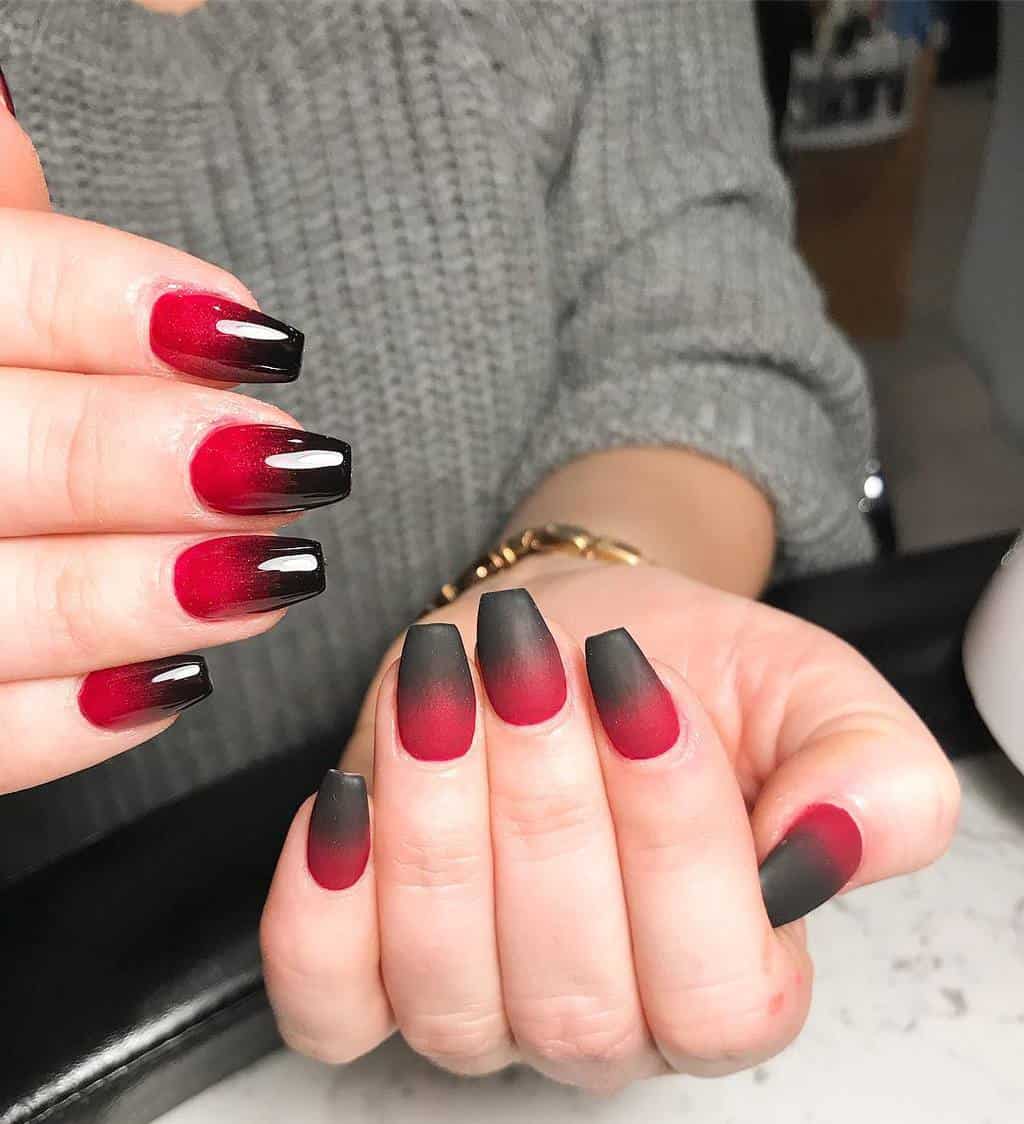 Can't decide between a shiny red ombre or matte red nails? Choose both! On each hand, coffin nails fade from red to black for an edgy design you'll love waving around everywhere!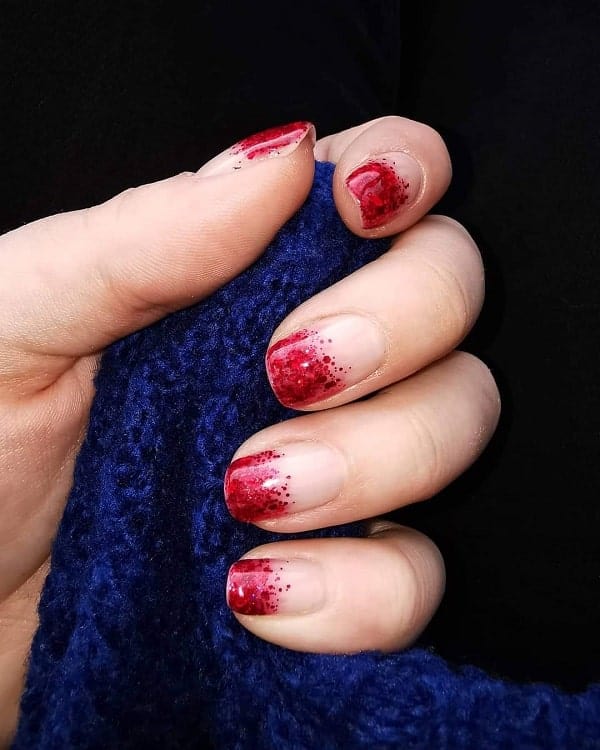 If red ombre with black isn't the color pairing for you, try clear or natural nails with your red ombre. These short round nails are a favorite of ours with their glittered tips!
8. Red Ombre Nails for Christmas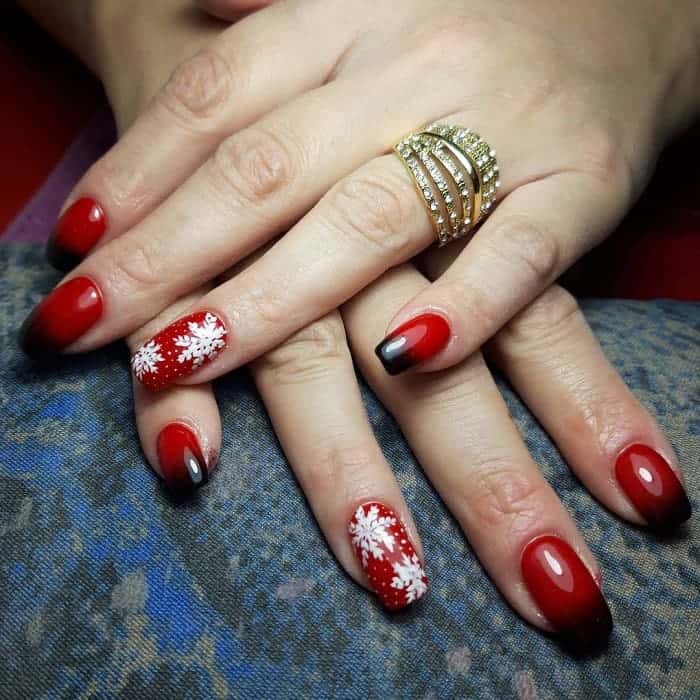 When Christmas-time is here, show your holiday cheer with shiny red ombre nails paired with white snowflakes on plain red nails. You'll be feeling festive in no time!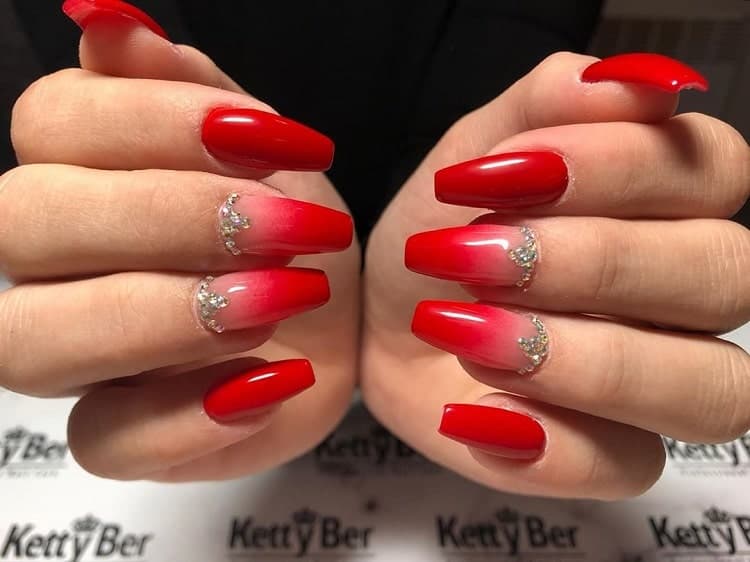 Light pink and red ombre are two colors that shine together on long coffin nails. Make them stand out a bit more by placing small and medium-sized diamonds or rhinestones at the tops.
10. Red And Green Ombre Nails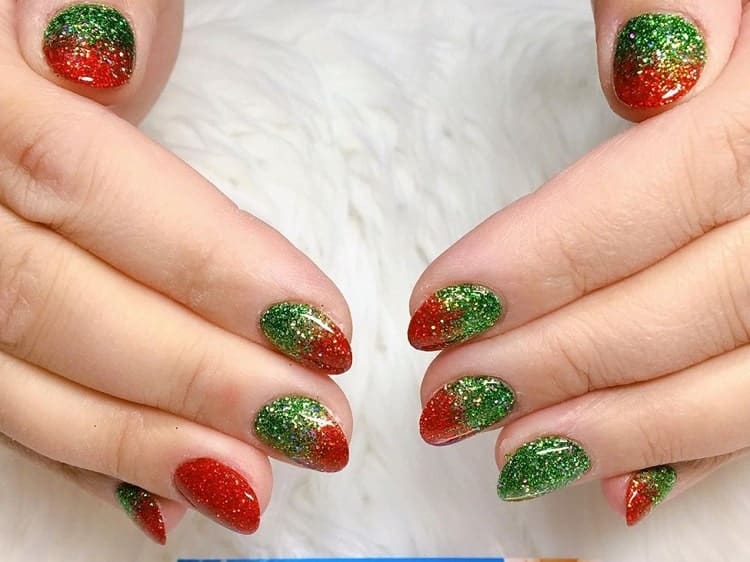 There's no better time to wear red and green ombre nails than Christmas! Rock these glittery beauties all December long, protecting them with a top coat for shine.
Feeling inspired to create your own red ombre nail design or use one of the designs above?
With as many colors as there are in the world to complement red, we are confident you'll find a gorgeous red ombre nail design to suit your style!