Dope is the word we are using a lot nowadays. The best way to explain how you feel about anything that is cool, lit, awesome or amazing is dope. Therefore we have these 20 amazing creations that are perfect for our trendy women who like to be informed and in style with everything in their everyday life, and we are starting off with nails.
Popular Dope Nail Designs
Be a trendsetter with these, and don't let anyone have them before you do. We believe that there is a bit of everything for everyone out there on our list and that you won't be disappointed. Just make sure to have an appointment at your favorite beauty salon to ensure the quality of your nails!
#1: Mean And You Love It
This black and yellow dope nail design looks mean, fierce and cruel. Big bling is in at the moment, and black is the color that can be paired up with anything, so have fun with this creation while looking like a true cruel princess.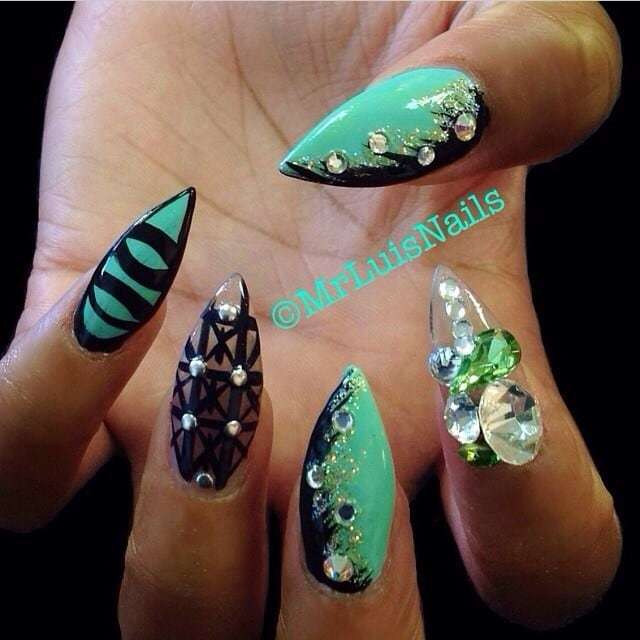 Blue color with some green gems and black details looks like it's drowning in water, and we can only help out with stylish playing them! These nails look like they've found an inspiration at the bottom of the sea and made friends with seaweed since that is the feeling they are sending out to us.
#3: Hungry As Always
Are you a fan of pizza? Because I know I am! These dope nail designs are perfect for every woman who likes to eat and doesn't care about prejudice. Pizza is the best recipe for breakups, perfect meal for the Friday or Saturday night out, and also a perfect print for your dope nails!
Some Indian vibes we see here. These nails have a mind of their own and they look like they've been on a festival. Fun, cheerful and colorful these nails may help you out when meeting new people because they scream "Hey, I'm a very chill and kind person." So keep that in mind when greeting someone the next time.
#5: Soft Princess
Princess is here everyone, bow down! This dope nail design is a true representation of women who like to be treated nicely. With stunning manicure like this everyone will want to see them up close and ask for your nail technicians number, so be ready to give out some information.
#6: Extreme
Extreme nails for our extremely beautiful women. If you are a lover of black and gold, this manicure screams your name. If you like to be spoiled and to always be the star of the show you will definitely get that effect with these dope nail designs. Perfect for night outs and any glamorous events.
#7: Army Style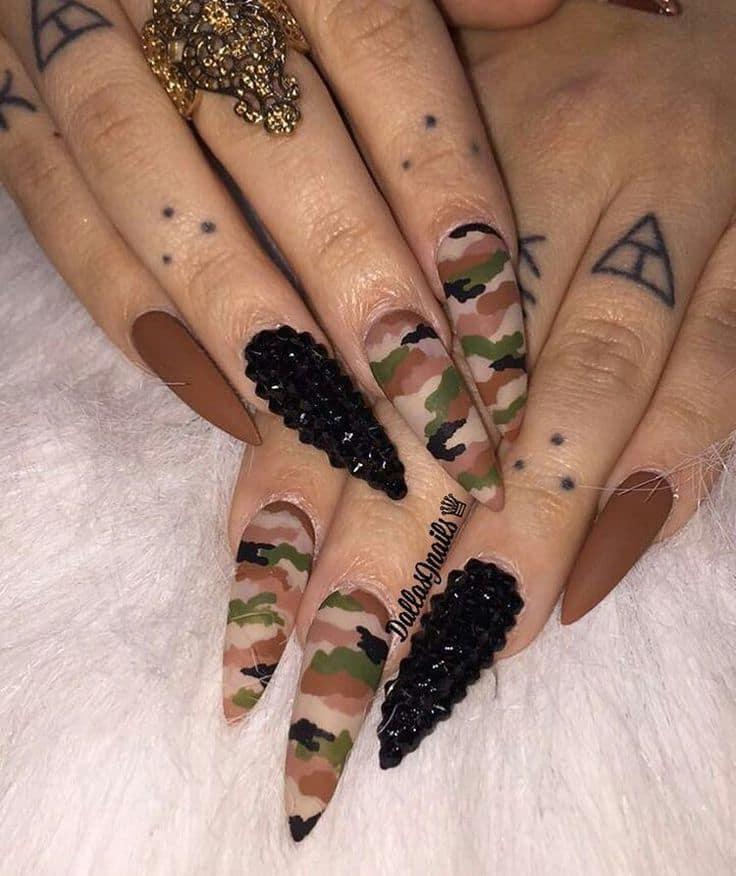 Army. An organized military force equipped for fighting on land. Can they literally get any more dope? These nails have such a cool explanation, the look is stunning, and women who try them out will look like they are ready for a fight. Well, you are maybe not ready to fight on land, but for sure you are prepared for your everyday life activities, meetings, tough tasks, and parties.
#8: Literally Dope
When you are out of ideas, write on them. The word dope is spelled out on these nails so it doesn't get more obvious than this. When you are not into those hidden messages and you are just straight to point, write out dope on your nails and watch how people treat you. Especially if you get them in this vibrant pink color.
#9: Purple Has its Purpose
These nails are just to die for. Our dope nail design list wouldn't be complete if there wasn't a beauty as this one. Magnificent purple with golden gems and a see-through base. Perfect nails for every girl who likes to be treated with care and love, since they are an obvious representation of feminine and soft women.
#10: Make It Drip
Kylie cosmetics anyone? Black and white color with dripping effect remind us so much of the whole Kylie Jenner beauty line, and we can't deny the quality of her makeup, but we can't either deny the beauty of this precious manicure.
#11: Makeup Junkie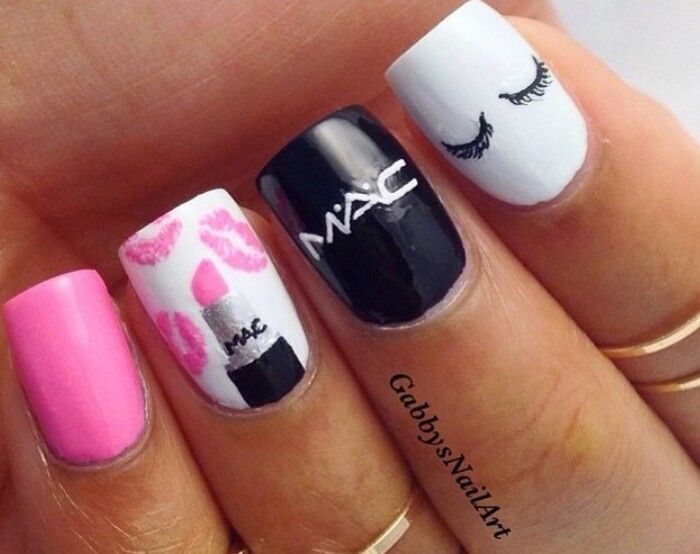 Speaking of Kylie and makeup, hello MAC. MAC has been around for more than 30 years believe it or not, and they are one of the most sold brands worldwide. If you are a makeup lover (but let's be real who isn't?) then run to the salon to start wearing these dope nail designs as of now.
#12: Miss Dior
Some subtle hints never killed anyone. Dior and Chanel are the most famous French brands and they are very high-end looking. Women who are all about that luxury life tend to wear their creations, but if you are on a budget, you should try out these nails. You don't have to carry a Dior handbag to feel stunning, baby steps first, so try out the black and white Dior or Chanel design on your nails.
#13: Harder
Again with the Kylie Jenner makeup line, but who could resist them? Dope nail design with royal blue and the golden color looks bomb and juicy.
#14: Fluff
It's so fluffy I'm gonna die! Light pink with ombre effect on a ring finger and some stunning nail drawing art makes me rethink my previous choices that I've made when scrolling through this list, and what about you? Gosh, it's so hard to decide.
#15: Sugar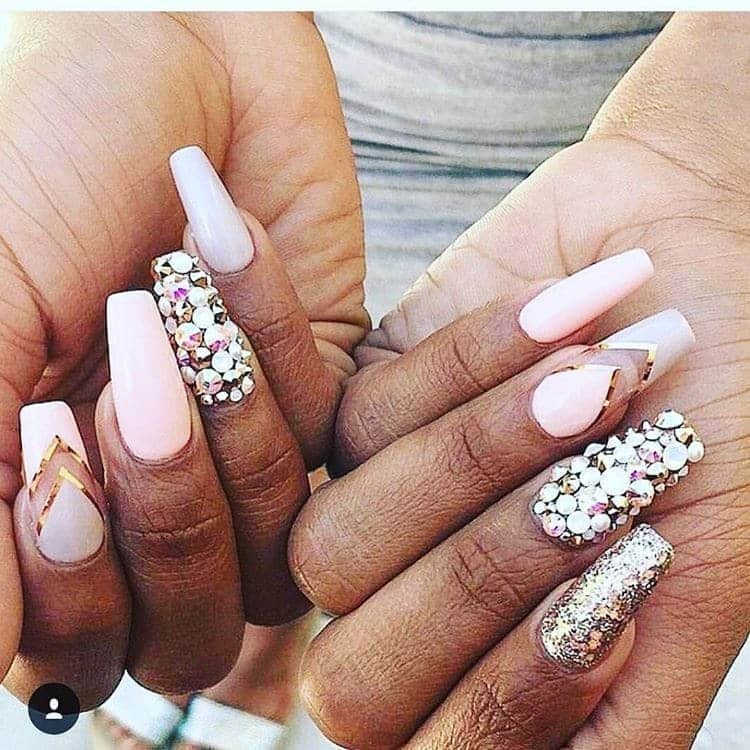 A lot of sparkles is what we get if we go for these dope nail designs. Glitter is always a win combination when pairing up with a sequin dress and anything shimmery.
#16: Fruit Time
Fruit salad is the most common meal during the summertime worldwide. Our watermelon dope nails are here to remind you to eat healthier since the summer is just around the corner. Stylishly wear these at the beach while drinking your cocktails by the pool.
#17: School Throwback
A+ for the decision-making, that is if you have already made one. Our school dope nail designs are perfect for your throwback, or if you are still in school. Hopefully, they will bring you some luck and extra motivation for studying when you start pulling them off.
#18: Gentleman
A gentleman is a polite man who is willing to act it's best when in the presence of a lady. So, if you want to be treated like never before getting these nails, guys will get the message since it is so obvious.
#19: Blue Love
Light blue color with some Swarovski looking elements and heart shapes is so romantic and polite looking. These nails should be your Homecoming option or your prom nails.
#20: Cookie Monster
We've all watched this show at least once in our lives. Dope nail designs would be incomplete if there wasn't more of these food creations. Especially if you are a tough cookie get this print, and enjoy looking presentable and tasty.
These Unique Dope Nail Designs Will Surely Catch Your Eyes
If you are a lover of dope creations we got you covered. Starting from the lightest colors then transitioning to the dark matte ones and ending it with the food and school prints, who could decide which way to roll? We have a suggestion. Start by eliminating 10 of these since probably not all of them are that appealing to you, and then set yourself a goal to try out the rest of the chosen 10 by the end of this year. You will switch them up from time to time, and will always be the first one to rock them.