Nail art has grown to become a wide variety of styles and design schools such as claw nail designs and Hello Kitty nails.
Beautiful Hello Kitty and Claw Nail Designs
Sharpen your nails and gather your nail polishes because here we've got a list of 20 Hello Kitty and claw nail designs to inspire creating your own version.
Magical Disney Nail Design Ideas
#1. Cheetalicious
Want to get the cheetah girl out of you? Well, you can do just that in this Hello Kitty nail design, by adding a sprinkle of sweetness and combining it with the famous Kitty style.
#2. French Hello Kitty Nail Design
Combine your preferred style and your favorite cartoon character, with this hello kitty inspired French nail design.
#3. Kitty Tips
What a cute idea to use the tips of your nails as a canvas to draw your favorite cartoon character! Check out these easter nail designs.
#4. Floral Hello Kitty Theme
Infuse this season's hottest pattern: the floral print to your Hello Kitty nail design. Just paint on those beautiful flowers above a glossy red base coat. Penetrate that, with a singular accent Kitty tipped nail and you're good to go.
#5. Leopard vs French Style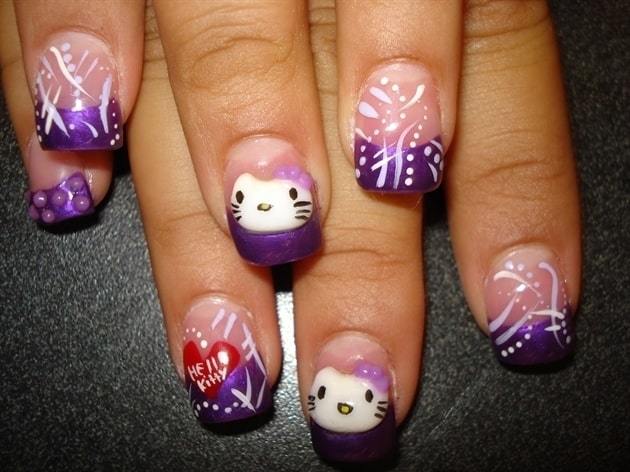 Mix and match your nail art's favorite trends and get your personalized Hello Kitty nail design. Here a combination of French nail style with the famous leopard pattern on perfectly pedicured long nails.
#6. Zebra Print Inspiration
Creating a hello kitty inspired nail design doesn't always mean drawing bows and mimicking this character's famous face on your nails. You can always inspire from its color theme to create your own Hello Kitty nail design.
#7. Kitty Paws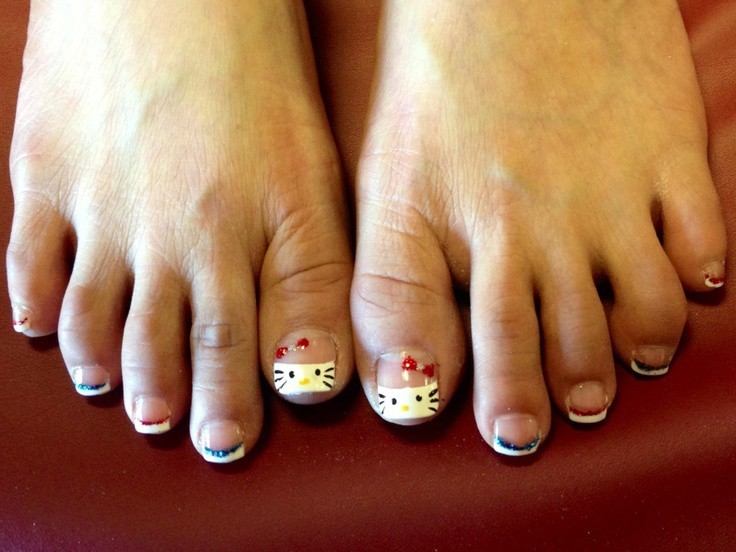 Toenails are just as important as your nails, never forget to dress them with stylish and trendy arts, nevertheless Hello Kitty nail art.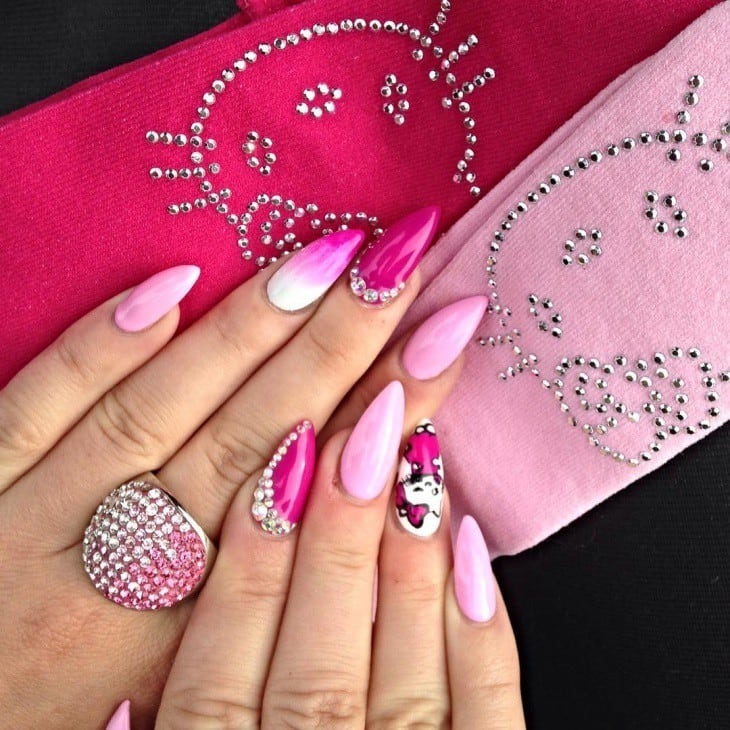 When you're sweet as candy but sharp as a knife, reflect your contrasting personality in your appearance with stiletto claw nail design ombre in shades of pink.
#9. Velvet Sweetness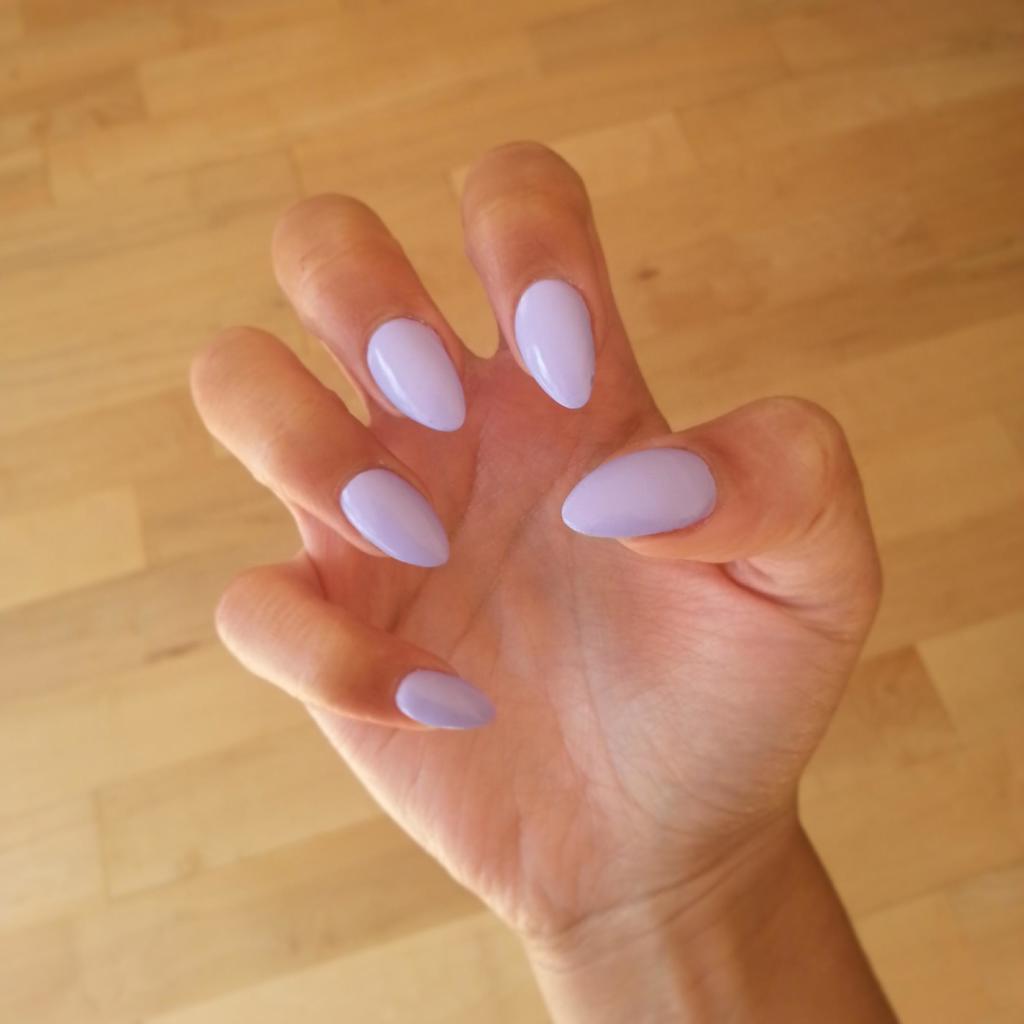 This is one of the best nail arts where you can show off your claw nails and yet still manage to keep it simple with this soft velvet color.
#10. Polka Dots Hello Kitty nails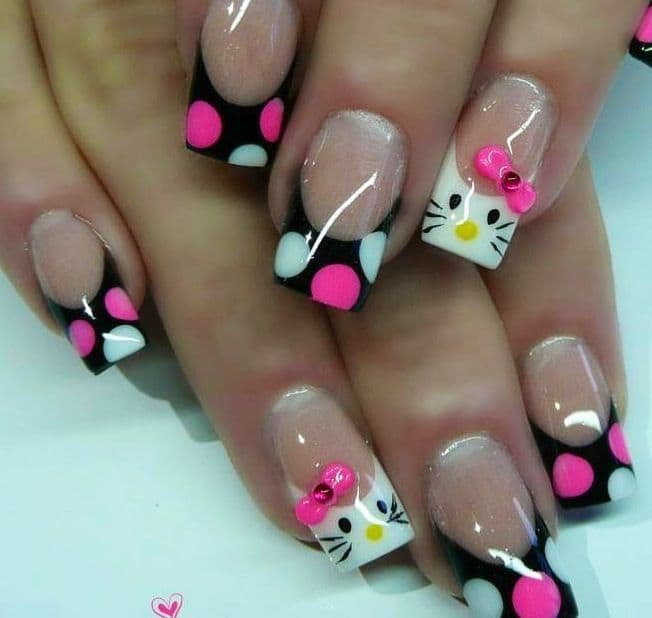 Polka dots, the famous colorful circles we see on pajamas, little girls' dresses, covering our old diaries. A pattern that we adored as children and still adore now, would certainly match Hello Kitty inspired nail design
#11. Red & Dotted Tips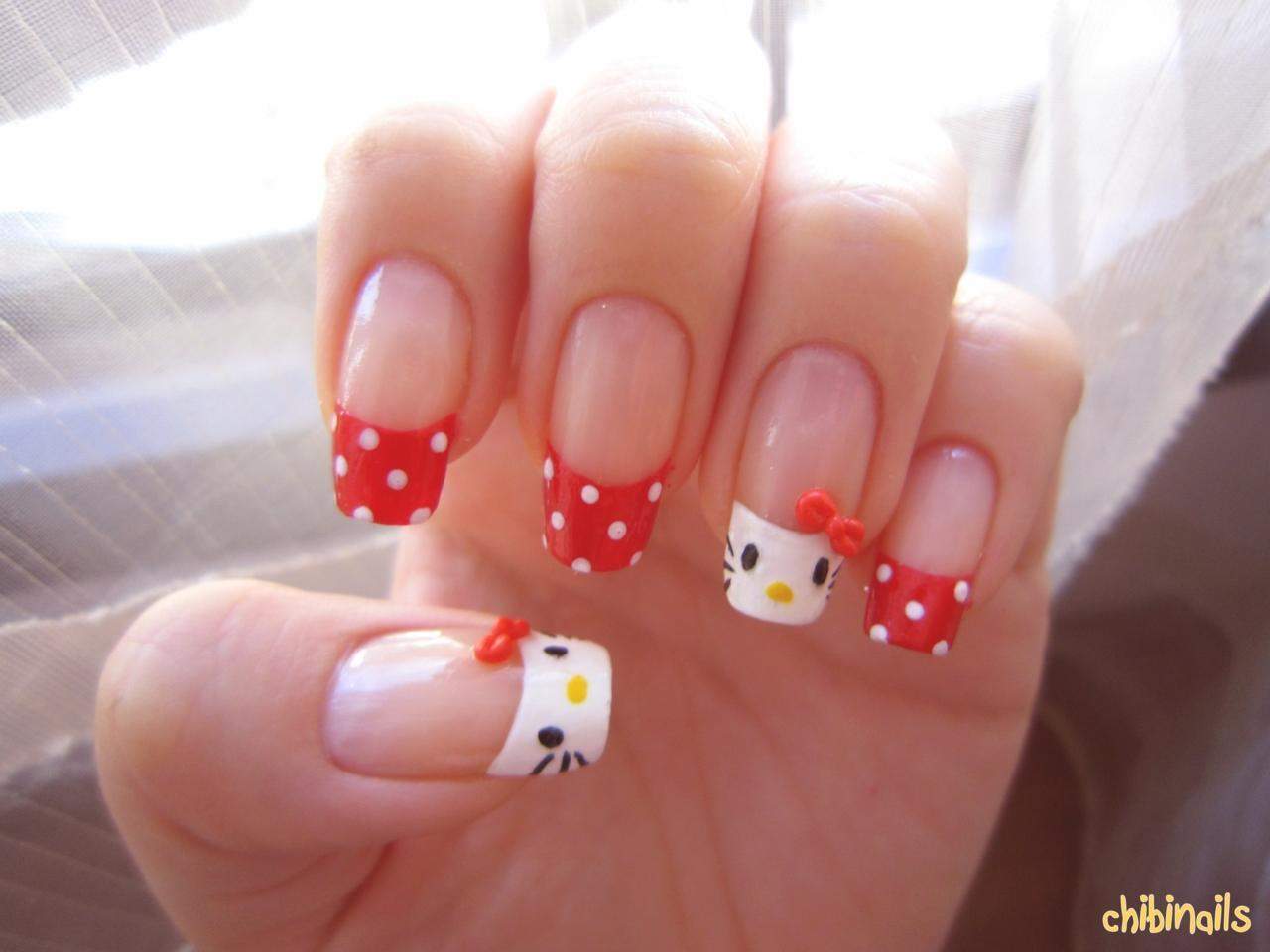 Nothing is as cute and adorable as Hello Kitty with her little head bow. So, why not accessorize your Hello Kitty tips with a 3D bow for a playful girly nail design.
#12. Paws on Claws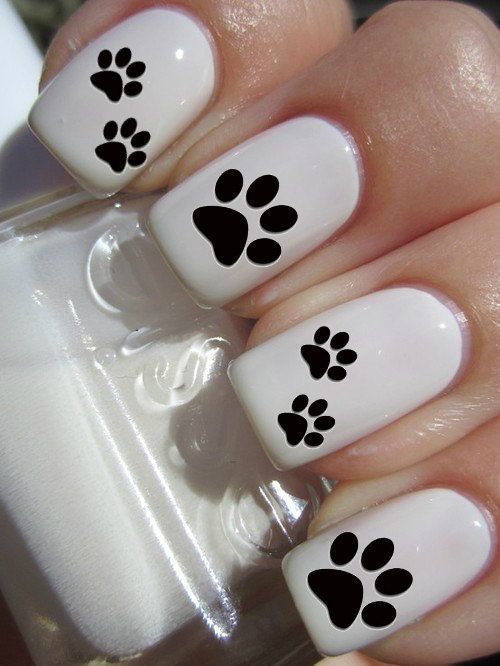 A unique nail design that might be considered quirky for some. However, we can't deny how your nails will surely attract the crowds after drawing these cute paws on a pastel white background.
#13. Cute In Dots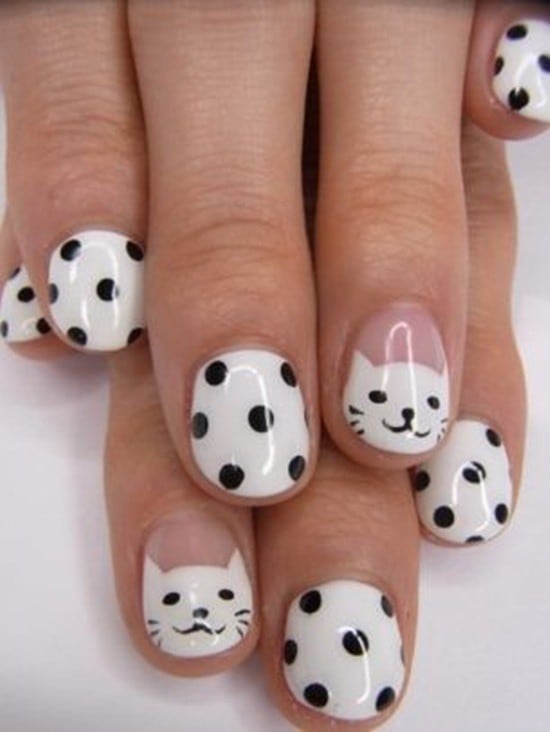 Give your short round nails a taste of sweetness with this simple yet attractive polka dots and kitten design, to end up with this Hello Kitty nail design.
#14. Gothic Nails
Give this cute Hello Kitty nail art trend a bit of darkness with this design. Create angry looking cats on the tip of your nails, accentuated with a cross drawing on a singular nail of your choice.
Adorable Nail Designs for Kids
#15. Blue Cuteness
Varnish your round claw nail design in sky-blue nail polish with a golden embellishment just at the base of each nail for a further dramatic appeal. Get the design a bit trendy and unique with multiple accent nails having cat drawings painted on them.
#16. Kitten Litter Nails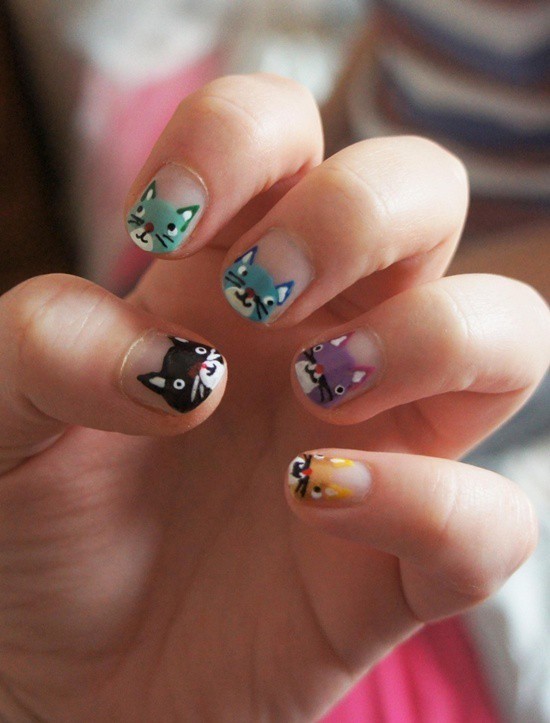 For fun and playful vibes that'll win the hearts of the crowds, go with this Kitty nail design. Paint on different colored cats as tips above a glossy transparent background and you're all set and ready to flash your childish adorable nails with pride.
#17. Pink Kitten Style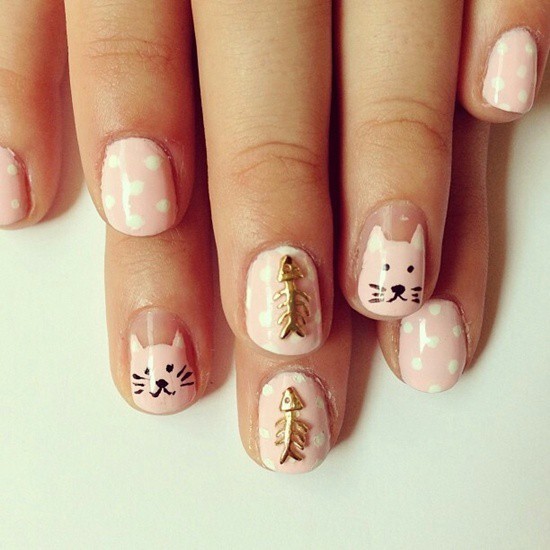 A feminine soft shaded nail design. Combine kitten themed nails with baby pink nail polish and you'll never escape being cute and classy equally.
#18. Hello Kitty Love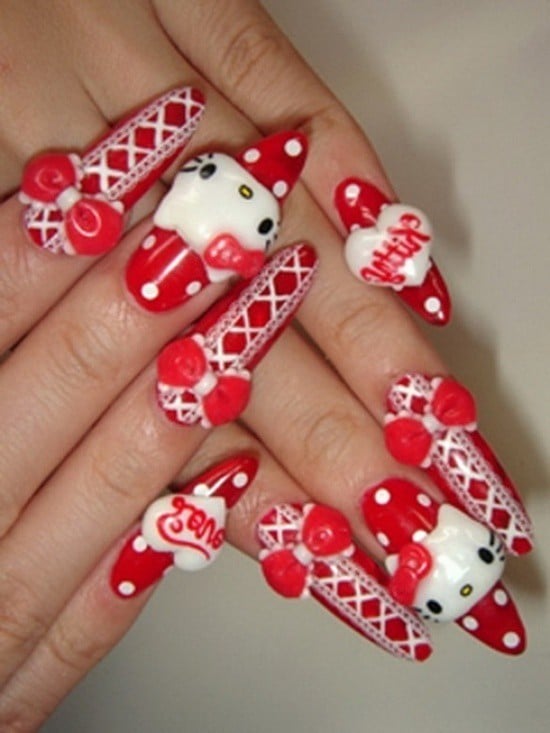 Show the love you hold for your favorite cartoon character with this red nail design on long claw nail design.
#19. 3D Tipped Hello Kitty Nail Design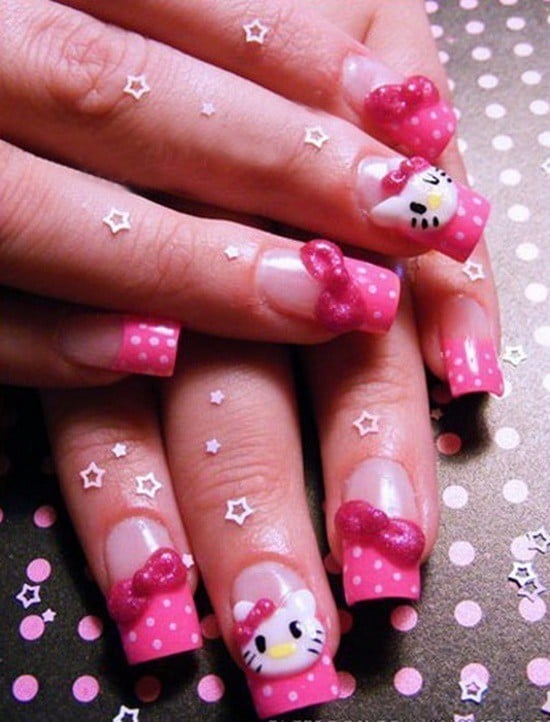 Well, nothing screams Hello Kitty as pink! Varnish the tip of your French styled nails with a pretty dotted pink design. Don't forget to line them with 3D Hello Kitty embellishments and bows to bring this design to life.
#20. Topped With Cuteness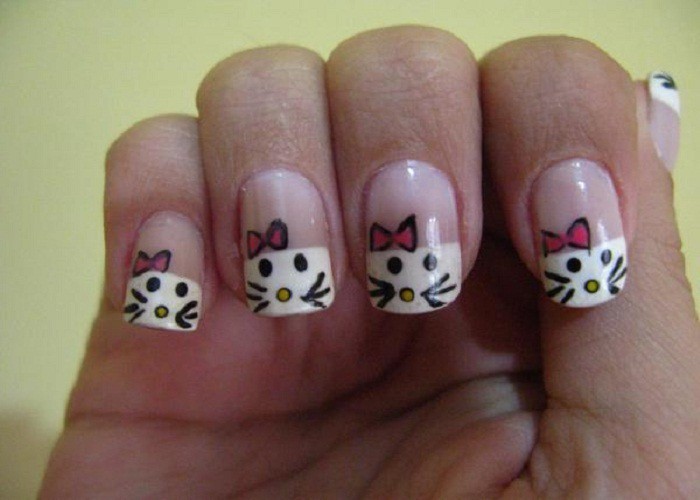 When classic French nail style becomes so plain and subtle, get your tips themed with your favorite kitten to get an adorable twist to your tradition mani.
7 Spongebob Nail Designs for Your Inner Cartoon Fan
Have a Look Some More Cute Hello Kitty & Claw Nail Designs
Whether you're a girl that adored Hello kitty growing up or a fierce lady that want sharp claw nail design to reflect her personality, or you're both. You will find the design you're looking for just in the list above.