Nail art is largely inspired by different images of plant and animals. Reindeer nail art is no exception. Reindeer live in the snowy part of the world namely in the mountainous regions of Siberia, northern Europe, and North America. Traditionally it is believed that Santa Claus's sleigh is pulled by 8 reindeer through the night sky on a Christmas Eve to help Santa deliver presents to children. Dasher, Dancer, Prancer, Vixen, Comet, Cupid, Donner, and Blitzen are eight reindeer who drive Santa's sleigh while Rudolf the red nose reindeer is the latest inclusion to the pack. That's why the pictures of reindeers have been imprinted on nails as a sign of welcoming Santa. So if you want Santa to come faster to your doorstep don't give a miss to our list of reindeer nail art.
Cool Reindeer Nail Art for Christmas
Reindeer nail art varies in texture, shape and look. Sometimes, just the face of a reindeer is drawn and sometimes a tiny image of the whole reindeer is used. It depends on the overall design of the reindeer nail art. You can also use a silhouette image for reindeer nail art. The variation of reindeer nail art also depends on the color choice. The reindeers are mostly painted in brown, white, black, orange and so on as per the design calls. Let's have a sneak peek at the designs and ideas for cool reindeer nail art for the cold season.
Create Rudolf The Red Nose Reindeer on Your Nail. Follow Video Tutorial
#1. Rodulf The Red Nose Reindeer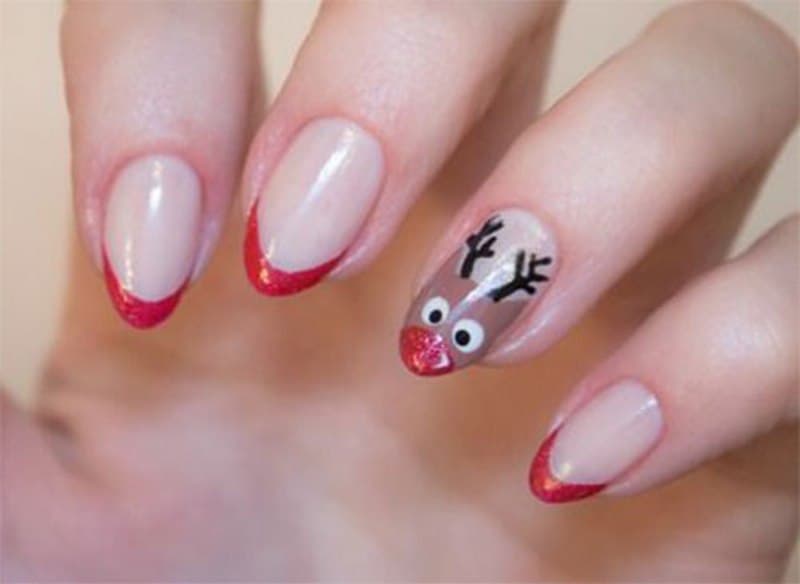 This design is simply elegant. You can have this design by painting all the edges of your nude nails by glittery red. Once the nails are red edged, draw a face of Rodulf reindeer on ring fingers. Red nose reindeer nail design is ready.
Embrace Festive Season with Winter Nails
#2. Heavenly Sleds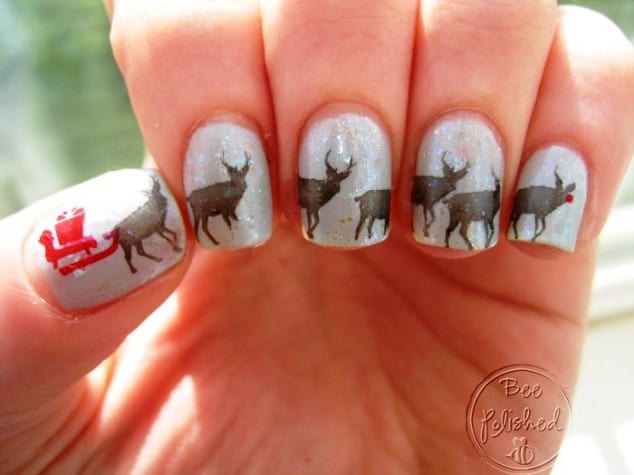 Reindeer is also known as sled puller in the icy area. It is imagined that Santa Claus uses these sleds as a ride in those areas. You can draw a red sled with the images of reindeers for this design. The red color gives a heavenly glow among the back reindeers and white silver nails
#3. Lovely Deers

This design can snatch the heart of nail art lovers. The image of the earnest glance of the rodulf and olive makes this design something out of this world. Paint your nails with crimson red, use some glitters and paint the beautiful images of reindeers focusing on their eyes. You can draw some love shapes for this lovely reindeer nail art.
#4. The A-team
If you love your friends and prefer to act as a team, this design is for you. If you think your friend circle is consisting of the A-team, you can have this design. Draw one face of reindeers on each of your nail, this will create a group of reindeers on the top of your fingers.
#5. Radiant Reindeers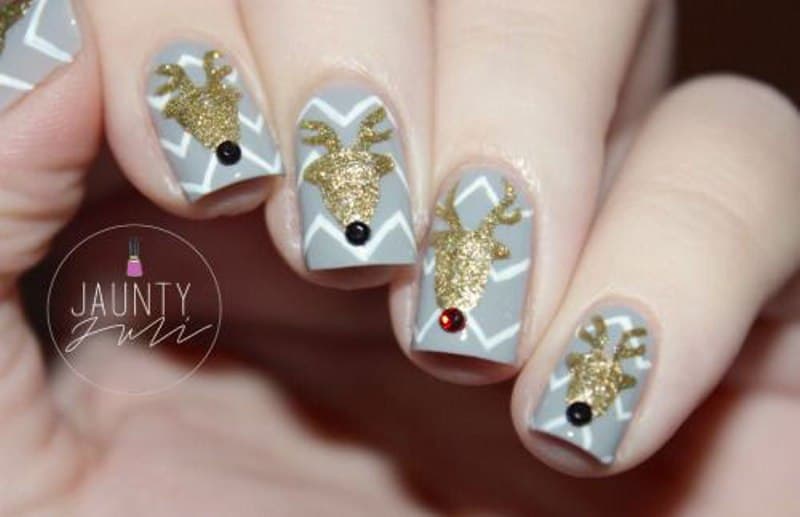 A very simple design to be applied. First, paint your nails with the nail polish you want to have as the base. You can draw chevron shape on top of that. Then draw the images of reindeers with golden glitters. You can use rhinestones too.
Reindeer nail art can be combined with tribal patterns. If you love the tribal designs and want to carry them throughout the winter, you can have this design. Putting a reindeer in between the tribal pattern will do the trick for having reindeer nail design.
Being the representative of the winter, snowflakes and reindeers share the same stage very frequently. This design comprises these two things together. White snowflakes on a red base, and brown reindeer on a white base. You can use glitters for a glitzy look.
#8. Snowman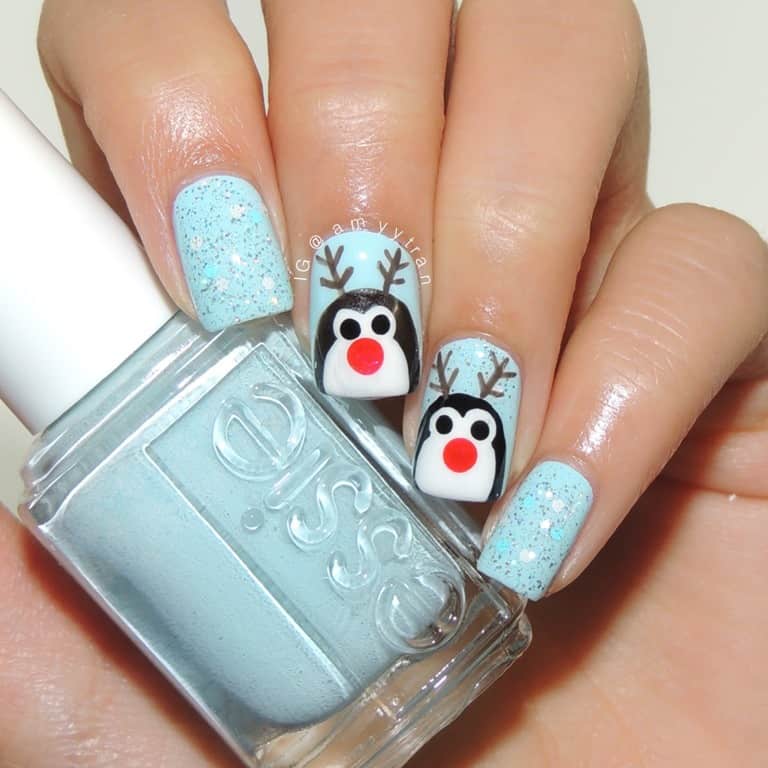 This design has combined snowman and reindeers together. Both of them are identical to winter nail designs. You can draw snowman-like reindeers on your light sky blue base for this design. Use glitters for a shimmery look for your reindeer nail art.
Coolest Nail Design for Coldest Season
#9. Christmas And Reindeer

Christmas is the most awaited festival of the year. You can add festivity to the festive by owning this nail design. This design will work both for Christmas nail art and festive nail art. If you want to have two in one, go for this reindeer design.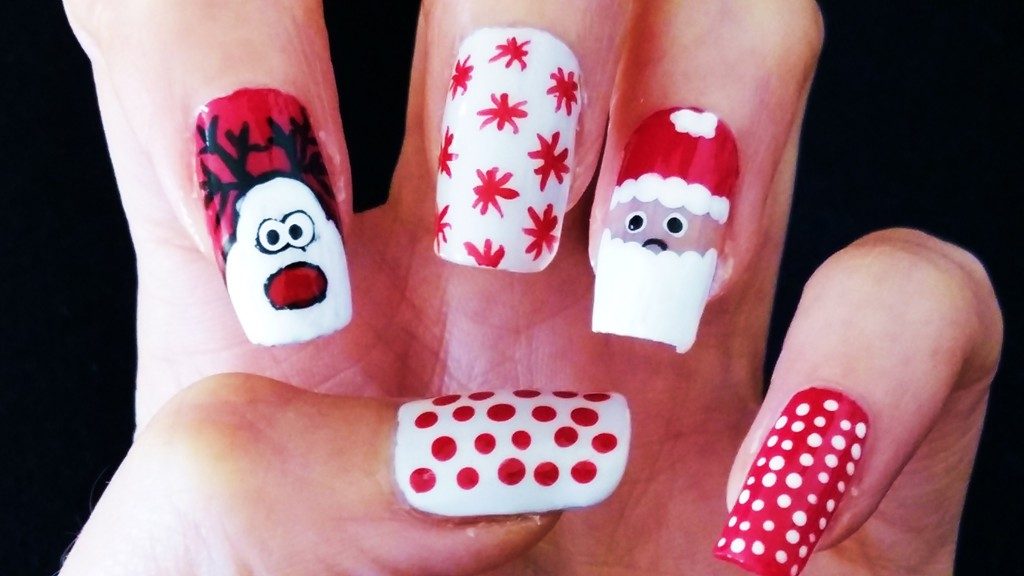 Draw an image of Santa Clause and Reindeer in two different nails. Paint some tiny snowflakes and polka dots on other nails. Use red as the dominant color because it looks so good to see the contrast between the red and white.
#11. Lone Reindeer
Reindeer can be used with other patterns. This design is something like that. Use gold glitters in two of your nails, and draw snowflake patterns on the other two. Then paint the image of a reindeer on the white base of your nails. This lone reindeer is enough for your reindeer nail art.
#12. Curious Reindeer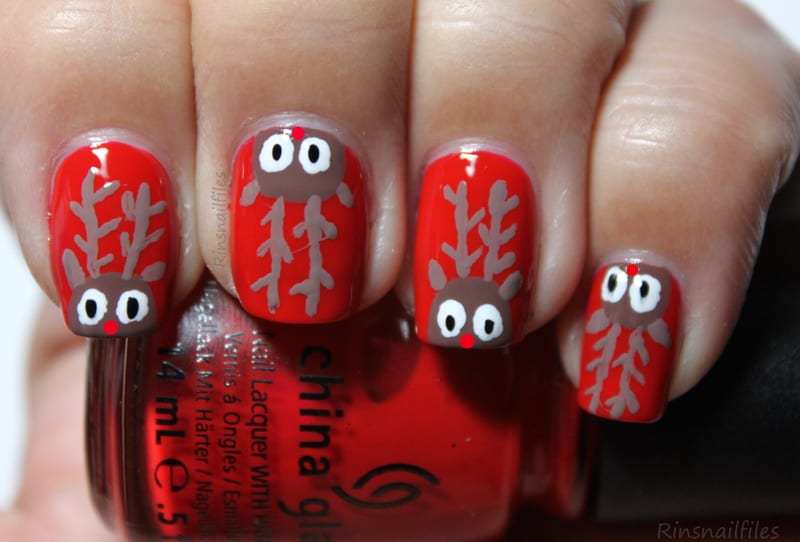 Whenever I look at this design, it seems to me that these reindeers want to ask me something. This is the power of art. It can produce feelings inside you. This curious reindeer nail art is exactly a piece of art. You can have these curious face drawn on your nails as reindeer nail art.
#13. Kids Corner
This design is especially for the kids. A funny looking Santa and images of young reindeers have been painted here. You can draw this design on your kids' nails to give them the delight of having reindeer nail art.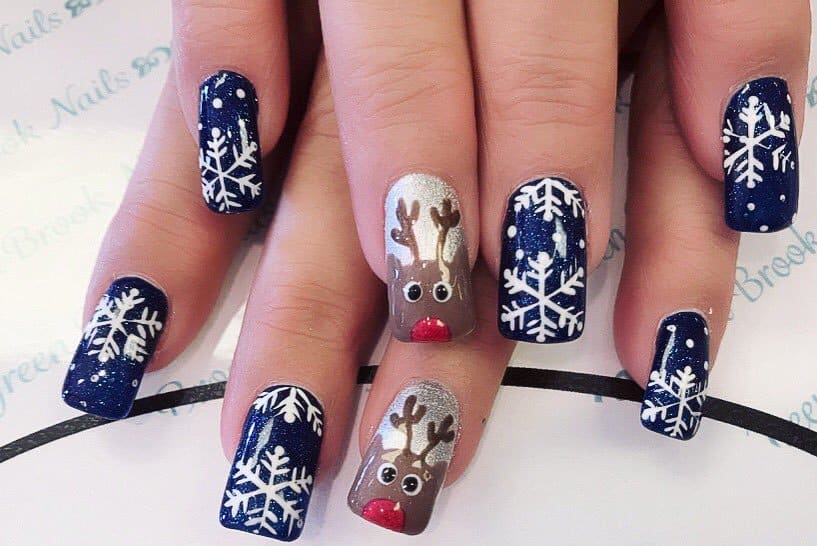 Reindeers can be drawn in between blue snowflake patterns. First, use shiny blue color as the base. Draw white snowflakes on them. Then paint the image of reindeers on one or two nails. You can use brown color to paint the reindeers on shiny silver base.
#15. Marbled Reindeers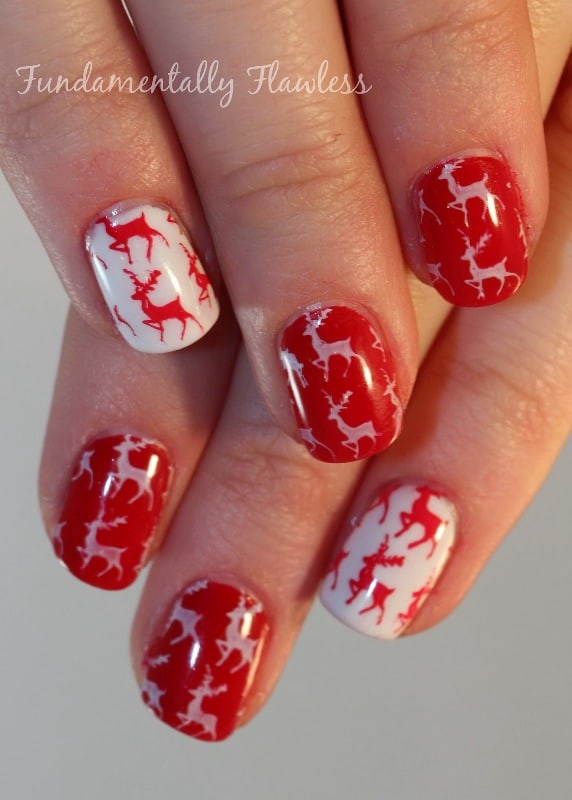 This design is tough to do but it gives a unique look. The appearance of this marbled reindeers on an orange and a white surface is blowing my mind. You can have this rich design as reindeer nail art for your dearest nails.
Turkey Nail Design for Thanksgiving
Reindeers are identical animals to the cold region of the world and to the arrival of Santa Claus. So, having them means having both winter nail art as well as Christmas nail art. Just be careful to have this design in the right season. It would be wise to have these nails when the festive season of Christmas is out there. You will not be admired if you have reindeer nail art in summer. I have gathered many ideas and designs under the same roof for you. Hope you will be benefited by our designs.