Ah, red and white. When used together in the right way, a red and white manicure can make any statement you want!
Despite what you may automatically think, red and white nails aren't just for Christmas (although there are some amazing looks you can create for the holidays!). You can use the two colors to make your daily life a little more colorful, feature a spooky Halloween design, and even show your patriotic pride!
For any of the designs you see below, you can use any shade of red and white in any effect (matte, gel, glitter, etc.). Just make sure you have the two colors at the ready because after seeing our favorite red and white nail designs, you're going to feel inspired!
Red and White Nails You Can Wear Anywhere
From a red tip on a white nail to a white tip on a red nail or something completely different – we've got all the best red and white nail designs in this list of 10!
1. Red and White Ombre Nails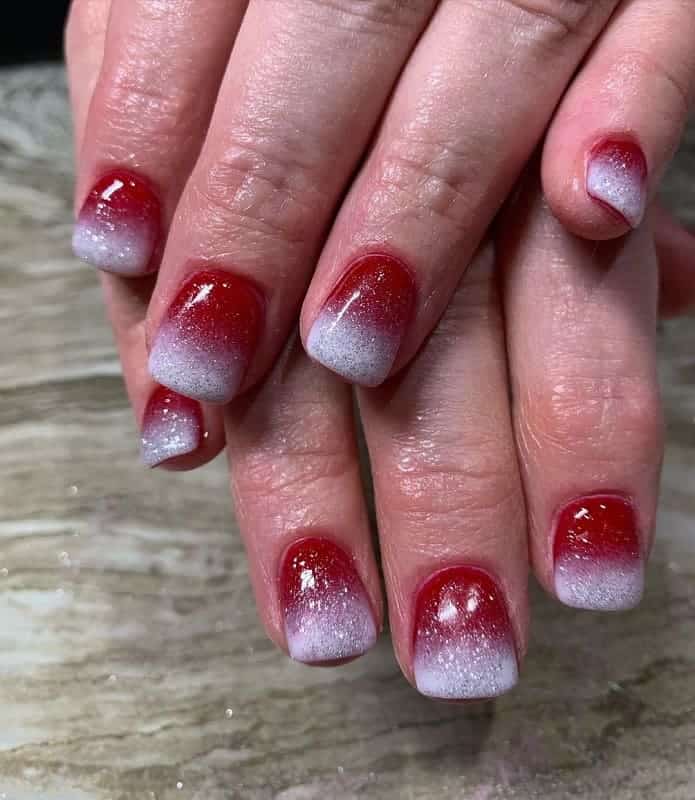 For ladies who prefer a shorter nail length, these short red and white squoval nails will be ideal. They get plenty of sparkle from a silver top coat, perfect for a night out!
2. Red, White and Blue Nails
Heading to an American sports game? Show your patriotic pride with red, white, and blue nails! The red stripes on white nails with solid blue nails and a baseball-themed accent nail were made for the occasion.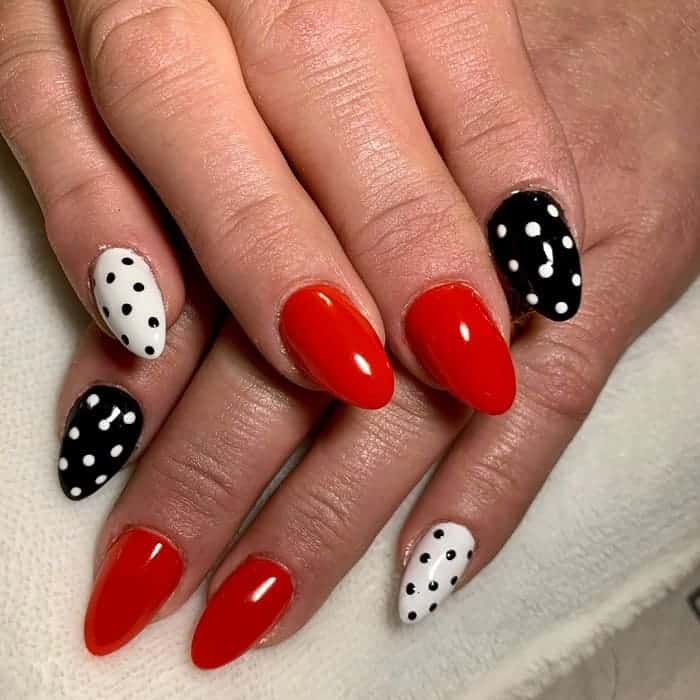 What girl doesn't love a nail design with adorable polka dots? Get this cute manicure for short oval nails by mixing black dots on white nails and white dots on black nails with two completely red nails in the middle.
4. Red & White Candy Cane Nails
If your favorite part of the holidays is the sweet treats, show some candy cane appreciation with white nails and red diagonal stripes! Use plain dark red nail polish or a glittered red for sparkle.
5. Holiday Red and White Acrylics
Another cute option for a holiday nail design – the short rounded nails in red and white acrylics. Alternate red and white polish, just make sure you paint the accent nail white so a dainty red bow can "gift wrap" it.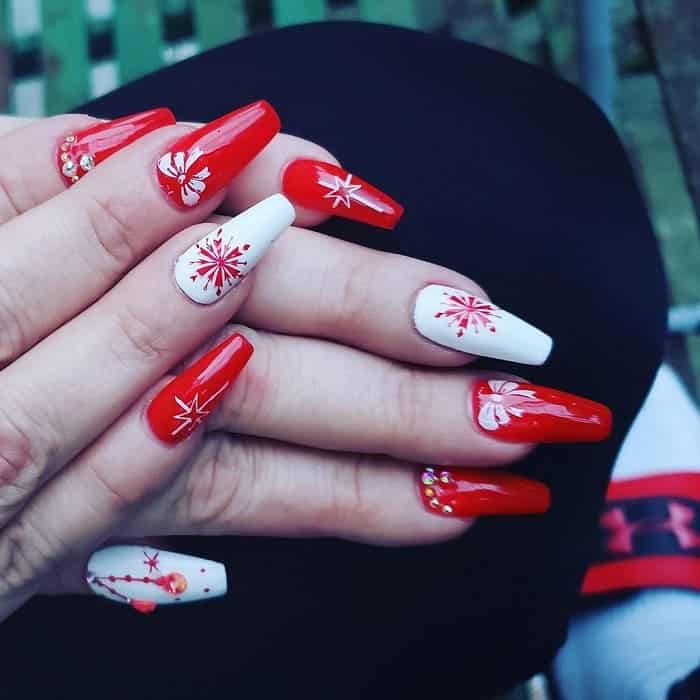 Red and white nails are always popular around the holidays, and obviously especially Christmas! For a more glam nail design, opt for long coffin nails with shiny red and white. You can use holiday-themed nail stickers and tiny stones to make the nails really pop.
7. Red And White Marble Nails
You'll never see us pass up a gorgeous marbled nail design! To work red and white into it, paint most of the nails red, but give the accent nail the marbled effect by starting with a white base and "swirling" red polish over it.
8. Red and White Holiday Nails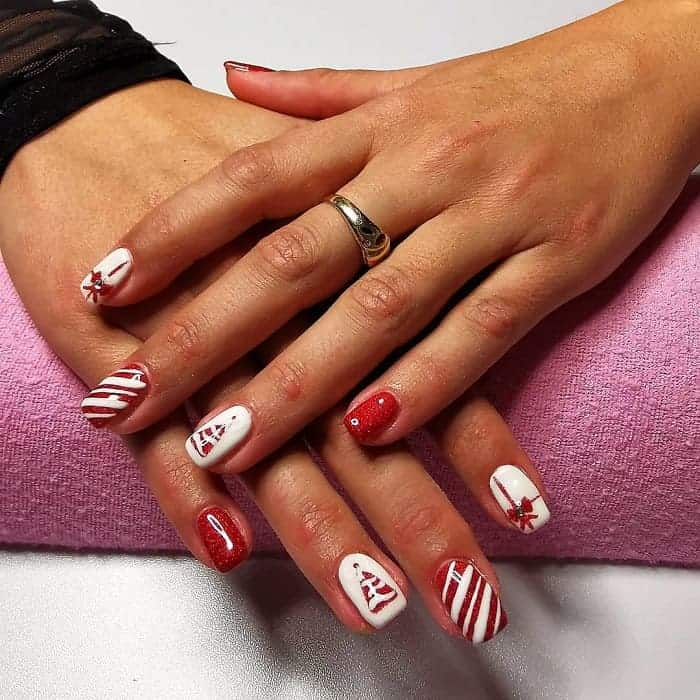 For this Christmas nail design, it's all in the details! Alternate red and white on short square nails, using the opposite color to draw on details like Santa hats, diagonal stripes, and cute little bows.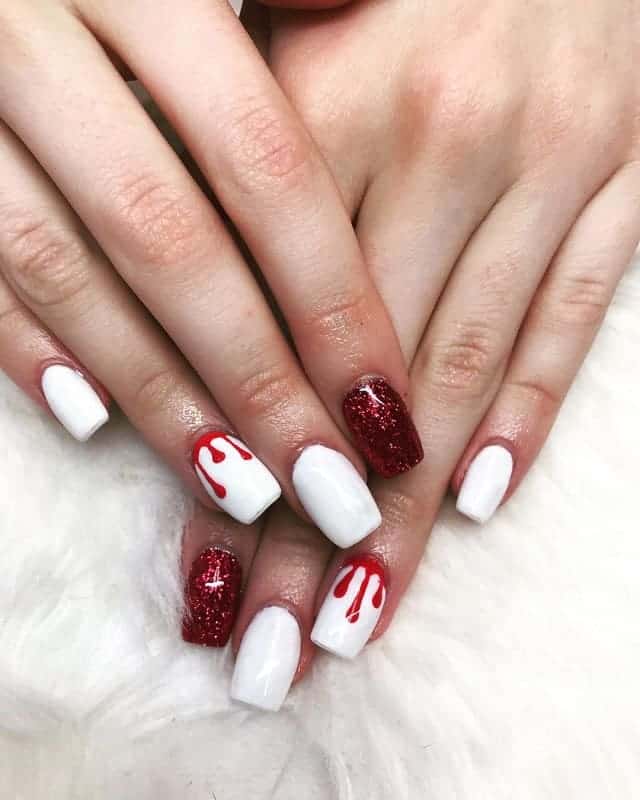 Raise your hand if you thought Halloween colors were only orange and black? While they are the traditional colors, don't pass up the chance to get a sexy, scary manicure using red for dripping blood on pure white nails.
10. Red and White Gel Nails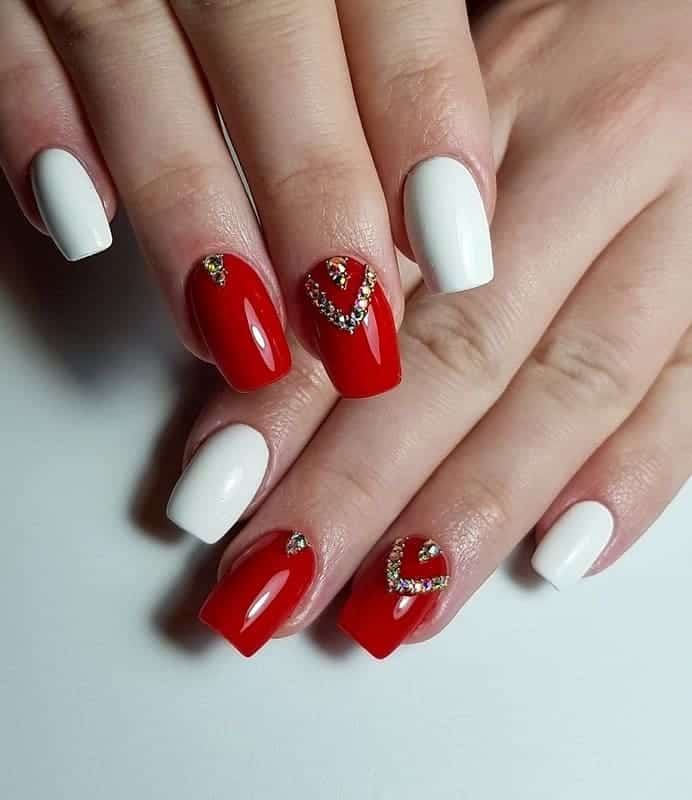 For a longer-lasting manicure, use gel nail polish. It's stronger and generally more luscious-feeling, so your red and white nails will last through all those holiday parties and better hold up little accessories like gold stones!
The best red and white nail designs are created when you put your own creativity into it. So whether you visit the salon for a professional manicure or you do your nails from home, put your own special touch on your white and red nails to truly make it yours!