Nails are something very important as they are always in front of you all day long. You don't need a mirror or the help of a selfie camera to see how you are looking wearing the nails. So, designing your nails must be a great concern for you.
Square-shaped nails have been popular for a long time. Girls are still craving these nails as the trend of fashion is cyclical. If you have square nails and want to design your nails with acrylic colors, this article is for you.
Sassy square Acrylic Nail Design
To have the square shape you have to have the required length which is trimmable as a square. Your long nails will be cut horizontally to give them a square shape. Don't file the edge smoothly because a smooth edge will make it oval or squoval.
After having the shapes now it's all about designing them perfectly. If you are a shine-lover, acrylic colors are the best things for you. Apply acrylic colors made of good products as there are plenty of poor quality products available in the market.
Choose carefully to avoid any damage to your nail beds. Here are 53 mind-blowing acrylic designs for your square nails.
#1. Long Square Acrylic Nails
#2. Medium Square Acrylic Nails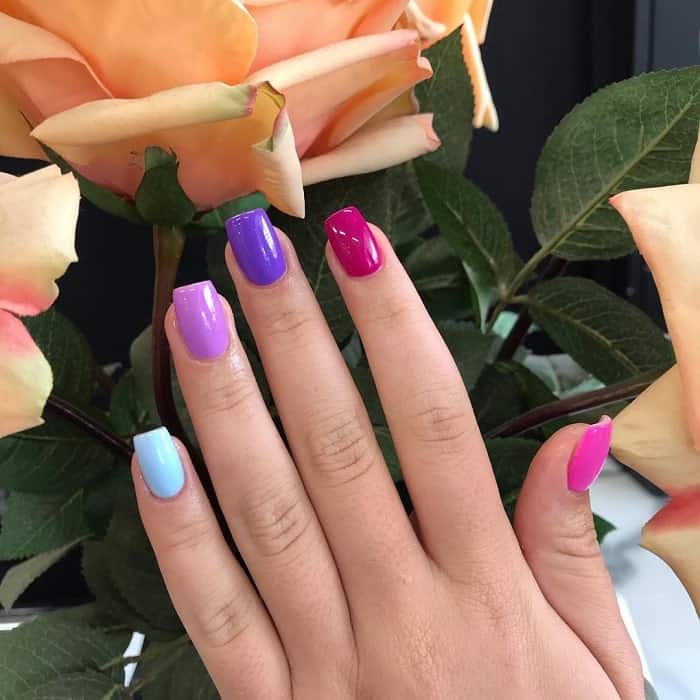 #3. Square Oval Acrylic Nails
#4. Square Acrylic Fall Nails
#5. Square Acrylic Nails for Summer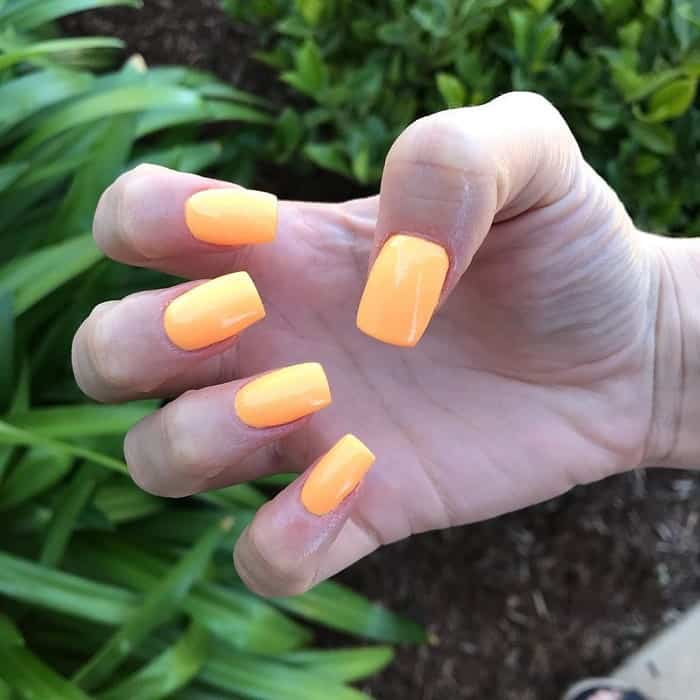 #6. Skinny Square Acrylic Nails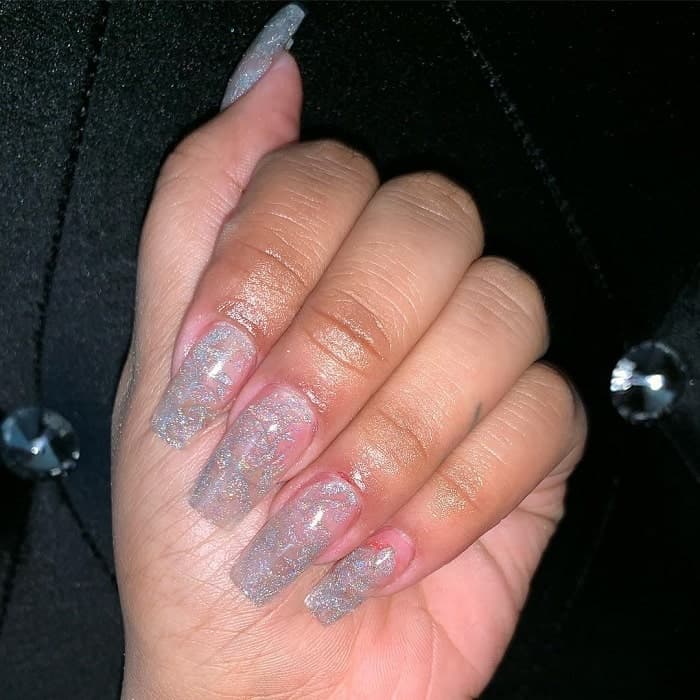 #7. Clear Square Acrylic Nails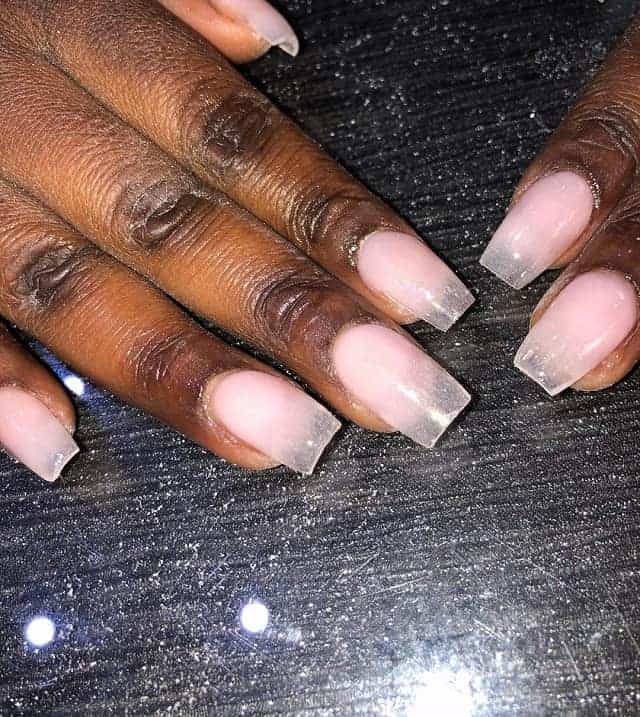 #8. Acrylic Square Nails for Winter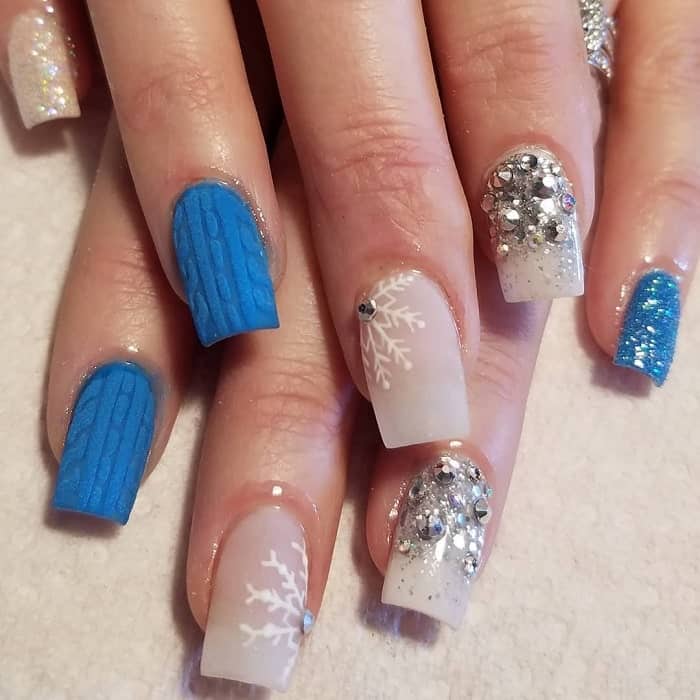 #9. Square Acrylic Nails for Christmas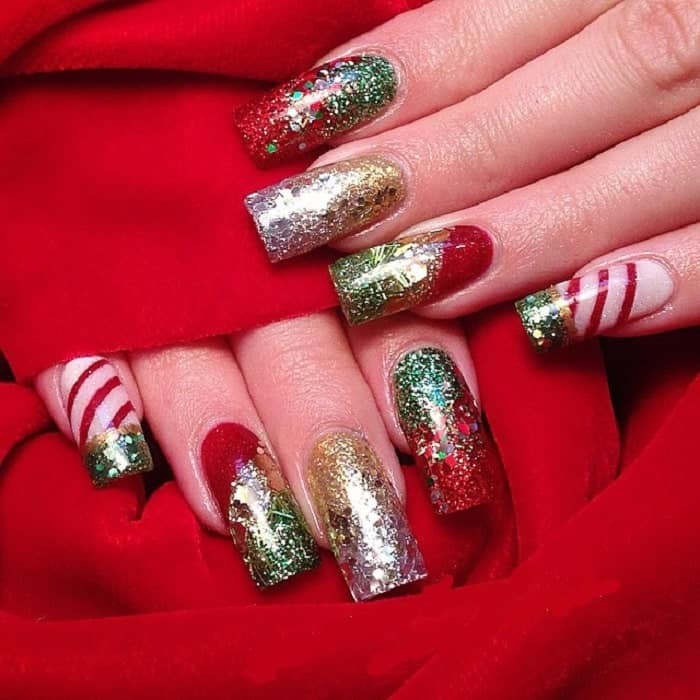 #10. Square Acrylic Marble Nail Design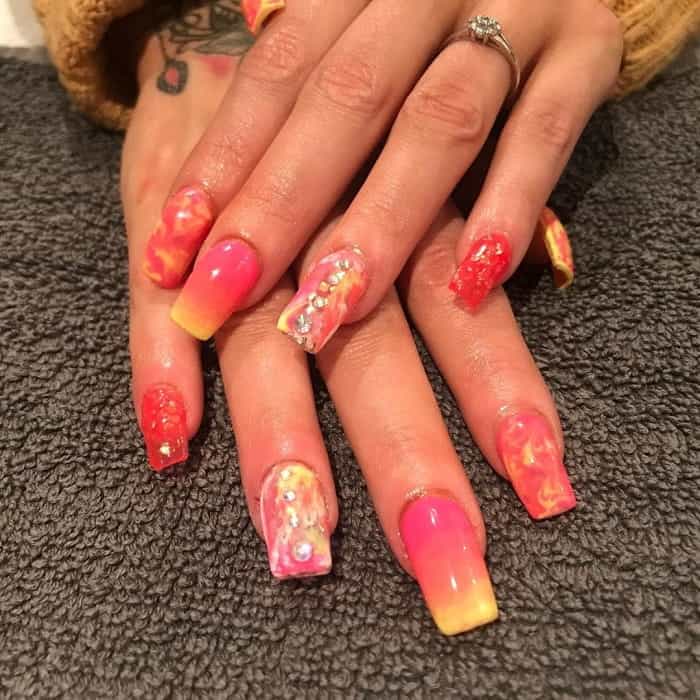 #11. Red Square Acrylic Nails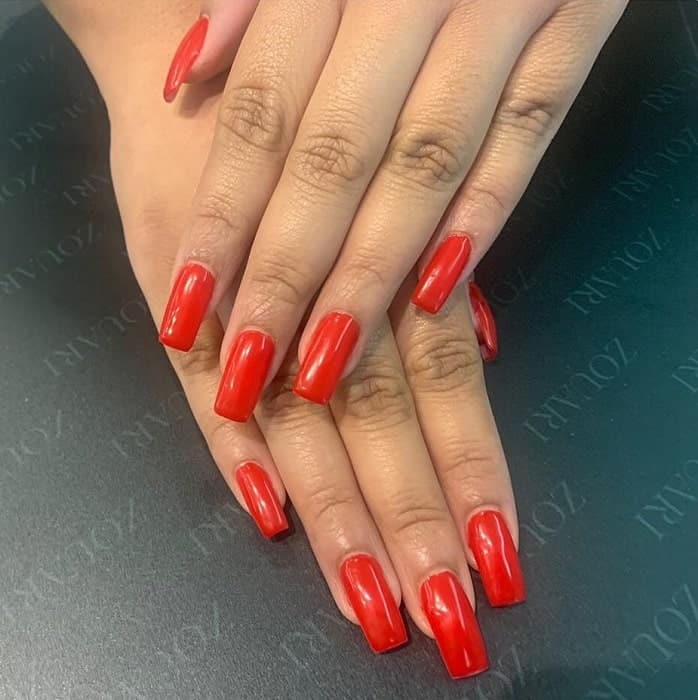 #12. Yellow Square Acrylic Nails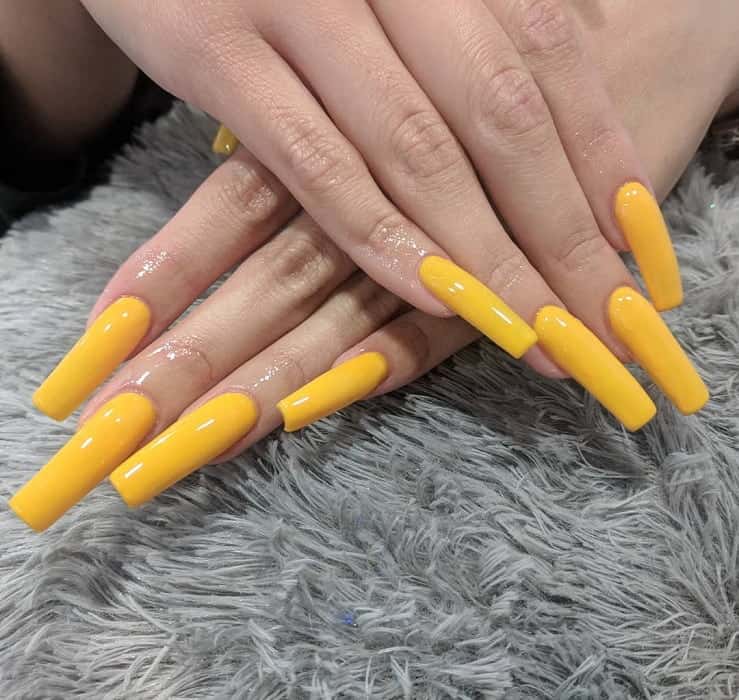 #13. Square Acrylic Matte Nails
#14. Beige on Short Square Nails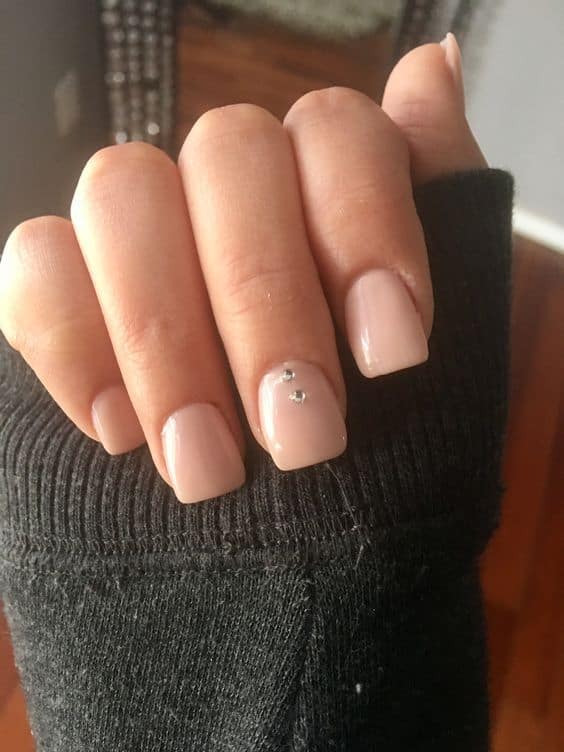 Short square nails are favorite among the girls who have a busy life. You don't need any extensions to have this shape.
Use any nude acrylic color for this design. Beige has been used in this design. One or two stones can be of very good use.
Get Perfect Square Nails-Follow The Tips
#15. Black Square Acrylic Nails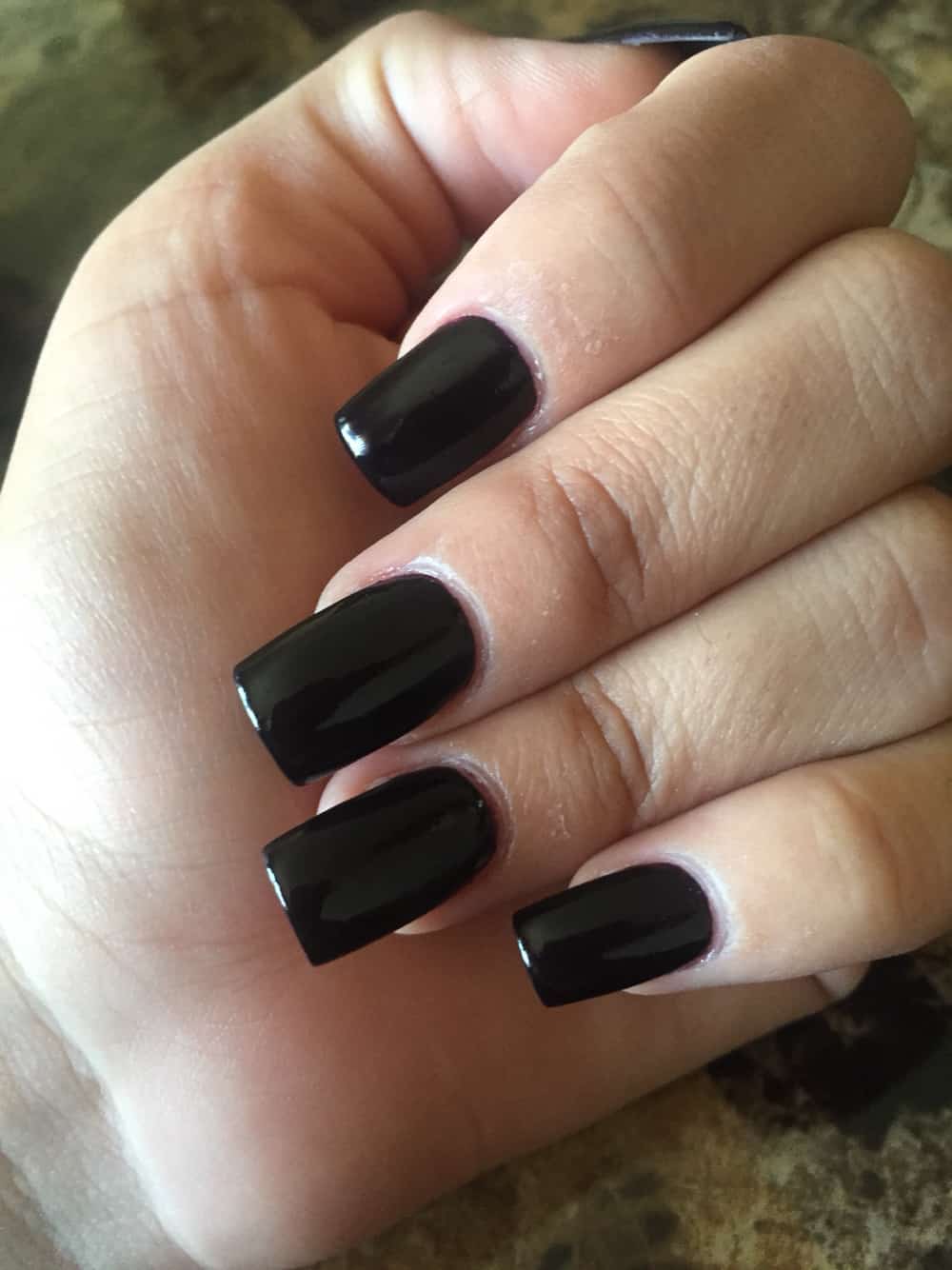 Nothing is more elegant than the depth of black. Black has a neverending appeal to fashionable girls. Your square nails will look definitely gorgeous if you can use the charm of black rightly.
#16. Neon Pink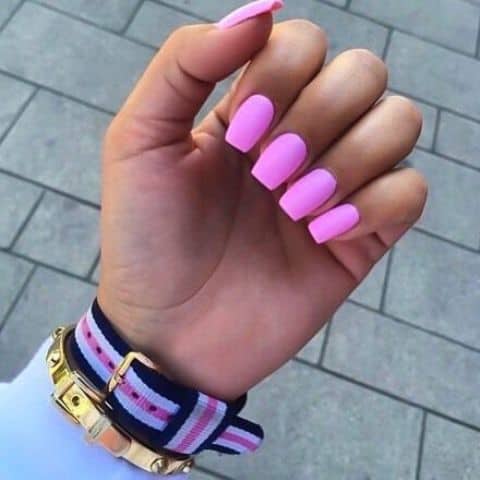 Pink is the identical color for the girls. Almost every girl receives anything in pink warm-heartedly.
Various use of pink is seen nowadays. Here is a different pink acrylic design for your square nails. Use a neon pink color for a sparkling flare on your fingertips.
#17. Sky on Your Nails
This is a different design for your square fingernails. Deep sky blue will placed a piece of sky on your nails.
If you are a sky lover and are fascinated to have a design with this color, this design is a must-try. Use deep sky blue acrylic on the base. Rhinestones and a bigger ruby can give it a trendy look.
#18. Nude Acrylic
Using transparent acrylic is also a good way to show off your fashion sense. This design is for those who love to be stylish in the simplest way.
Use a nude acrylic color to fill the surface of your nails. A very little amount of glitters can also be used for your square nails.
#19. Vegetarian Nails
This is a vegetable-themed nail design. You can express your immense love for vegetables with this design. At first, a base coat is applied to the nails.
Then you can draw your favorite vegetables on the base coat. This design with Pumpkin is a good choice for Halloween week.
#20. B&W Rectangles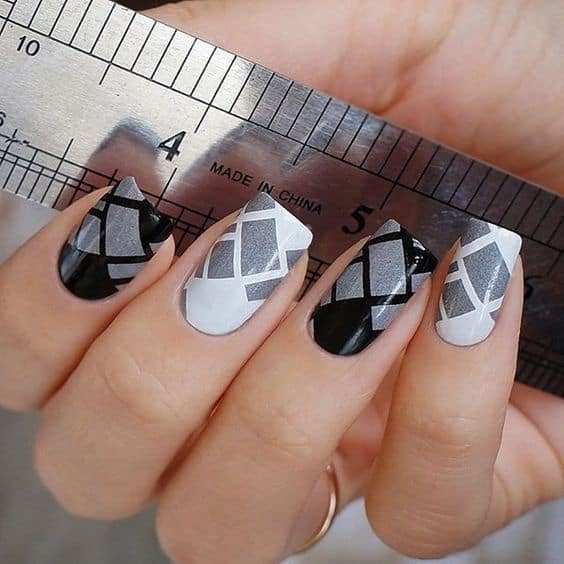 To show your immense love for these rectangular shapes you can have this design. Black, white and silver colors can be used to draw these patterns.
Silver rectangles are drawn on both black and white base. The shining silvery acrylics give a shiny look to these square nails.
Black & White Nail To Seal The Deal
#21. Maroon Square Nails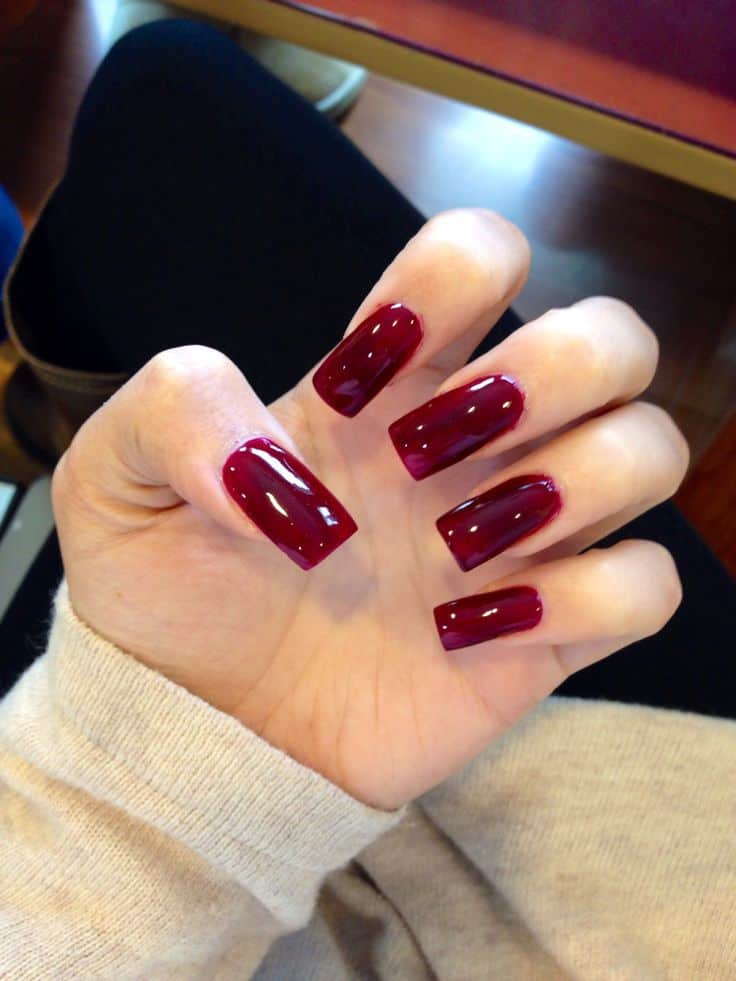 Maroon is the ultimate choice for elegant girls. It is one of the most dominating colors in the universe of girls.
Square nails will look glamorous in this color. Use red acrylic as the base coat of your square nails. This will give a red and hot look to your fingertips.
#22. Square Acrylic Nails with French Tip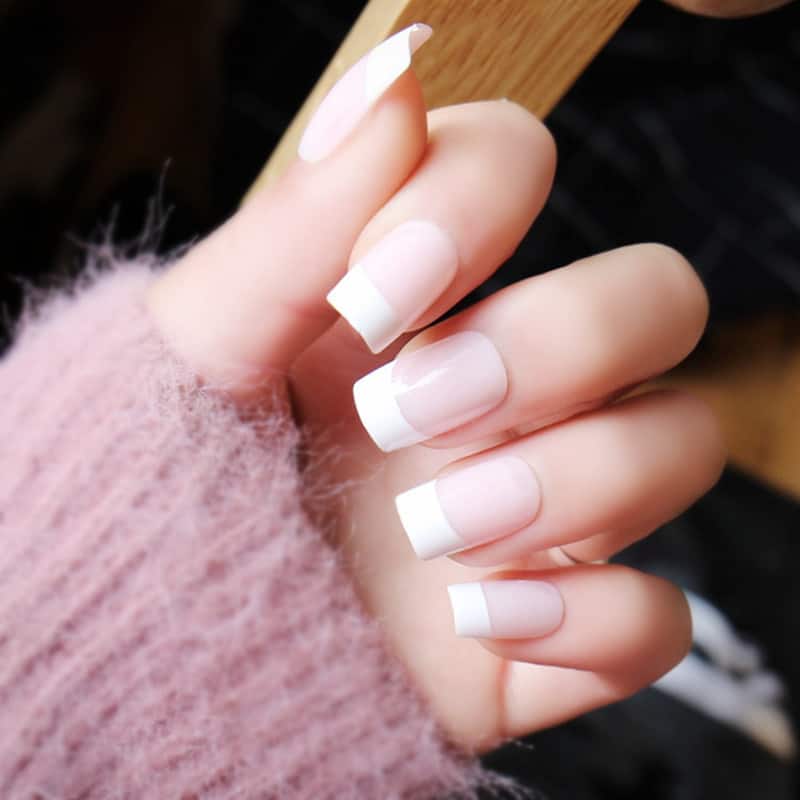 French-style manicure is very popular among girls. This style gives a natural but gorgeous and adorable look to your fingers. Use transparent nail polish to fill the base. Paint the tips with pure white color.
Everybody will wonder why these tips past the edge of the nails are so white naturally! Have fun. Let them wonder.
#23. Golden Chrome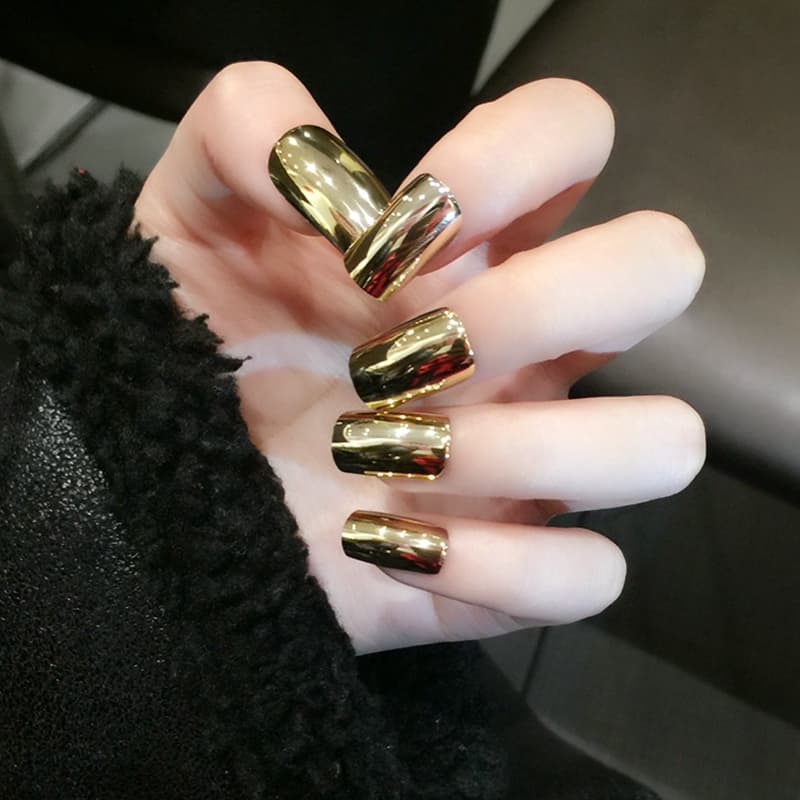 Rest assured that, if you carry these nail extensions nobody will be able to avoid this golden glow. Acrylic nail extensions are found in every beauty shops nowadays. Besides, you can create your own chrome nail at home.
#24. Square Blue Acrylic Nails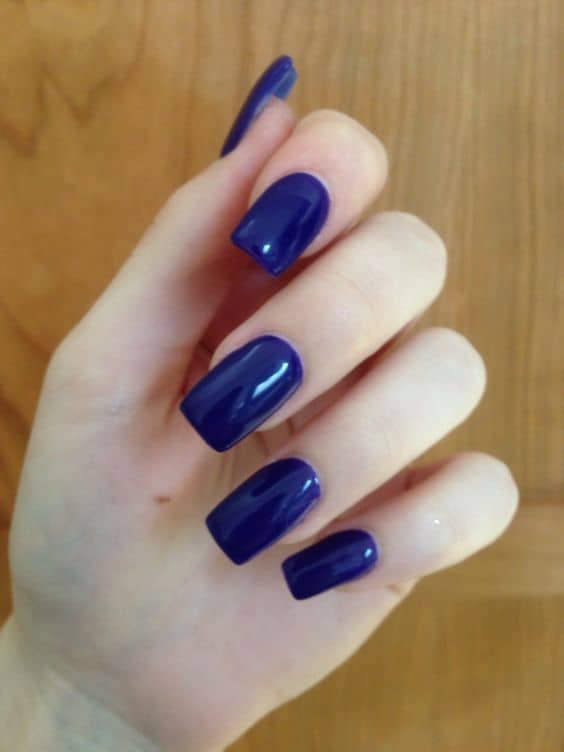 If you have enough love for blue you will find this design try-worthy. A simple way to design your acrylic nails. Just use pure royal blue acrylics for your square nails. No extra effort is needed for this all blue design.
#25. Pink Square Acrylic Nails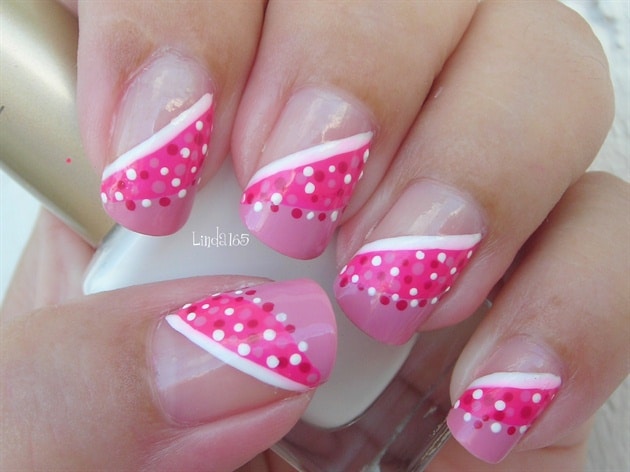 The procedure is simple but the look is something very pleasing to the eyes. Use light pink acrylic as the base coat and deep pink in the one-third portion of the nail.
Use white color at the bottom edge. Then draw polka dots in white, pink and light pink color to have this design drawn on your square nails.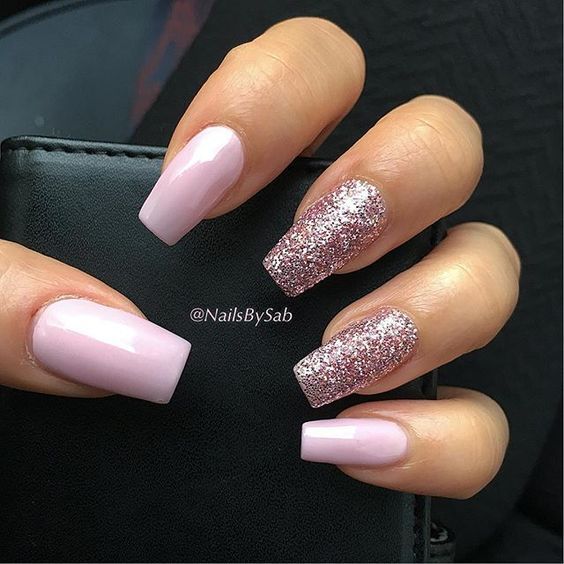 Your square nail will look absolutely glamorous in this design. Use any light acrylic for all the nails. Then use golden or silvery glitters on two or three of them.
Use the glitters to cover the whole nail bed. Your square nails are ready to shine in glitters.
#27. Funky Acrylics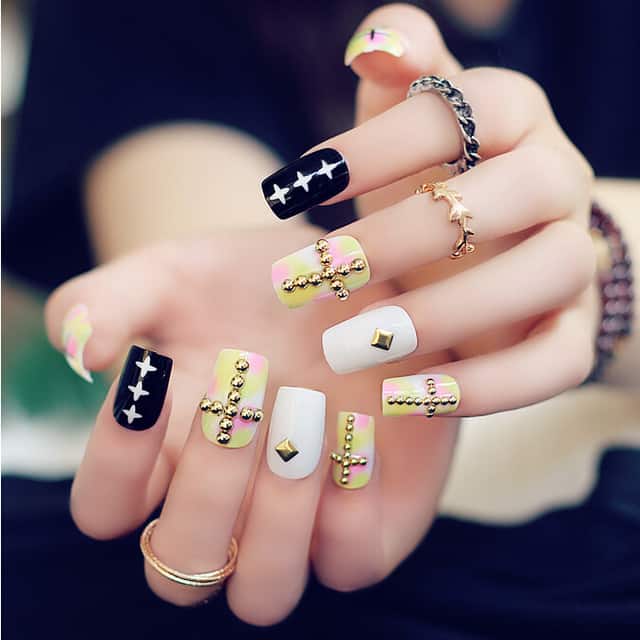 This design is for the absolute Funky girls who don't love colors that much. These extensions are mainly of black and white colors with a bit of pink and yellow color.
Rhinestones have been used to give the Christian cross shape. So, this design can express that you don't always remain punky, you are a god-loving soul too.
#28. Charming Green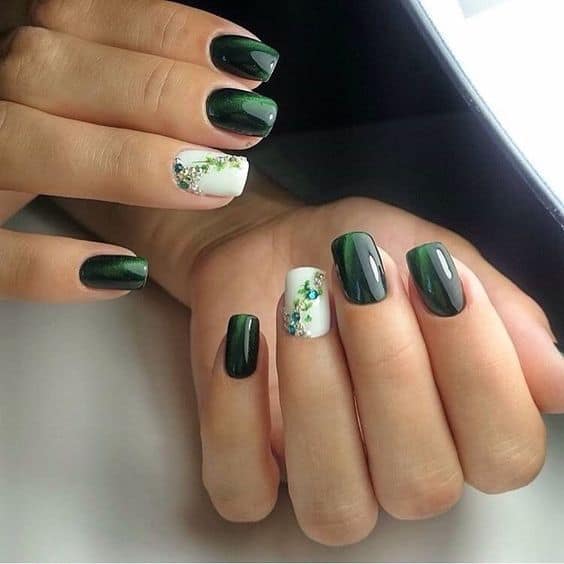 Green resembles freshness, green resembles nature. If you want a fresh and natural look on your nails, green is the right choice to color them. This design is mainly given for short square nails.
Use green acrylic on most of the nails and use a different design on ring fingers. Then draw some leaves on the white base coat. And you can use some stones to enhance the charm of the green.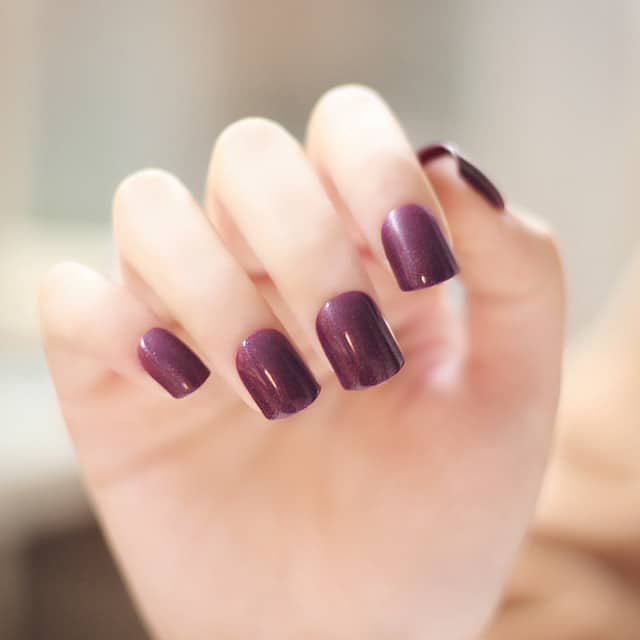 Purple looks very good on square nails. And if pure purple acrylic is mixed with thin glitters this will produce something out-of-this-world.
Look at the stunning beauty of these square nails. You are bound to love them. Apply this purple acrylic and thin glitters to make the nails shine like the pearls.
#30. Dripping on White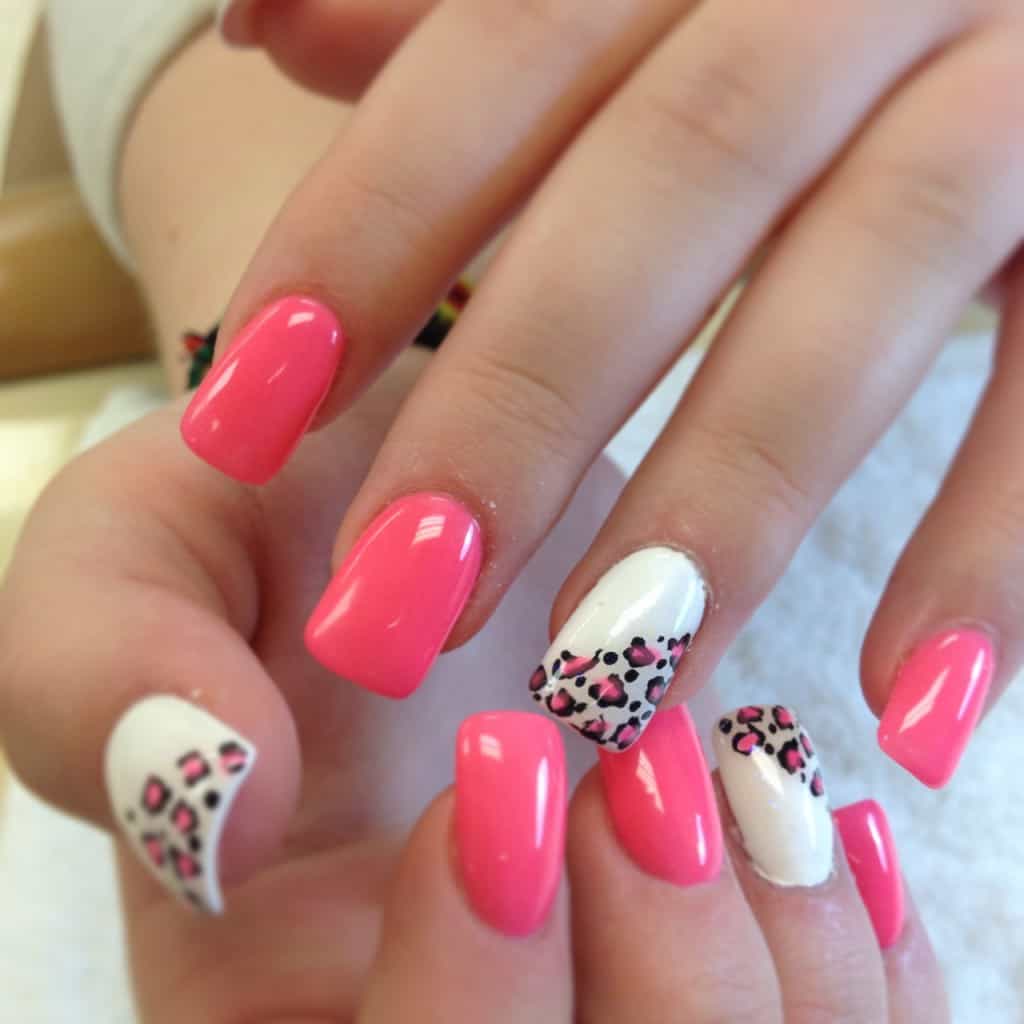 This is a nice design associated with white and pink. Design all your nails with pink color but keep two or three of them to be designed white. This leopard art on white gives a new dimension to the look of your square nails.
#31. White Square Acrylic Nails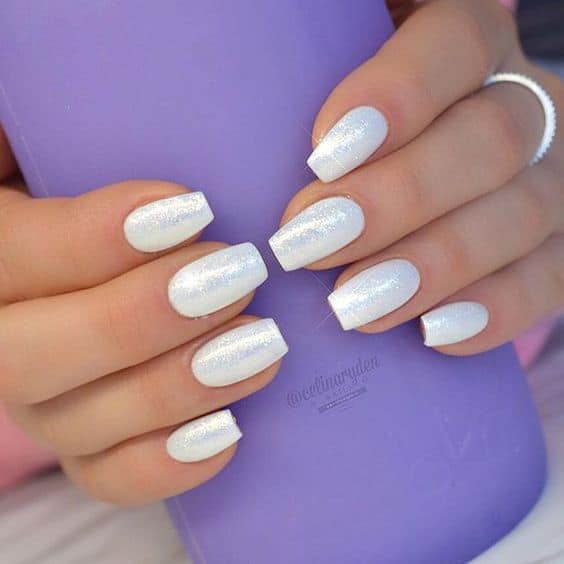 Your square nails will give a holy look if they are drawn with wholly white acrylics. White has a very charming influence on our minds.
Use pure white acrylics mixed with white shiny glitters for this look. Your nails will have a holy look after the design is done.
#32. Colorful Tips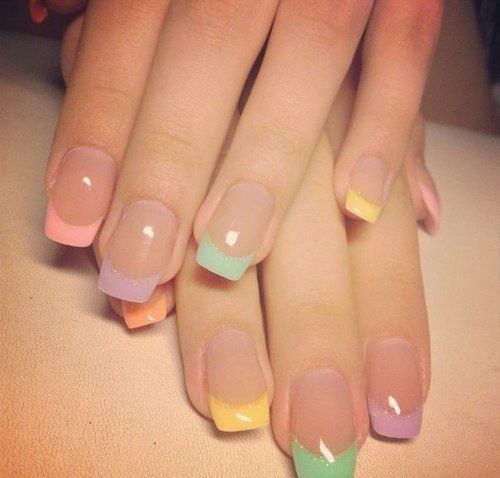 Your square nails will look amazing with the use of different colors on your fingertips. Use different pastel colors to have this design.
Acrylic colors of different shades can give a pleasant appearance to your nails if applied with proper color sense. Use a similar nude base coat for all the fingers then colors the tips with the colors of your choice.
#33. Square Acrylics Ombre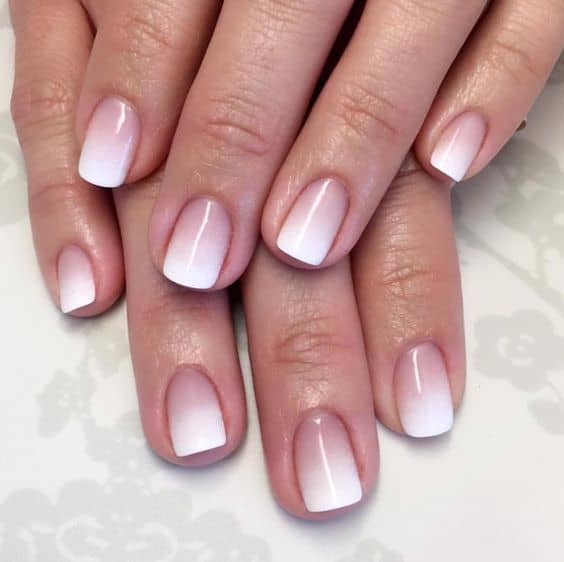 Ombre is a fascinating design to most girls. Two similar colors are painted in such a way that the two colors seem to be one color.
That is the specialty of the ombre style. You can have this ombre design on your square nails by applying pink and white acrylic together.
#34. Stripes on Leopard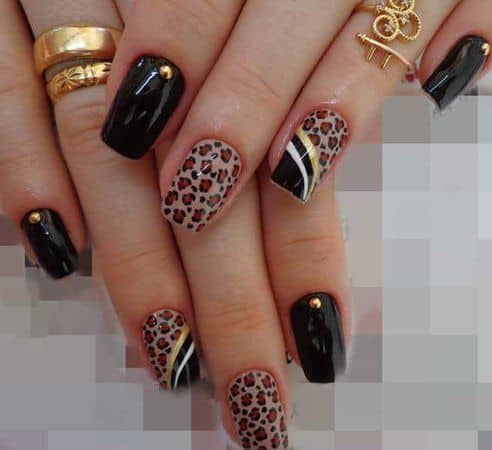 This is a design to add diversity to conventional nail designs. Draw some leopard patterns on your square nails with the help of black and orange acrylics.
Use black for some of the nails. Put a golden rhinestone on the black surface. Some stripes can come in handy to draw this design. Golden and white stripes will do the trick in this regard.
#35. Patterns & Colors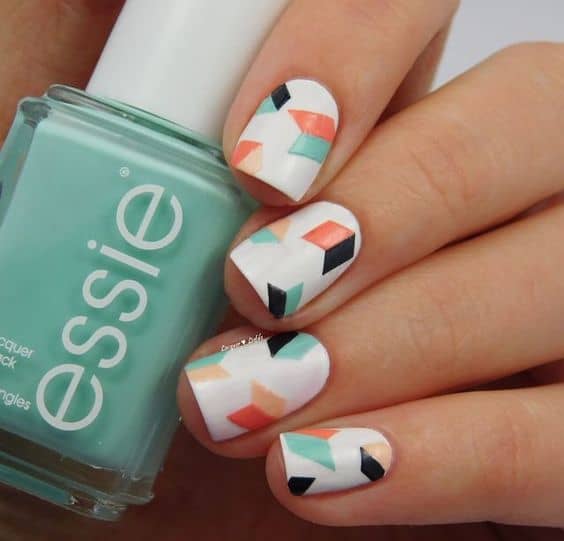 Use acrylic colors to draw different patterns on your square nails. Different patterns in different colors are drawn on a white surface for this design.
To make all the colors talk about the whole design you need to choose light colors because shiny colors talk only for themselves.
#36. Square Acrylic Nails with Glitter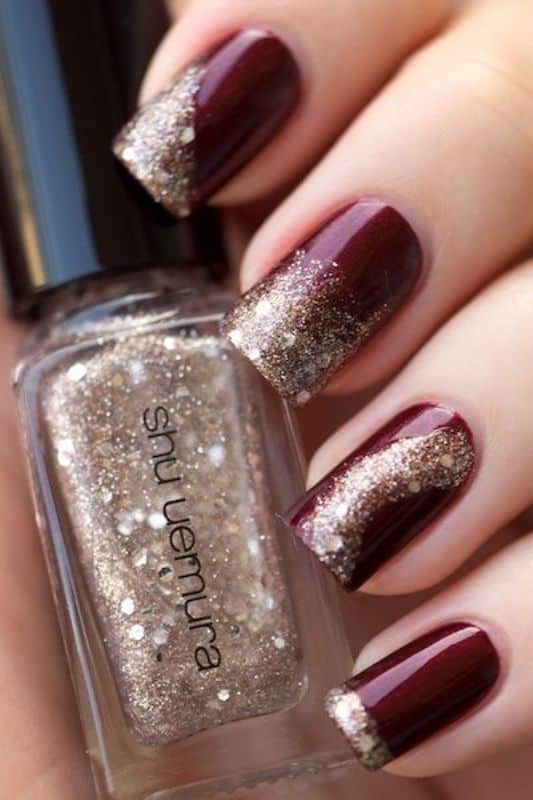 Maroon is an eye-catchy color. Girls usually wear this color on various occasions. If you want to stand out from the crowd at a ceremony, this is a perfect design for your square nails.
Draw your nails with maroon acrylic color. Use golden glitters to give a shiny look to your nails.
#37. Flowery Solar Nails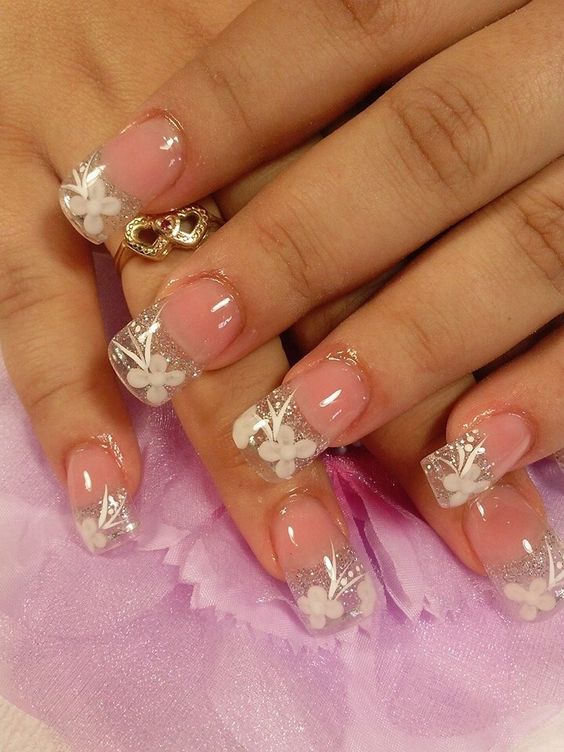 White flowers have a universal appeal, especially for wedding designs. Use acrylic solar nails as extensions. Draw white flowers on silvery glittery nails to give a stunning look to your fingertips.
#38. Stripes & Edges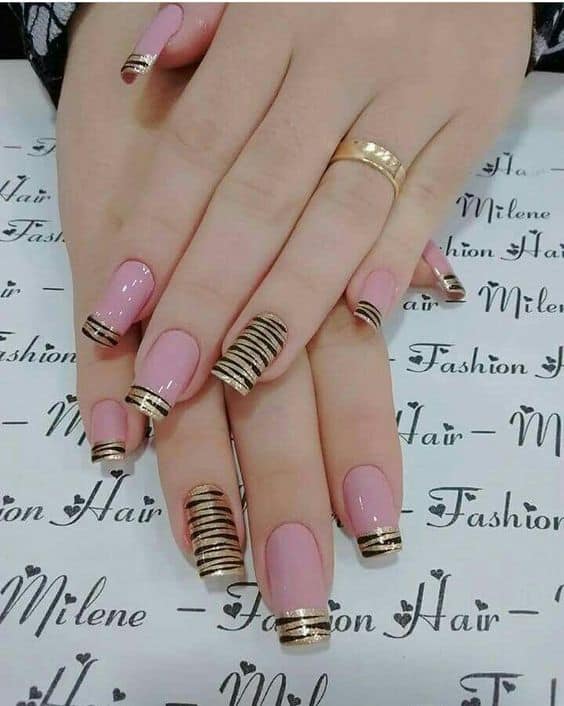 This is one of the most amazing designs for your square nails. Fill the nail beds of your fingers with light pink color. Then use black and golden glitters to draw stripes on the whole nails of some of the fingers.
Draw the stripes cautiously so that two stripes don't get mixed but there remains a very thin margin between them.
Check Out Trendy Round Nail Ideas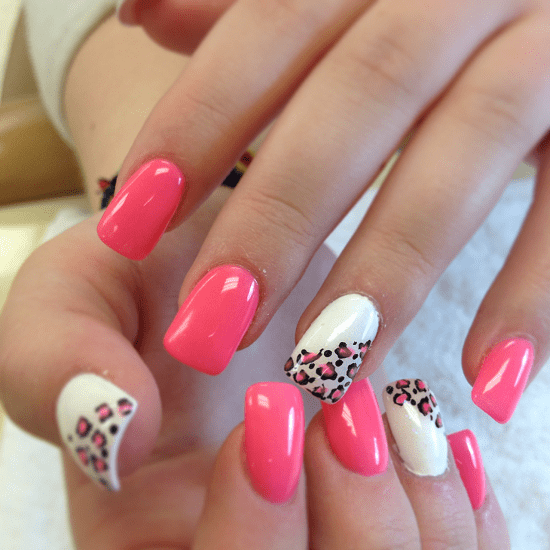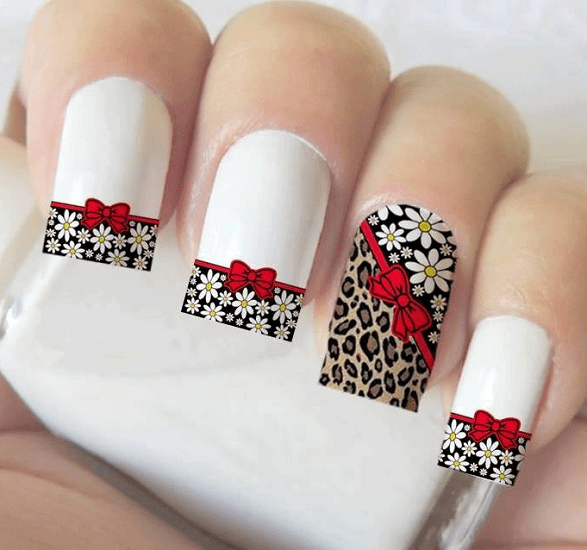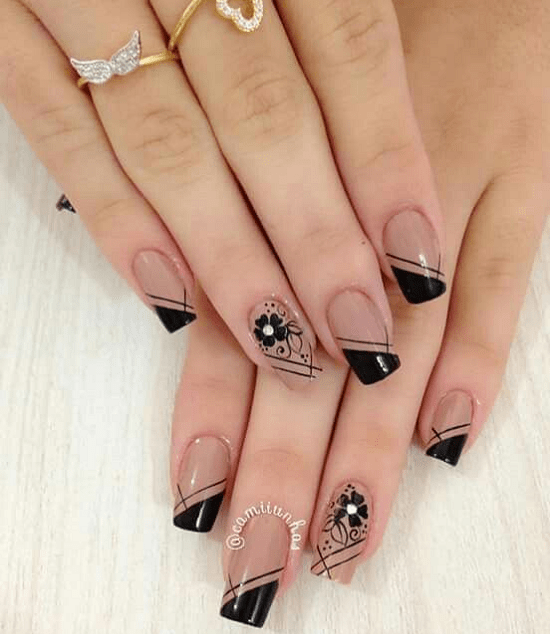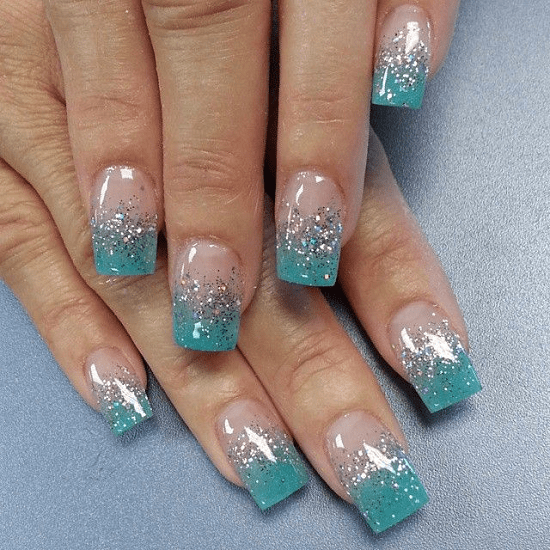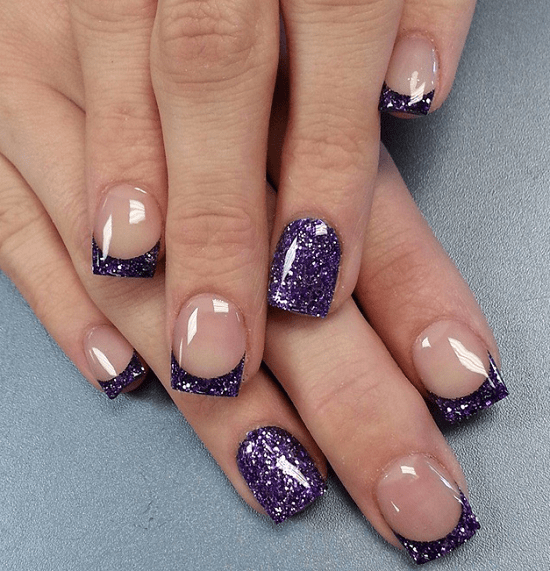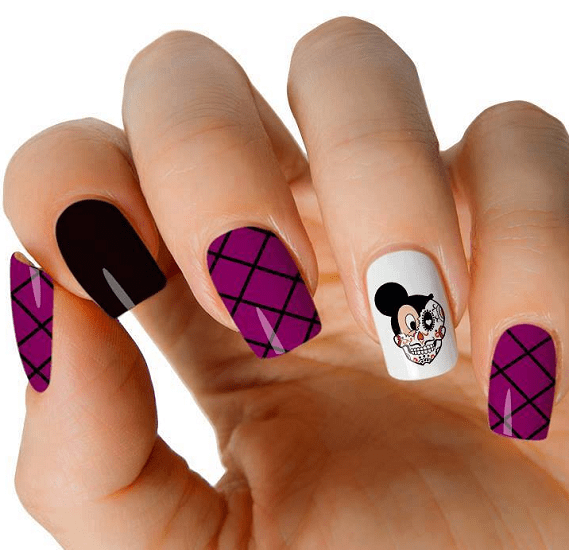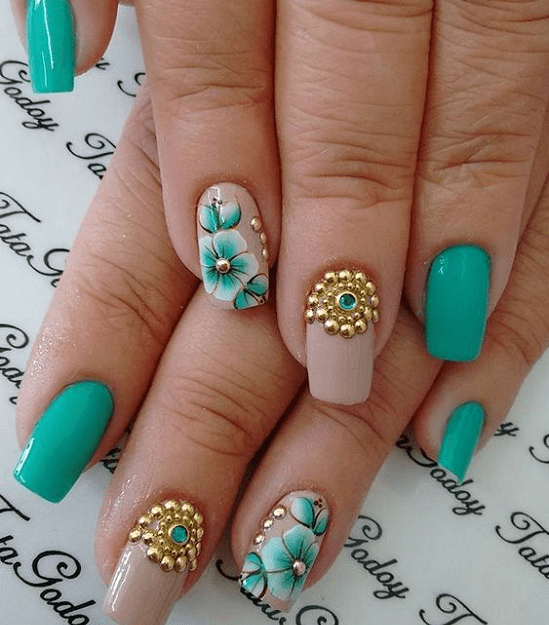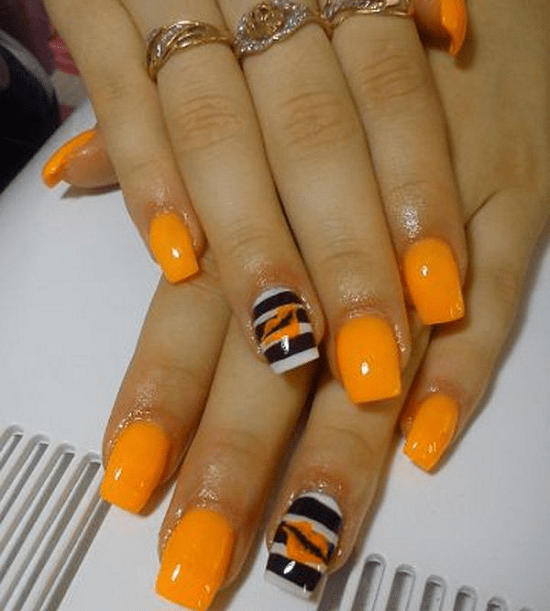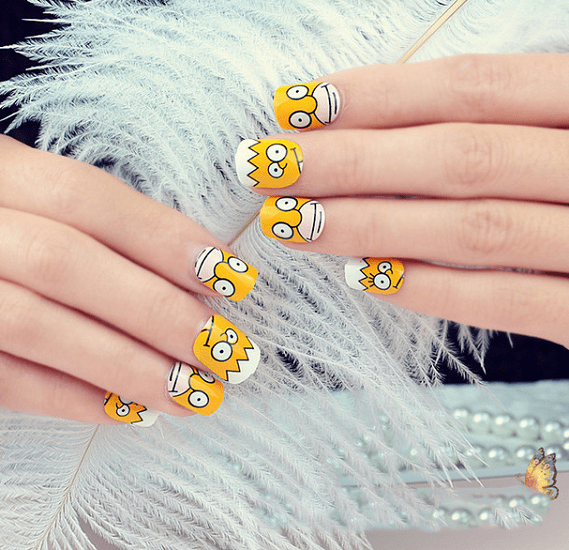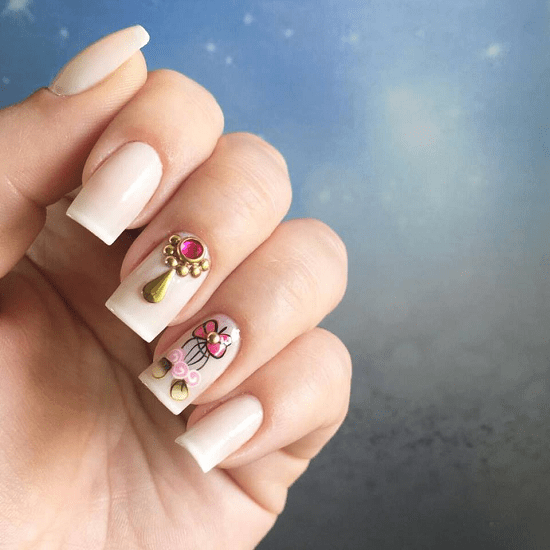 To conclude I can say that, if you use these ideas to design your square nails, they will give a trendy look. Just be careful about the shape of the nails. If anything goes wrong, the shape will be changed into something else.
If you are planning to design your square-shaped nails with acrylic, you surely can try these square nail designs as described in this article. Be inspired by our designs and ideas and imprint them on your square nails.