Searching for a manicure with a beautiful, rich new design? Navy blue nails are your one-stop shop! Not only is the dark nail color suitable for all skin tones, but it also works fabulously with other light and dark colors to create beautiful nail art.
Blue is a gorgeous color for any nail shape. Wear it as an ocean ombre, complement it with a glittered silver accent nail, draw gold shapes and patterns on it, or wear blue by itself.
If you need a little inspiration to get you going, we've got a few stylish ways you can easily touch up your nails with navy blue.
Trendy Navy Blue Nail Designs
Be the belle of the ball instantly when you paint your nails with navy blue! Here are the 11 best ways to style them up.
1. Matte Nails with Rhinestone Detail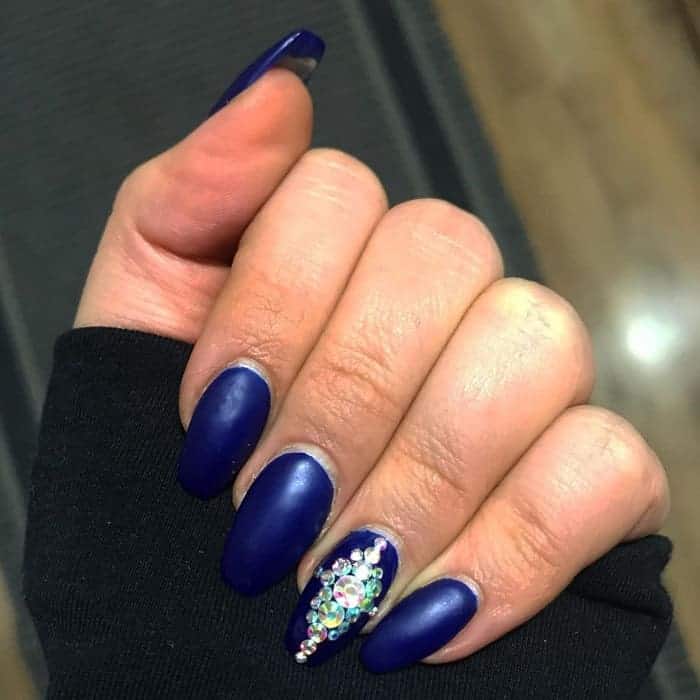 Long nails will give you plenty of space to flaunt matte navy blue. On the ring fingernail, make a beautiful diamond shape out of different-sized rhinestones. For a simpler design, you can make a cute flower or sun.
2. Shiny Navy Blue with Glittered Silver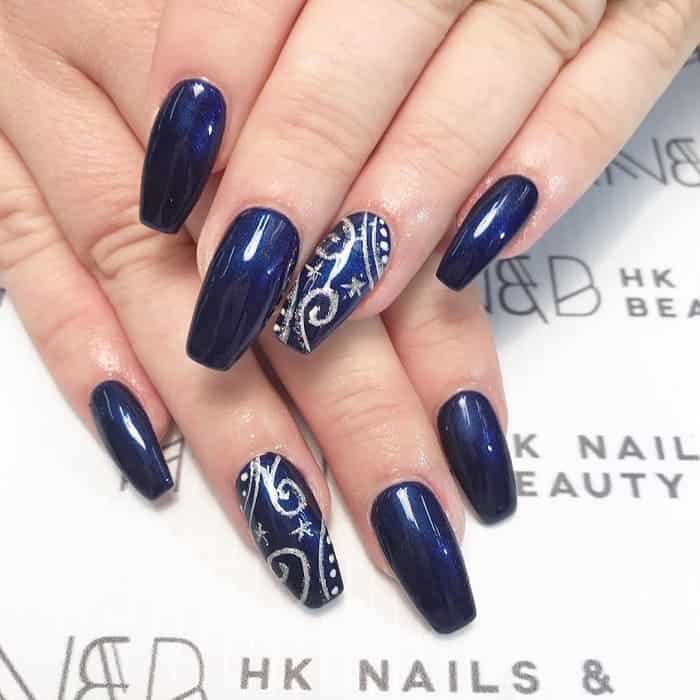 A shiny navy blue is stunning on long coffin nails. To make this design holiday-themed, use glittery silver nail polish to make swirled and starred designs on your ring fingernail.
3. Matte and Glittered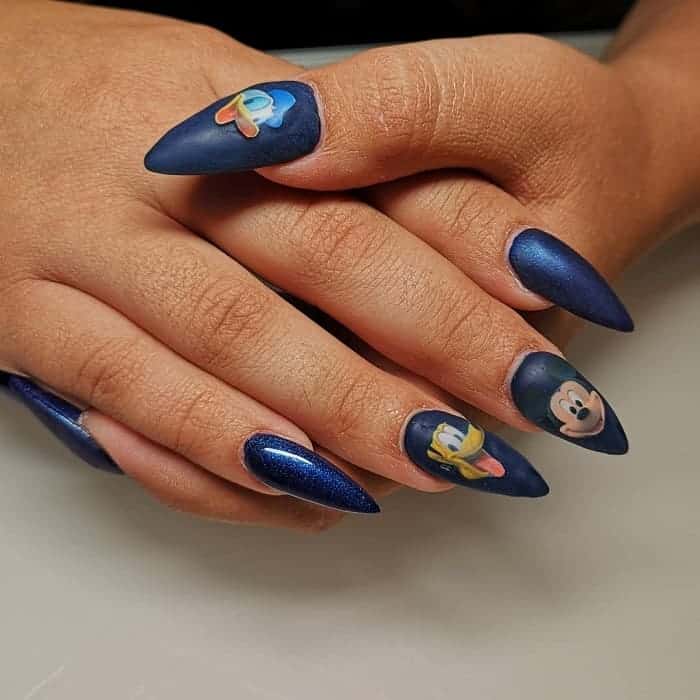 These stiletto nails show us how gorgeous combining matte navy blue with glittered navy blue is. Whether you alternate the polishes or make the two center fingernails matte with character stickers, both results will be gorgeous.
Black and Blue Nail Design Ideas
4. Navy Blue + Golden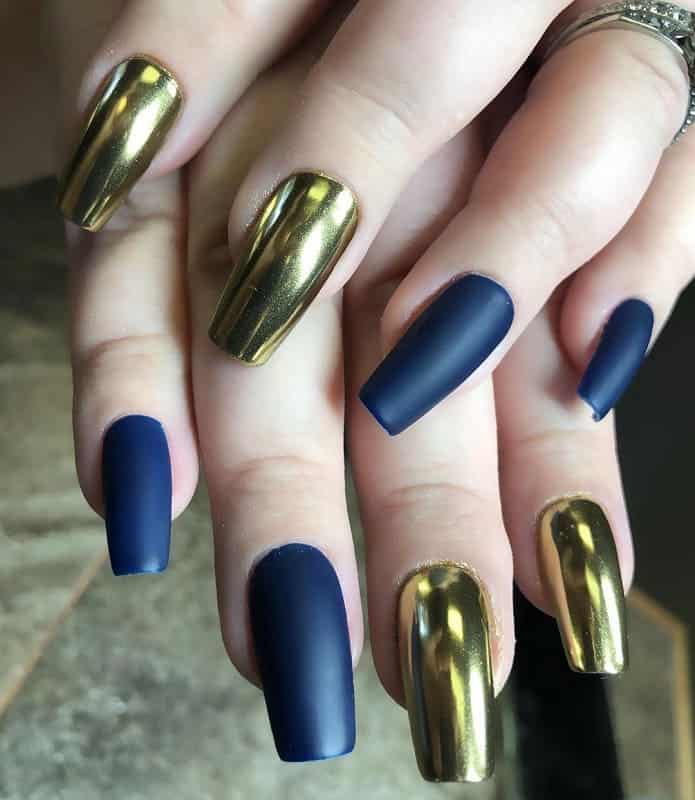 How amazing are these long square nails with their matte navy blue and rich gold design? The shiny gold is perfect for balancing out the flat effect matte polish has.
5. Navy Blue + Acrylic Nails
Coffin acrylic nails may be for you if you want long blue nails but don't have the length! These blue beauties look great with light and medium skin tones too.
6. Navy Blue and Sparkly Silver Nails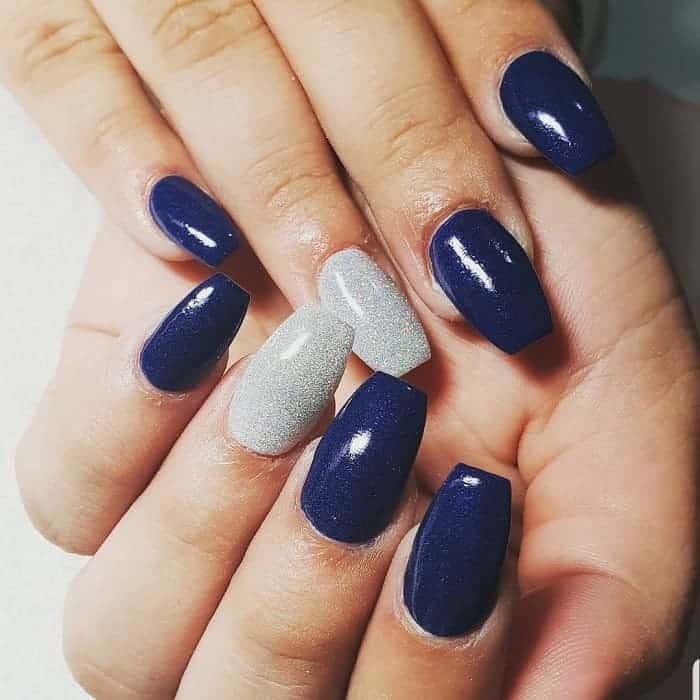 Adding a dash of shine to navy blue nails is easy with sparkly silver polish. Just coat the ring fingernail with it to make your nails catch anyone's eye.
7. Navy Blue + Ombre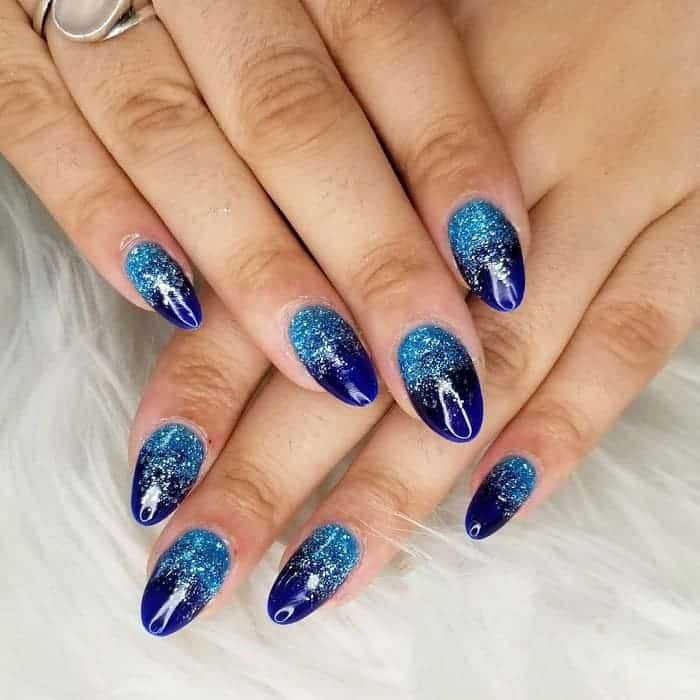 Two tones of navy blue work with light blue on glitter ombre nails. Leave them as a plain ombre or create the above style by using a glittered light blue.
 8. Navy Blue + Gel Nails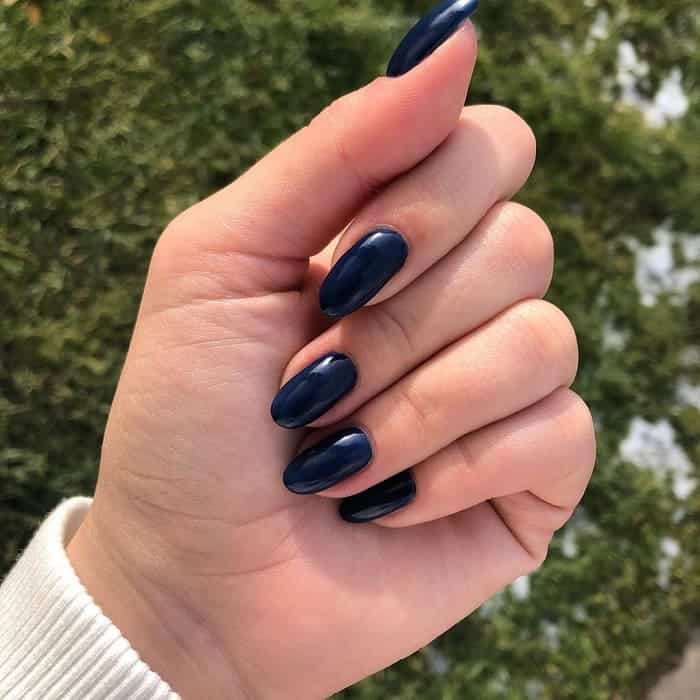 This dark navy blue in gel polish is perfect for long oval or round nails. When the color is this rich, there's no need for any special designs, so leave as is for simple beauty!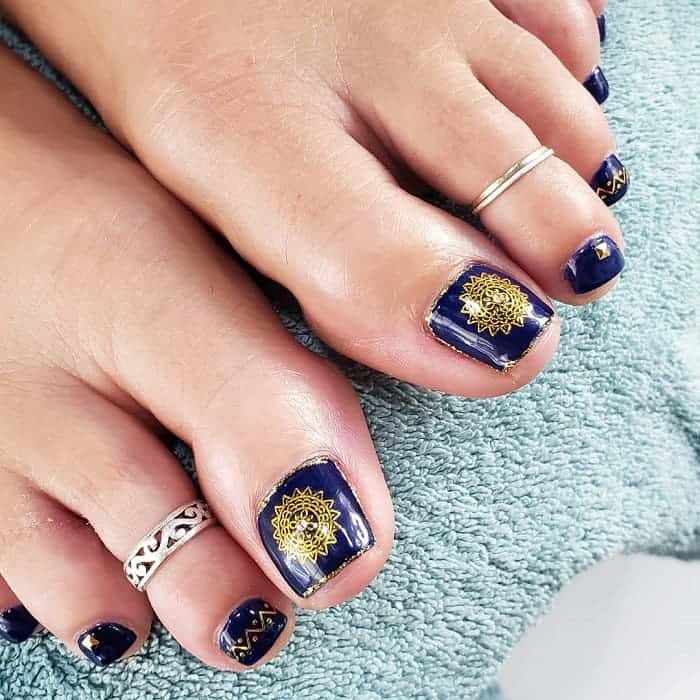 Bring peace and color to your toenails by painting them navy blue to match your manicure! We love the gorgeous gold mandala design on the big toenails. Glittery gold edging will also make your navy blue toenails pop.
10. Dark Navy Blue Nails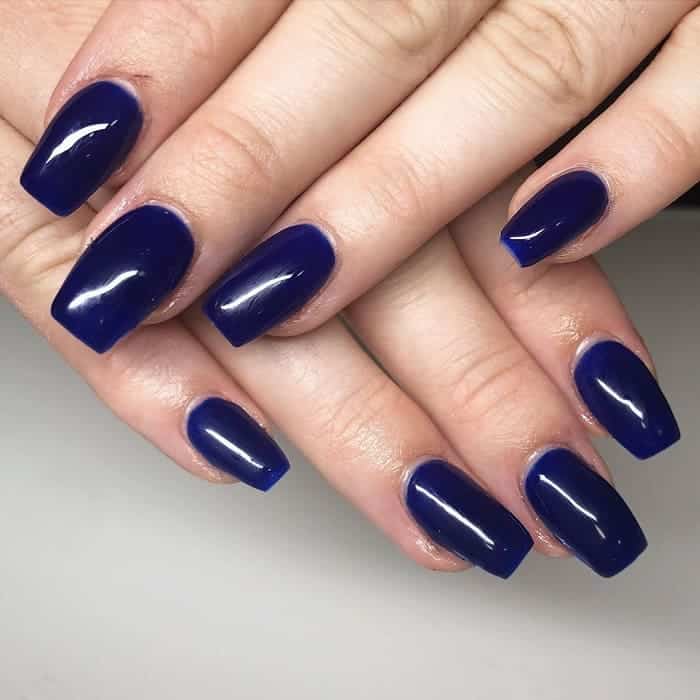 Sometimes a simple coat of polish is all you have time for! In that case, opt for navy blue for a quick, stylish manicure that will please your eyes each time you look down at your hands.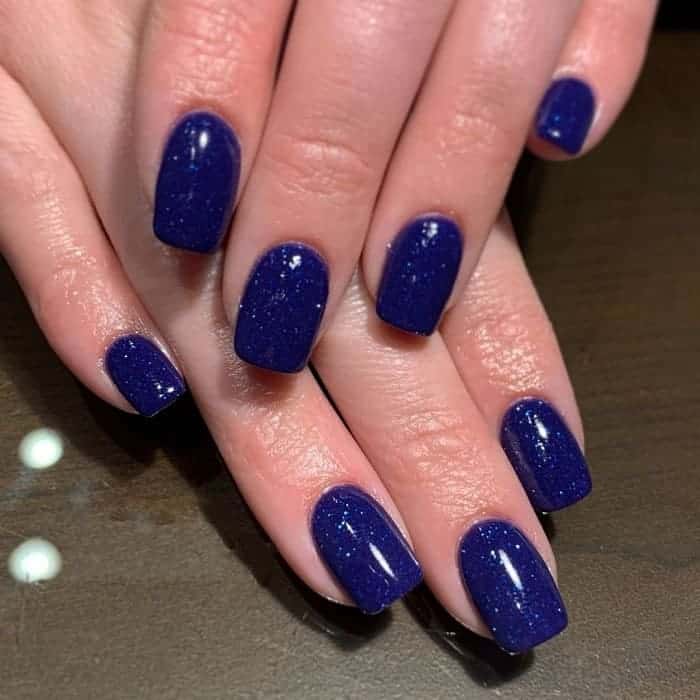 Give navy blue square nails a starry night effect with a clear top coat of glitter. Those nails will beautifully match the night sky.
If one thing is for sure, it's that navy blue nails are the obvious choice for deep, soulful design. The dark shade is easily balanced with either other dark colors or similar light shades and playing with glitter or matte effects can change the whole look.
Have fun experimenting and be sure to show us the finished result!