Searching for a manicure with a beautiful, rich new design? Navy blue nails are your one-stop shop! Not only is the dark nail color suitable for all skin tones, but it also works fabulously with other light and dark colors to create beautiful nail art.
Blue is a gorgeous color for any nail shape. Wear it as an ocean ombre, complement it with a glittered silver accent nail, draw gold shapes and patterns on it, or wear blue by itself.
If you need a little inspiration to get you going, we've got a few stylish ways you can easily touch up your nails with navy blue.
Trendy Navy Blue Nail Designs
Be the belle of the ball instantly when you paint your nails with navy blue! Here are the 35 best ways to style them up.
1. Navy Blue Galaxy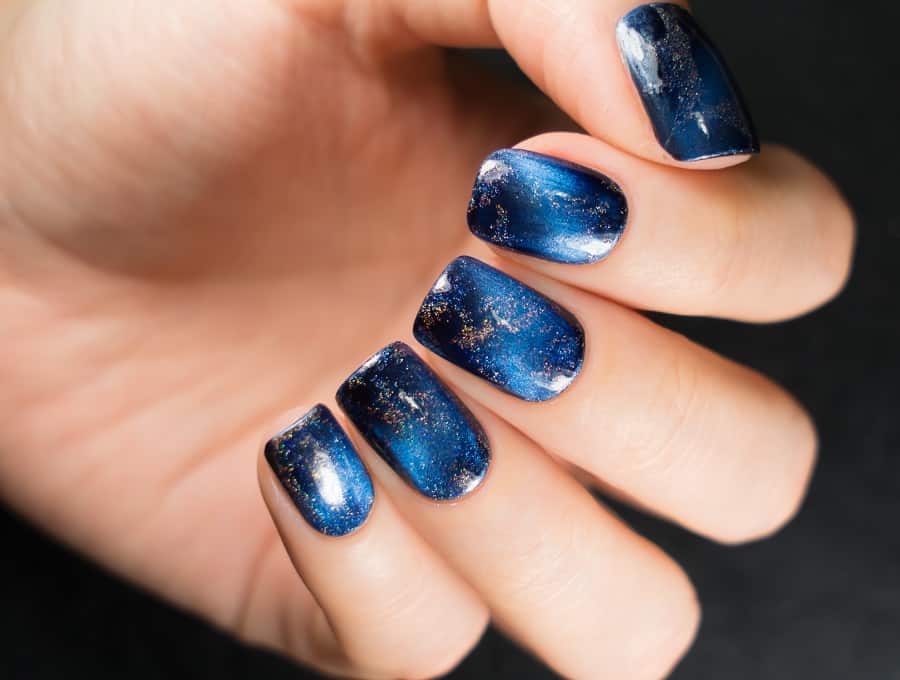 Bring the entire galaxy on your nails. Apply a navy blue magnetic polish and use a magnet to create the pattern of your choice. Finish off with fine specks of gold and silver to represent the stars. Voila!
2. Winter Look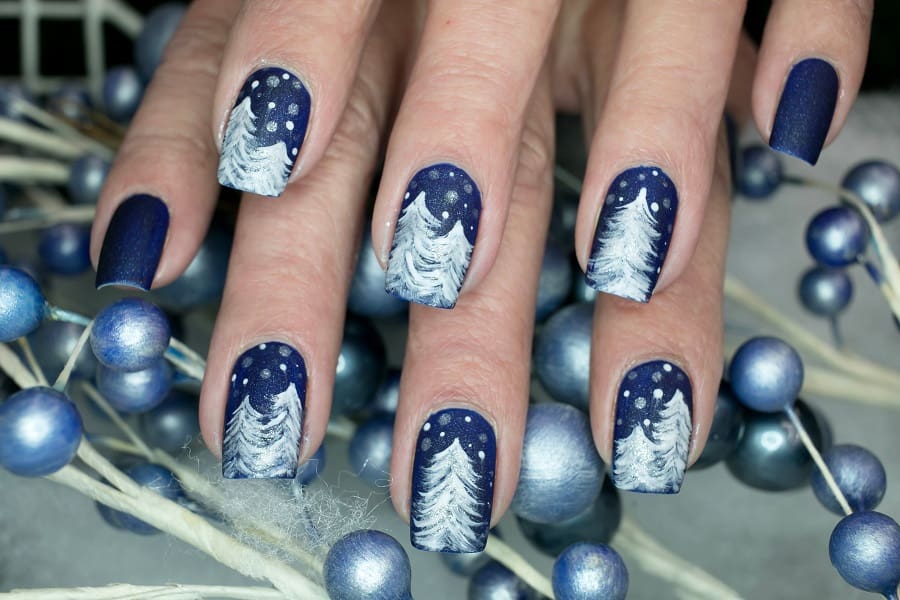 Get ready for winter with this chic design. Use a fine brush and white polish to draw a central line adding swoops along its length to create snow-covered fir trees on a matte base coat. A few scattered specks of white and done!
3. Dreamy Snowflakes
Talking about winter, here is yet another look that is a must-try this season. Connect dots and lines to create cute snowflakes on the nails and make it snow by topping off with a glitter polish.
4. Peacock Feathers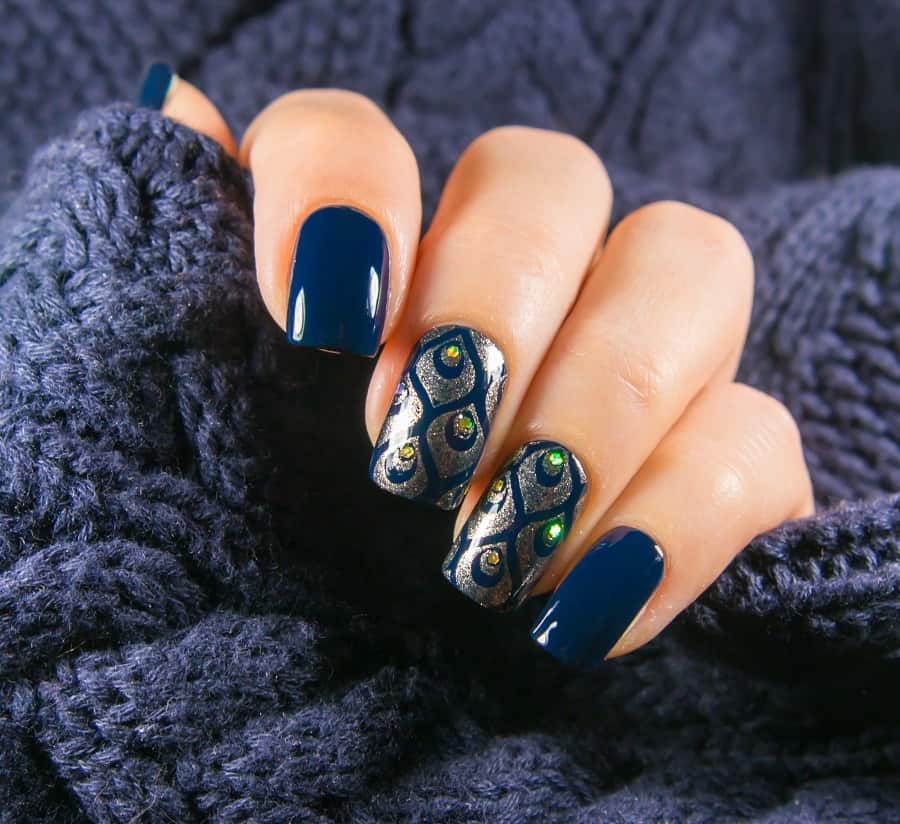 Make those navy blue nails stand out with a peacock feather design. Use nail decals or a nail art stamping kit to create a feather pattern on a nail or two and set the look on fire by adding yellowish-green rhinestones.
5. Blue Hibiscus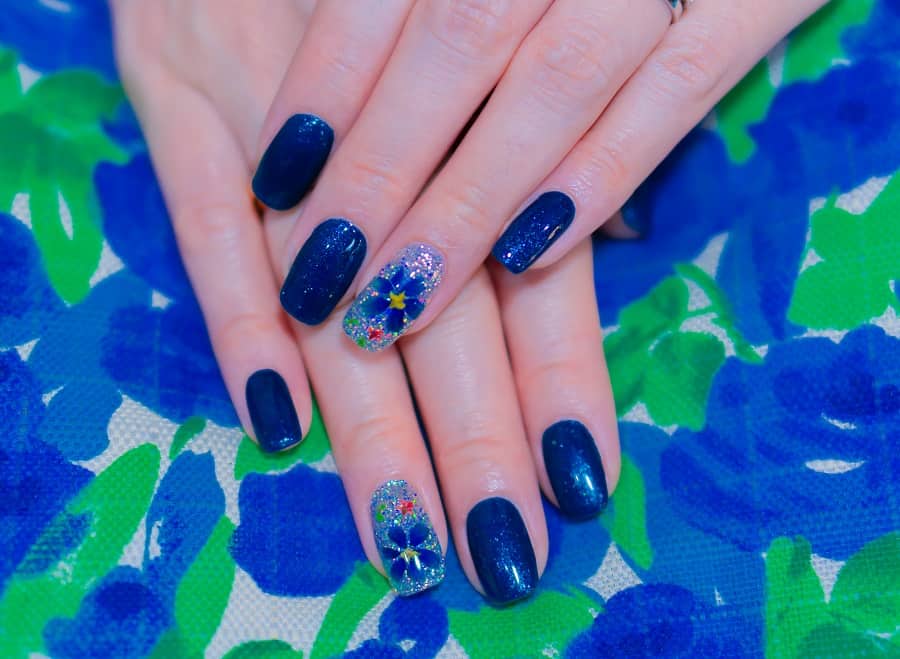 The blue hibiscus represents passion and joy. Glorify your nails by drawing the blue flower on the accent nail. The trick is simple, draw six dots, drag them towards the central yellow one and add some leaves. Tada!
6. French Manicure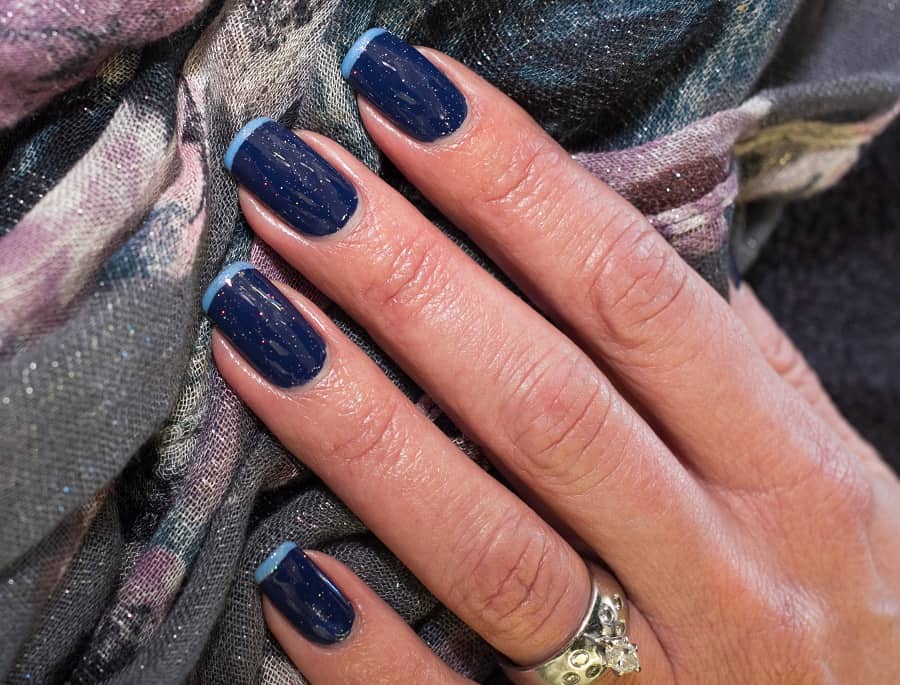 Wear the classic French Manicure with a modern twist without spending even a dollar at the salon. Opt for a dark blue base and add fine stripes of light blue on the tips only. Can't get any easier!
7. Add Some Sparkle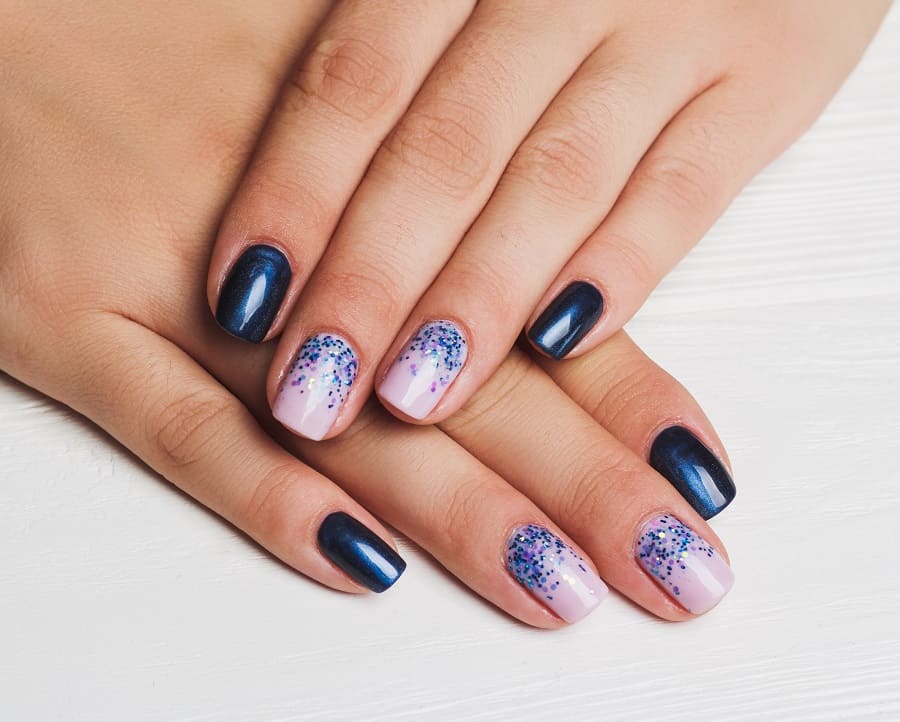 Make a style statement by coupling a dark blue nail color with a nude one. Mix together some blue and silver glitter and apply it when the white base coat is a bit tacky creating a gradient effect instead of covering the entire nail.
8. Striped Pattern
Produce a stylish textured effect by using a magnetic polish and a magnet. Choose a nail tape in a similar or different tone and place it diagonally on one, two, or all of the nails. Don't forget the top coat.
9. Detailed Tips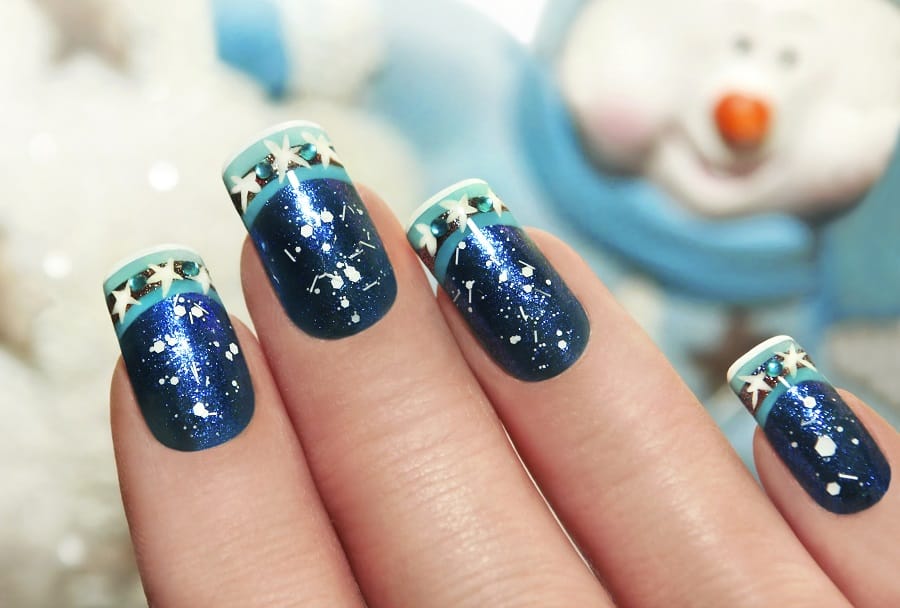 Those who love a detailed design can copy this look for a fancy occasion by adding stripes of light blue and white near the tips. Draw some stars, add tiny gems, and get ready to party!
10. Spooky Night Concept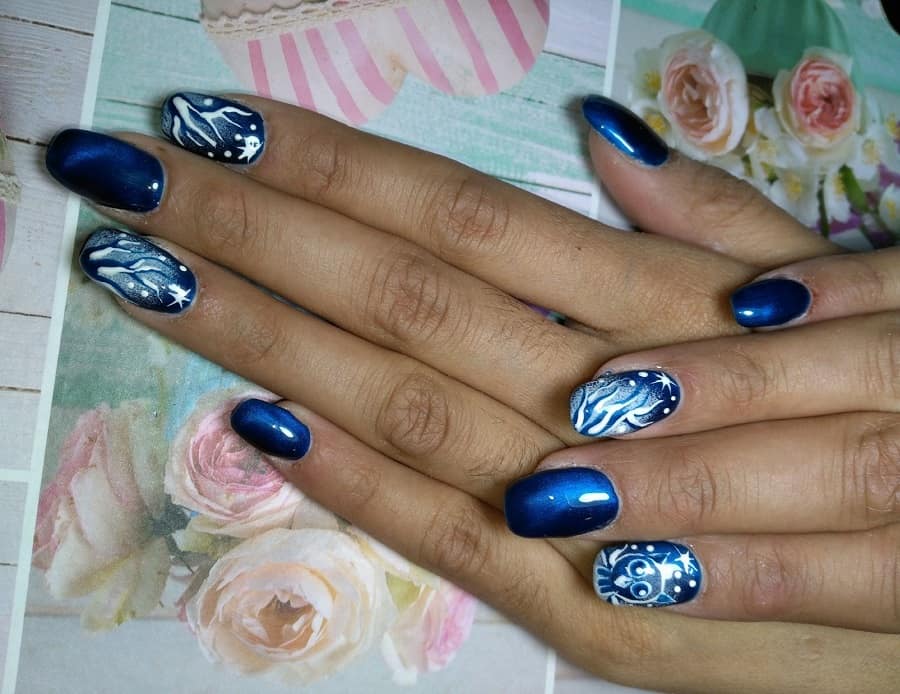 Prep your nails for Halloween with minimal effort. Use navy blue and white nail colors to draw tree branches and a cute little owl on the accent nail. Top off with some stars and a moon. Spooky enough!
11. Glitter Glam
A bit of glitter is sometimes enough to set a simple manicure on fire. Choose a transparent polish with tiny little hearts and stars and add it on top of the matte base coat sparing the accent nail.
12. Beach Vibes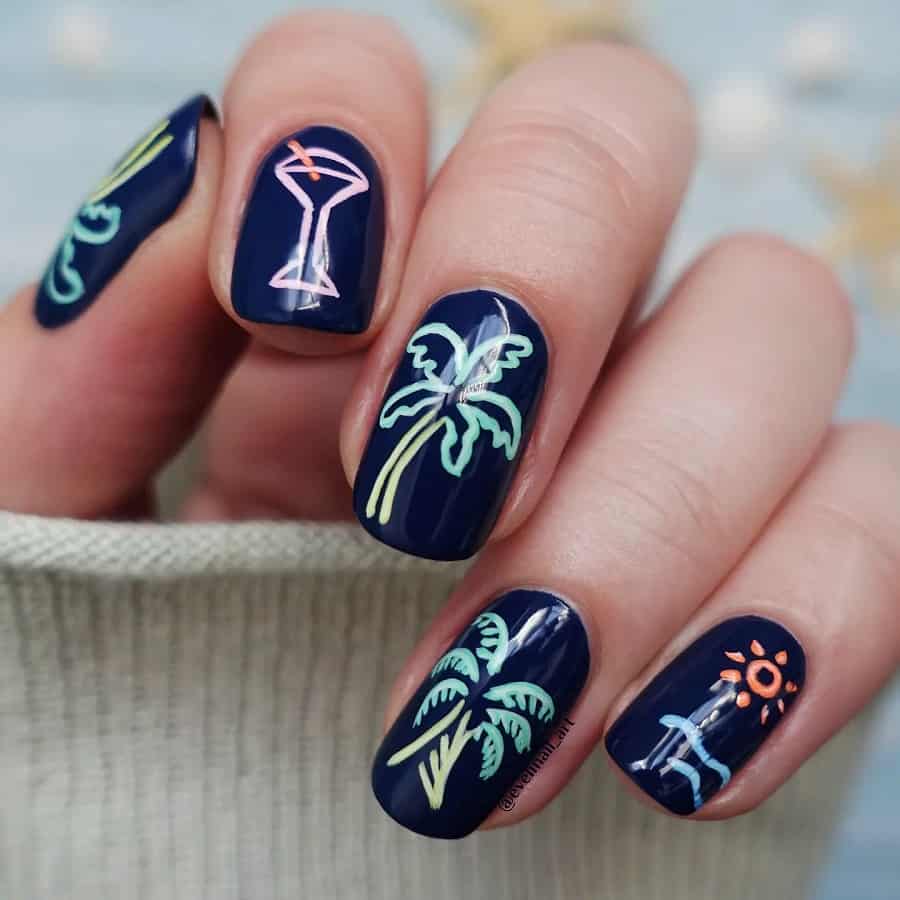 Love the beach? Let your nails be your canvas and use pastel colors to draw palm trees, ocean waves, cocktail glasses, and the sun, or use beach-themed nail stickers instead. Chic without a doubt!
13. Navy Blue Ombre
These navy blue nails are to die for! Use gel polish to sculpt long square-shaped nails and add gold glitter using your fingers or a brush creating a dark to light gradient. Recreate the look with silver glitter too and you will love it equally!
14. Accent Nail Design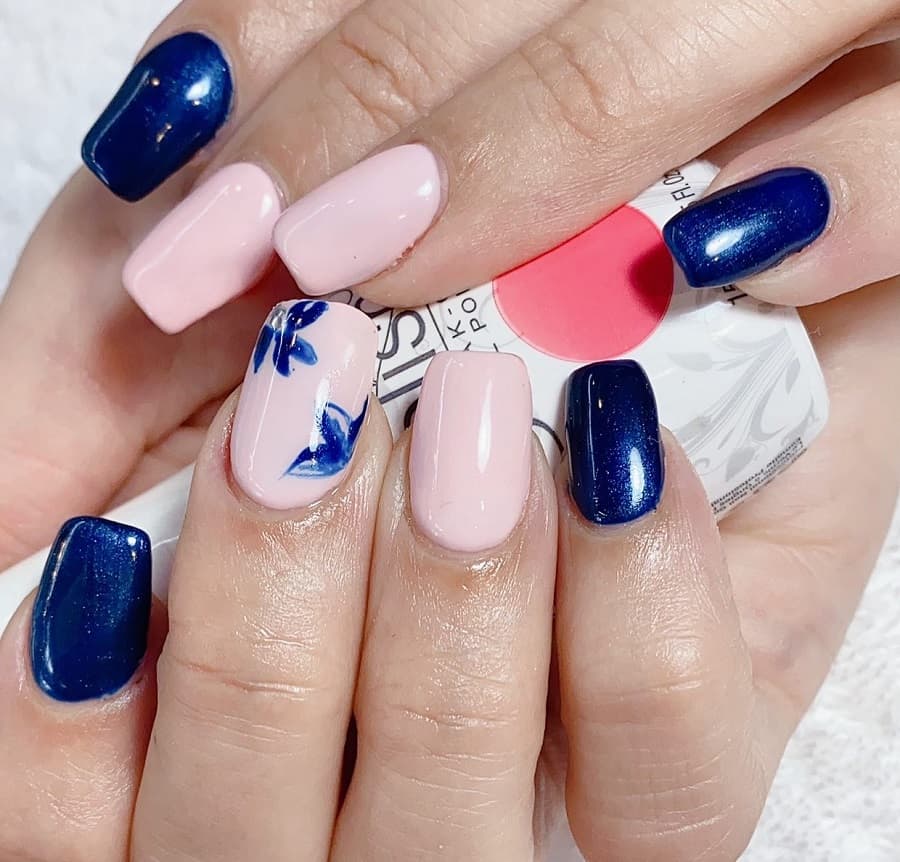 Want to refresh your nude manicure at home? Paint the nails in a dark blue hue sparing the central ones. Use a fine brush and draw flowers, leaves, stars, or whatever you like on the accent nails, and there you go!
15. Flowers Everywhere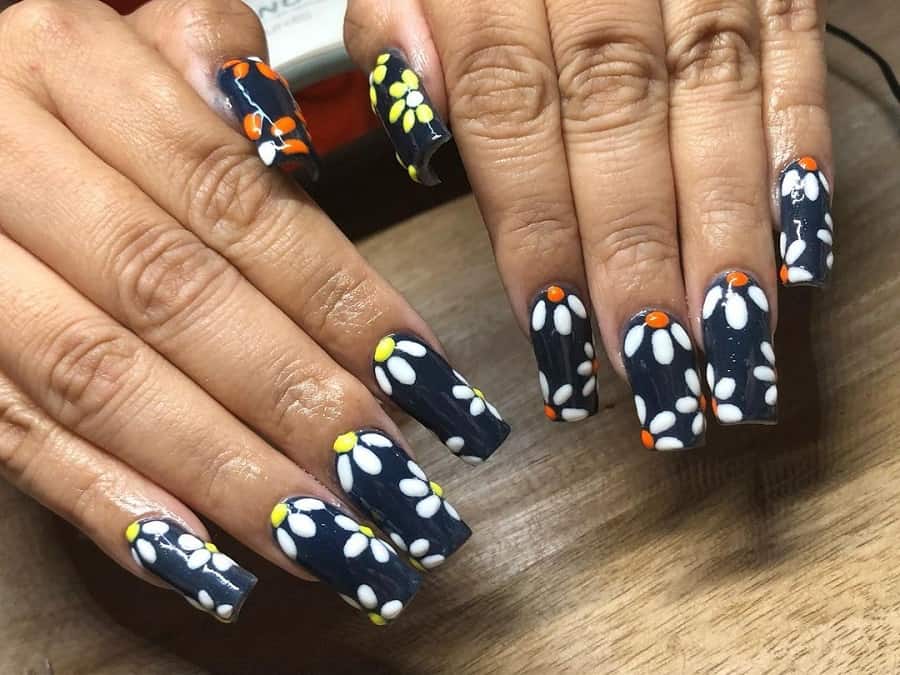 Fashionistas can express their love for flowers by drawing them on their nails. Create a pop of color by using white, orange, and yellow nail paints. Add random dots and drag them towards a central one. Repeat until no space is left. Simply adorable!
16. Little Hearts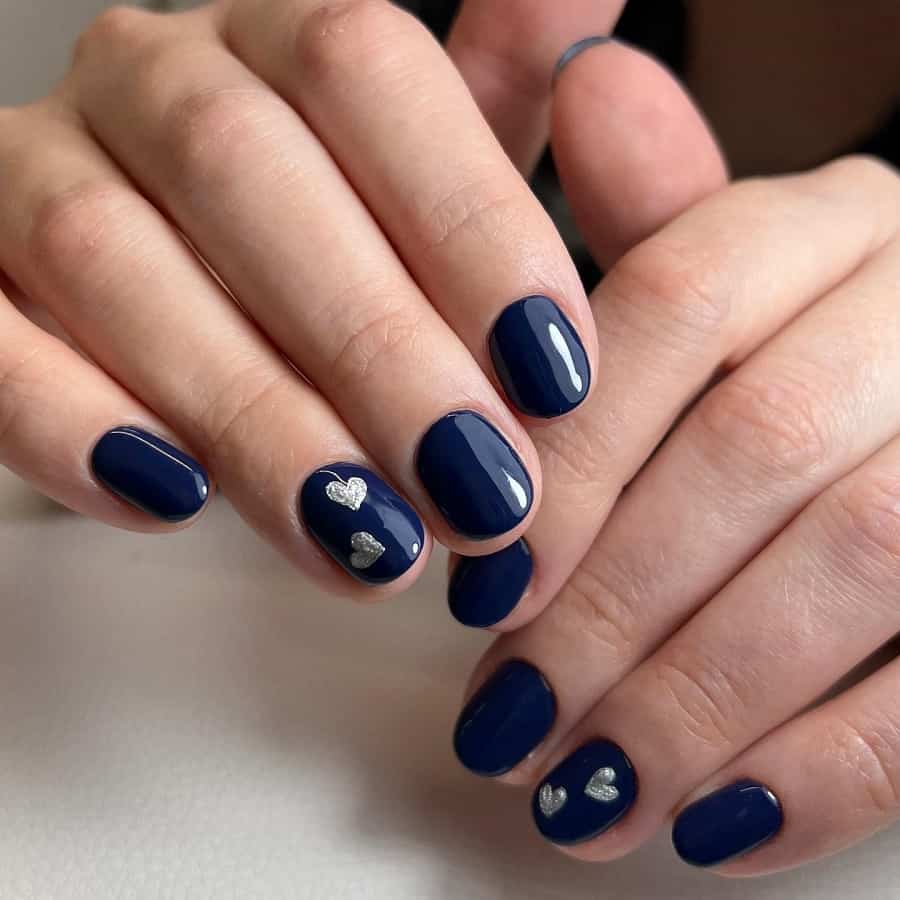 Navy blue is the go-to nail paint for short nails. Celebrate the love around you by adding tiny silver hearts on one or all of the nails. How? Place two dots close to each other and connect them at the base. Tada!
17. Matte Marble Nails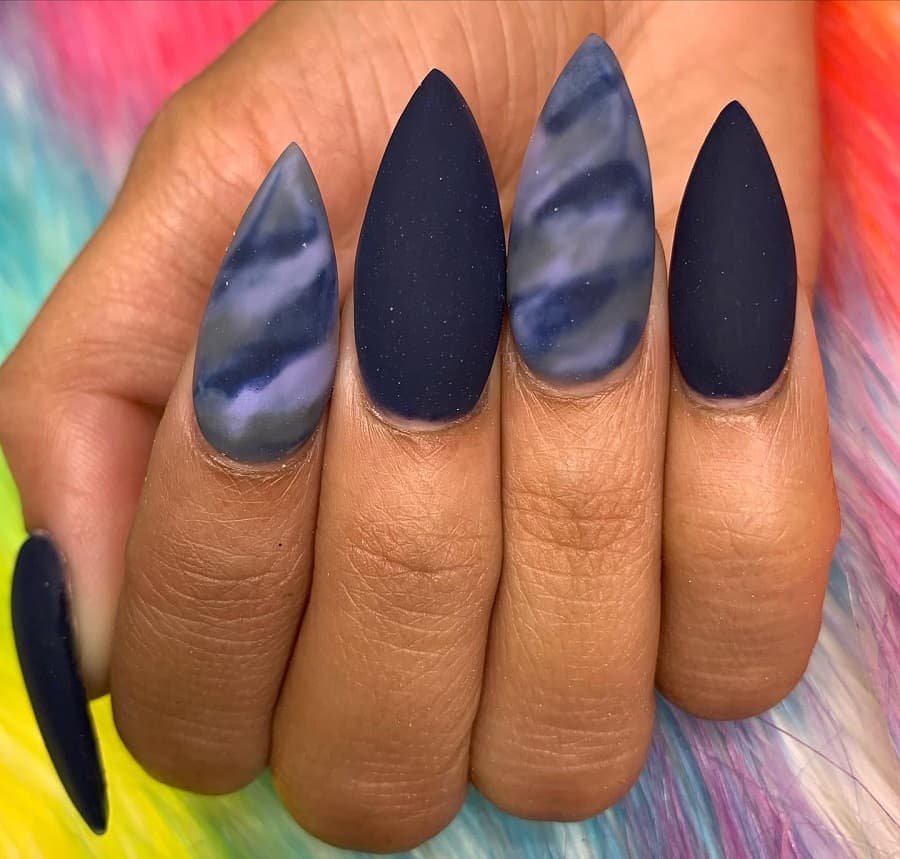 Turn those long stiletto nails into one of a kind by placing blobs of gray, dark, and light blue acrylics on the nails and allowing them to mix together resulting in a marble pattern that won't be ignored.
18. Baseball Theme
This design is for the sports fans out there. Use red polish to create the laces and stitches of the baseball on a white base coat and add the number of your favorite player on the remaining ones.
19. Lightning Flash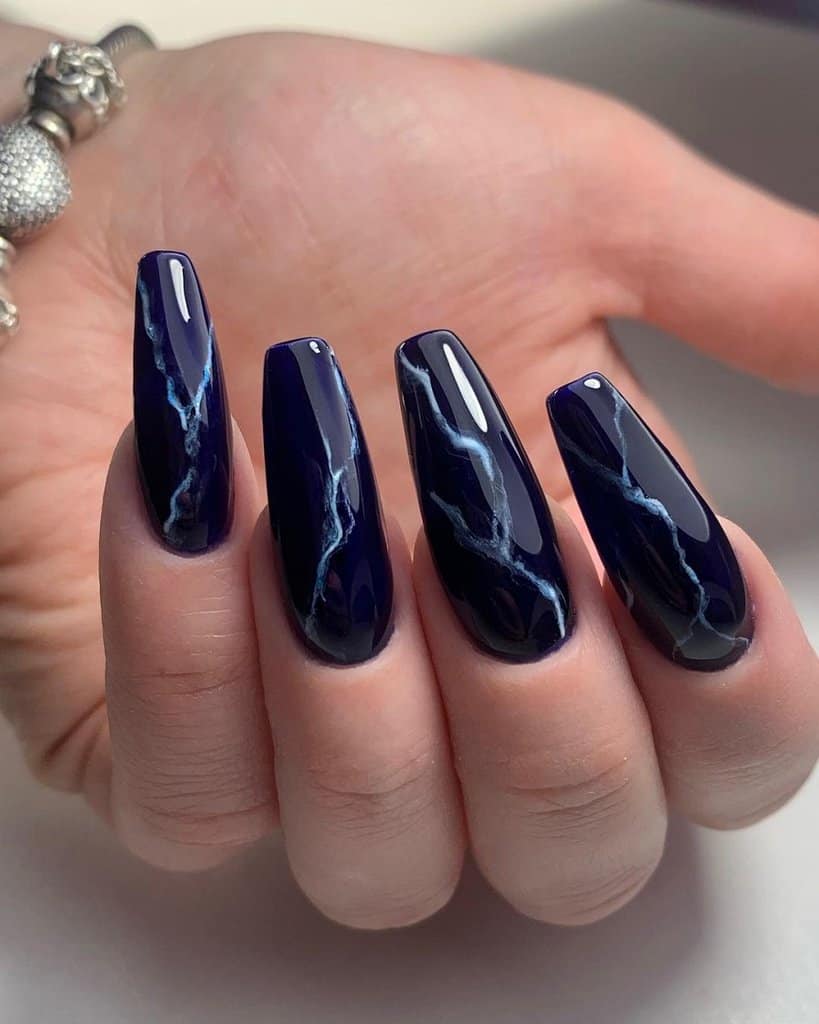 Recreate the natural phenomenon of thunder and lightning with a simple trick. Opt for long coffin nails and mix together some thinner with a white polish before adding jagged lines for a realistic result. Eye-catching isn't it?
20. Gold Glitz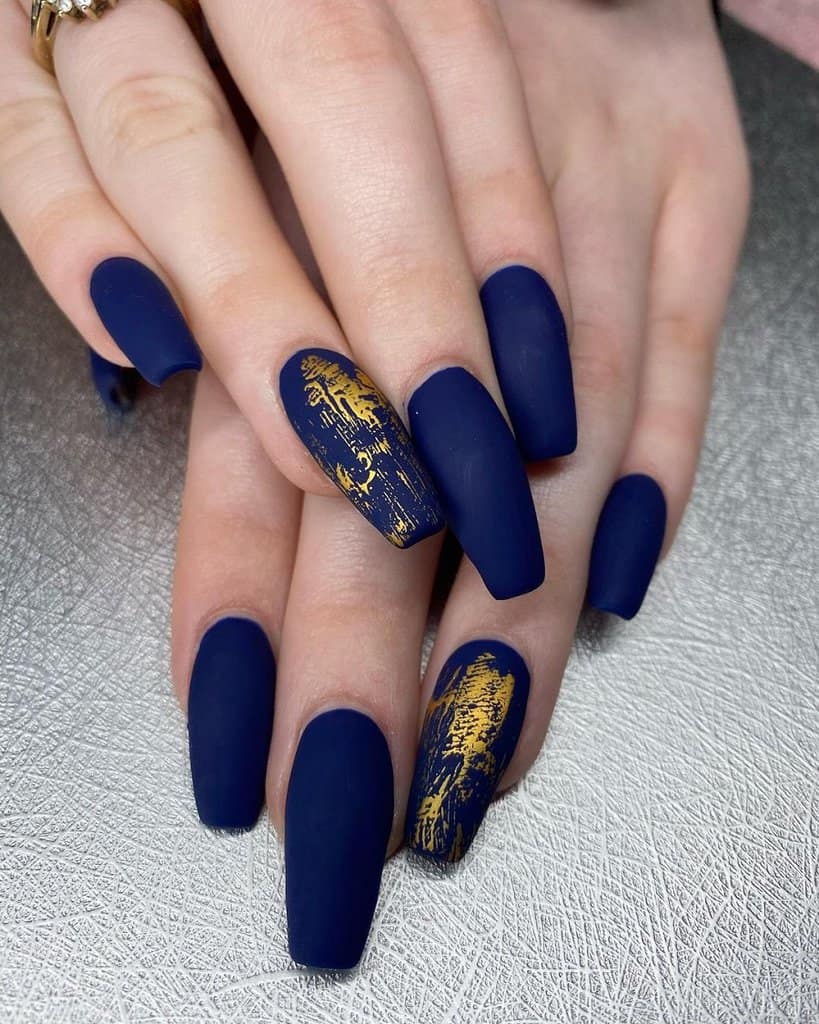 Rock an expensive manicure by experimenting with long matte blue nails. Go for a coffin or ballerina shape and dip a flat brush in gold polish before adding a stroke or two on the accent nail or use gold foil for a similar effect.
21. Silver Shimmer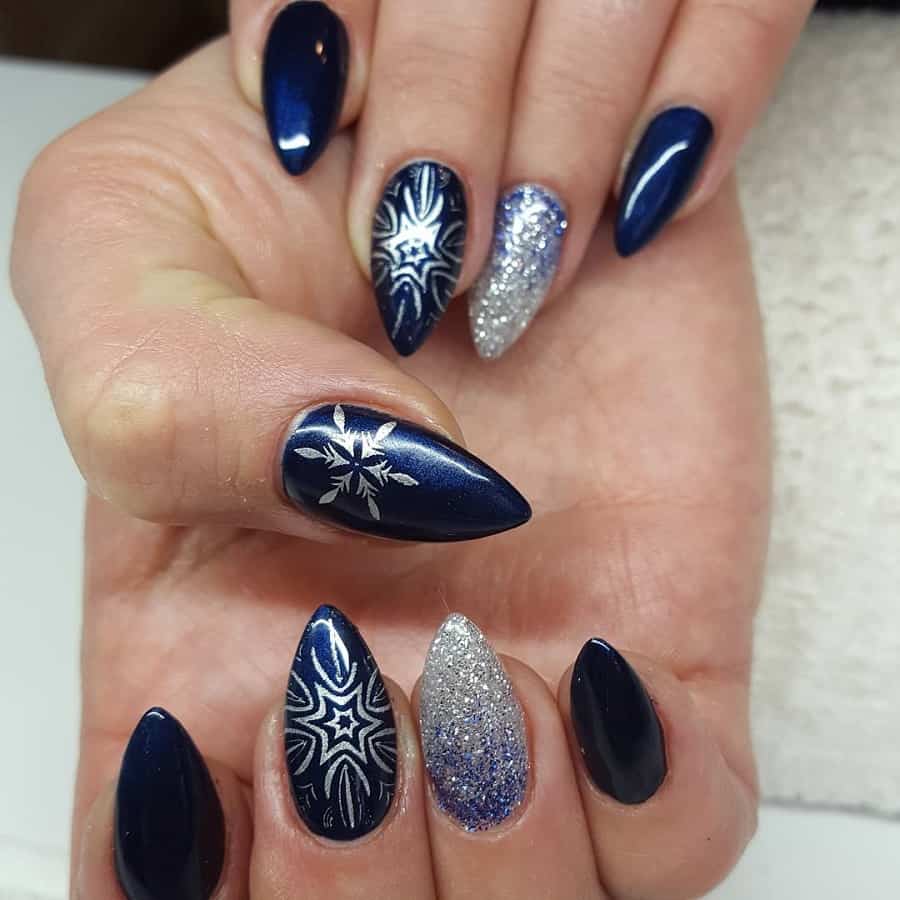 A touch of silver surely won't hurt. Use silver glitter to decorate the accent nail with some blue sparkle near the cuticle. Stamp on star or snowflake patterns on the remaining nails for a chic finish.
22. Simple and Elegant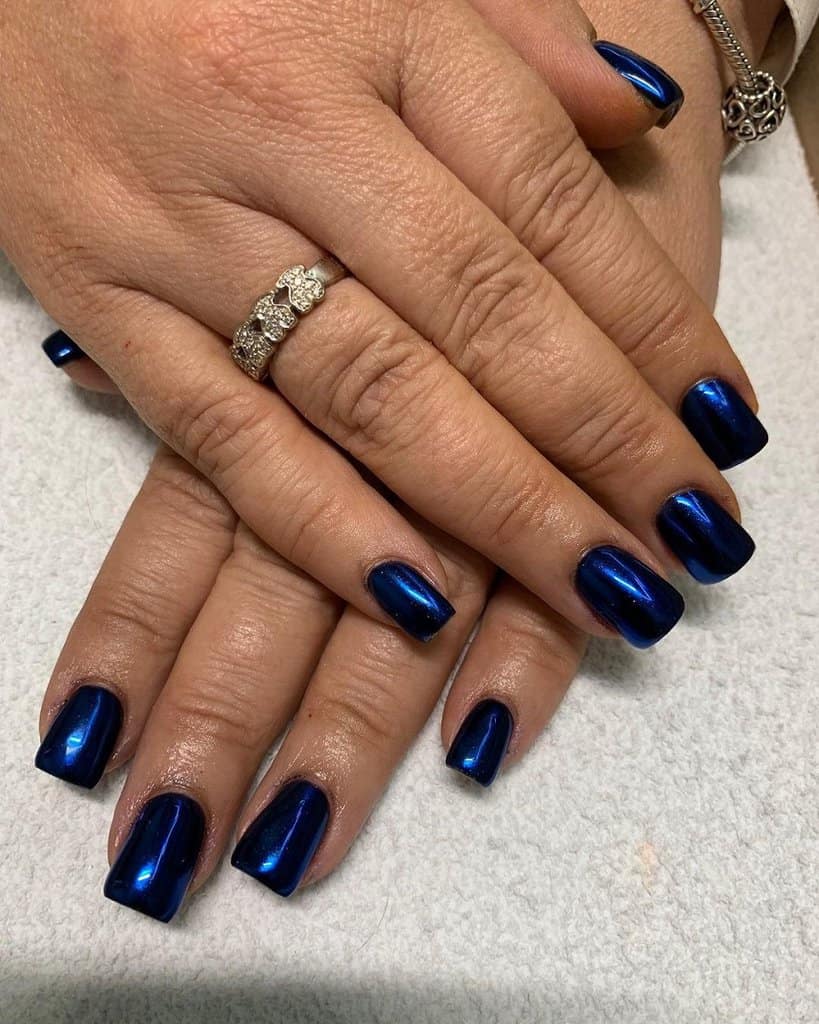 The simpler, the better! Navy blue is the color of power, authority, and confidence. Keep your manicure elegant by adding a coat or two of this classic shade on short square nails and you won't regret it.
23. Gradient Nails
Gradient nails are defined by painting each nail in a slightly different hue. Mix blue and gray acrylics to get a cloudy effect on one nail and try a net pattern on another one leaving the remaining nails plain.
24. Shiny Chrome
Nail foils have become quite popular these days and it is not difficult to understand why. They are stunning, sparkly, and easy to achieve. Use a multi-colored or iridescent one on those dark blue nails and get ready to be surprised by the results.
25. Matte Nails with Rhinestone Detail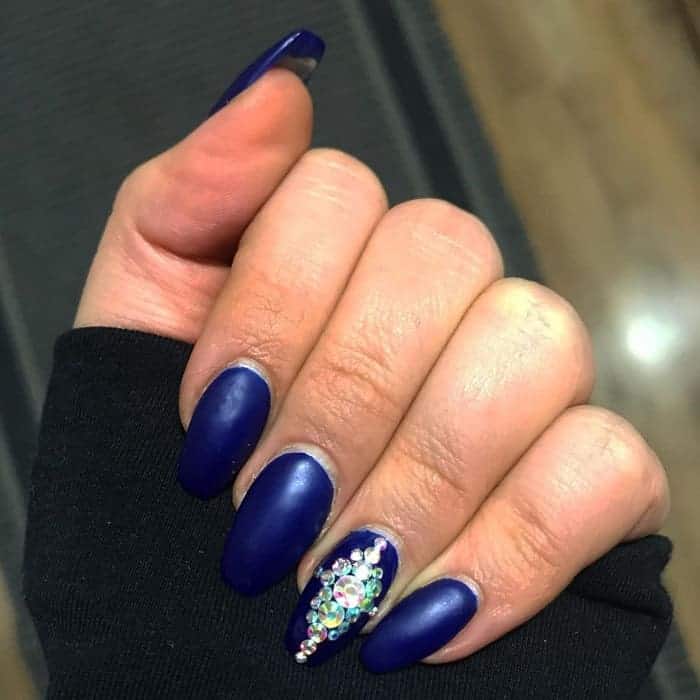 Long nails will give you plenty of space to flaunt matte navy blue. On the ring fingernail, make a beautiful diamond shape out of different-sized rhinestones. For a simpler design, you can make a cute flower or sun.
26. Shiny Navy Blue with Glittered Silver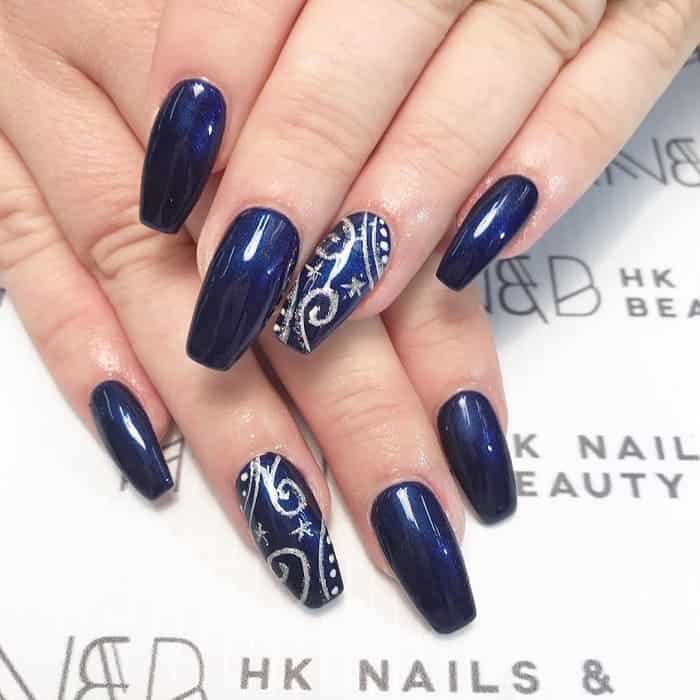 A shiny navy blue is stunning on long coffin nails. To make this design holiday-themed, use glittery silver nail polish to make swirled and starred designs on your ring fingernail.
27. Matte and Glittered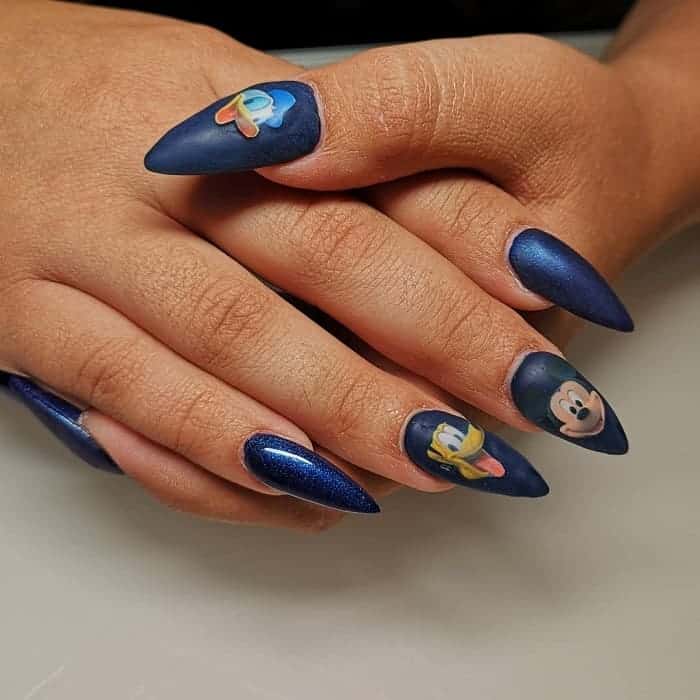 These stiletto nails show us how gorgeous combining matte navy blue with glittered navy blue is.
Whether you alternate the polishes or make the two center fingernails matte with character stickers, both results will be gorgeous.
Black and Blue Nail Design Ideas
28. Navy Blue + Golden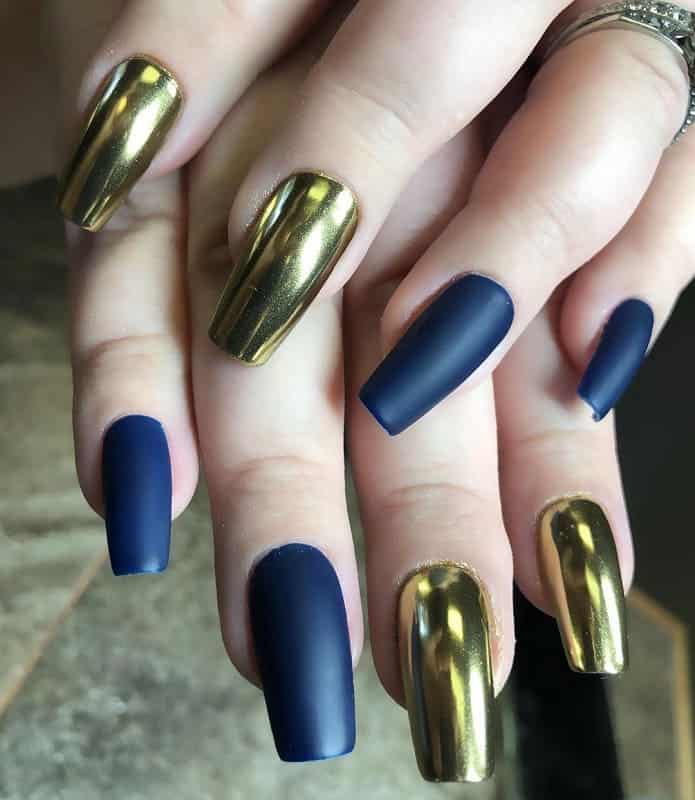 How amazing are these long square nails with their matte navy blue and rich gold design? The shiny gold is perfect for balancing out the flat effect matte polish has.
29. Navy Blue + Acrylic Nails
Coffin acrylic nails may be for you if you want long blue nails but don't have the length! These blue beauties look great with light and medium skin tones too.
30. Navy Blue and Sparkly Silver Nails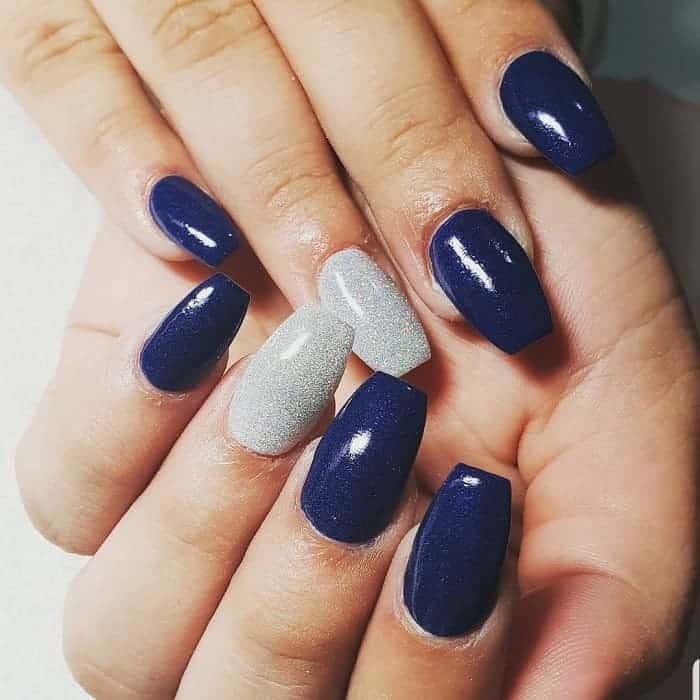 Adding a dash of shine to navy blue nails is easy with sparkly silver polish. Just coat the ring fingernail with it to make your nails catch anyone's eye.
31. Navy Blue + Ombre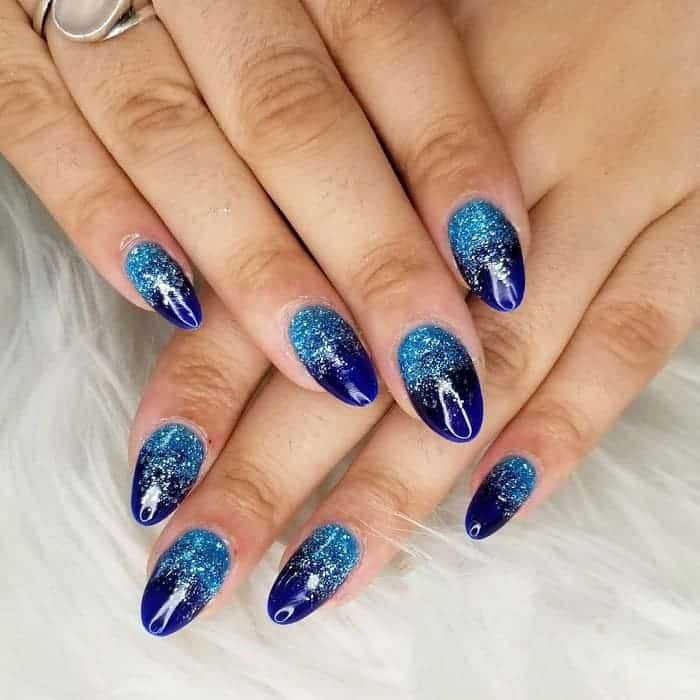 Two tones of navy blue work with light blue on glitter ombre nails. Leave them as a plain ombre or create the above style by using a glittered light blue.
32. Navy Blue + Gel Nails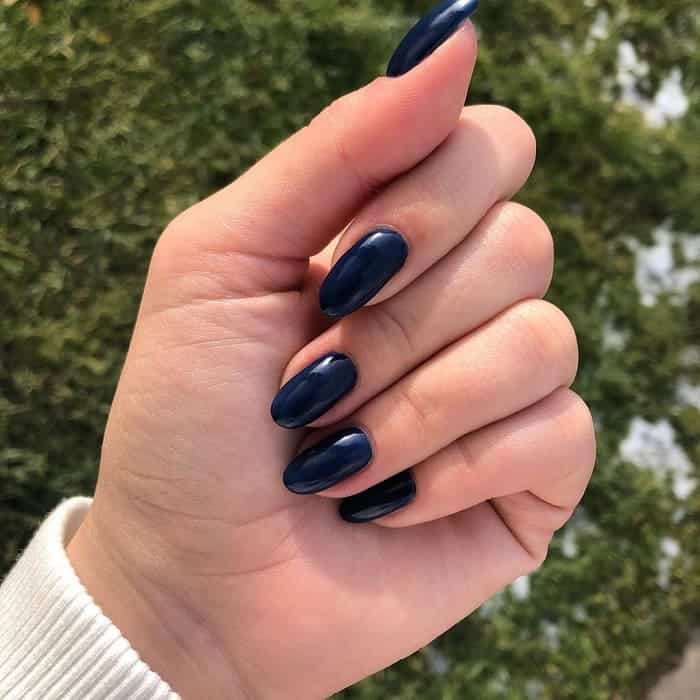 This dark navy blue in gel polish is perfect for long oval or round nails. When the color is this rich, there's no need for any special designs, so leave as is for simple beauty!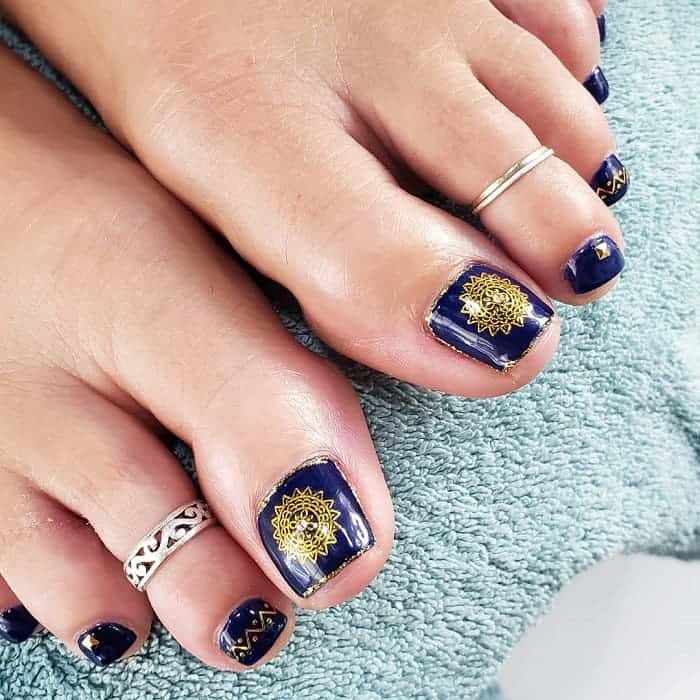 Bring peace and color to your toenails by painting them navy blue to match your manicure!
We love the gorgeous gold mandala design on the big toenails. Glittery gold edging will also make your navy blue toenails pop.
34. Dark Navy Blue Nails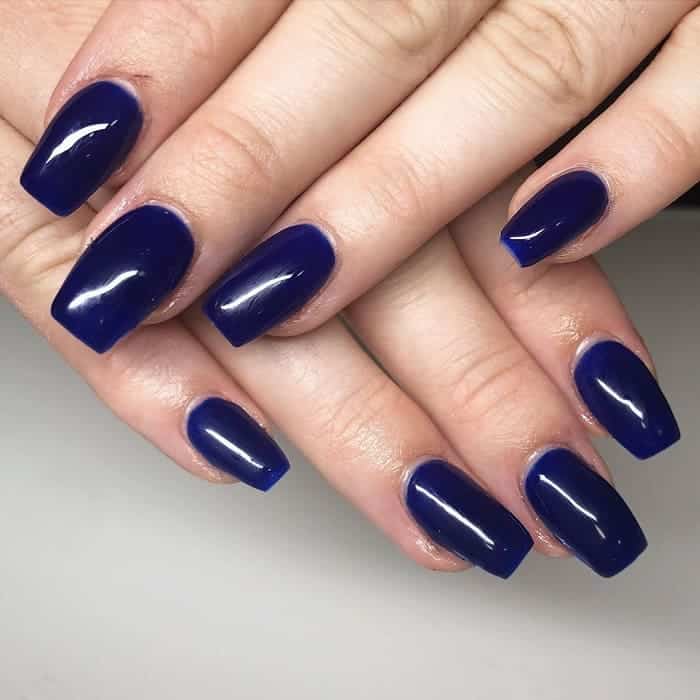 Sometimes a simple coat of polish is all you have time for! In that case, opt for navy blue for a quick, stylish manicure that will please your eyes each time you look down at your hands.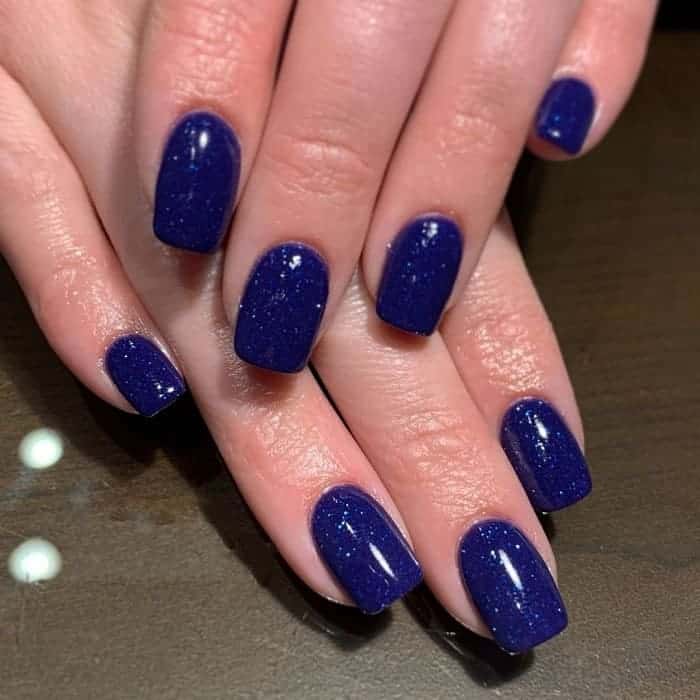 Give navy blue square nails a starry night effect with a clear top coat of glitter. Those nails will beautifully match the night sky.
If one thing is for sure, it's that navy blue nails are the obvious choice for deep, soulful design. The dark shade is easily balanced with either other dark colors or similar light shades and playing with glitter or matte effects can change the whole look.
Have fun experimenting and be sure to show us the finished result!