30 Breezy Beach Nail Designs to Try This Summer
You may get tired hearing the echoes of city life every day. The noise and chaos of our day to day life seem so distracting that we lose our own self in the mire of rotten civilization. A large sea beach may act like the torch bearer for us in this dark hole of confusion and dissatisfaction.
The bonding of a sea lover and the sea beach is so strong that it is inseparable no matter how long the distance is in between them. If you are a thalassophile or have the inner urge to embrace the sea, these beach nail designs are for you. Having nail designs is a bold and expressive way of showing your love for something you really care and adore. So, beach nail designs will do the talking for your romantic and sea-lover mind.
Beach Nail Designs To Pass Holiday
Since each of us is very busy in our scheduled activities it is really tough to manage time to go to enjoy the scenic beauty of the sea beach. But, sea beach is the perfect spot to spend your holiday. If you want to make the best use of your holidays, visiting a sea beach is the sole option. And having beach nail designs on your nails is the best thing you could do while experiencing the vastness and holiness of the great sea.
You can design these nails with the images of sea shells, coconut trees, blue water, starfish, jellyfish, seahorses, horizontal beauty etc which are related to sea beach and the sea. I am going to discuss some ideas and designs to help you decide what to have on your nails as beach nail designs.
#1.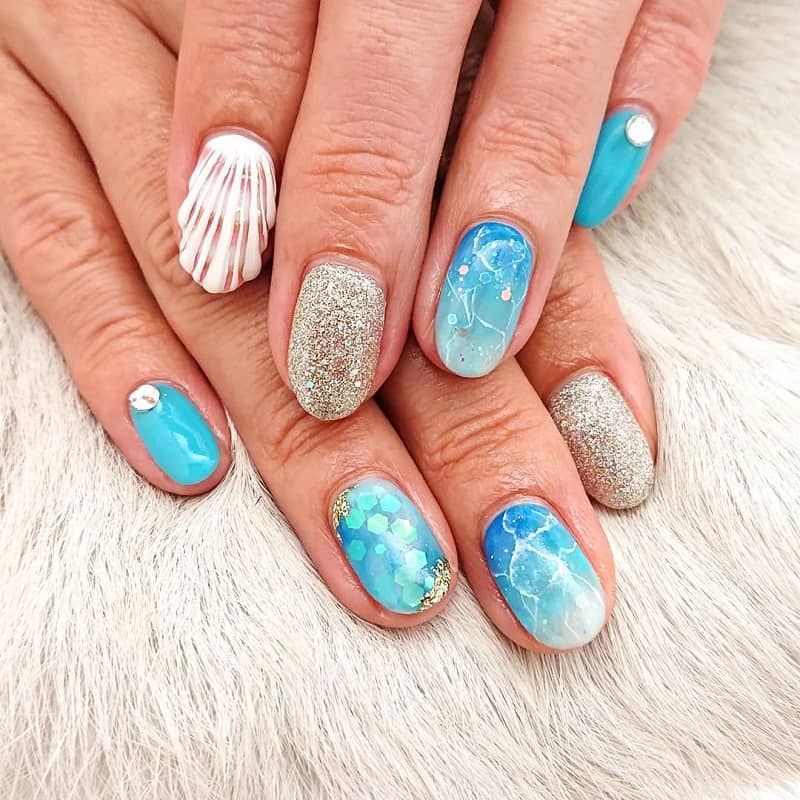 blue beach nail design
#2.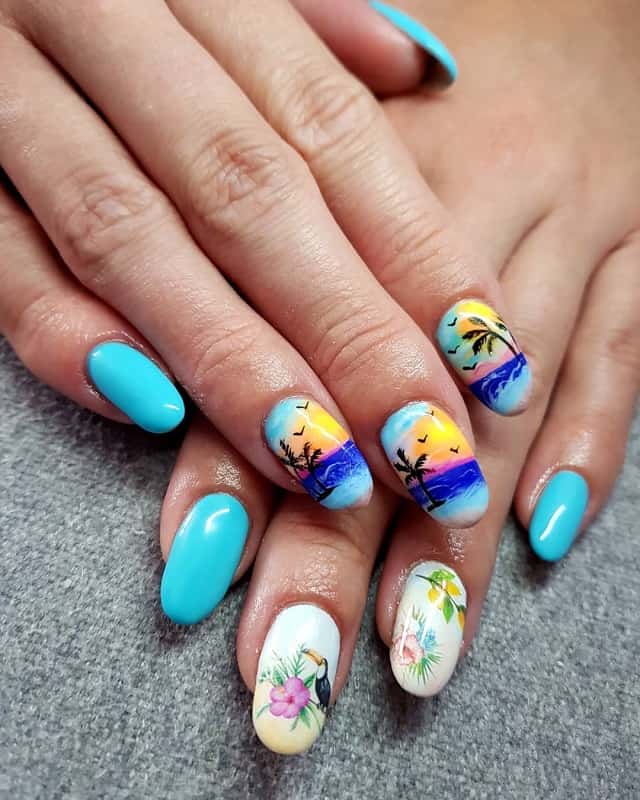 beach sunset nail design
#3.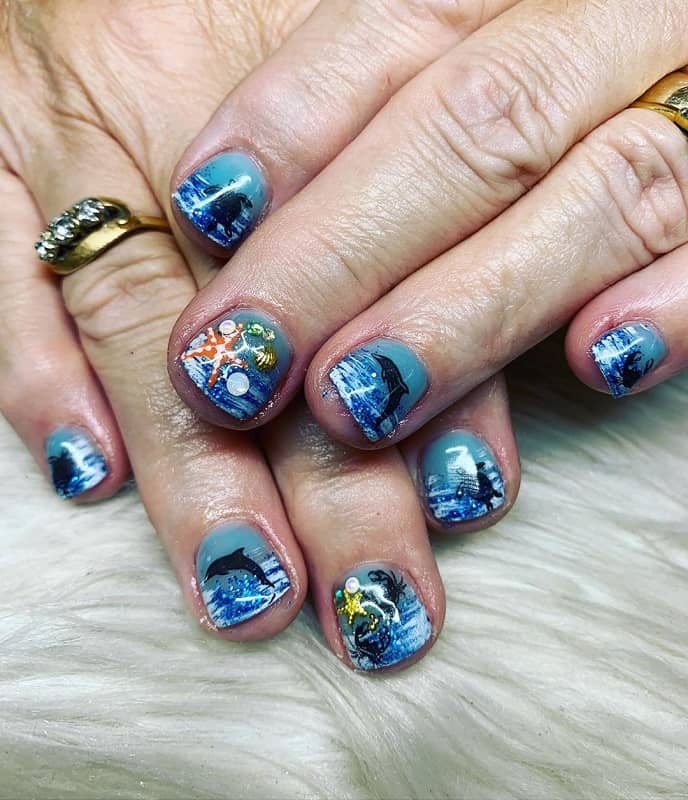 beach scene nail art
#4.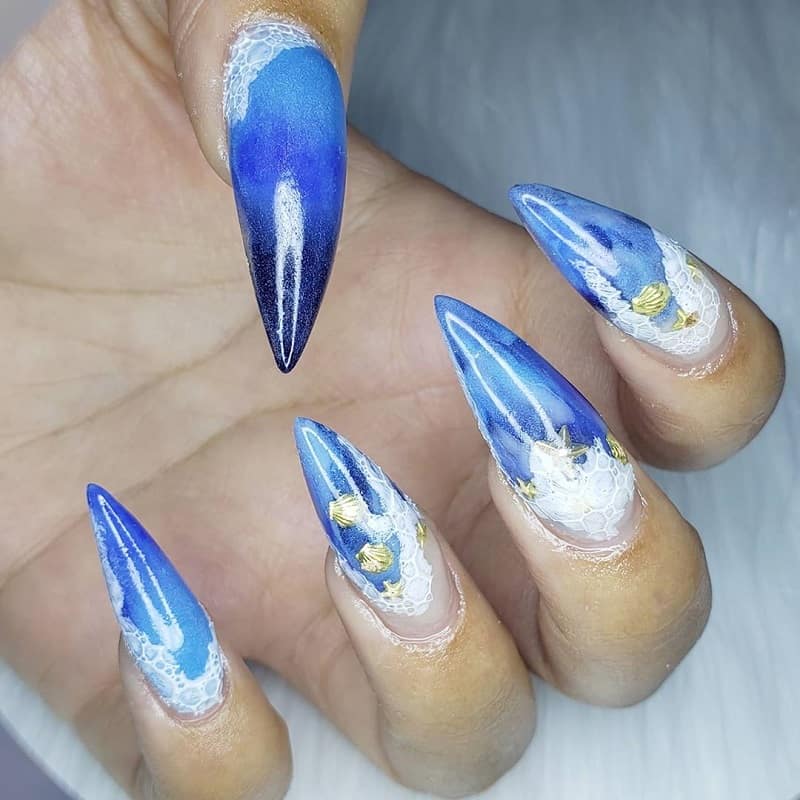 beach waves nail art
#5.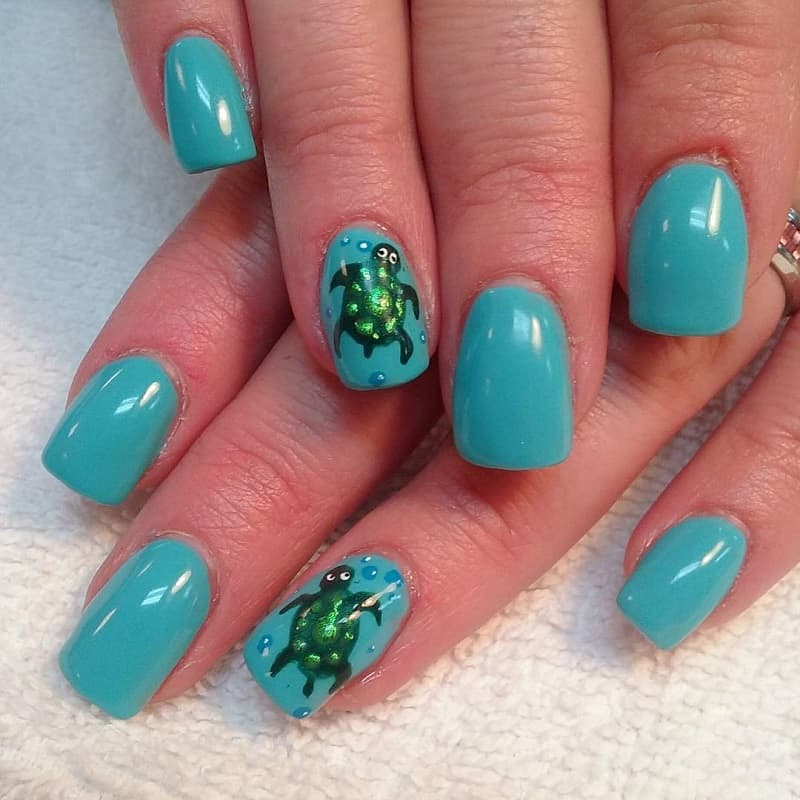 beach turtle nail design
#6. Gel Nails for The Beach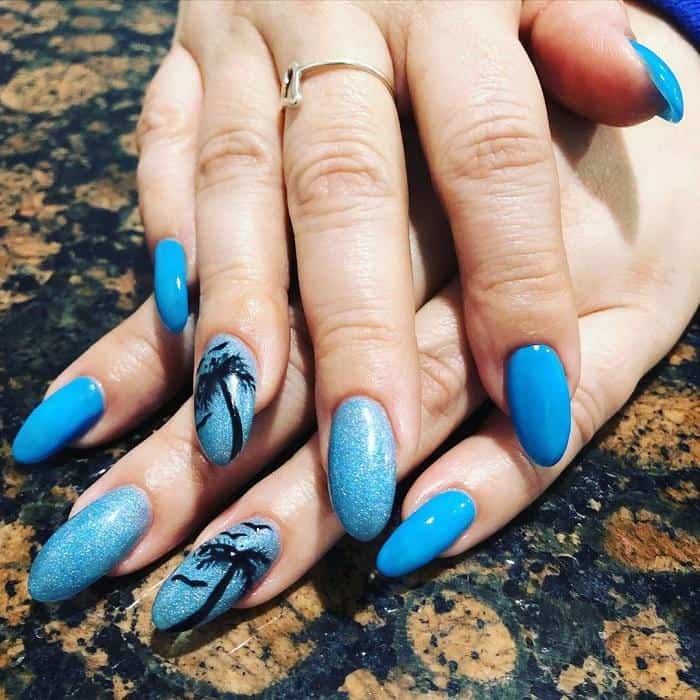 #7. Beach Toe Nails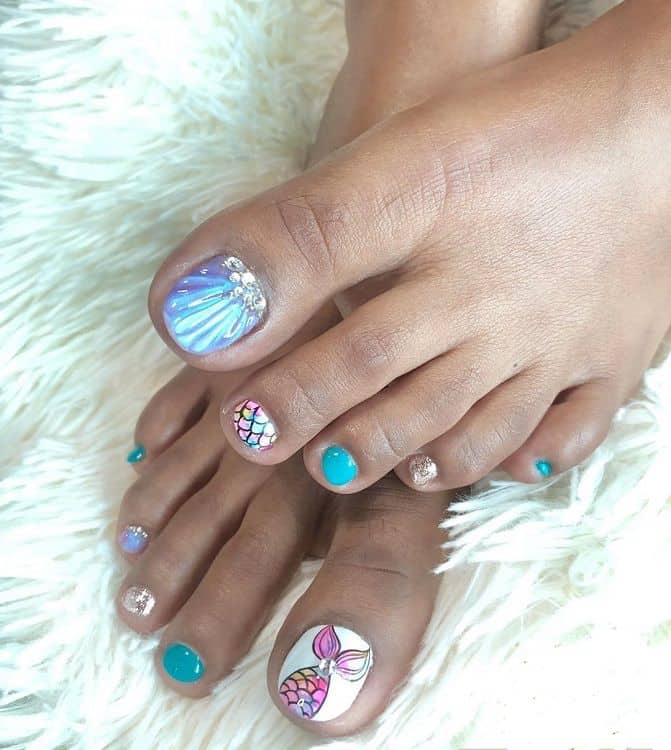 #8. Beach Nail Design for Wedding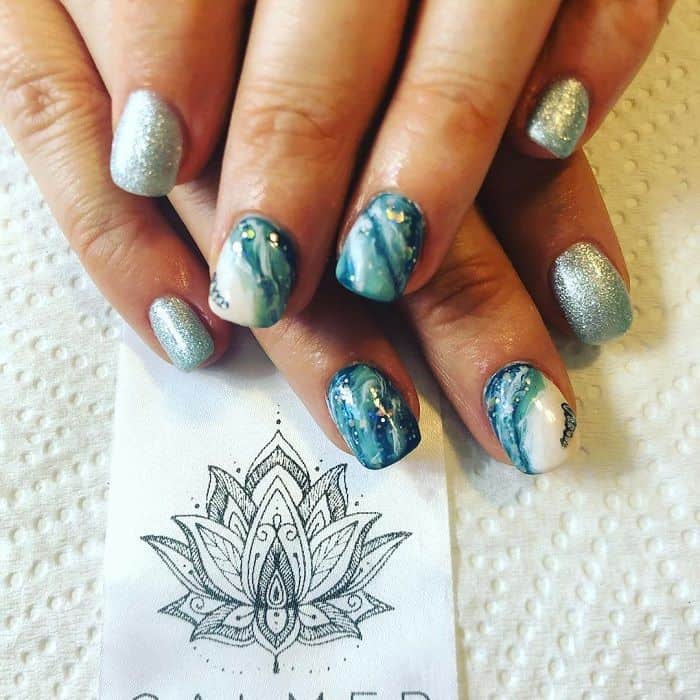 #9. Beach Nails with French Tips
#10. Nude Beach Nail Polish
#11. Sea Shells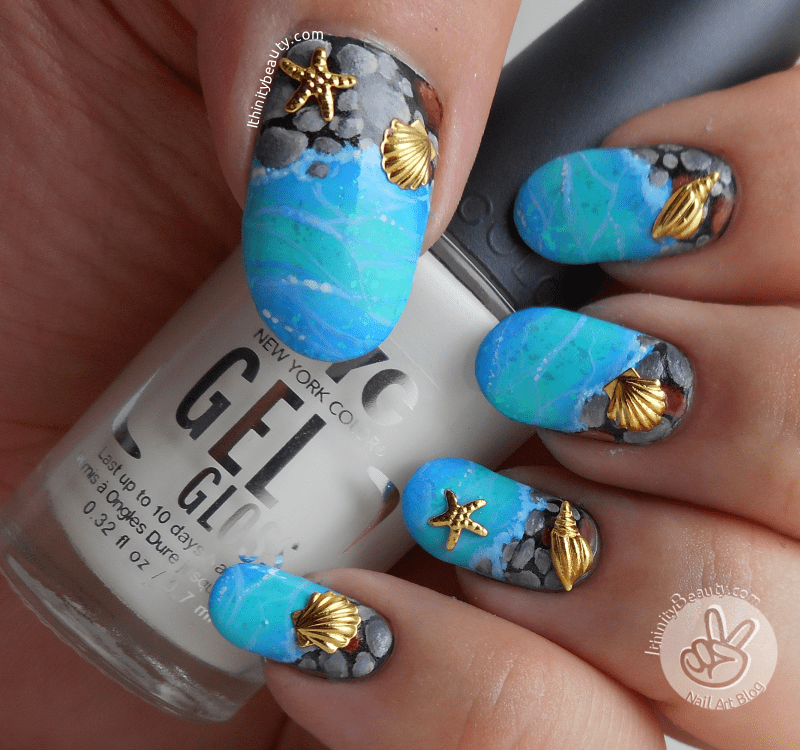 Seashells are an integrated part of a sea beach. You can attach tiny seashells or starfish to the beach nails of yours. First, paint your nails in such a way so that your nails look like the image of a sea beach. Then use the seashells on them. That's it, your beach nails are ready.
Revive The Ocean Vibe With Mermaid Nail
#12. Pink and White Beach Nails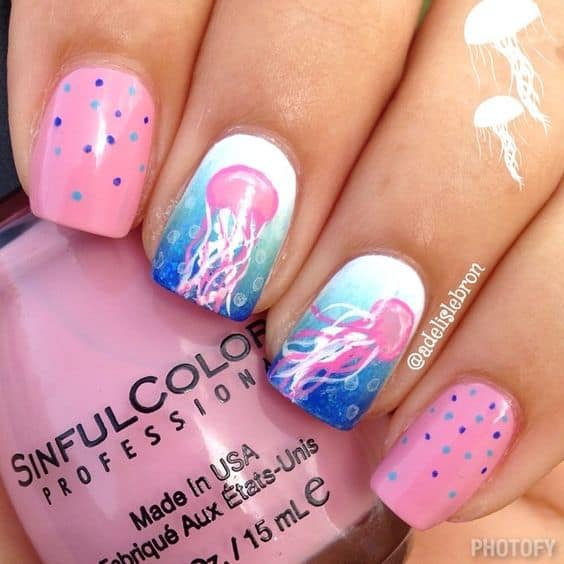 The image of jellyfish looks so beautiful when it is illustrated on nails. You can use pink and white colors to draw the jellyfish. Paint the jellyfish on blue nail base add some polka dots to make it look like perfect resemblance to the sea.
#13. Lazy on a Beach Holiday 
This design depicts the laziness of the seashore at noon time. You will feel like lying on the beach forever. Watching the seagulls flying, or the seawater waving is a celestial feeling. Draw this imagination on your beach nail designs.
#14. Gold Starfish
This design is based on the images of starfish. Starfish have the perfect star shape among all other things in this world. You can use gold glitters to draw these starfish on your beach nail designs.
#15. The Anchors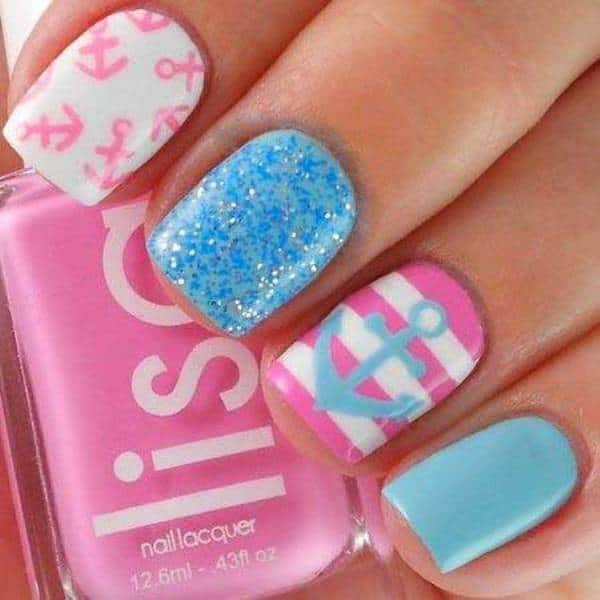 Anchors are commonly connected to the theme of the sea. A lot of boats and speed boats are anchored on the seashore almost all the time. So, anchors can be used in beach nail designs.
#16. Beach in Peach
The peach color is used in this design of beach nail designs. You can paint coconut trees with black color on the peach and white nails. Beach in Peach is an interesting design for your nails.
#17. Tropical Sea Shore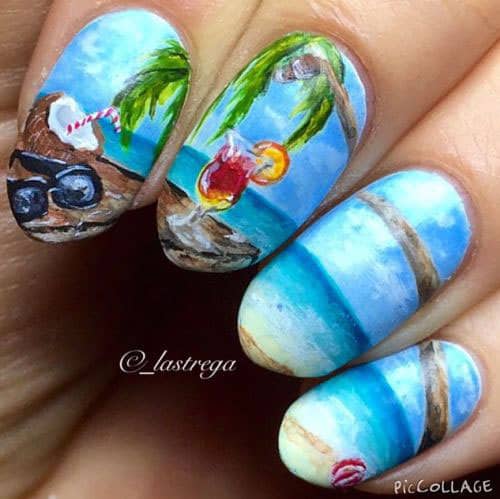 This is the perfect depiction of a dream beach. Any tourist will dream of a beach like this where the water is blue, the sands are white, the drinks are organic and the shades are natural. You can paint this image on your nails to have beach nail designs.
Give A Shoot To These Tropical Nail
#18. Colorful Fish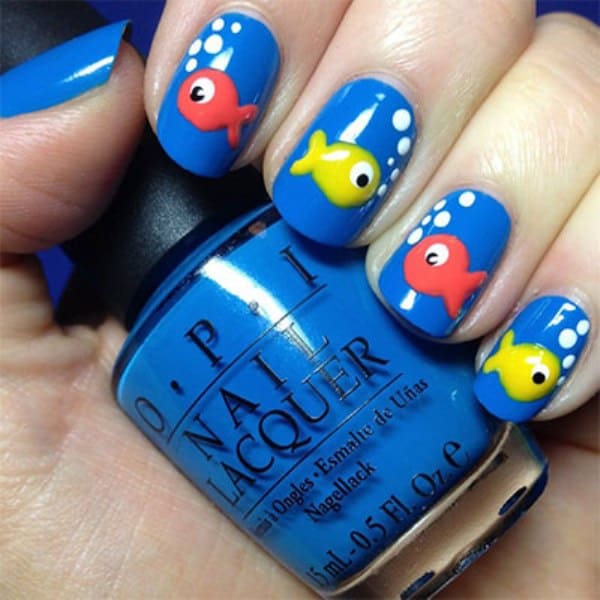 You can never deny the presence of colorful fish in a beach having blue water. These fish enhance the beauty of a seashore to a great extent, they will do the same regarding beach nail designs too.
#19. Octopus
Though octopus is not seen on a sea beach very often, they are related to beach nail designs in many ways. Different shades of blue are used in this design to create ultimate beach nail designs.
#20. The Sunset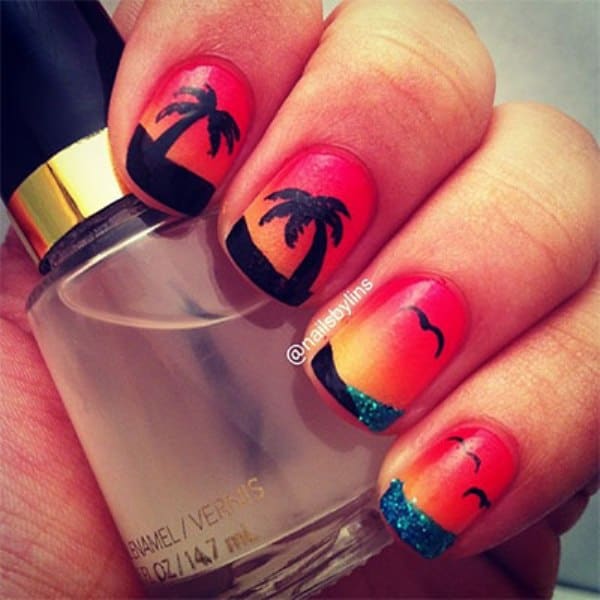 People all over the world rush to the beaches just to witness the heavenly beauty of a sunset on a seashore. You can create the ambiance of sunset on your nails by using the combination of orange, red and yellow colors.
#21. Coconut Trees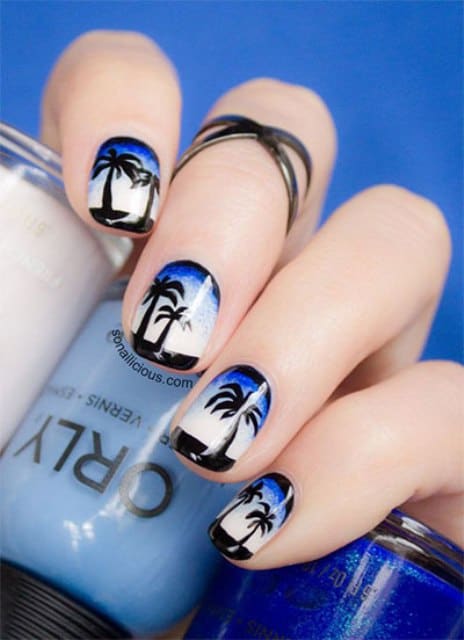 Coconut trees are a part and parcel of a seabeach. You can draw the images of coconut trees as an element of beach nail designs.
#22. Ombre Beach Nails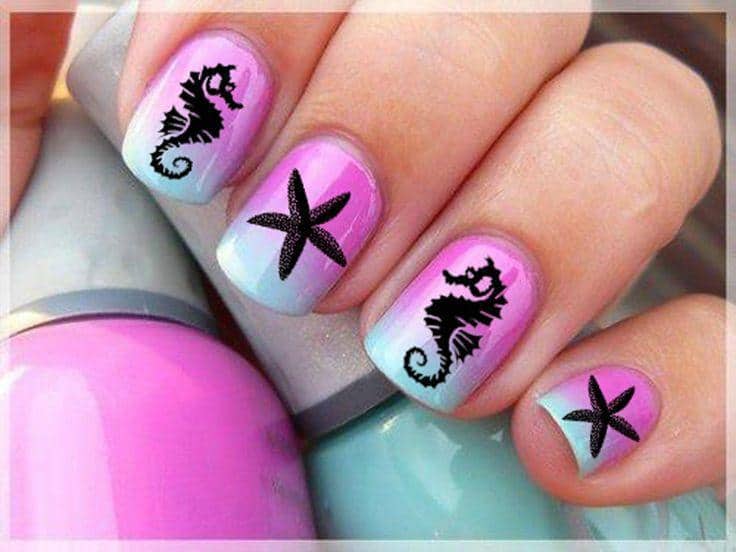 The image of seahorses looks good on these ombre nails of this design. First, apply ombre style colors on these nails. You can use purple and light sky blue as the base. Then draw a few starfish and seahorses on the nails to complete the beach nail designs.
#23. The Dream Cottage
A simple cottage situated right beside the blue seawater is the dream place to live in for a sea-lover. If you have ever dreamt of something like that, don't forget to apply this design as beach nail designs for your dearest nails.
Pedicures to Try on Your Next Summer Holiday
#24. Whales And Crabs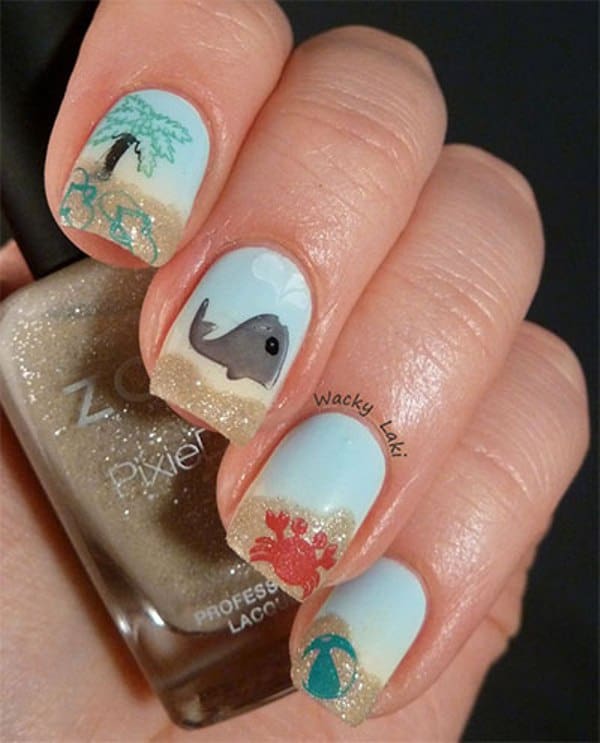 Whales and crabs are the identical animals to the sea. So, you can have these drawn on your nails as beach nail designs.
#25. The Waves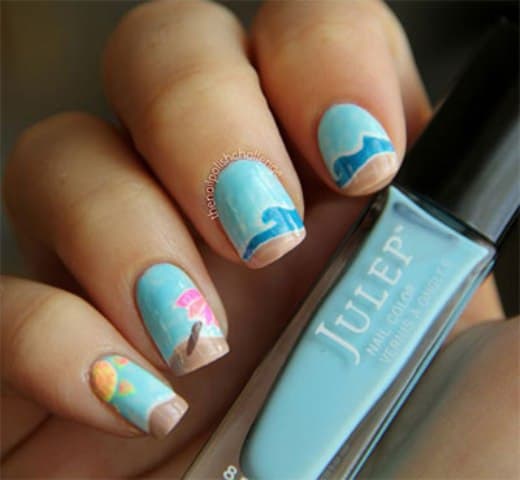 Waves are the most exciting things of a seabeach. You can use a deep shade of blue on a lighter shade of blue to illustrate this design.
#26. Couple at the Beach
The beauty of a beach fades away if you are all alone. You can enjoy the out-of-the-world beauty of the beach with someone very special. A  girl swimming costume and the mustache suggests that this design is appropriate for the couple. So, your beach nail designs can be a sign of togetherness too.
#27. Shells' Necklace
This design is very interesting. You can draw a shells' necklace on your nails. And using glitters will give a glitzy look to this nail design.
#28. Palm Beach Nails
The beauty of a beach is fully seen in the twilight. The sky looks so colorful and vibrant at the time span of the afternoon to evening. You can paint this image on your nails as beach nail designs.
#29. Blue Water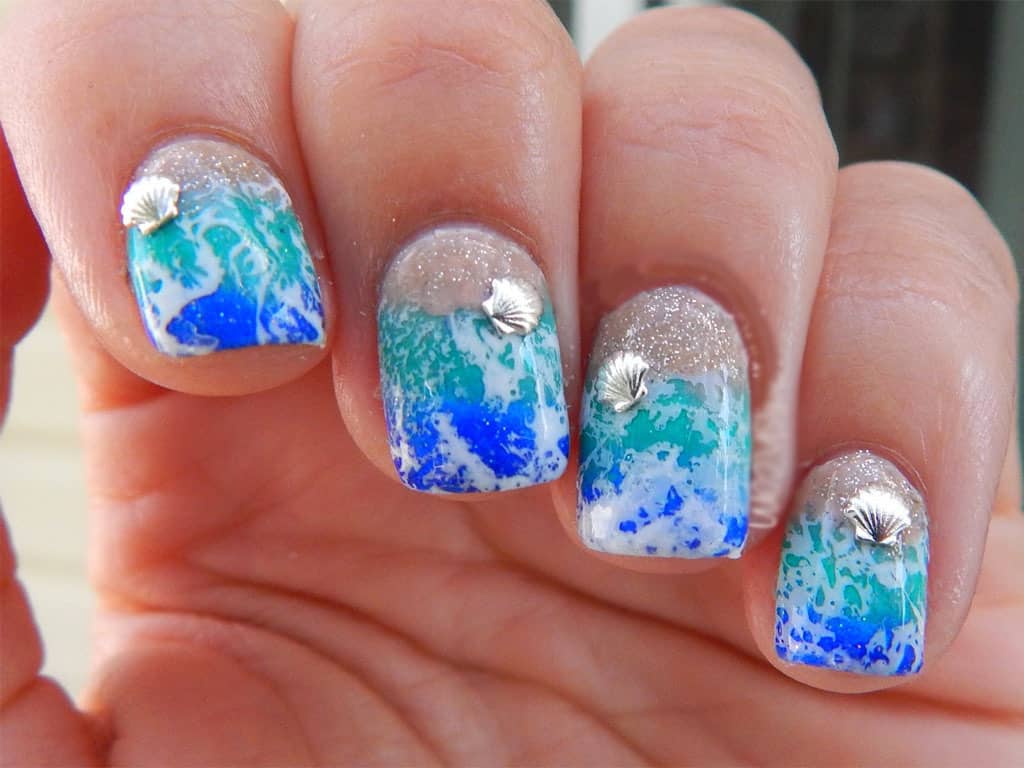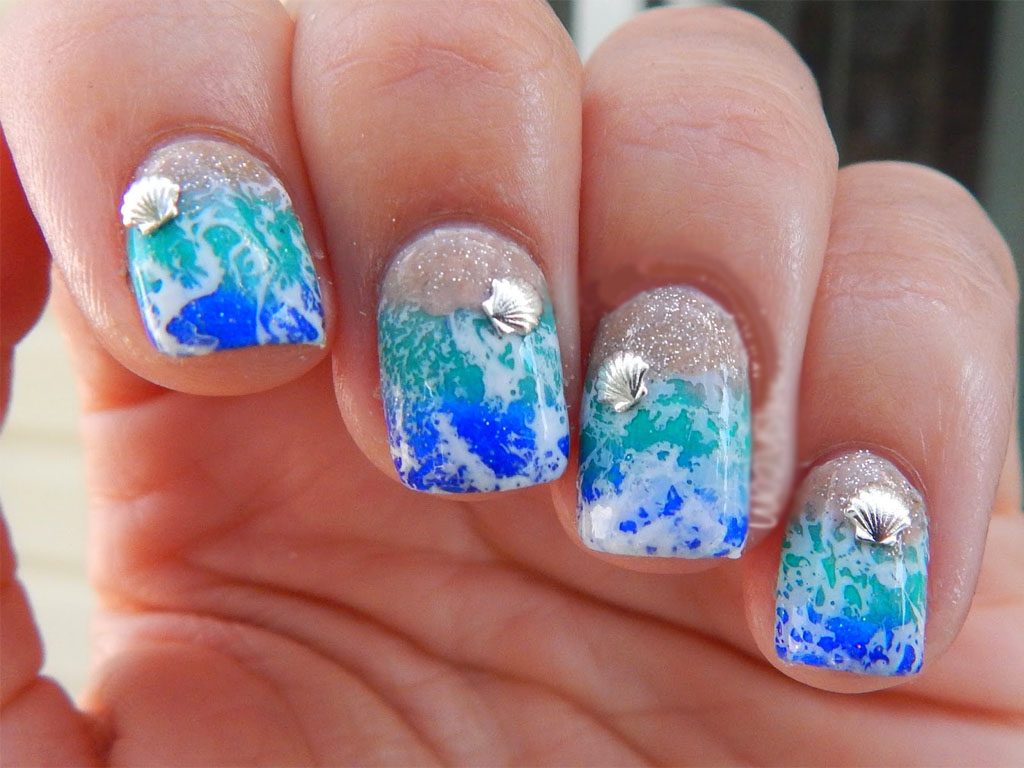 The white foam created from the waves is another integral part of a seabeach. And, if the seawater is blue, these white foams look so beautiful. You can have this image drawn on your beach nail designs.
#30. Seagulls
Seagulls increase the overall beauty of a beach to a great degree. These white birds are only seen on the bank of a sea. First, you can use blue color to make the nails look like a sea. Then draw some seagulls on them to have this beach nail design.
Try Summer Nail Design on Your Next Holiday
Dramatic Beach Nail Designs That Will Entice You
The appeal of a seabeach varies person to person. You get to love these beach nail designs if you are a sea-lover. So, enjoy your beach days with our nail designs. You can try out exactly these designs or can modify them as per your choice.