Bow nail designs are girly, romantic, and even elegant, all depending on the direction you want to go. You can resume to simple but effective bow paintings or opt for 3D decorations, and it's up to you.
Bow nail designs you need to try
Bow nail designs are suitable for all nail lengths and can be enhanced with gorgeous ombres, glitter, or rhinestones. Also, you can adapt them for short natural nails and long acrylic constructs. There are thousands of ideas that you can pull off and below, you will find all the inspiration you need for a mani that will match your expectations and personality.
#1. Ponty Bow Pink Nails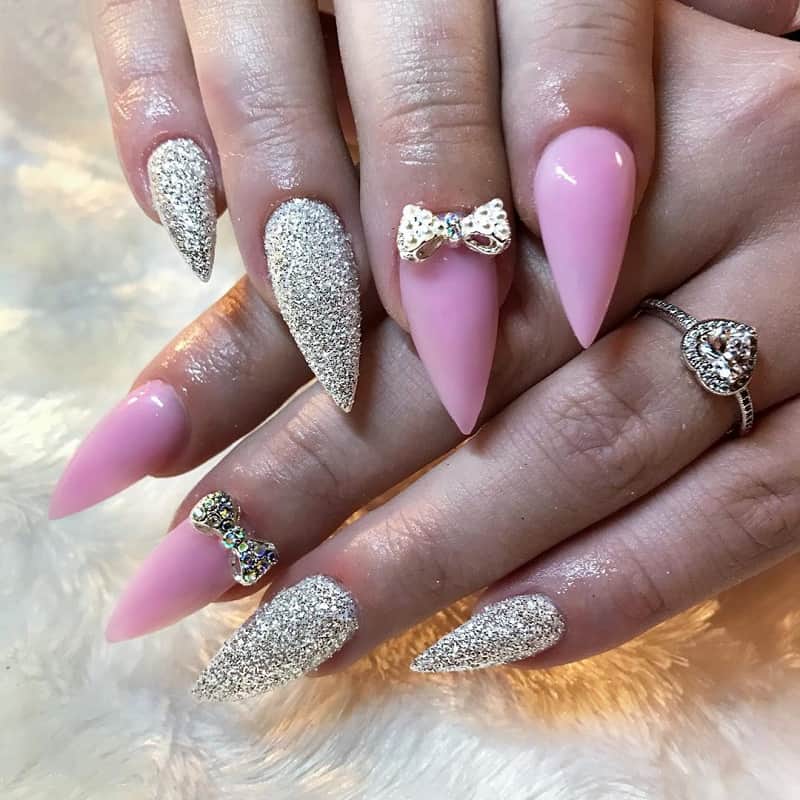 If you also have white gold or silver rings, these nails designs with bow and diamond will match like a glove. Use sparkling silver glitter and matte pale pink for your pointy nails. Make them look ravissant with a bow application on the middle finger.
#2. Bow Nails with Decorations
Long 3D nail designs with bows are so outstanding because they combine so many elements. First, we have the pink-blue ombre. Glitter makes them stand out even more and rhinestones give that gorgeous sparkle. Apply the 3d bows if you aren't that type of girl who washes dishes all day long.
#3. Black and White Bow Nails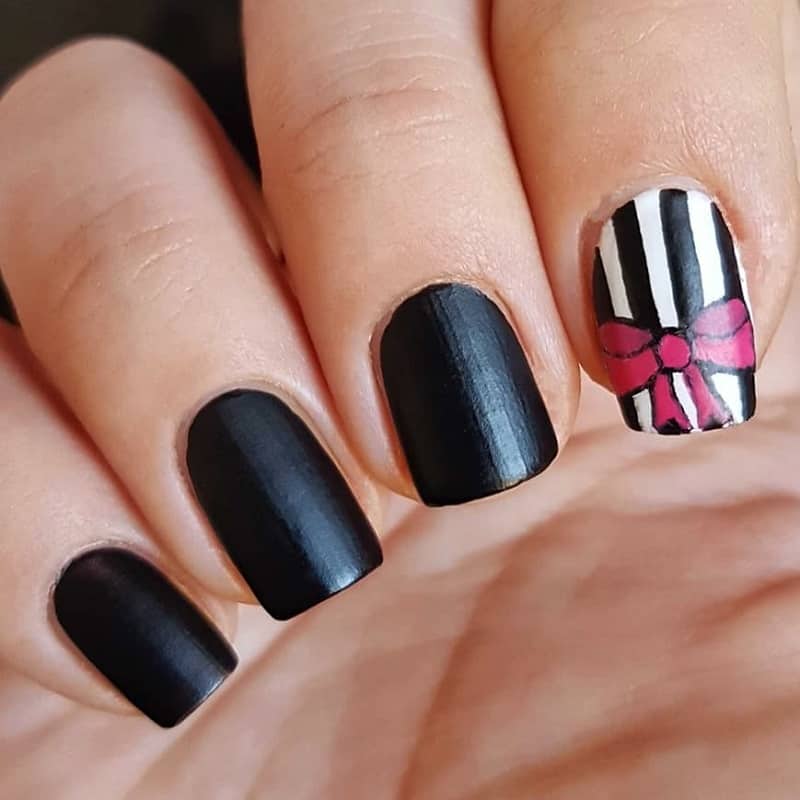 Acrylic nail designs with bows are resistant, long-lasting, and need a refill after a few weeks. If you want a mani that looks spotless all the time, these fake nails are the right approach for you.
#4. Polka Dot Nails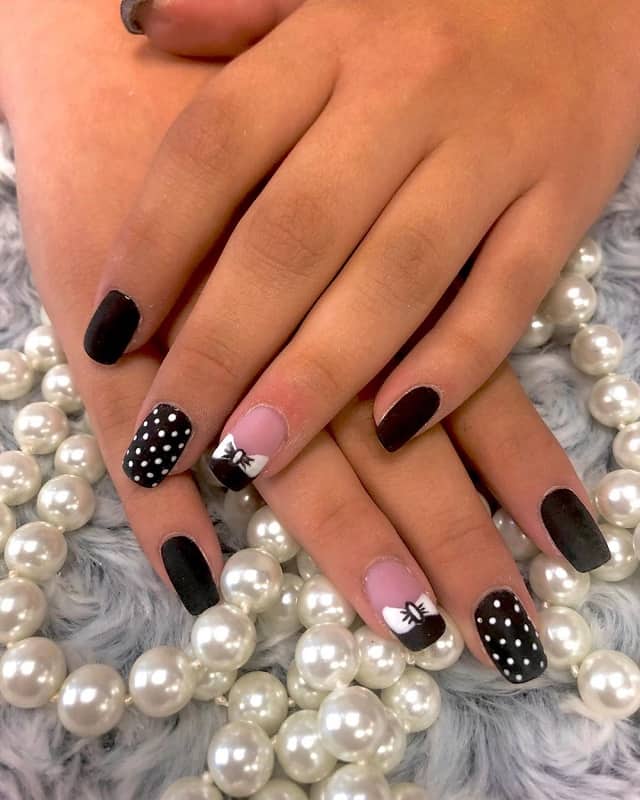 Black and white nail designs with bows can be easily combined with gorgeous polka dots, and parts of the nail where you reveal its natural color. Also, you can apply a matte finish for a more elegant look.
#5. Fucsia Bow Nails
When you want to spread the love, go for a nail design with hearts and bows. Opt for a fuchsia nail polish and for the ring finger, paint only half of the nail, while you will reveal the natural nail color for the other half.
#6. Matte Coffin Bow Nails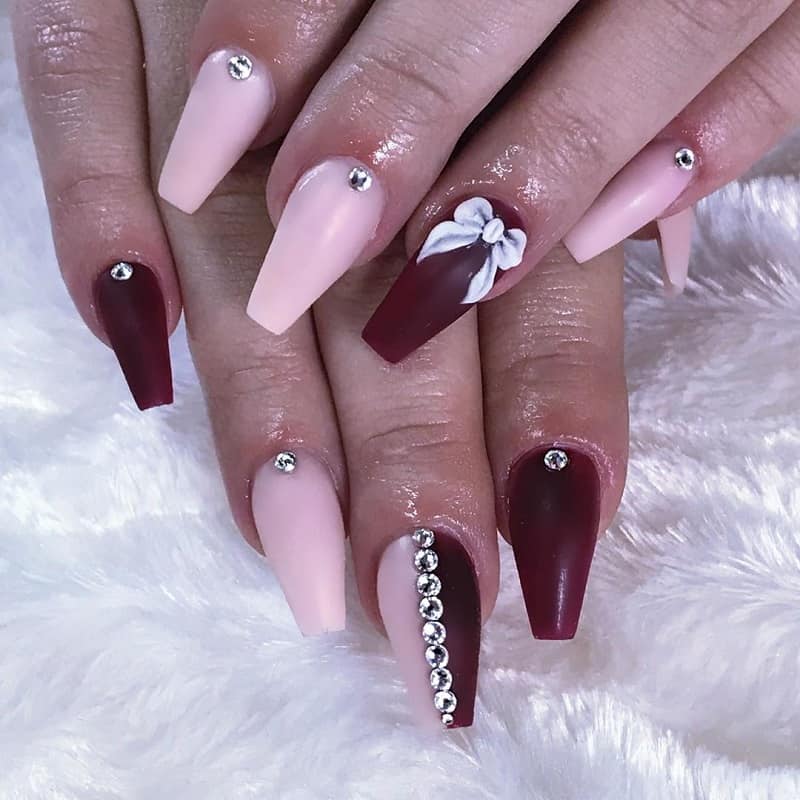 A coffin nail design with bows will channel your romantic side. Use two nail polishes like burgundy and pale pink and add a matte finish for more refinement. For one of the nails, mix the two colors and create a line made out of rhinestones.
#7. Glittery Bow Nails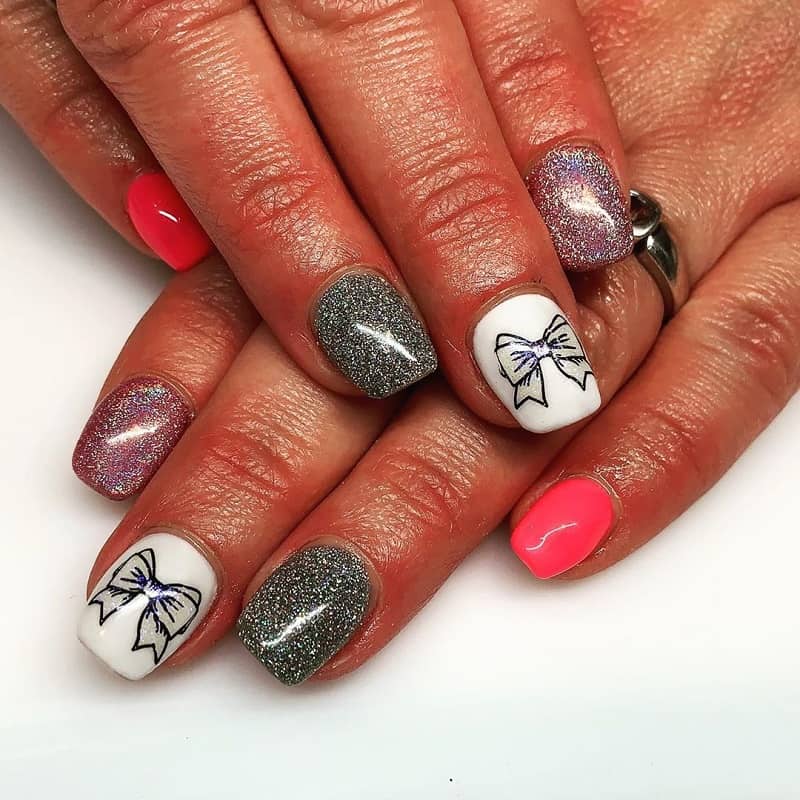 Opt for silver and purple glitter for two of your nails. On the middle finger, use white nail polish and add a bow nail art sticker. Keep the nails shortly trimmed, in a square shape.
#8. Imperial Bue Bow Nails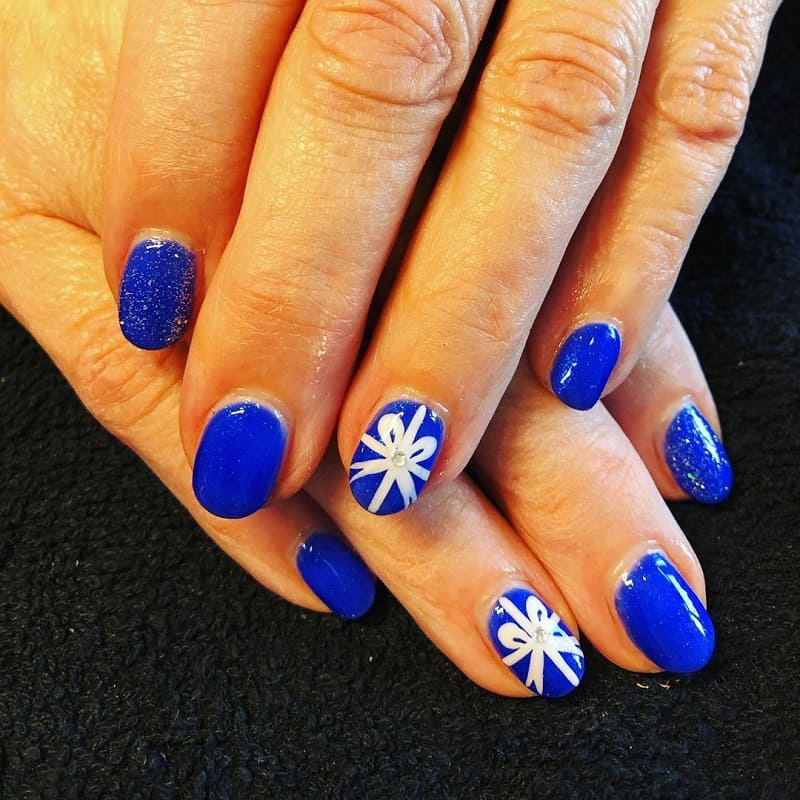 Keep your nails short and use a vivid imperial blue nail polish. These blue nails with white bows also need a little bit of glitter, so, apply a shiny top coat as the final step. Also, don't forget to add a rhinestone in the center of your nail and bow.
#9. Nude Almond Nails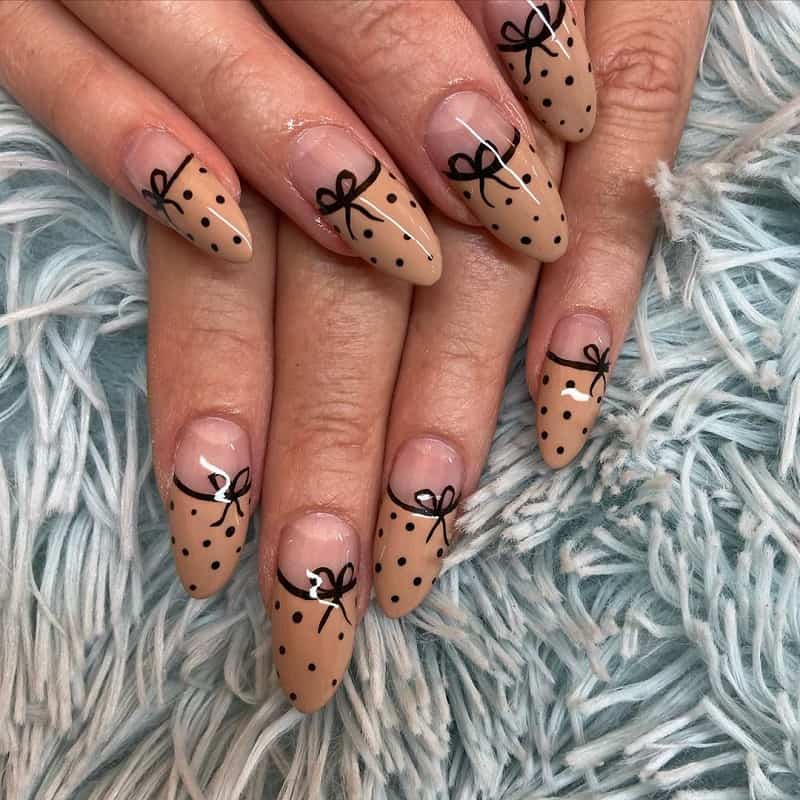 First of all, construct an almond shape for your nails. Paint half with a creamy nude color and differentiate the two areas with a subtle black line. Paint the black bows for your nails and add a few dots. Cover with a shiny topcoat.
#10. Toe Bow Nails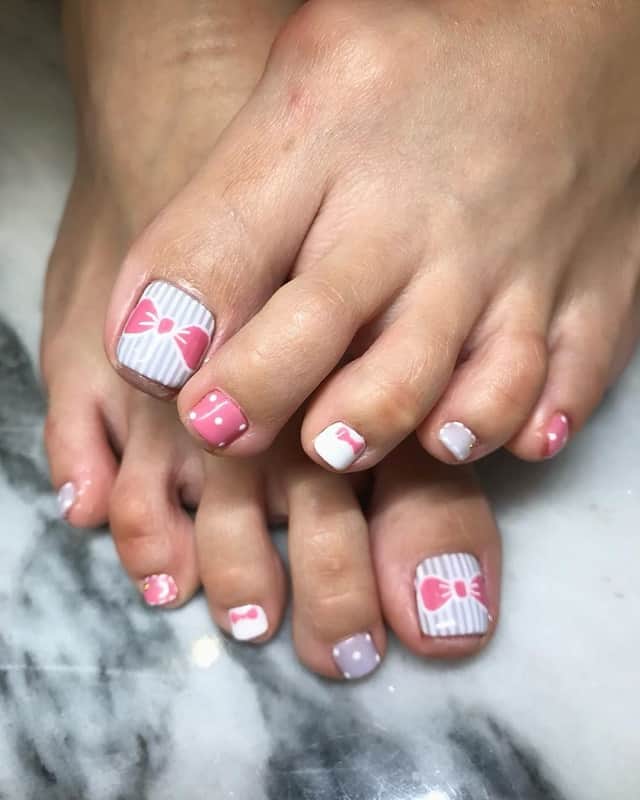 If you adore romantic manicures, don't forget about your feet. Sport toenail designs with bows, stripes and dots and use pale nail polishes. Wheather you are wearing flip flops or sandals, your pedicure will get all the attention it deserves.
#11. Leopard Tips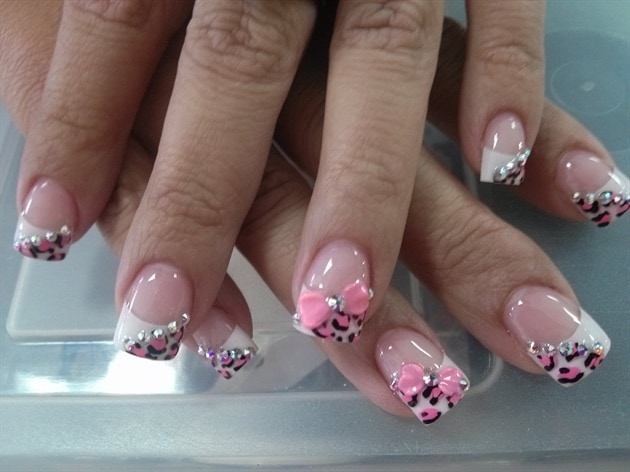 Display your long nails with leopard patterned nail tips on top of a light pink base, with a simple addition of 3D bows stuck on top of your french styled bow nail design.
Cutesy Micky Mouse Nail Designs
#12. Pink & White Themed Bow Nail Design

Decorate your nails with your favorite colors, hot pink and frosty white. Accent this girly theme with creative polka dots, stripes and 3d bow design.
#13. Pink Explosion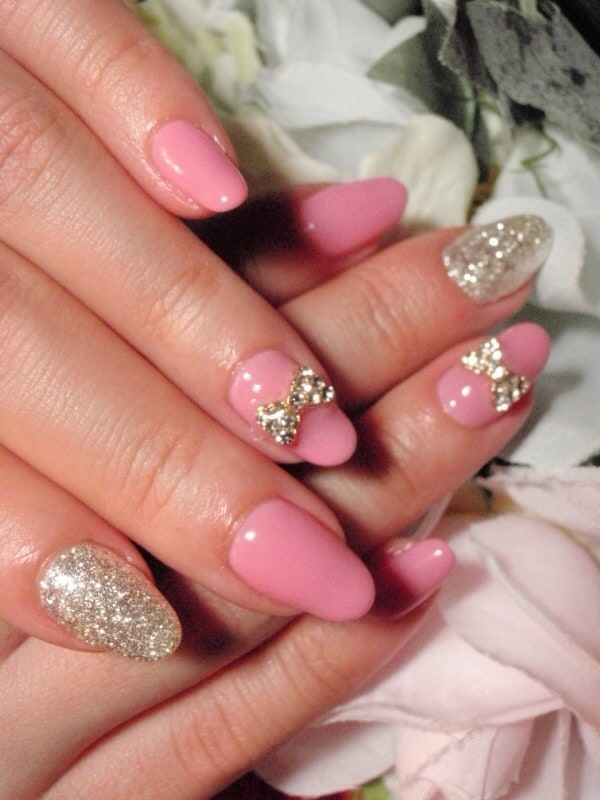 Throw on your jewels box on your freshly painted pink glitter nails. Be careful not to forget those pretty huge stony bows, for this girly pink explosion as your bow nail design.
Dapper Nail deigns With Rhinestones
#14. Layers of polish; Layers Of Cute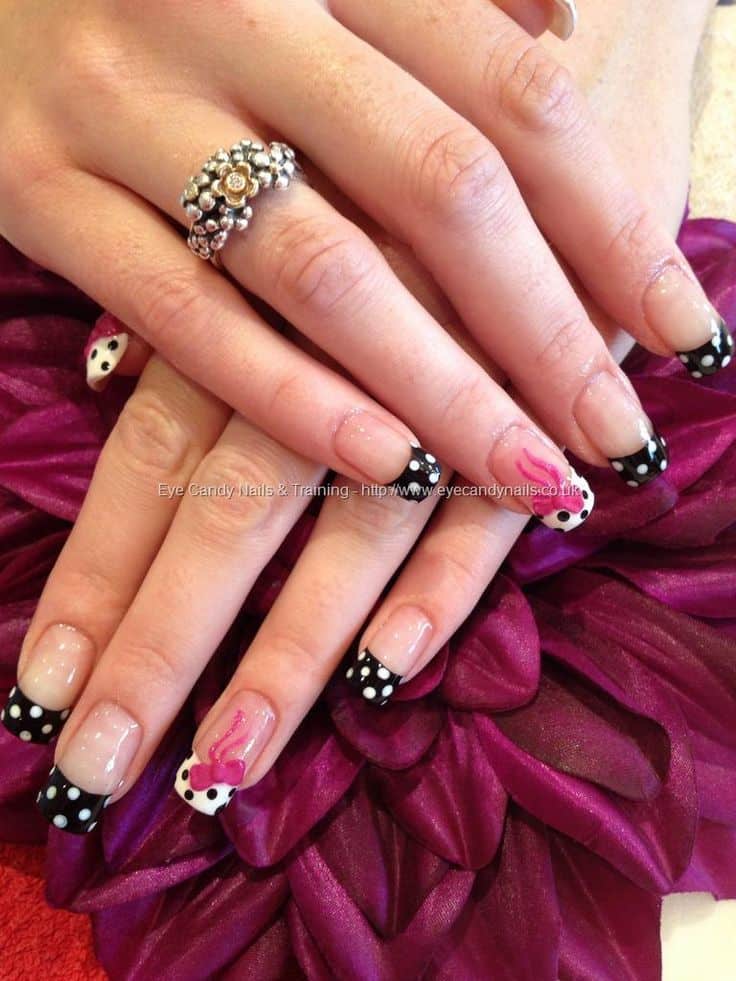 Adorable layered base and polka dotted white french tips on transparent glitter background. Top your nails off with 2 strass 3D bows on 2 nails of your choice lining the tips, and you'll get your feminine pink bow nail design on.
#15. Classic Bow Nails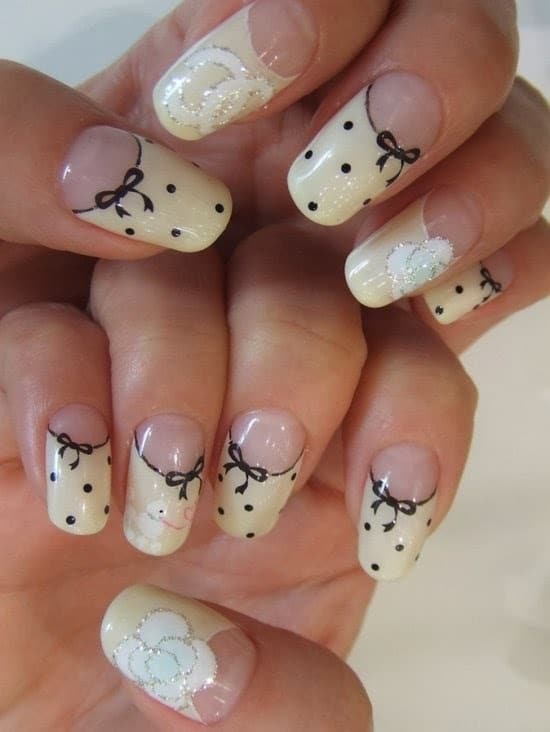 The classic pair black and white dazzles us once again with this bow nail style, singular tiny black lace bow framing the wide white polka dotted tips. Simply outstanding!
#16. Dazzling Glitter & Bow
"Sharpay Evans" from High School Musical is calling for her nails! Dazzle the crowds even more by adding this lovely bow to your golden-silver glitter nails, and unleash that little diva inside of you with this bow nail silhouette.
#17. Simple & Elegant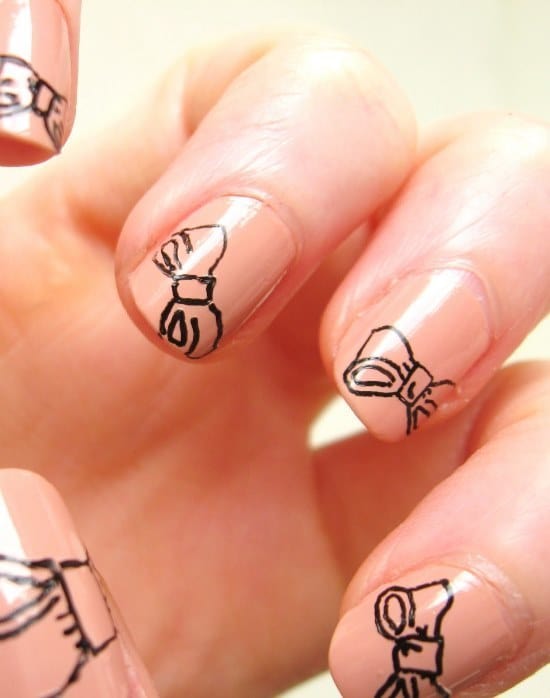 Paint on diagonal central black bows to contrast your tanned colored base coat. And find yourself having a clean bow nail design on your short nails that is both simple and elegant.
#18. Bow On Glitter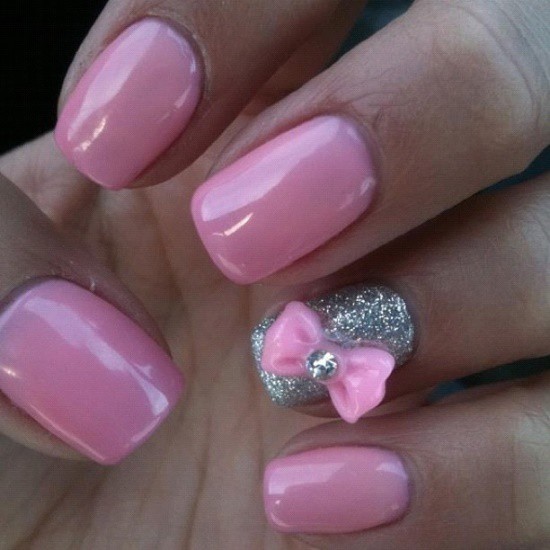 Stand out with your glossy baby pink nails, accented with singular silver gradient one with a cute pink bow on top as a final beatifying detail. A small detail, like the addition of this bow, is the secret recipe to get an attractive bow nail design, rather than getting a dull unattractive one.
#19. Cute & Girly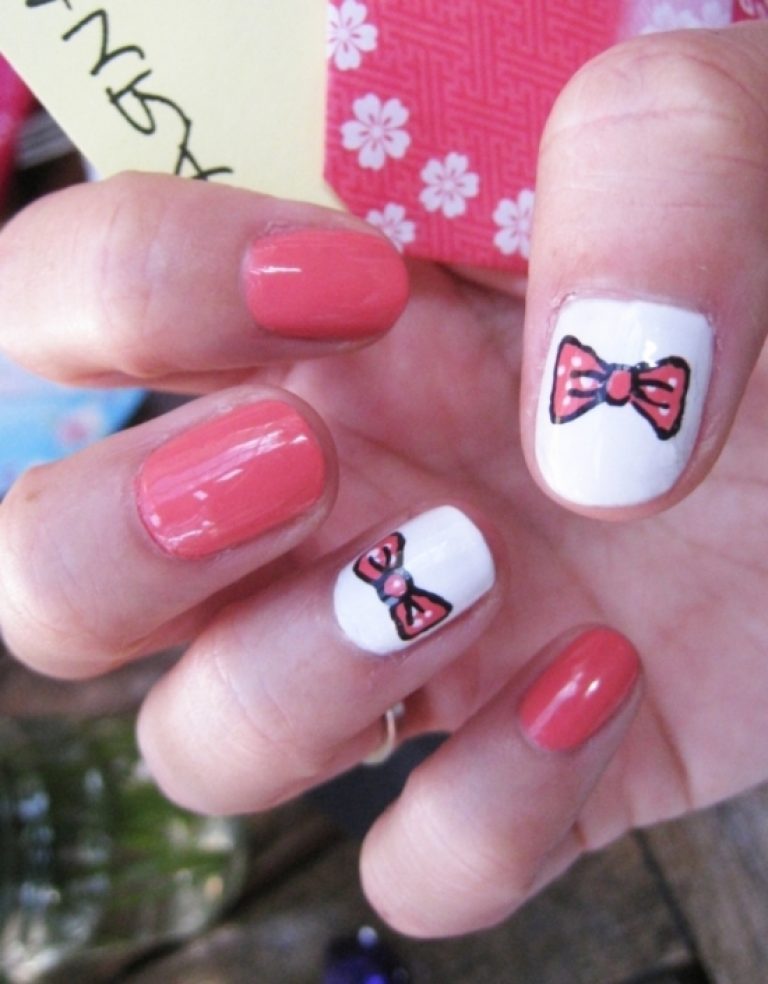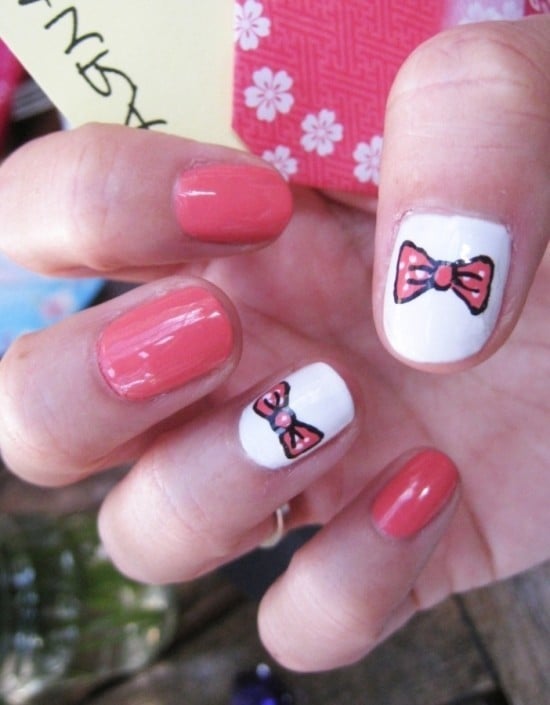 Childish and adorable bow nail design, with these innocent shades; coral pink and white, and this hand painted bow.
Get glitter manicure in wine to get your nails matching your holiday spirit. With a red lace bow wrapping your accent silver nail get beautiful and precious bow nail design on your short nails, just like those gifts under the tree.
Aww-dorable Nail Designs for Your Baby Girl
As clear from the list we offered, bows can fit in just perfect with any nail ensemble you prefer. The addition of the tiniest detail can help elaborate your nail design and give you a cute classy final look, instead of regular nail design lacking the fun of this ornament.