20 Cutest Bow Nail Designs That Are Pleasingly Pretty
Ever wondered why bow nail designs had won all our hearts? For, ever since we were little girls, we tied our ponytails with the cutest bows, wore dresses with bows pattern, watched cartoon characters having the hugest bow on their head, you all know who's that little mouse I'm talking about, yup it's Mickey's sweetheart Minnie Mouse. So, it's only obvious that we would develop this bow passion!
And for sure, this passion didn't escape nail art world, bow nail designs are the cutest girlish designs that require minimal to no artistic abilities, thus suitable for anyone that's looking for a pretty, fun nail design.
Cute & Sweet Nail Designs With Bows
Looking for an easy to do simple, but eye-catching nail design? Bow nail design is your answer. Due to the great variety of methods to apply this style; painted on bows with a needle, either single ones or various small ones, adding on 3D bows, nail stickers, nail stamps… Whatever method you choose to follow, be certain that you will get a bow nail design that radiates feminine beauty in a childish cute way!
#1.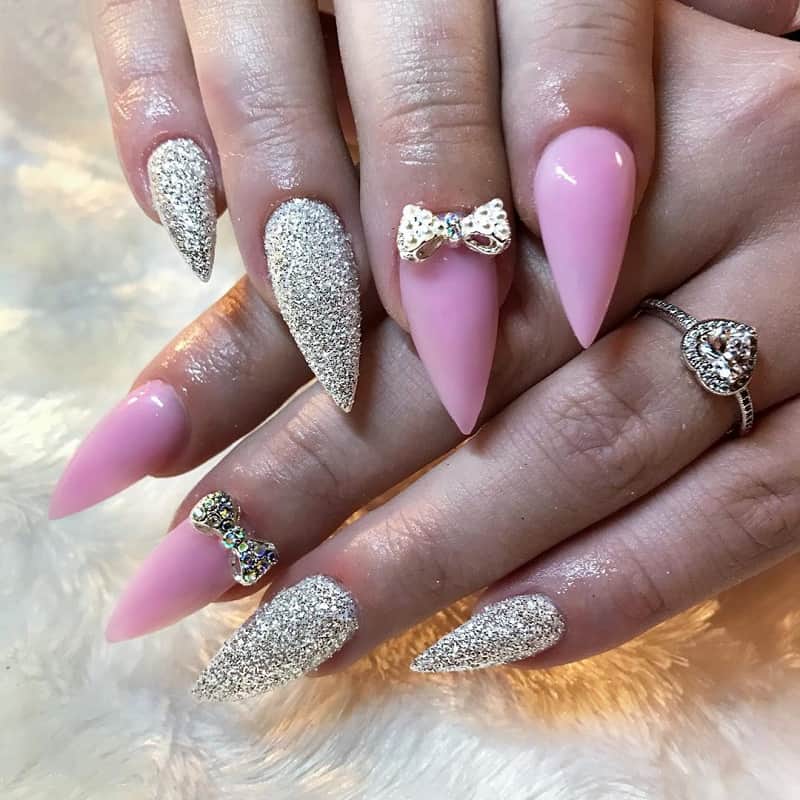 nails designs with bow and diamond
#2.
3d nail designs with bows
#3.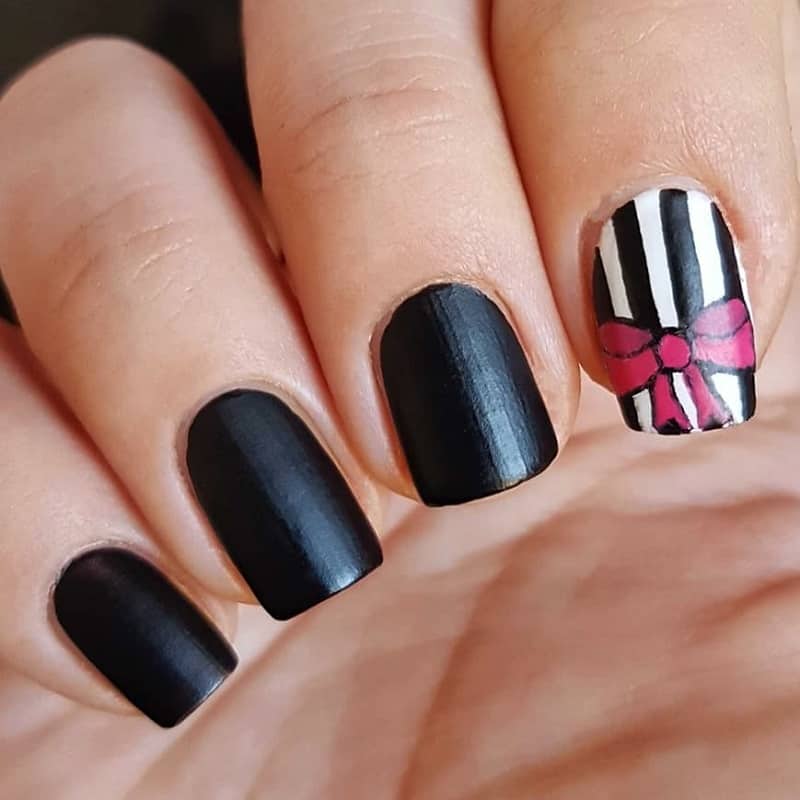 acrylic nail designs with bows
#4.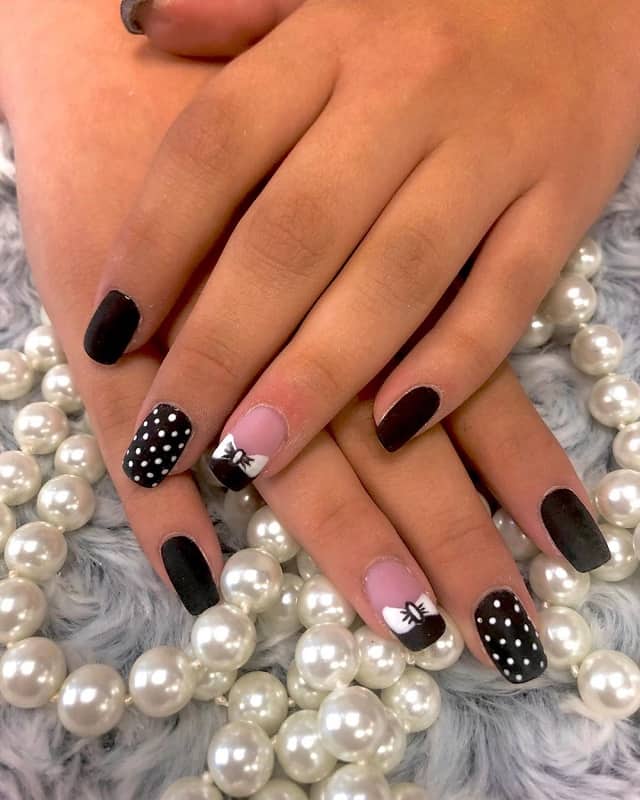 black and white nail designs with bows
#5.
nail design with hearts and bows
#6.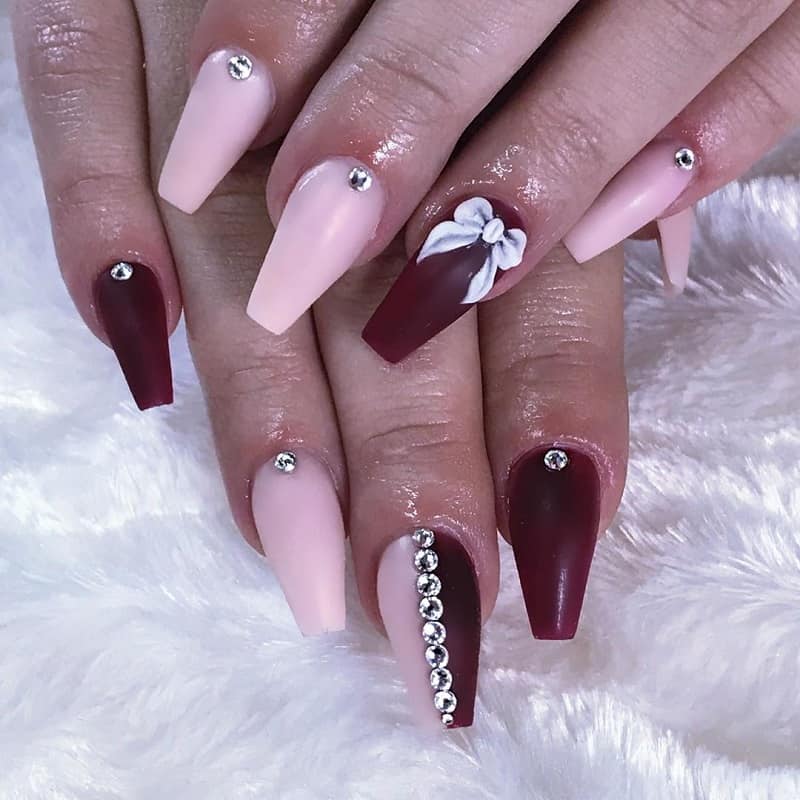 coffin nail design with bows
#7.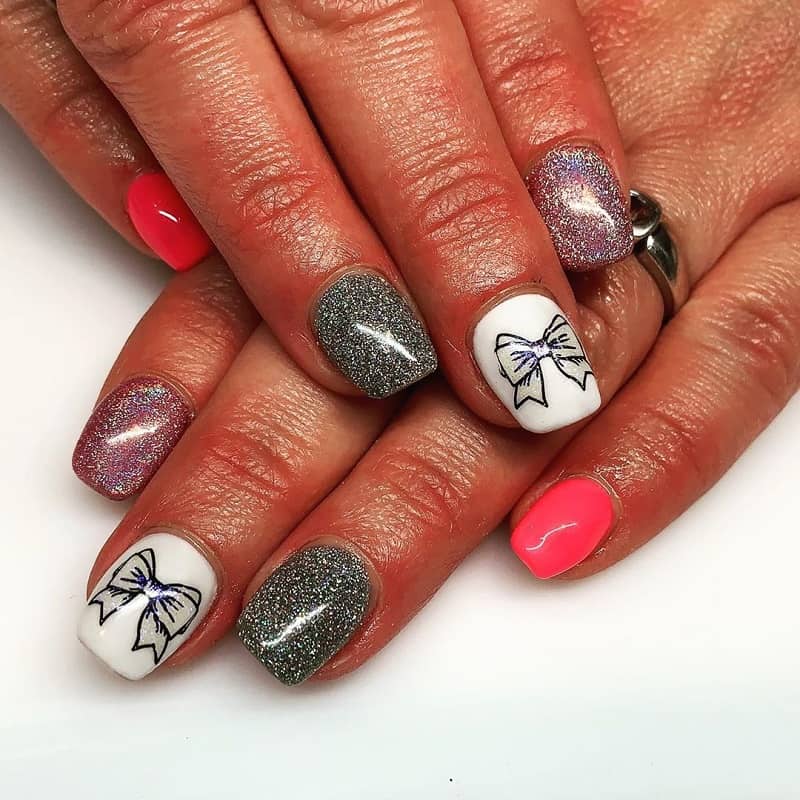 bow nail art stickers
#8.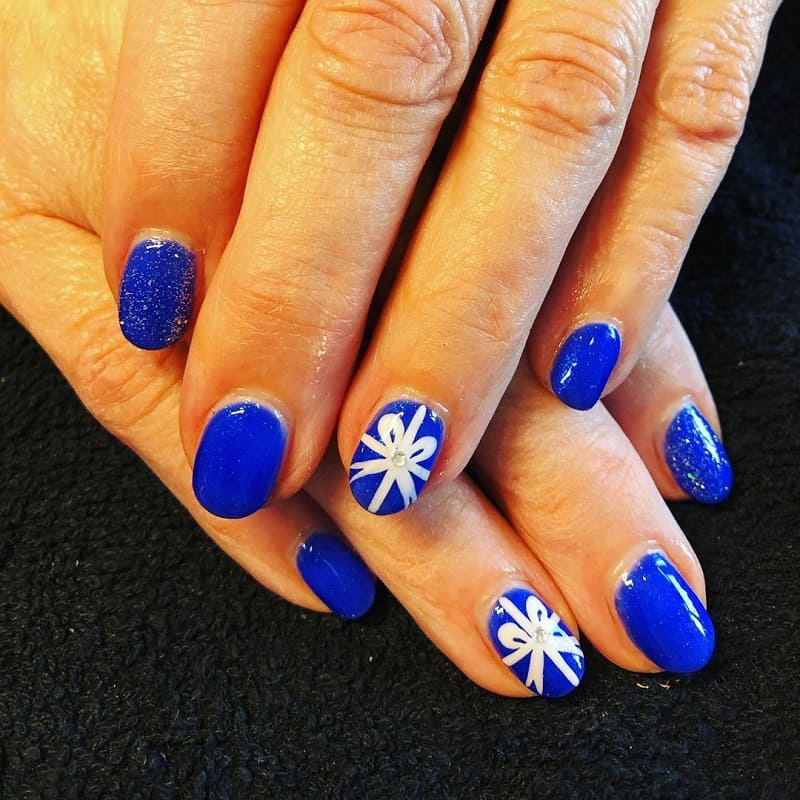 blue nails with bows
#9.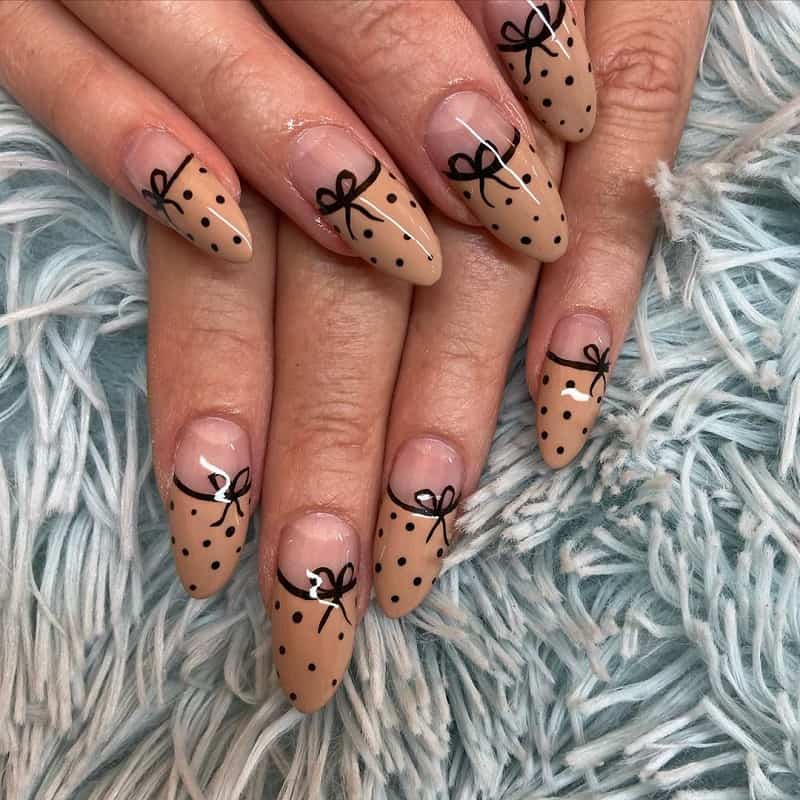 black bows for nails
#10.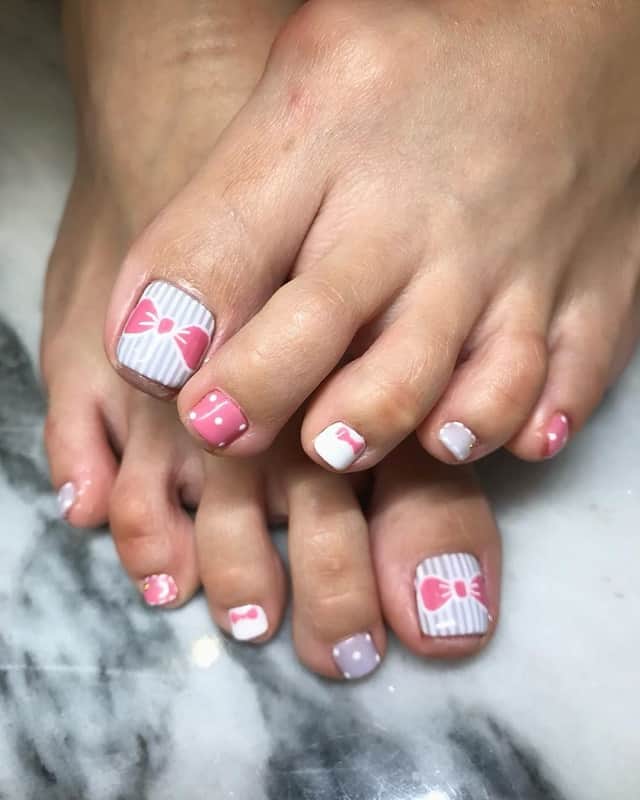 toe nail design with bows
#11. Leopard Tips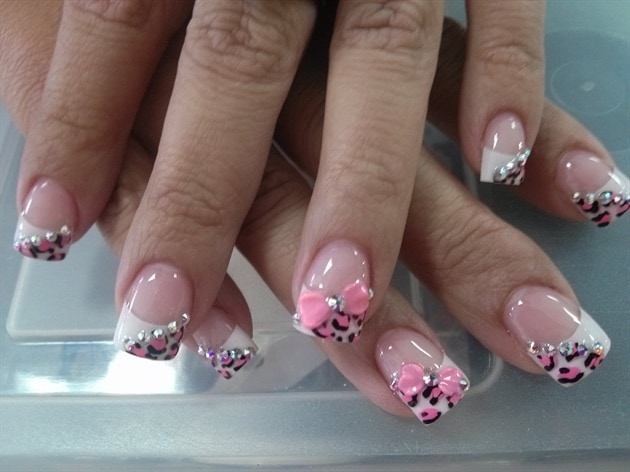 Display your long nails with leopard patterned nail tips on top of a light pink base, with a simple addition of 3D bows stuck on top of your french styled bow nail design.
Cutesy Micky Mouse Nail Designs
#12. Pink & White Themed Bow Nail Design

Decorate your nails with your favorite colors, hot pink and frosty white. Accent this girly theme with creative polka dots, stripes and 3d bow design.
#13. Pink Explosion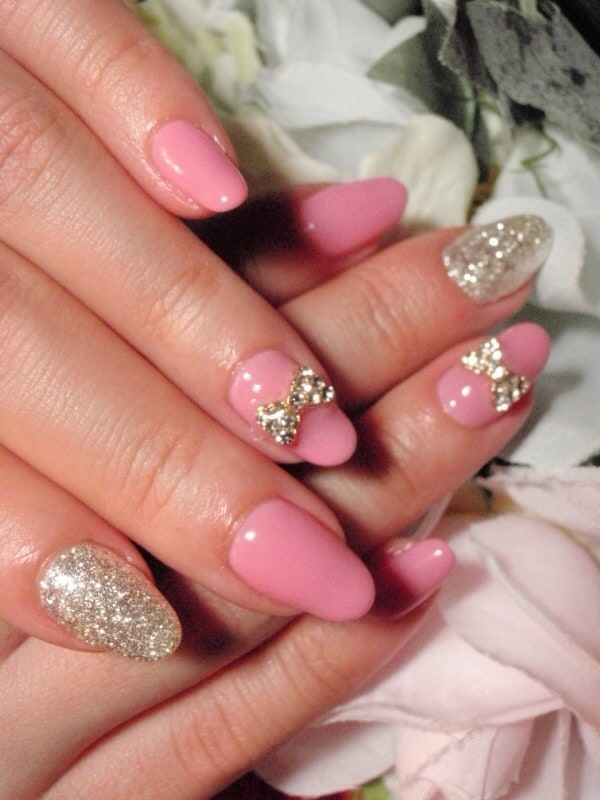 Throw on your jewels box on your freshly painted pink glitter nails. Be careful not to forget those pretty huge stony bows, for this girly pink explosion as your bow nail design.
Dapper Nail deigns With Rhinestones
#14. Layers of polish; Layers Of Cute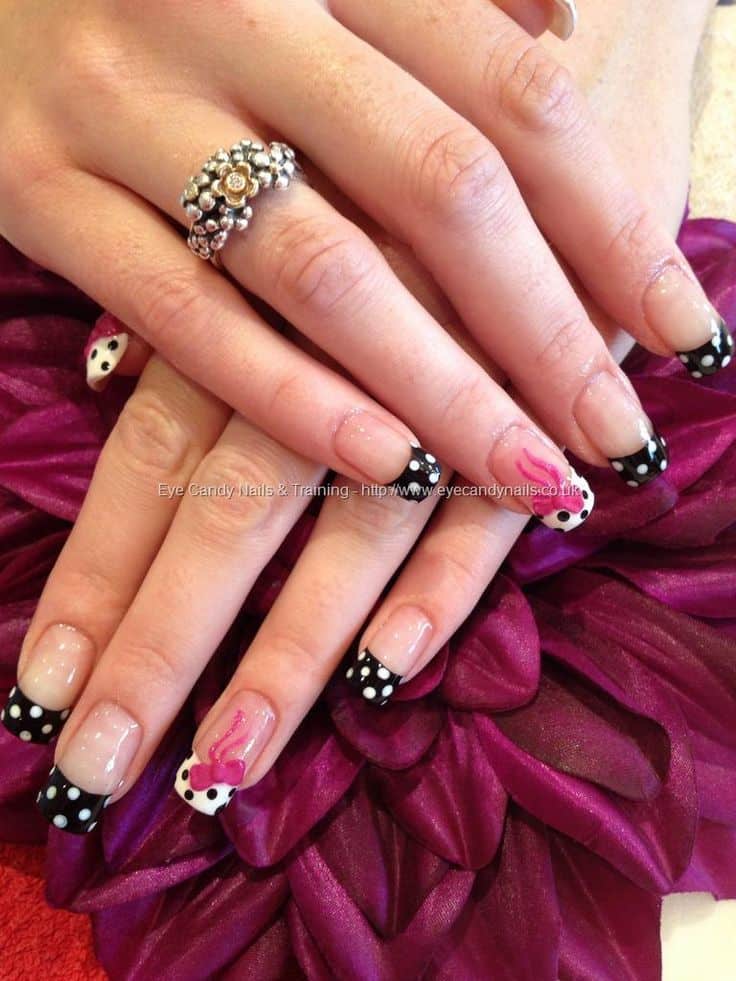 Adorable layered base and polka dotted white french tips on transparent glitter background. Top your nails off with 2 strass 3D bows on 2 nails of your choice lining the tips, and you'll get your feminine pink bow nail design on.
#15. Classic Bow Nails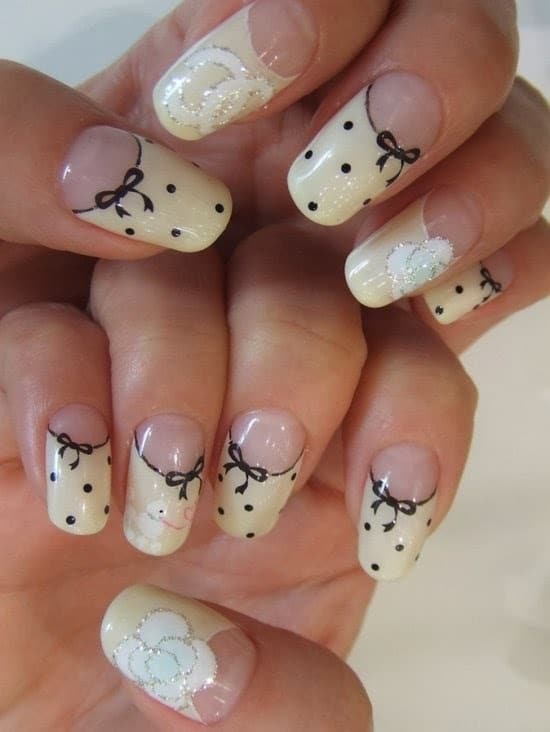 The classic pair black and white dazzles us once again with this bow nail style, singular tiny black lace bow framing the wide white polka dotted tips. Simply outstanding!
#16. Dazzling Glitter & Bow
"Sharpay Evans" from High School Musical is calling for her nails! Dazzle the crowds even more by adding this lovely bow to your golden-silver glitter nails, and unleash that little diva inside of you with this bow nail silhouette.
#17. Simple & Elegant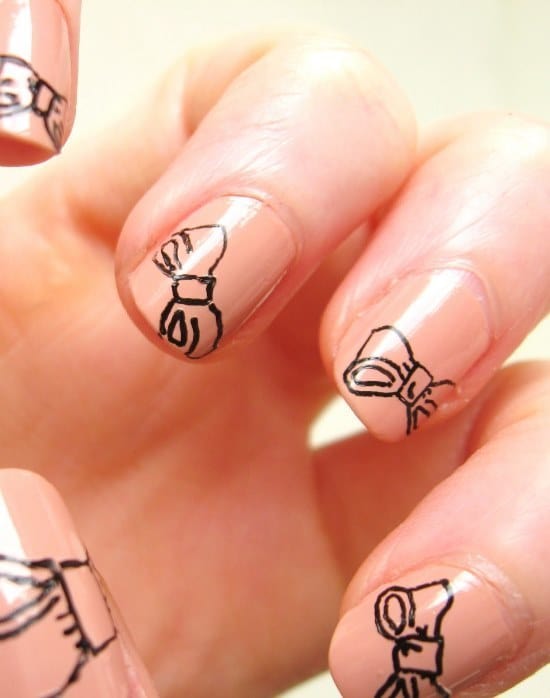 Paint on diagonal central black bows to contrast your tanned colored base coat. And find yourself having a clean bow nail design on your short nails that is both simple and elegant.
#18. Bow On Glitter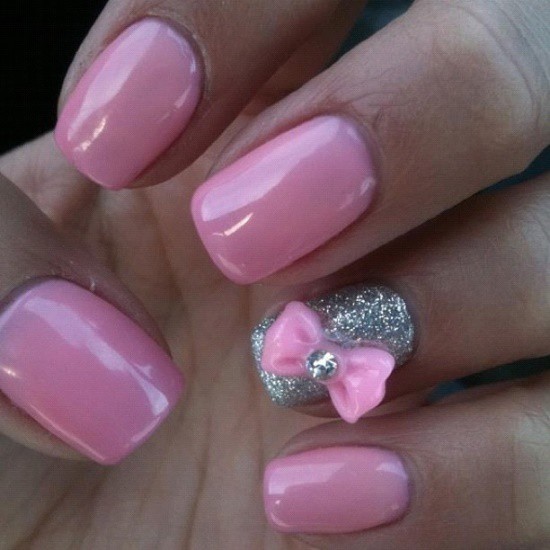 Stand out with your glossy baby pink nails, accented with singular silver gradient one with a cute pink bow on top as a final beatifying detail. A small detail, like the addition of this bow, is the secret recipe to get an attractive bow nail design, rather than getting a dull unattractive one.
#19. Cute & Girly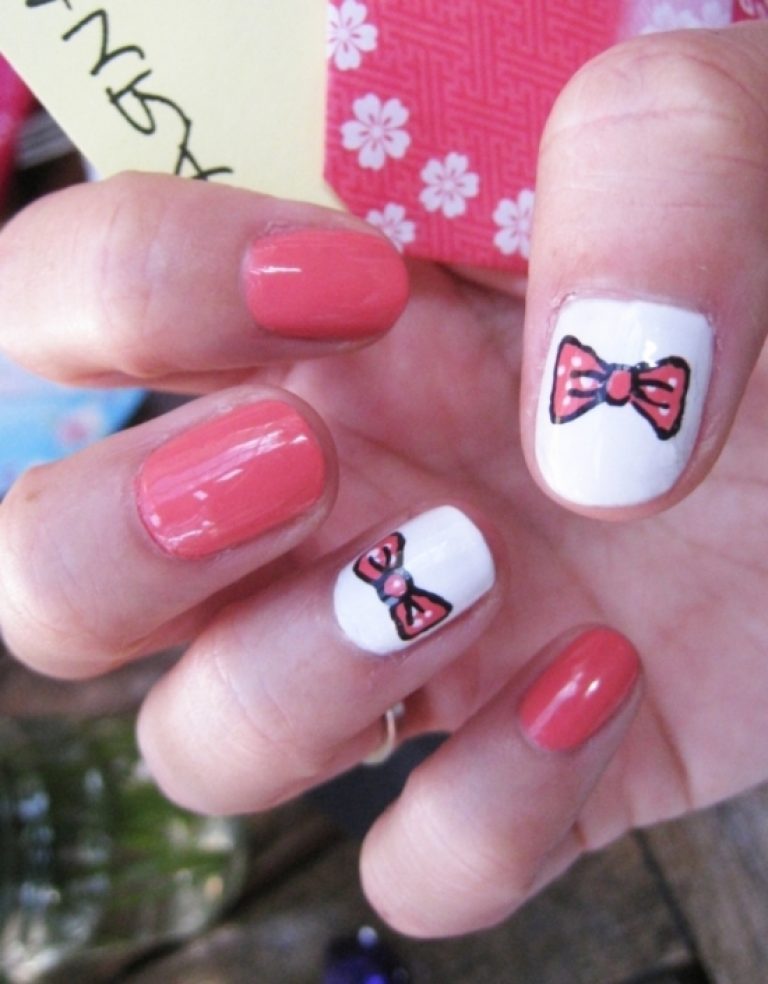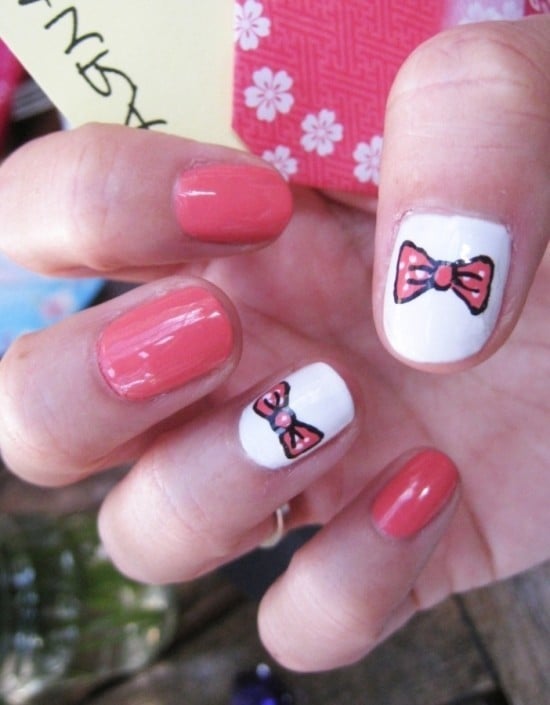 Childish and adorable bow nail design, with these innocent shades; coral pink and white, and this hand painted bow.
Get glitter manicure in wine to get your nails matching your holiday spirit. With a red lace bow wrapping your accent silver nail get beautiful and precious bow nail design on your short nails, just like those gifts under the tree.
Aww-dorable Nail Designs for Your Baby Girl
As clear from the list we offered, bows can fit in just perfect with any nail ensemble you prefer. The addition of the tiniest detail can help elaborate your nail design and give you a cute classy final look, instead of regular nail design lacking the fun of this ornament.