Bling nail designs are something every lady wants every now and then. Crystals, eye-catching charms, glitter polish, and sparkly sequins are key for feeling ritzy and glitzy. As long as the way you use those accessories to get bling nails isn't tacky – like loading up every single nail with crystals – the result will be envy-worthy.
You can rock bling nails on both short and long nails. The beauty of this nail style is there's no real "wrong" way to do them. But just in case you need some brainstorming help, we've got you!
Amazing Bling Nail Designs
You probably had no idea there were so many ways to flaunt bling nails, so we're here to share the wealth – ahem, bling – with you!
#1: Swarovski Nails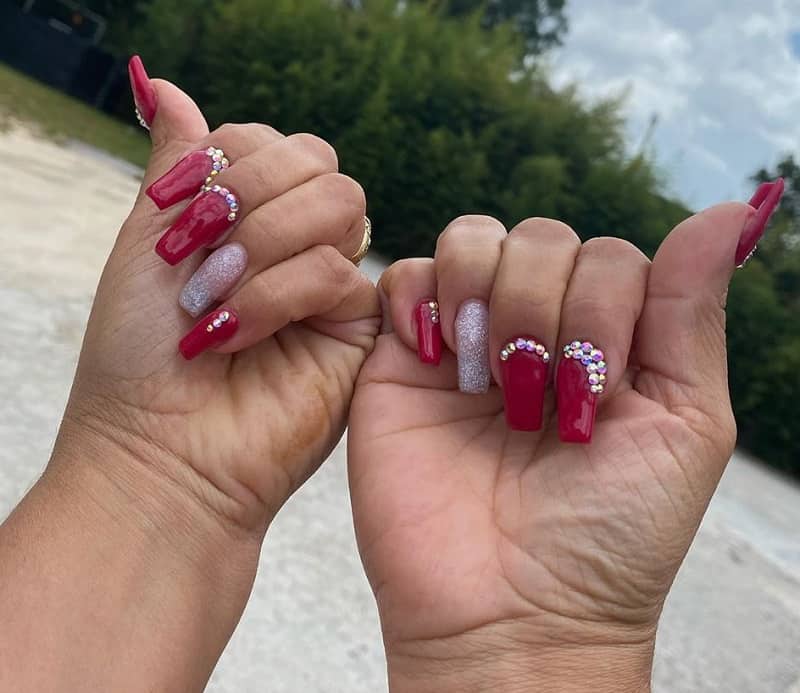 A rich red will never let you down for a bling nail design base. A shimmery silver or white polish is used here for the ring finger. Top it all off with tiny crystals in curved lines at the cuticle.
#2: Extra Long Nude Nails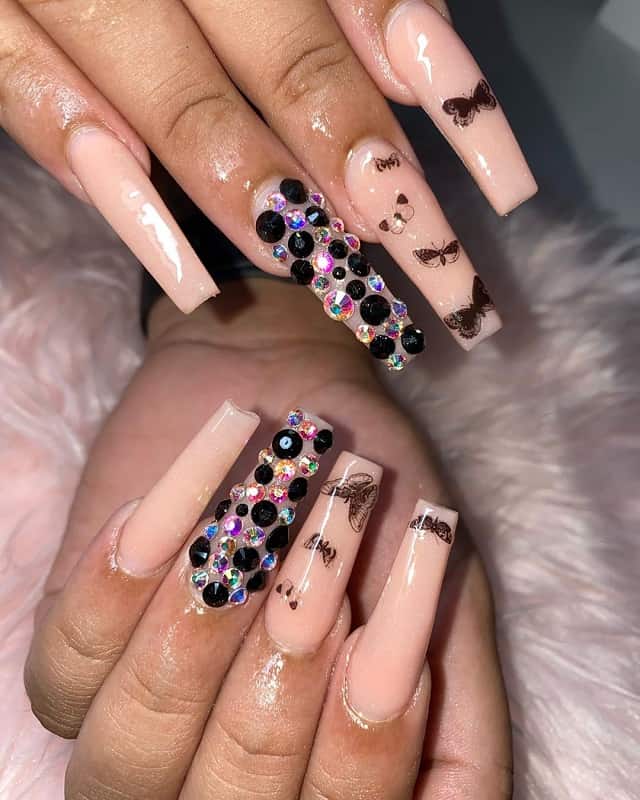 If you're going big, you go bling on extra long coffin nails! A soft peach is flattering to many skin tones and will make the black butterfly and black crystal designs pop.
#3: Fall for Bling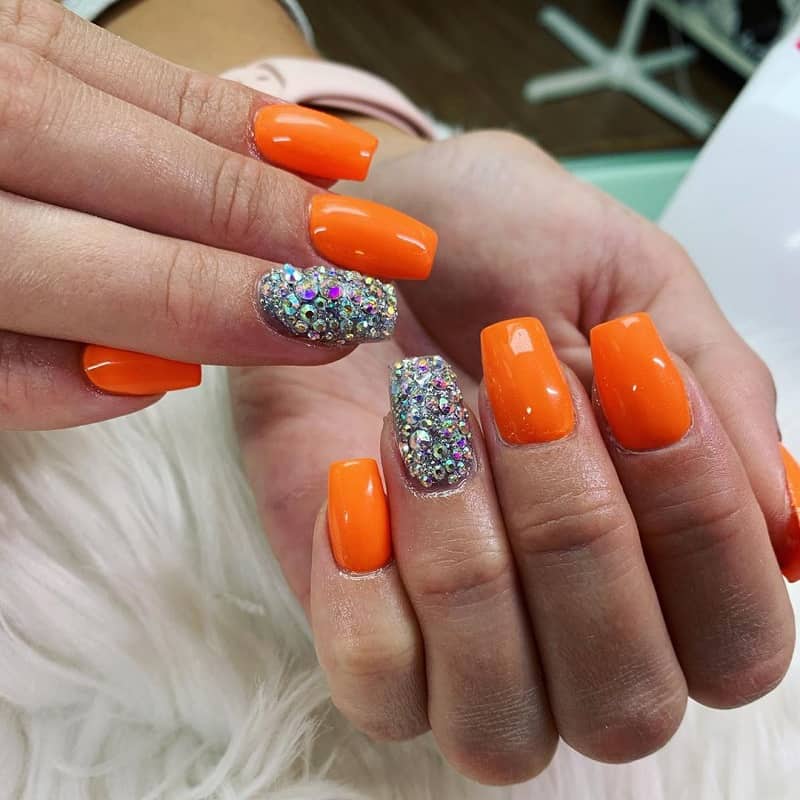 A medium shade of orange helps any lady get into the autumn spirit. Get the bling vibe by filling your ring finger with a mixture of tiny and medium-sized crystals.
#4: Extra Long Ombre
Another way to do up those extra-long coffin nails is with a bright shade of blue ombre.
Bling nails are easy to get – just use 3D charms and colorful oversized stones. Using glittery polish as a corner accent is never a bad thing either.
#5: Summer Bling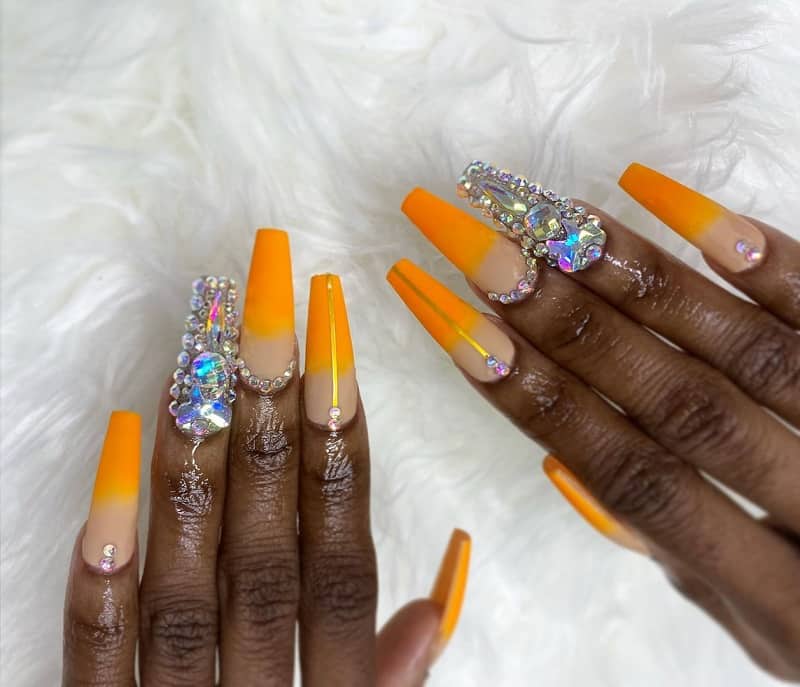 A summer packed with punch means you need an equally popping nail. Go for bling nails by stacking medium and large-sized crystals on the ring finger. You can use tiny stones near the cuticles on the other fingers.
#6: Purple Bling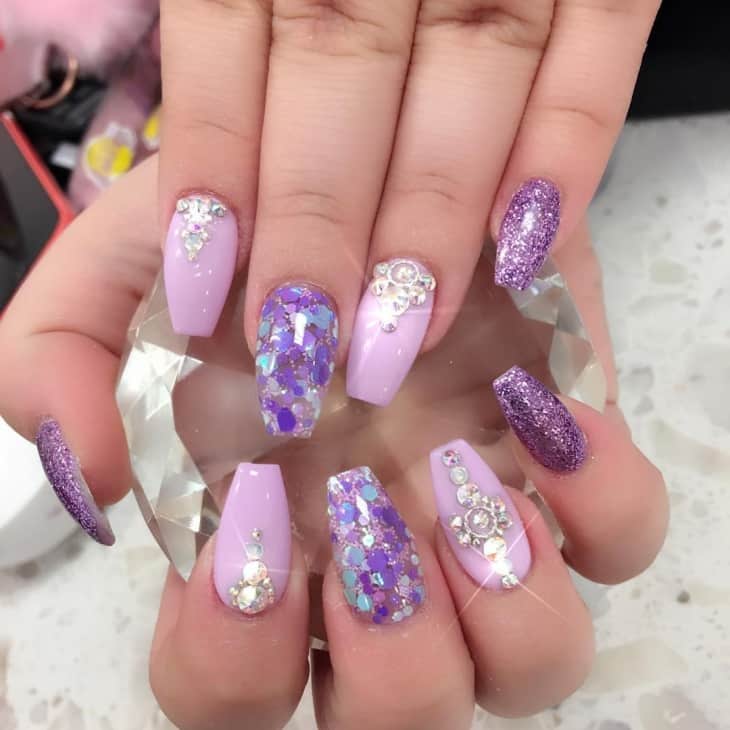 A light purple base coat sets the tone for other purple stones on these bling nails. For best results, mix both light and dark purple. As long as you stick in the same color family, your bling nails will stun.
#7: Tiffany Blue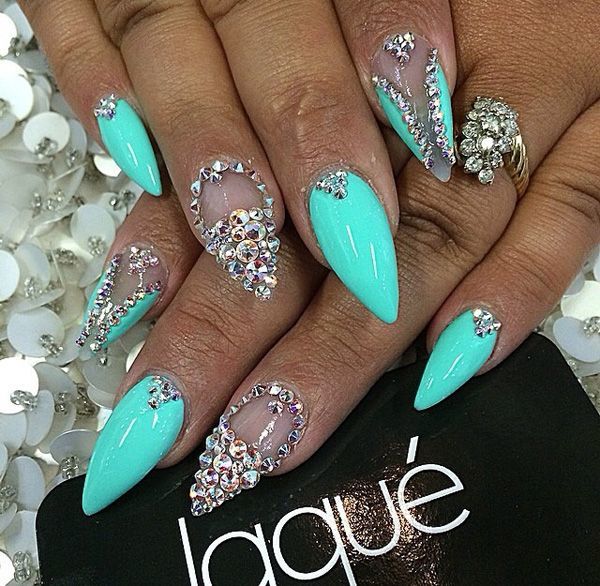 These long acrylic and perfectly shaped blue bling nails are here to give you a moment of silence.
The Tiffany blue pops against a dark skin tone and the shiny tiny gemstones were carefully placed in eye-catching designs both at the cuticles, the centers of nails, and at the tips of a clear accent nail.
#8: Just Like Fine China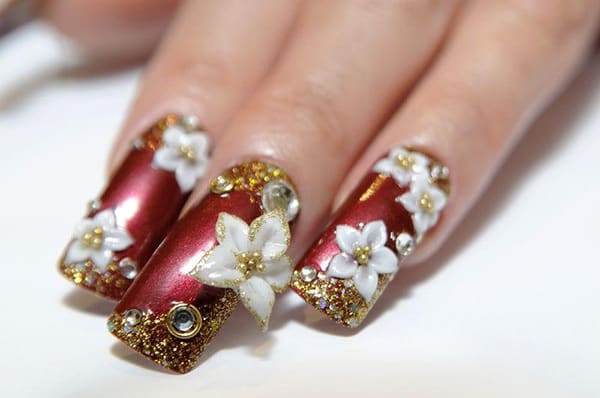 These bling nail designs have got some mean elements that remind us so much of China. Their dark red base, gold corners, and 3D flowers look like they've been plucked right from a Geisha's beautiful dress.
#9: Big Hearted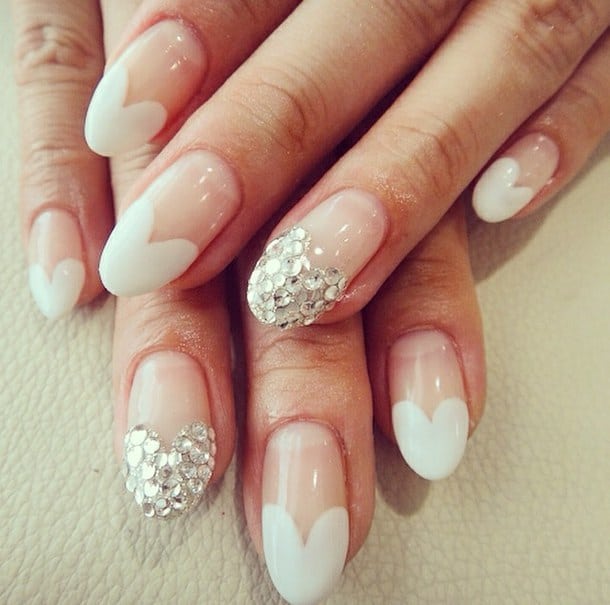 Perfect for romantic moments or Valentine's Day, these feminine bling nails are perfect for date nights. The white heart tips are super pretty, but the blinged out heart tips are where the sparkle is at.
Shine With These Diamond Nail Designs
You can also try the below bling nail with a mirror base:
#10: Pray For The Grey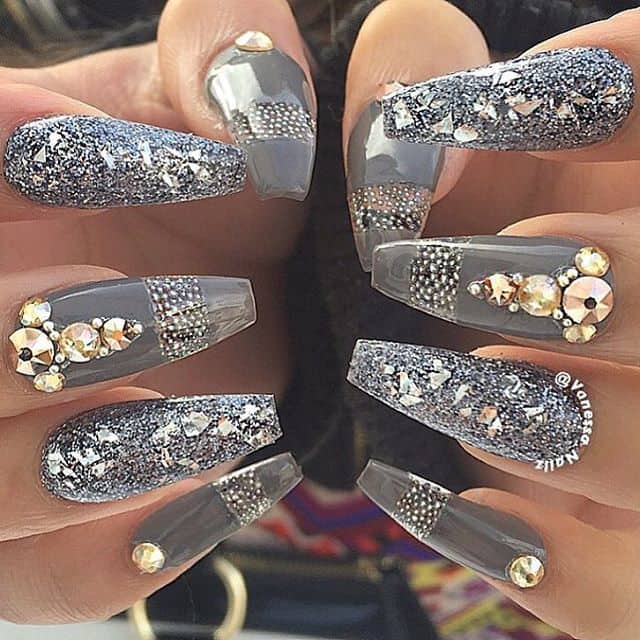 Talk about a statement nail! Extra long, extra sparkly and extra pumped up, these bling nails feature long coffin nails in light grey with large gold crystals and tiny silver beads. The shattered glass accent nail adds plenty of extra shine.
#11: Matte Perfect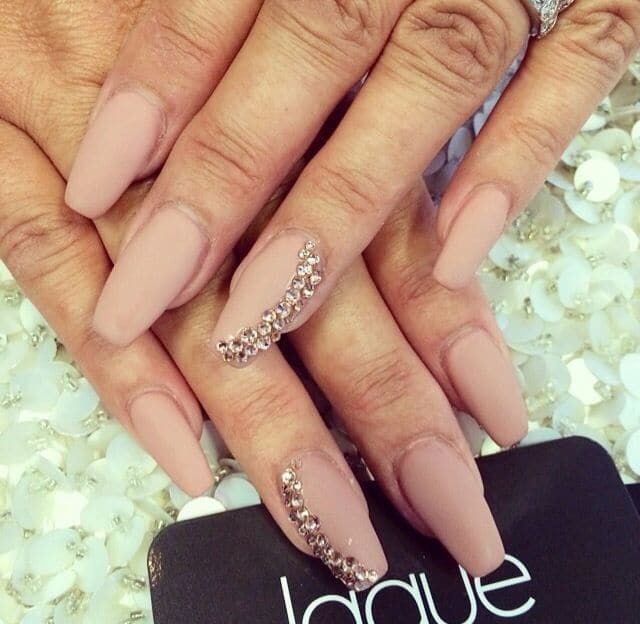 Simple bling nails can look just as beautiful as all of the other extra spiced up nails. One nude matte polish is all you need for a base color to show off tiny crystals in a curved wave on the accent nails. Browse the other matte nail designs we love.
#12: Magenta and Nude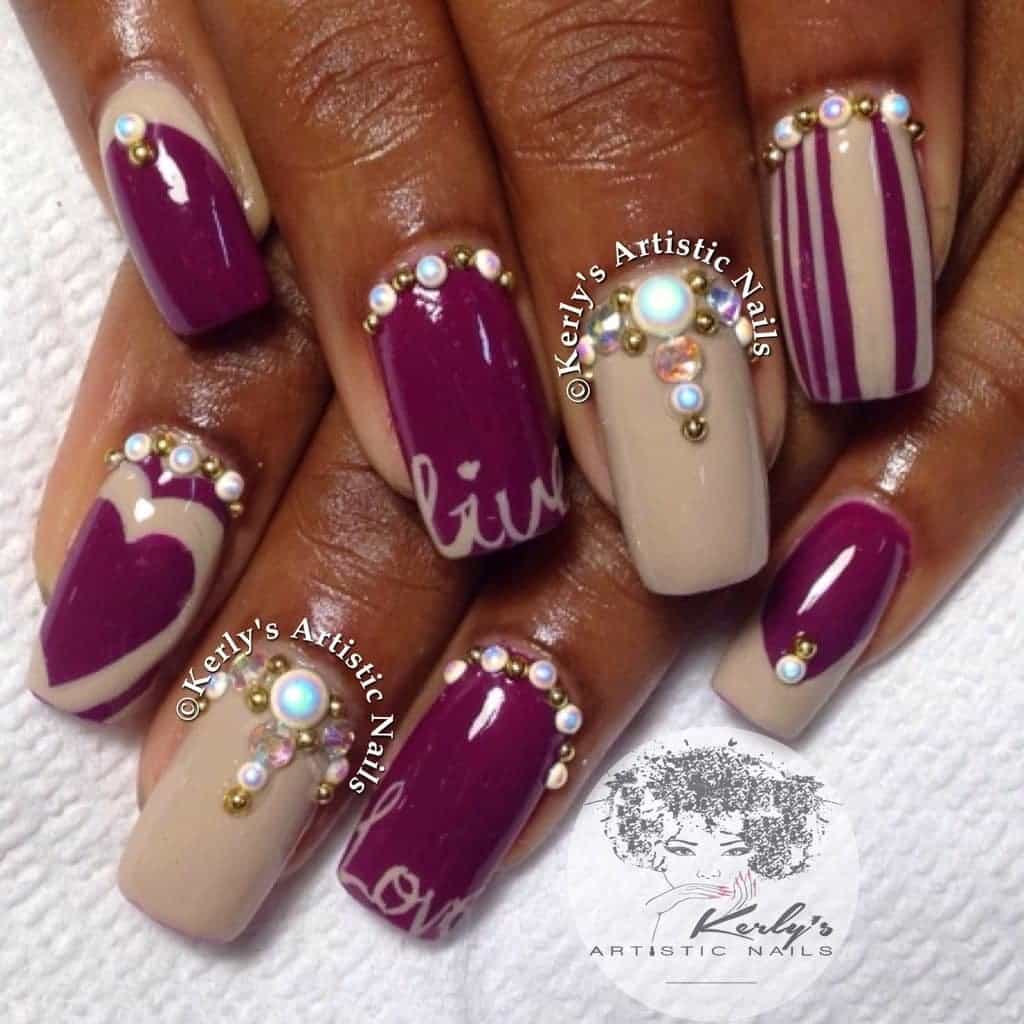 Dark burgundy or purple bling nail designs will beautifully show off pearled gems and gold stones. Wear the magenta color with a nude for a refreshing, sophisticated color pairing.
#13: Emerald Harmony
Emeralds of all colors are worn with a cheetah print on these bling nails. The short stiletto shape is perfect for showing off detailed crystal edges.
#14: Looks Like Someone Said Yes
Perfect for your wedding day, this white bling nail art is so pure. We love the use of both silver crystals and white nail gems at the cuticle. That wedding ring will stun in any photos with its shiny shimmery details.
#15: Irish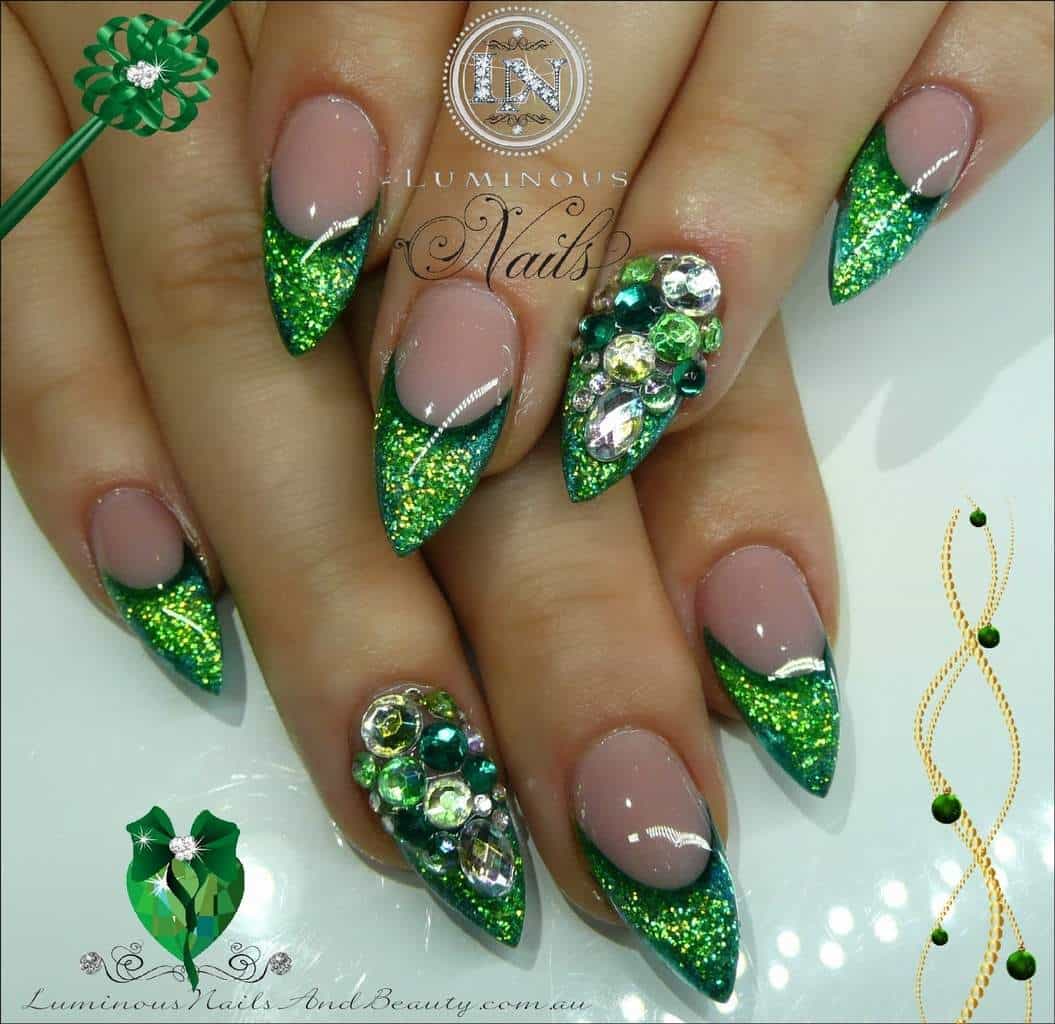 Take a visit to the Emerald Isle just by going heavy on the green on your bling nail design. Each nail tip is a glittery light green with a heavy dark green outline. Cover your accent nail in large green crystals.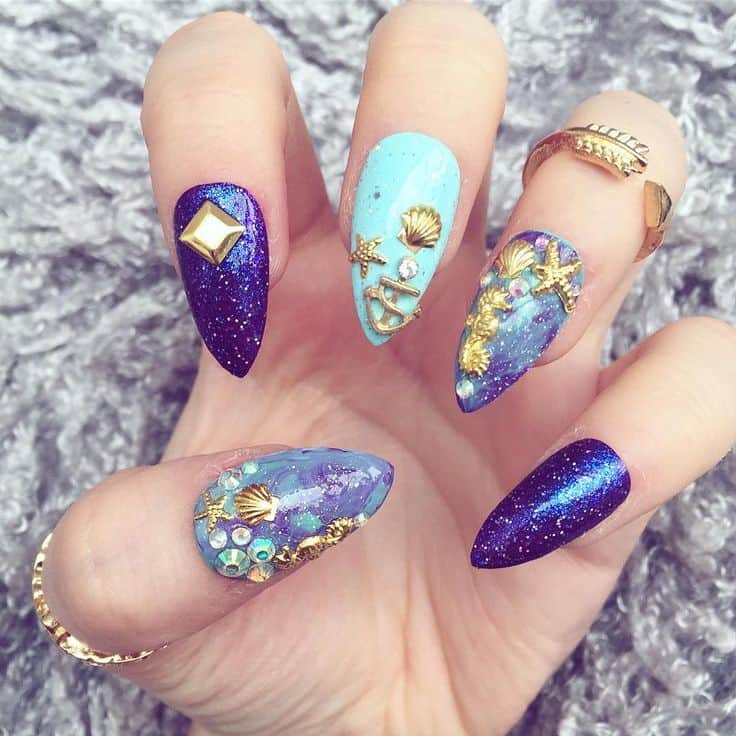 Mermaid acrylic bling nail designs are for ladies who occasionally like to feel like a sea princess. Use purples, blues, and turquoise with gold accents in a sea-theme.
#17: Cruella Deville
Feeling like Cruella? There's no doubt she would approve of these long stiletto bling nails. Their fierce black and white designs feature large blinding crystals.
Nicki Minaj Nails: 21 Nail Designs to Wow Everyone
#18: Feather Glow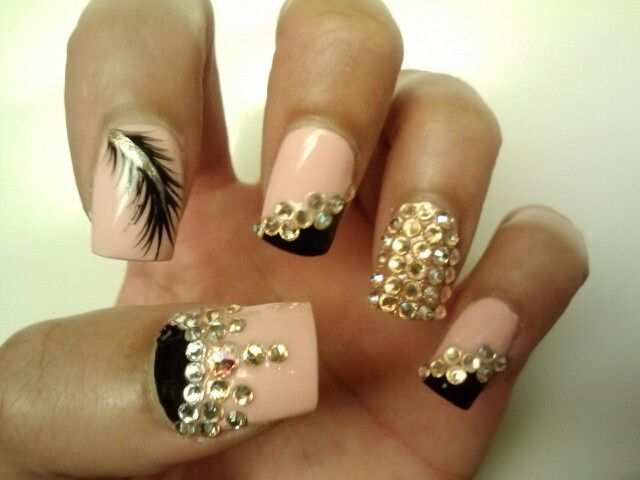 A chill, relaxing vibe is felt with this bling nail design featuring gorgeous black feathers on nude nails.
Lighter colors with stone jewelry are your go-to nail combination for dates, proms, and nights out with the ladies.
#19: Bling Nails With Yellow Stone
Yellow gemstones have meaning: enlightenment, wisdom, cheer, joy, and youth, not to mention the sun. Make gold or yellow gemstones a statement on your bling nail design by choosing various shapes and sizes.
#20: Short But Cute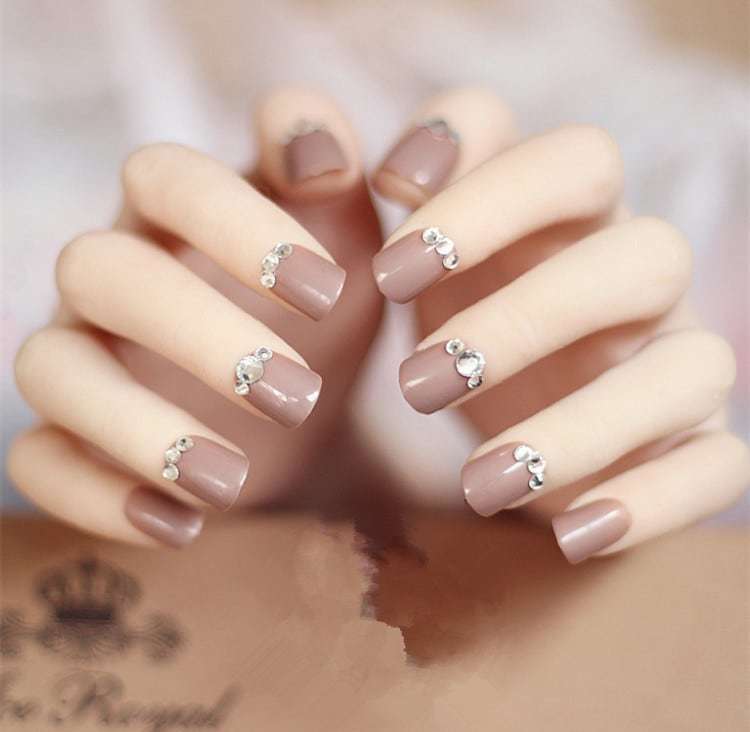 Short and tan nails with stone bling at the cuticle will be your go-to for a morning of meetings. They are the perfect coffee-colored nails to help wake you up in the morning!
#21: Pink Lover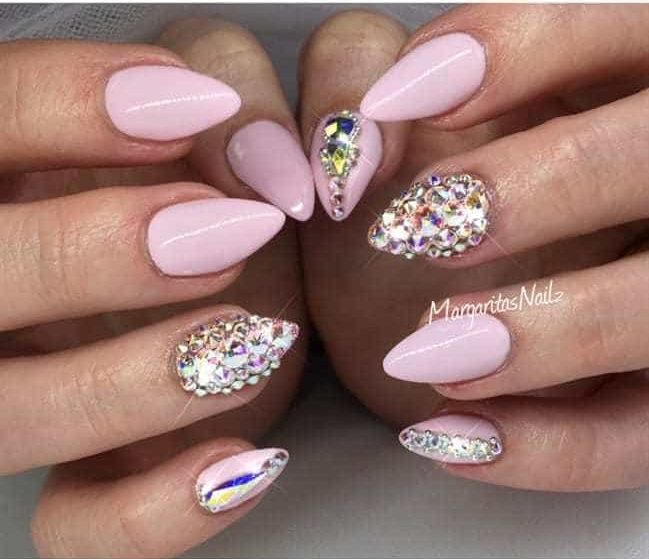 Soft, gentle nail designs with bling are perfect for every princess who likes extra shine. Be very patient with these and appreciate them since they are a true example of creativity and modern nail art.
#22: One Is Enough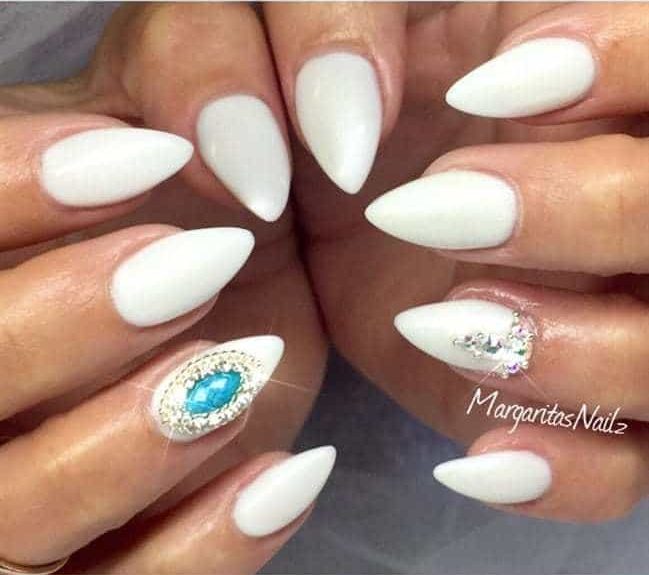 One colorful stone on your nails is all the bling you need when you have white nails. Use a blue stone for wintry vibes, red for Christmas, you know the rest.
#23: Yellow Babe
A sunny yellow gives a burst of energy to short stiletto nails. For the bling, deck out an entire nail, just half, or a small part at the cuticle with lots of pointed crystals.
#24: Mini Fab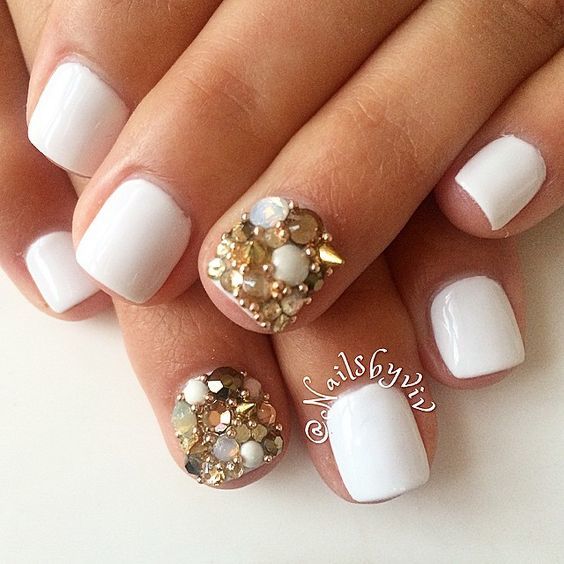 These short mini and fabulous nails with gold bling are easy to pull off, and you get extra credit for having your natural nails instead of the tips or acrylics.
#25: Mad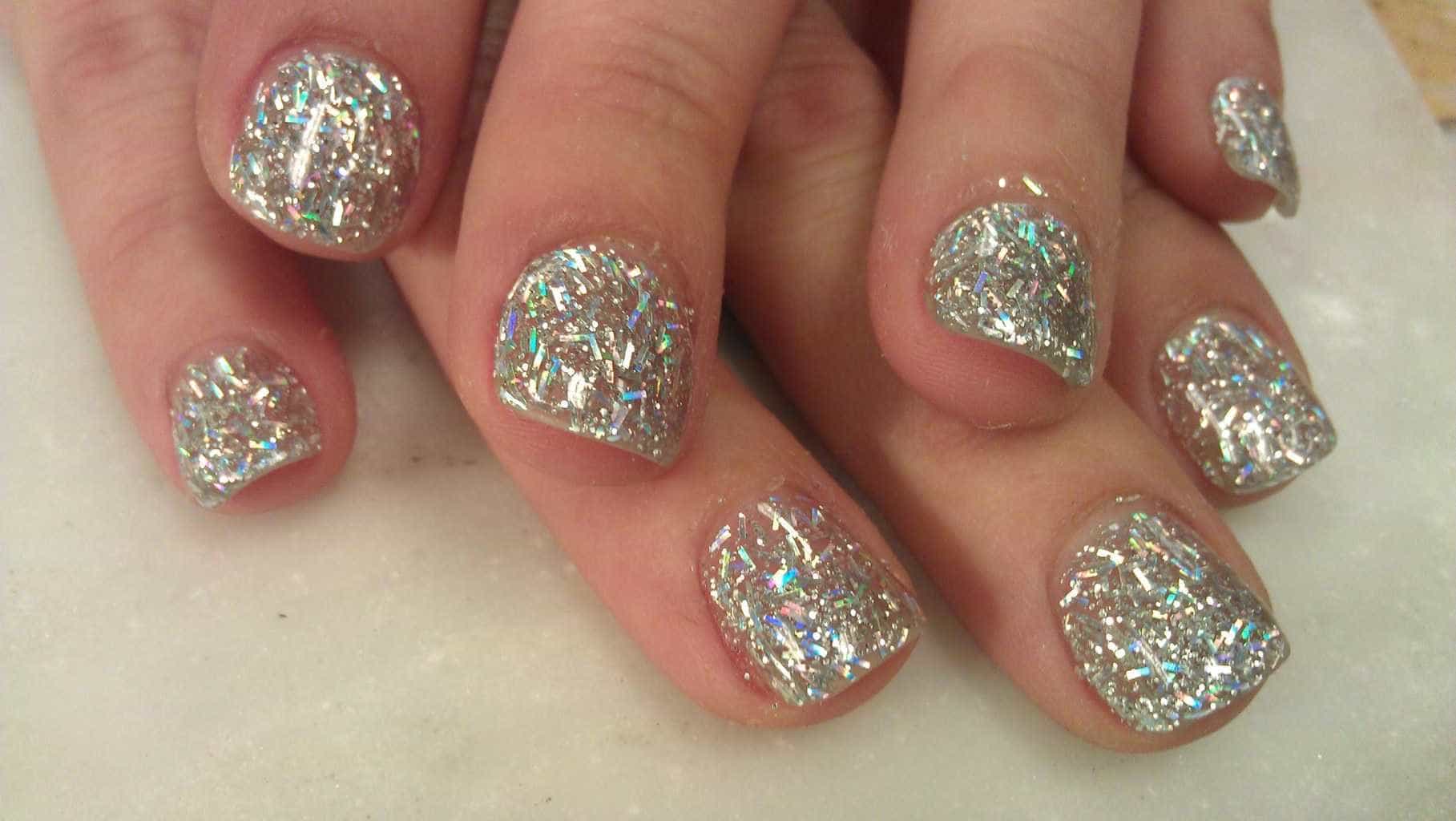 For short nails, you can still rock a cute, glitzy bling nail design! Try holographic polish or stickers to get that razzle-dazzle.
#26: Subtle And Simple
For our Prima ballerinas out there, with a mixture of tiny and large crystals in wave patterns or near the cuticle, you're ready for a showdown with extravagance.
Add Sparkle to Your Nails with Rhinestone
Make your Nails More Attractive With These Bling Nail Designs
Personally, we think any of these bling nail designs are a score. Whichever one you choose, make sure you feel like yourself.
Wearing a nail design you aren't comfortable with will show and you're always going to feel more beautiful when you're confident!