Japanese nail art is bold, uses sophisticated designs with numerous nail accessories like stickers, glitter, or 3D glued decorations. Great acrylic constructions are part of Japanese nail art and lately, this trend is hitting the US hard. And why shouldn't it, when it looks this glam?
Japanese nail art ideas
Most Japanese nail arts come with incredible long nails that are decorated with numerous applications. When it comes to their practicability, some of the constructions can easily interfere with your day-to-day jobs. Therefore, they are suitable for girls who are not required to spend all day working with their hands.
However, if you love this popular type of mani, you can get a shorter length and apply only a few 3D cute pieces or resume to nail stickers. In the article below we will introduce you to the fabulous Japanese nail art designs and we are curious which of these ideas you find practical and adorable.
#1. Japanese Watercolor Flowers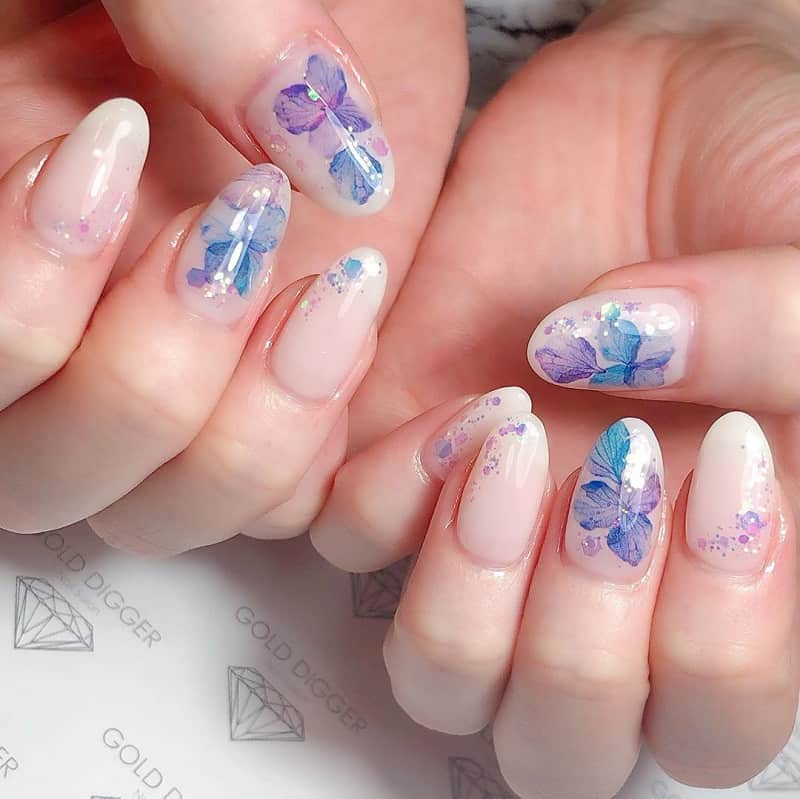 Watercolor flowers are very common among Japanese nail designs. For this particular mani, japanese nail art stickers were used, and they certainly look amazing on that simple white nail polish base.
#2. Japanese Mermaid Nails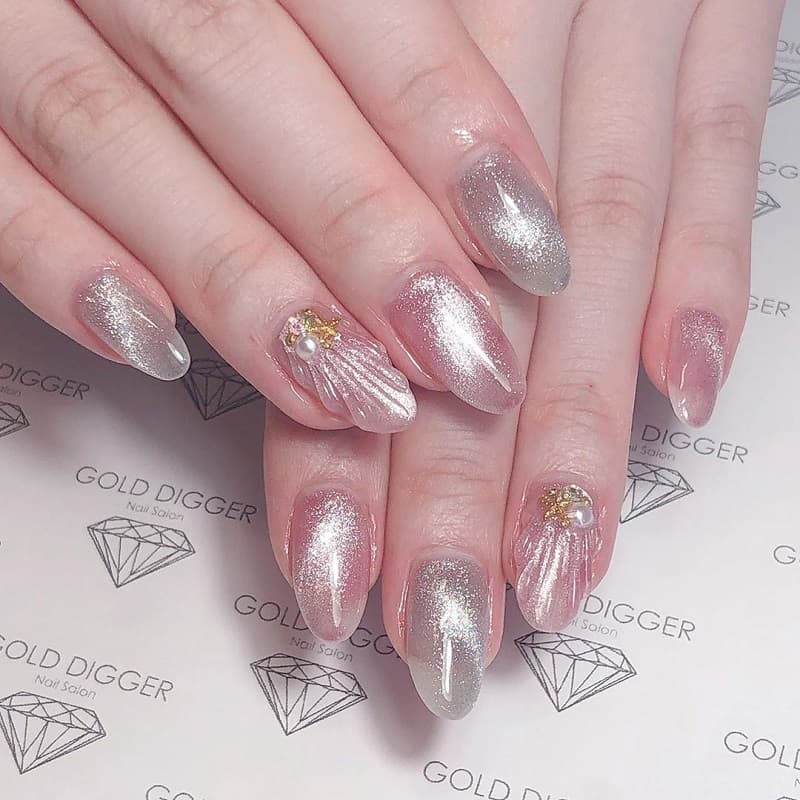 Japanese glitter nail art can take many shapes and sizes. So, if you love all myths and legends about mermaids, you're going to adore this nail construct. Use pale colors and enhance the mani with a glittery top coat. And don't forget the pearls if you want more glam!
#3. Japanese Winter Ombre Art
This year, when the cold season comes, draw your inspiration from this Japanese nail art for winter. It features ombre nails with white polish, glitter, and snowflakes. But if you want to make it look even more fabulous, there is plenty of room for more nail applications.
#4. Sea World Japanese Nails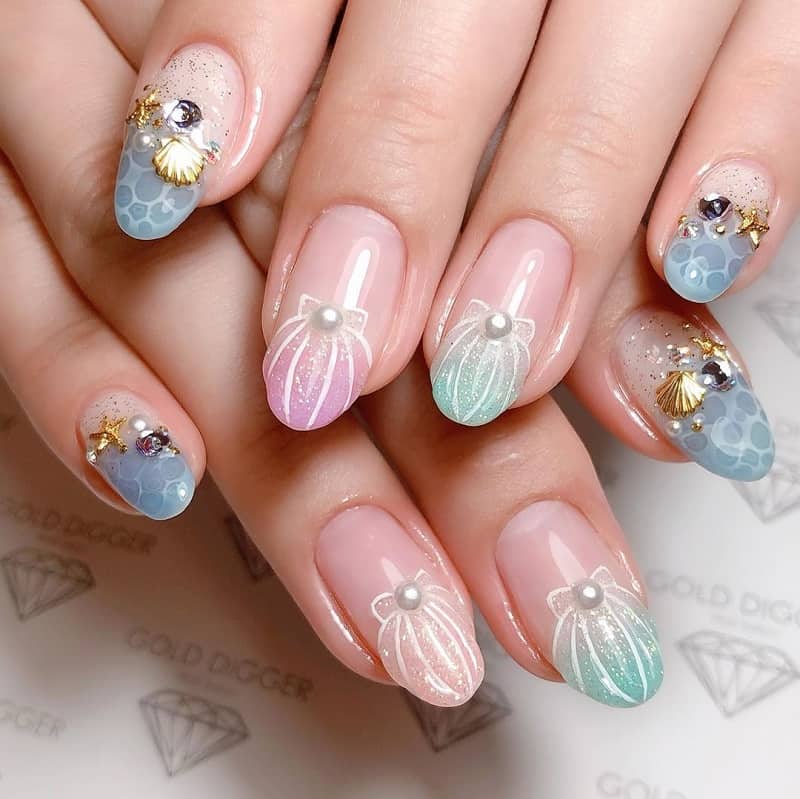 Japanese nail art with rhinestones that includes marine themes, shells, pearls and numerous golden applications are gorgeous and even practical. This manicure is the perfect example that your nails don't need to be incredibly long to look awesome and sophisticated.
#5. Green Hello Kitty Nails
We all know and love Hello Kitty, and so do girls from Japan. Since these cartoons aired for the first time in their country, nail artists frequently pull of Japanese Hello Kitty nails for their customers. And why wouldn't they since this kitty is so cute?
#6. Geisha Nails
Geisha is a Japanese hostess who entertains the guest by different activities. She is trained to do so and this is an old tradition of Japan. You can paint Geisha nails as Japanese nail art.
Blow Up Social Media With Korean Nail Art
#7. Pretty Nails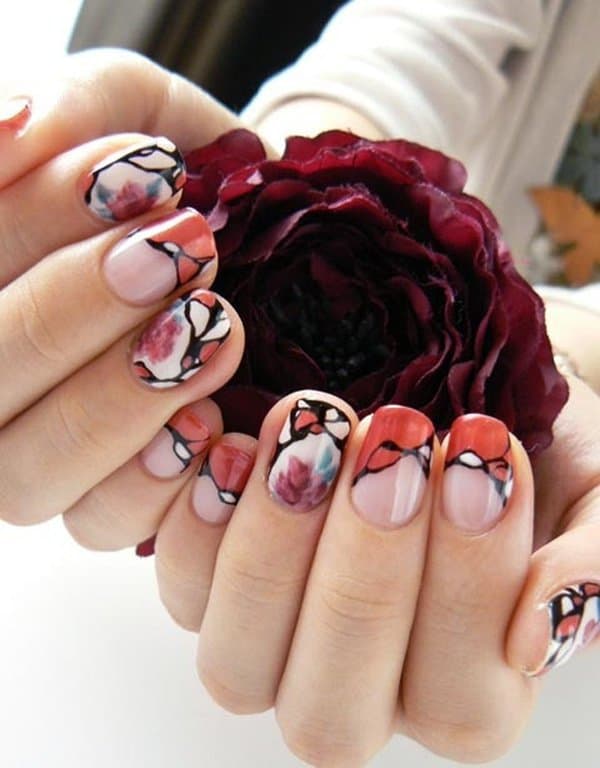 Japanese people have a sense of aesthetic beauty. These pretty nails are the proof of it. You can have these nails by applying Japanese nail designs.
#8. Bubble Drip Nails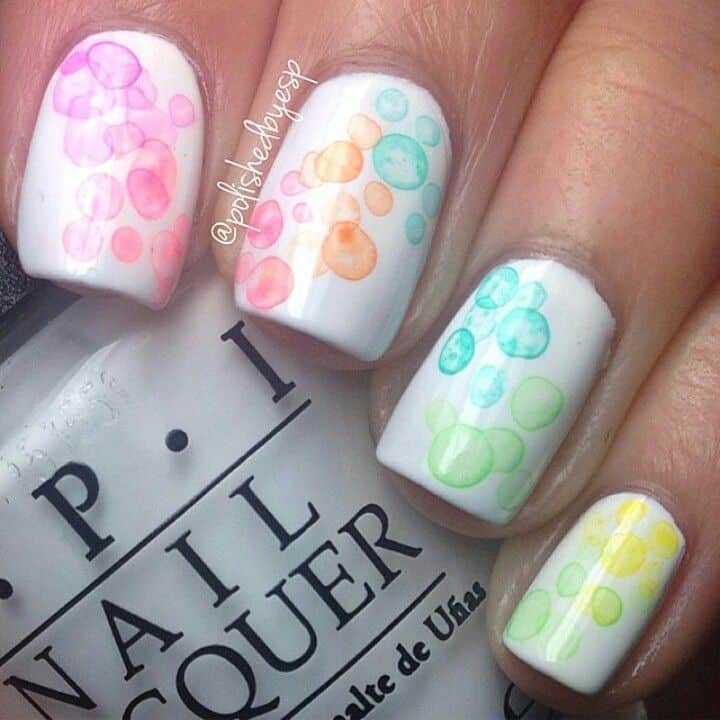 If you want to keep it simple but delicate, this design is for you. No fancy design is needed. Create some colorful bubble drips on the nail plates. This simple technique will enhance the beauty of these Japanese nails.
Check Out How The Bubble Drips Nail Art Can Be Created
#9. Anime Nail Art
Japan is famous for its anime series. Teenagers from the whole world are crazy fans of these anime serials. You can draw any of the anime characters on your nails while having this nail paint.
#10. Colorful Japanese Nails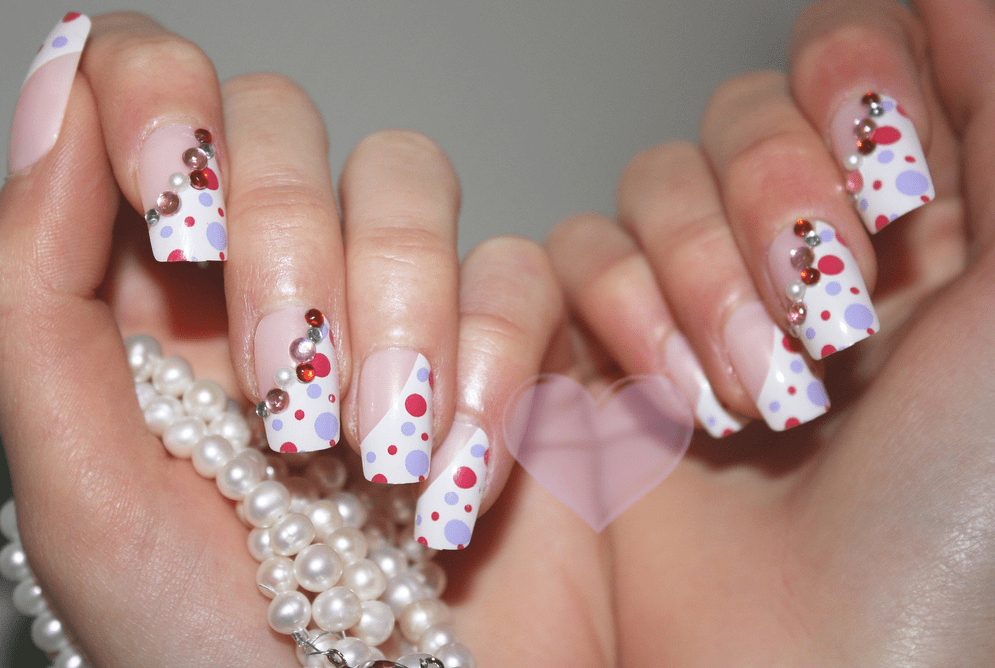 Japanese are great lovers of colors. You can paint your nails with round spots of different colors. Place some rhinestones on top of the nails. A pearl necklace will complement the whole design.
#11. Extreme Art
Japanese extreme nail art became viral on social site when it was created first. You can use bows, stones, studs and 3D art to make this deadly combination of Japanese extreme nail art. This design is identical to funky nail art.
#12. Lovely Pink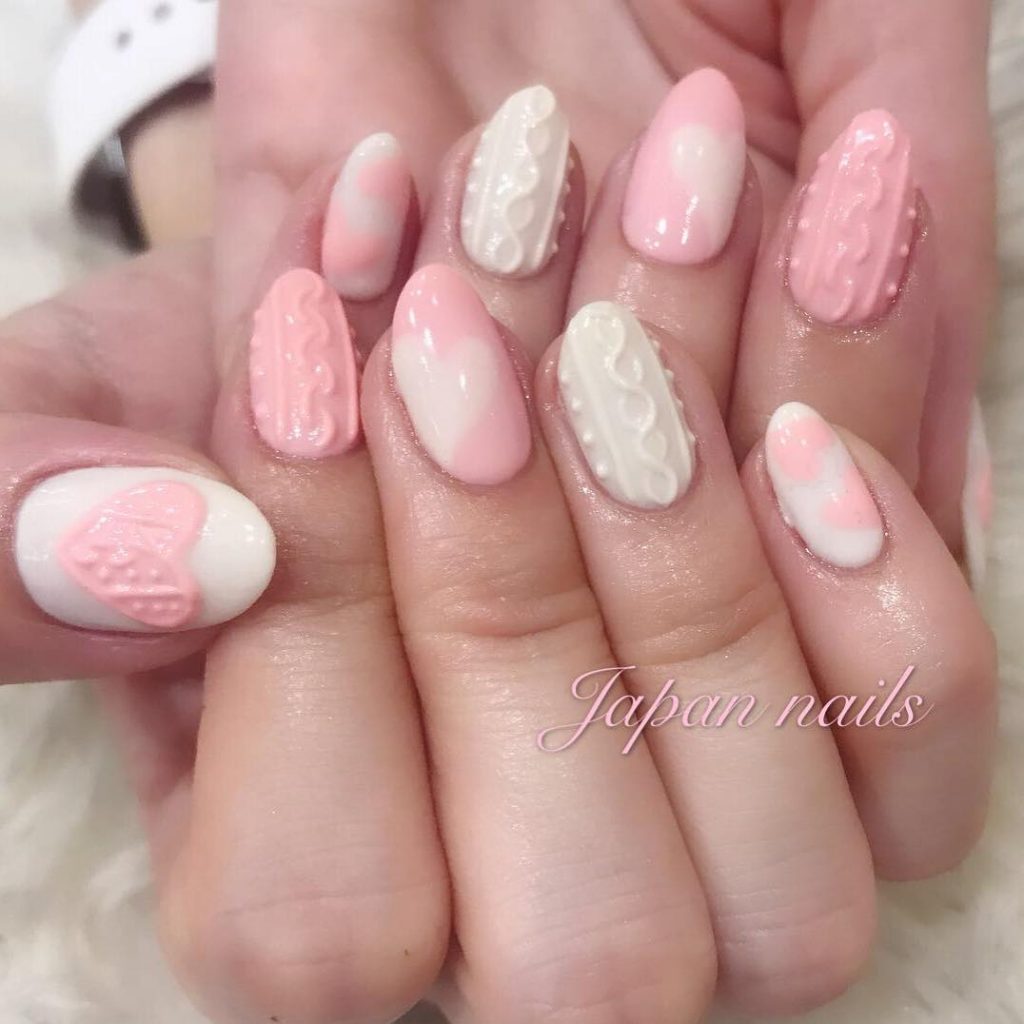 Pink is one of the most used colors in nail designs. You can have the charm of pink on your nails by having this nail art.
Let Pikachu & Pokemon Play Around Your Nail
#13. Beauty of Studs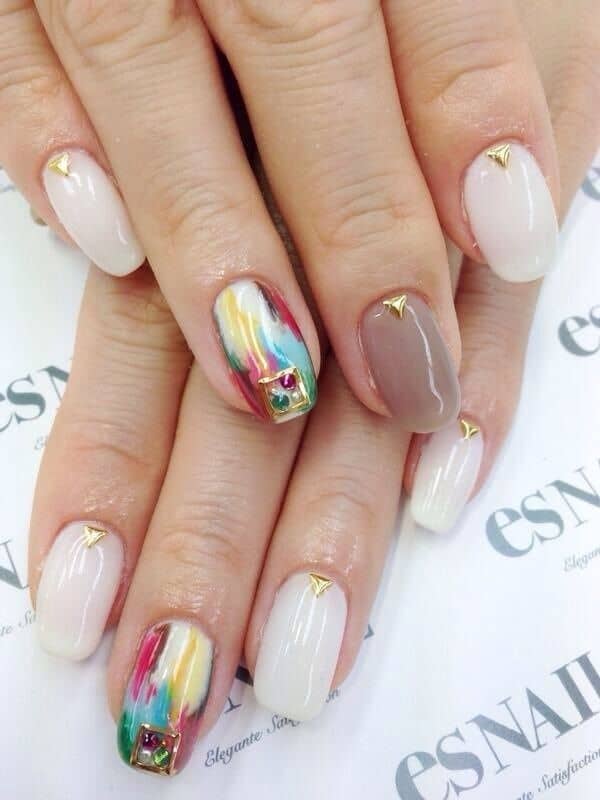 Studs are widely used in Japanese nail art. You can have beautiful nail designs by placing studs in the right place of the nails. And the colors of nail polish is a great bonus.
#14. Japanese Cartoons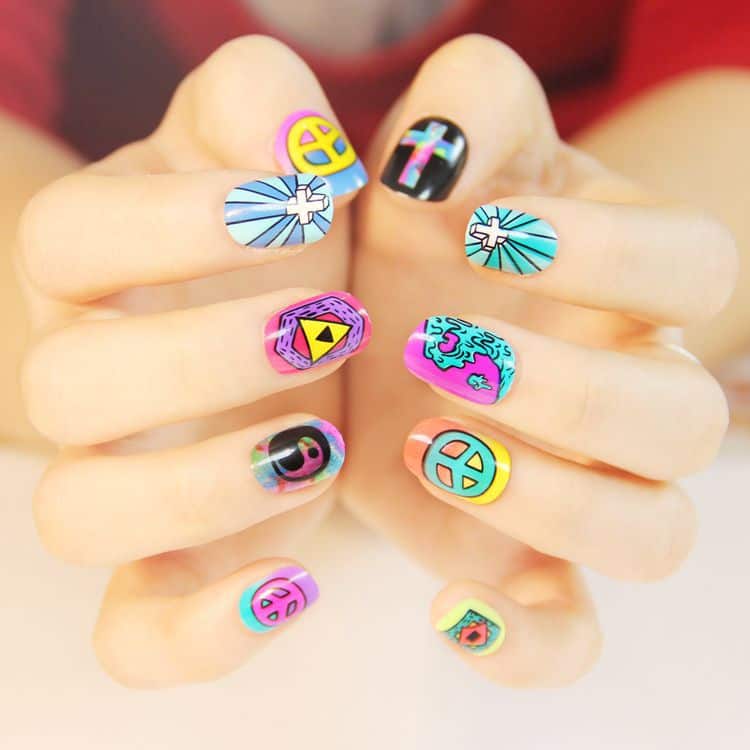 There are a few Japanese cartoons which have been translated into many other languages. Besides, the content and the characters of there cartoons are copied in other countries. You can paint some logos of the most inspirational cartoons while having Japanese nail art.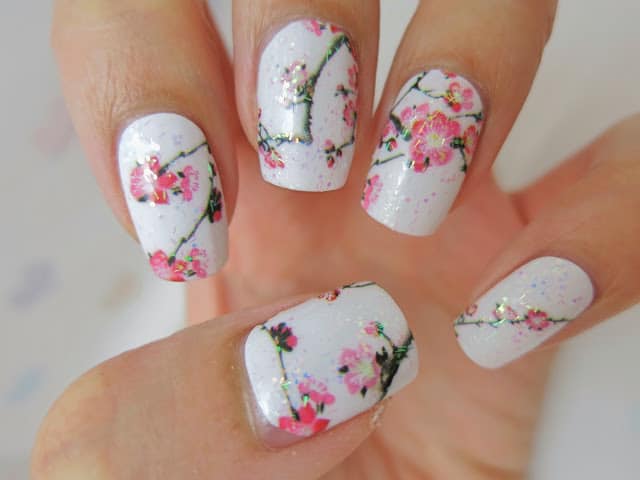 Cherry blossom flowers are identical to the Eastern Asia region. China, Japan, Korea all these countries has an age-old relation with cherry blossom flowers. You can draw some cherry blossom flowers on your nails while having Japanese nails.
#16. Insta Favorite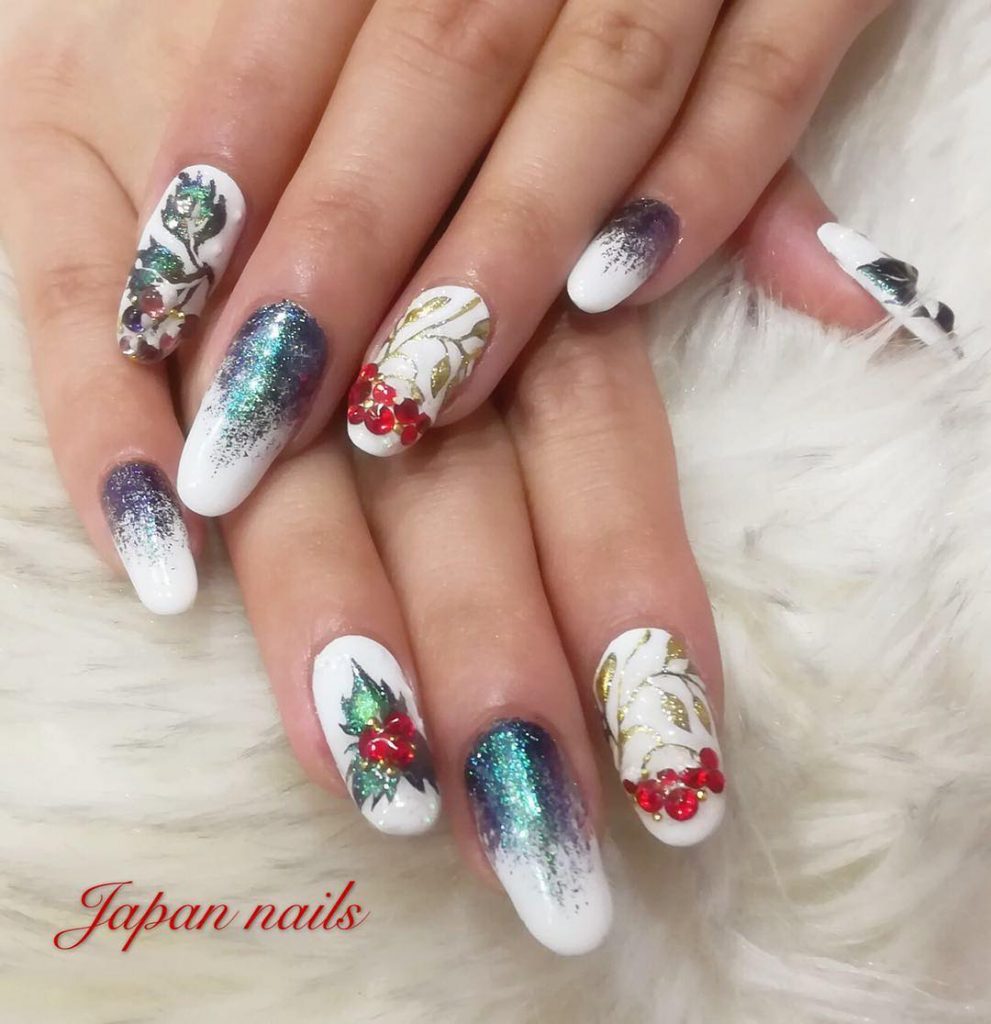 This design broke out on the wall of Instagram. You might have already noticed the lively presence of Japanese nail art in the photo bank of Instagram. Try this beautiful Japanese nail art and post in on social sites to get attention.
#17. Japanese Toenails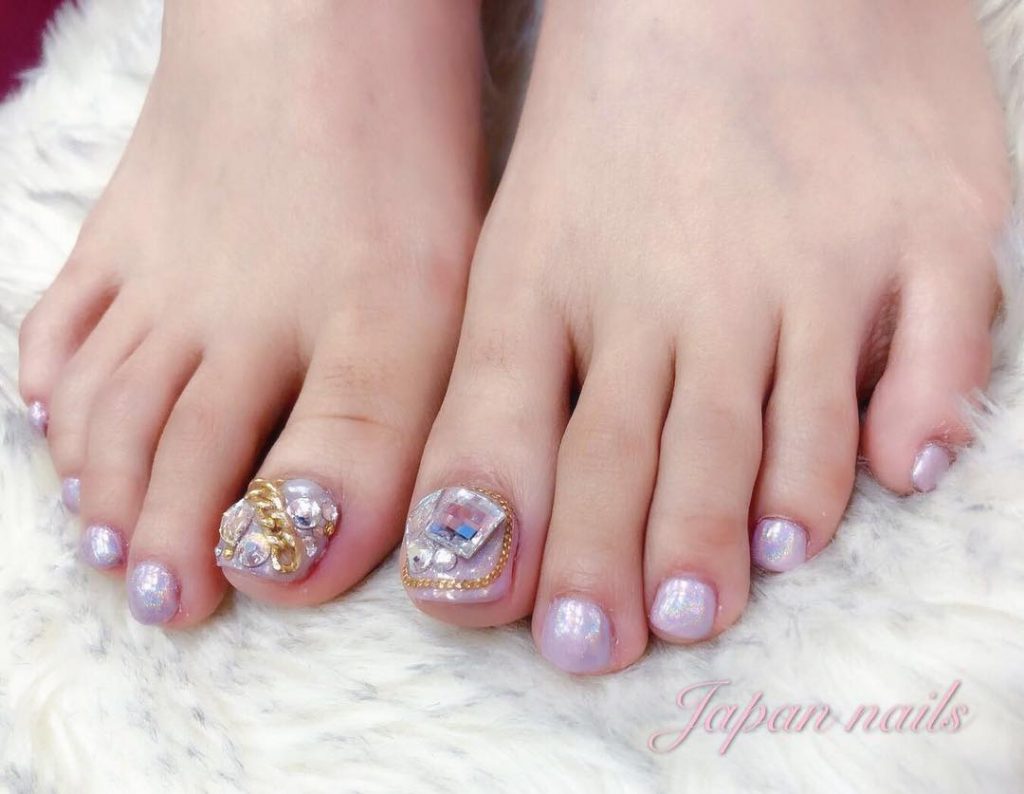 Even Japanese toenails are not spared from the application of studs and stones. A gold plated chain is also used in this design to make it more than sumptuous.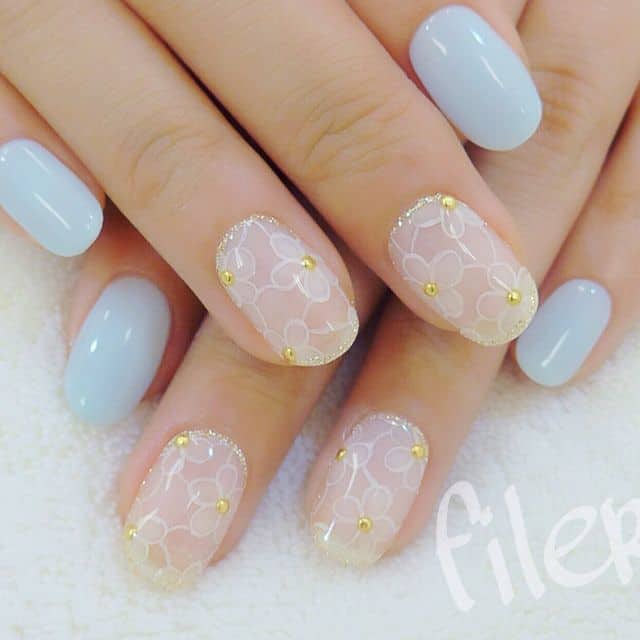 There are cute designs alongside the extreme ones. if you don't like the complexities of extreme or Japanese 3D nail art, you can choose simple and cute-looking nail art like this one.
#19. Gold And Jewels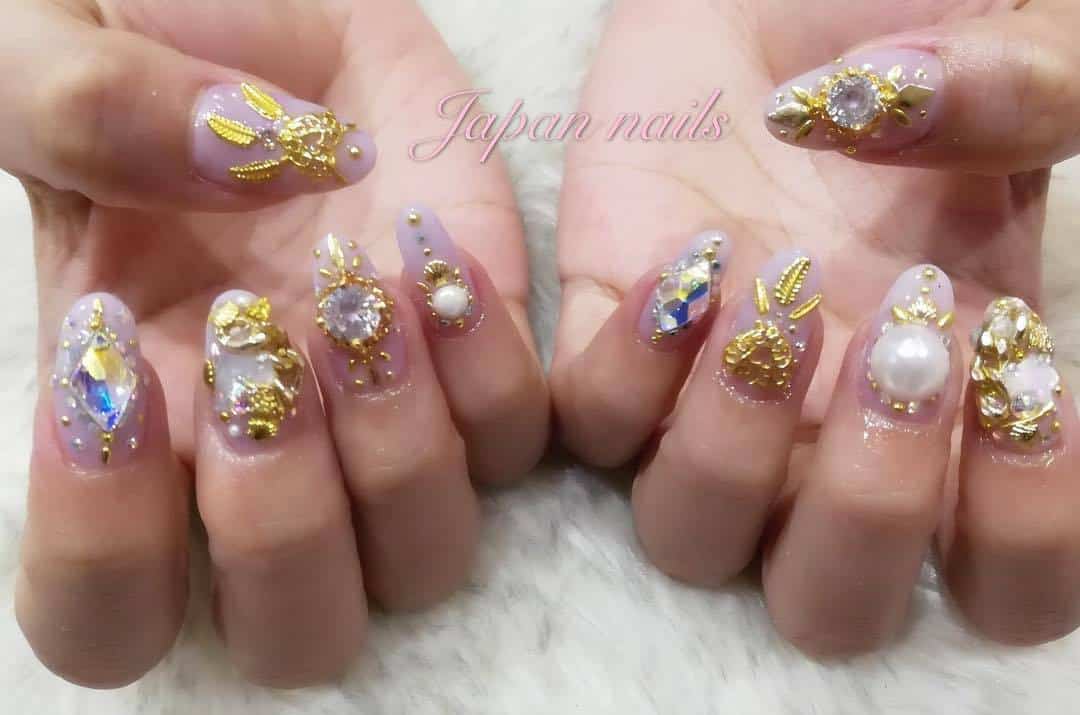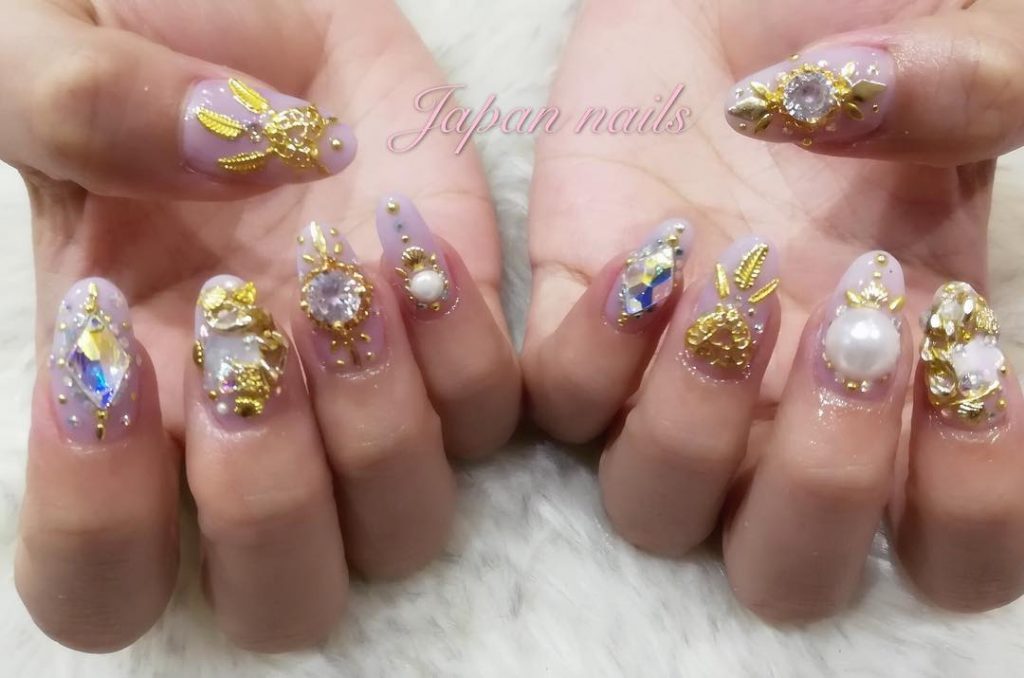 If you're comfortable with heavy nails at your fingertips, you can choose this design to get a perfect party attire.
#20. The Flag of Japan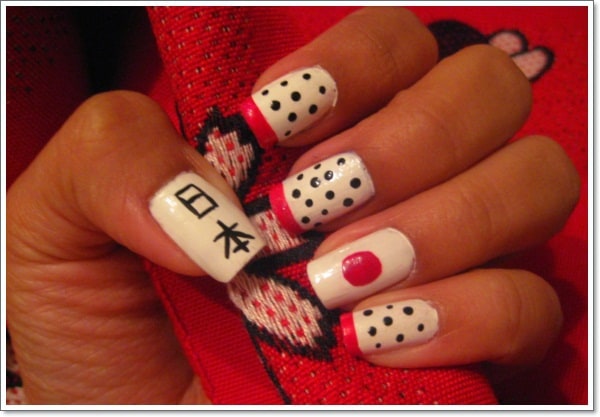 A flag represents a country as a whole. If you are a fan of Japan or Japanese nail art, you can surely have this nail art. What could be perfect than the combination of Japanese flag associated with Japanese calligraphy?
Chinese Nail Art Straight from China
Japan is so rich in tradition and innovation. So, the nail designs have to contain tradition and innovation on them. You can try our designs and ideas to have them both. Let's flaunt your love for Japan by having these Japanese nail designs.