Silver nail designs definitely look stunning but few of them can match any outfit! We gathered here 35 gorgeous examples that will help you match the proper shade and cut to your style and personality.
Silver Nail Designs
When it comes to silver nail designs, the options are unlimited: you can make them glittery, chromed, even holographic and they'll still look fabulous.
#1. Silver Acrylic Nails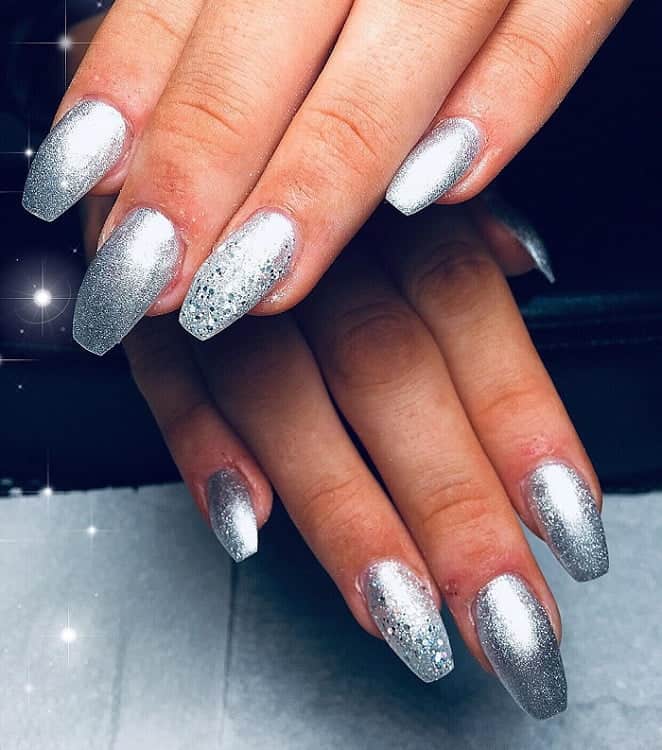 To bring this wonderful construct to life, the acrylic gel is the first thing you need. Get a coffin shape for your nails and choose two types of silver glitter polish. Choose two polishes with different sizes of glitter.
#2. Pink and Silver Nails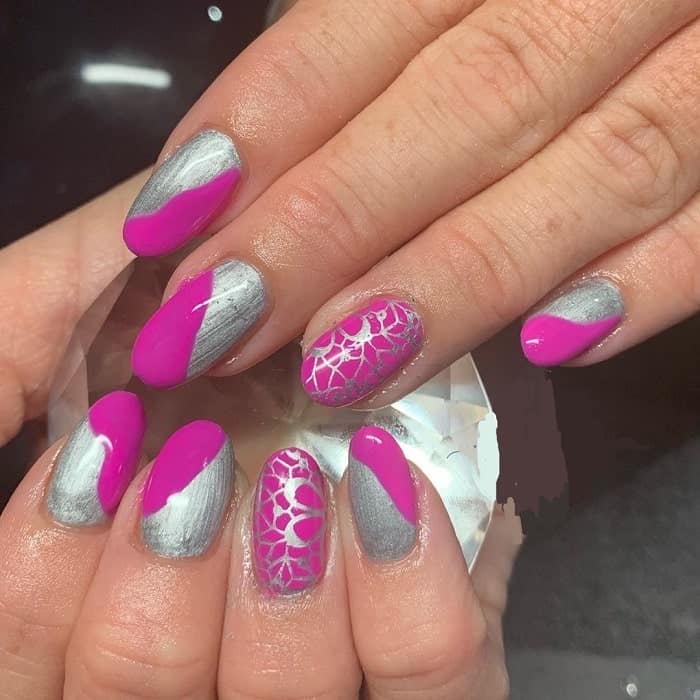 In order to recreate this gorgeous design, use an electric pink shade and dye only half of your nail. On the other side, get a textured silver polish. You can also create a more complex design on one of your nails.
#3. Silver Chrome Nails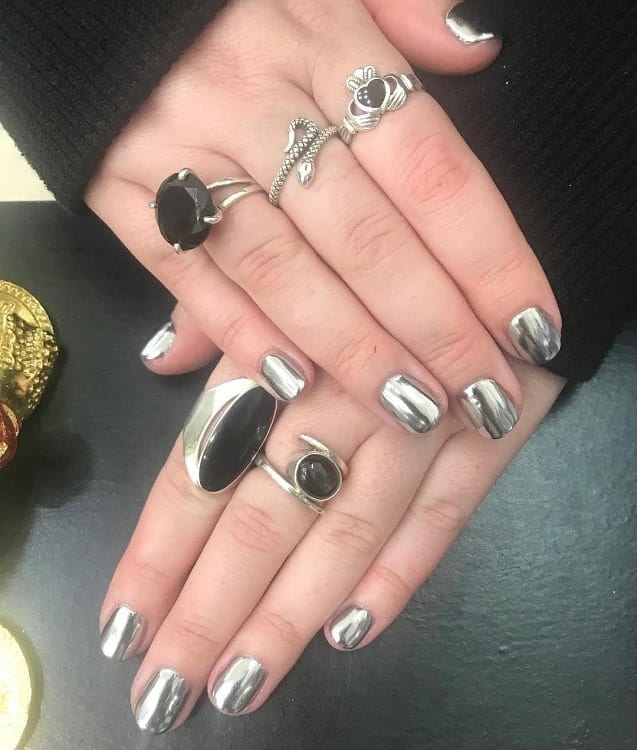 Short nails never looked better! These metallic chromed nails look fantastic and are quite easy to recreate. Use a metallic powder to get this absolutely mesmerizing effect.
#4. Silver Sparkle Nails
These nails look like you've cut pieces of diamonds and glued them on your nails. You don't need to do that! Just get silver polish with various sizes of glitter and sequins.
#5. Purple and Silver Nails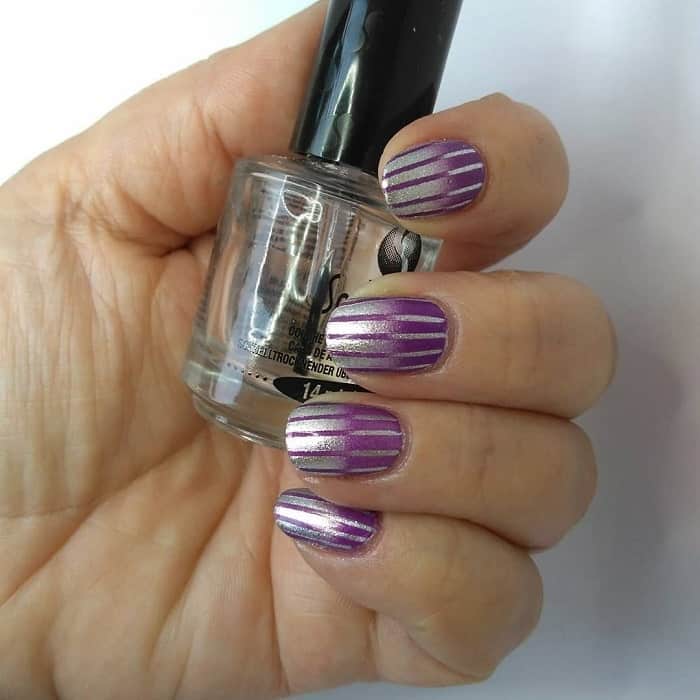 That is a fantastic way to make, not one, but two ombre mani! These nails look astonishing and those tiny lines really know how to create a stunning effect.
#6. Silver Nails for Prom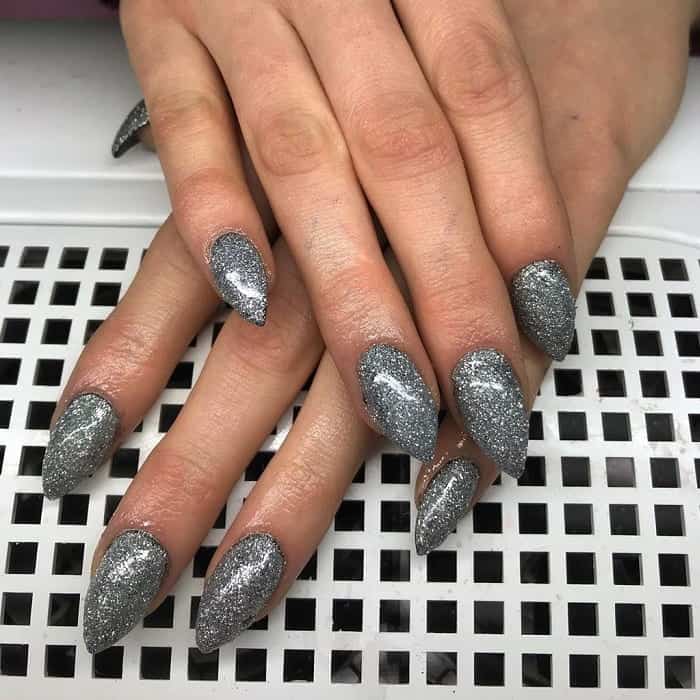 #7. Silver Ombre Nails
#8. Yellow & Silver Nails
#9. Burgundy and Silver Nails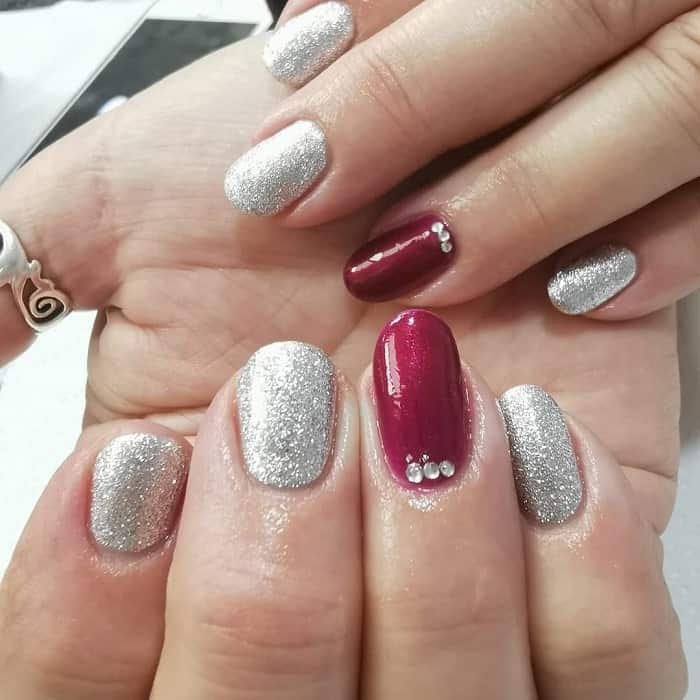 #10. Silver Coffin Nails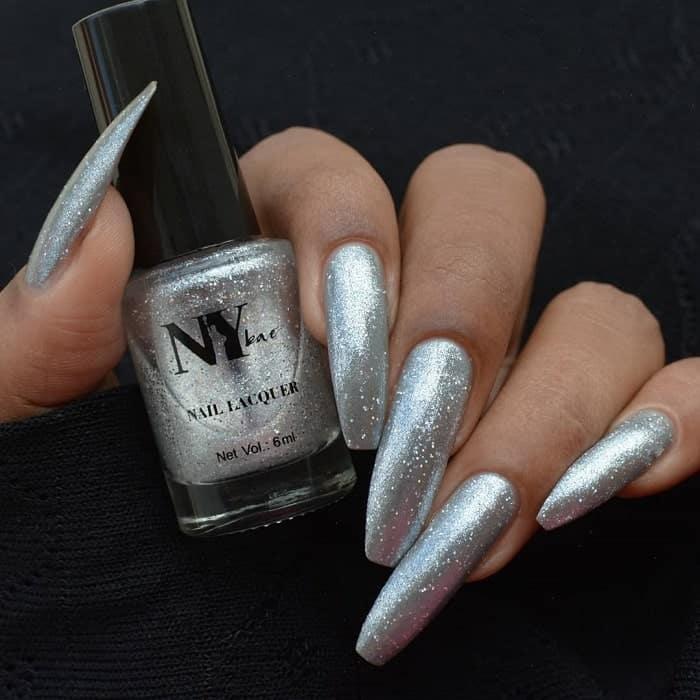 #11. Silver Holographic Nails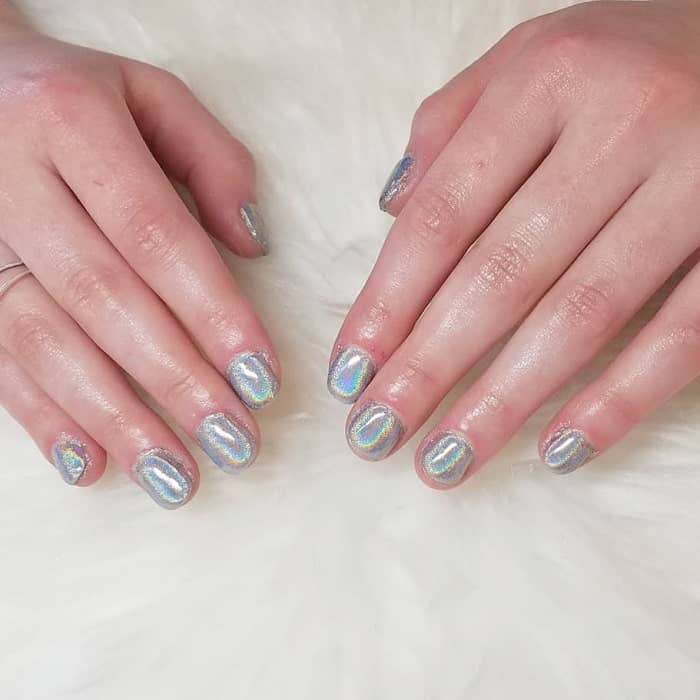 #12. Green+Silver Combo
#13. Grey and Silver Nails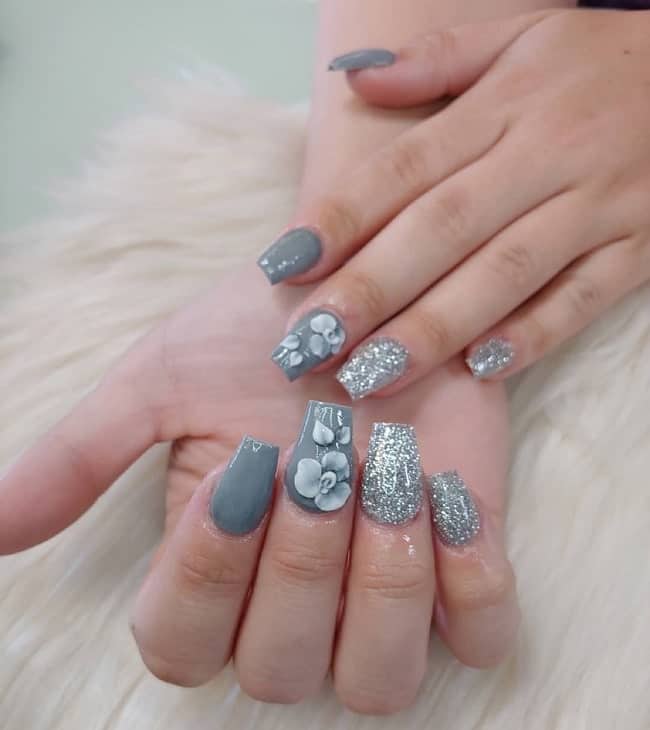 #14. Silver Gel Nails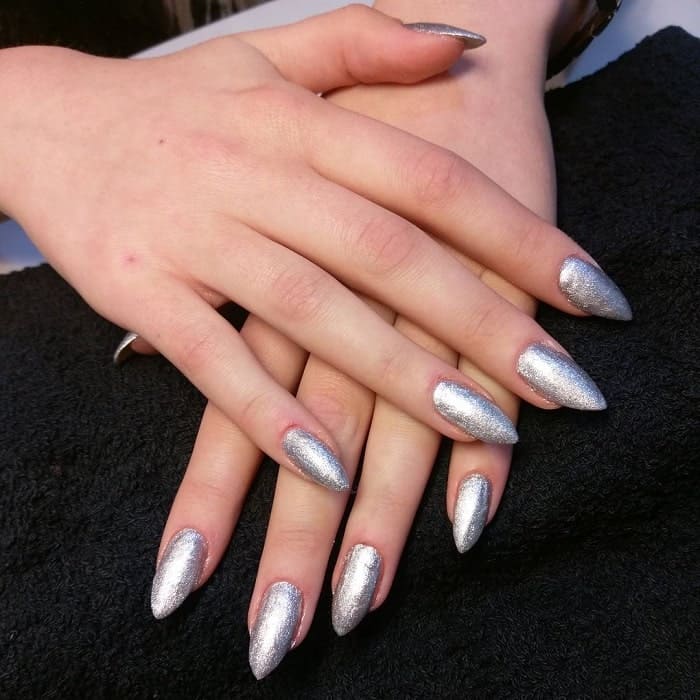 #15. Orange and Silver Nails
#16. Silver Toe Nails
#17. Teal & Silver Nails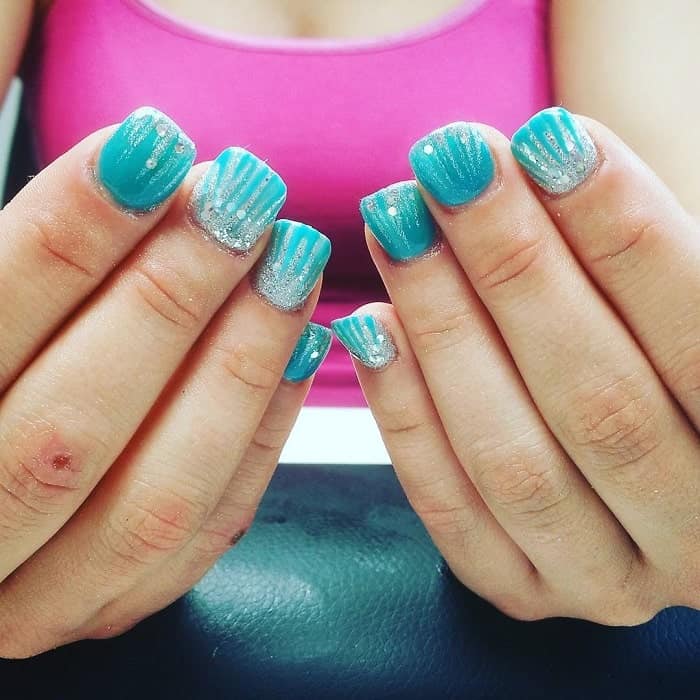 #18. Maroon and Silver Nails
#19. Silver Stiletto Nails
#20. Silver Nails for Wedding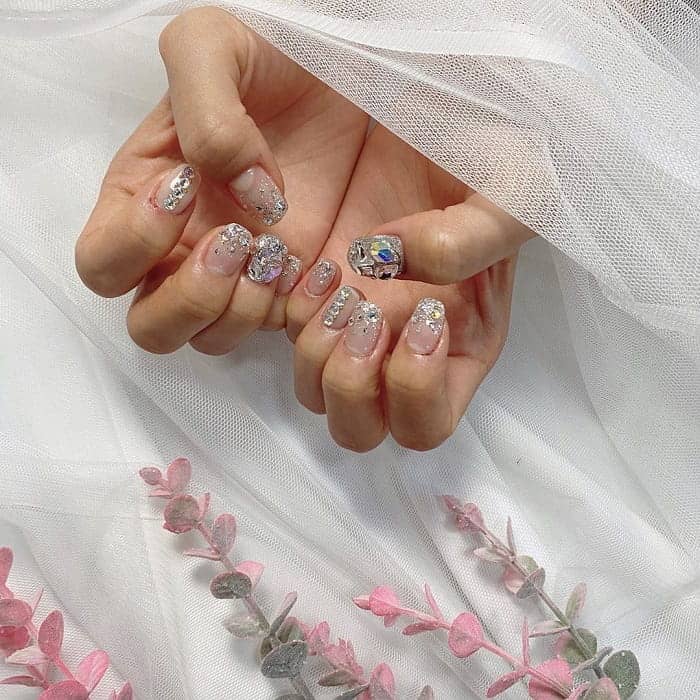 #21. Matte Silver Nails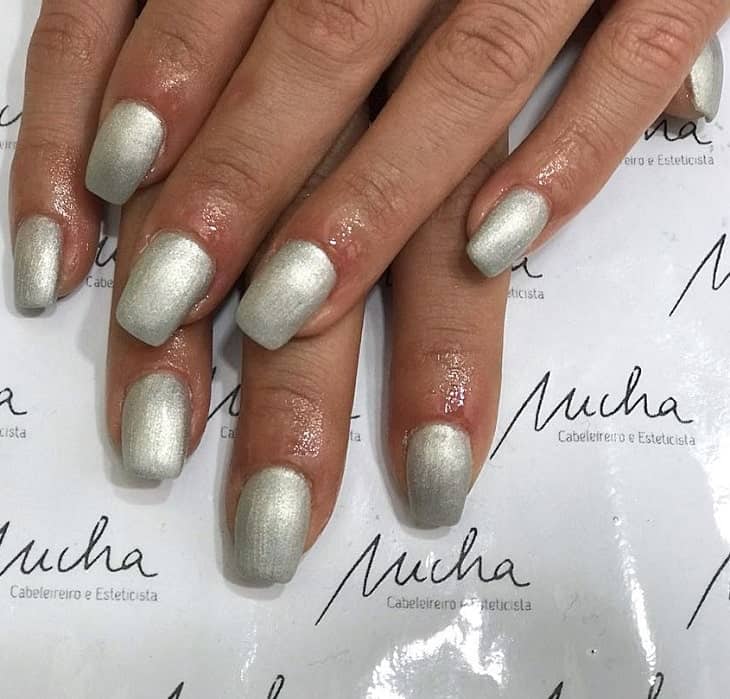 #22. Silver Nails for Christmas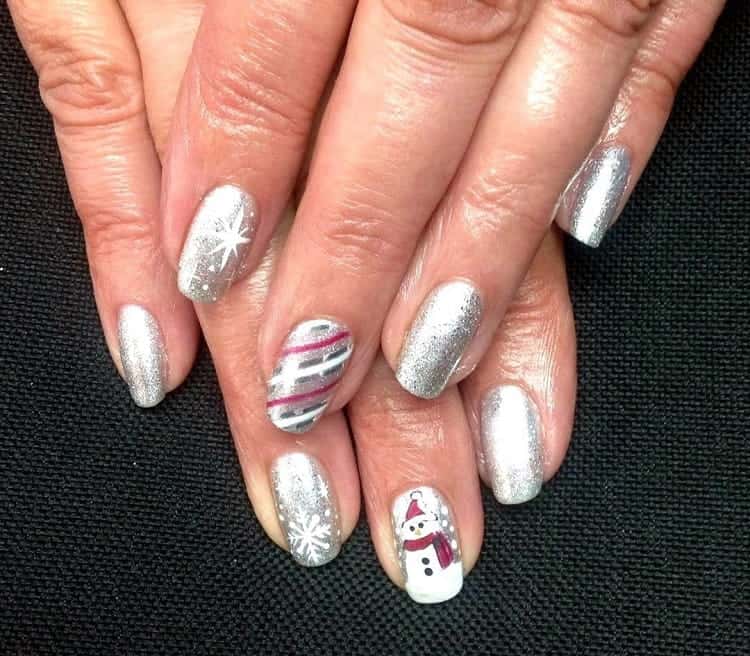 #23. Silver Nails with Rhinestones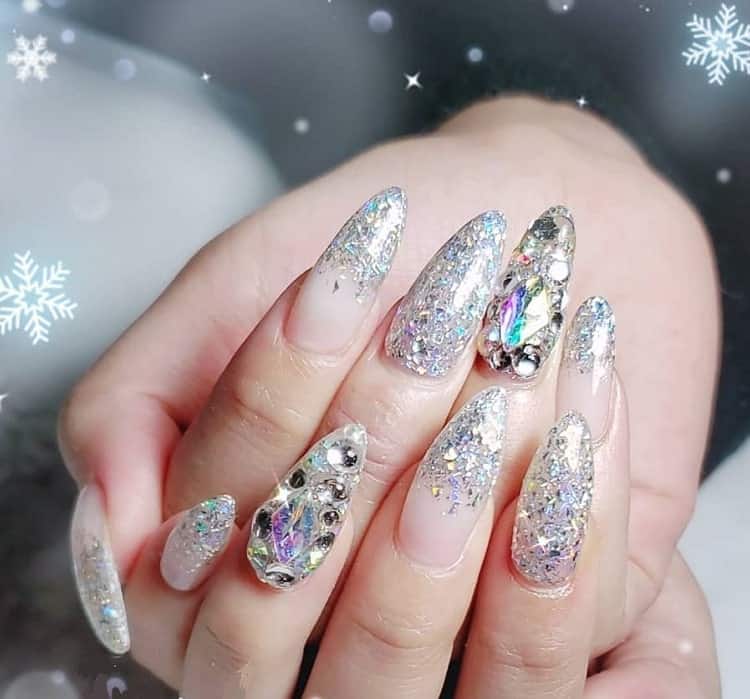 #24. Red and Silver Nails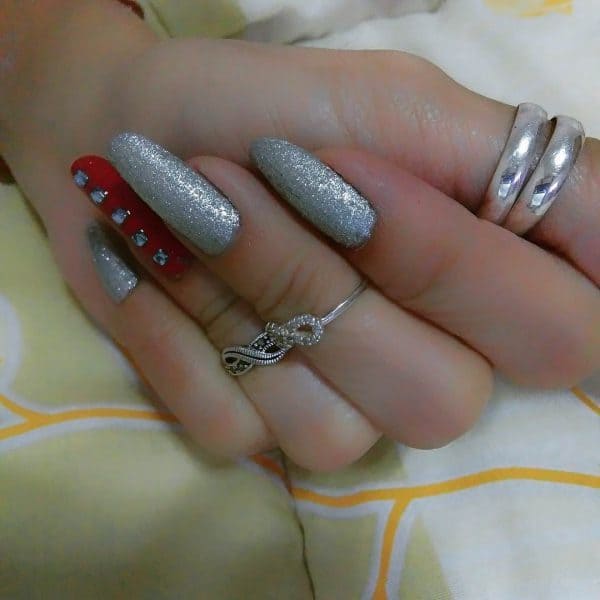 When thinking of a color that best suits silver, red pops directly in our minds. This combination of fierce red and shimmering silver will rock your style.
A silver nail design perfect for those summer nights, hot parties, or just a casual night downtown.
#25. Metallic Silver Nails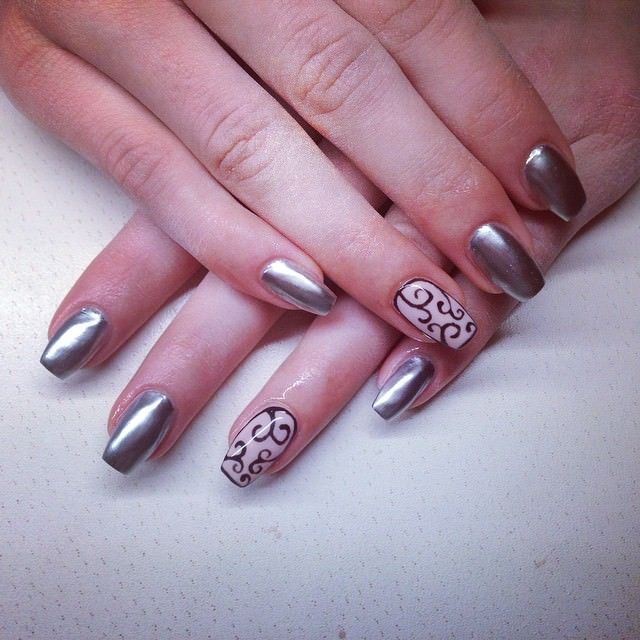 Metallic grey silver nail design with the most organic touch of art as an accent nail will be your passport to a formal, elegant and attractive look.
#26. Shiny Silver Nails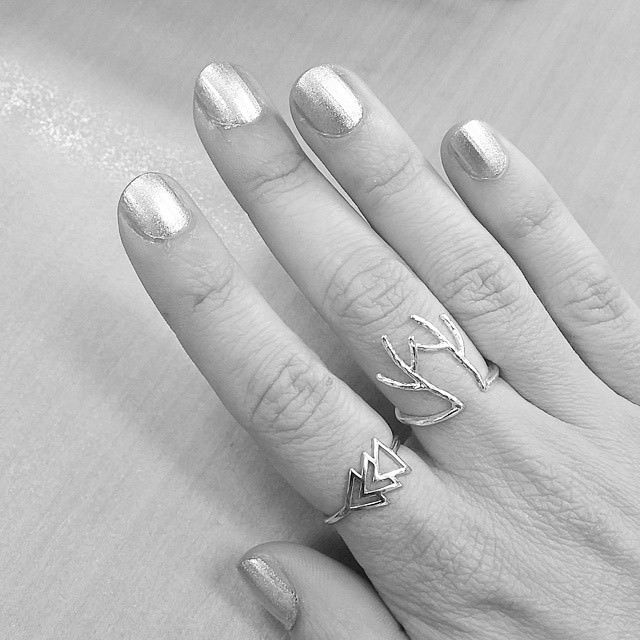 Shine like a star with a simple coat of silver nail polish, and flashback to the '20s with this "Grace Kelly" inspired style.
#27. Silver Nails With Diamonds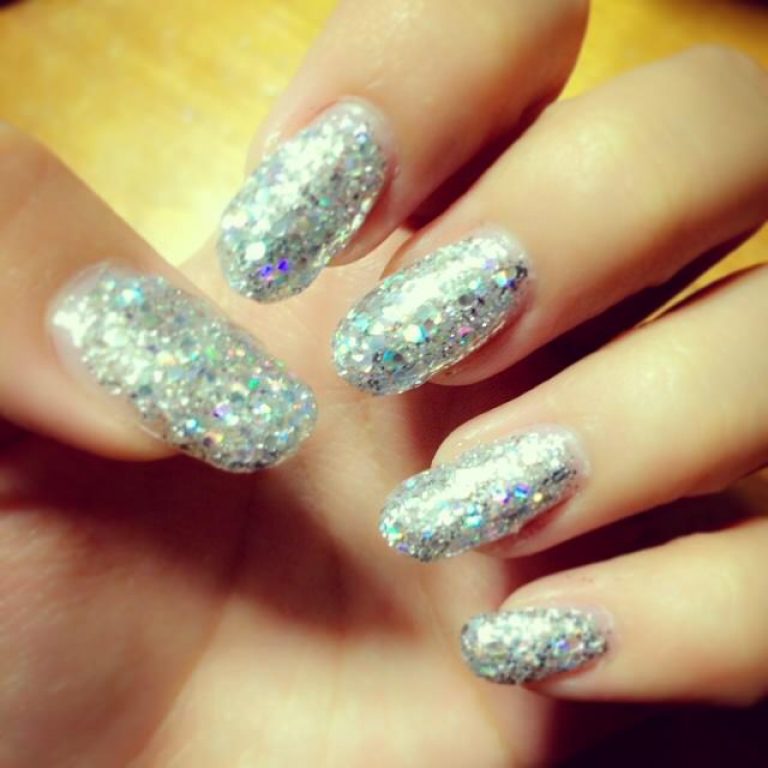 If you're an attention seeker, or just dying for a certain someone to notice you, this nail art is the answer to your prayers. With these shining diamonds as your silver manicure, you'll never pass unnoticed!
#28. Silver Nails with French Tip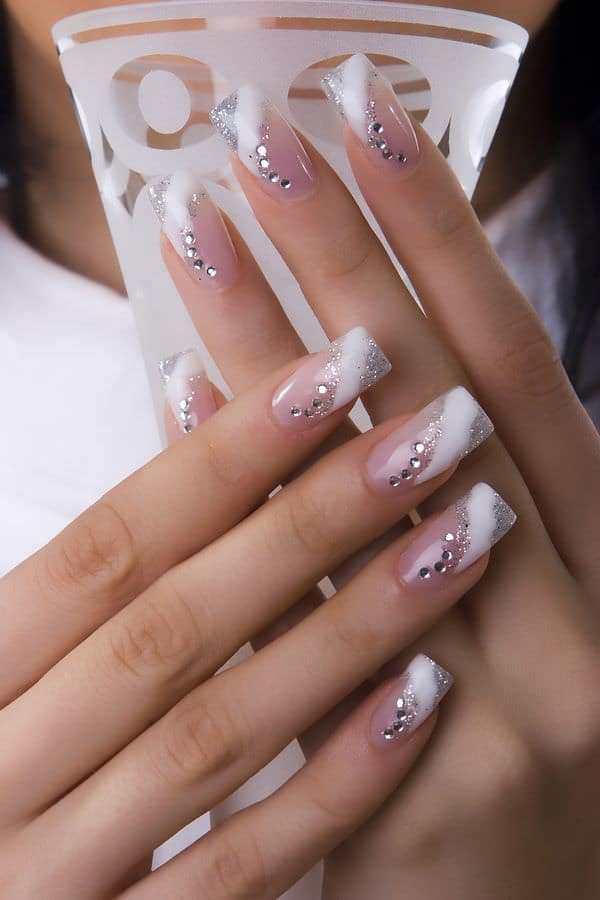 As if french nail design isn't glamorous enough! Get this attractive silver nail look by starting with a nude base coat polish, then add intricate silver glitter bordering the white polish tips of your nail.
Giving your long squared nails an attractive appeal. Finally, exaggerate that appeal with the use of silver rhinestones as your final nail art trick.
#29. Blue And Silver Glitter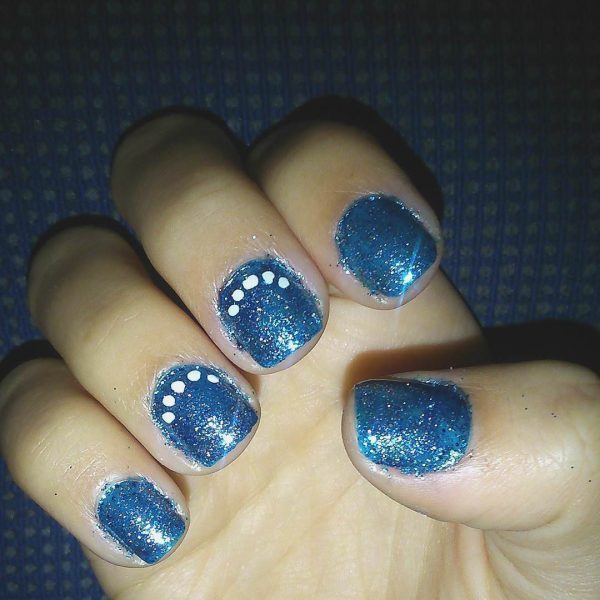 Feeling that you can do anything you want today? Feeling that you can take on the world? Feeling like you're a wonder-woman?
Express your feelings and unleash your inner superhero with this royal blue and silver base coat as your silver nail design choice. Add that essential shine with shouting silver glitter, and you won't need a suit to go save the world.
Aristocratic Blue Nails for You
#30. Star Dusted Silver Nail Art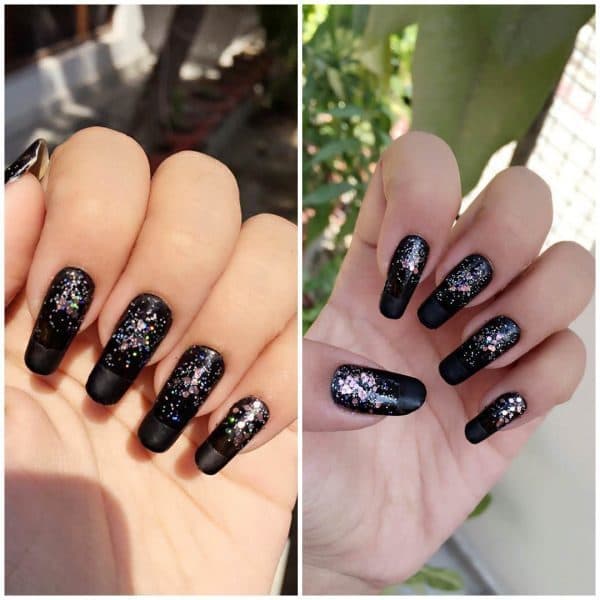 #31. Black and Silver Nails With Glitter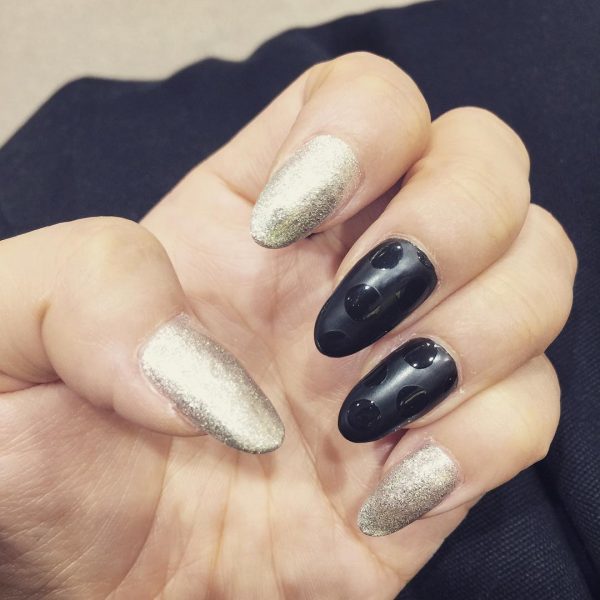 #32. Elegance With Stripes
#33. Nail Design With Silver and Black Lines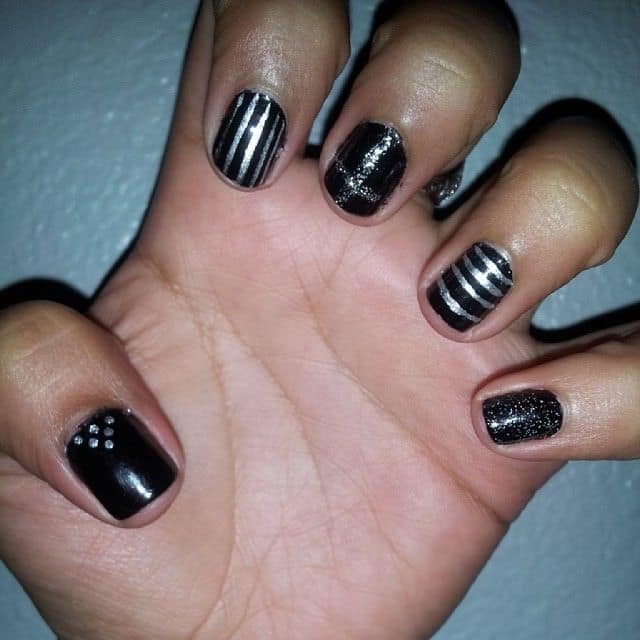 Stripes have been the trendiest nail design this season, and have been seen everywhere from the red carpet with Zoe Saldana at the VMA's to the runway with Balmain reaching our streets with our casual clothes.
So it's only a matter of a thin brush dipped in silver polish to make our black glossy nails up to date.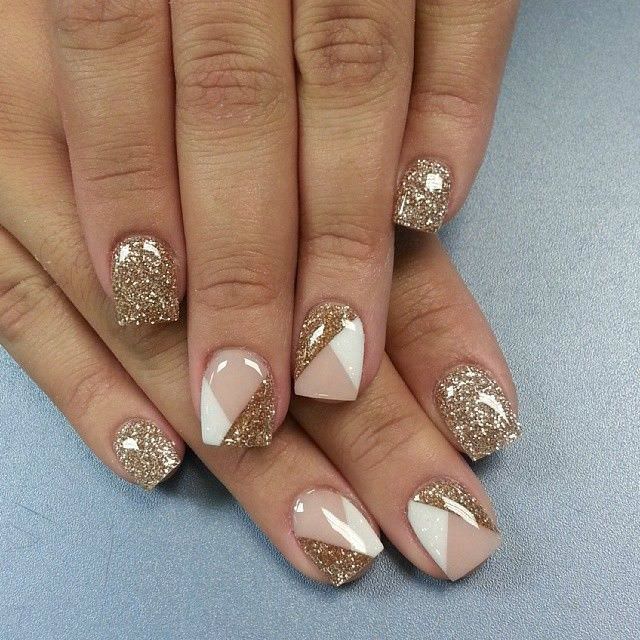 Nothing beats the harmony these 3 colors create, beige, gold, and white, nevertheless if it's silver-white!
Get creative with these colors and your sticky tape to create this geometric appealing pattern on one or 2 nails of your choice. Finally, soothe the design up with accent gold glitter coated nails.
#35. Silver and White Nail Design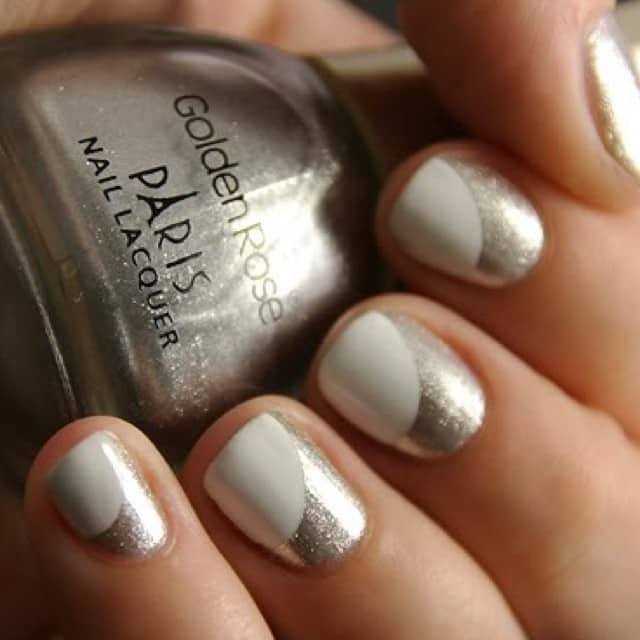 Silver has always been known as a modern futuristic color. Designers with futuristic insights would always look for a new way to go with the flow and create a design up to date and modern, rather than getting stuck with plain normal single-colored silver nail design.