For all those late-nighters and night-outers there, there is barely a chance to see the sunrise. What you can catch though, is the beautiful sunset. It is truly a magical time of the day, where a strange combination of colors mixes on the vast canvas of the sky.
The twilight sky has been the inspiration for many a painter. Manicurists are not far behind though. Sunset nail art is thus, an up-and-coming concept now.
Sunset Nail Design to Play the Right Colors
Much of the success of a sunset nail design hinges on getting the palette of colors right. Sunsets are associated with orange, pink, purple, yellow and red, with black silhouettes.
These are colors which are very difficult to mix without looking absurd. Manicurists have to take care of blending these paints properly.
1. Sunset on a Beach Nails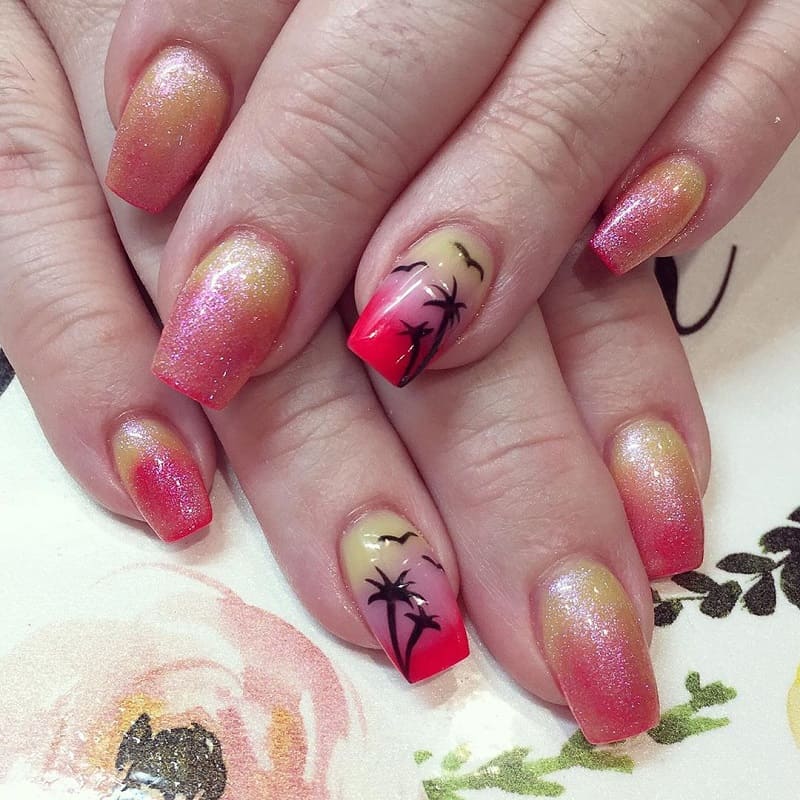 Missing your latest exotic vacation at the beach? We all do, and these sunset glow nails will certainly make you remember those moments of pure joy. Opt for yellow to pink gradients and draw some palms for two of your nails.
2. City Night Light Nails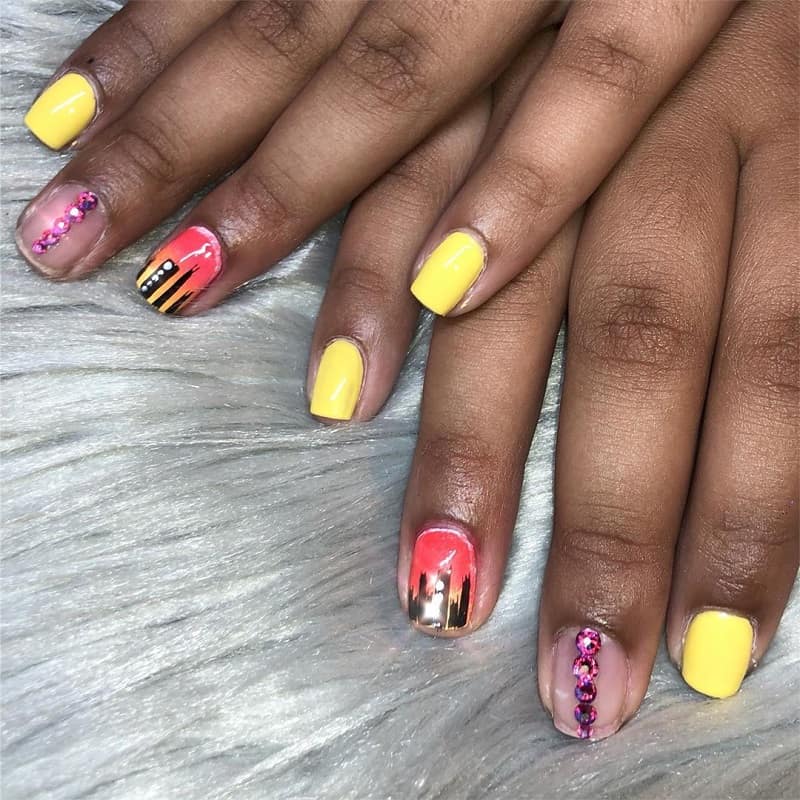 Sunsets can be marvelous if you're watching them from the terrace or top of a huge building in a crowded city. To capture that unique moment, use that image in your head and recreate it on sunset city nails.
Combine rhinestones with yellow nail polish to make you feel like you are back on top of the world.
3. Exotic Sunset Paradise Nails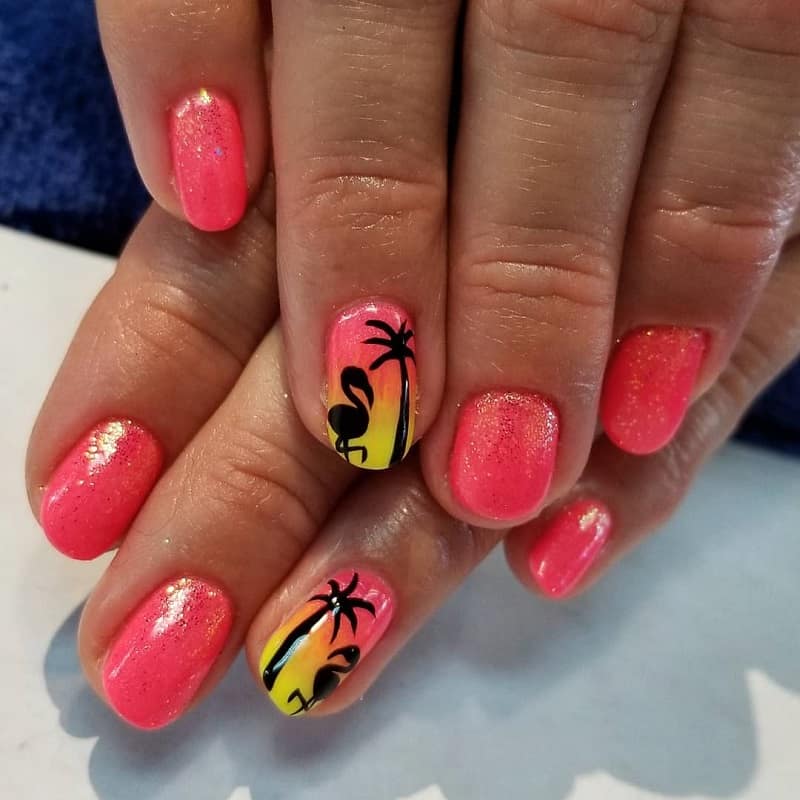 Summer sunset nails give you that exotic, fresh vibe. Cut your nails short and dye them pink. Apply a glittery top coat to make them better shine.
On your ring fingernail, create a sunset gradient and use black nail polish to paint a flamingo bird and a palm.
4. The Beach Effect
Sunsets on the beach are a wonderful thing to look at. What sets them apart from any regular sunset art is the silhouette of palm trees. Sunset nail art often incorporates this aspect of a lone tree standing out against the sun.
Try Bright Sunflower Nail Arts This Summer
5. Plain Sunset Sky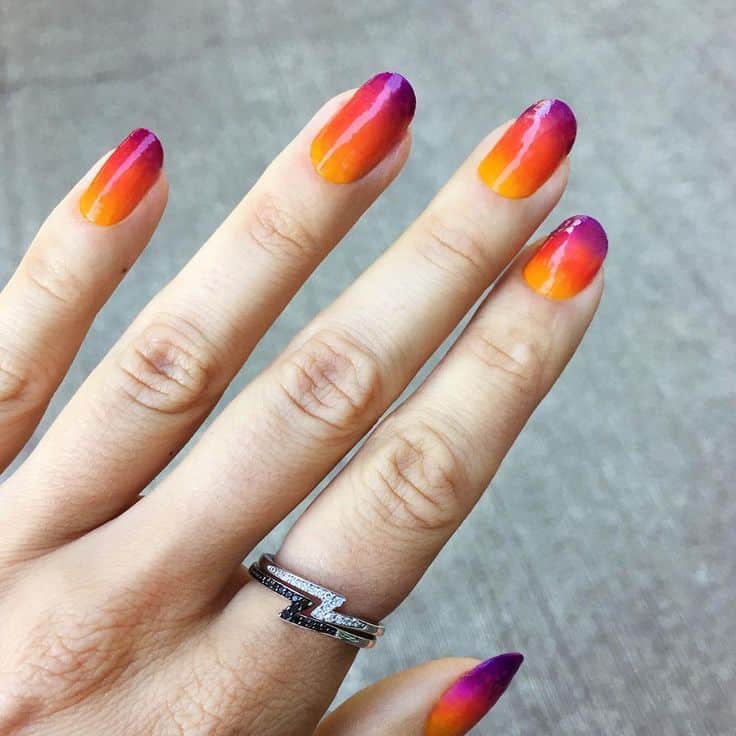 Ombre nails are the staple requirement for a sunset nail design. Manicurists can choose any set of colors to recreate the effect of a sunset. It can be a combination of purple, orange and yellow, or it can be a mix of blue, yellow and red.
It can also be yellow, orange and red. The trick is to blend them really well so that the layers do not stand out.
6. Birds Flying Home
A bird with its wings wide is a beautiful silhouette to create against a sunset background. While creating an ombre background, in this case, it is wiser to choose a lighter palette, so that the darkened silhouette stands out.
7. 5-Nail Sunset Stages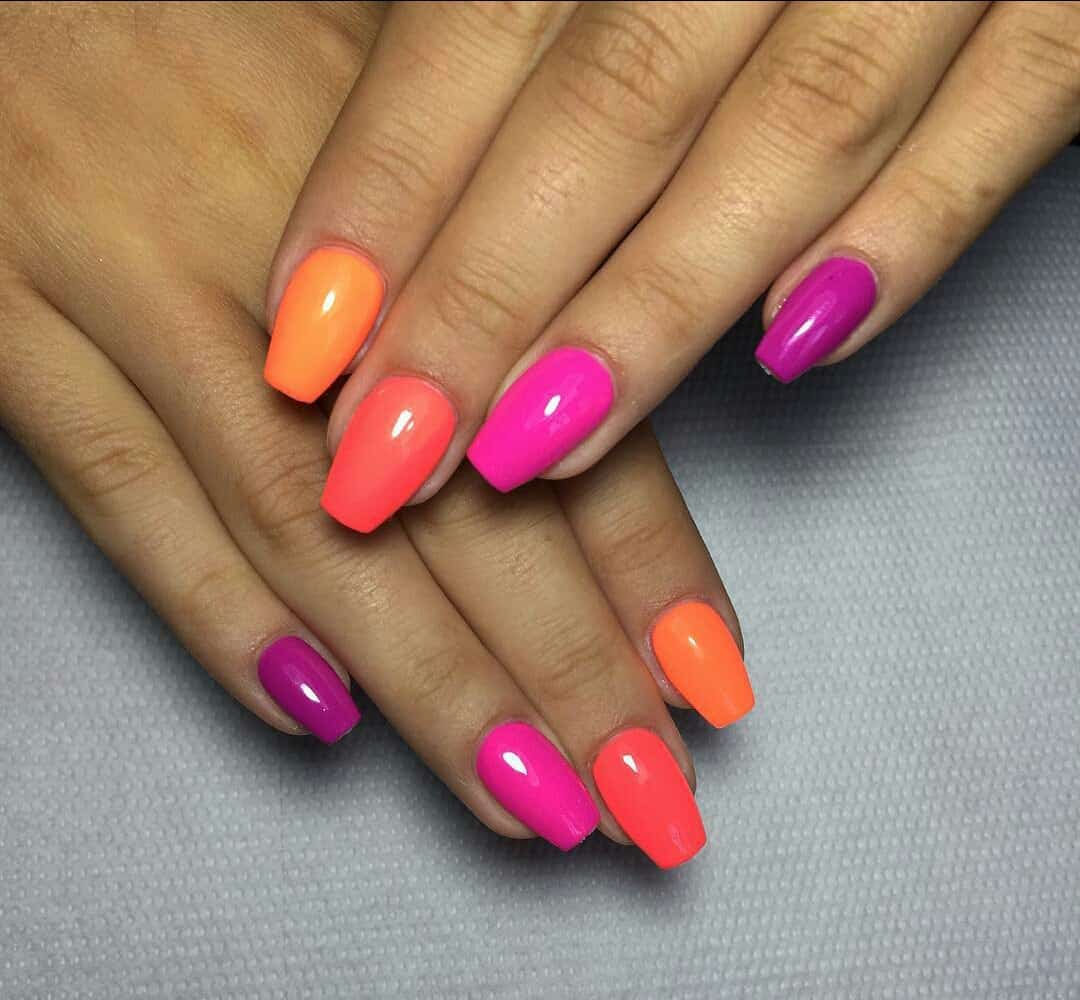 Instead of painting all ten ombre nails, another idea is to paint the various stages of the sunset on different nails in chronological order.
This way, an artist need not spend too much time creating an ombre canvas on each nail. The only concern would be regarding the choice of colors.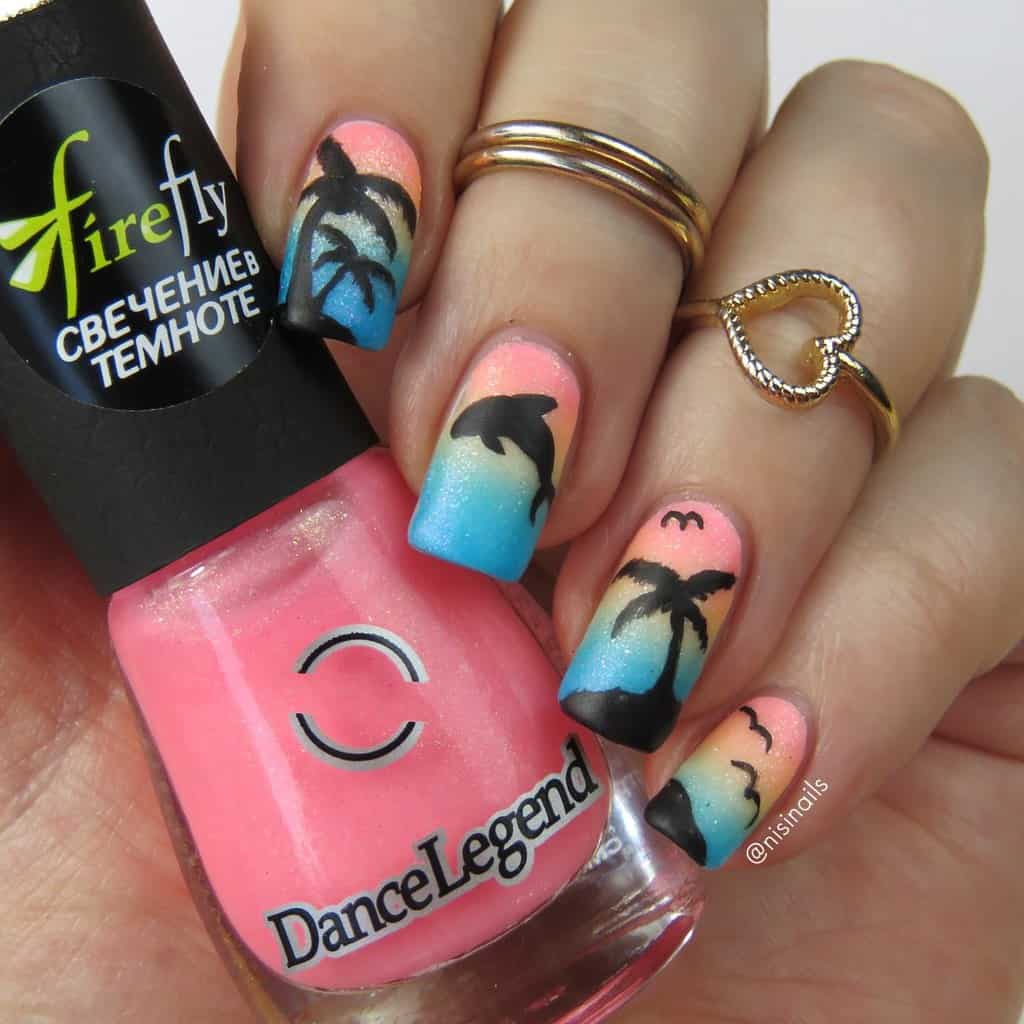 If you want something fun and exotic in your sunset nail design, you can include the silhouette of a dolphin leaping out of the water.
Admittedly, a dolphin is a relatively space-consuming pattern for a nail, so you want to restrict it to one nail in each hand, and not all ten.
9. Starry Dusk
This one is a darker shade of ombre, reminiscent of when the sun has just disappeared over the horizon.
The palette here will include more or blue and purple and the whole canvas is then speckled with white spots. This creates an effect of newborn stars in a dusky sky.
10. Animals at Sunset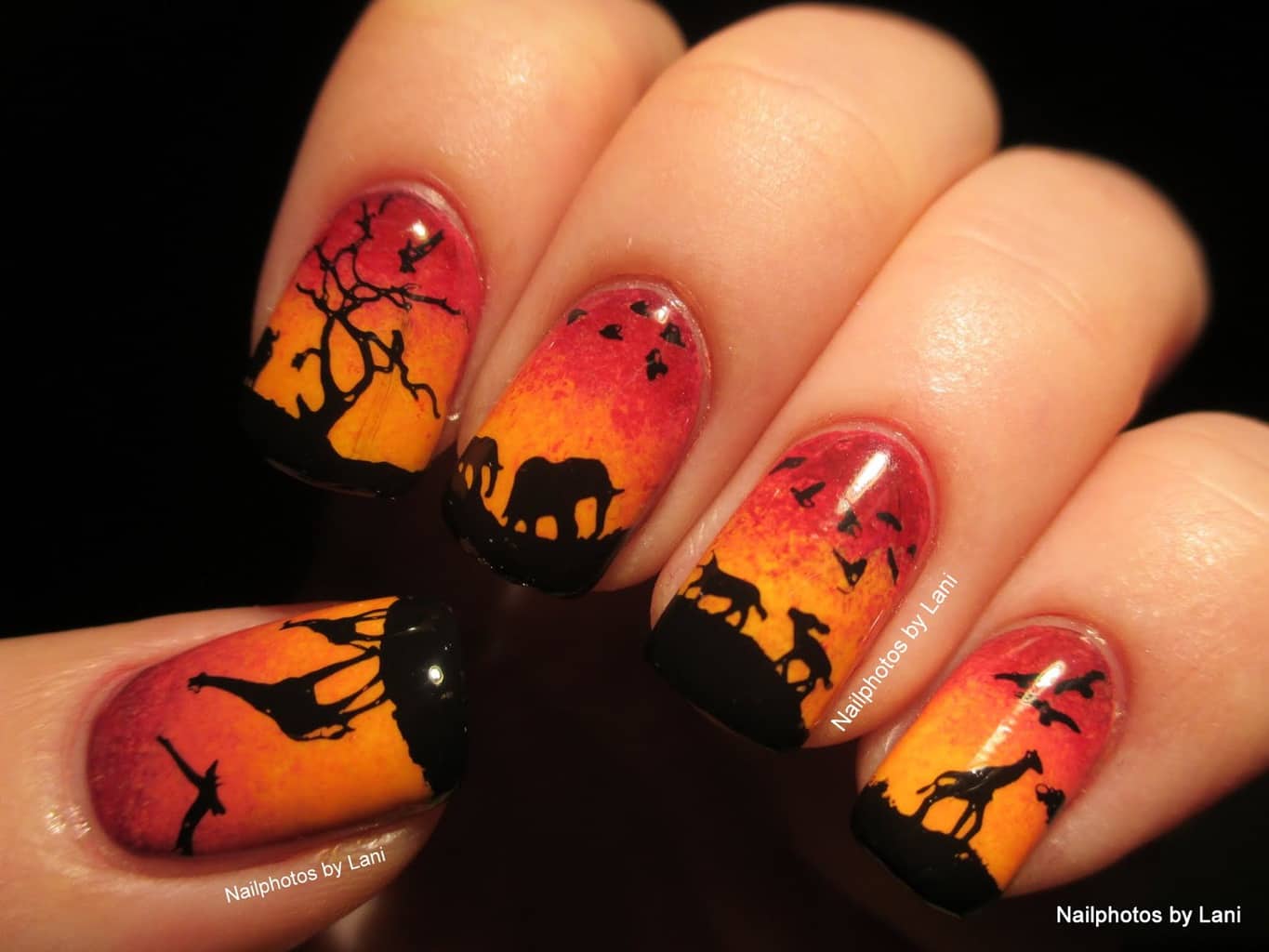 If you feel bold enough, you can paint the silhouettes of various animals – the most popular ones being a giraffe, or elephant – on the ombre canvas of the nail.
This idea will work better on longer nails, as they offer more space to incorporate greater details. Shorter nails may look a little cluttered if you use excessive designs.
Top Beach Nail Ideas to Look Fizzy
11. Moored Boat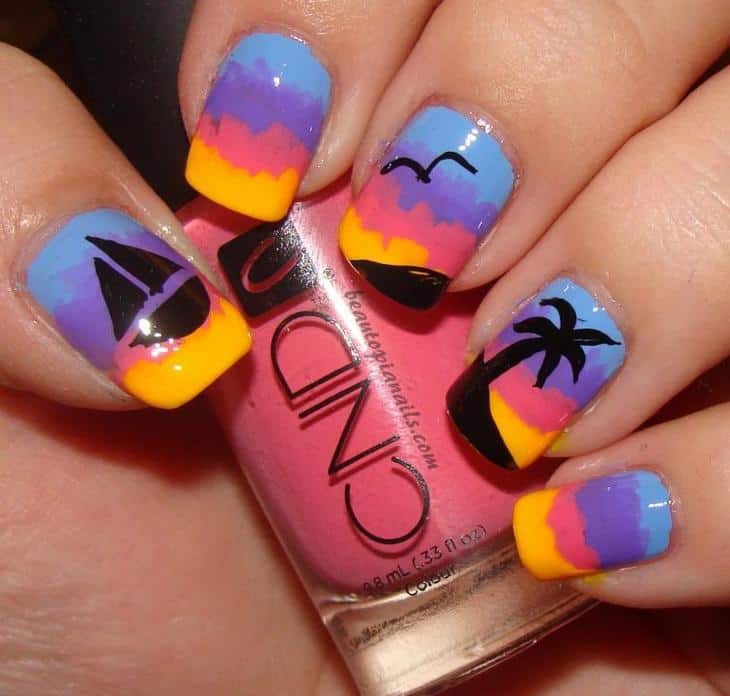 Painting a moored boat at the seaside in the backdrop of a sunset is a tough job. Yet if you can pull it off, it can be one of the most beautiful sunset nail artwork.
The difficulty of this sunset nail design is that you have to detail not just the sky, but also the sea or the water. The shimmering effect of the water is hard to achieve. If not done properly, it can ruin the effect of the whole design.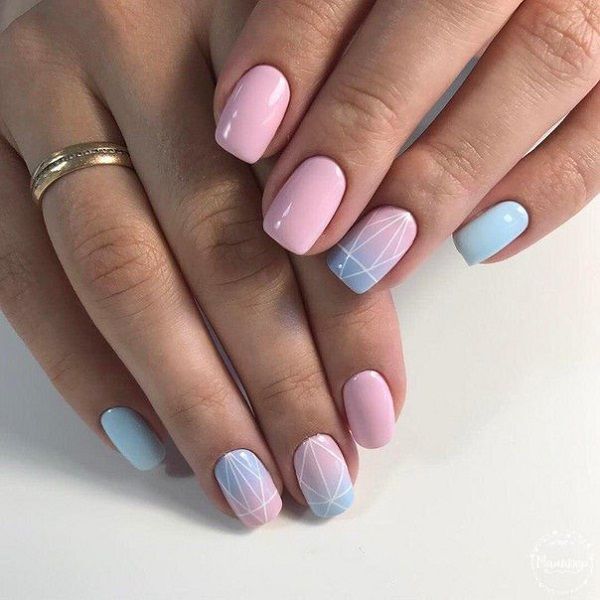 A good idea to spice up an ombre sunset nail is to overlay it with geometrical patterns or leave negative spaces.
Sunset nails are very summery by nature. Geometric patterns bring a certain level of oomph to an otherwise casual color combination.
13. French Manicure Sunset Nails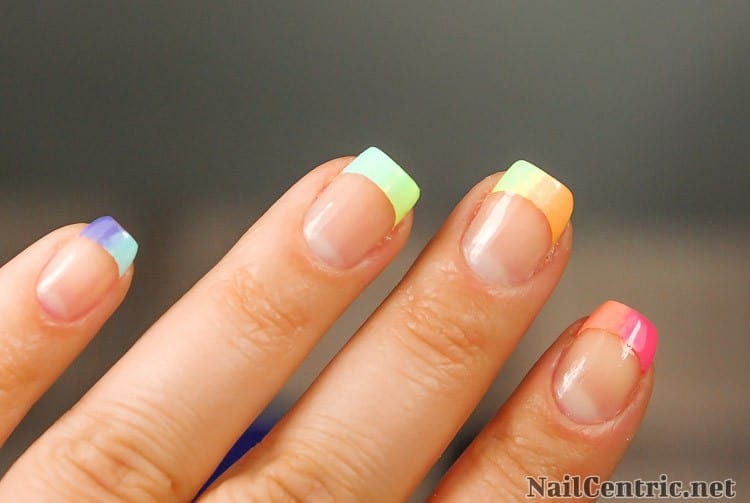 French manicures are pretty straightforward. But if you incorporate some other style- say adding a sunset nail design- it suddenly transforms into something exclusive.
An ombre sunset nail art with a white tip is not only elegant but also very out-of-the-ordinary. You can also flip the design to put the sunset colors on the tip, which can look very chic.
14. Single Nail Sunset Nail Design
If you are not a fan of anything flashy – and a sunset nail design can be quite loud for some – you can choose to use this pattern on only one nail to accentuate each hand.
The rest of the fingernails can be any regular shade. However, for the best match, you can stick to shades of yellow and orange for the other nails.
15. Treetops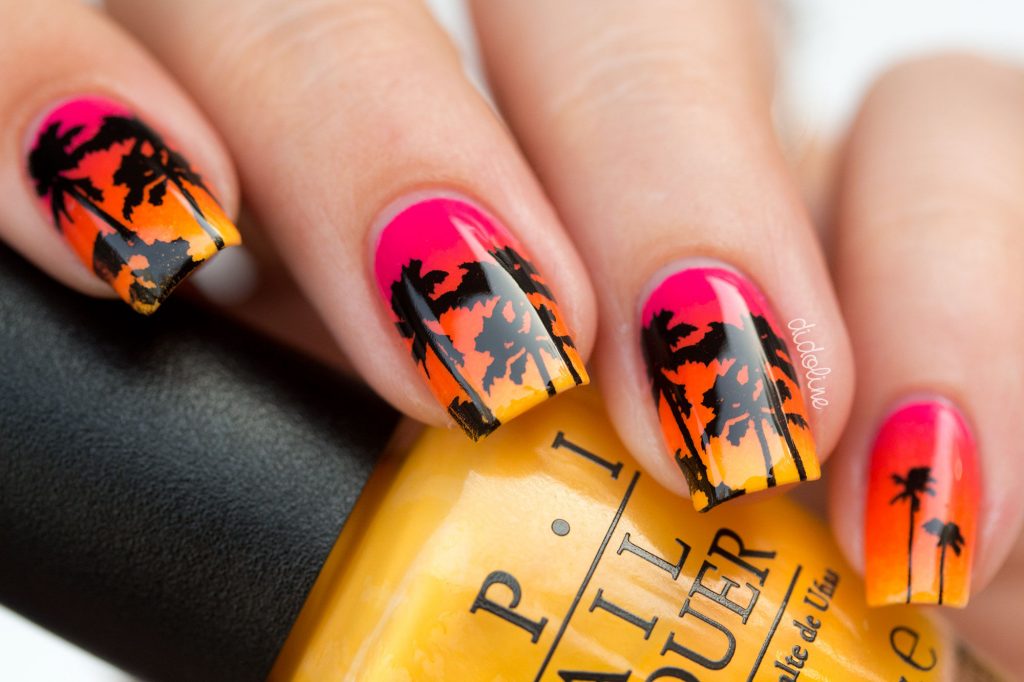 Just like a palm tree looks good against a sunset, a canopy of a tree also stands out well on that ombre canvas. There is, of course, a great amount of detail involved. But the end result can be quite artistic.
Tropical Nail Designs for Summer Getaway
Sunset nail art is a perfect accompaniment for the summers and the beach time. The colors pop out and yet do not seem very stark.
You can make them more intricate by detailing them further, or you may want to keep them basic. Either way, your sunset art nails are sure to catch everyone's attention.