Flame nail designs, just as the name depicts, feature blazing flares of fire on the fingertips that go perfectly well with all nail shapes and lengths.
When getting a fire-themed manicure, you can go completely wild or keep it subtle depending on the color combinations you choose.
Matte and glossy nail paints, rhinestones, and glitter can help you get the flame design of your dreams. A very fine nail brush will be of great help to achieve the picture-perfect fire silhouette.
Scroll down for some eye-popping inspirations!
Flame Nail Designs
Bring out your inner rock star with the following bold flame nail ideas.
1. Fiery French Tips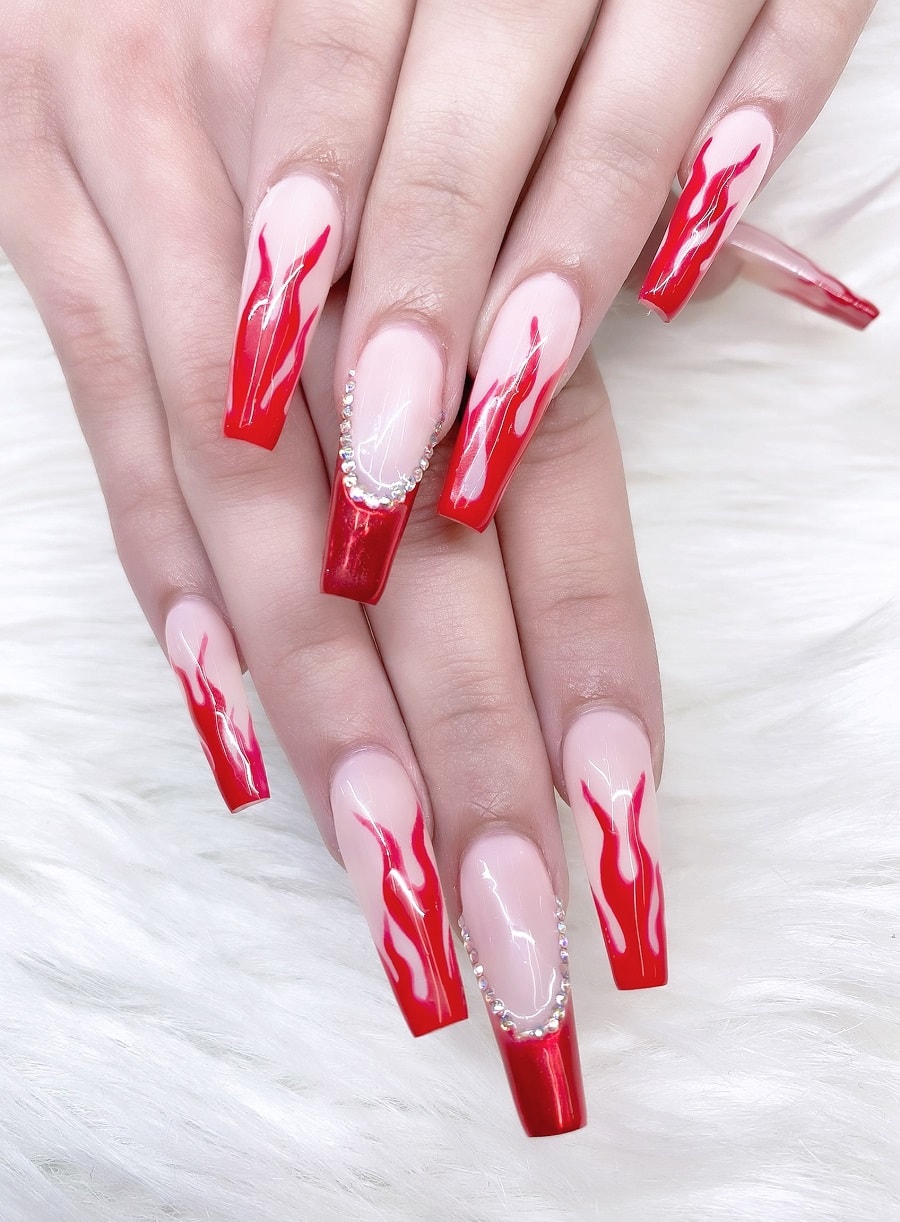 Flame nail designs are a bold spin on classy French tips. Draw wavy lines of red on a nude pink base and merge them together towards the tip to mimic dancing fire flames. Opt for a red-tip accent coffin nail and decorate it with rhinestones.
2. Black and Pink Flames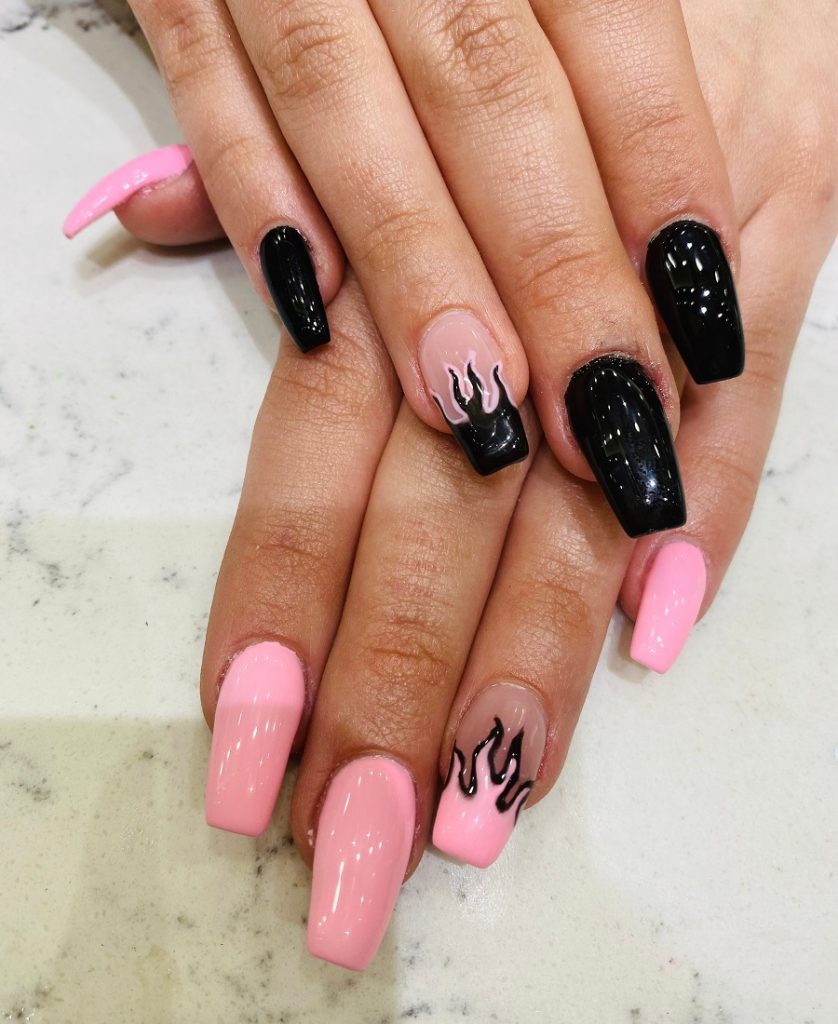 Pink and black complement each other in the most amazing way. Instead of going for alternate nail colors, paint one hand black while the other completely pink and outline the flames with the opposite hues. Keep the accent nail shorter than the remaining ones for an edgy appeal.
3. Matte Dragon Coffin Nails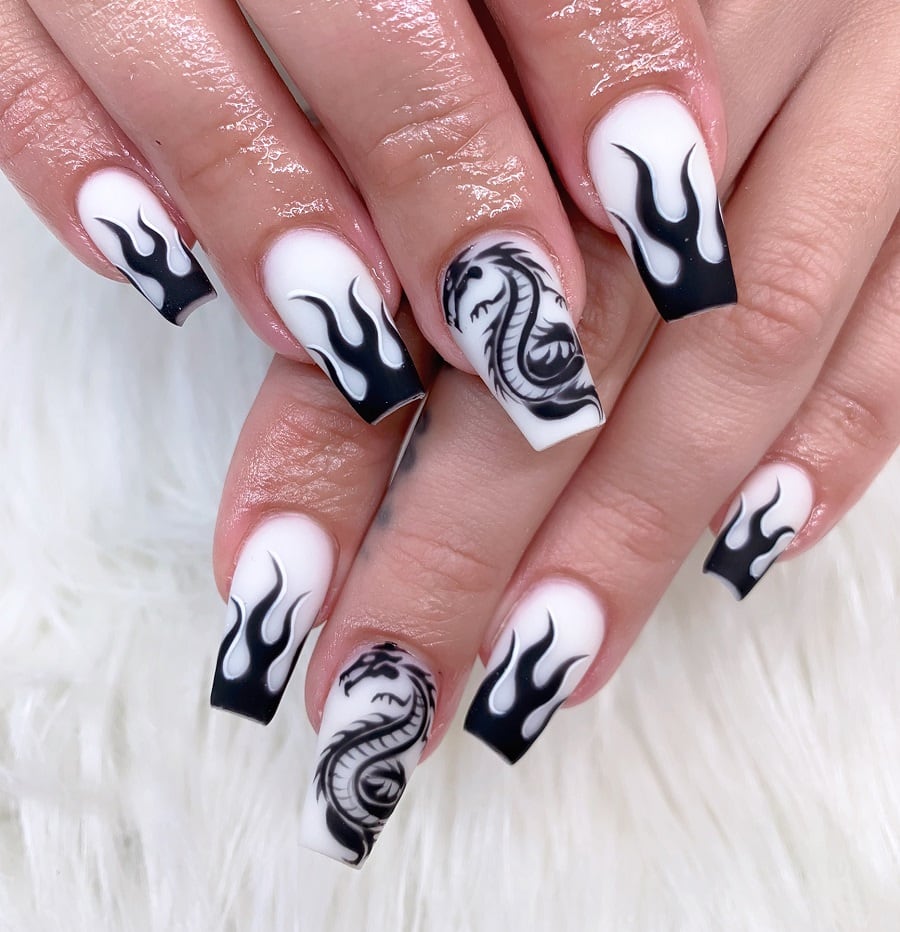 Make your flame nails noticeable with a chic dragon design. Draw it with a thin brush or use a nail art stamping kit. Although you can opt for any color combination, matte white nails with black details will look the best.
4. Flames on Short Round Nails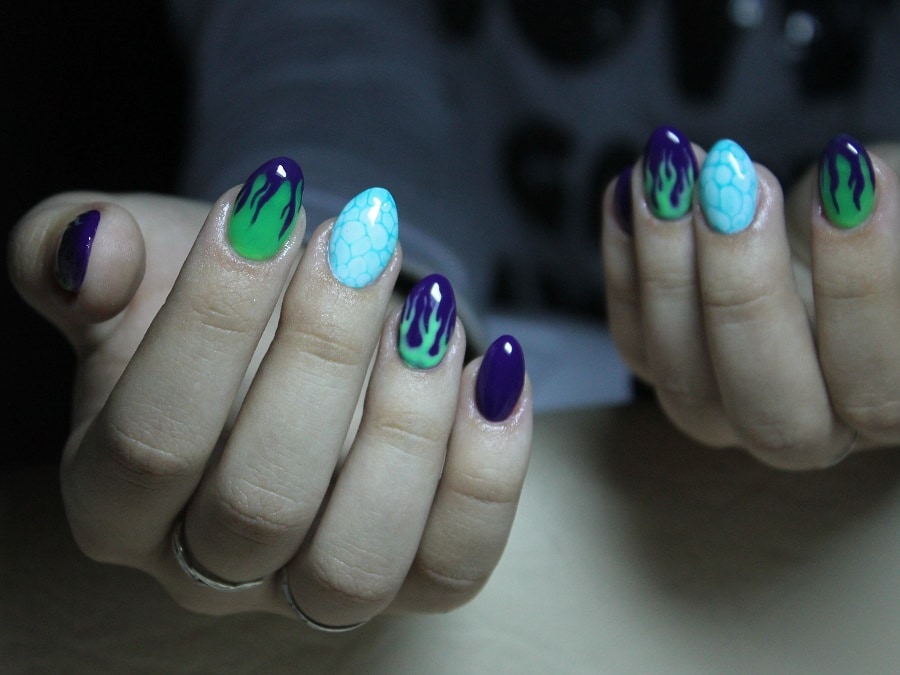 As mentioned before, fire flames can be tried on all nail lengths from super long to ultra-short. Try blue flames against a green background and vice versa.
Place soap bubbles on your gel accent nail to make it look like a dragon's egg. A round nail shape will look the best.
5. Accent Nail Design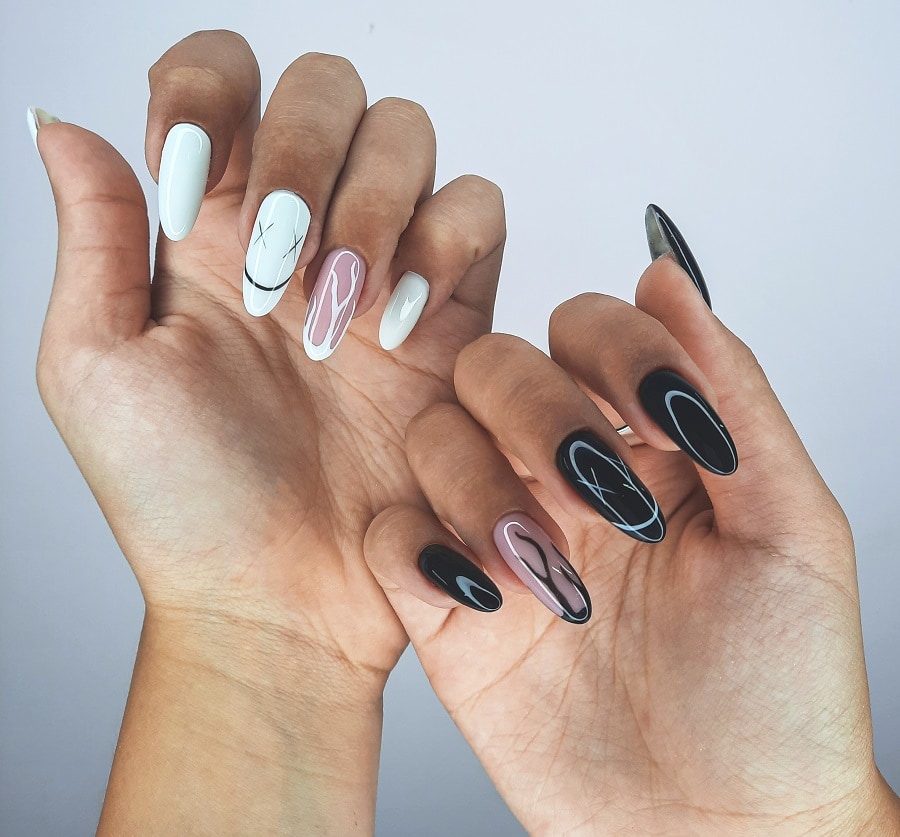 Express your punk side with a basic black and white manicure that isn't that simple at all. Experiment with a dead smiley face alongside a flame nail. Keep the fire flares thin to complement those long oval nails that'll make your fingers look delicate and thin. Deadly!
6. Red Rage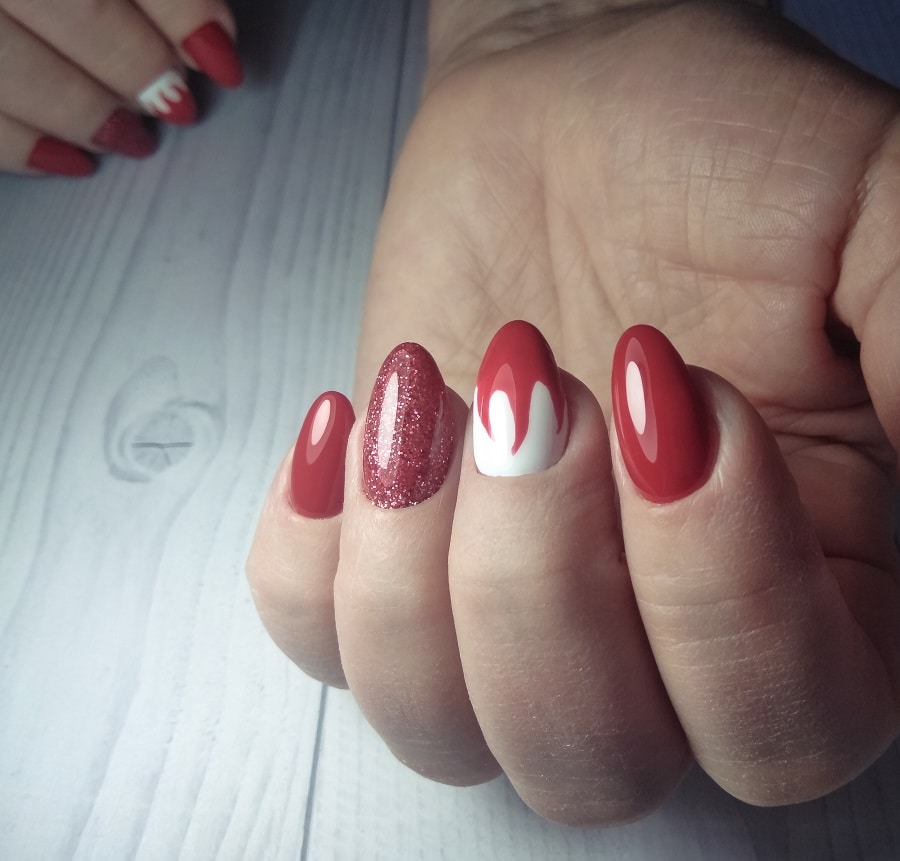 Another basic nail design for beginners who want to rock fire flames on their fingertips. Draw cup-shaped curves and extend them toward the tip before filling them in with any color of your choice including red as depicted here. Throw on some glitter and done.
7. Blue Ombre Flames on Almond Nails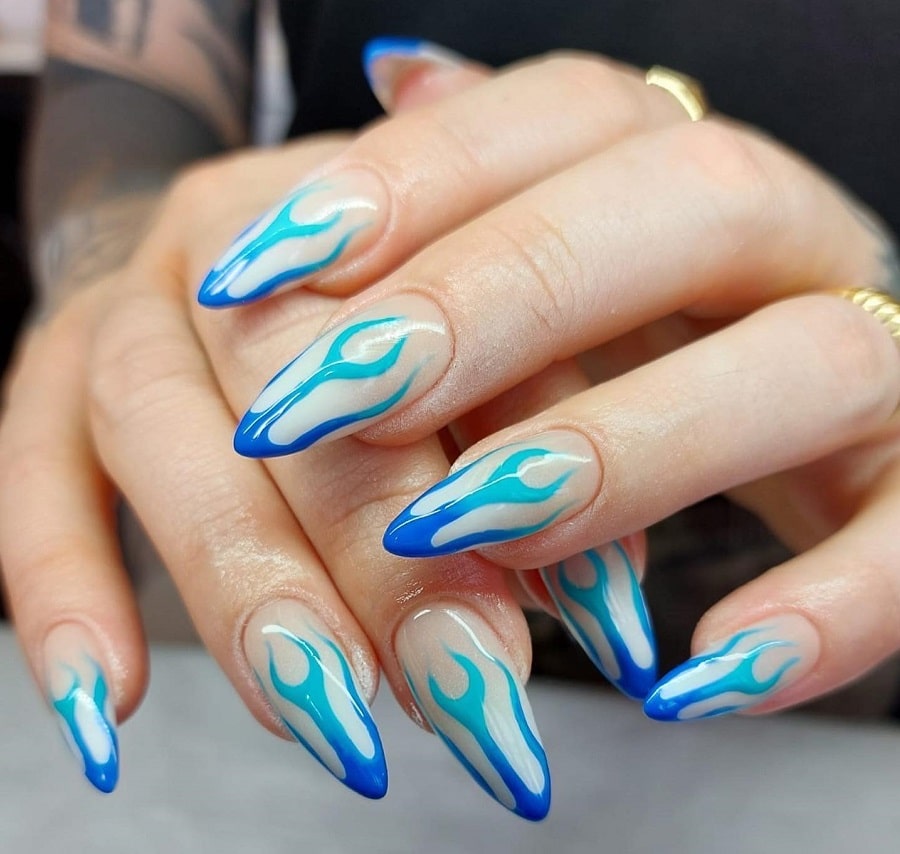 Spice up your long slender almond nails with two-toned flames. Add a coat or two of nude polish and draw fire silhouettes with light and dark blue nail colors. Use a thin brush to merge the lacquers together seamlessly when wet. Finish off with a top coat.
8. Black Blaze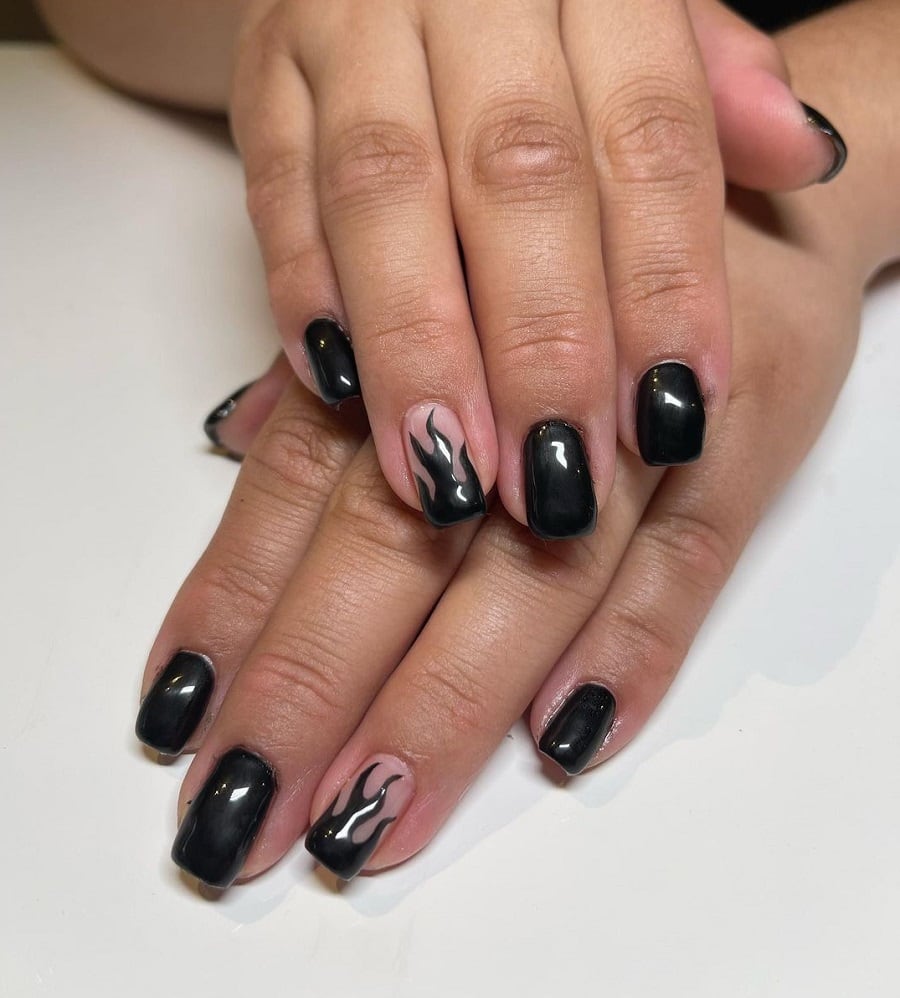 Give your short squoval nails a good black manicure at home. Draw a groovy fork shape in the middle with wavy lines on both sides and fill them in. Grab a thin nail brush and practice your lines before experimenting with your nails.
9. Flame Outlines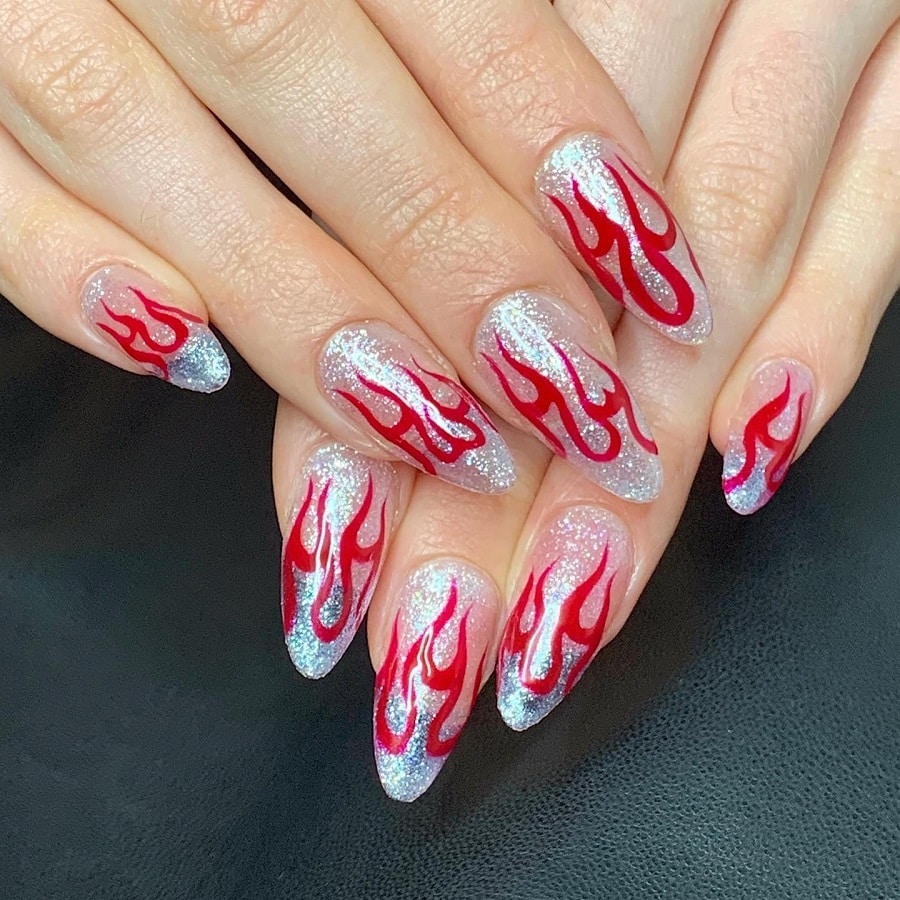 Here's unique flame nail design to make your hands stand out. Instead of going for the usual solid-colored flares, try drawing just the outlines on iridescent pink glitter nails. Again, sketch out multiple wavy fork tines and join them together at the base.
10. Orange Fire Tapered Square Nails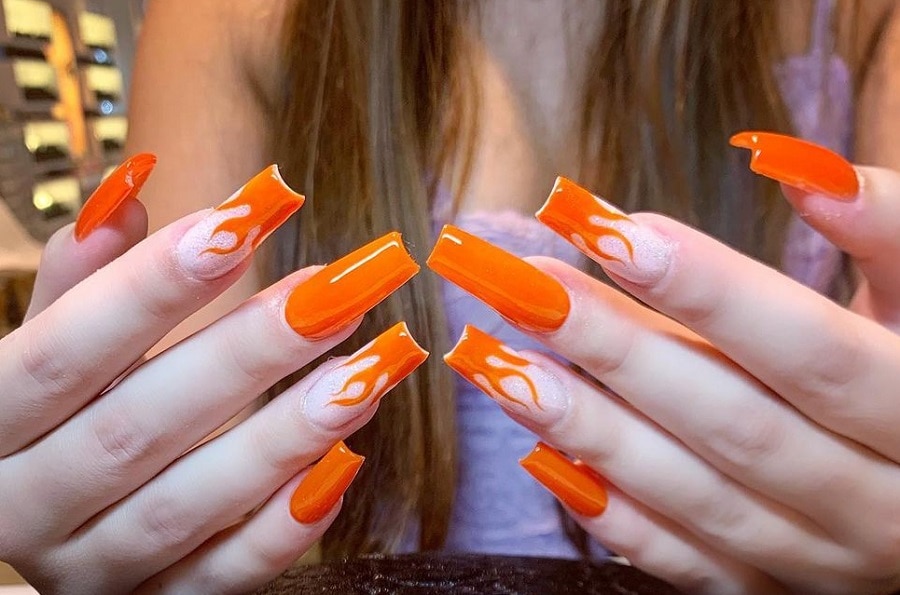 Enlisting flame nails and skipping a fiery orange manicure? Impossible! Add fire silhouettes on all the nails against a nude background or alternate them with solid-colored ones. A tapered square nail shape will provide plenty of space to draw well-defined flame patterns.
11. Pink Pop
Celebrate your womanhood with a girly pink manicure and you won't regret it. Add the details with a hot pink nail color to pop on a nude pink base. Outline the fire flames with white or black and you are all done. Recreate the look in purple too.
12. Green Glare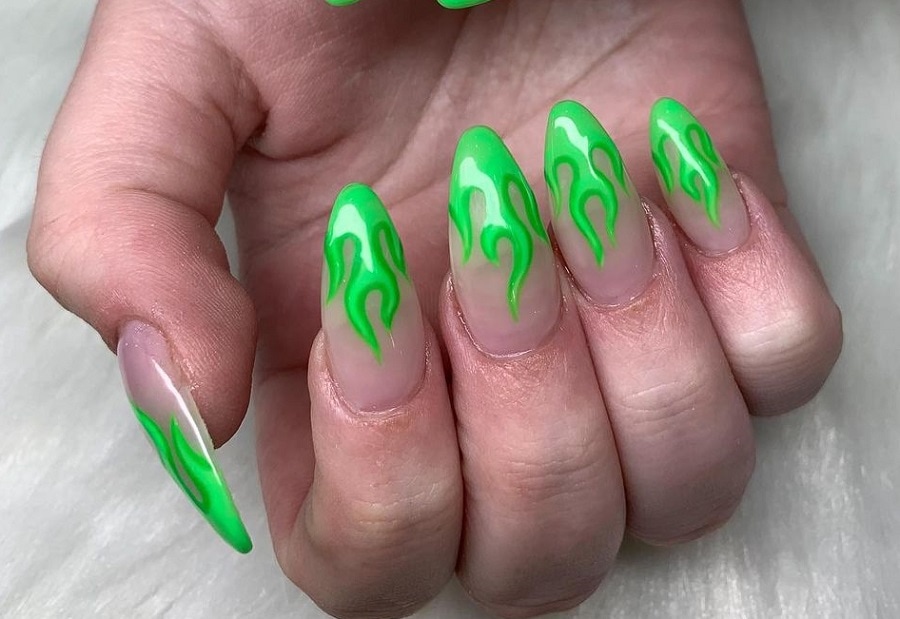 Go green once in a while to drop jaws along the way. Enjoy a nude moment on the nails with a translucent base and add flames using a neon green tinge. Outline the pattern with a darker tone. You can also add a second outline in an even deeper green hue.
13. Rainbow Flame Manicure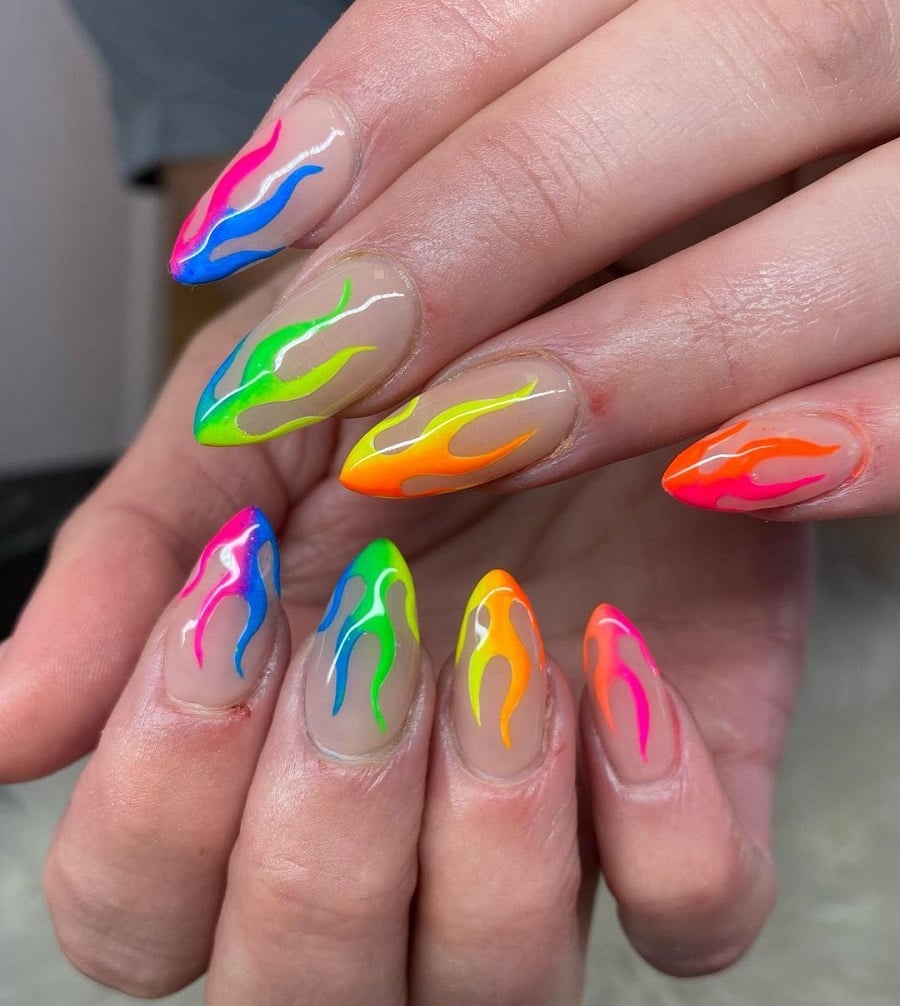 Fire flames can be multi-colored when it comes to nail art. Bring an entire rainbow on your fingertips by painting the flares with the brightest nail paints. The trick to achieving a perfect vertical or horizontal gradient lies in blending the colors seamlessly together.
14. Gradient Stilettos with Black Flares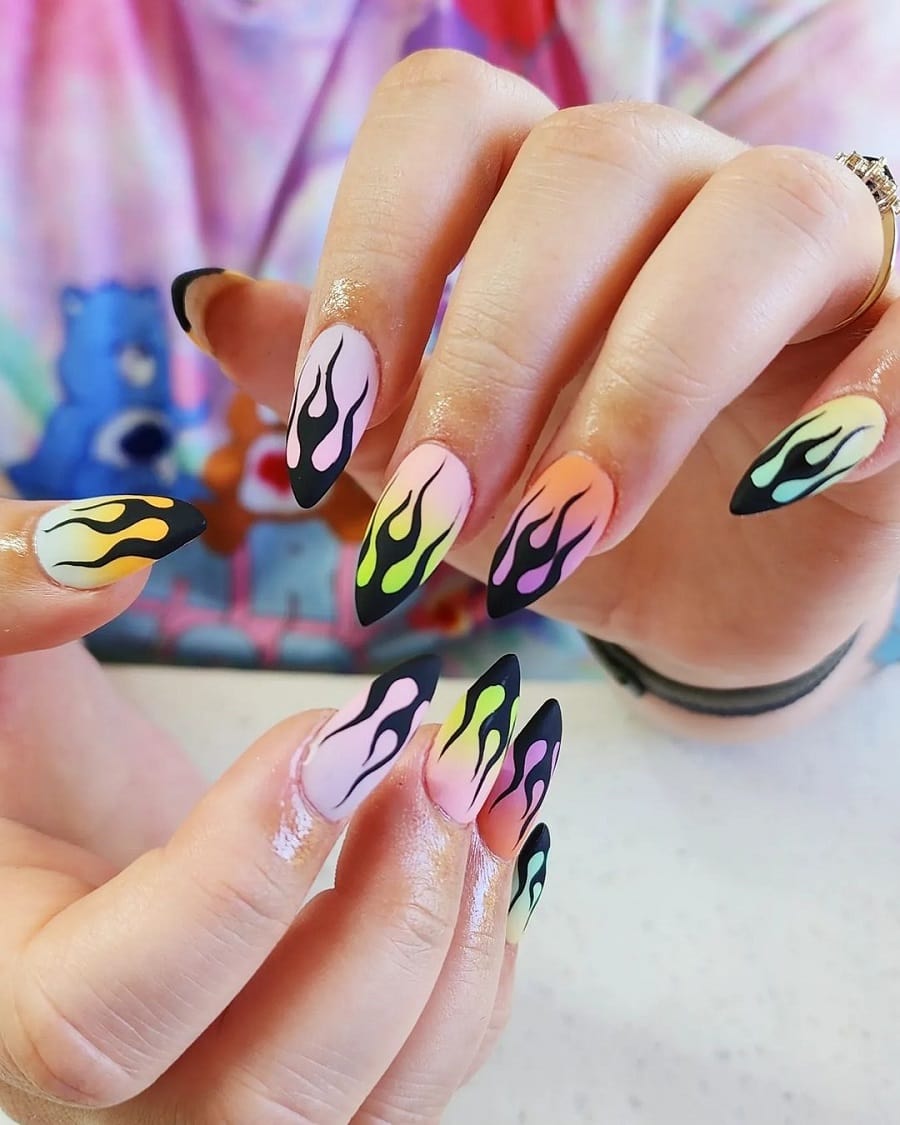 Rather than trying an ombre effect with the flames, rock gradient nails with single color flares for a change. Try a matte pastel background with pitch-black fire flames on top. Place the lacquers on a sponge and dab them onto the nail beds to achieve the perfect blend of colors.
15. Fire Sparkles
Add some sparkle to your rounded square nails by filling in the flames with silver glitter. Use black polish to draw sharp jagged lines and add a gem on the highest points. You can use glitter in any color you like. The options are endless!
16. Gold Chrome Flames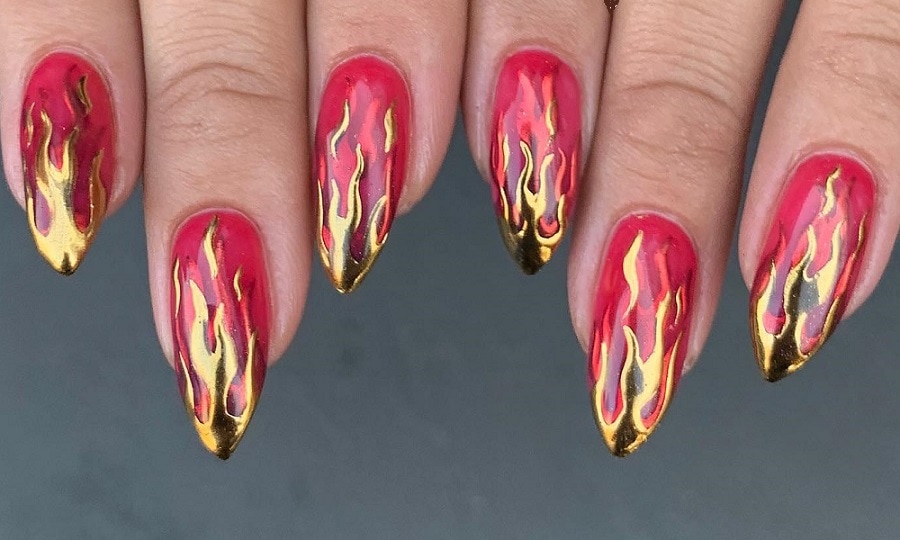 Make your flame nail design appear super realistic with just a simple trick. Draw the fire flares as usual on any base color and add a translucent coat on top.
Paint the flames again but this time in a different style from the previous ones and cover them in gold chrome powder. Simply wow!
17. Hearts on Fire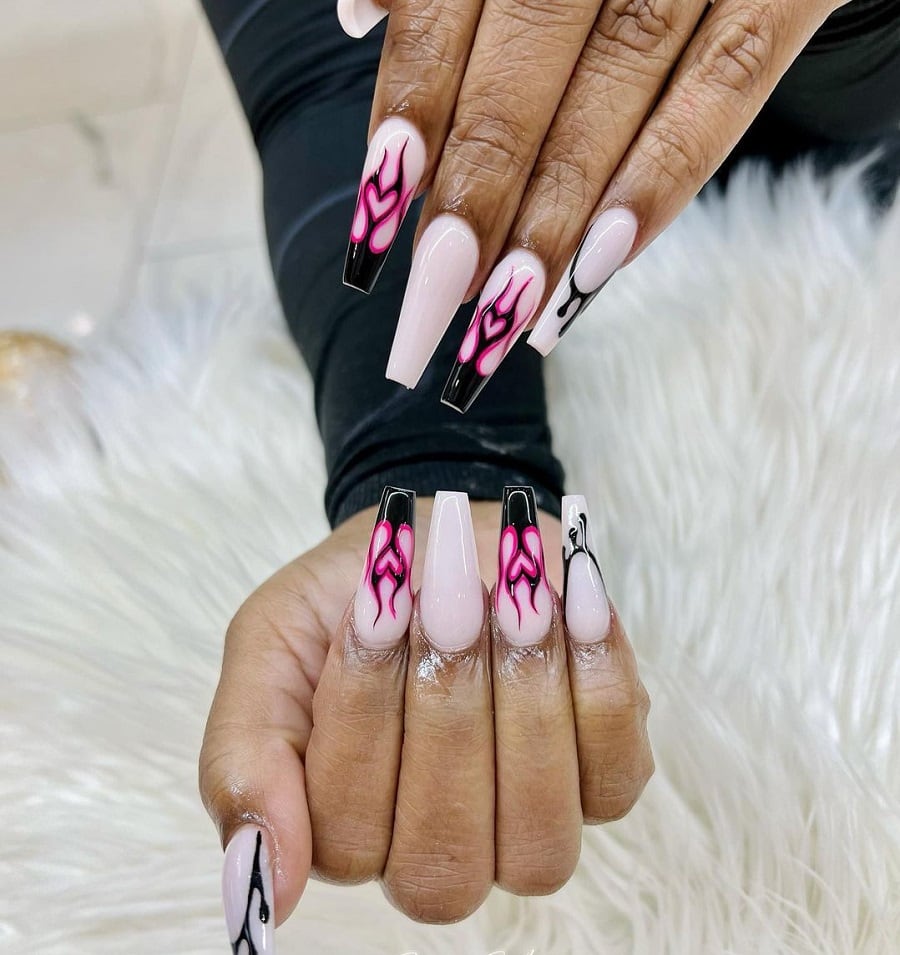 When drawing the flames, leave heart-shaped hollow spaces in between for an eye-catching fierce yet romantic nail design. Make the pattern more noticeable with a bright outline. A drip-drop pattern on the accent nails is worth a shot too.
18. Vibrant Hues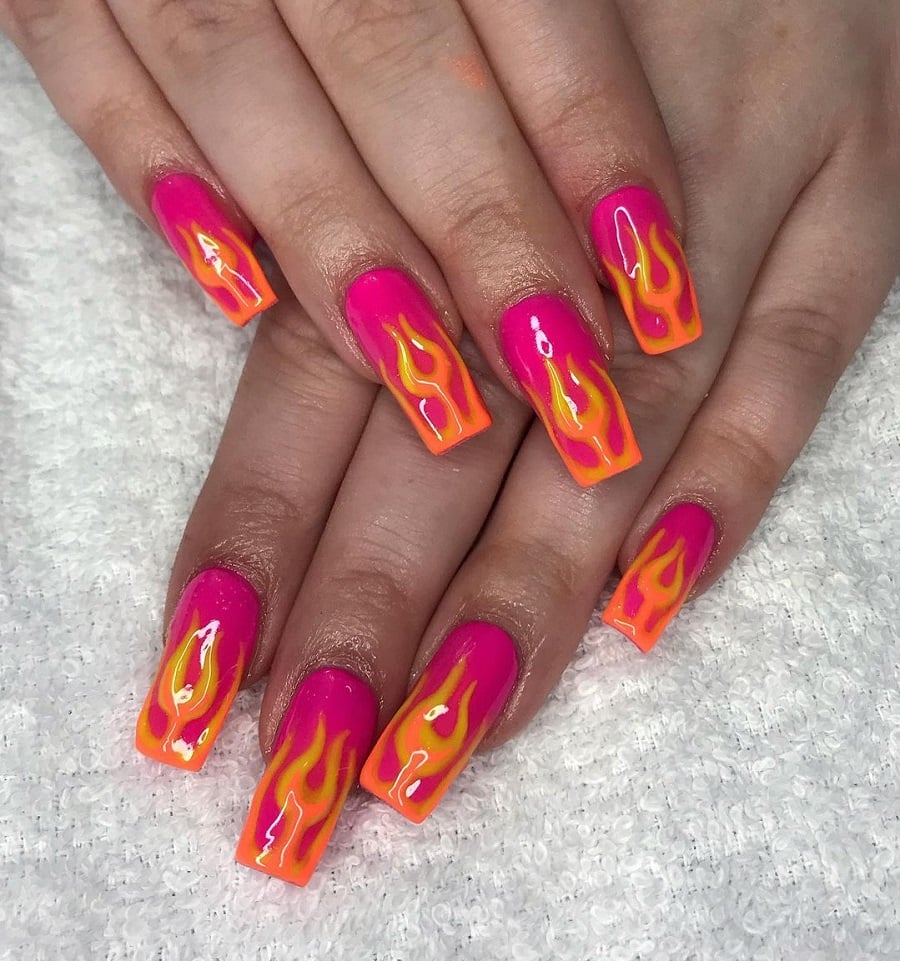 A hot pink manicure with bright orange and yellow flames on top is sure to turn around many heads. You can use any one among these three nuances as a base coat. Utilize the remaining two to create ombre fire flares or outlined ones instead.
19. Contrasting Outlines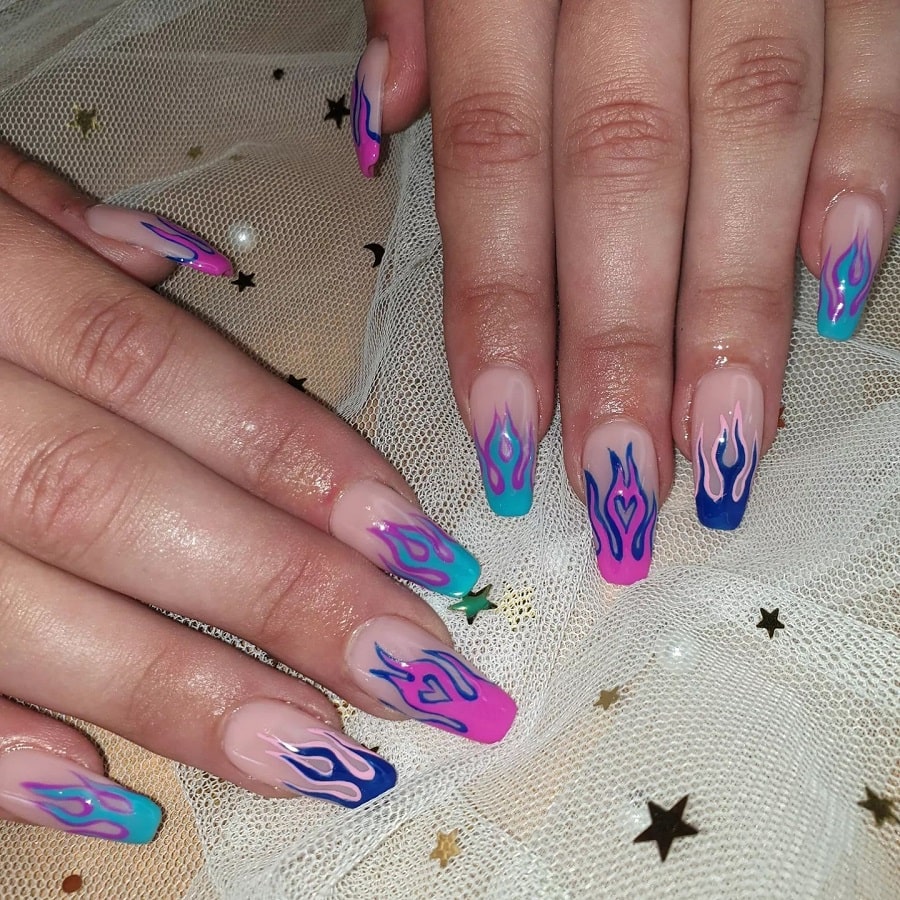 Talking about outlines, use contrasting nail paints to trace out and fill in your fire flames for a pop of color on the fingertips. Pink, purple, and blue will look magical against a nude base. Also, use stickers to achieve hidden hollow heart shapes that are sure to attract some attention.
20. Fire Toe Nail Design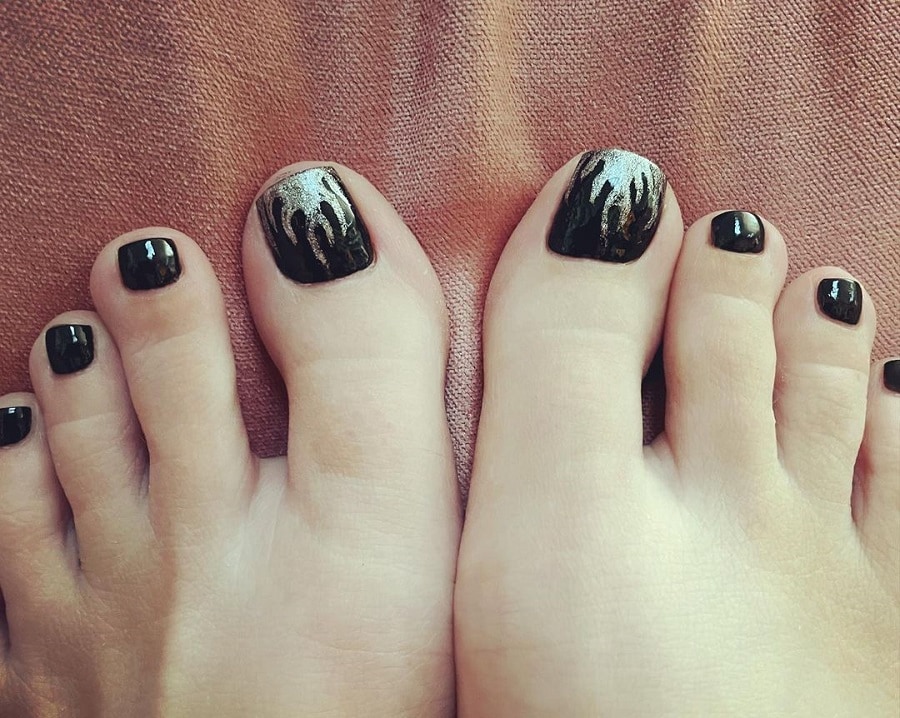 Set your toenails on fire with a simple yet stylish nail design. Draw a cup shape in the center accompanied by curved lines along the sides that get shorter successively and fill them in. Silver details on a black base won't disappoint.
21. Minimalistic Yellow Flames
Short nails call for tiny flames! When going for a dark base color, keep in mind to trace out the fire pattern with white polish before coating it with the shade of your choice to keep it vibrant. Add slightly displaced outlines for a subtle 3d effect.
22. Dreamy White Fire Flames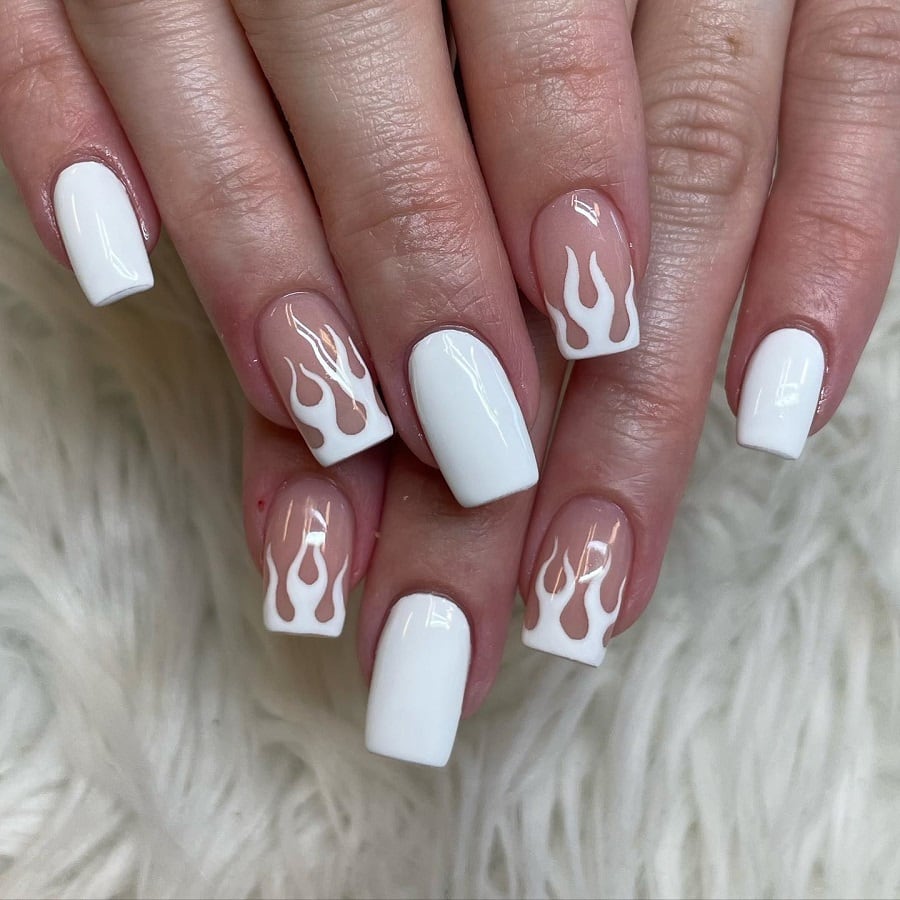 Plain white nails have been trending for a while and can be taken up a notch by adding fire flames on a nail or two. Add further detail with silver glitter polish for a fancy look. Rock this elegant flame nail design at a wedding or any other formal event and observe eyes pop!
23. Hot French Manicure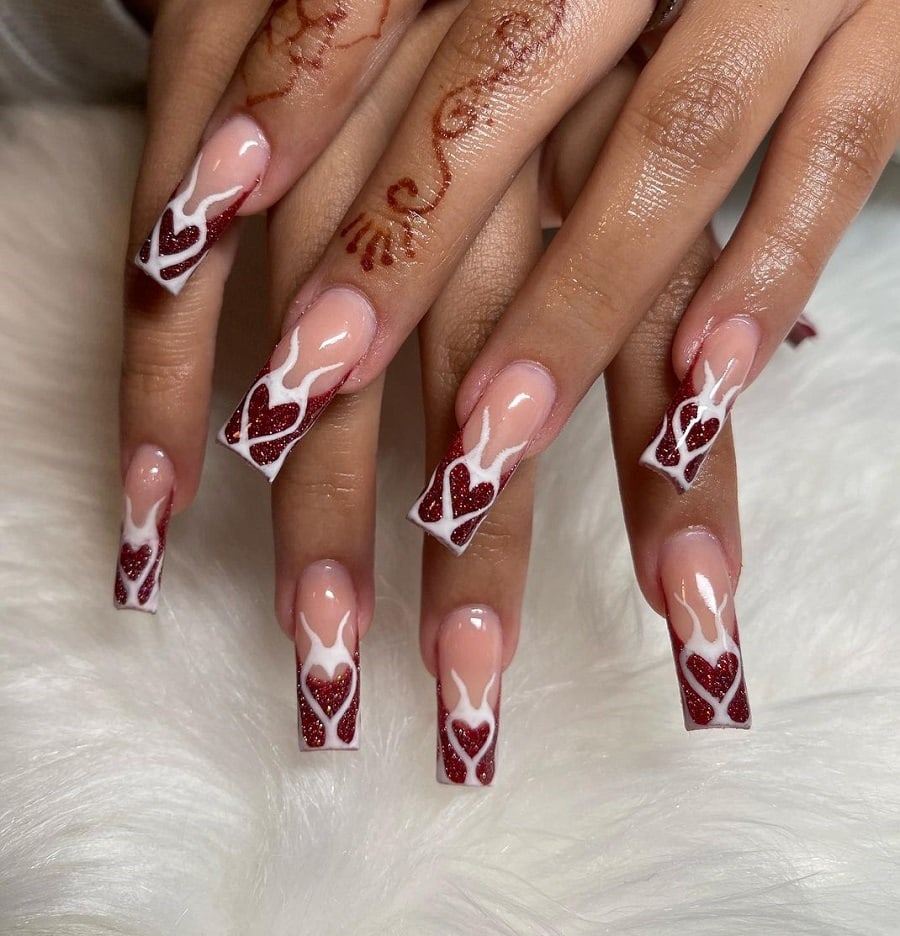 Look extra hot this Valentine's Day with these sexy French nails that are truly one of a kind. Ask for square nails featuring a neutral base with glittery red tips. Create heart-shaped fire flames on top in white and finish off with a clear top coat. Lovely!
24. Realistic Flames on Squoval Nails
Keep it realistic by trying yellow and orange flares on black nails this season. Use nail dipping powder for a flawless color blend and brush off the excess before sealing everything in place with a top coat. Go for a squoval nail shape when you can't decide between round and square nails.
25. Nude Fire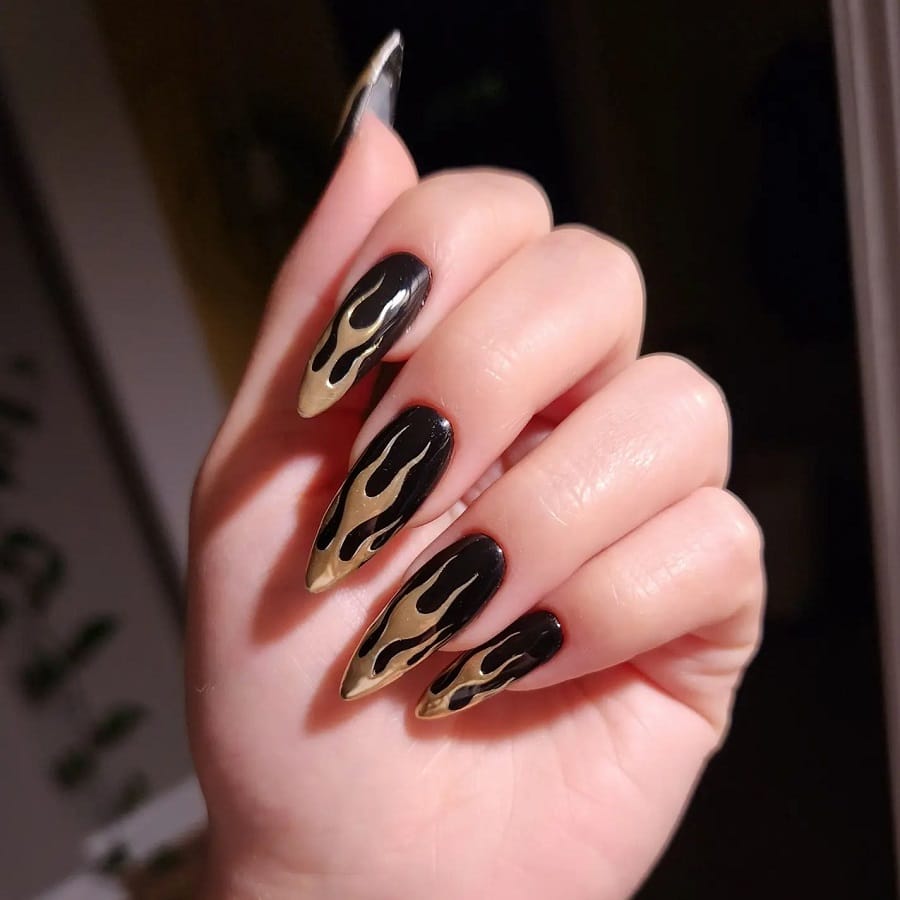 If the above-mentioned flame nails seem too vibrant tone them down by choosing neutral brown or gold gel nail paint for the fire flares against the same black base. Long almond nails or sharp stilettos would be an excellent choice!
Flame nails are hot and cool at the same time. They are ideal to express your bold side, go with all outfits, and can be created at home with just a little practice. So the next time when you want to get creative, try sketching out fire flames on your nails.