20 Mesmerising Mint Green Nails for Refreshing Look
Colors are something we enjoy watching. Different color means different things. Some color creates the notion of happiness and enjoyment whereas some other are used to express sorrows. Mint green is a playful color. I feel good deep in the heart whenever I look at mint green color.This color is so calm and peaceful to be looked at. If you want to have your nails painted with this calm and quiet green mint color, you will find the best ideas here. Let's see how things work for mint green nails.
Mint Green Nails To Spread Peace
Mint green is a pale green with a cool color tone. This color is so soft and eye-soothing. You can spread the peace and happiness of your mind through these nails. Because these nails will give pleasure to the viewers of your nails. The designs are simple. Mint green is often associated with different type of glitters. You can use gold in between the mint green nails to add a bit shine to these peaceful designs. I have discussed 20 mint green nails in this article to help you find the right one.
#1. Golden Green Mint

Add the extra shine to the cool green mint nails by using gold glitters. This will give a contrasting and beautiful color to the mint green nails. This can be considered as gold nail designs too.
Lime Green Nail Design to Sooth The Summer
#2. The Anchorage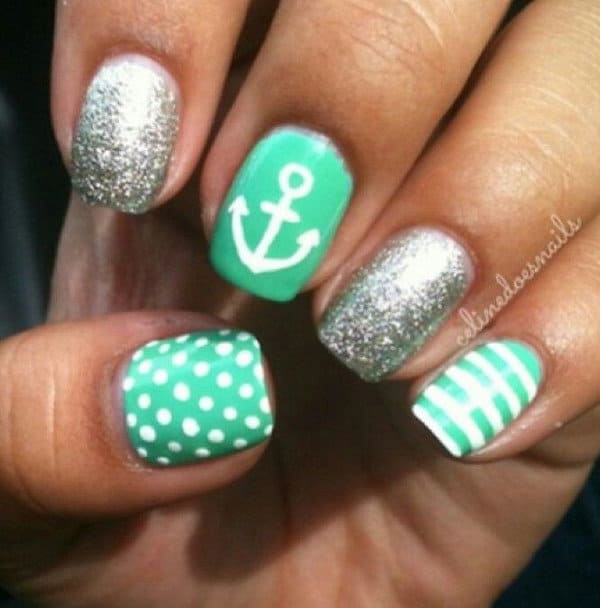 You can paint the anchorage of your nail sea by painting an anchor on one of the nails. Use polka dots and white stripes on some of the mint green bases. And keep the others filled with silver glitters to have this green mint nails.
#3. Keep It Simple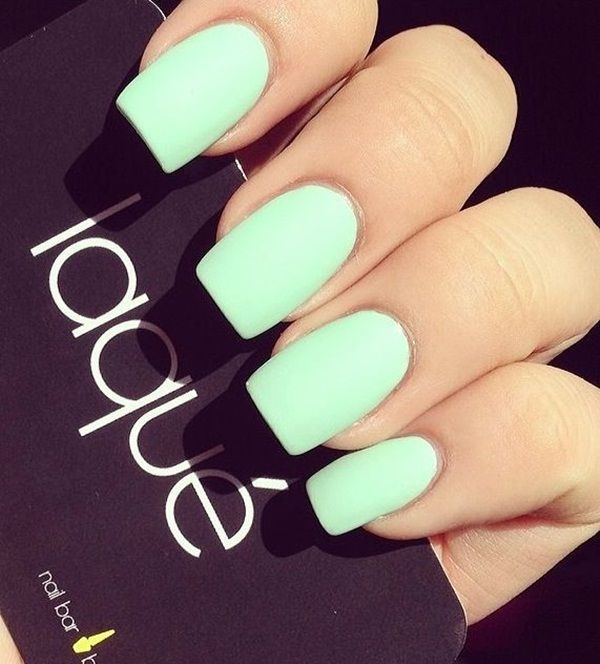 You can avoid all the complexity by having this simple design. If you want to keep it simple, keep it that way. Use a mint green matte polish to paint your nails. Cause you know that simplicity is the ultimate source of beauty.
#4. Glowing In the Dark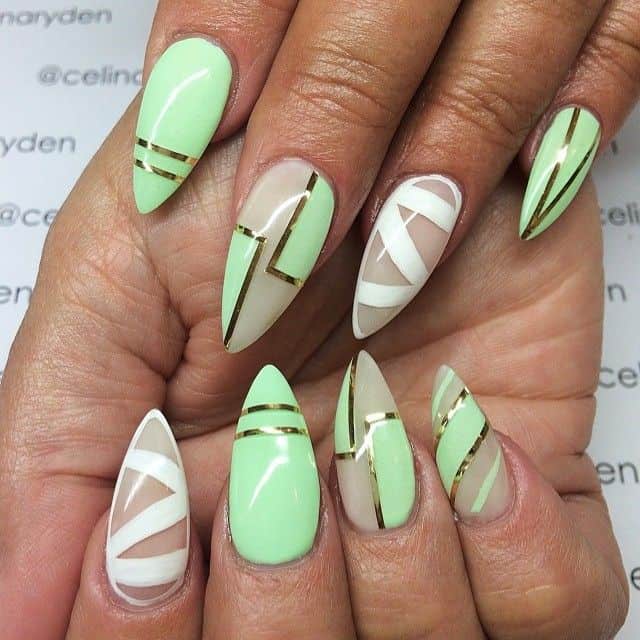 Nothing to worry if you have a dark complexion. Mint green nails will make your dark skin glow by adding the extra shine on your fingertips. You can have these neon mint green nails to complement the skin tone you have.
#5. Black Magic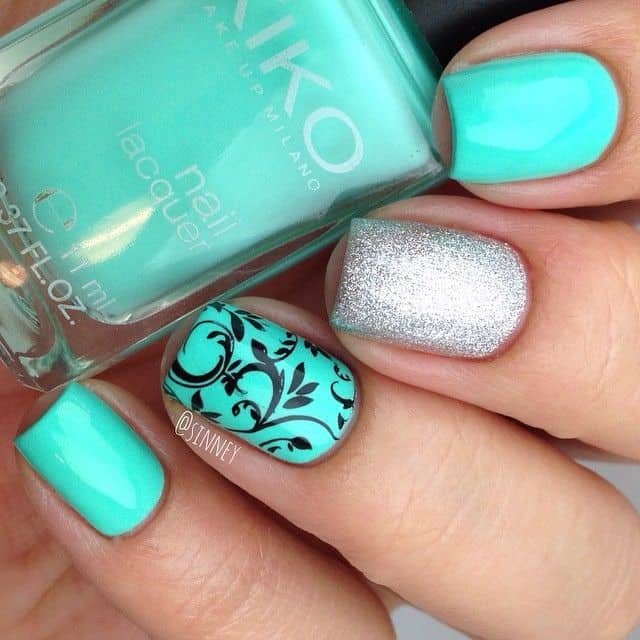 The magic of black nail art is something extraordinary. A gentle touch of black can change a whole design. You can paint some leafy patterns on your mint green nails to have this magical nail design.
#6. Gold Stones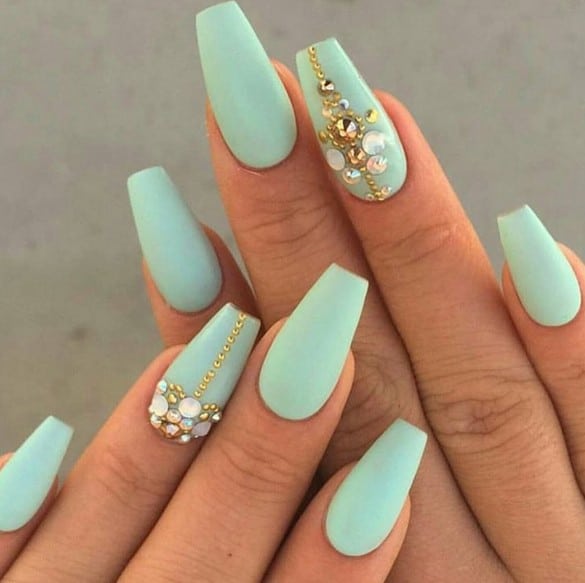 Gold and stones express aristocracy. Gold refers to the richness and stones refer to the priceless jewels that rich people carry. As you can't afford real gold or diamonds, you can try this design out. Use golden and white rhinestones on your mint green nails matte stiletto nails.
#7. Water Marbled Nails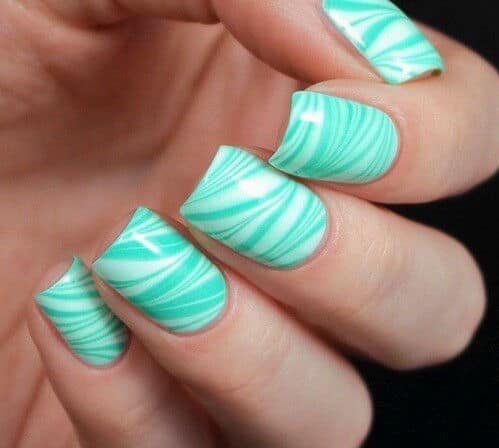 Mint green nails will look beautiful in water marble patterns. You can have this design by putting the mint green color in water and swirling them to make patterns like this one. Then apply these swirls on your nails.
Slay these Unbelievable Marble Nail Designs
#8. Mint Green Toenails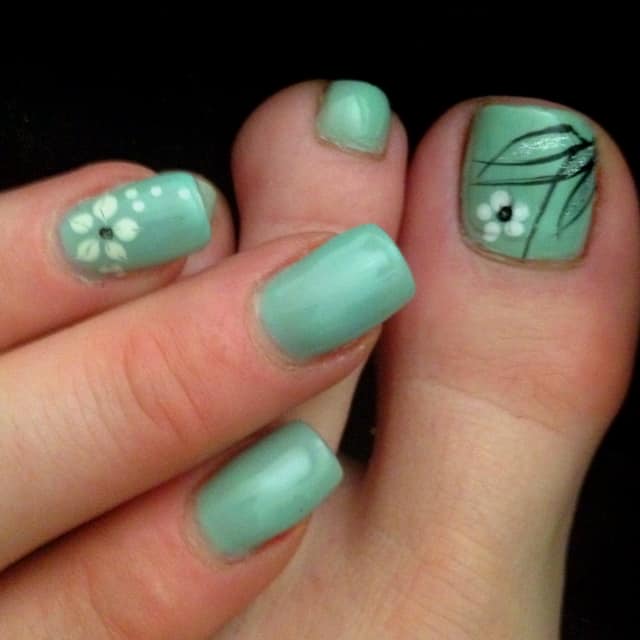 Mint green is not supposed to adorn your fingernails only, they can be handy to design your toenails too. You can draw your toenails with mint green which will be compatible with the mint green nails of your hands. Add some floral designs to make them look trendy.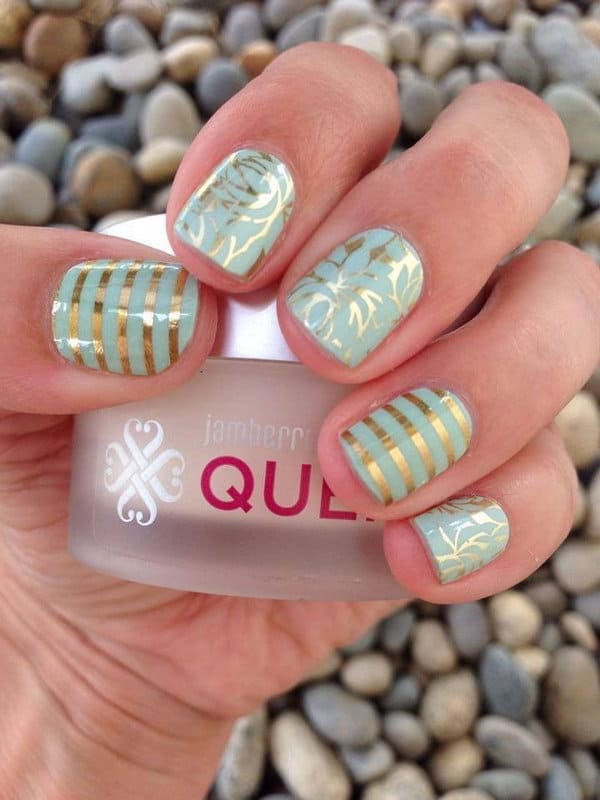 You can use stripes to give a different look to your nails. Golden stripes will look striking on mint green nails. And you can also draw some other patterns in gold color to have both mint green nails and gold nail art together.
#10. Polka Dots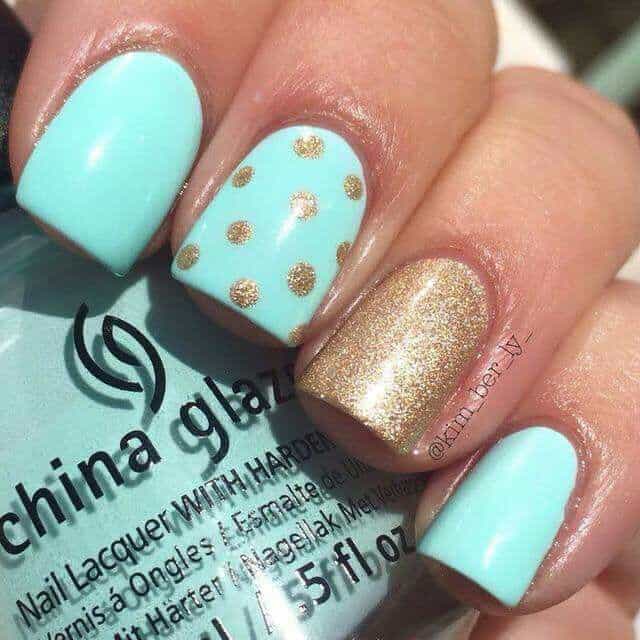 Polka dots are used in nail designs to a grand extent. You can use them for mint green nails too. Use golden glitters to draw the polka dots along with a nail fully painted in gold glitters like gold nail designs.
#11. The Diversity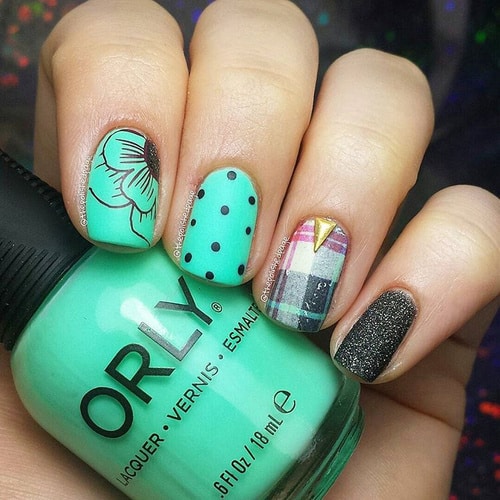 A design looks the most attractive when it has diversity within itself. This is that kind of designs. Each nail has a different identity. You can have beautiful mint green nails like these ones at your fingertips.
#12. Chevron Nail Art

Chevron patterns are very popular worldwide. You can use these patterns to your mint green nails. You can also use glitters to make the nails shine.
Cherry Blossom Nail Art to Celebrate Festivity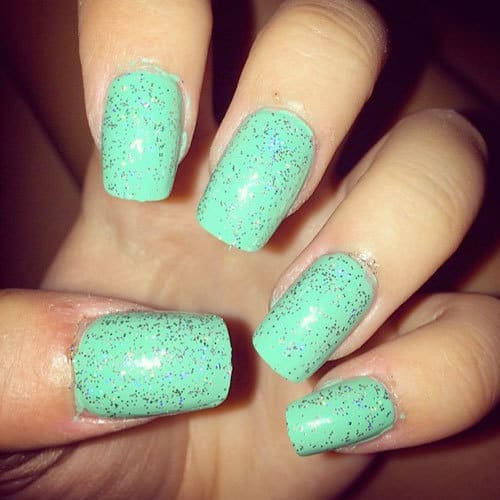 Glitters can be sprinkled on the green mint nails while having this design. It is very simple to have. Sprinkle some thin glitters on the mint green nail polish before they dry out.
#14. Bold Gold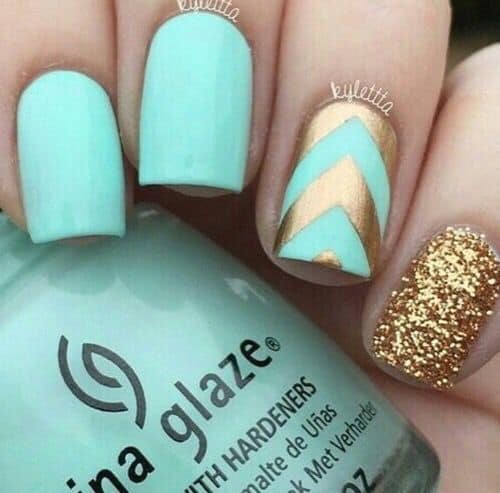 This design is the combination of mint green nails and gold nail designs. This looks so bold in gold color. You can paint chevron patterns and use gold glitters altogether to have these mint green nails with glitter designs.
#15. Blooming Flowers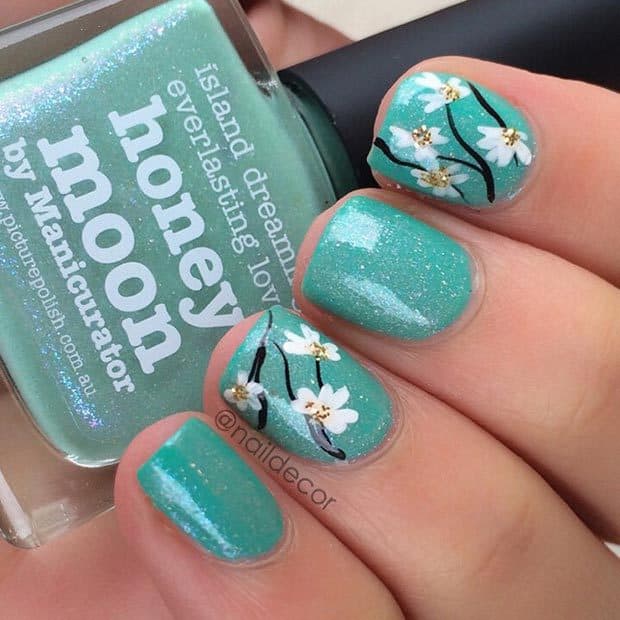 Flowers can increase the beauty of any design within a minute. You can use a floral design on the mint green nails while having this design.
#16. Gold Studded
This is a cute gold nail art. The thin glitters used with the white chevron patterns look astonishingly beautiful on the mint green nails matte. Mint green nails with glitter look stunning in this design.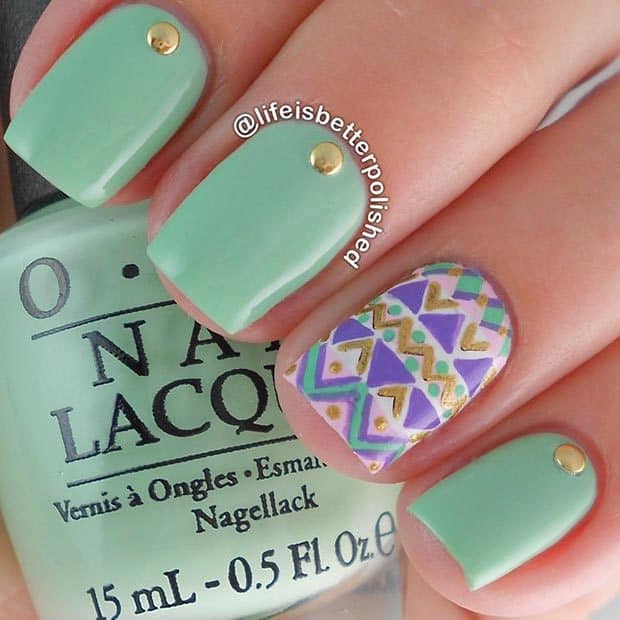 A lot of designs are influenced by the various lifestyle of the tribal people. You can be inspired by the tribal culture and belief while designing mint green nails.
#18. Color Pops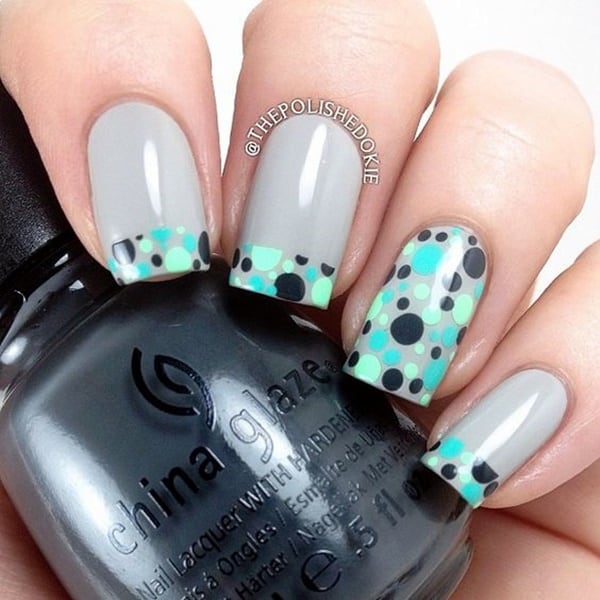 This mint green nail design is a bit different from the others. At first, paint your nails with a grey nail polish. Then paint these color drops keeping an organized order so that the design does not look odd.
#19. Neon Mint Green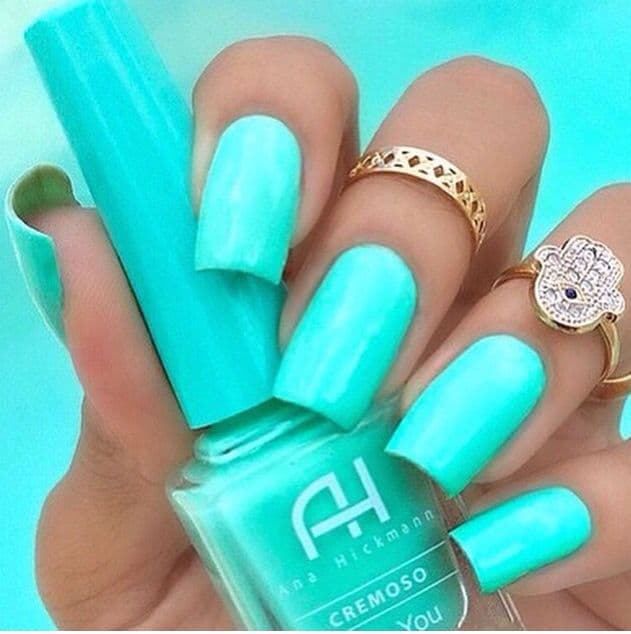 If you are getting bored with the soft look of these mint green nails, here is a bright color for you. You can have this design to dazzle the eyes of the beholders. One or two rings on the finger will do the trick for this design.
#20. Mint Green Leaves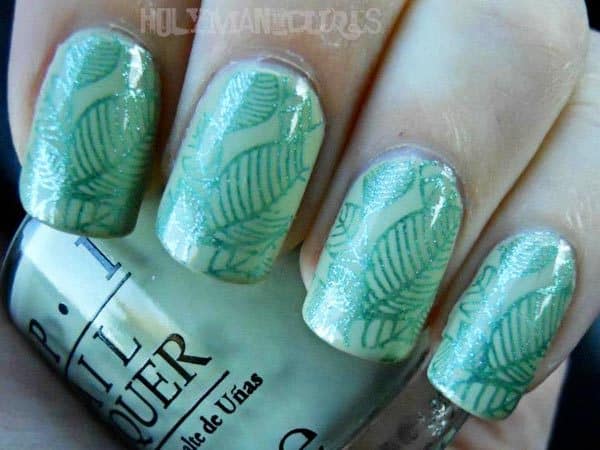 Leaves resemble the original color of green. You can draw leaves like patterns on your mint green nails to have this design. Using mint green nails with glitter will make the nails shine.
Light Green Airbrush Nail Design
More Inspirational Mint Green Nail Designs
Mint green color can represent the cool-headed personality of an individual. If you possess a calm and peaceful mind you can paint your mental state on the nails by using mint green color. If you are searching for the right mint green nails fitting your nails, you are at the right place. You can try out these designs from this article.