Mint green nails look warm and comfy and if combined with some unique impressive designs you can sky-rocket your chances of getting compliments for your technique.
Mint Green Nails
Mint green comes in such a variety of colors, from pale hues to dark or mysterious shades that can totally make your mani look exquisite.
Discover in the photos below 40 looks you should adopt to make your nails look astonishing in any occasion.
#1. Mint Green Acrylic Nails
If you have tattoos on your hand, create this playful look for your gorgeous square long nails. Recreate this by applying some white and black dots.
#2. Mint Green Coffin Nails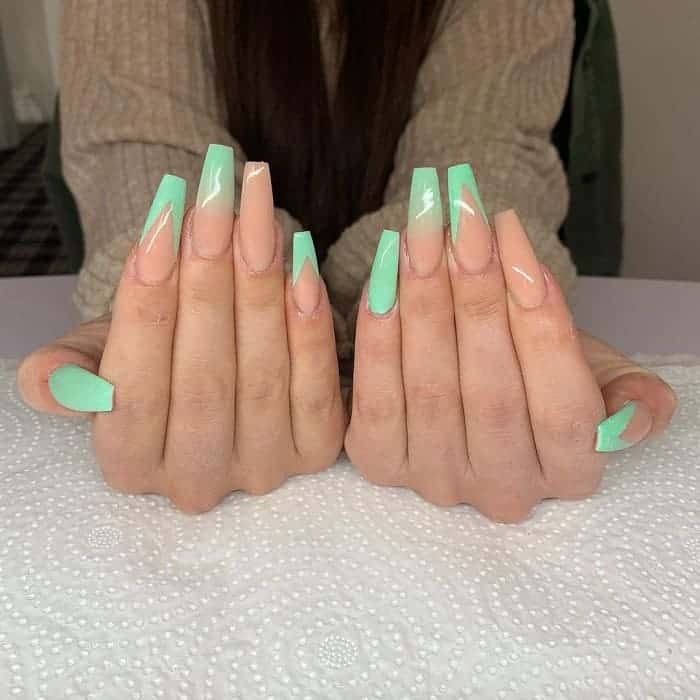 These square nails with minty tips and nude ombres are your passport to a gorgeous brilliant look. Forget about symmetry and style them the way you please!
#3. Mint Green Pointy Nails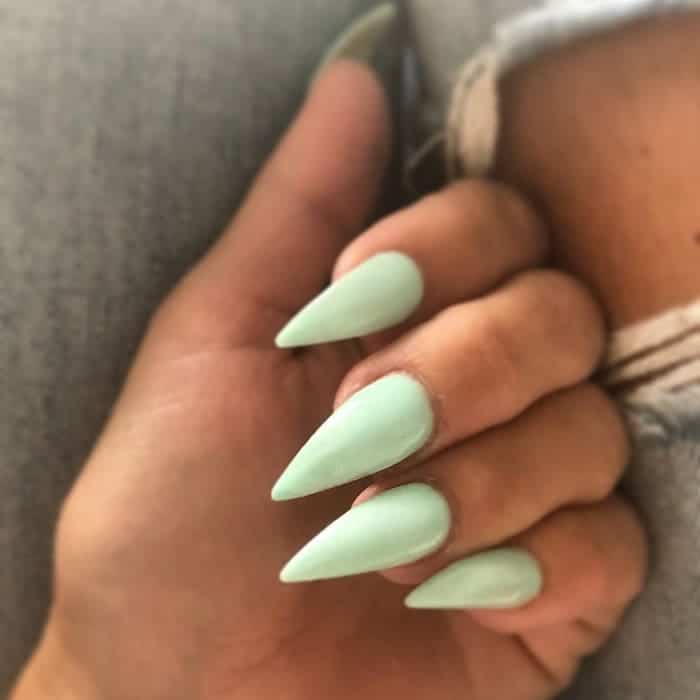 Mix this soft warm mint green color with some pointy shaped nails and what you'll get is this work of art!
#4. Mint Green Stiletto Nails
One purple nail with sequins in the bevy of these minty nails is all that you need to step up your mani game! Keep those nails pointy and you'll get a dramatic look!
#5. Matte Mint Green Nails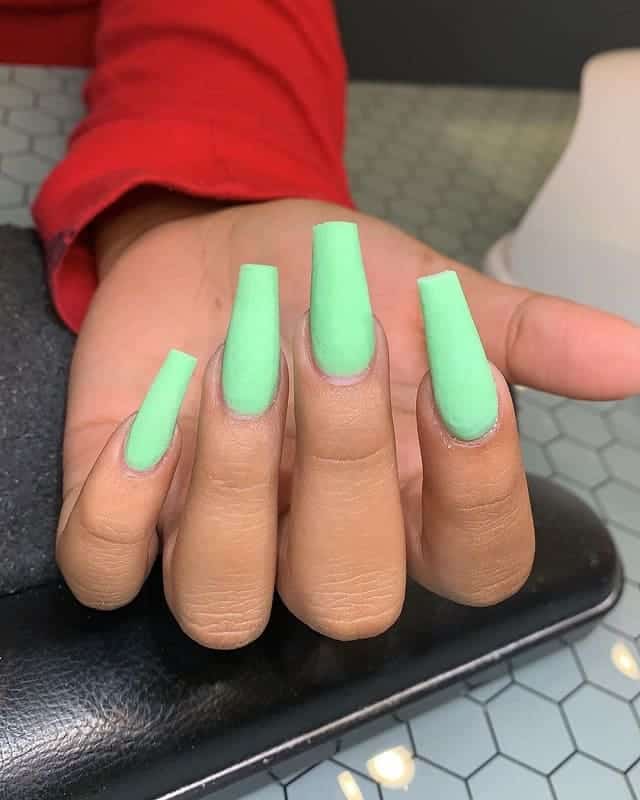 If your goal is to literally stand out from the crowd at night, keep your nails long, in a square shape and go for a luminous minty green that beautifully glows!
#6. Mint Green Nails with Glitter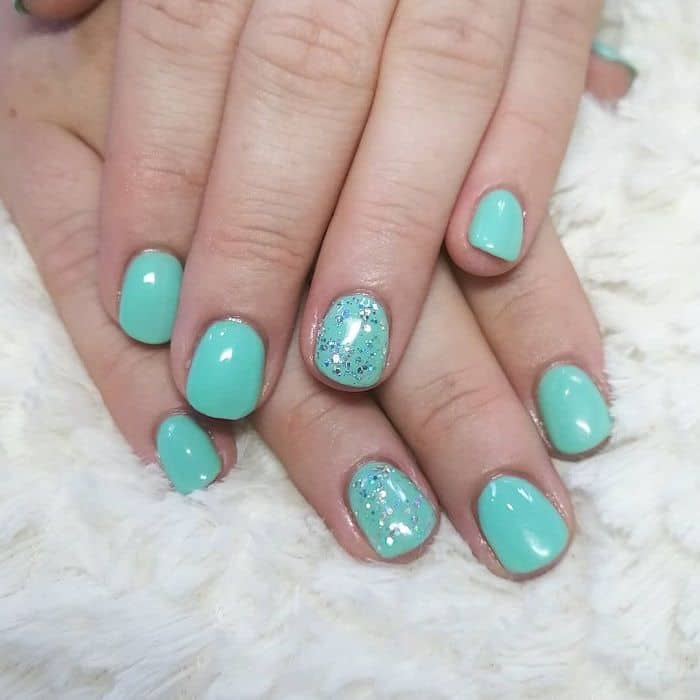 #7. Mint Green and Silver Nails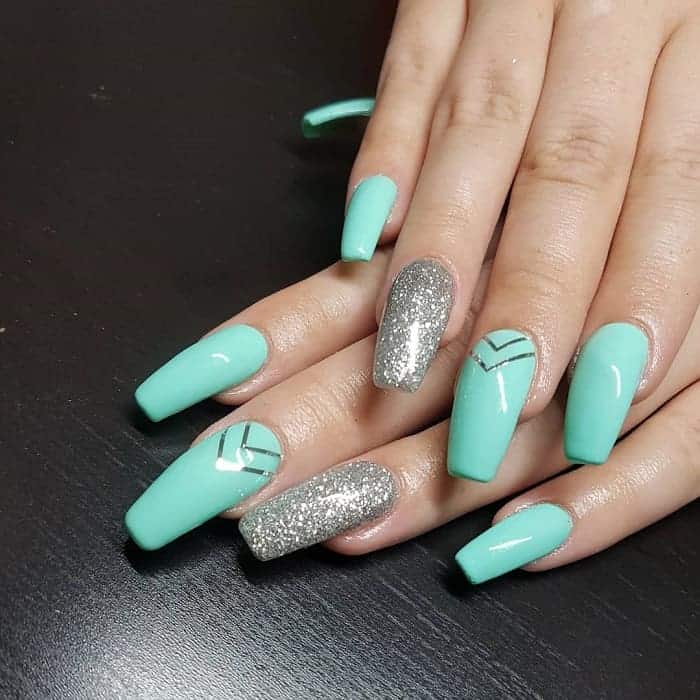 #8. Mint Green Nails on Dark Skin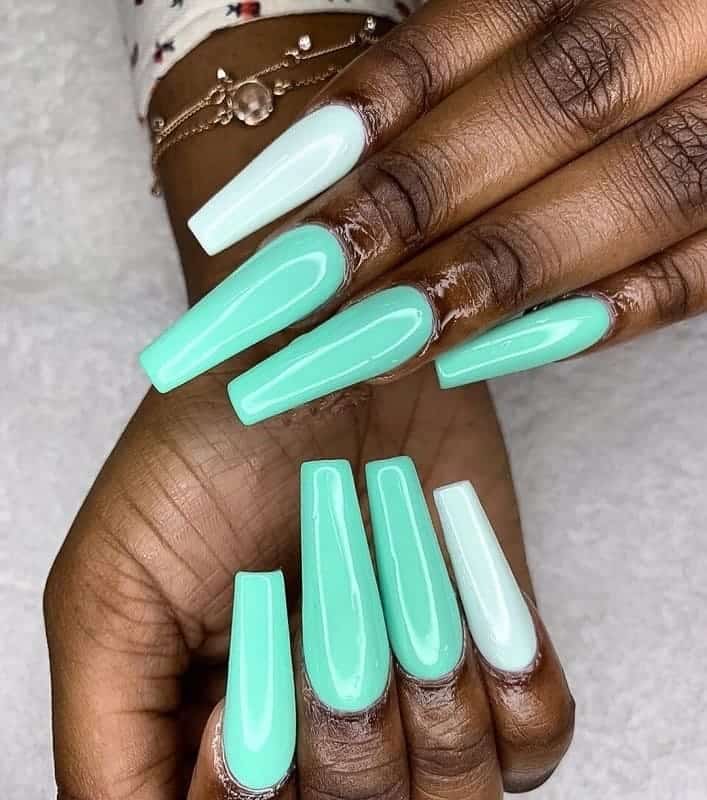 #9. Mint Green Nails on Brown Skin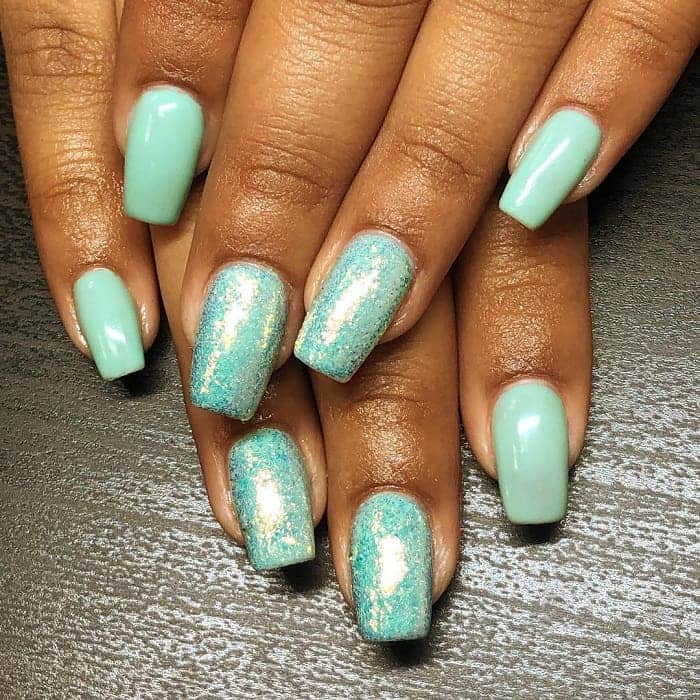 #10. Mint Green Apple Nail Polish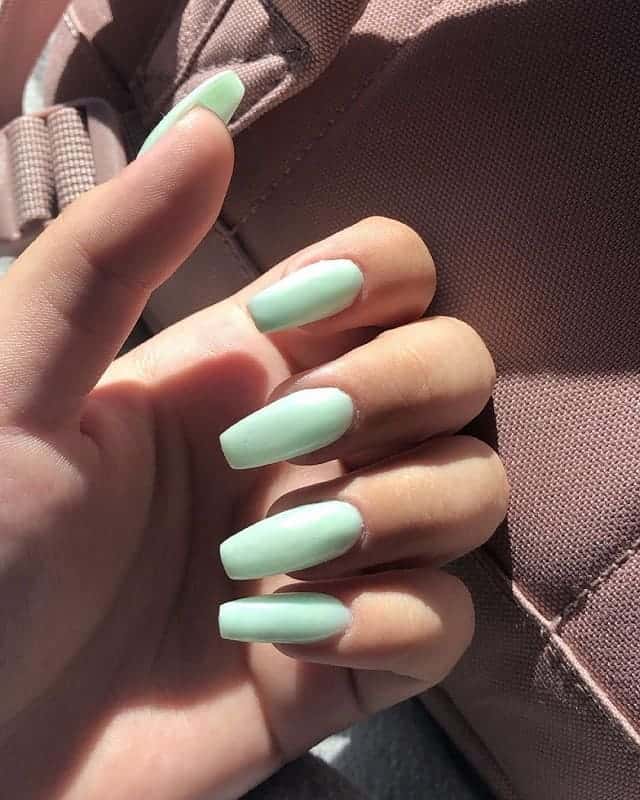 #11. Ombre Mint Green Nails
#12. Pastel Mint Green Nail Polish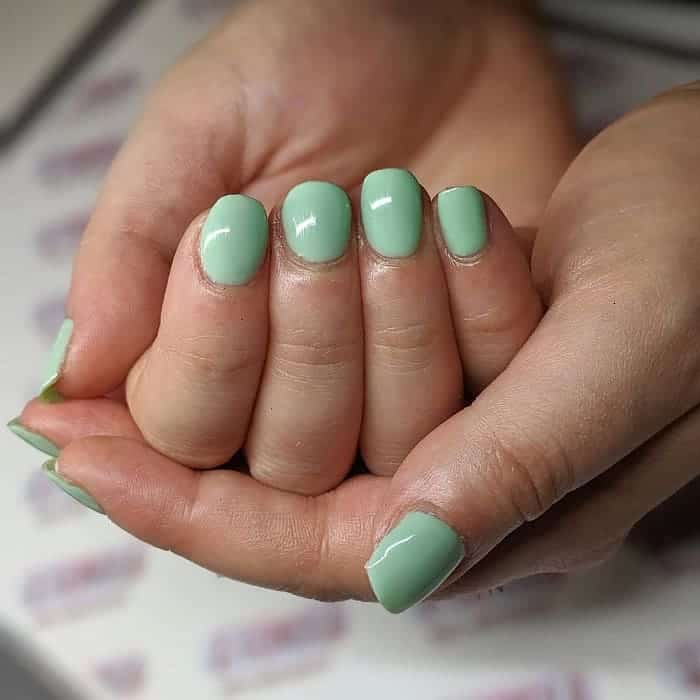 #13. Mint Green And Orange Nails
#14. Mint Green and Pink Nails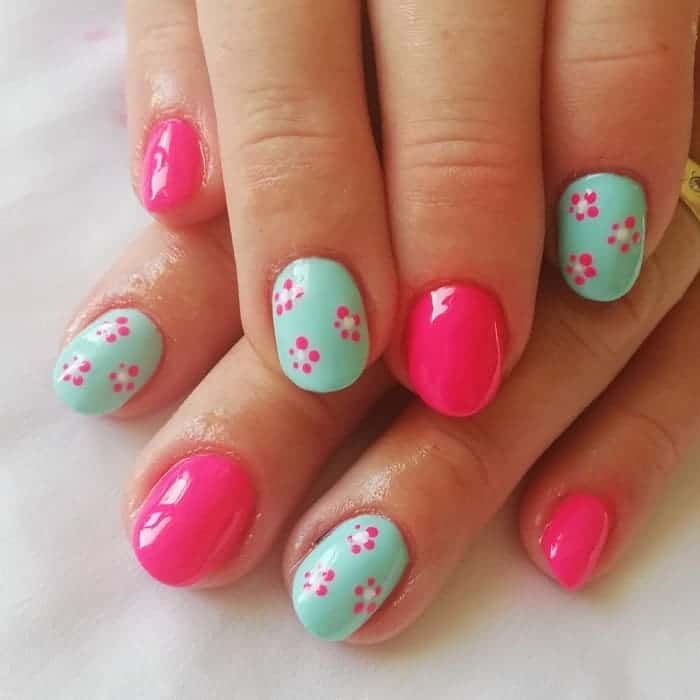 #15. Mint Green Chrome Nails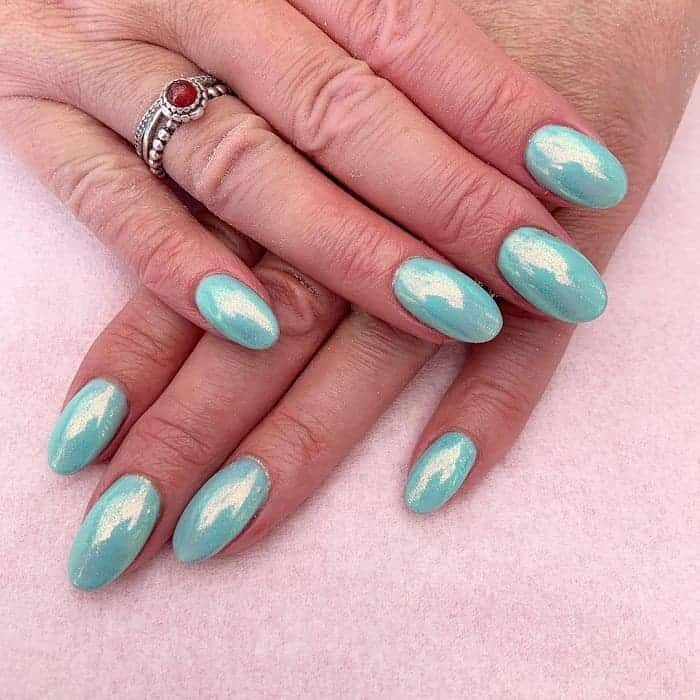 #16. Mint Green French Tip Nails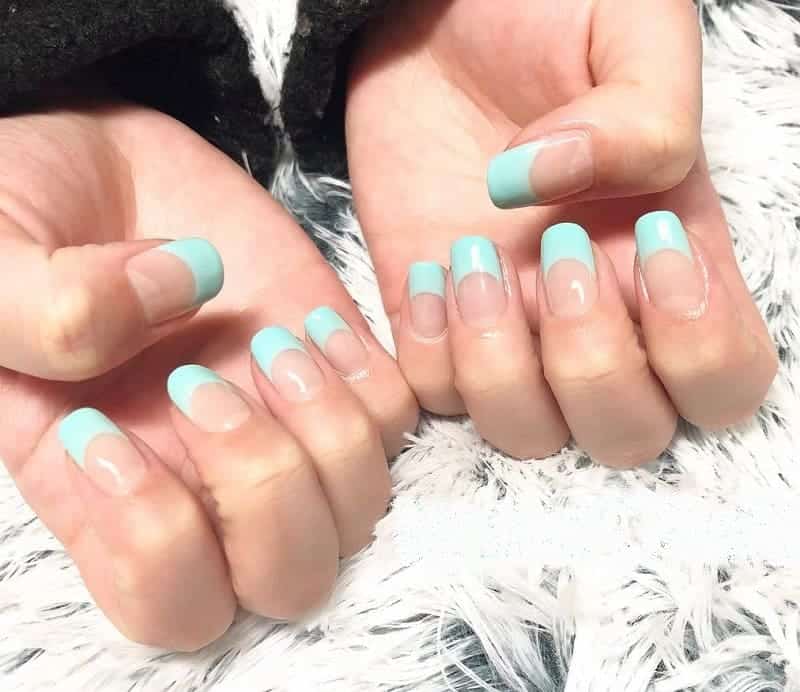 #17. Mint Green Holographic Nails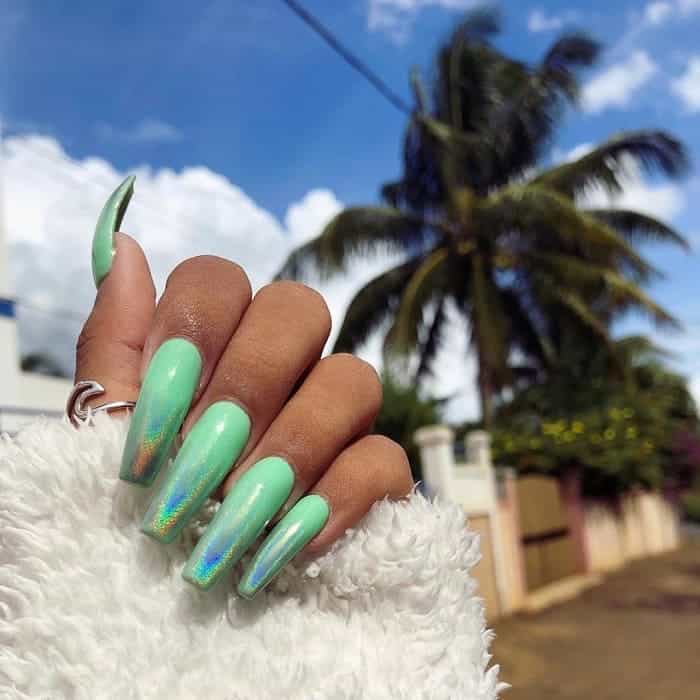 #18. Mint Green Marble Nails
#19. Neon Mint Nail Polish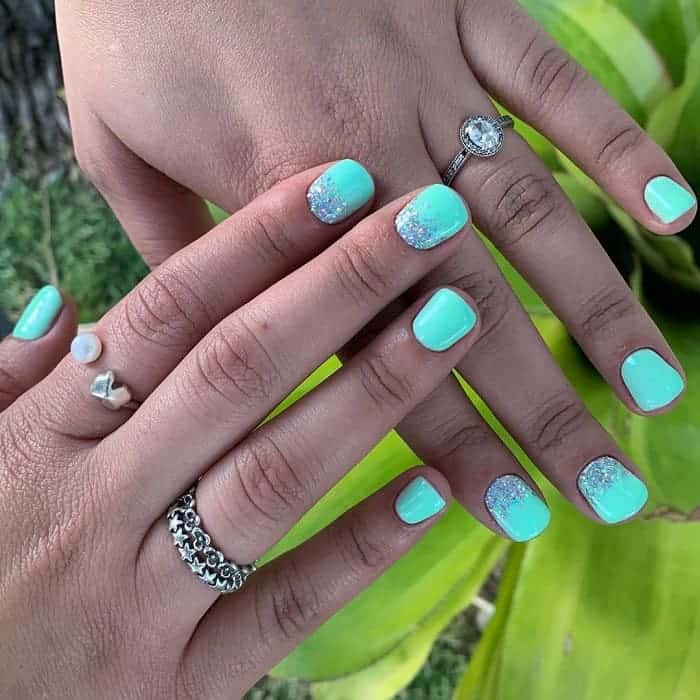 #20. Mint Green and Rose Gold Nails
#21. Golden Green Mint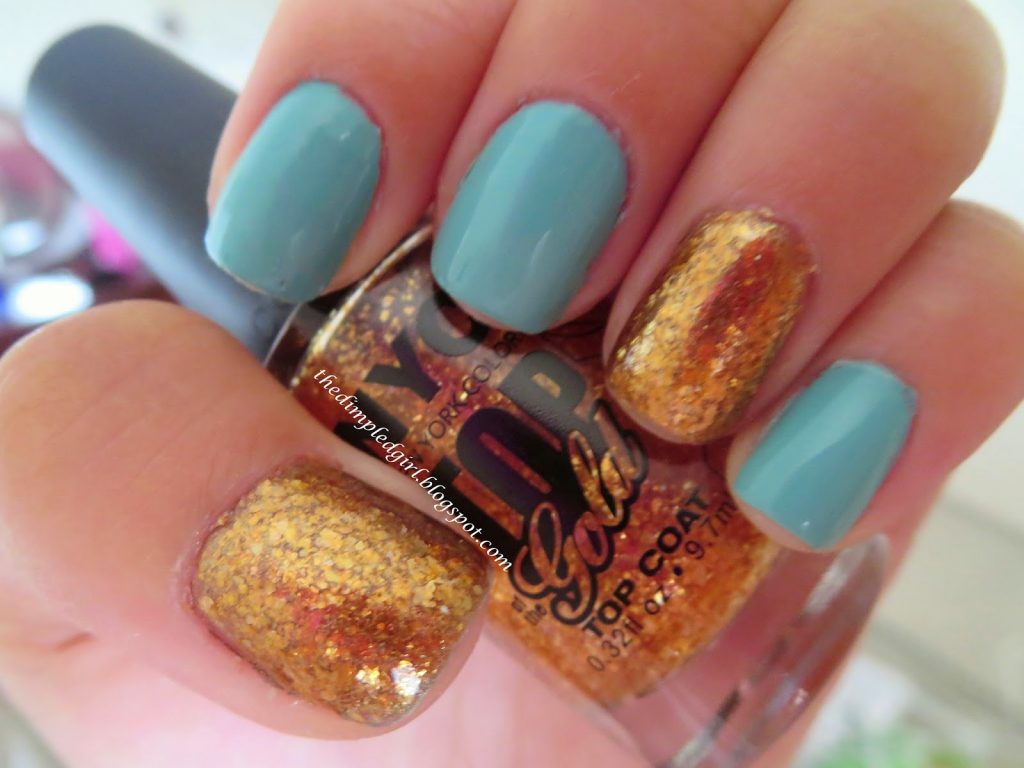 Add the extra shine to the cool green mint nails by using gold glitters. This will give a contrasting and beautiful color to the mint green nails. This can be considered as gold nail designs too.
#22. The Anchorage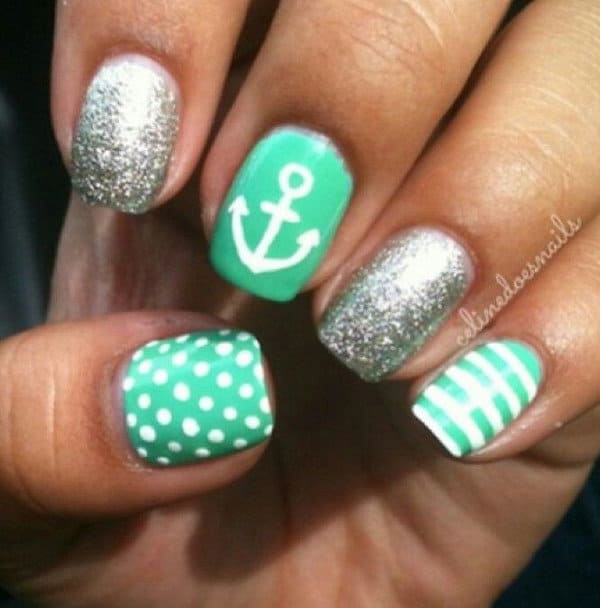 You can paint the anchorage of your nail sea by painting an anchor on one of the nails. Use polka dots and white stripes on some of the mint green bases. And keep the others filled with silver glitters to have this green mint nails.
#23. Keep It Simple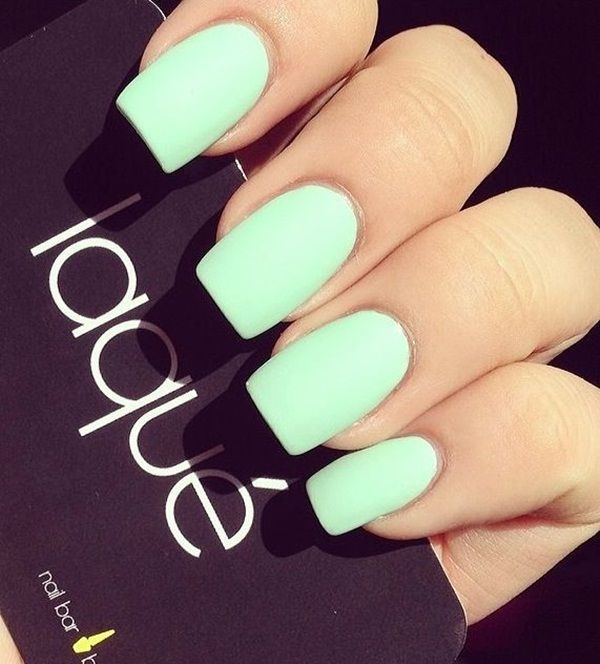 You can avoid all the complexity by having this simple design. If you want to keep it simple, keep it that way.
Use a mint green matte polish to paint your nails. Cause you know that simplicity is the ultimate source of beauty.
#24. Glowing In The Dark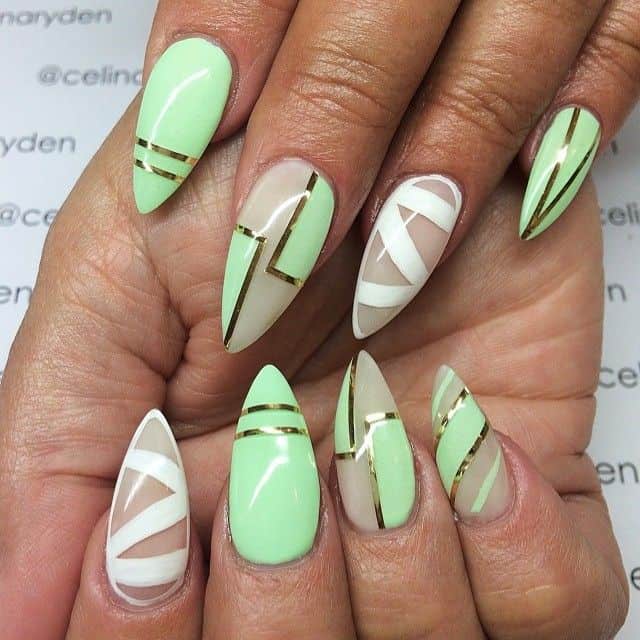 Nothing to worry about if you have a dark complexion. Mint green nails will make your dark skin glow by adding the extra shine on your fingertips.
You can have these neon mint green nails to complement the skin tone you have.
#25. Black Magic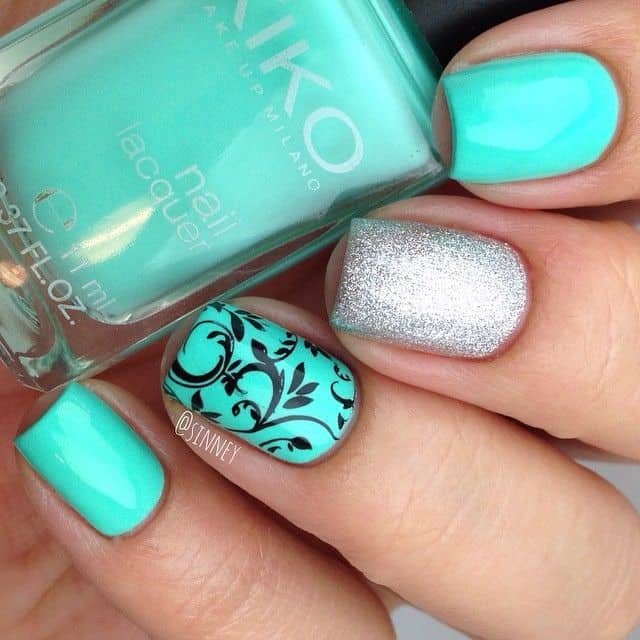 The magic of black nail art is something extraordinary. A gentle touch of black can change the whole design.
You can paint some leafy patterns on your mint green nails to have this magical nail design.
#26. Mint Green Nails with Rhinestones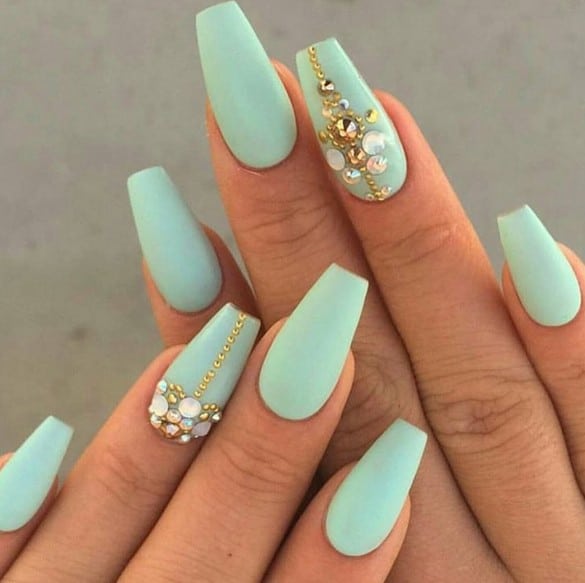 Gold and stones express aristocracy. Gold refers to the richness and stones that refer to the priceless jewels that rich people carry.
As you can't afford real gold or diamonds, you can try this design out. Use golden and white rhinestones on your mint green nails matte stiletto nails.
#27. Water Marbled Nails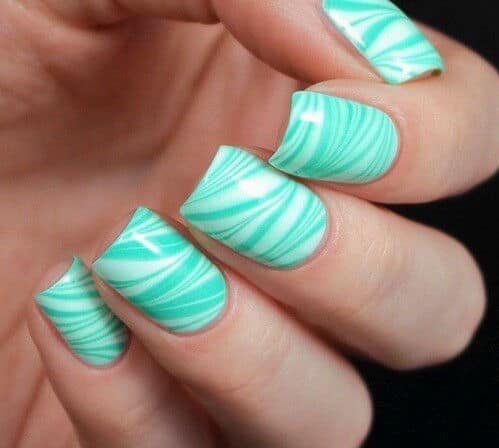 Mint green nails will look beautiful in water marble patterns. You can have this design by putting the mint green color in water and swirling them to make patterns like this one. Then apply these swirls on your nails.
Slay these Unbelievable Marble Nail Designs
#28. Mint Green Toenails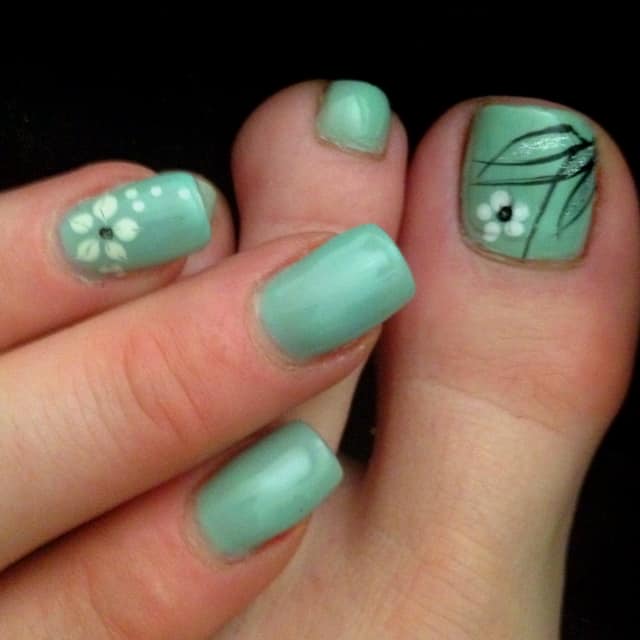 Mint green is not supposed to adorn your fingernails only, they can be handy to design your toenails too.
You can draw your toenails with mint green which will be compatible with the mint green nails of your hands. Add some floral designs to make them look trendy.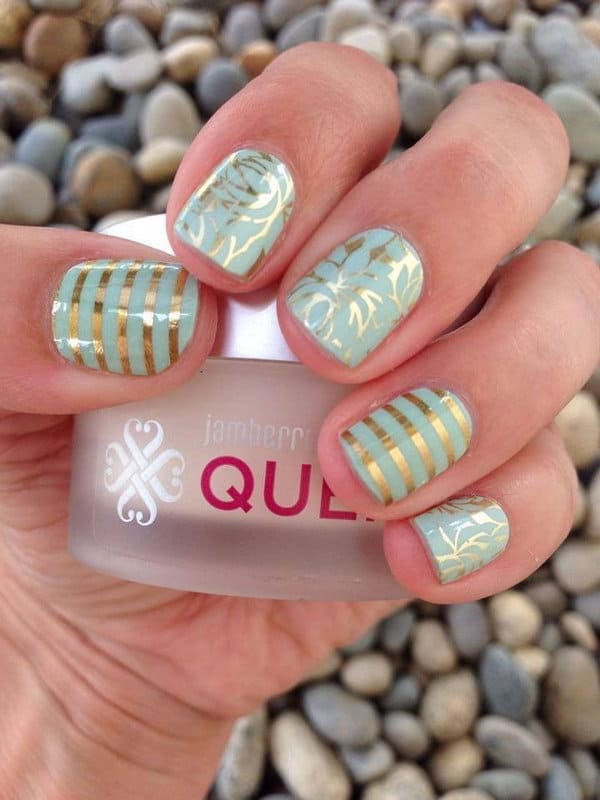 You can use stripes to give a different look to your nails. Golden stripes will look striking on mint green nails.
And you can also draw some other patterns in the gold color to have both mint green nails and gold nail art together.
#30. Polka Dots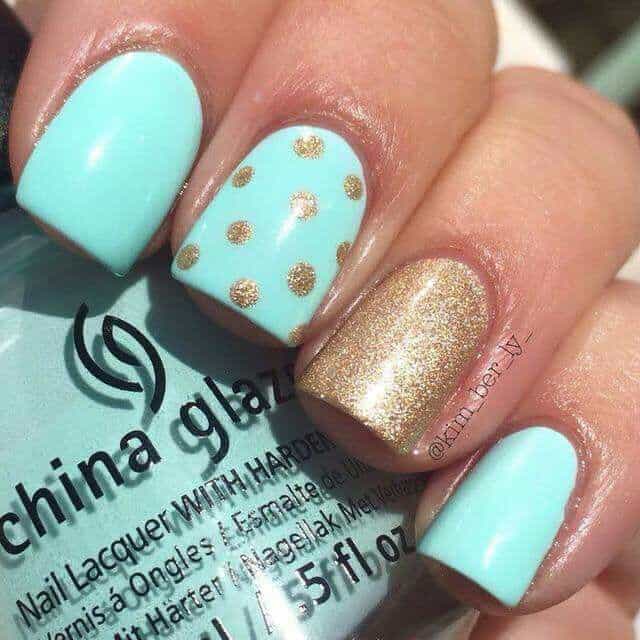 Polka dots are used in nail designs to a grand extent. You can use them for mint green nails too.
Use golden glitters to draw the polka dots along with a nail fully painted in gold glitters like gold nail designs.
#31. The Diversity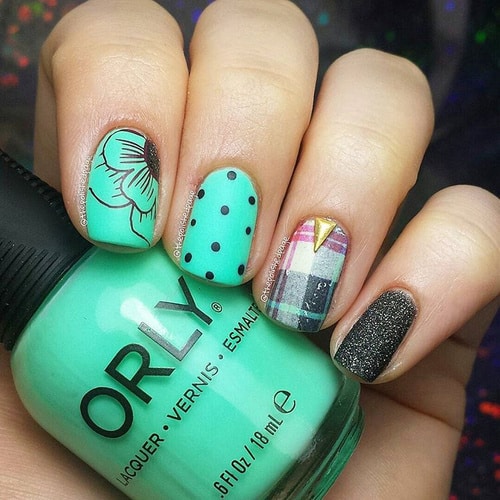 A design looks the most attractive when it has diversity within itself. This is that kind of designs. Each nail has a different identity.
You can have beautiful mint green nails like these ones at your fingertips.
#32. Chevron Nail Art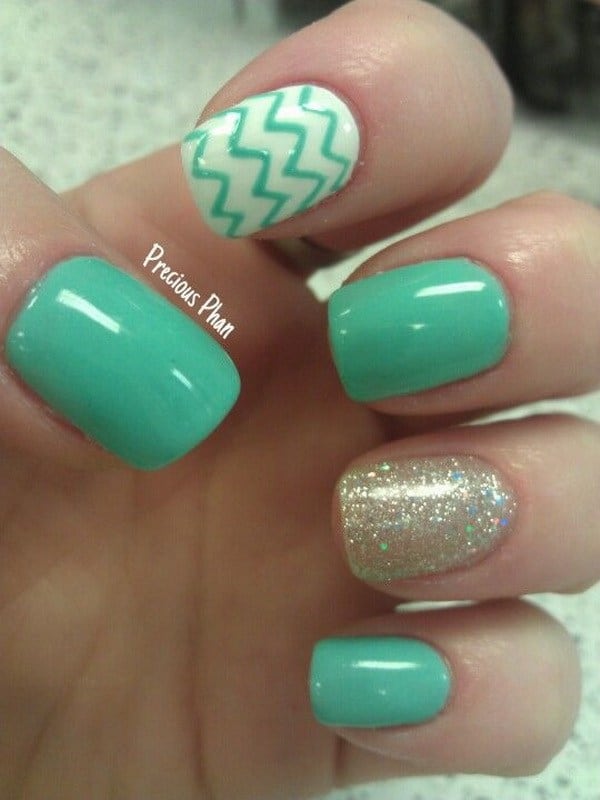 Chevron patterns are very popular worldwide. You can use these patterns to your mint green nails. You can also use glitters to make the nails shine.
Cherry Blossom Nail Art to Celebrate Festivity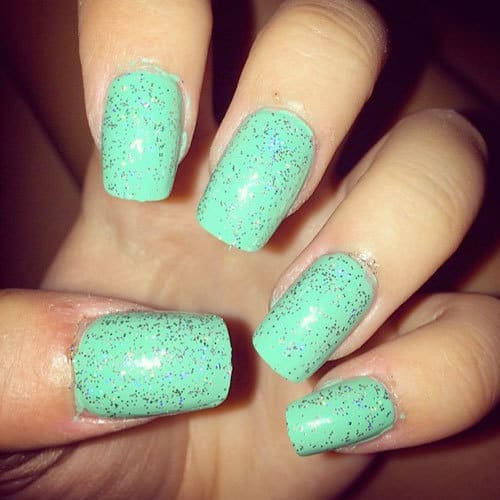 Glitters can be sprinkled on the green mint nails while having this design. It is very simple to have. Sprinkle some thin glitters on the mint green nail polish before they dry out.
#34. Bold Gold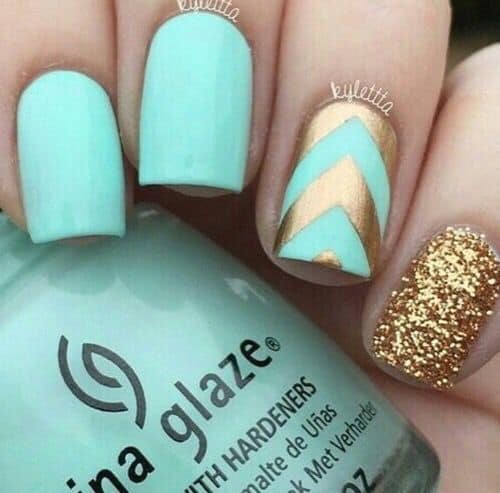 This design is a combination of mint green nails and gold nail designs. This looks so bold in gold color. You can paint chevron patterns and use gold glitters altogether to have these mint green nails with glitter designs.
#35. Blooming Flowers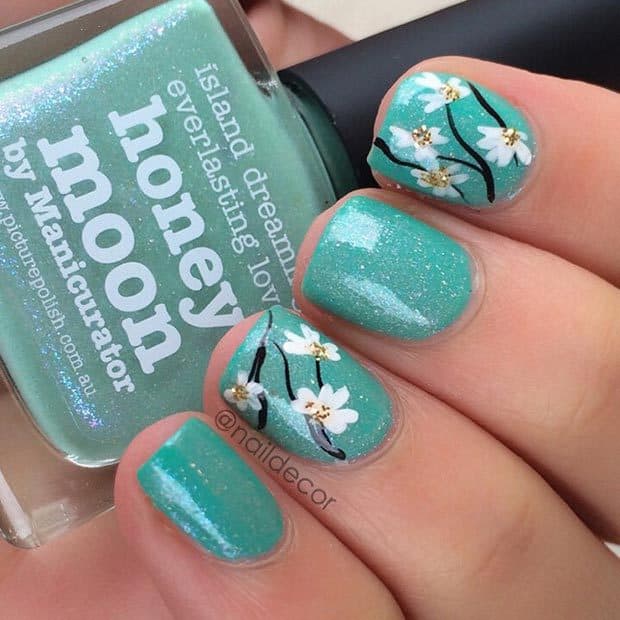 Flowers can increase the beauty of any design within a minute. You can use a floral design on the mint green nails while having this design.
#36. Mint Green With Golden Touch
This is a cute gold nail art. The thin glitters used with the white chevron patterns look astonishingly beautiful on the mint green nails matte. Mint green nails with glitter look stunning in this design.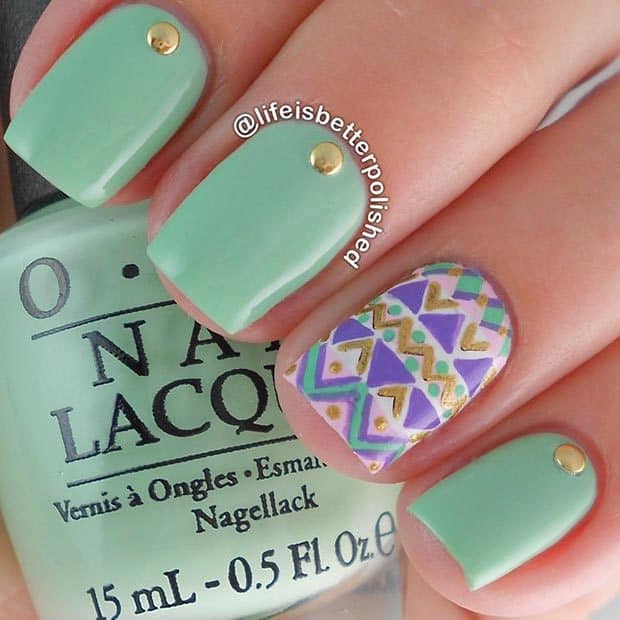 A lot of designs are influenced by the various lifestyle of the tribal people. You can be inspired by the tribal culture and belief while designing mint green nails.
#38. Mint Green Gel Nails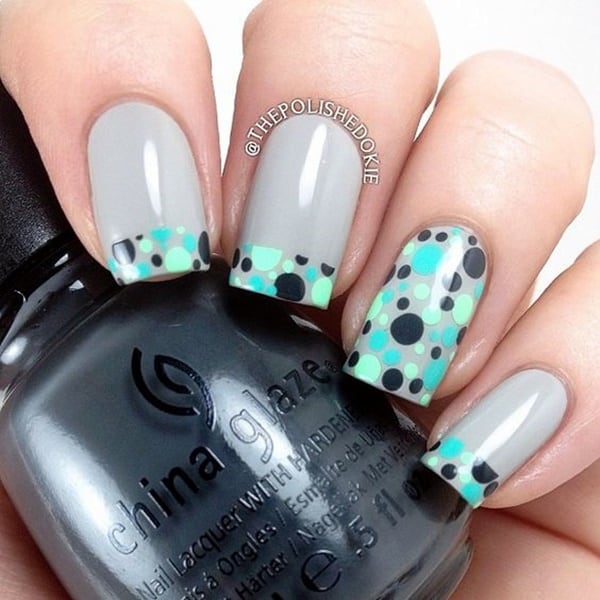 This mint-green nail design is a bit different from the others. At first, paint your nails with a grey nail polish.
Then paint these color drops keeping an organized order so that the design does not look odd.
#39. Neon Mint Green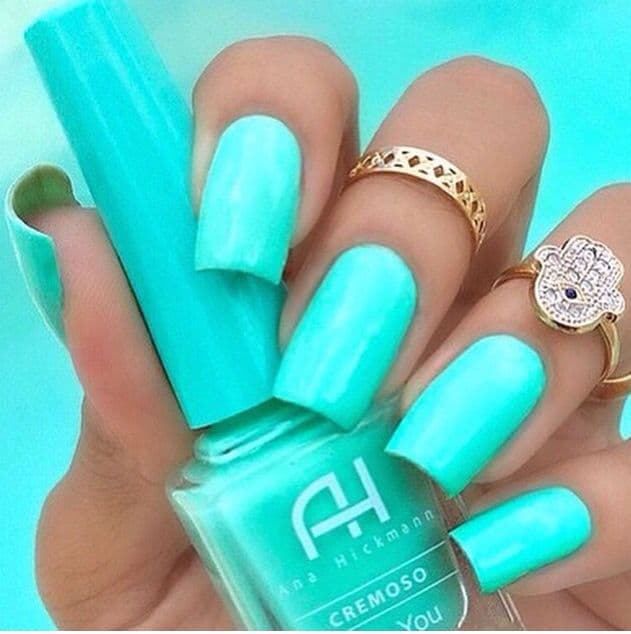 If you are getting bored with the soft look of these mint green nails, here is a bright color for you.
You can have this design to dazzle the eyes of the beholders. One or two rings on the finger will do the trick for this design.
#40. Mint Green Nails With Leaves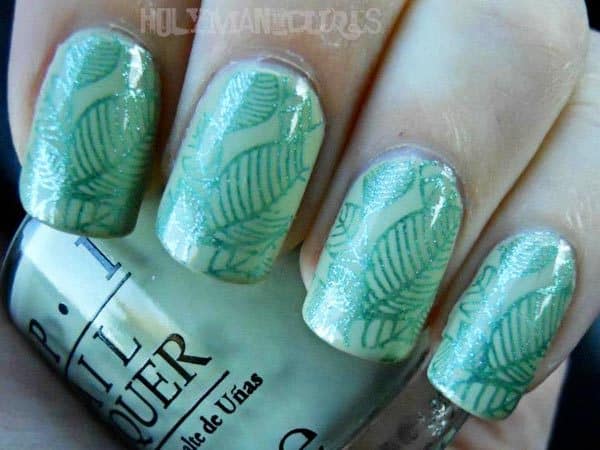 Leaves resemble the original color of green. You can draw leaves like patterns on your mint green nails to have this design. Using mint green nails with glitter will make the nails shine.
Light Green Airbrush Nail Design
More Inspirational Mint Green Nail Designs
If you never considered giving minty green a chance, this is your moment! You can mix it with rhinestones, animal prints, abstract designs, and shiny rhinestones, it's up to you! We are also very curious to find out which of the designs you loved more!