20 Majestic Pointed Nail Designs for 2018
Pointed nails or stiletto nails have that fierce looking vibe that many women tend to go for. They are usually very long, matte and perfect for special occasions. Of course, you can get them shorter and shinier, it is all just a matter of preference. Figuring out how to get the perfect shape can be a bit tricky, and it will take you a lot of practice. So, if you have no patience nor time, go to the beauty salon and let the professionals take care of you. But if you like to be persistent we will help you out in achieving your nail goals.
Hottest Pointed Nail Design Ideas
Since stiletto nails are so hip at the moment and women love them, we thought we would present you the 20 most beautiful and trendy pointed nail designs for you to try.
#1: All Natural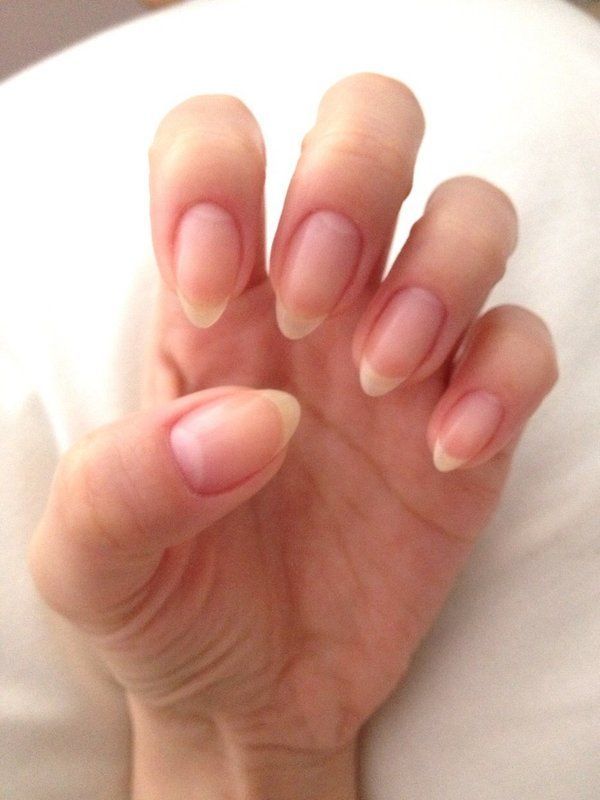 If you naturally have long and thick nails, all you need is a good file. The best file for natural nails is a crystal file, since it is very gentle, and it will probably last you forever.
How to:
Start shaping them and be gentle, since they are your natural nails they can break easier. First, you start shaping the edges to the pointed part and then shape to upper nail part. Put a base coat on top and the color that you prefer. Do put a top coat on top just in order to secure the nails more so they don't betray you by breaking.
#2: French Pointed Nail Design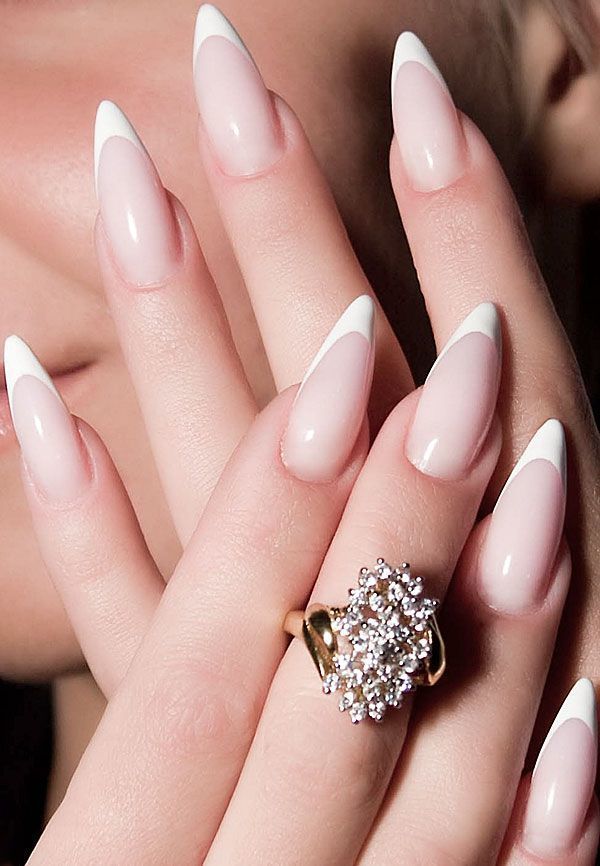 In this picture, you can see the difference between the first all natural french method, and a stiletto
acrylic
french design. Fake pointed nail designs definitely can't be pulled off as your own, at least not in this size. Although they do look the ladylike business and could be a true winner in the meetings.
How to:
After your nail tech applies your tips or acrylics, they will shape them in an exact way like we explained in the natural process. After that, they will add a natural base coat and will use an angled brush in order to do the top
white
french part. Pretty much everything is the same except for the fact that they will be using
gels
, while you are using nail polish.
#3: Reverse French Pointed Nail Design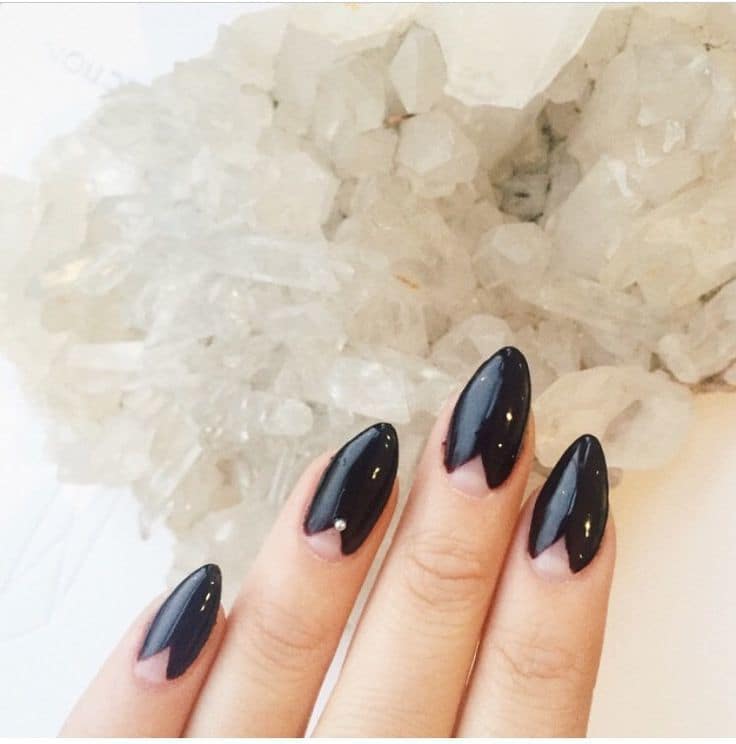 This reverse black french design is something that you don't see every day, and we don't see the reason why, since it is so stunning.
How to:
There are actually two methods for this pointed nail.
First, you could paint your nails all black or whichever color you prefer, and then with a nail tool for cuticles aka the pusher, you can cut off the lower part in order to get that "V" shape. Clean it up a little bit with ear cue tips that were dipped in acetone and then just put the top coat on top.
Or, you can cut a paper or use a nail sticker and place it down on your nail, in order to secure that place from the nail polish. While having your sticker placed below, use a preferred nail color and paint your nail. Remove the sticker after the process has been done and you will have the wanted reverse french method, then just apply a top coat over it.
#4: Heart Pointed Nails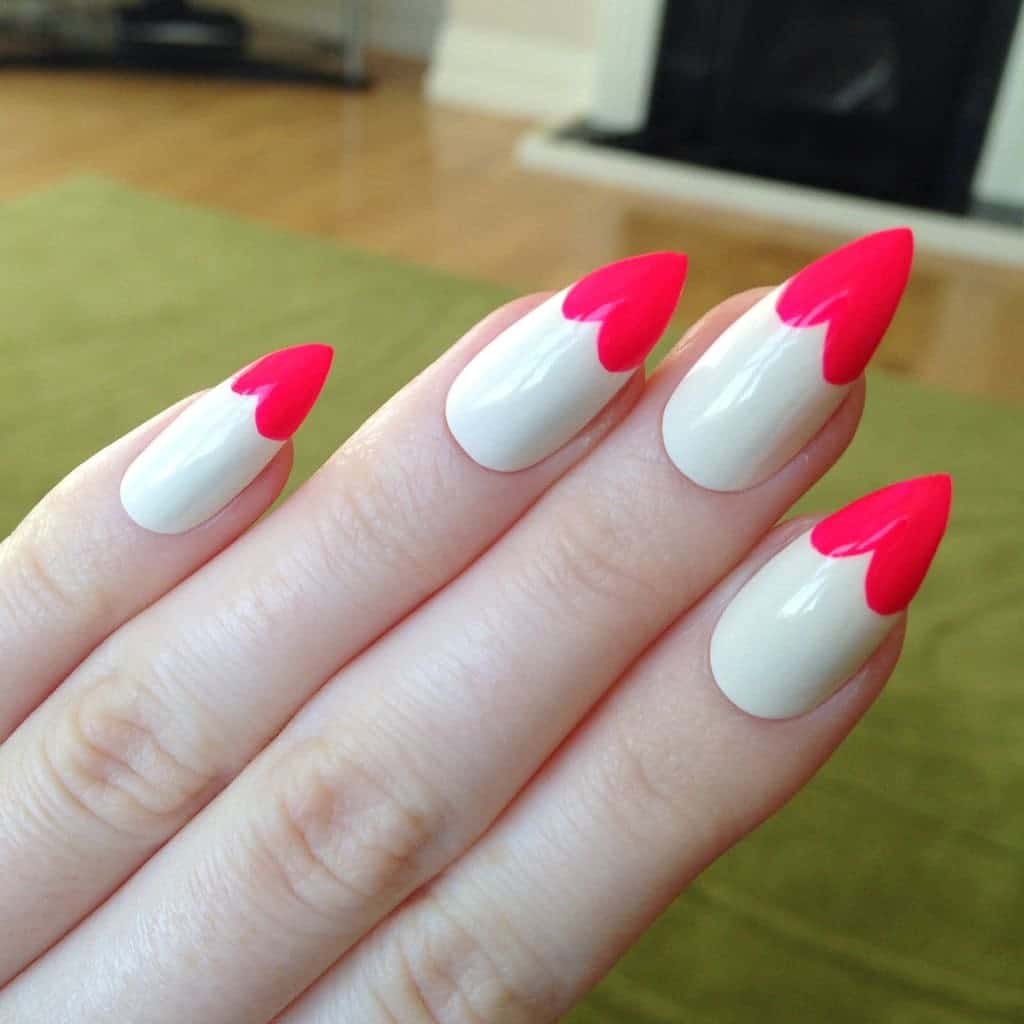 Perfect for Valentine's day, these nails will definitely melt down your sweetheart.
How to:
A steady and precise hand is required. After applying your base coat, use a red or a pink color for these hearts. Use a detailing brush in order to outline the heart shape, and then just fill in the rest with a typical nail brush.
#5: A Little Bit More of Love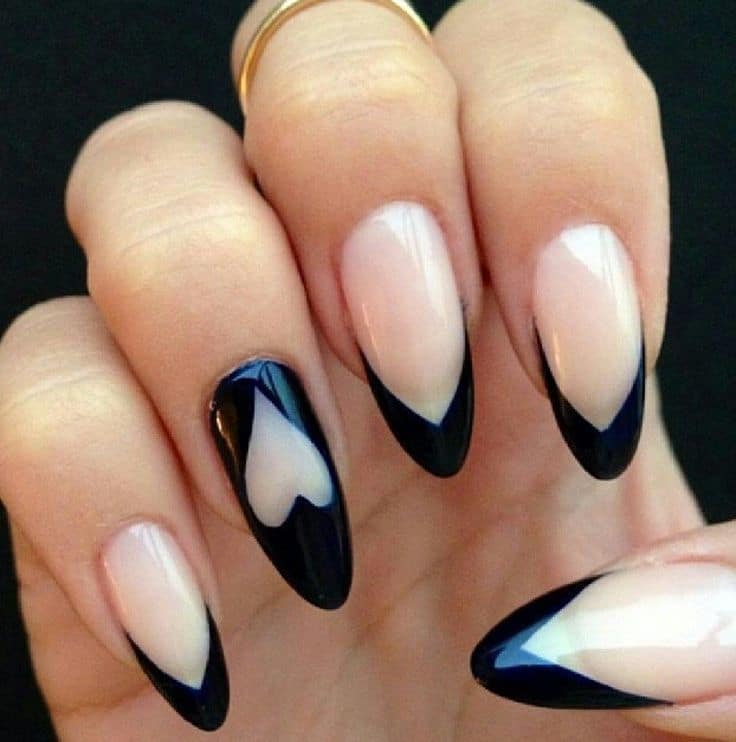 Since love is something we all need, how about we inspire you with some more heart pointed nail designs?
How to:
This is a simple black french manicure on the top, which we've explained previously how it's done, and the heart can be done just by placing a heart sticker in the middle. You can even put a base coat on the one side of the heart sticker, so it sticks onto your nails easier, and that prevents movement of the sticker while you are painting that black color on your nail. Remove the sticker and you are left with the perfect heart shape.
#6: Work Hon Work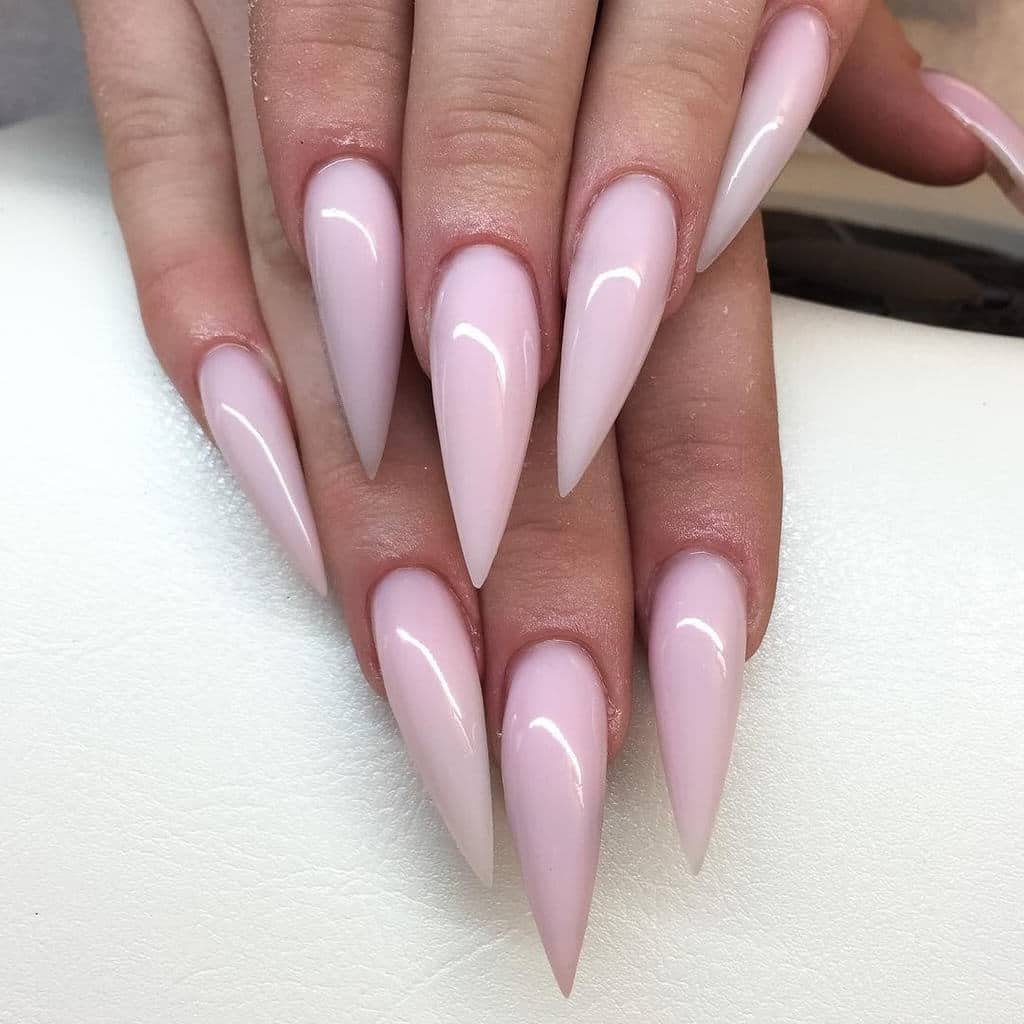 You've probably seen these at least once on someone. They are the ultimate party nails when paired with stiletto heels and a short party dress. Warning: License is required for these!
How to:
After applying your tips, or acrylics make sure you leave them as long as possible if that's what rocks your boats. Use a stir file and shape them til perfection.
#7: Black Shimmer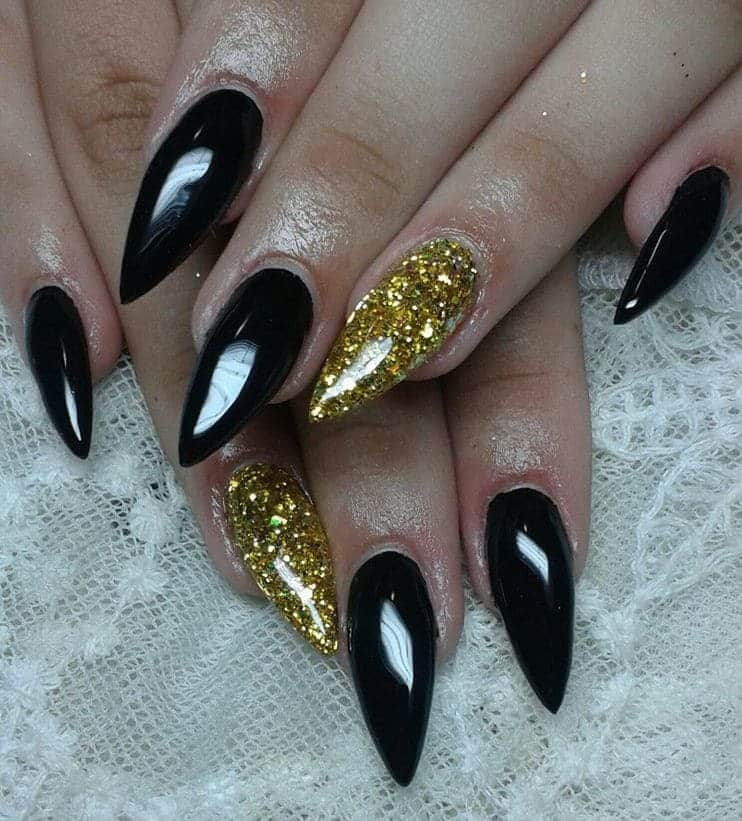 Glamorous black with golden details is a true hit when going out.
How to:
Paint eight of your nails black, and leave the two (preferably ring nail fingers) bare. Put a nude base coat on the two bare nails, and while the lacquer is still sticky, sprinkle some of the nail glitters onto them. Do it above the glitter container so that the residue falls directly into the container and you save the product. Glitter can be any color you prefer, just make sure you put a top coat on top of it after everything dries down.
#8: Black Edges Pointed Nail Art
How to:
Apply two coats of your favorite nail color, and after your nail polish dries completely, use a liner brush in order to make straight lines at the edges of your nails. We believe black looks elegant in this picture, but you can use whatever you like.
#9: Green With Gems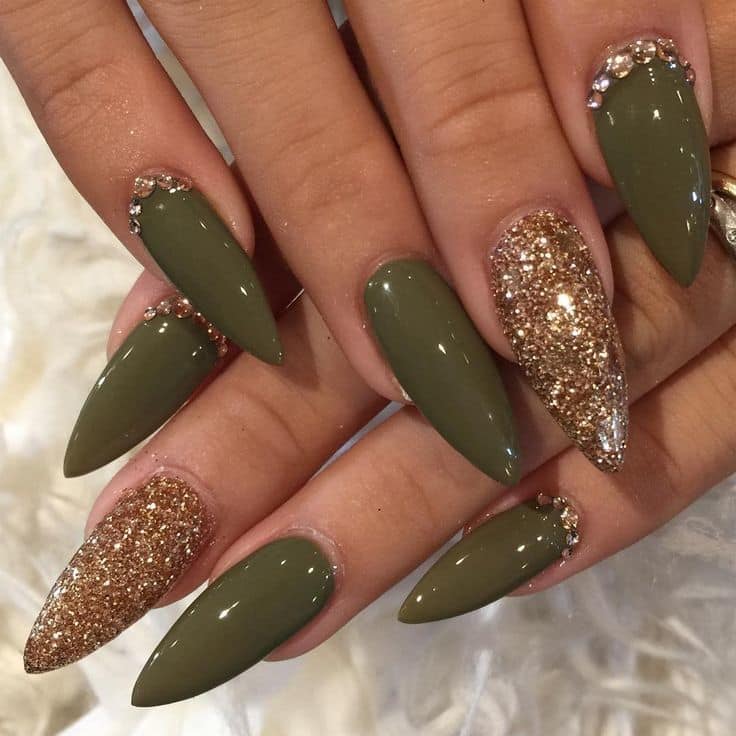 These are truly breathtaking. The green color is a symbol of nature, life, and energy while the gold represents richness, extravagance, and wealth. So if you get them done like this you can say that you are extravagant and energized lady.
How to:
Put two coats of a green nail polish on eight of your fingers, and leave two of your middle fingers bare, since that is where you'll be applying glitter. After the green nail polish dries down, use little nail gems, and make sure you have a strong glue. You can apply glue directly onto your nails instead of the gems if it is easier for you since gems demand precision. While the glue is wet, place the gems down and hold them about 5-8 seconds so they stick perfectly. And about the glitter, put a base coat, or a golden nail polish on your middle nail fingers, and then just sprinkle some glitter on top.
#10: Shine And Sparkle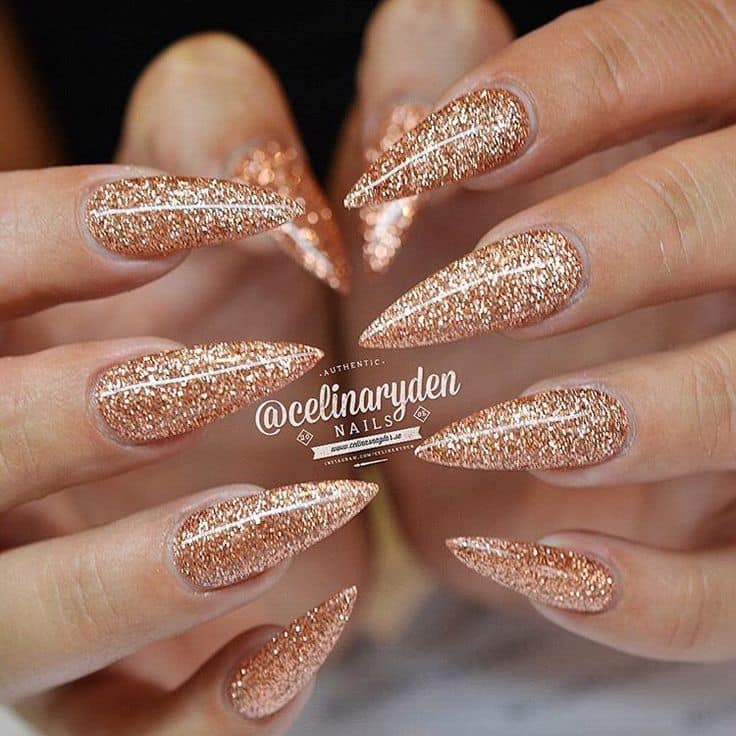 These pointed nails with pink and gold vibes are perfect for your sweet 16 birthday, or prom.
How to:
Apply a pink or a gold nail polish as your base. Per usual, two coats will do the trick. Then put a glitter nail polish onto the corner of a small sponge, it could be any type of a smaller sponge. The glitter that you will be using should either be pink (if your nail polish base was gold), or you should use gold glitter (if your base was pink). Dab the glitter onto your nails using that sponge and apply it in layers and multiple times for a fuller glitter coverage. Also, if you want your edges to be secured from the glitter, you can use 'liquid latex' to paint around the edges of your nails, but the trick works just as well with the PVA glue. And voila, there you have it.
#11: Cheetah-On Me
The stunning print women can't live without.
How to:
This pointed nail design is a little too hard for women to achieve since it demands a lot of arts and a still hand. For this design, we prefer either buying the nail stickers and sticking them down or going to your nail tech and let them do the job for you since cheetah is so demanding.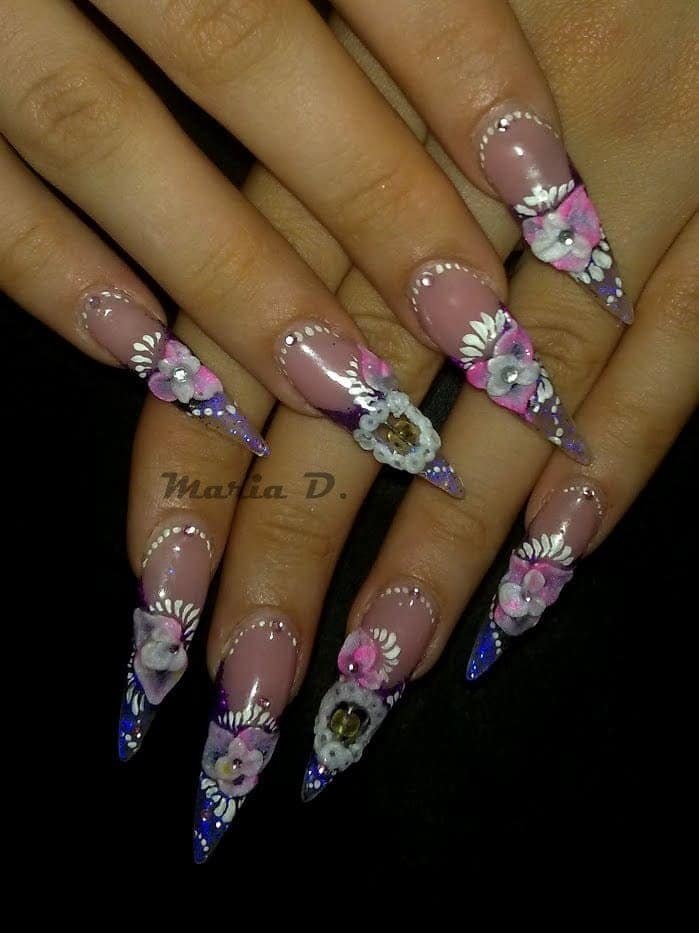 How to:
Get your tips, acrylics and shape your nails to perfection, it's about to get serious. After you've done all of the shaping and applying nail polish, use a detailing and liner brush to draw these flowers. Since the flowers can be per your will, and it's all about your own vision of the flowers we will let you go crazy and just have fun.
#13: Metal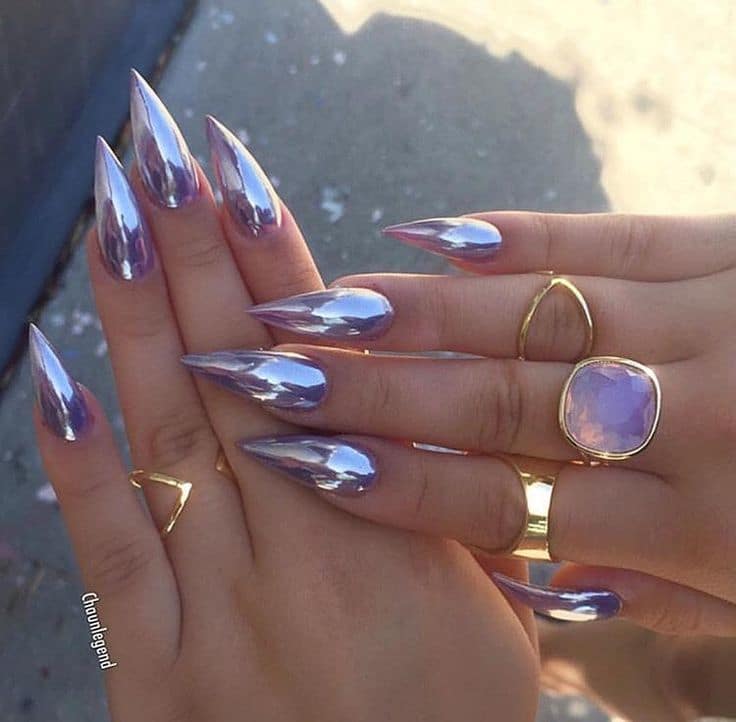 How to:
After you apply a base coat also apply school glue around your nails. This will help with the whole cleanup process, and you will be needing that. Apply two coats of UV-gel polish, then cure it. The first one should be cured about 30 seconds and the second one for 15. With your eyeshadow brush (an inexpensive one) tap on the powder. Dip it on to the nails starting off with the cuticles and working your way to the tip.
After all of your nails are coated get a foam applicator to buff in the leftover powder into nails. A kabuki brush will do the best job at this point. Tap off any excess powder and finish the whole manicure off with a typical top coat. Cure it under the UV lamp for 30 seconds. Once your nails have cured, it is time to slay the day with them!
#14: Sculpted
How to:
Apply your wanted nail polish on all of your nails except for those that require glitter on top. We've explained how you shape them, lacquer and apply glitter already. The only new trick here is this cute bow, and you can achieve it just by purchasing this cute nail accessory on Amazon and gluing it down. You can find them extra cheap on eBay too.
#15: Pink Metal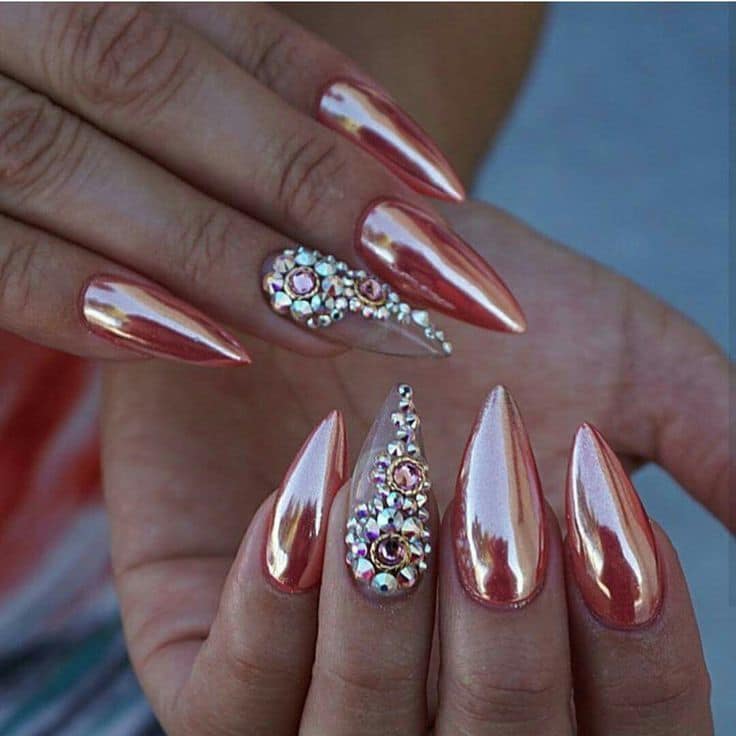 With this gorgeous pink pointed nail design, the process is the same like with the #13 design. The only difference is that you have some extra bling on this picture, which we've thought was stunning.
#16: Fire
How to: Burgundy base for this nail pointed design is an obvious one. You should use a matte nail polish because the burgundy color looks its best when it's matte. Apply some gems on your nails in order to make it look spicy. Don't forget your top coats in order to secure them.
#17: Prom Dance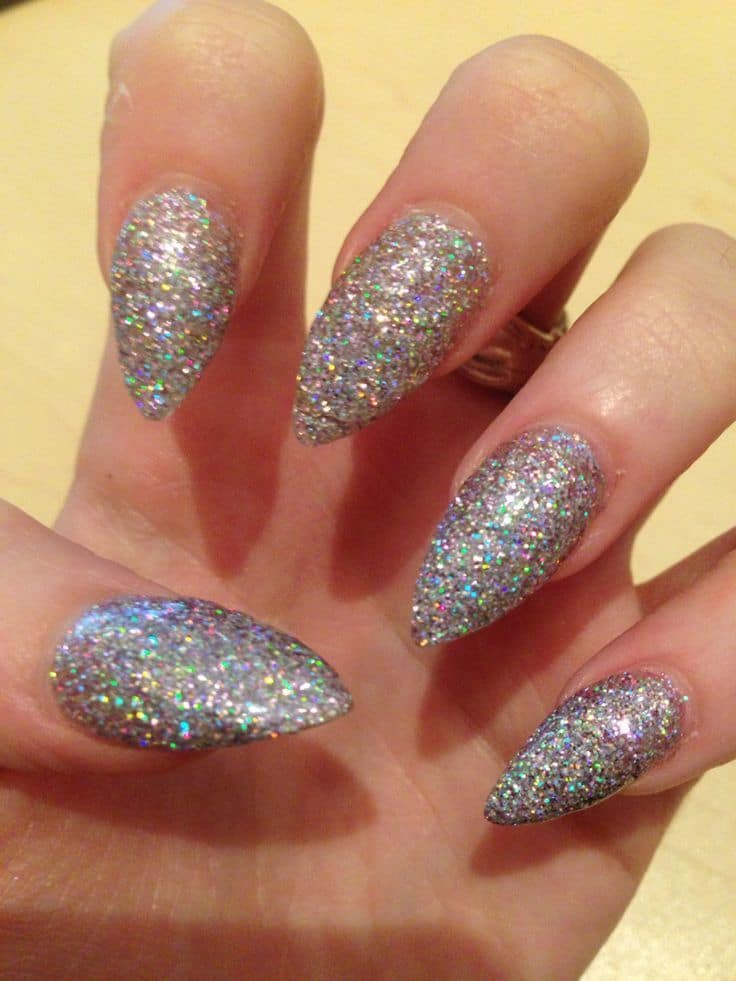 These perfect for prom pointed nails are a lot like our candidate on #10, so there is nothing much to be said about them, except that you should use white,
blue
and gray tones in order to achieve this.
#18: Palm
Palm trees are a hit combination during summer days. If you want to achieve these cute vibrant nails your best solution is the nail sticker, since the nails are so demanding. But if you want to be artsy, a liner and a detailer brush will help you out in creating these.
How to:
Paint your nails in an
ombre
way, while gradually building from one color to another. In our case, we've used yellow, blue,
red
and green. Don't worry if it doesn't look perfect since you will be drawing a palm tree on top. With your black nail polish draw a few straight
lines
to get the trees, and then use a liner and a detailer brush to get the leaves. Have fun being all Hawaii.
#19: Glue It
When everything betrays you, be your own savior! If the manicure you've ended up with at the salon isn't that appealing or if you were in a hurry and didn't get on time to the salon, or you didn't want to spend a lot of cash, then try out press on nails.
How to:
Use a nail file to give your nails a good smooth edge. Push back your cuticles with a cuticle pusher, so that way you make sure you are gluing the fake nails onto your nails and avoiding the skin. Apply the glue and press down your nails for about 5-10 seconds. That easy.
#20: Masterpiece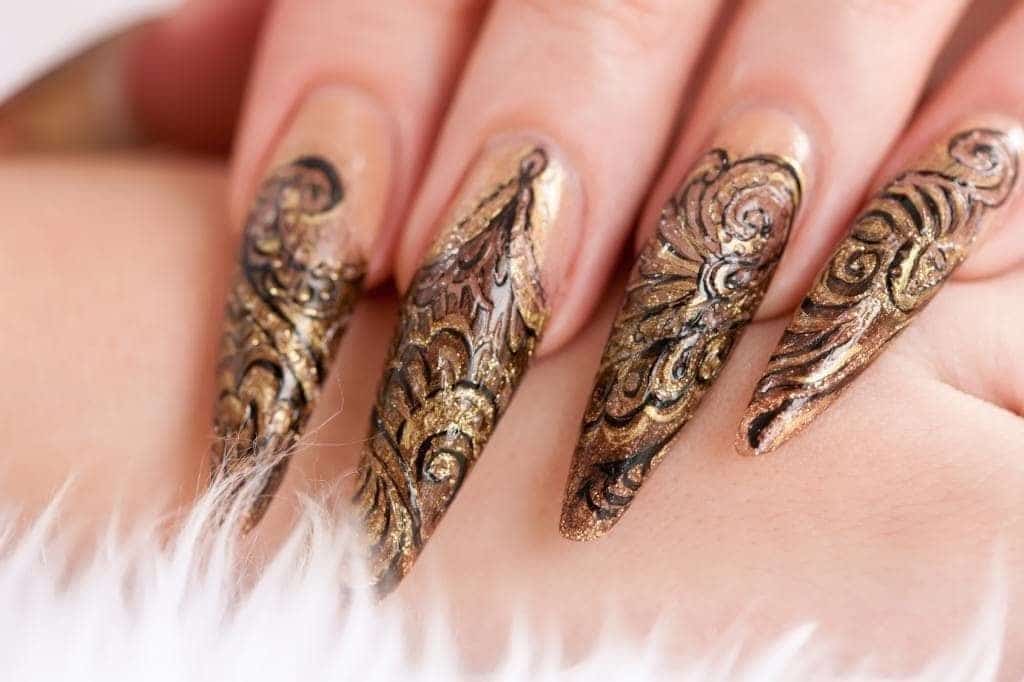 As the name says, these are a true masterpiece, and in our opinion the hardest ones to achieve on our list. This pointed nail design looks so unreal and glorious, so if you fall in love with them, just go straight to the salon, don't mess around with these.
Fabulous Pointed Nail Designs to Try
There you have it 20 unbelievably gorgeous pointed nail designs for your special occasions and events. Uniqueness is guaranteed with these, so choose smart.