Squoval is the combination of square and oval, likewise square round is the combination of square and round nails. Once the shape is determined, designing them correctly comes into question.
Adorable Designs for Square Round Nails
We have tried to depict the most exciting designs for your square round nails.
#1. Crimson Charm
This design is so appealing. It creates the notion of love and affection when you look at it. You can use the charm of crimson red as the focus color. White dots on a black base and black dots on a white base can be the perfect associates to complement the charm of crimson red on your square round nails.
Love It Short? Try Short Oval Nail
#2. Negative Space

Keeping negative spaces in between different patterns is a convenient way of designing nails. You can use black and white patterns on nude colors for this design. Keep negative space so that they enhance the beauty of your black and white square round nails.
#3. Cross Colors
A colorful display of nails is always admired by the professional nail techs. You can have dis design by drawing a cross in the middle of your nail beds. Then paint the three quadrants of the cross with different colors. Keep one quadrant white as the base coat. The cross colors design is ready for your square round nails.
#4. Diamond Cuts Diamond

"Diamond cuts diamond" is a popular prove saying that you will find the perfect match for yourself in any way. This design is something like that. If you are a diamond lover or you want to shine like a diamond, this is just for you. Draw the images of diamond on sky blue base and use silver glitters to give the glitz it deserves.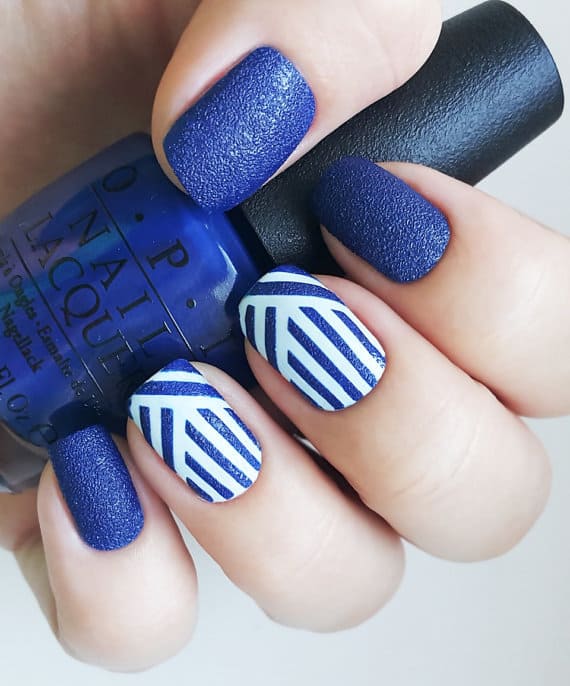 Navy blue is a striking color as usual. You can add extra shine to it by using glitters. Draw striping patterns for this design with white color. The pure white color looks so dazzling on a glittery royal blue base coat. That will do the trick to have dashing square round nails for you.
Always be careful while designing your nails. A simple mistake or a slip of the hand can ruin your long-desired designs for your favorite square round nails. Watch our designs and ideas as illustrated in this article. Apply them using your creativity for diverse and beautiful nail designs.