Marble nail designs not only look fantastic, but they are also pretty easy to make because all you have to do is dip your nails into a water bowl that has floating nail polish.
New Ideas of Marble Nail Designs
The most exciting thing about these designs is that they are versatile and you can mix them just the way you please.
You can reproduce this effect on the whole hand or only on one single nail; it's up to you!
#1. White Marble Nails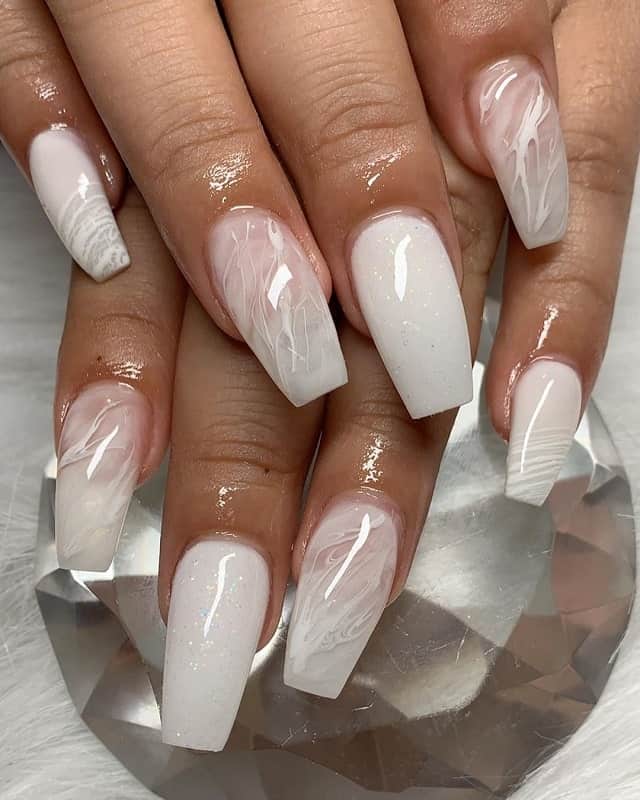 You can stare all day at these mesmerizing nails! They bring your mani game to a whole new level and you don't need to be an expert to recreate them. Add some glitter to spice things up.
#2. Black Marble Nails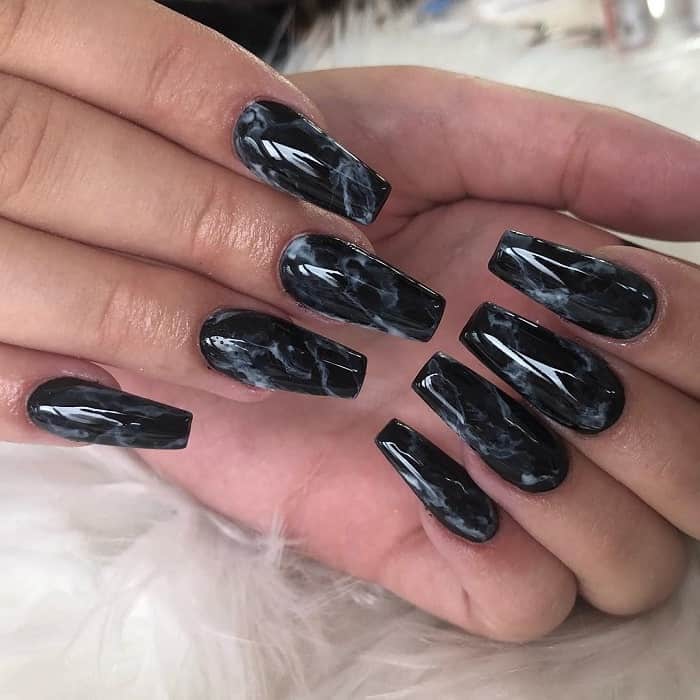 For this unique and elegant mani, you need to paint your nails black and use a white and black polish mix for the water bowl. Add a topcoat, and you are ready to amaze the world.
#3. Blue Marble Nails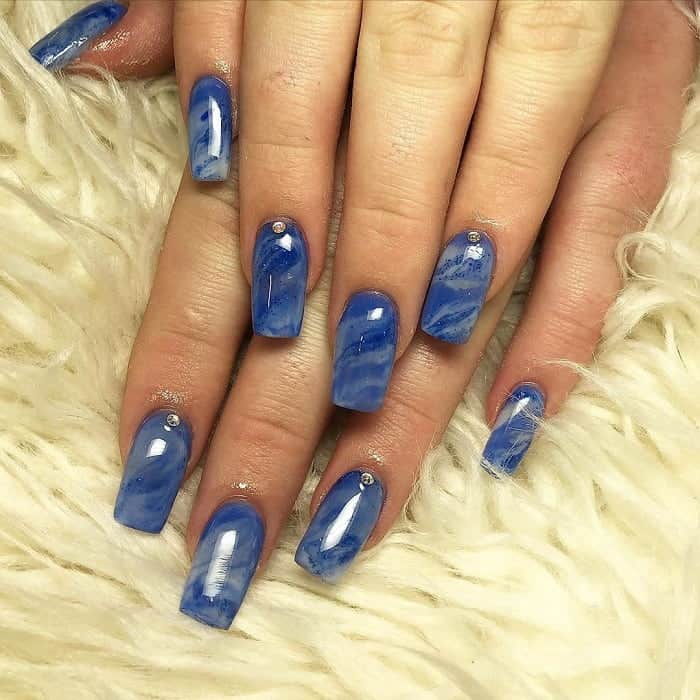 Mix blue and white nail polish one on top of the other, swirl to create the marble effect, and apply it on your nail. Decorate them with some discreet rhinestones.
#4. Marble Coffin Nails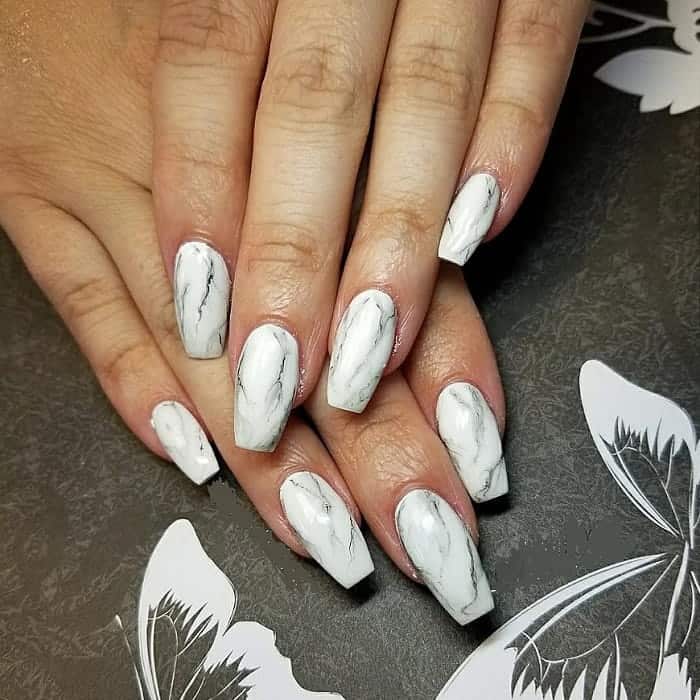 For these marble nails, white is the predominant color, so make sure you only use just a tiny amount of black nail polish.
#5. Red Marble Nails
Make your nails shine like never before with a glossy topcoat! It will make that beautiful black and red combo stand out.
#6. Nude Marble Nails
#7. Purple Marble Nail Design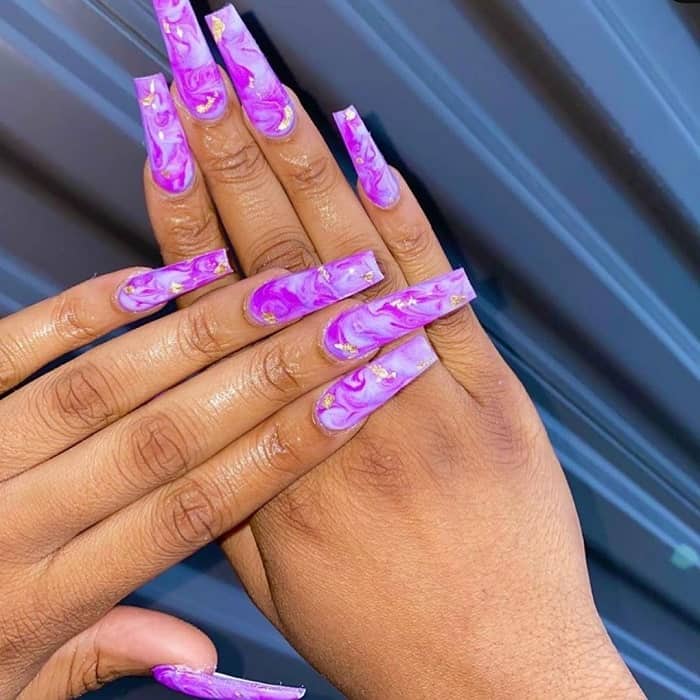 #8. Grey Marble Nails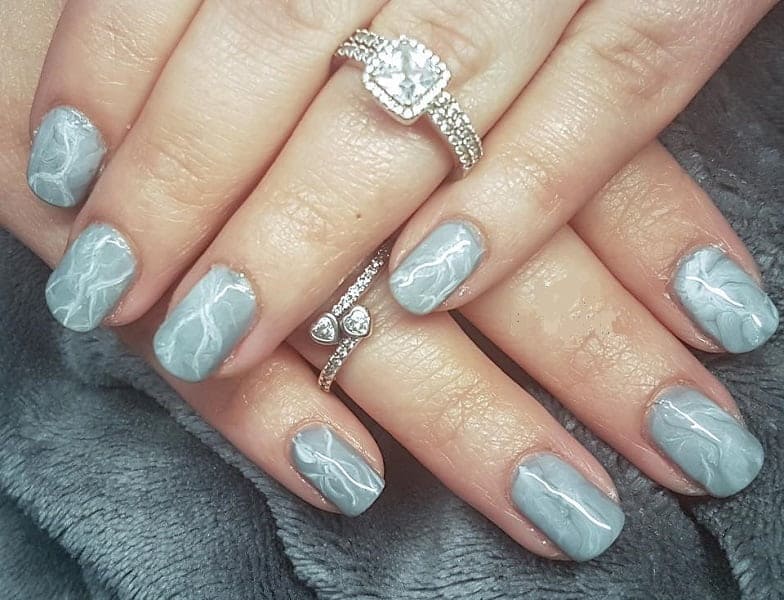 #9. Clear Marble Nails
#10. Marble Stiletto Nails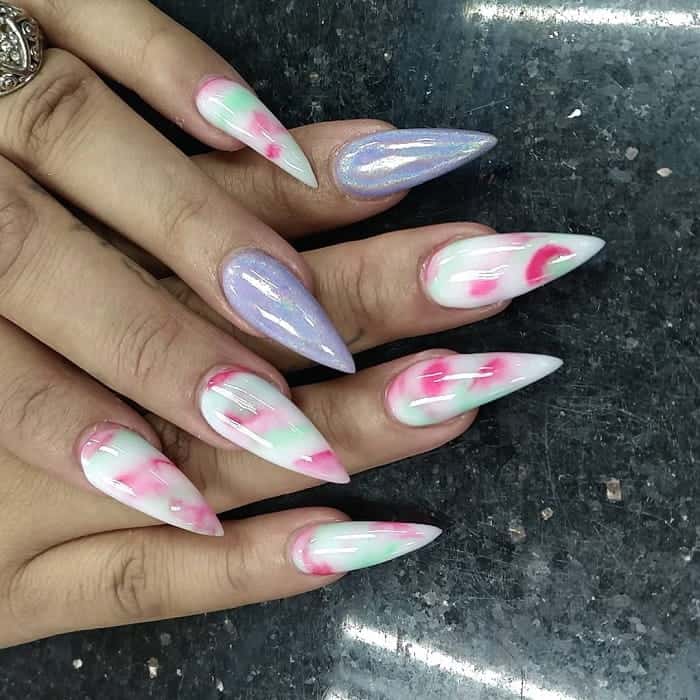 #11. Marble Toe Nails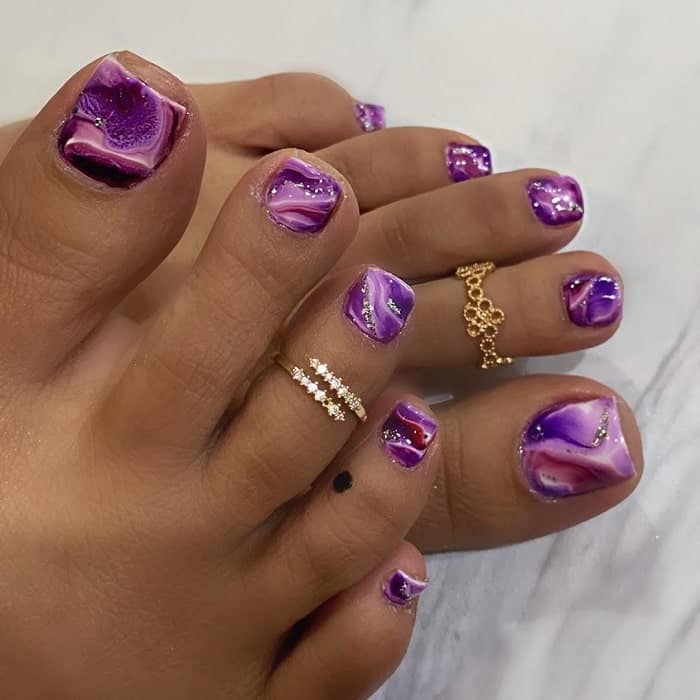 #12. Marble Accent Nail Design
#13. Burgundy Marble Nails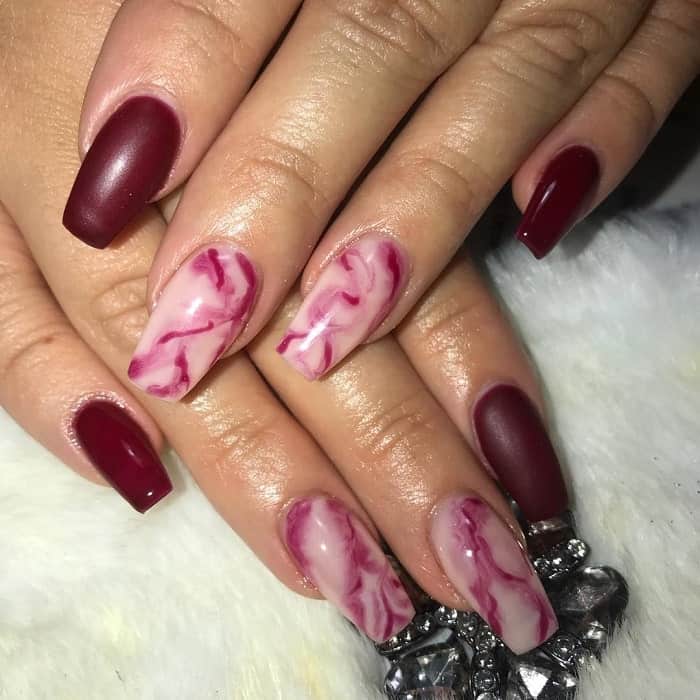 #14. Yellow Marble Nails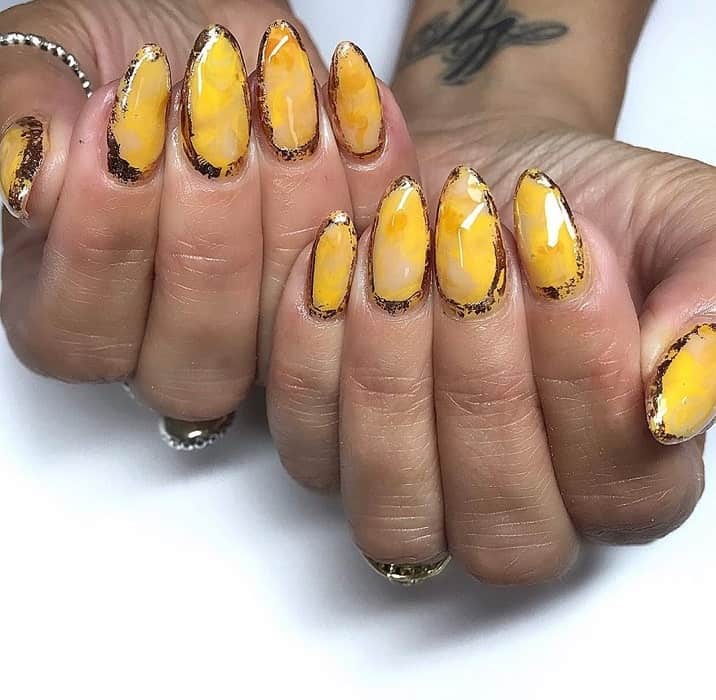 #15. Floral Marble Nails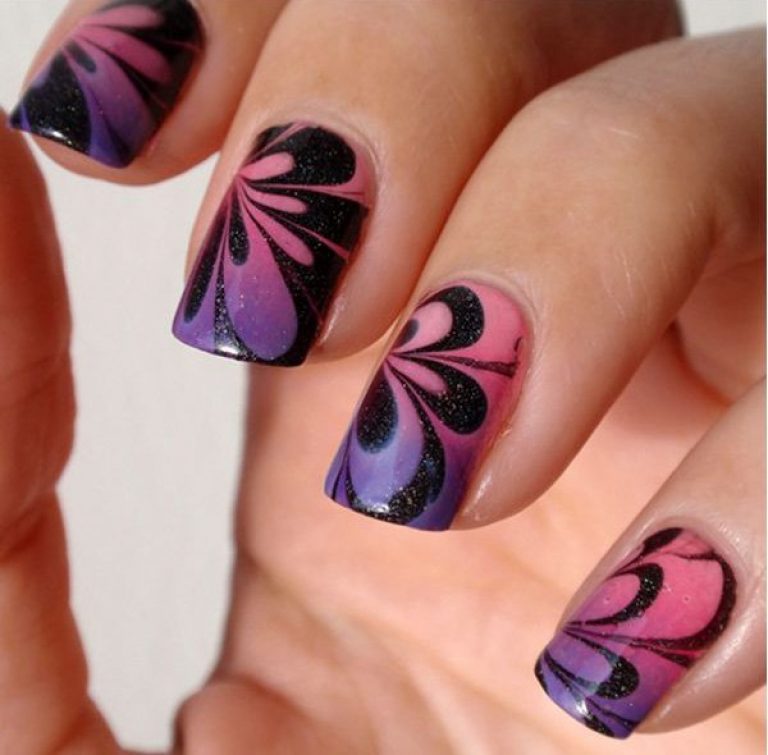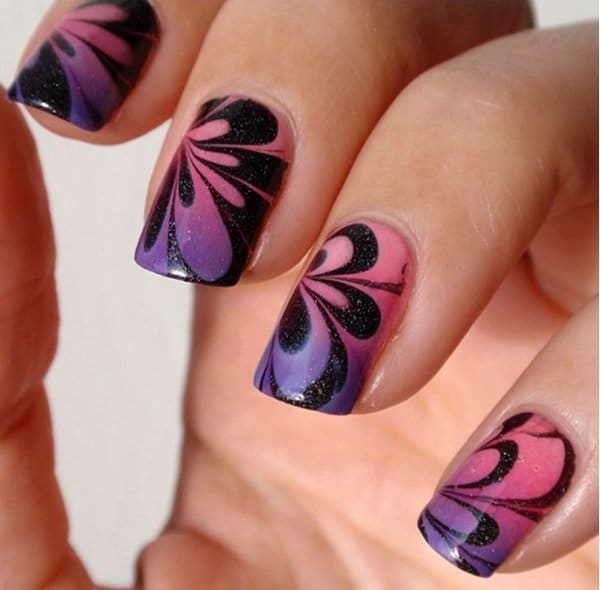 A perfect rose, purple, and black flower-patterned water marble nail design mastered simply by dragging the toothpick to the center of the color rings.
Finally, varnish your marble nails with a coat of shiny silver dust.
#16. Green Rhythm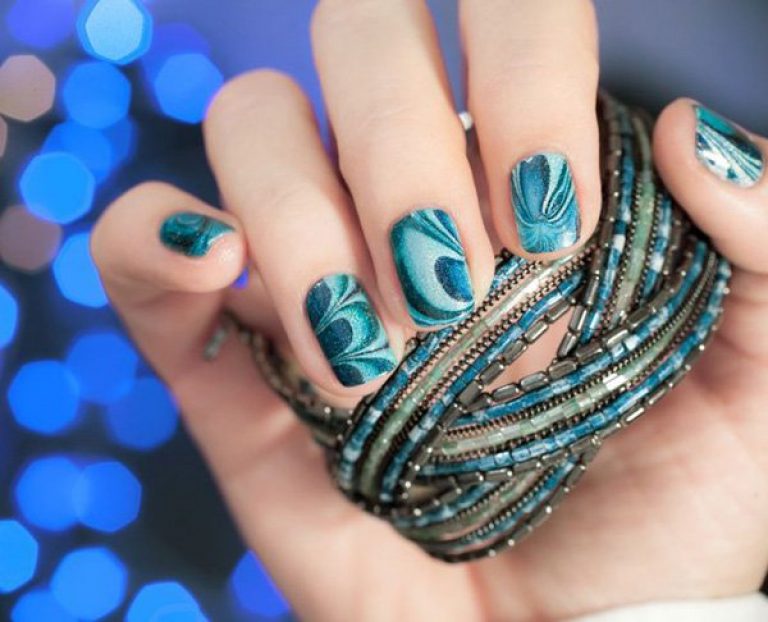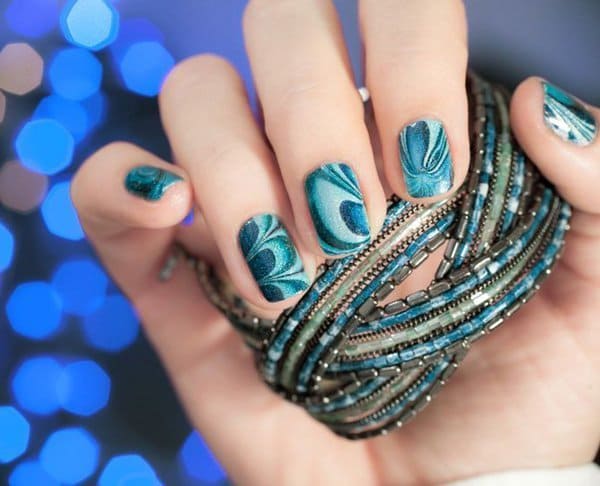 A rhythm of shades in forest green created in this flower marble design and dusted up with silver glitter for a final attractive appeal.
#17. Dancing Lights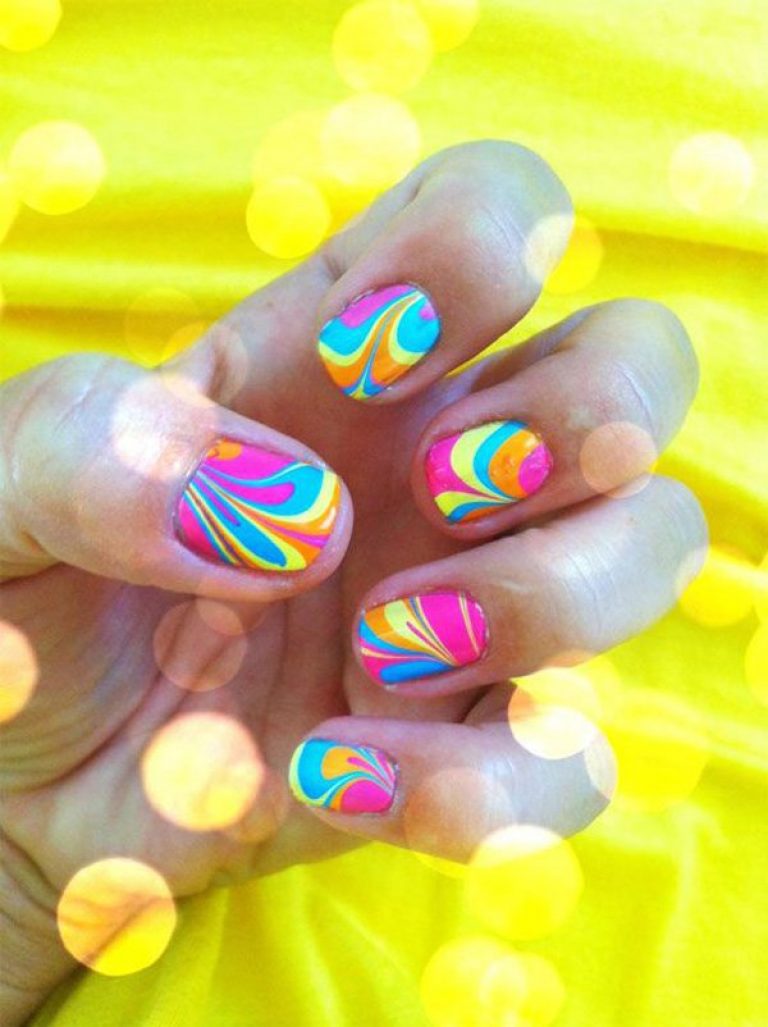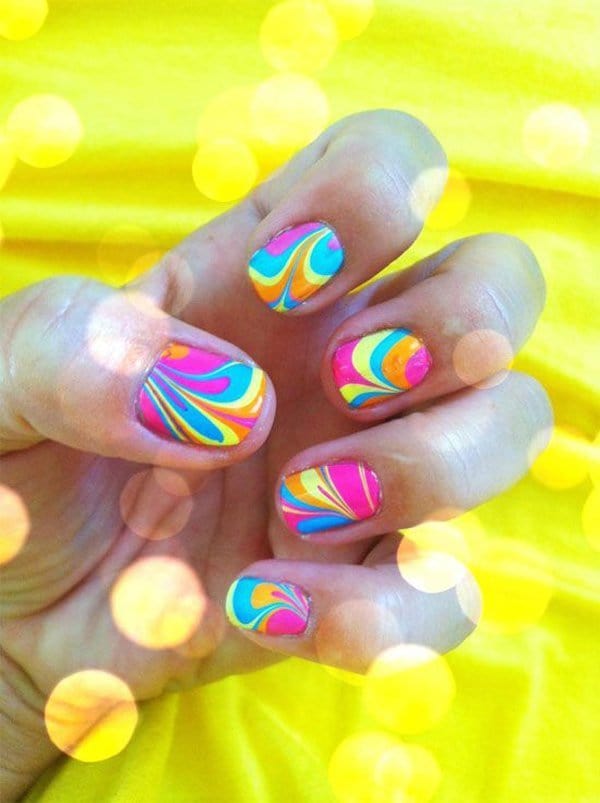 Have some fun with colorful shades of neon yellow, blue, pink, and orange on your water marble nail design.
To match those dancing disco lights on your girls' night out, create this marble nail design!
INCREDIBLE PURPLE NAIL DESIGN IDEAS
#18. Black and White Marble Nails
Choose the famous contrasting couple black and white for your marble nail style, for a vivid sensation of real marble on your short pedicured nails.
Finalize the design, with a glossy nail polish coat to accent real marble texture.
#19. Marble Imported From France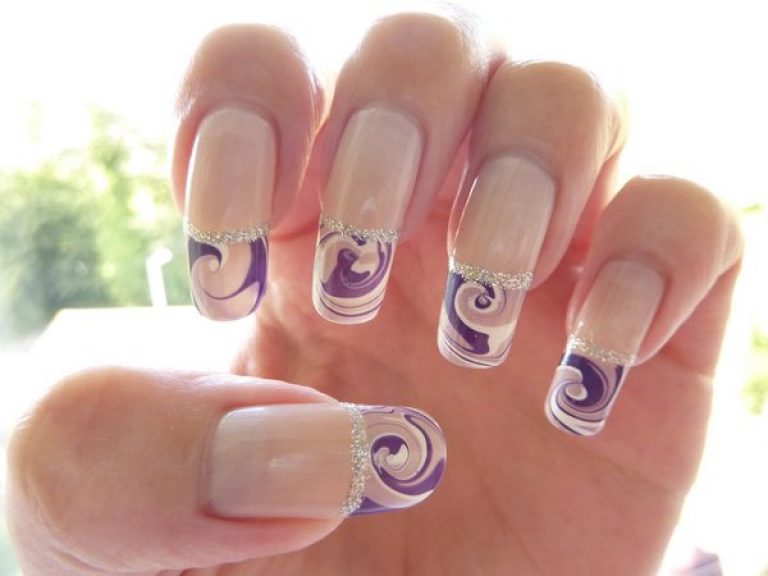 The classy new approach to marble nail design when creating pearl and violet spiral patterned water marble tips, lined with silver gradients on top of a matte nude base coat.
#20. Hypnotizing Swirls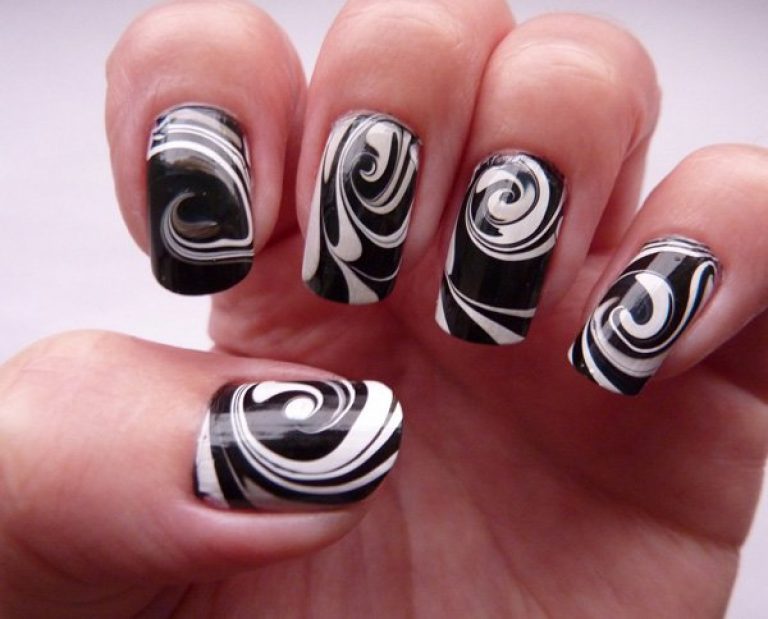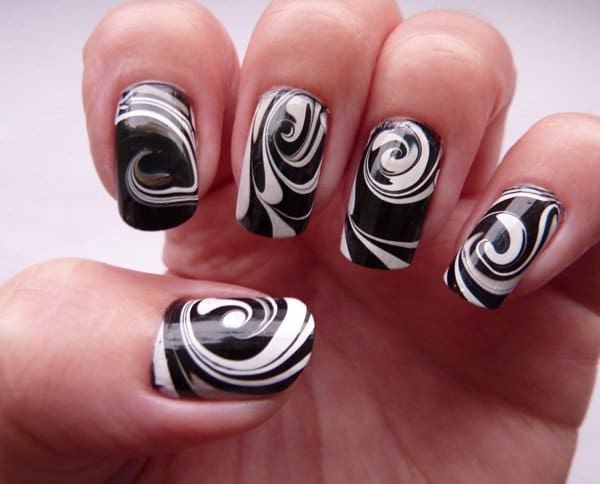 Catch everyone's eyes and hypnotize them with swirling white patterned marble nail design on top of a glossy black background.
#21. Flower Patterned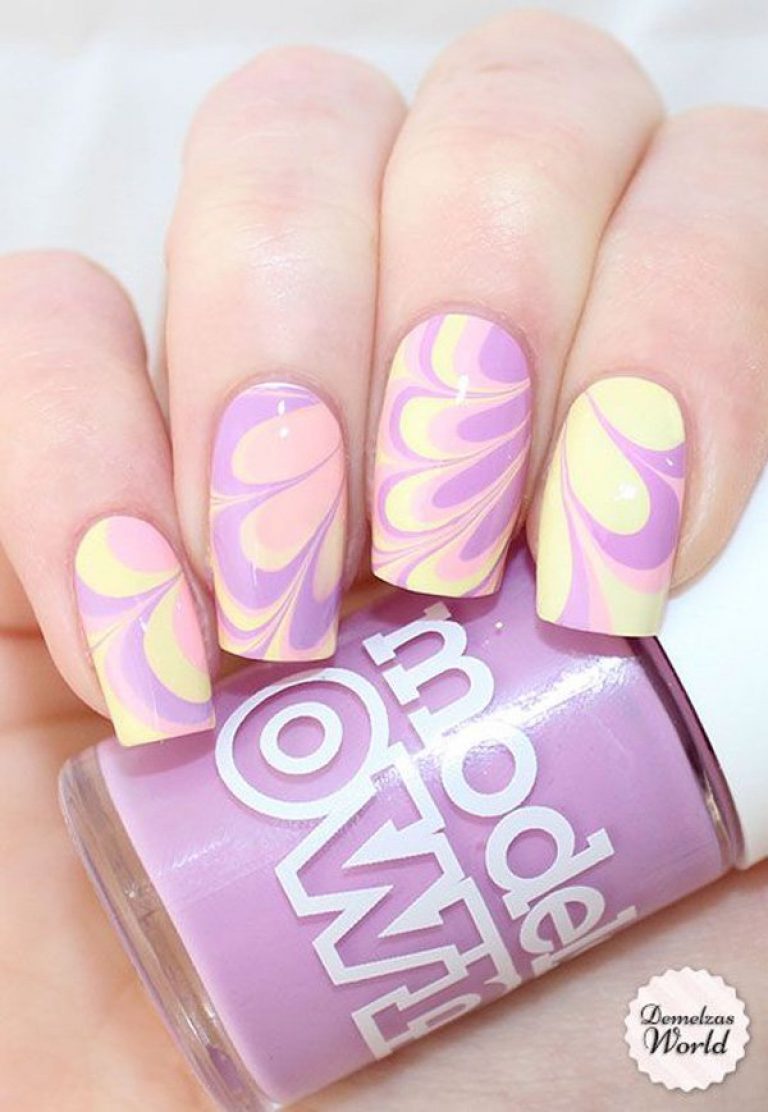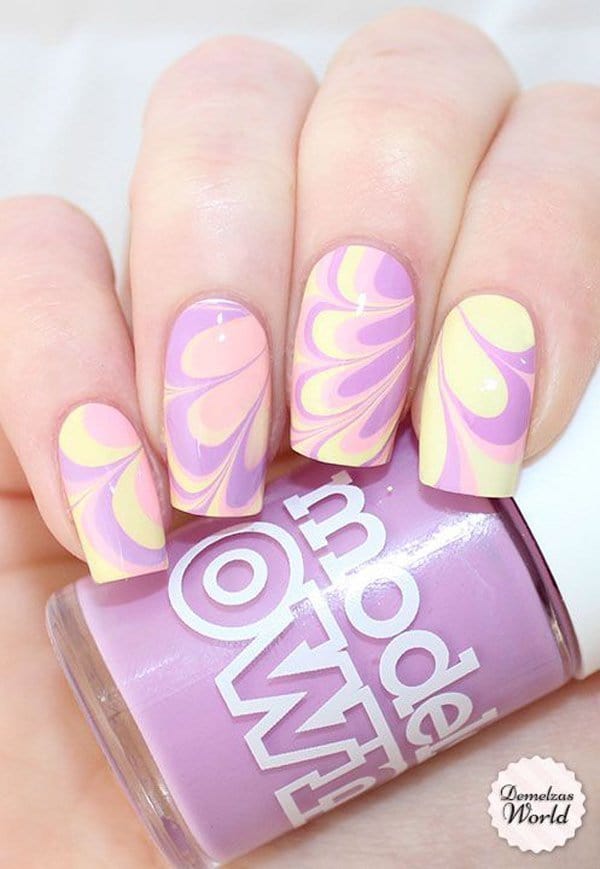 Nothing accentuates those perfectly pedicured long square nails such as adorable pastel colors; baby pink, yellow, and periwinkle infused to create a flower-patterned marble nail design.
#22. Colors vs. Black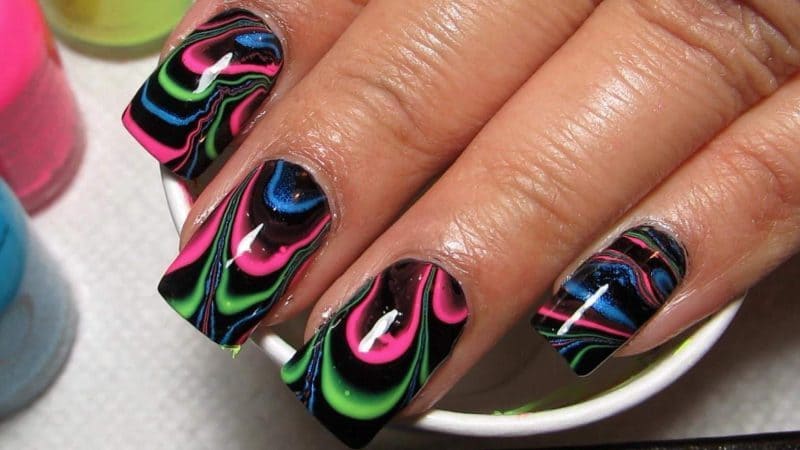 Choose a variety of colorful shades of pink, green, and blue for your marble design. And stand out with a Marble spectrum fading against a glossy black base polish.
#23. Fierce And Fun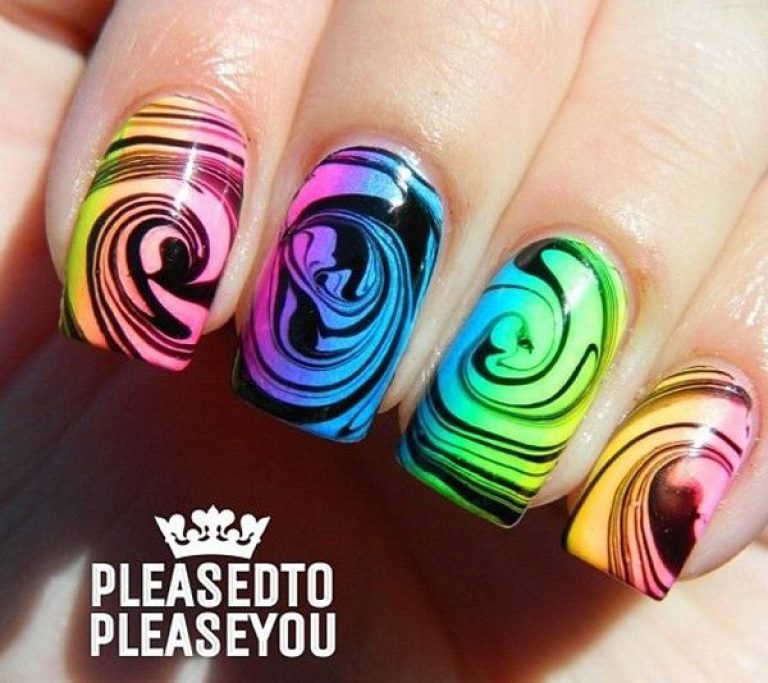 The neon swirling pattern on top of a black background for a bold daring water marble nail design.
A design that doesn't lack fun as well, after all, playing with all these colors won't suit just a fierce spirit but a joyful childish one as well.
#24. Rainbow Splash Marble Design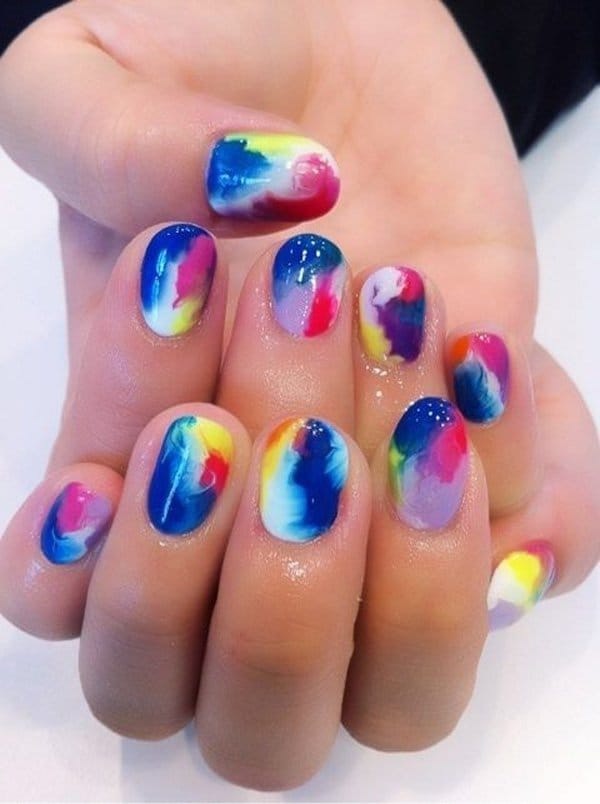 Get childish when mixing up your nail polishes in that water bowl. Spill a splash of each and every shade you've got to get this colorful canvas as your marble nail style.
#25. Attitude Nails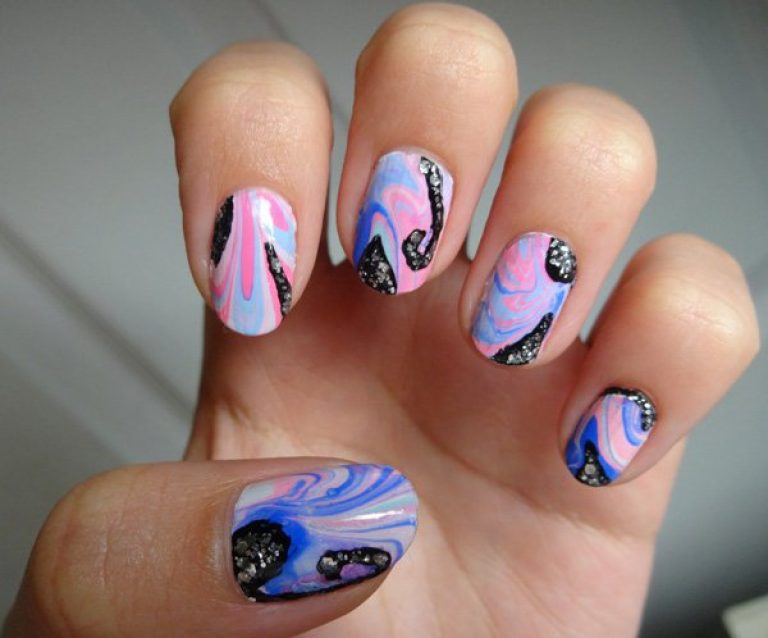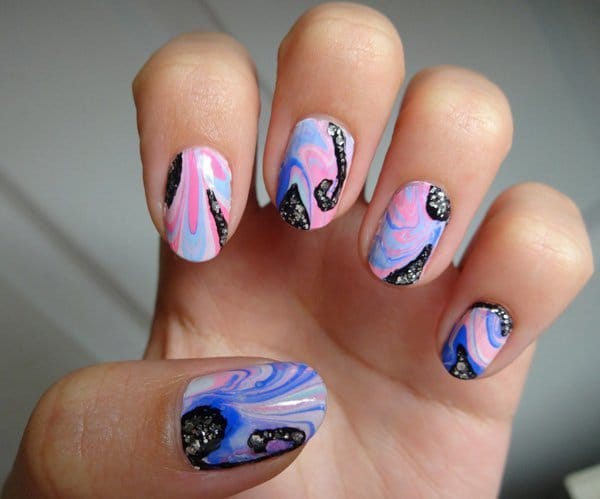 Choose a harmony of shades; blues and pinks to match your perfectly tanned skin tone to create your preferred marble nail design.
With this splash of glitter, your marbles will certainly get from sweet to sexy!
#26. Cotton-candy Nails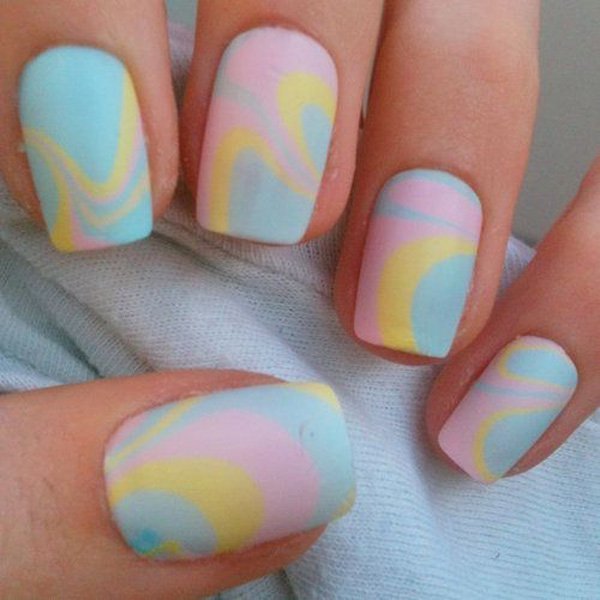 Just like those melting marshmallows in your hot chocolate and the carnival's cotton-candy, these nails are sweet.
In cute and adorable shades of yellow, light blue, and pink create this marble design.
#27. Short Marble Nails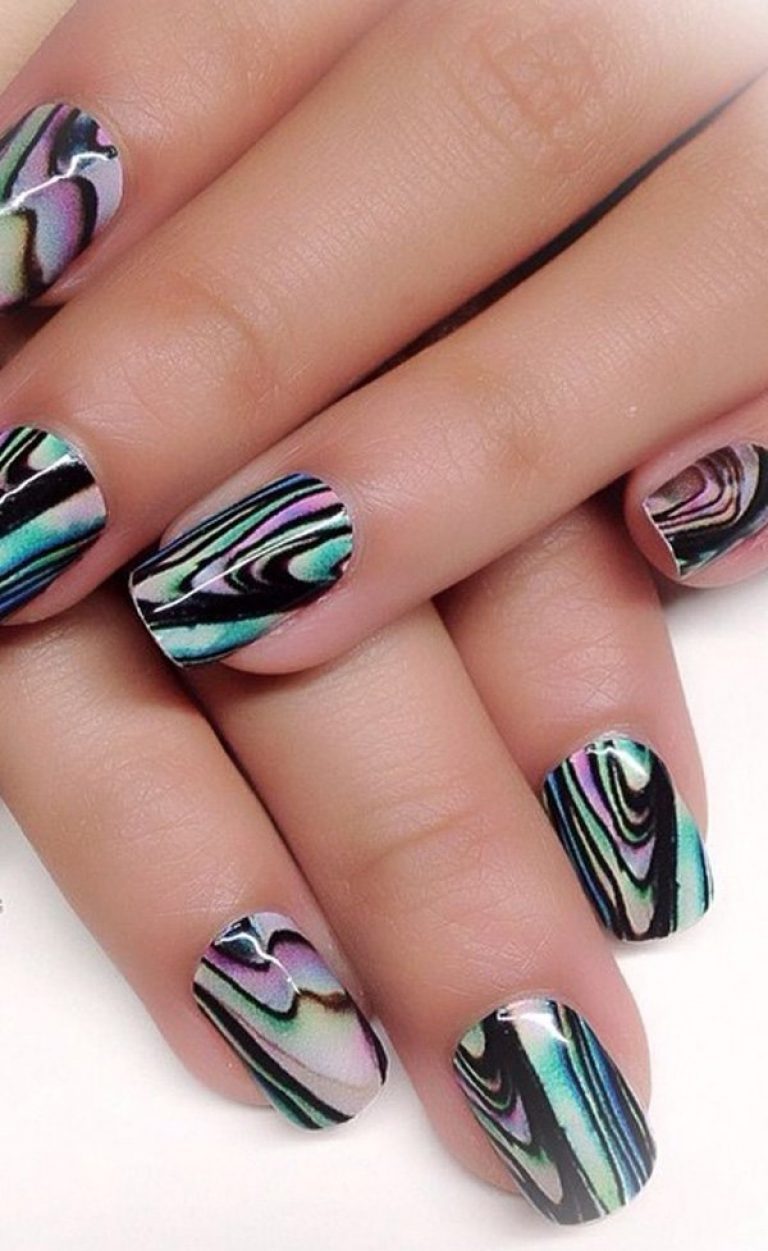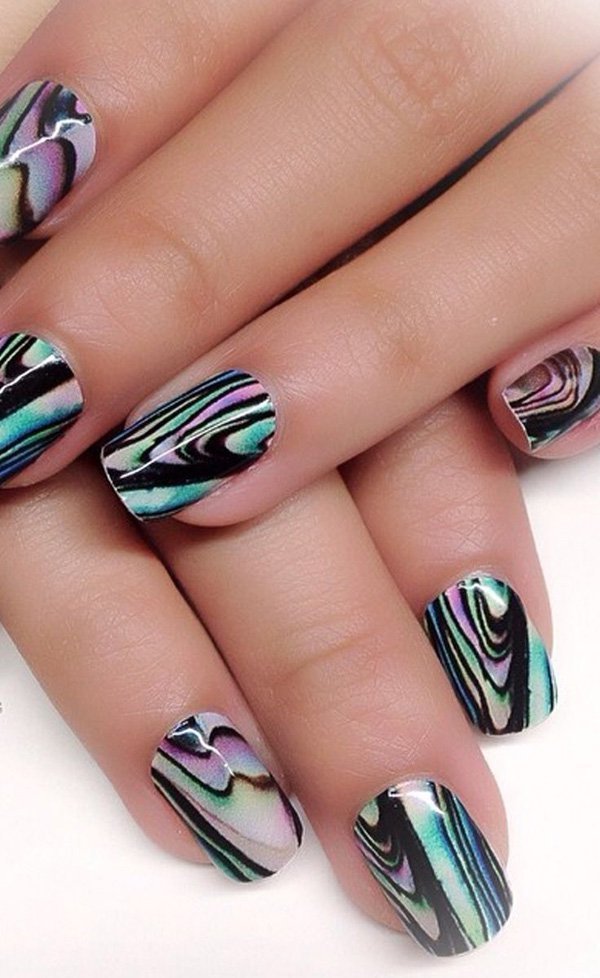 Get your favorite dark and deep tones matched up to create this abstract pattern of water marble design, on top of your black varnished short nails.
For a style, classy and warm matching your cozy outfits on those cold winter days.
Beautiful Nail Designs With Diamonds
#28. Striped Marble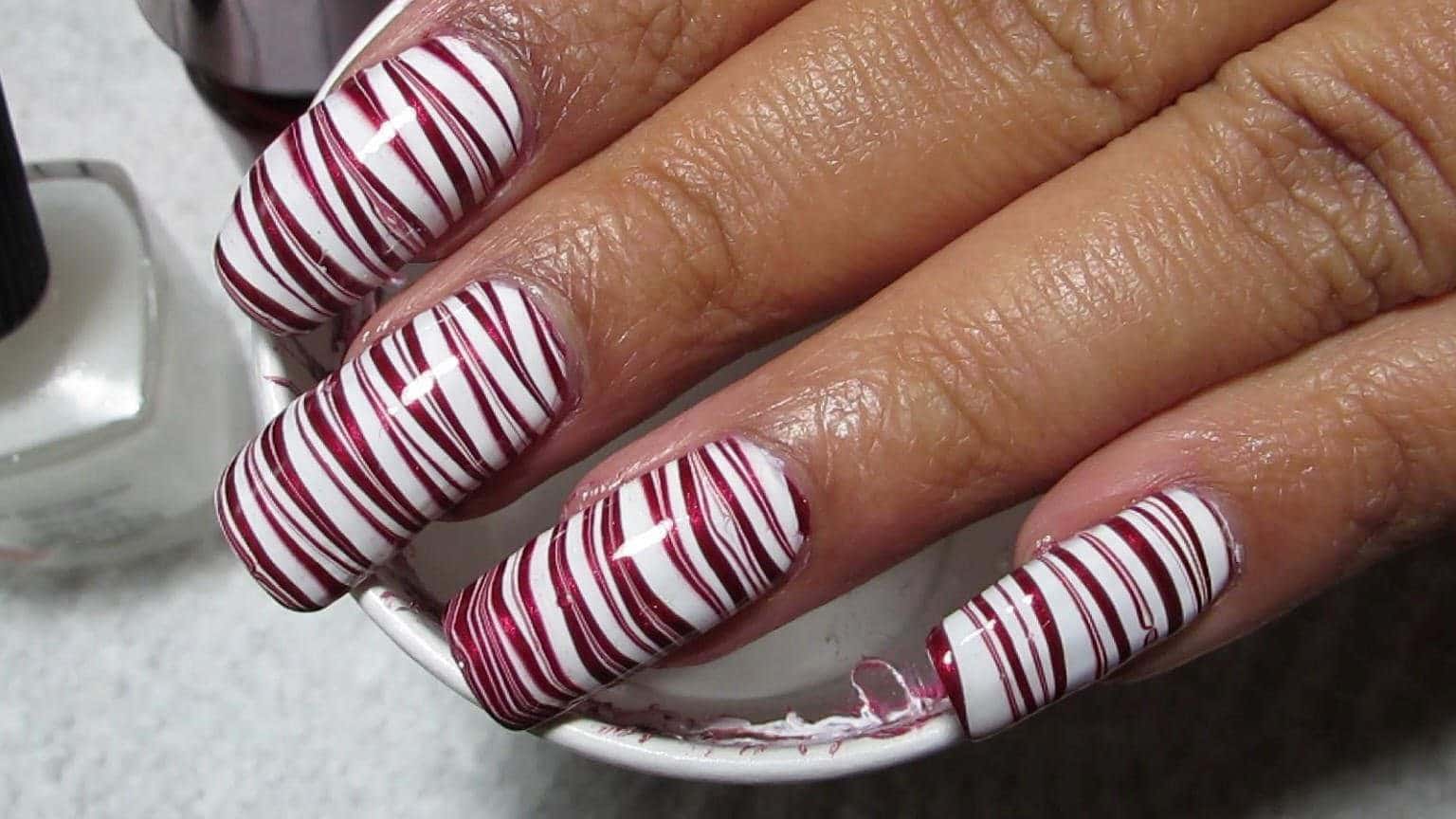 Leave those circles of wine red polish untouched in that bowl of water until you dip your white based nails, and that's the key to getting those random lines designed on your long square nails.
#29. Girly Marble Design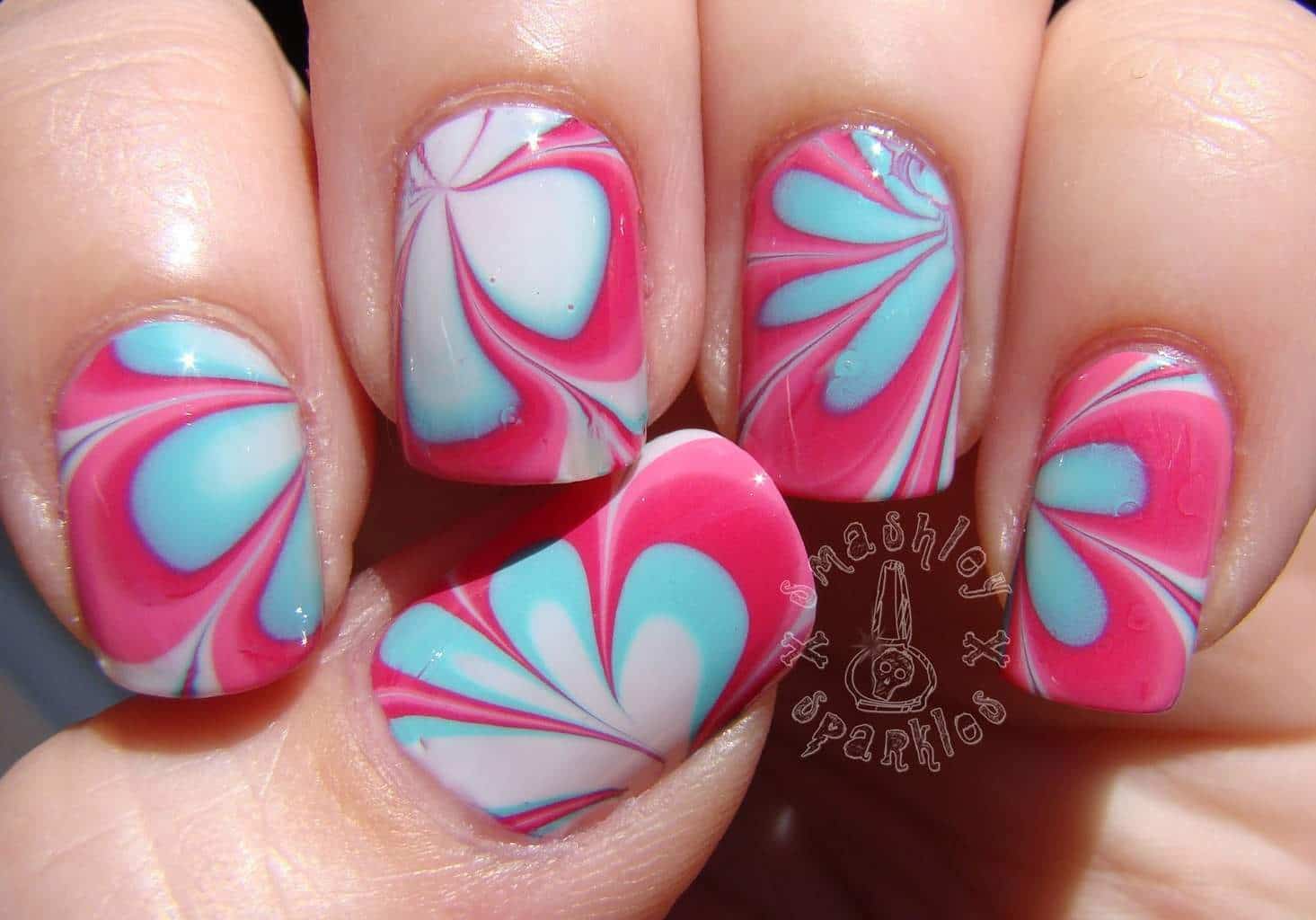 Unveil the girly girl you are, and let it shine with this feminine floral marble nail design. Select colors such as hot pink, sky blue, and white and you'll never escape cute and pretty nail design.
Water Marble Nail Designs
#30. Heart Water Marble Nails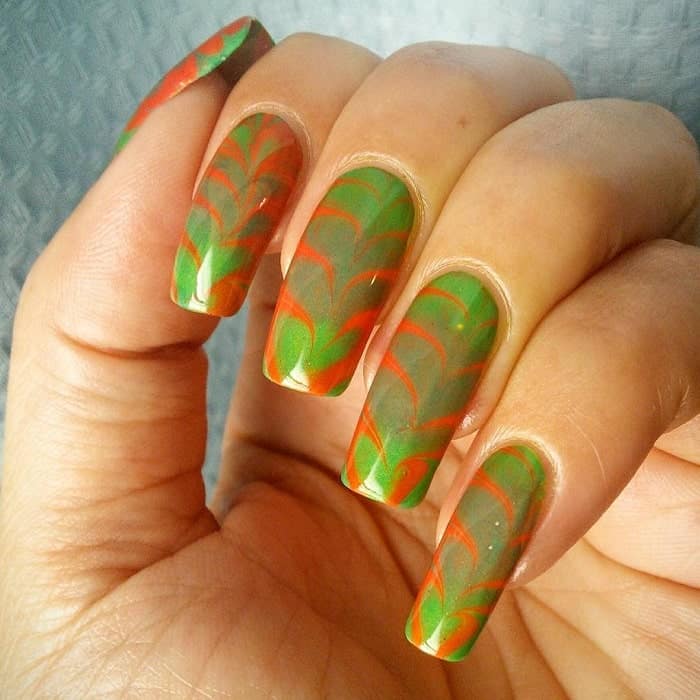 #31. Galaxy Water Marble Nails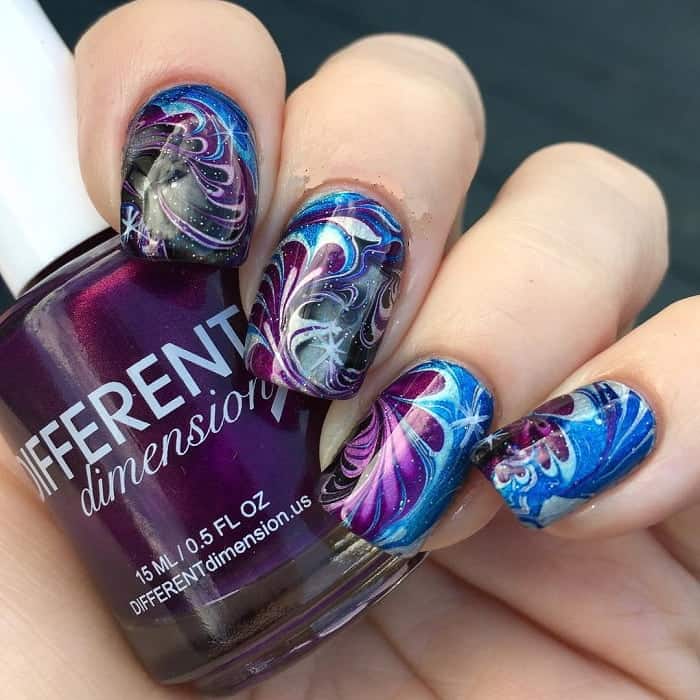 #32. Matte Water Marble Nails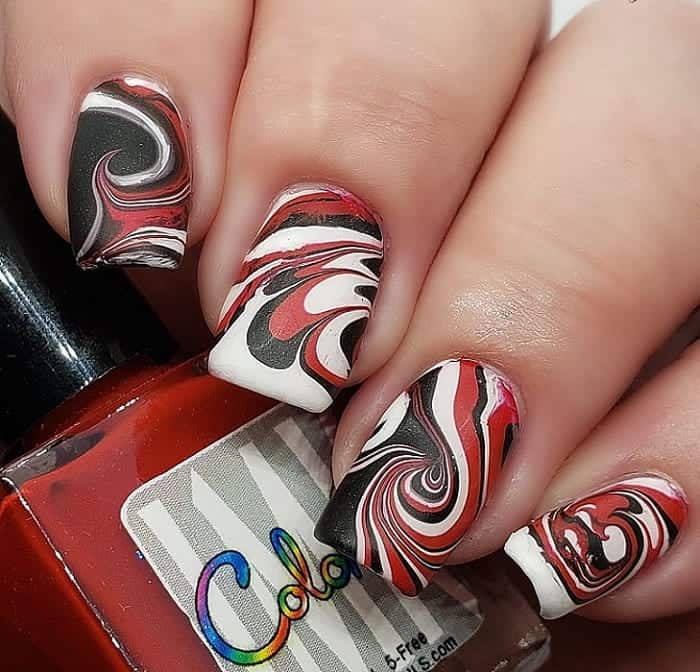 #33. Water Marble Nail Stamp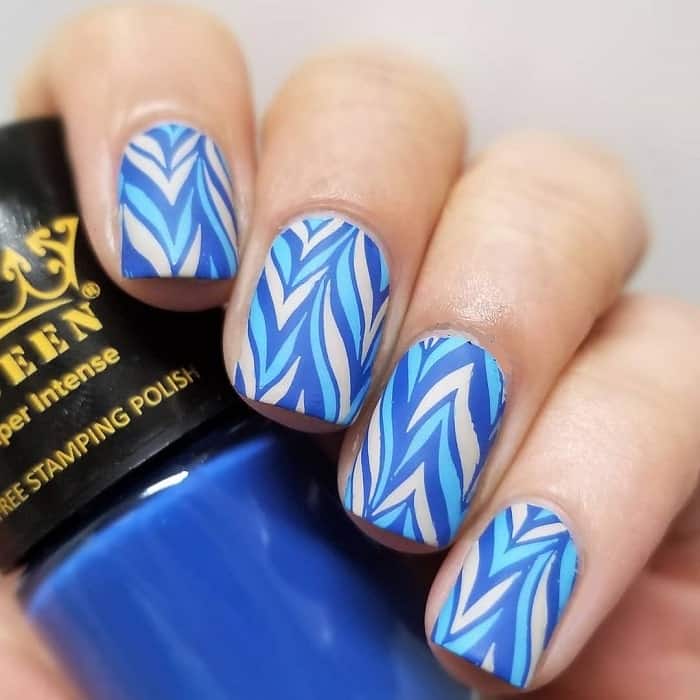 #34. Green Marble Nails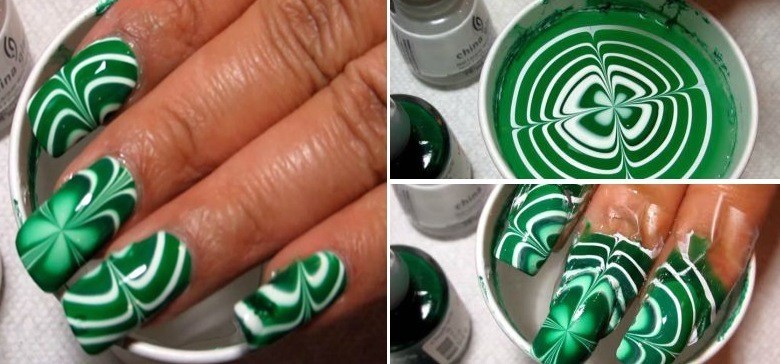 Here is a great example of how the nail polish mixture should look like before you dip your fingers into it. It is all just about having fun and being as creative as you can get.
This water marble nail design in green looks like it could bring you some good luck charm, and we are all about the joy and positivity.
Create Mirror Nails – 5 Easy Steps
#35. Pink Marble Nail Design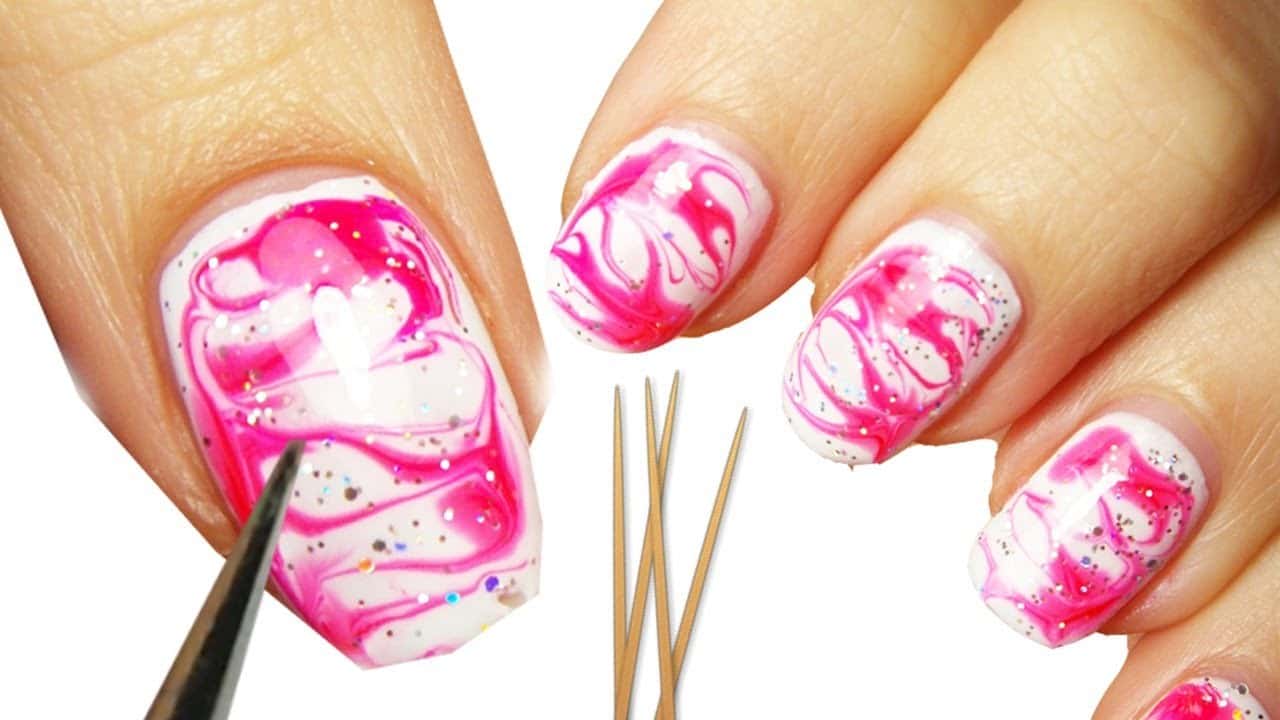 This picture just shows us that you can do a lot with a regular toothpick. The lines on this design are so delicate and precise, someone probably spent hours creating this.
In case you have patience and if you have a mind of steel get creative. Also, if you love pink color hop on board.
#36. Rainbow Marble Nails
They say that rainbows are a good luck charm, and they are probably right. This super bright water marble nail art is something you don't see daily. If you want to stand out in the crowd and if you love bold options, go for this lucky number three.
#37. Ocean Blues
Baby blue color is something that men and women love to wear. Luckily, it is a unisex color. Women know that men are jealous of this nail design, especially because of the color.
Ladies, just show them how beautiful a water marble nail art can be. They will wish to be you just for a day.
#38. Water Marble Gel Nails
You will probably struggle a lot if you try to recreate this masterpiece, but if you master it, you will see that it was worth the struggle!
These nails are so colorful and just perfect for the spring. You can, as seen in this picture, put a shiny top coat over any of your designs. It just gives the nails some additional sass and glossiness.
#39. Marbled Acrylic Nails
Light purple color with a yellow tone and just some glimpse of pink is so stunning! This water marble nail art is perfect for younger girls, or just women who don't like those brave and bold colors.
This design can totally work with any outfit or piece of jewelry you have on, so that is also a big plus.
#40. Marble Nail Art for Halloween