20 Bright Yellow Nail Designs for the Playful Hearts
Once there was a time when the girls were not that much into nail designs. But, nowadays, this is an integrated part of their day to day lifestyle. Nail designs get equal and, sometimes, more important than their outfits. There is no rule book about which color you should use, most of the colors wear a color that goes with her personality, the occasion and the outfits and ornaments she is wearing. If you are searching for anything that is yellow, you have come to the right place. I am going to discuss yellow nail designs in this article.
Posh Yellow Nail Design Ideas
Originally, yellow is a light color but there are neon or bright version of this color too. Whenever I see this color, I feel a sense of happiness. This is actually a playful color for the light-hearted people. You shouldn't have these nails on a sad event. Yellow nail designs are often associated with black, blue, grey, orange etc colors. You can adorn your nails with neon yellow nail designs too. Get inspired by the below list.
#1. Neon Yellow Nail Designs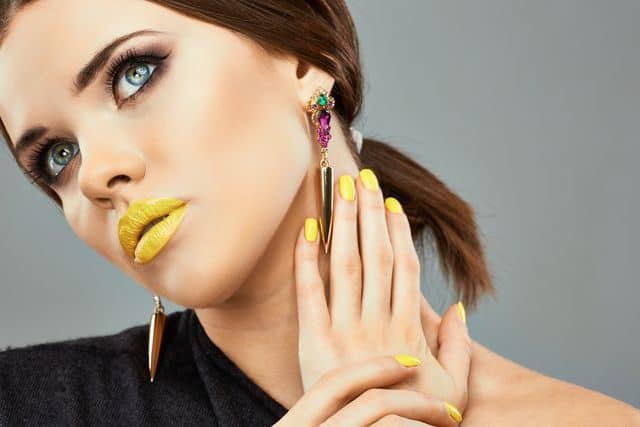 You can try neon nails if you want it bright and colorful. These neon yellow nail designs can be worn as summer nails too. you can coordinate your lips with that to have matching makeup.
Stunning Red Nail Design For This Valentine
#2. Yellow Stones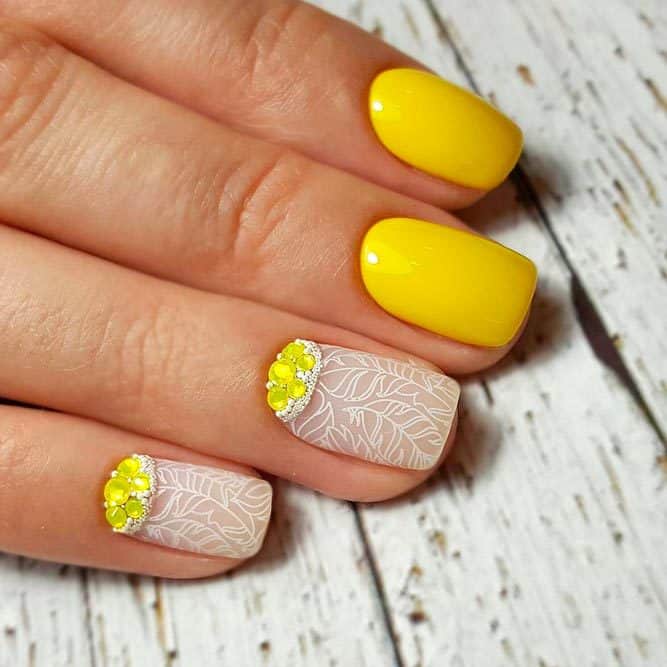 Rhinestones are widely used in nail art industry. As this picture, if you can use them tactfully you'll get access to some mind-blowing yellow nail designs.
#3. Falling Leaves
These yellow nails look excellent. Draw a leaf on each nail to get these yellow nails done at your fingertips. You can add some gold glitters to give them a shiny look.
#4. Yellow Nail Art Designs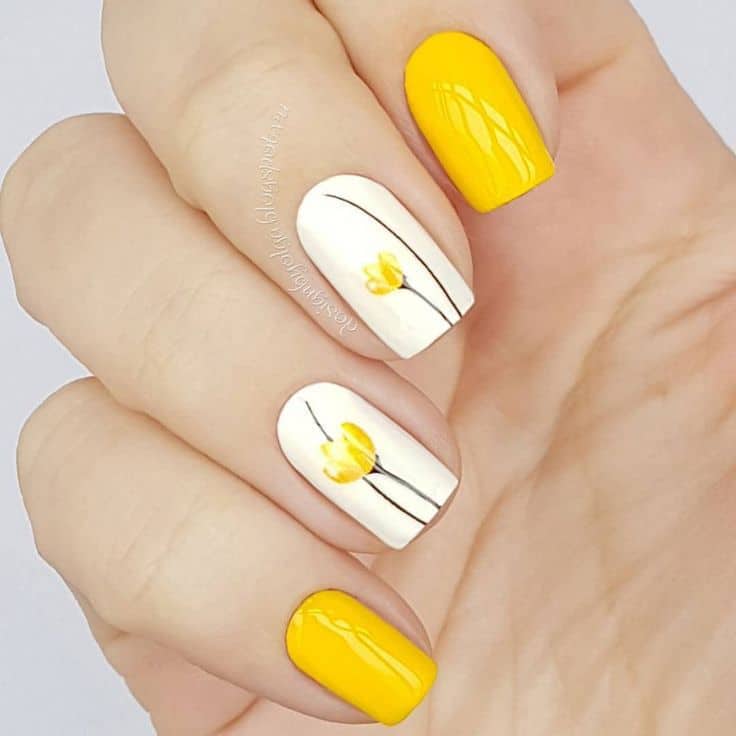 This is a wonderful yellow nail art. A simple yellow flower has been drawn on the white nails. You can try this design for your favorite nails.
#5. Blue Butterfly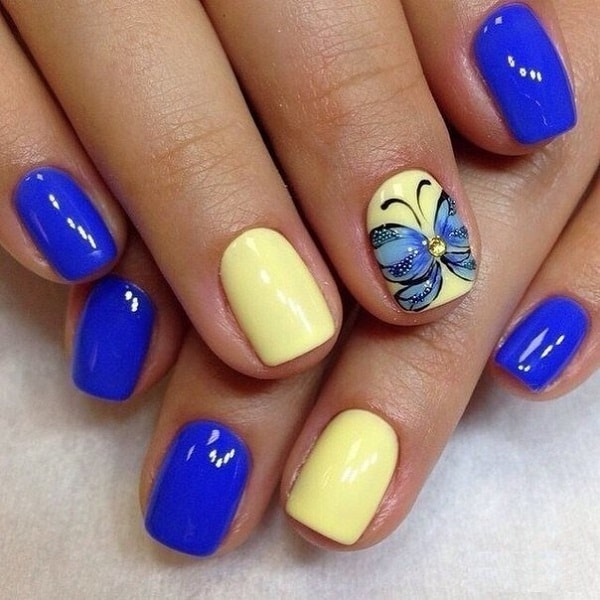 Yellow and blue nail designs, both of them are combined in this design. You can call it either blue or yellow nail designs. The butterfly has increased the beauty of these nails to a great degree.
#6. Yellow And Orange Nail Designs
If you want to light up your nails, mix orange with yellow while designing your nails. Yellow and orange nail designs can make an intense look jointly.
#7. The Rising Suns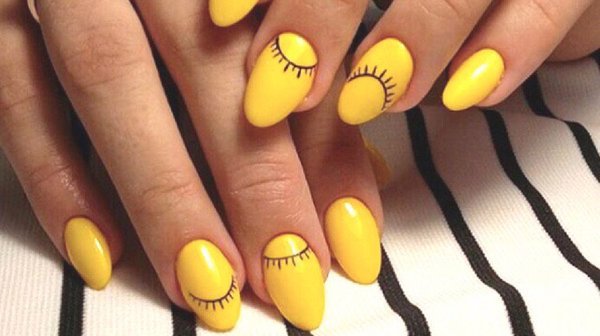 You can paint half-circular lines on your round nails to make them look like a sun. This will resemble the rising sun on your nails. These round yellow nail designs are simple but creative.
These Nail Designs Are Cute As Button. We Bet!
#8. Yellow Nail Designs for Short Nails
If you have short nails and want to apply yellow nail art on them, try this one. This yellow nail art is absolutely amazing if you want to make your short nails look trendy.
#9. Yellow Nail Art Tutorial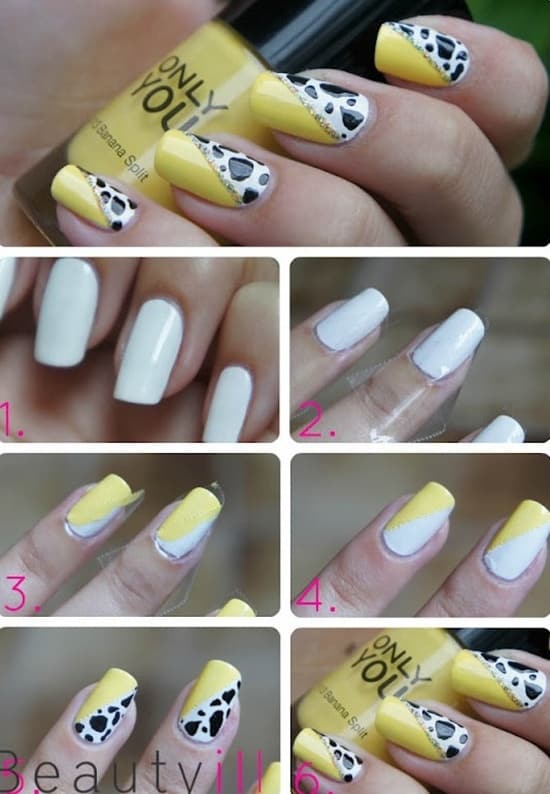 If you are already wondering how you can adorn your nails with yellow nail designs, here is the answer for you. Follow these simple steps to have beautiful yellow nails.
#10. Simply Yellow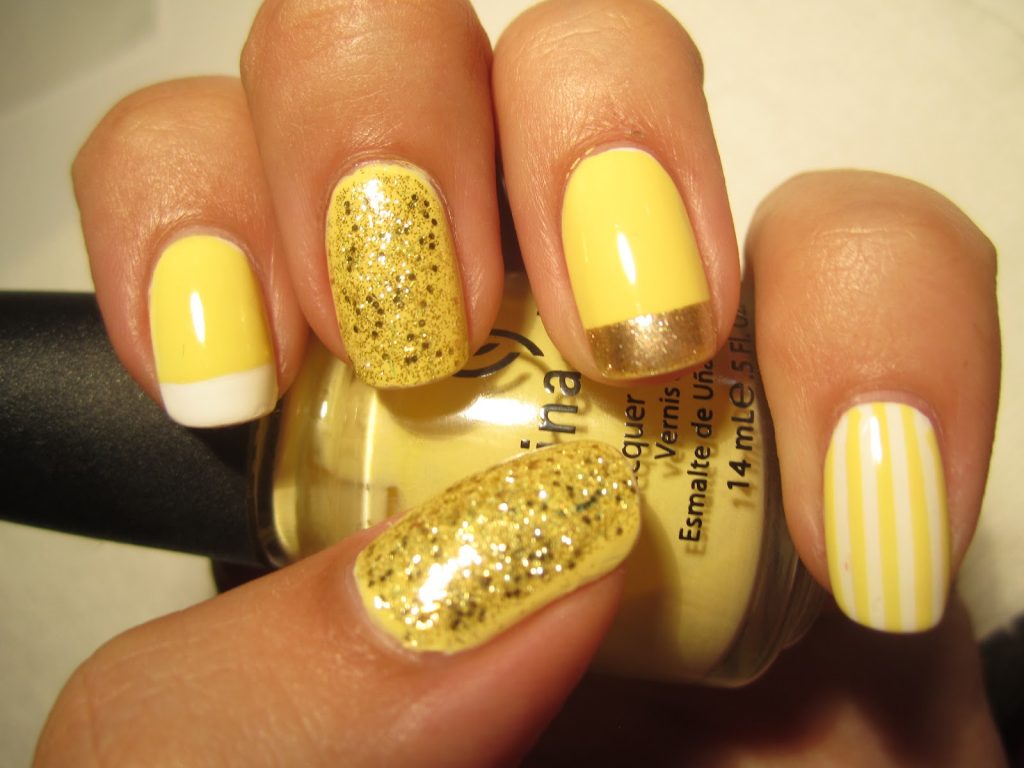 If you don't want to wear anything fancy yet look for a trendy look. This is your desired design. Use some gold glitters and white polish to make this design look fashionable, otherwise, it's simply yellow.
#11. Yellow Bee Silhouettes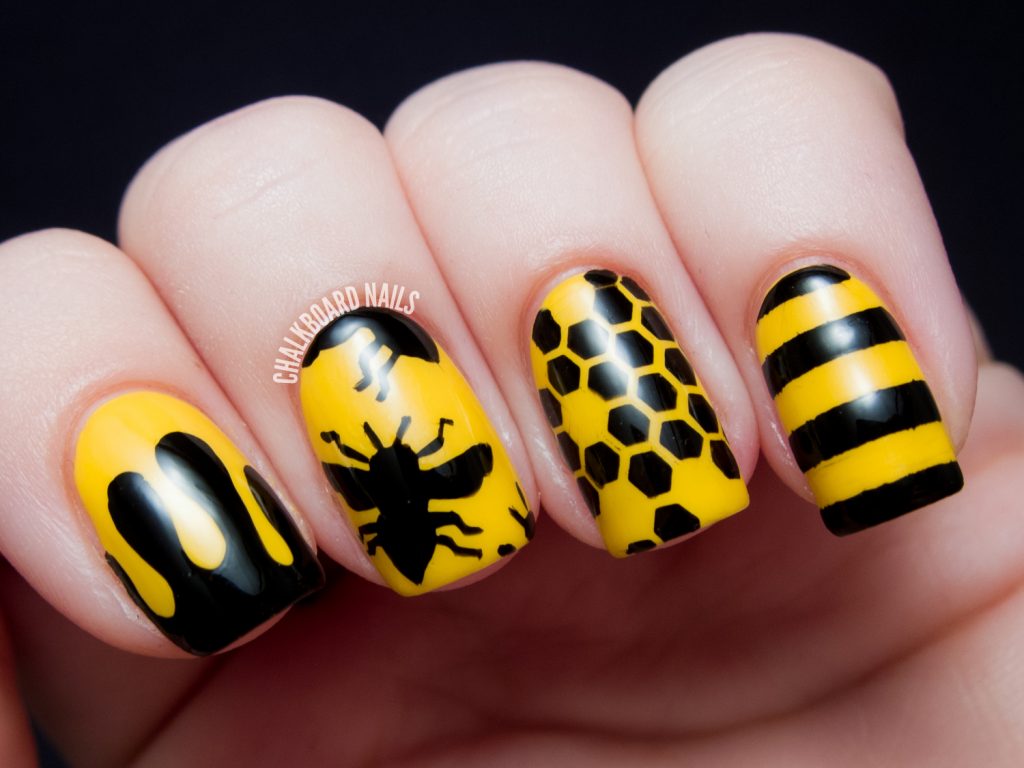 You can have meaningful yellow and black nail art by designing your nails on a theme basis. This design is representing the life of bees. These yellow nail designs will surely help you stand out from the crowd.
#12. Yellow And Grey Nail Designs
You can change the overall look of your yellow nails simply by adding some flowers to them. A grey background will highlight the flowers and make them noticeable.
#13. Summer Yellow Nails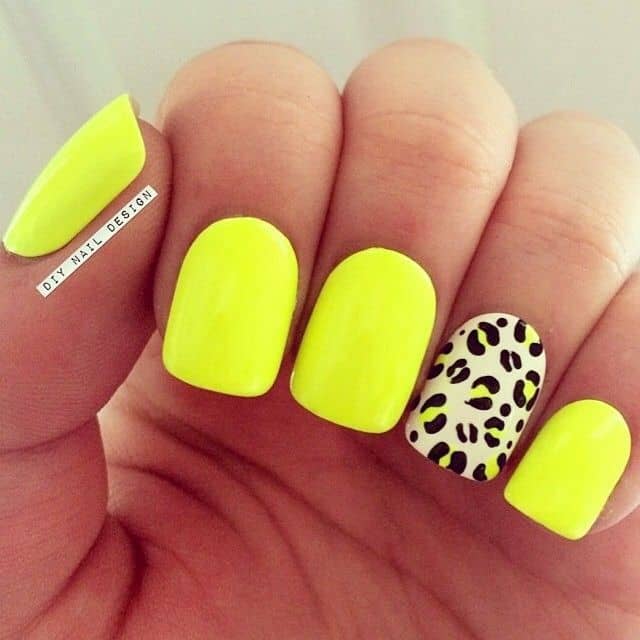 You can have neon yellow nail designs as summer nails. A leopard print will add extra beauty to these nails.
#14. Yellow Toenails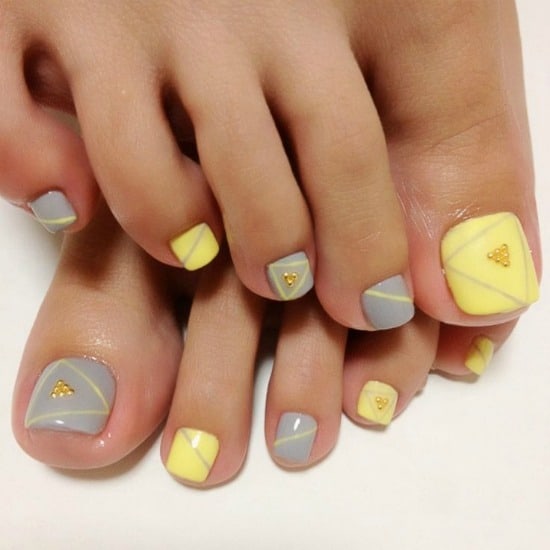 Why will you leave your legs empty when you're planning so many things for your hands? Let's design your toenails with the charm of yellow and grey nail art.
#15. Elegance at Its Best
Some designs are jaw-breaking that you can't move your eyes from them. This is one of these designs. These beautiful yellow nail designs are exposing elegance at its best.
#16. Yellow Floral Nails
Draw some flowers on your yellow nails to have this type of yellow nail designs. The beauty of these nails depends on how well you can draw the floral images.
#17. Dripping Black Edges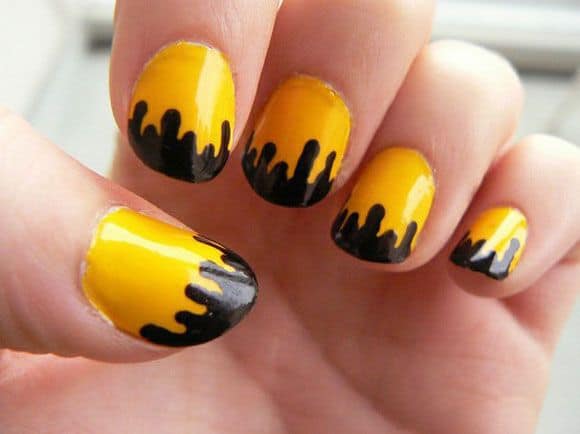 This is a simple black and yellow nail art. Paint the edges of your yellow nails with black color as if colors were dripping from there. You can try these simple yellow nail designs if you love simplicity.
#18. Yellow Stars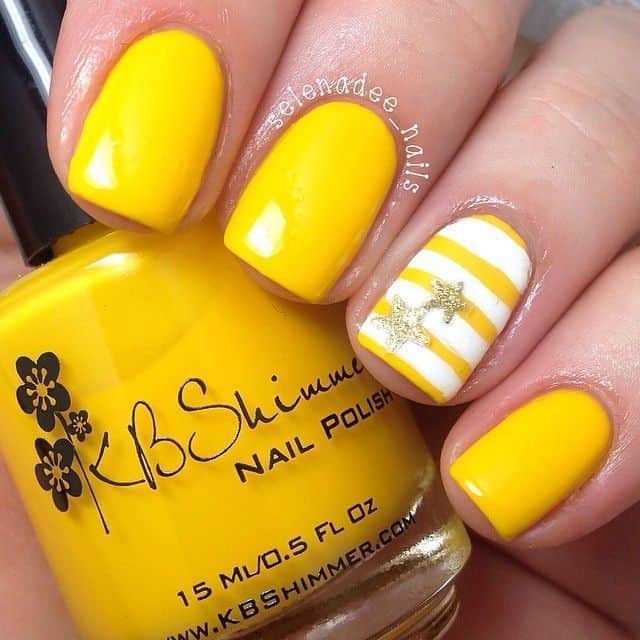 The ways to have these nails is very easy and simple. Paint all your nails with yellow color then add white stripes to one of them. You can place some stars on the striped nails to have these yellow nail designs.
#19. Funny Yellow Nail Art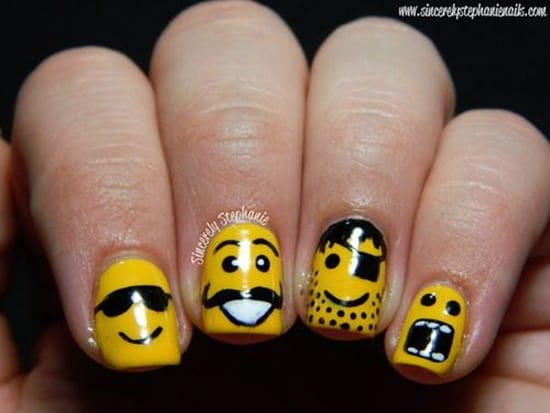 If you are a fun loving person, you can have this design. Draw different funny characters on your yellow nails to express the inner childishness that you nurtures.
#20. The Melange
You can mix different designs and pattern for a single manicure. This nail art is a varied mixture of sunflowers, polka dots, bows, glitters, studs etc. This is a perfect melange of various nail art. These yellow nail designs are absolutely mindboggling.
Our Recent Favorite: SNS Nails
Try Out These Stunning Yellow Nail Designs
It doesn't matter which color you are having, if you can put a good show on your nails, you'll look beautiful. On the contrary, an unplanned and amateur nail art will ruin the whole manicure. So, do the nails paying full attention.