20 Incredible Matte Stiletto Nails to Make The Head Turn
Matte stiletto nails can be a good choice for a fresh start with this new shape. You will have enough space to design your nails as the surface is spacious for stiletto nails.
But, you should be cautious while designing the nails as the pointy portion has the possibility to be broken easily. So, if the nail is broken it will lose the stiletto shape. Keeping that in mind you can design matte stiletto nails according to the ideas of this article.
Classic Matte Stiletto Nails
Matte is the non-shiny surface of the nail so these designs are mostly for the girls who do not like to use colors to dazzle your eyes. Rather they focus on the pointed shape to express their distinct existence. You can choose your designs from the given list below.
#1.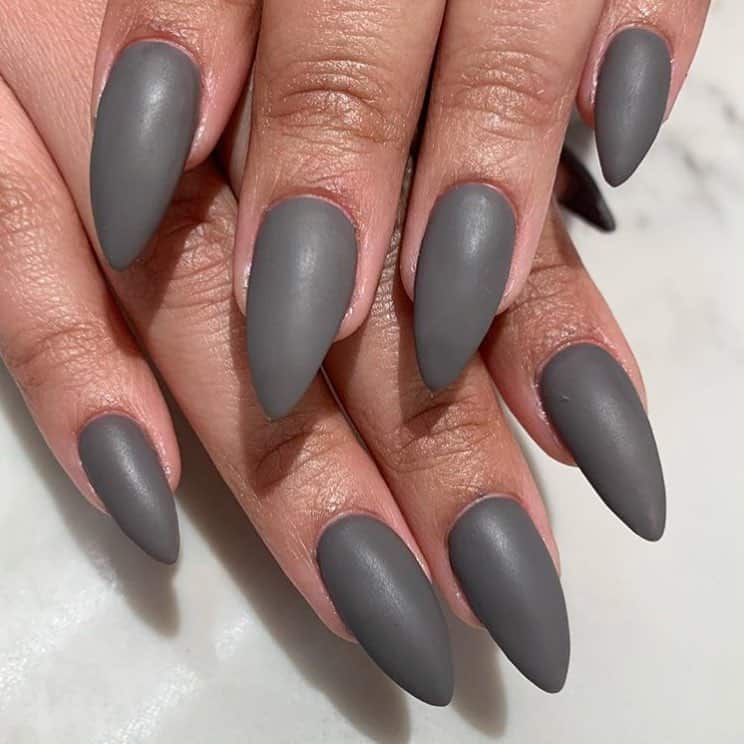 matte stiletto gray nails
#2.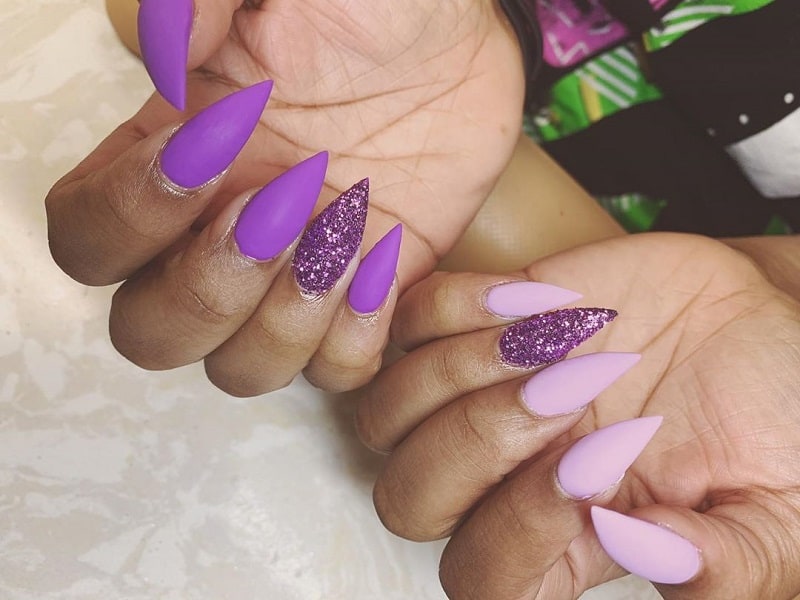 purple stiletto nails
#3.
matte stiletto green nails
#4.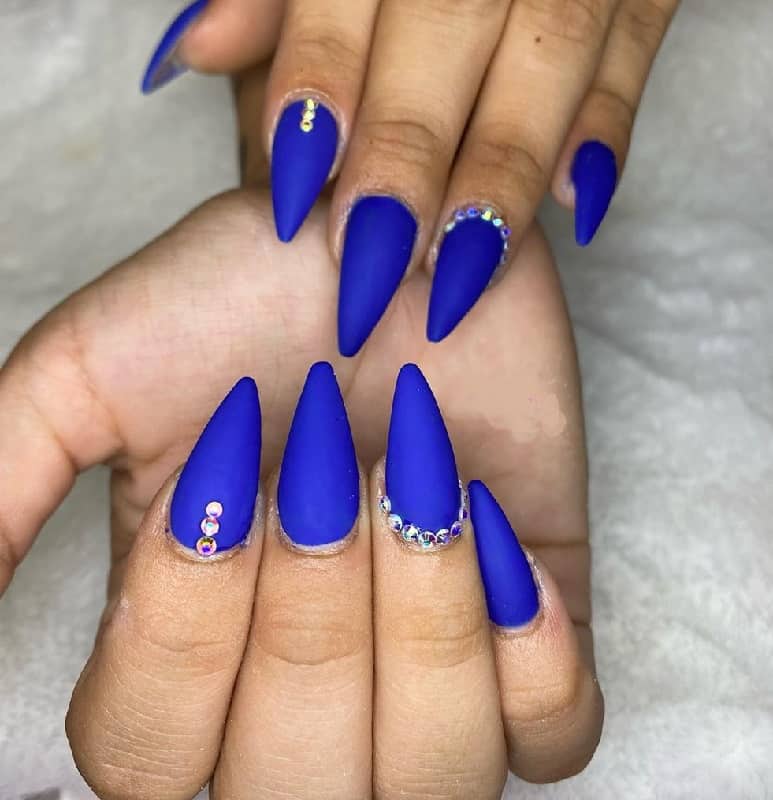 matte  stiletto royal blue nails
#5.
matte stiletto baby blue nails
#6.
short matte stiletto nails
#7.
matte stiletto burgundy nails
#8.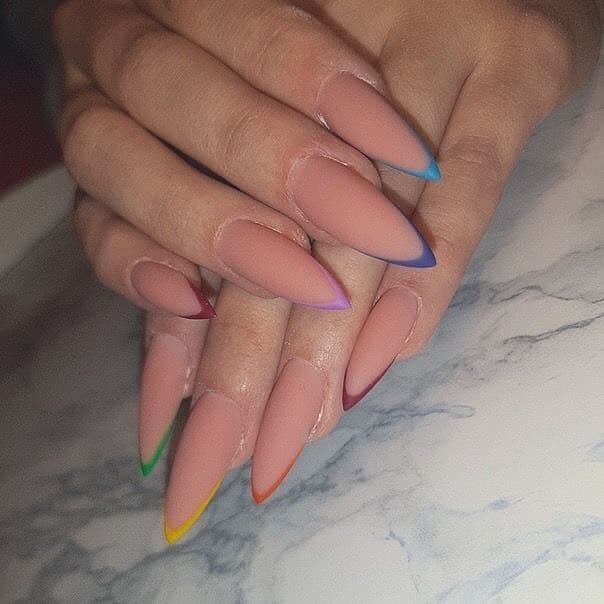 matte stiletto nude nails
#9.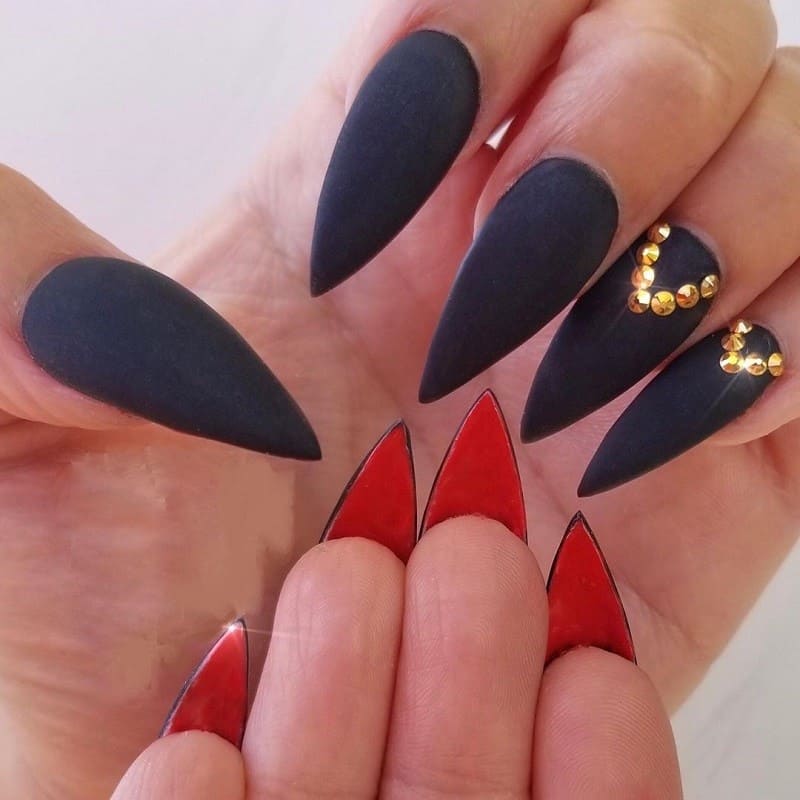 matte stiletto black nails with rhinestones
#10.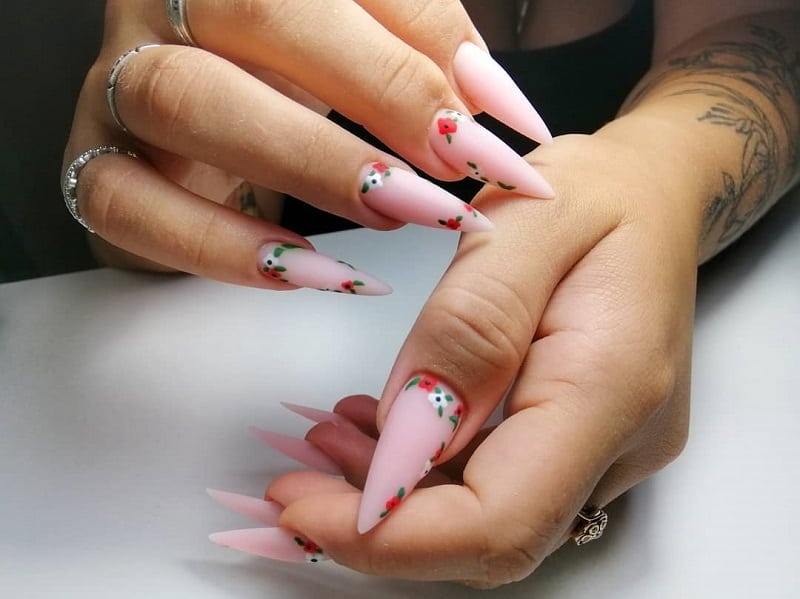 matte stiletto acrylic nails
#11.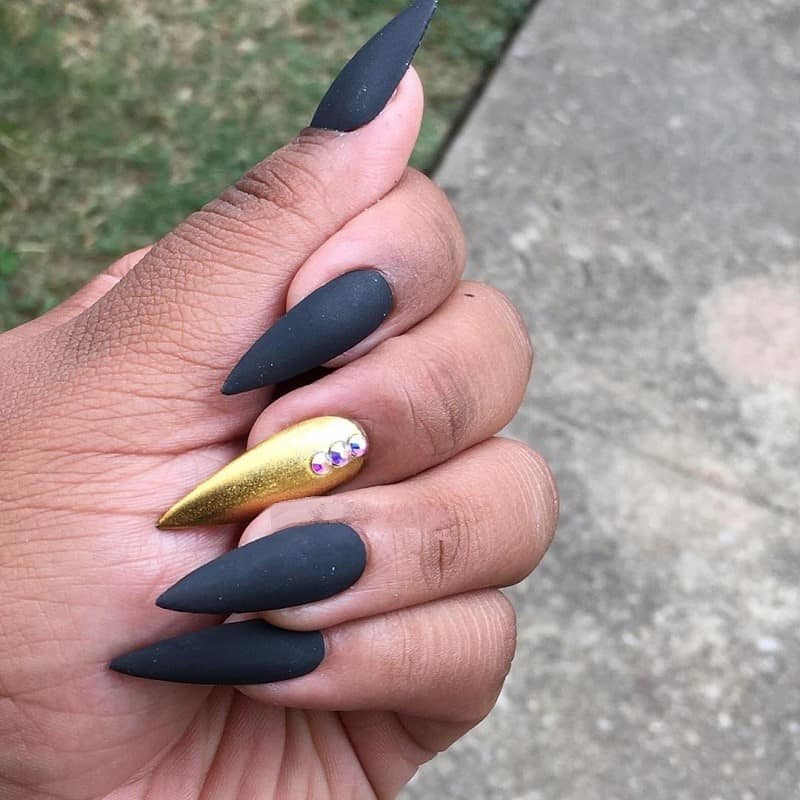 matte black and gold stiletto nails
#12.
light pink stiletto nails
#13. Black & White Matte Stiletto Nails
You are at liberty to design your nails. Here is an impressive design for liberal minds. At first, apply any single matte color, preferably maroon or black, on every nail of your fingers. Then give the designs you want to have on your matte stiletto nails. These stiletto nails are perfect for the Halloween party.
#14. Colorful Matte Stiletto Nails
Everything looks beautiful if associated with different colors. You can set a new standard of colorful stiletto nails by using this Aztec design. Color your nails with two or three different colors then use some stones or draw something if you want.  Your designs can be influenced by the diversity of tribal culture. You can draw patterns, guitars, or you may leave it to a lone matte color.
#15. Stripes And Stones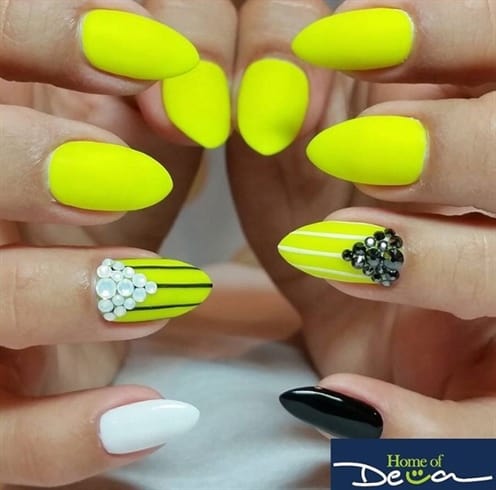 This is a fashionable matte stiletto nail design and this design has diversity. Neon yellow, black, white matte and stones and are the elements of this unique design. Neon yellow color is used as the base color here.  Use black and white on two or three nails, draw stripes on some of them. And decorate the others with rhinestones. This design will give a stunning look to your stiletto nails.
#16. Matte Black Stiletto Nails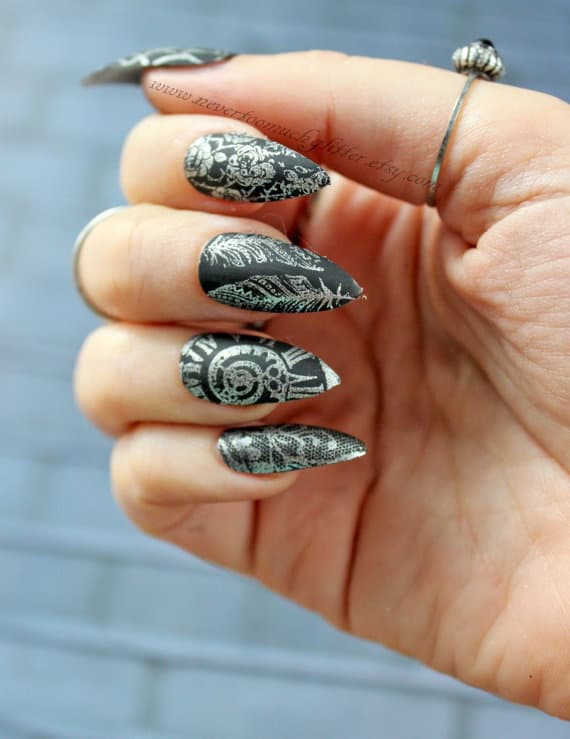 Since stiletto nails have become popular and at the same time the shape is hard to maintain, some of the girls started to use false stilettos for beauty purposes. There is a lot of online and physical shop that are selling stilettos nowadays. Most of them are handmade craft and they are available in matte too. Different colors and a special kind of plastic are used to paint these nails. You can try some press on stiletto nails in order to get true beauty.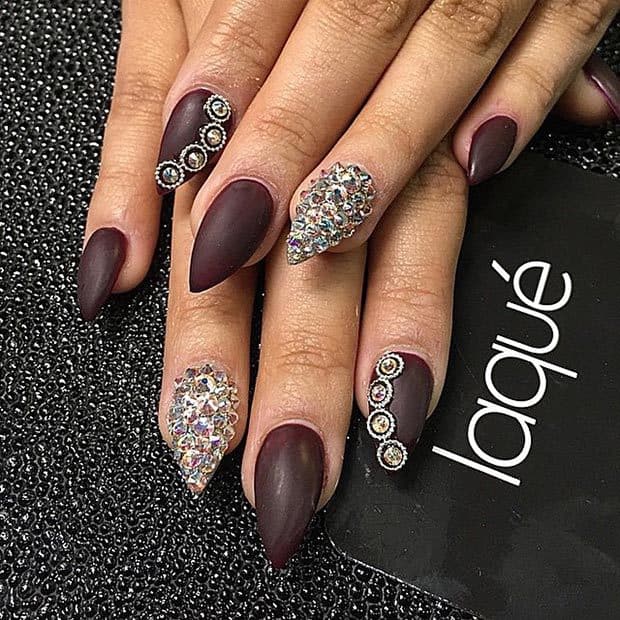 Maroon is one of the most used colors in the cosmetic industry. Girls are the diehard fans of maroon color regardless of the type of cosmetics and costumes. Here is a stunning design for matte stiletto nails for you to try on. Use maroon matte for the whole nail then use shiny stones and surround the stones with another glittery matte color. This simple task will wow your friends within a blink of the eyes.
#18. Neon Pink Stiletto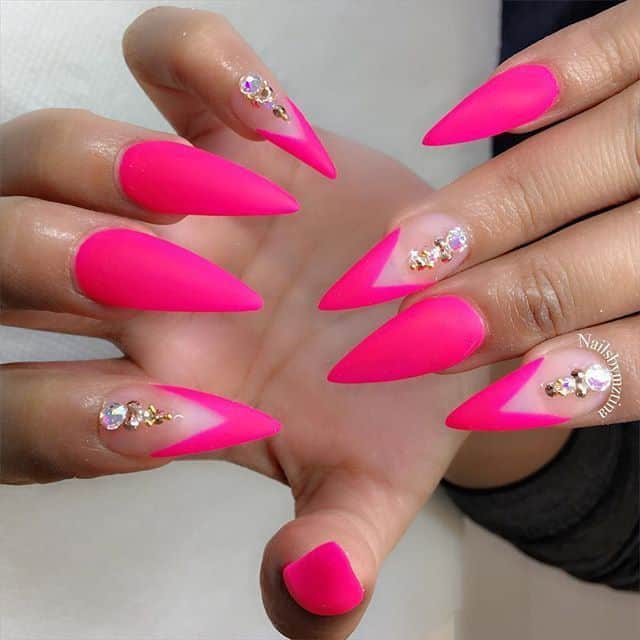 This design is for them who want to shine even on matte stiletto nails. The way is simple. Use neon pink color to coat the whole nail. You can keep a well-planned space to insert some stones to keep it more beautiful. This neon pink will keep you glowing even if you are using matte for your stiletto nails.
#19. Fully Matte on Stiletto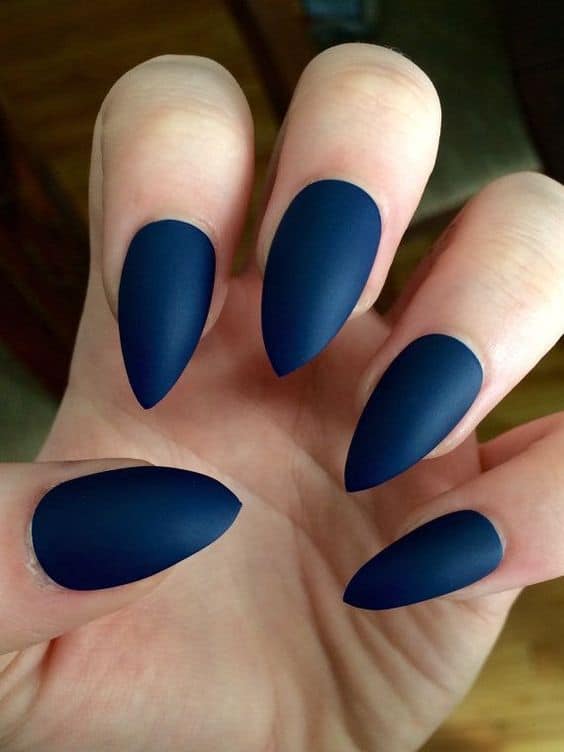 This is the simplest of designs. Yet the use of such amazing navy blue color is always alluring. Keep it simple, just use any matte color to fill the surface of your nail wholly. As this design absolutely depends on the beauty of color, you must choose something which is both attractive and eye-soothing. And, you can use two or three different colors too but that will lessen the intense look of these nails.
Fierce Maroon & Gold Nail Design
#20. White With Negative Space
White is considered to be the color of innocence, light, goodness. The appeal of carrying white colors will never get old. You can have white matte stiletto nails in an innovative way. Use negative space in the middle of your nails keeping a space between the two parts. Keep the space carefully so that the blank space complements the white color and means something by its presence. That is it! White matte stiletto nails with negative space.
To wrap it up, I can say that the stiletto nail itself is a design. The shape is designed so tactfully that anybody will pay heed to your nails even without any nail polish. A little design will make them unavoidable to be noticed. You can try out our designs to make the best out of your efforts in maintaining those stiletto nails.